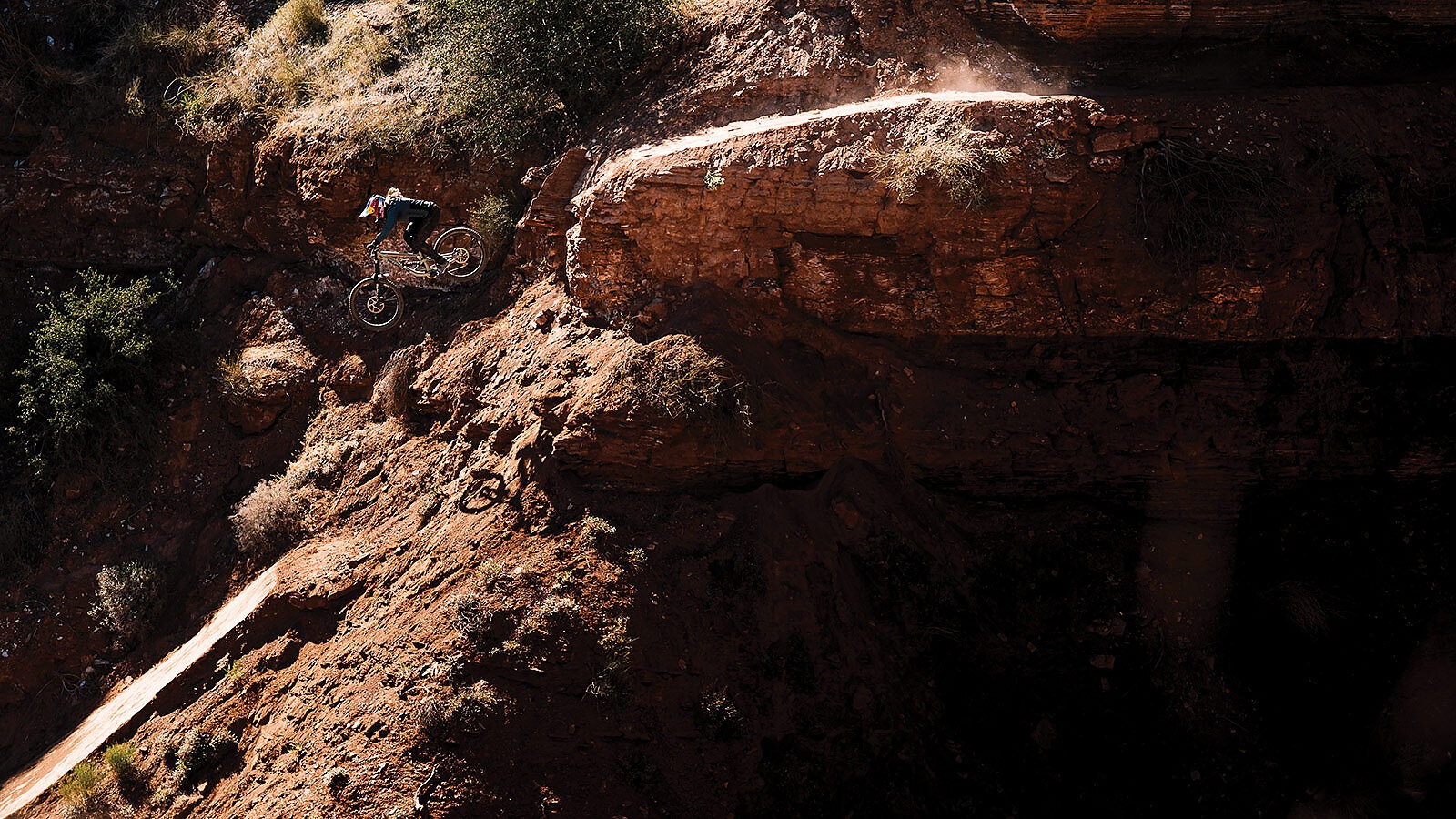 The Big League Breaking Barriers for Women Freeriders to Compete on the World's Biggest Stage
As the dust settled in Virgin, Utah, following the final runs of the May 2022 iteration of Red Bull Formation, the energy at the venue was soaring.
Not only had many of the 12 female participating athletes just stomped the biggest lines of their careers on some of the most high-consequence terrain they'd ever ridden, but it looked like some of them were finally going to get a shot at what they'd been working toward for years: a slot at Red Bull Rampage, a competition widely viewed as the pinnacle of freeride mountain biking, and one to which a woman has never been invited since its inception in 2001. In a private meeting, Red Bull representatives had told a select group that a women's category was on the horizon. The hope was to announce this at Rampage in October 2022, then add the category in 2023.
"I was so motivated," said Casey Brown, a decorated freerider who first started eyeing Rampage more than a decade ago. "I was like, 'Yes! This is amazing. We have over a year to prepare for this, and I think that's what everyone focused on. [Red Bull] has the reins, it's headed in the right direction, let's get back to our riding. Let's make sure our riding's sick, and when it comes around, we'll be ready. That was a huge motivator. I shaped my whole year around it."
But the 2022 Rampage came and went without the expected announcement. When the silence continued into the new year, the Formation women sent in a formal request for a chance to compete in Rampage, and for parity with the men in terms of appearance fees and the prize purse. A meeting followed in which the women again made their case in a video conference.
Shortly after that, however, they were told Formation—which had previously been positioned as an incubator-style progression session without the pressure of vying for podium spots—would instead evolve into an outright competition. They were told the event would be postponed from its original May dates to September of 2023. Then, in mid-May, Red Bull issued a short statement announcing that Formation wouldn't happen at all this year.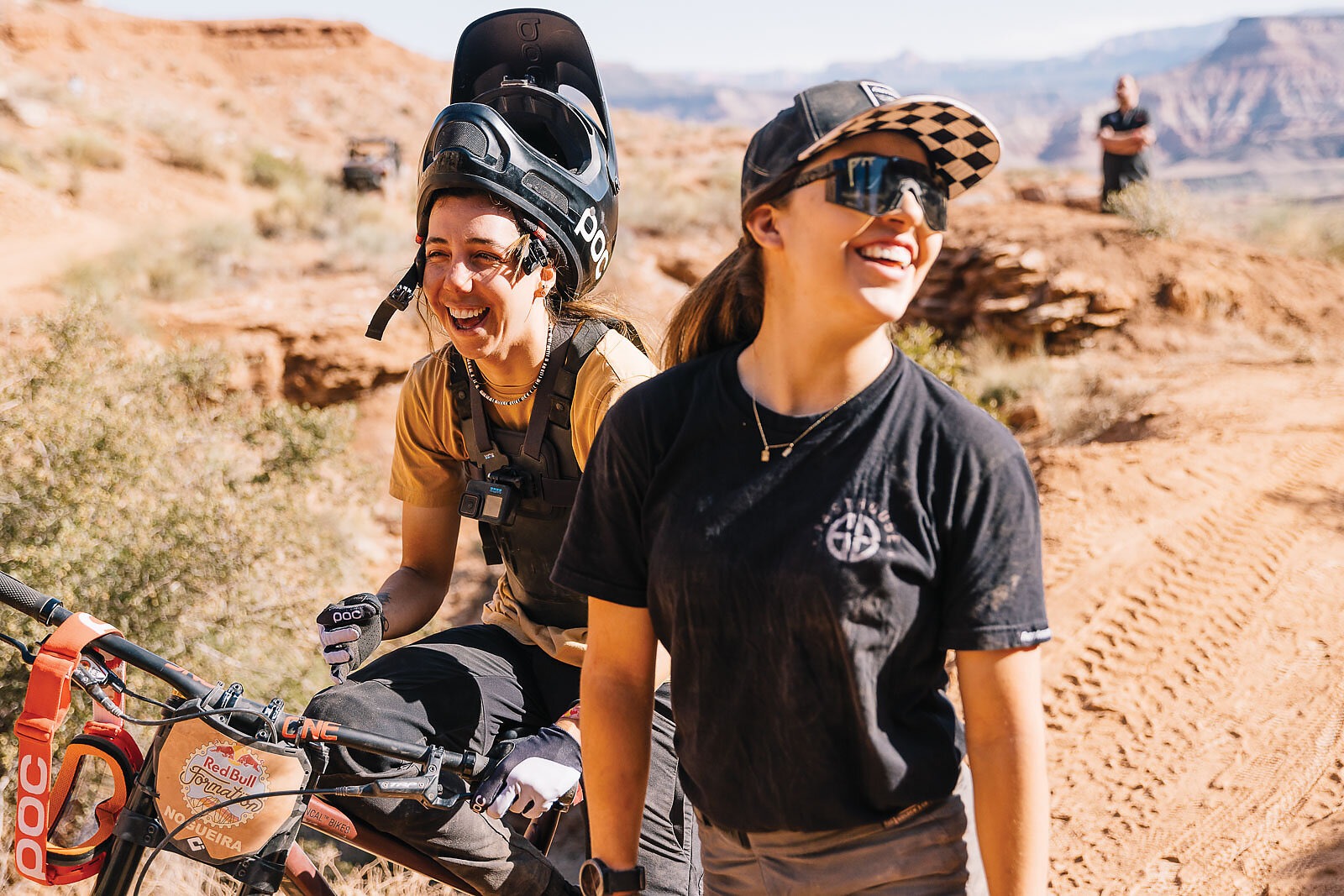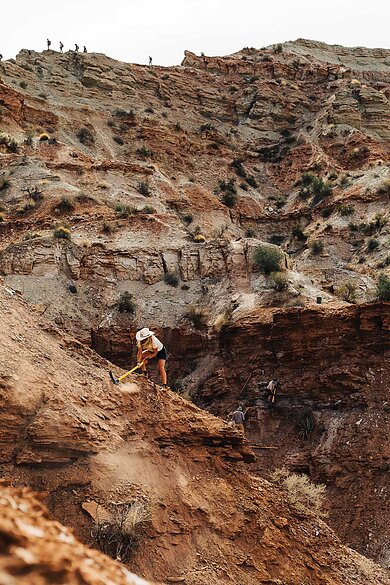 "We are excited to be working with the athletes and select industry leaders to best evolve the event in anticipation of its return," the mid-May statement read.
Organizers confirmed that the postponement was intended to allow the brand time to continue planning, alongside the athletes, what an evolved Formation would look like. Red Bull planned to announce these details at a later date, but as of Freehub's mid-June press date, there had been no official word from the company about whether Formation would return as a competitive event or whether a women's category would eventually be added to Rampage.
This lack of commitment is crushing to Brown, who views the movement toward Formation becoming a competition as a near-certainty that the door to Rampage is closed.
"I've been passionate about this subject my whole career," Brown said. "I've felt so lost the last two months. This thing I was planning for all those months is gone. Now I have to re-create myself because my end goal is not possible."
Brown, who has shattered glass ceilings her entire career, was first captivated by Rampage as a teenager. At 17, she road-tripped to Virgin from her home in Revelstoke, British Columbia, to watch the 2008 reincarnation of the event after it had been on a three-year hiatus. By 2014, she was racing elites in UCI World Cup Downhill while also emailing Rampage founder Todd Barber to ask what she needed to do to qualify for Rampage.
Without a linear path forward to the competition, such as one might have in traditional racing, Brown joined Bas van Steenbergen's dig crew at the 2018 Rampage, given that digging is considered a rite of passage for future contenders. Around the same time, she publicly announced her intention to compete at Rampage. In 2019, she was the sole woman to earn an invitation to the Proving Grounds competition in the single year it was billed as a Rampage feeder event. When the inaugural Formation took place in October 2019, Brown proved her preparedness, riding huge lines with a smoothness and style reserved for the world's best.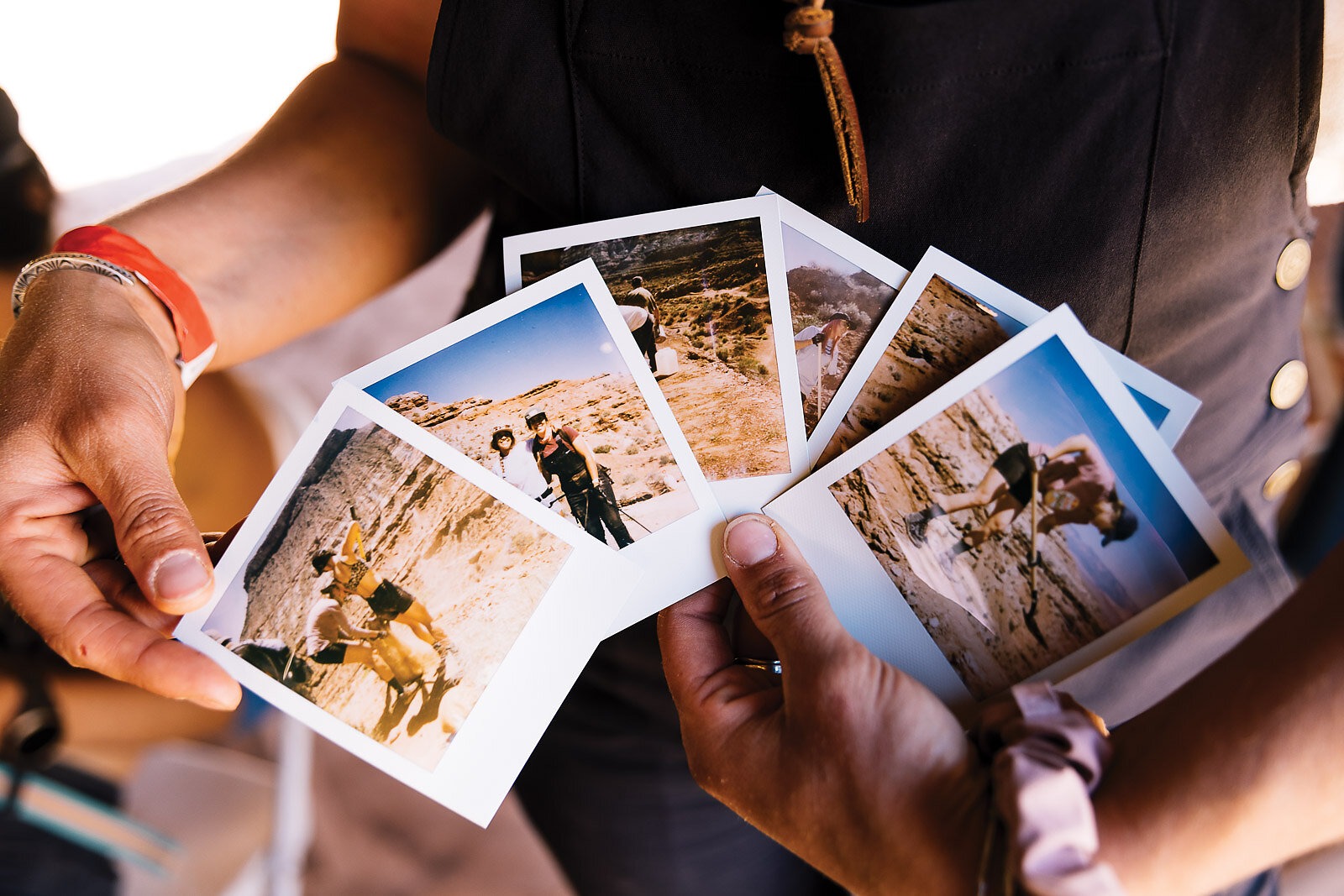 Though competing in Rampage has been Brown's personal and professional goal for years, the prospect that women may never earn a place on that hallowed ground cuts much deeper than her own disappointment.
"It's not for me," she said. "I care so much about all these young and up-and-comers, and that they have Rampage as a goal. Formation as a goal? That's heartbreaking for me. You work your entire career and work your ass off, just to be put on the side stage? That's not good enough. We have so much momentum in these young riders. In a few years, there are going to be certain riders who have to decide to pursue mountain biking or go get a real job. Without Rampage, we are going to lose a percentage of those riders."
Both Formation and Rampage are held on what's considered to be ground zero for freeride mountain biking: the towering mesas outside Virgin, Utah, which occupy a mix of Bureau of Land Management property, private land, and territory managed by Utah's School and Institutional Trust Lands Administration. The formats are largely similar: envision your dream line, then spend days with a build crew etching that line from the top of a windy, knife-edge ridgeline, through exposed spines and chutes so steep that riders and builders often rope up to work on them, adding in blind drops, massive hips, and trick jumps all the way to the bottom. After days of practice, on finals day, athletes attempt a top-to-bottom run—a feat reserved for the most skilled, calculated, and mentally focused mountain bikers on the planet, regardless of gender. The threat of injury is constant, and the pressure of finals day is so palpable that even spectating is stressful.
The primary difference between the events is that Formation has been positioned as a primer—where camaraderie and support are prioritized over podiums—while Rampage is an all-out competition, with prize money, ticket sales, and hundreds of spectators, big-name sponsorships, a live-streamed broadcast with announcers and commentary and far greater global reach. For its part, Formation takes place on a closed course, with limited media allowed, few sponsors, and no formal prize money. (Red Bull provides a stipend to attend, and in 2022, Industry Nine, one of the few brands permitted to sponsor the event, offered a pot of $6,000 that the riders split).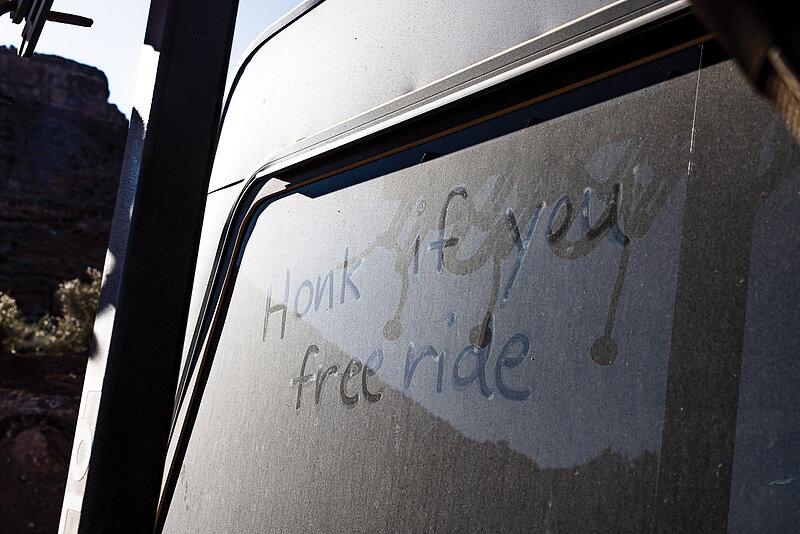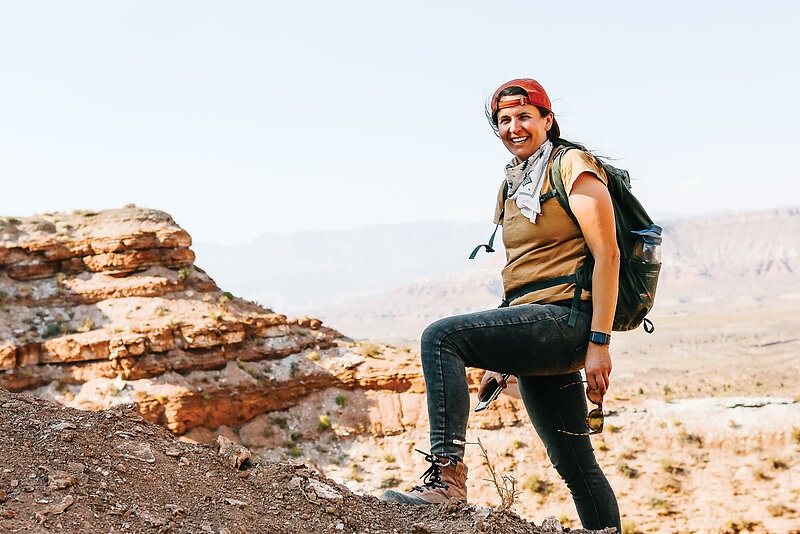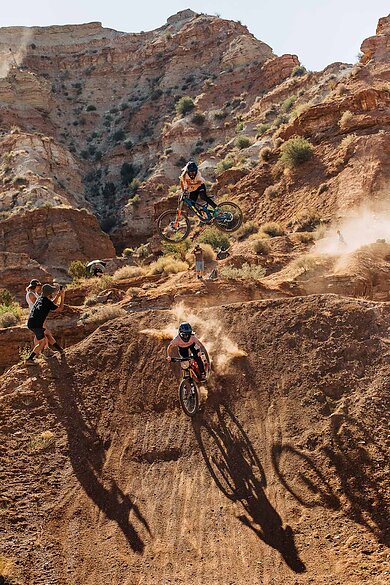 The publicity for the two isn't anywhere close to being in the same sphere. Rampage is a huge action-sports spectacle that's more than two decades old and has a global following, while it's unlikely that many people outside of the mountain bike world have heard of Formation. A chance to compete at Rampage means more credibility, more earning power, a more solid career path, and, for women, ultimately narrowing the wage and opportunity gap that exists in freeride mountain biking.
"We want to be on that bigger stage," said Hannah Bergemann, a Red Bull athlete and top freerider whose career was jump-started by her 2019 Formation appearance. "Rampage is the pinnacle of freeride mountain biking. I don't think anyone can blame us for wanting to be part of that."
When Formation debuted in 2019, it seemed to signal a sizable step toward the big leagues of Rampage—which, like many freeride competitions, is invitation-only, with a largely subjective selection process. With Red Bull as the owner of both events, it felt like a potential path for women was finally being established.
"Looking back to 2019, there was a desire for the women to be included in the freeride space, but there wasn't the space or mechanism for them to get comfortable, experiment, mess up, and learn," said Katie Holden, a former freerider who also once dreamed of competing in Rampage, and who co-founded Formation. "All those things are important to flourish as an athlete. It takes invitation and investment to get to the highest echelons of a sport."
Holden figured if she could remove the competitive aspect, give women support to spend time in the desert together so they could get familiar with the terrain and learn to deal with the immense pressure that would accompany future competition, they would quickly excel. It was small and private by design.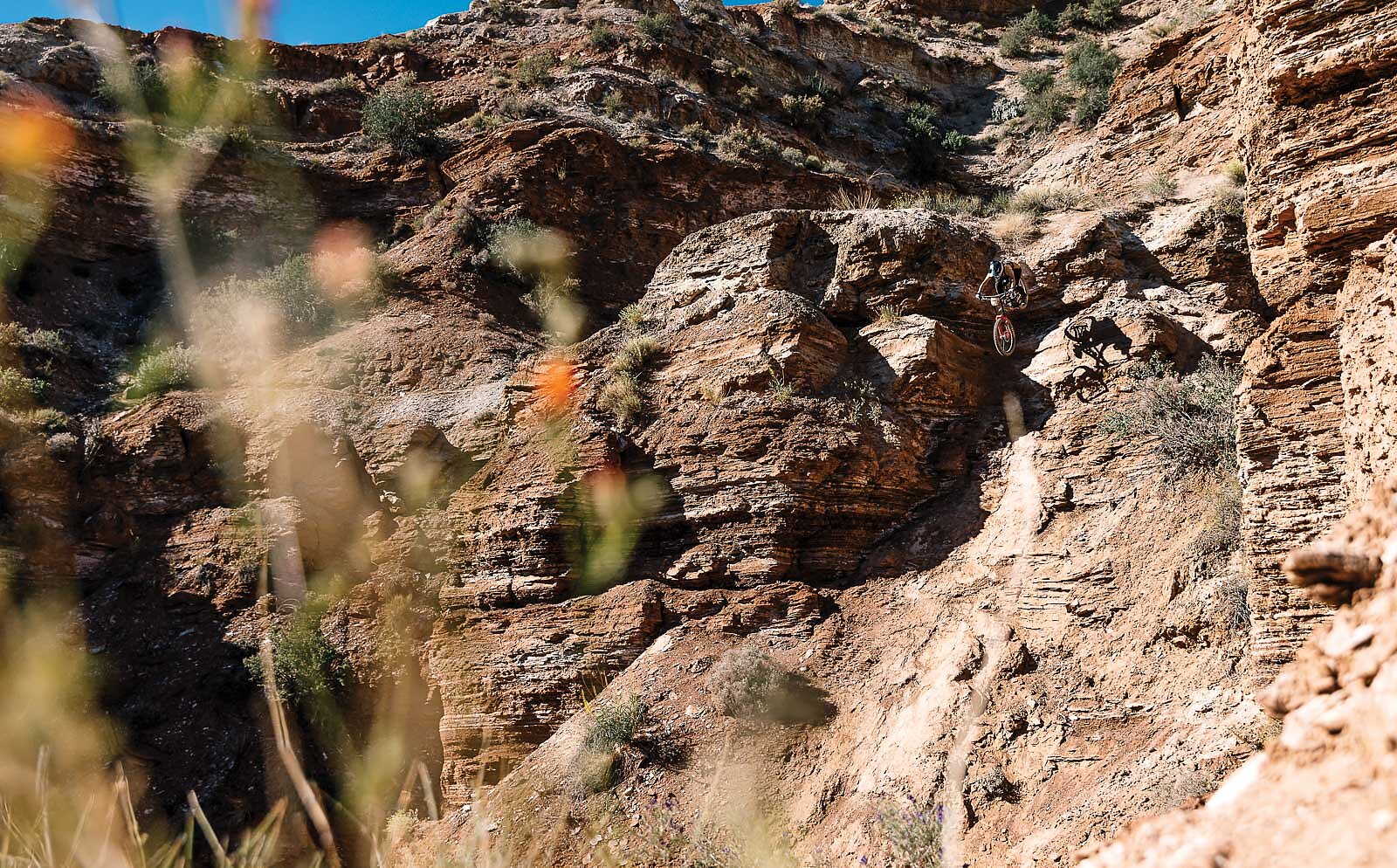 "FORMATION IS MEANT TO BE A LAUNCHING PAD, NOT THE END OF THE ROAD." —KATIE HOLDEN
For the inaugural event, there were just six invited athletes, no outside media coverage, and no sponsors. At that time, it was more of a proof-of-concept for Red Bull. The six women—Bergemann, Vinny Armstrong, Veronique Sandler, Vaea Verbeeck, Micayla Gatto, and Tahnée Seagrave (plus Brown, then sidelined by injury)—were pretty much the only ones at the time whose technical skills and focus, largely honed through high-intensity World Cup downhill racing, could handle the commitment required to ride Virgin's big-mountain lines.
Prior to this, a full-time freeride career for a woman was exceedingly rare. While some had ventured to Virgin for the sake of their own progression, or to film with a sponsor, or to dig at Rampage, it was largely unfamiliar territory. As such, for the first year of Formation, the athletes used just a portion of the site, and most revived existing lines rather than starting new ones from scratch. Tricks were minimal; it was more about getting down the steep, technical terrain unscathed. The dividends from this time in the desert, surrounded by a solid support crew, paid off almost immediately.
Now, four years and three Formations later, the entire landscape of women's freeride has changed. The invited-athlete list had doubled by 2022, and women were riding the same top-to-bottom lines that the men rode to the Rampage podium just a few years earlier. They were landing high-risk tricks and putting on incredible displays of commitment, skill, and mental fortitude. These days, Holden can barely keep up with the number of DMs, texts, calls, emails, and video clips she's tagged in from young girls who want to get noticed and potentially punch their own tickets to a non-race-focused riding career.
"It's really incredible," said Holden, who acts as a liaison between the riders and Red Bull. "The explosion of talent globally in a few short years has been mind-blowingly beautiful to witness. Seeing women do things, seeing peers do things, is so powerful. Seeing is believing. All these 12-year-old groms have been watching the Formation girls since they were like 8. All those girls could see there was space, an opportunity, and a path for them. That's really powerful."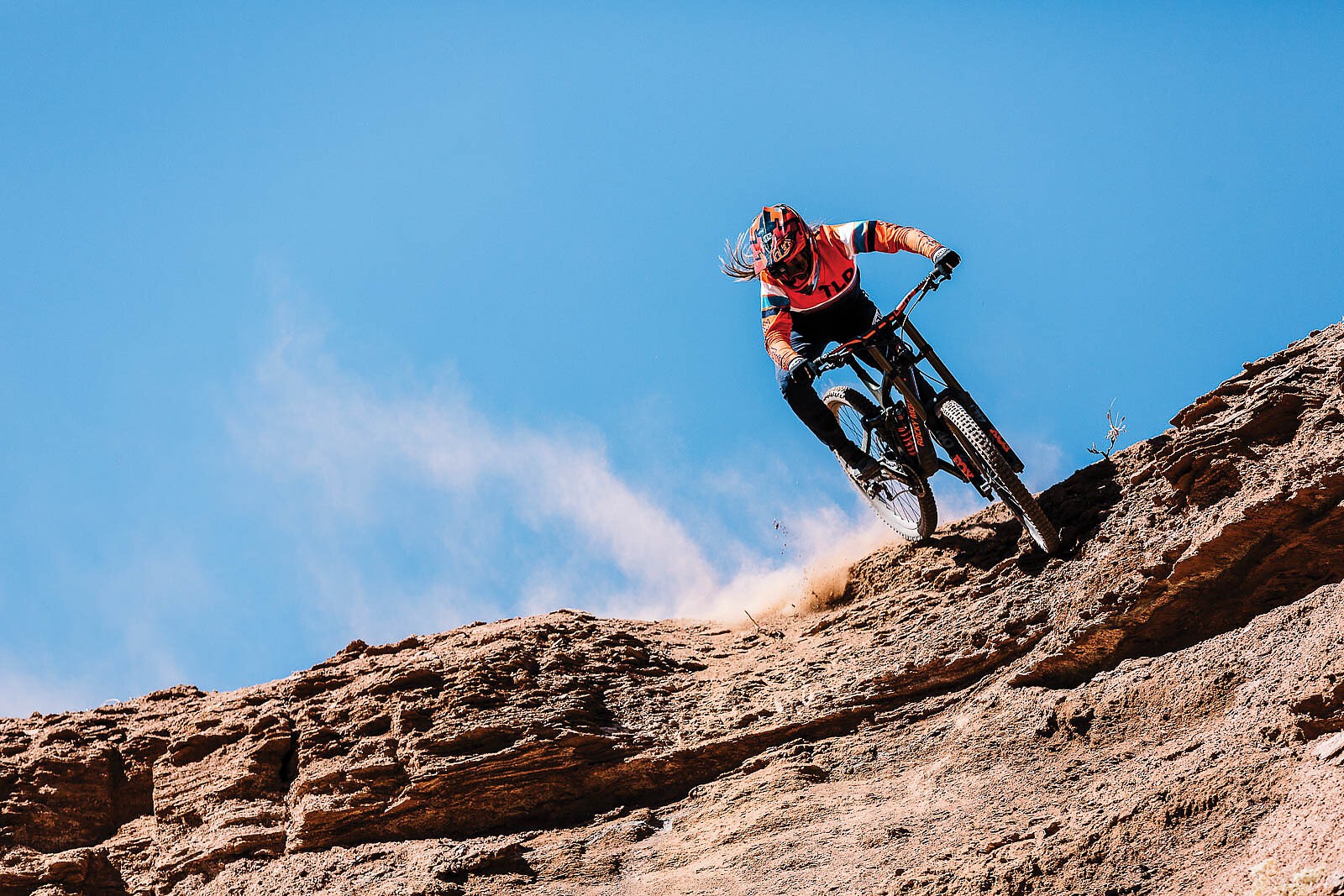 Almost everyone who's been involved with Formation has a success story of their own, from the athletes and diggers all the way to the female photographers invited to cover the event. In the weeks after her first Formation in 2019, Bergemann went from working in a bike shop to riding in a Teton Gravity Research film in India, landing a sponsorship deal with Transition Bikes, and then earning a coveted Red Bull helmet.
After her attendance as an alternate in 2021, Robin Goomes rose from a weekend warrior on the precipice of a career in the New Zealand Army to quickly becoming one of the most progressive riders in the space (see page 85). She became the first woman to land a backflip in competition, and she nearly swept the women's awards at this year's DarkFest in Stellenbosch, South Africa, where she became the first woman to clean a top-to-bottom run on the biggest dirt jumps in the world. Veronique Sandler nabbed a spot in World of X Games Real MTB and a Santa Cruz Bicycles sponsorship. Bergemann and Brown started their own women's jam-style progression events in their respective hometowns to support the next generation of riders. Some of this might have happened without Formation, but there's no question that the event's exposure played a role.
Formation is not just about what happens on the bike: The 10-day event focuses heavily on nurturing a supportive environment. All the athletes and diggers share a house and meals in order to provide up-and-comers valuable face time with riders who have already cleared hurdles that they might still be up against.
"A lot of the gains I got were from the house side of it," said Brooke Trine, a freerider and slopestyle athlete who attended the 2022 Formation, where she ended up digging for Chelsea Kimball. "We got to hang out with all the girls, and the conversations we had were invaluable. We had a few business chats, which really helped me. Things like salary transparency, insight into questions I should be asking sponsors, expectations we should all be setting as athletes. I'd never been privy to conversations like that, and it helped me make a pivotal shift in my career."
Trine, who had one minor sponsor in 2022, carried knowledge from those Formation conversations with her into contract negotiations in 2023 and was able to transition into a riding career that pays a full-time salary.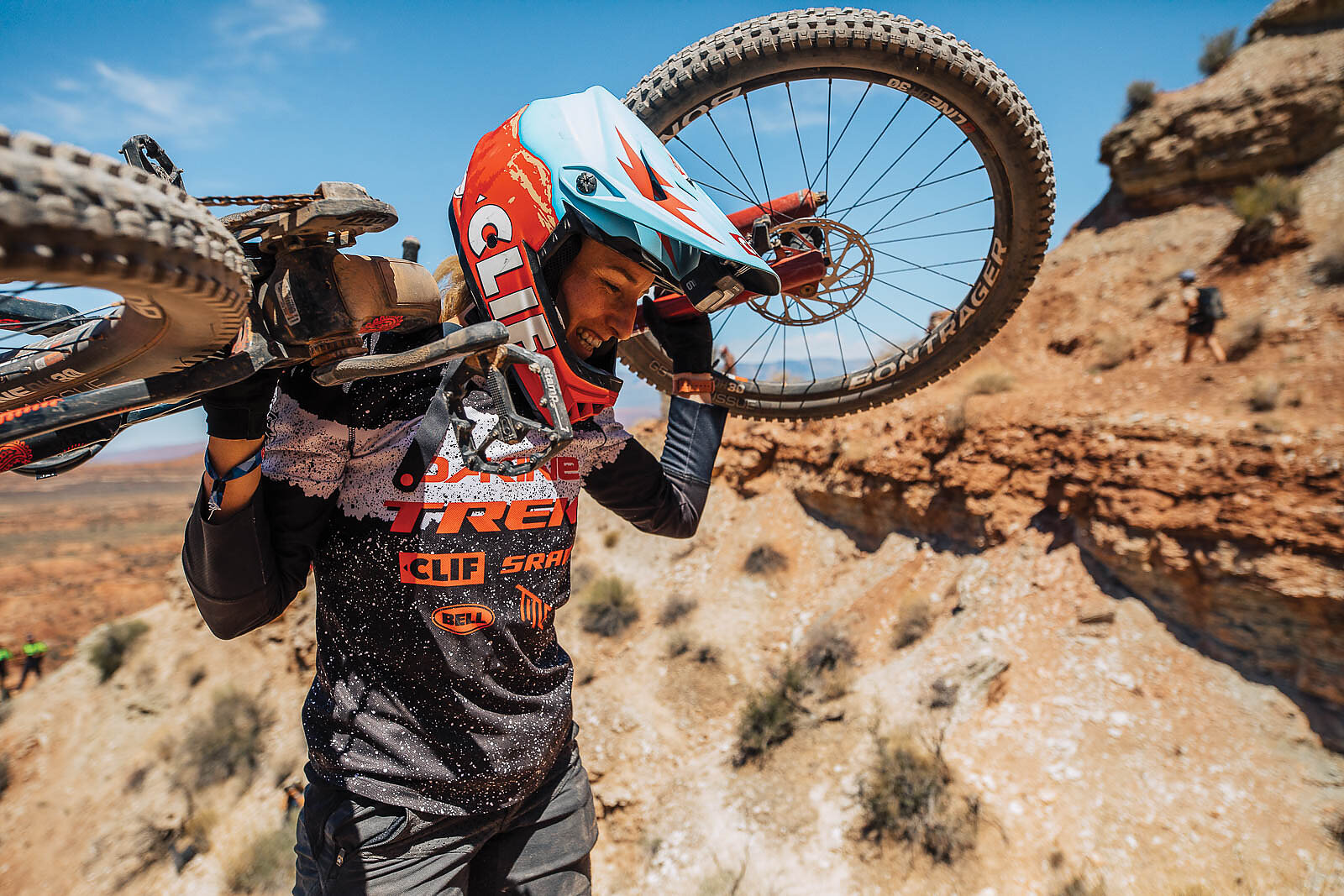 Although it was never formally announced, the agreement between Formation athletes and Red Bull was that they would attend for up to three consecutive years to dig lines, learn building techniques and the dynamics of the terrain, and develop the mental steeliness required to drop in. After that, some would "graduate" into more of a mentorship role, guiding up-and-comers through the same fears they had conquered, leading them into jumps or guinea-pigging fresh lines—a show of support that is usually offered by the few male freeriders at the venue during Formation. At the same time, some of those graduating athletes would ostensibly have the chance to move up to a women's category at Rampage.
And while that opportunity hasn't opened up at Rampage, nearly every other competitive freeride event that was previously open only to men has added women into the mix in recent years. Audi Nines (now Swatch Nines), Proving Grounds, Crankworx Dual Slalom and Speed & Style, the Fest Series, DarkFest and Freeride Fiesta have all expanded to include women in a meaningful way.
DarkFest creator Sam Reynolds, who also helps organize Audi Nines, a boundary-pushing freeride session based in Germany, said that when the Nines opened to women in 2021, it also opened his eyes. Although the idea of inviting women to DarkFest, which revolves around a series of massive jumps, had been floated a few years earlier, he hadn't seen the talent pool in person until those groundbreaking nine women dropped into the quarry in Germany (where BMX star Caroline Buchanan threw the first women's frontflip on a mountain bike). The risk of injury had weighed on him.
"Audi Nines was a really good stepping-stone; it was a big step and it made me go, 'I think we're ready to take the risk,'" Reynolds said. "I'm glad we did because it was awesome. The first year I felt so responsible. I was so nervous until they started riding, then it was epic."
That year, in South Africa, Goomes and Brown became the first women to hit the 90-footer, setting another record: the longest dirt-to-dirt jump ever landed by a woman. As a group, the women collectively ticked off all the jumps in 2022, but it wasn't until this year that several completed full top-to-bottom runs.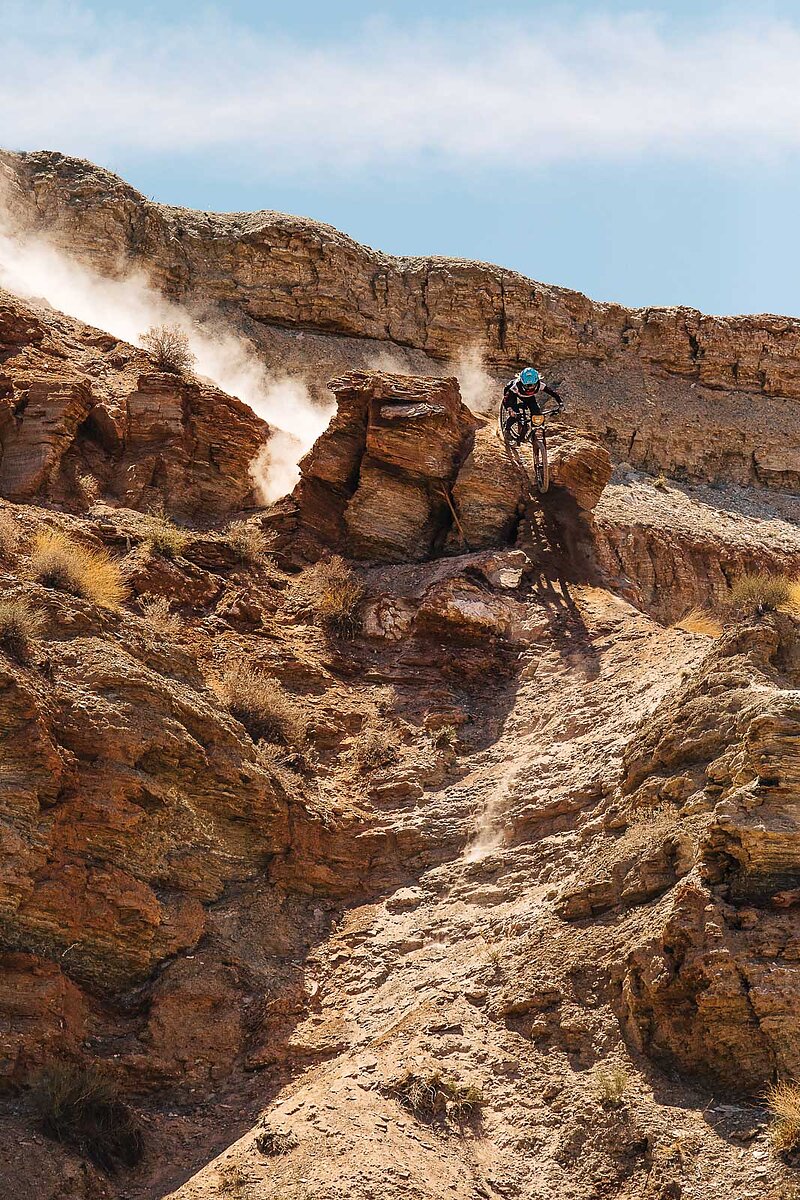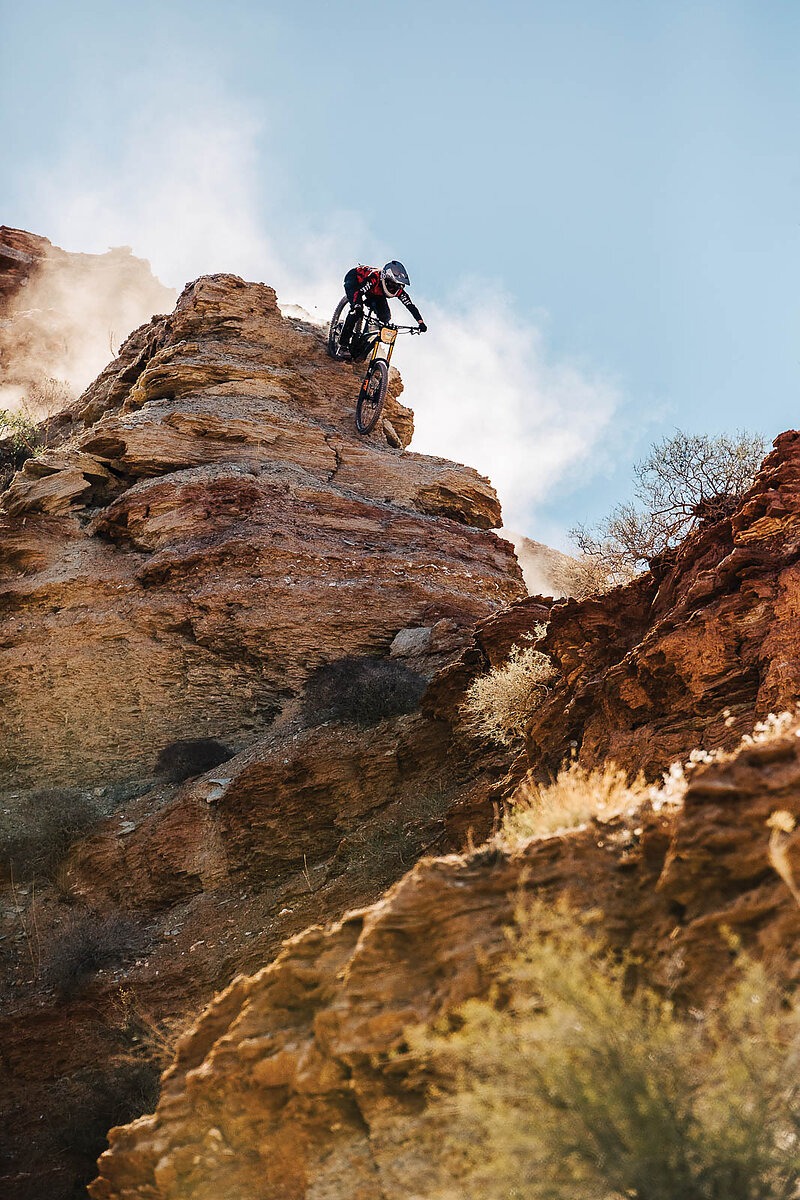 The progression in one year's time was "massive," Reynolds said. "This year, they knew how it worked, they knew what to do, they had a game plan and started riding straight away on day one. It was amazing to see. They definitely had a target after the first year— they knew a top-to-bottom was possible."
Adding women brought a new dynamism to the event, Reynolds said, and it no doubt resulted in more views from a female audience that otherwise might not have been as interested.
"It shows you just need to give everyone the platform to showcase their skills—the ladies as much as the guys," he said.
But with the biggest box still left unchecked, freeriding's top women are poised to continue fighting for equality, no matter how long it takes.
"I think it's pretty common for women in action sports or male-dominated industries to have to jump through more hoops to prove themselves," Bergemann said.
While Formation's future was still in flux at the time Freehub went to press, some worry if it were to become a competition that a proven pathway for women to progress in freeride could be cut off, just when momentum is peaking.
"Formation is meant to be a launching pad, not the end of the road," Holden said. "Continuously pulling fresh talent and developing them through that pipeline is absolutely essential to keep the sport thriving, developing, and progressing."
Verbeeck, who's taken part in all three Formations, the Audi Nines, and DarkFest—and is a twotime Queen of Crankworx—hopes the conversation around women competing in Rampage isn't over entirely.
"I think we just have to keep showing [Red Bull] how good of a product we are and show them we shouldn't just be used under a controlled area at Formation," Verbeeck said days after returning from DarkFest, where she cleaned a top-to-bottom run. "We're a pretty solid group of ladies as riders, but also we're very much on the same page of how we think the sport and the industry should evolve in a way that's fair for women. We're just going to keep meeting up and trying to push it forward. Progress is progress, as long as we're not moving backward."
For the veteran Brown, she's committed to doing what she's always done best: letting her riding do the talking and drowning out the rest.
"That's how I've always operated, and that's where I've found success in my career," Brown said. "I need to ride my bike and do cool, unique things that make me happy. And if that leads to a positive outcome, it does. If not, I haven't lost a thing. I'm still doing what I love."