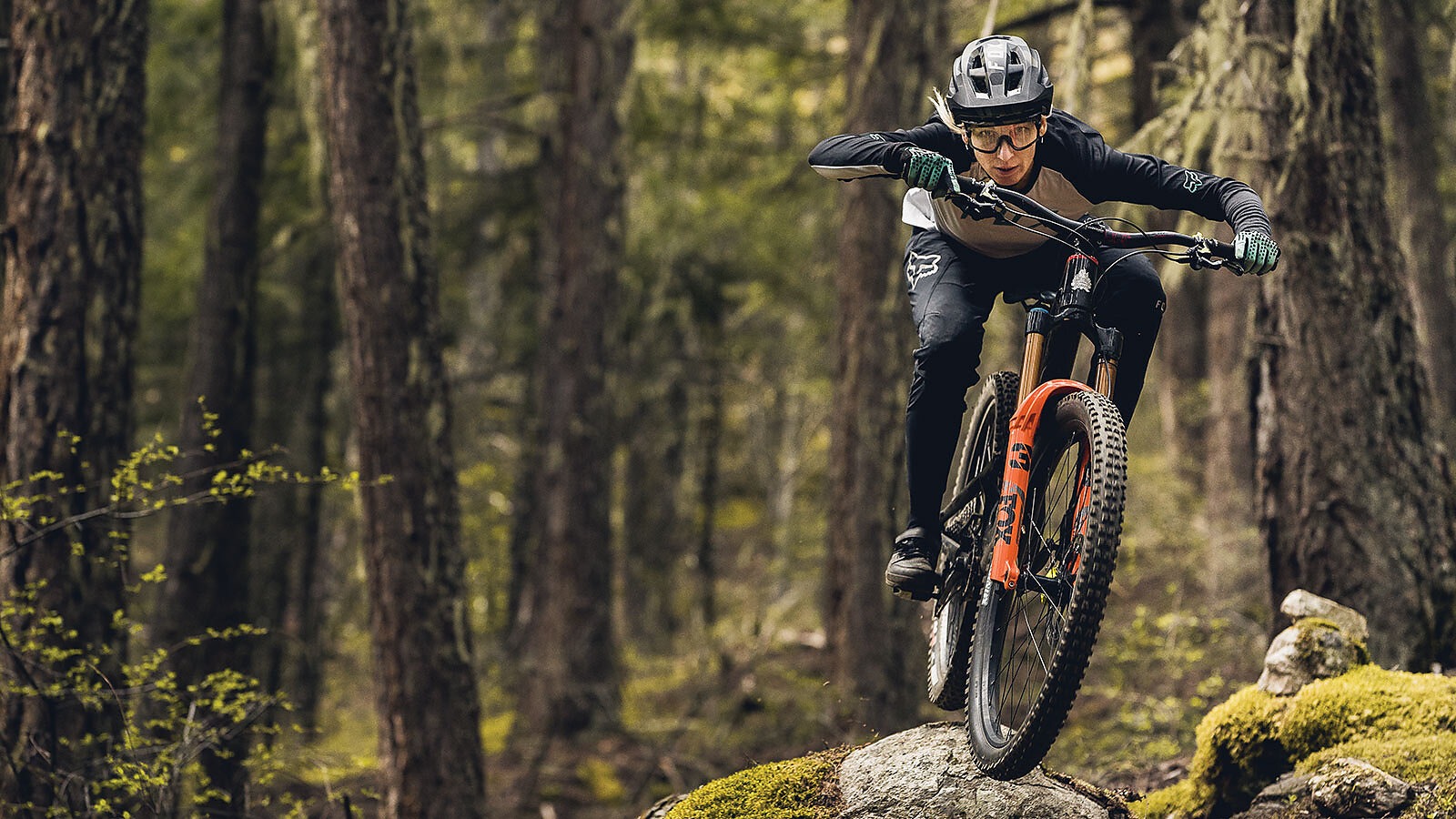 Finding The Light Claire Buchar's Enduring Resilience
Six years ago, in the damp and dense forests of Haida Gwaii, an archipelago off British Columbia's west coast, Claire Buchar sat around a campfire with friends. They were on a "soul trip," as she called it. It was a pilgrimage to get grounded after a busy season of bike-centric travel, juggling events and coaching. She felt like they had escaped to this peaceful place at the perfect time.
Claire absentmindedly picked at her leg, where yet another tiny shard of glass was making its way to the surface—a souvenir from a car accident she had barely survived years earlier. Over the flames, she talked about her desire to return to easy relationships with her bike, life and friends, and she questioned what balance might look like. Occasionally visible in the flickering light was a simple line drawing of a cedar branch tattooed on the inside of her right arm, a reminder of the special connection to nature she shared with her mom and of the tragedies that drove her to become an elite World Cup racer. Under the stars that night and surrounded by familiar spirits, Claire edged closer to a new way of living.
North Vancouver's Lynn Valley in the '80s and '90s was a far cry from the multi-million-dollar-home-filled mountain bike focal point it is today. A hub for gang fights, parties and drugs, it was known to be a rough neighborhood that many avoided. Claire and her brother Dan grew up here.
Their dad moved out when Claire was 11 years old, and although she still occasionally saw him and his new partner, she felt abandoned as she struggled to be accepted in his new family dynamic. Their mom, Ivana, stretched herself to get an education while working to make ends meet, often coming up short at the end of the month. In their parents' absences, Claire and Dan whiled away their days wandering the North Shore's massive canyons, rock-hopping up rivers, exploring the endless forest and climbing the mountains. Eventually her brother took off for the Whistler ski-bum lifestyle, leaving Claire at home with their mom for her remaining high school years.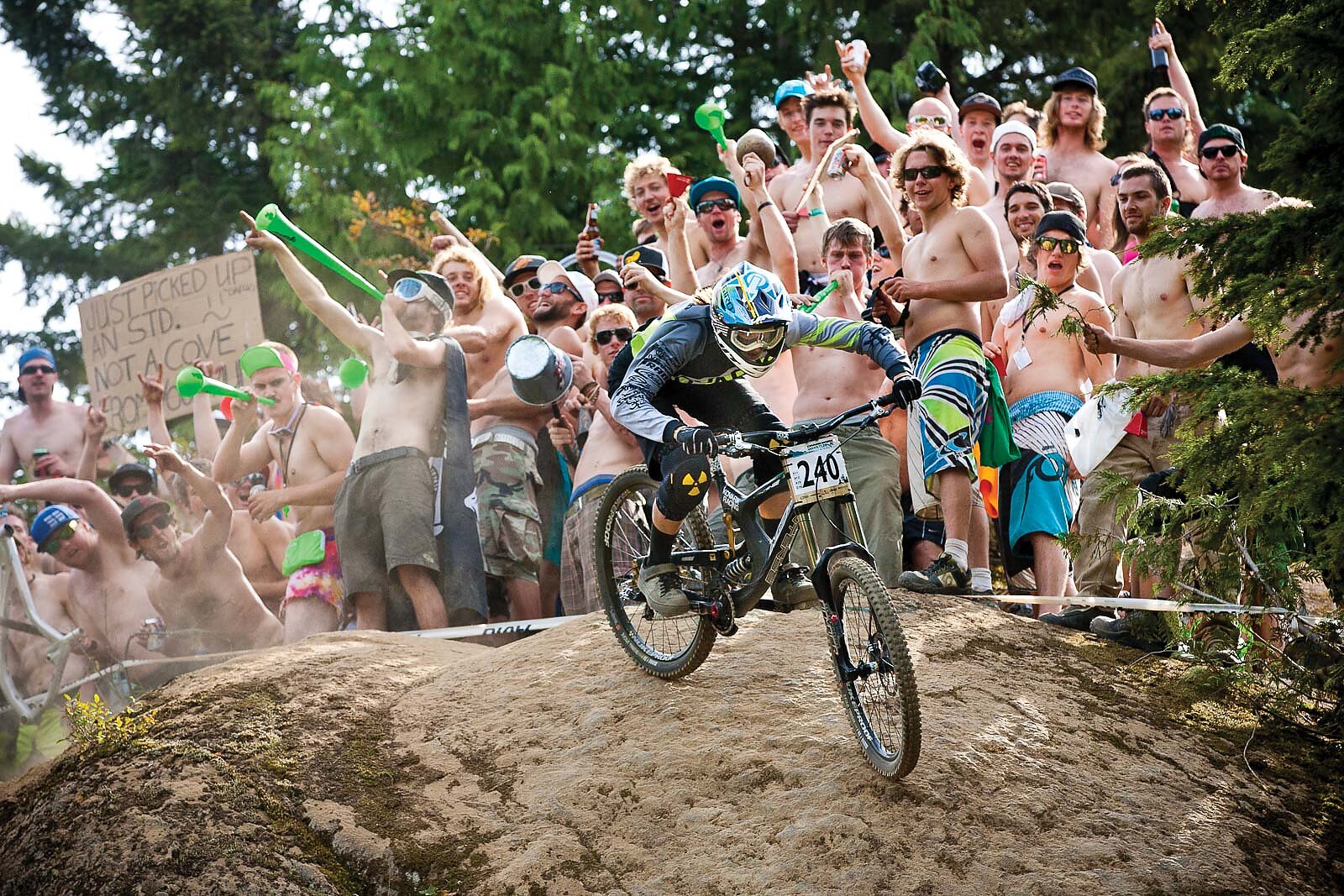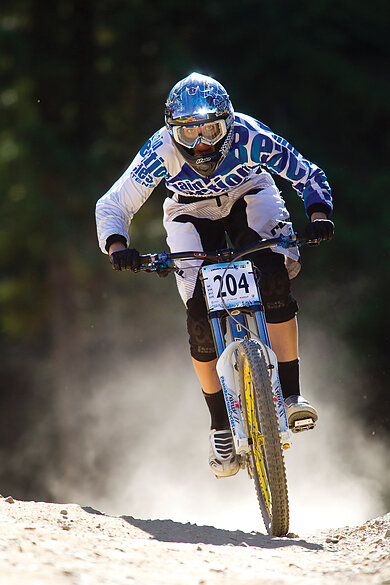 "I don't remember my mom telling me that she had cancer," says Claire, who does remember the aftermath. Shaken, she ran out of the house and down four blocks to be comforted by her then-boyfriend, Josh. It was hard to comprehend the gravity of the situation. Her mom was a superhero, so cancer could not win. But it did.
At the end of Ivana's life, Dan briefly returned home. But it was Claire, at 17 years of age and just one month shy of her high school graduation, who led the funeral arrangements and delivered the eulogy. Honoring her mother's love of trees, she harvested cedar boughs from Lynn Canyon Park to lay on the casket. She gathered and sold their mother's possessions and took truckloads of dilapidated and unsellable furniture to the dump. Each act cut deeper and pushed her further into survival mode. Numb, she would lay in her mother's bed and try to cry, but it felt as though her heart had closed completely. Finally, Claire was forced to sell their family home, a modest house that she had always been proud of.
"Saying goodbye to that house was when my world ended, when I really lost her, lost my dad again, and lost the family I never really had," she says.
Her brother returned to Whistler, and Claire rented a basement room while pursuing the Outdoor Recreation Management program at the local Capilano University. As was common in Lynn Valley, Claire had shifted toward the party scene as a teenager, but the strong ideals around the outdoors and sports her parents had instilled pulled her back when her mom got sick.
"It was the greatest gift they gave me," she says, "because when the shit hit the fan and I was left with no home or family, I leaned into those values."
Although she was busy with classes and working part-time, Claire's mission, whenever possible, was to be in the wilderness; rock climbing, mountaineering and discovering mountain biking. Her high school best friend, Roger, was a major instigator of these adventures.
"After my mom passed, Roger would rescue me," she says. "He would pick me up and take me climbing."
On a mountaineering trip, a year after losing her mom, Claire, Roger and three other friends got caught in whiteout conditions while attempting to climb foreboding Mount Robson, the highest point in the Canadian Rockies. Forced to make camp, the party was hit by a class-five avalanche—big enough to take out a small town—in the middle of the night. Roger was killed and, in a helicopter the next day, Claire pointed out to rescuers where they could find his body. The loss compounded her heartbreak.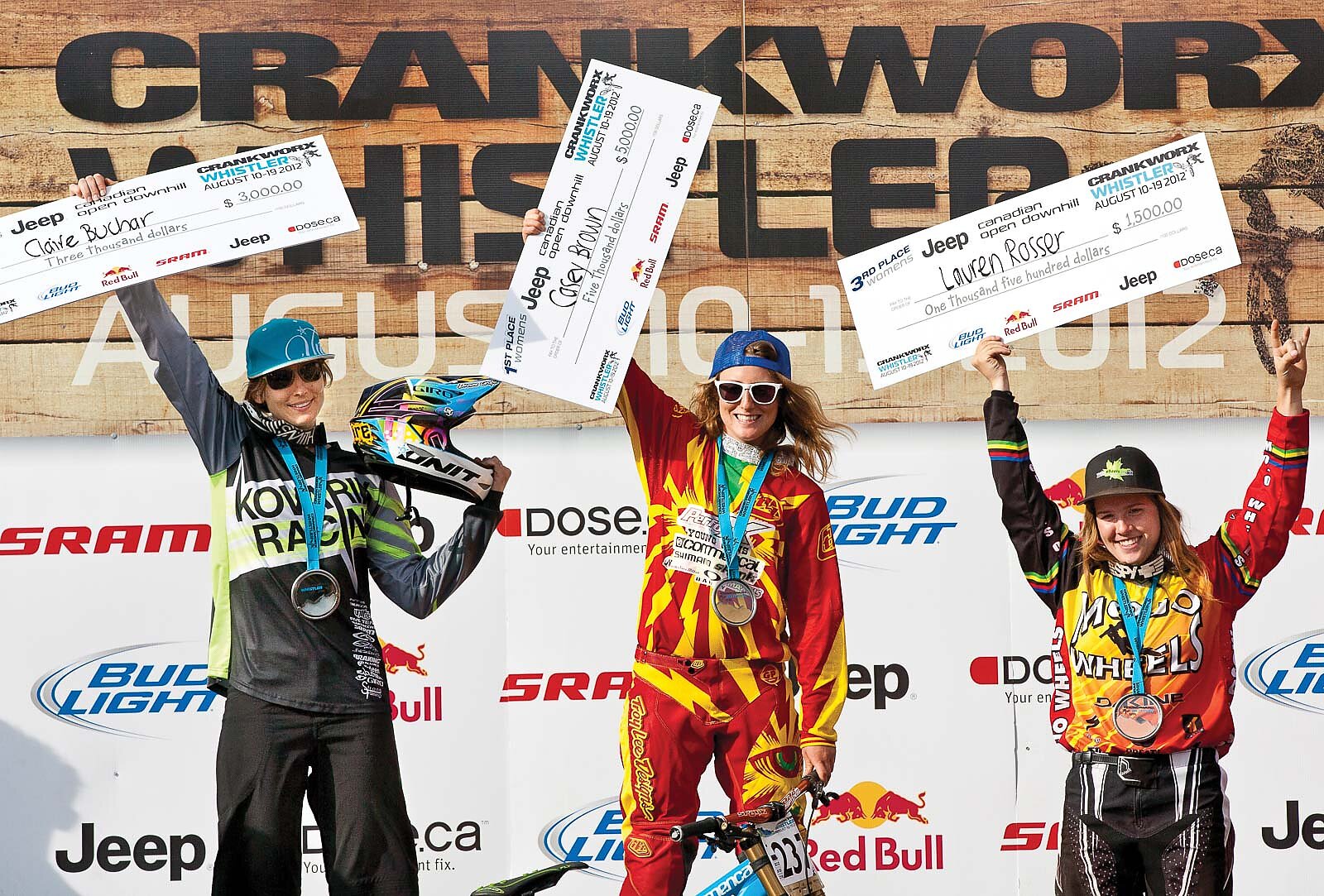 Full of tumultuous energy and a deep-seated desire to prove herself to the world, Claire poured everything into mountain biking. She'd always dreamed of being an athlete. Her father's time on the Czech national downhill ski team and racing enduro motocross had given her confidence at a young age. At 20, when Claire took up riding, there were no courses or workshops available to learn skills. She simply kept up with the guys and did what they did. Never doubting herself, if they hucked something, she was right there with them.
Jenine Bourbonnais, owner of Evolution Whistler bike shop, will never forget the first time she saw Claire.
"She was soaring through the air beautifully off a huge jump near the bottom of the Whistler Bike Park," Jenine says. "I was mesmerized by her calm style."
That evening, Jenine introduced herself to Claire at a village bar and peppered her with questions about who she was, where she had come from and how she had become such an amazing rider. By the end of the night, Jenine convinced Claire to move to Whistler and work at the bike shop.
Claire immersed herself in local and regional races, sleeping in the back of friends' cars and camping to make it all work. She made the Canadian National Team in her first year but was so new to the sport she did not yet know what the World Championships were.
Racing had provided Claire with an outlet for her grief, but she was not yet free of tragedy. While preparing to race one of her first World Cups, in Willingen, Germany, she received news that her high school boyfriend, Josh, had been killed in a construction accident.
"It felt like everyone I loved, everyone who saw the light in me, was leaving," she says.
The loss only heightened her need to prove her self-worth on the track, but while fun on the surface, it was already becoming a heavy burden to lay everything on race results.
"Ego is such a big part of an athlete's journey," she says, and hers had become desperately linked to her perception of success. "I had to start seeing the light in myself, something I still struggle with today."
Those early days of racing were not always a welcoming environment. Women were fighting to make a name for themselves in a male-dominated sport, which did not leave much room for camaraderie. It was a lonely and challenging atmosphere that opened old wounds around high school mean-girl cliques, and it was not until Claire met Katrina Strand and Lisa Lefroy, who would become lifelong friends, that she found a sense of belonging.
Katrina remembers watching this "tall blonde girl" ripping the bottom of a racecourse at Silver Star Mountain Resort. She already knew of Claire from video clips, especially the one in which she'd hucked off the roof of the Fitzsimmons Express chairlift hut in Whistler. A few weeks later, Katrina and Lisa ran into Claire at the dirt jumps and invited her to ride the double-black-diamond Tower of Power trail in Pemberton.
"Off we went on our dirt jumpers," Katrina says. "Claire didn't even have a front brake!"
The two women continued to invite Claire on rides and to photoshoots. With so few positive female influences, Claire was grateful for their support.
"I don't think they realize what it meant to me," she says.
In 2004, Claire and Katrina created the Canadian DH Girls, a crew of privateer women racers—including Micayla Gatto and Miranda Miller—to showcase their talent and get more exposure with potential sponsors. It also fostered a friendlier environment for women competing with each other, something Claire was especially motivated to create.
"As a privateer and a female racer at the time, you often could be pretty alone," says Miranda. "Having some of the Canadian DH Girls at World Cups meant that we could take on B-Practice together, often riding to the pits in the dark, figuring out lines and pushing ourselves. Claire, in particular, showed me how to have class and grace in moments of success and in moments of failure. I didn't realize how helpful it was at the time. But now I do."
"EGO IS SUCH A BIG PART OF AN ATHLETE'S JOURNEY. I HAD TO START SEEING THE LIGHT IN MYSELF, SOMETHING I STILL STRUGGLE WITH TODAY." —CLAIRE BUCHAR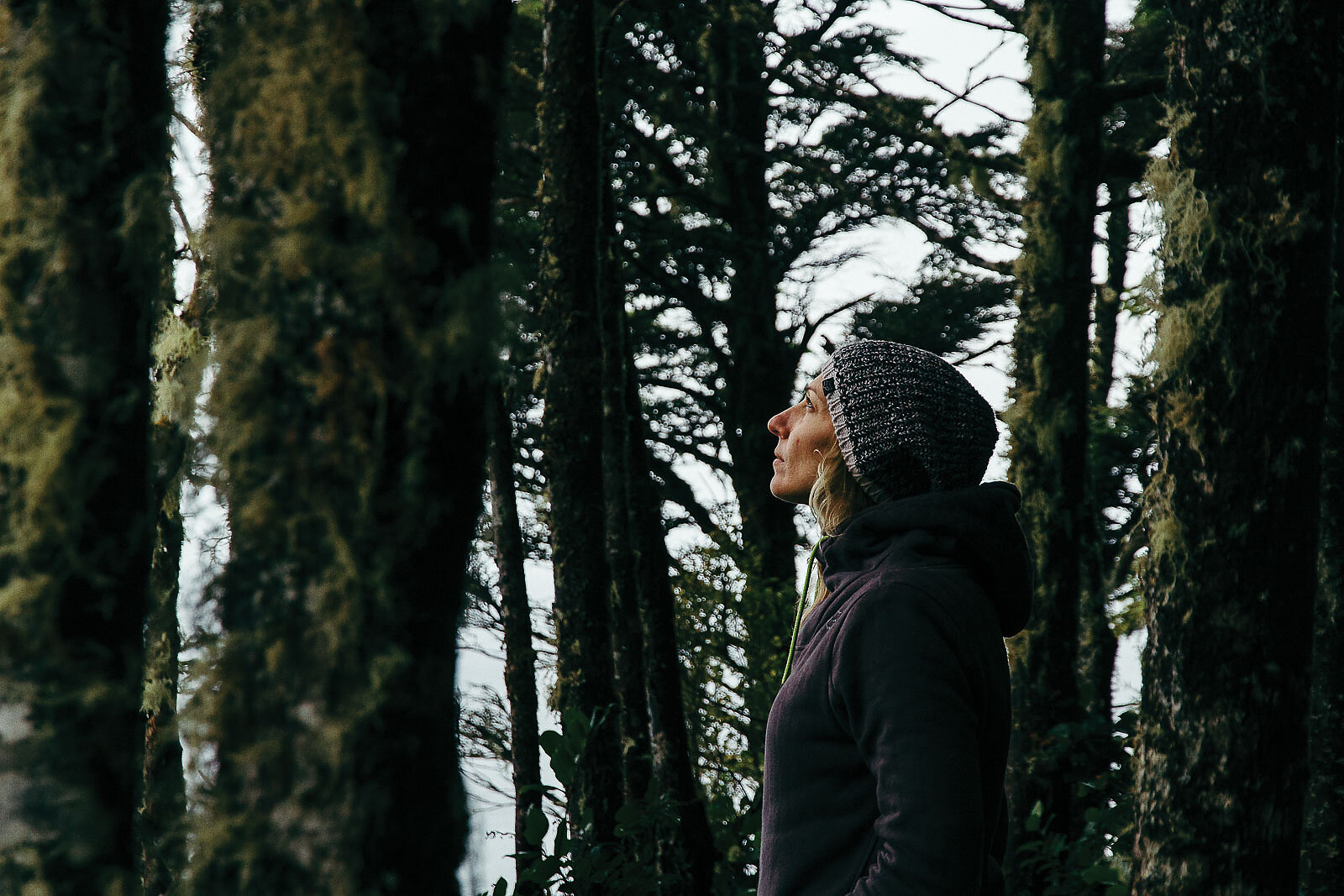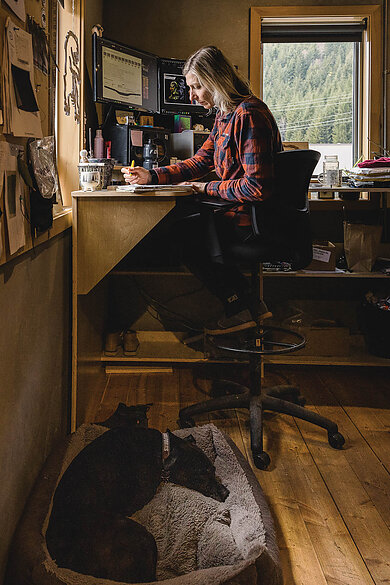 Being a privateer on the World Cup race circuit was demanding. Claire could train all winter and then fly across the world, only to deal with hardships such as crashes, flats, mechanicals and lost bikes and bags.
"Sometimes I would travel super far and spend a lot of money and then I just sucked," she says.
As with most privateers, these struggles meant that her passion had to win out over empty pockets. Claire worked full time, trained in the dark and sold her old bikes to make ends meet. She made a lot of sacrifices, missing out on friend trips and important family events. Nothing was easy, but she was determined and, to her, the adventure outweighed the adversity.
The effort was worth it. Claire made a name for herself, racking up 11 top-10 World Cup finishes between 2006 and 2010. She won multiple Canadian National and British Columbia Provincial Championship titles, took first place at the Crankworx Women's Slopestyle events in 2007 and 2009, and won the intimidating Mount 7 Psychosis in Golden, B.C. three times.
Despite her extraordinary success, Claire spent much of her career stuck in the catch-22 of needing race results to get sponsor support, while also needing sponsor support to get good race results. In 2005, she met fellow World Cup downhill racer Chris Kovarik at Crankworx, and four years later, they were married on the beach in his home country of Australia. In 2009, admittedly with some influence from their relationship, Claire was added to the Chain Reaction Cycles / Intense team that Chris was on, bringing some new energy to the previously all-male crew. In her last two seasons of racing World Cups, this team support allowed her to grow more as an athlete than she had ever been able to as a privateer. With help from Claire's points, the crew won the World Cup overall team title in 2010.
The following year, Claire went back to privateer status and could no longer afford to travel for international World Cup races. She focused on domestic races and won the 2011 Canadian National Championship, which qualified her for the World Championships in Champéry, Switzerland. On a relentlessly steep and aggressive course during torrential rain, Claire won bronze for Canada—her best result yet.
While training in the gym for the next race season, Claire collapsed. She had been plagued by fatigue but had continually forced herself to fight through it, focusing instead on racing, traveling and paying bills. She was diagnosed with Hashimoto's disease, an autoimmune disorder affecting the thyroid gland that was brought on by years of stress, grief and trauma.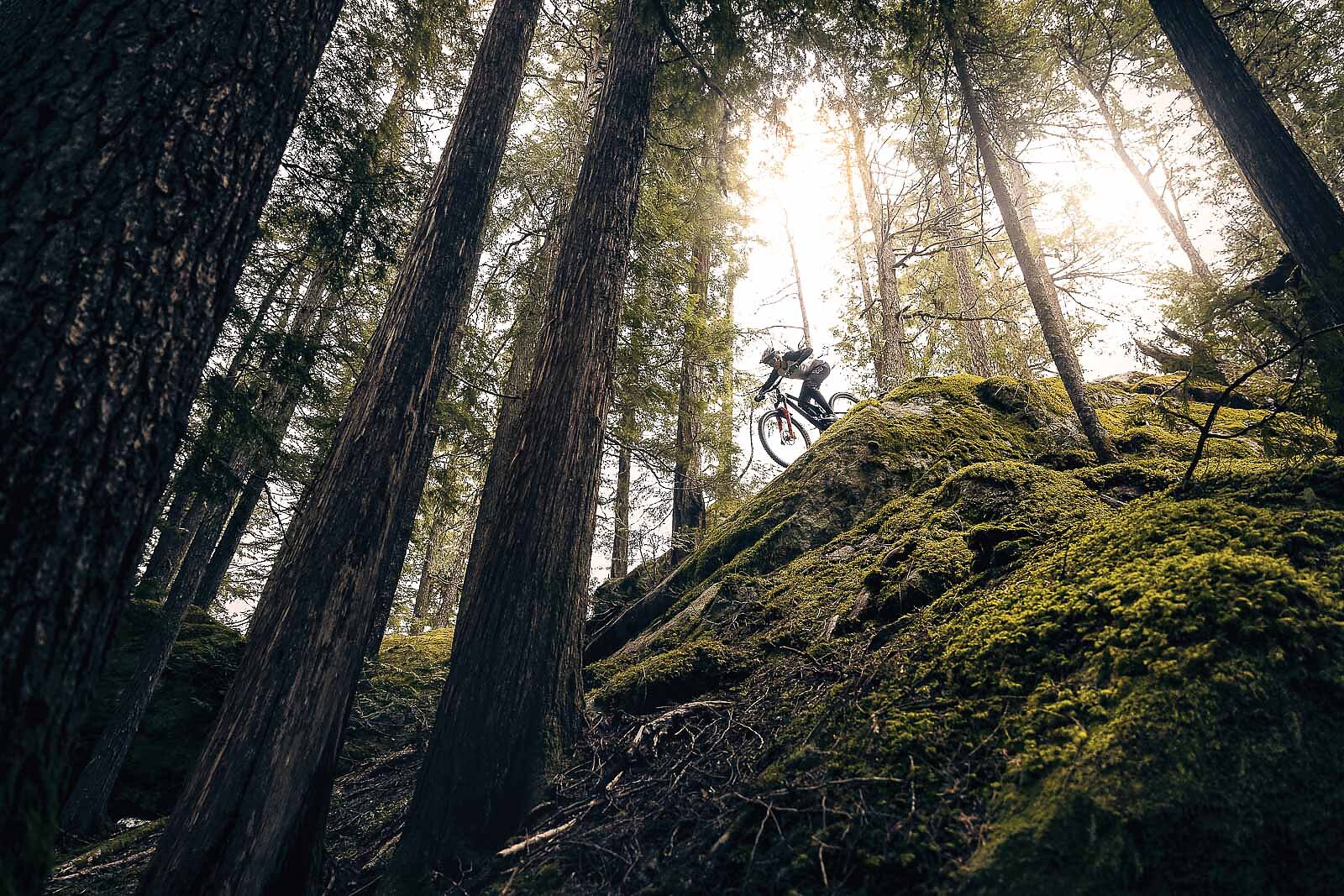 The year following her diagnosis, Claire and Chris were in a violent car accident on an Australian country road. An oncoming Nissan Triton truck lost control and slammed into their vehicle's front and driver's side, where Claire was. When she woke up, their car was in the ditch and the driver's door was in her lap. A woman who had run over from a nearby farmhouse held her hand and reminded her to breathe while they waited for emergency crews. Claire struggled to take tiny gasps of air as her lung filled with blood.
"I experienced the worst pain of my life when they pulled me from the car," she says.
Investigators would later say they could not believe she survived. The crash left her with most of her right-side ribs broken, a pelvis cracked in two places, a lacerated liver and spleen, soft tissue damage in her shoulder and a concussion. Doctors had to prescribe a general anesthetic to remove the glass embedded all over her body.
"I had stitches everywhere," she says.
Although rehabbing from the accident was more intense than anything she had experienced before, she treated it like a riding injury and was back on the bike once her bones were healed and the vertigo had cleared. It was far too soon. The risk of crashing after the accident was too serious, and although Claire tried to hang on to competitive racing a little longer, the trauma impeded her progress and her overall recovery became a pivotal point. It wasn't that she couldn't race at the same level anymore; she didn't want to.
Still, Claire was haunted by the feeling that she'd not reached her full potential, and leaving racing felt like she was losing much of her identity. But she had already lost everything once, and this time she was determined to find a healthier way to move forward. One key avenue would be coaching and mentorship.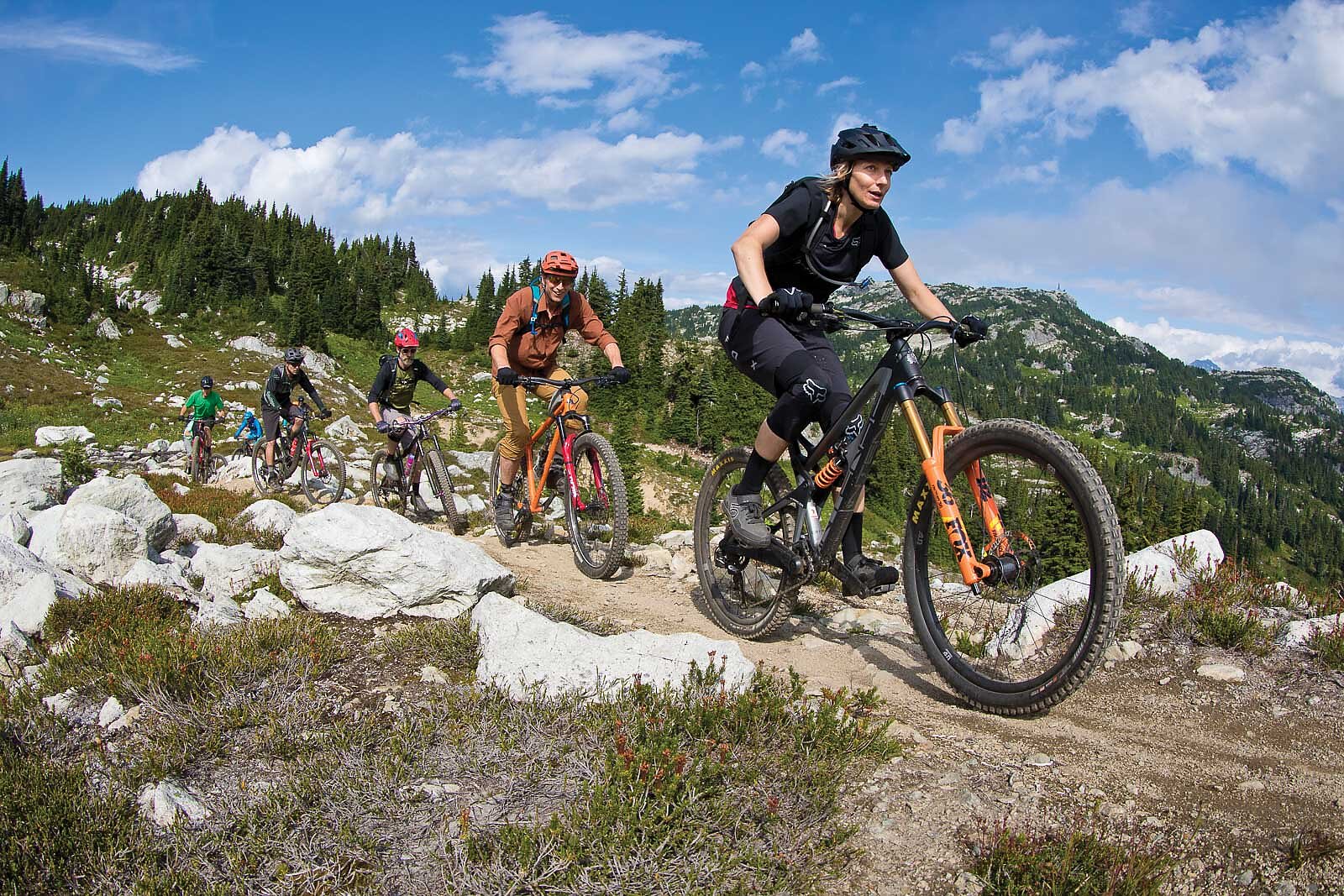 A few years earlier, Chris and Claire had started Kovarik Racing in conjunction with Intense Cycles, Magura and several other longtime sponsors in an effort to mentor youth throughout the BC Cup Downhill Series. They focused on junior development for several years and worked with (then) up-and-coming young talent, including World Cup racers Finn Iles, Seth Sherlock and Georgia Astle, as well as freerider Remy Morton. Claire had long been an advocate for increased opportunities in downhill for the next generation of boundary-pushers, and the program also helped the kids with bikes, gear and pit support. She naturally drew on years of experience to produce some of her most meaningful career achievements, on and off the track.
Seth joined the Kovarik Racing Intense Development Team at 12 years of age. Now 19 and in his first year of racing World Cups in the Elite Men's category, Seth says he wouldn't be where he is today if not for Claire.
"She coached us through our mistakes, helped us get our acts together, taught us not to do dumb things at the races, and become good racers," Seth says. "She was more of a life coach and is one of the kindest people I know."
In recognition of her coaching talent, Claire was named the Canadian Downhill National Team Coach for the 2021 World Championships. Cycling Canada's Chief Sport Officer, Scott Kelly, hailed Claire's experience representing Canada at the event 12 times and claimed that developing coaches like Claire would be key to Canadian success going forward.
"It felt like such a meaningful role to step into—and as a female," Claire says. "One thing is for sure. My heart is in it."
Having left World Cup-level racing behind (she can't claim retirement, as she's still known to dabble in local races), Claire is no longer chasing worthiness on well-worn and repeatedly examined racetracks. Instead, she has found a thrill in riding blind. Mirroring life itself, she now prefers to read and navigate terrain as it comes, anticipating the unknown. Shifting her focus from speed to the quality of her riding, while no longer dwelling on things like her heart rate and the total distances ridden, has made every pedal stroke more meaningful. Claire still goes fast and big, as evidenced by the many videos she's released over the past several years, but she now enjoys the luxury of being selective about it.
"Her riding is smooth and precise," says professional mountain biker Rémy Métailler, a YouTube sensation who has filmed with Claire. "When you teach someone how to ride a bike, you basically describe Claire."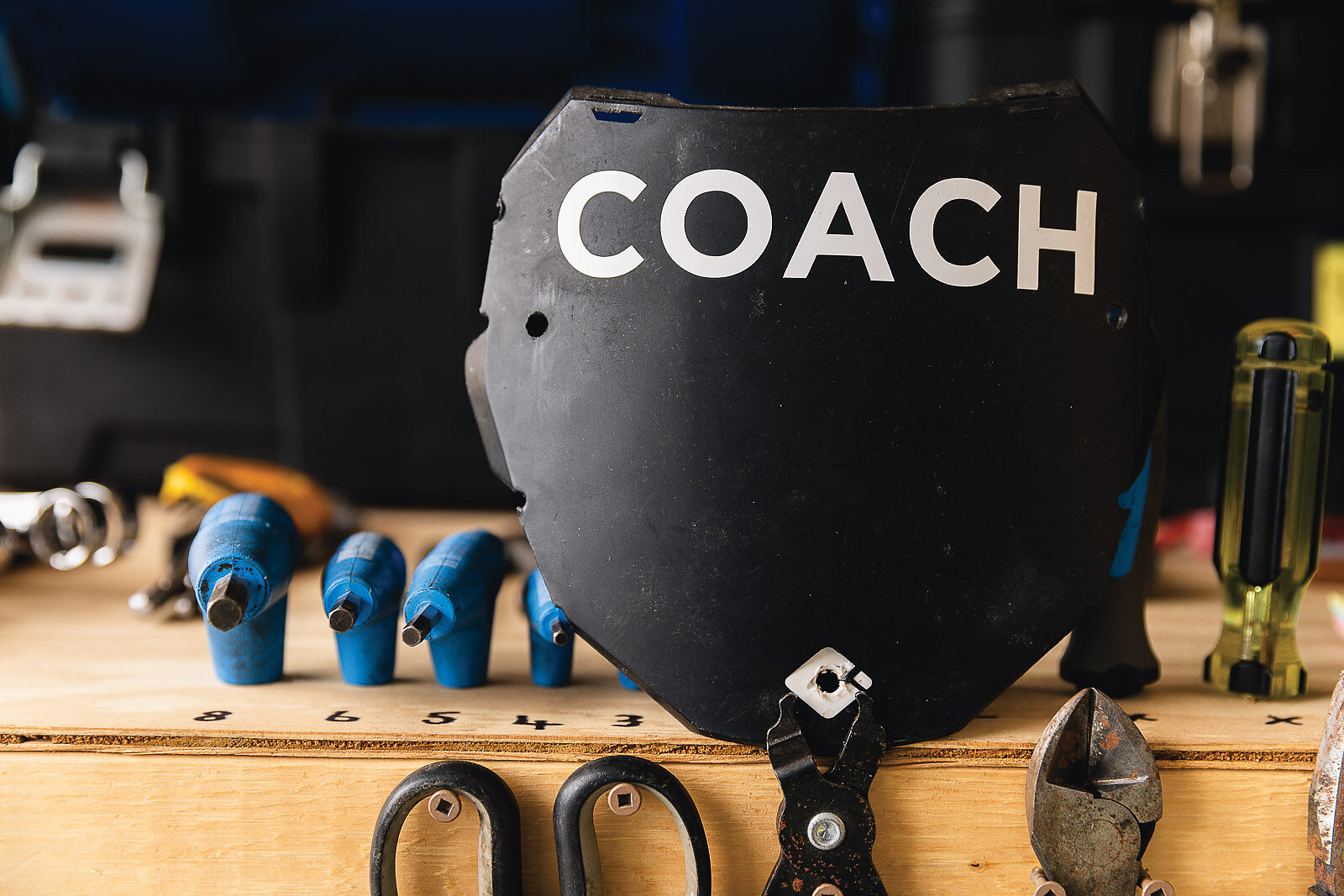 From backcountry adventuring to boisterous crew rides, hitting dirt jumps and even taking up moto trials, Claire has found a new depth and satisfaction in riding that exists beyond results and podiums.
"Since she stopped racing, she is having more fun on the bike," Rémy says. "She has a bigger smile on her face."
This past April, only a few days shy of the anniversary of her mother's death, Claire undertook a 36-mile mountain bike ride to raise money for ovarian cancer research and awareness. Donors surpassed her $570 fundraising goal by thousands of dollars and, on one of the most meaningful rides of her life, Claire proved that one person, when motivated by love and heartache, can make a massive difference in this world.
Among the on-course support for her fundraising ride were some of Claire's co-workers at Whistler-based Chromag Bikes, where she works as the in-house graphic designer and soft goods production manager.
"We are a small team, so we each need to be versatile, and I think this is something Claire excels at," says Chromag Founder Ian Ritz. "As an athlete, Claire has had to achieve everything by her own determination, and this carries over well to our company, where we've had to figure everything out ourselves."
The team at Chromag makes up a good chunk of Claire's chosen family, and she regularly rounds up the crew for after-work rides. Her co-workers love her quirky sense of humor and the upbeat energy she brings to both the office and the trail. She's become known for her entertaining antics and fits of uncontrollable laughter.
The flipside of Claire's lightheartedness is her ability to pivot deep into topics such as trauma and spirituality, making her both a cheerleader and a shoulder for friends to lean on. She is boundlessly compassionate because she can identify with the darkness that others have experienced.
"The way she soars so high in the air with a beautiful calmness is the perfect example of how she is wild and thoughtful," Jenine says. "Wild enough to soar that high, but thoughtful enough to do it well."