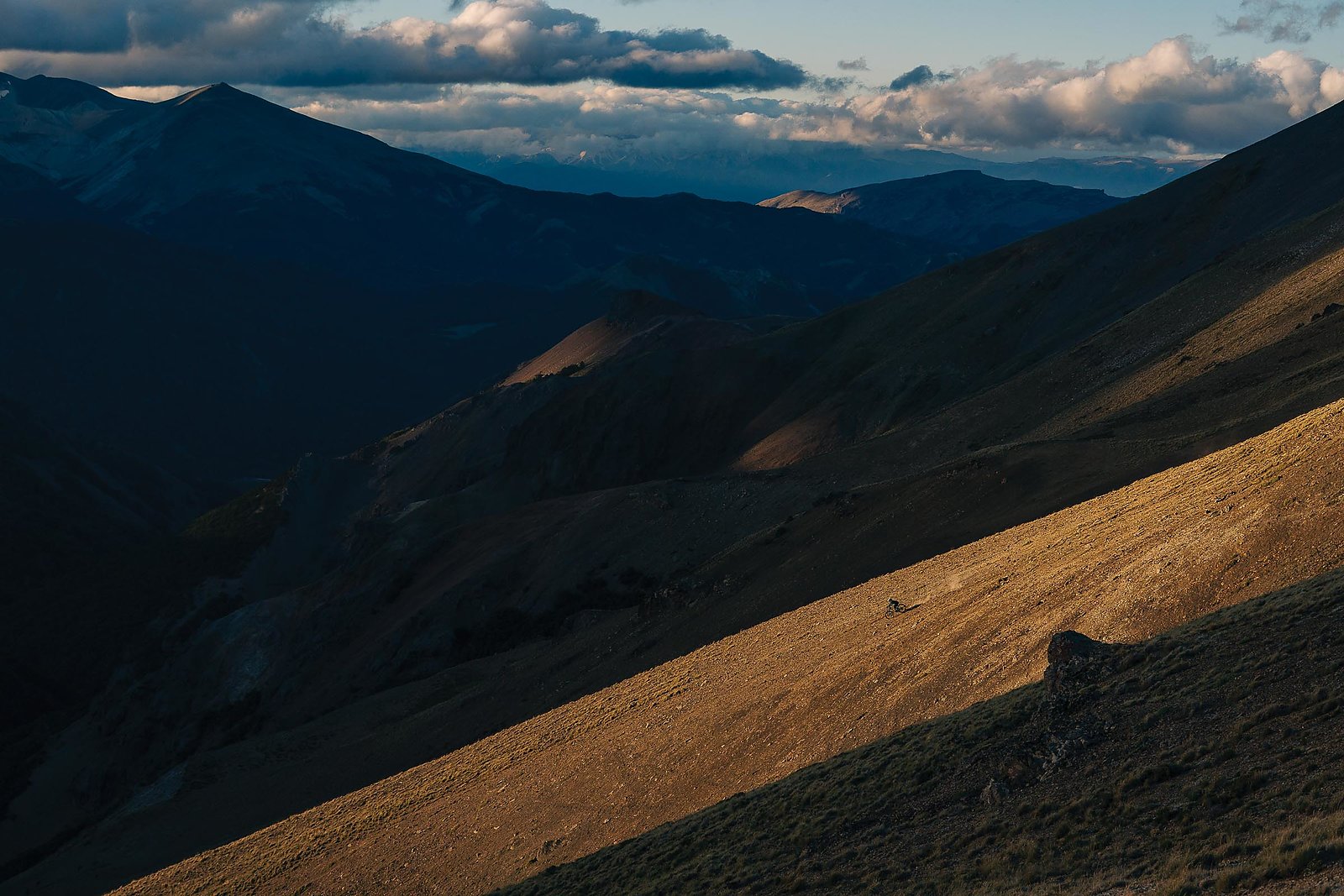 The Free Rider Blazing a New Path to Freeride Stardom
Standing in the middle of our dust-covered campsite, feeling shattered from another long day of blasting down treacherous scree slopes, we stared across the barren gorge at a lone figure perched atop the mountain in front of us.
The wind had been howling all afternoon, and we were anxiously hoping for a sustained lull as the sun's rays waned on the horizon.
For four evenings running, I'd negotiated that precipitous boulder-funnel on my way back to camp, alternating between controlled slides and slow-speed washouts in a purposefully diagonal traverse to the creek bed below camp. Every time, I wondered what it would take to straight-line that rock-choked chute from top to bottom. If the wind would just subside, that solitary silhouette gazing down at us could give me my answer.
I jumped as my walkie-talkie crackled, heralding a voice of disarming composure: "I think the wind's died down enough. I'm ready to drop when you are."
"Ten-four," I responded, pausing momentarily to ensure the cameras were recording. "We're rolling."
We watched, our collective breath held, as the figure picked up speed and gouged a series of savage, sharp turns on the mountainside's loose upper reaches. Midway down, the rider straightened out into a section of thick shale slabs, only to be bucked forward in what looked certain to end in an over-the-bars-to-rag-doll crescendo. Miraculously, the rider managed to get feet back on pedals in time to dredge a giant super-G arc along the base of the trough, checking just enough speed to ride safely into the chunky runout.
"Yeeeaaahhh!" we yelled in unison, leaping around in joy and relief.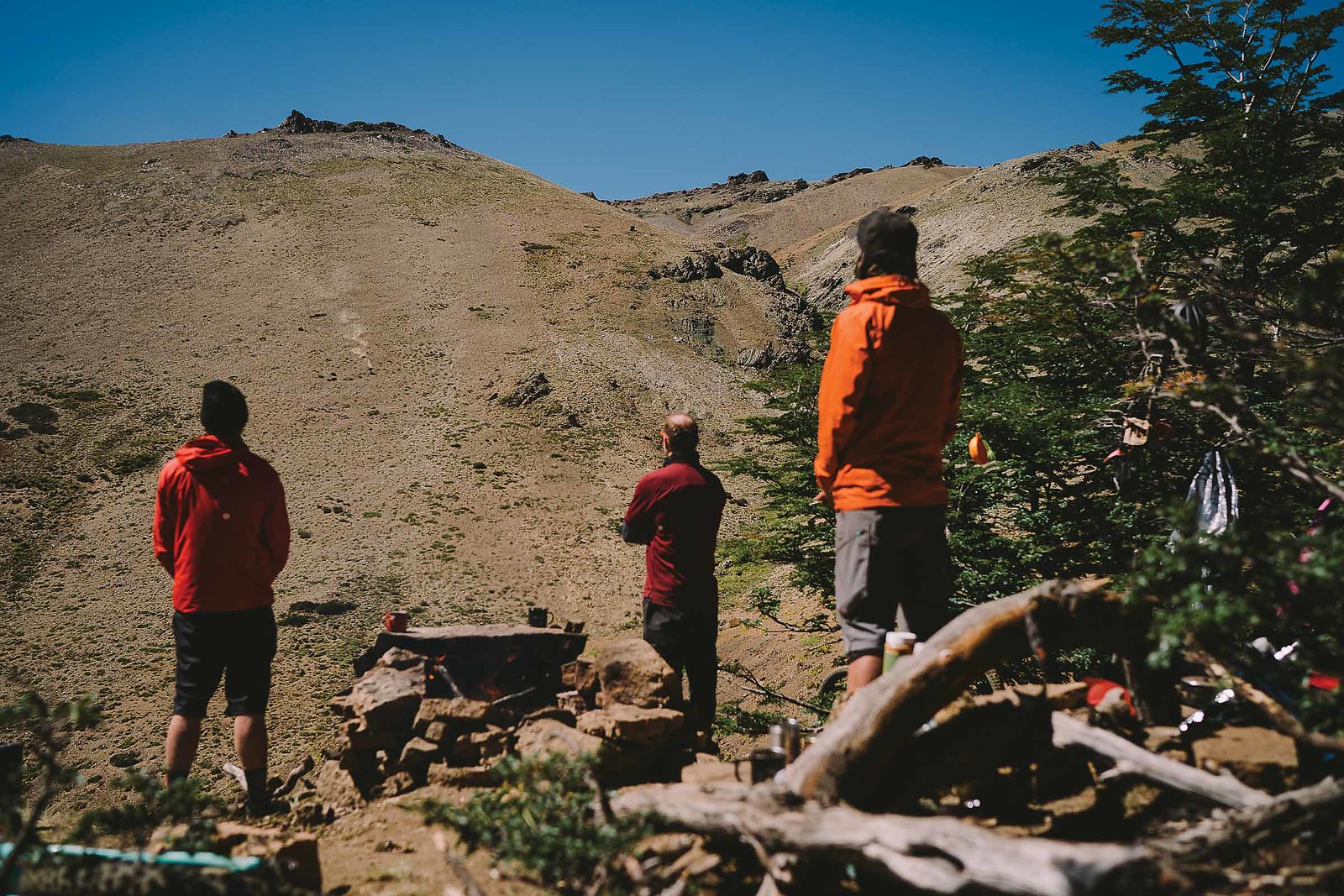 Ten jubilant minutes later, our hero pushed quietly into camp. The slight, unassuming person approaching us was none other than Casey Brown, the woman who's paving the way for freeriding to become a viable career for female athletes.
"That was fun," she stated matter-of-factly as we stumbled over ourselves to offer high-fives. "It got a little scary for a second but turned out fine."
I would have been stunned by Brown's nonchalance if I hadn't already spent a week watching her slay similar lines in this hostile corner of Argentine Patagonia. After weeks of studying Google Earth and picking the brain of Martin "Cepi" Raffa—the nucleus of Argentina's ever-expanding mountain bike circle—we'd traveled to this desolate stretch of the Andes to film rowdy first descents for a "wilderness" segment of Anthill Films' new movie, Return to Earth. 
Along with Matt Hunter and Joey Schusler, Brown had been handpicked by the Anthill crew for her proven ability to ride high-consequence terrain while coping with relentless wind, subzero temperatures and extended days of backcountry camping. The British Columbia-based film company could've invited any athlete they'd wanted for this trip, but they specifically asked Brown to join—and not so they could add a token female to the roster.
On the contrary, they'd known from years of riding and filming with Brown that she was likely to cope better with the danger and adversity of wilderness freeriding than many of the sport's standout males.
"It's physically and mentally exhausting doing long, back-to-back days of filming in remote wilderness, and when it's as cold, dusty and windy as it gets in Patagonia, it just wears everyone down," says Anthill's cofounder and director, Darcy Wittenburg. "When people get worn down, they're more likely to lose their composure and crash. But Casey never really seems to lose her composure."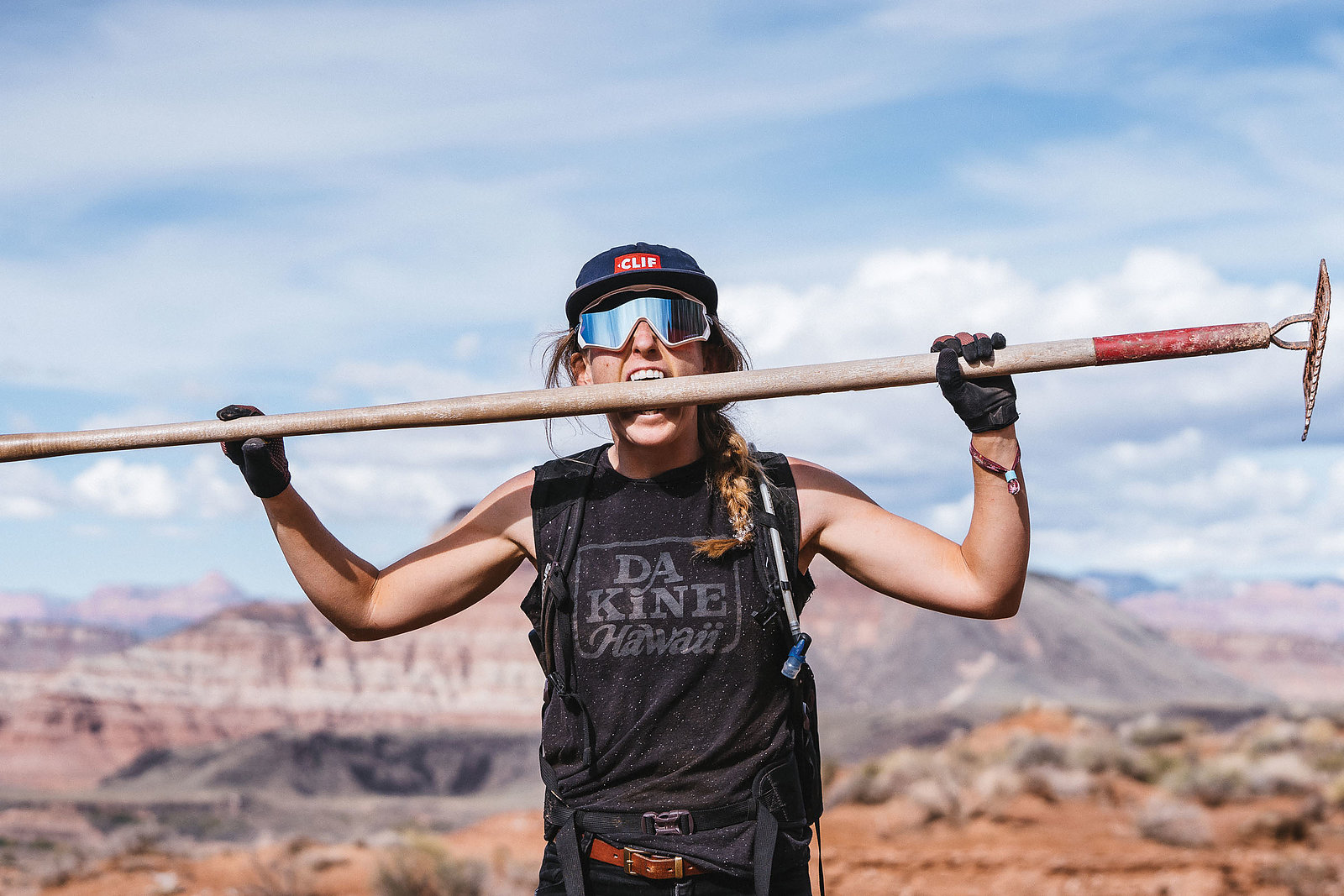 These sentiments are universally echoed in the world of freeride mountain biking—the irreverent, extreme fringe of our sport that has, until recently, been inhabited almost exclusively by men. Ask any of the world's most famous freeriders and they're likely to have lively stories of riding with Brown.
"A few years ago we were filming for Not2Bad in Spain, and we're learning these huge jumps together, and there's Casey on the roll-in with me, Brett Rheeder, Brandon Semenuk and Ryan Howard, just talking about the best lines like everyone else," says Cam McCaul, an accomplished freerider and one of the sport's foremost commentators. "Even then, she'd already more than proven herself to have the skill sets to ride the same things we were riding. I never hesitate to ask her advice on tricky lines."
This was certainly the case during the February 2019 Return to Earth shoot in Patagonia. There wasn't a single trail in the rocky zone we were exploring, and all the potentially rideable lines were scree slopes with dizzying degrees of steepness. Given the time it took to shoulder-carry our bikes to the mountaintops, every descent was a one-shot deal for filming, and Hunter, Schusler and Brown had to ride them based only on their perfunctory scans on the hike up.
"Everything was super-high-speed, and they were pretty much riding it all blind," Wittenburg says. "The consequences of going down on those sharp rocks was pretty severe. It would be a bloody crash, and everyone knew it. But she didn't seem fazed at all. She just quietly stepped up to the plate and rode what everyone else rode."
It was obvious to everyone present that we were witnessing—and documenting—some truly historic moments. The most dangerous chute Brown rode had absolutely no margin for error: One mistake would have led to serious injury or even death.
"Once you dropped into that there was no stopping," Wittenburg says. "Casey could have easily backed out and nobody would have thought less of her. But she didn't even hesitate. She just dropped in and rode it like a boss."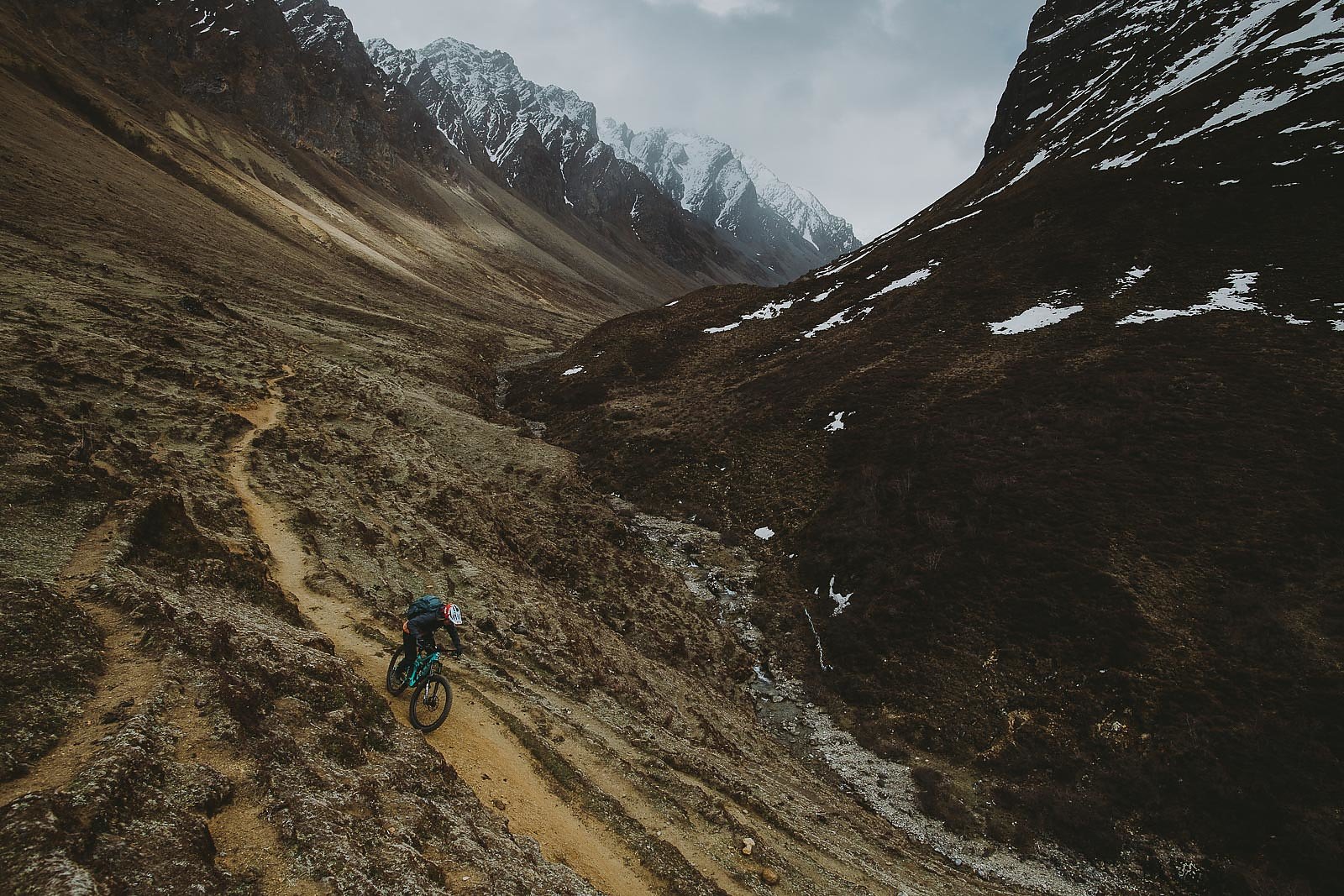 Though natural talent plays a huge role in Brown's abilities, it hasn't come overnight. The 28-year-old has been riding since age 11, when she first moved with her father to Revelstoke, British Columbia, from her native New Zealand.
"At first it was mainly torture for me," Brown recalls. "I was in a new country, a new town, and it was a huge challenge because the bike my dad gave me was a horrible, homemade thing with weird geometry. Then my dad got me a tiny little GT Avalanche, which was probably the best kids' bike at the time, and I fell in love with mountain biking."
"I was in a new country, a new town, and it was a huge challenge because the bike my dad gave me was a horrible, homemade thing with weird geometry. Then my dad got me a tiny little GT Avalanche, which was probably the best kids' bike at the time, and I fell in love with mountain biking."— Casey Brown
Throughout her teenage years, riding was the constant in an otherwise turbulent family life. By 2005, her obsession for mountain biking was obvious to everyone, and Brown's family helped her buy a Kona Stinky that her late brother, seminal freerider Sam Brown, scored with a pro deal.
"I rode that bike everywhere," Brown says. "I rode it to school every single day, even in the middle of winter, when there was three feet of snow on the ground."
By the time she was in high school, Brown was already joining group rides with some of Revelstoke's best riders. Her older brother had turned pro and was living in Nelson, BC, but his friends in Revelstoke were happy for her to tag along—provided she rode what they had in mind.
"They were all really good riders," she says. "And following them for so long and being observant of what they did helped me to learn quickly and feel really comfortable on my bike."
Given that Brown has been "riding with the boys" since childhood, it probably should come as no surprise that she feels perfectly at home ripping trails with males. It also could help explain why so many of the world's most progressive male riders also feel at home with her.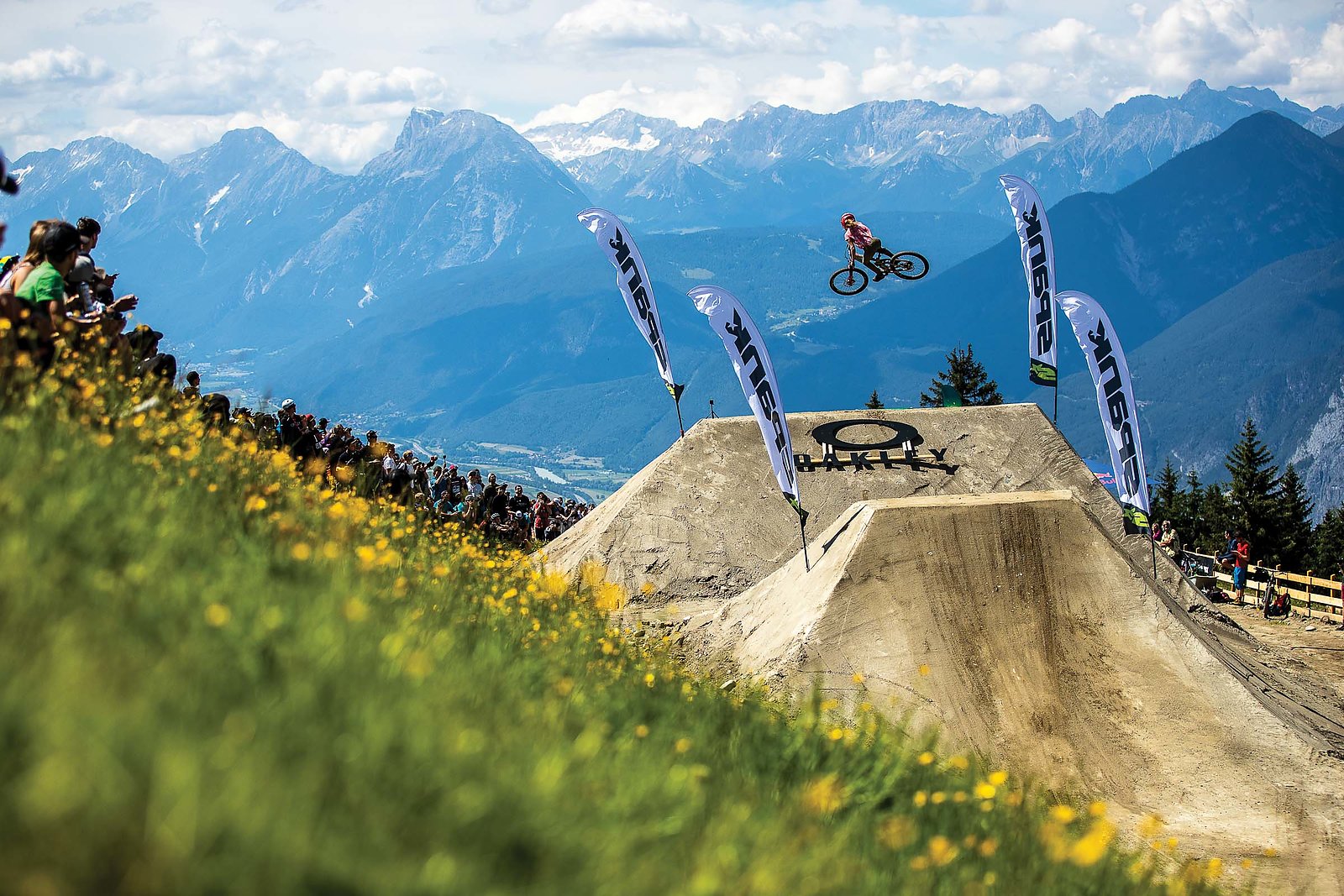 "She's had a very unique upbringing, which lends to her easygoing nature and her ability to deal with everything that comes up on hard adventure trips, whether it's gnarly terrain or just camping and being filthy for days on end," says freeride pioneer Darren Berrecloth, who this year invited Brown to join his crew on a world-first, eight-day traverse of a never-before-ridden stretch of the Himalayas in the Kingdom of Bhutan. The April 2019 expedition, part of Berrecloth's forthcoming film, Chasing the Yeti, was grueling: It entailed the crossing of 16,000-foot-high passes in near-whiteout conditions, extended hike-a-bikes up taxing, snow-covered terrain and endless miles of burly, primitive singletrack.
Throughout the expedition—and the additional six days of death marches tacked onto either end—Brown did not once complain, or even give a hint of negative energy. On the contrary, she was all smiles, even in crippling circumstances that would bring most people to their knees.
"On one of the hardest days, her shifting malfunctioned, and she ended up having to ride in her third-hardest gear," recalls Margus Riga, the trip's photographer. "It was up and down, all day long, and she must have been in a lot of pain. But she put her head down, didn't say a word and just got on with it. A lot of the males I've worked with, even some of the world's top riders, would have folded up like lawn chairs in those conditions."
Day after day in Bhutan, Brown huffed up and over towering passes, attacking relentlessly technical descents with playful abandon—even when energy and concentration were dropping to dangerously low levels. On the expedition's most brutal descent—an hour-long plunge through arduous rain channels punctuated by tight, rock-infested switchbacks—she hung right on Berrecloth and McCaul's wheels, at times passing them by inside-lining the corners.
"We were all exhausted, and on one of the gnarliest switchbacks we stopped to assess it," McCaul says. "Then she just rolled up, didn't even stop and bombed down this crazy line. I was like, 'Where did that come from, Casey Brown?'"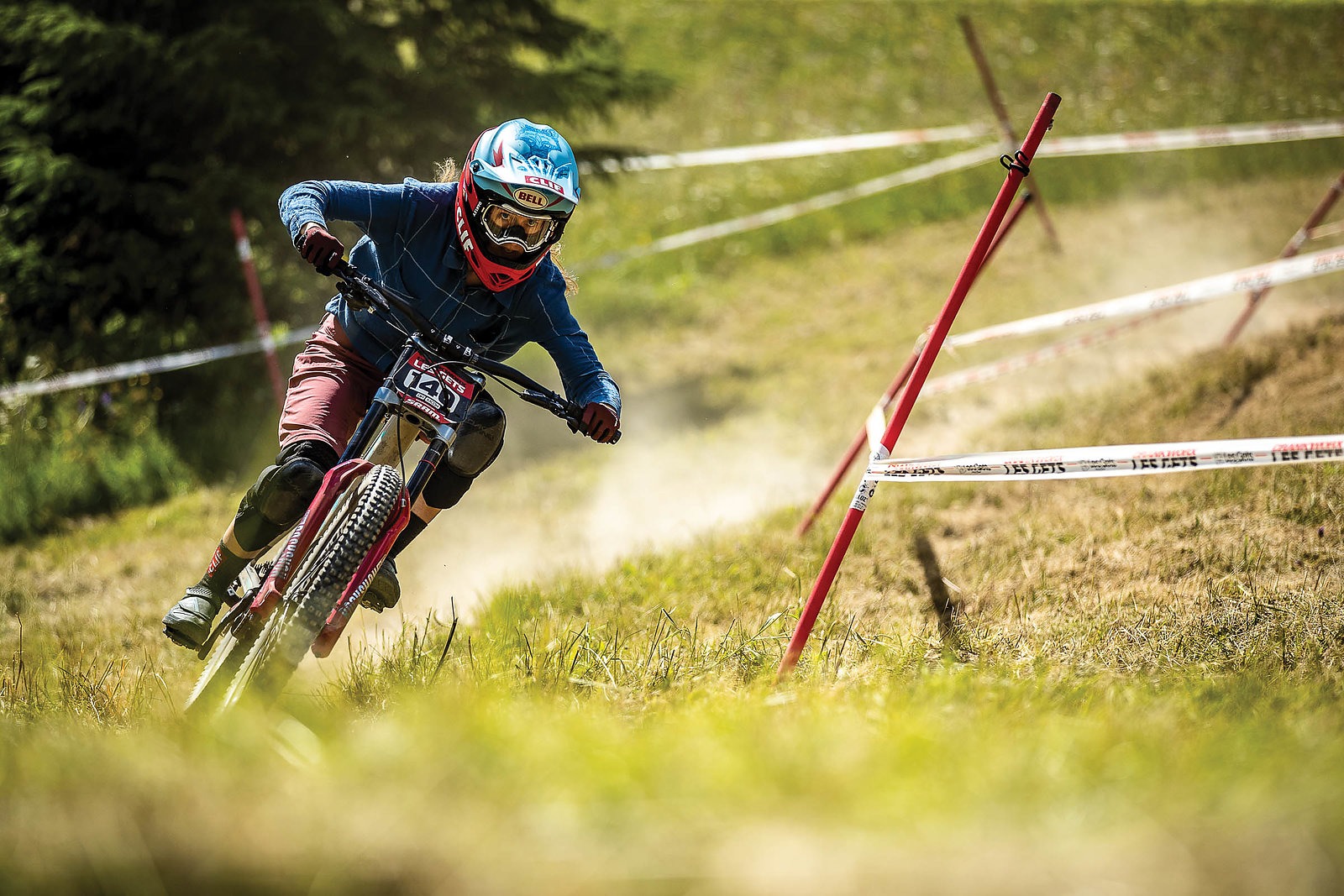 Her ninja-like ability to deftly negotiate impossible-looking sections is the hard-earned dividend of 16-plus years of sweat-equity investment. During the course of her professional career, Brown has covered the gamut of disciplines, from UCI World Cup downhill racing to the Enduro World Series. She's even a regular fixture at the annual Whip-Off World Championships at Crankworx Whistler, sending it sideways on the Whistler Mountain Bike Park's enormous Crabapple Hits tables. And she's always completely in her element, joining trains of the most stylish big-mountain riders—and invariably winning the women's category outright.
"She's done it all," McCaul says. "She's earned this on her own by putting in the time to become a truly talented mountain bike handler. And it's bashing down the barriers to women."
These endemic barriers are very real, and though Brown has already overcome many, you'll rarely hear her complain about them. Rather, she's treated them as learning experiences and used the lessons to guide her future path.
"When I started World Cup DH racing in 2012, a lot of the guy racers would openly call the women's event an 'egg-and-spoon race,'" she says. "I had to be around a lot of people who had zero respect for each other, and on a team that was like a bunch of pirates. I was constantly getting beaten down on a personal level, and it was so much work mentally that it was stunting my growth, and I felt like I was not a good racer because of it.
"All those hard things might have slowed me down, but they forced me to figure out how to get where I want in a completely different way. In that sense, it was all very motivating."
Struggles aside, Brown's career is coming into its own, and she's landed naturally within the boundary-pushing realm of freeride—a domain that has, until now, largely eluded female riders. While mountain biking has no shortage of phenomenal women athletes, sponsors have traditionally measured their value by race results. This has led the athletes to specialize in certain racing disciplines and spend the bulk of their time training and traveling to races.
After years of hunkering down with lower-tier bike companies that offered scant support for her racing endeavors, in 2016 Brown landed high-profile sponsorship deals with Trek Bicycles and Clif Bar. Both companies have seen the value in loosening their conventional reins and letting her chart her own course.
Freed from the strictures of global racing circuits, Brown has increasingly channeled more of her energy into traveling for freeride and adventure film segments. The results have been incredible. Her breakout role in Anthill Films' 2016 Not2Bad movie was a resounding hit with audiences, and the film crew and fellow athletes simply loved working with her.
"Having the opportunity to shoot with Casey is such a pleasure because her riding is so smooth and stylish, and she has true freerider flair," says Anthill filmer Colin Jones, a creative mind behind many of the company's most paradigm-shifting cinematic moments. "At this point in time, she's the main woman bringing that level of aesthetic on a mountain bike to film."
This style, together with her ever-positive attitude and indefatigable work ethic, has almost instantly put her in the upper echelon of film athletes—right on the elite shortlist of established male freeriders. Already this year, she's completed intensive projects for Return to Earth, Chasing the Yeti and Vision, a film her good friend, former downhill racer and emerging freerider Veronique Sandler, invited her to join in May 2019.
"If you talk about women's freeride, the first person you think of is Casey Brown," Sandler says. "She's massively inspired me, and she's showing women that it's possible to do the gnarly things that she does. She's also showing women that it's now possible to be a professional mountain biker without relying on race results."
This fact has profound resonance with riders like the 26-year-old Sandler, who spent six years as a privateer downhill racer without securing any meaningful sponsorships.
"I never had any financial support until I stopped racing," Sandler says. "Racing was getting quite frustrating for me because I just wasn't getting the results. So, at the end of 2016, I stopped racing and started riding just for fun, sessioning jumps and putting videos on my Instagram. It was just a little hobby, but it caught people's attention."
One of those people was CJ Selig, an athlete manager for Adidas Five Ten, who provided Sandler with a sponsorship and the budget to make Vision, a film of at least 20 minutes in length that will premiere in July 2019.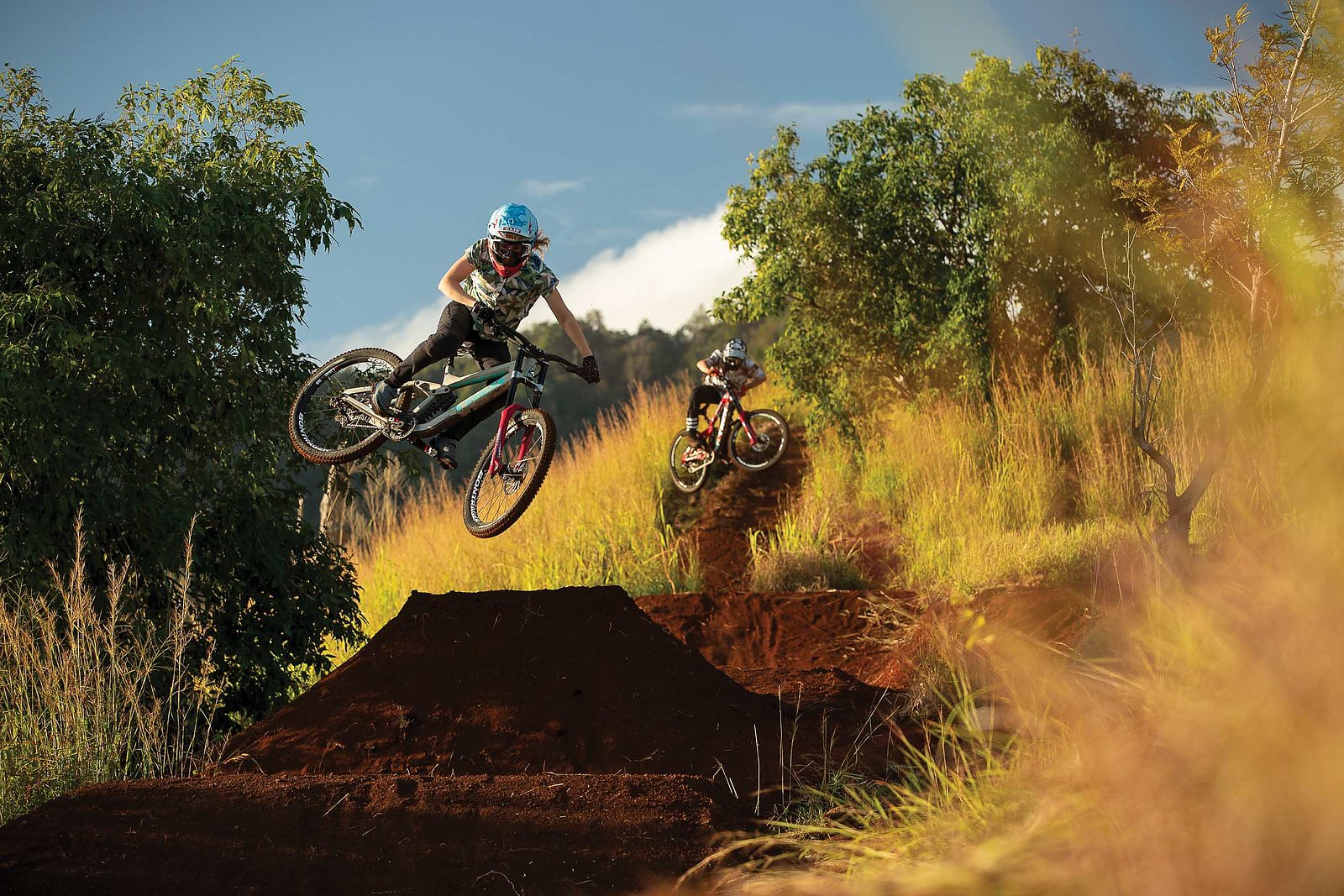 "She's definitely making all this possible," Sandler says of Selig. "Without her investing in the Vision project, this wouldn't be happening. And now there are more and more girls starting to do what me and Casey are doing. It's definitely becoming a thing, and it's picking up pretty quickly."
The fact that influential freeriders like Berrecloth want Brown to be part of their own films, funded by their own sponsors, should be testament to Brown's talent and universal appeal.
"She doesn't want to just follow the footsteps of what's been done in the past, and she's got the motivation to step outside the norm and be a forerunner for a new type of thing," Berrecloth says. "She's slipping into the freeride world, and I think it's frickin' rad."
Though Brown has only recently been given the leeway to film more freeride-oriented material, her enthusiasm for freeriding has been evident for several years already. In 2013, she worked with Anthill on Deathgrip, a short film featuring a seemingly insane stunt: Brown removed her brakes from her bike and straight-lined a treacherously steep hill in Kamloops, BC, multiple times, reaching a top speed of 60 miles per hour.
"It was so gnarly," Wittenburg says. "When she dropped in on that slope, it was so steep, and in the middle of the line there was a section where she disappeared for four or five seconds. That moment was definitely the most scared I've ever been for a rider in all my years of filming.
"It was such a mentally impressive feat, not even having a little bit of ability to tap the brakes if things started to go sideways at 96 kilometers an hour." Brown's intense concentration and confidence allow her to continually push her limits, says photographer Sterling Lorence, who recently shot with her in Hawaii for a segment of Return to Earth.
"She's doing big, burly lines all over the world, and she's doing them with confidence," Lorence says. "That confidence is what's going to influence all the kids out there. And they're going to realize that mountain biking is the open door to adventure."
While the sport has been roundly criticized for being male-centric, this undeniable fact is perhaps easier to understand when mountain biking is compared to action sports with much longer histories, such as surfing and skiing—both of which have long had women in high-visibility movie roles.
This is especially true when it comes to freeride mountain biking, which has only been celebrated in film for two decades. For example, Kranked, Live to Ride—widely considered the first-ever freeride mountain bike movie—came out in 1998, barely one year before filmmaker Christian Begin's all-female extreme-ski flick, No Man's Land: An Odyssey of Woman, Passion, Spirit and Mountains.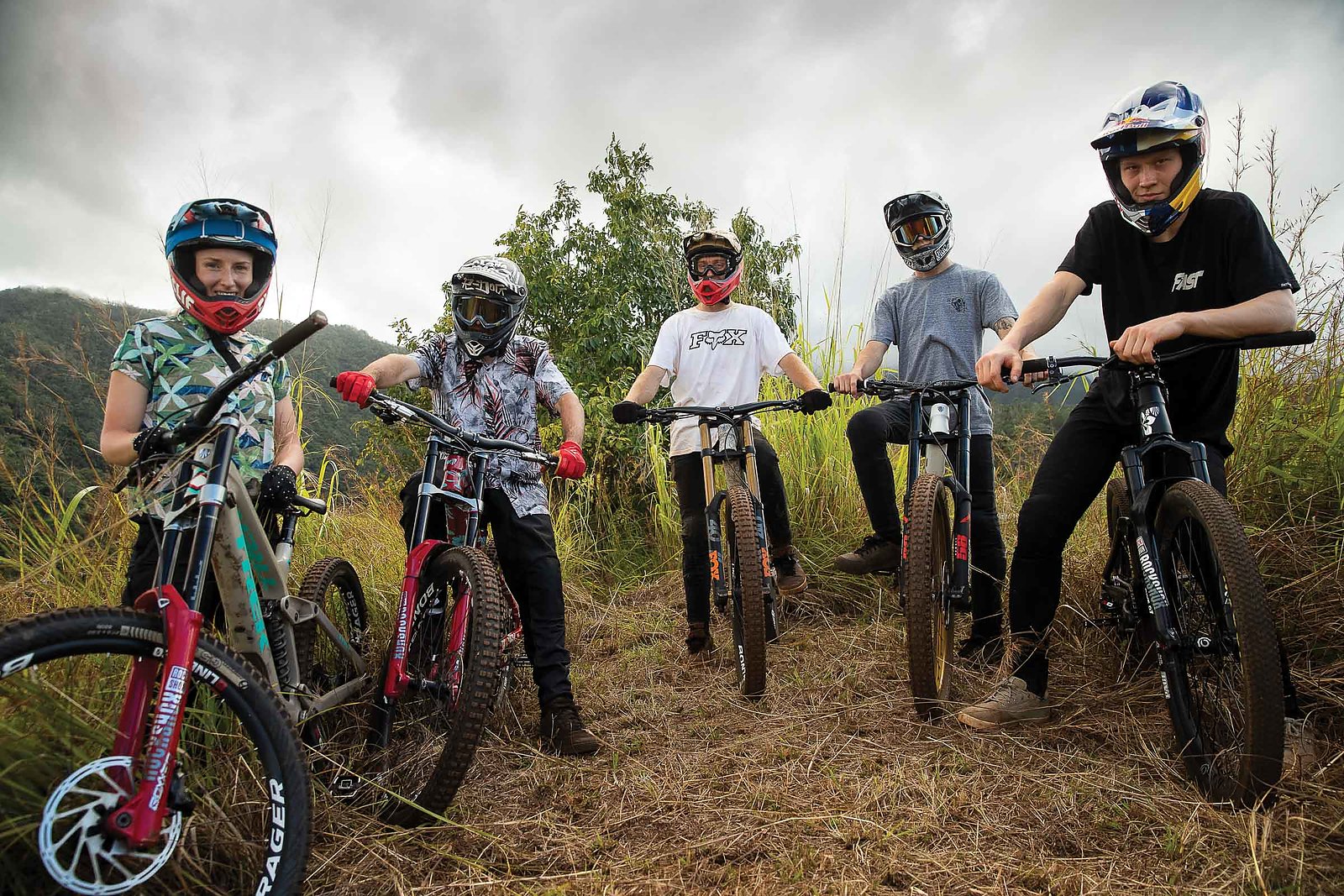 "Mountain biking is a young sport, so we're only now getting to the point where bike companies are comfortable letting female athletes break out of their racing disciplines to pursue things like filming," Wittenburg says. "It's so important for a woman like Casey to lead this charge. And this is really just the beginning."
It's already been happening in fits and starts, though on a much smaller scale. Women's British downhill racing superstar Rachel Atherton had a role with her brother, Gee, in Not2Bad. And France raised British downhill racer Tahnée Seagrave rode for a part in this year's Return to Earth movie. Nonetheless, both of these riders' careers still revolve around racing.
This distinction between racing performance and freeride movie exposure is significant, says Hunter, a Kamloops, BC-based freerider whose career has been largely defined by his groundbreaking film segments.
"Racing is cool, but not every rider can relate to racers," he says. "People can definitely admire them, though not everyone can relate to them. But every mountain biker, male or female, can relate to Casey when they see how comfortable she is doing anything on her bike. She's making mountain biking look as fun as it is. Let's have more of that."
"Racing is cool, but not every rider can relate to racers. People can definitely admire them, though not everyone can relate to them. But every mountain biker, male or female, can relate to Casey when they see how comfortable she is doing anything on her bike."— Matt Hunter
Having role models who illustrate the purest expression of a sport is vital, especially if it can help women transcend mountain biking's traditional intimidation hurdle, McCaul says.
"My daughters are 5 and 2, and they both happen to love mountain biking," he says. "I think it's so exciting and cool that there's a woman like Casey they can look to as an example. She's a perfect role model." 
Being a role model is something Brown embraces, and she seems completely comfortable with this responsibility.
"I hope that being a good female advocate for the sport can help change the way a lot of people see it," she says. "The companies are now looking at women as a good investment, and a lot more women are being paid than when I first started out. And this is opening the door for a lot more women to try because they're seeing the sport as a perfectly good career choice."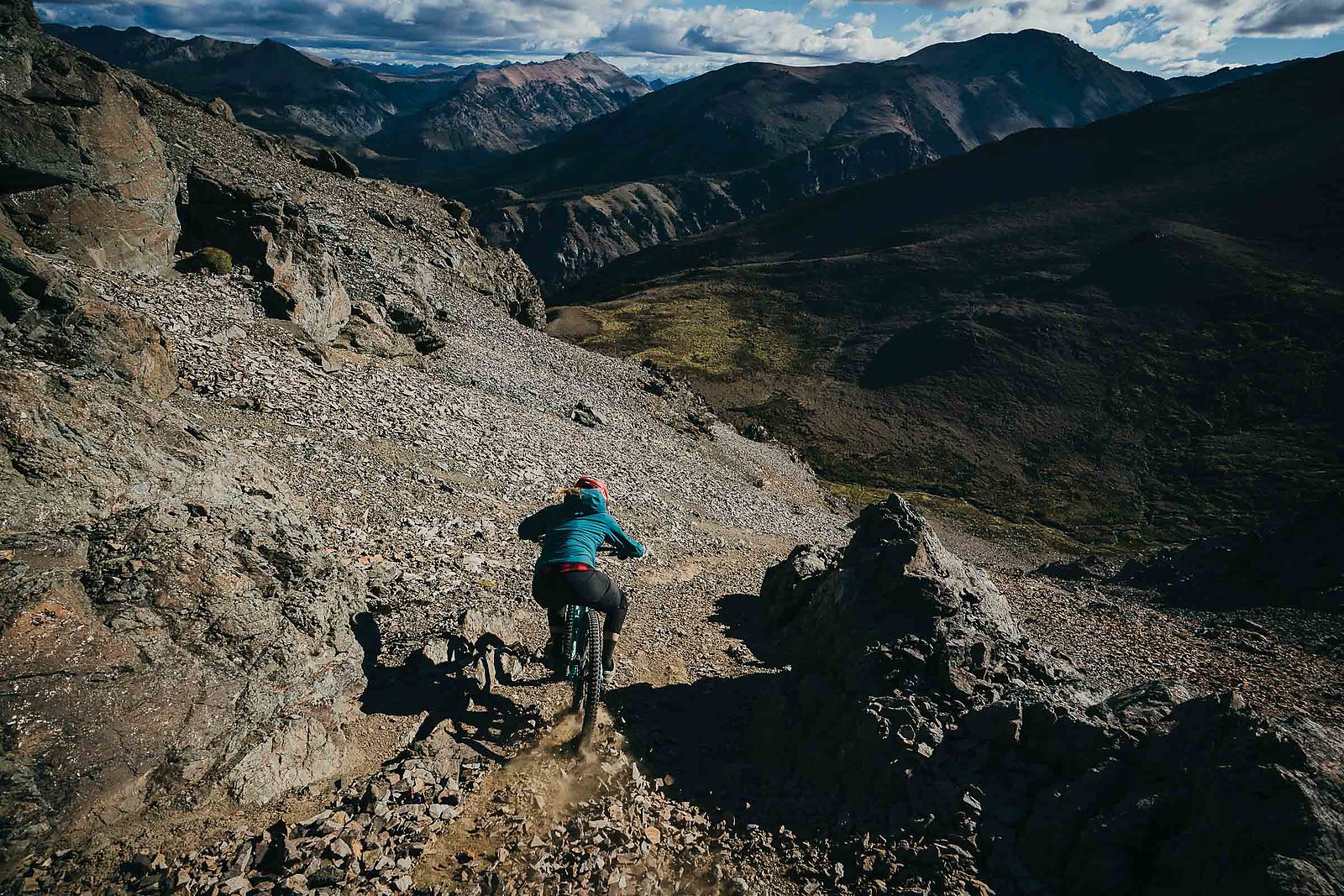 Having the freedom to invest time in movie projects that showcase the inherent beauty of mountain biking and an outdoor lifestyle is key to making the sport more attractive to women, Brown says.
"Women are still a small demographic in the sport," Brown says, "but we're the fastest-growing. Now there's a lot of incentive to use a woman instead of a guy, even with freeriding and adventure riding, and a lot of companies are waking up to that."
Given her unorthodox upbringing and free-spirited personality, Brown sees freeriding as a natural fit. For her, mountain biking has long been an emotional release, and she views riding fast and free as an expression of personality.
"In my family, expressing emotions was not really a thing, and I found out at a young age that mountain biking was a great outlet for dealing with whatever emotions I was feeling," she explains. "Freeriding means a lot of different things to me, but mostly it's your interpretation of a certain piece of terrain, and how you express yourself when you're riding your bike. It's all up to your interpretation of what feels the coolest, and that often translates into what looks the coolest."
For Brown, it's the thrill of the unknown—whether on a new trail or an entirely sketchy freeride line—that makes her truly feel alive. And having greater latitude to pursue adventure trips and freeride-oriented opportunities is increasingly helping Brown tap into her potential.
"I think it's exactly what your human brain is craving from day one," she says. "In prehistoric times, humans always had to be in that mode of full focus, of living in the moment. And I think it's so ingrained in us that we re-create this when we're doing things like playing music or riding bikes. It's a form of art, and a total expression of our personalities.
"When you're looking at something that's not purpose-built, a lot is left up to your imagination," Brown adds. "It's a huge experiment every time, and each time you succeed on one of these lines it builds your confidence. This is very important to progression."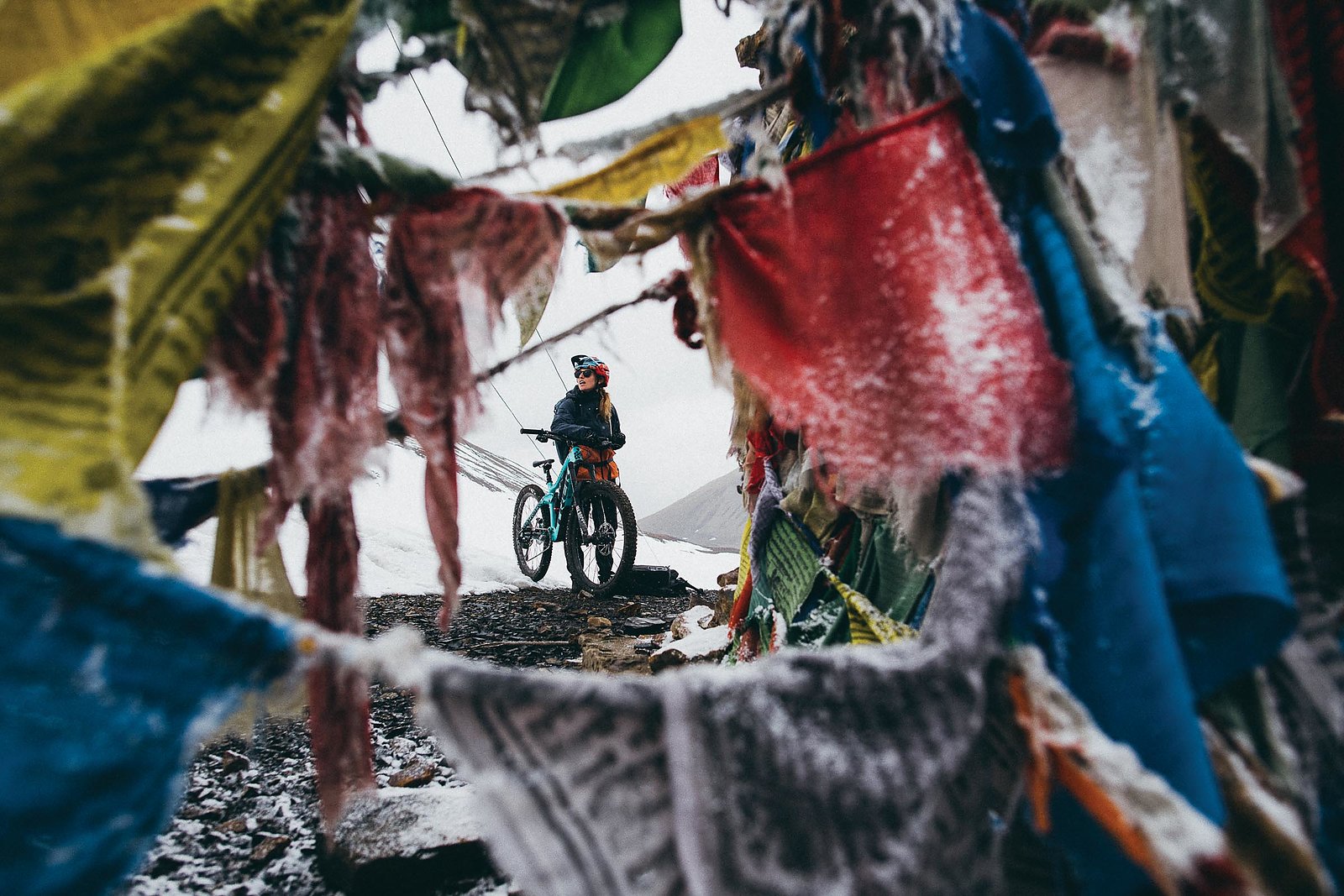 One such experiment could take place in the sun-parched mesas of Virgin, Utah, that make up the Red Bull Rampage site freeriding's ultimate proving ground. Brown hopes to one day compete in Rampage, though she wants to wait until the time is right.
"I see her approaching the level where she could be the first female rider at Rampage," Riga says. "She's confidently pushing the limits, and I think she could pave the way for women to ultimately get invited to that event."
Several years ago, Atherton broke ground at a previous Rampage venue, shredding many of the mesa's most daunting lines and proving that it was no longer solely the domain of males. At the same time, she planted the seed for future female contestants.
"When these women start bangin' out freeride segments in films and showing the world what they can do, it's gonna be game on," Berrecloth says. "When more companies start seeing the value in this, maybe we'll see something like an all-women's freeride event like Rampage."
For the time being, however, Brown's primary focus is on progressing her skills while doing what she loves most: riding her bike in beautiful places, all over the world.
"I'm passionate about the sport and put my heart and soul into my riding, and I hope that gets people stoked on mountain biking," she says. "I'd love to see more people getting out in the woods because I believe the forest is medication that everybody needs."