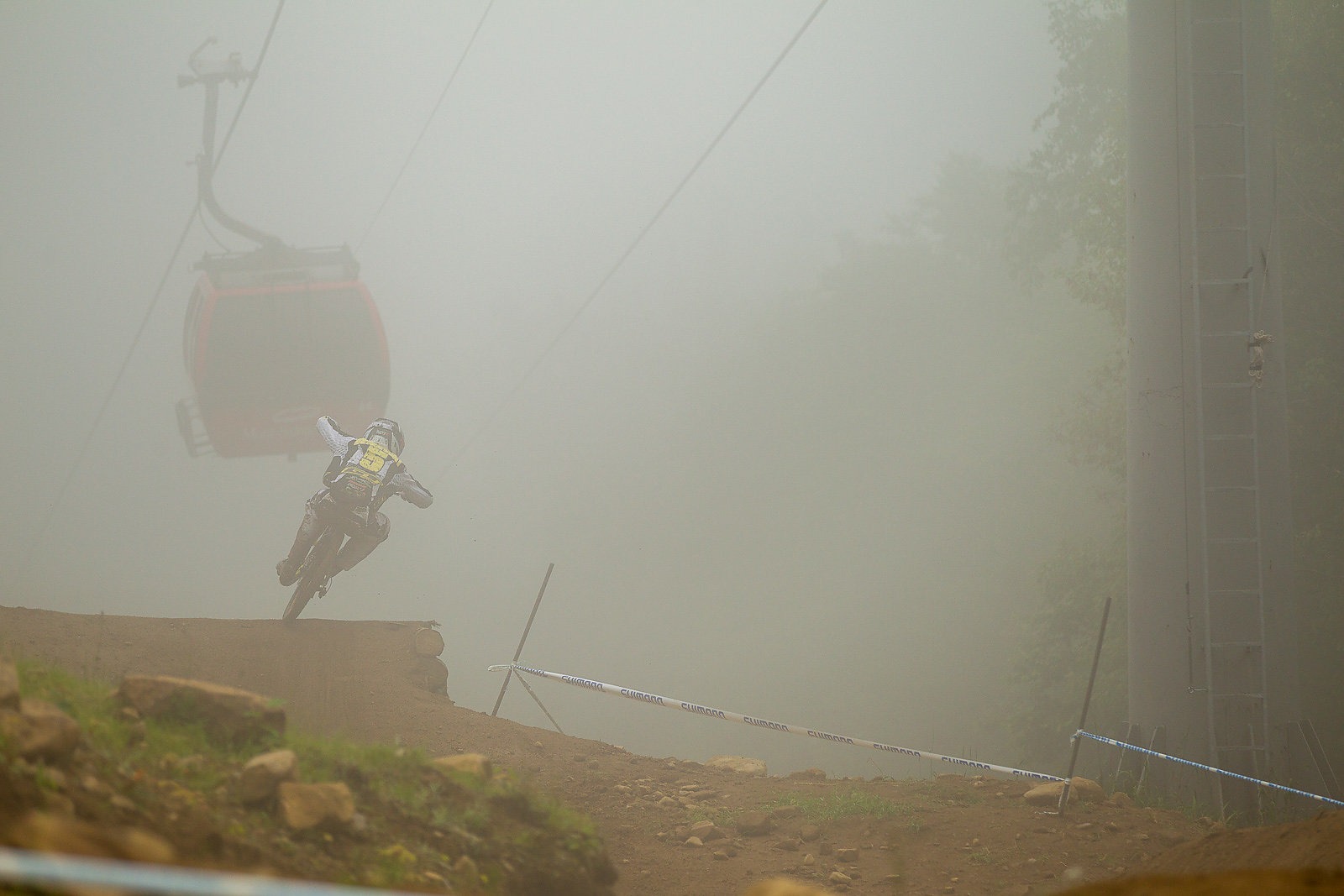 Every Time's a Charm Mont-Sainte-Anne's Tradition of Racing
People often say, "Third time's a charm."
However, World Cup mountain bike racing at Mont-Sainte-Anne (MSA) has been charmed since its inception. The ski area, about an hour northeast of Quebec City, held its first World Cup in 1991 and a year has yet to go by that it hasn't either hosted a World Cup or World Championship race. This reign cannot be claimed by any other venue.
The mountain's presence on the circuit, and thus the many unforgettable moments since, is mainly attributable to Gestev, an events company co-founded by Patrice Drouin and Chantal Lachance in 1992. Two years earlier, Drouin had helped organize the first Mountain Bike World Championships in Durango, Colorado, on behalf of the Union Cycliste Internationale (UCI). At this time, mountain biking had no international standards or circuit, although that was about to change.
"The UCI decided to lead [mountain biking] to an international level," Drouin says, "regrouping in all the five continents and as many countries as possible with a membership and everything, and I was involved in the first stage of this initiation from the UCI. And this is when I realized that here in Quebec, or in Canada, we needed to create a place where this event will happen, and I propositioned Monte-Sainte-Anne as the location."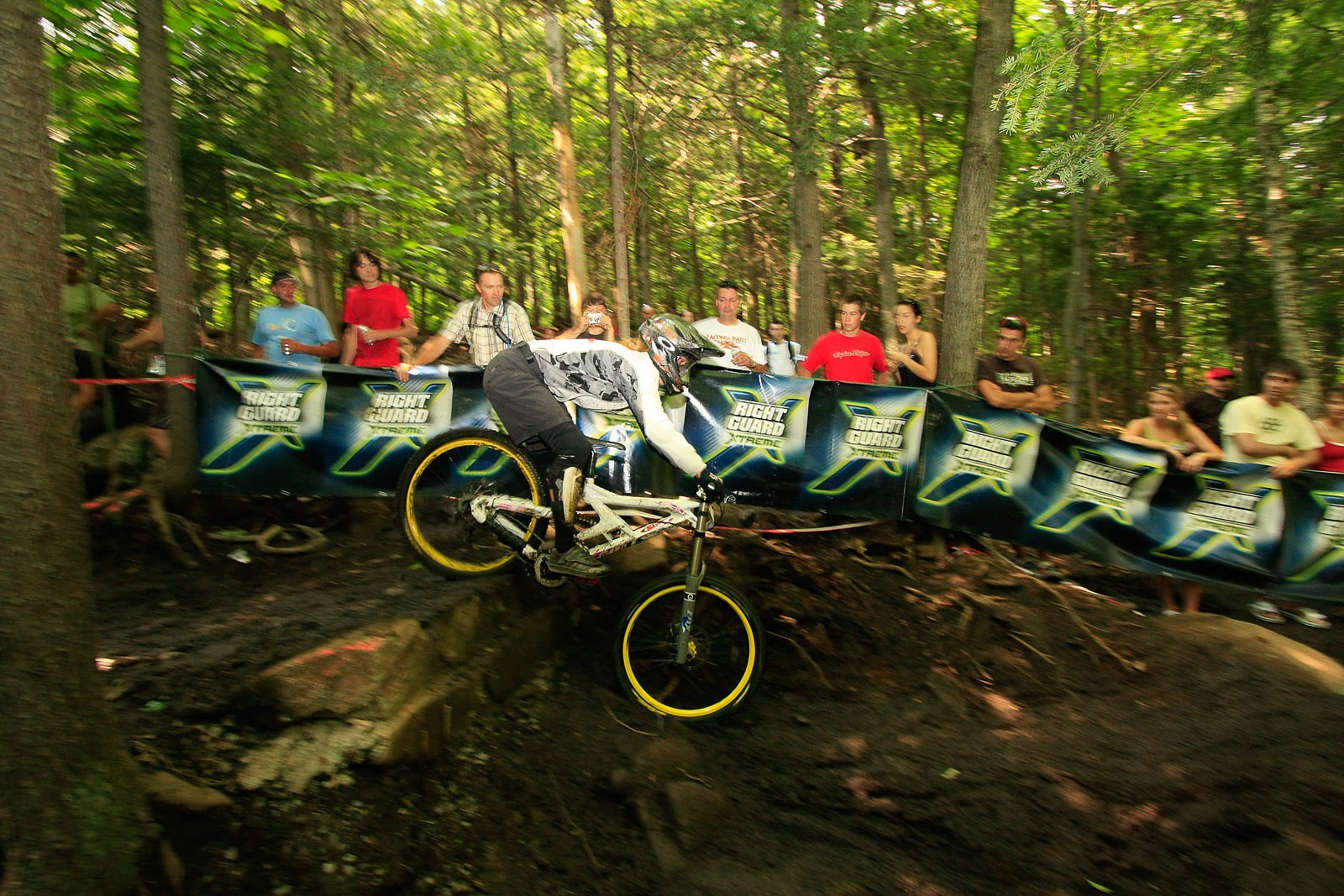 Apparently, first time was a charm at Mont-Saint-Anne, as Drouin, Lachance and their small team were able to pull the event off, hosting both a cross-country and downhill race. But even more impressively, they created something that racers and spectators alike wanted to come back to year after year.
"There is no place that is perfect for hosting an event," Drouin says. "There is always something that you need to juggle, because it's like, it's wet, there is mosquitoes, it's steep, there's a lot of roots. There is always something you can find that makes the perfect venue not the perfect venue. But Mont-Sainte-Anne is well located on the East Coast with a big mountain bike fan base that's been built along the years. We never expected that this event will just be at Mont-Sainte-Anne all of these years."
"Mont-Sainte-Anne is well located on the East Coast with a big mountain bike fan base that's been built along the years. We never expected that this event will just be at Mont-Sainte-Anne all of these years."—Patrice Drouin
Despite whatever imperfect elements MSA might have had, Gestev made it all work. It took a couple of years to get the tracks really dialed in, but by 1995 they were helping push the sport to a new level with the downhill course. They added a section that was straight fall-line and tested every rider's ability—and their bike's durability. By the turn of the century, downhill pioneers like John Tomac, Steve Peat, Nicolas Vouilloz, Missy Giove and Anne-Caroline Chausson were taking the top spot on the podium. Today's icons, meanwhile, were just entering the ring. Greg Minnaar—who now has 21 World Cup wins—first raced at MSA in 1998.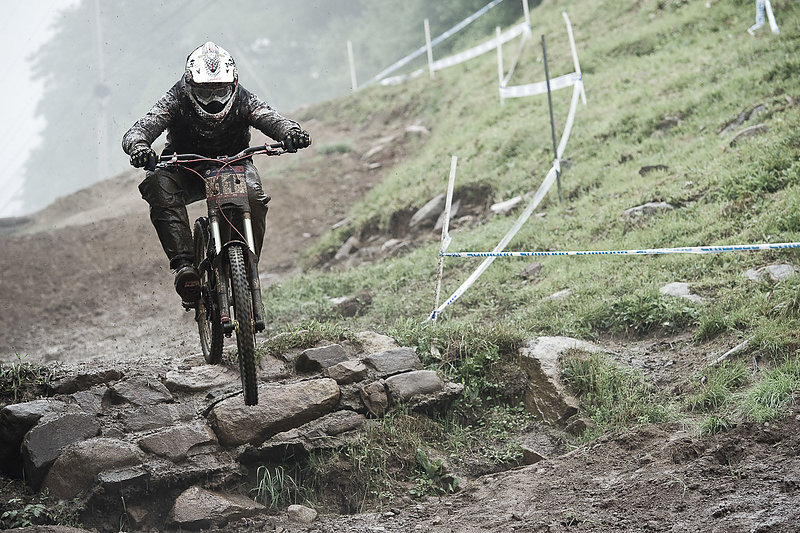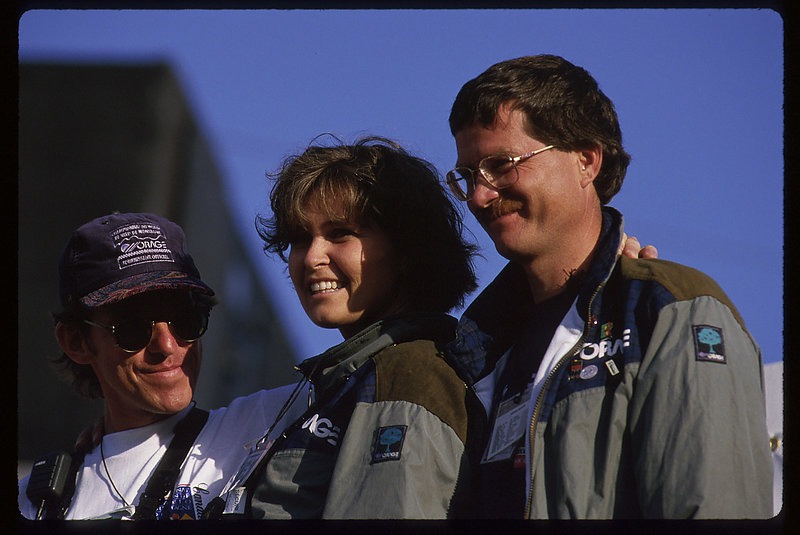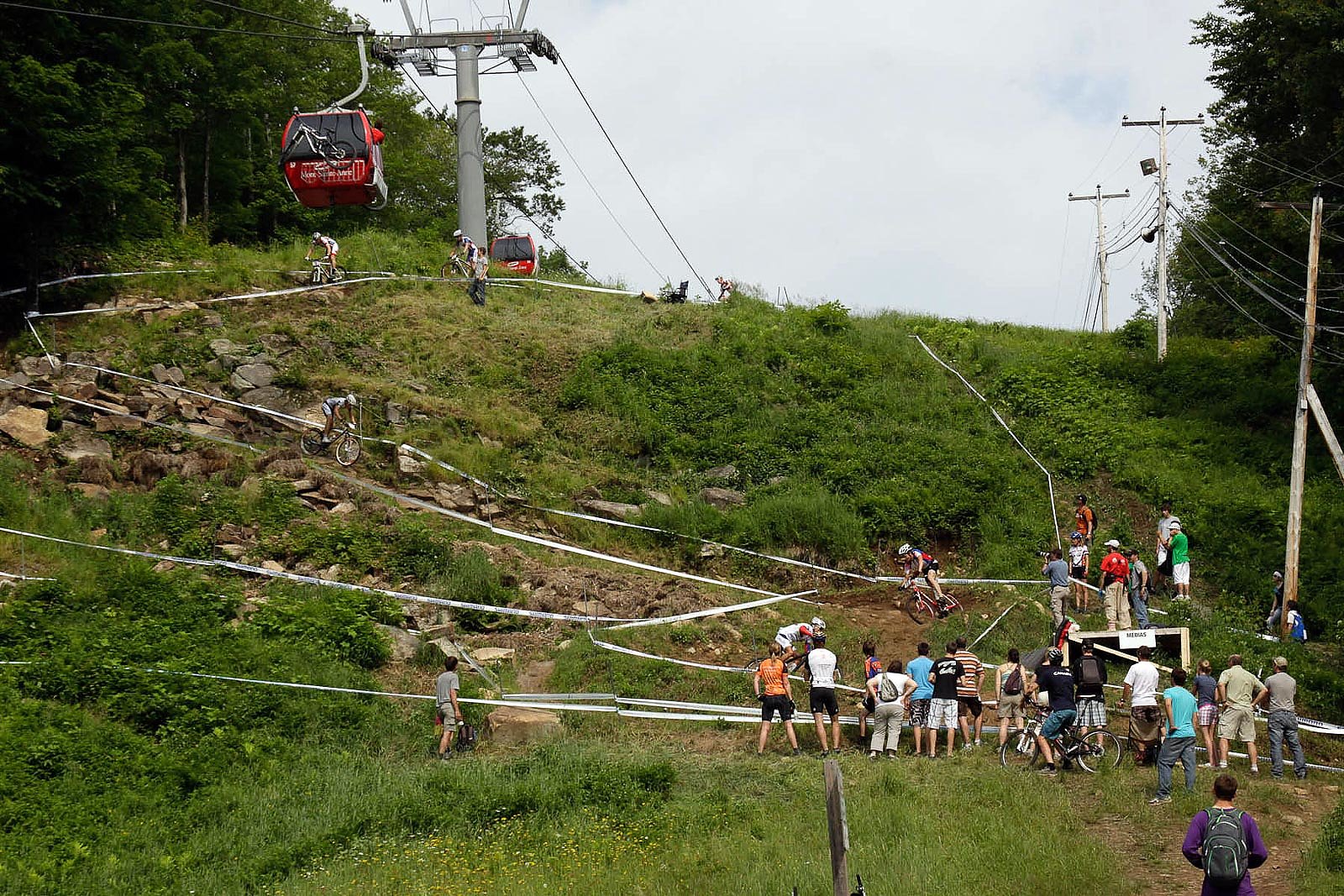 "The mountain there has adapted well through the different eras of racing and it's still really tricky to race," Minnaar says. "It's getting more technical now with a bunch of new man-made features to help erosion and ensure longevity of the track without damaging the mountain. But saying that, when you get down to the bottom woods, it's still just as tricky, just as rough and just as fast as ever. Bike development hasn't made any track easier—I still find it a very challenging track that has stood the test of time."
But it wasn't just the tracks that Drouin sought to elevate to the highest of standards. World Cups and World Championships were not just mountain bike races, they were part of something bigger. Racing on such an elite level is more than just an individual sport, it's a sensation that extends beyond the racers. In the mind of Drouin, the experience needed to be world-class.
"You know, in 1991, we didn't know all of this," Drouin says, "but we knew something. Because we had experience on the provincial and national level of mountain bike racing, [we knew] that if you take care of the journalist and the teams and the coaches and the athletes and the volunteers, if you do that properly, you'll make a team together. This is key to success."
This tactic continues to work. The 29-year streak of races is certainly a testament to this but so is the anticipation that builds before each race. Everyone looks forward to race weekends at Mont-Sainte-Anne.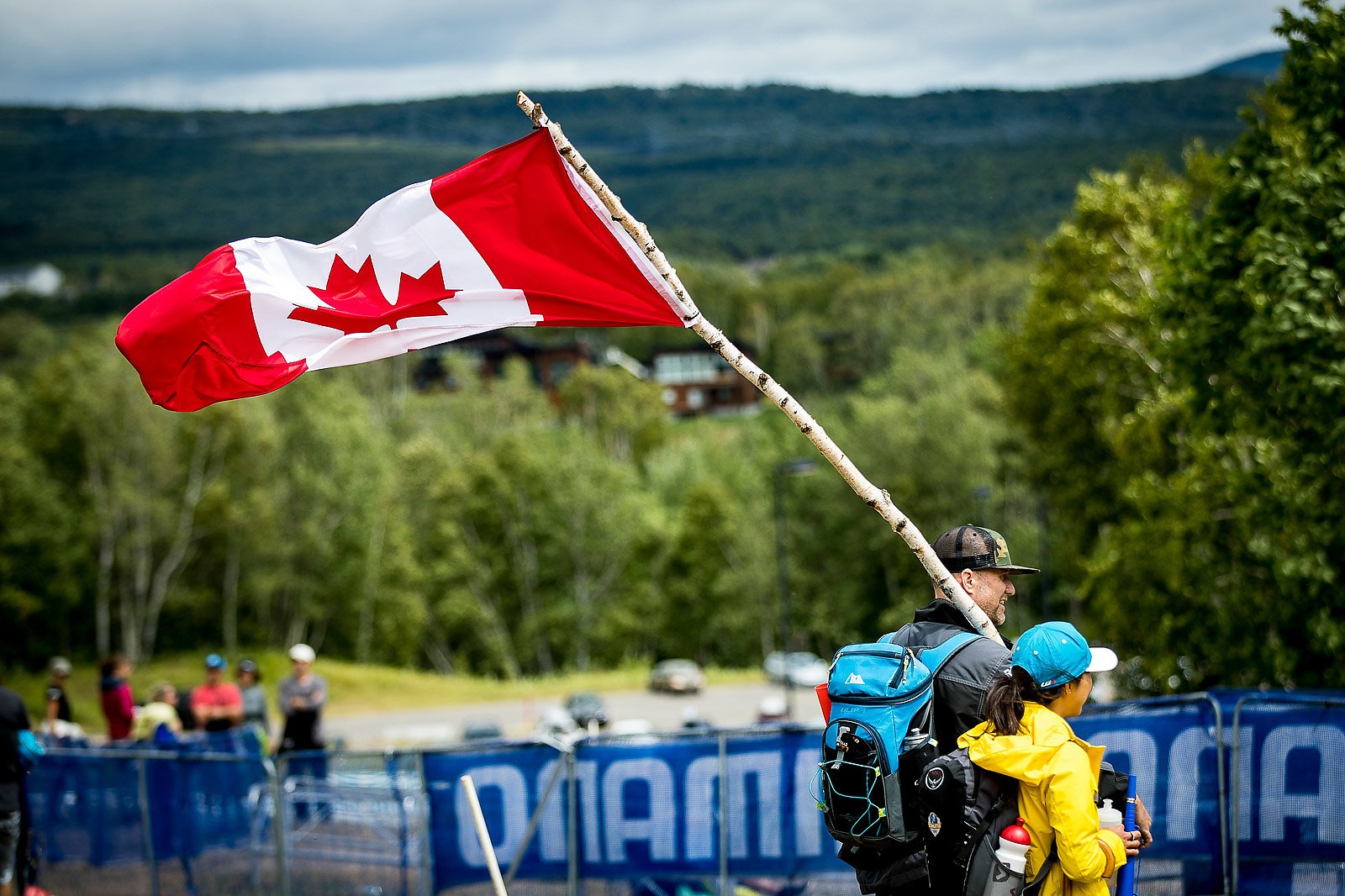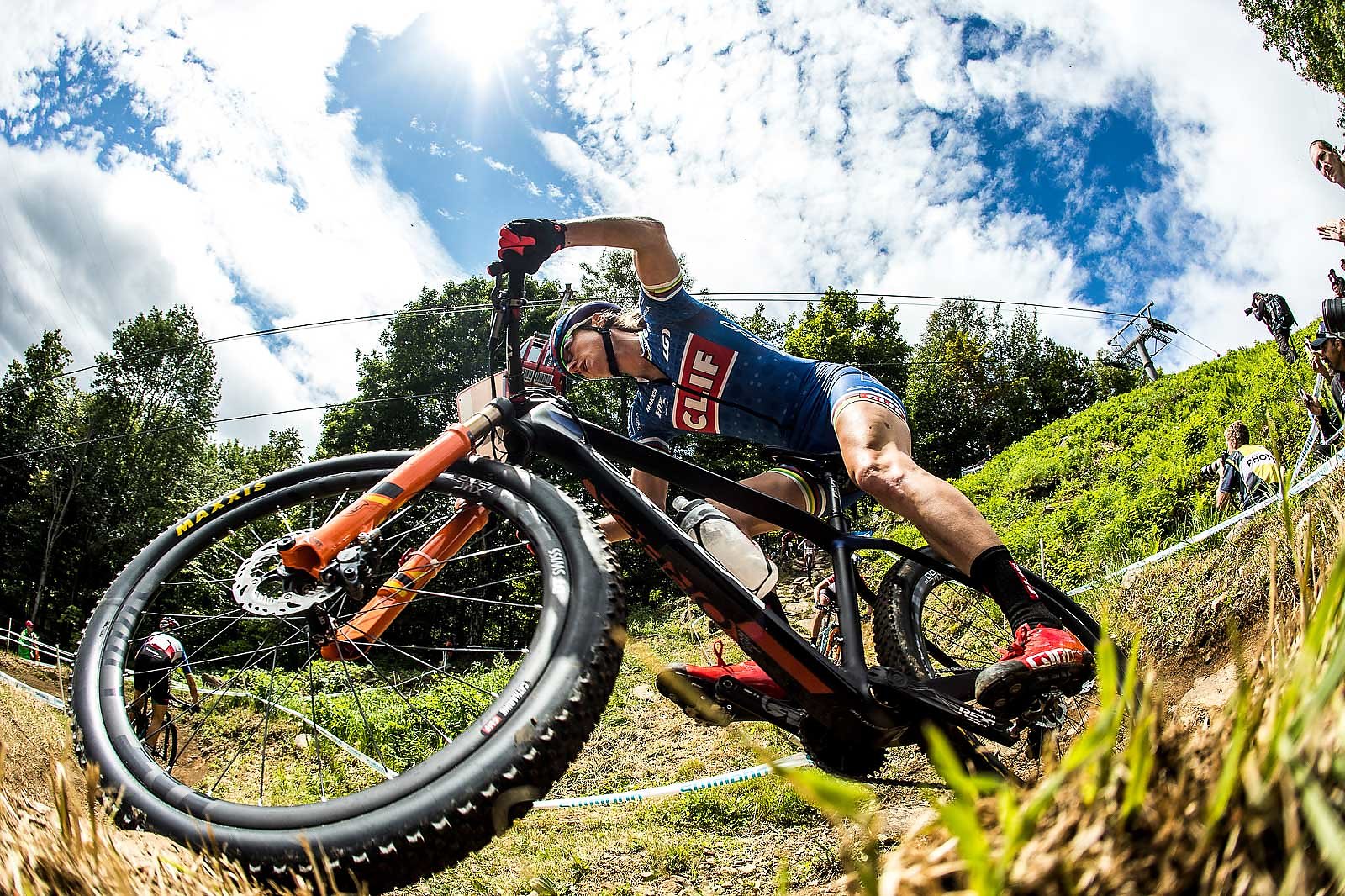 "For me, racing wise, MSA always produced the goods," says Gary Perkin, a long-time World Cup photographer. "The course always had new sections so fresh they always changed up the race results. The weather was usually hot and humid with huge thunderstorms thrown in to really shake it up.
"And the fans… they love racing. And more to the point they love Quebecois who race. Some years I felt like the bulk of fans just came to see Marie-Hélène Prémont race and then go home. But there are true hardcore bike fans there who just love the fact that their heroes and heroines come and race on their home course and have done so since the 90s!"
"But there are true hard core bike fans there who just love the fact that their heroes and heroines come and race on their home course and have done so since the 90s!"—Gary Perkin
Prémont is a Quebec City native who rose through the ranks to become the province's most adored cross-country racer. Before her career between the tape, she was a volunteer on the sidelines, one of the numerous individuals who would help make entire events possible. Now an Olympian, six-time Canadian Champion and three-time MSA World Cup gold medalist, Prémont is a legend in cross-country racing. But for her, the fifth time was the charm. In 2004, five years after her racing debut, she took gold at the National Championships at MSA. The next year, she defended that title and won her first World Cup on home turf at Mont-Sainte-Anne.
"That was something for us," Drouin says. "You know, you see your city hosting an event year after year, and you see the impact locally. That is a pretty intense moment for us as organizers."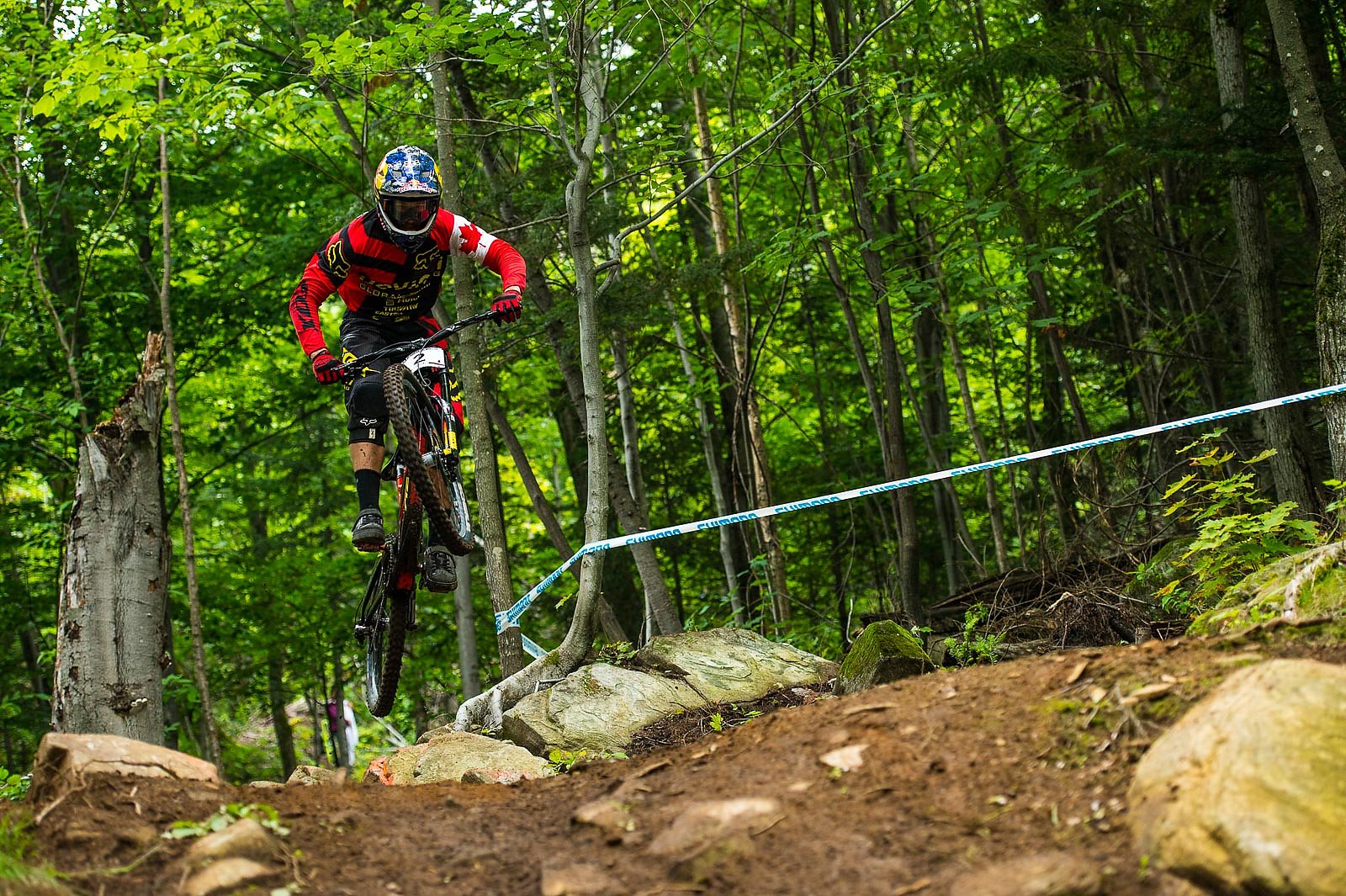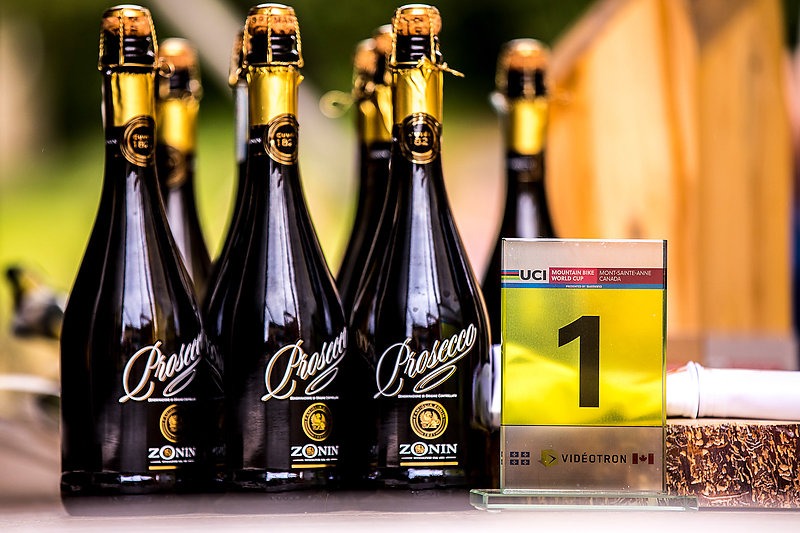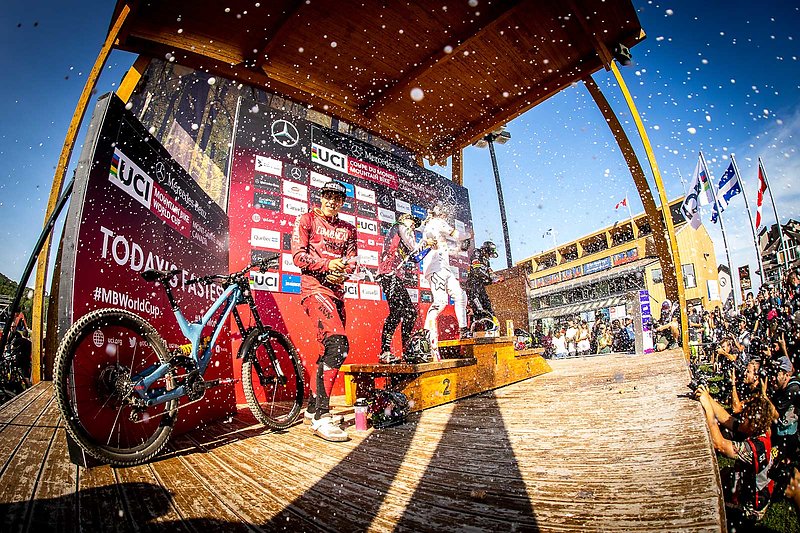 As it turns out, monumental moments are kind of a thing at Mont-Sainte-Anne. In 2013, the late, great Stevie Smith won the downhill race and simultaneously secured the overall title with an electric crowd roaring in the background. In 2017, top qualifier Aaron Gwin was last to drop in during the finals on a day that had been relatively pleasant throughout. By the time he dropped though, the skies unleashed a downpour, turning much of the track into mud. Gwin won by more than a second with a run that is now legendary.
Monte-Sainte-Anne will host its third World Championships this month, a nod to the quality of racing and its prestige within the mountain bike community. Everyone, no matter the country they represent, recognizes that there's something special about MSA. In the last 29 years, Drouin and Gestev have established not only an incredibly renowned and respected race and venue, but a community that embodies the passion the region has for mountain biking.
As teams arrive at Mont-Sainte-Anne this week in preparation for one of the biggest races of the year, good times—and incredible racing—are guaranteed. And if MSA continues in tradition, charm will be delivered.