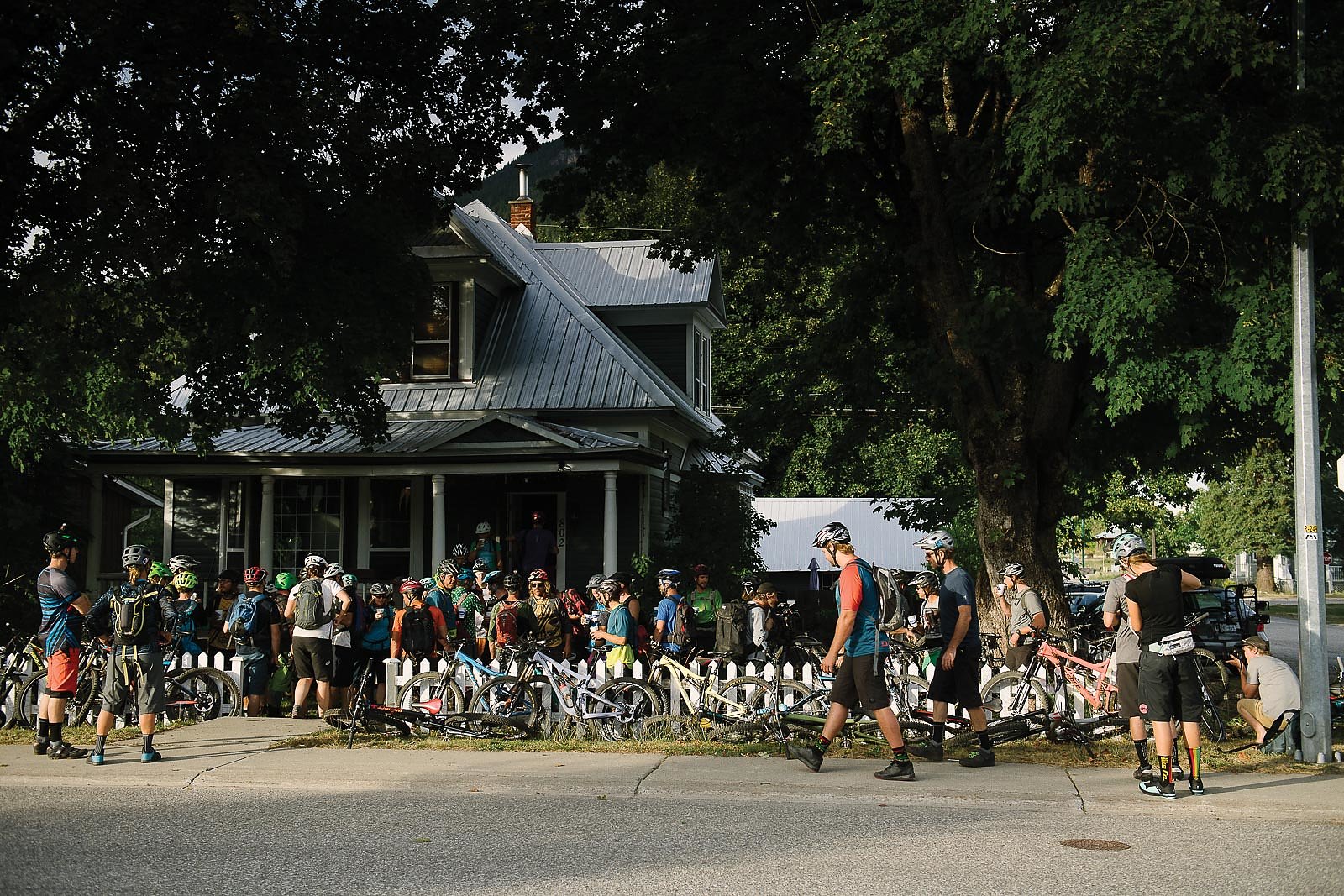 The Last Spike Railroad Roots and Blue-Collar Hippies in Revelstoke
The line spills out onto the sidewalk from the old Victorian house, where the crowd's excited conversations mesh into one jubilant, undecipherable hum.
It's another Thursday evening in July, and a stack of bikes fills up the yard like Skittle-colored dominos. The queue inches forward into the living room, where several dozen people mix mojitos before heading back outside. From a distance, it looks like as if a piece of Whistler invaded an idyllic small town from 1950s America. 
But it isn't the '50s, and we're hundreds of miles from Whistler. The house sits on Second Street, in the British Columbian town of Revelstoke—population 7,200—and the crowd is made up of local mountain bikers. At the center is Brent Strand, a spry, silver-goateed man whose raspy tenor tells people to "drink up" as he counts attendees. The official total is 69, a new record including almost as many men as women. As the founder and organizer of the get-together, Strand is visibly thrilled.  
This is Pedal and Pint, and it's the 41st consecutive week the event has posted a record attendance. The 50-year-old Strand, who wears a single chain link in his left ear and has a flask cage mounted to his bike frame, lives for this routine. So does recent "Revy" resident Karl Guillote, whose house hosts the makeshift mojito bar.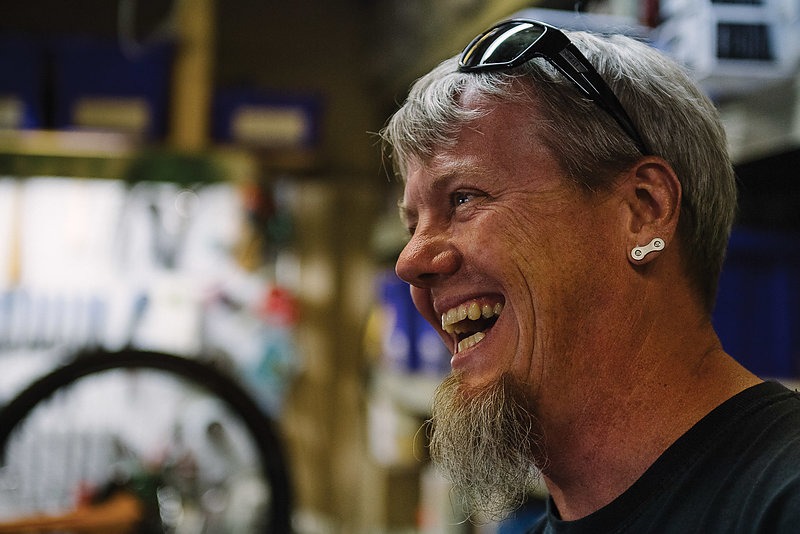 Since Revelstoke Mountain Resort opened in 2007, the longtime railroad town has earned a reputation as a winter mecca. It sees an annual snowfall of 30 to 45 feet, and the the resort boasts the largest vertical drop in North America. Less known, however, is the sprawling trail networks winding through the nearby Monashee and Selkirk mountains, offering some of the best alpine rides on the continent. Yet while Revy's mountain bike scene has long wallowed in obscurity, it is quickly becoming known as one of the province's newest hot spots—and, as Strand and the other Pedal and Pint attendees show, for a friendly and inclusive community to beat out even the most idyllic Americana. 
Revelstoke's outdoor reputation may be recent, but it's significance to British Columbia came more than 135 years ago. As with many towns in the province, Revy began with the railroad, at least as far as white settlers were concerned. Traditionally the lands of the Sinixt and Secwpemc (or Shuswap) First Nations, the future site of Revelstoke became relevant as the Canadian Pacific Railroad (CPR) pushed to link the country from coast to coast. Crews finally drove the "last spike" at nearby Craigellachie in 1885, which marked the single most formative event uniting the plaid-clad nation. 
But that last spike proved formative for fledgling Revelstoke as well. Suddenly the tiny township found itself located atop Canada's main thoroughfare, and the surrounding forests, extractable minerals and power-generating water made it a key railroad hub. In 1899, it was officially incorporated and given its current name, in honor of the British lord and banker who helped finance the final stretch of the line.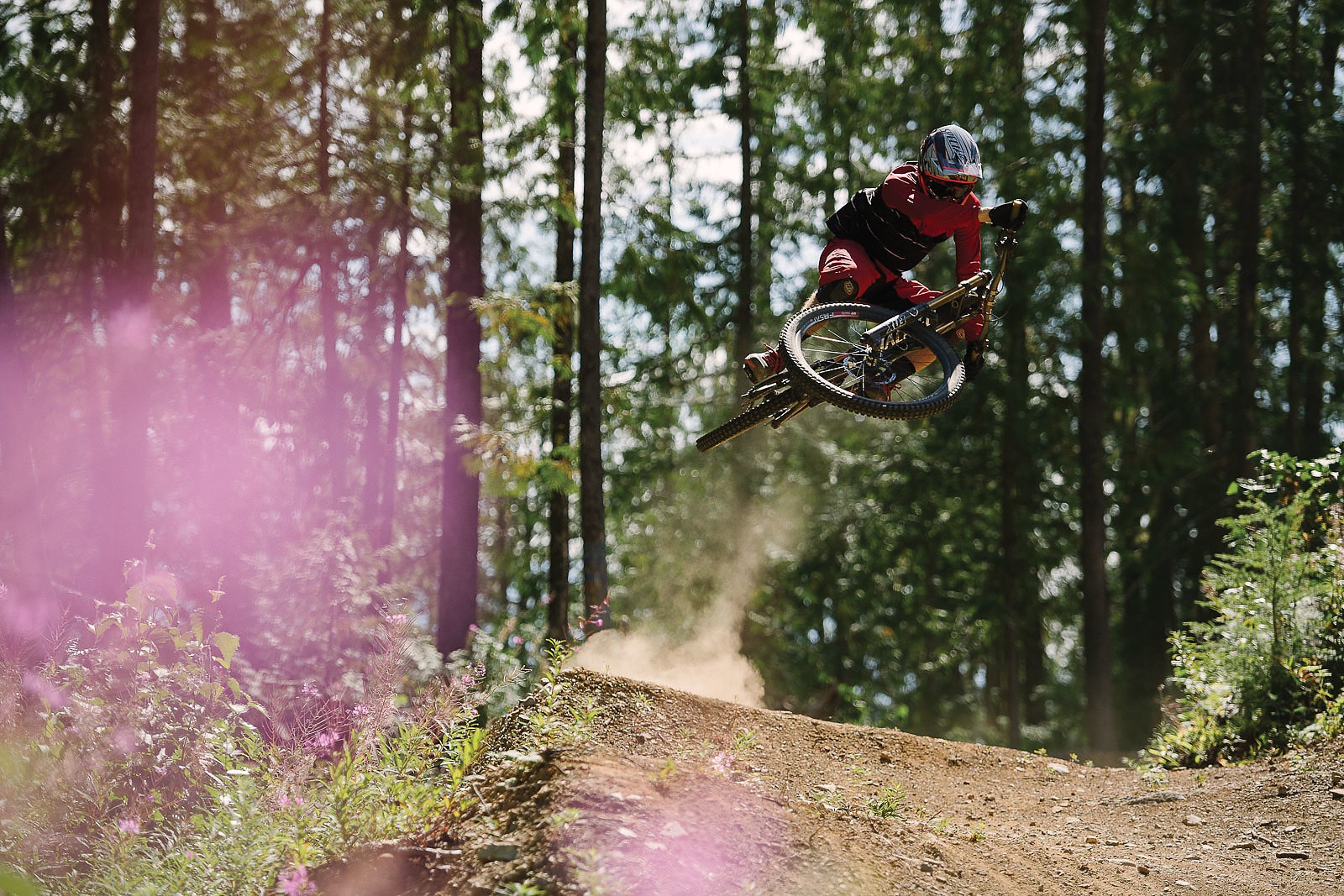 The seeds that planted the mountain bike scene came much later, with transplants like Strand. As we pedal at the front of the 69 Pedal and Pint attendees, through blocks of 19th century architecture and the brick façades of downtown, he recalls the quieter Revelstoke of his youth. Now a graphic designer, publicist and head of snowmobiler outreach for the Canadian Avalanche Association, Strand moved to Revy with his family in 1979, at the age of 12, and remembers a much different place. 
"Growing up in the '80s, it was definitely an industry town," he says. "There was forestry and the railroad and they were just finishing the dam. After that, things petered out and it got pretty slow." 
Owing to the lack of recreational and vocational opportunities, when he was 22, Strand moved to Fort MacMurray, with the intention of becoming an electrician. Instead, he worked in his uncle's print shop, learning design in the process. Then, after 10 years up north, he and a high-school flame made the move back to Revelstoke. But instead of stunted outdoor options, he found a heap of new trails scratched into his old playground. The transformation had begun. 
Our conversation continues as we pass the Illecillewaet River, the hulking, laughing group clogging the road behind us before diving off into the woods. Strand readily credits other locals for those first trails, as well as their influence on his own path to mountain bike addiction. "I met these two brothers," he says. "They introduced me to ski touring, mountain bikes, the Rolling Stones and smoking weed. I've never been the same since."
"They introduced me to ski touring, mountain bikes, the Rolling Stones and smoking weed. I've never been the same since." —Brett Strand
And neither has the town. Strand was among a small crew of blue-collar hippies that helped establish miles of singletrack along the base of Mount MacPherson, which would provide a foundation for the town's bike revolution. The list of those early trails is long: Quarry, Yew R Here and Hemlock Groove wound past ferns and waterfalls. Chair, a short but thrilling descent, remains one of the steepest and most challenging pieces of trail around, spitting you out onto a deserted beach.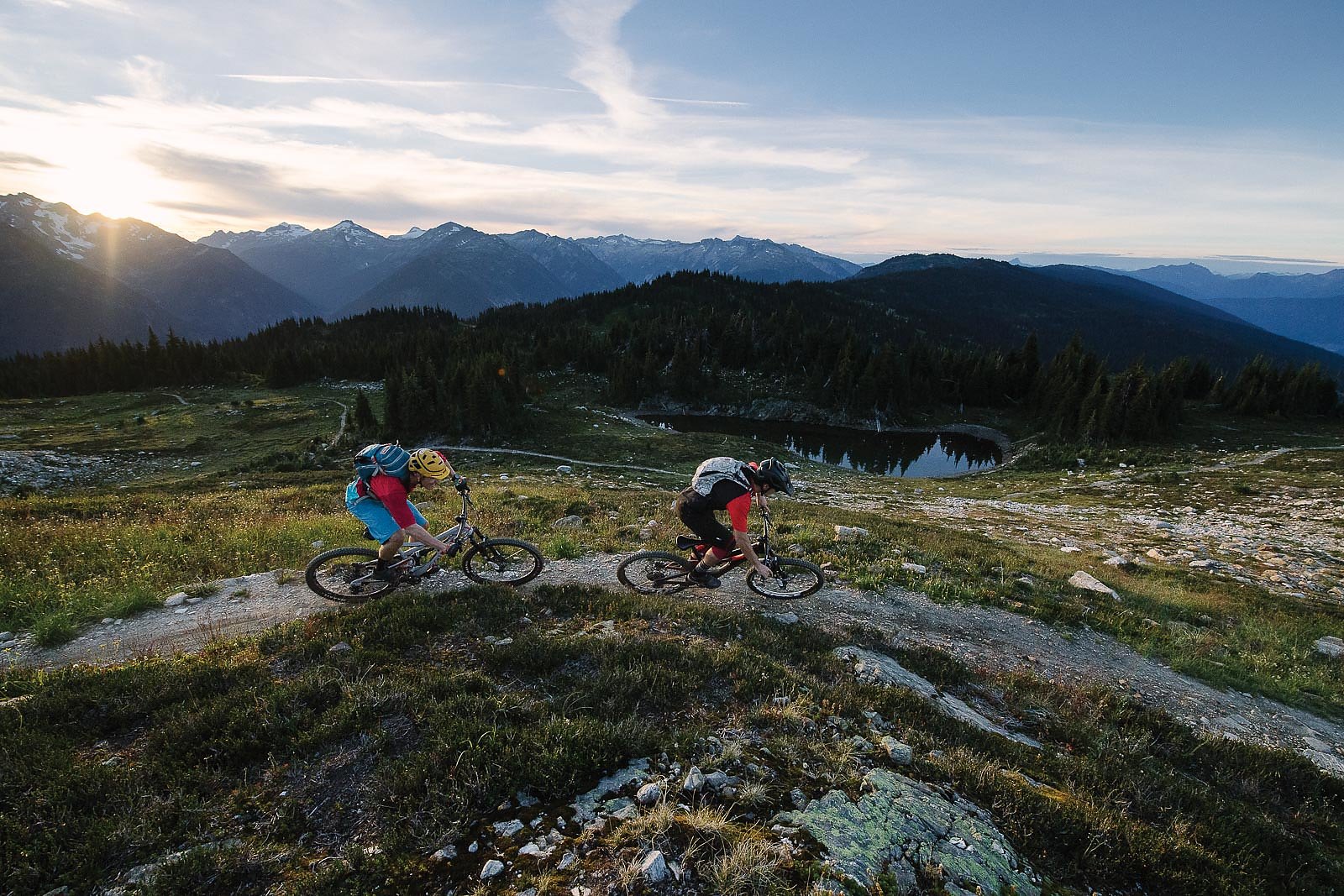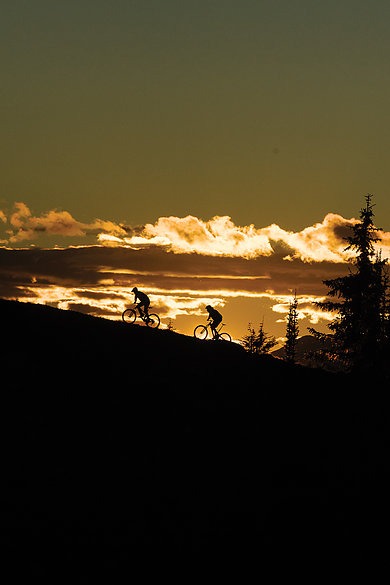 While MacPherson was built with official permission, nearby Boulder Mountain became a less-than-legal canvas for the area's early downhillers. After years of renegade status, the Revelstoke Cycling Association eventually took over the trails, but those original lines remain rugged nearly beyond reason—and retain a cultlike status for riders seeking ultra-tech. Fall-line classics such as Rednecks Revenge, Iron Lotus and Boondocker have been maintained as minimally as possible, so as not to "dumb them down." 
That doesn't mean it's all super-gnar on Boulder. Today, the network is mixed with flowier, modern trails like Man Quads and Rooster, a community-owned, purpose-built jump trail that rivals Whistler's A-line. A similar trend has appeared above Highway 23, where popular, low-angle works like TNT, Berm Donner and Flow Down weave between rocky classics like Black Forest. 
But it is its alpine legacy that truly sets Revelstoke apart, and that has garnered the most attention in the larger bike scene. Over the past decade, hiking and mining routes in the nearby Selkirks and Monashees have been repurposed into mountain bike trails, creating a series of high-alpine epics. Keystone, the area's signature ride, is a gauntlet of grueling switchback climbs, boulder fields and expansive vistas that draws people from around the world.  
Gravity riders haven't been idle either. A few years ago, locals began pouring hours into refurbishing an old hiking trail called Martha Creek. The finished route drops through 5,085 feet of schizophrenic vert, changing from rocky to rooty to soggy to flowy in a thrilling counterpart to Keystone. And this is just a fraction of what's available.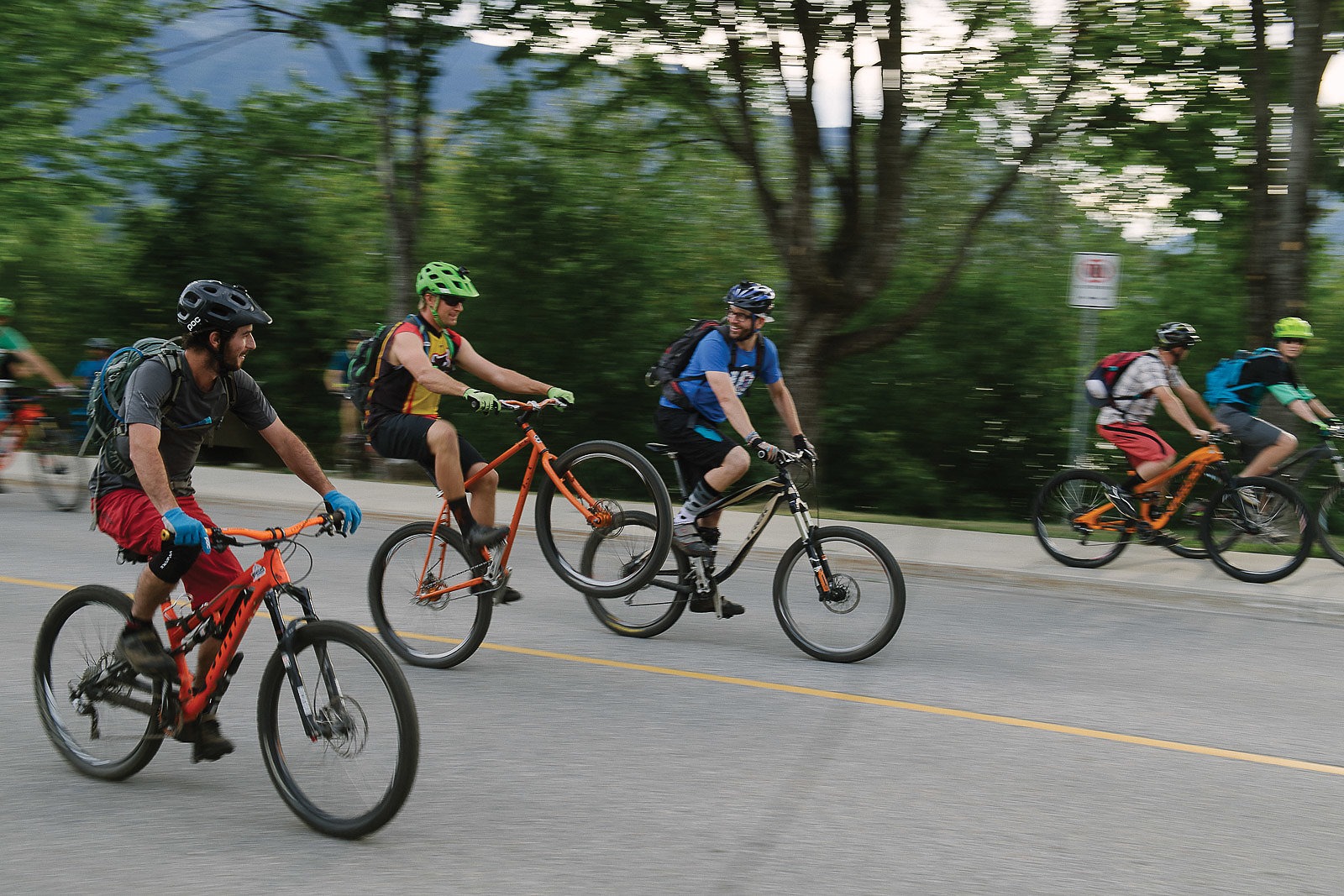 As we climb above the Illecillewaet, it seems Strand is in a nostalgic mood. He leads the group through some of his personal classics at the foot of the ski resort, dark, unnamed trails he and his buddies grew up riding. We drop through cedar forests, and Strand marvels at how he once had trouble finding riding partners. With gatherings such as Pedal and Pint, it's a problem new riders to the area will never know.
"For a lot of folks without a lot of time, Pedal and Pint is their one weekly social," he tells me, as the crew takes turns on a technical climb up to the highway overpass. The punchy ascent will connect us to the CP trails, another classic in-town network flanking the train yard. Some folks crack beers, and as the sun sets it feels distinctly like a bush party. "For me," Strand continues, "well, this definitely gives the wife a break."
With everyone having completed the climb, we flick on headlamps for the last stretch of dirt connecting us to the River City Pub. Here, a few complimentary pitchers of beer and nachos await the group, a weekly deal Strand negotiated years earlier. There's nothing like beer and chips to kick off a party.
This vintage hotel bar, with its gold trim and tungsten lighting, isn't the only place where the old guard is adjusting to the new wave. While Revelstoke's trails now attract some of the world's best riders and races, the town remains a forestry hub, first and foremost. The interests of the "working forest" still take precedence with land managers. Old logging practices haven't caught up to current recreational values, and new swaths of forest are regularly logged in riding areas.
"There's a distinct need for better and more modern planning, all around," Strand says while attacking a pint. The surge of people moving to Revelstoke for its recreational opportunities has also thrown the town itself askew, causing a spike in real estate prices and a shortage of rental properties.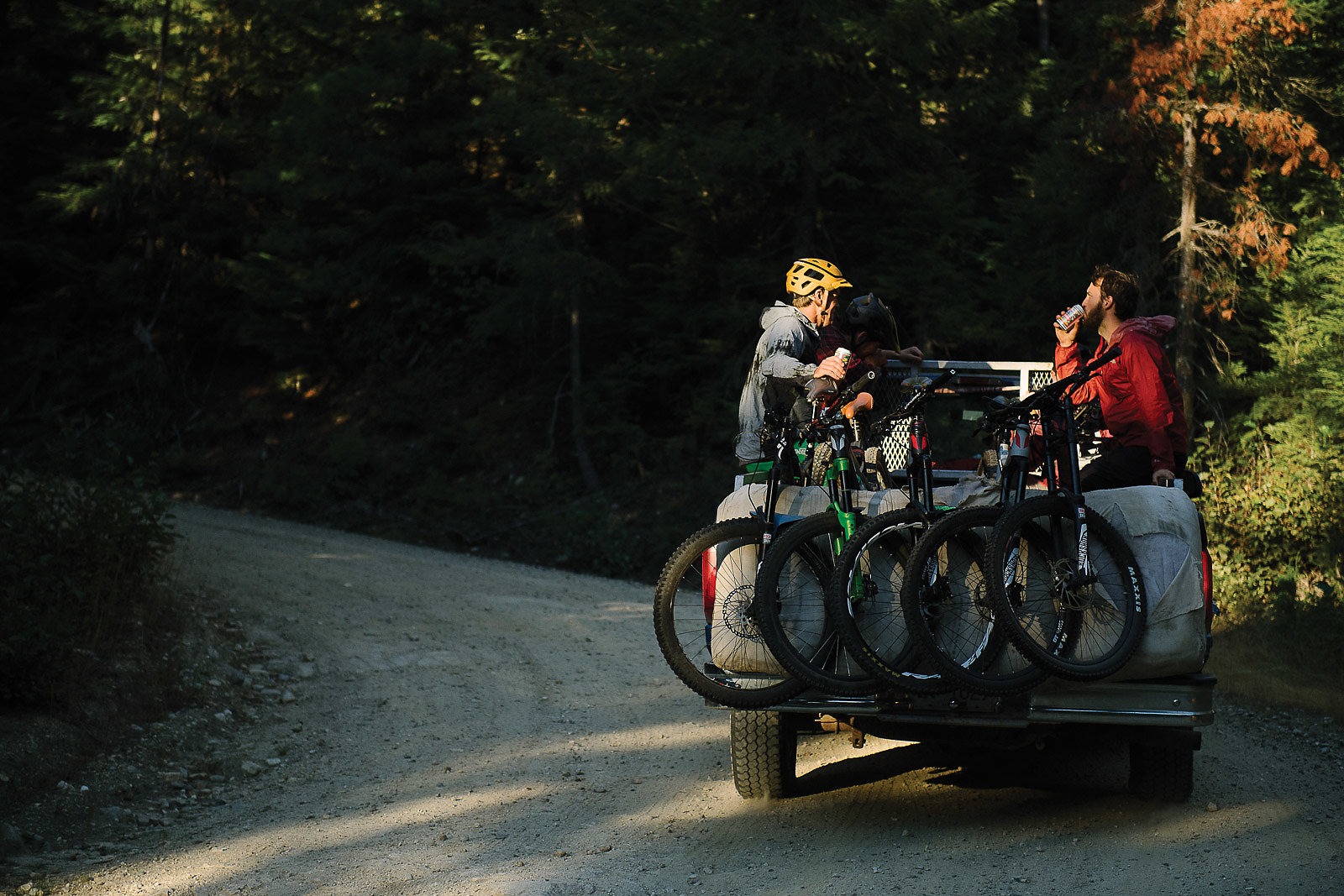 Even so, the community is meeting that growth with forethought and a firm dedication to Revelstoke's core identity. In 2016, an out-of-town developer proposed a nearby highway complex, a move locals feared would decentralize the town and damage its historical character. The city council listened, and turned down the developer.  
When asked if he laments the quieter days, Strand just scoffs. "I used to walk down the street and know every second person," he says. "Now I know every 20th. That's exciting! The biggest change is the type of people we have living here now. It's a lot of mountain guides and young families. Most of those people come for winter, but now they stay for summer. And now a lot are even coming specifically for summer."
Tim Auger is one of those people. The fit 38-year-old, soon-to-be father moved to town in 2009. Formally trained as an engineer, Auger instead followed his passion to a job at a bike shop in Calgary. He eventually tired of the city and decided to downsize.  
"I was auditioning BC towns like Fernie and Golden," he says. "I was impressed by how raw the ski hill was in Revy, but the town hadn't really been on my radar. I ended up working at the local bike shop, Flowt, that first summer. The owner, Brendan, insisted on closing on Sundays and at 5:30 p.m. on weekdays so the employees could ride. It was a totally new priority for me, and remembering how much I love riding my bike convinced me to stay year-round."
Today, Auger is a central figure in Revelstoke's bike scene, and not just for his sardonic wit or the shaggy golden locks that often grace podiums at the local "toonie races." Auger is known for his role with the Moose, a second-generation and locally famous shuttle vehicle he owns with three other folks. The Moose is a battered and blue Ford F-150 that operates out of Flowt, and will pick up any keen riders it passes on its way up Boulder.
"I like being 'Revelstuck,'" Auger says. "Whatever I contribute here, stays here. We've got a lot of destination tourism, but we don't have many regular outsiders who use the trails and don't give back. You get to know people here and you get a sense of ownership."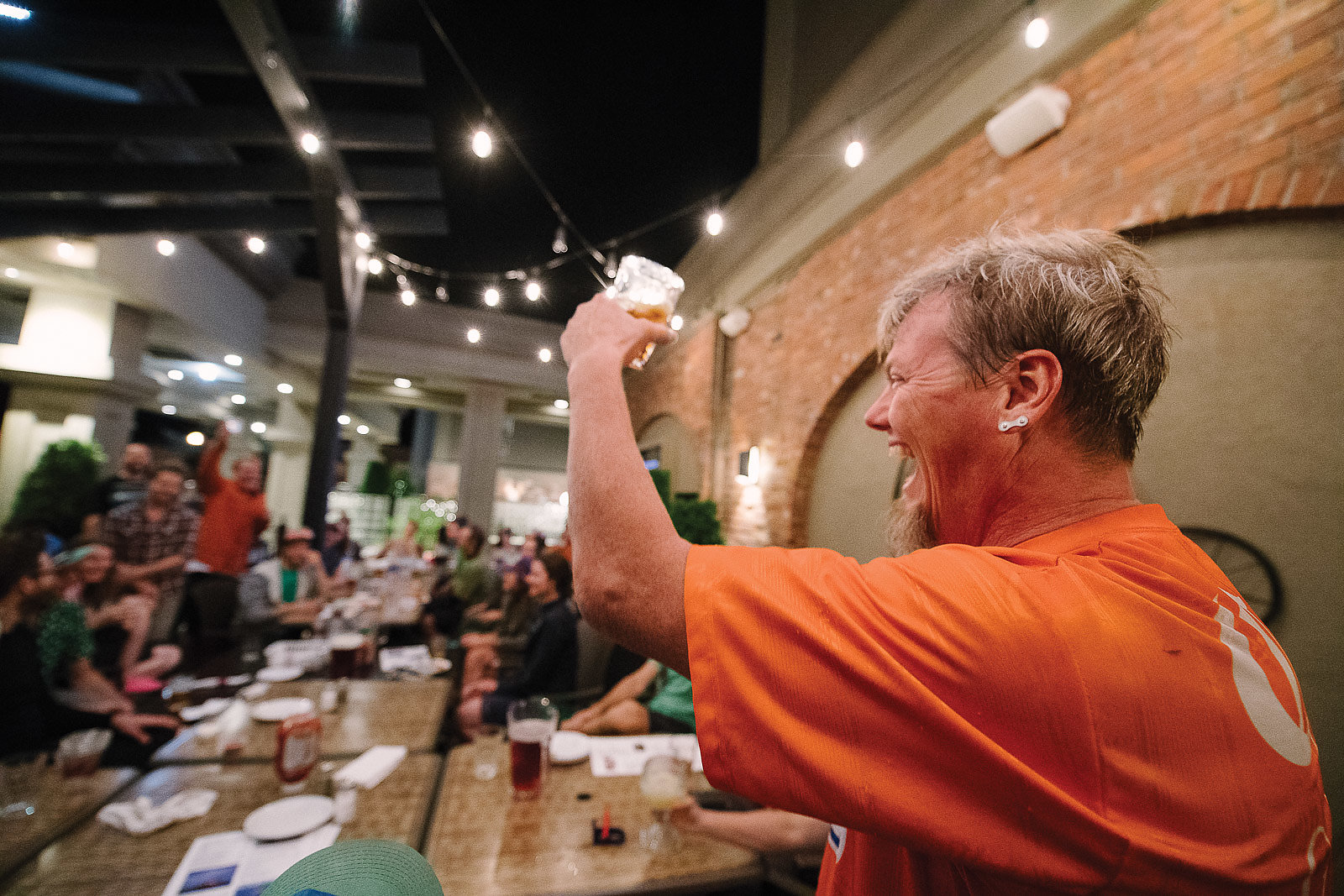 Back at the River City Pub patio, the night ends the way it always does—with Strand hollering over the crowd to make sure everyone takes care of their tabs, before he slips off to leave the late partying to the hardcores. Karl Guillote, from Second Street, mills about, carrying his mojito fervor deep into the night. 
"It happens every so often where the bill gets mixed up," Strand says. "It's a lot to remember for the servers, and for the riders. But the good thing is someone always steps in and takes care of it. That's one of the negatives of staying to the very end. You might be that person."
Pedaling his Giant Trance into the cool, dark air, Strand doesn't seem the least bit stressed. He has faith in the people here—joy-hearted folks of all ages, brought together by a love of bikes, the last spike between the old Revelstoke and the new.