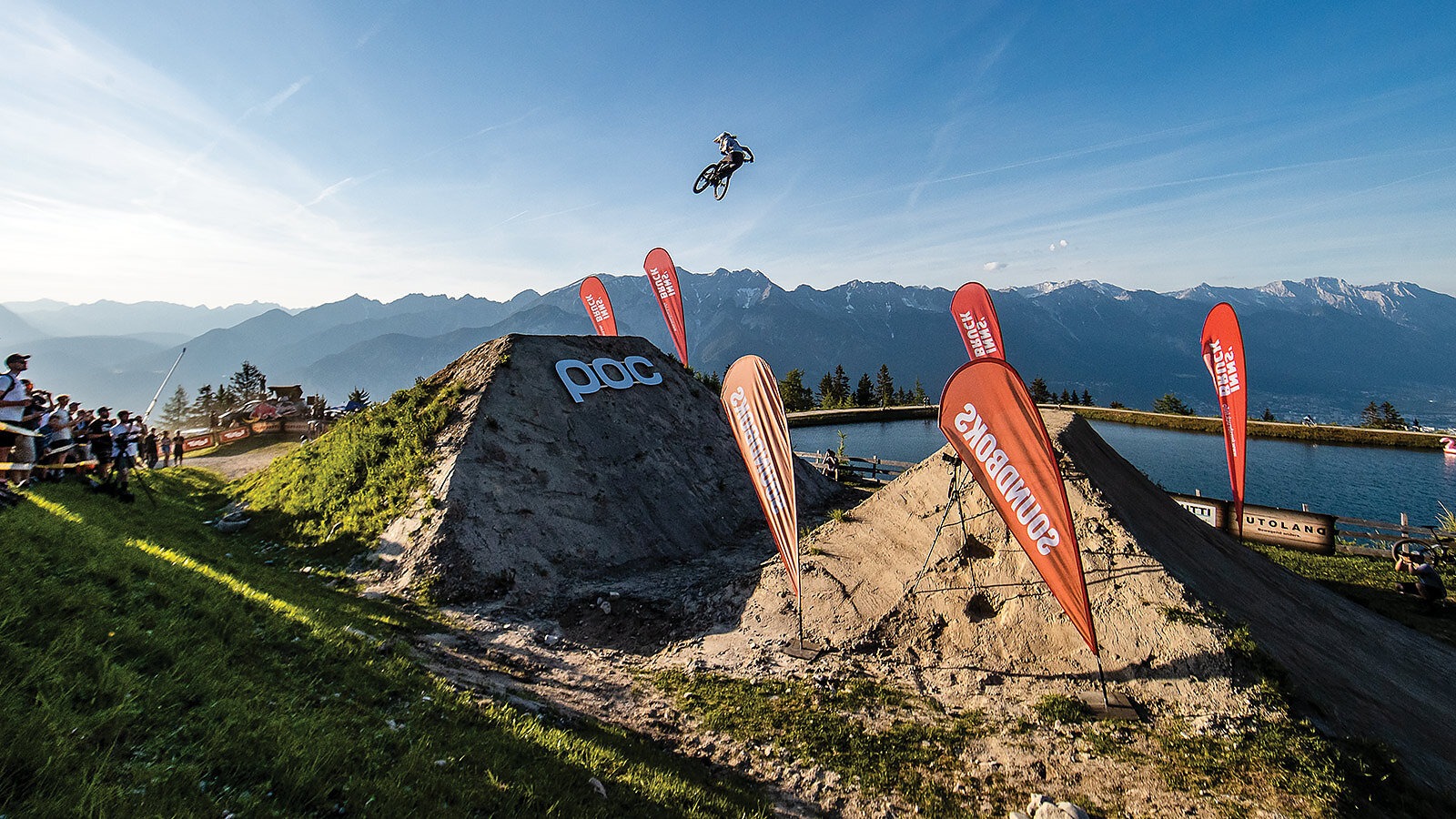 Taking Flight Robin Goomes' Ascent from Weekend Warrior to Freeride Phenom
Spectators pack like sardines along the iconic Dream Track in Queenstown, New Zealand and fixate on gargantuan gap jumps that weave down the hill and out of view. To mountain bikers, these 60-foot features are works of art. Mounds of earth sculpted for flight, they were initially built for the "New World Disorder 5" film in 2004.
Now, they're one of the biggest public jump lines in the world. And, on this day, a frenzied crowd is gathered to watch as hordes of riders drop in for the annual McGazza Fest jam session, each airing big on every feature as the late Kelly McGarry would have done. One rider who stands out as she whizzes by is Robin Goomes. With each lap, the Kiwi teases a new trick: a nac nac, a tuck no-hander, a t-bog, just a few to name.
As she hikes back up to the start with pal Harriet "Haz" Burbidge-Smith, she's beaming, or as she'd put it, "frothing." Jumps like these are her natural element, which isn't shocking considering her impressive riding resume: 2023 Crankworx Rotorua Speed and Style winner, 2021 Crankworx Whip-Off champion, one of the first women invited to DarkFest, and the first woman to backflip in a Crankworx competition. What is shocking is that Goomes has only been riding for six years.
Goomes hails from the Chatham Islands, a wild and remote archipelago 800 kilometers east of New Zealand with roughly 700 full-time residents. The environment lent itself to an adventurous childhood exploring the island's farmland and beaches by motor bike. With no proper tracks to ride, she and her friends scampered into the hills to build trails and jumps. Later she branched into BMX while attending high school on the mainland. She raced but was mainly in it for the jumps, opting to practice tricks out of the berm rather than fixate on clocking the fastest times. But riding was put on hiatus when she graduated, joined the army, and became a lance corporal and heavy machine operator.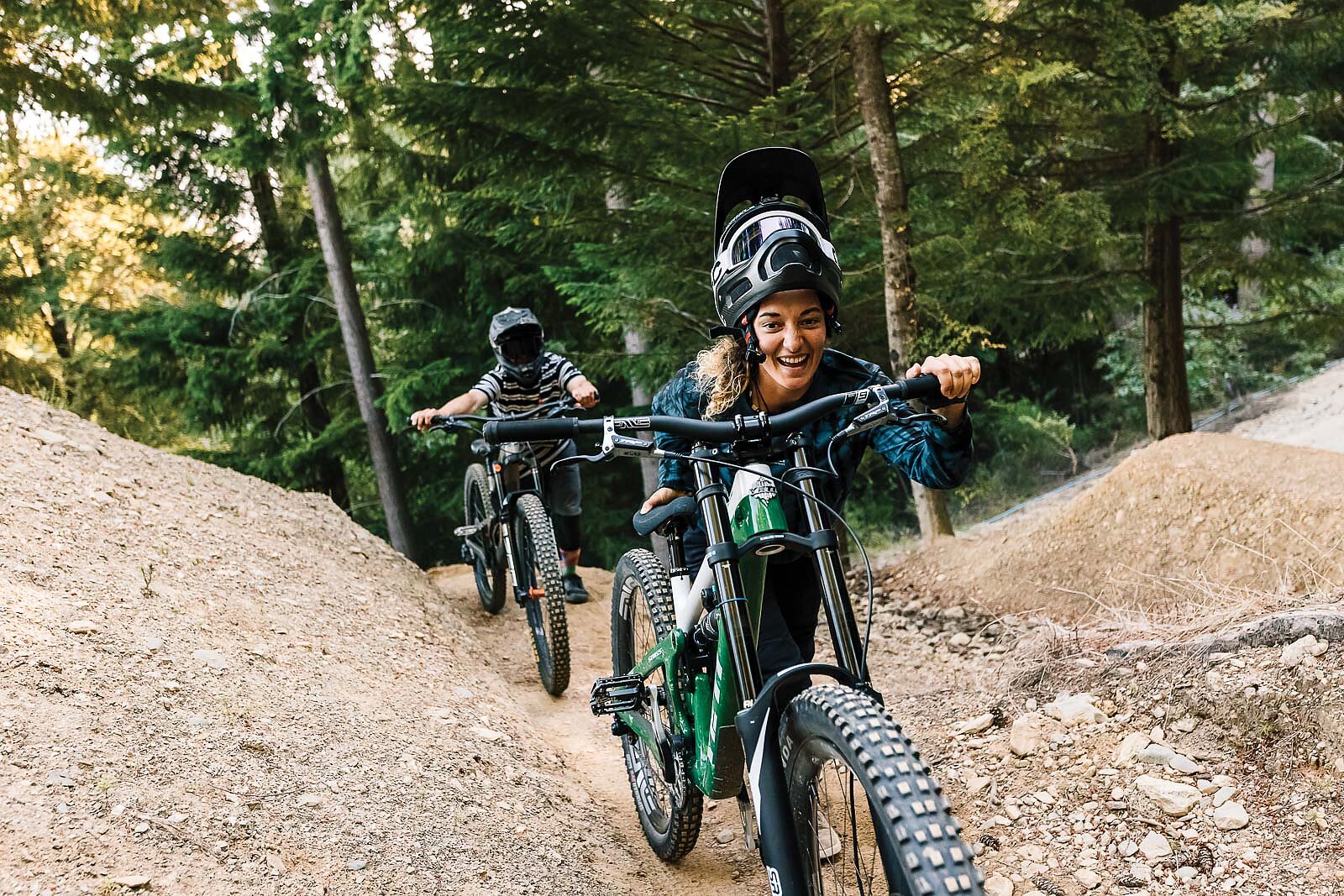 "I did the adult thing—grew up, got a job, and joined the army and stopped riding for a while," Goomes said. Ironically, this decision to do the "adult thing" would lead her straight to her career as a mountain biker.
A friend told her about some mountain bike trails at Palmerston North near where she was stationed, and it piqued her interest. They rode a grade 5 track (the North American equivalent of a black diamond), and Goomes chased after her friend on a dirt jumper with street tires and a rear cable brake—holding on for dear life. She spent more time walking down the rock chutes and roots than riding. Undeterred, she immediately bought a full-suspension bike to keep riding.
"It probably wasn't a great bike looking back, but it had a rear shock—so to me, it felt sick," Goomes said, laughing.
Determined, she returned to that trail and chipped away at all the intimidating sections. After work, she always rode her bike, learning tricks and eventually racing again. Throughout this process, she never imagined mountain biking leading to a full-time career. Antarctica is where that mindset shifted.
In 2019, she traveled to the frozen landmass to work at the New Zealand Army base. The assignment was the pinnacle goal of her army career. She lived at Scott Base for four months, working six days a week. On days off, she was skiing, exploring ice caves, and climbing ice crevasses—as one does on the southernmost continent.
"It was unbelievable," Goomes said of her time in Antarctica. "I met people from all walks of life, and they had such cool and unique stories and had done so much with their lives. It's where I decided, 'Fuck it, I'm going after [mountain biking].'"
Once home from Antarctica, she left the army and started driving bike shuttles in Rotorua to support her training and racing pursuits. She became a weekend warrior and used the time off to race and practice tricks.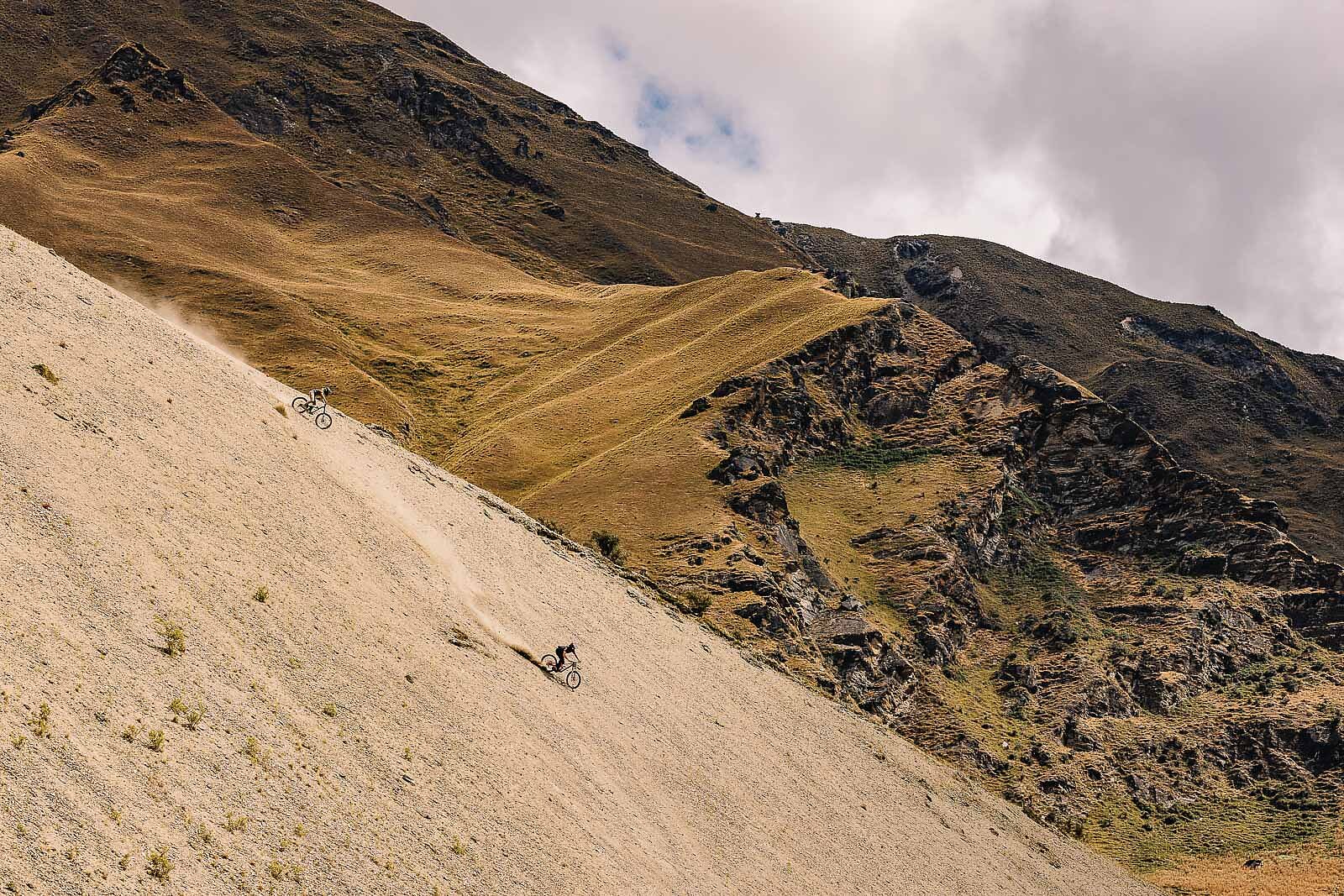 THROUGH THESE MANY ADVENTURES, GOOMES CULTIVATED A VIBRANT FREERIDE COMMUNITY—A GROUP OF FRIENDS FOR A WILD ADVENTURE AT A MOMENT'S NOTICE.
Fellow competitor and freerider Vaea Verbeeck remembers the pandemonium that ensued.
"It just felt right," Verbeeck said. "I had seen Robin flipping her bike for a while, so making that happen in Innsbruck was only natural. The fact that it was stomped, dialed, repeated is the best part."
In Verbeeck's eyes, Goomes embodies the spirit of freeride. In addition to her steadfast work ethic, Goomes is internally motivated by values of passion and fun.
"For me, that's the best and most important part about freeride," Verbeeck said. "You gotta have a good time and ... make [freeriding] a fun process for you."
Goomes, alongside Verbeeck, Caroline Buchanan, Jordy Scott, and many others, have pushed Crankworx's Women's Speed and Style into the spotlight, providing women and young girls a sought-after avenue to explore freestyle riding. It was there, in fact, that Goomes competed in a freestyle trick event for the first time, an event she credits with helping her expand her repertoire of moves.
Now she's a regular at most stops of the world tour, frequenting the podium and placing first as she did in Rotorua this past spring. She's also become quite the hero in her favorite Crankworx event, the Whip-Off.
Goomes continued to soar after Innsbruck. She scored a coveted invite to the Audi Nines in Germany, joining legends such as Casey Brown, Veronique Sandler, Caroline Buchanan, and more as the first group of women invited to the iconic freeride session. Throughout the week, Goomes thrived, hitting jumps relentlessly and playing with new tricks like a backflip-can side-saddle lander. Her peers were in awe and ultimately nominated her for the Ruler of the Week, awarded to the event's most impressive male and female rider.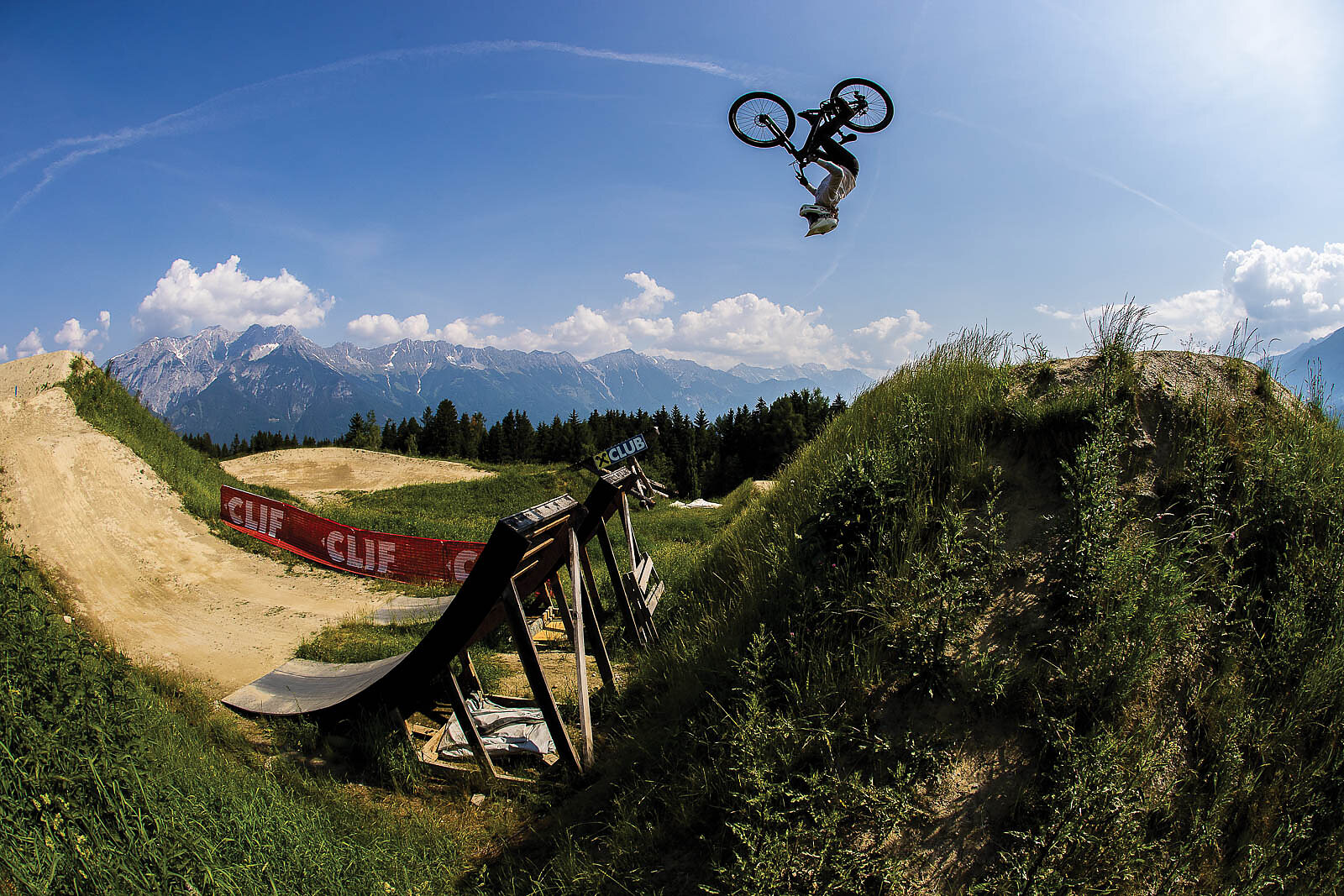 Through these many adventures, Goomes cultivated a vibrant freeride community, a group of friends that'd continue to support, push her, and be down for a wild adventure at a moment's notice. One of those pals is Brown, a decorated freerider who quickly connected with the fellow Kiwi.
"Robin came from a similar background as me," Brown said. "Seeing her push the sport so much in her short time in the industry has inspired me heaps."
The two have become close riding pals, often hitting jumps and riding scree lines together. Thanks to some gummy bears and tough love, Goomes even helped Brown land her first backflip.
"[She] is the hardest working person I know," Brown said. "Her mental and physical capabilities [are] beyond anything I've ever seen."
By the time Goomes returned to Virgin, Utah, for Red Bull Formation 2022, she was ready to make her mark in the red dirt as one of 12 athletes riding. There was a buzz among riders and event organizers who all had their speculations as to what line she'd string together down the mountain. Goomes had the technical prowess and progressive bag of tricks to help usher in the next chapter of Formation. She also had the focus— "a clear idea of what I wanted to get out of it" she later reflected.
Digging the year prior set her up well because it allowed her to absorb her surroundings and build an idea of what she wanted without any pressure to perform. Her Formation line wish list included an on-off feature to setup a one-foot can side-saddle, a drop she could trick, a jump she could backflip, and plenty of flow. She teamed up with Burbidge-Smith—also an alternate the year before—and built the "alt line" that suited their playful riding style. The line came together beautifully. It started high up on a ridge and weaved along knife-edge exposure. Goomes soared over a series of drops, ultimately building up to her big step-down sender which she threw a suicide no-hander on. In the lower section, she hit jump after jump, with the grand finale being her trademark backflip, the first ever at a Formation event. Even before she landed the flip, the crowd was cheering and ready to swarm her with congratulations.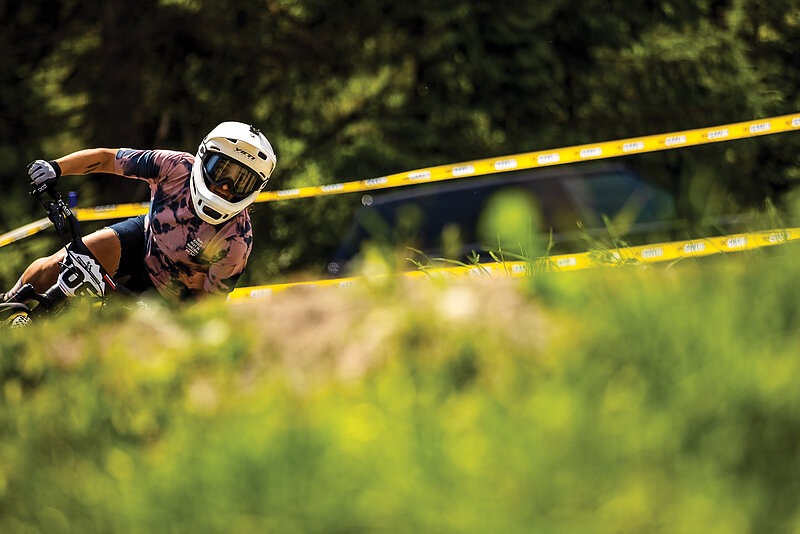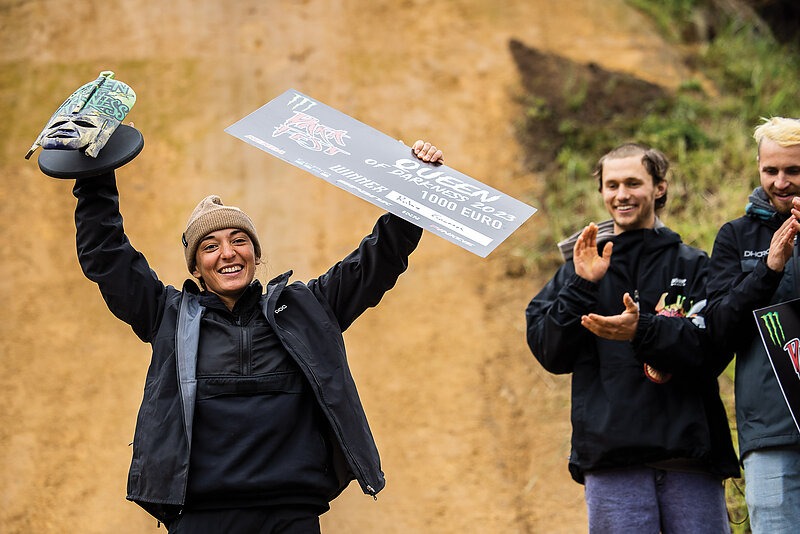 "When you look back on that line, it's Robin in a nutshell," Holden said.
In 2023, Goomes will continue chasing her freeride dream by competing at Crankworx stops, Proving Grounds, and riding at jam sessions such as DarkFest. She's more elusive when it comes to stating specific goals for her season. Goomes likes to keep her cards close, not because she doesn't want to share but because she wants her riding to be for herself. Instead, she'll humbly drop clips and photos unannounced of the feats she's been tirelessly working towards.
Weeks after McGazza Fest, Goomes was back at Dream Track, only this time to tick off a major bucket list goal. In a video posted to her social media, she gracefully backflips one of the 60-foot gap jumps, stomping it cleanly. Elated, she wrote, "Bucket list maneuver today. Unreal to finally tick off the Dream flip! They say you're not a QT local till you flip Dream, haha."
If that was on her bucket list, one can only imagine what else she's trying to tick off. In a way, what's most alluring about Goomes is that you never know what she'll do next, only that there's much more to come.