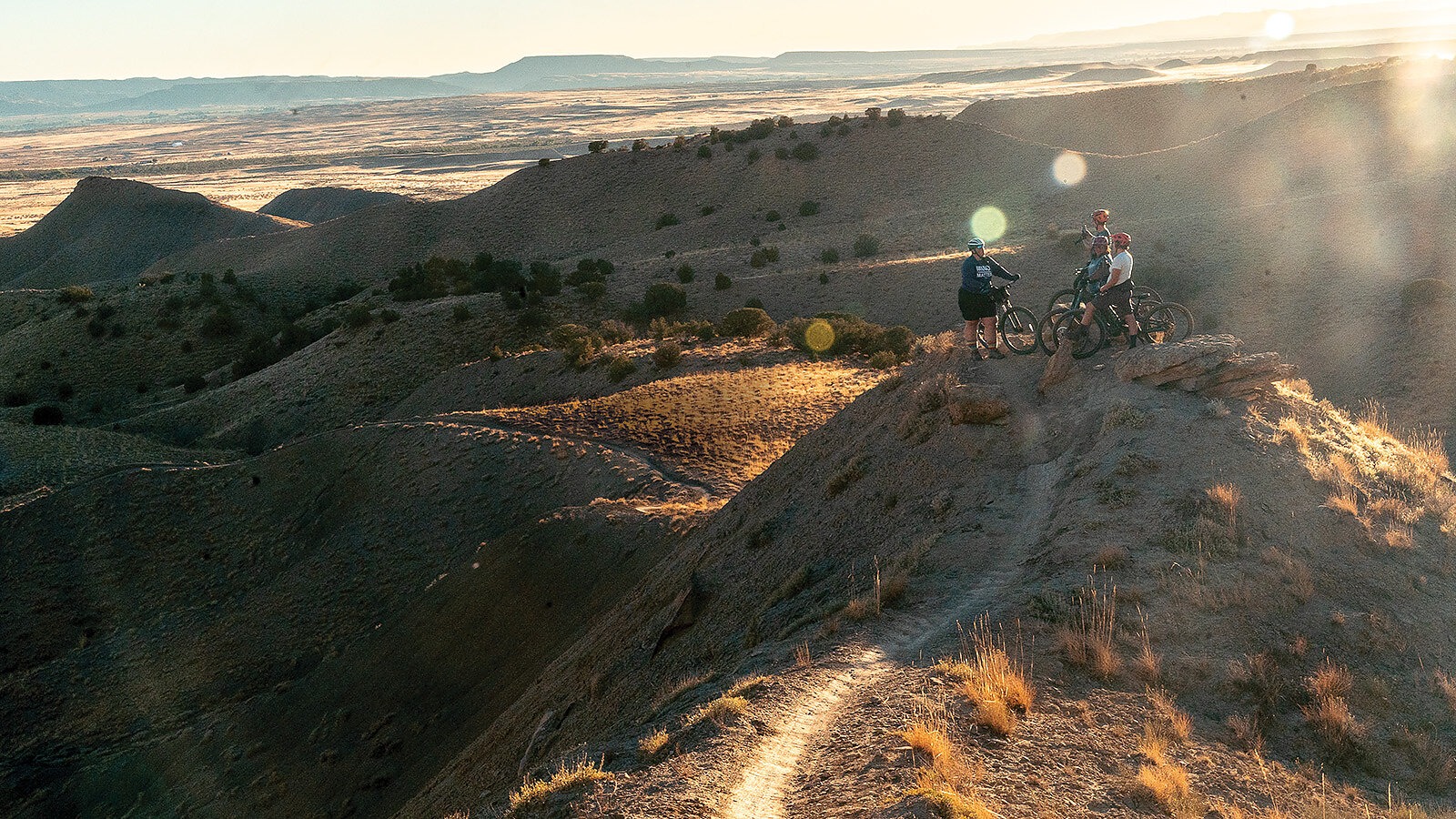 When in Roam A Shredfest Among Girlfriends Has Become One of Mountain Biking's Most Welcoming Spaces
Heidi Grande inched toward the commitment point of a pockmarked rock roll on Fruita, Colorado's classic Horsethief Bench trail. It wasn't the steepest or most technical part of the trail—and was much tamer than the Bench's famously garbled entrance—but the feature was one of Grande's mental blocks. As she let off her brakes and gave in to gravity, her eyes widened.
"Holy shit!" Grande said giddily as she cleaned the section for the first time. "I ride alone, so I never try it, but I've dreamed about it. Now, I know I can. I'm trying to get over my fear," she said as her group gathered at the bottom of the feature.
"Following you was such a big help," she said to her ride leader, a Roam Fest volunteer.
Grande, a recent Fruita transplant, had been too intimidated to seek out riding buddies in her new town. She signed up for Roam Fest in Fruita on a whim and ended up leaving after three days with newfound confidence and a couple of new phone numbers of other locals.
Her experience encapsulated one part of the magic that has made Roam Fest one of the most sought-after festival tickets in mountain biking: camaraderie. The three-stop festival, which celebrated its 10th edition in Sedona, Arizona in November 2022, is about connection and community over clinics and coaching. It's not a champagne, pinkies-up experience, but it's decidedly feminine.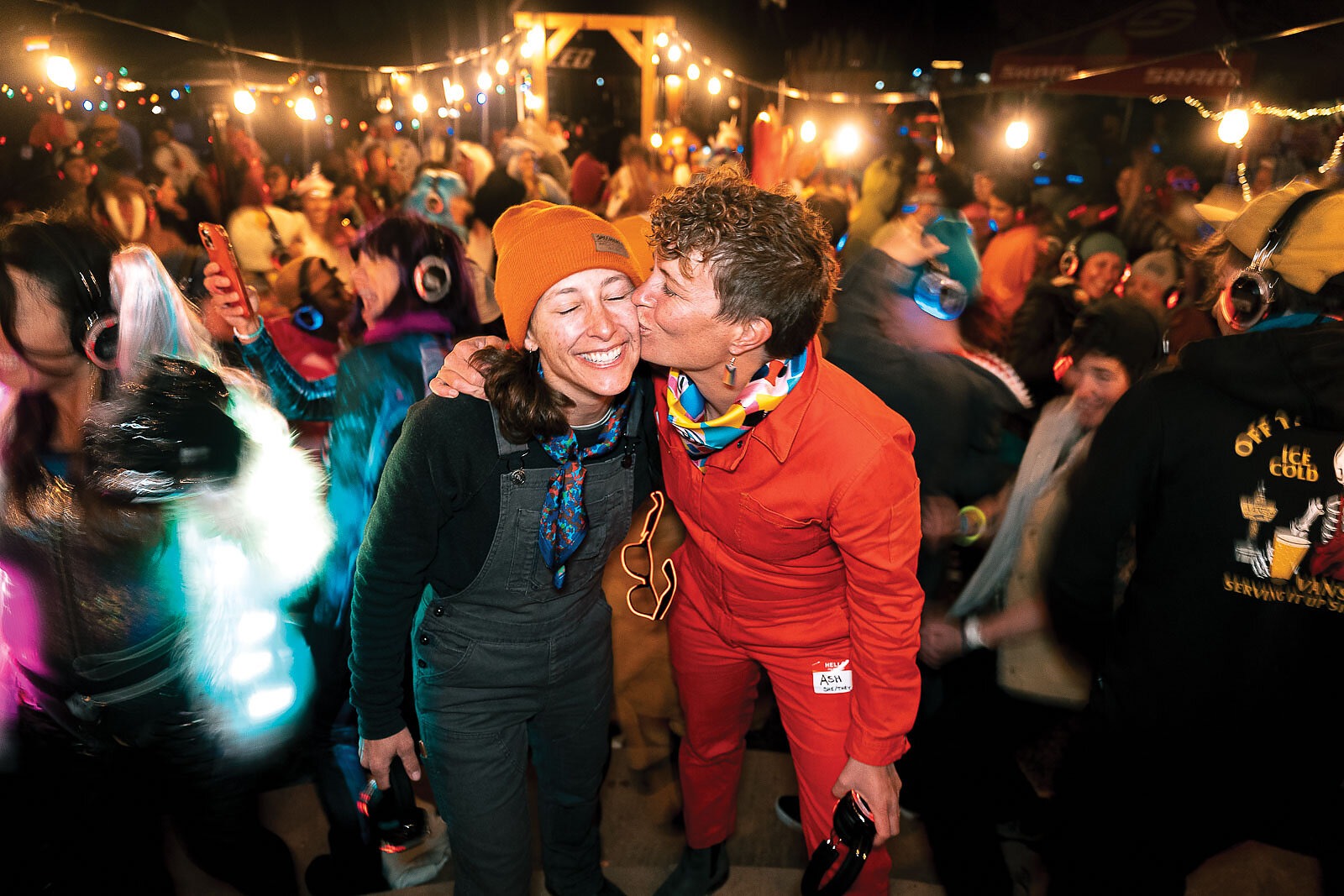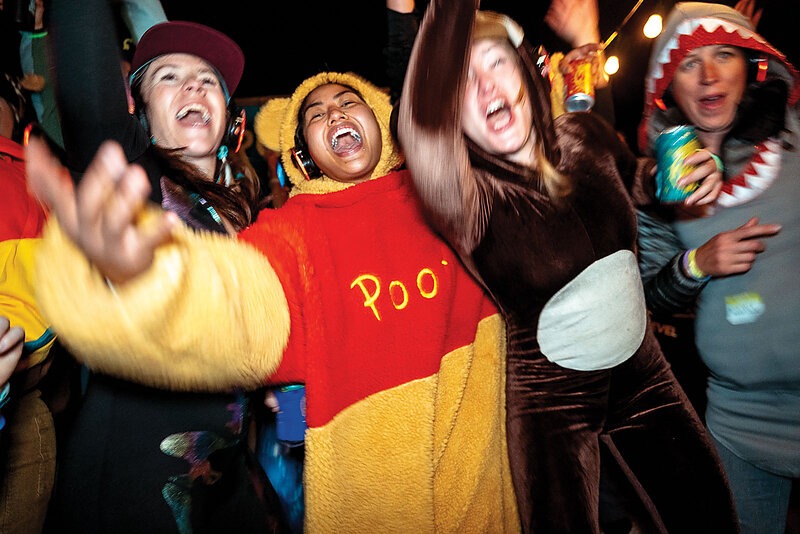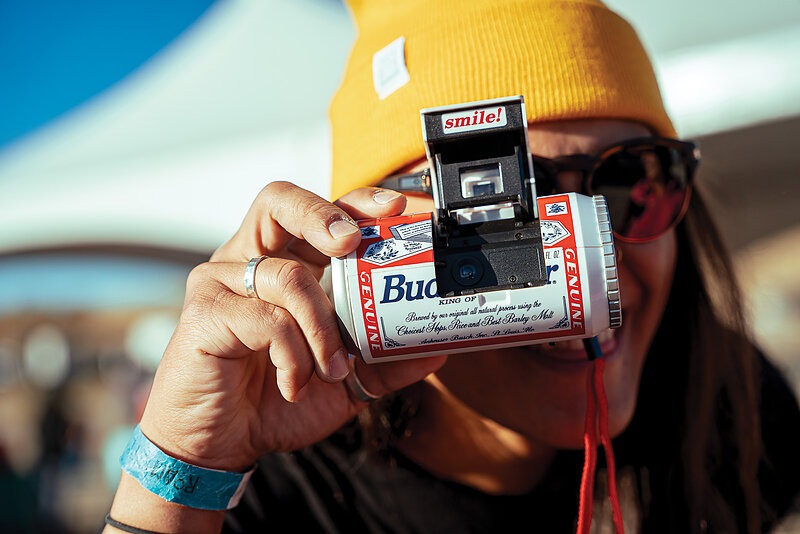 Its founders, married business partners Ash and Andi Zolton, dreamed up Roam Fest in 2016 as a gathering for the demographic they saw on the trails: already-strong female-identifying riders, or "radasses" in Roam Fest parlance, who weren't necessarily interested in racing and who sought a less structured experience than what women's skills clinic weekends typically offered. They started that year with a three-day guided riding retreat for a few dozen ladies, and within a year, the concept ballooned into a full-fledged festival, first held in Sedona in 2017. Six years in, its scope has evolved into creating safe and welcoming spaces for all female-identifying riders, regardless of skill level, sexual orientation, body size, skin color, or preferred bike type: motor or no motor, upright bikes or para/adaptive sit bikes.
Its annual events—currently held in Knoxville, Fruita, and Sedona—sell out within minutes as hundreds of women clamor to score a golden ticket to one of the best bike parties of the year. Women sign up for various reasons, but a common thread is that many usually ride with the guys and crave a let-loose ladies-only weekend. At the November event, one participant had just been through a breakup and wanted to make sure she loved riding without the influence of her ex (she did). Another was new to mountain biking and wanted to check out Fruita for the first time with some built-in guidance and riding partners.
At Roam Fest, the pressure is low, and the stoke is high. Participants are free to join organized guided rides, venture out with friends, hop on a shuttle to one of the local trailheads, or pedal on their own from the venue. Demo bikes are available from the many vendors in the expo area. Festival attire is laissez-faire—dress up in a cow, ostrich, or unicorn costume for the Saturday night dance party or wear your riding kit. The motto is Hugs Not Handshakes, and one of Roam Fest's mascots is a turquoise Skoolie named Nancy the Bus that rolls to each event to serve as a mobile headquarters, or Roam Sweet Roam.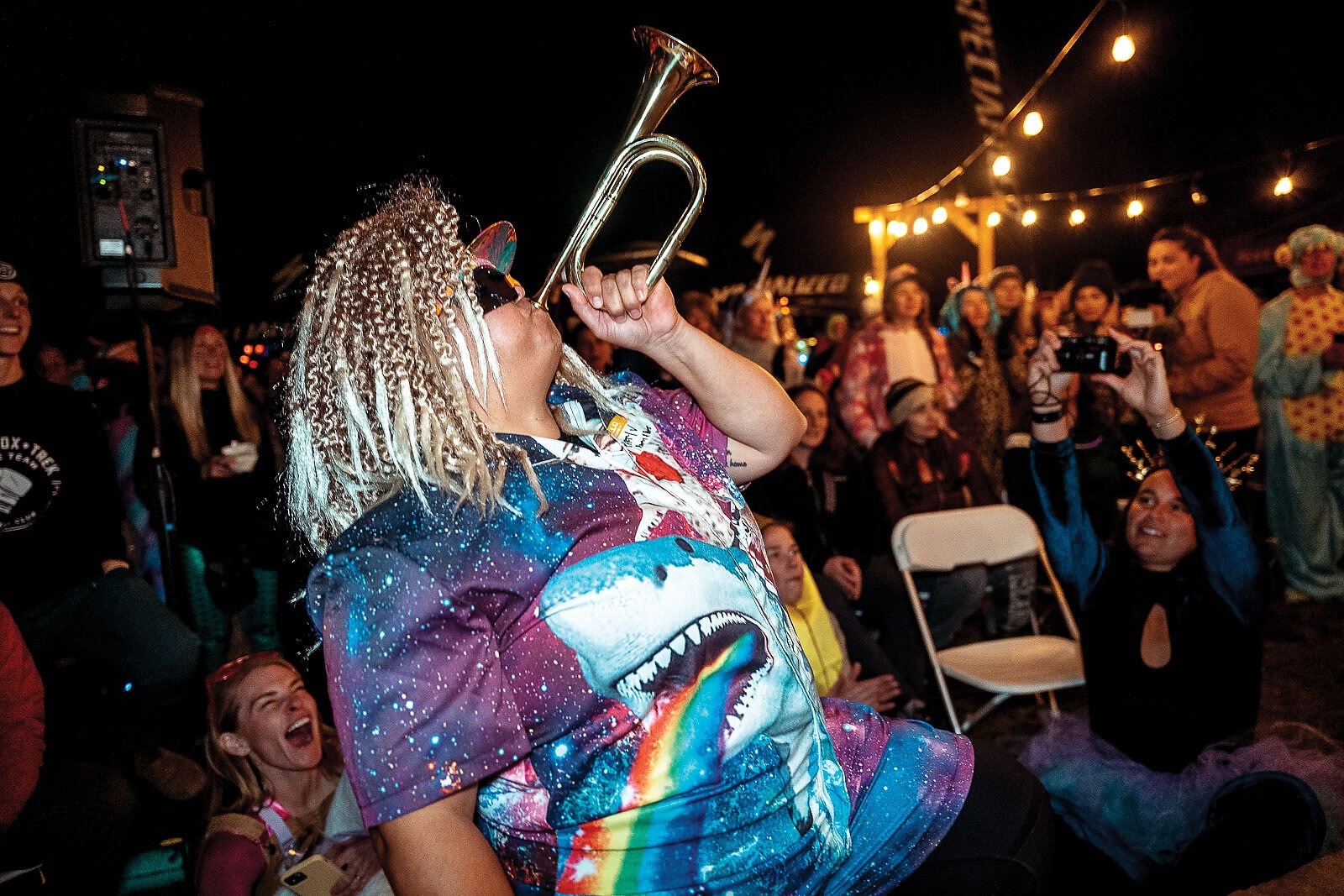 The Saturday night Happiest Hour is a progressive cocktail and mocktail hour; vendors each serve a signature drink from their booths. At the silent disco in Sedona and Knoxville, hundreds of women don neon headphones and bop around on their own, but together, giving off a Burning Man for Bike Nerds vibe.
"This is a bike party; we're here to have fun," Ash Zolton said before a raucous dance party in Fruita, one in which Beyoncé, Whitney Houston and Madonna anthems, backed by a chorus of happy, responsibility-free women, echoed through the desert. "We're not here to race or coach or anything like that. I think it's something that really resonates with all riders. Our demographic is obviously female- identifying, but I think if someone was to go and create a co-ed Roam Fest with that same intent, I think that would be really well received."
Ash, a former Liv Cycling demo driver whose event organization experience dates back to high school, is the de facto festival emcee, a constant purveyor of good times, and the backbone of the larger Roam Events business. Andi, who wrenches for professional cyclocross teams in Europe and coaches the Olympic development mountain bike team for USA Cycling, keeps operations running smoothly on the ground during each festival.
While the Roam Fest format prioritizes fun, it is also grounded in a serious push for better representation and inclusion in the industry. Its Shred-Talks panels have given a voice to dozens of nontraditional athletes over the years—from Marley Blonsky of All Bodies on Bikes to Anishinaabekwe ultra-endurance singlespeed champion Alexandera Houchin, and Brooke Goudy, co-leader of Black Girls Do Bike in Denver, among many others. The film showings that follow Friday night panels are selected by Roam leadership to reflect projects that showcase nontraditional riders.
"I think we've been pretty in peoples' faces about, 'This is what we're all about, and if you identify or you are an ally of folks who operate in this world and in those communities you're absolutely welcome here,' and we've been really unapologetic about that," Ash said. "It's rubbed some people the wrong way. We've lost customers, but they're not necessarily the customers I'm interested in keeping."
The weekend is intimate by design. Vendor space is purposefully limited and, to participate, brands must commit to having at least one female-identifying staff member working the booth. They also need to demonstrate an intentional and meaningful commitment to LGBTQ, para/adaptive, larger-bodied and BIPOC riders because many of Roam's participants come from those communities.
"Some [potential vendors] … they want us to hand them that demographic on a silver platter, and we kind of make them work for it," Ash said. "We vet them—are you making an effort outside of Roam Fest to be more inclusive, to have better representation, to be more dynamic in the kind of person you're trying to attract to your brand?"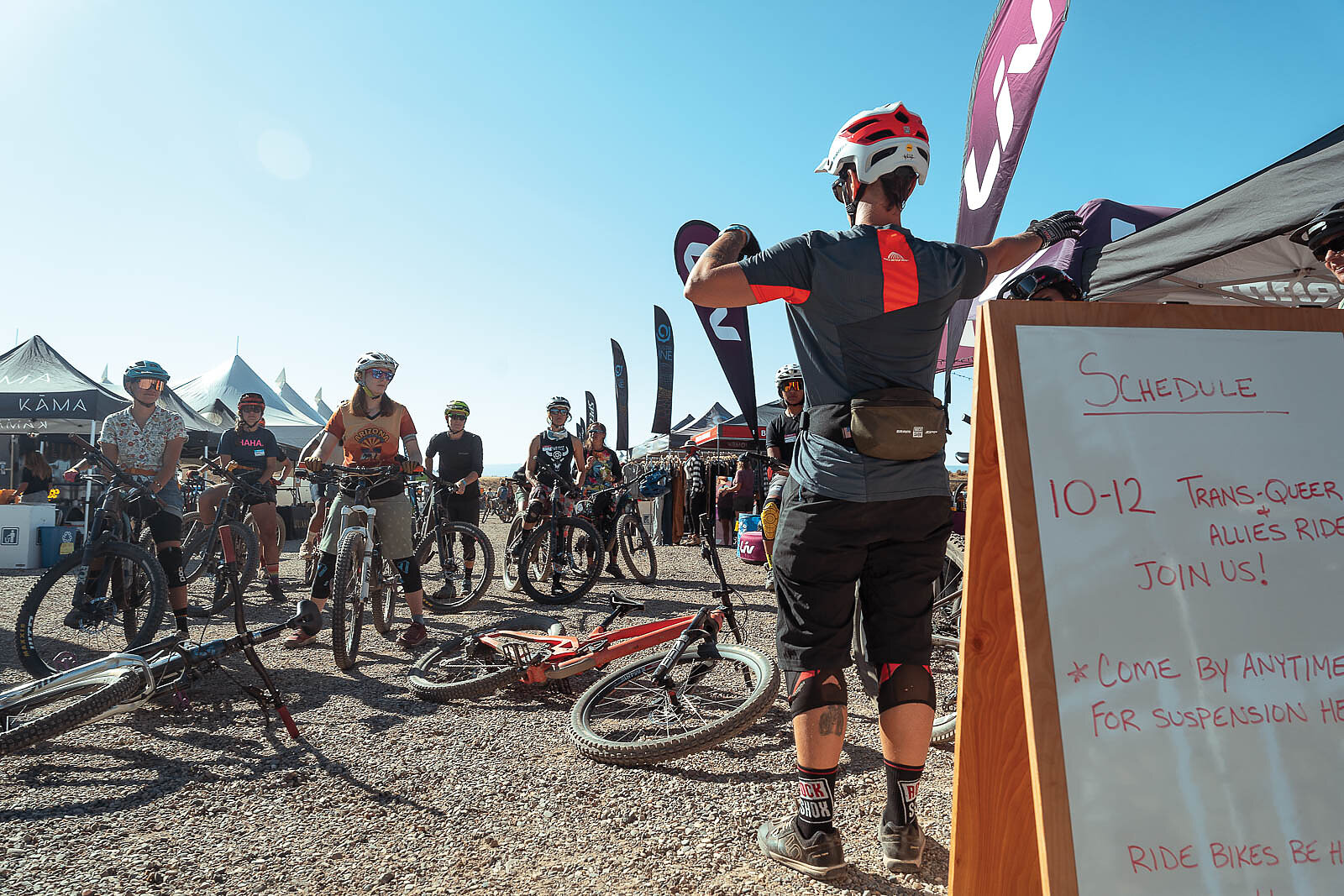 Roam was founded in otherness, but becoming a welcoming space for riders who don't fit mountain biking's archetype has been a work in progress. Ash never stops listening and learning, and continually fine-tunes the Roam Fest formula through a feedback loop with vendors and participants that only works because she's so open and approachable. For instance, she devised a system to sync the number of demo passes with the bike sizes on hand and only sells passes for the sizes available, so riders know they'll be able to find a bike that fits if they pony up the extra $100 for a demo pass. It's a quality-over-quantity approach, and it works.
"We actually have the data that shows we sell bikes, we sell apparel, and we sell gear at a higher rate than events that are 50 times the size of our event," Ash said. This was abundantly clear at the Fruita festival, where dozens of women strolled around in a romper the mountain bike clothing brand, Shredly, sold at its booth.
A presence at Roam Fest can translate into sales and introduces more women to the Pivot brand, but the benefit of these weekends is about much more than that, said Paz Chinchilla, a longtime Pivot Cycles demo driver who now works in marketing for the Arizona-based bike brand. She's been to all but one Roam Fest and dozens of other demo events around the country. Roam, she's noticed, delves below the surface of the usual tech talk at a demo event.
"I believe at Roam it's more human," Chinchilla said, recalling one particularly moving conversation with a participant in Fruita. "Her son is moving out because he's going to college. She started crying, and I gave her a big hug. I'm like, 'I totally understand you; my whole family is in Costa Rica. I miss them a lot.' Those human connections that go beyond biking—we share that, right? We want to go and ride together—but those human connections, I only see it here. I love it. That's why I love coming here."
And once you're in the Roam family, chances are you're going to stay in it. Volunteers become paid staff (Roamie Homies), and participants become friends. Ash puts significant stock into input from everyone involved; that feeling of being heard is what makes it so special. When Pivot ambassador and head of Roam's new dig day program Alex Showerman approached Ash about folks inadvertently misgendering her at the festival, Ash simply added pronouns to all the name tags. When Kate Herrick Madden, a larger-bodied rider, showed up alone at Roam Fruita in 2021, Ash called her after the festival to ask her to ask how it really felt being there: Were there microaggressions happening that Ash didn't notice? Anything she could do to make the space more welcoming? The next year, Madden had moved from the audience onto the Friday night ShredTalks panel, where she delivered her own powerful story of evolving from a novice weekend warrior to earning a spot on both the All Bodies on Bikes SBT Gravel and Distance to Empty pro teams.
And when Roam's now-DEI coordinator Alyssa Gonzalez cold-called Ash a few years back to ask her what she was doing to welcome more women of color at Roam, she checked her ego and listened.
"She literally was like, 'I went to your website, and to be totally honest, I was not super-impressed. I was wondering what you guys are doing to be more inclusive?' And I just kind of swallowed a little humility pill and was like, 'Honestly, not a lot, and we're kind of struggling with where and how we do that,'" Ash said. "We had some really hard-for-me conversations because I'm coming from a space of, 'Of course we're inclusive. I put on the world's first women's mountain bike festival. Does it get any more inclusive than that?' The answer is yes. It absolutely can get more inclusive than that."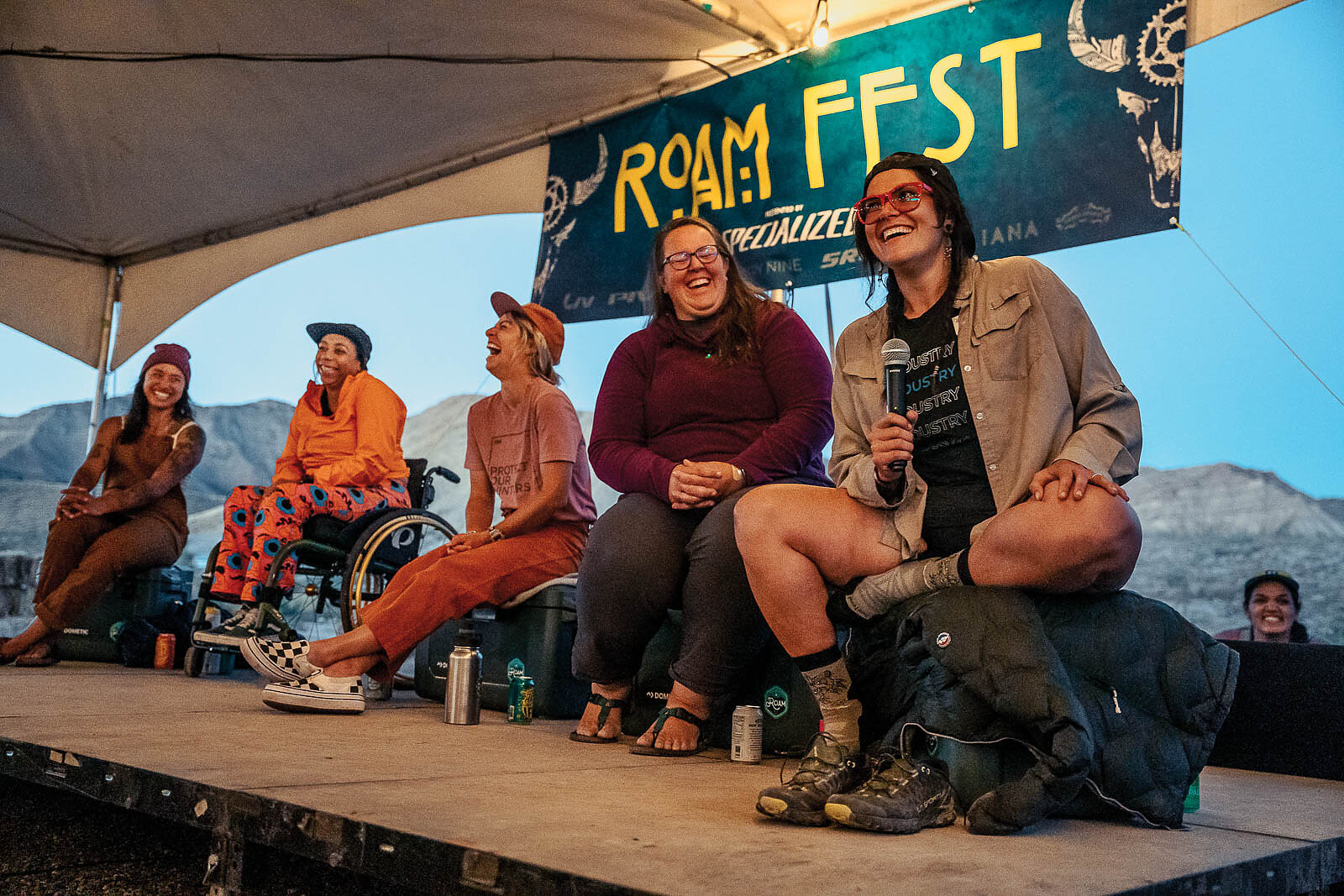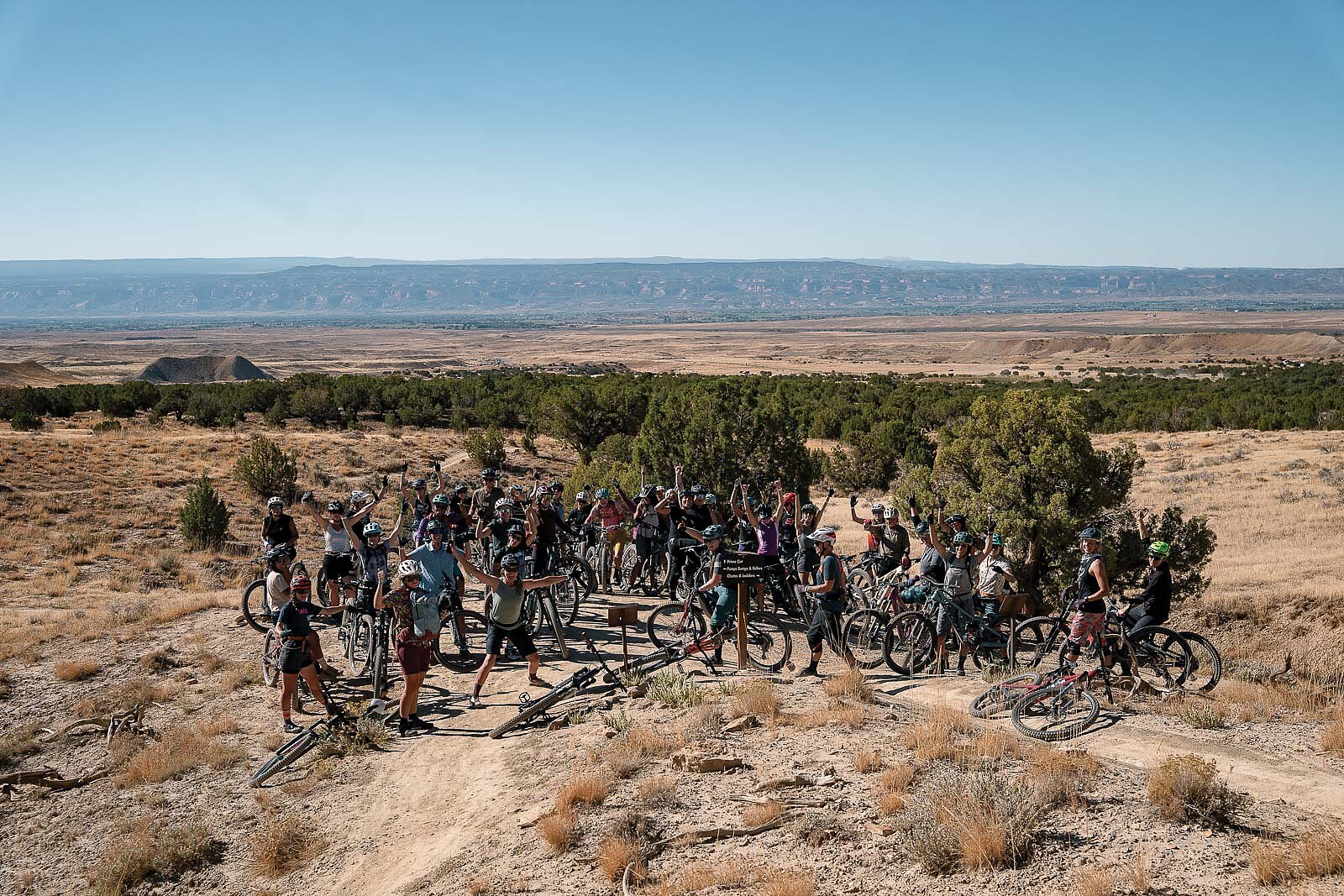 With support from longtime partners like Specialized and SRAM, Ash hired Gonzalez to develop a BIPOC scholarship program. It kicked off in 2021 with 10 festival passes allotted to BIPOC attendees. It wasn't enough, and not just from a numbers standpoint.
"What we realized again is going back to this feedback channel is there are a lot more fucking barriers to a lot of people than a bike pass to a festival," Ash said.
So, she reallocated sponsorship dollars again, earmarking $50,000 in 2022 to increase Gonzalez's hours and devote more money to the scholarship, which now pays for 45 riders to join Roam Fest annually, including a $6,000 travel stipend. There are Zoom meetings with the scholarship attendees beforehand so they can meet Roam leadership and ask questions. A shared document allows folks to easily make arrangements to travel together or stay together on-site and discuss gear needs ahead of time.
"It's not like they brought us here and were like, 'OK, go play around,'" said Sheila Mahadevan, the Washington D.C.-based founder of the Melanin Base Miles gravel team who attended Knoxville and Sedona Roam Fests on the BIPOC scholarship. "They're also trying to build community and, in doing so, we can all share our experiences, our knowledge, our resources—'Oh, you forgot your kneepads, you can borrow mine'—just like little things to help people to build community. Anybody can be like, here's a free ticket, but you aren't giving people the tools they need to succeed if that's all you do."
"THOSE HUMAN CONNECTIONS THAT GO BEYOND BIKING—WE SHARE THAT, RIGHT? WE WANT TO GO AND RIDE TOGETHER—BUT THOSE HUMAN CONNECTIONS, I ONLY SEE IT HERE. I LOVE IT. THAT'S WHY I LOVE COMING HERE."  — PAZ CHINCHILLA
For 2023, Roam is partnering with Goudy on a new program called Roam Rowdies that supports Goudy in bringing together a crew of Black, female-identifying riders to attend Roam Fest, then gives those women an additional stipend to support an event back home and to attend another industry event outside of Roam.
"It's not a one-off, 'Hey, here's a free ticket to a festival, and I hope you feel welcome in the bike industry,'" Ash said. "It's 'Come to our festival, here's some support to do something in your community, and here's some support to go be that nontraditional rider at another event that needs representation' and removing the barriers for them to do that."
Roam Fest is now increasing its focus and energy toward the para/adaptive riding community, which has historically been overlooked in trail development, race categories, and events within mountain biking. Roam's para/adaptive program launched last year in Knoxville, a location organizers chose because of its existing adaptive trails and e-bike access—two features any new Roam Fest location in the future will also need to have.
In Fruita, Ash invited Telluride Adaptive Sports Program (TASP) to staff a booth, bring adaptive demo bikes, and talk to folks about what it means to make trails friendly for sit bikes, aiming to bring visibility to land managers in an area without many adaptive trails. Adaptive bikes are generally about 36 inches wide, so adding a couple more inches of width to singletrack, reducing unnecessary off-camber sections, aiming for an ideal 3 to 5-percent grade, or incorporating a place for a sit-bike wheel to maneuver around a rock that can't be avoided are some of the tactics that can make singletrack more inclusive.
"None of the adaptive riders are asking for the trails to be paved. Nobody wants to ride a road. We all want to ride rad shit, and they do, too," said Nicole Luppino of TASP.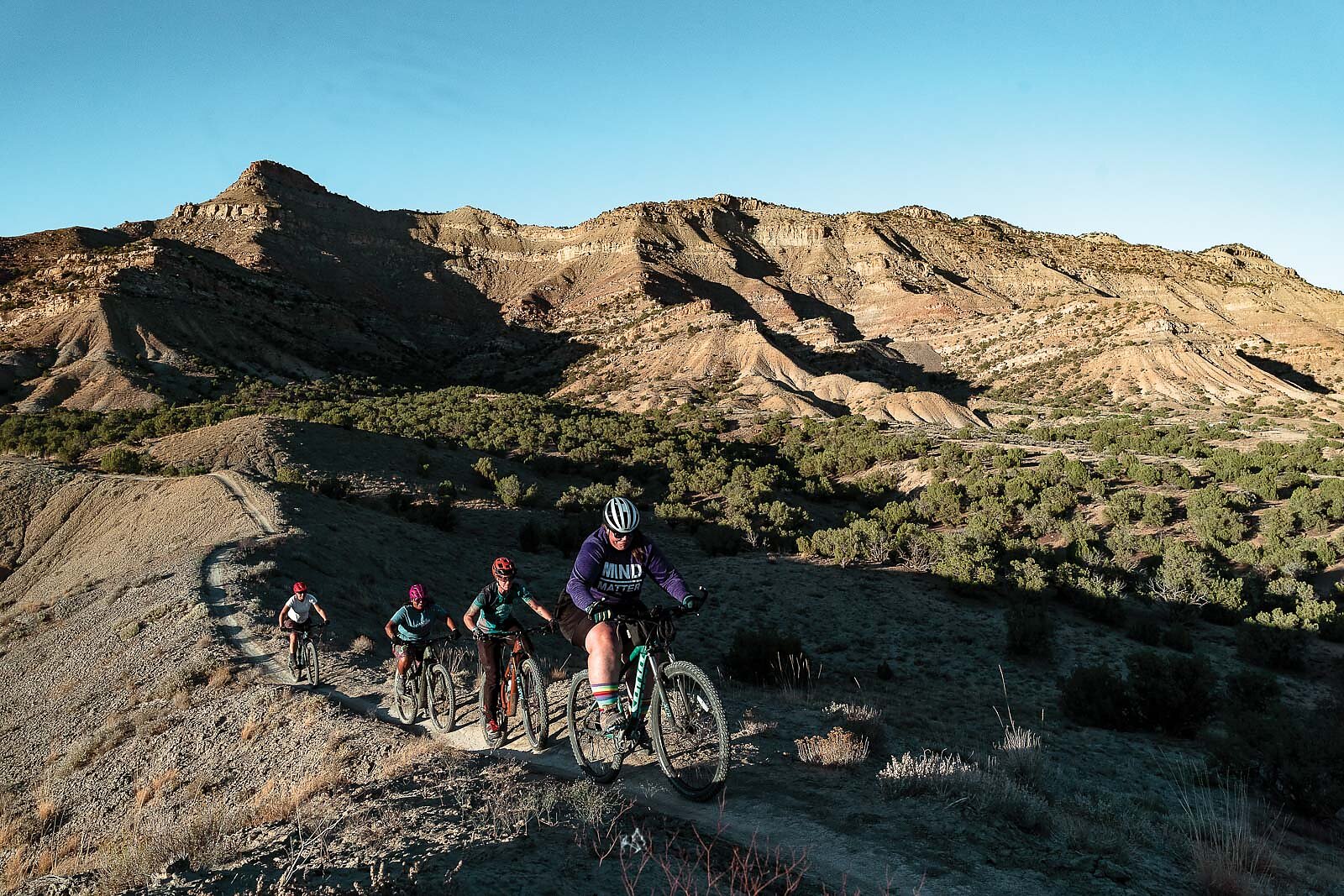 Even with limited trails to ride, Annijke Wade, a BIPOC community advocate who fractured her T-6 in a crash at Angel Fire Bike Park in 2021, said she felt more included at Roam Fest in Fruita than almost anywhere she's been since her accident. There were the tangible aspects like chair accessibility at the venues, including para/adaptive rides in the schedule and the overall initiative to expose upright riders to the realities of adaptive riding, but equally as important is just being thought of at all.
"Yesterday on our [adaptive] ride, I was getting a little emotional because I was like, 'This is just so special to still be a part of the community and still be able to ride and explore and be outdoors,'" Wade said as she rolled through the festival's expo zone. "I don't take any of that outside time for granted anymore; I recognize the privilege and am thankful to be out here. You can really see the impact of what that [inclusivity] work has done the last couple of years. You're never the only one, which feels really nice."
Roam's programming has grown into such a big part of the festival that it recently spun that part of the business off into a new nonprofit called Roam Collective, led by Zoe Richards of Sierra Nevada Brewing, a Roam Fest partner. The goal is to offer four core programs-BIPOC scholarships, para/adaptive, Roam Rowdies, and a new Roam Collective media core, which takes cues from another women's event, Red Bull Formation, to elevate nontraditional content creators—then bring those to other community events that need better representation.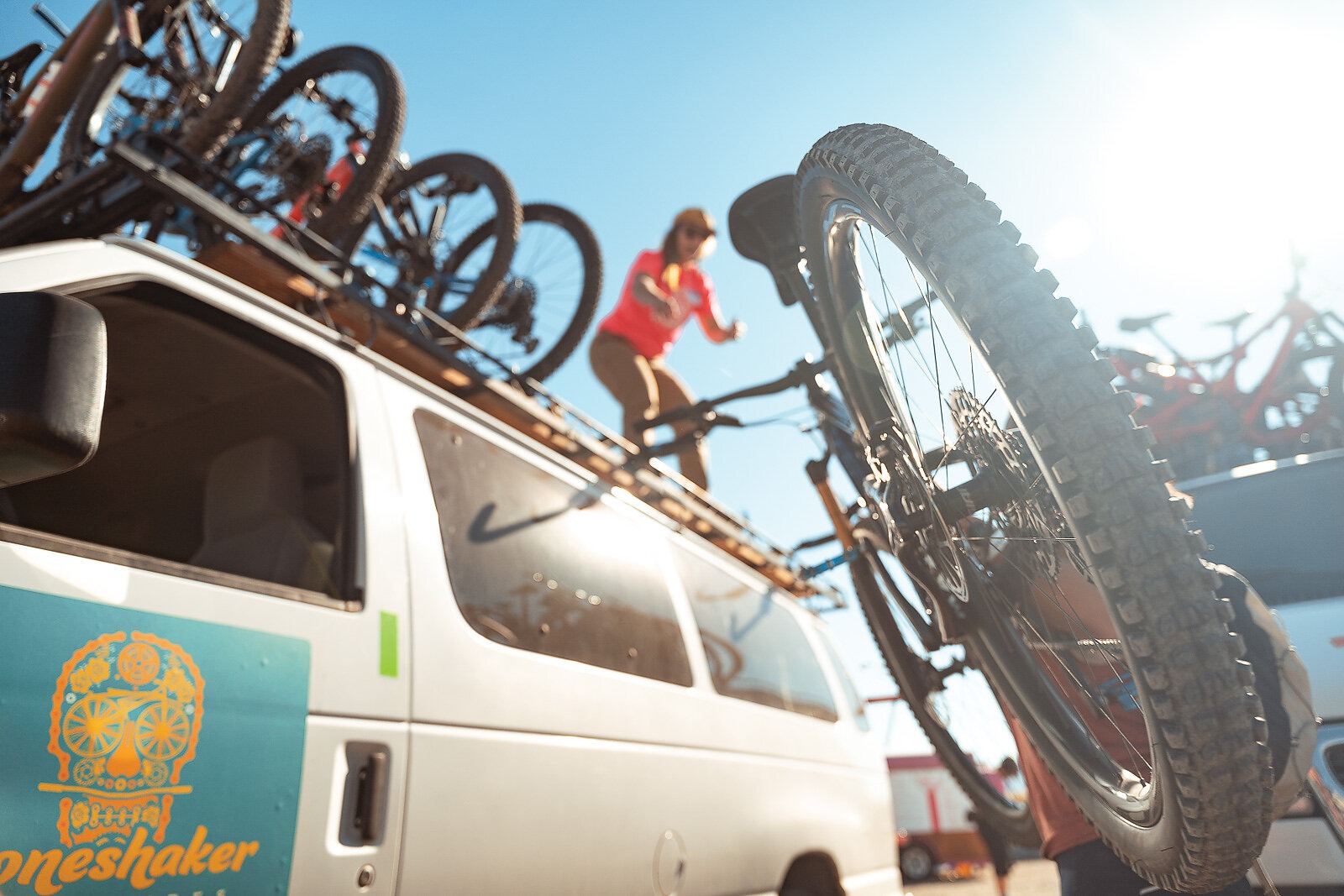 Roam Fest feels different because it is, and its success is a classic example of finely tuned attention to detail adding up to create major change. Sure, the big industry-leading moves toward inclusivity are a huge part of its success, but it's also small things like breaking out Rumpl blankets during chilly evening film screenings, staffing a 3 to 1 volunteer-to-participant ratio so there's always help and a friendly face around, giving the BLM porta potties a glow-up with extra toilet paper and hand wipes, and serving delicious dinners catered by local businesses. It's the many hours behind the scenes Ash spends pre-mapping all the ride routes on Trailforks so that participants can study them beforehand and ride them any time in the future. The 75 volunteers and ride leaders operate as a well-oiled machine who've clearly worked together for years. The shuttles depart on time, meals are served on time—it all feels like a choreographed dance that Ash and Andi co-produce, with Andi coordinating behind-the-scenes and Ash as the voice on the microphone and the face in front of the crowd. All these details Ash obsesses over all year long make participants feel like they're getting the attention reserved for a five-star hotel stay while camping in the desert.
And people are noticing. The Roam Fest model is taking hold in other parts of North America, with events like Grit MTB Festival in northwest Arkansas—among the first to collaborate with the nonprofit Roam Collective—or RideLab, a new women's mountain bike festival in British Columbia. Each has its own take on the mix of components that feel right—clinics, dance parties, rider panels, film showings—but the basic formula is the same: gather a group of ladies, put 'em in a sweet location and let the fun, and hopefully the progression toward a more balanced, inclusive industry, commence.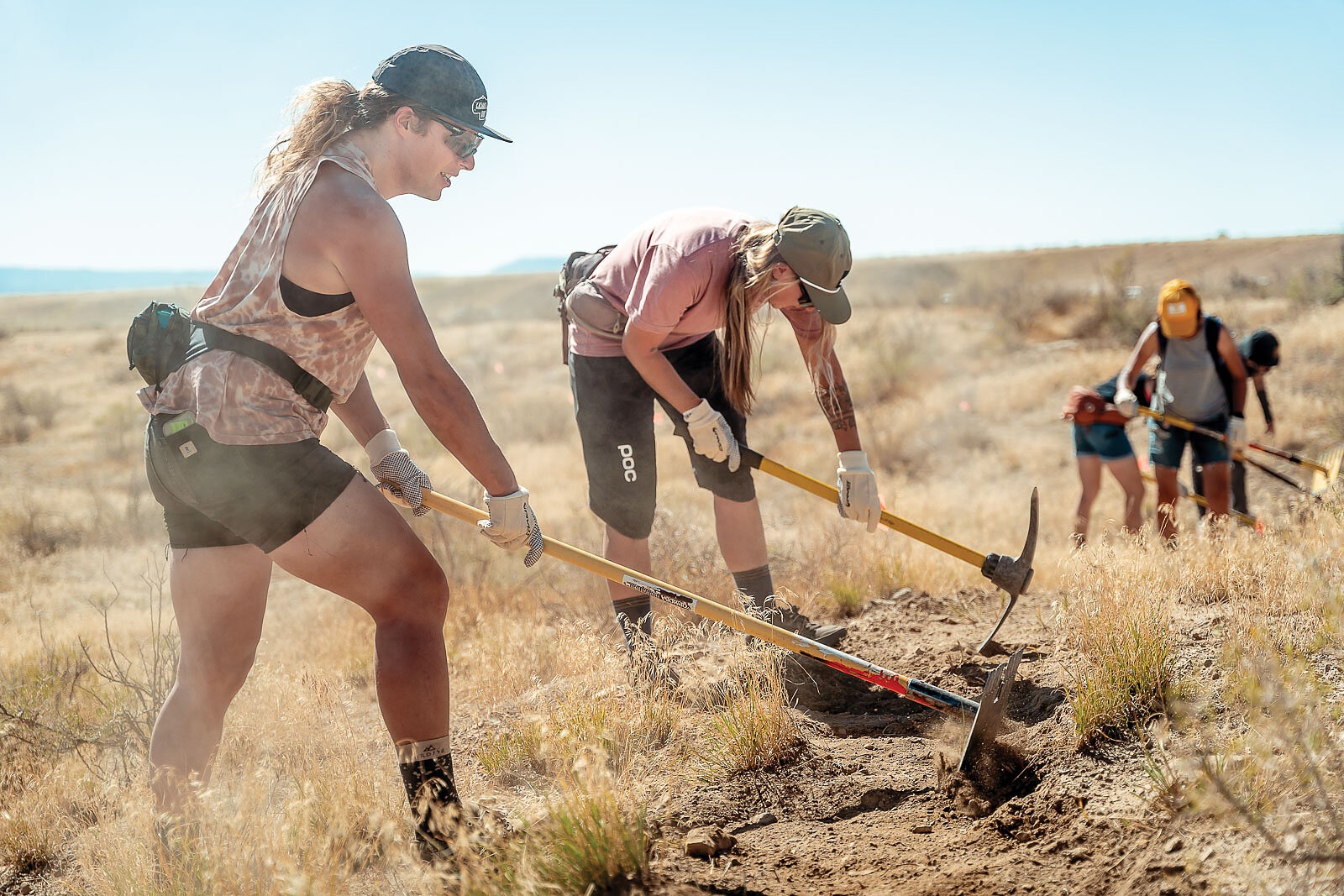 Roam Fest has lofty goals for its future. This year, capacity in Fruita is being bumped up from 500 to 700 participants and in Knoxville from 300 to 500. A fourth festival is planned in 2024 or beyond, likely to take place in the Pacific Northwest or the Northeast. The long-term dream is to take Roam Fest international and possibly build an event for the only demographic Ash feels they're still overlooking: men.
The biggest goal for Roam Fest is to not actually stand out at all because the question of why representation matters will no longer need asking, and a festival for female-identifying riders is no longer rare or even noteworthy.
It's a change Ash has already started to notice in the last five years, from cringing at the comments she read every time she posted a press release to a general feeling of acceptance.
"I think people are recognizing it as a positive attribute to the event spaces that we are welcomed into, and I'm really excited for that to happen for these nontraditional riders. Where it's just normal to have a huge crew of adaptive riders at a mountain bike festival and at your home trails," Ash said.
For now, it's back to work on the ground in Fruita. There are rounds to make through the expo, vendors to get feedback from, participants to talk to, and a stage full of prizes to raffle off so women like Grande, and hundreds of others, can have one of the most transformative weekends of their lives.