Preservation and Progress Northwestern Vermont's Forward Way of Looking Back
In Vermont's storied mountain bike heritage, the state's northwestern region holds a very special place.
The mountains and hills around the communities of Stowe, Waterbury and Richmond are home to some of the state's most iconic trails—many of them built as rake-and-rides in the late 1990s and early 2000s.
Since those days, incredible communities defined by resilience and tenacity have developed, expanding and progressing existing networks while carefully preserving the oldtech roots and rocks that gave the area its original character. For the many people who have contributed to the region's growth, there is a forward-looking commonality that underscores their work. Any conversation about past accomplishments quickly turns to the future, to what is coming down the pipeline. Despite the area's strong traditions, there is a palpable sense that northwestern Vermont's vibrant mountain bike scene is just getting started.
On the surface, the community of Stowe offers all the glitz and glamor of a high-end mountain destination, but the trails themselves have been built by generation after generation of dedicated locals, creating a network that is ingrained in the fabric of this bustling ski town.
The nearby Cady Hill Forest has been a hotspot for decades, with a core of enthusiastic riders forging the scene in the late 1980s and early 1990s. Some of Stowe's bestknown trails, such as Zog's, Charlie's and the black-diamond Schween Haus, were built here in the late 1990s.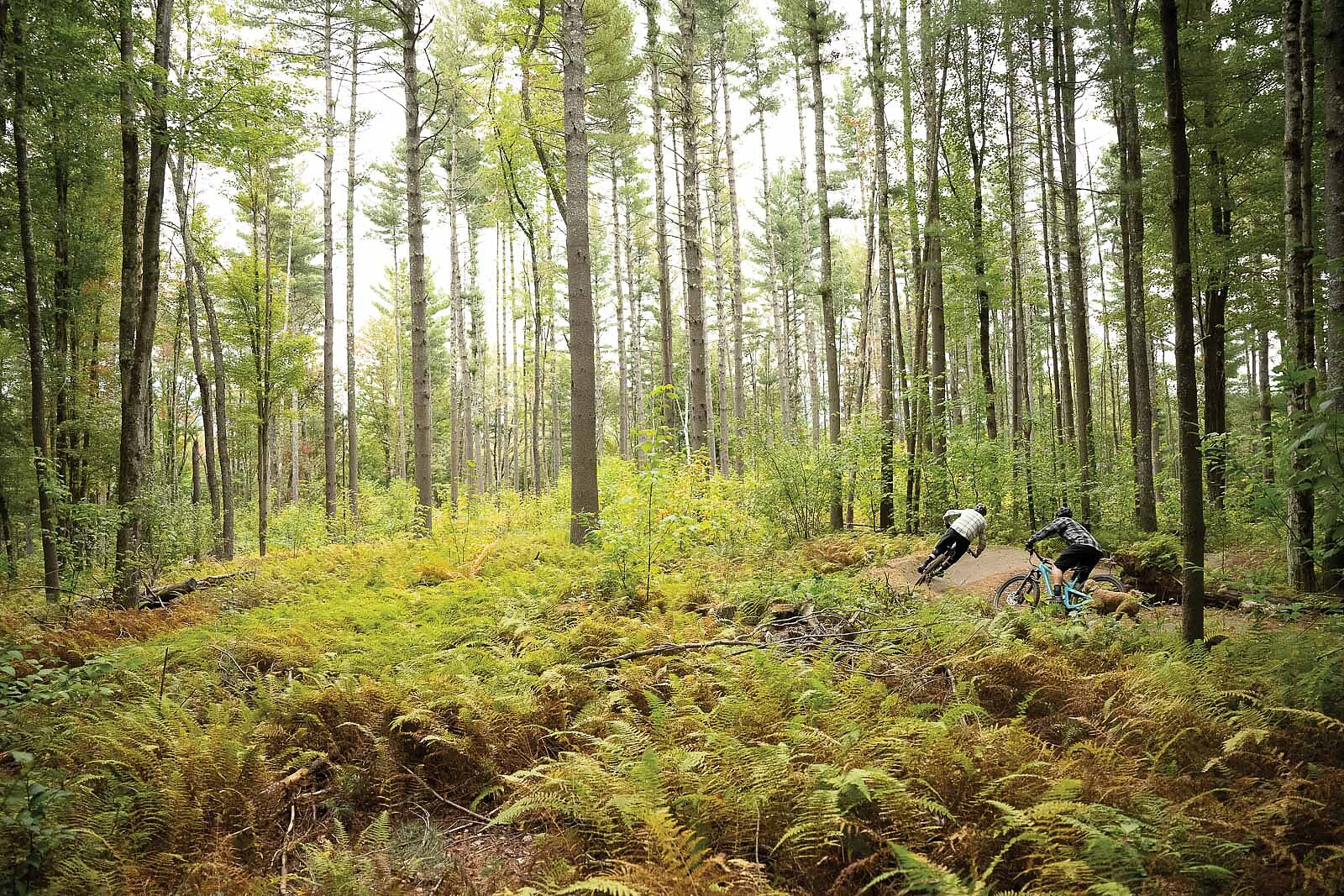 "We were riding like crazy and there was a small but dedicated crew of strong riders," says Hardy Avery, a pioneer of Stowe's mountain-bike community and one of Vermont's most prolific trailbuilders. "Those trails were slowly maintained and upgraded over the years, and I built Bear's trail in 2007 with some private money raised to memorialize 'Bear,' a Montrealer with a second home in town who had passed away suddenly. This was the first bench-cut, flow-style trail in the area."
In 2012, the community rallied to purchase the Cady Hill parcel and put it into conservation via the Stowe Land Trust.
"The leadership in Stowe saw the wisdom of preserving this parcel, as it had multiple access points from the historic village and mountain road, as well as ample parking and trailheads," says Jay Provencher, who from 2011 to 2012 served as president of the Stowe Mountain Bike Club, now known as the Stowe Trails Partnership (STP).
This effort allowed the STP to fully invest in Cady Hill, reconfiguring the entire network to eliminate redundancies, renovate primary trails and build new ones, such as a climbing trail that was added in 2013. At the center of the plan was a modern, machine-built flow trail featuring ample berms, tables and doubles. Avery, who built the trail, had given it the placeholder-name of "Florence" when he proposed it to the town, and the moniker stuck.
The introduction of a flow trail was initially controversial, with some of the old guard raising concerns that it could change the rugged character of Vermont riding. But most people quickly saw that Florence only added to Cady Hill's variety of trails, offering something new that beginners and advanced riders alike could enjoy. The trail was an instant hit, opening the sport to a wider audience.
"From a membership perspective, the general involvement went through the roof (after Florence was built)," says Evan Chismark, who joined the STP's board of directors in 2012 and served as its executive director from 2015 to 2018. "We learned if we could build trails that aren't just for the old guard, this is what community building really looks like."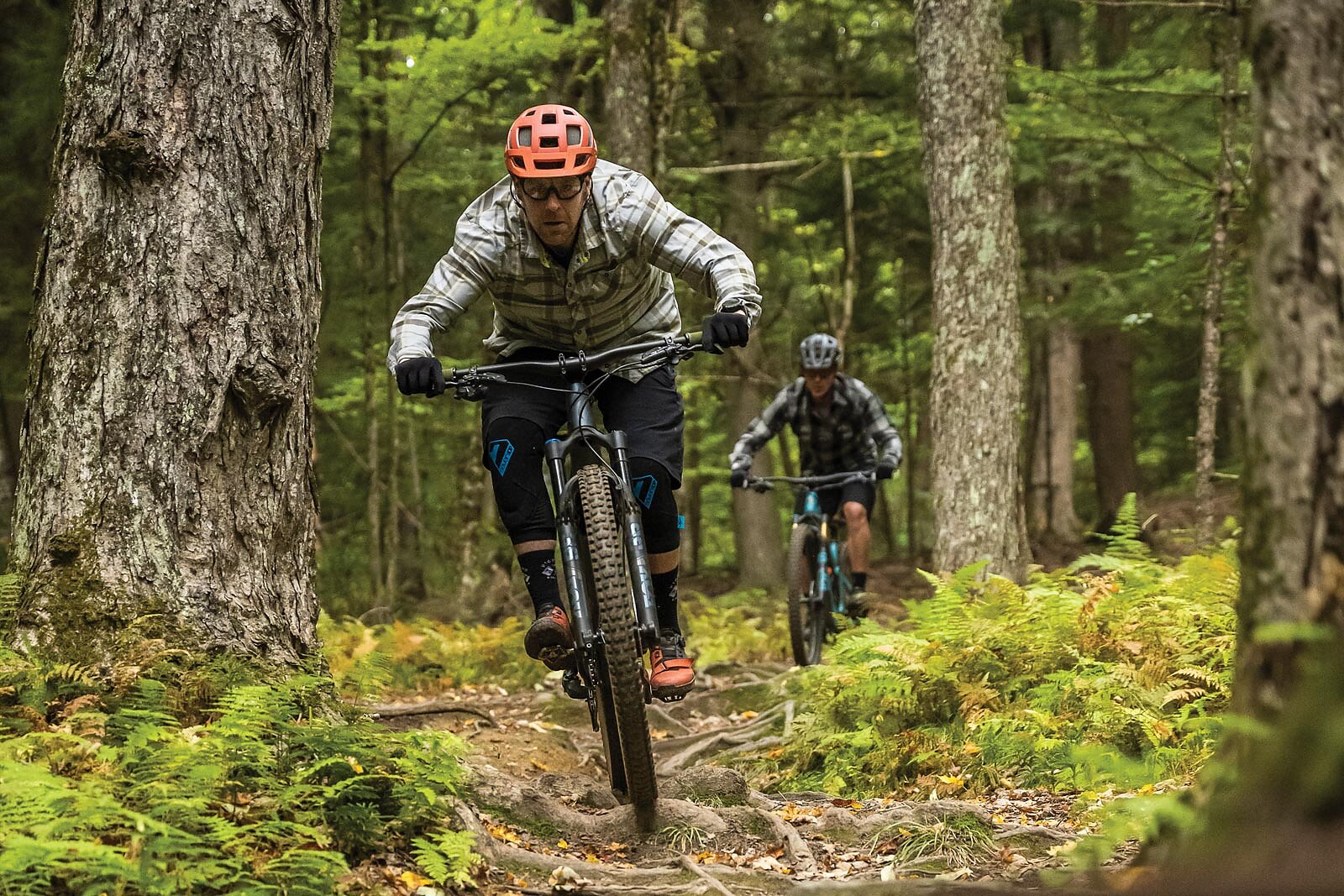 The community's resilience was tested in October of 2017, when Cady Hill was hit by a massive windstorm that leveled 60 acres, including wide swaths of land hosting both Bear's and Florence. Tens of thousands of trees came down, leaving the network completely devastated. The cleanup was far more than the STP could manage on its own, and the broader community stepped in to fill the void. The town government helped to fund the cleanup, and the state's Department of Forests lent its expertise. Loggers worked throughout the winter to clear the debris, collaborating closely with the mountain bike community to reduce the damage done to the network.
"The trail network is actually better as a result," says Chismark, who in 2018 co-founded the trailside bike shop and community gathering place, Ranch Camp. "The statewide response was incredible as well, with VMBA creating a storm-relief fund for any VMBA chapter to use should they face natural disaster as Cady Hill did."
The STP hired experienced Vermont trailbuilders Tom Lepesqueur and Brooke Scatchard to rebuild the damaged trails, allowing them to address major annual maintenance issues to Florence and update turns to better flow with the topography.
"Much of the network wound up with a sublime mix of tech and flow as a result," Chismark says.
Once Cady Hill was back up and running, the STP shifted its focus to building out the nearby Adams Camp network, a magical wonderland of stone slabs and root-covered rock rolls with streams trickling through it. Over the past few years, more than three miles of new trail have been added to Adams Camp, including the aptly named adjoining lines Cheddar and Shredder, both funded by a trail grant from Vermont-based Cabot Creamery Cooperative.
"The goal was to fill out the full spectrum of bike trails for all ability levels," says Rachel Fussell, who worked as the STP's executive director from 2018 until the end of 2021. "It's the place to go if you're really comfortable on the bike and want to challenge yourself."
THE SMALL COMMUNITY OF ROUGHLY 5,000 PEOPLE RALLIED TOGETHER TO REINVENT THE TOWN AROUND MOUNTAIN BIKING, CRAFT BEER AND AN INCREDIBLE FOOD SCENE.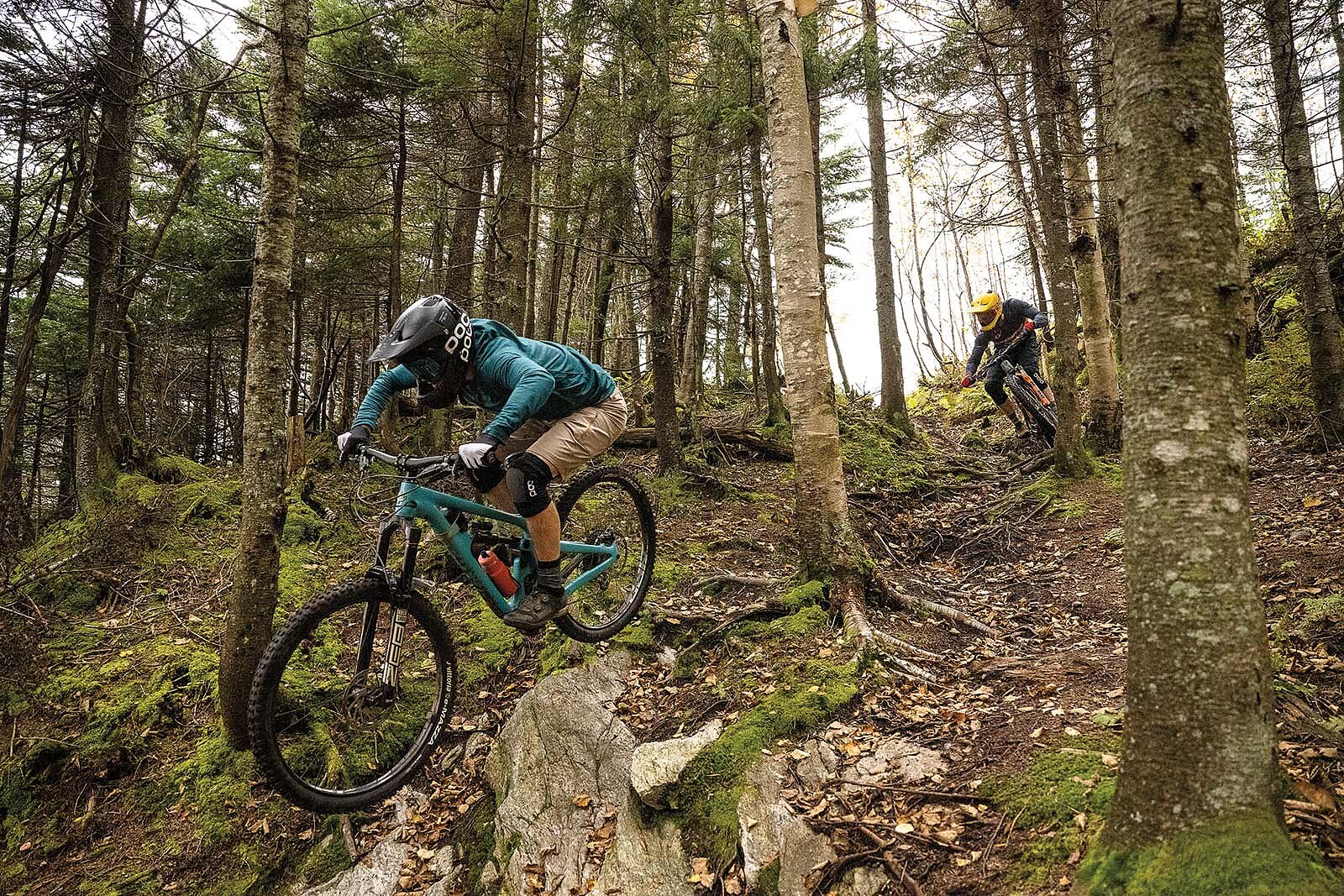 This phase of the Adams Camp development, dubbed "Adams Camp 2.0," is scheduled to be completed this summer with the opening of Serenity & Adrenaline, Stowe's first fully sanctioned and mapped double-black diamond line. The volunteer-built trail will be a mixture of rake-and-ride sections, rock rolls and technical wooden features. Some 10 miles to the south of Stowe, the town of Waterbury has contributed greatly to Vermont's rich mountain biking heritage. The adjacent Perry Hill area has been a magnet for local riders and builders since the late 1990s, when a small handful of motivated locals began scratching in the first trails.
"We used pretty crude tools like rakes and beater clubs to build all this stuff," says Avery, who helped build the backbone of this network with ripping descents such as Burning Spear and Rastaman. "We usually had a good group of buddies helping out with the building. It was fun to just go explore and rake in cool lines with everyone."
In 2006, the Perry Hill trails became some of the first on public land to be formally recognized by the state. The agreement that legalized the Perry Hill and nearby Howe Block trails in the Mad River Valley became a model for building on state land that the Vermont Mountain Bike Association (VMBA) still uses to this day.
Still, the trajectory of Waterbury's trail development has been fraught with challenges. In August of 2011, Hurricane Irene flooded the historic downtown area, causing major damage. Undaunted, the small community of roughly 5,000 people rallied together to reinvent the town around mountain biking, craft beer and an incredible food scene—turning it into a destination in its own right.
Though the town itself was reimagined, the Perry Hill network was largely ignored for the next few years, given that it was still under the purview of the-then Stowe Mountain Bike Club, which was more focused on the trails around Stowe. This prompted a small group of Waterbury locals to eventually come together to form the Waterbury Area Trails Alliance (WATA) in 2015.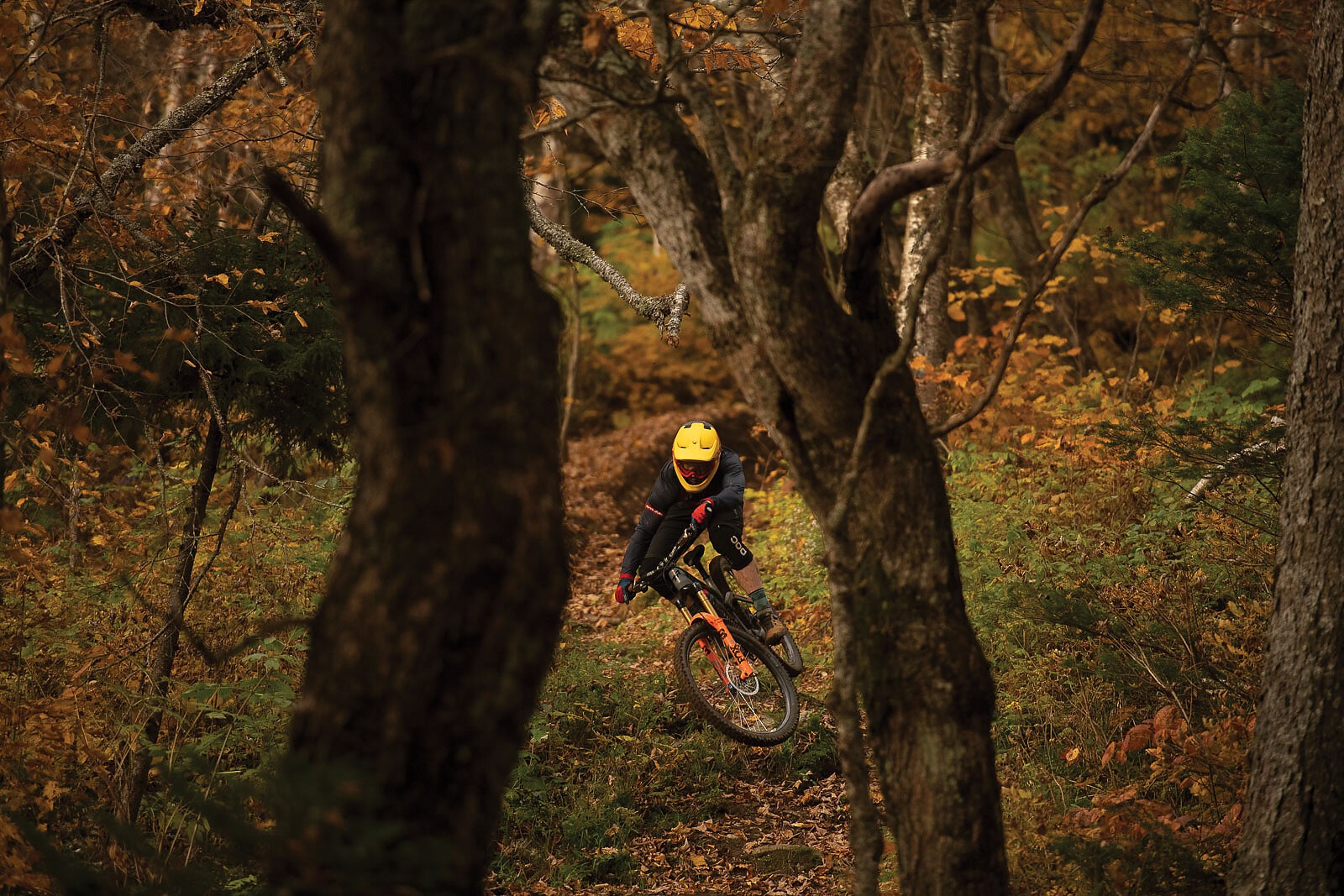 "Stowe Trails Partnership was very focused on projects in Stowe, and didn't really have bandwidth to focus on Waterbury," says Dana Allen, a local advocate and one of WATA's founders. "Additionally, they were primarily focused on town lands, and at the time not a chapter of VMBA. In Waterbury, we were almost exclusively working on state land and wanted to be aligned with the statewide organization to have a unified voice. It was clear if we wanted to grow mountain biking in Waterbury, we needed to have our own organization."
Though having a dedicated group of Waterbury locals taking ownership of the trails was key, transitioning from rogue builders to trusted partners with the state presented its own challenges.
"In the start our biggest hurdle was the state," says former STP president Provencher, a Waterbury resident and another WATA founder. "It was frustrating that we were providing the kind of recreation infrastructure and revenue the leadership in state government was looking for, but the archaic processes in place that didn't account for mountain biking kept much of our bigger projects on hold."
Over the past few years, however, the relationship has shifted from gridlock to collaboration, with WATA and the state government finding innovative ways to blend each other's expertise.
"One of the biggest changes was that we hired a part-time person that can work with the state during work hours," says Amanda McKay, who has served on WATA's board since 2016. "This has drastically improved our communication and given us a better understanding of their needs."
This continually evolving relationship has brought about some important projects, such as the key extension of double-black diamond Six Flags to connect with Joe's, Perry Hill's best-known trail, built by longtime Waterbury resident Joe Cavalear. This extension involved the incorporation of a 1,000-foot-long rock spine that adds a Moab-like slickrock riding experience to Perry Hill's lush forests. Through cooperation between WATA and the state Department of Forests, they were able to enlist the expertise of East Burke-area trailbuilder Knight Ide, who is renowned for his rockwork.
With much of the Perry Hill preservation effort expected to be completed this summer with some key improvements to Rastaman, WATA is now shifting its focus on building relationships with local landowners in an effort to increase the network's mileage.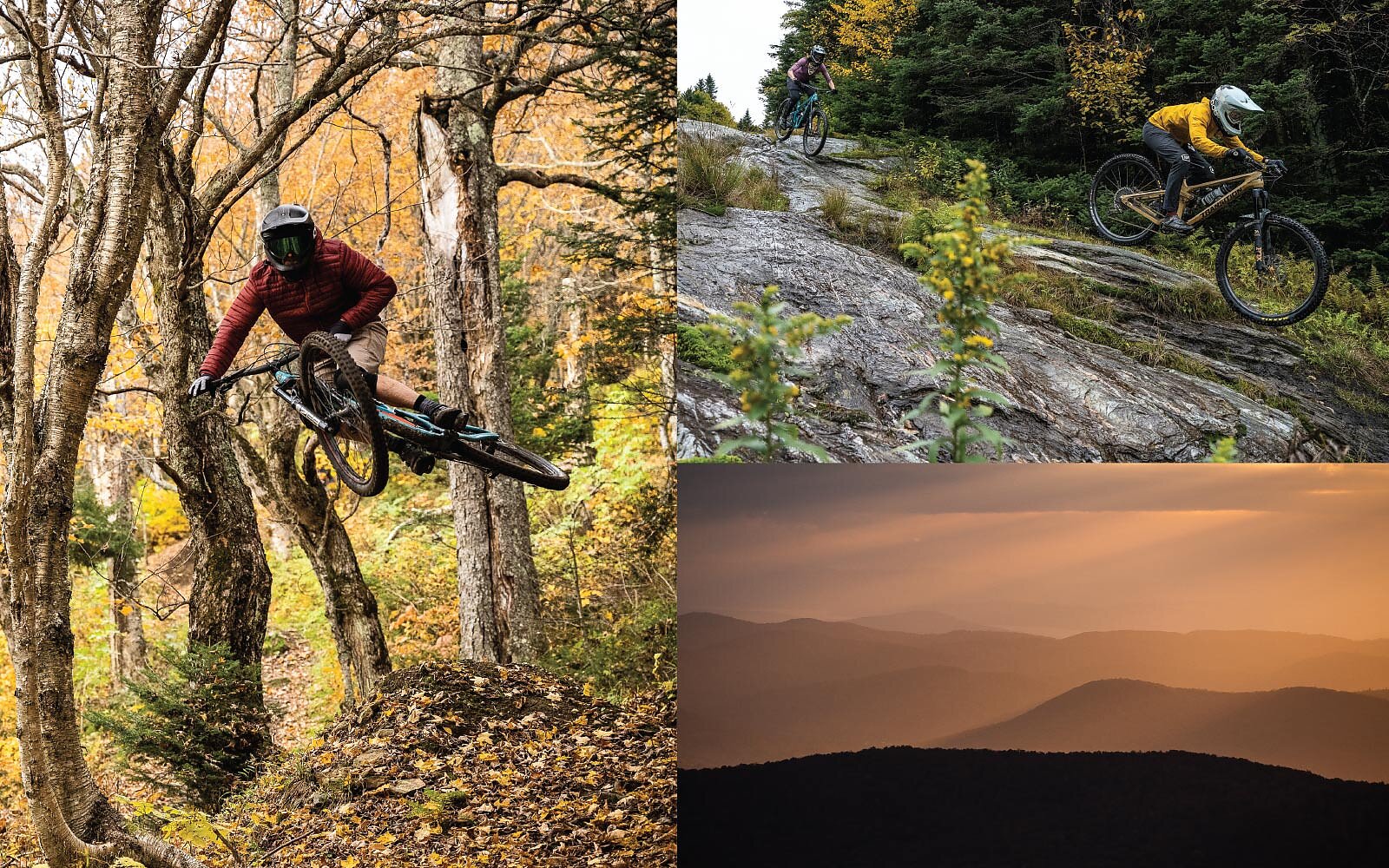 "Even though this is still years in the making, riders can look forward to seeing more trails that will honor the character and technical riding that Perry Hill is known for," McKay says. The network's increasing popularity is drawing the attention of local businesses that are realizing the benefits of being located close to a buzzing mountain-bike hub. Provencher, who is also a local landlord, says almost every rental inquiry he gets revolves around his units' proximity to Perry Hill.
"It's a huge draw and has been a transformative influence on our community," Provencher says.
The economic opportunities afforded by mountain biking are being recognized throughout the area, with the nearby Bolton Valley Resort experiencing a renaissance in the popularity of its storied gravity-fed runs. In the early 2000s Bolton Valley became an early catalyst to Vermont's budding freeride scene, offering lift access to some of the state's most challenging trails. It had a bit of everything, from cliff drops and steep chutes to wooden skinnies and scary teeter-totters. There was even a wooden ramp onto a SoBe-branded bus with a massive drop off the other side.
Though the forward-thinking mountain-bike operation officially closed down in 2006, the trails remained. A few dedicated locals and mountain ops team members kept some of the most iconic features maintained, making it a low-key proving ground for advanced freeriders and gravity racers. One such local, Adam Morse, has been training, racing and working on the Bolton trails since he moved to Vermont for college in 2004, and he credits the challenging terrain for much of his success as a professional racer. Morse, who raced on the UCI World Cup Downhill circuit from 2008 to 2013 and completed a full season on the Enduro World Series (EWS) tour in 2018, has relied on the Bolton gnar to keep his skills sharp.
"Bolton, without a doubt, has some of the most challenging terrain in the state, if not the world," Morse says. "The trails are so raw and rugged, and they were the only way I could prepare for some of the riding I was doing on the EWS. After a summer of riding that, there was nothing I was scared of."
While Morse was training at Bolton, exciting changes were afoot. The prominent DesLauriers family that originally founded the Bolton Valley Resort in 1966 and sold it in the mid-90s decided to repurchase the mountain in 2017. And they didn't want it to just be the snow-sport destination it had mostly become: Their vision was for it to have year-round appeal.
"First and foremost, I like mountain biking," says Lindsay DesLauriers, the resort's co-owner and president. "We knew we wanted to bring it back to life, but it wasn't immediately clear that it would be at the center of our summer plans."
As the owners began cleaning up some of the old-school trails and talking to community leaders about the future of mountain biking at Bolton, they were encouraged to seek the advice of professional trailbuilders.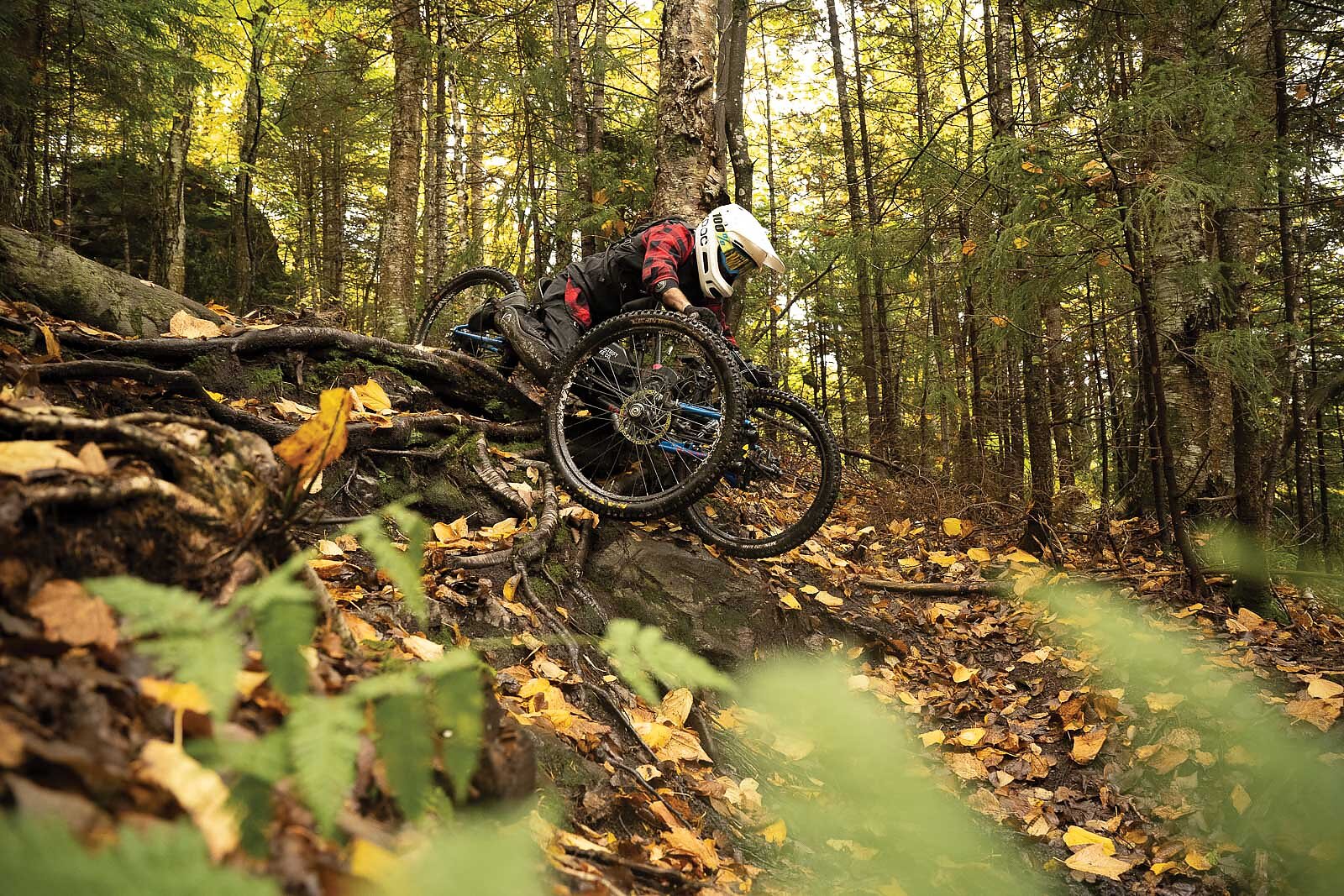 Enter Gravity Logic, the trailbuilding company whose founders helped to build the world-renowned Whistler Mountain Bike Park. They visited Bolton and were impressed by the strength of the regional riding community, as well as the resort's proximity to the major population center of Burlington.
"The biggest turning point came when Gravity Logic came out," DesLauriers says. "One of the things that stood out on their visit was that Bolton is right in the heart of a very active and dedicated local riding community. We started to believe that it had the power to be the centerpiece of Bolton Valley summer operations."
A few years in and the DesLauriers are now fully committed to making Bolton Valley a regional mountain biking hotspot.
"Our intention is to be one of the top bike parks in the northeast, and it is the largest single investment we are making in Bolton Valley," DesLauriers says, adding that their planned investment is "well into the seven figures. We are all-in on mountain biking."
Just a few miles west of Bolton Valley and Waterbury lies the pristine town of Richmond, a bedroom community for nearby Burlington, Vermont's largest city. Like much of northwestern Vermont, Richmond boasts a long mountain biking tradition that harks back to the original rake-and-ride trails built by a handful of locals in the early 1990s.
The network is overseen by the Richmond Mountain Trails (RMT) group, a VMBA chapter that is highly successful at securing the cooperation of private landowners to allow connectivity between its many trails. Chief among these landowners is the RMT's current president, Lars Whitman, who in 2017 offered up 100 acres of his own land on Chamberlain Hill for the development of new mountain bike trails.
"Creating this access to trails is big," Whitman says. "I spend a significant amount of time out west, where having access to public lands is huge for recreation. We don't have that in Vermont, so having access to trails is not possible without private landowners."
"I SPEND A SIGNIFICANT AMOUNT OF TIME OUT WEST, WHERE HAVING ACCESS TO PUBLIC LANDS IS HUGE FOR RECREATION. WE DON'T HAVE THAT IN VERMONT, SO HAVING ACCESS TO TRAILS IS NOT POSSIBLE WITHOUT PRIVATE LANDOWNERS."

— LARS WHITMAN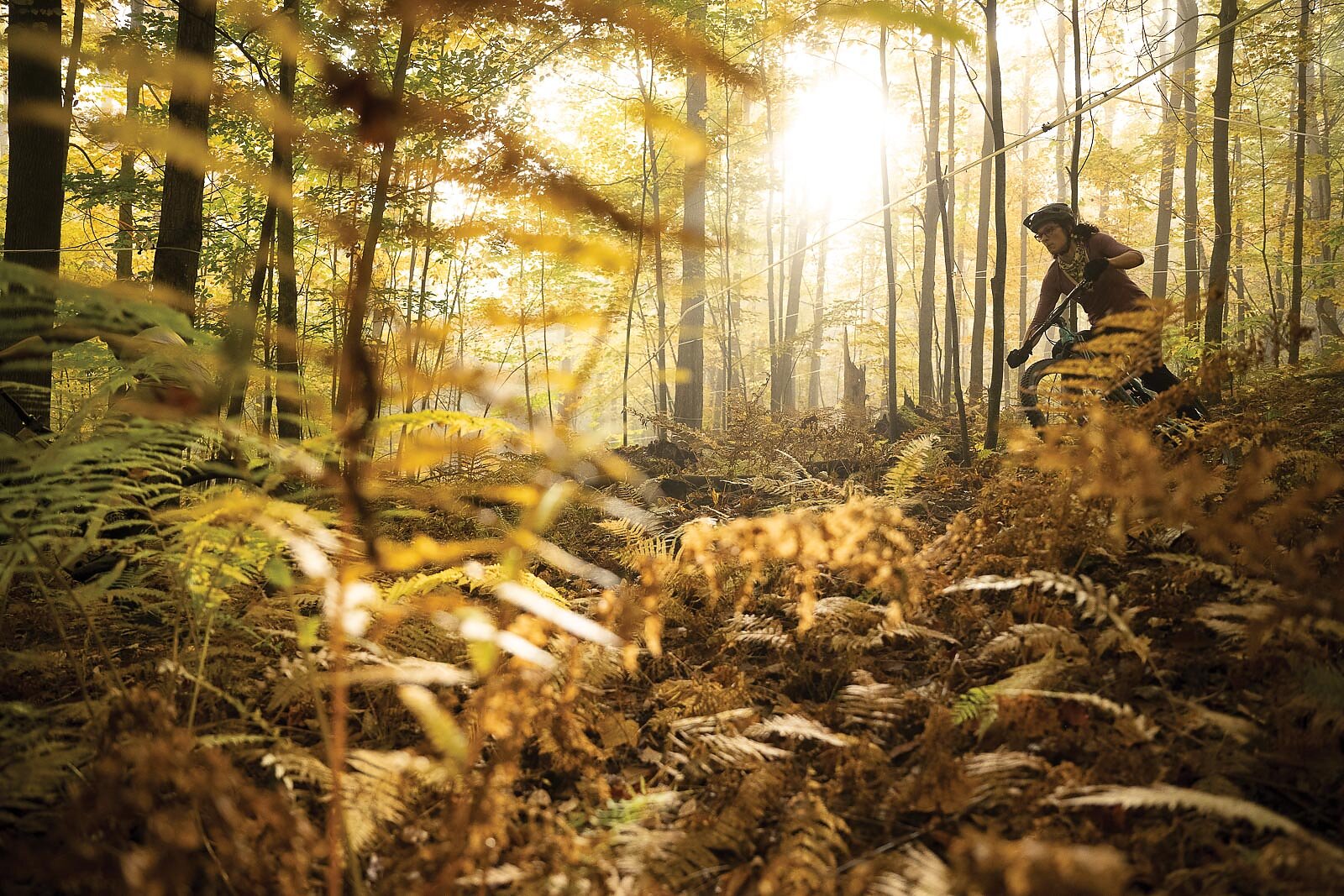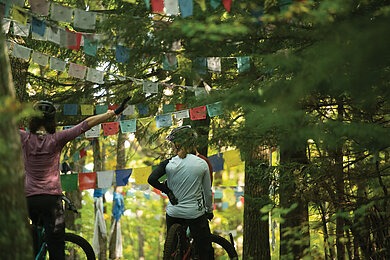 The Chamberlain Hill trails were a true community effort, created through an extended series of volunteer trail evenings and the tireless efforts of local high-school students that culminated in seven miles of new singletrack being added to Richmond's existing 37 miles of trail.
At the same time, the local Cochran family—which owns and operates the town's Cochran's Ski Area—began adding to the classic trails on their property while opening the ski area's parking lot as the main trailhead for most of Richmond's trails.
"The Cochrans are unbelievably generous in letting people park in their area and use their trails," Whitman says. "That has probably had the biggest impact on the riding in Richmond because they're able to accommodate a lot of cars and their network, combined with the RMT's, spreads people out nicely so it can handle the crowds."
And the crowds at Richmond are certainly getting bigger. With word of all the new trails spreading through social media and the COVID-19-induced explosion of outdoor activity, an unprecedented number of people in the greater Burlington area have started to mountain bike over the past two years.
"Just a couple of years ago on a busy day the parking lot at Cochran's would be 20 to 25 cars," Whitman says. "Now it's a full three to four nights a week with 80-plus cars."
In a move that should significantly offset the increased traffic, the DesLauriers family has announced that it is opening 250 acres of its personal property to a new trail network that is expected to break ground this summer. The RMT will oversee the project, which will be complemented by the opening of an additional 1,500 acres of private property owned by the DesLauriers and one of their business partners, Eric Sorkin, owner of Runamok Maple. The land, located just off U.S. Highway Route 2 to the east of Richmond and Waterbury, is intended to be used for a blend of agriculture and recreation, operating as both an active sugarbush and a trail network.
"Bolton Valley is my home," DesLauriers says. "We are invested in this community, and we have an opportunity to help contribute to the vibrancy of our community, not just with the bike park at Bolton Valley, but also by supporting public-access networks."