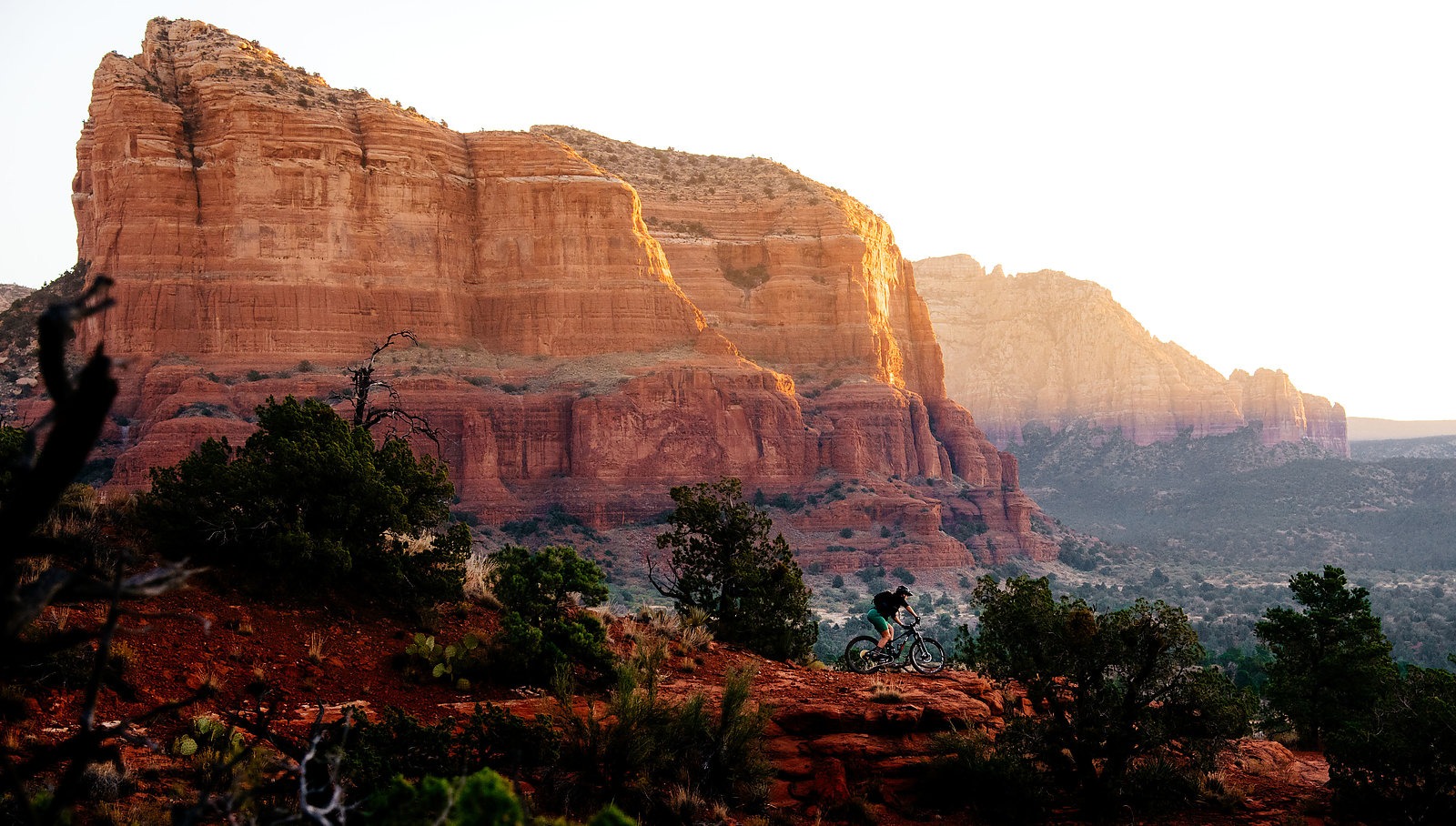 Breaking Barriers Confidence and Community Through All-Ladies Mountain Bike Events
Published May, 2018
There's been a significant barrier for women to overcome in the mountain bike industry.
An obstacle, in the sense that many of us feel like the only girl out there. Tomgirl. Token female. Tag-along little sister. Whichever way you choose to phrase it, we've accepted this lone-wolf persona as normalcy when it comes to riding.
I felt it when I started biking two summers ago, there weren't many girls riding at the bike park I worked at in Jackson Hole. An apprehension I couldn't explain weighed upon me when I approached the lift line. I had just assumed that this uneasiness was tied to fear. But, being an avid skier and climber, it didn't feel logical that this sport should feel any more daunting.
However, this summer, when I joined a group of 12 women to ride in all female skills clinic at the Crankworx Whistler Mountain Bike Festival, I realized that it wasn't the fear of trying something new that was unnerving, it was the perception of being alone in the process. That's what felt intimidating. But now, more than ever before in mountain biking, there is a tremendous drive to bring more women into the sport, propelled by their peers and visible around the world.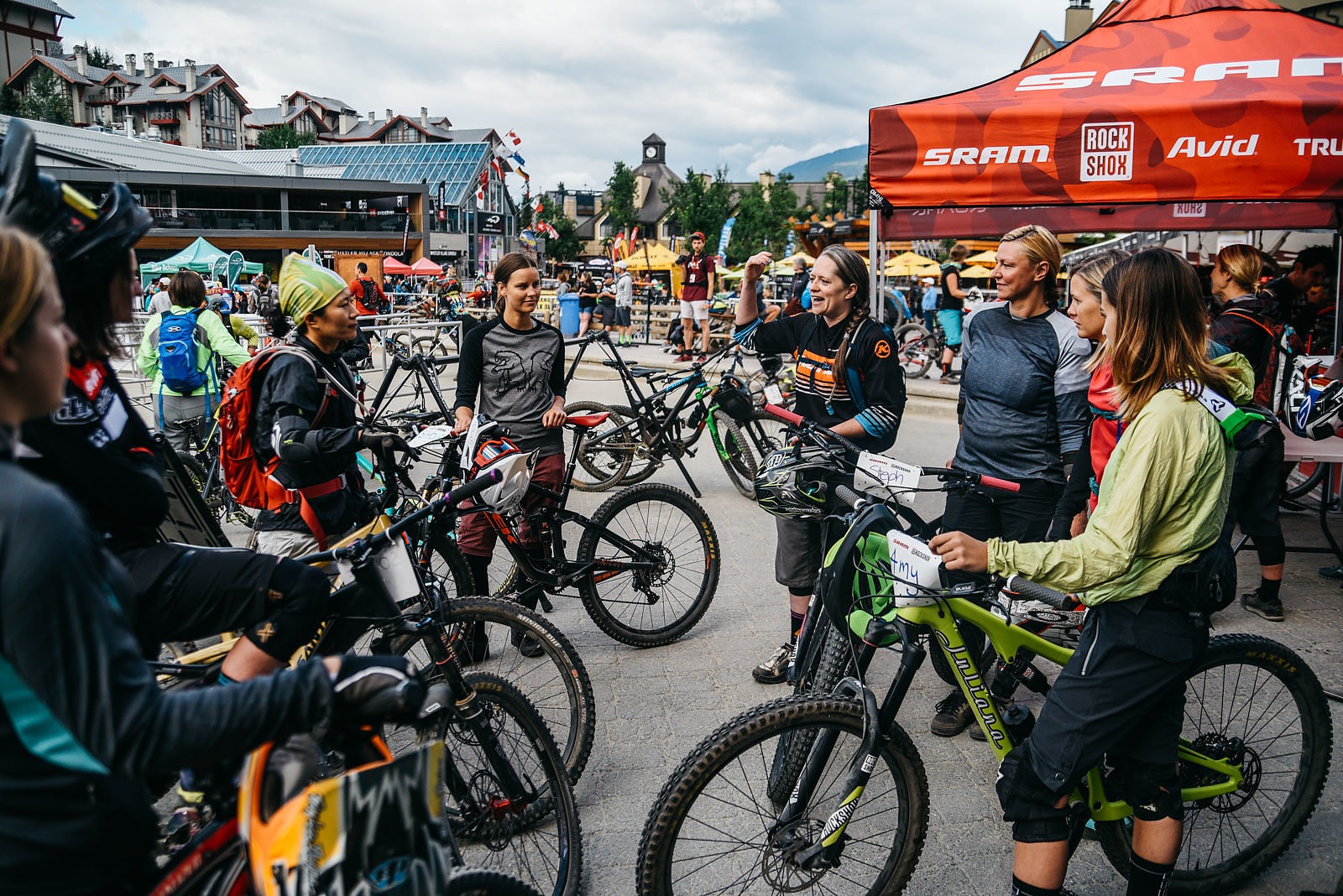 At the 2017 Crankworx Whistler, I shared a ride up the Fitzsimmons lift with Angi Weston, a veteran mountain bike instructor. She began riding in 2001, and has witnessed dramatic progression within the sport for women over the past decade.
Riding in the Whistler Bike Park back in the early 2000s, Weston would maybe see a handful of other female riders. In the off chance she found another girl on the trail, it would catch her by surprise. "I remembered thinking, 'Woah she's out here riding too' and you couldn't help but get excited. It was like seeing a rare bird in the wild," Weston said.
As the lift crested the final knoll on this beautiful August day, mid-way through the week of Crankworx, I followed her to join the rest of our all-female crew. The change she described was evident. Our group was just one of the many dispersed throughout the mountain that day and with Weston leading the way, we rode to the pump track to dial in our cornering skills. Soon, we were bombing down to Crank It Up, an intermediate jump trail, and our cheers sounded throughout the trees as we hit our first jumps.
Meanwhile, elsewhere on the mountain, other female coaches led women down technical rock gardens or taught basic body positioning for beginners. Whatever your skill level was, there was a place and opportunity to learn.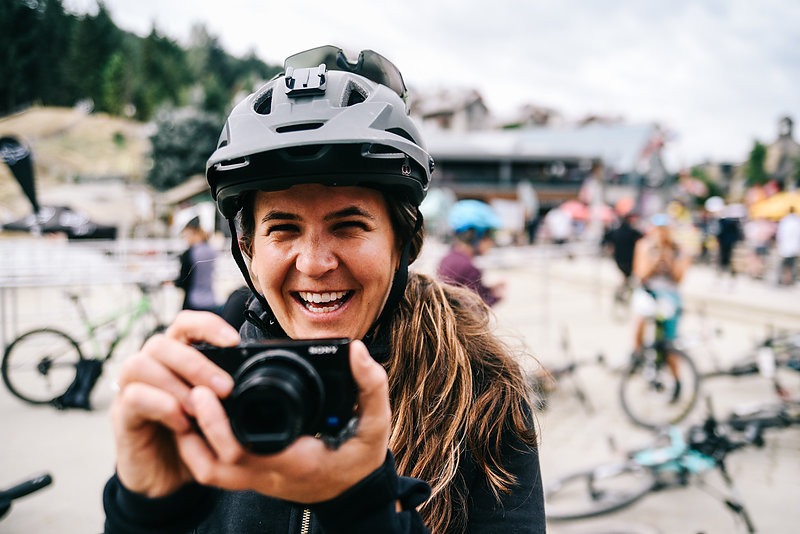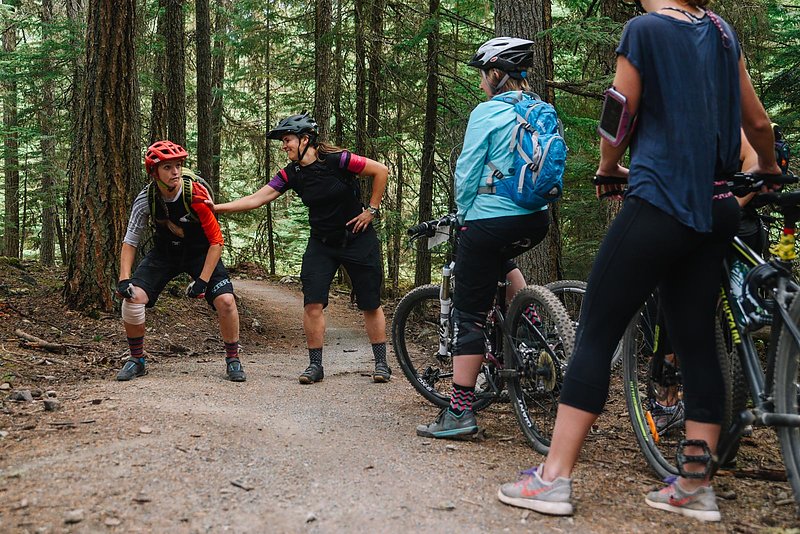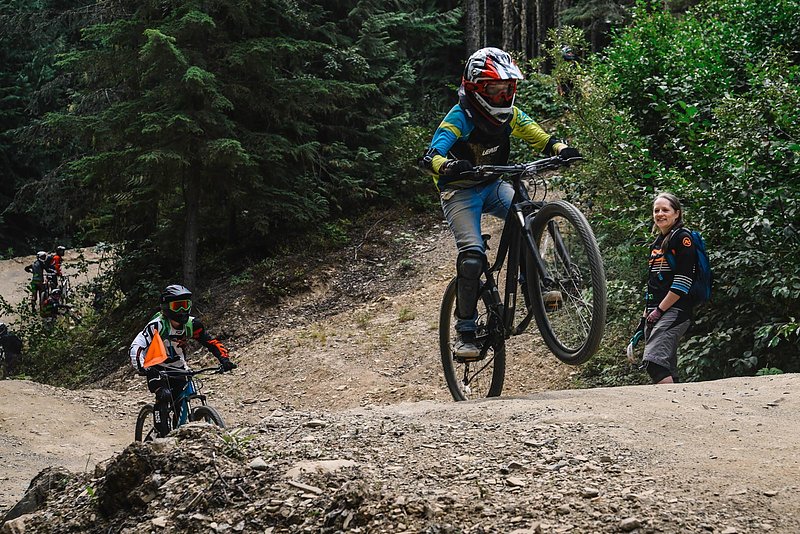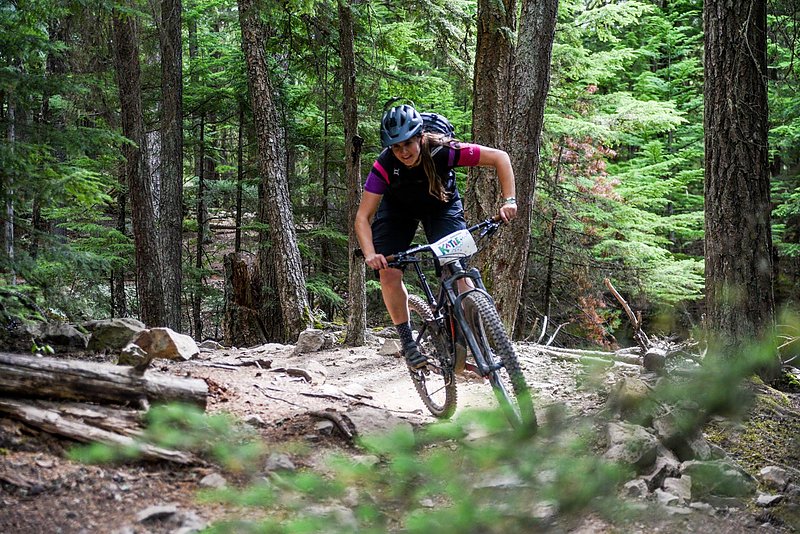 In addition to the skills clinic was the Liv Women's A-line event. The Sunday morning event is a women's only session on A-line, one of the most well-known trails at the Whistler Bike Park.
The trail can be intimidating due to the magnitude of its jumps and the intensity of the riders on the trail. Because of the looming pressure, many women don't see it as a safe space to try bigger jumps, even if they're capable riders.
Four years ago, Liv and Crankworx sought to change this by shutting down A-line for half of the day just for the gals. Through the event, participants were given an opportunity to stop and explore the trail without the worry of being plowed down by the riders behind them.
The freeride session allows for women to ride at their own ease with professional coaches and athletes available for additional support. Each year it's grown in popularity, and this year a record of more than 150 women participated—making it one of the largest female downhill event in the sport.
For Liv and SRAM ambassador Katie Holden, it is remarkable to witness the progression in the riders who participate. "I've seen so many people hit the A-line drop and start clearing jumps for the first time in that session because they feel comfortable," Holden said. "People look forward to [the A-line Event], they plan their whole weekend around it. They just want that time to try [the trail] and conquer it," Holden said.
In fact, many women specifically come to Crankworx because of these unique opportunities to ride. Not just isolated to downhill riding, the clinics also explored skill building on cross country style terrain.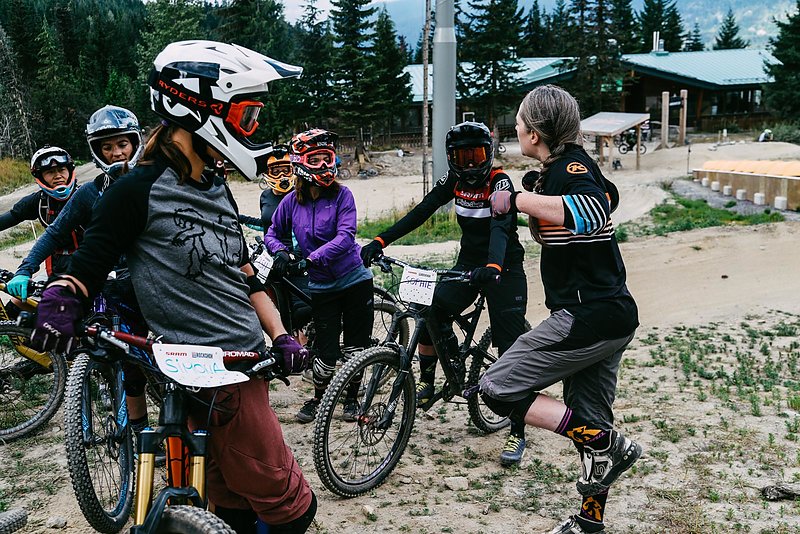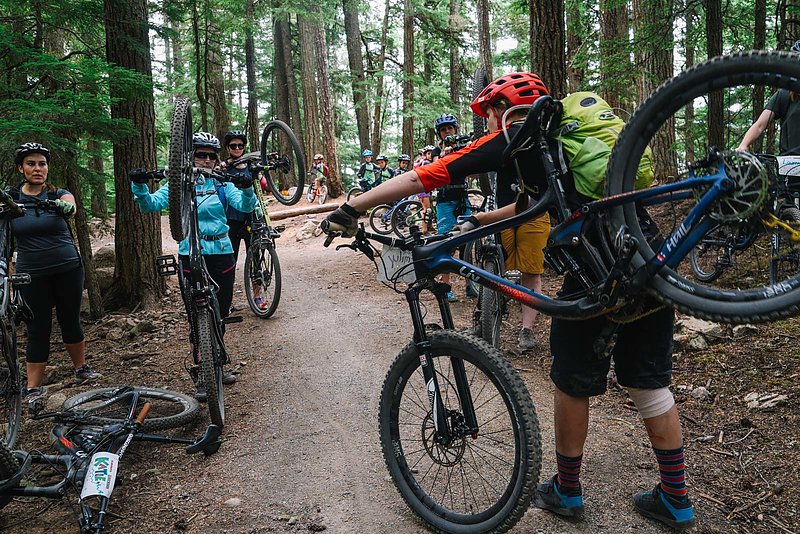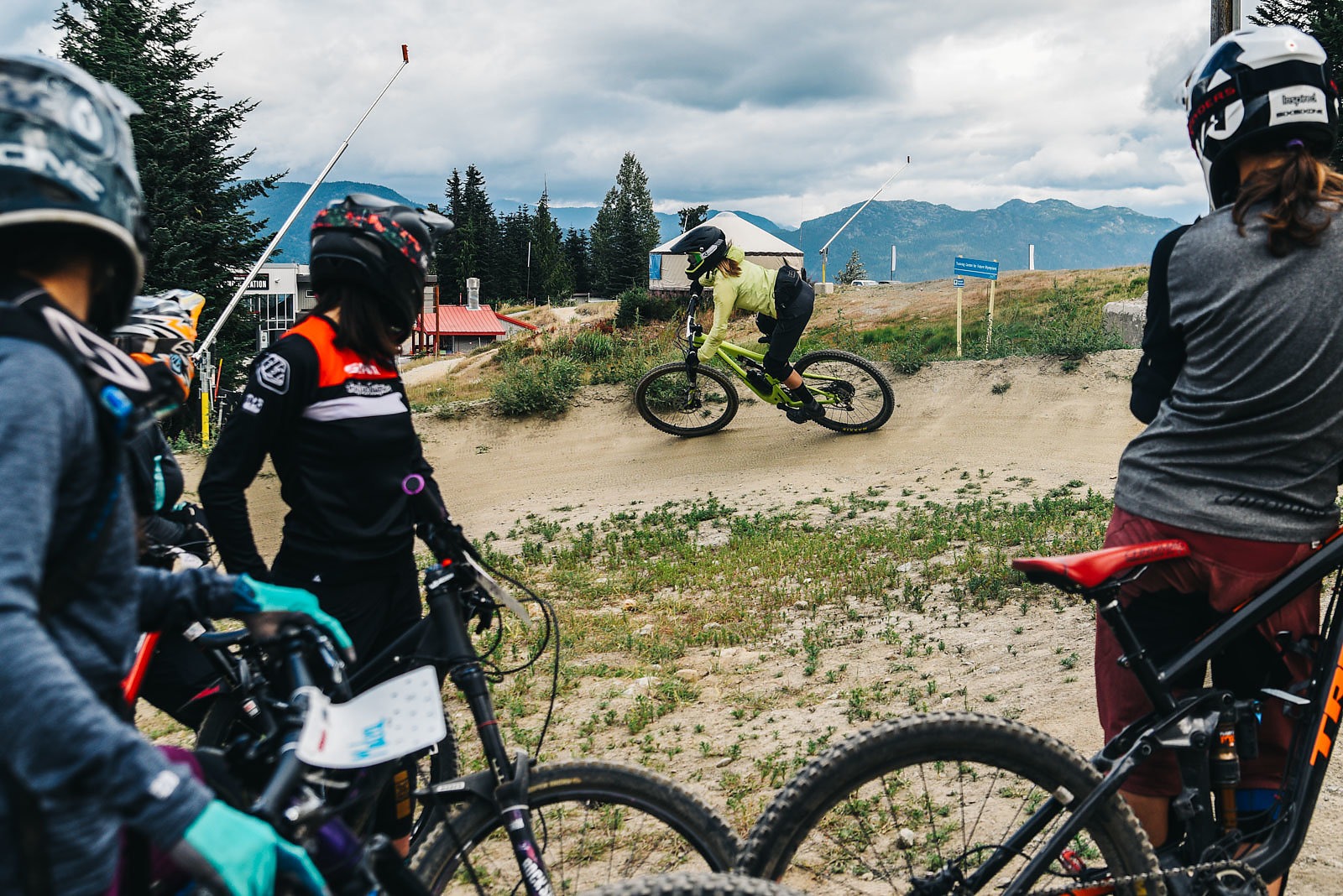 In the trail riding clinic, our group followed professional athletes and coaches Emily Oppliger and Katie Holden into the Lost Lake trail system. Which is an area of singletrack tucked away from the main Whistler village, containing rocks, roots, and man-made bridges.
Weaving in and out through the trees, we eventually dismounted to watch a demonstration by Oppliger. She focuses on body positioning—particularly dropping our weight low for a sturdier base—which comes in handy when we attempt the more technical rocky terrain.
The trail ride terminated at a park near Lost Lake. Bikes were sprawled all about and we coalesced in the grass to enjoy a shared lunch with new friends from the trail. Our giant picnic transitioned into a tech talk when Porsha Murdock, a Juliana free agent and SRAM ambassador, taught the group about her bike's front suspension set up.
Murdock's demonstration was one of the many maintenance and mechanics clinics also hosted by SRAM during the week. Creating holistic change for women in this sport means acknowledging the technical side as well, which can be daunting for anyone regardless of gender.
Sara Jarrell, SRAM women's program coordinator made sure that this factor wasn't overlooked when she masterminded the events for Crankworx.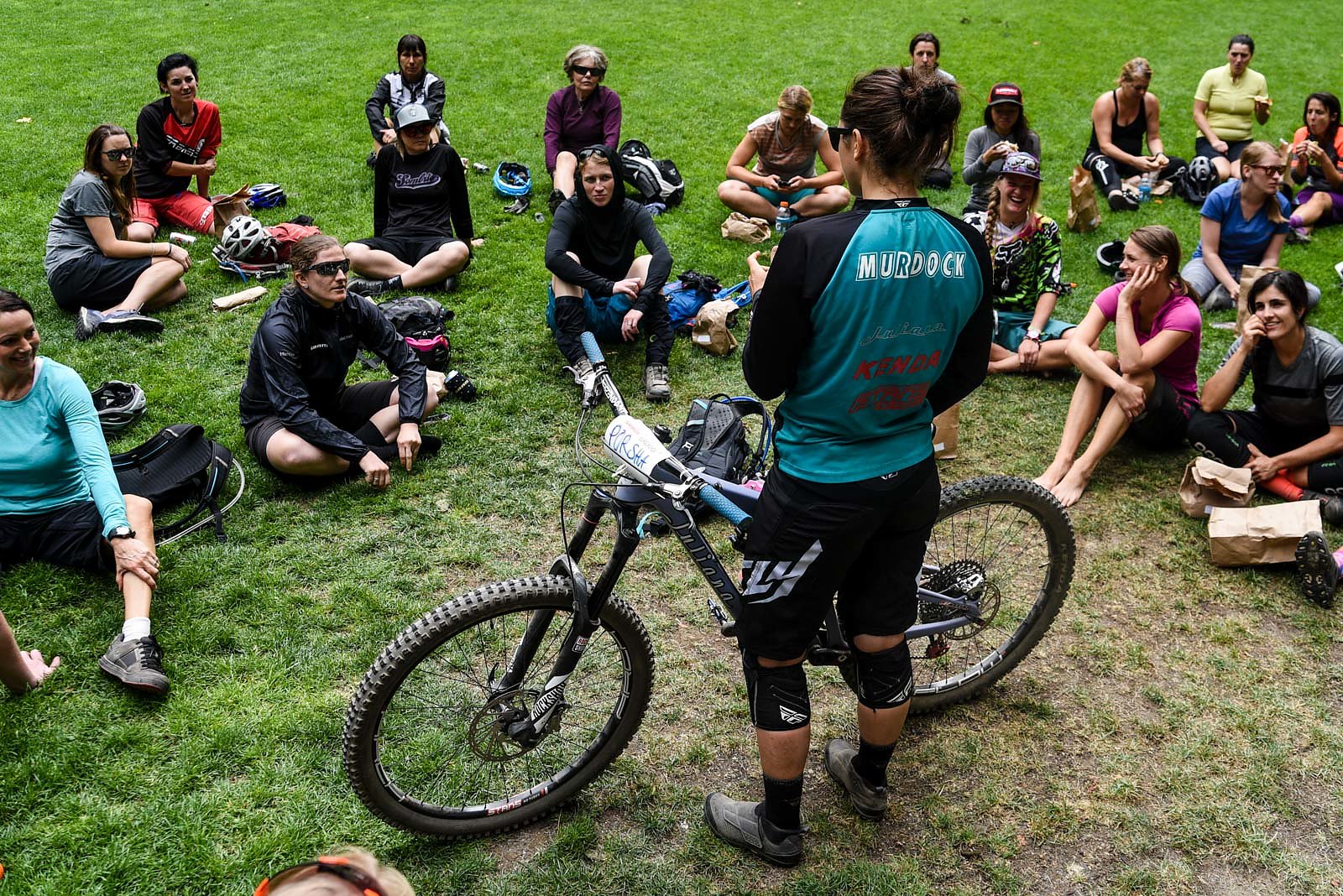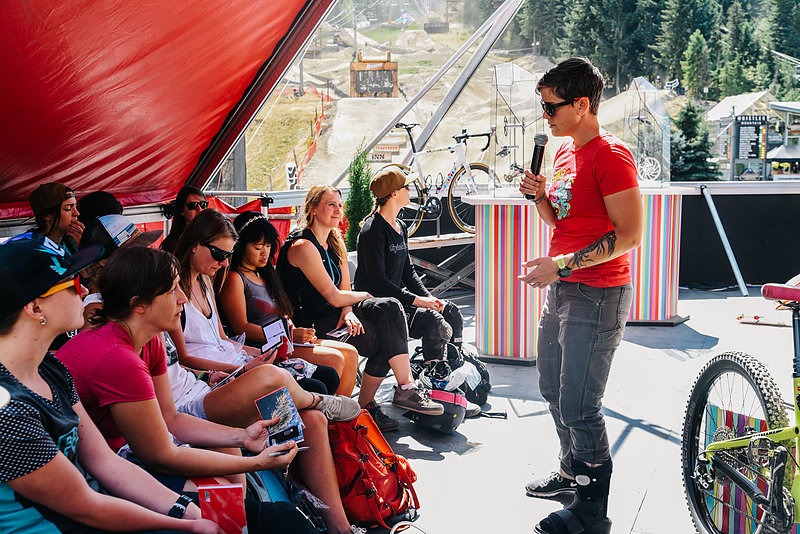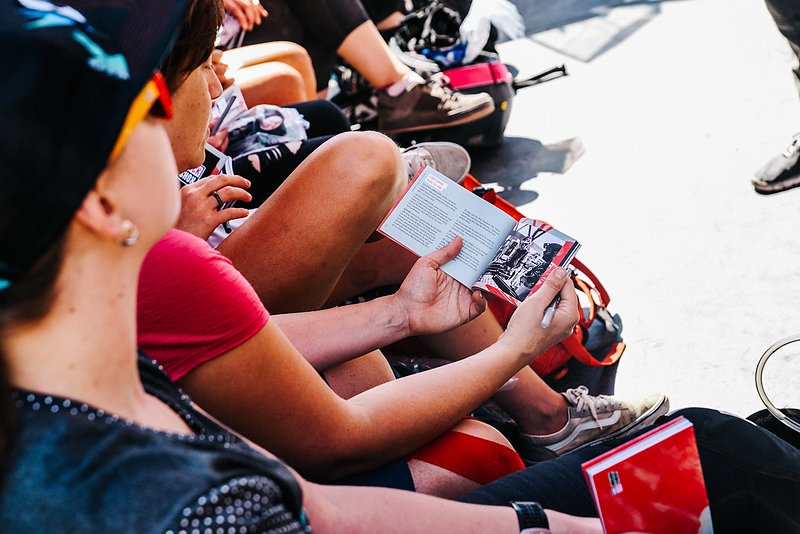 Having wrenched bikes for the US Paralympic team at the London Olympics and facilitated the SRAM technical university, Jarrell drew inspiration from her extensive career to make the technical aspect of biking just as approachable as the riding.
"We try to give them all the knowledge and the tools so they can try themselves," Jarrell said. Which meant handing out suspension pumps and manuals to attendees so they could hands on learn for themselves.
In all this—riding or mechanics—the overarching goal never wavered. "We want to get more women on bikes, and let them know that we support that as a company," she said.
For Jarrell, the sport is more than simply recreation. "The bike to me has been mobilization, transportation, freedom, and it's been a career," Jarrell said. And it's this kind of incredible passion that not only drives her, but is embodied within the rest of the coaching staff and their goal to break down barriers. Because empowerment and accessibility to this industry lends itself more than just in the bike park.
Teresa Klassen, a local nurse and new mountain biker, was introduced to the sport by her husband and sought the clinics to gain more confidence on her bike. Post-ride, she was beaming.
"[Mountain biking] transmits into your life, when you get to the end of a hard ride and realize you were capable of doing it. It gives you a confidence that you can bring into other areas of your life," Klassen said.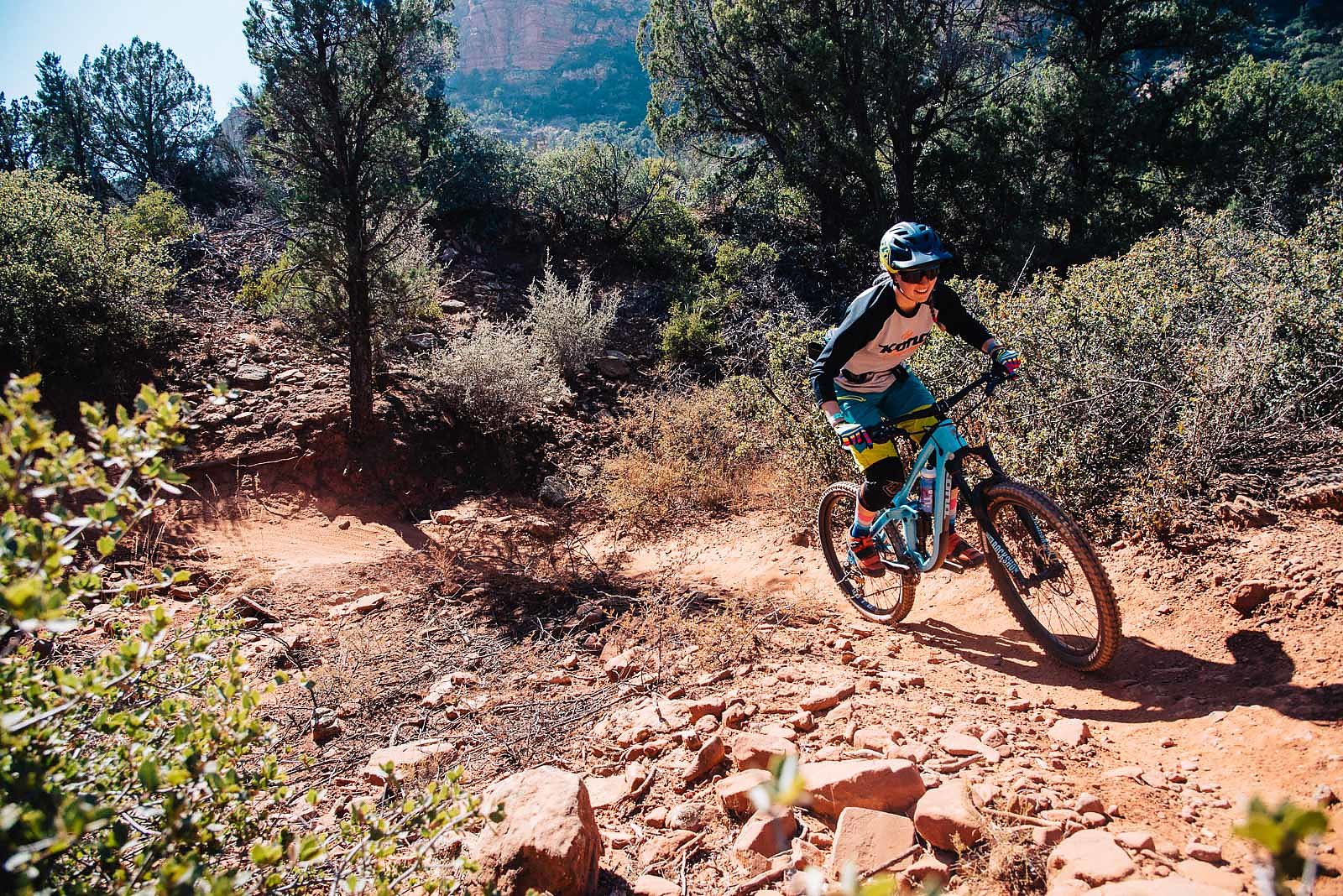 Three months later in Sedona, Arizona, I'm pedaling back to the Red Agave resort from a sunrise shoot with a large group of women. On our return we're passed by numerous trains of ladies, who are beginning their morning ride.
Morning greetings consist of wild cheers, which grow louder and louder as the groups get bigger, causing local riders who pass by to ask, "Just what the hell is actually going on here?" The cause of this wild commotion was Roamfest: the first ever Women's Mountain Biking festival.
Assuming that the festival would be similar to the format at Crankworx—skill building and education—the experience out in the desert was starkly unique.
The three-day event was focused on a simple, yet different concept: riding your bike with a bunch of passionate like-minded ladies. Overall highlighting another important component to this sport: that there's much more to this than riding ability or technical prowess. It's also about the community you cultivate on the trail.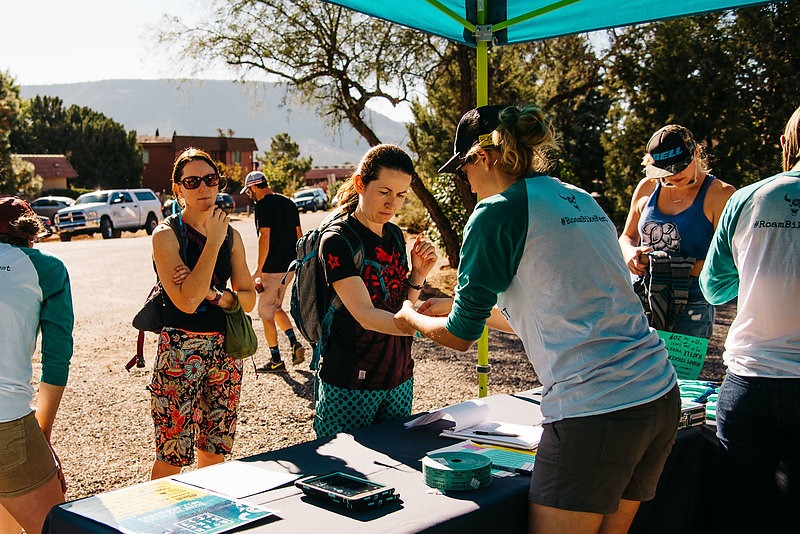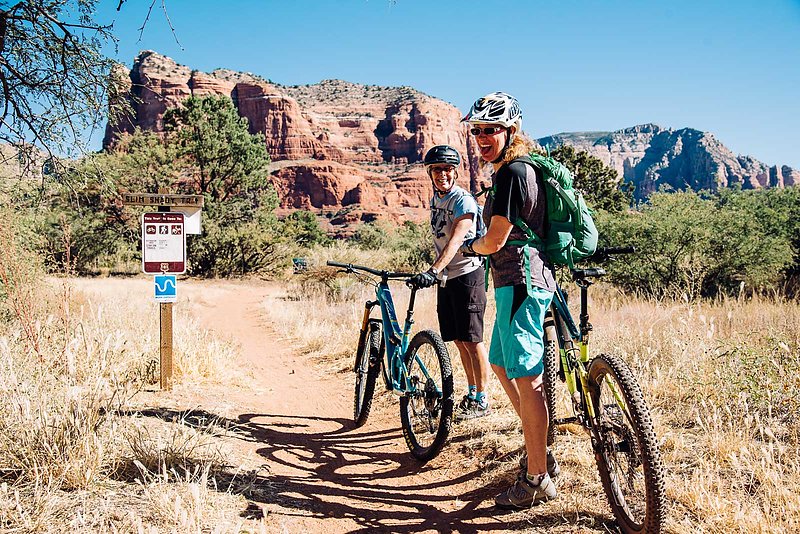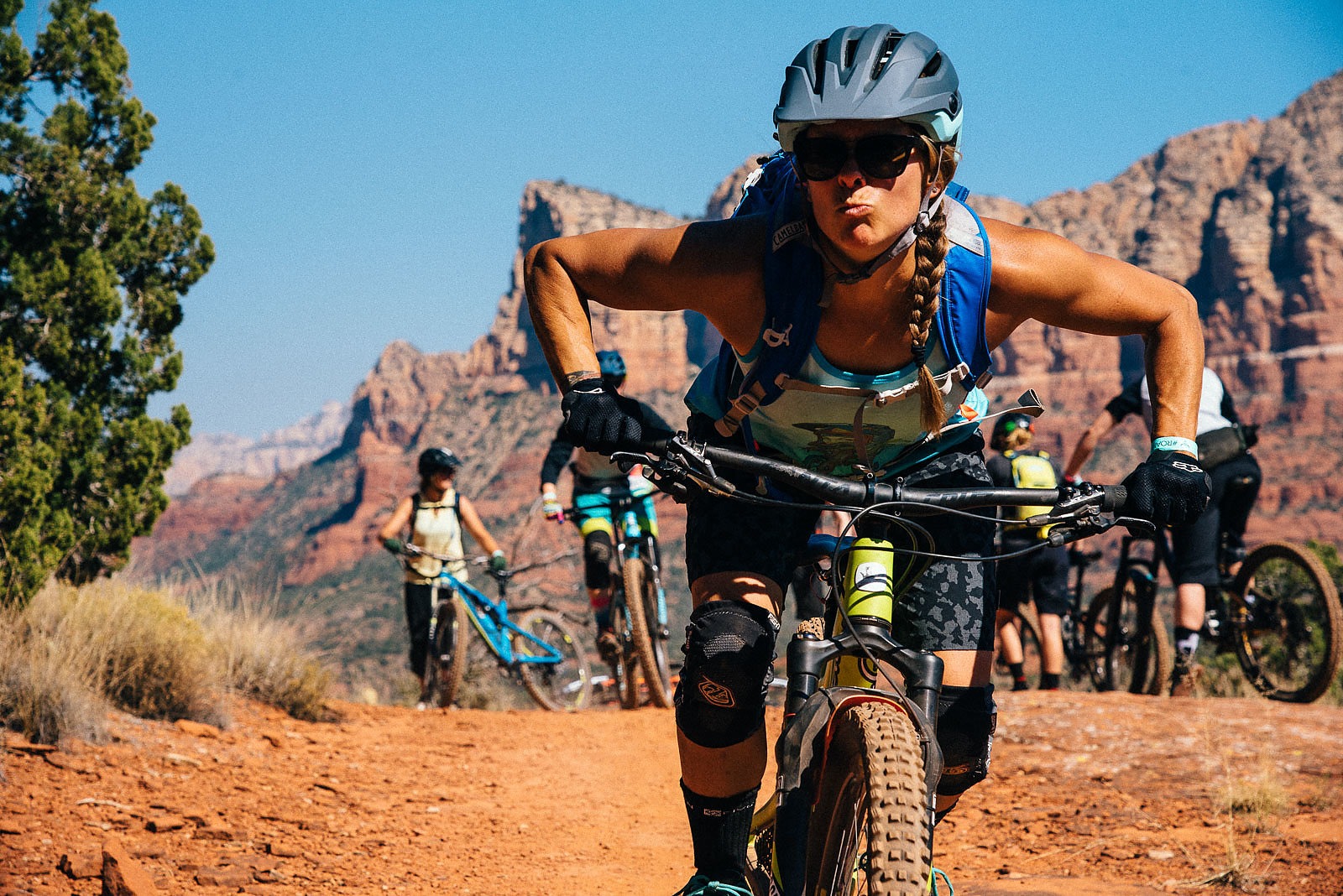 "There are those who don't need to take clinics anymore, and are looking for that same inclusiveness and environment where all these women are shredding together," said Ash Bocast, founder of the festival. Bocast noticed that were plenty of female riders who just wanted to ride, but had trouble finding opportunities to connect with other women.
Recognizing this disconnect, she created Roam Events to organize women's-focused bike retreats (put plainly, lady shred weekends). The retreats, which allowed women to ride with locals in incredible mountain biking destinations like Whitefish, MT gained momentum, so much so that Bocast decided to attempt something never seen before.
She pitched the idea of adding technical clinics to SRAM's women's program coordinators, and they were interested. But logistically there was an issue: Roam's retreats hosted roughly 45 participants, which was too small to offset SRAM's expenses. Instead of rejecting the idea, they challenged her to go bigger.
"It was around this time I stumbled across an article in Outside Magazine about Flash Foxy," Bocast said, referring to a piece on Shelma Jun—the founder of Flash Foxy—and the very first women's climbing festival. In the article, Jun admits that she didn't quite know if or how the festival was going to pan out, but recognized the greater need and just went for it.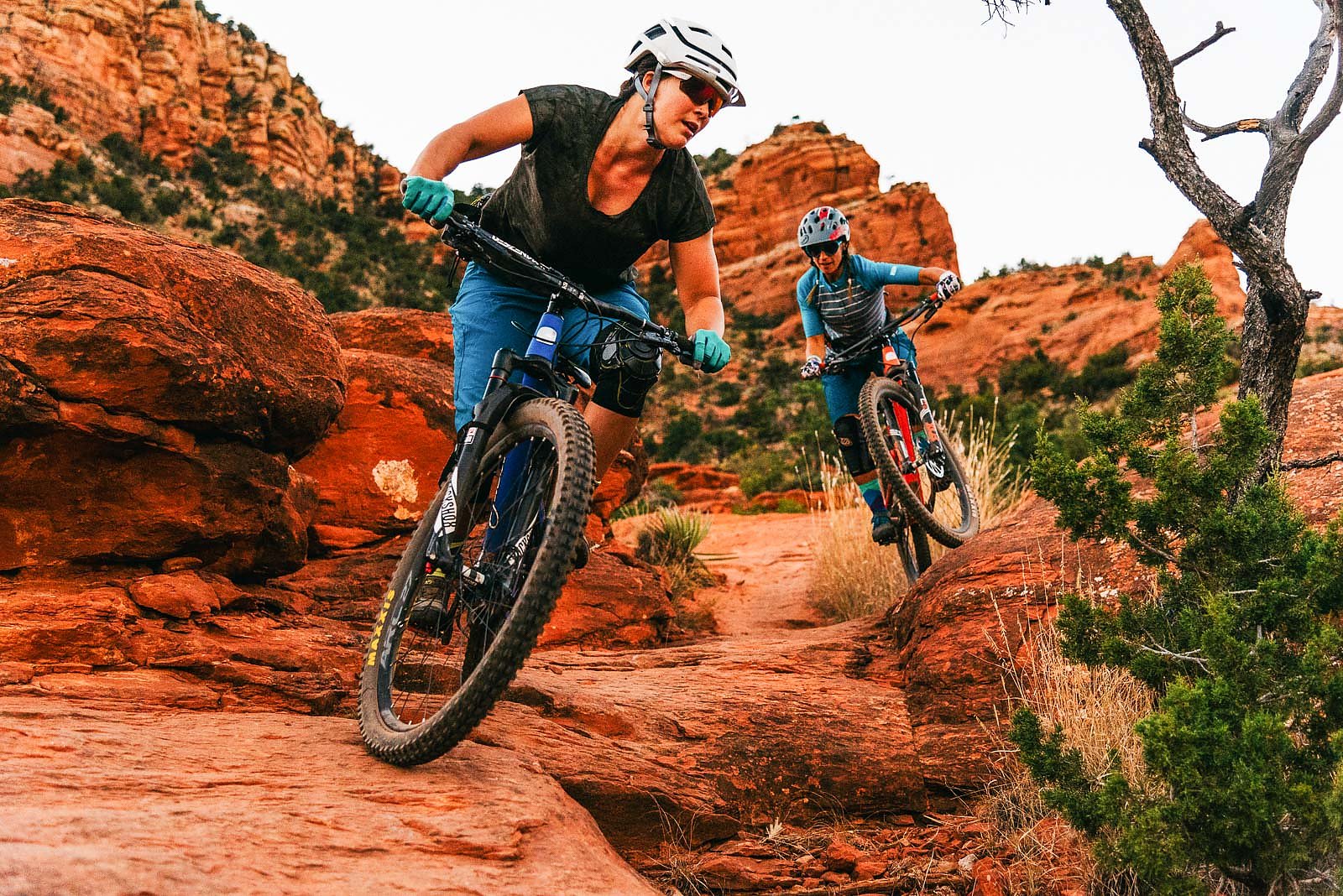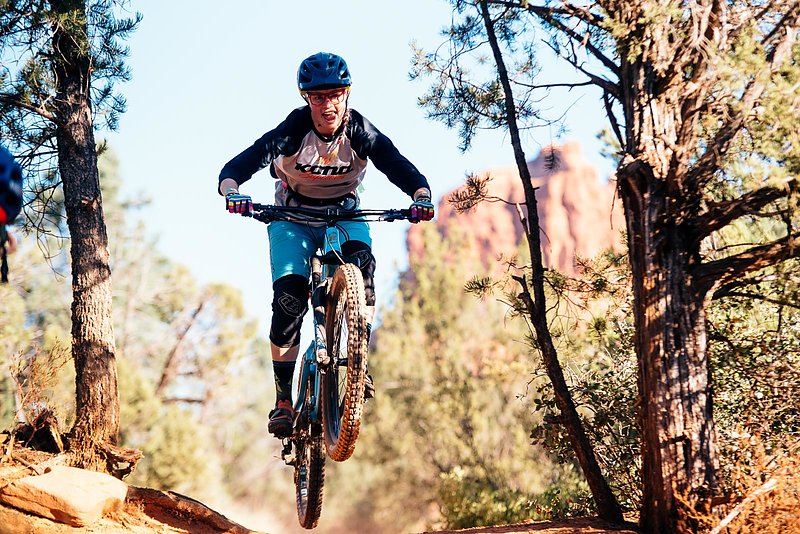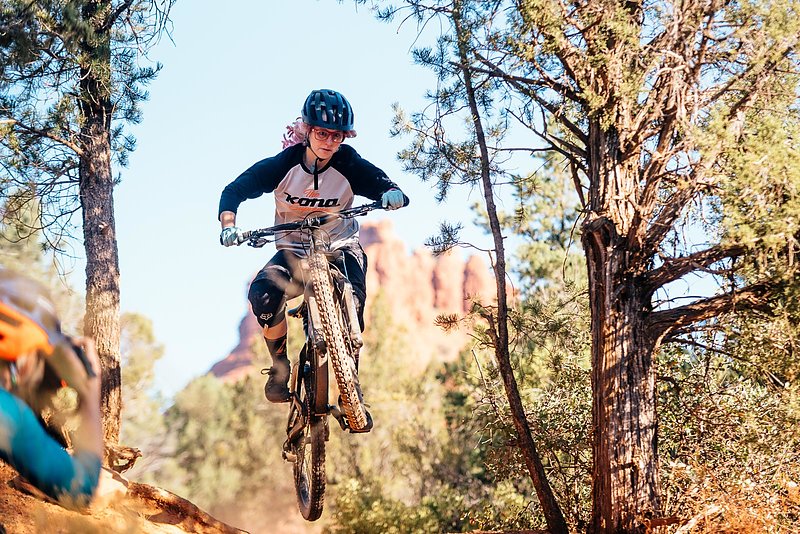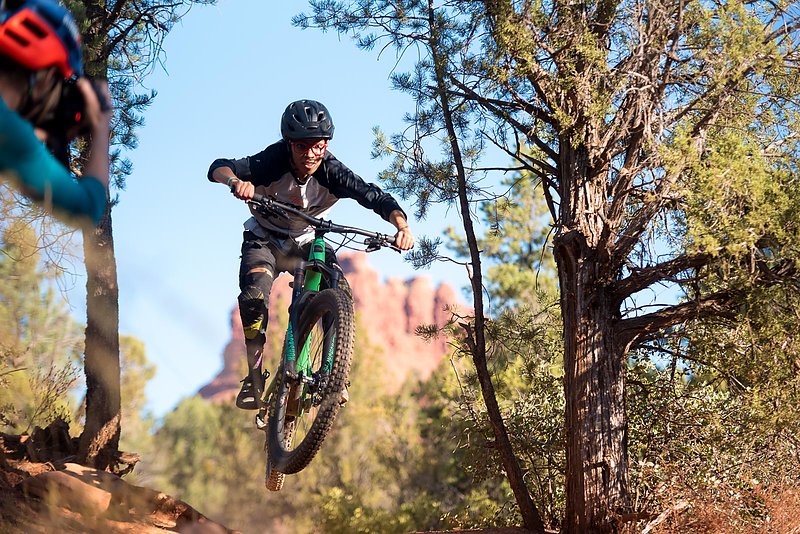 When Bocast read that, she remembers thinking to herself, "If she can make it work, then I can do this." Not only did Bocast make it work, but she's already got her next festival in the works for May in Brevard, North Carolina, as well as Sedona again next October.
"I heard over and over from both our vendors and participants that it felt like a girlfriend's weekend," said Bocast.
Girl's weekend feels like an understatement though, considering more than 150 female riders, ranging from beginner to advanced, jumped on a plane or drove across the country to attend—not to mention that over 18 different states were represented and even a few Canadians hopped the border for the party.
The sleepy resort that I had left that morning for our pre-dawn ride was almost unrecognizable upon return. It was day two of the festivities and attendance was at its full. Previously empty demo tents were filled with attendees getting set up on bikes or sampling new gear.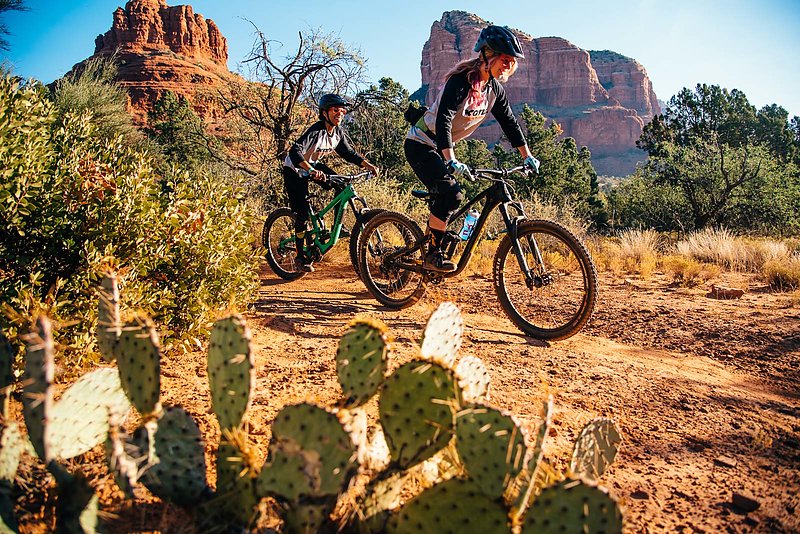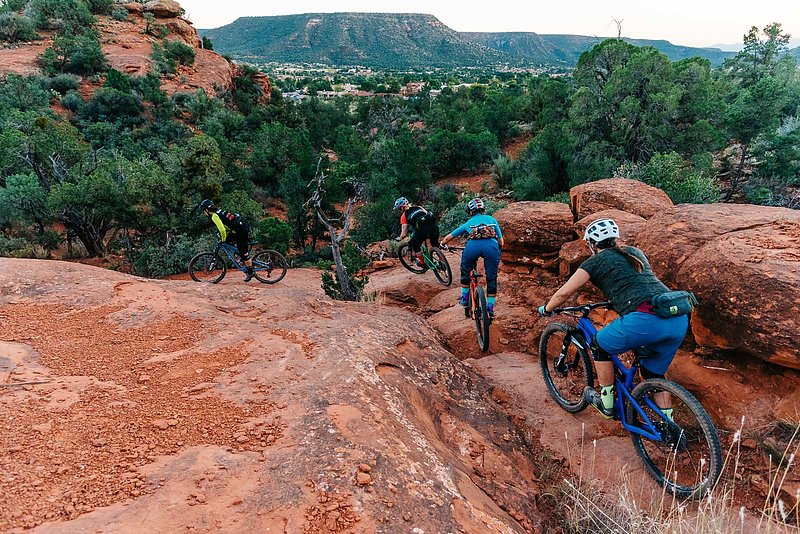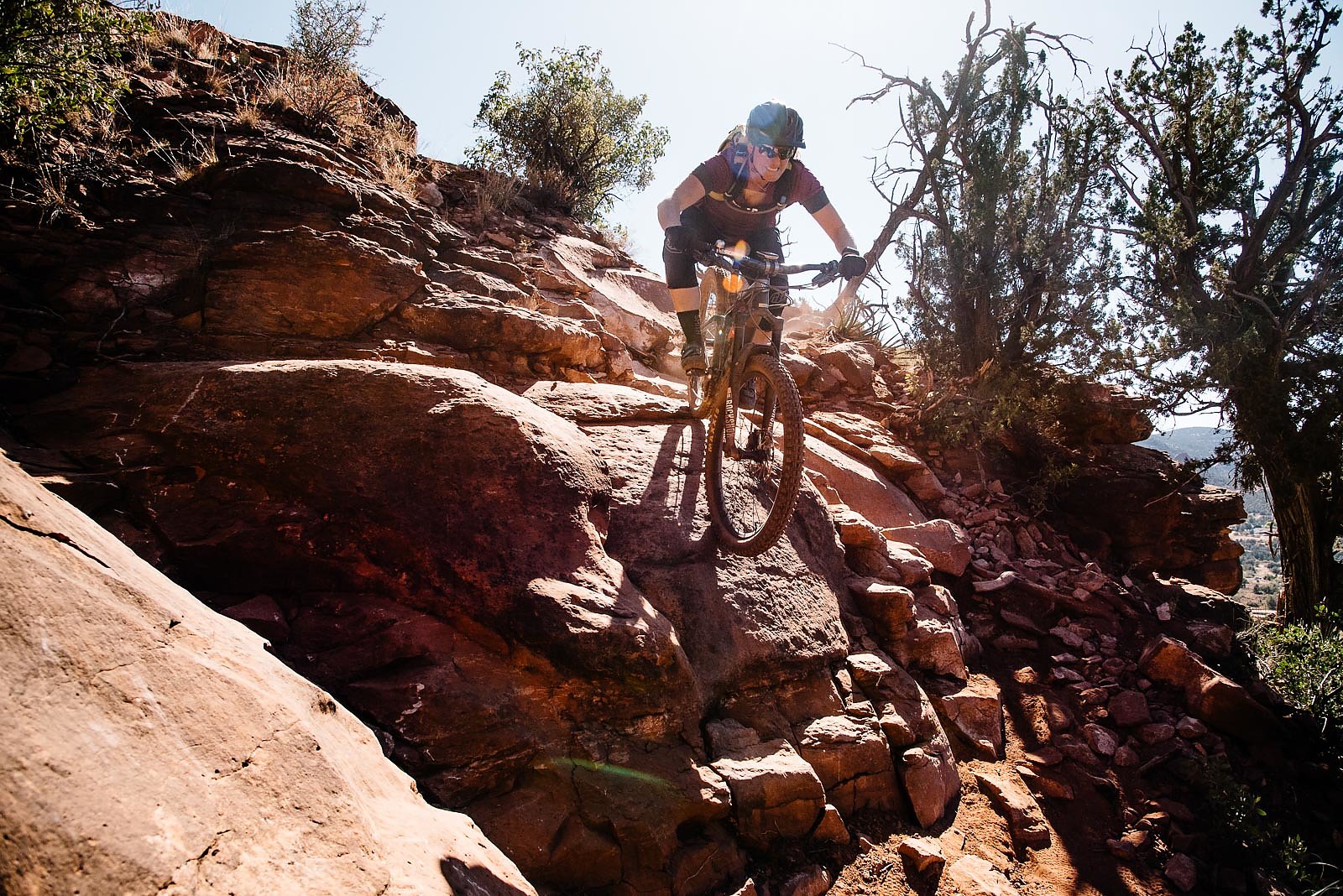 Head spinning, I try to weave through the energetic crowd leaving for shuttle rides or the nearby Slim Shady trailhead on a mission to find food. However, I'm constantly derailed by morning greetings and hugs from friends, the majority of whom I'd only been acquainted with for 24 hours.
Later, after a full day of riding, I plopped down onto a folding chair to see the festival stage filled for the evening's industry panel discussion. The purpose of the talk was to hear a variety of personal accounts from an impressive line-up of women.
It began with Jen Audia's story of working at her local bike shop to eventually becoming the marketing manager for Liv Cycling. Then, Ashley Rankin told us about the driving inspiration behind her own mountain bike clothing line, Shredly—never finding clothing that she liked, she decided to design her own. These are just two of many stories, in which we heard about failure, success and perseverance.
This all served as a reminder that, despite whatever level or background we come from as women, there's certainly a space for us too in this industry. A lesson learned over years of hard fought progression—articulated and understood by the collective testimonies of these women.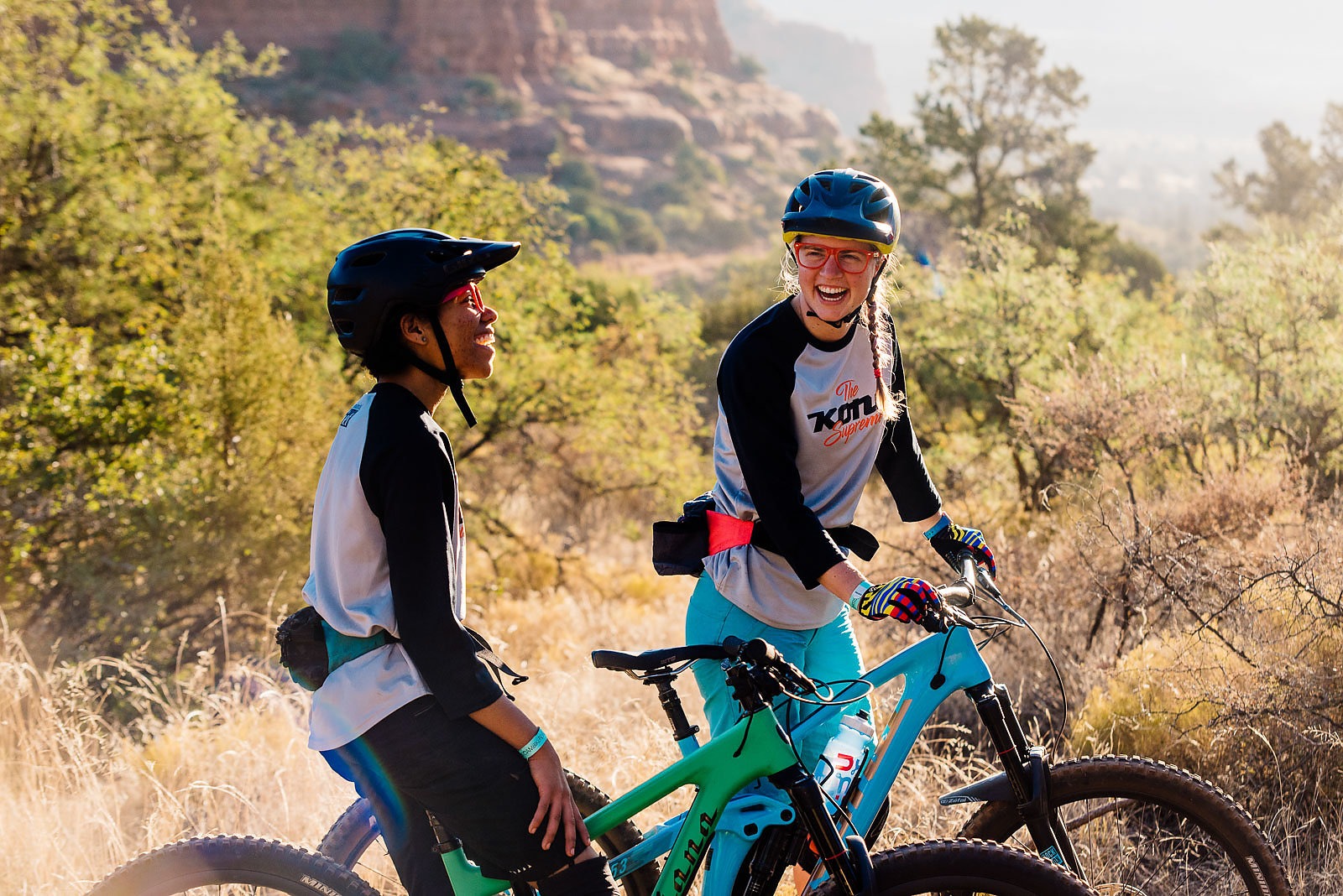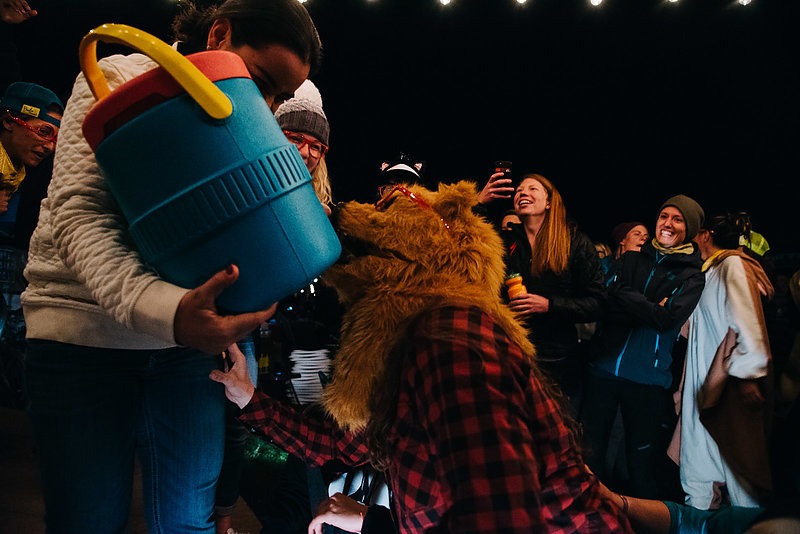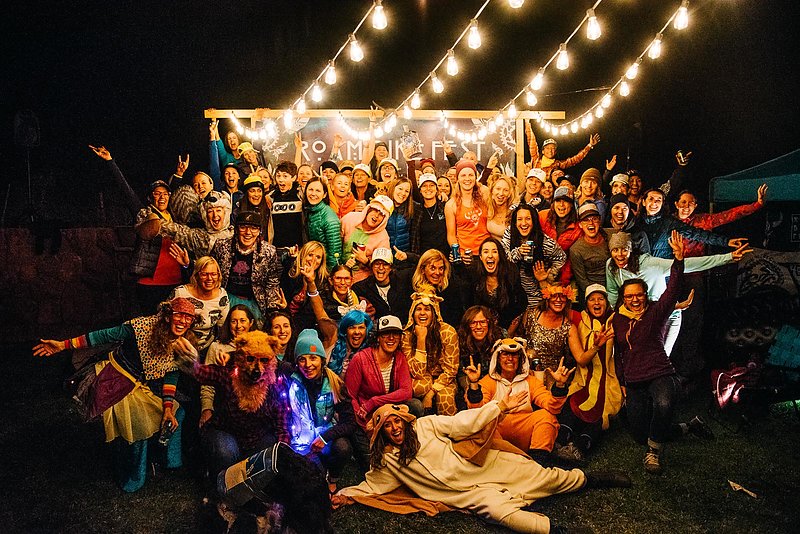 Ultimately, these events are a greater reflection of the sentiments and eagerness felt by female riders across the industry. Sure, we still have a lot of work left to do, but, it's important to pause and look at how far we've come.
Our progress is best understood from the perspective of mentors and veterans in the industry like Angi Weston, who have seen the change from the beginning. Back in Whistler as we rode the lift together, she described a bike park I never saw. One that—only twenty years ago—was seldom frequented by other women.
"Now you come to Whistler and you see full on packs of women standing in the lift lines. Less of the token females but full-on ladies crews," Weston told me. How could you not get excited about that?
But this change is much bigger than Whistler or Sedona, it's happening worldwide. With the momentum only continuing to grow, it's exhilarating to think about what other barriers we'll continue to overcome. And more importantly, the foundation we're building for the next generation of girls coming up in the sport.