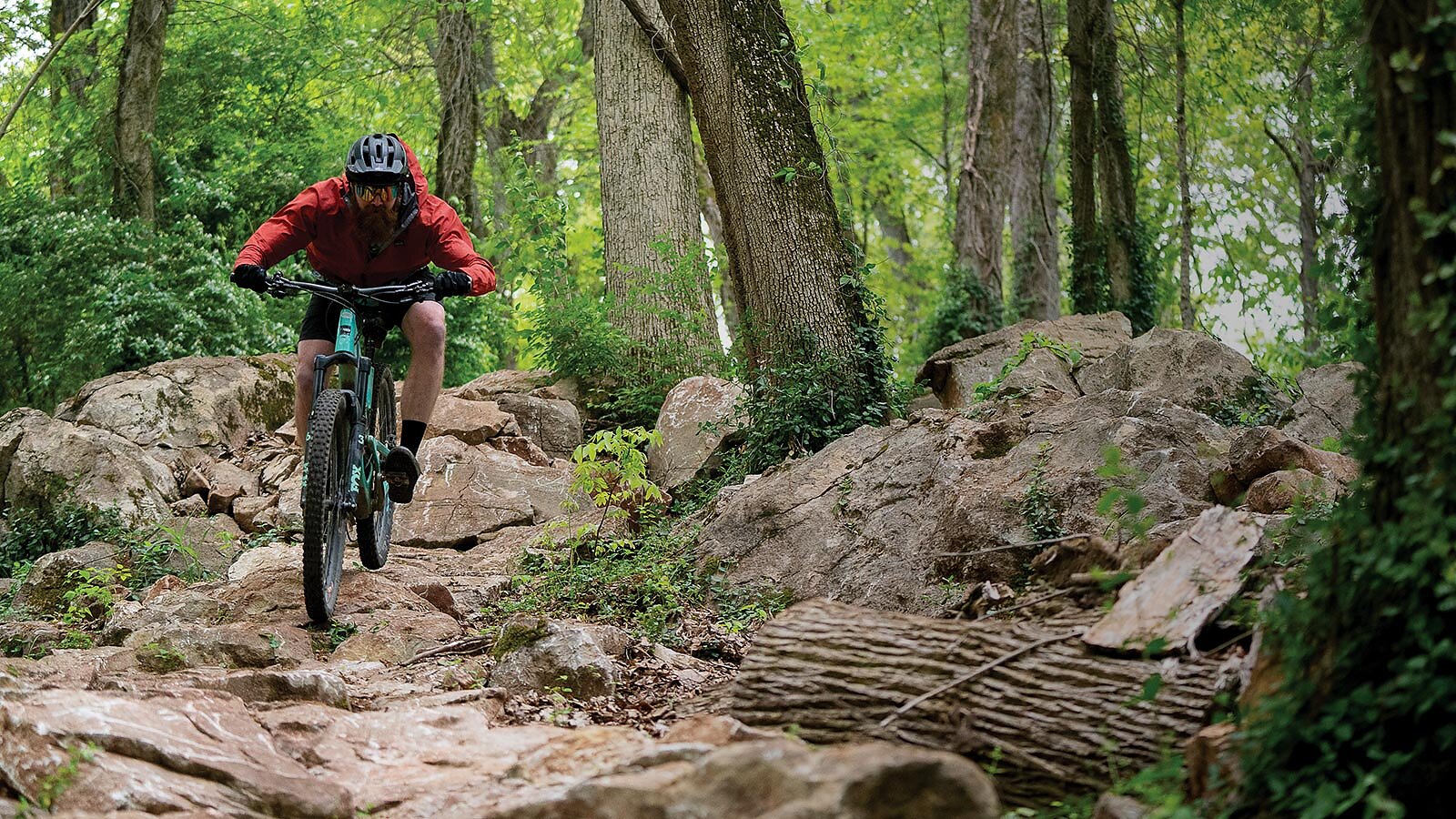 Home Of The Vols Tennessee Volunteers Rally in Knoxville Riding Boom
The mid-morning light shines through the windows of an historic diner in Knoxville, Tennessee, illuminating a décor that is said to have changed little since the eatery opened its doors in the mid-1950s. Occupying one side of a booth is Alex Clark, his mustache and dirty blonde hair matching the boundless energy of a 27-year-old hungry to take on the world. At this moment, though, Clark is mostly hungry for a heaping plate of pancakes and scrambled eggs.
Amid the clanking of dishes and the distinct smell of diner coffee, Clark enthusiastically describes the rapid proliferation of trails in the Greater Knoxville area—where the rolling foothills just outside of the Great Smoky Mountains National Park provide abundant relief for gravity-fueled fun. With more than 80 miles of trail in the Knoxville area alone, it's easy to understand how a quick, half-mile pedal from this north Knoxville diner can bring us to the trailhead of the Sharp's Ridge Veterans Memorial Park, the perfect place to burn off a greasy-spoon breakfast.
Though the majority of Knoxville's singletrack lies in the city's southern reaches, Clark is keen to show off the diversity of Sharp's Ridge, one of the town's first sanctioned riding areas and a prime example of the success achieved by the local Appalachian Mountain Bike Club (AMBC), a chapter of the International Mountain Bicycling Association's (IMBA) Southeast regional division. While elements of the original rake-and-ride lines remain at Sharp's Ridge, a wide variety of purpose-built mountain bike trails now cover the ridge, offering everything from classic singletrack to intermediate jumps and adaptive-oriented trails where adaptive riders can knock out loops.
"There are places that have way more trail than us," says Clark as he energetically climbs up the ridge. "But they do not have half of the community that we do."
At the top of Sharp's Ridge, an overlook platform yields a sweeping view of the Knoxville skyline, its buildings framed in the distance by the Great Smoky Mountains, so named for the purplish-grey layers of mist and fog that routinely envelop these tree-covered ridgelines. The majesty of the Great Smokies—which tower to the east of Knoxville and form an oxygen-filled border between Tennessee and neighboring North Carolina—adds an atmospheric dimension to the cityscape.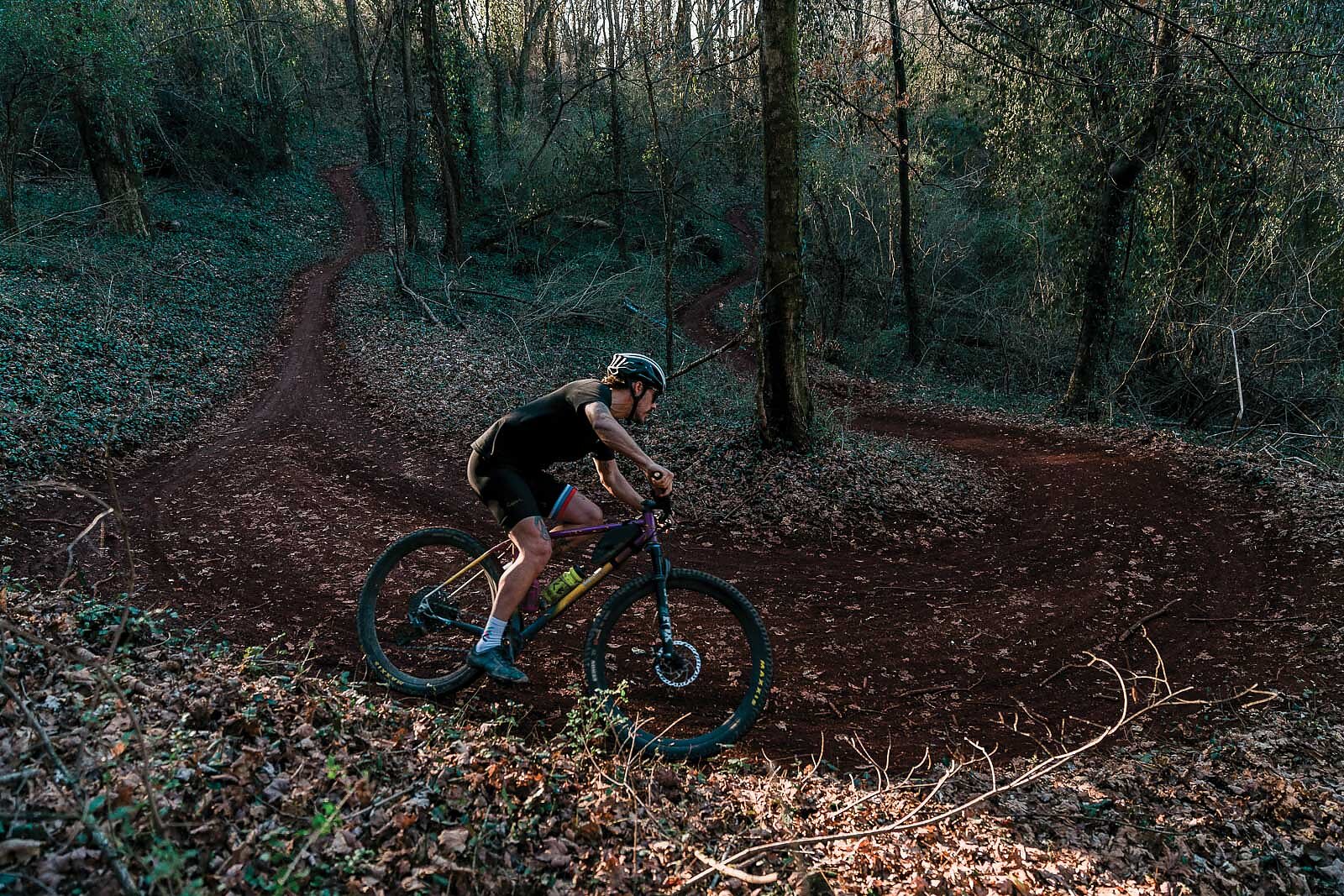 Clark points out a goldish-bronze spherical structure in the city center, identifying it as the "Sunsphere," built 40 years ago when Knoxville played host to the 1982 World's Fair. Today, the Sunsphere looks like a desk trinket compared to nearby Neyland Stadium, home to the University of Tennessee's beloved football team, the Volunteers, or "Vols" as they're affectionally called by fans.
Tennessee earned the nickname "The Volunteer State" due to the overwhelming involvement of Tennesseans in the War of 1812, particularly during the Battle of New Orleans, which hastened the fall of the colonial British overlords. Though still a source of state pride, these days Tennessee volunteerism has taken on a decidedly non-martial form. And when it comes to advocating for and building trails, this volunteer spirit continues to yield results.
In recent years, much of this volunteerism has been channeled through the AMBC, which promotes sustainable trail access for off-road bicyclists in the Greater Knoxville area. Since 2007, the AMBC has focused on all aspects of trail development, from advocating for multi-use access in open spaces to maintaining existing trails and building new ones. From the beginning, dozens of local riders became involved in advocacy, structuring strategy sessions within the AMBC and then representing the group at city planning meetings. Among them were passionate local riders such as Brian Hann, Matthew Kellogg—now the AMBC's executive director—and the exuberant Rich Kidd, lovingly known as "Shaggy" for his signature rust-colored beard.
"I was the loud and annoying kid at the meetings," Shaggy says with a laugh. "I just kept showing up, and eventually they let us build what I was asking for."
Around the time the AMBC was ramping up its trailbuilding efforts, Shaggy lost his full-time job and decided to reinvent himself as a trailbuilder. With plenty of work available in Knoxville and the surrounding areas, his career instantly took off, and today Shaggy helps to build trails all over the United States.
In the AMBC's early days, however, things didn't always come easy, and the founding members quickly realized the importance of the gentle art of persuasion—especially when arguing for the preservation of public woodlands in the face of proposed commercial developments such as a six-lane highway.
"We really had to fight for what we have," executive director Kellogg says, pointing out one of the AMBC's early successes: The preservation of a sprawling tract of woodlands known as Knoxville's Urban Wilderness from a proposed sixlane highway, an effort initially spearheaded by Hann.
After countless hours of meetings with city officials, Kellogg, Hann and other AMBC members joined forces with another regional preservation group, East Tennessee's Legacy Parks Foundation and its capable executive director, Carol Evans. Together, they were able to convince city officials to forsake the highway project in favor of a public park filled with multi-use trails. Today, more than 50 miles of trails and greenways connect locals and visitors to a 500-acre wildlife area filled with pristine lakes and sites of historic interest.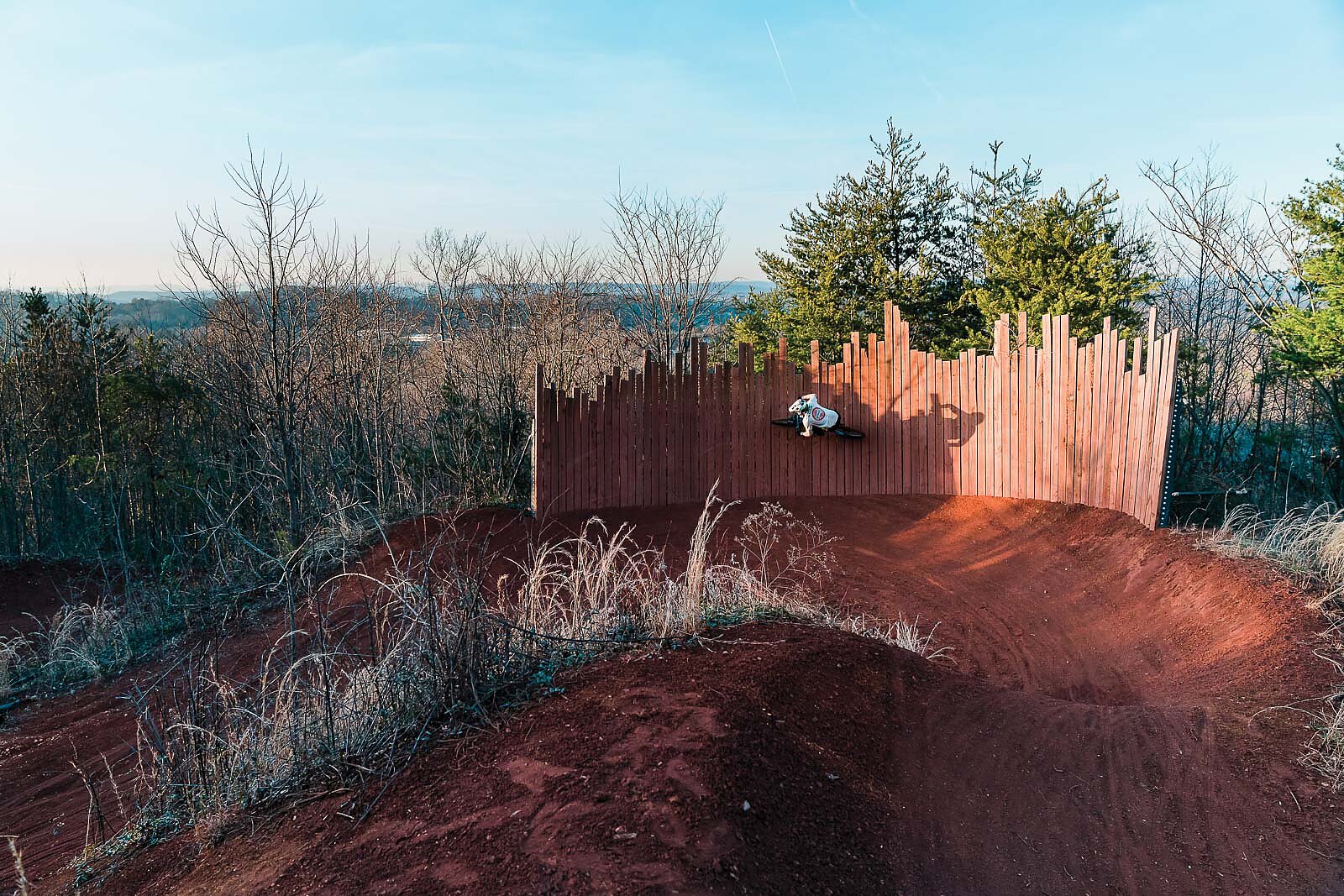 "We went to every meeting and worked really hard with the community," says Kellogg, who recently left his career in construction management to become the AMBC's full-time executive director. "But that is how you get a park, and not a parkway."
The AMBC's success in establishing dialogue and building relationships with community leaders has transcended regional boundaries in recent years. As funding for new trail projects has been secured, so has the help of professional trailbuilders from other parts of the country. One such trailbuilder is Vermont native Knight Ide, who has been coming to Knoxville each winter for the past six years to build trails at the request of Kellogg and Hann, both fans of Ide's trailbuilding style. The work of Ide and his crew can now be found throughout Knoxville and the surrounding area, including Sharp's Ridge, where a well-built jump line featuring progressive tabletops and flowy berms runs from the top of the ridge to the bottom. The trail, named "Knight Fall" in Ide's honor, has become a staple for local riders and visitors alike.
The ride from Sharp's Ridge to the networks on Knoxville's south side is a seven-mile pedal through the city center and passes by numerous historic landmarks and new businesses that have been cropping up in recent years. Upscale barbershops, craft breweries and cafés point to a younger demographic that is moving to the Knoxville area. And a growing number of these people are riding mountain bikes.
This is evident upon rolling into the parking lot of the Baker Creek Preserve, where a paved pumptrack and jump line are situated at the base of the trailhead. The pumptrack, which underwent several iterations before it was solidified in tarmac, has become a local favorite for mountain bikers, BMXers, skateboarders and even roller skaters. The Baker Creek trails themselves are well-conceived, directional and progressive. From the intermediate jump line named Barn Burner to the big booters on the black-diamond run called Devil's Racetrack, there is something for everyone at Baker Creek.
What's more, it is also a perfect gateway to the surrounding area's other trail networks. From here, riders can connect with the rest of the Urban Wilderness, where AMBC-built singletrack winds through places like the Ross Marble Quarry and the group's latest acquisition, the William Hastie Natural Area. In the adjoining Marie Myers Park, trailbuilders have been lining part of a connective track with limestone to allow for year-round riding, even in inclement weather.
The Baker Creek pumptrack is the epicenter of the local scene, and on any given day dozens of kids on dirt jumpers can be seen working out new tricks on the paved jumps. Not far away, groups of women riders can be heard through the trees laughing and encouraging each other. One of these riders is Caroline McCarley, a longtime fixture of the Knoxville bike community who can frequently be spotted ripping the Baker Creek trails and hitting the jump lines with trains of more than 20 people.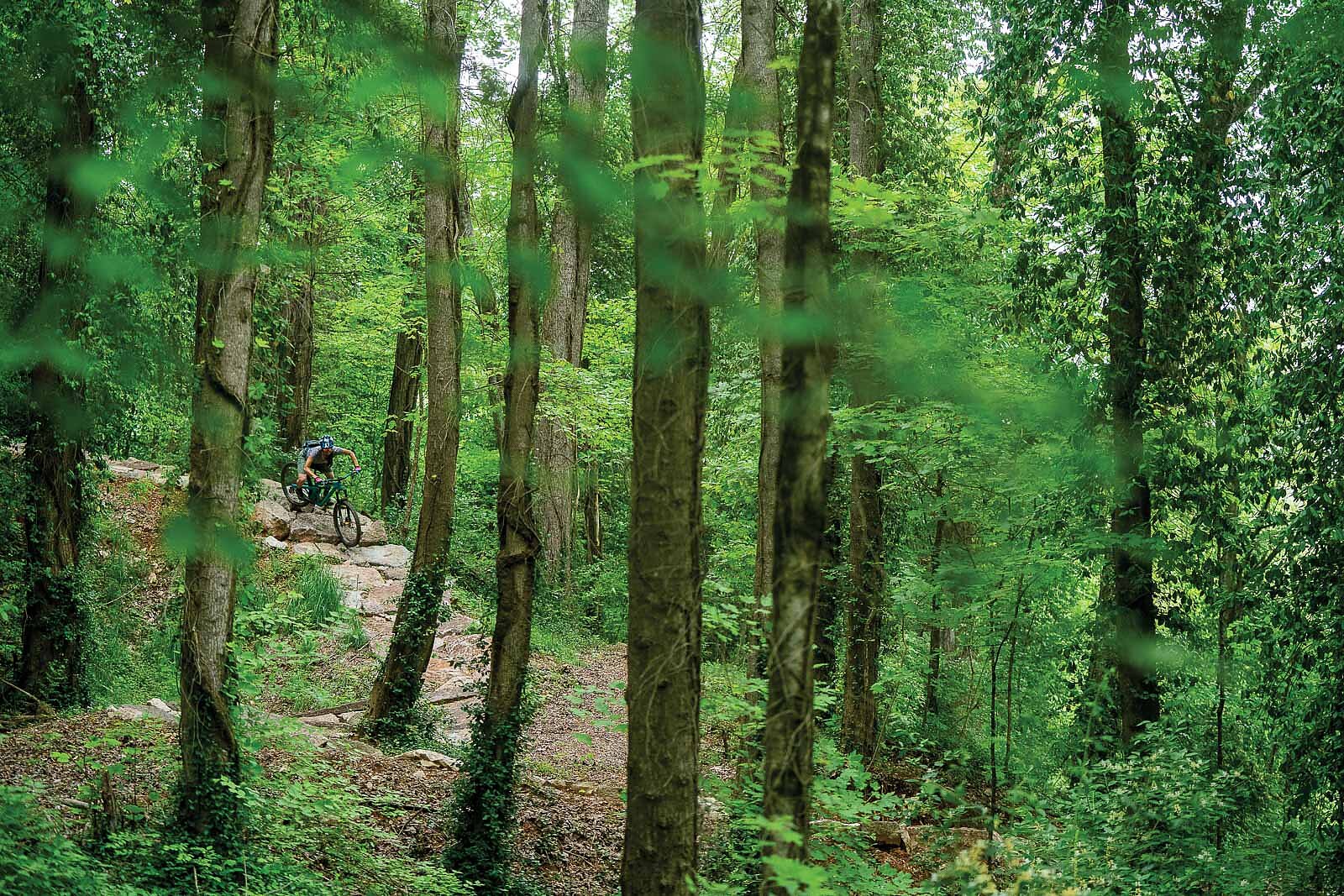 "Biking can be very competitive at times," McCarley says, conceding that this can be intimidating to newcomers to the sport. "But for us, we're just out having fun all the time."
Behind all this fun is a lot of hard work, both from the growing community of local volunteers as well as professional trailbuilders from other parts of the country. In addition to Knight Ide and his crew, regional trailbuilders such as Valerie Naylor of Pisgah Forest, North Carolina have spent countless hours sculpting new trails in the Greater Knoxville area.
Two trail advocates who have put down at least partial roots in Knoxville are Chris and Leslie Kehmeier, former IMBA employees who have been visiting the city for years and fell in love with the place. With their combined skillsets—Leslie is a professional outdoor photographer and writer, while Chris is a former director of trail solutions for IMBA—they are already making an immediate impact on the community.
Chris, who left IMBA in 2017 to form his own trail consulting business, C2 Recreation Consulting, has been involved in several regional projects in recent years. In 2020, he partnered with Corey and Kevin Clayton on an ambitious new trail project on their private land in Townsend, Tennessee, a tranquil town in a river valley on the fringe of the Great Smoky Mountains National Park, just a short drive south of downtown Knoxville. In little more than a year, the Vee Hollow Bike Park opened to the public, offering more than 14 miles of fresh, purpose-built mountain bike trails to the Greater Knoxville area and providing another recreation option for visitors.
"C2 Recreation Consultants was recommended by Matthew Kellogg and Brian Hann from AMBC," owner Corey Clayton says. "The AMBC guys then helped us review the plan and make a few tweaks to provide a trail system that was truly unique to the area."
Since the opening of the Vee Hollow Bike Park, Chris Kehmeier has been mapping out the groundwork for another multi-use trail network in the Cherokee National Forest near Hartford, Tennessee, a small town on the North Carolina border that is about a 90-minute drive east of Knoxville. With a proposed 77 miles of new trail in the foothills of the Great Smoky Mountains, just a stone's throw from Knoxville, the entire East Tennessee region looks set to become a mountain bike haven.
"Biking can be very competitive at times. But for us, we're just out having fun all the time." - CAROLINE MCCARLEY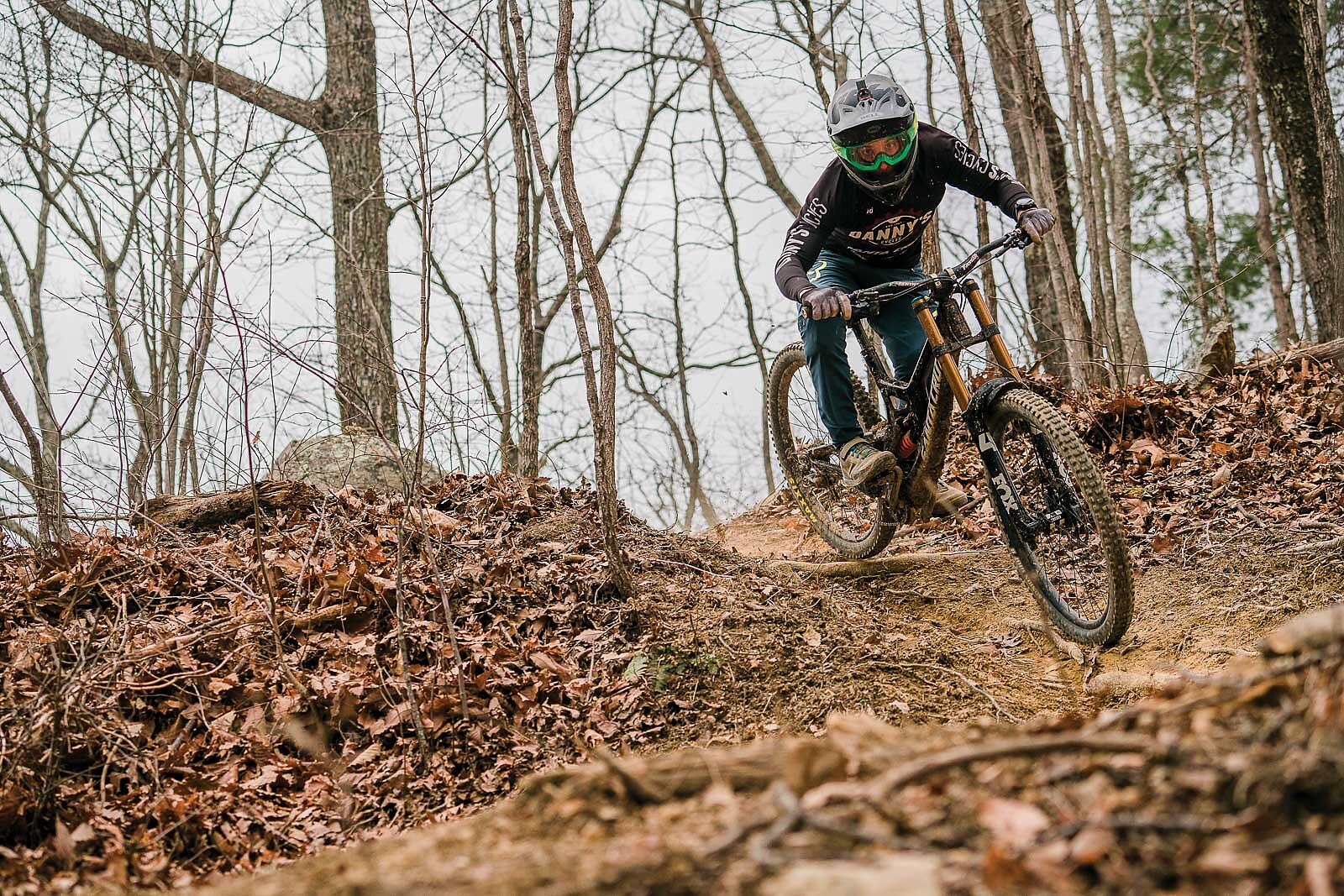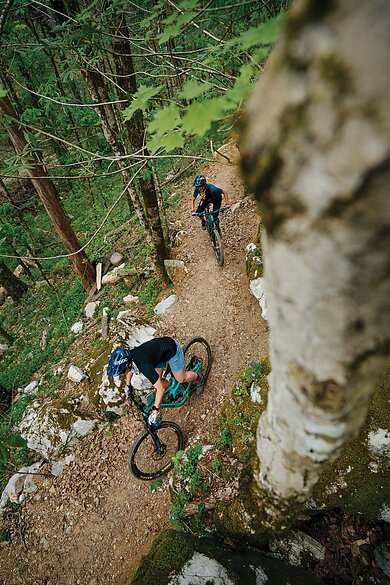 The proposed network near Hartford could be incredibly significant to the regional riding scene, given that it's roughly halfway between Knoxville and Brevard, North Carolina—arguably the most popular mountain bike destination in the southeastern United States. If the project comes to fruition, it could mean a loose confederation of mountain bike trails stretching throughout the Blue Ridge Mountains.
For more advanced riders looking for gravity-fueled fun, the small town of Oak Ridge, just north of downtown Knoxville, is home to the Windrock Bike Park, known for some of the region's rowdiest riding. Established by downhill racers Sean Leader and Neko Mulally, Windrock's racetrack is as raw and gnarly as any aspiring downhill or enduro racer could hope to find.
Open year round with daily shuttle access, it's become a magnet for racers from other parts of the country looking to escape their winters and train during the off-season. It's not uncommon to see world-class racers such as Richie Rude, Luca and Walker Shaw, and even multiple-time UCI World Cup Overall Downhill Champion Aaron Gwin pushing their limits on the challenging terrain. Gwin loves the area so much he has been spending part of the year there.
Leader's ability to operate heavy equipment has made him a valuable asset for more than just Windrock, and his skills have been recruited for excavation work and trail construction throughout the Greater Knoxville area. From Vee Hollow to the Haw Ridge Park near Oak Ridge, Leader and his machines are helping shape the future of the area's riding.
As the local mountain bike community continues to grow, longtime residents and transplants alike are increasingly living up to the Volunteer State's namesake. On trail maintenance days, hundreds of people can be seen putting in the work and the municipal parks have seen a steady uptick in visitors. Even the Mayor of Knoxville, Indya Kincannon, is supportive of the efforts.
"It has been incredible to see so many more people discovering Knoxville's great outdoors over the last few years," Kincannon says. "I personally spend as much time as possible biking and walking our trails, and I am so proud of our city's efforts to continually expand and improve recreational opportunities."