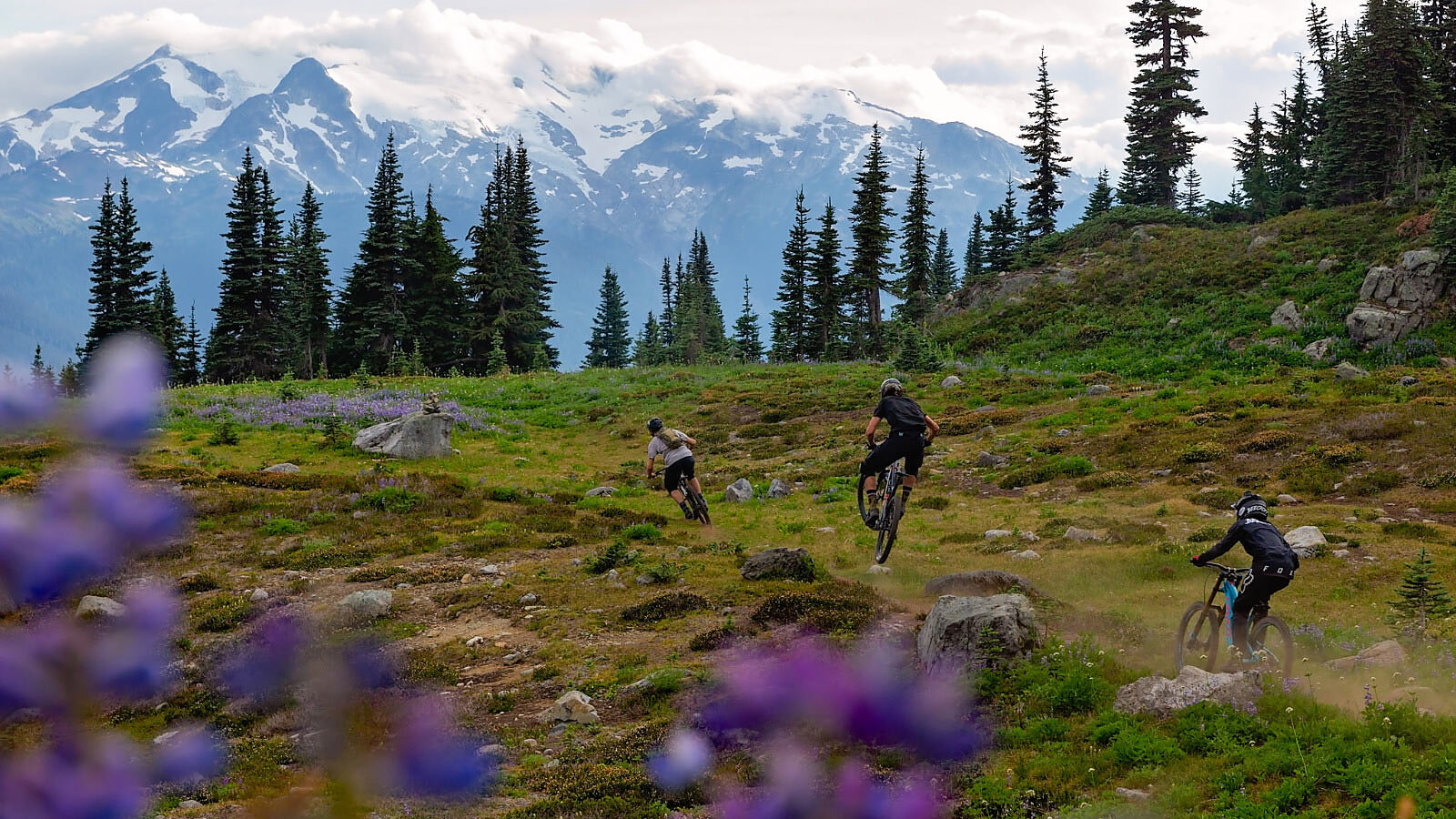 Whistler Travel Guide
When we think of a dream mountain bike destination, Whistler, British Columbia immediately comes to mind.
This resort town, which can be driven to in less than two hours from the bustling Vancouver metro area, has all the right ingredients for a mountain bike playground. For one, there is a plethora of singletrack. Maps of the greater Whistler area look like spiderwebs of spaghetti, consisting of more than 1,000 different trails—and something new is always showing up. Between the bike park and the various networks in the valley, there's a style of riding for everyone. Jumps, berms, drops, tech, roots and slabs Whistler has it all—and arguably some of the best in the world.
And then there's the terrain. Whistler is flanked by some of the most majestic mountains in B.C.; on some trails, you can ride directly from top to bottom of these giants. With the opportunity to descend around 5,000 vertical feet on the highest trails, rides out here tend to wind through pristine alpine wilderness to hemlock groves to the dense rainforest. The variety of microclimates in this region means that two trails can lend to completely different riding experiences. Couple all this with consistent moisture from the nearby coast—which gives the dirt that dreamy quality—and you've got heaven on earth for mountain bikes. 
The thing about Whistler, though, is that the mountain biking often overshadows the fact that this town is a premier travel destination in its own right. It has a big city's food scene despite being relatively remote. Whatever you're craving, there's a good chance you'll find it, and the dining experience is just as adventurous as the riding. From the best bike shops to the best craft brews to farm-to-table dinners, each part of Whistler has its own unique flair and contributes to one unforgettable experience. But, of course, with so much to do, see, ride and eat, the most challenging part about visiting is deciding where to start. Discover a few of our favorite spots in our travel guide below.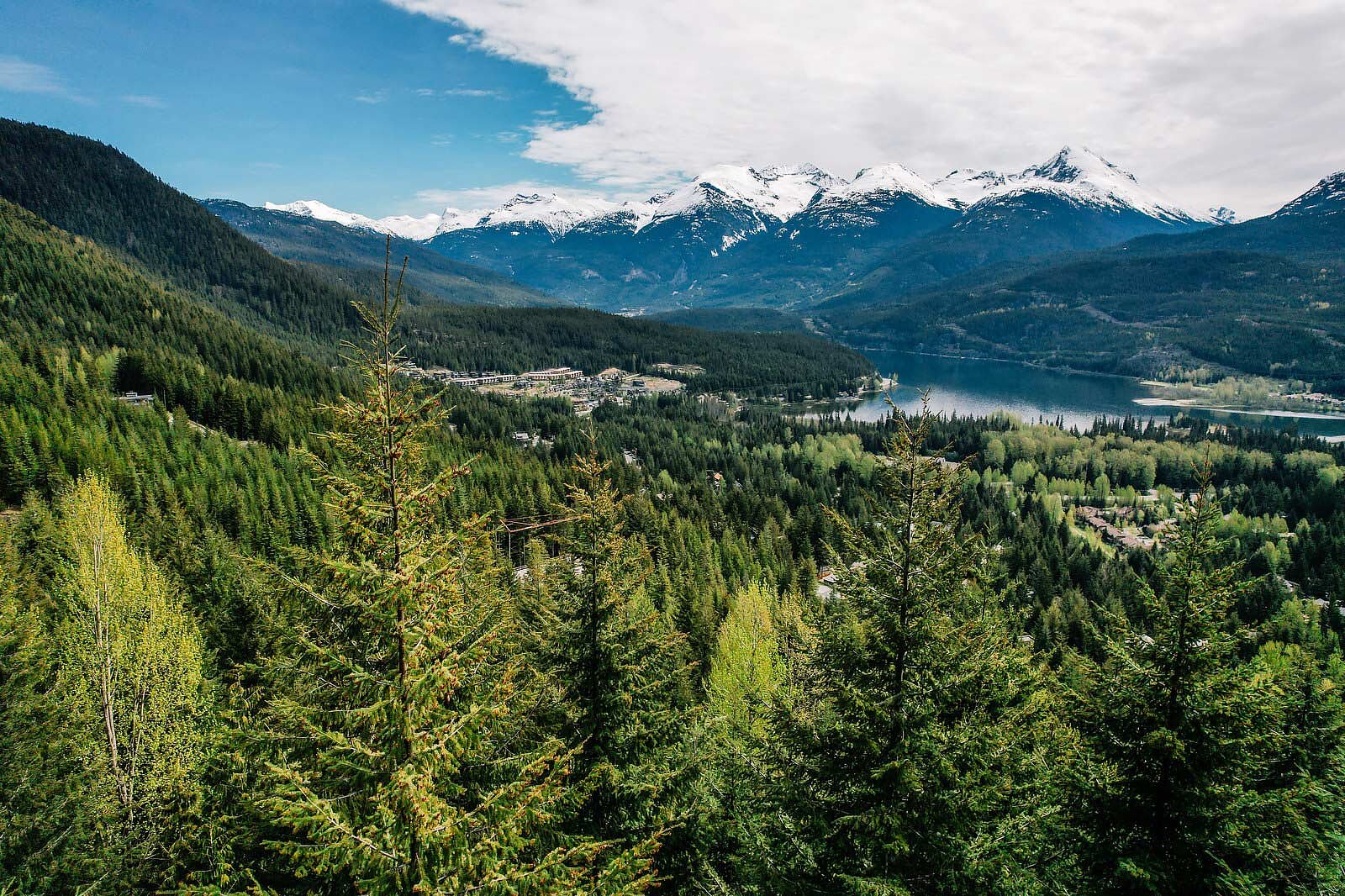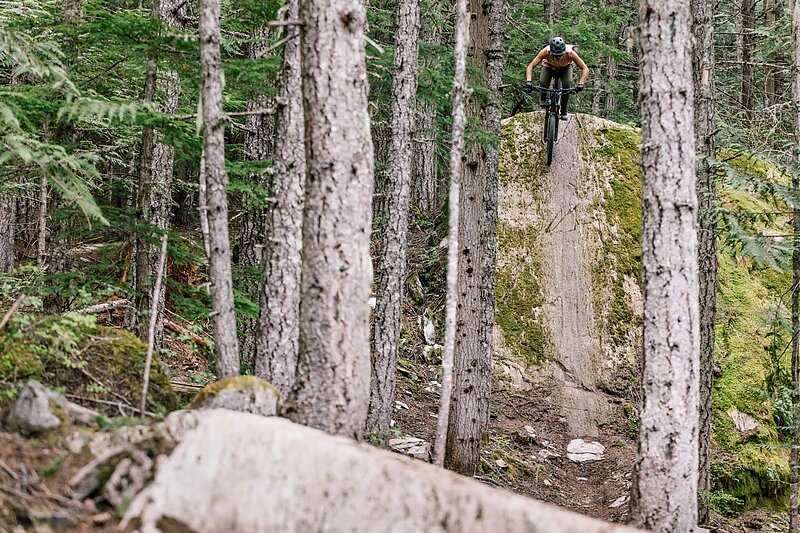 ---
Mountain Biking
For many travelers, visiting Whistler is synonymous with riding at the Whistler Bike Park. Few destinations have trails so famous that simply uttering the names "A-Line" or "Crabapple Hits" evokes a response. The bike park is the valley's crown jewel, featuring 70 trails and nearly 5,000 feet of vertical riding. There are four primary zones in the park (Fitzsimmons, Creekside, Garbanzo, Peak) and each has a distinct flavor. The best way to experience the park is to ride and sample as you explore—you never know what you'll like until you ride it. Some of the most popular trails include A-Line, Crank It Up, Dirt Merchant, Fade to Black, Heart of Darkness and Top of the World—but that's not even thoroughly scratching the surface. 
Most hype around Whistler's mountain bike scene gets focused on the bike park, but if you're willing to pedal, there are all kinds of epic descents scattered throughout the valley. During peak tourism season these trails stay less busy and sometimes you'll only cross paths with a single rider or two. The formerly rogue Blackcomb trails are now a sought-after zone since being adopted into the Valley Trail system. They gained extra notoriety after hosting the Enduro World Series stages and are iconic for their long sight lines through massive old-growth forests. Trails worth checking out there are Micro Climate and Dark Crystal, both technical, rocky, rooty and long, challenging descents. If you like technical riding, then you'll be in heaven. 
Across the valley on Sproatt Mountain are the Westside trails, some of the oldest and most iconic of the valley. The climb up is not for the faint of heart, but there's comfort in knowing that the harder you climb, the more rewarding the descent will be. These trails are less loamy and much rockier than other parts of Whistler and have some of the most thrilling slab features you can find. Green Monster, Kovara Milk Bar, and Rockwork Orange are home to some of the best slabs in the network. Another iconic descent is Lord of the Squirrels, famous for its access to stunning high-alpine terrain. While it may be rated as a blue, it's a committing ride that brings riders deep into the backcountry and takes thoughtful planning and preparation.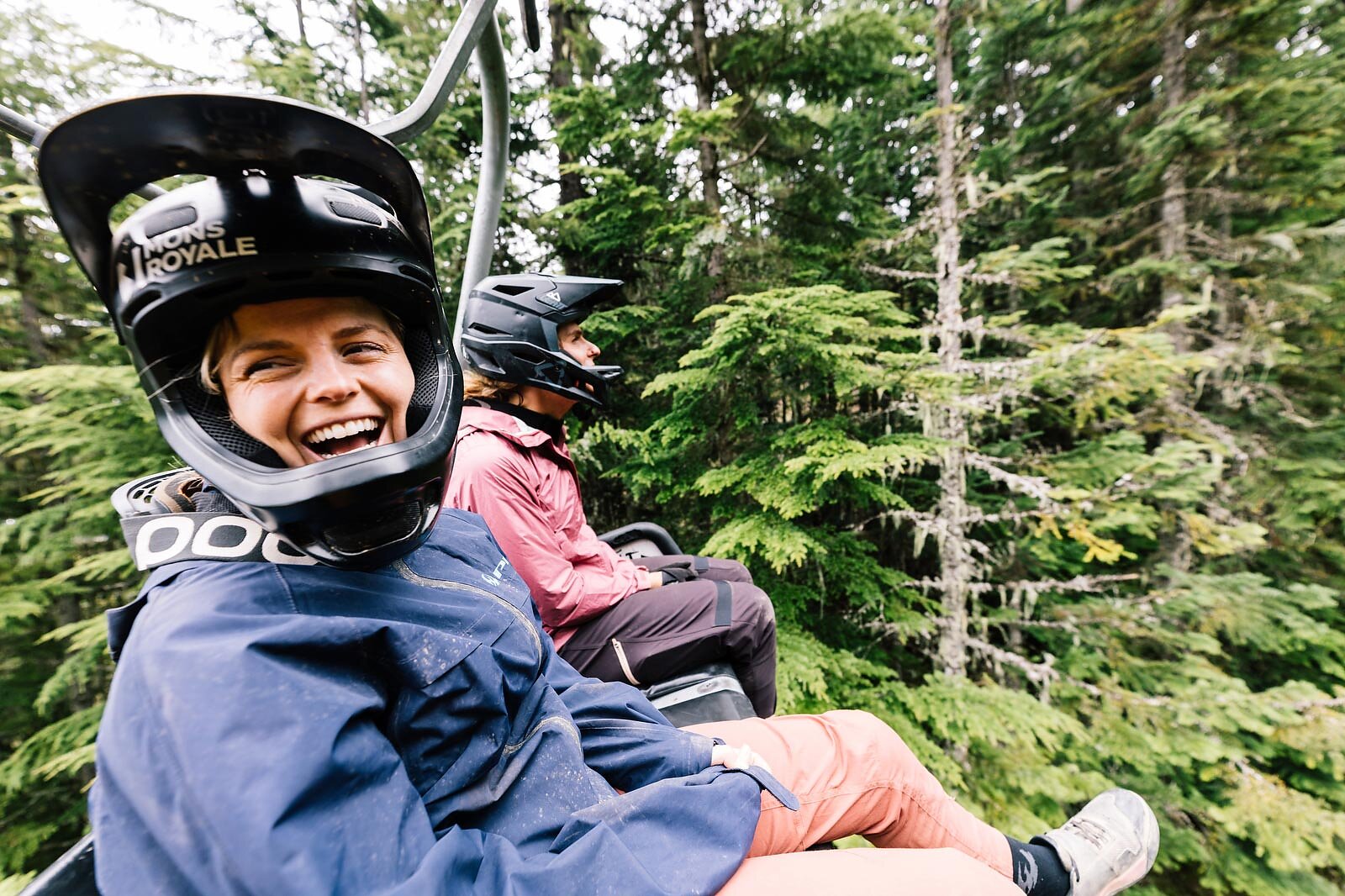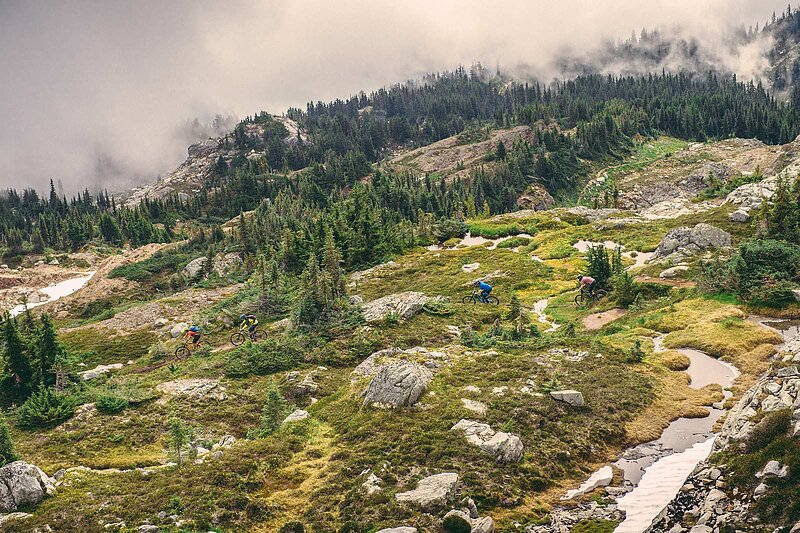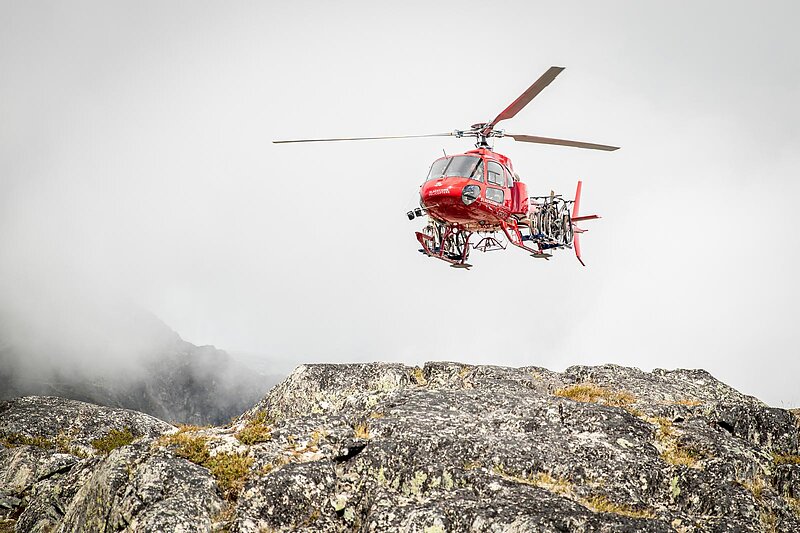 The Wedge area just north of Whistler is a much smaller network but is still worth checking out for the trail Out There. It consists of steep slabs, challenging climbs, a good mix of flow, breathtaking vistas—an excellent option during spring when other trails are still melting out. 
The next best option for those wanting to get off the grid is to fly. Blackcomb Helicopters will continue running flights through AlpX Expeditions for a new heli-biking specific trail. Experience miles of downhill riding with more than 5,000 feet of elevation drop in the heart of the Sea-to-Sky backcountry. The terrain fluctuates from alpine singletrack and lakes to rock slabs and cedar groves to alpine meadows and old-growth forests, rounding out with a proper flow section featuring berms and sculpted jumps.
Whistler can have an intimidating reputation to newer riders, but not all the trails in the valley require you to ride like a pro. The network at Lost Lake is perfect for gaining confidence on a bike or introducing kids to the sport thanks to its rolling terrain. With a smaller network of trails, it's easy to wander and explore and find your way back to the main trailhead. Plus, with Lost Lake right in the middle of the network, there's always the option for a mid-ride dip to cool off during summer heat.
None of these trails would have been possible without the dedicated efforts of WORCA (Whistler Off Road Cycling Association), the local mountain bike advocacy group. Even as a visitor, you can partake in a trail day or make a donation that will support local trailbuilding efforts. Supporting WORCA is a great way to give back to the community and ensure that the riding stays world-class for generations to come.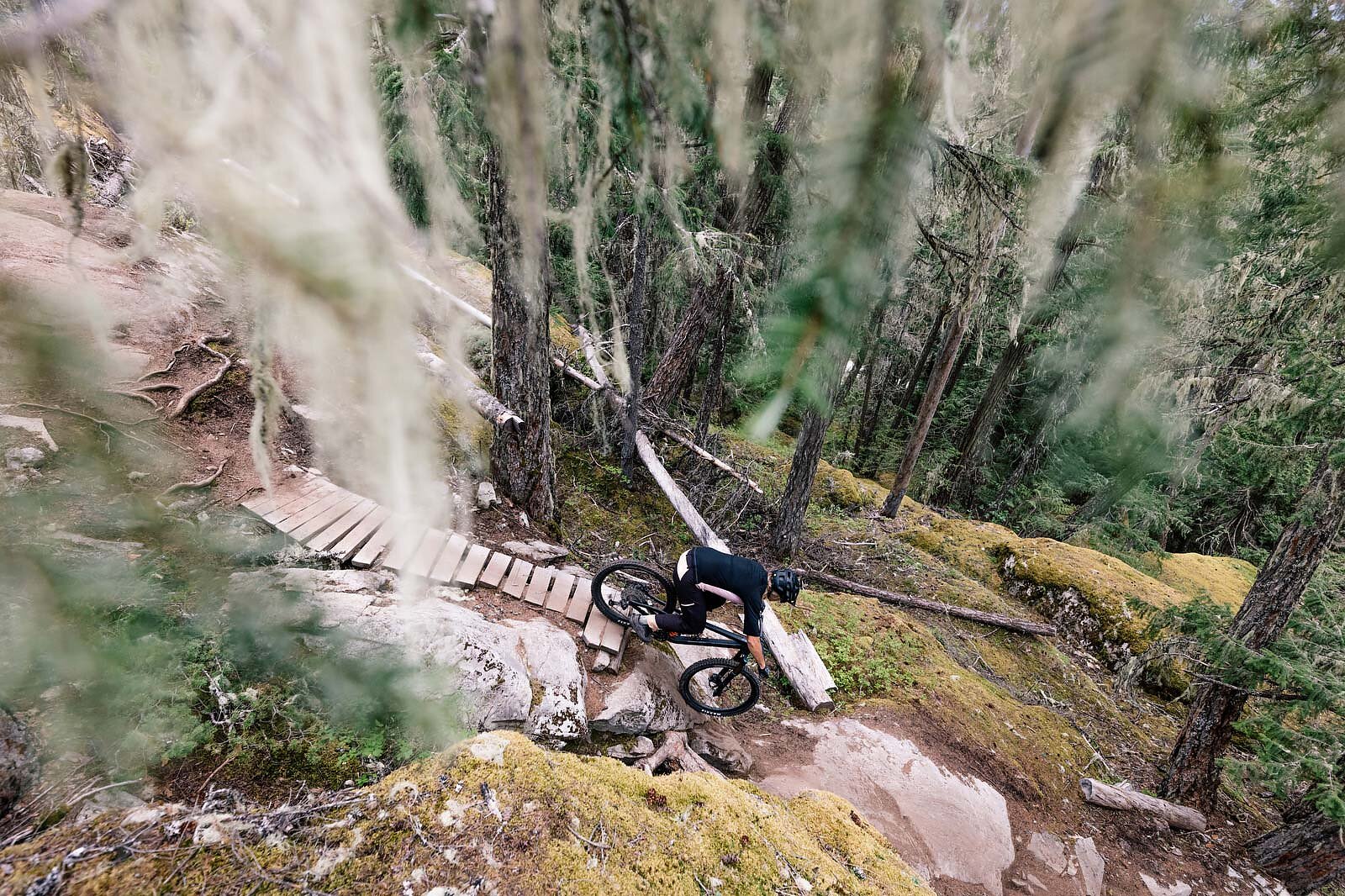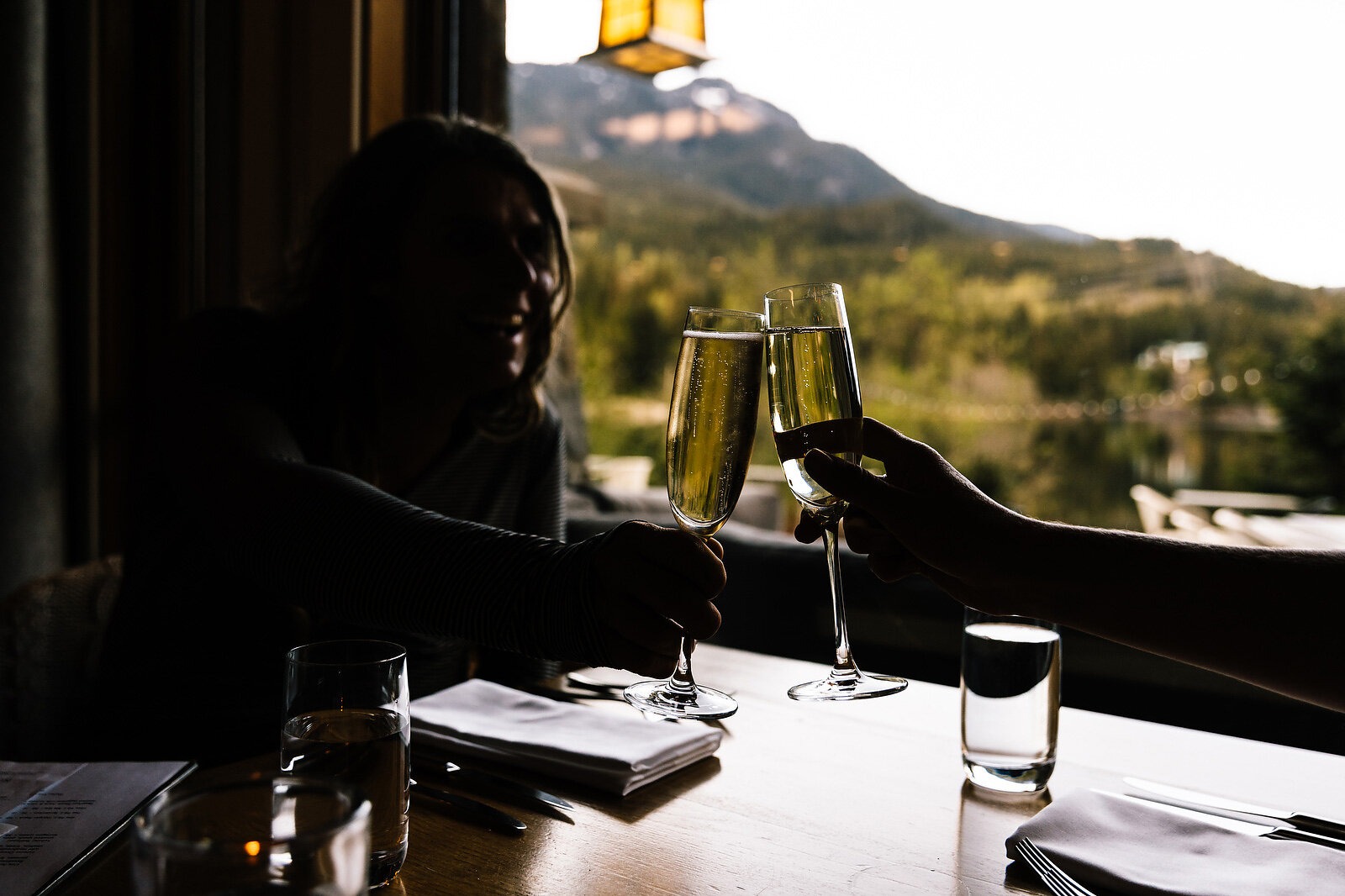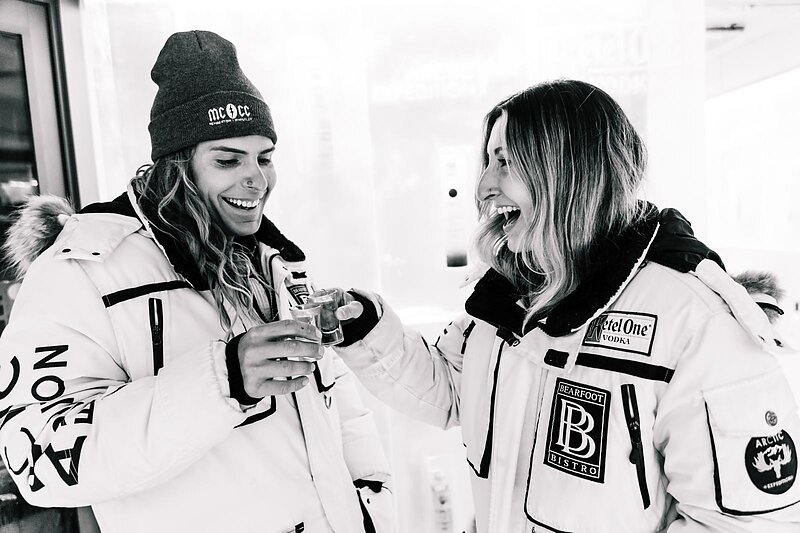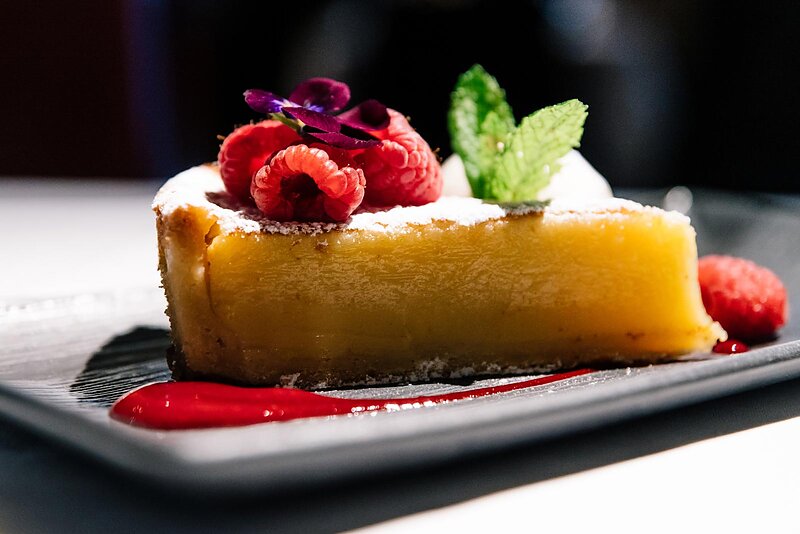 ---
Fine Dining
There's no shortage of great places to eat in the Whistler area. The challenge, however, lies in deciding where to go. Ultimately, it comes down to what you're craving. 
For seafood lovers, dinner at the Araxi Restaurant and Oyster Bar is a must. For the last 40 years, Araxi has delighted Whistlerites with their farm-to-table food, sourcing everything from wine, produce and seafood from the greater B.C. area. At the base of the restaurant's culinary vision is a question: Why get it from elsewhere when you can get it within 100 miles of Whistler? Nestled right in the heart of the village, Araxi has been a favorite of locals for celebrations, birthdays and treat-yourself meals. As its name suggests, oysters are Araxi's signature dish and best shared with a group; that way, you can try more than one type. 
Sushi Village is another legendary spot and has been a cornerstone of the community since 1985. When it opened, it was the sixth restaurant in the village and the first of its kind—predating the sushi trend that would later sweep through North America. Originally founded by three friends, Miki Homma, Toshi Saito and Koji Shimizu, the restaurant is a byproduct of bold dreams and the quest to ski as much as possible. Pop by for one of their legendary rolls—Super Hiro or Hot Volcano Roll—and stay for the warm and vibrant atmosphere.
There's no better place to indulge than the highly acclaimed Bearfoot Bistro. It has everything you'd expect from a five-star establishment except for that it ditches the stiff fussiness of fine dining. On top of delectable cuisine such as Butter-Poached Lobster and Haida Gwaii Halibut, Bearfoot Bistro offers unforgettable one-of-a-kind experiences to couple with your meal. For example, when you order a bottle of champagne, you can opt to saber the top like Napoléon in the restaurant's underground wine cellar. Choose from a traditional saber, samurai sword or the unconventional light saber to let the bubbles flow, and savor the drink surrounded by some 20,000 bottles of the world's finest wines. If bubbly isn't your style, Bearfoot Bistro also offers vodka tasting in their Ketel One Ice Room. For $52 per person, sample four vodkas of your choice in the world's coldest vodka tasting room. While the minus 26-degree Fahrenheit room temperature might seem chilly—don't worry, they provide you with plenty of warm layers, and the chill takes the edge off the alcohol.
For those looking to escape the buzz of the village, the Lakeside Restaurant at the Nita Lake Lodge is a mini oasis just minutes from the resort. Enjoy views of the glacier-fed Nita Lake while indulging in modern alpine cuisine. From intricate art installations to cozy faux fur throws and a gorgeous outdoor patio nestled next to the lake, the restaurant's chic ambiance makes it hard to leave.
Pro tip: Many of Whistler's fine dining restaurants offer off-season specials. A high-quality four-course meal during these seasons can be had for around $39-49 per guest—an excellent option for more budget-minded travelers. Check the restaurant's website before traveling to learn what kind of deals are being offered.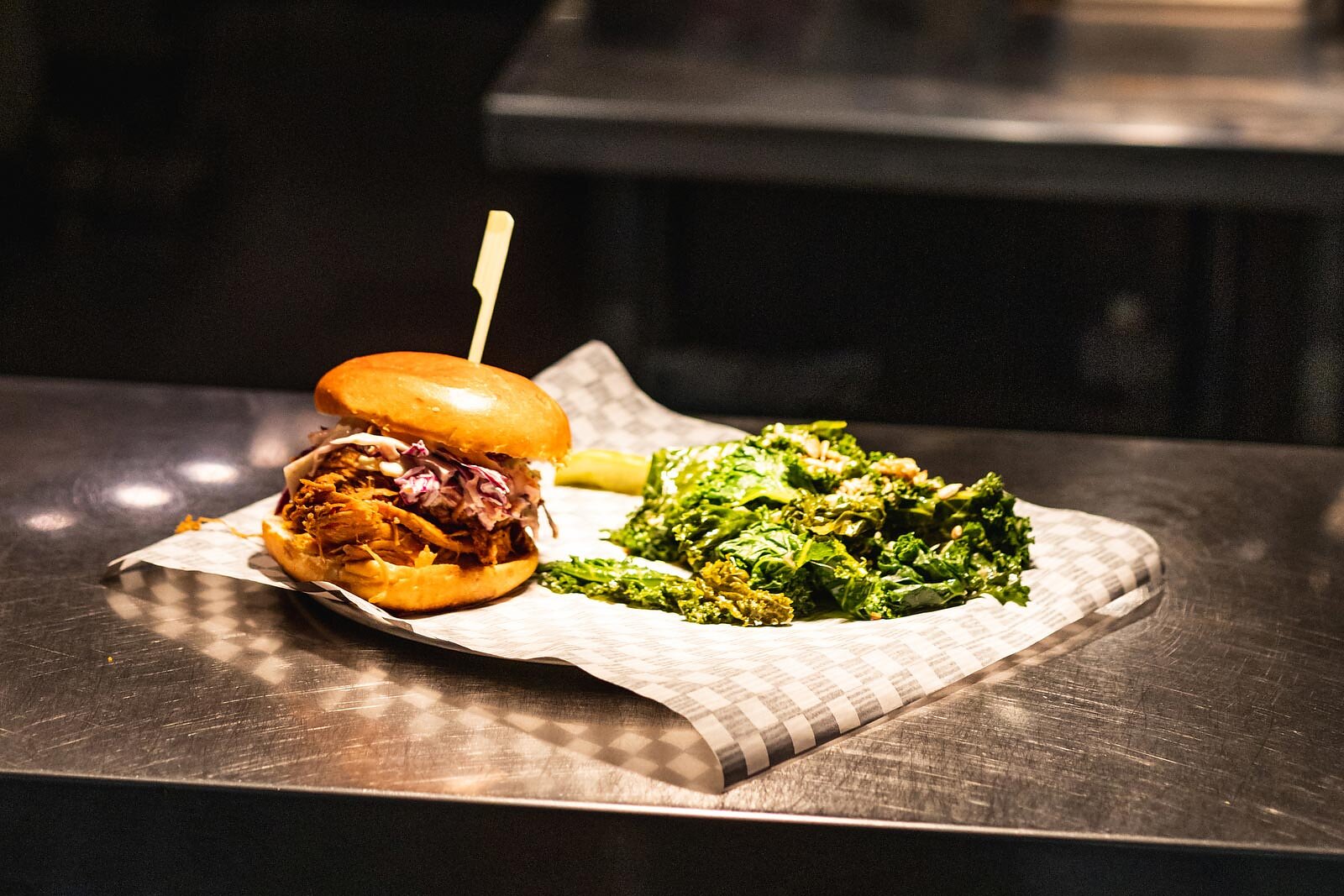 ---
Casual Dining
The food scene here isn't all glitz and glamour. If you're looking for a spot to roll up to while you're still in your bike clothes, there are plenty of options to satisfy a post-ride appetite.
For a proper sit-down breakfast, Crêpe Montagne has all kinds of sweet and savory crepes to fuel you up for a busy day of biking. On top of mouth-watering breakfasts and lunches, Crêpe Montagne has become a go-to spot for après, offering cheese fondues, meat fondue, and Swiss raclette. Experience a small taste of France here without having to leave British Columbia. The Hot Buns Bakery is an excellent place for more of a grab-and-go style breakfast. This cozy spot, with its adorable French-inspired façade, is most famous for its giant cinnamon buns. Share one with your friends or treat yourself to a whole one—just don't skimp on the homemade icing. On top of sticky sweets, Hot Buns has quickly made-to-order waffles, crepes and all kinds of other delectable pastries. 
One of the most convenient places to grab lunch—especially on a budget—is El Furniture Warehouse. It's the perfect place for a quick bite, drinks for après, or a late-night snack with friends. Their menu offers everything from hearty burgers to refreshing salads to adventurous cauliflower Tao bowls. The best part? Every dish is under $10. Another easy, casual spot is Hunter Gather, which has breakfast, lunch, dinner and an impressive selection of craft beer. The food here is a happy blend of Southern comfort favorites (smoked brisket, chicken, waffles) and locally sourced ingredients. Their spacious dining room is big enough to accommodate most group sizes and is a great place to gather with friends and family.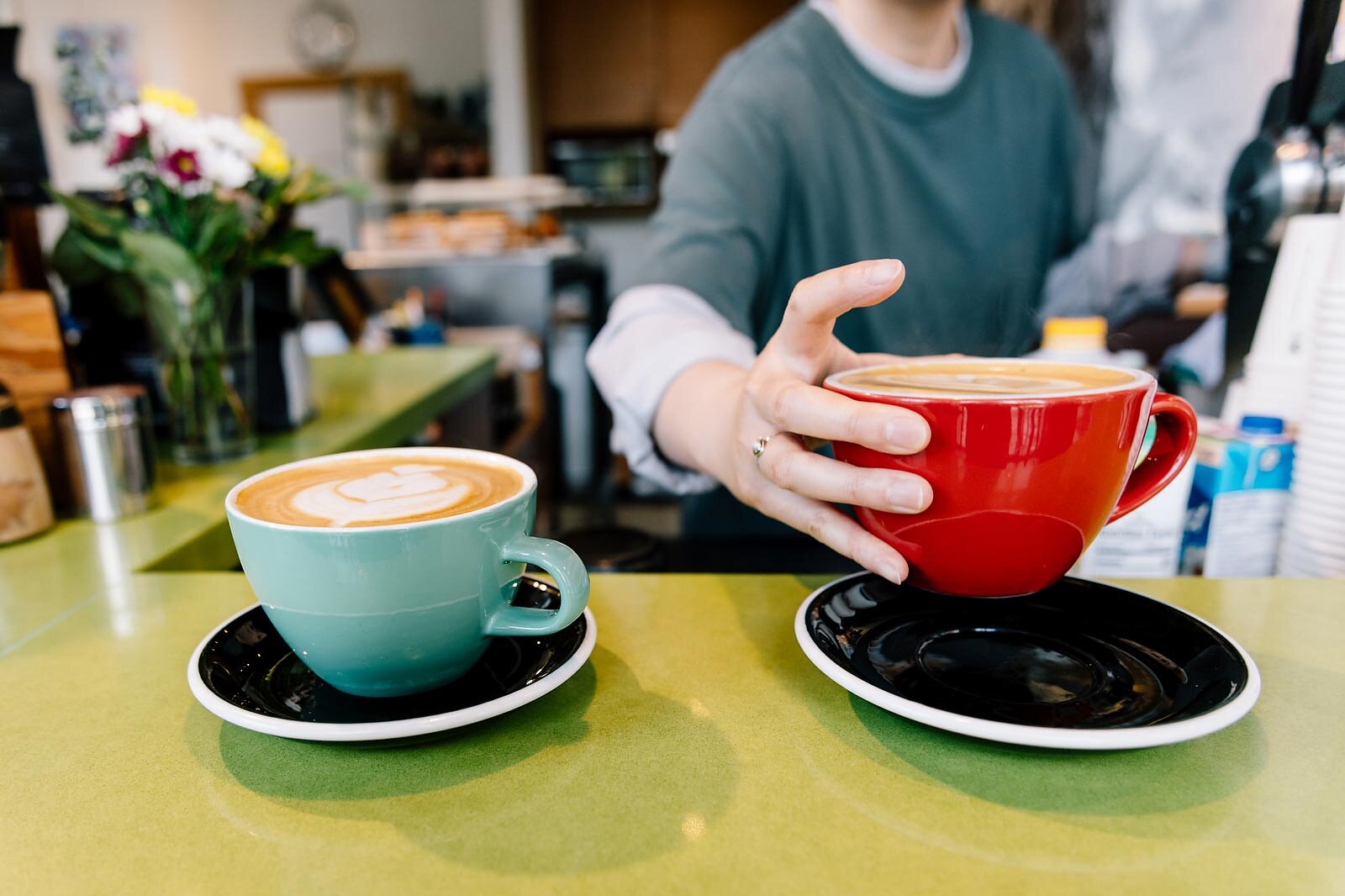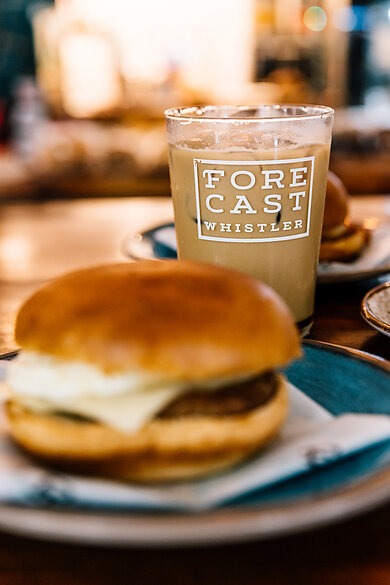 ---
Coffee
Start your day of riding with a dose of caffeine from one of Whistler's many local coffee shops.
Right in the village are a few favorites such as Blenz Coffee, which is locally owned and operated. Boasting a wide selection of specialty coffees and teas, they have everything from organic whole leaf teas from all over the globe to single-origin Colombian chocolate that is the basis of their award-winning hot chocolate. Mount Currie Coffee is a favorite among coffee aficionados, famous for its commitment to sustainably sourced, delicious coffee. Their intimate cafe—adorned with art from local artists—is the perfect nook to enjoy a relaxing breakfast before heading to the bike park.
Outside the village, there are many cafes worth dropping by—especially if you want to escape the hustle and bustle of tourism during peak season. Cranked Espresso Bar is just north of the village and offers everything from coffee, fresh-baked pastries, breakfast, lunch and local craft beer and B.C. wines. Their patio is a great spot to relax and soak in the views of the mountains after a full day of riding. Even further off the beaten path in Whistler's Function Junction neighborhood is Forecast Coffee. This local cafe acts as a gathering place for friends and colleagues to catch up over organic, fair-trade and ethically sourced coffee. Its calm and relaxing ambiance also makes it a great spot to work for a while.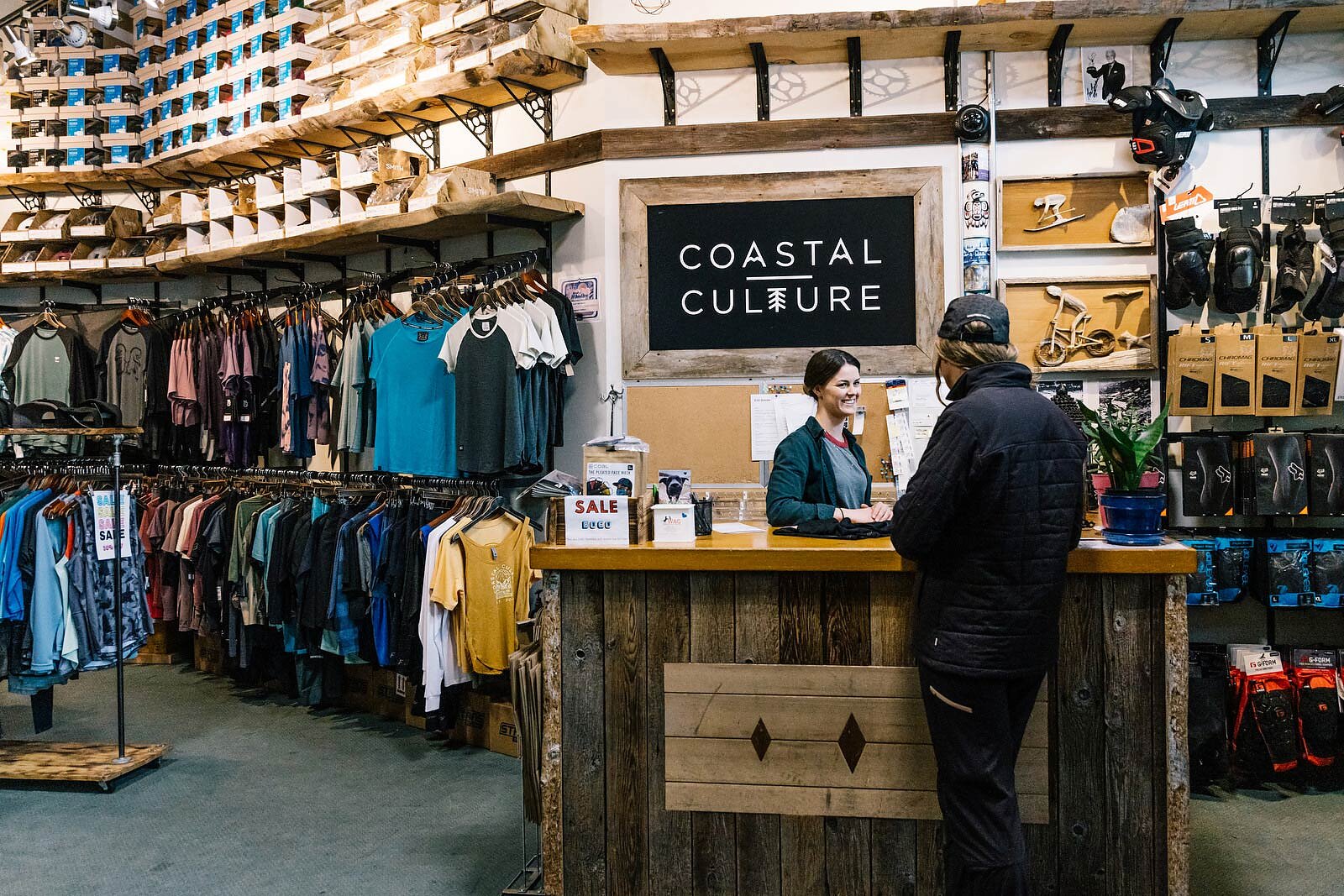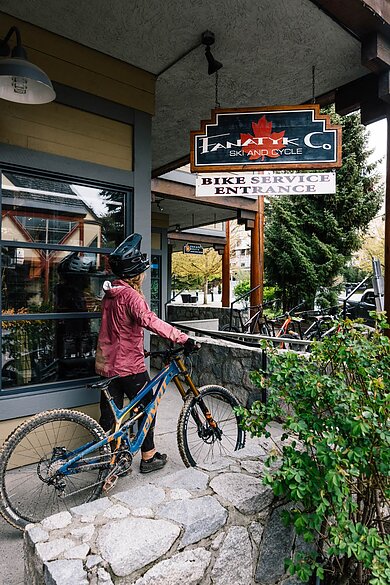 ---
Bike Shops
If you need an unexpected repair or forget your bike shoes at home, take comfort knowing that Whistler's many bike shops will have you covered during your visit.
A local staple since 1996 is Fanatyk Co Ski and Cycle, located right in the village. The employees at Fanatyk are used to mud-splattered customers rolling right into the shop and they're always happy to answer questions about trails or assist with any gear or service-related questions. Another village-based shop is Arbutus Routes, which has rentals, retail, mountain bike tours and bike service. This boutique bike shop prides itself on its personalized adventure trips to showcase what the area has to offer. 
Evo Village Sports is a recent addition to the village bike shop scene, which took over the former Whistler Village Sports. Evo has been a steadfast pillar of culture and commerce in the adventure sports community for the last 20 years through its work as an online gear retailer. Now with their brick-and-mortar shops across North America, the retailer aims to provide world-class service coupled with local expertise. The new Whistler shop is a full-service bike and ski shop with rentals, repairs, ski boot fittings and more.
Just outside the bike park in Creekside is Coastal Culture. It's a beloved shop known for its world-class service, gear selection and bike rentals. Locally owned and operated, the staff are passionate about mountain biking, skiing and snowboarding and eager to share that knowledge the second you come through the front door. The shop's all-day enduro rentals are an excellent option for those looking to ride both the bike park and valley trails.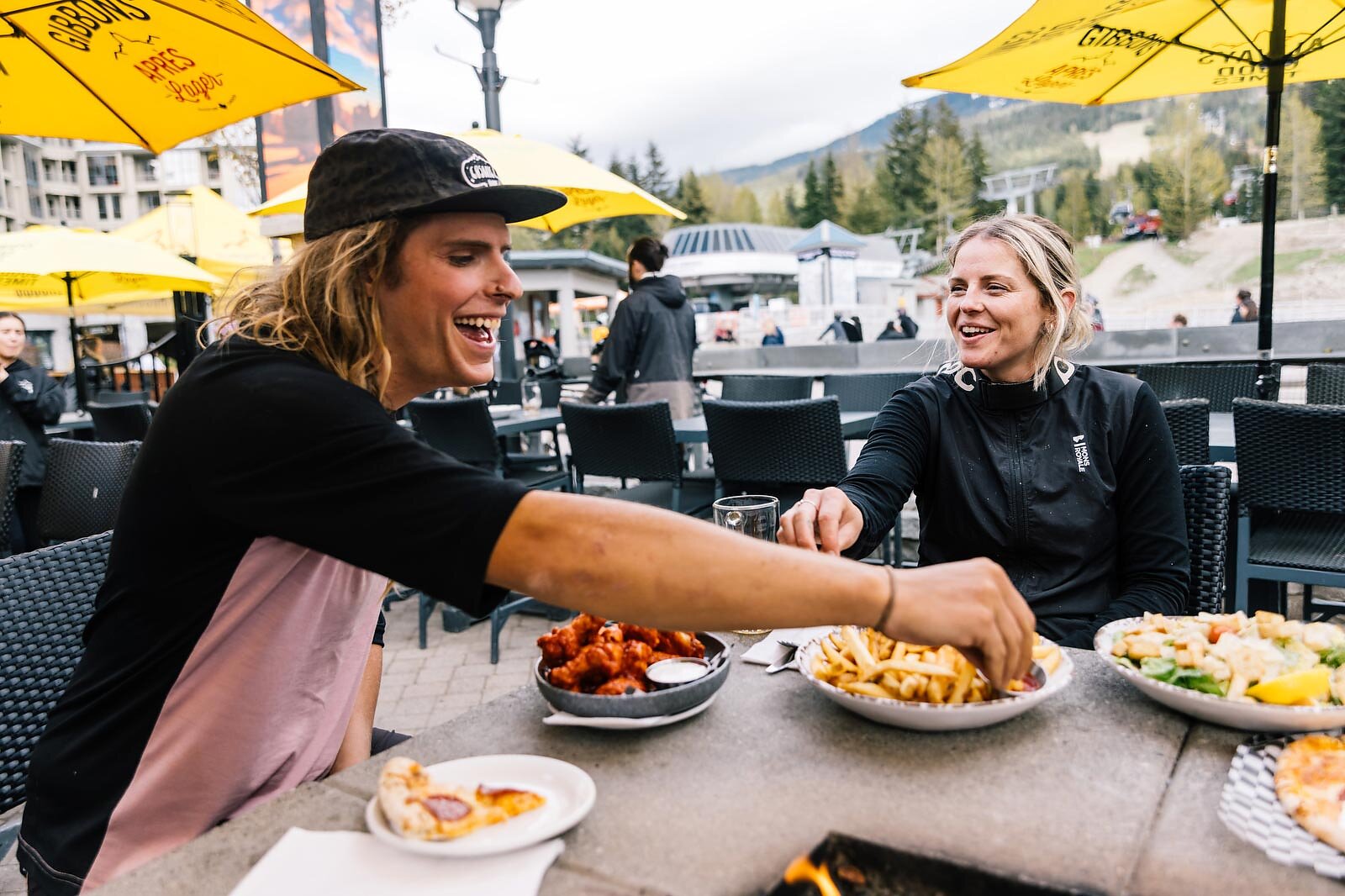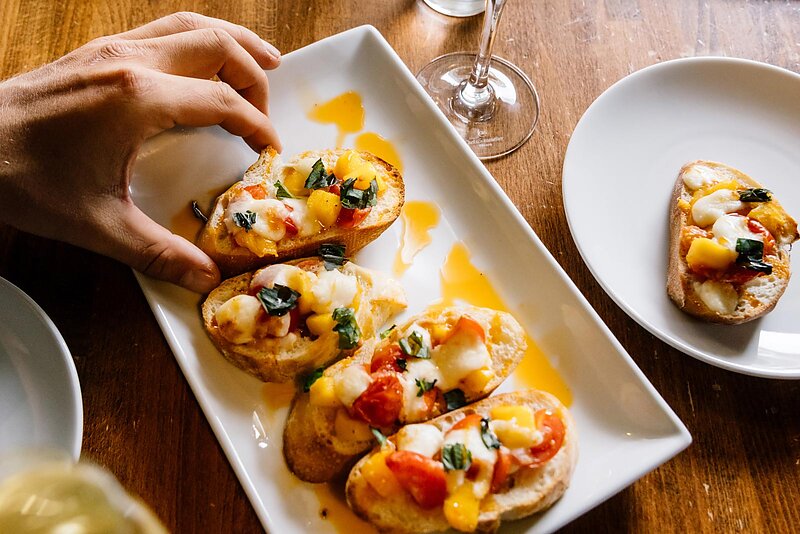 ---
Après
A resort town wouldn't be a proper destination without a good après scene, and Whistler doesn't disappoint.
The Longhorn Saloon is a classic haunt known for its vibrant party atmosphere. Simply roll off the mountain and drop your bike on the bike stand, and you'll have beers and poutine to share in no time. Famous for its champagne showers and Longhorn nachos, the Longhorn Saloon has always been a spot to let loose and enjoy being on vacation. Another easy spot in the village is the Garibaldi Lift Co. Bar and Grill, tucked right above the Whistler Gondola building. Its open lounge is ideal for enjoying a cold beverage with friends while looking out at the surrounding village and bike park.
Elements Urban Tapas and Wine Bar is a great restaurant to enjoy a few glasses of wine paired with thoughtfully crafted dishes for those looking for more casual après. The tapas are best shared and feature seasonal ingredients, meaning the menu will always keep you on your toes. If chilling at a brewery is more your style, Coast Mountain Brewing is a cozy craft brewery with some of the best beers in town. Their taproom is intimate and feels like an extension of your home. Try a flight of beer while you're there so you can find your favorite.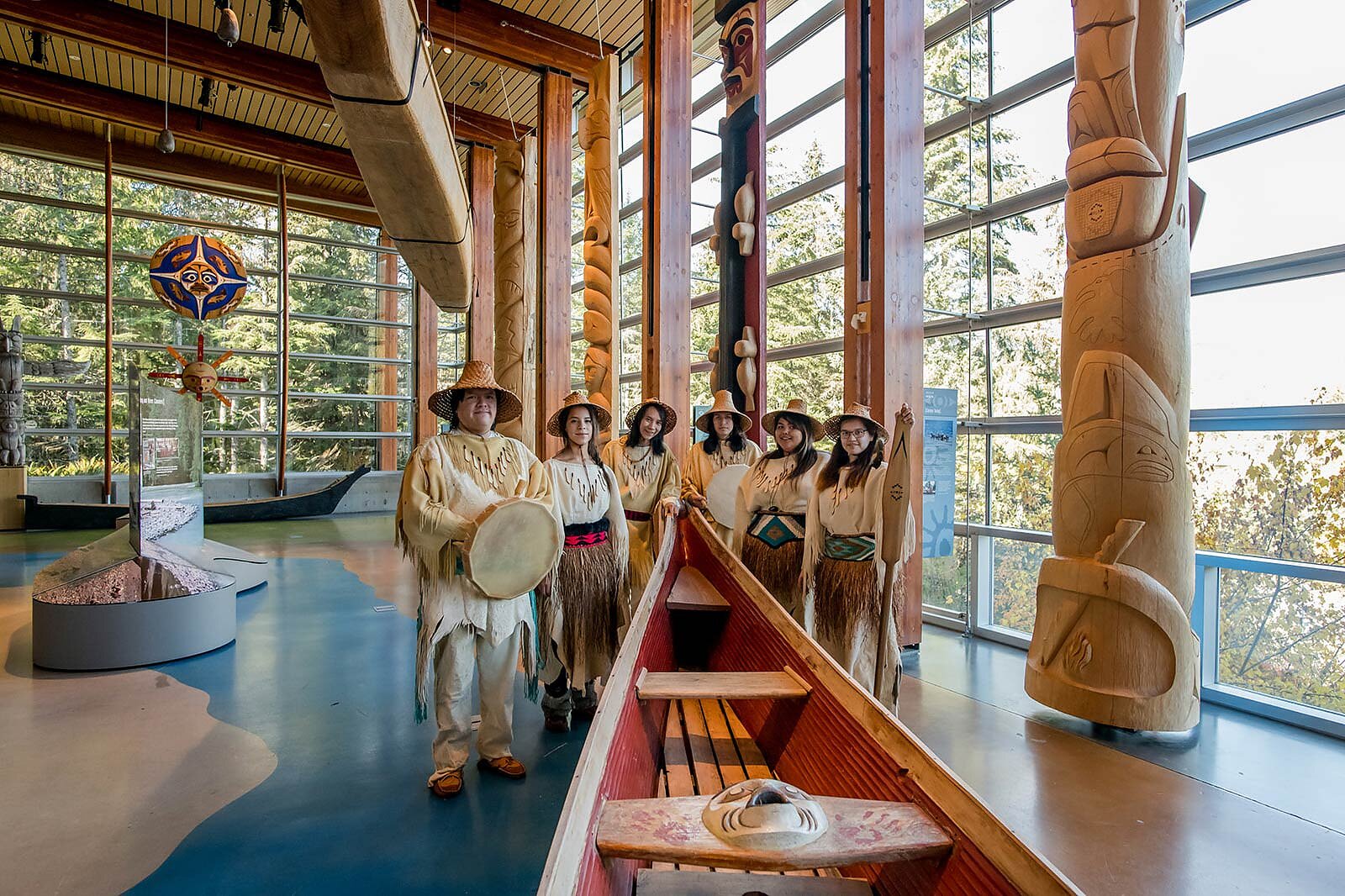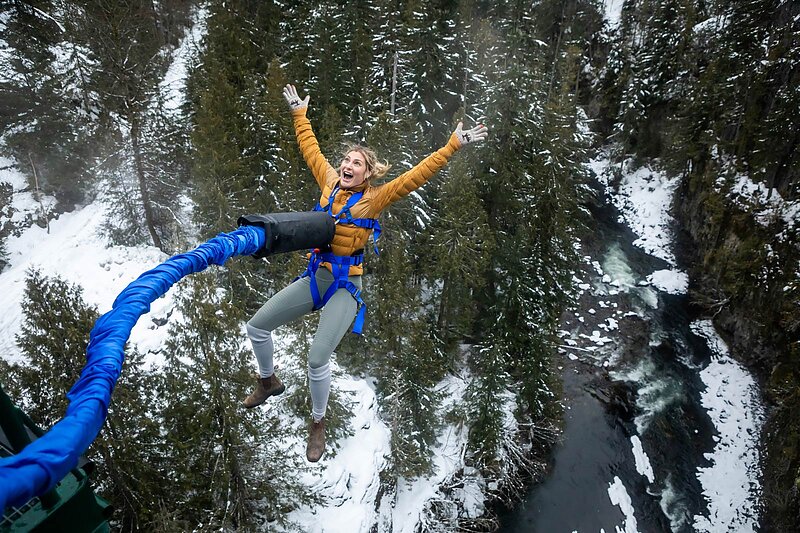 ---
Must-Do's
While Whistler is known for being an outdoor hotspot, there are plenty of things to do on a rainy day or when you need a day off from the bike.
Learn more about the local Indigenous tribes—the Squamish Nation and Lil'wat Nation—at The Squamish Lil'wat Cultural Centre (SLCC). It's the first cultural and educational center of its kind in Canada and was created by both tribes to share, honor and celebrate their cultural traditions. With a selection of permanent and temporary exhibits and live demonstrations including weaving, carving and cedar prepping, the SLCC provides a one-of-a-kind opportunity to learn more about the Indigenous communities and unceded territory of the Whistler region, especially those of the St̓át̓imc Tmicw (St'at'imc), Skwxwú7mesh-ulh Temíx̱w (Squamish), and Lil'wat Nations.
The Audain Art Museum is also a must-visit, featuring an impressive collection of British Columbia's most renowned fine artists from the 18th century to present-day contributions. Highlights include one of the finest collections of Northwest Coast First Nations masks, a variety of Emily Carr's work and art by acclaimed post-war modernists such as E.J. Hughes and Gordon Smith.
For those looking for a little more R&R, the Scandinave Spa is the perfect relaxing getaway. This outdoor spa blends majestic scenery with the Finnish tradition of outdoor soaking to create an unforgettable experience. Their open-air baths are accessible year-round and will prepare you for another long day on the bike.
Not getting the adrenaline rush you're craving on your bike? Taking the 160-foot leap with Whistler Bungee might do the trick. Perched above the glacial-fed Cheakamus River, Whistler Bungee blends the breathtaking scenery of old-growth forests and basalt column cliffs with the ultimate thrill ride. Their operations are open year-round and they jump in all weather (except lightning), making it an excellent option for the days you can't ride.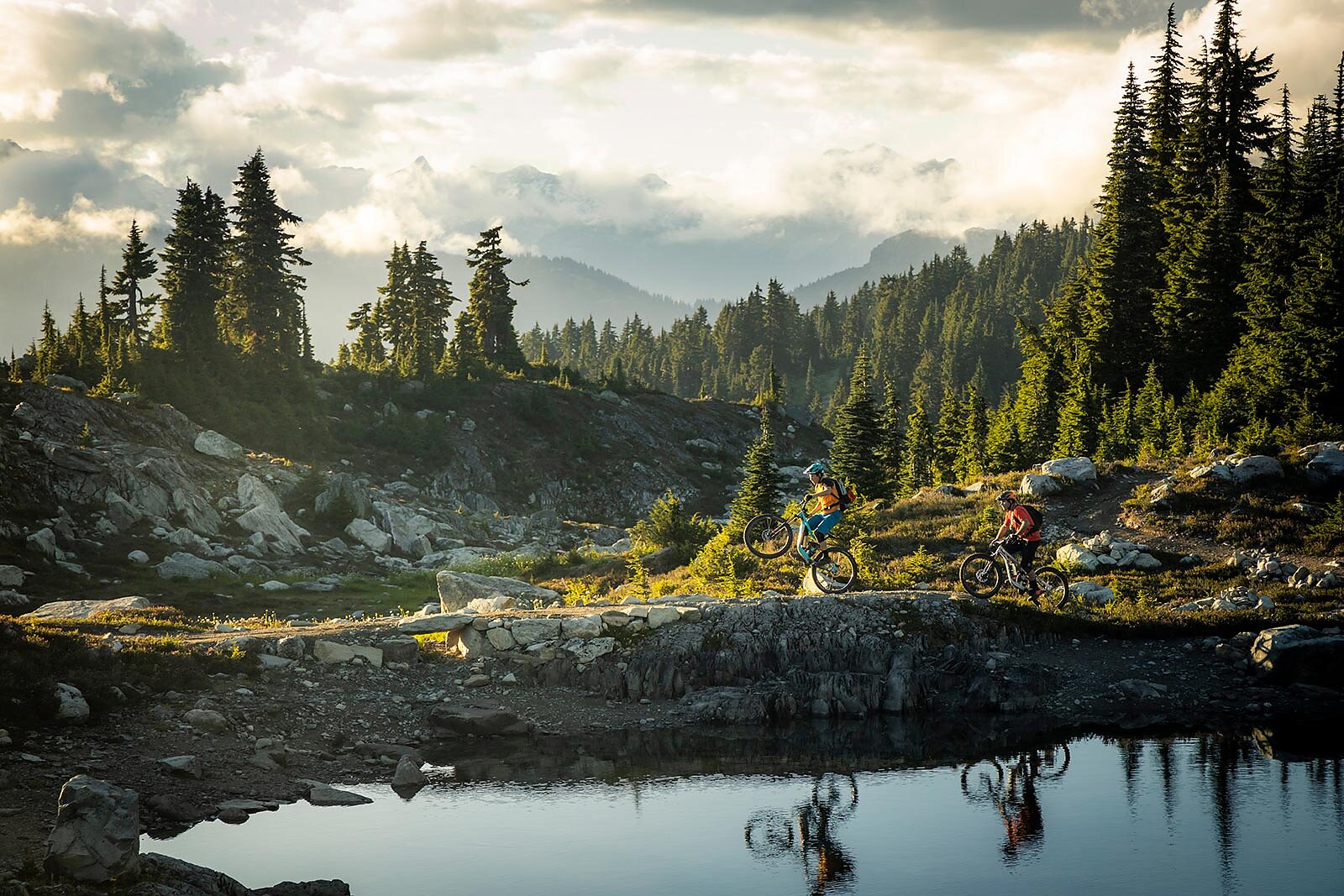 ---
Read more about the Whistler area.
Read about making the most of the off-season in Whistler, B.C.
Read about the making of the Whistler Bike Park.
Read about Whistler's Unsung Trail Heroes.
---