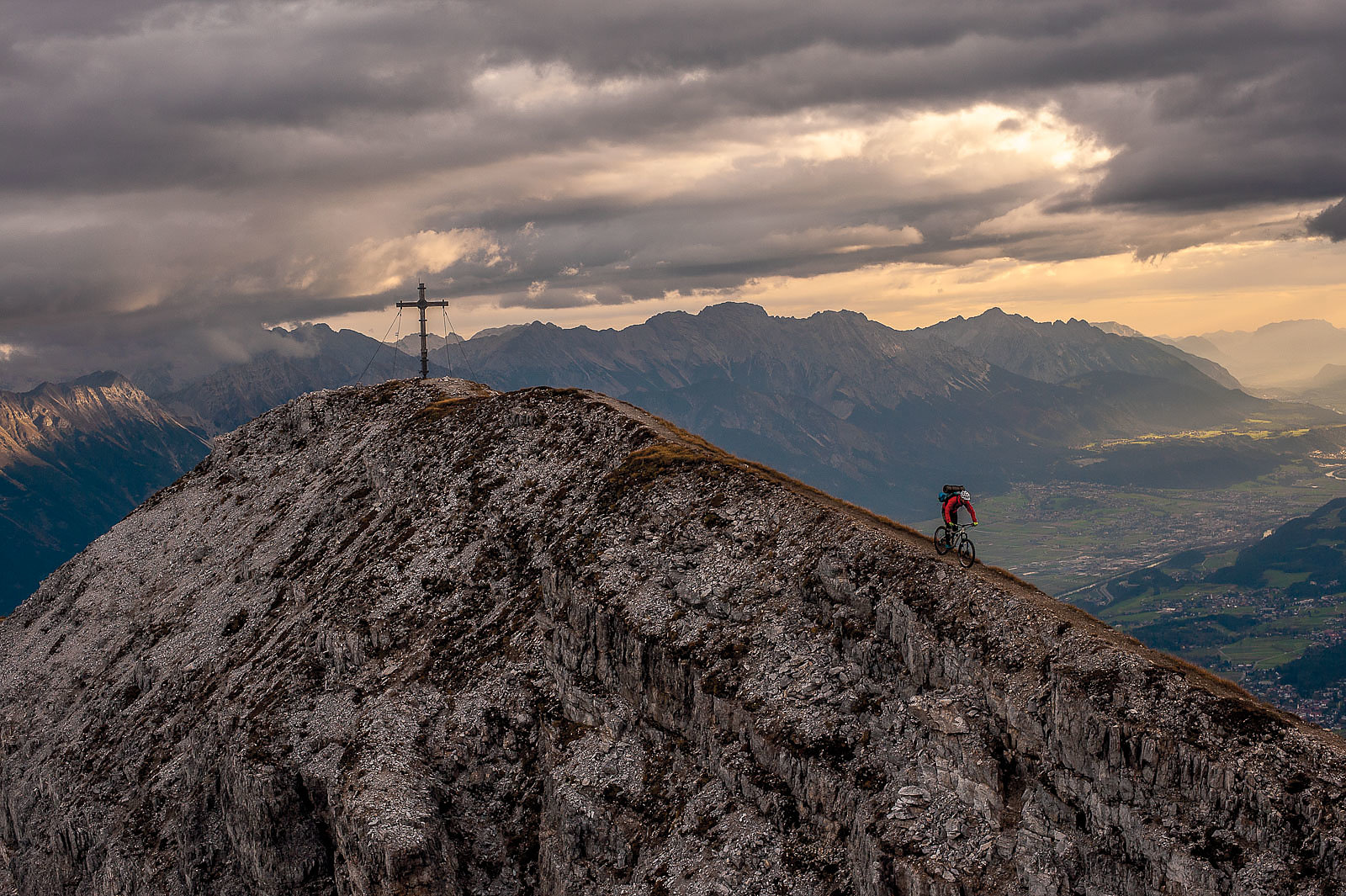 Truly Deserved Reluctant Evolution in Bike City Innsbruck
Pilots call the Innsbruck Airport one of the most challenging—and exciting—approaches in Europe, and for incoming passengers it's obvious why.
The small Austrian city is cradled by massive peaks, requiring approaching planes to first navigate a deep, narrow valley. Meanwhile, they must battle constantly changing weather, and the air space is so limited that pilots making their final descent are required to land, no matter the wind direction. They don't have much room on the ground either, as the short runway is pinched between steep mountainsides. It's so challenging, in fact, that a special license is required to even fly there at all.
It all makes for an impressive vista, but one part is especially majestic: the "Nordkette," a mountain range north of the city. This huge rock formation best illustrates what makes Innsbruck unique. If you're in town, you're at an altitude of 1,883 feet, and those peaks are mostly a stunning backdrop. Yet in just 20 minutes, after riding a cable car and two gondolas, you can be at a lofty elevation of 7,545 feet and among the Nordkette—hopefully in warmer clothes, and hopefully enjoying a beverage at the aerie-esque Hafelekar top station.
That's how fast you can swap city for summits in Innsbruck. It is undoubtedly blessed with a unique location; the stunning mountains, yes, but also boasts a vibrant urban life. Many of Innsbruck's 130,000 inhabitants live here for this exact reason, including students who came to study at the local university but stayed because of endless outdoor opportunities. Local professional mountain biker and trials rider Fabio Wibmer is currently working toward a sports management degree.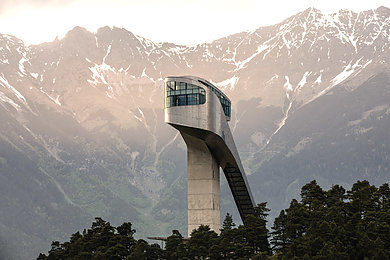 And Wibmer isn't the only world-class athlete in Innsbruck. Former trials world champion Tom Öhler lives here, as does adventure biker Harald Philipp. Photographers Stefan Voitl and Manfred Stromberg are often out shooting on the trails, and it's one of Danny MacAskill's favorite places. Innsbruck is a bit like what Waikiki, HI is for surfing, but for a plethora of sports.
That's not just an opinion. Innsbruck has hosted the Olympic Winter Games twice, the Youth Olympic Games once, and this year will be home to both the IFSC Climbing World Championships and the UCI Road World Championships. It's also the birthplace of the annual Air + Style snowboard freestyle event, the first of which took place in 1994 and is one of the reason Innsbruck has been called Europe's snowboarding capital since the late '80s.
It's surprising, then, to hear that mountain biking didn't legitimately arrive in the city until 2017, at least not on the same scale as other sports. And although it has a deep, influential mountain bike history and its official summer slogan is "Bike City Innsbruck," its path to truly deserving that title was not a steady one—nor has it ended yet.
Understanding mountain biking's late arrival in Innsbruck requires returning to the 1990s. No matter where you lived at the time, as a sport mountain biking was in its infancy; as a mindset, however, location made a big difference. In North America, companies and communities were already seeing its larger potential. Not so in Europe. Even as the turn of the century approached, mountain biking was still regarded as an extreme sport practiced by a few freaks.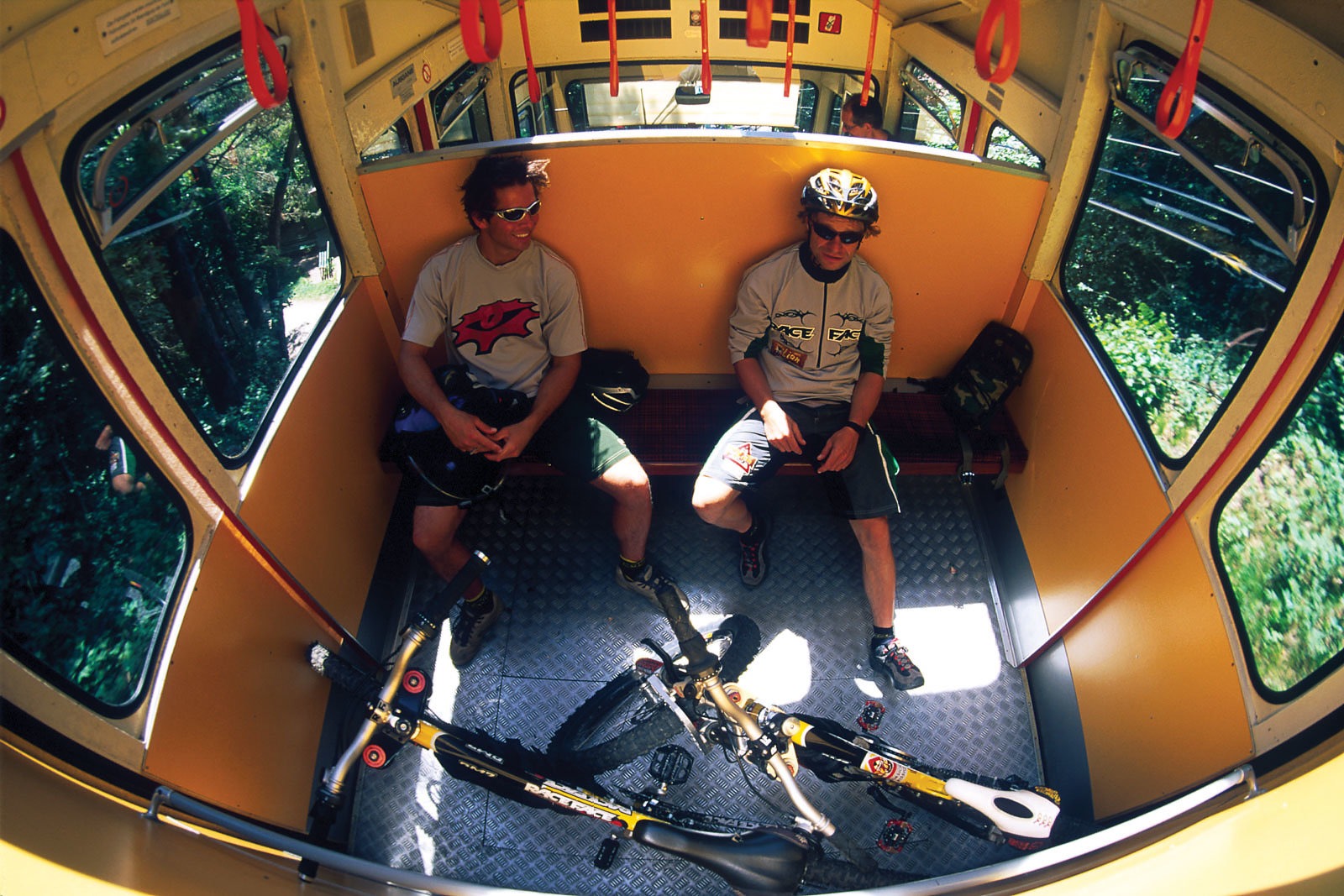 Thanks to the university, by the late '90s a cluster of those freaks—most of whom met as students—were already calling Innsbruck home. Three of the most passionate were Christian "Picco" Piccolruaz, Christoph Malin and Paul Mair, who aimed their extensive alpine climbing and skiing experience toward two-wheeled pursuits. For the trio, it was all about 3.0" Gazzaloddi tires, Gustav M brakes and a 24-inch back wheel, as well as guinea-pigging any trail or summer road marked as "unrideable."
More riders joined this handful of misfits, enough so that in 2001 the "Vertriders" were born. The group had as many as 20 members during their heyday in the early to mid-2000s, and there is hardly a peak around Innsbruck up which they didn't push their 45-pound bikes, inching back down via goat-trail-like paths. News of the Vertriders' antics even made it across the Atlantic, drawing icons like Brett Tippie and Darren Berrecloth. Legend has it that while on a trip to Innsbruck for a photoshoot with Germany's Freeride Magazine in the early 2000s, Berrecloth suffered a brutal crash on a high-consequence route. Piccolruaz had joined the shoot as ride leader and local talent, and after Berrecloth's tumble the chief editor took Picco aside and appealed to his responsibilities as mountain guide. "He asked me not to kill Berrecloth and ride something more mellow," Piccolruaz says with a smile.
The Vertriders continued quietly pushing limits through the mid-2000s, conquering more first descents and making videos of their stunts and mountainous debauchery. But they also began working on something more official. In 2009 they opened their newly finished Nordkette Singletrail, a long, steep descent the crew had spent multiple years building, and upon which they held what is still one of the most spectacular and fearsome downhill races in mountain bike history: the Nordkette Downhill.PRO.
In true Innsbruck ultra-gnar tradition, the course plummeted more than 3,000 vertical feet over a mere 2.7 miles of trail. Georgy Grogger, a Vertriders member and owner of the trail-building company Trail Solutions, invited top athletes like Greg Minnaar, Casey Brown, Tracey Hannah and Wyn Masters to compete against the fastest locals. Over the next few years, the Nordkette Downhill. PRO became a stop for the best racers in the world, including Sam Hill, who set the track record in 2012 with a time of 9.21 minutes. The event ended after 2015, but not before Marcelo Gutierrez became the last person to clock a sub-10-minute run.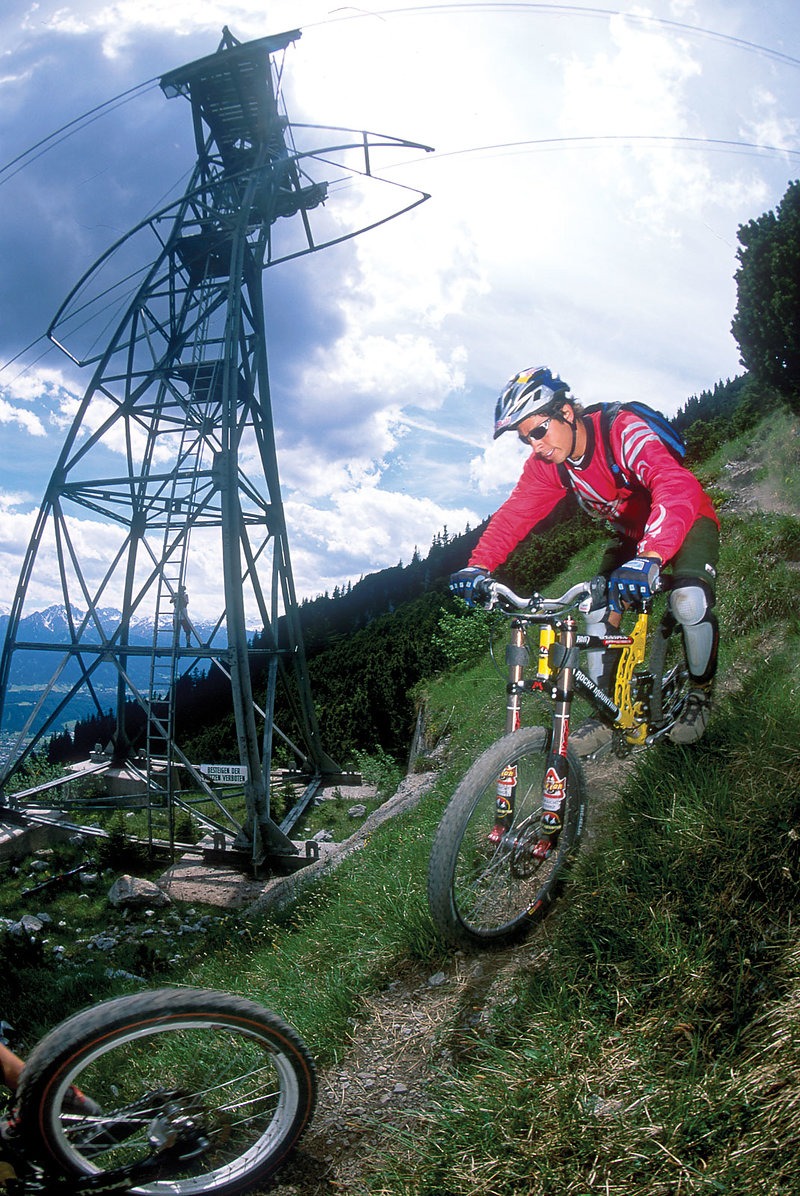 With the popularity of the Nordkette Downhill.PRO came the hope that mountain biking had finally established a legitimate foothold in Innsbruck. Instead, the bike community found itself battling the same head- winds as before. Even as an increasing number of citizens picked up the sport and the Nordkette Downhill. PRO was showcasing Innsbruck's stunning terrain to the world, new barriers were going up. Officials began enforcing a ban on carrying downhill bikes in buses and trams, already on the books but until then mostly ignored. The local government enacted stricter regulations for race organizers, making it unprofitable to host events in the city. Another rule banned taking dirty bikes on cable cars, despite there being no facilities to wash them.
Then came another blow. In early 2016, Grogger decided to shut down Trail Solutions—a big deal, as Grogger and his company were responsible for organizing the entire European Enduro Series, as well as a few other events. But with the Nordkette Downhill.PRO, Grogger and the Vertriders had shown the world what Innsbruck had to offer. As Minnaar said after running the race; "You have so much potential here. Why don't you use it?"
Considering the anti-bike sentiment, it's somewhat ironic that things finally began to change for the better just a few months after Grogger closed Trail Solutions. The first shift was as symbolic as it was confounding, when in the spring of 2016 the city leadership suddenly announced a new slogan: "Bike City Innsbruck," which left locals scratching their heads. Which Innsbruck were they talking about?
Their doubts about the claim were real and understandable. At the time, Innsbruck had one official trail to offer: the Nordkette Singletrail, which was too challenging for 98 percent of riders. And it wasn't a title the city could claim by default, either. Nearby areas such as Saalbach Hinterglemm and Leogang were years ahead, with Leogang having opened its bike park in 2001. Thirty minutes away, in Soelden, diggers were already working on the biggest trail construction site on the continent.
All of this made Innsbruck's next development even more shocking for the Austrian bike community. During the 2016 Joyride event in Whistler, BC, head of Innsbruck Tourism Karin Seiler-Lall, alongside Crankworx General Manager Darren Kinnaird, announced a new Crankworx event would take place in the city. It was to start in late June, an optimistic 10 months away.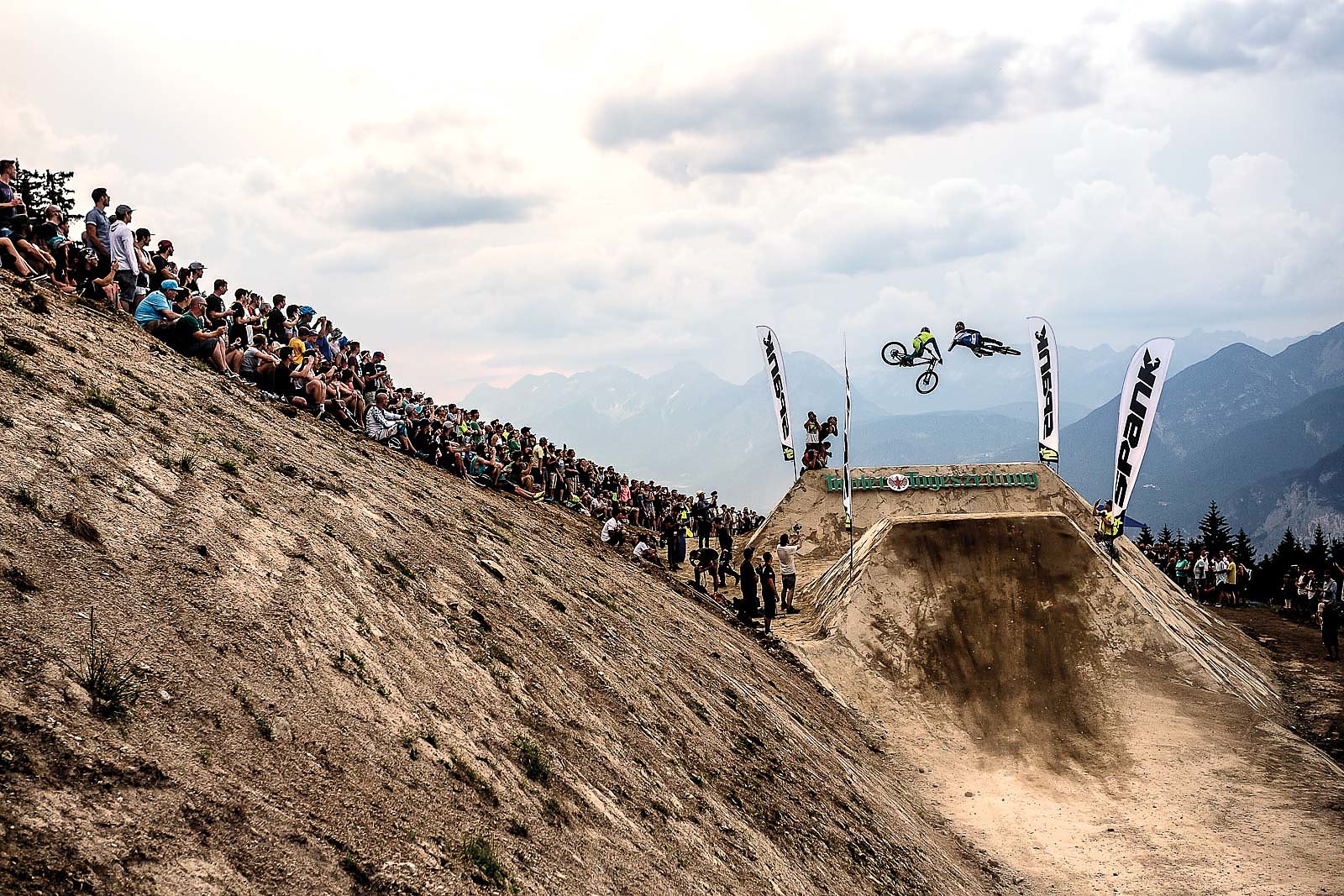 Preparing to host the world's largest mountain bike festival within such a short period of time is a feat on its own. To do so while also building an entire mountain bike infrastructure, including trails and facilities, seemed impossible. As Benedikt Purner, a renowned Vertrider and trail-builder, put it at the time; "Innsbruck successfully applied for Formula One, but only has a go-kart track to offer."
Crankworx is one of mountain biking's most prestigious international events, and just like Formula One, it has equally lofty standards. The fear that Innsbruck wouldn't meet them—and thus make the "Bike City" look ridiculous—was very real, especially since many local riders saw the whole thing as a marketing gimmick to draw tourists. The overwhelming opinion was that a lot of money was about to be invested in something with little benefits to the city's bike community. In less than a year, that opinion would be tested.
At 6 p.m. on June 21, 2017, a train of riders dropped into a jump line from the top station of the newly opened Bikepark Innsbruck. Crowds lined the course, cheering as athletes attempted to get as sideways as possible during the first event of Crankworx Innsbruck: the Whip-Off contest. It was a rowdy kickoff, but Whip- Offs are always popular. There was still a week to go, and plenty of opportunities for things to go wrong.
But when racers dropped in for the final event, the Innsbruck Downhill, those same cheering crowds lined the course, and the energy was still at full volume. Against the odds, the city had succeeded.
The next few days saw hiccups, such as the overly long walk from the shuttle to the main venue, as well as Bikepark Innsbruck's limited offerings, which Hans Rey called "only just half a trail." But when racers dropped in for the final event, the Innsbruck Downhill, those same cheering crowds lined the course, and the energy was still at full volume. Against the odds, the city had succeeded.
Locals, however, were mostly excited about being wrong: The expensive infrastructure that many had seen as a tourism stunt was there to stay. Bikepark Innsbruck and all its freshly built trails remained open to the public, and the community (namely Mountainbike Initiative Tirol) was invited to build a trail on the other side of the valley. Their creation, dubbed the Arzler Alm Trail, was ridden 9,000 times in its first seven months and is now the region's most popular after-work ride. Innsbruck now recognizes mountain bikers as a target audience, on the same level as they do climbers and hikers, for visitors and city residents alike.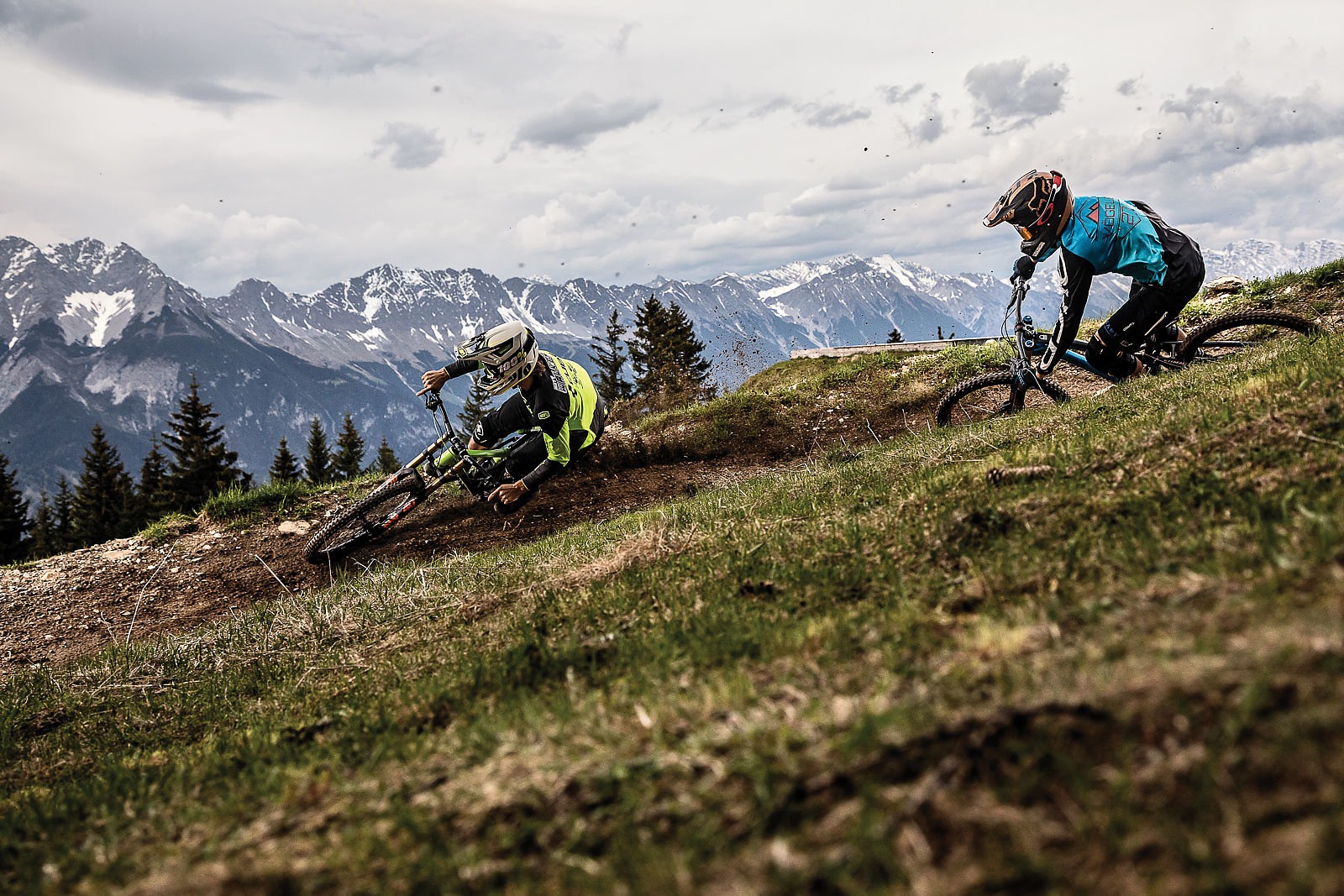 It isn't just trail-builders and tourism boards that are riding the continuing Crankworx momentum. Sabine Oswald moved from Berlin to Innsbruck almost a decade ago, and worked at Trail Solutions as an event organizer before they shut their doors. In 2016, she founded both the Downhill Cup Innsbruck and the MTB Downhill, as well as Freeride Club Innsbruck, an all-ages, nonprofit sports club dedicated to getting people riding. Just a year later, the junior classes at the local downhill races were loaded with kids from Innsbruck. Spectators were left wondering, "Where did Sabine dig out all these little shredders?"
Bikepark Innsbruck has evolved too. The terrain accessed by the tram is constantly expanding, and in the winter there's even a trail dedicated to snow bikes. The Crankworx pump track remains and is perpetually busy, and across the city local builder Benedikt Purner recently finished a beauty of a trail that finishes near the center of town. There are talks to open the ski resort Axamer Lizum to bikers as well, which would add even more terrain to Innsbruck's quiver.
In June, Innsbruck will host its second Crankworx— but this time with a whole new level of legitimacy. And now, when incoming pilots and passengers marvel at the huge peaks that have earned Innsbruck its alpine reputation, they might just spot some bright figures tearing down a ribbon of fresh dirt, descending toward a place truly deserving of the title "Bike City."