A Little Bit Strange Miranda Miller, The Unassuming Badass
There's something to be said for being weird.
It's a matter of perspective, and perhaps it's a matter of the type of "weird," but if you ask Miranda Miller to describe herself, that's one of the first words that pops into her mind.
I understand her brand of weird. It's more of a quirk. She is different, and it's unequivocally charming. She isn't one to give much weight to what others think, nor has she ever been. "When I was 12, my brother told me it would be cool to have a shaved head," she says, laughing. "I found it very convenient, so I just ran with it."
We're sitting in Miller's townhouse, on the west side of Squamish, BC, which I found by driving around the neighborhood until I saw a pile of Maxxis tires sitting next to a front stoop, dripping used sealant. The inside of the condo is tidy, with muted colors and clean surfaces. On one side of the kitchen sits a shiny espresso machine, perched like a trophy or shrine to caffeine. "Apparently it's the nicest coffee machine in Squamish," Miller tells me.
Miller's talents go beyond biking. First, she's brilliant. In fact, she was the valedictorian of her high school. She has a passion for drawing and creating art (when she finds some rare spare time) and is a voracious reader who loves to write. She says if she could have dinner with any two people in the world, she'd choose her two favorite authors: Tom Robbins and Mike Ferrentino. "They're both incredibly smart and would probably talk about things of which I know very little," she says, laughing.
Miller is a presence, for many reasons. Her tall stature, the partially shaved underside of her hair, and the fat braid that swings like a rope from underneath her helmet are all prominent features. But it's her infectious laugh that leaves the deepest impression. It rolls out of her with pure, sincere gusto, almost like a guffaw but so full and big it makes everyone else in the room light up. And she is always laughing.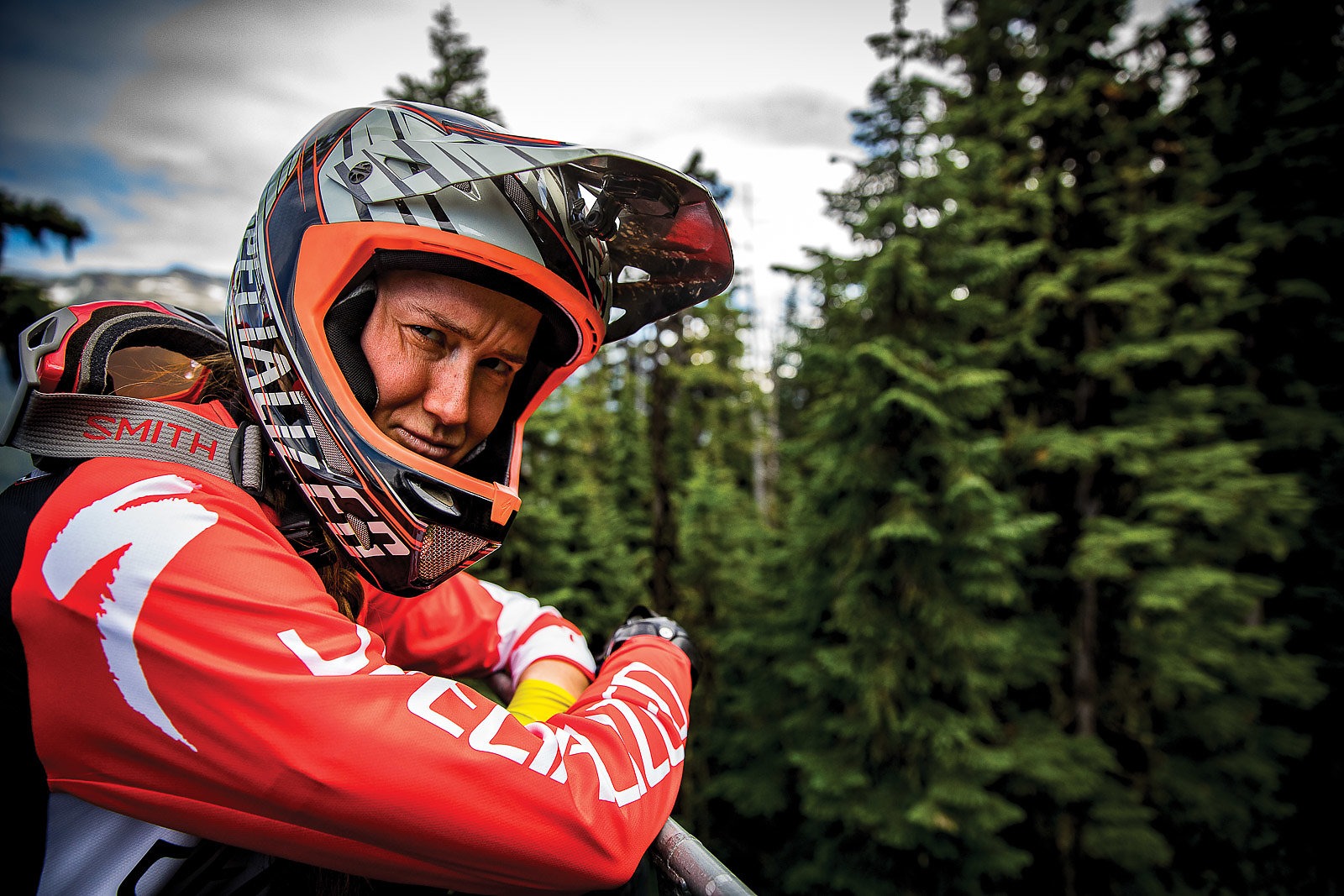 You may have noticed it on the World Cup podium as well, alongside a bewildered look and a chuckle about how life can be gloriously unpredictable and a little bit strange. Perhaps that's another thing that sets Miller apart. She has the ability to embrace the unknown with equal amounts of strength and sarcasm. From dealing with seemingly constant injuries to winning the world's biggest race, there's rarely a dull moment for Miranda Miller.
Born in 1990, Miranda Kate Eloise Miller grew up in Pemberton, BC, the youngest of four children. Bikes hadn't permeated the Pemby scene yet, so she wasn't raised to ride, as a lot of racers are. Instead, she spent her time playing basketball, soccer, and running track and field. Her childhood best friend, a boy named Ben, was the first to get a mountain bike. It didn't take long before she had her own, a black-and-gold Norco Kathmandu she still refers to as "sick!"
Miller always enjoyed riding her bike, but it became an unlikely prescription after she incurred a torn meniscus from a tobogganing accident when she was 13. "I couldn't really run or ski hard after that injury," she says. "Biking was one of the few things I could do. I always kind of liked it better anyways." The Miller family eventually moved to Squamish when she was 13. "To me, Squamish was always the place with a McDonalds between Pemberton and Vancouver," she says. "I didn't even know where the houses were."
It didn't take long for the family to settle in, and for Miller to find her place in the community. Her parents had imposed a strict budgeting regimen upon the children—if they wanted something special, they'd have to save their monthly allowance and buy it themselves. Not long after moving, Miller found one of those tough-to-obtain luxuries at Corsa Cycles bike shop: a RockShox fork. It was new, it was fancy, and it was also expensive, beyond what Miller had saved up.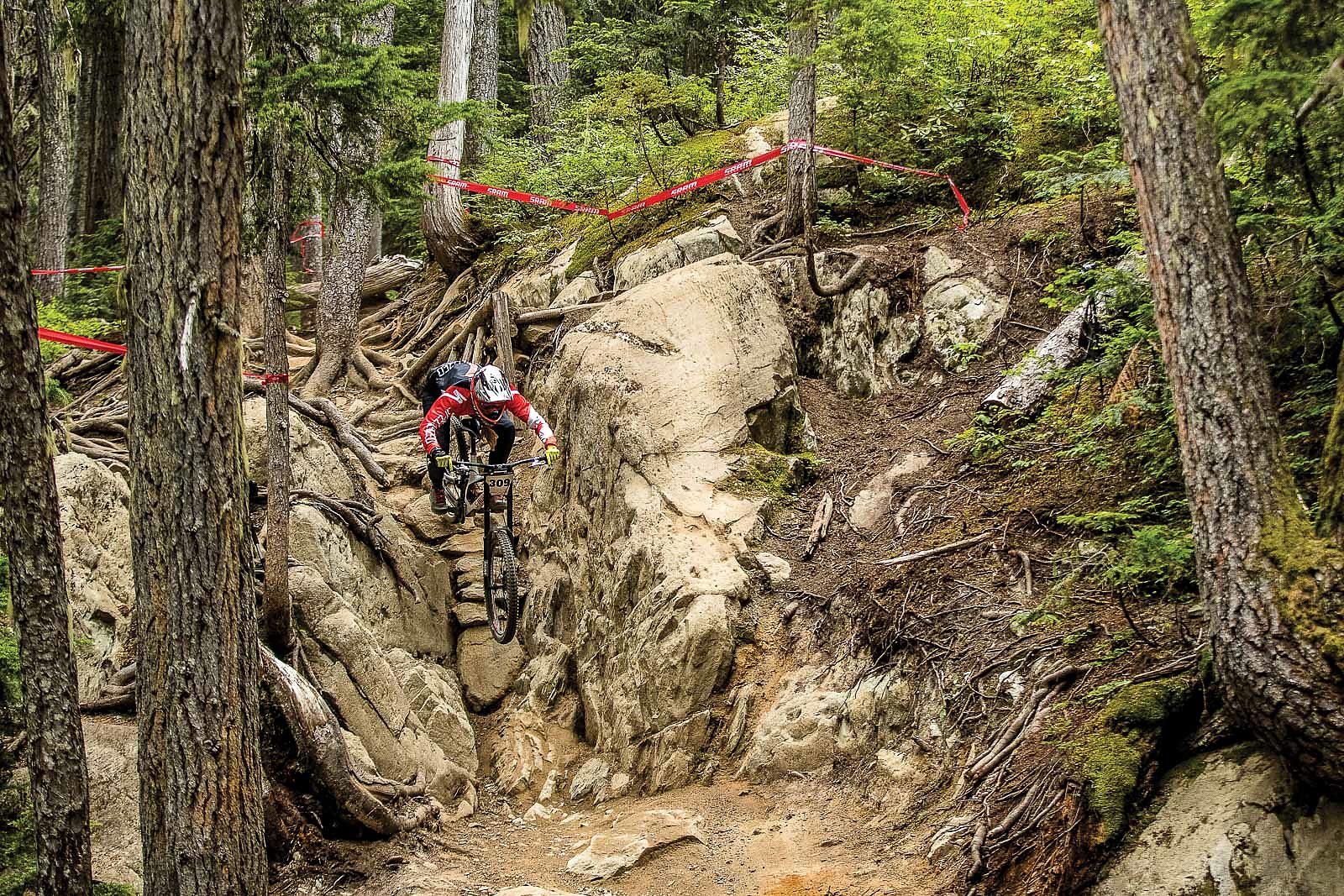 "Dave [Heisler], the owner at the time, told me if I came to work for him he would give me $100 off," she says. She became the shop grom, fetching coffee, sweeping floors and cleaning the other employees' cars. "I started working at Corsa when I was 13, but I'm pretty sure Dave thought I was a 16-year-old boy. I don't think I even talked the first two years I was there."
It was a year after the move to Squamish that Miller got her first taste of racing. Her mother was planning to visit a friend in Penticton and asked Miller if she'd like to come—and enter a mountain bike race while on the trip. Despite her lack of racing background, Miller wowed the crowd—and legendary racer and coach Shaums March took notice of her natural ability. "Even then, Miranda was already motivated, dedicated and willing to train hard on her own to achieve her goals," March says.
After they returned to Squamish, March began working with Miller to enhance her raw talent with technical skills. Riders and coaches from the area were impressed with Miller's riding, including longtime friend and mentor, Katrina Strand. "I was coaching young Whistler and Pemby boys, and they kept telling me about this girl in their class, Miranda, who was 'amazing!'" Strand says. "Sure enough, she joined one of the programs and fit right in with the group of high-energy, talented boys."
Miller's jump to elite racing came around the time she was 16. Her mother worked as a volunteer for Cycling BC, the governing body of all cycling disciplines in British Columbia, which gave Miller more time on tracks and around other racers, which, in turn, helped develop her racing skills. Cycling BC also had a youth development program that would occasionally send young riders to World Cups, and in 2009 Miller was selected to race internationally.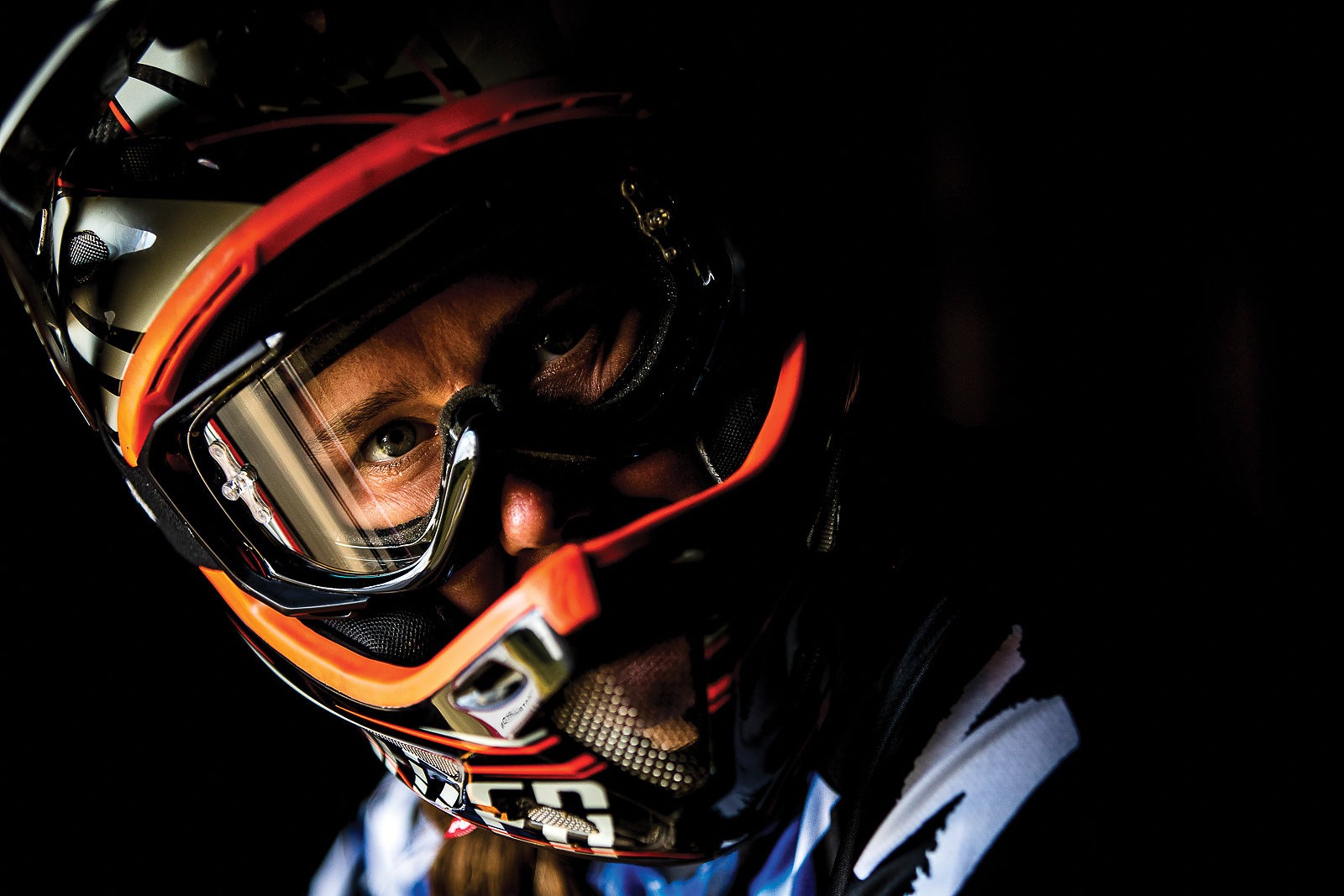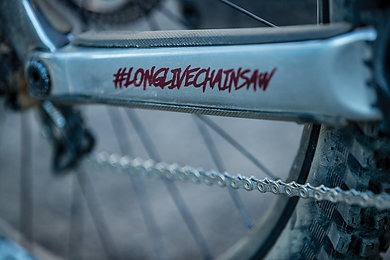 It was an experience that provided its own type of education. Along with the rest of the traveling team, which included now-partner Remi Gauvin and Miller's close friend, the late Stevie Smith, the circuit took her around the world in an often-frugal style. "We would cram five of us into a three-seater van and stay at the shittiest of places," she says. "It was always an adventure and made for some pretty good memories."
Racing as a privateer isn't easy. World travel is expensive and time-consuming, but the Squamish community saw something special in Miller. Corsa Cycles became her second family, employing her for 13 years, until 2016. They allowed her to work around her racing and training schedule, and the owners gave her below-market rent during a time of massive growth in Squamish. The local grocery store, Nesters, gave her a percentage of what she spent in the store back in gift cards to help pay for her groceries. Other local vendors would donate money and other services to help with finances and ease the monetary burden of training. "They knew I wasn't about to give up," she says.
Over the course of the next few years, that mentality was constantly tested. As her career progressed, so did her list of injuries, which over a decade grew to look like a big day in the ER: a broken collarbone, kidney failure, a broken leg, broken arm, two more broken arms (both at the same time), wrist surgery for a fractured radius, two more surgeries on her arms, and a torn PCL. Her seasons were peppered with the occasional victories and podium finishes, but the plague of injuries always loomed.
Physical pain and rehabilitation are obvious challenges, but any elite athlete will tell you it's the mental game that is most frustrating—the downtime, the self-doubt and the lack of stimulation is enough to drive most people into a state of depression. "Injuries teach you perseverance," Miller says. "No matter how hurt you get, the moment it happens the first thing you think is, 'When can I ride next?' It's a reminder that you have to keep believing in yourself. You almost have to try to enjoy things differently. Sure, you may not be able to do something simple now, but in a month you will and it's going to feel so much better."
Occasionally, the comeback is greater than expected. After undergoing treatment for kidney failure in 2009, her first race back was the Garbanzo Downhill at Crankworx Whistler. "I took one lap of the track and just knew I was going to win," she says. "I thought, 'If I don't crash or get a mechanical, I'm going to win.' That was the first time I'd ever felt that."
Her instincts proved true—Miller went on to win the race by nearly four seconds over Emmeline Ragot. While the race/injury roller coaster kept on, Miller's overall trajectory continued rising. She secured three UCI World Cup podiums (two in Mont Saint Anne, QC, and one in Leogang, Austria), was the Canadian National Champion in 2015, 2016 and 2017, and enjoyed 20 top-three finishes in elite events between 2015 and early 2018.
But as good as the victories were, everything came to a screeching halt on May 10, 2016 with the news that Stevie Smith, her best friend of 12 years, had passed away from injuries sustained in a moto accident. Smith's death hit Miller hard, but through mourning she realized she could still find inspiration in her longtime riding partner. "With a loss like that," she says, "you learn to appreciate what you're doing, and the opportunities you're given."
As if channeling her inner Stevie, Miller won the first race she entered after his passing, landed third in the Leogang World Cup a month later, and won both the Canadian National Championship and the Garbanzo DH later that summer. Then, in 2017, after years of self-funded racing mixed with seasonal bike shop work, Miller was picked up as a factory-sponsored rider with Specialized. With it came the full-luxury factory-team treatment, but Miller gives credit to the role her time as an independent racer played in her career. "Being a privateer was definitely harder, but it sure makes you appreciate simple things like having a wheel built for you," she says. "When you've been on a factory team your entire career, you don't know those struggles, and I think those struggles help shape you."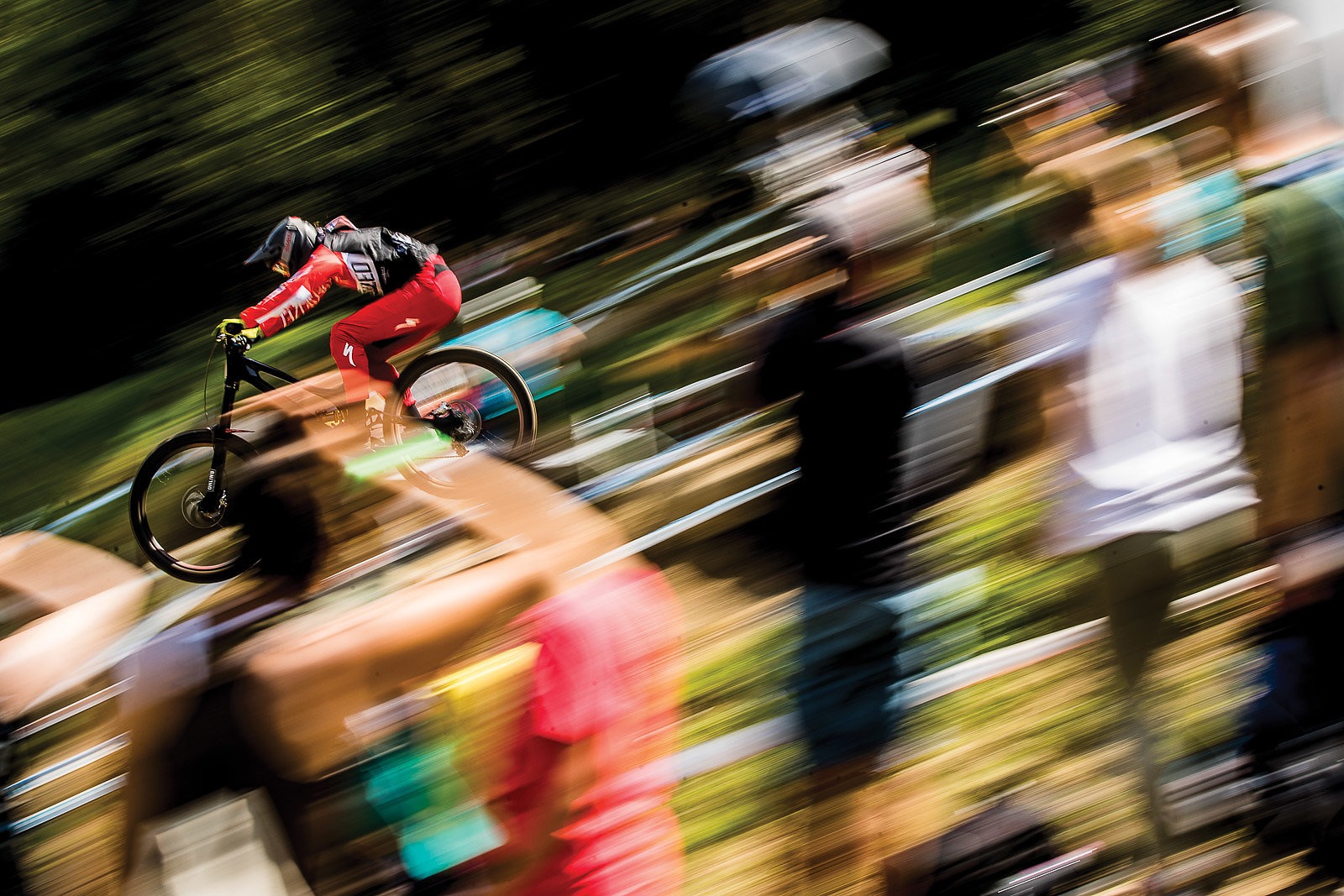 Joining the Specialized team was a definite morale boost, but with the new team came yet another injury, when she suffered a torn PCL during a crash at the Fort William World Cup. "Getting injured again pissed me off so much because I finally had so much support," Miller says. "It was insane."
While her knee injury was painful, she was still able to race, albeit with mixed results. She won the Canadian National Championships again in 2017, but bounced around the middle of the field at the Mont Saint Anne World Cup, the Val di Sole
World Cup, and her Crankworx Whistler events. Going into World Championships in Cairns, Australia, her confidence was low. "I'd been injured all year," she says. "I wasn't racing well. I wasn't even riding well. I was crashing all over the place.
I hadn't had good results, and it didn't look like I was going to get renewed by Specialized."
Once again, Miller found inspiration in an old friend.
"Before my run, I was sitting in the back of the team van watching a video of Stevie before his 2013 Leogang race," she says. "In a prerace interview, he said something that stuck with me: 'Worst case scenario, I'm pumped. Best case scenario, I'm damn pumped.' That gave me a moment to realize how much fun I'd had with my team all season… how good I'd had it, and in that moment, I felt like I'd already won."
"I kept watching and realized I was going to medal, then I was like, 'Fuck, did I just win?' I wasn't really sure how to handle it." —Miranda Miller
With a bit of Stevie on the brain, Miller came down the rocky, dusty Cairns track pedaling as hard and fast as possible. Her plan was to keep it smooth and clean, and it worked. She crossed the finish line with a massive, nine-second lead over the rest of the field, comfortably in the hot seat. But with the likes of Tracy Hannah, Tahnee Seagrave and Myriam Nicole still to drop, she wasn't expecting to remain there long. "I figured I'd take a break until they came down," she says. "I kept watching and realized I was going to medal, then I was like, 'Fuck, did I just win?' I wasn't really sure how to handle it."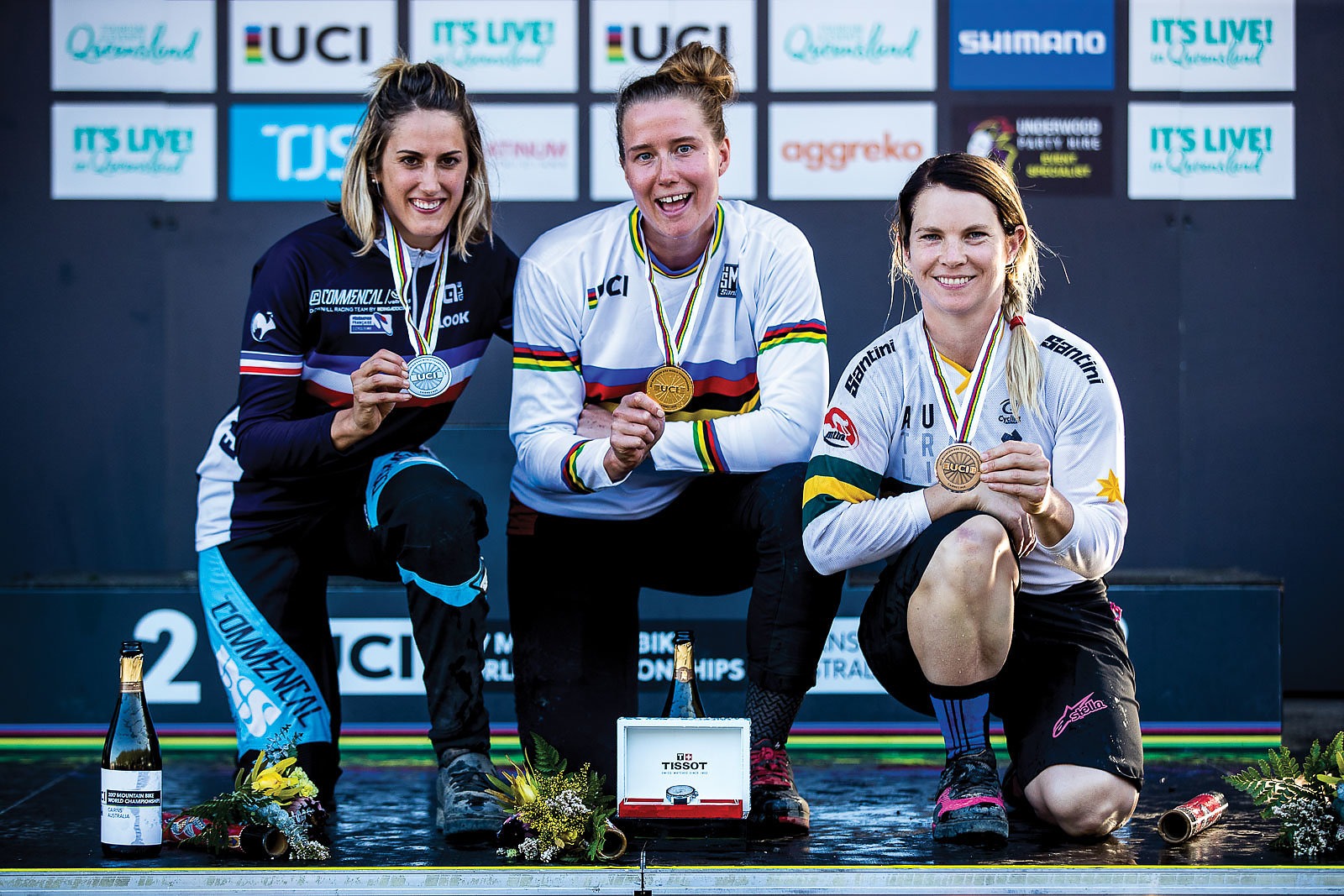 Meanwhile, half a world away, the Sea-to-Sky Corridor was in a celebratory frenzy. From Pemberton to Washington state, Miller's friends and family were crying tears of joy, shouting at the top of their lungs and hailing their new world champion, jokingly known to them as "Brenda" (after the way baristas often misspell "Miranda"). Claire Buchar, Miller's early riding inspiration and now longtime friend, describes when she first heard the results. "Katrina Strand called me, and was laughing and in tears," Buchar says. "I was just frozen. Then, it all started to sink in. Knowing all the events leading up to it and just understanding what goes into that kind of thing, and how far she's come.
"Then, thinking about Stevie—the tears started to stream down my face… I couldn't wait for her to get home, so we could just let her know how much we, as a community, have each other's backs."
Despite her hometown community's confidence, for Miller personally the win was so unexpected that she struggled to give herself credit. "At first, I told myself I won because Tahnee crashed, and then because the timing had messed up," she says. "I wouldn't have thought those things about someone else, but I thought them about me."
Encouragement came from Seagrave herself, who was one of the first to congratulate Miller on the accomplishment. "Tahnee jumped up and gave me a hug and said, 'Don't take anything away from yourself. You deserve this,'" Miller says.
And she did—not only had she been the fastest, but she'd also survived a grueling track that others weren't able to manage under the pressure. In the words of Stevie Smith, she was damn pumped.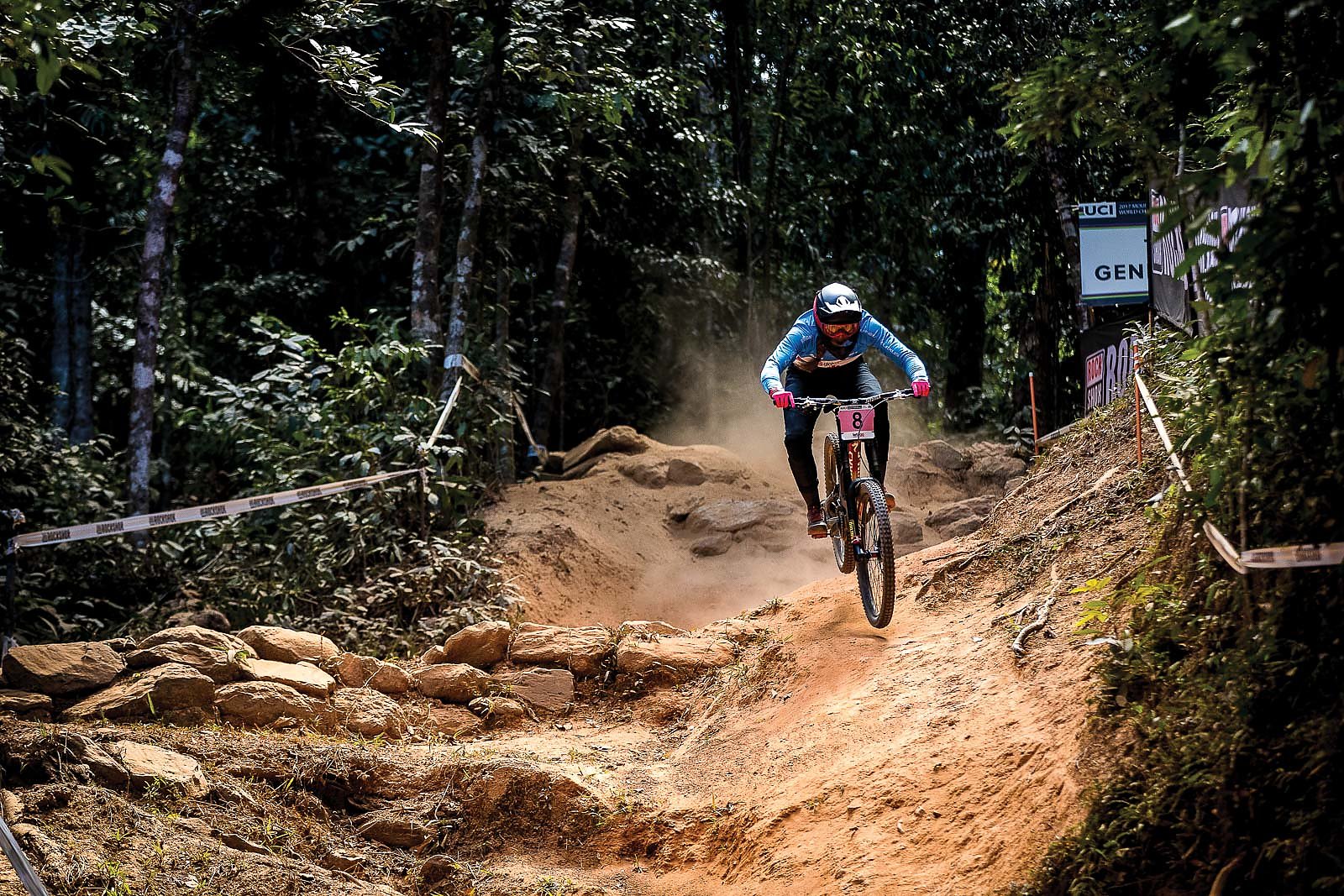 Squamish gave her a massive welcome when she arrived home. The words "World Champ 2017" were painted in rainbow colors on her street and other places around town, and Squamish's legendary eatery Mag's 99 celebrated her victory with a dedicated marquee reading, "Miranda wrapped it up like a burrito."
As her first coach, March was happy to finally see the work pay off. "I was thinking, 'It's about time,'" he says, laughing. "In truth, I was thinking she'd put herself though a lot, pushing hard, and she deserved that win."
One of the quirkier spoils of victory was the shiny coffee machine in her kitchen. While looking through her racing contract prior to the 2017 season, Miller noticed the bonus for making it onto the World's podium was quite handsome. As she and Gauvin are both avid coffee drinkers, she jokingly told him if she won, she'd buy the nicest coffee machine available. When she checked her phone after winning the race, she found a litany of coffee emoji texts from Gauvin. "I saw those and thought, 'What the hell does that mean?'" she says. "Then I remembered the deal."
A few weeks later, she and Gauvin became the proud owners of the nicest coffee machine in town.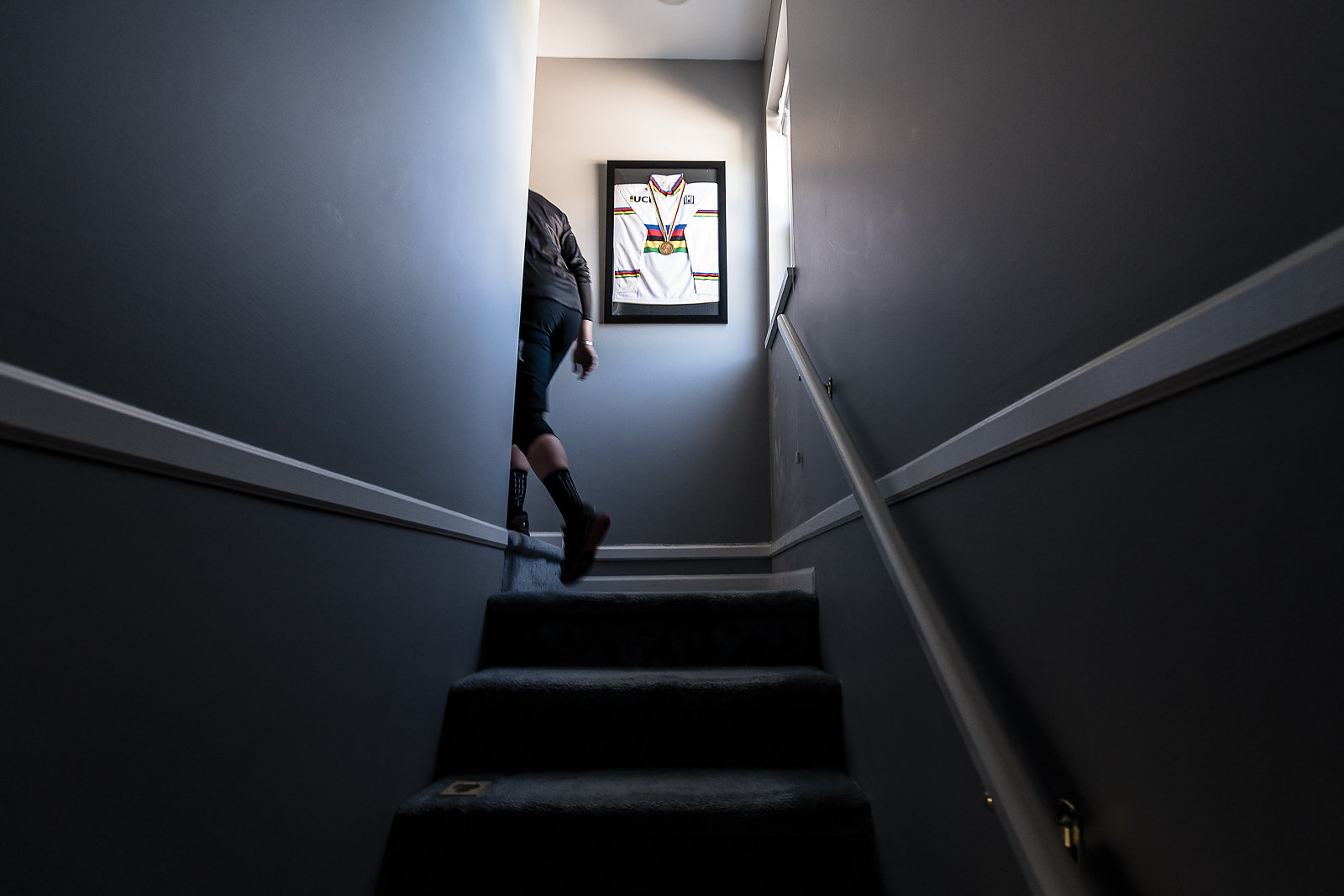 Miller's goals for the next few years are largely undefined. Long-term, she'd like to run a business with the intention of it being a space where she can take advantage of her creativity. In the meantime, she plans to keep training, keep riding and keep racing as long as she feels physically and mentally strong.
And it's not just to improve herself as a rider. Miller also wants to keep steering the industry in a direction more favorable toward women. "I think things are changing for the better," she says. "There are way more women riding and racing. Crankworx podiums are cool because everyone gets paid the same. Online comments are drastically changing in favor of ladies now. It used to be guys saying they wanted to be the actual saddle of a female racer. It was insane. But you don't see that stuff anymore. I have no idea if it's indicative of a growing change in the world, but I do think things are getting better."
What makes Miller's victory so special to so many people isn't that it was a World's gold medal, or that she beat so many incredibly talented women. It's that fact that Miller, herself, is the champion. In an industry so focused on female inclusion that it often segregates more than it integrates, Miller is exactly the kind of person young girls and hopeful racers should aspire to emulate—the unassuming badass we all want to be.
"Miranda is an example that hard work wins," Katrina Strand says. "She's a really good example for the girls. She doesn't bring attention to the fact that she is a girl; she just lets her personality and riding do the talking. Miranda just is, and it says a lot."