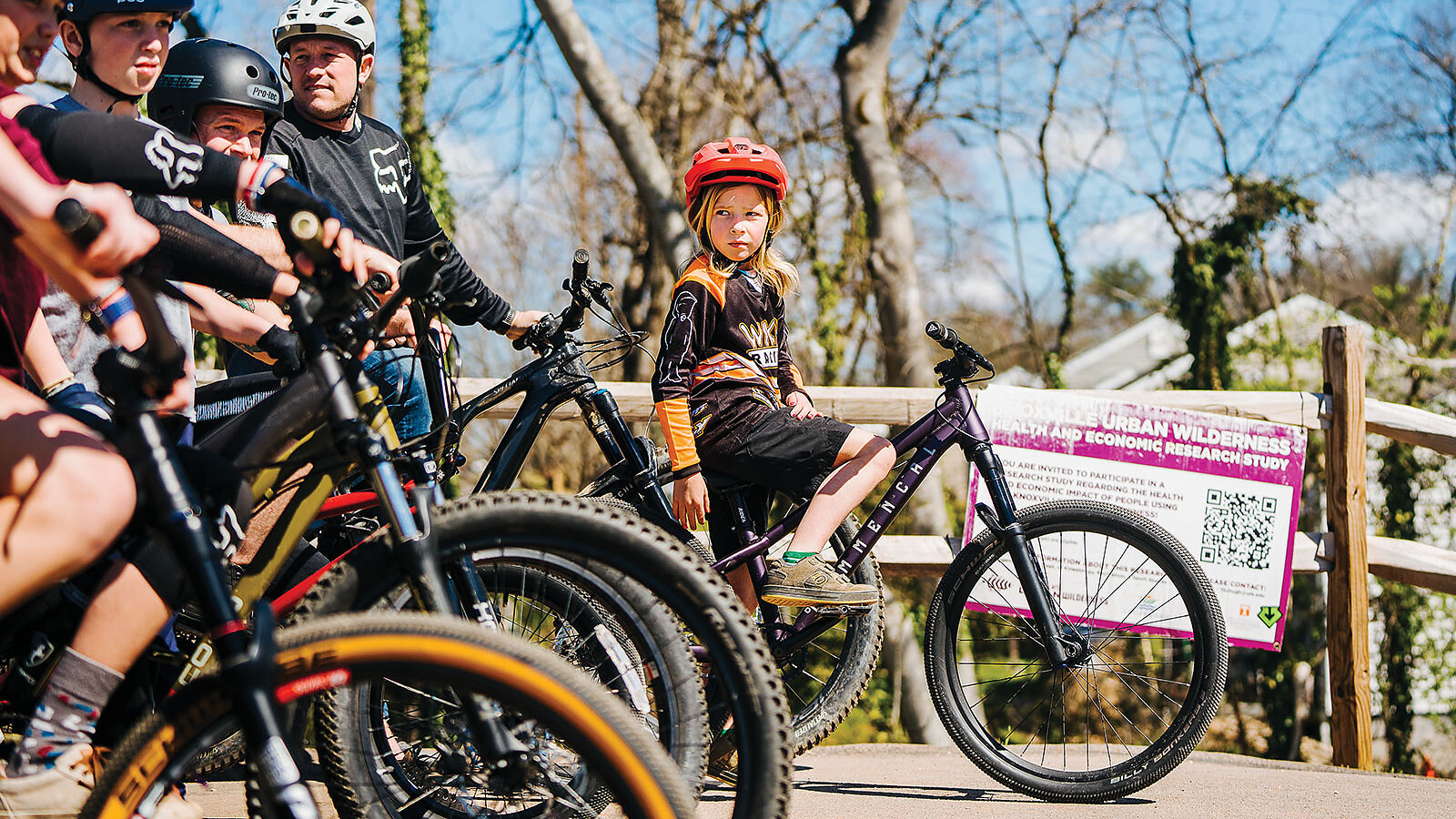 Big Spirit Nora Recker and the Art of Ripping
An announcement crackled over a loudspeaker and a crowd of women began moving toward the high point of the bike park at Baker Creek Preserve, home to some of Knoxville, Tennessee's finest trails. An asphalt jump line shimmered in the midday sun, but not brighter than the glow radiating from those gathered en masse for the first-ever Ladies Hour—an all-female jump jam.
It was the first time the jump line had been closed for a special event and the exuberant turnout made it a success before anyone had even dropped in for a run. A smile was on every single face and laughter could be heard everywhere as the women took turns riding their choice of small, medium or large jumps before pushing their bikes back up to the start ramp and waiting along a fence line for their next run. Some of them were regulars of the bike park, while others were trying the jump line for the very first time.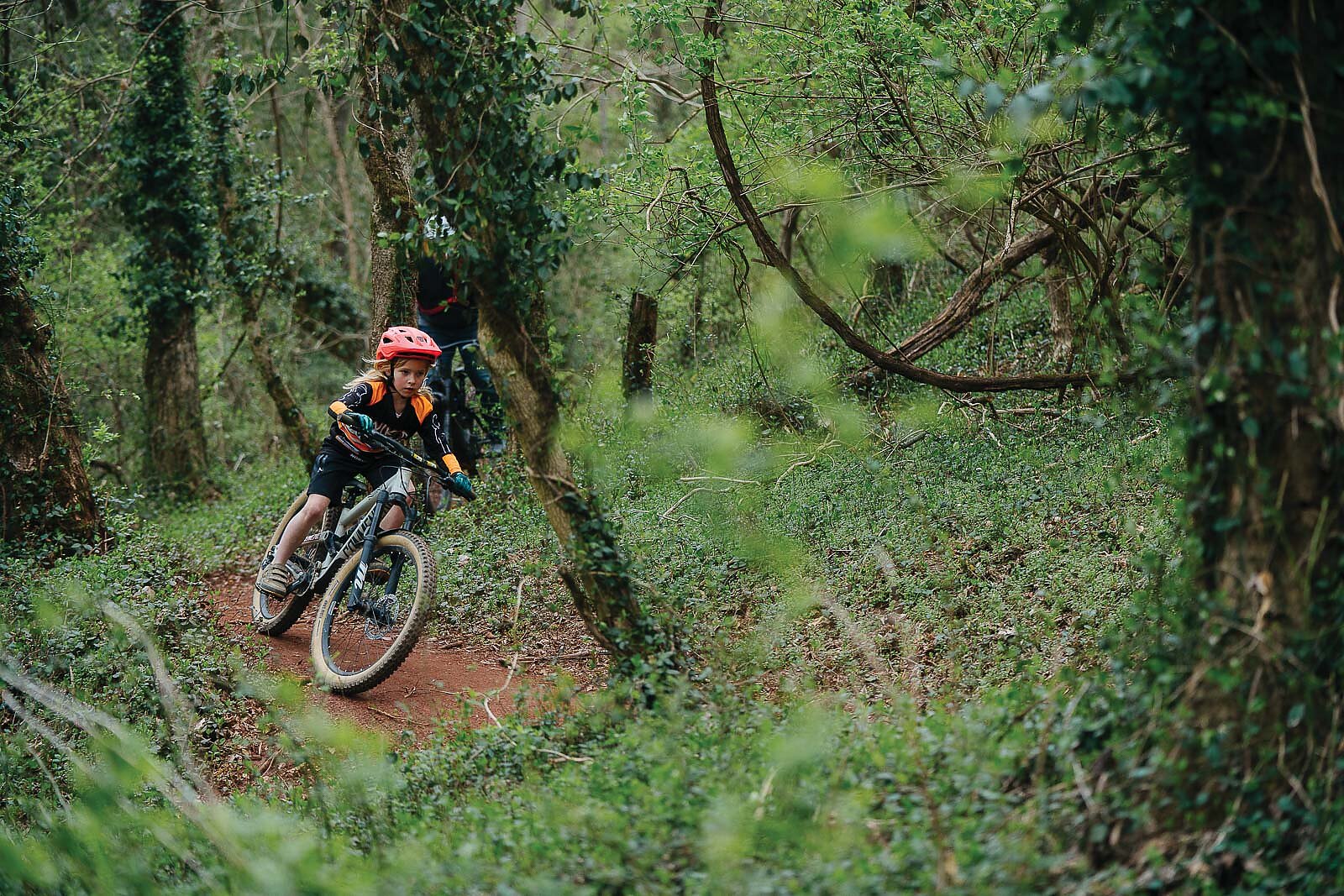 A small figure broke free from the crowd, pushing her tiny dirt jumper up to the starting platform. Her name is Nora Recker. She's three feet tall and in the second grade, and she's a Baker Creek regular despite living four hours away in Cincinnati, Ohio. Nora loves riding bikes and she regularly travels with her family to Knoxville and other areas to have fun and hone her already amazing skills.
Nora's confidence during Ladies Hour was impressive to say the least. Poised at the start like she knew she belonged there, she smiled shyly and turned to acknowledge the crowd cheering her on before dropping in for her first run. Focus and intensity washed over her face as she rolled forward and launched off the ramp, pumping through the transition.
When she cleared the first roller and took the high line through a berm, the crowd cheered in amazement.
"It surprised everyone to see a kid," said Sonthy Drellos, who organized Ladies Hour. "We didn't expect it at all. I looked up and she was at the top of the jump line, standing there with all the women. I thought, 'Wow, awesome!'"
As the middle of three siblings, Nora is not your average eight-year-old rider. She started riding very early in life on a balance bike handed down from her older brother Lincoln, also a talented rider. Like Lincoln, Nora took to riding quickly and progressed to a pedal bike without training wheels before she was three. From there, she developed her fundamental skills through racing BMX.
POISED AT THE START LIKE SHE KNEW SHE BELONGED THERE, SHE SMILED SHYLY AND TURNED TO ACKNOWLEDGE THE CROWD CHEERING HER ON BEFORE DROPPING IN FOR HER FIRST RUN.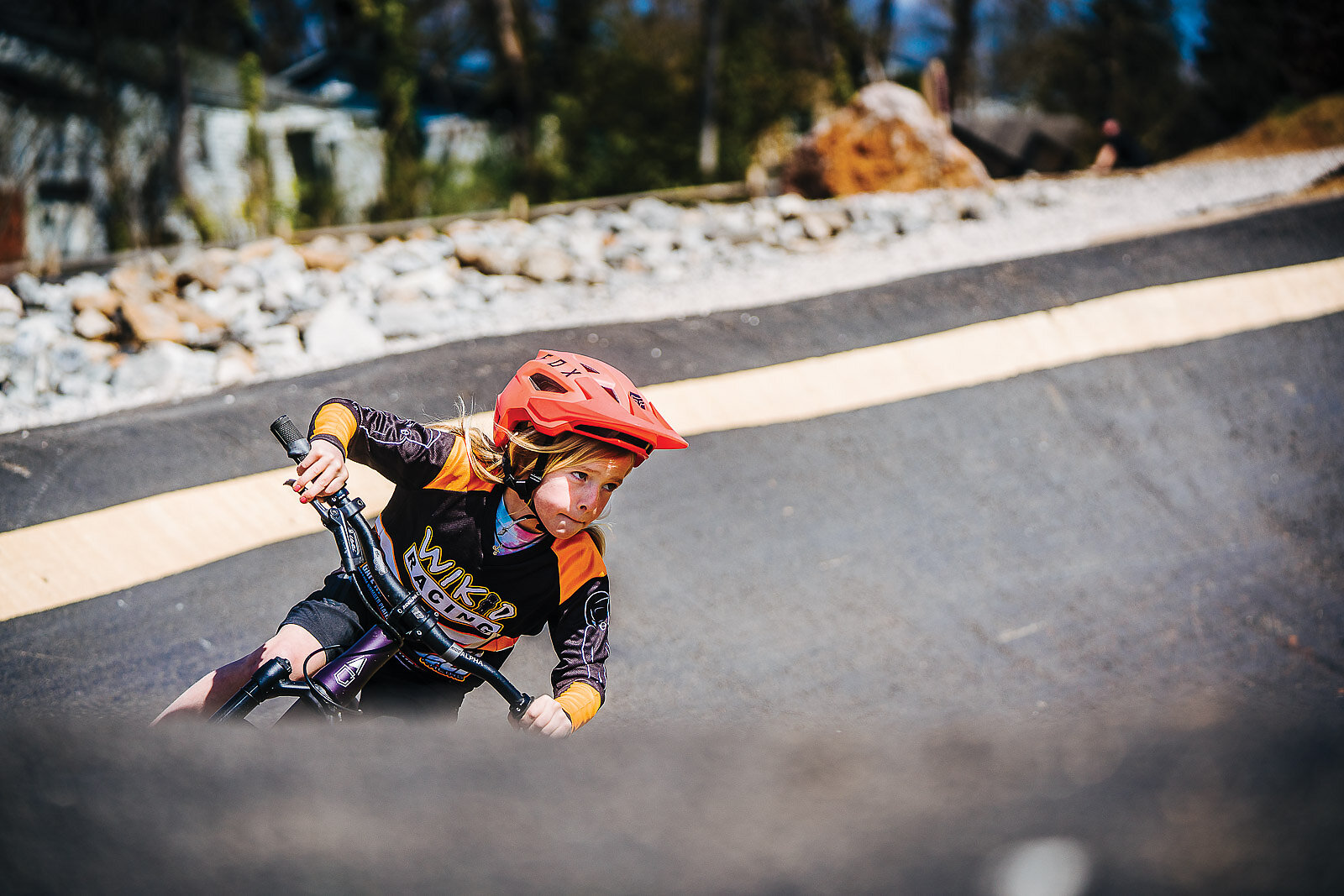 "We found a local BMX track and started riding there, and the kids liked the rollers and the jumps," says their father Andrew. "We met a super friendly family that let us borrow some proper BMX bikes and before too long we ended up buying our own race bikes. The kids loved making friends and we really enjoyed the BMX community."
At the time, the Recker family allowed themselves a four-hour driving radius for races, and the kids raced in USA BMX's Ohio State Championship Series as well as other national races. It was during a visit to Mike's Bike Park in Dayton, Ohio that Andrew and Lincoln borrowed mountain bikes and quickly fell in love with them.
"That's where it all started to escalate for us as a bike family," Andrew says. "Mountain bikes were more accessible. There were more places to ride and my wife was able to participate. We got everyone mountain bikes and began riding more as a whole family."
They became obsessed with finding new places to ride and expanded their driving radius. These days, the Reckers usually travel twice a month to ride in places as far away as Knoxville, Snowshoe, West Virginia and Bentonville, Arkansas. The family makes the most of these adventures, traveling in an SUV with a pop-up camper and a rack full of bikes. Places like Baker Creek are perfect for them, as it offers riding that the entire family can enjoy. They usually set up camp somewhere nearby and then spend the entire day riding the trails, taking breaks to do other activities like jumping rope and blow- ing bubbles. There is never a dull moment.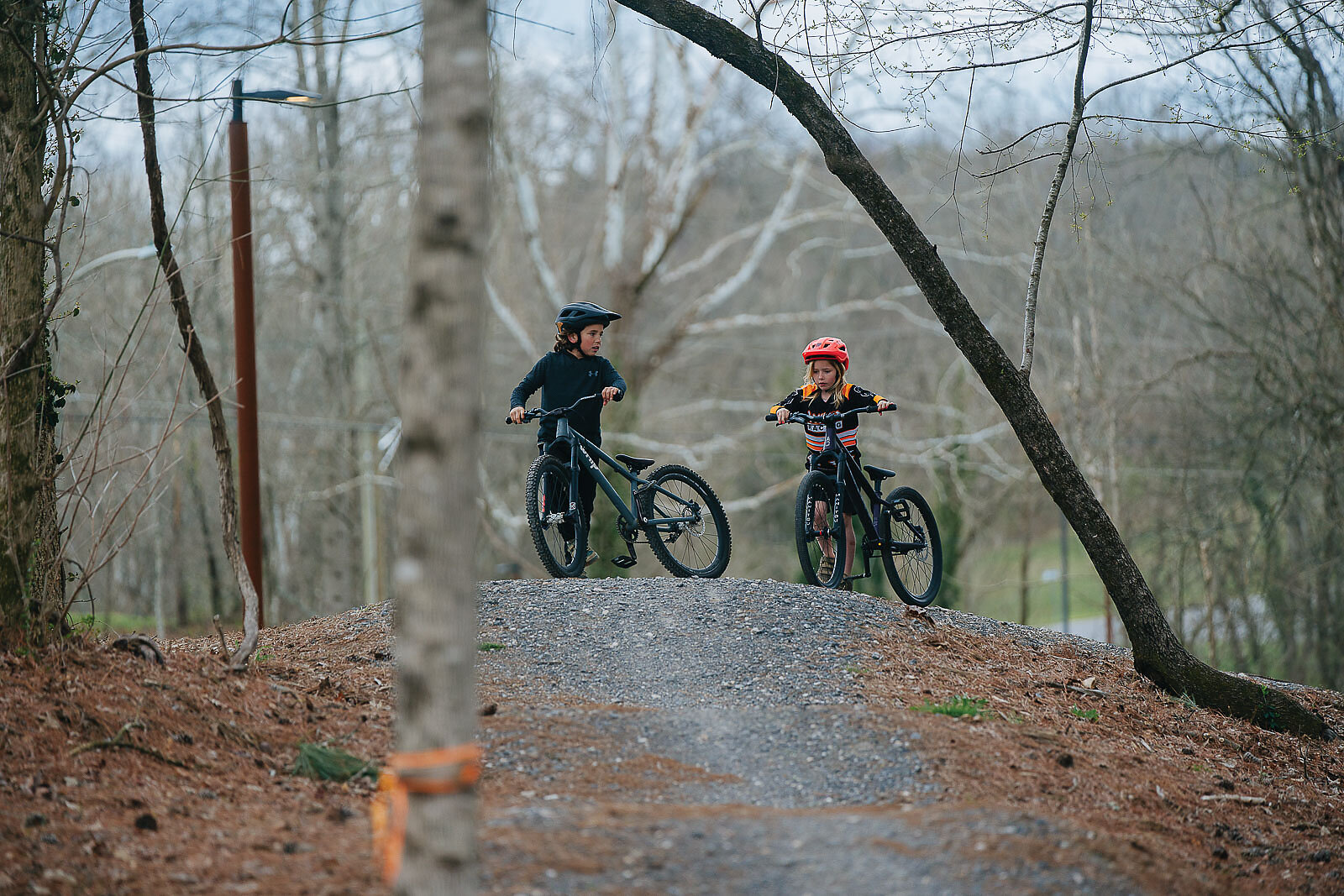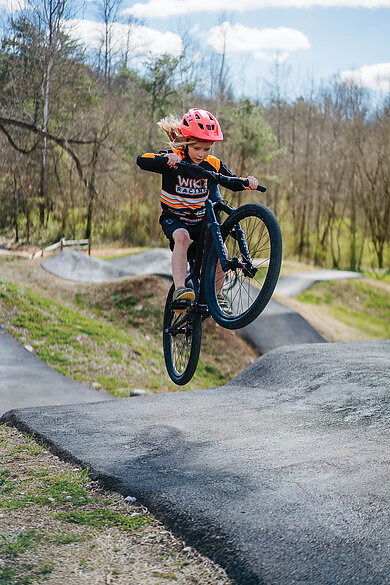 On a recent visit to Knoxville, the Reckers ventured beyond Baker Creek to ride some other trails in the adjoining Urban Wilderness. Riding more technical trails with her father and brother, Nora was completely in her element. Before dropping into the top portion of a techy flow trail called Party in the Woods, she and Lincoln scouted the steep, rocky rollin with Andrew to make their plan of attack. Lincoln was antsy to just blast through it, but Nora carefully planned her line and confidently cleaned it on her first attempt. For the rest of the ride down the rocky descents of Year Round Get Down she was riding on the level of many adults.
"When she gets into something, she really tries to immerse herself in it and really succeed," says Nora's mother Karen. "It's not always in situations where you would need to succeed, but she's just really passionate about whatever it is at the time, or whatever's on her heart."
Nora's dedication has been an inspiration to both her mother and her younger sister, Caroline, who recently graduated from a balance bike to a pedal bike and now enjoys riding the kids' pumptrack at Baker Creek and the skills-development features at the nearby Play Forest. Karen regularly follows Nora and has become a much better rider as a result.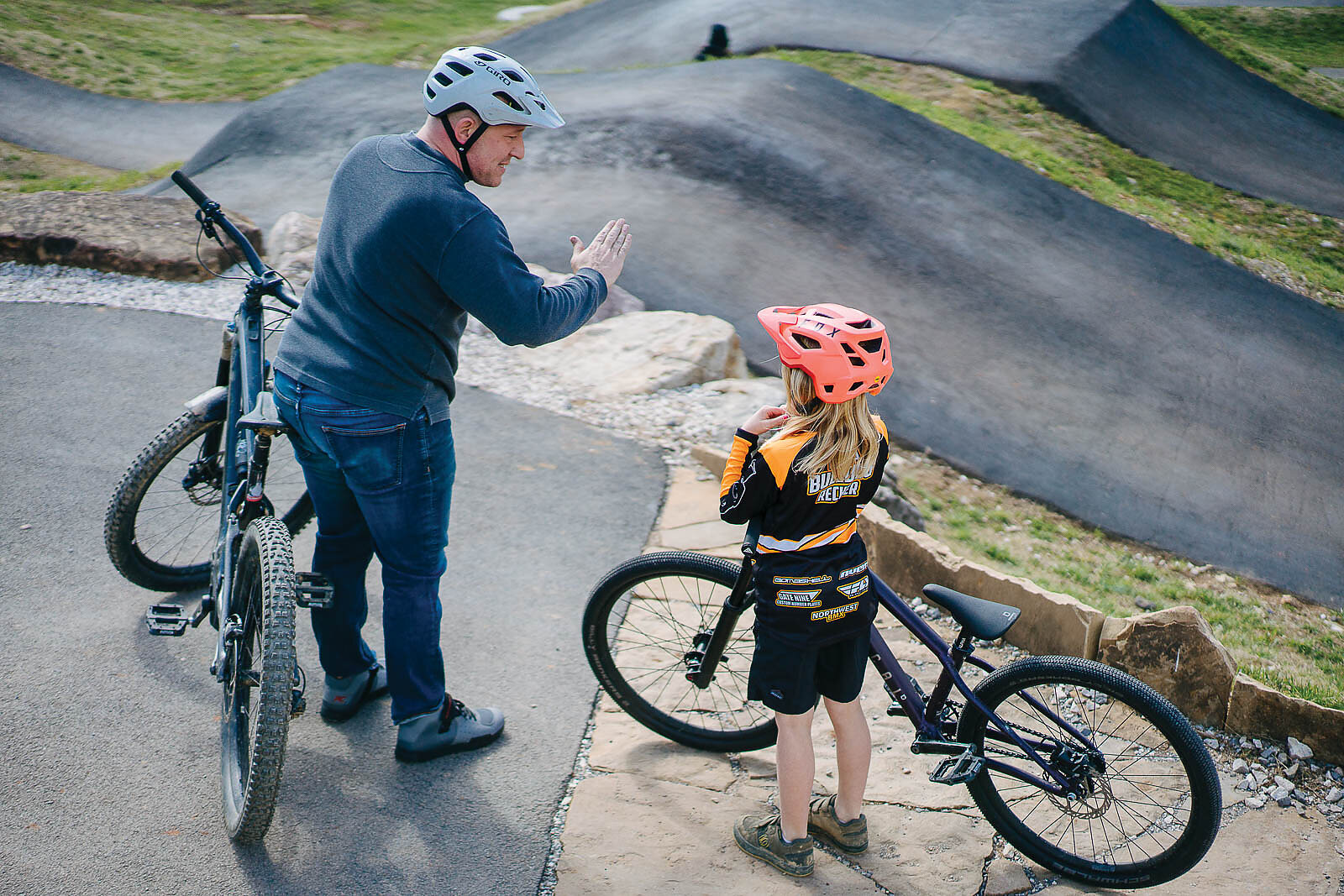 "She is hands-down better than I am, so I depend on her to be a coach really," Karen says. "It's an interesting dynamic. I love it. I am so proud of her."
In an effort to maximize the time his kids can spend on downhill laps, Andrew recently got an e-bike with a tow strap so he can help Nora and Lincoln get up the hills more quickly. This has helped accelerate their learning curves, as they're able to get even more laps on two of their favorite Baker Creek jump trails, Barn Burner and Devil's Racetrack. Lincoln is fearless in the air, regularly practicing bar turns and no-footers. His fearlessness has clearly rubbed off on Nora, who calmly hits features that many adults would avoid.
"It's hard because she oftentimes compares herself to her older brother and she may fall short in that respect," Karen says. "When you look at her with her peers, with other girls her age, she is just extremely athletic."
Regardless of Nora's competitive performance, the Reckers believe that her quiet determination and obvious love for riding is an inspiration to all—especially other young girls.
"I love when I see her telling someone about it and they say, 'Wow, that is amazing. You do that?'" Karen says. "To see her light up inside is really cool."