Waiting For The Ticket Brett Rheeder's Steady Rise to Slopestyle Stardom
On a warm August evening in 2006 I finished riding my bike in the backyard and got online to see what was going on in the mountain bike world. To my surprise and amazement, I came across a live slopestyle contest that was being streamed on the homepage of Pinkbike. The event was in Whistler, British Columbia, and it was part of a huge mountain bike festival called Crankworx.
Up to that point, I'd never seen or heard the term "slopestyle," but the longer I watched, the more strongly I connected with what was going on. It was exactly what I was striving to do in my backyard, but on a professional level.
"Come watch this!" I shouted to my family, who rushed over to watch the first of what would be many slopestyle contests we'd see together.
I went to bed that night manifesting what the next 17 years of my life would look like.
Three years later, I traveled to Winter Park, Colorado, ready to compete in my first slopestyle contest at Crankworx Colorado. The field was stacked with professional athletes, but the contest was open to qualifiers which meant anyone could sign up. I was only 16 years old, and the youngest in the field next to Colin Westeinde, a Whistler kid who was in the same situation as me—young, somewhat inexperienced and new to slopestyle competition.
We quickly became friends and started planning our runs together. I was relieved to have someone to practice with because I felt intimidated and out of my league. Colin seemed less fazed than me. After one look at the course, I realized I had some learning to do. The first feature was a rock roll into an elevated wooden spiral that led to a big drop—definitely a move that would require two brakes. I'd never even owned a bike with front and rear brakes, and it was clear that my rear brake would not suffice. My mom drove us down to Denver to buy a front brake so that I'd be prepared for the first practice the next day.
Not long into my debut practice, I was starting to get comfy on some of the easier jumps and Colin and I began to push each other. I figured it would be a good time to try my first backflip on an actual slopestyle course. I came into the jump, pulled back, rotated the flip and spotted the landing, which was already long gone. I had almost twice the speed that I needed and I over-rotated straight to my back. My head hit the ground hard, resulting in my first concussion.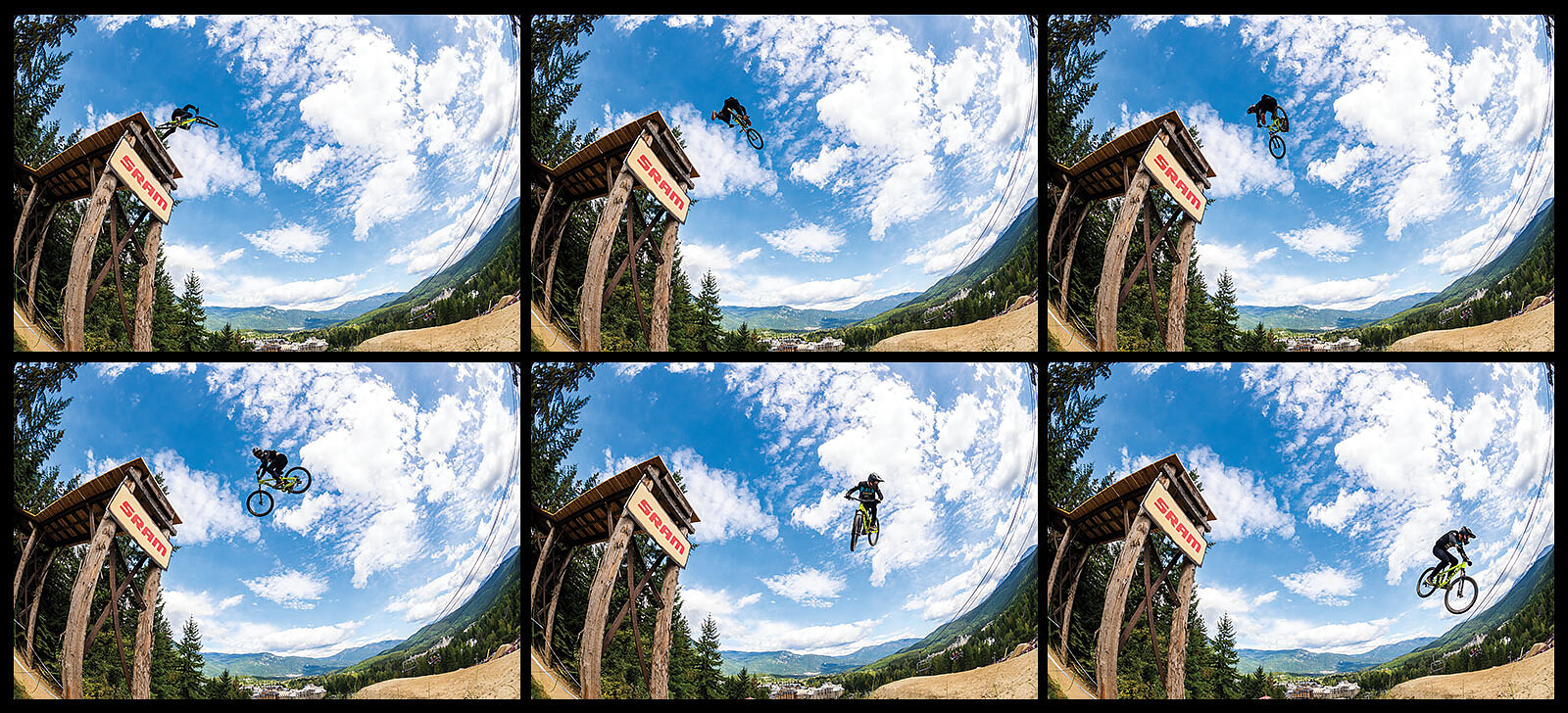 I was devastated. Not just because I'd crashed at my first contest, but because I was trying to prove to myself, my family and my friends that I could be a professional athlete and didn't need to work a ninetofive job. I'd thought I was ready, but in reality I had little idea of the amount of work and dedication it would take to become a true pro. I got discharged from the medical clinic with a concussion and altitude sickness. They gave me a canister of oxygen with a nose tube and some pain meds. We watched the contest from the crowd the next day and then flew home to Toronto, Ontario.
After such a bad crash, I felt discouraged for a while and was skeptical of where my future might lead. Over time, though, I realized that I'd been practicing for what I thought slopestyle would be, rather than what it actually was. I'd learned that the hard way, and I wasn't ready for that to happen again, so I made a very deliberate plan to improve my skill and confidence on the bike, as well as to build my reputation.
Fortunately, in 2009, a new indoor bike park, the Joyride 150 in Markham, Ontario, opened close to my home. I'd spent 110 community service hours helping to build the park, a 100,000-square-foot building featuring everything from a cross-country flow trail to a vert park and expert jump lines. I was so thankful to have such a place close by and I spent every day that I could riding there.
With a winter's worth of indoor practice and a better understanding of slopestyle mountain biking, I saved up all my money and booked four flights for the 2010 season. Crankworx Colorado was back on the list, along with the Claymore Challenge in Northfield, New Hampshire and the Goat Style Bike Jam in Creston, B.C. Rounding out that season would be Crankworx Whistler. But it was getting challenging without a real bike sponsor. I was cracking frames, bending wheels and even snapping forks. Norco eventually supported me with a discount through the bike shop where I worked, and ultimately they stopped charging me for replacement frames.
I was devastated. Not just because I'd crashed at my first contest, but because I was trying to prove to myself, my family and my friends that I could be a professional athlete and didn't need to work a nine-to-five job.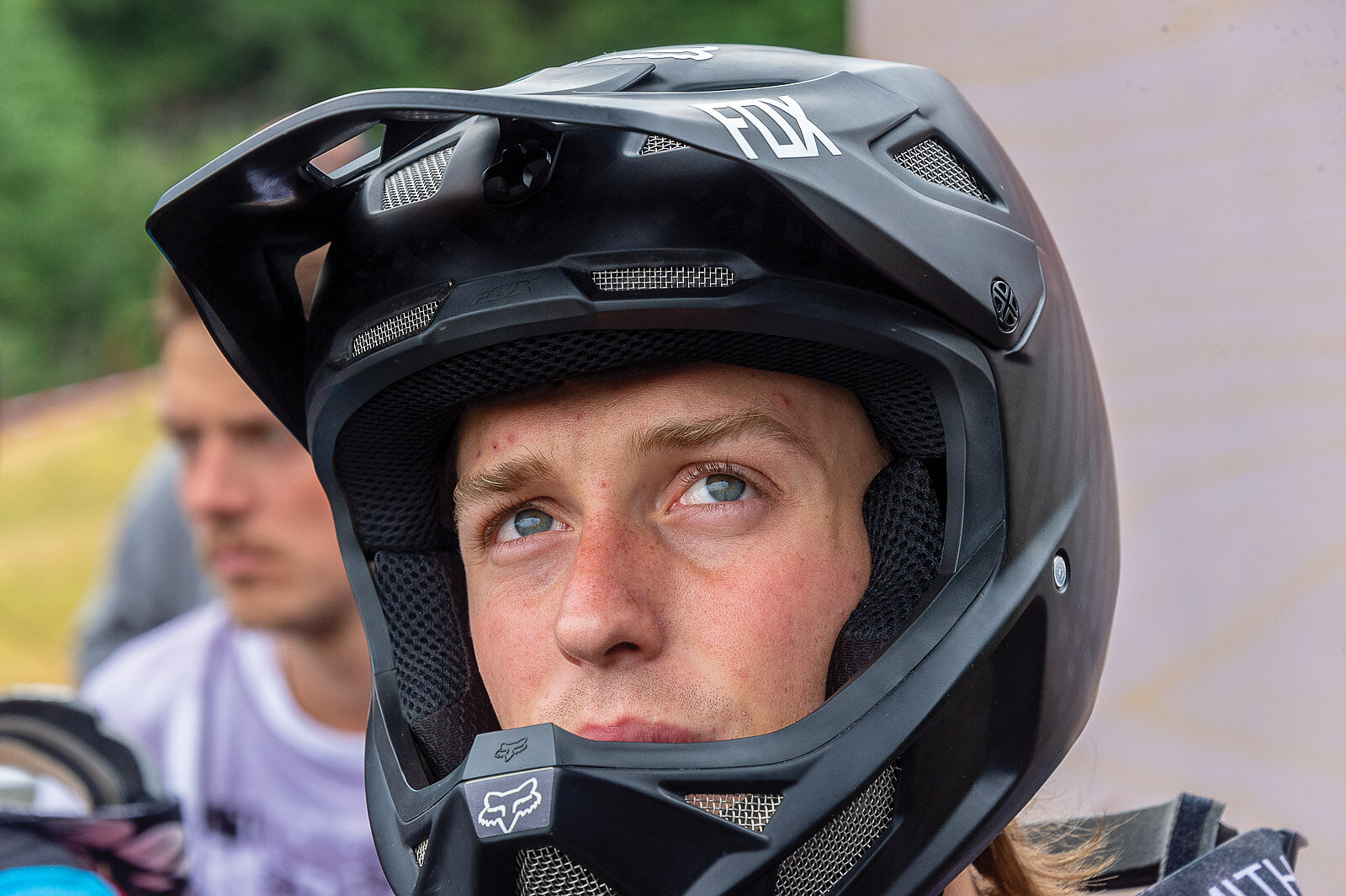 Though the 2010 season was a step in the right direction, and I was able to compete without killing myself, in many ways I felt like I was back to square one. After another winter of building confidence, I entered the 2011 season stronger and got 16th place at Crankworx Colorado, 11th place at the Claymore Challenge and 14th at the Bearclaw Invitational. Although these results didn't satisfy me, I was starting to figure it out. Competitors started to take me seriously and fans were beginning to recognize me.
Still, not having a bike sponsor made things harder, especially since most of the other competitors had full factory sponsorships. My 34-pound slopestyle bike with five inches of travel was all I had, so I had to make it work. I took heart in the fact that I was becoming friends with some of the other slopestyle competitors, especially Ryan "R-Dog" Howard. He knew I was looking for a bike sponsor, so he let me ride his Trek Ticket for a few practice laps during a small event in San Francisco called AT's Showdown. I loved that bike, and for the first time I fully realized what a big difference the equipment I was riding could make.
A few months after that season I was back home in Ontario, weighing up my options and starting to feel that my dream was diminishing. One day I was working in the bike shop and my co-worker shouted to say that someone had just called for me on the shop phone—a rare occurrence, as I was just a young mechanic. I picked up the phone and was shocked to hear R-Dog on the other end of the line.
"Hey man, I was just calling because I've been chatting with the guys and we think you'd be a really good addition to the Trek C3 Team," R-Dog said.
I could barely comprehend what was happening. I was ecstatic, emotional, proud and nervous all at the same time. It was finally happening, and it was real. Three months later, my first custom-painted Trek Ticket arrived at the shop. I built it up and rode it every single day at Joyride 150 until the contest season started.
The new bike and solid sponsorship brought new results, and in 2012 I officially became one of the guys to beat. I placed second or third in every major contest that season except for Red Bull Joyride at Crankworx Whistler, where I narrowly missed the podium in fourth place. Overall, though, I was mostly just enjoying the benefits of all the work I'd put in over the years. I was finally able to thrive in what I'd been working toward ever since watching that first Crankworx slopestyle contest with my family in 2006.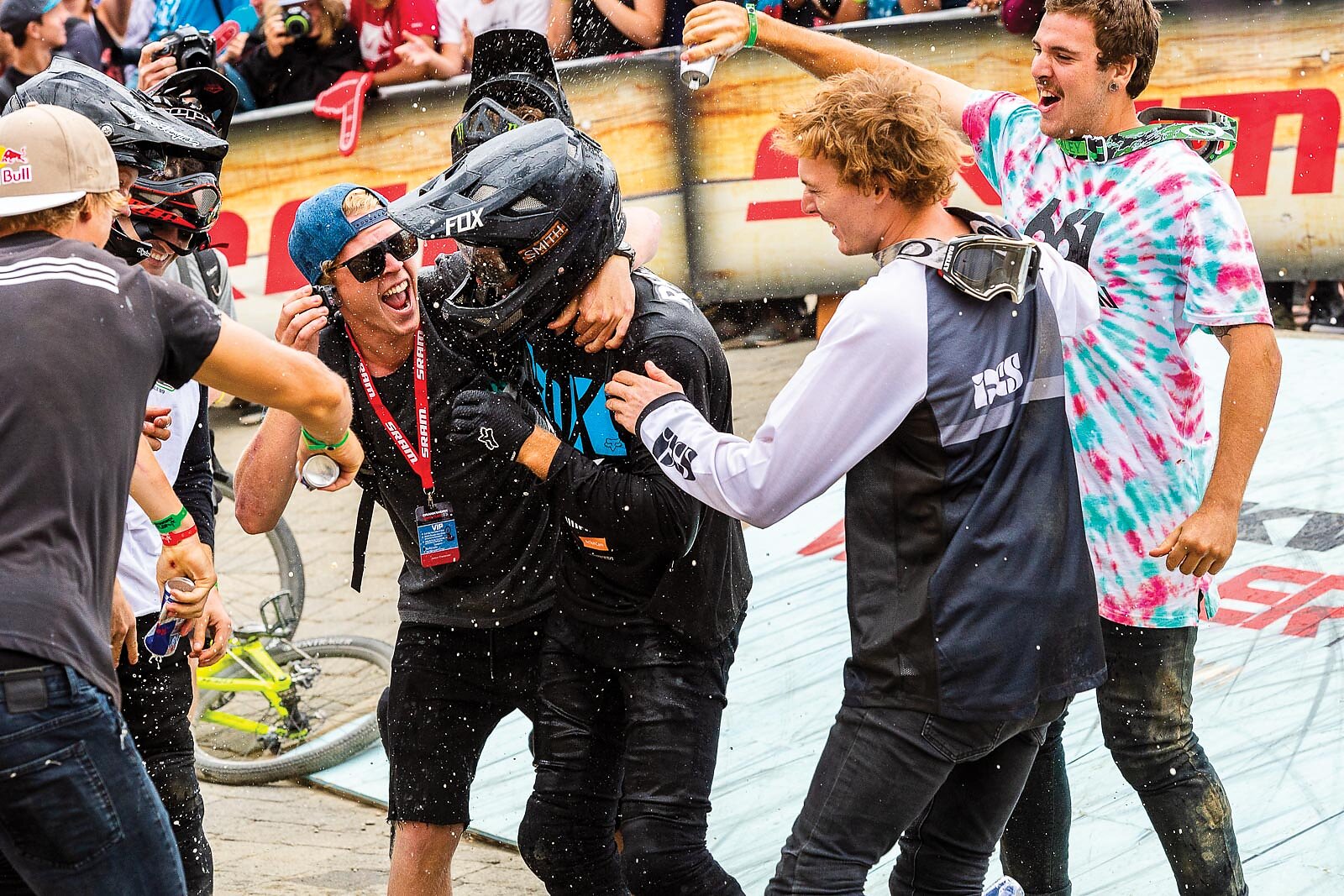 Still, I knew I had what it would take to get to the top of the podium, and my goals in 2013 narrowed to winning. Sure enough, I started that season with three big wins: the X Games in Munich, Germany; the Red Bull Berg Line in Winterberg, Germany; and the Vienna Air King in Austria. I was on a tear, and I knew it. I began focusing on what I hoped would be my first Crankworx slopestyle victory at their first European stop in Les Deux Alpes, France.
My dream was dashed, however, when I came up short on a trick in my first run and was catapulted over the handlebars into a dirt bank that encroached onto the landing area. I hit the ground headfirst, compressed five vertebrae and had to spend the next five days in a neck brace before flying home to begin another long recovery.
I realized that in a sport as inherently dangerous as slopestyle, dealing with injury was going to be a natural part of progression for any athlete who wanted to stay at the top. I knew that focusing on my recovery would be the first step to getting back on the roll I'd been on early in the 2013 season. Through it all, I kept my sights focused on winning more events during the coming seasons, especially the Crankworx slopestyle contests and their crown jewel, Red Bull Joyride.
The next year, I won the Vienna Air King and the Bearclaw Invitational, and came in second at Red Bull District Ride in Nuremberg, Germany and Red Bull Joyride in Whistler. I was so close to the top of a Crankworx slopestyle podium I could taste it and, finally, in 2015, I won the first two events of the Crankworx World Tour in Rotorua, New Zealand and Les Deux Alpes. But it wasn't until the 2016 season that I would finally realize my goal of winning Red Bull Joyride in front of thousands of fans at mountain biking's biggest festival.
My experience had taught me that in such a high-pressure situation, I just needed to block out everything that didn't make me smile and focus only on laying down the run I knew I was mentally and physically prepared to achieve. It worked, and I pulled off my plan on the first run, posting a score of 93 that wouldn't be touched for the rest of the day. In a single, minute-long run, all of the elements finally came together. I was at the top of a Joyride podium, 10 long years after watching my first Crankworx slopestyle contest.