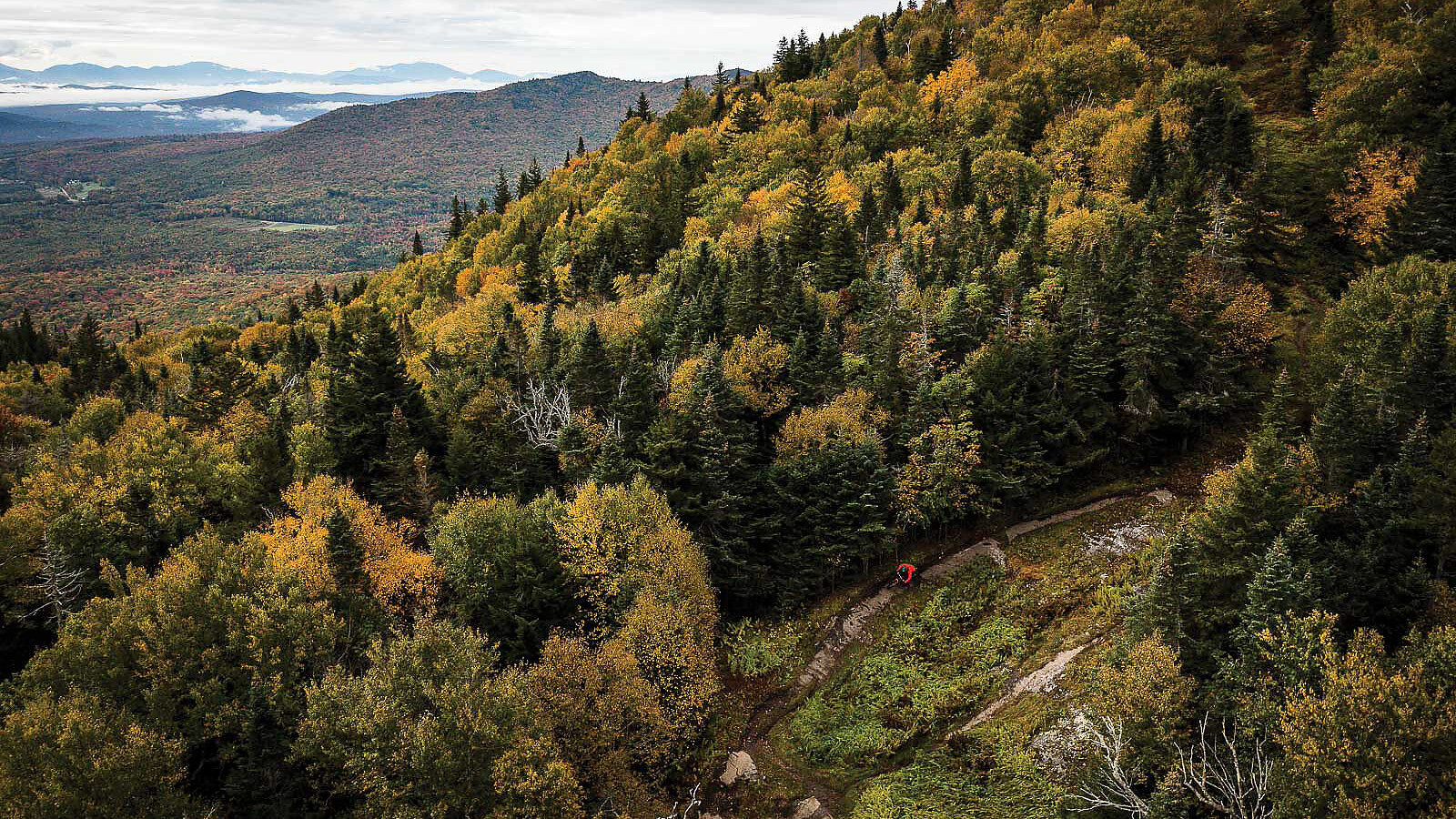 Vermont Travel Guide
1,000 miles. That's the total mileage of trails mapped in Vermont.
Though given its fervent trailbuilding scene, that number is likely much higher—growing even as you read this. The Green Mountain State is only about 157 miles long and ranges from 42 to 90 miles wide, a useful bit of context when explaining why it's possible to find a place to ride nearly anywhere here. Pair this unique trail density with dreamy dirt, slabs of rock ranging from small to spine-like ridges, webs of roots, machine-built berms and jumps, multiple bike parks and you've got a world-class riding destination.
However, Vermont isn't notable just because of its sheer trail volume (though it's a nice perk). A considerable portion of the magic comes from proud Vermonters themselves who, while they would never directly say this, are humble, hardworking trailblazers who've fought, advocated and crafted this outdoor paradise from the ground up. This tight-knit community culture is a testament to how mountain biking can transform towns once thought to be forgotten and give them new life. Combined with farm-to-table cuisine, craft brewing (dare I say the best in the country), a spirit of entrepreneurship, the beauty of the Green Mountains, rolling hills, lush forests and peaceful countryside, you might find it hard to leave.
Before heading up for your next trip, consider purchasing a membership from the Vermont Mountain Bike Association (VMBA), the state's nonprofit advocacy group for mountain biking. Even as a tourist, you can reap the benefits of a membership (free tickets to five Vermont bike parks, anyone?) and the money supports trailbuilding and advocacy in the state.
Without further ado, here are some of the best mountain biking destinations in the Green Mountain State.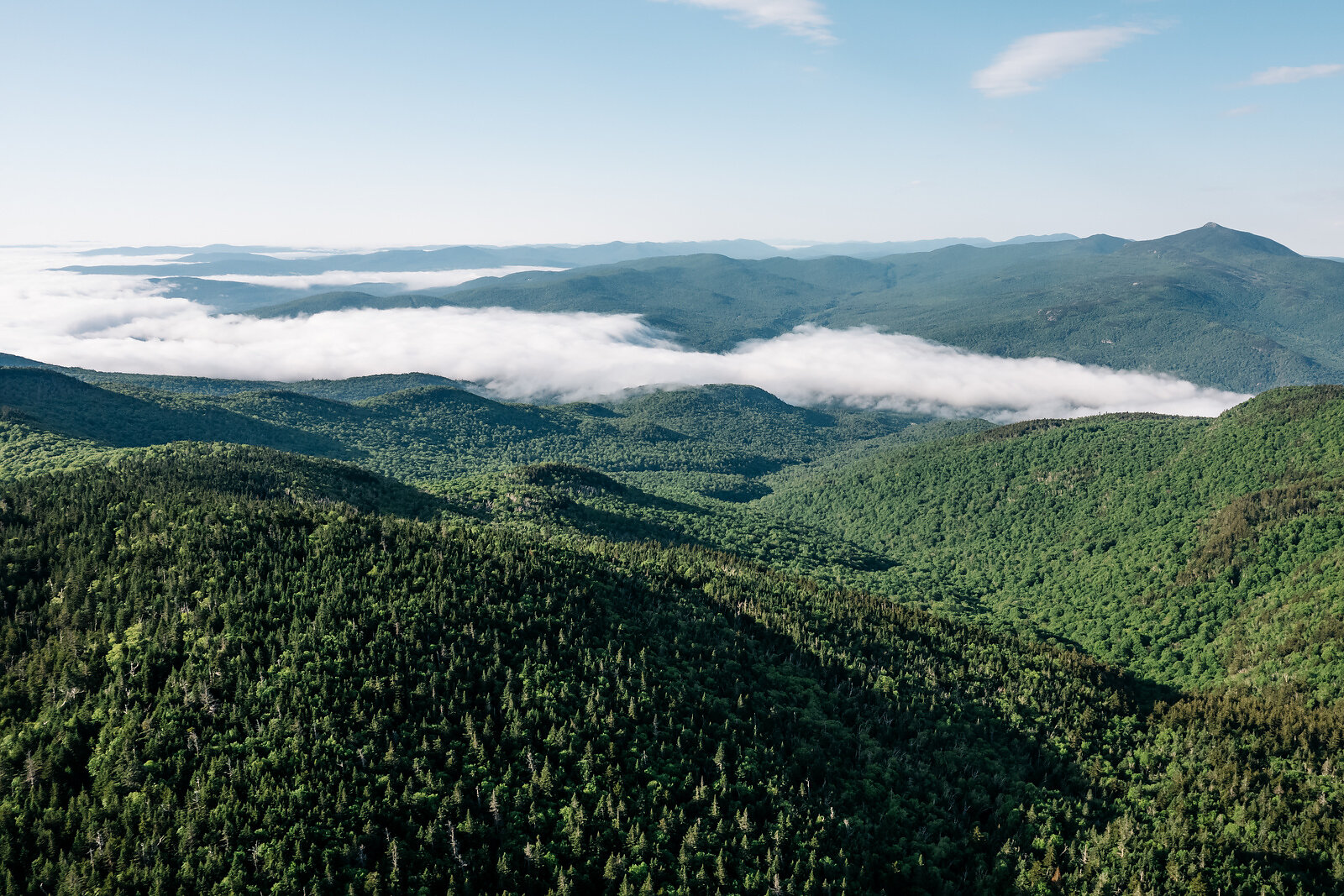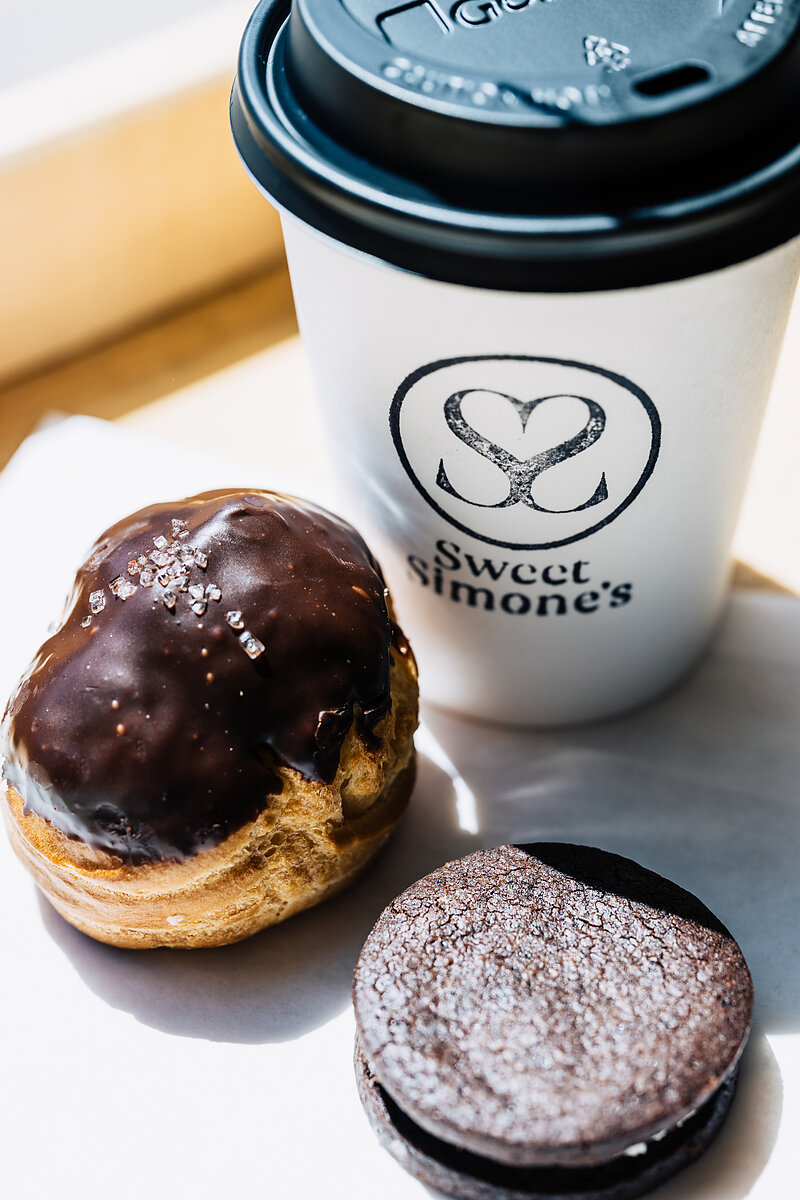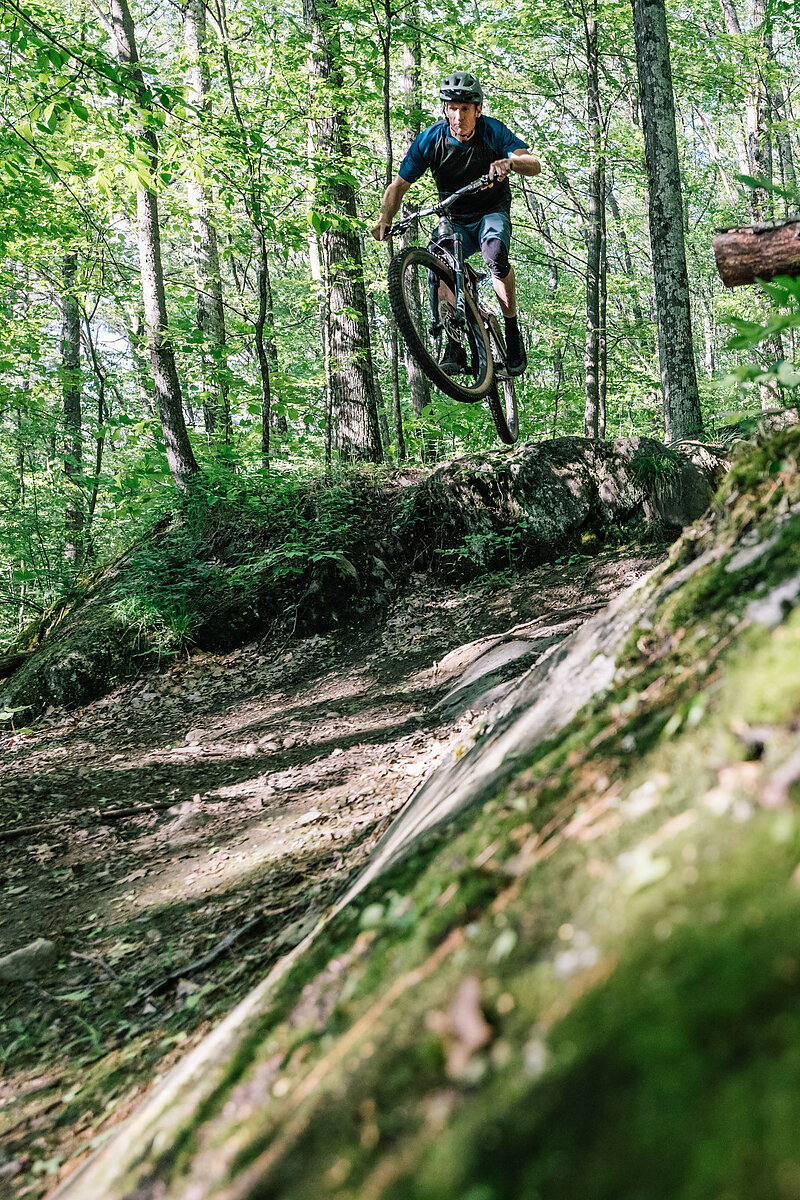 ---
Greater Burlington Area
While this region encompasses everything from Vermont's most populated city to sleepy rural towns, the 150-plus miles of singletrack is exceptionally diverse and cared for by a passionate local community of avid outdoorspeople. The terrain extends from Lake Champlain's shoreline to the spines of the Green Mountains. As a result, you can ride everything from rocky, chunky features on these ancient peaks to organic black soil in the Winooski River Valley to sandy, silty trails in the Champlain Valley. The most iconic zones are Saxon Hill, Hinesburg Town Forest, Bolton Valley Resort and Cochrans. Saxon Hill is an excellent network for early season riding and the best spot to bring a newer rider—though it's more demanding trails are not to be overlooked. It's also in the process of making its lower loops accessible for adaptive riding. The Hinesburg Town Forest has a mix of intermediate and advanced trails, and can be linked to the nearby Sleepy Hollow network for some long epics. Then there's the Cochran's Ski Area, famous in the world of snow sports for being the United States' first nonprofit ski area and a breeding ground for ski Olympians such as Barbara Ann Cochran and Ryan Cochran-Siegle. However, it's rapidly gaining more recognition for mountain biking. In the late '90s some steep, rugged descents were cut in on the mountain. Those spicy trails are still there, but the recent explosion in biking has led to reworked trails, a pump track and beginner loops to round out the whole network.
Lastly, Bolton Valley is the area's lift-serviced bike park and freeride is alive and well on their most advanced terrain, some of the steepest, burliest descents you can find in an American bike park. The resort is collaborating with Gravity Logic to add more beginner and intermediate terrain, which will add to its advanced options. Bolton Valley's lodge is also a great base camp for exploring the area. Their comfortable rooms let you stay slope side, and you're a quick drive from other networks. Nearby in Richmond is Sweet Simone's, a hole-in-the-wall bakery with a delectable array of sandwiches, pastries, cakes and coffee. Their homemade Oreos are the perfect post-ride snack.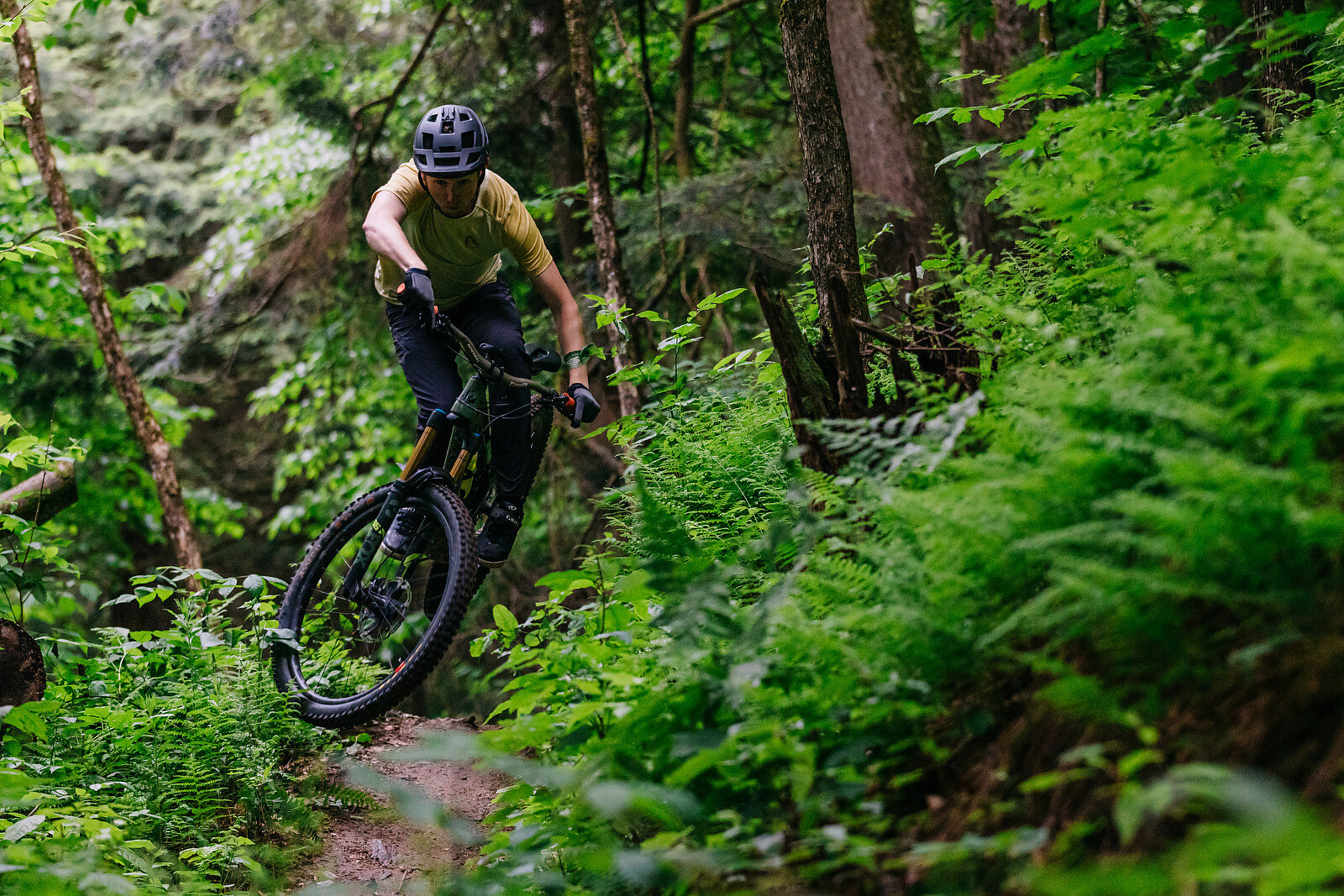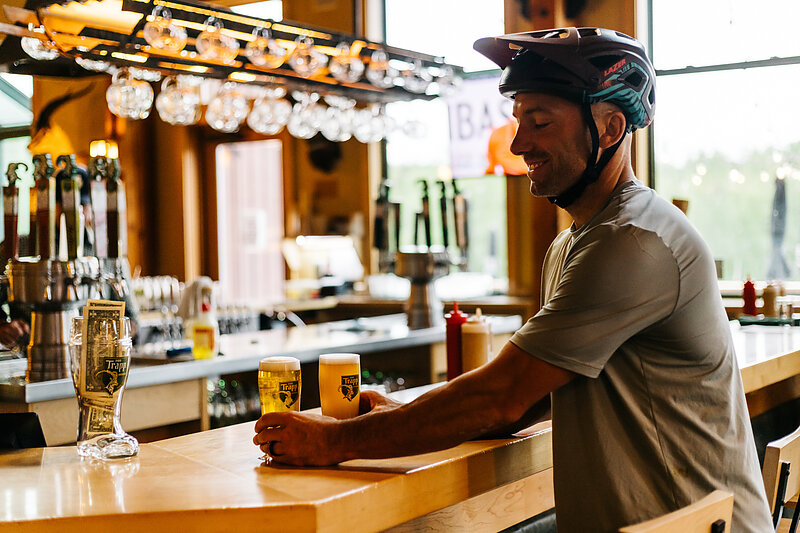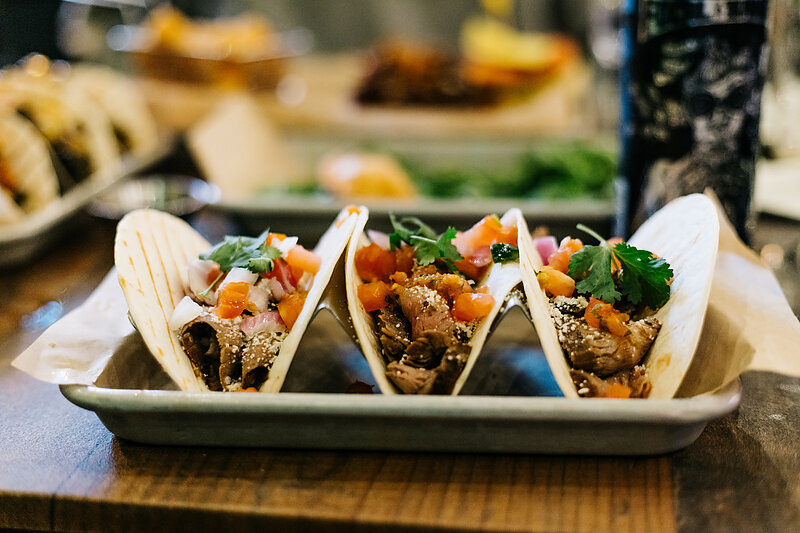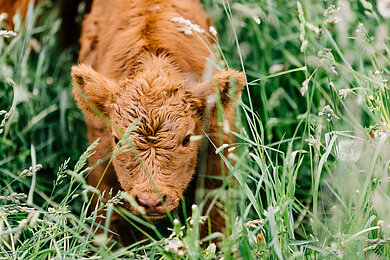 ---
Stowe
The idyllic slope side town nestled right at the base of Mount Mansfield—Vermont's highest mountain—pairs year-round, world-class outdoor recreation with smalltown charm. Stowe has four main riding networks that consist of roughly 50 miles of mapped singletrack. Cady Hill—Stowe's oldest network—has an exciting mix of flowy new school and old school tech, making it appealing to many riders. It's also home to the trail Florence—aka "Flo"— a superbly built flow trail that is fun for any skill level. Adams Camp has a more old-school flavor and is known for its complex woodwork. For those looking to get off the beaten path, the Sterling Forest network is a great option. With no cell reception and plenty of challenging old-school tech, its trails offer the most backcountry riding experience. Lastly, the Trapps Family Lodge trails are ideal for newer riders with its rolling terrain. It also provides fast, flowy descents and hand-built technical trails that easily link to other local networks, making for tremendous all-day epics.
There is no shortage of places to stay in Stowe. For a taste of Austria, head up to the Trapp Family Lodge for unparalleled views of Stowe's mountains. The resort offers three farm-to-table restaurants, a brewery, a wine cellar, hiking and, most importantly, direct access to its mountain biking trail network. Post-ride, be sure to drop by the Von Trapp Brewery & Bierhall. Its outdoor patio is a great spot to soak in the sunshine and refuel with fresh lagers and homemade pretzels.
Back in town, Ranch Camp is your one-stop shop for the best things in life: bikes, beers, burritos. This trailside three-in-one restaurant, bike shop and bar is a community cornerstone, making it the most popular hangout in town. For dinner, head across the parking lot for pub grub at the Backyard, which won't break the bank. On top of delicious tacos and burgers, the Backyard has a relaxing, welcoming atmosphere that's usually buzzing with local riders.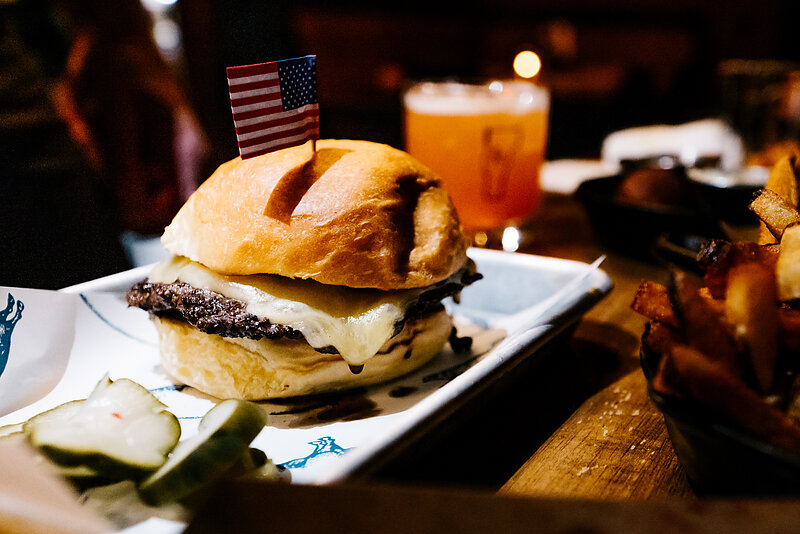 ---
Waterbury
If you're looking for the quintessential smalltown vibe, you'll find it in Waterbury. The town is aptly positioned along the Green Mountain Byway, Mad River Byway, and Interstate 89, making it the perfect launch pad for exploring the Northwestern Vermont riding scene. While it's got the charm of a friendly small town, it boasts world-class riding, award-winning dining and plenty of independent shops and stores to check out.
Perry Hill, a small but mighty 10-mile network, is Waterbury's crown jewel. One main climb goes to the top, and you'll get your workout with the ascent alone. The grind in the saddle is worth the effort; once you get to the top, the network clovers out into four different sections. Campfire and Smore's are great options for intermediate riders or someone looking for flow. Up higher are Joe's and Six Flags, which have some committing rock rolls—like the iconic "Dragon." Local's tip: Start early, pack a lot of snacks and ride the Triple Crown. It goes from Joe's to Campfire or Smore's to Six Flags to Disneyland, and then Burning Spear to Small Axe. You'll be ready to roll back into town for margaritas at the Prohibition Pig Brewery when you finish all three loops. For lodging, the Grunberg Haus Inn and Cabins blends old Austrian charm with rock and roll Americana. Each room has a record player, a curated selection of classic vinyl and the funky, Austrian decor is cozy. Of course, one could visit Waterbury for just its food scene alone. There's the iconic Ben & Jerry's factory just off Route 100, and the tour—with plenty of ice cream samples included—will delight any ice cream lover. The Prohibition Pig Restaurant offers southern-style small plates like hush puppies and sliced brisket for a casual sit-down meal. Get a few different dishes to share while sampling one of the many beers on tap. If fine dining is more your style, reserve a table at the award-winning Hen of the Wood. Local ingredients drive the menu—meaning there's sure to be something new to try each time you visit.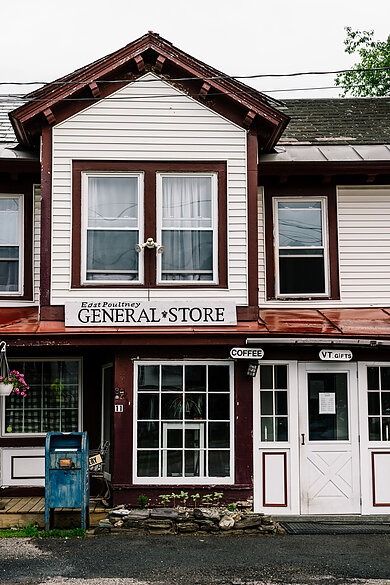 ---
Poultney
Set amongst the Slate Valley landscape and Lake St. Catherine, Poultney is a peaceful, rural town redefining itself through well-built singletrack. Slate Valley Trails was formed in 2015 and the organization cut ground with trailwork in 2016 and 2017. Unlike other bike destinations in Vermont, where biking goes back decades and the communities are mostly established, Poultney is still evolving, and you can witness the growth firsthand. Poultney sits at the edge of the Taconic and Green Mountains, and this unique geology and geography give the riding its own character compared to the rest of the state. Some trails wind themselves over shelves of deep gray slate or through loose scree fields of rock. Pro tip: pack thicker tires. The central riding comprises three key zones: the Fairgrounds, Endless Brook, and Country Club. The Fairgrounds lends itself to families since it has easy access to great beginner and intermediate terrain. Plus, some climbs aren't as demanding as other parts of the network. Cotton Candy is a fantastic machine-built trail approachable for newer riders. As you move south to the Endless Brook and Country Club zones, the singletrack starts to require bigger climbs and has more challenging features to ride. Advanced riders will love Hunker Down, built during the thick of the pandemic. It's a downhill, directional trail featuring the perfect combination of jumps, berms and tech that strategically incorporates the surrounding landscape. The network has a handful of western facing overlooks, so it's worth putting the mileage to get to the top for a stunning sunset view over Lake St. Catherine or nearby New York.
Lake Saint Catherine hosts many cozy lake-front cottages and cabins to help you feel at home during your stay. Downtown Poultney is the town's hub for businesses and food. Analog Cycles isn't your typical bike shop, choosing to celebrate the old-school approach to cycling, where craftsmanship and quality beat out unnecessary gadgets. You won't find any SRAM Transmission drivetrains here, but instead lovingly crafted steel bikes and an interesting selection of gear such as bikepacking accessories. Poultney Pub is the primary dinner spot for the town. On top of a diverse menu of delicious pub food and craft beers on tap, Poultney Pub is a hot spot for live music throughout the week.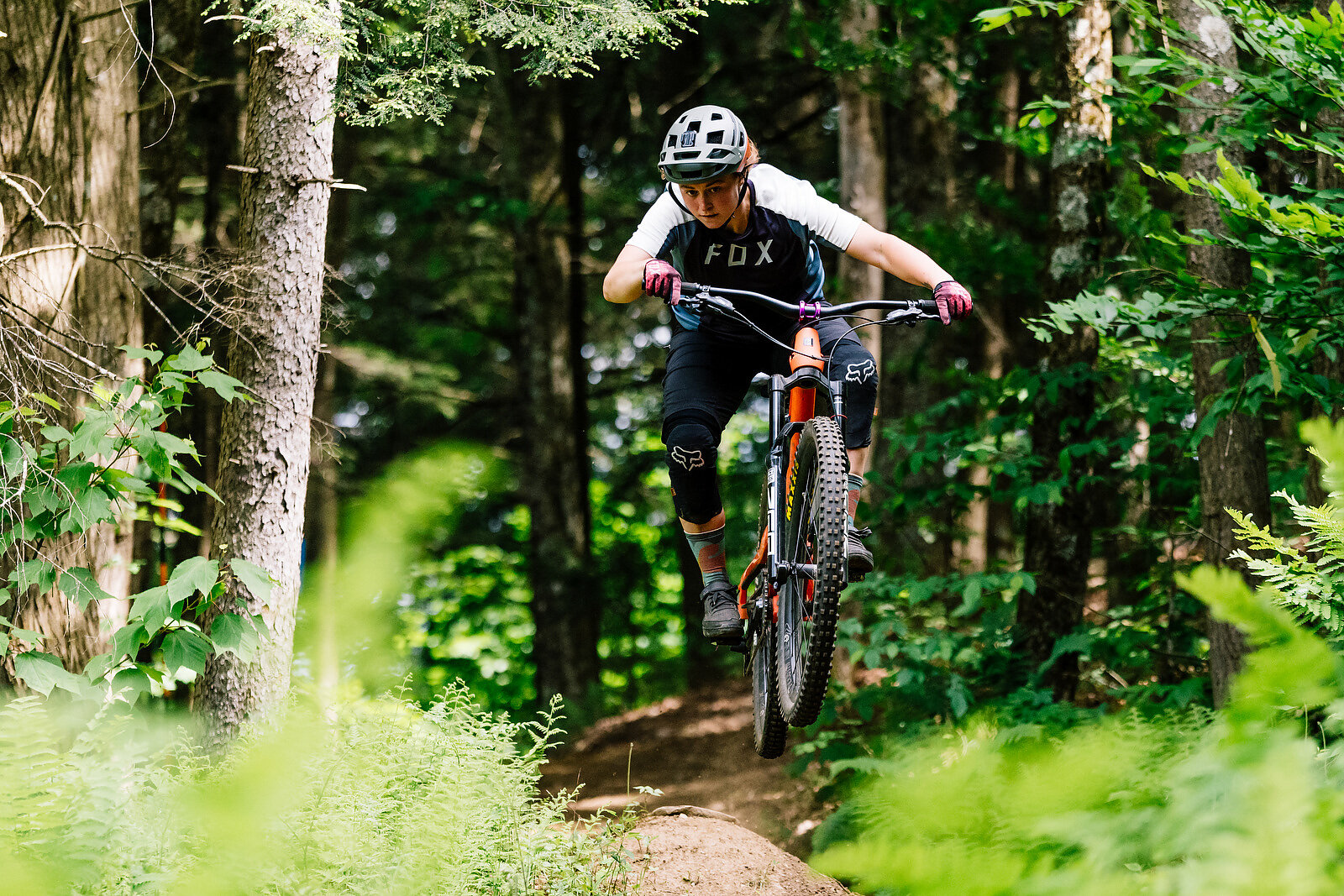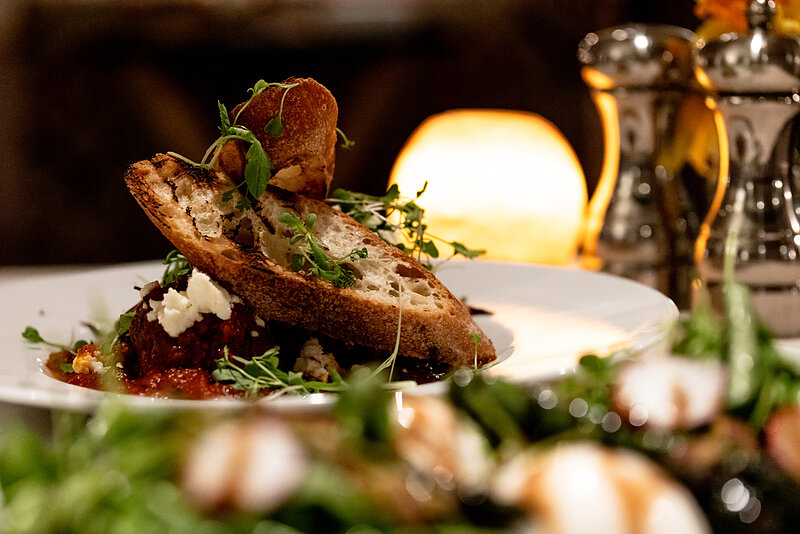 ---
Woodstock
With its storybook boutiques, restaurants and homes, you might think you're in the village from "Beauty and the Beast" when strolling through Woodstock. Once one of the largest towns in Vermont, this 261-year-old village is a year-round playground with biking right at its doorstep and some best dirt you can find. There are three main trail networks in the Woodstock area. Mt. Peg is the closest to downtown, and thanks to a new village connector trail, you can pedal from town to the network. The 26-mile network is most famous for its enduro-style climbs and descents that drop right from the main ridge. Additionally, all kinds of traversing singletrack along the mountain can be linked together for short and long loops. Cloud Drop to Lower Hard Style is a must-ride for its well-built berms, plenty of jumps and steep, fall-line sections. Cross country riders will enjoy the Aqueduct trail system, known for its fun rolling singletrack. Lastly, the ski resort just outside of town, Saskadena Six, has a small trail network, initially built for a lift-serviced bike park. The bike park ultimately stopped spinning its lifts, but the trails didn't disappear with it. Instead, the network evolved into a pedal access network and retained its bike park flair with many machine-built berms, features and scratched-in freeride descents. Riding here feels like you're in a mini enduro paradise. Just minutes from Saskadena Six is the Teago General Store, a homey shop with hearty sandwiches and craft beers.
If you want the whole Woodstock experience, staying at the Woodstock Inn is a must. Tucked right in the heart of town and just minutes from the surrounding Green Mountains, this elegant resort is an incredible piece of New England history. When you're not wandering the halls and courtyards of the Inn, you can check out the activity center, which offers mountain bike rentals, lessons and guided tours of Mt. Peg and Saskadena Six. The food is just as remarkable as their accommodations, and The Red Rooster is a delectable option for breakfast or dinner. For something more casual, Worthy Kitchen is a down-to-earth spot famous for its farm-to-table burgers and relaxing atmosphere.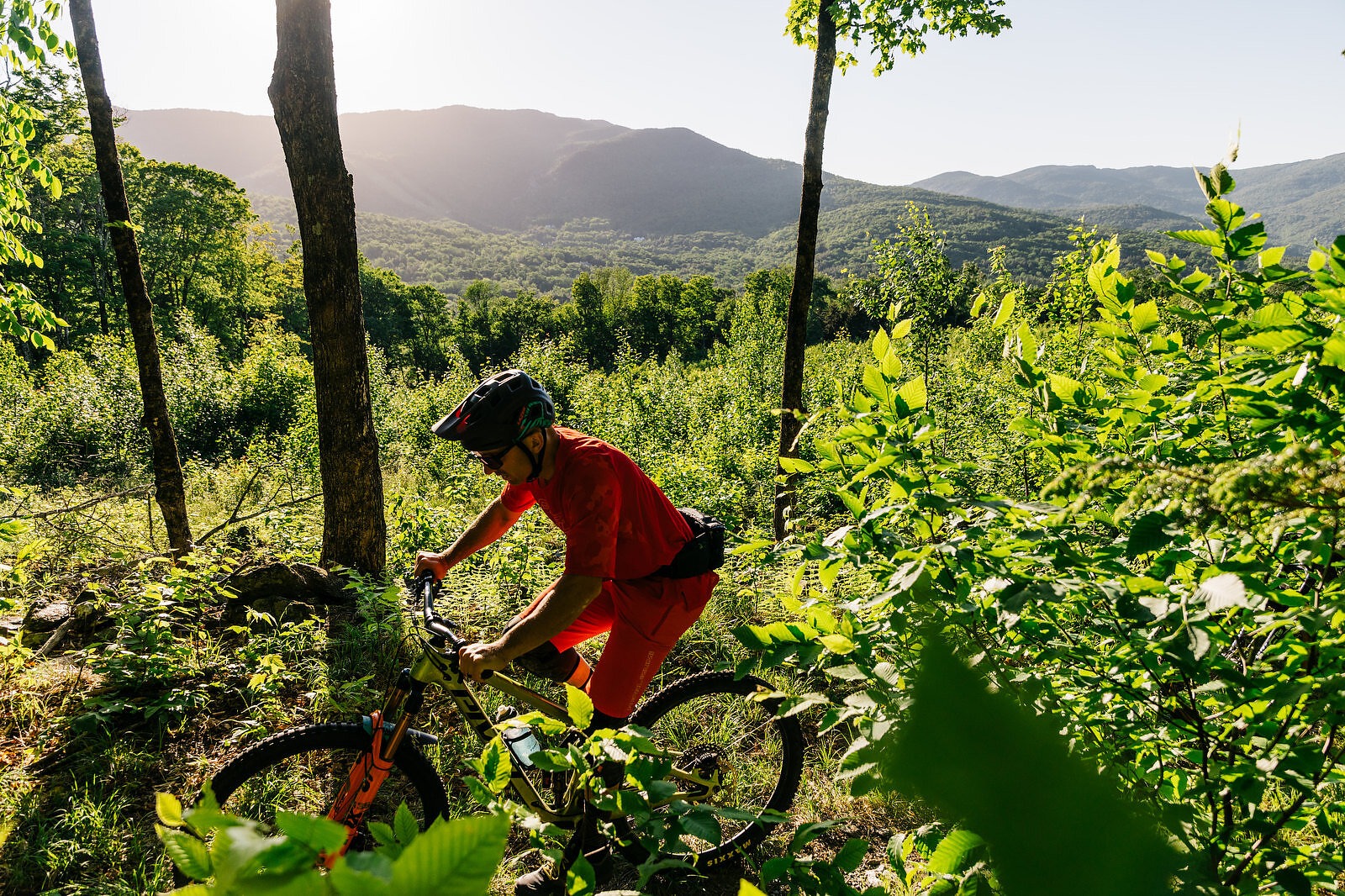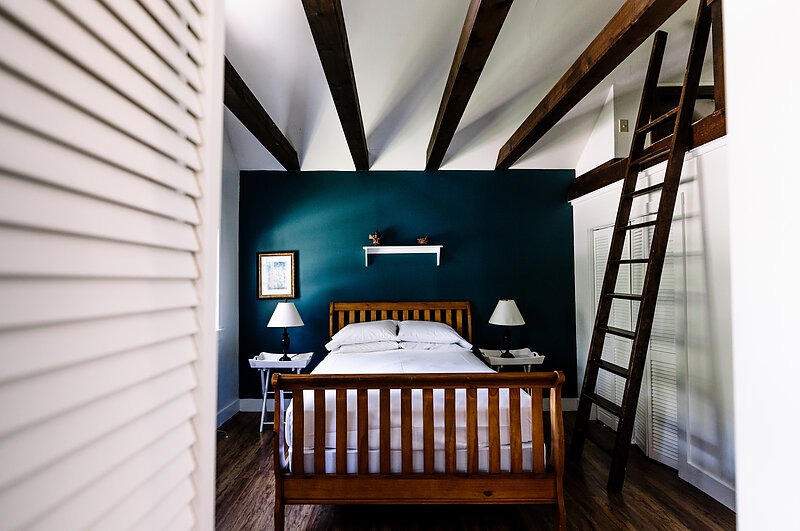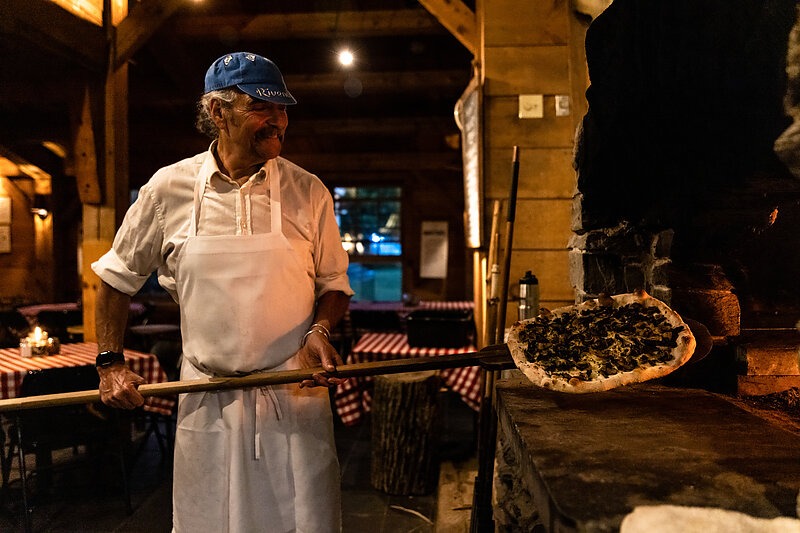 ---
Mad River Valley
Named after the Mad River, which flows through the quaint towns of Warren, Waitsfield and Moretown, the Mad River Valley is an outdoor recreation haven plopped smack dab between the Green Mountains with roughly 58 miles of singletrack to ride. Sugarbush Resort offers lift-serviced riding with classic downhill riding that's famously gnarly, technical and rooty. If you're craving an enduro epic, ride from the top of Super Bravo to the valley, which nets out roughly to a 3,000-foot descent. The Blueberry Lake trails in the Green Mountain National Forest are the most beginner-friendly and scenic. Lastly, there are Eurich Pond, Chase Brook Town Forest, Camel's Hump and Phen Basin State networks. Each network has its unique flair, a good mix of technical riding, and new school flow. Grab a shuttle ride from Stark Mountain Bike Works ​​to maximize your time. It's $10 for a ride and a classic shuttle lap is Techie to Catamount. It's the perfect blend of loamy, fast tech and new school flow, which will leave you smiling all the way back to town.
The Featherbed Inn is the best base camp to explore the area. For one, the Inn is right on the Mad River Rider trail network, meaning you can roll from your plush featherbed to the trails. Innkeepers Mick and Karen are overflowing with hospitality, and they'll load you up with an unforgettable breakfast, including homemade scones, before the adventuring begins. Nearby is American Flatbread—also trailside—which has mouth-watering flatbreads made with local ingredients. IPA lovers will be in heaven at the Lawson's Finest Liquids Tap Room, where craft beer samples are aplenty. And no visit to Mad River is complete without an exciting ice cream concoction from Canteen Creemee (when in doubt, get a maple creemee). You'll probably have to stand in a long line of kids buzzing with excitement, but that only means the ice cream and fried chicken here is worth the wait.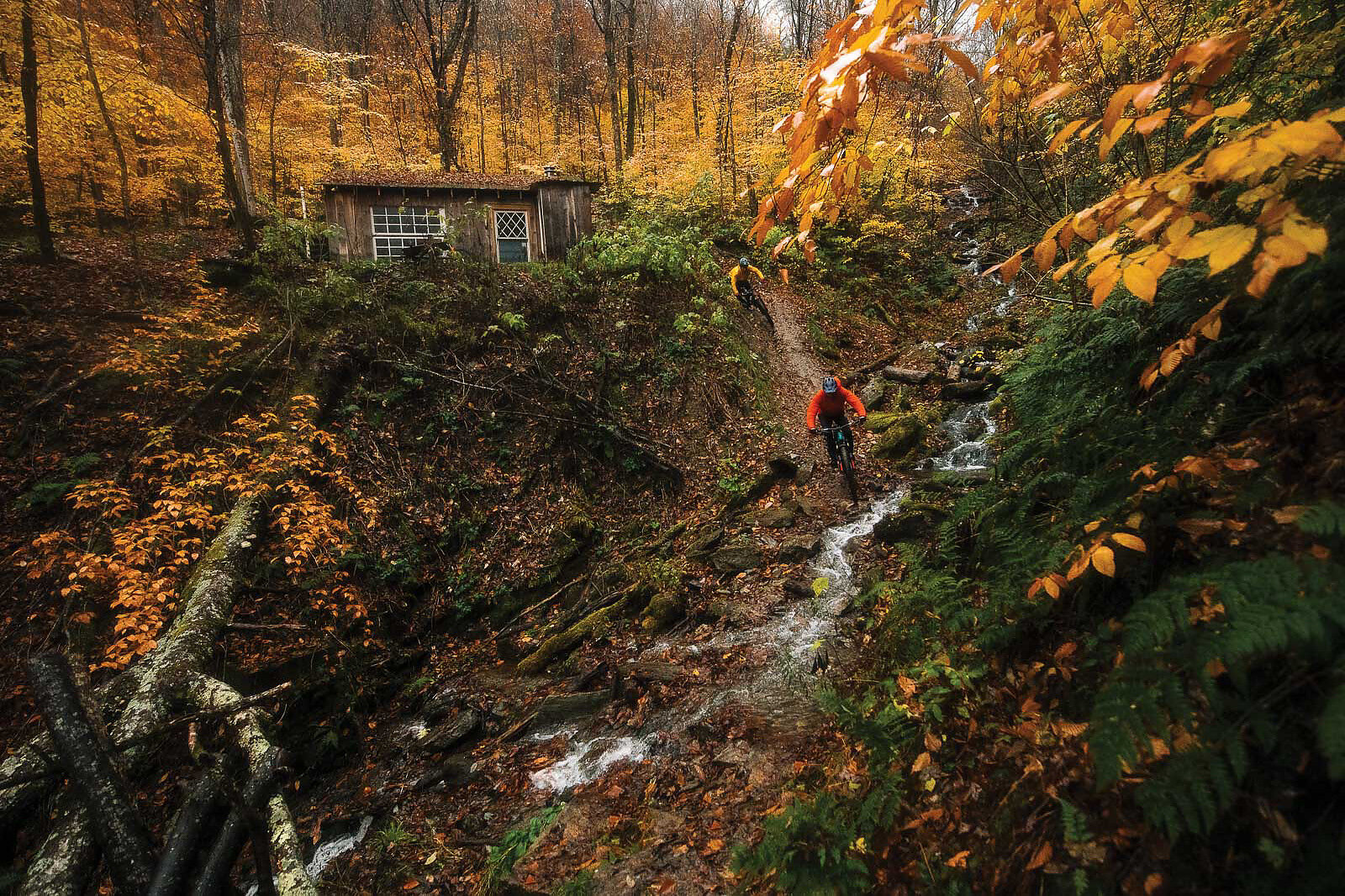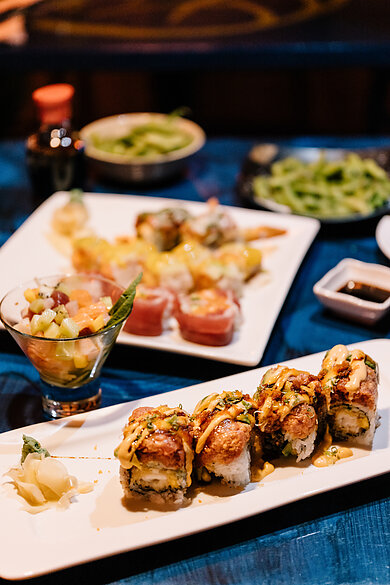 ---
Killington
Right in the heart of the Green Mountains lies the resort destination of Killington. Most folks associate the town with the famous Killington Bike Park—rightfully so—but there's more to this community than lift-serviced trails. Beyond the resort is a vibrant mountain town hub with miles of varied singletrack that wind deep into these wild, lush mountains. The Killington Bike Park, also known as the "Beast of the East," is proudly the biggest in the Northeast, with 30 miles of trails. The park breaks up into three distinct zones, and there's terrain suitable for everyone. By far, Killington is most famous for its steeps, loam, roots and rocks that are a testament to what New England biking is all about. You can also get your airtime fix on machine-built Gravity Logic masterpieces such as Black Magic, a famous three-mile jump line. Outside the park, there are roughly 90 miles to explore by bike. The Sherburne Trails are right in town, conveniently tucked behind Base Camp Bike and Ski. The network has a nice variety of beginner and intermediate flow style trails and plenty of rocky and rooty singletrack. Afterward, head back to Base Camp for the cheapest IPAs in town and any bike or gear-related needs. Just eight miles north of town in Pittsfield are the Green Mountain Trails. You might feel like you've accidentally stumbled into the Shire with its bubbling streams and overlooks filled with endless green vistas. The network's summit even has a stone hut, aka "Shrek's Cabin," that's rentable for overnight trips. Awake to a panoramic view of the Green Mountains painted by the sunrise, then drop into a gnarly classics like Devil's Throat or Wrong Way, which feel plucked right from an Enduro World Series stage.
There are plenty of options for lodging in town. Still, a great home base is the Killington Grand Resort Hotel. The castle-like hotel is minutes from the bike park, and amenities such as a heated pool, firepits for lounging and beautiful views of the mountains are extra perks. If you're looking for something simpler, you can camp for free (first come, first serve) in the Killington parking lot or at Giffords Woods State Park. Start your day with a breakfast sandwich and coffee at the Liquid Art Coffeehouse and Eatery. Go with a traditional espresso beverage or one of their imaginative latte flavors—like the Butterfinger or blackberry mocha. Next, get your fill of sushi and Chinese cuisine at Sushi Yoshi for dinner. When it comes to its jam-packed menu, try some classic rolls or get adventurous with chef's specials.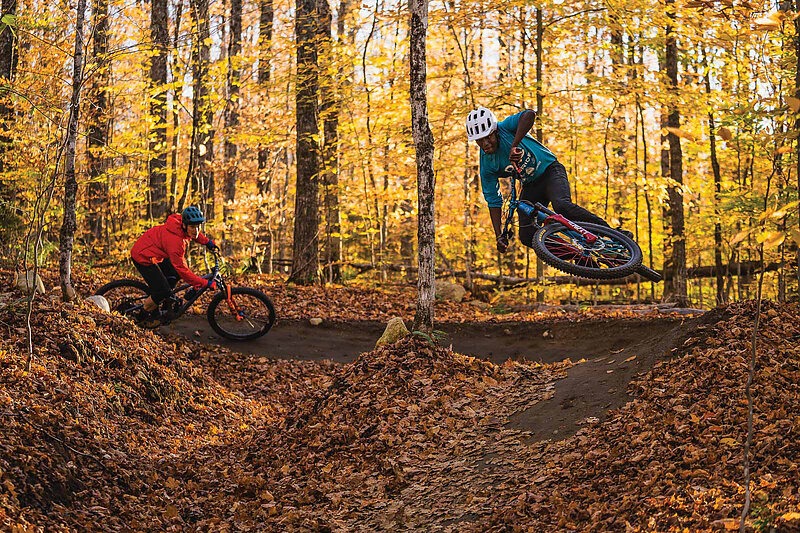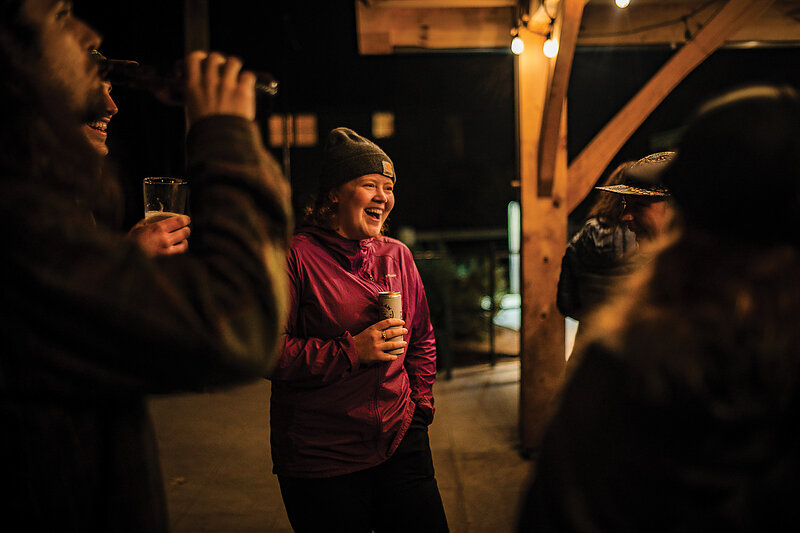 ---
Northeast Kingdom
Vermont's Northeast Kingdom has long been a hotspot for mountain bikers due to its world-renowned Kingdom Trails (KT) network. The community was ahead of its time by pioneering a vibrant, interconnected trail network on private land. This region, filled with sleepy farms, rolling hills and lush forests, has three main zones for riding. Kingdom Trails spans 92 miles. When you factor in Burke Mountain with KT, that mileage jumps to 121 miles of maintained trail. The KT network is flowy and fast, and its interconnected nature makes it effortless to ride all day and see something new. With so many trails, picking favorites is tough, but Black Bear in East Haven is a must for its swooping machine-built berms that will leave you giddier than a five-year-old at Disneyland. Before riding here, you'll need to purchase a day pass or membership, and if you ever need trail guidance, the Welcome Center is a great resource right in town.
Burke Mountain is the region's lift-access bike park, where you can find more challenging terrain and jump lines. Just beyond the park on Burke's summit are a handful of advanced trails that epitomize freeride mountain biking. The triple-black-diamond rating on Free Ride is no joke, and if you're brave enough to drop in hold on for a steep ride. Lastly, eight miles from KT is the Victory Hill network, which has more of a backcountry feel. Here you'll find more enduro-style riding with plenty of technical features, and Middle Finger and Leif's are popular trails to check out. The experience on and off the bike makes the Northeast Kingdom memorable, and there are lots of trailside food and beverage options. Mike's Tiki Bar is a beloved watering hole for its relaxed, outdoor bar that's always teeming with riders looking for drinks straight from the tap. There are two food trucks on-site, so it's an ideal spot for lunch and dinner after rides. Lodging options are abundant, but if you want to make your trip unforgettable, book a stay at The Wildflower Inn. The rose-colored country inn is in the heart of the Kingdom Trails network. Another bonus: Breakfast is part of your stay, and your choices include Eggs Benedict or homemade blueberry pancakes—sounds rough, right?
Freehub proudly kicked off its 13th year of publishing with this limited-edition Vermont Photo Book—a visual field guide to one of the world's greatest riding destinations, written and photographed exclusively by locals who know it best. Renowned for its tradition of four-season outdoor recreation, the Green Mountain State has, in recent decades, parlayed its snow-sports heritage into the creation of a mountain bike paradise. Though much of Vermont's land is privately owned, trailbuilders have forged deep relationships with townships and landowners that have allowed trails to connect from one property to the next. Today, the state has more than 1,000 miles of mapped trails and major organizers insist this is only the beginning of a peaceful trail revolution for the people. This lovingly crafted manual is a tribute to Vermont, with extensive photo galleries and stories celebrating the state's finest riding—and the hardworking people who are making it happen.