Tough Love Harrisonburg's Longstanding Culture of Sweat Equity and Burly Terrain
Sitting at 1,325 feet in the heart of Virginia's Shenandoah Valley, you'd be forgiven for mistaking Harrisonburg as little more than a blue-collar college town.
From Interstate 81, the only hint of this East Coast mountain biking hub you can actually see is James Madison University's bluestone campus. In-town views of the mountains are overshadowed by the Cargill grain elevator, Harrisonburg's tallest structure, rising above downtown like a cinder block tribute to the city's agricultural roots.
The mountain bike scene in the 'Burg is not immediately apparent, though it has been vibrant here since the dawn of off-road riding. Harrisonburg is not overrun with mountain biking tourists. Driving to the trailhead, you're more likely to pass a Mennonite family on horse-and-buggy than a car bearing a bike rack. Of the hundreds of miles of singletrack that surround Harrisonburg, less than 10% of them are bike-optimized and only a handful are rated green for beginners. But what is here is a quietly thriving community of cyclists working to bring the region's rugged backcountry networks to the next level.
That the 'Burg is a place with a reputation for going big is undoubtedly a reflection of its topography. Prior to the city's founding in 1780, Harrisonburg was known as Rocktown, and for good reason. Jagged flakes of limestone jut from the fertile valley floor as 3,000-foot parallel sandstone ridgelines hem Harrisonburg's horizon. Massanutten Mountain and the Blue Ridge Mountains flank the city to the east while the Allegheny Mountains loom to the west. And though the city has both Skyline Drive and Shenandoah National Park at its doorstep, for mountain bikers in Harrisonburg, the true gem is the 1.8-million-acre George Washington and Jefferson National Forests.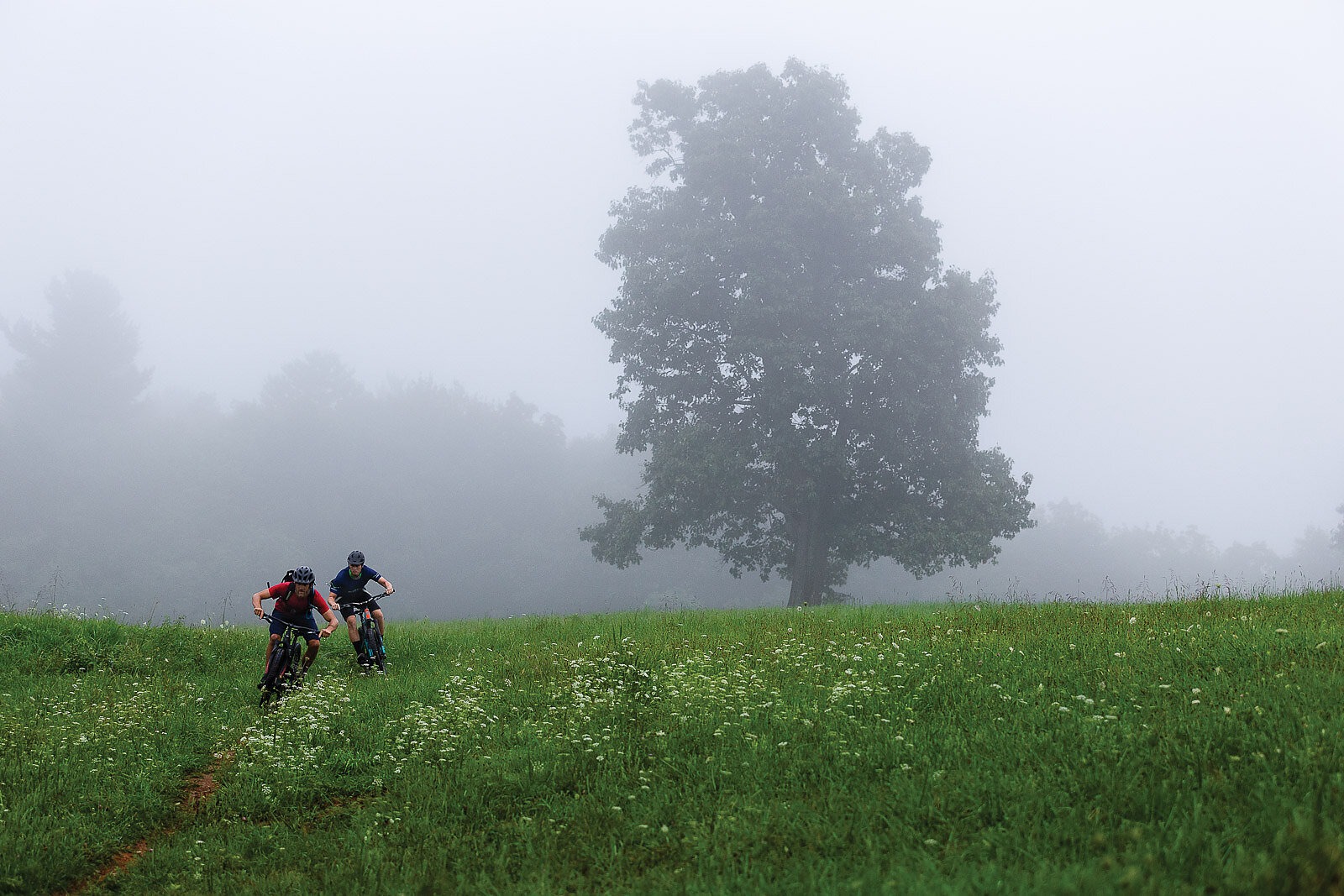 After settlers forced the Manahoac and Monacan nations from their lands, they wasted no time in exploiting the area's resources. Like all the country's national forests, the "G Dub," as local riders call it, was primarily used for logging. In the early 1900s, investors discovered small veins of coal near North River Gap but abandoned their mining efforts when it became clear the coal was of poor quality. The majority of today's trails in the forest are not trails at all but, rather, post-extraction routes from logging and mining. In true industrious fashion, these old roads climbed fall lines straight from the valley, beelining to a series of 4,000-foot peaks along the Shenandoah Mountain ridge.
Two trails were unlike anything else in the forest: Braley Pond and Dowell's Draft. Built by the Civilian Conservation Corps during the 1930s, these trails meandered alongside hills instead of plummeting down fall lines. And while they were originally built for hikers, mountain bikers in the 1990s rediscovered and breathed new life into them.
Thomas Jenkins, co-owner of Shenandoah Bicycle Company and co-founder of the Shenandoah Valley Bicycle Coalition, was part of that early wave of Harrisonburg mountain bikers. Jenkins started mountain biking in Harrisonburg in 1990 when races were far and away the best means for discovering new trails.
At the time, Massanutten Resort, a four-season accommodation 15 miles east of Harrisonburg, was one of the few places on the East Coast where you could go to race mountain bikes. Its signature race, the Massanutten HOO-HA!, was first held in 1989 and continues today. Originally a two-day event, the HOO-HA! featured everything from dual slaloms to downhill races. The courses incorporated terrain on the resort's ski slopes but also on an 800-acre tract of mostly undeveloped land that butted up to the G Dub known as the Western Slope.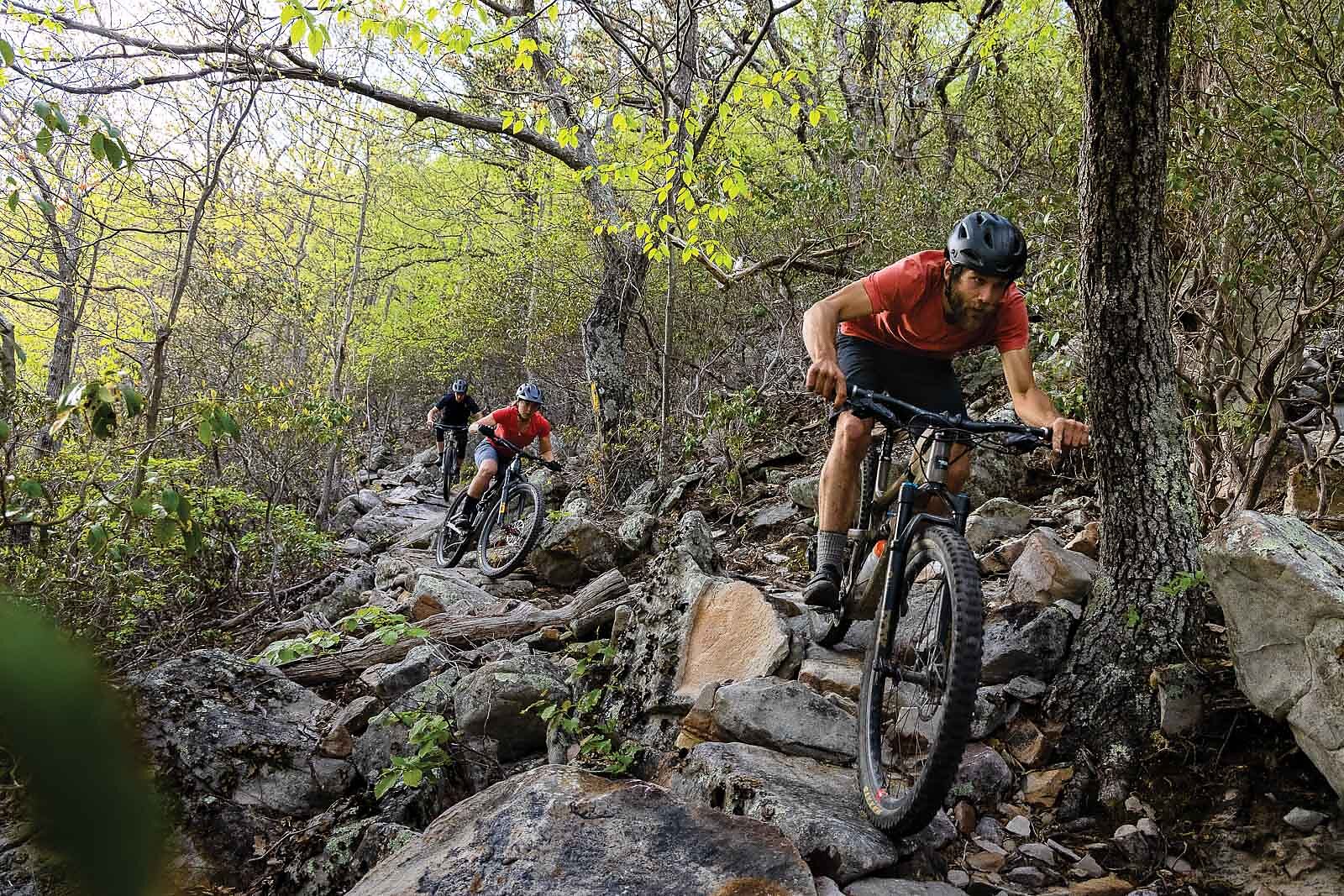 "[The Western Slope trails] were rough," says Kenny Hess, Massanutten Resort Director of Sports and Risk Management and the man behind the HOO-HA!. "There was not a lot of flow—you grunted up and you held on going down."
During the early '90s, it was Massanutten Resort—not the G Dub—that acted like a gateway to the Harrisonburg mountain bike scene. Road cyclists had been riding the valley's bucolic roads since the early '70s but mountain biking, at the time, was still on the fringes. People from all over the eastern seaboard came to Massanutten to race big-name cycling events, which doubled as advertisements for Harrisonburg's burgeoning bike community.
In 1993, the fifth stage of the Tour DuPont finished with a hill climb up Massanutten Resort. The televised event attracted hundreds of spectators and witnessed then 21-year-old Lance Armstrong win his first stage as a professional. Years later in 1997, Massanutten Resort received another wave of international media attention when the UCI hosted a Downhill World Cup on its slopes.
Though Jenkins might have come to Harrisonburg for the racing, it was the big-mountain riding— and the community it fostered—that made him stay. Throughout the '90s, Jenkins and local riders like Chris Scott, Mike Carpenter and Tim Richardson set out into the national forest in search of singletrack with little more than a USGS quad map.
"Every ride was a recon ride," Jenkins says. "We used to say one out of every ten rides was great, but the other nine were shit. We didn't know how to read maps, and maps weren't really good anyway. It seemed like a lot of rides ended up on someone else's property, and you just hoped you didn't get caught—or that you could talk smooth."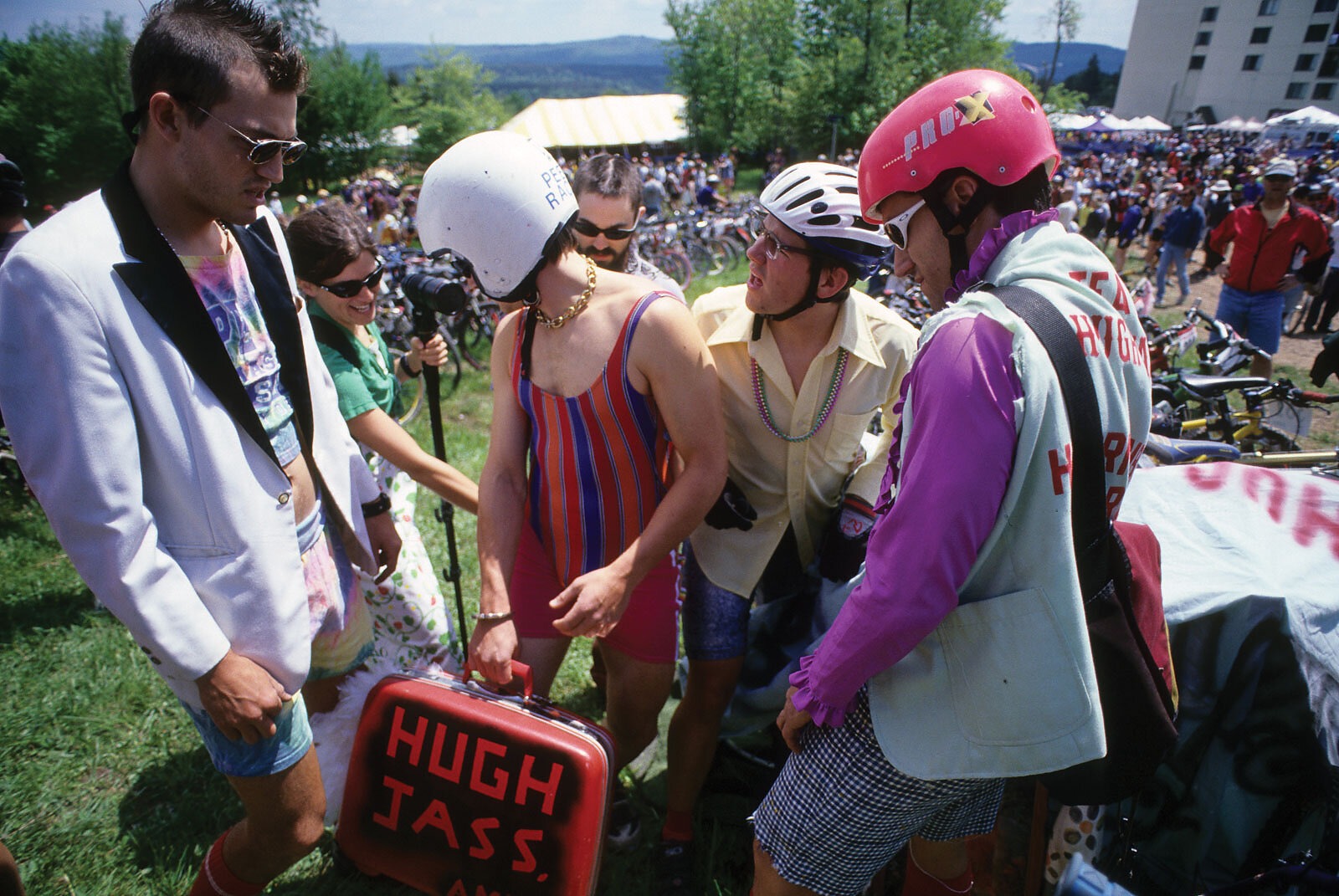 In later years, going big on your bike became something of a rite of passage for Harrisonburg mountain bikers, but back then, Jenkins says those long days in the mountains were just byproducts of getting to know the lay of the land. Trails, when they could find them, often disappeared in a tangle of briars and branches. Hike-a-bikes were par for the course. If Jenkins' crew didn't get lost outright, they almost always dropped out of the forest somewhere different than they'd expected. Slowly, mile by mile, trail by trail, the national forest's potential revealed itself to them.
"The trails in the national forest were really mysterious," says Rich Edwards, a Harrisonburg local and the former IMBA Trail Solutions Director of Community Engagement and Education. "Some of the trails weren't even on a map, and there were no blazes. The blaze at the top of Timber Ridge used to be a beer can stapled to a tree."
In many ways, what followed laid the groundwork for Harrisonburg's mountain-bike culture today. To introduce more riders to the trails, Jenkins, Carpenter and the others started organizing unsanctioned, grassroots events unlike other mountain bike races at the time. The first of these was the Six Pack Downhills, originally known as the Dollar Downhills. Before enduro was even in the mountain bike lexicon, Harrisonburgers were party pacing up descents, then racing right back down them. The series took place every Friday, September through October, and culminated in the grand finale, the Invitational, which usually fell on or around Halloween.
If fall was for Six Packs, summer was for the Tour de Burg. Started in 1995 by Carpenter, the Tour is a five-day underground stage "race" that features four days of mountain biking and one day of road riding. Each stage strings together the hardest climbs and rowdiest descents, back-to-back, all during the hottest, most humid and over-grown time of year.
These events were as much an excuse to party as they were to compete. Shit-talking was fuel. Costumes and wigs might as well have been mandatory.
"I don't think there's any place like it. Harrisonburg people go all day, but it's not a racey place in the traditional sense. Those Six Packs were just really wild. It took me a while to realize getting doused with champagne and beer was a sign of love." - Sue Haywood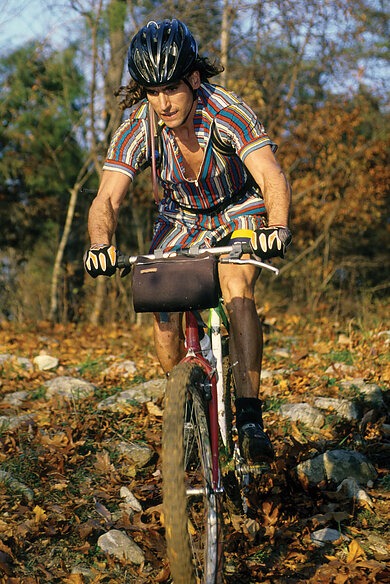 "Harrisonburg is king of the special events," says Sue Haywood. Haywood, who competed for a decade as a professional cross-country racer on the World Cup circuit and nearly made the 2004 Olympic team, lived and trained in Harrisonburg during the mid-2000s. "I don't think there's any place like it. Harrisonburg people go all day, but it's not a racey place in the traditional sense. Those Six Packs were just really wild. It took me a while to realize getting doused with champagne and beer was a sign of love."
The closest thing to a traditional race in the 'Burg, short of the HOO-HA!, was the Shenandoah Mountain 100. Conceived by Chris Scott in 1999 and still running strong today, the 100-miler is the ultimate national forest singletrack sampler. Based out of the Stokesville Lodge and Campground, the course connects the forest's most classic trails, which together deliver a punchy 12,000 feet of climbing.
Through these events, Harrisonburg's early mountain bikers unknowingly set the tone for the next generation of riders. The technicality of the trails, coupled with regular chances to push yourself in a pretentious-free party setting, first attracted, then later bred, a special type of mountain biker.
"We used to joke that it's hard to be on the Harrisonburg B Team," says Kyle Lawrence, Executive Director of the Shenandoah Valley Bicycle Coalition. "That's the physicality of the terrain. Until there was a bike park with lift access, the only people who could go downhill fast were really fit people because to get to the top of the descent you had to go up multiple, brutal climbs."
Professional cyclists like Haywood, Chris Eatough and Jeremiah Bishop—who eventually moved to Harrisonburg to live and train full-time— made regular appearances at the Tour de Burg. Though the pros might win a stage or two, few hung for the full five days. A typical mountain bike stage can pack upwards of 7,000 feet of elevation in as little as 40 miles. And that's just one day.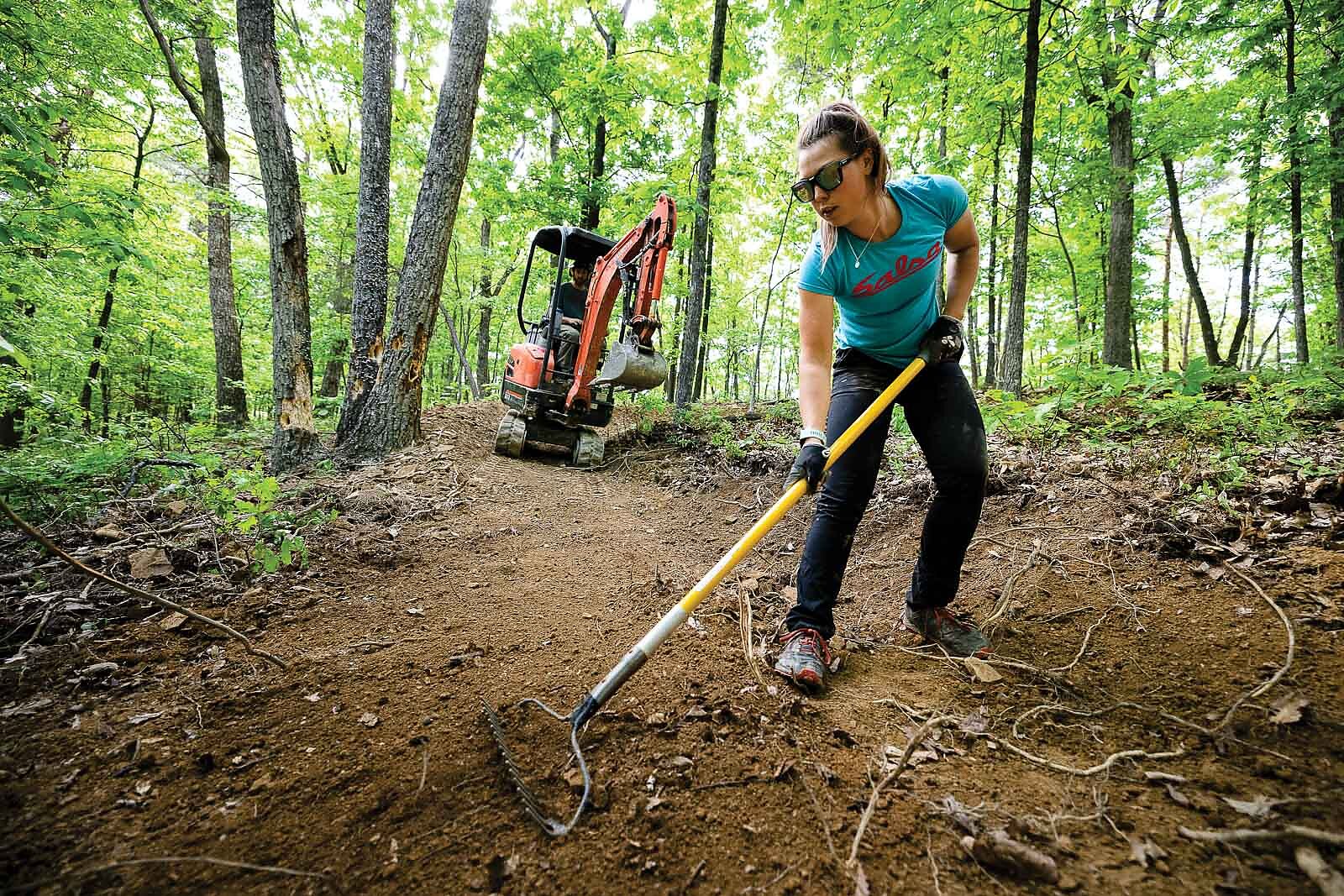 But no matter how fast the pros rode, Harrisonburg's locals were never far behind.
Lindsey Carpenter effectively grew up at the Tour de Burg. As the daughter of the Tour's unofficial director, Lindsey, now 26, spent nearly every summer of her young life watching Harrisonburg's ironically dubbed (but no less venerated) "mortals" put up impressive fights against full-time career cyclists.
"People here are under the radar in how talent- ed they are," she says. "There are so many people [in Harrisonburg] who are at this caliber where they could be sponsored, but that's not really their priority. A healthy family-oriented lifestyle is their priority, but then they just pull this serious talent out of their back pockets."
The backcountry trails, the superhuman mortals, the humbling group rides and the parties that followed, these all came to be synonymous with Harrisonburg mountain biking. But if there's one thing riders here are committed to above big days in the mountains, and the driving force behind the community's next chapter, it's trail work.
On a classic spring day on the Massanutten Resort's Western Slope, bright pink lady's slippers and azaleas pop beneath a verdant green canopy. Sam Skidmore is at the helm of a mini excavator, breaking ground on a new beginner trails.
Weekly trail-work days have been a mainstay of Harrisonburg's mountain bike community since the '90s. To compete at the Invitational, the final race in the Six Pack series, you had to volunteer for two full days of trail work. Every Friday you raced, and every Saturday you worked.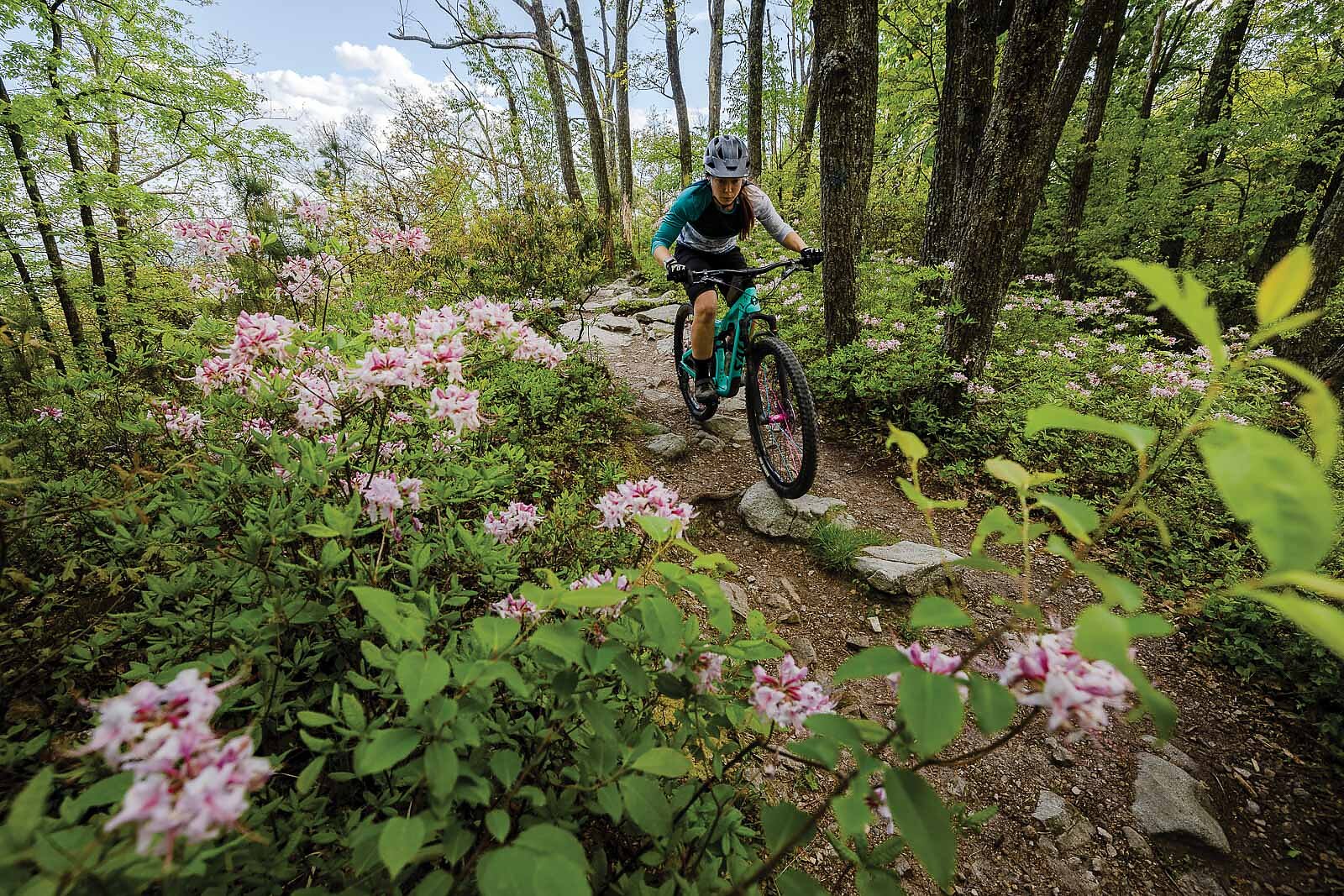 Back then, volunteers with the Shenandoah Valley Bicycle Coalition (SVBC)—which was formed in 2008 and merged existing road and mountain bike clubs—annually logged upwards of 2,000 to 2,500 hours of trail work in the national forest, mostly brushing corridors and mitigating erosion. Even today, trail work is an essential component to the Tour de Burg, which intentionally selects stages based on which trails are the most underutilized and in need of clearing.
"Volunteer work is clutch," says Carpenter, who also works part-time building trails. "I grew up seeing what kind of work it takes to get a log out of a trail. To do volunteer trail work is a massive commitment. You have to ride with a chainsaw or hike a weedwhacker 15 miles up on a ridge before you can even start brushing."
After meeting Jenkins through a summer youth mountain bike program, Skidmore attended his first trail work session at only nine years old. A natural on the bike, he dabbled in BMX and downhill racing throughout his teenage years, eventually earning his pro license at 18. But it wasn't until he was in his 20s that his early exposure to trail work came full circle. Now, when he's not racing, Skidmore splits his year between sculpting Massanutten's terrain park in the winter and building mountain bike trails in the summer.
Today, SVBC's volunteer efforts have largely shifted from the national forest to the Western Slope. In 2004, SVBC coordinated with the resort to officially provide legal access at the Western Slope for riders, which can be obtained by purchasing a pass or donating eight hours of trail work per season. Though the coalition's track record of trail work helped build a relationship with the forest service, new trail development in the national forest has been slow-going. In the past 20 years, only 13 miles of trail have been constructed in the national forest, and most of that in the form of relocations. In comparison, 20 miles of bike-optimized trails have been built by volunteers at the Western Slope in the last decade alone.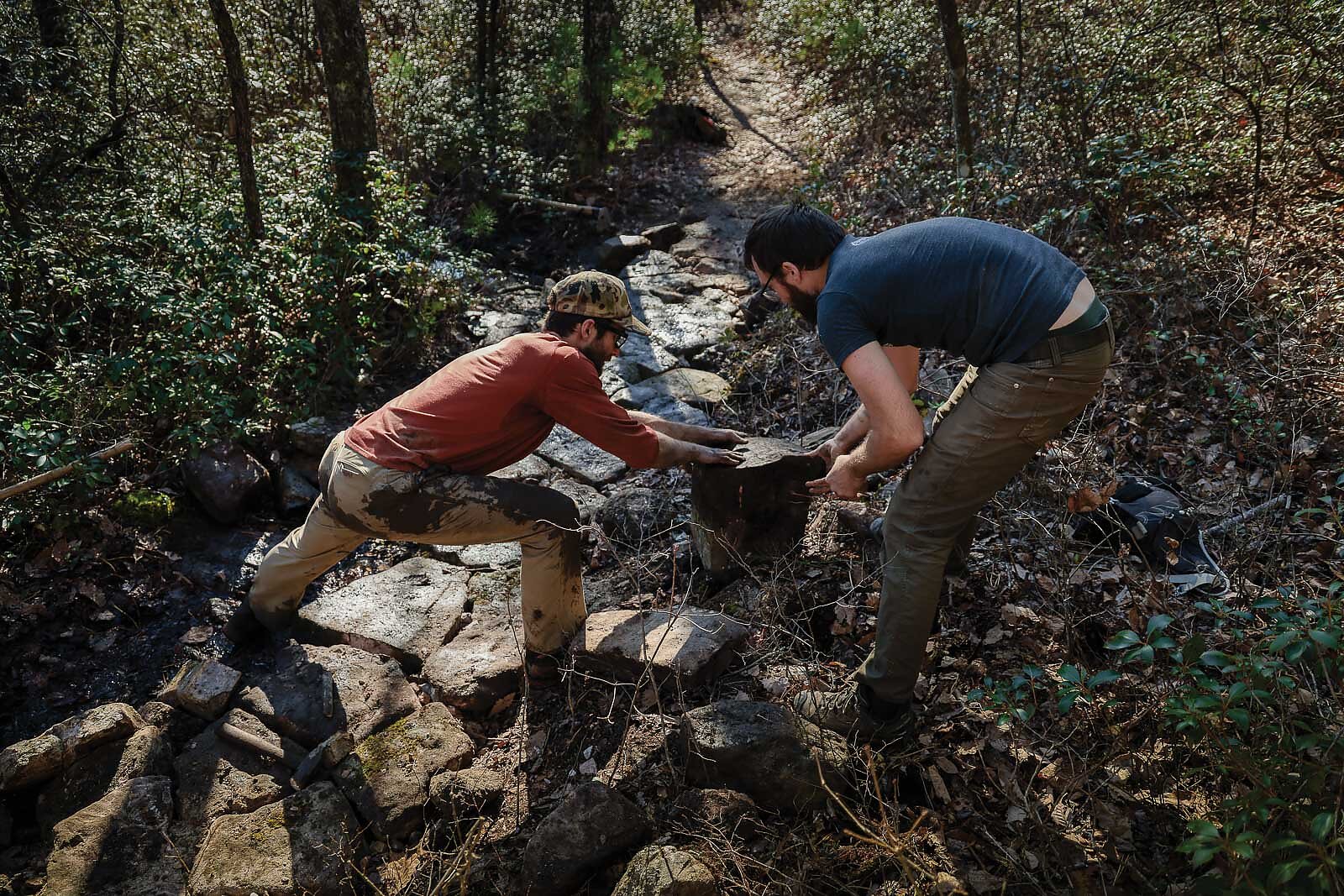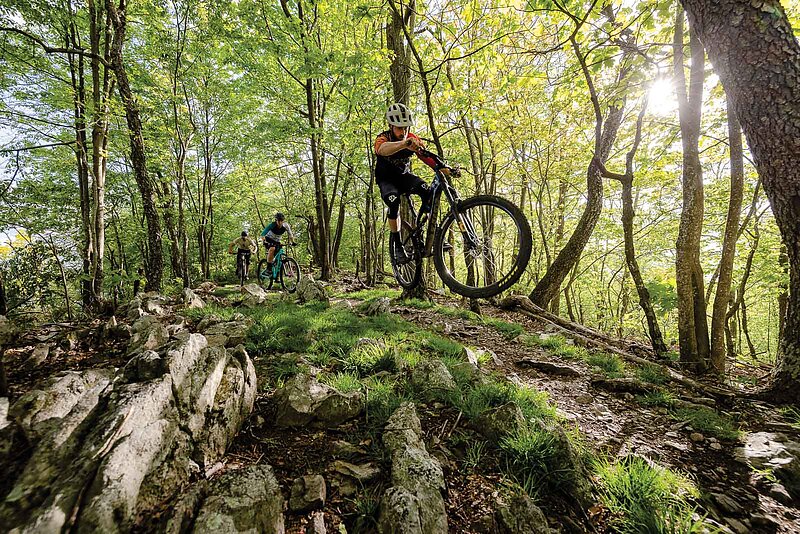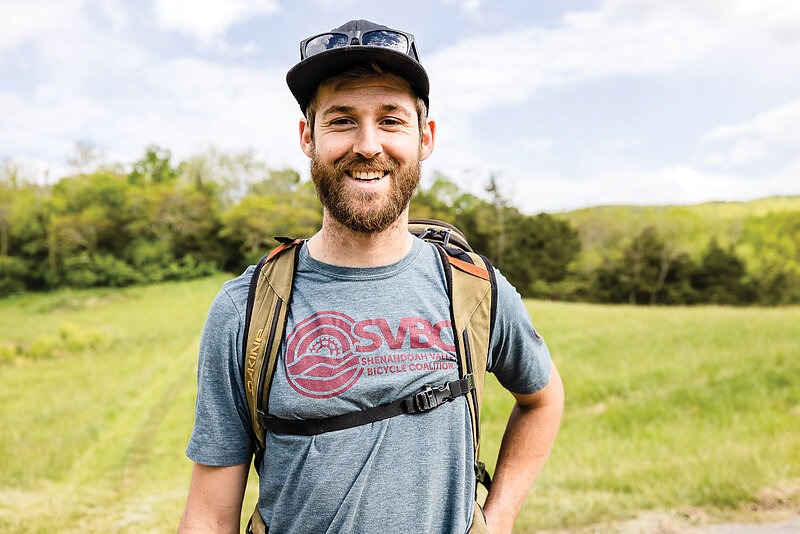 The unique public-private partnership between SVBC and Massanutten Resort has enabled the community to focus on building beginner-friendly trails, which are virtually non-existent in the national forest. Just seven miles from downtown Harrisonburg, the Western Slope—and by extension Massanutten Resort—is once again serving as the gateway to the local cycling community. On any given night of the week, the parking lot is teeming with families. More than 80 kids are currently involved in the SHEN-ROCK youth cycling team.
Skidmore and Carpenter, who first met while doing trail work in the sixth grade, didn't have the Western Slope when they were kids. That they rode bikes at all was something of an anomaly. It wasn't until 2009 that Harrisonburg even had legitimate singletrack in town, the Rocktown Trails at Hillandale Park. Though both Skidmore and Carpenter are as skilled at riding rocks as the generation that came before them, they recognize that the national forest's backcountry trails aren't accessible to everyone.
"There's no way to manufacture what we have," says Skidmore in reference to the national forest. "The backcountry is what we should be and are known for, but this place is overwhelmed with hard trail. The beginner stuff is as important as the intermediate and expert [trail]. We're building something for everybody."
Skidmore hopes the popularity of the Western Slope will help the coalition continue to leverage support for more federal funding to build trails in the national forest. The future seems promising. In 2019, the coalition received its fourth grant through the Recreational Trails Program, this time to relocate Narrowback Trail in the national forest. Once constructed, the nearly three miles of new beginner trail will connect the Wolf Ridge parking lot to the popular Narrowback loop. Skidmore and Adam Ritter, another local rider and builder, will work with Appalachian Dirt to construct the trail this summer. By the end of 2021, over $800,000 in federal funds will have been spent on trails in the forest's North River Ranger District.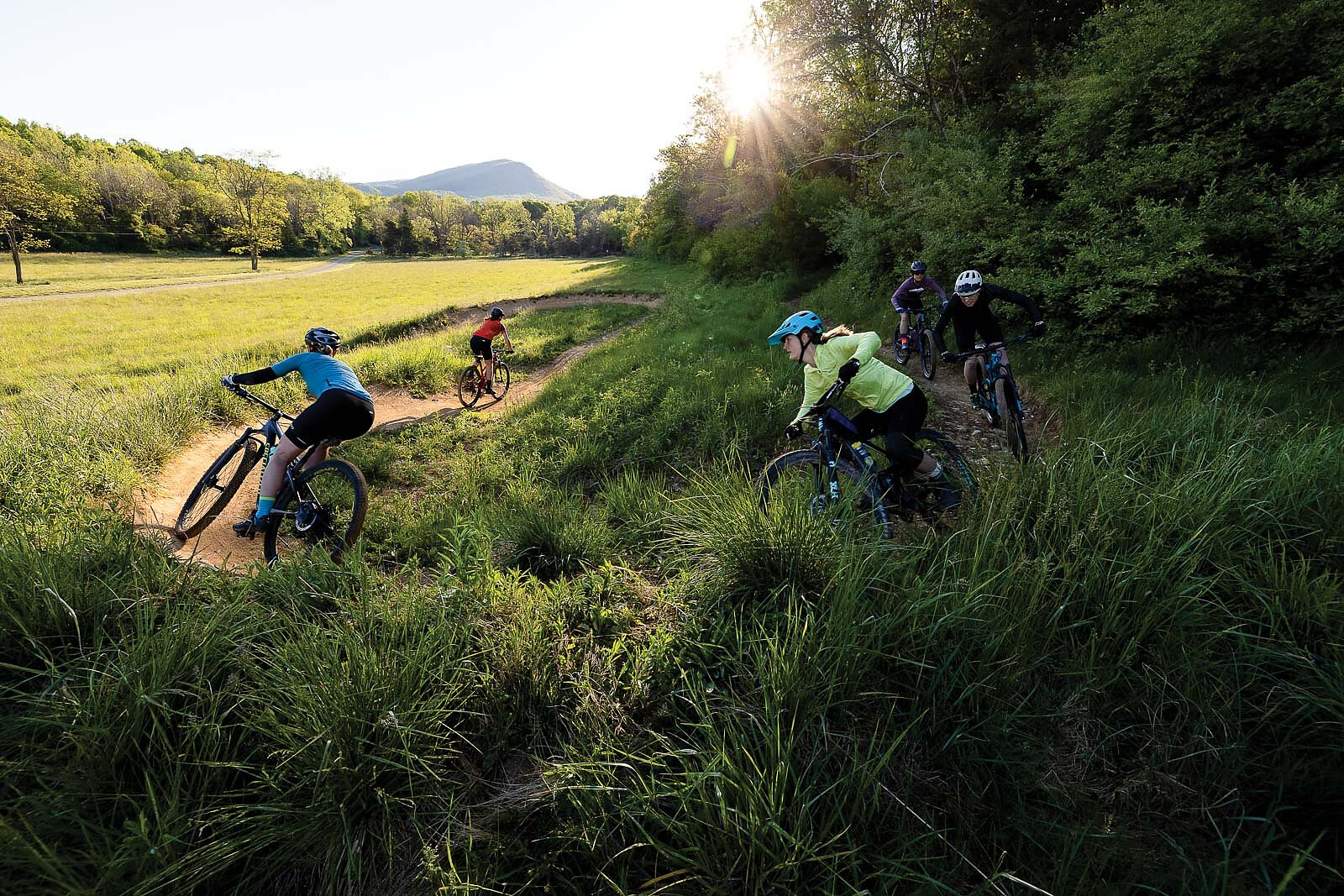 Between the reroute and the ongoing projects at the Western Slope, it seems Harrisonburg is entering a new chapter in its mountain bike history. The bike parks at Massanutten Resort and nearby Bryce Resort only add to the diversity of riding in the val- ley. While the push for building modern mountain bike trails in Harrisonburg feels long overdue, the momentum is 100 percent homegrown. There are no top-down tourism initiatives fueling trail development here. The community-first legacy of sweat equity that defined Harrisonburg's early mountain biking is what nurtured the scene for 20 years and it seems poised to do so for decades to come.
As for Harrisonburg's spirit of hard rides and hard work, it is still alive and well. The city is now the northern terminus of the 270-mile RockStar trail route, which ends in Roanoke (a local mortal holds the current fastest known time). Though Skidmore and Ritter have paid work building trail, they continue to stay true to that community-first ethos. Over the past two winters, the team volunteered 200 hours towards restoring Cliff Trail, a forgotten, largely unrideable ribbon of technical singletrack in the national forest.
And while Cliff Trail is a far cry from the beginner trails Skidmore is charged with building at the Western Slope, that two guys in their 20s are willing to hike in three miles on their days off to wrestle boulders with little more for tools than rock bars is emblematic of what it takes to not just build a mountain bike culture, but to sustain it.
"It's a labor of love," Carpenter says. "All of these riders you see taking ownership in being here and being a part of what's going on. That's how it should be."