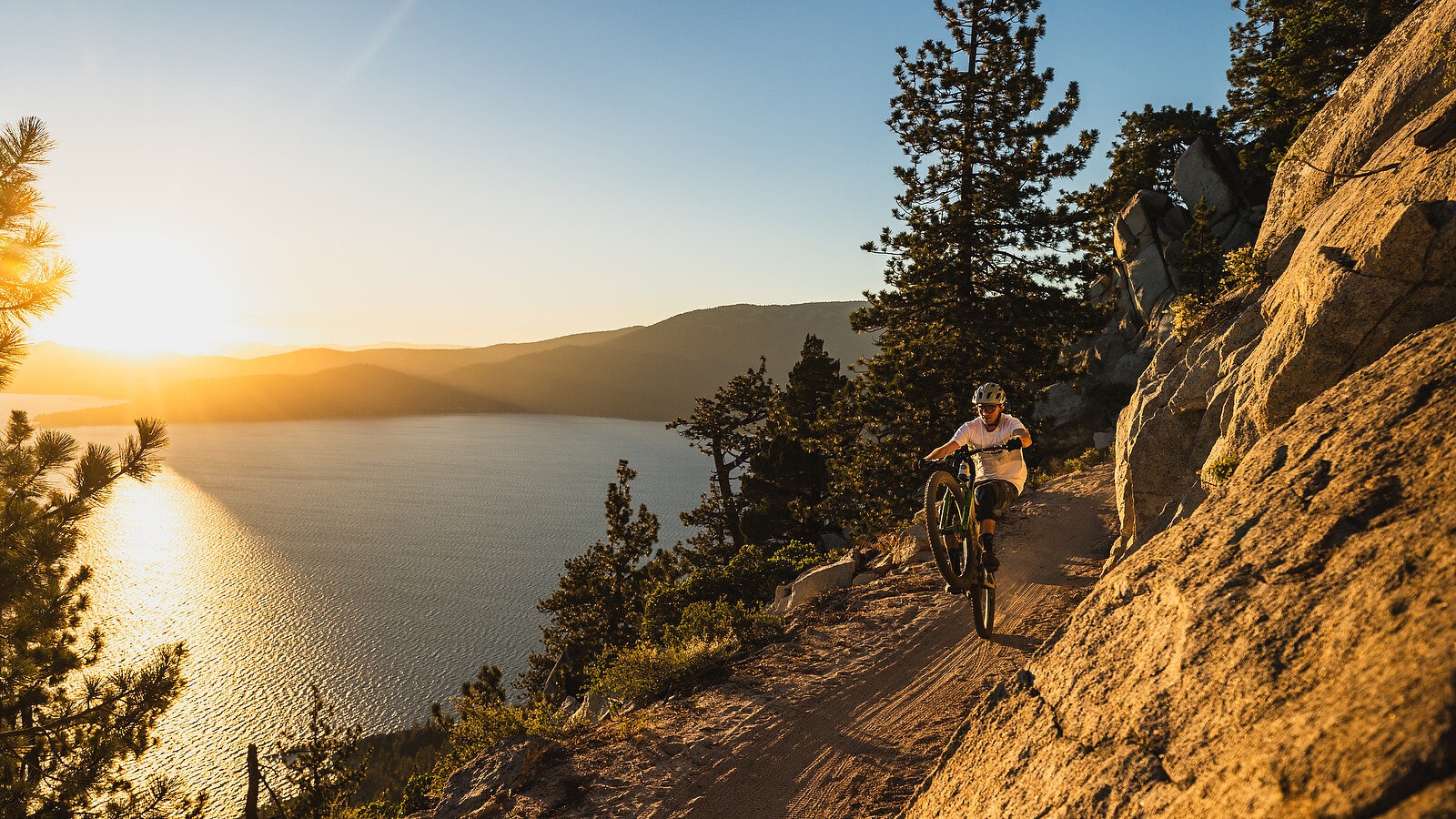 Reno Tahoe Travel Guide
Reno, which was dubbed the Biggest Little City in the World in the early 1900s, is big on biking. Geography is super-sized in this corner of Northern Nevada. The steep peaks of the Sierra Nevada rise from the Great Basin, walling in the largest alpine lake in North America. Rivers cut through deep canyons and 100-million-year-old granite faces are backdropped by the usual bluebird sky.
The Reno Tahoe region is a large, varied landscape that delivers a nearly year-round setting for some of the most scenic, progressive, and challenging riding in the west.
Many know and love Lake Tahoe for its summer and winter recreation. Big Blue may be the bait, but it's Reno Tahoe's seemingly limitless and diverse riding that is the hook of this world-class riding destination.
Reno is arguably the most convenient way to access Lake Tahoe, but the bustling little city is so much more than a waypoint. Sitting at 4,500 feet elevation, Reno is located just east of the Sierra Nevada range, where towering peaks protect the metro area and its surrounding foothills from the infamously deep snow synonymous with Sierra winter storms. The semiarid climate and more than 300 days of annual sunshine make Reno a dream for riders that don't hang the bike up just because days are shorter. Thanks to impassioned trail activism, Reno is experiencing trail expansion and improvements, allowing locals and visitors alike to turn their legs over miles of elevation-gaining singletrack or lock in new skills from a selection of bike skills parks.
With its offbeat culture and proximity to open spaces, Reno is growing in popularity among bikers and outdoor enthusiasts. Nevada's second largest city offers the unique opportunity to ride all day and stimulate the senses by night with an exciting food scene, abundant breweries and distilleries, endless entertainment, and thriving arts culture. Reno's vibrant Riverwalk, Downtown, and Midtown districts are brimming with farm-fresh restaurants, larger-than-life street art, and live music.
Whether you come to Reno for its own riding or use Reno as a basecamp to launch rides in neighboring Incline Village and Truckee, there's a flavor for every rider in this big terrain. From wheels up to refuel, sampling Reno Tahoe's trails starts with our travel guide.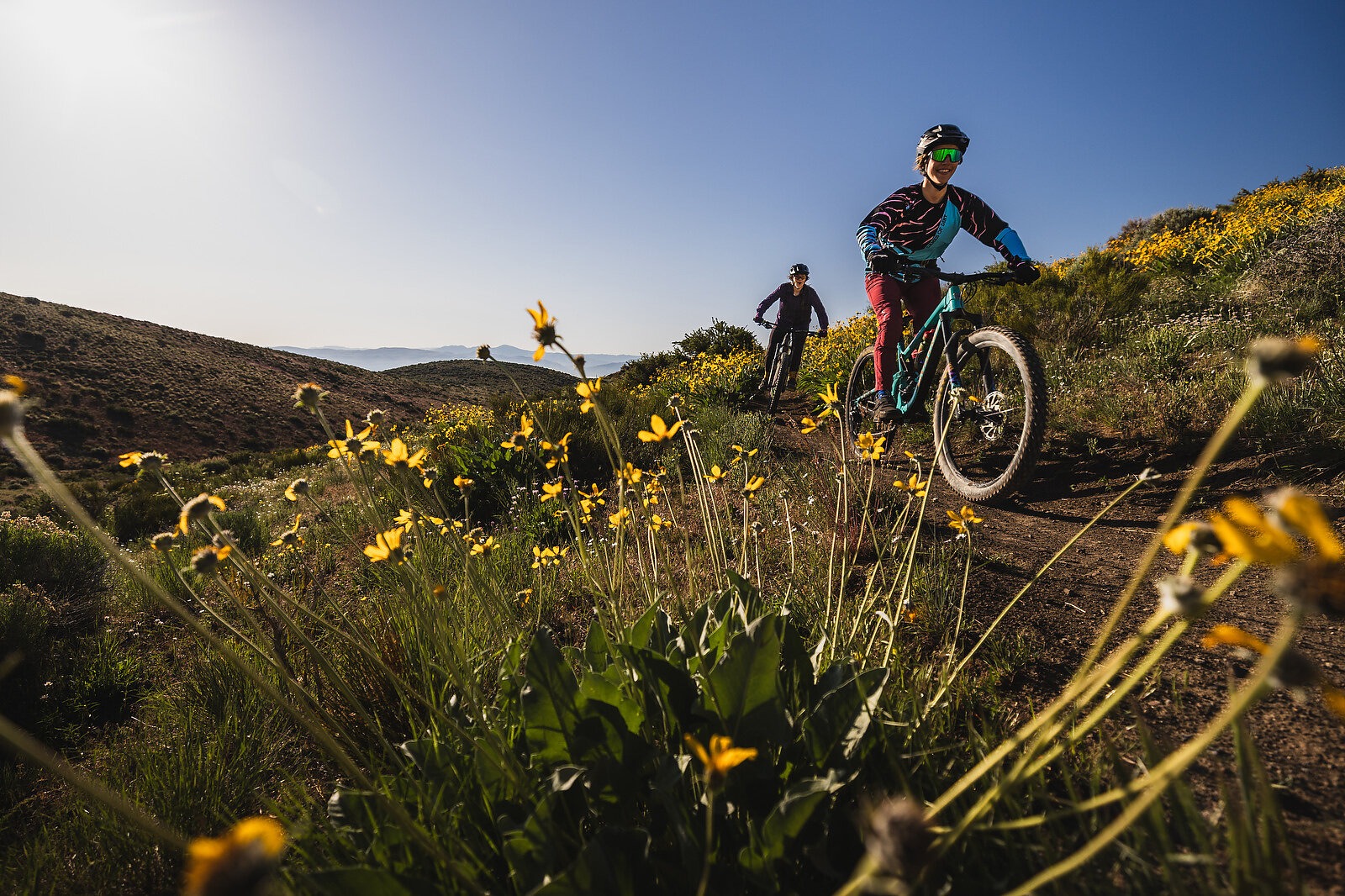 Places to Ride
Northwest Reno
Less than four miles from downtown Reno, the Peavine Mountain Trails offer a rare experience of enjoying United States Forest Service (USFS) land nearly adjacent to an urban interface. The more than 60 miles of singletrack contour the southeast side of the mountain, providing broad views of downtown Reno and the north valleys. The lower elevation trails are typical of high-desert terrain with hard packed dry surfaces, technical sharp rocks, long sightlines, and fast descents. As riders gain elevation, the ecosystem transitions to alpine with stands of aspen and mahogany. Peavine is a popular spring and fall riding zone with prime trail conditions, spring blooms, and fall colors. Early missions in the summer provide reprieve from the heat and mild winter months offer locals a chance to keep winter legs spinning.
There's no shortage of pedal-powered missions at Peavine, where trail and cross-country riders can connect Halo to Total Recall, enjoy an out-and-back on Mahogany Forest, rip a fun descent down Bacon Strip, and continue to add more trails until the legs spin off. For a greater challenge with technical lines, natural features, and jumps, descend Fistacuffs, UNR DH or Snake Run. For ripping fast flow and berms, check out Colpo Canyon and Stagecoach.
Connected to Peavine by singletrack, or accessible on its own in Reno's northwest residential area, Sierra Vista Park is a compact network of progressive quick loops for all abilities. Locally known as "SVP," Sierra Vista Park is a converted abandoned golf course, now living its best life as a mountain bike community hub. On any given weekend or afternoon, SVP is bursting with stoke from riding buddies and families as they hot lap the short tracks. SVP's advance line, complete with tons of tables, drops, and large berms, is a perfect warm up for the bigger bike parks up the hill.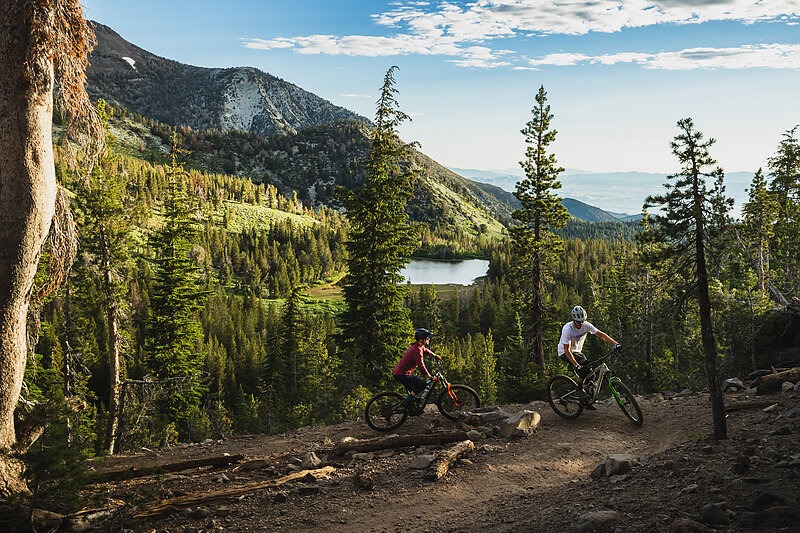 Mount Rose
Its summit at 10,776 feet, Mount Rose dominates the southwest Reno skyline and separates the Biggest Little City from Lake Tahoe. The scenic highway is a rider's gateway to Reno's alpine riding. Starting just south of Mount Rose summit, Tamarack Lakes Trail is a rolling and laidback singletrack descent with a bird's-eye view of the valley below and access to an alpine lake before dropping into the Sky Tavern bike park. 
Sky Tavern is a unique little ski hill. Powered by a parent-led nonprofit and dedicated board of directors, the venerated ski resort has been reincarnated in recent years through a combination of activism and donations from local businesses. With a clear vision to provide Reno's youth accessible outdoor sports and training in winter and summer, the mountain bike park is experiencing more improvements than ever. Additional mountain bike services and programs are planned for the coming years. 
Certainly not just for kids, the trails at Sky Tavern have a little bit of everything for every rider, particularly for those looking for rowdy descents and bike park features without the crowds or fuss of a lift-served resort. Yes, there are chairlifts at Sky Tavern, but they are not yet equipped for summer use. Luckily, the Easy Up climbing trail is a mellow return to the top of the bike park, where riders can access double black and black, technical steeps, machine-built blue trails with jumps, flow and features, and a purpose-built adaptive flow trail that's also a blast to descend with a traditional bike. Rick Sutherland trail is a favorite for its unique rock features, packed berms, and smooth jumps. Best of all, riding Sky Tavern is free, though we do recommend a donation or membership to support the non-profit's continued trailbuilding and maintenance. 
Just across the highway from the Tamarack Lakes trailhead is a section of the Tahoe Rim Trail (TRT) called Tahoe Meadows. A portion of the famed trail that circumnavigates Lake Tahoe, this section of the TRT is open to bikes on even calendar days. With rolling singletrack and views of the lake, the Tahoe Meadows TRT is a great way to access Flume Trail, continue on the TRT for an east shore epic, or enjoy as an out-and-back.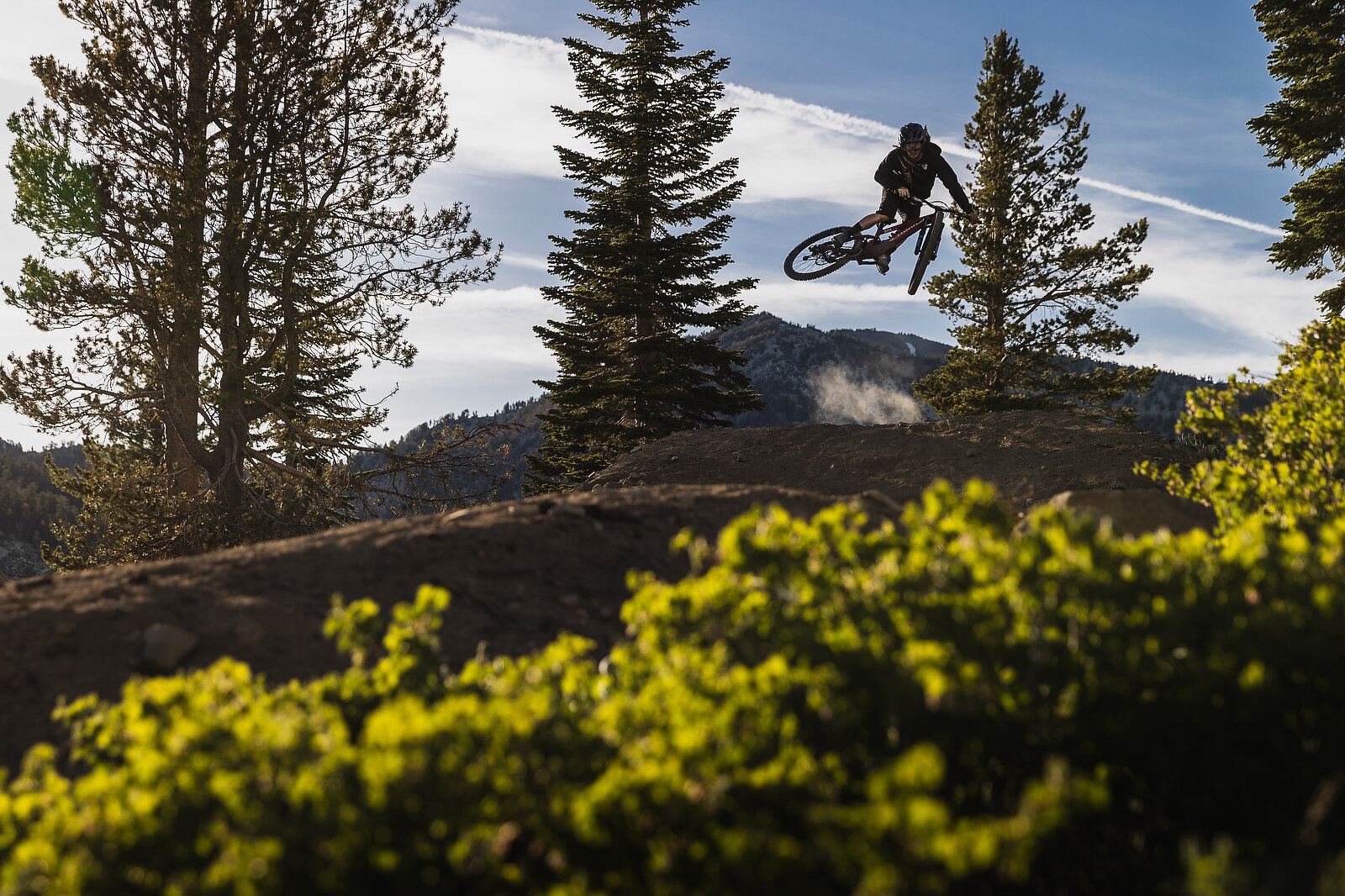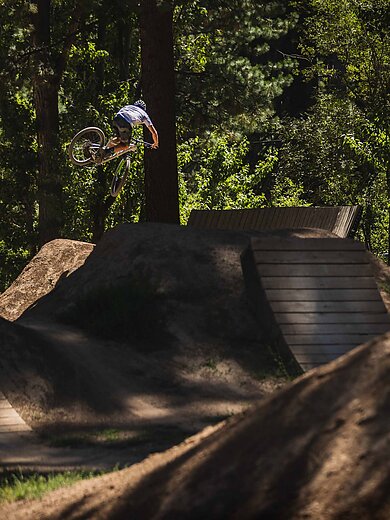 Incline Village
At the end of the 24-mile stretch of Mount Rose Highway sits Incline Village on the north shore of Lake Tahoe. The quaint mountain town is home to some of Lake Tahoe's most famed trails. Tyrolean Downhill is a popular descent, and for good reason. Beginning at Tahoe Meadows on Mount Rose Highway, Tyrolean Downhill starts with a jump line of tables, step downs, step ups, hips, and a rhythm section before dropping into a fast and flowy ripper of fast corners, rock gardens, small jumps, and brakeless straight sections. Shuttle back up, drop back in, and it will be hard to wipe the grin from your face. 
The famous Flume Trail and Chimney Beach Trail are tamer rides in Incline Village, but reward riders with breathtaking views of Lake Tahoe. Flume Trail is a cross-country Tahoe classic that traverses the east shore of the lake. Every turn offers photo-worthy vistas of rock formations, Lake Tahoe's famous crystal blue waters, and unreal beaches. Chimney Beach Trail starts near the beginning of Flume Trail, but rather than traversing, the fun intermediate trail winds its way to the lake with high-speed, smooth flow. Include Flume and Chimney Beach into a view-filled pedal mission from the TRT or find the trails by pedaling up the access roads from Lake Tahoe. You can also book a shuttle from Flume Trail Bikes.
Rounding out a day of riding in Incline Village with a progression session is as simple as dropping into the Incline Bike Park. The skills park is a quick-sessioning zone with a small pumptrack and three lines that increase in size and challenge. Incline Bike Park is often free from crowds and the features are dialed. The shaded park is a great place to kick back with friends and learn a few new tricks.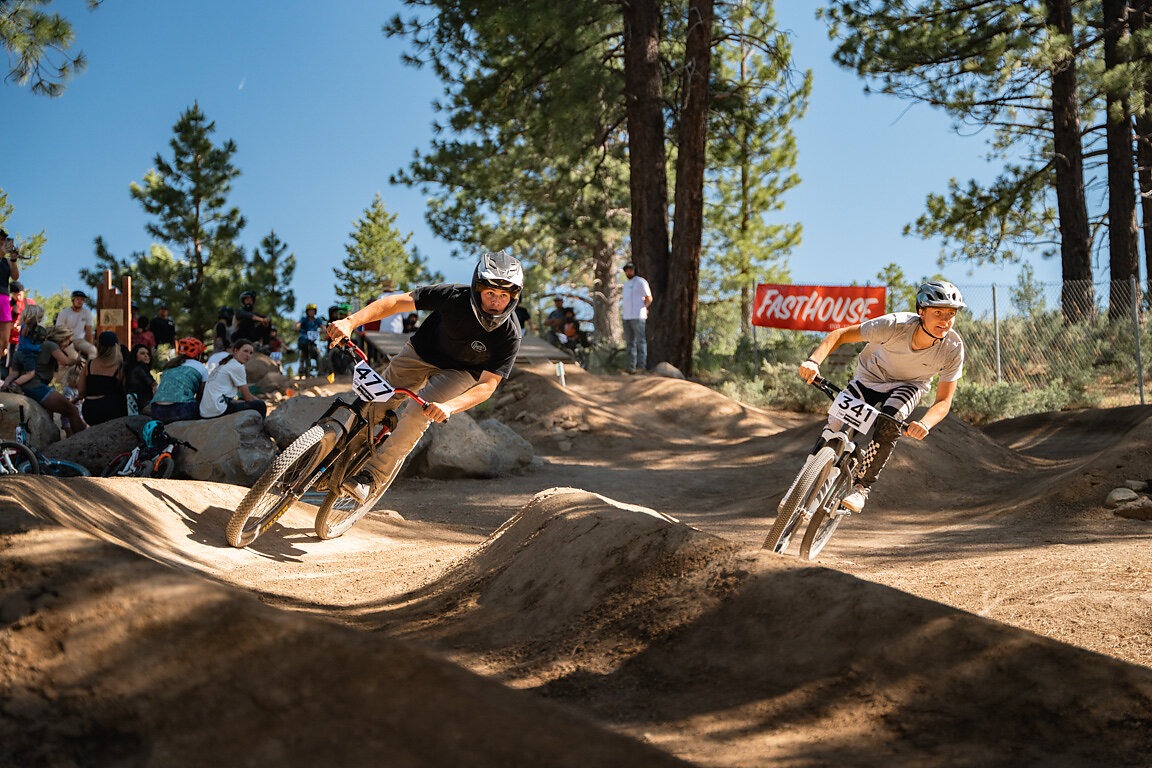 Truckee
Connected to Reno by the Truckee River, the small mountain town of Truckee is about 30 miles west of downtown Reno along Interstate 80. Truckee is popular for its proximity to killer skiing. Outside of the winter months, the same mountains provide abundant big mountain riding. Any visit to Truckee should first start with a sampling of the Donkey Town trails which are easy to access and a ton of fun to ride on repeat. Donkey Town Trail is a 2.5-mile intermediate modern flow trail with nonstop features including berms, rock rolls, jumps, hips, transfers, small gaps, and just enough tech to keep it exciting. El Burro Trail runs adjacent to Donkey Town with a flavor that's higher speed and more technical. Both trails are easy to lap via a forest road and are regularly maintained and improved by the efforts of Truckee Dirt Union and its passionate force of volunteers.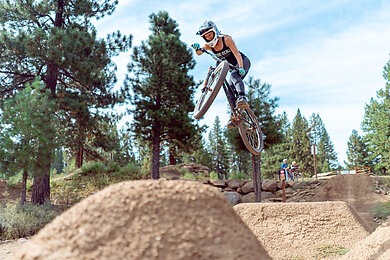 Interested in upping the mileage and challenge? Riders need not look further than the Sawtooth trails, a sizable network that can be accessed from right in town. Sawtooth has it all: green trails and beginner skills loops for kids and families, healthy fire road climbs to long technical black and blue descents, and easily repeatable jump trails. A new favorite is the Wood Splitter Jump Trail, a great step up from Donkey Town. Professionally built and on par with top bike parks, Wood Splitter is a fast-paced series of natural drops, tables, step downs, hips, and transfers. The smooth transitions and long landings have a way of encouraging better riding, and hot lapping is easy with the return trail. Just up the 06 Forest Service Road, Big Chief is an eight-mile descent that's fast and technical. The faster upper half rides like an enduro track that challenges line selection and provides natural flow if you know how to work for it. The lower section flattens out a bit and keeps you pedaling over loose rocks, features, and log rides before finishing off with a flow section.
Truckee Bike Park is a community gem in the Riverview Sports Park area of town. Riders come from far and wide to session the perfectly sculpted flow lines, pump tracks, air bag, dual slalom trails, dirt jumps, and slope lines. The park offers something for everyone with drop zones, strider-bike-friendly pumptracks, green, blue, and black lines, as well as pro-level lines with features built to send experienced riders to massive heights. The park is creative, fun, and free to ride but as always, please consider a donation online or at the donation box.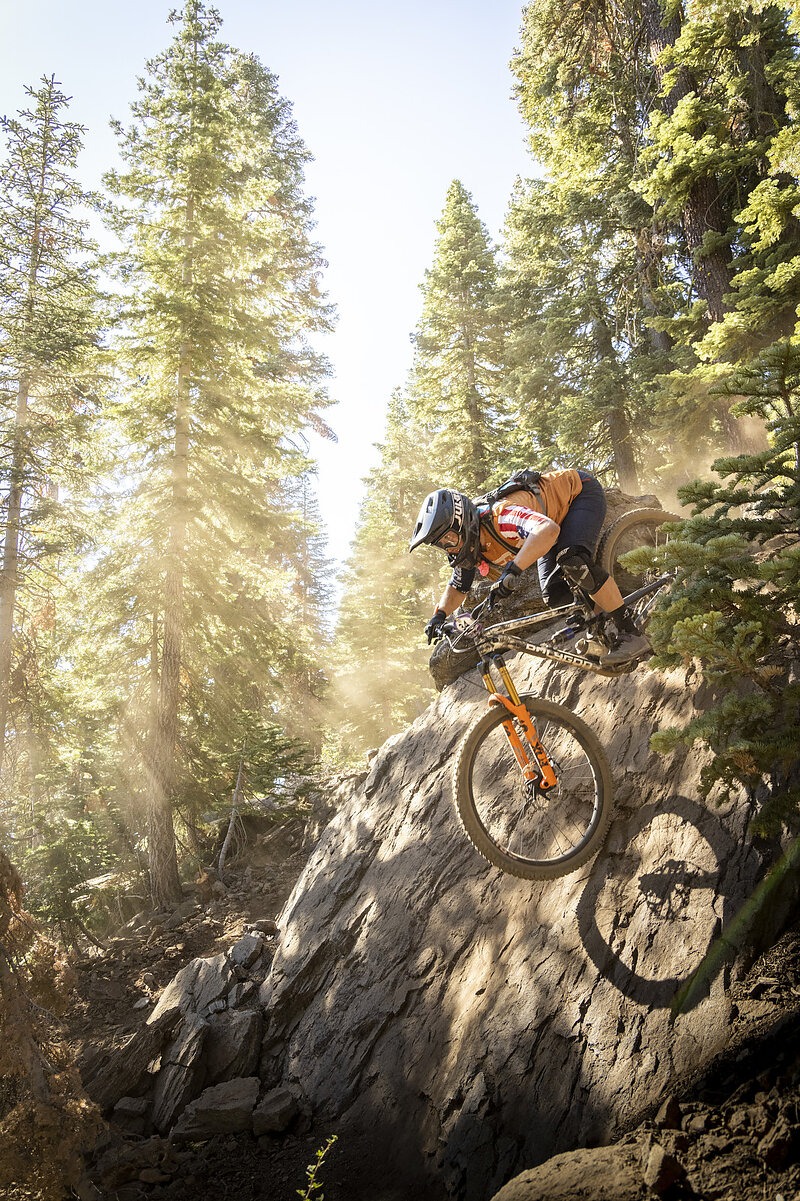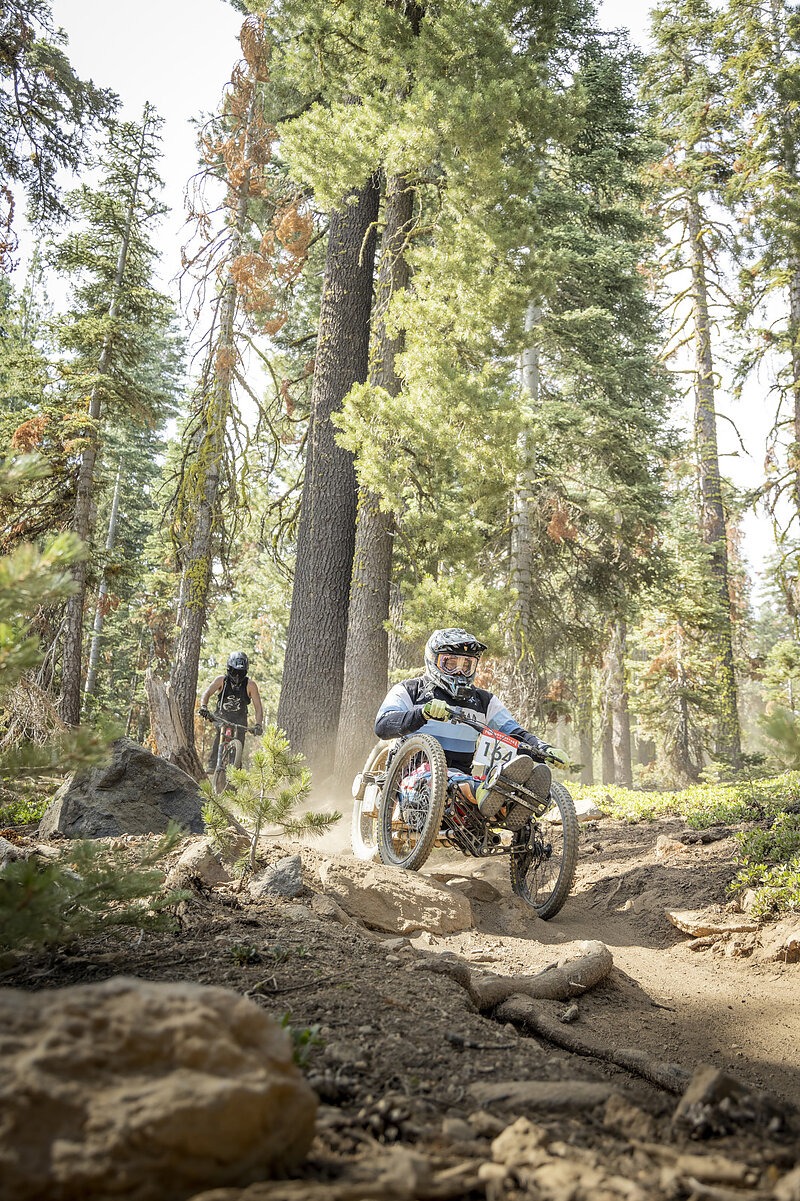 Just six miles from downtown Truckee and 36 miles from downtown Reno is Northstar Bike Park. The lift-served mountain resort is renowned for its technical terrain, loose surfaces, and raw tracks that cater to advanced riders on enduro and downhill bikes. As showcased at the 2019 Enduro World Series, Tell No Tales and River Styx trails, as well as Karpiel and Dogbone, will push your technical limits and wisest line choices. Boondocks and Sticks and Stones are locals' favorites, ideal for testing your race pace and warming up technical abilities. The Livewire jump trail and Gypsy are great for party laps with friends. Blue and green trails, as well as skill and jump zones, weave throughout the mountain. If your visit happens to coincide with a race, be it Northstar's own longest-running downhill race series or the California Enduro Series, check out how the local pros put down face-melting runs or sign up for the race yourself.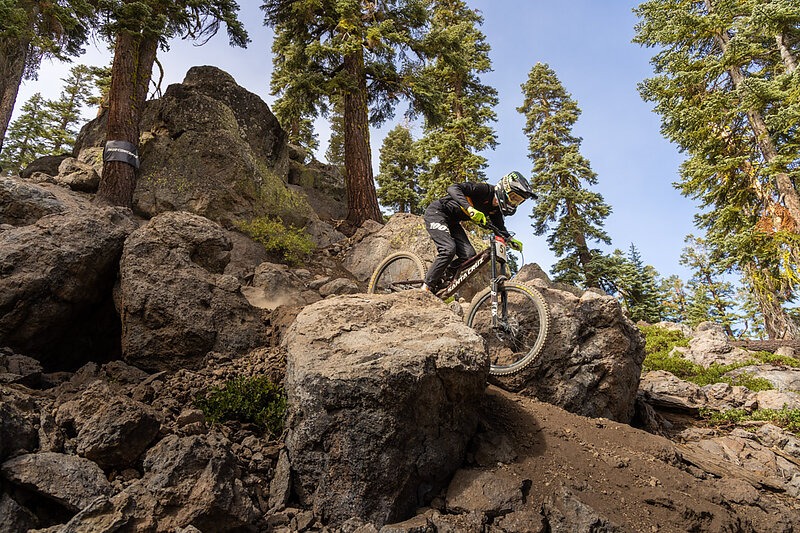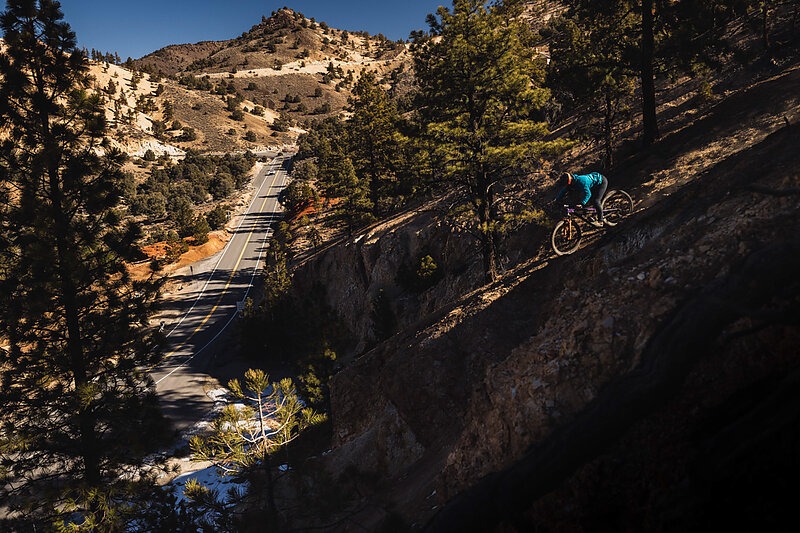 Après
When it's time to refuel, Reno Tahoe's post-ride scene is as abundant as the riding options. Breweries, eclectic menus, farm-to-table ingredients, lake dips, river floats, and lawn games—it's all here. When winding down after a ride lands you in Reno, the Midtown District is a hip zone for delicious drinks and food. With 36 rotating draft selections and more than 150 bottled options, Piñon Bottle is the place to go if you're into beer. Enjoy your pint on the patio, where you can also enjoy eats from adjacent Noble Pie, serving up delicious East Coast-style pizza made from organic and locally sourced ingredients. A walk down South Virginia Street will reveal unique shops and vintage stores, as well as vibrant murals created by Reno's thriving art community. One of the many South Virginia Street artfully designed speakeasies is certain to lure you in with craft concoctions. Favorites include Rum Sugar Lime, Death and Taxes, and Amari.
Closer to downtown, Reno's Riverwalk District provides an opportunity to cool down and sample a variety of food. Start with a dip or float in the pure waters of the Truckee River and then walk to The Eddy, a collaborative backyard setting of recycled container pods with lawn games, rotating food trucks, and cocktails. Afterward, take a stroll along the Truckee River where it's likely you will find yourself moving to live music at one of the frequent Riverwalk festivals or standing next to a 20-foot-tall art installation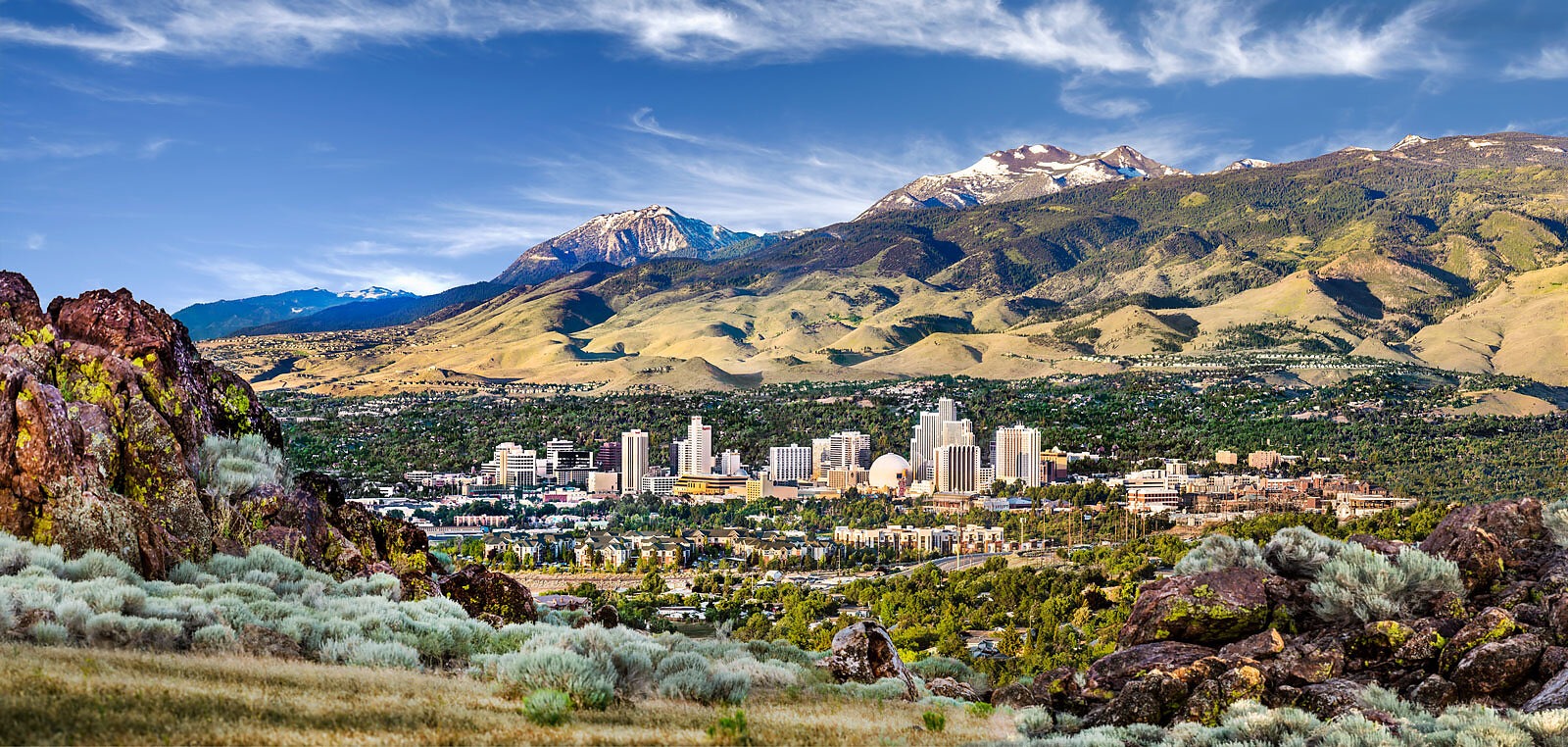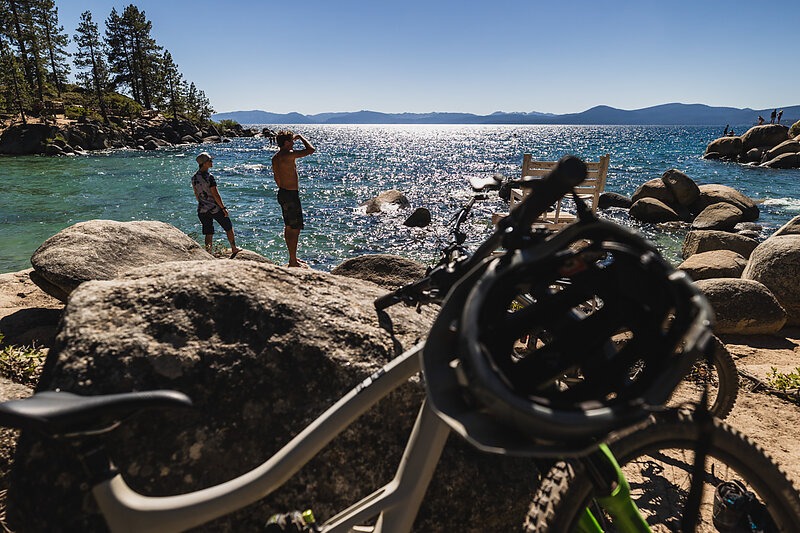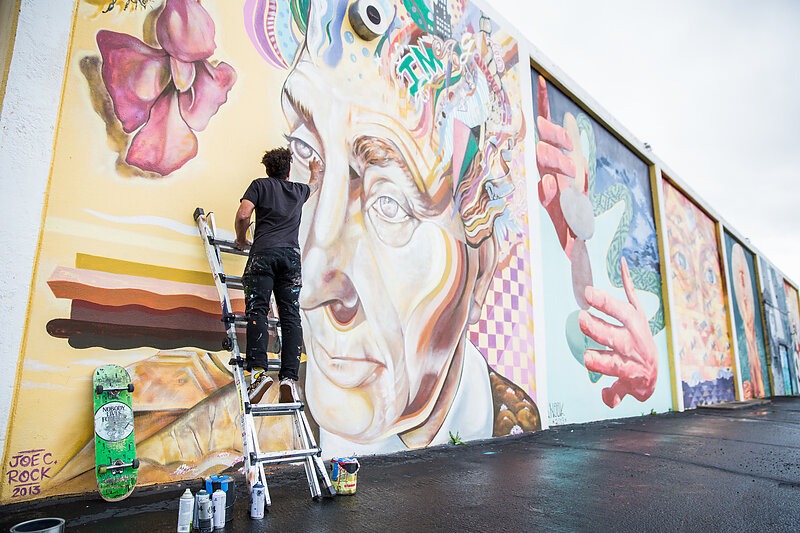 During the warm summer months where rides take you to the higher elevations, Incline Village is home to a variety of bike-friendly eateries and, even better, nearby beaches. Nothing is sweeter than ending a ride in the refreshing waters of Lake Tahoe at Chimney Beach, Sand Harbor, or Hidden Beach. Once back in town, a visit to the revamped Bowl Incline is a culinary treat, relaxation zone, and entertainment center wrapped up in a single location. The Hawaiian fusion menu of fresh ingredients is bursting with flavor and substantial portions. The shaded patio provides room to kick back and relax with a cocktail in hand. Take a shot at the pallino at the outdoor bocce courts or step inside to the colorful mid-century modern bowling alley, arcade room, and bar for an all-ages good time.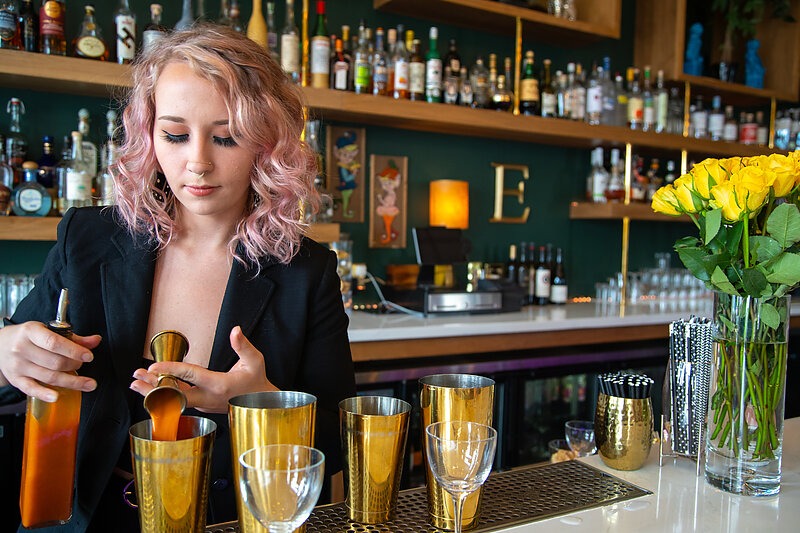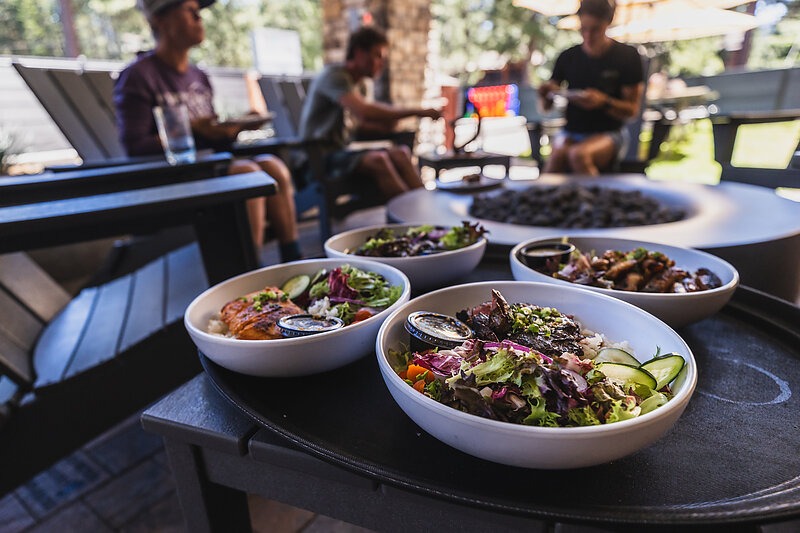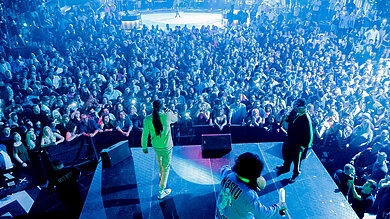 Entertainment
Reno Tahoe is a mountain bike destination with the unique opportunity to find endless things to do once the ride is over. Downtown Reno is a walkable city with exciting and unexpected experiences at every turn. Once an industrial area, the revitalized East Fourth Street District serves as a brewery and distillery hotspot. An evening well-spent starts with the most flavorful tacos and drinks at Estella, residing on the patio of the thoughtfully restored The Jesse hotel. If you have an appreciation for design, be sure to peruse the lounge and bar inside, or enjoy a stay in one of the curated rooms. Next, sample craft spirits, brews, and cocktails at the nearby Depot Reno, Lead Dog Brewery, and 10 Torr Distilling and Brewing. Finally, catch a Reno Aces baseball game under the lights from April to September.
For a bigger night out, start with a mouthwatering steak and fine dining experience at The Roxy, part of The Row in downtown Reno. Uniting three casinos, The Row is an entertainment center where you're guaranteed to find a concert, comedy show, and nightspot for late-night revels, capped off with a side of pokies in the laidback casinos. 
There are few places where you can ride world-class trails by day and see a favorite musical act by night. That's just the thing about Reno Tahoe, it's multi-dimensional. This is where the peaks meet the high-desert, where the deepest snowpacks reveal alpine adventures, and where there's a flavor of riding for every mountain biker.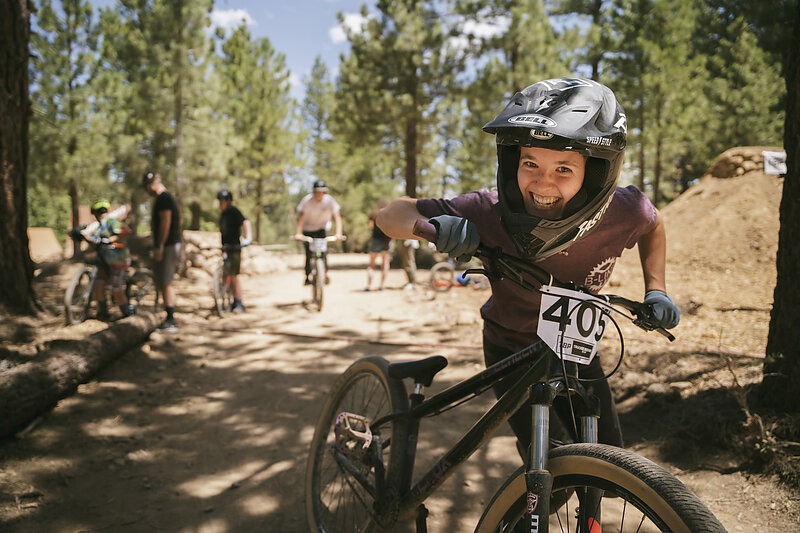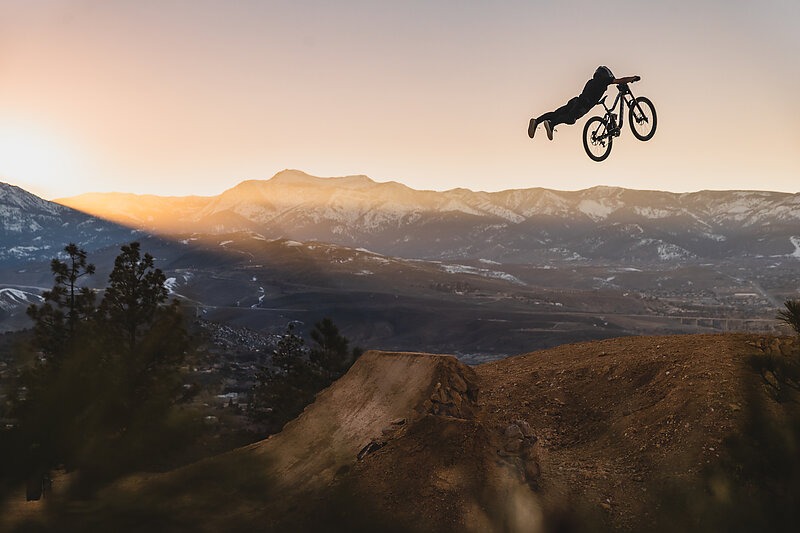 Extra Tips for Travel
Equally as plentiful and varied as its riding, Reno's lodging options are all-inclusive with options including lakeside resorts, casinos, boutique hotels, vacation rentals, and camping. 
No matter what corner of Reno you are staying in, there is a bike shop within reach to offer repair service, gear, and friendly local riding tips. The Dropout Bike Shop is right downtown. Mountain Dog Cycling is conveniently located close to Sierra Vista Park. And Great Basin Bikes, Sierra Cyclesmith and High Sierra Cycling can assist you when riding the Mount Rose area.
Check the Reno event calendar for something that suits your style during your visit. Reno is home to a robust event schedule of air races, professional rodeos, art and music festivals, vintage car shows and more.
Summer on Lake Tahoe is magical, but shoulder season is prime time in Reno Tahoe. Spring provides wildflowers, hero dirt, and snowcapped peaks. Early fall sees fewer crowds but maintains the same access to the region's trails and bike parks at all elevations.