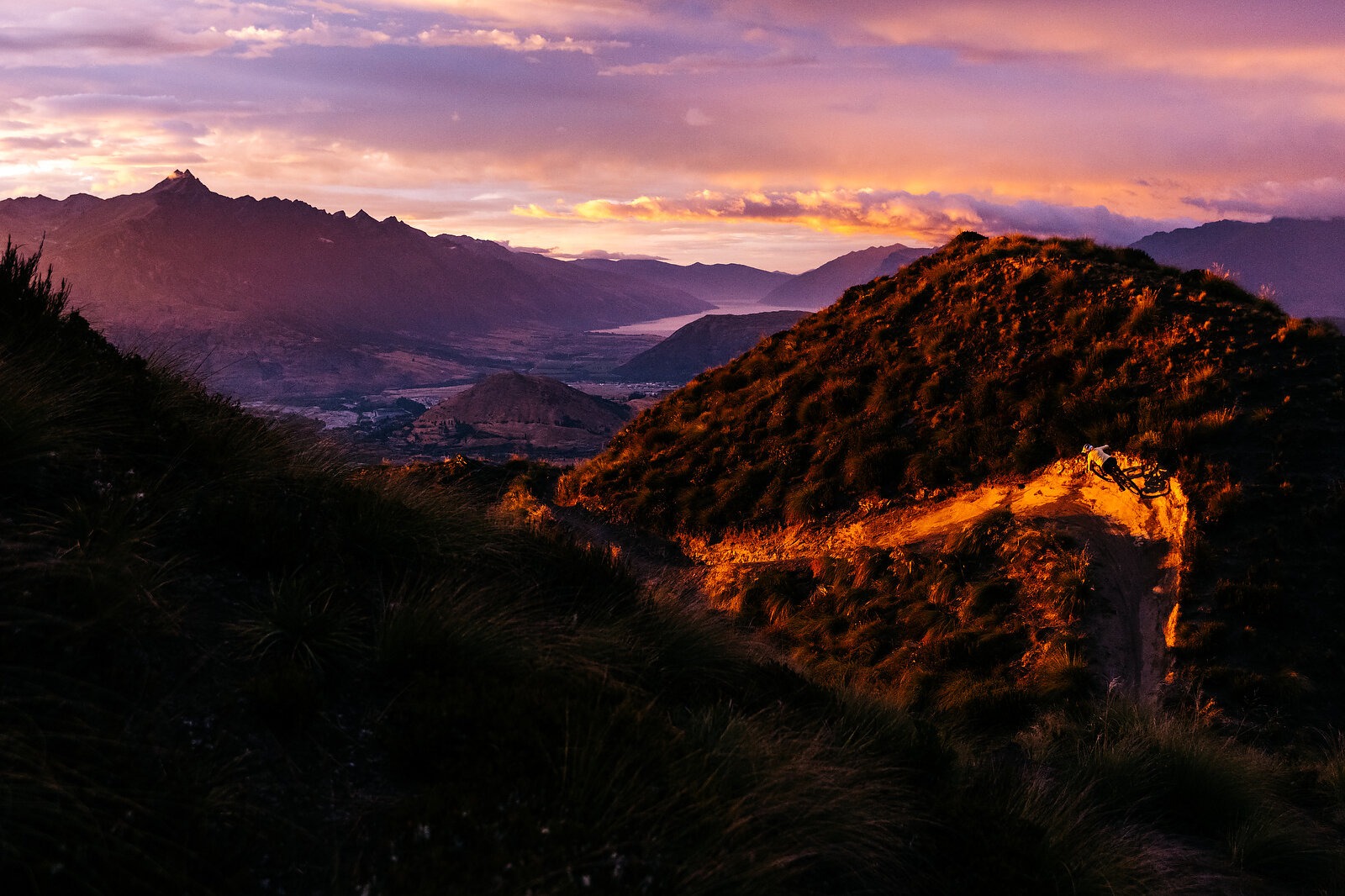 Queenstown Travel Guide
It's love at first sight on arrival into Queenstown, New Zealand's ultimate biking destination on the South Island.
As you descend toward the town, you glide past towering, endless mountains—the Remarkables, Ben Lomond, Cecil Peak, and more—and the vast Lake Whakatipu. Tucked throughout these natural wonders is a web of singletrack, which sustains a passionate community of mountain bikers.
More and more professional riders are seasonally migrating to this corner of the globe to escape winter in the Northern Hemisphere and enjoy the bounty of world-class trails and breathtaking scenery.
From the moment you arrive, it's evident that Queenstown is a mountain biker's destination. For one, there's a bike-building station inside the airport. There are trails for any mountain biker, from new riders to seasoned pros. Within the area are three lift-assisted bike parks, multiple trail networks, one of the world's most iconic dirt jump parks, and a freestyle jump park featuring some of the world's biggest jumps open to the public. You can ride something new every day and still not see it all on a single visit. Plus, all that stunning scenery makes for scenic rides with sweeping panoramic views as far as the eye can see.
The main ingredient behind Queenstown's allure is the combination of world-class trails and its incredible bike community that brings it all to life. Manaakitanga is the Māori word for hospitality, and the locals exemplify this idea with their kindness and generosity. Don't be surprised to meet a stranger at Atlas Beer Cafe and ride with them the following day. Or to have a bike mechanic at Vertigo share their favorite trails and then ask how you enjoyed the ride when you drop off your bike. That's just how it goes in these parts. The town also is a melting pot of cultures due to residents and visitors coming from around the world, resulting in a unique variety of restaurants and businesses. Queenstown sports an electric vibe that's palpable on or off the bike.
All these factors make Queenstown the undeniable riding capital of the Southern Hemisphere. And as the community grows and more events call the region home, it's clear that the town is a must-visit for any mountain biker.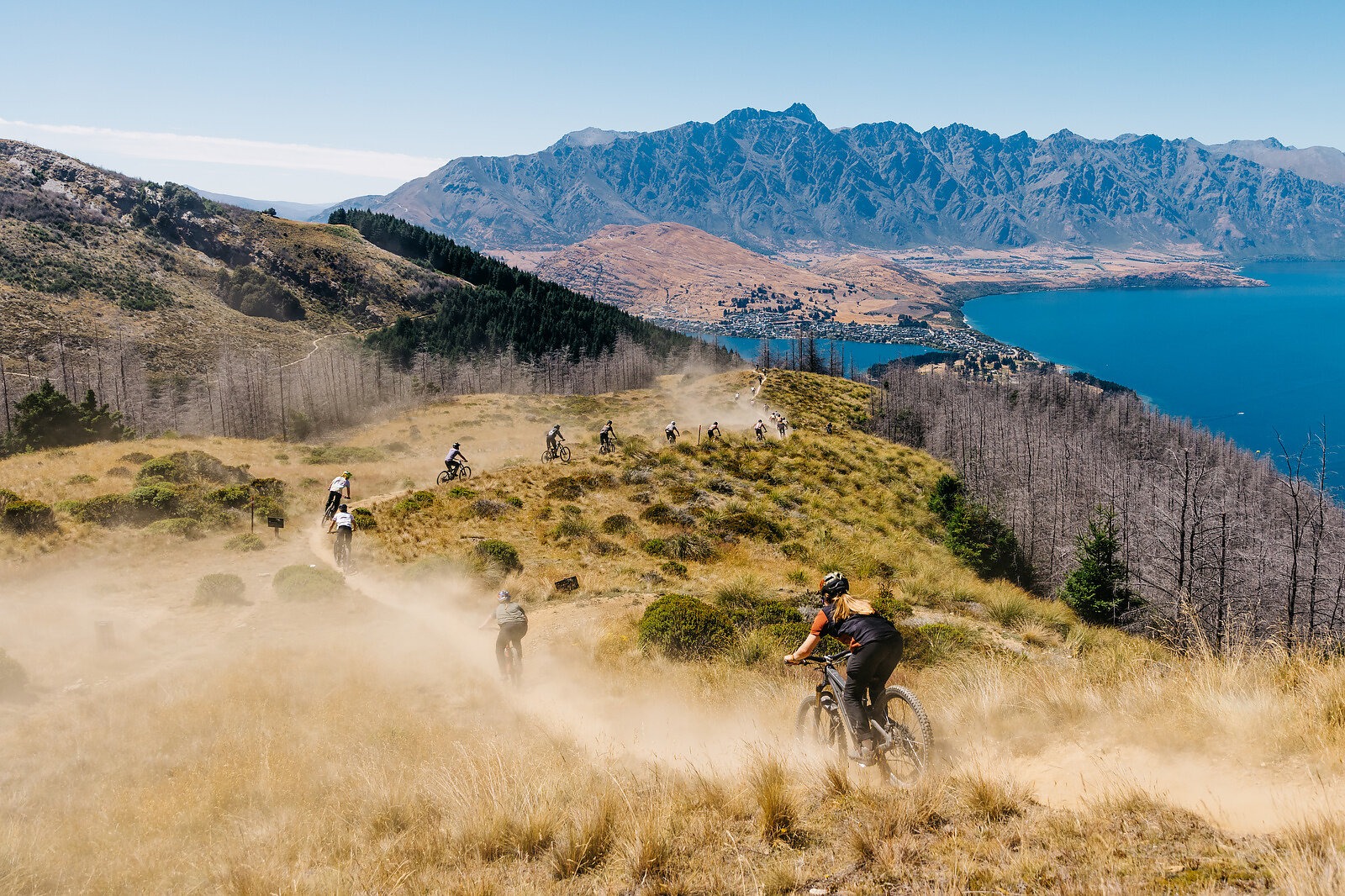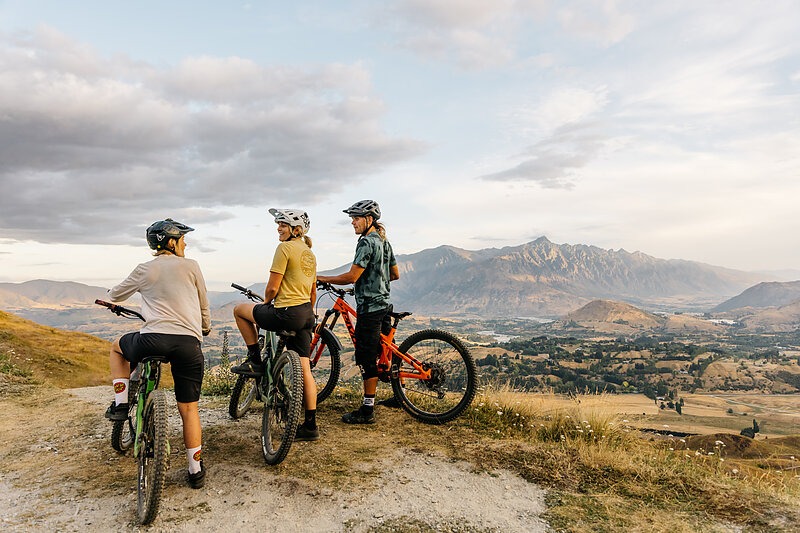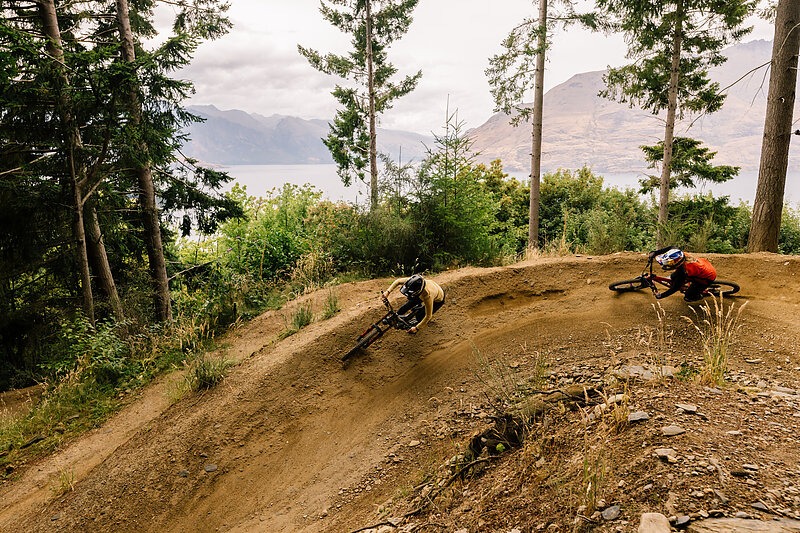 Places to Ride
The Queenstown Bike Park is the cornerstone of the local bike community, and its story begins in the '90s when it was the original training ground for New Zealand's World Cup racers. In 2010, the bike park became the first gondola-assisted bike park in the nation, spurring further growth for the Kiwi bike scene. There are many reasons to fall in love with the Queenstown Bike Park. For starters, it's right in the heart of town. A few blocks from downtown, you can grab the skyline gondola—"the gondy"—and be whisked up 1,500 feet to the Ben Lomond Reserve in six minutes. The top rewards you with a breathtaking view of the mountains and Lake Whakatipu, and the trails are full of viewpoints to appreciate the natural surroundings further. 
The bike park is a dense collection of trails featuring everything from flow, tech, and jumps. With more than 30 trails to choose from, it's hard to pick one standout trail. Tech lovers will enjoy classics like World Cup, Grundy, and Single Track Sandwich, which are chock full of steeps, roots, and rocks. Jumpers will feel at home on Huck Yeah, a line with nine blue and black tabletop jumps. The bike park is for more than just downhill bikes too. If you're looking for a pedaling fix, connect from the bike park to the neighboring Fernhill trails for longer enduro-style descents. Climb Beeched As to exit the park and tap into tracks like BluGazi and Salmon Run, which are high-speed and plenty of fun.
The Fernhill Bike Park is a famous pedal network that features singletrack in native grassland and lush beech forests. Thanks to the efforts of the Queenstown Mountain Bike Club and the many dedicated locals who come out for Wednesday Night Digs, Fernhill is growing with exciting trails like Salmon Run, which is steep and technical. Another local favorite is Missing Link, starting at the Ben Lomond Saddle and offering some of the best views of the Whakatipu Basin. Getting there is a mission, but a sunrise ride is worth all the effort. The best way to access Fernhill is to take the Skyline Gondola or pedal up the access road and climb the connector trail Beeched As. You can link to the Fernhill loop from there, bringing you to Kelly McGarry's table, which pays homage to the late local mountain biking legend and feeds you into the rest of the network.
For those who love being in the air, the Wynyard Jump Park at the Fernhill Bike Park is a little slice of heaven. It's where young kids and big-name pros like Conor McFarlane or Vinny Armstrong spend their afternoons. For newer riders, or those wanting to learn how to jump, McNearly Gnarly is a must. With over 50 rollable and approachable tabletop jumps, McNearly is a trail that can't be ridden just once. For those looking to progress into more prominent features and gaps, Mini Dream offers a great bridge with progressive jumps, a mulch jump to practice tricks, and even an airbag open to the public during airbag session events. Wynyard's crown jewel, however, is the legendary Dream Track, built initially by a group of locals in 2004 for New World Disorder 5 and known worldwide for its colossal gap jumps and impeccably built flow. Considered some of the biggest public jumps in the world, Dream draws the caliber of biking phenoms like Carson Storch, Brett Rheeder, Casey Brown, and more. One of the best ways to experience the line is at McGazza Fest, where out-of-towners and locals session the jumps together in honor of Kelly McGarry.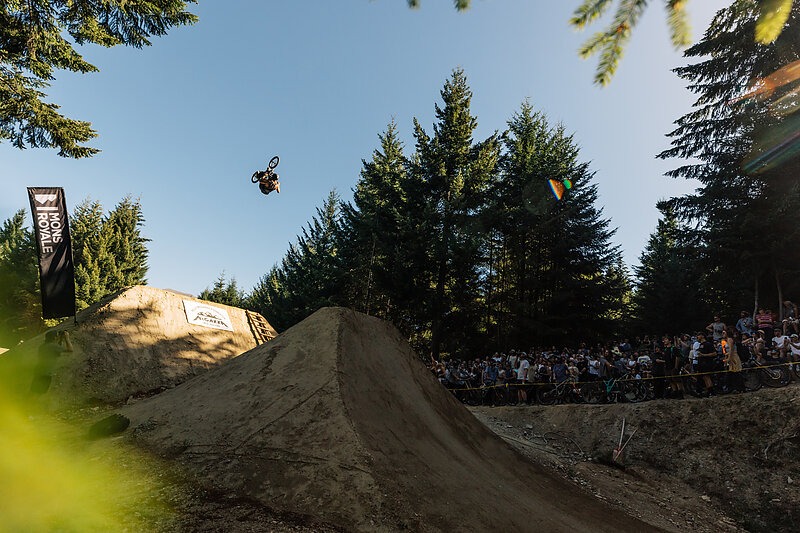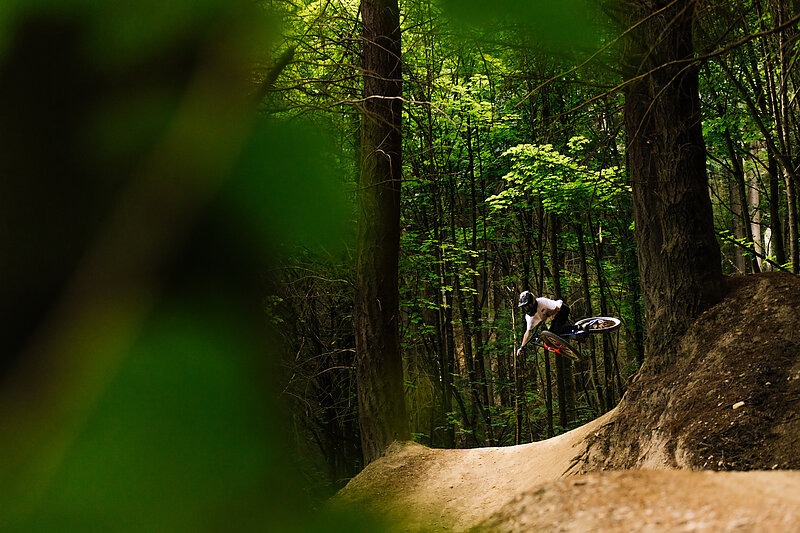 Coronet Peak is the closest ski resort to Queenstown and is also home to some of the region's most scenic trails: Rude Rock and Hot Rod. The rides are long and have a breathtaking alpine view around every corner. Unlike the Queenstown Bike Park, tucked away in the forest, Coronet Peak lacks trees and weaves through native tussock grass, making for a unique alpine riding experience. For downhill riders, grab the lift to access Coronet DH, Upper Rude Rock, or the Coronet cross-country track. Coronet Peak's specialty, however, is its lengthy adventure rides. Link the newer Upper Rude Rock Trail with the original Rude Rock, and you'll be on the longest-maintained singletrack descent in the nation. With more than 3,900 feet of descending, it's a must-ride on your Queenstown to-do list. If your legs aren't spent from that adventure, you can either pedal back up the service road or catch a shuttle back to Rude Rock for more. Sunrises are an absolute must out here, offering the perfect vantage point to watch the sun spill over the mountain and light up the Whakatipu Basin.
Seven miles from Queenstown on Glenorchy Road is the scenic Seven Mile riding area. The network, perched right on Lake Whakatipu, is the local's spot for cross-country oriented rides. The trails are easy to loop, and it's also Queenstown's most accessible network, making it an excellent option for newer or beginner riders looking to gain confidence. A ride that all levels will enjoy is the Phoenix trail, which offers stunning views of the lake and mountains. Pro tip: ride it at sunset, then relax with friends by the lake with a picnic as the sun lights up the lake. Other notable trails at Seven Mile include Buckland, a mini North Shore-inspired playground full of impeccably built skinnies, ladders, and drops. Jack B Nimble is a newer jump line with tabletop jumps, big berms, and step-downs that makes for a fun, lapable trail.
The Queenstown Mountain Bike Club is one of the main reasons the city is the biking haven it is today. The club—composed of volunteers, diggers, riders, and more—was the driving force behind the development of many iconic trails and community initiatives. During your visit, consider signing up as a member or donating as a thank you for their incredible work so the tracks continue to thrive for years.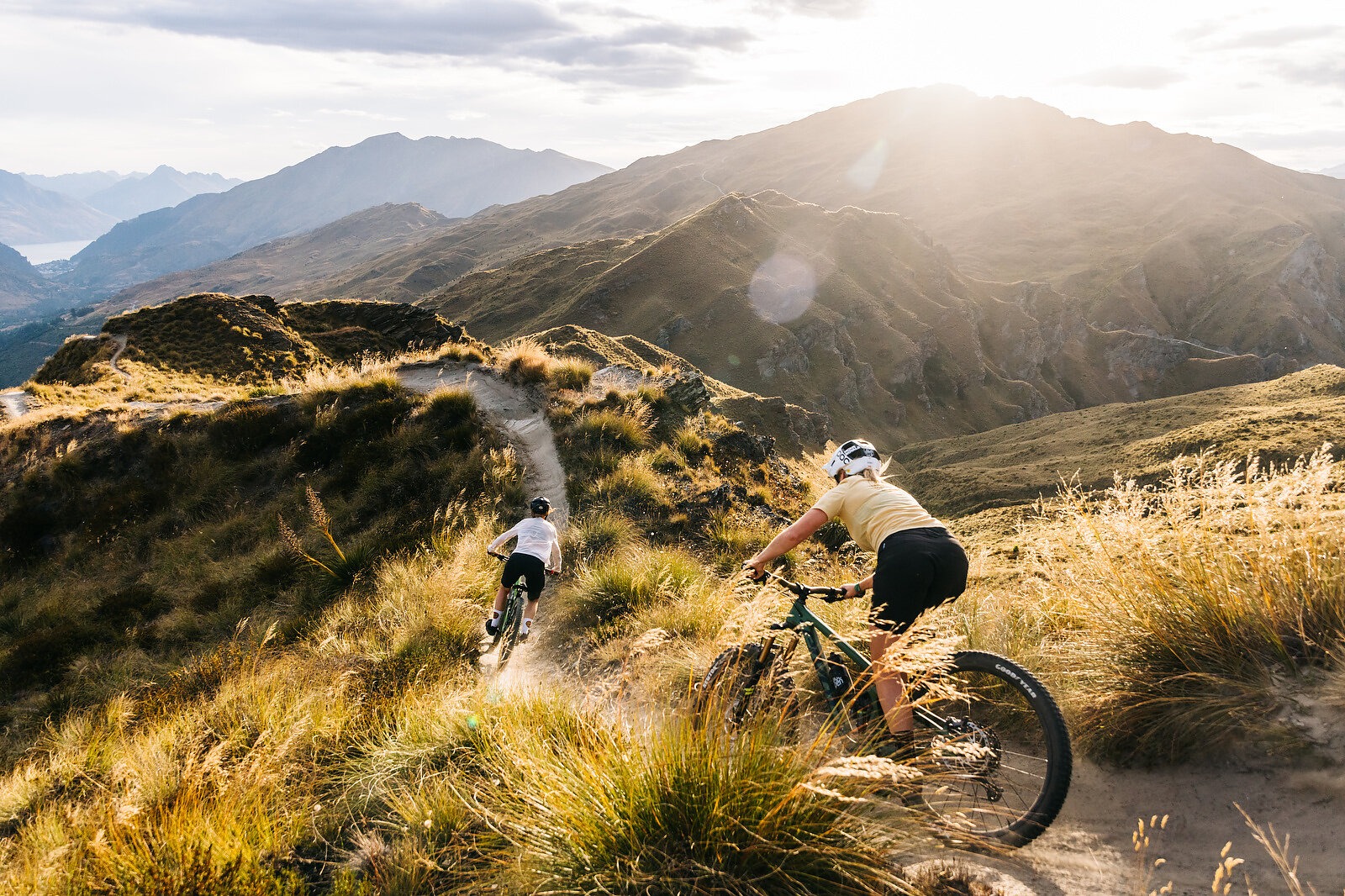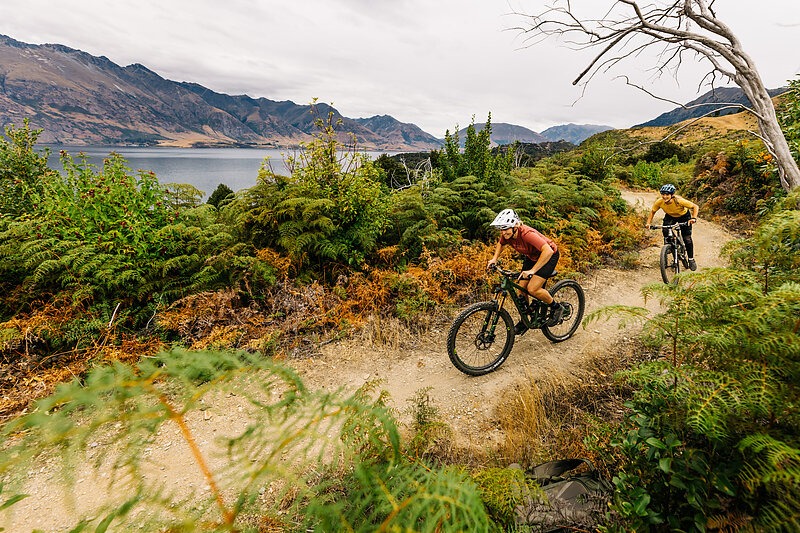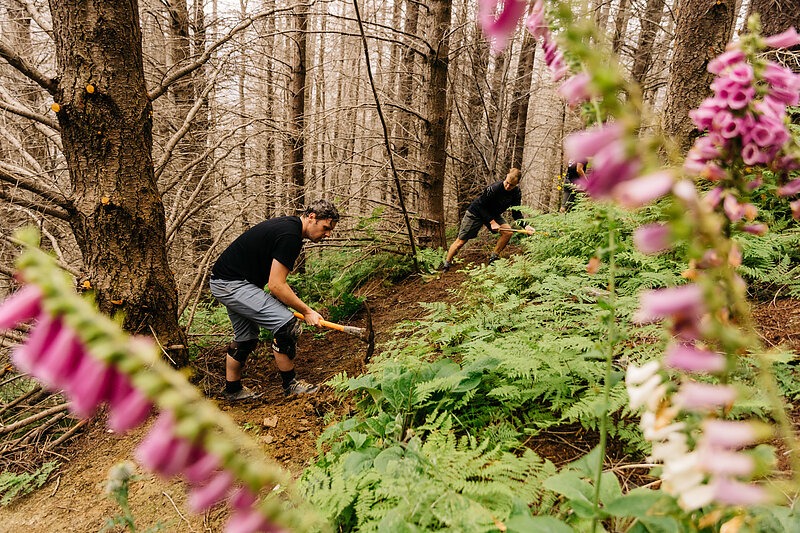 Après
The riding experience in Queenstown wouldn't be complete without visiting one of the many après-bike scenes. Foodies will love the dining. Most restaurants are passionate about sourcing local, fresh ingredients that make for dishes sure to induce a food coma. And there are plenty of quirky watering holes with refreshments ranging from locally produced craft beers and wines. Look for dozens of mountain bikes parked outside to find the best local spots.
Nestled at the back of Steamer Wharf is the local's favorite, Atlas Beer Cafe. This hole-in-the-wall bar is a go-to spot for craft beers, scrumptious breakfasts and lunches, tapas, steaks, and coffee. The menu isn't your typical pub food, but an exciting mix of reimagined classics like the grilled cheeseburger to inventive vegetarian options like BBQ Cola Jackfruit tacos. While small and intimate, Atlas has the atmosphere of a grand, animated beer hall and is often overflowing with riders. The outside patio is a favorite spot to enjoy the summer months and soak in lake views with a craft beer in hand. There are hints of the local mountain bike community in every nook and cranny of the bar, most notably Kelly McGarry's Red Bull Rampage bike and helmet—which hangs just above the bar. For events, Atlas is usually the after-party host for most races, and the bar is constantly collaborating with the Queenstown Mountain Bike Club to help raise funds for the club.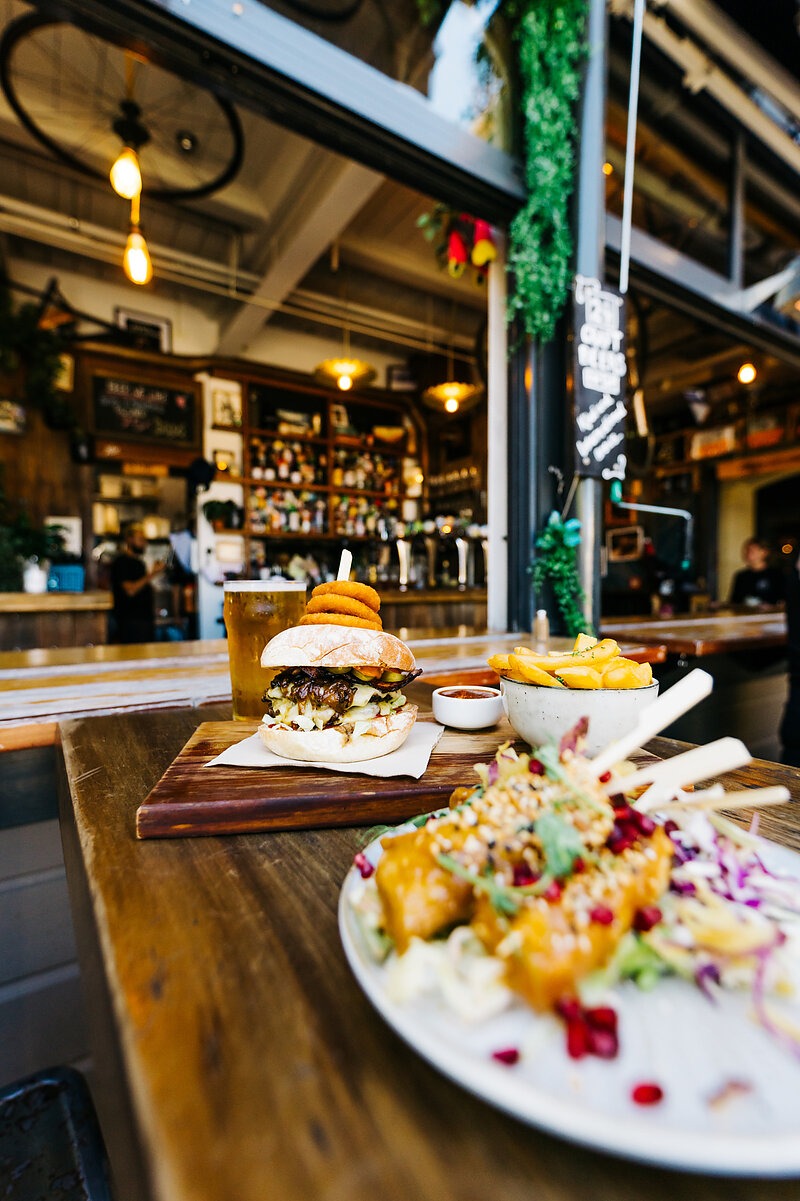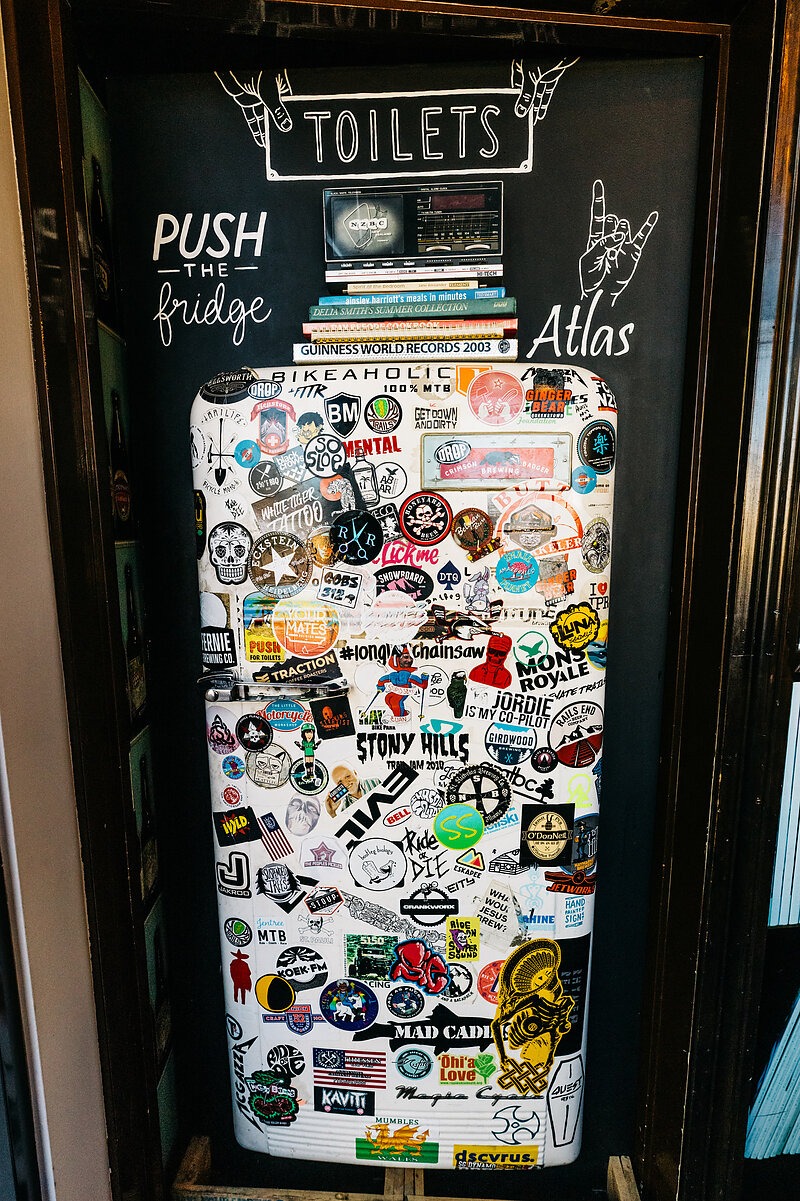 Walking through the industrial area of Queenstown, it may feel like you've made a wrong turn trying to find Searchlight Brewery. But you've found it once you've spotted the colorful mural and numerous mountain bikes parked for beers. As you walk down the alley, the industrial warehouse transforms into a bustling, grassy beer garden with plenty of room to relax with friends and soak up the sun. The cozy garden also regularly hosts all kinds of events ranging from trivia to music gigs, so be sure to check its events page before visiting. Next, you'll find an old tortilla factory beautifully converted into a spacious taproom and brewery. Searchlight prides itself on being an independently owned and operated brewery that brews, tests, and packages its beers onsite. The taproom has 18 taps, so be prepared to get a flight to sample the classics and latest concoctions from Searchlight. (P.S. Don't forget to try one of their pies!)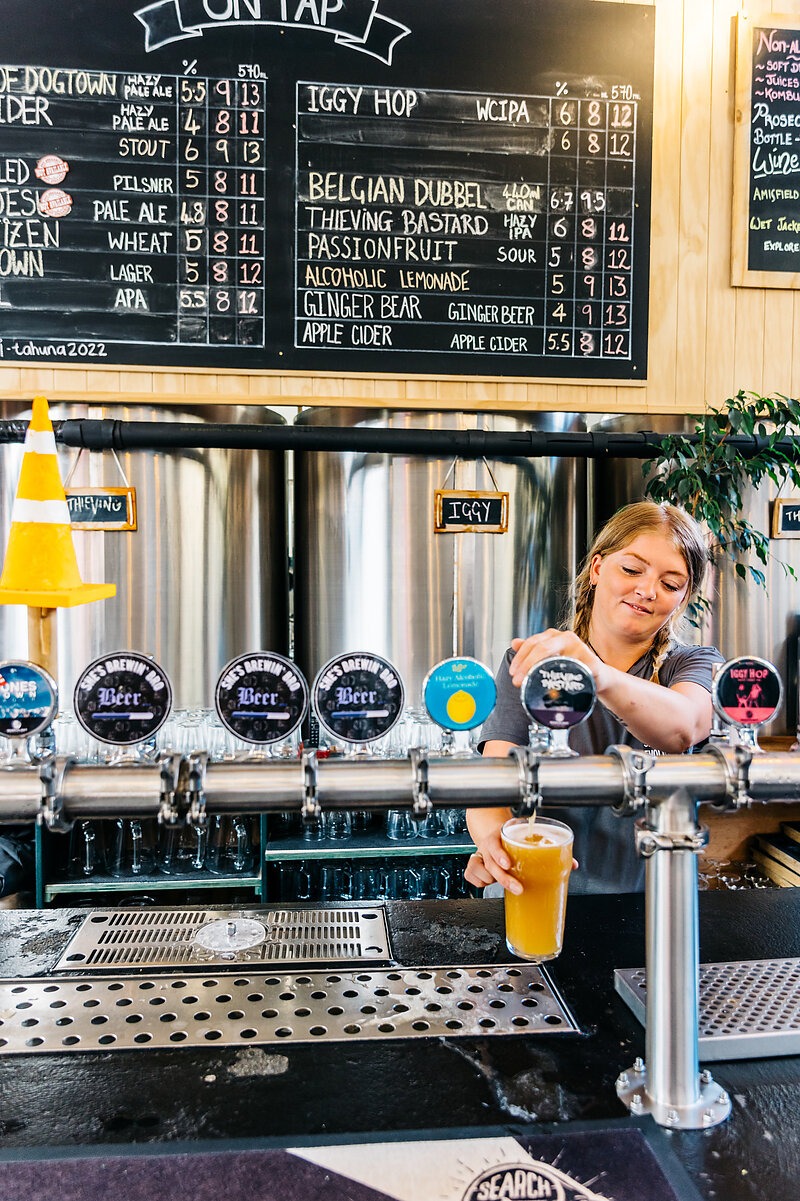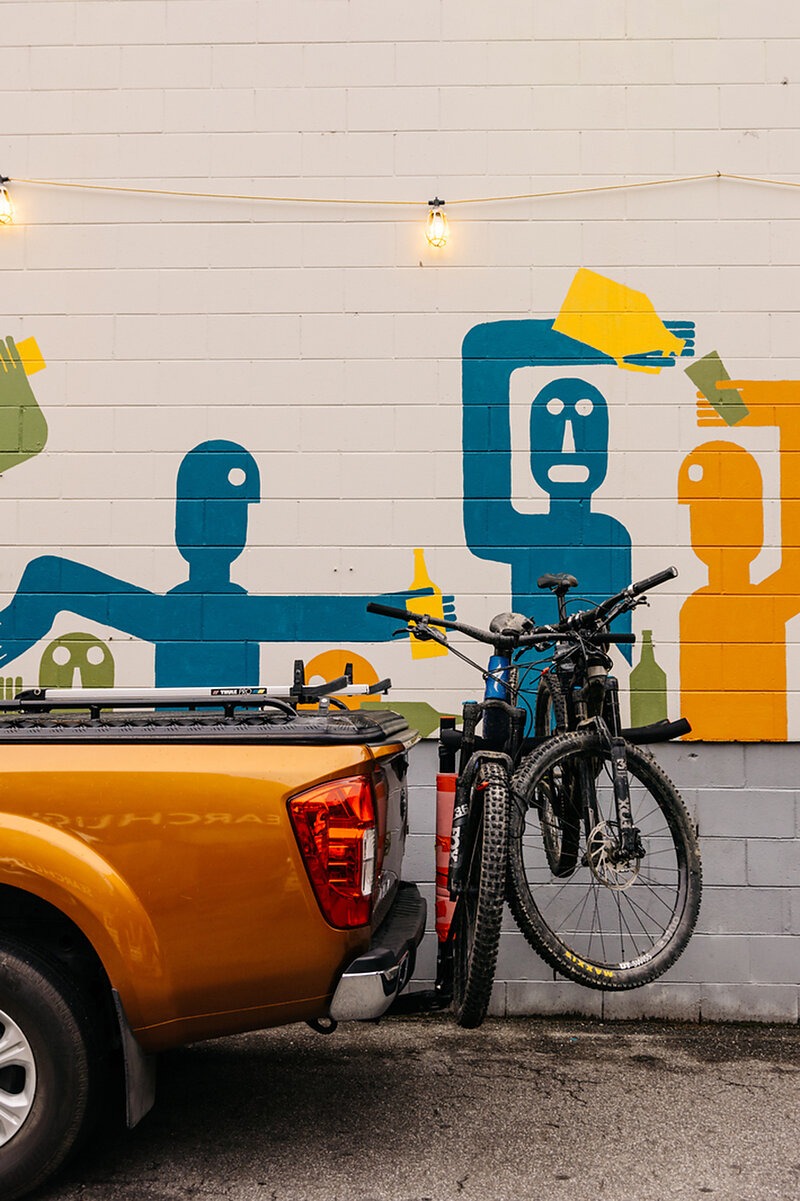 A minute from the bottom of Coronet Peak is Cargo at Gantley's, a relaxing pub that's a no-brainer for post-ride beers and food. The restaurant is nestled in a gorgeous 150-year-old stone building that once housed Queenstown's oldest hospitality business, which was a restaurant and lodge during the gold rush era. Gantley's has maintained the building's old charm while creating a lively atmosphere between its pub and spacious outdoor beer garden. The menu ranges from sharable bites to filling mains, and you won't find greasy pub food here. Instead, enjoy dishes like Kimchi Fritter burgers or Harissa-spiced Lamb Shoulder. Or plop into one of the beer garden bean bags with a beer and some skinny fries. You'll find it hard to leave.
Another quick getaway near Coronet Peak is the quaint community of Arrowtown. Once an old mining town, Arrowtown has become a thriving arts and culinary scene full of unforgettable restaurants such as the Fork and Tap. Its beautiful stone exterior is easy to spot, and the inside is just as charming. The menu primarily consists of wild and locally foraged meats and ingredients, making for delectable sharing plates, pizzas, salads, and more. Pair your dish with one of the 19 New Zealand craft beers on tap, or local wines, and you'll be content after a big day on the bike.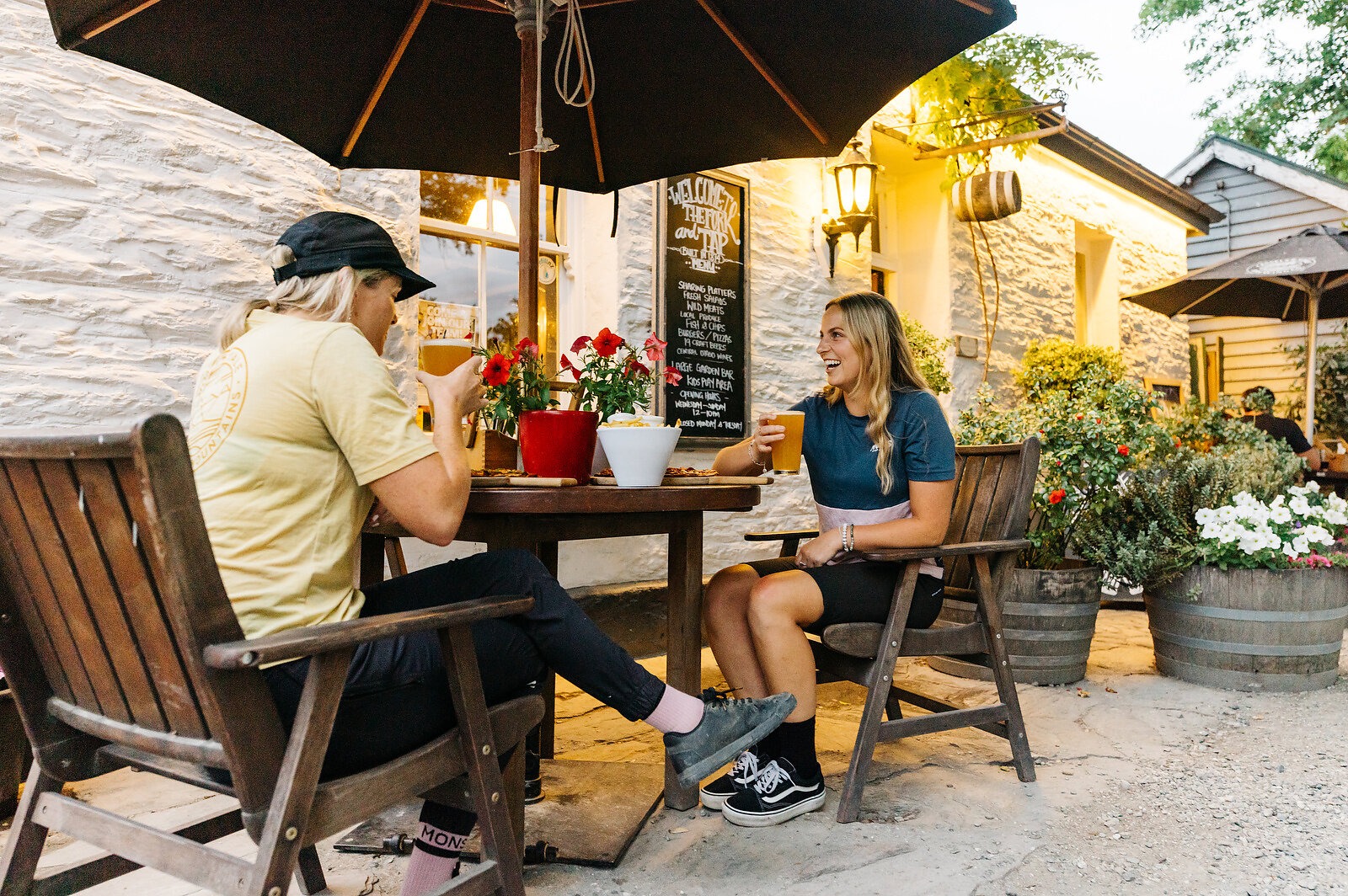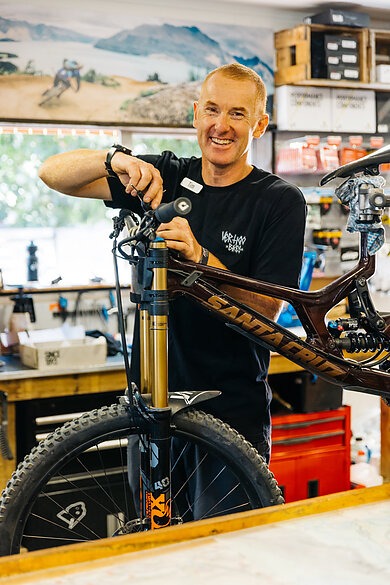 Bike Shops & Shuttles
Vertigo Bikes proudly hails the original bike shop for Queenstown bikers. In 1999, Tim Ceci opened Vertigo with guided heli-bike tours and rentals, looking to grow the mountain bike scene. The team also built a handful of the original trails at the Queenstown Bike Park—hence the Vertigo trail. Twenty-two years later, the shop is known for its top-notch bike service and the largest rental fleet of bikes in town. The staff is knowledgeable and kind, happy to answer bike-related inquiries or provide trail suggestions for your next ride. Fun fact: Casey Brown is among many mountain bike legends who once worked at Vertigo, as they've fostered many biking talents through the years. Beyond wrenching on bikes, Vertigo is greatly involved with the local community. For example, they host the Vertigo Bikes DH series, a beloved race series that raised over $60,000 for the Queenstown Mountain Biking Club.
Alta is a locally owned and operated store in town for any gear need. In addition to bike rentals, they stock bike clothing, helmets, gloves, goggles, and most bike essentials if you forgot something on the flight to New Zealand.
For those wanting an effortless tour of Queenstown's bike scene, a guided tour with the All Mountain team is an excellent option for exploring the area. The All Mountain guides have plenty of opportunities for travelers seeking a curated bike experience and offer half-day to multi-day adventures, e-bike tours, and coaching. In addition, they take care of all the work of trail planning, so all you need to do is show up and ride.
Driving on the left side of the road isn't for everyone, and thankfully you don't have to while visiting Queenstown. The Ride Guide is a private MTB shuttle and bike taxi that will bring you to and from any riding destination in the Queenstown area. Pick from 3-hour transport to all-day service, and rest easy knowing that you don't need to figure out how to do a roundabout on the opposite side of the road. On top of being a transport service, the Ride Guide also offers coaching, rentals, and guided trips if you're looking for an all-inclusive package.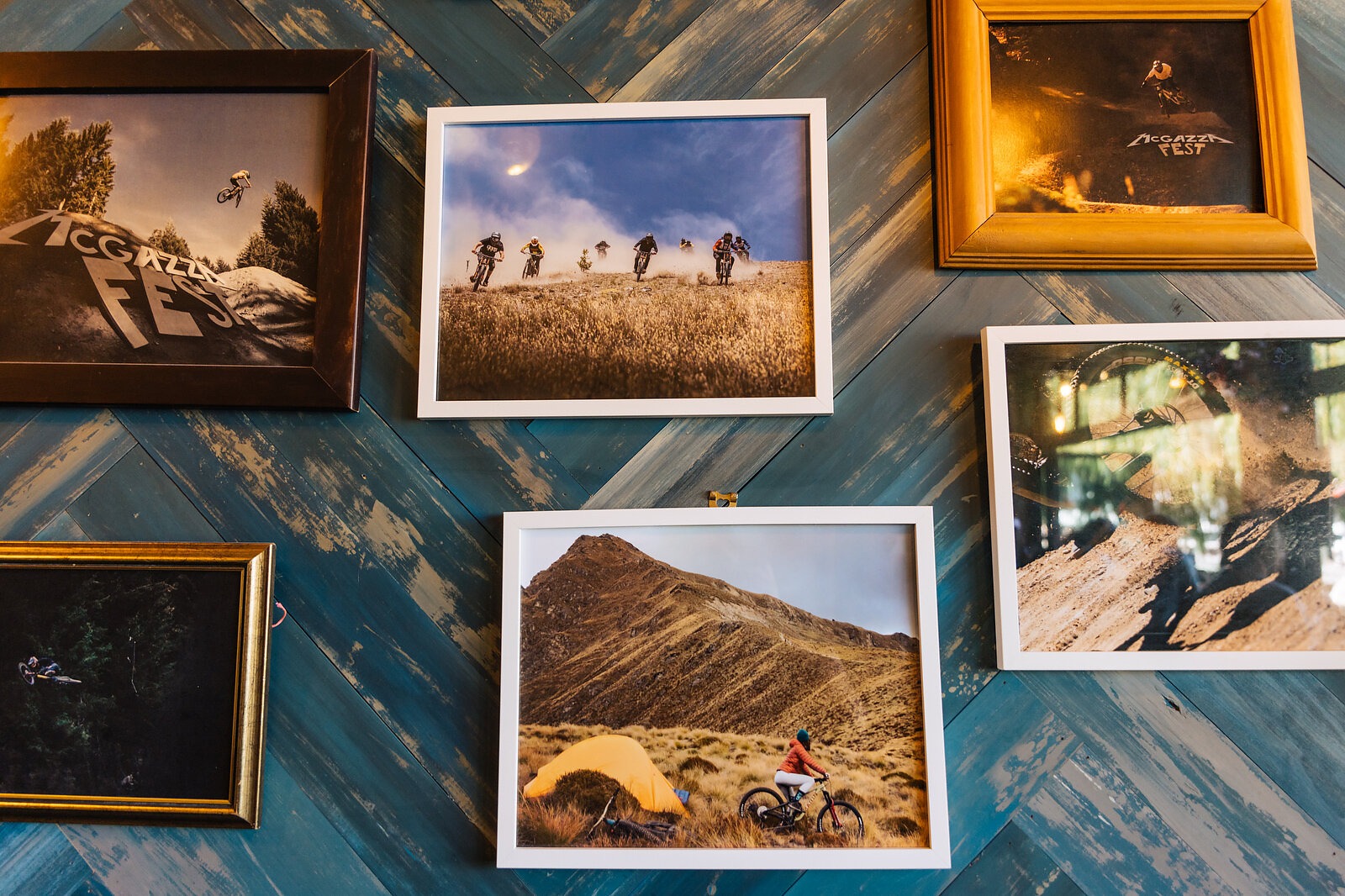 Lodging
You won't feel like a tourist when staying at Sherwood. The elegantly renovated 1980s motor inn strives to serve both visitors and the community. In addition to their comfortable rooms ranging from bunks to studios to apartments, Sherwood also offers a yoga studio and sauna, a ski and bike workshop, a co-working studio, and an ample outdoor space for hosting all kinds of arts, music, and community programming. It's a quick bike ride, drive, or bus ride into Queenstown, and the distance from downtown makes it a relaxing getaway. Additionally, Sherwood is setting the standard in sustainable tourism and is currently ranked in the World's Top Ten most sustainable hotels by Expedia Travelers. This commitment to the planet is evident in things like their solar grid powering the Inn with 100 percent renewable energy or their kitchen garden, which supplies the restaurant with most of the produce they use in their mouth-watering dishes. Their restaurant is phenomenal, and you won't want to have breakfast elsewhere in town.
The Pinewood Lodge is the perfect base camp for any traveling mountain biker. Comprised of thirty houses spread across three acres, this village of private cabins and apartments is a quick ride to and from the bike park. Additionally, Pinewood offers a bike wash station, maintenance area, storage shed, and bike rentals. Tucked in the mountainside, it feels like a tranquil hideaway despite only being seven minutes from the heart of town. Pinewood offers the feel of a relaxing retreat without breaking the bank. Their room rates are reasonably priced and are a screaming deal with all the amenities included.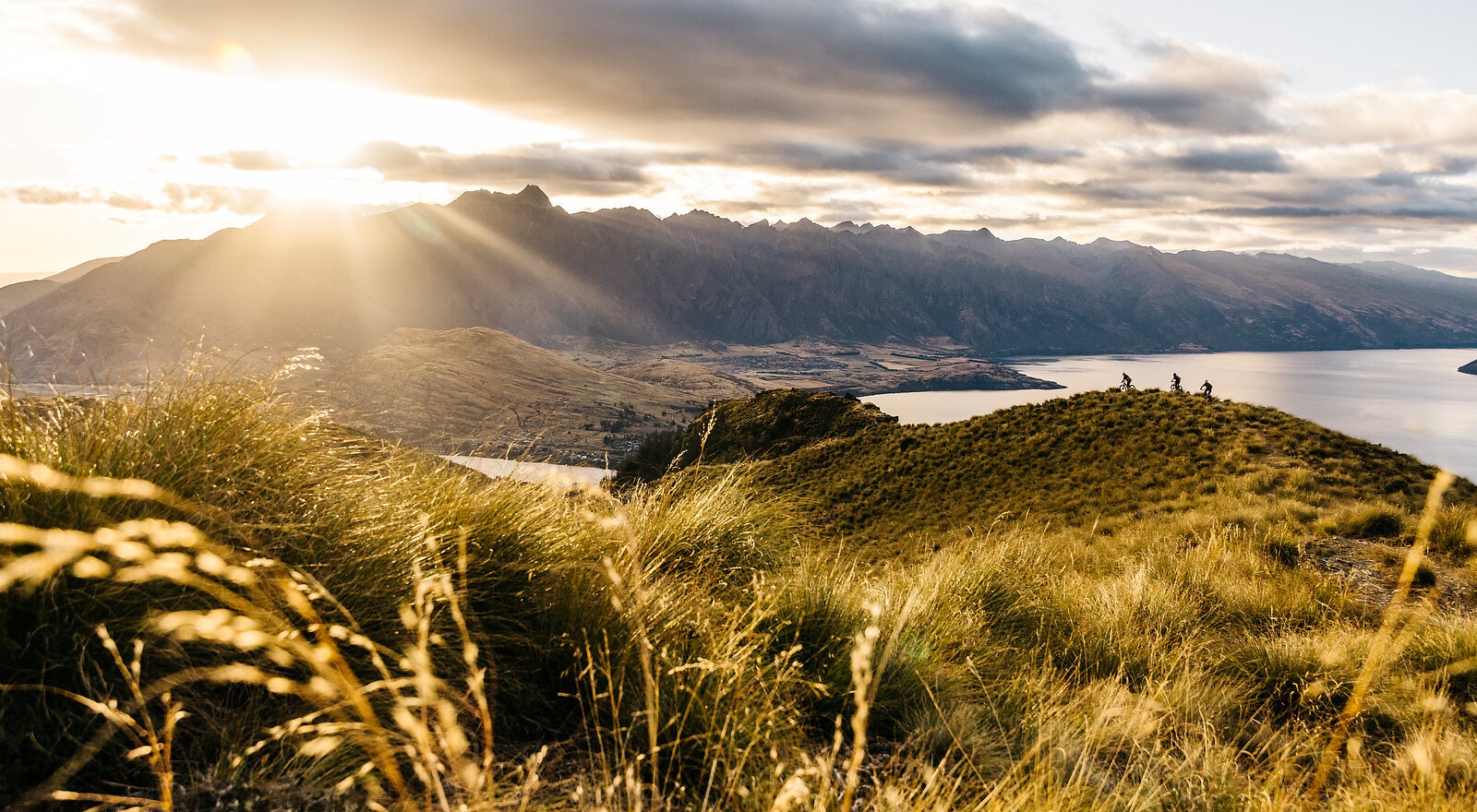 Extra Tips for Travel
A car rental isn't necessary: Save on costs by skipping the rental car. Queenstown is straightforward to navigate by bike, with a massive bike path running through town. Depending on where you're staying, you can get to where you need to go by bike or bus (which has bike racks). Try one of the bike shuttles for any adventures beyond the town and avoid the need to drive.
Check the event calendar: Something is always happening in town, from the Queenstown Bike Festival to the Crankworx Summer Series. The region hosts all kinds of enduro, XC, freeride, and DH events, keeping the town buzzing and drawing pros from all over. If you want a unique experience, consider checking out the many events and have a chance to see the local community in full force and even join a race yourself. 
There's a whole bike season to visit: Summer is when most people travel to Queenstown. With temps between 68 to 86 degrees and daylight stretching until 10 p.m., it's perfect for exploring. However, spring and fall are great times to visit with cooler temps and hero dirt. Also consider the shoulder season if you're looking to score a great deal on lodging.