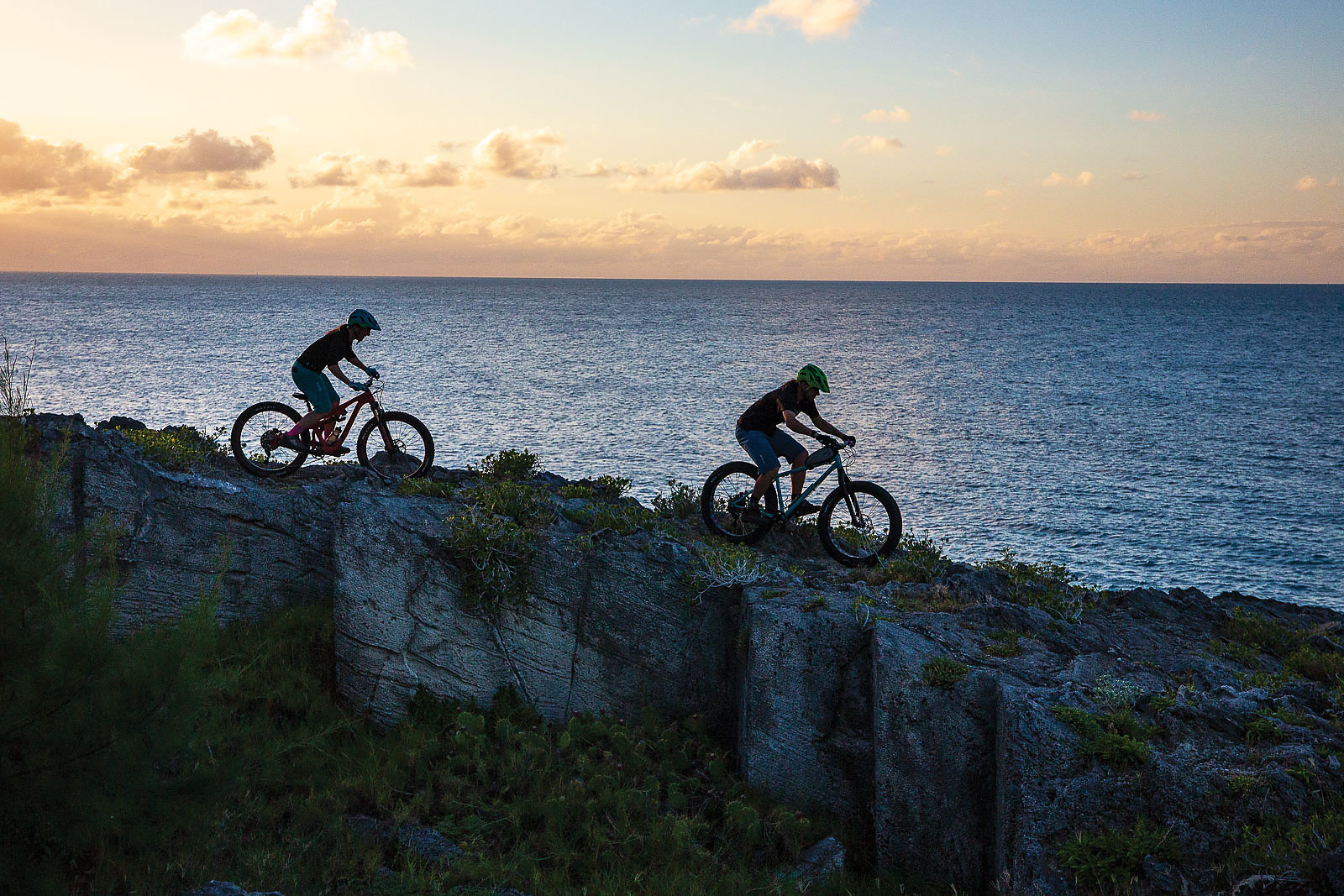 Fertile Ground No Mountains, No Worries in Bermuda
Five or so hours into our ride for the day, one foot on the ground, arms draped on handlebars, I outwardly survey the lovely, colorful vistas stretched out below.
Somewhat less beautifully, I am dripping buckets of sweat, my quads protesting and heart pounding. Inwardly, I cannot fathom how I am getting my ass kicked. Again. I mean, for crying out loud, we are at sea level—practically riding inside an oxygen tank—on a tiny, flattish island in the North Atlantic called Bermuda.
Said vistas are barely 200 feet below us, where lush green slopes meet turquoise waters. We'd come to visit James Holloway, an avid biker with whom I'd made friends a couple years prior, and I'd been smugly considering coming back to the island for a bike race. I mean how hard could it be? So, James and the local crew undertook educating us about their cherished system, which, turns out, isn't that mellow. Today, we are getting a tour of a few more of James' favorite trails, followed by the promise of a beer ride, as James called it, in the evening with a few more of his mountain bike crew. I imagine a rolling, serene ride, caressed by tropical breezes and punctuated by refreshing beachside beverages. Beer ride reality, however, became much clearer by the end of the day.
The island's trails are small, unique loops, and run the gamut from jungle terrain to spectacular windswept singletrack above oceanside cliffs. To get in a solid day of riding, you must continuously link up multiple trails, mostly in Bermuda's national parks. Instead of being disruptive, it's enormously entertaining, so much so that the miles pile up and you don't even notice until suddenly your quads no longer respond properly.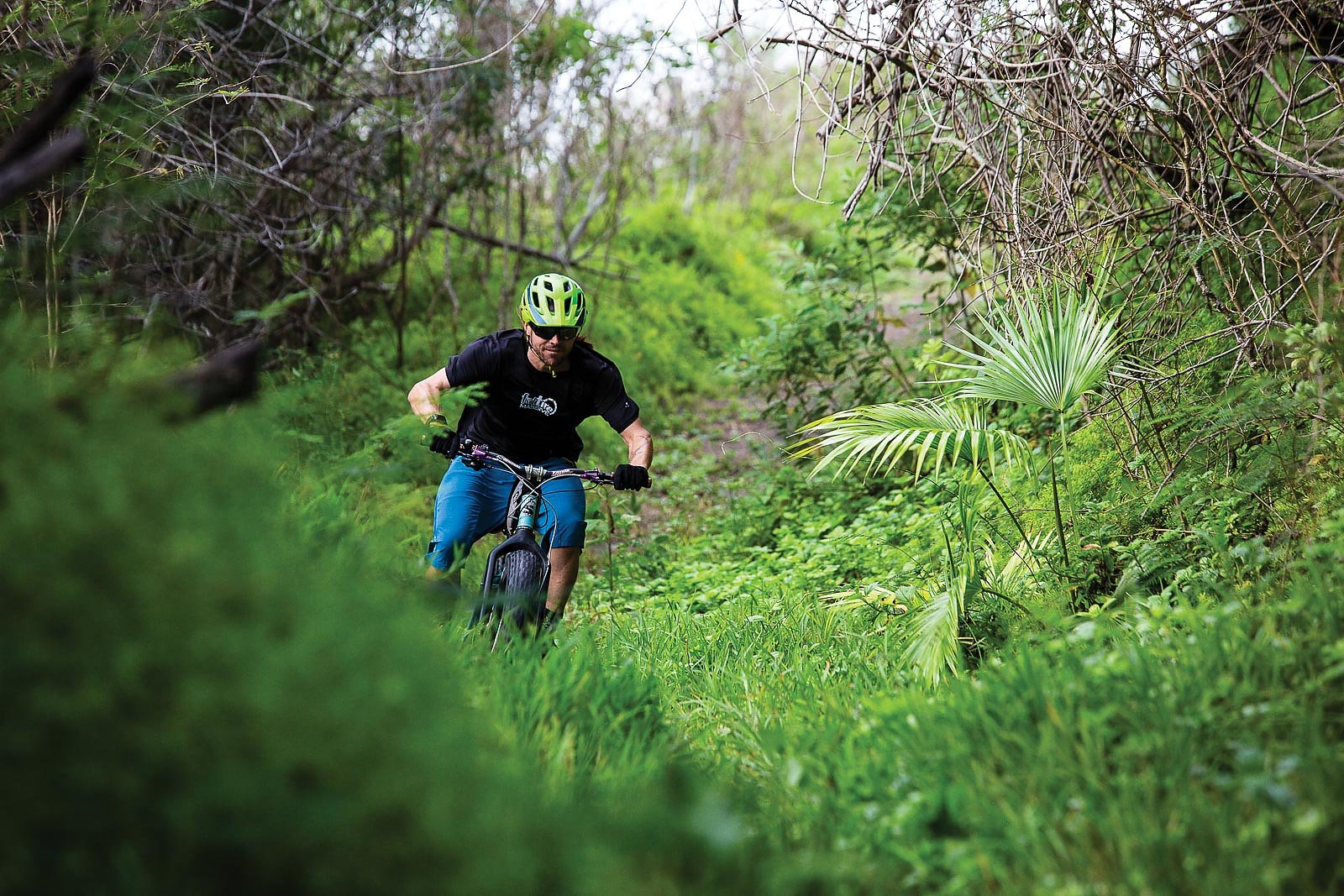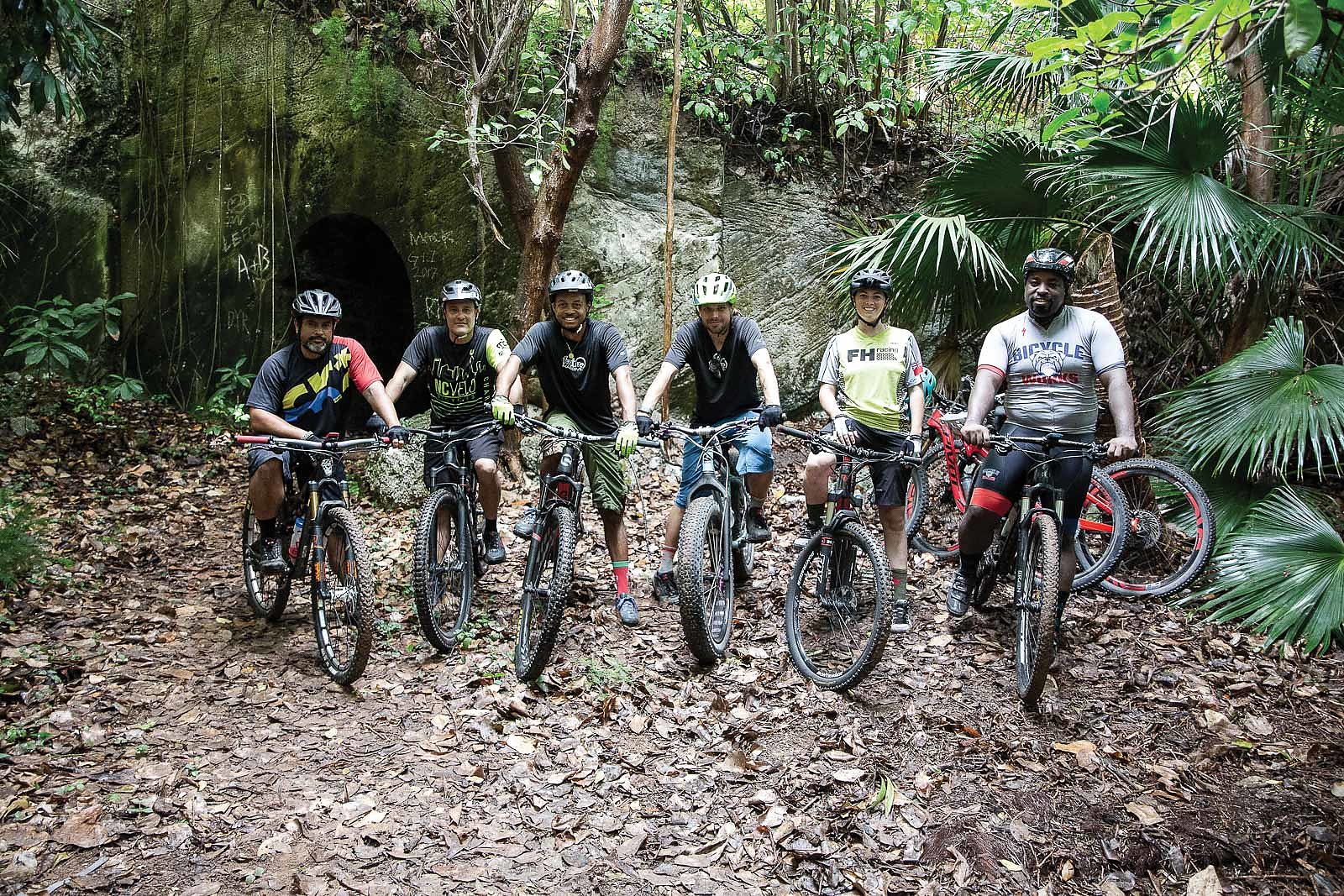 Of course, beer ride wasn't a complete delusion, as many hours—and many miles—later the anticipated beer finally appears. It sits unattended, green glass sweating while I proceed to guzzle water instead. Crushing 50 miles on a 21-square-mile island was not in my wonderful vision from earlier in the day. And we still have 13 miles to go.
According to established logic, mountain biking works best in places with, well, mountains. But out here in the Atlantic, about 600 miles east-southeast of North Carolina's Outer Banks, on this tiny speck of limestone and lava, the high point is a mere 250 feet above sea level. That's a detail no one in Bermuda is caught up in. Since 2010, mountain biking as a sport and a culture has been steadily growing. That's thanks in no small part to James and his friend and biking partner Hans Hirschi, their organization Fat Tire Massive, and their growing group of athletes spreading the love of the sport on their tiny island.
Before the creation of Fat Tire Massive, there was fertile ground for biking. Bermuda has a strong fitness culture, including road cycling, an established system of national parks with non-motorized multi-use trails, and a lot of hills. So in 2010, the Bermuda Bicycling Association called a meeting to discuss the growing presence of mountain bikes, spotted in the parks around the island. It was then that James and Hirschi decided to up the ante.
"We got the feeling that night that mountain biking in Bermuda was in need of some love, so we formed a plan, and Fat Tire Massive was born."
—James Holloway.
"We got the feeling that night that mountain biking in Bermuda was in need of some love, so we formed a plan, and Fat Tire Massive (FTM) was born," James says. Volunteering their time, FTM became an advocacy group, educational platform, trail builders, and boosted the sport's profile with short videos and an increasingly popular seven-race series over the winter.
They also organized skills clinics, bringing in professional mountain bike coaches from the United Kingdom to teach the Bermudian crew how to navigate technical sections, different terrain, and to make the most out of what the island had to offer. "We decided that in order for the mountain biking scene to grow, the general public needed to know it's not just about doing drops or huge jumps," James says. "It's about enjoying the railway trails and local parks with family and friends and having fun."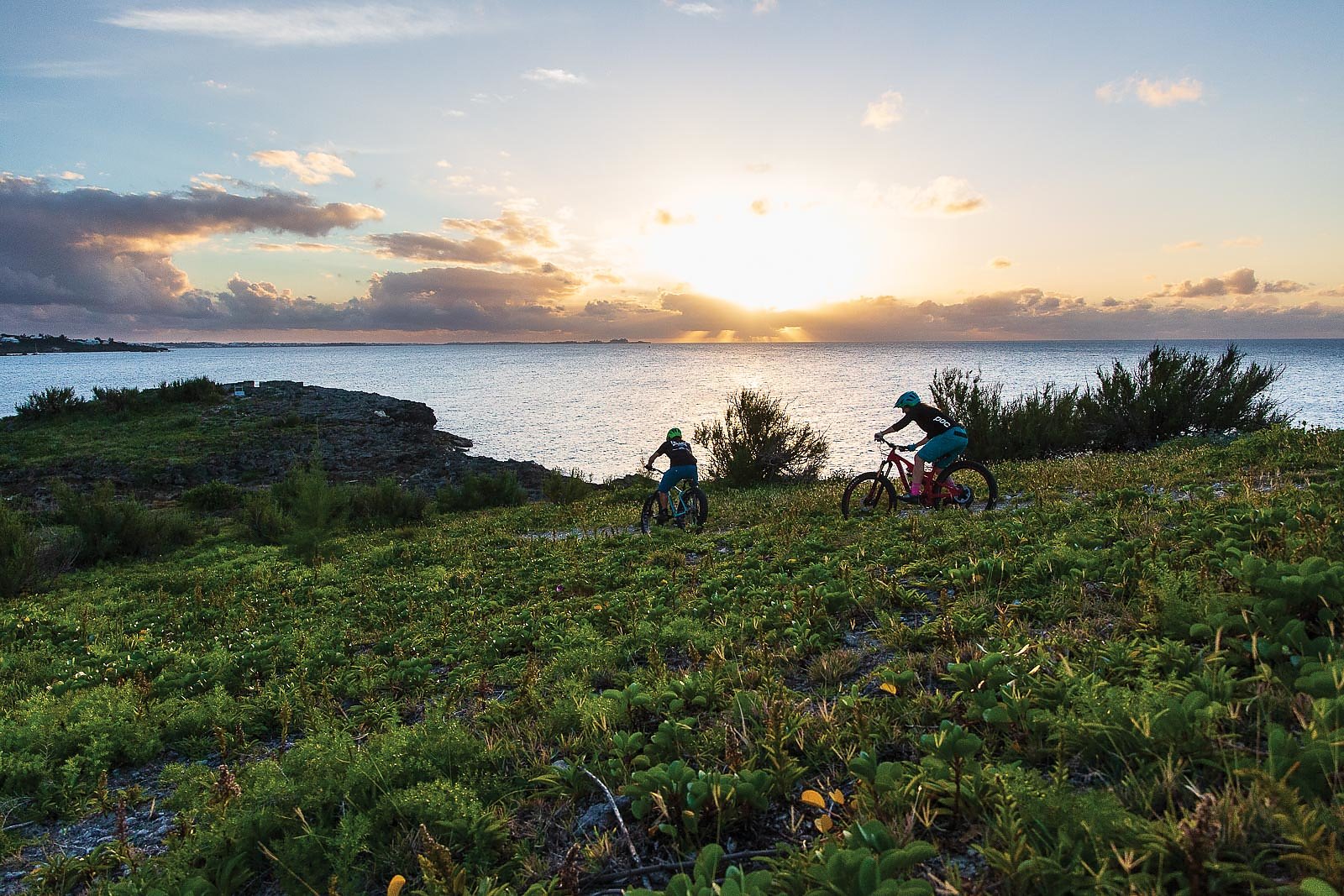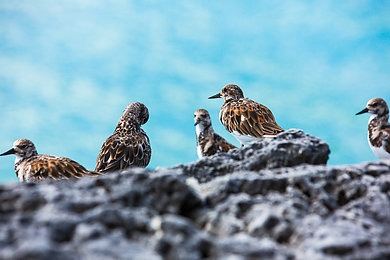 All this goodwill, sharing and community feeling also comes from a fertile place. Bermudians are unfailingly polite and genuinely friendly. The culture itself is a mix of classic British 'get er done,' a strong small-town mentality, and though it sits 1,000 miles north of the Caribbean, a cheery island vibe. It may sound cliché, but it's a true blue Bermuda ethos.
That is, in part, because nearly 70,000 humans live on its 21 square miles. Five centuries ago, the island was inhabited only by small creatures like seabirds, turtles and land crabs. Spaniard Juan de Bermudez discovered it around 1505, and in the following centuries, it was popular with pirates, who had a great gig looting shipwrecks on surrounding coral reefs and sacking settlements. Eventually it came under British rule; today it remains part of the British Commonwealth, enjoys the sixth-highest per capita income in the world, is a commercial offshore tax haven, and the reinsurance industry supports most of the economy.
However, not every Bermudian has a high-paying job, so the fact that low-key, inexpensive bikes can handle the trails (which are also free public amenities), keeps the barrier to entry low. There's the Rail Trail, an island-wide former colonial railway turned non-motorized, easy-access path. Engaging new bikers is part of Fat Tire's mission with the races, which cost just $25 each. The BBA helps out with officiating, timing, course preparation and rule compliance. "When we began, there was about 35 riders at each race. Now it's about 110," James says.
Ashley Robinson, an avid biker who began riding on Bermuda with her husband Jenai, is one of the many bikers who have benefitted. When they can, they travel to places like Whistler to bike, but back on the island, the FTM crew keeps enthusiasm high.
"The biking community here in Bermy grows each year, and without Fat Tire, we wouldn't havethis great race series each year," Ashley says. "Theyorganize group rides, trail building, charitable events, workshops and bring together like-minded people to share the passion. And the more people, the better—trail maintenance here is a lot of work."
The day we rode Southlands, one of the race venues, we followed one narrow street to rail trail to another winding road. An unmarked left down a dark, narrow, piratey-feeling passageway, cut into the limestone for a couple hundred feet, gave way to singletrack through dense jungle vegetation and what was once a sprawling, 80-acre colonial estate.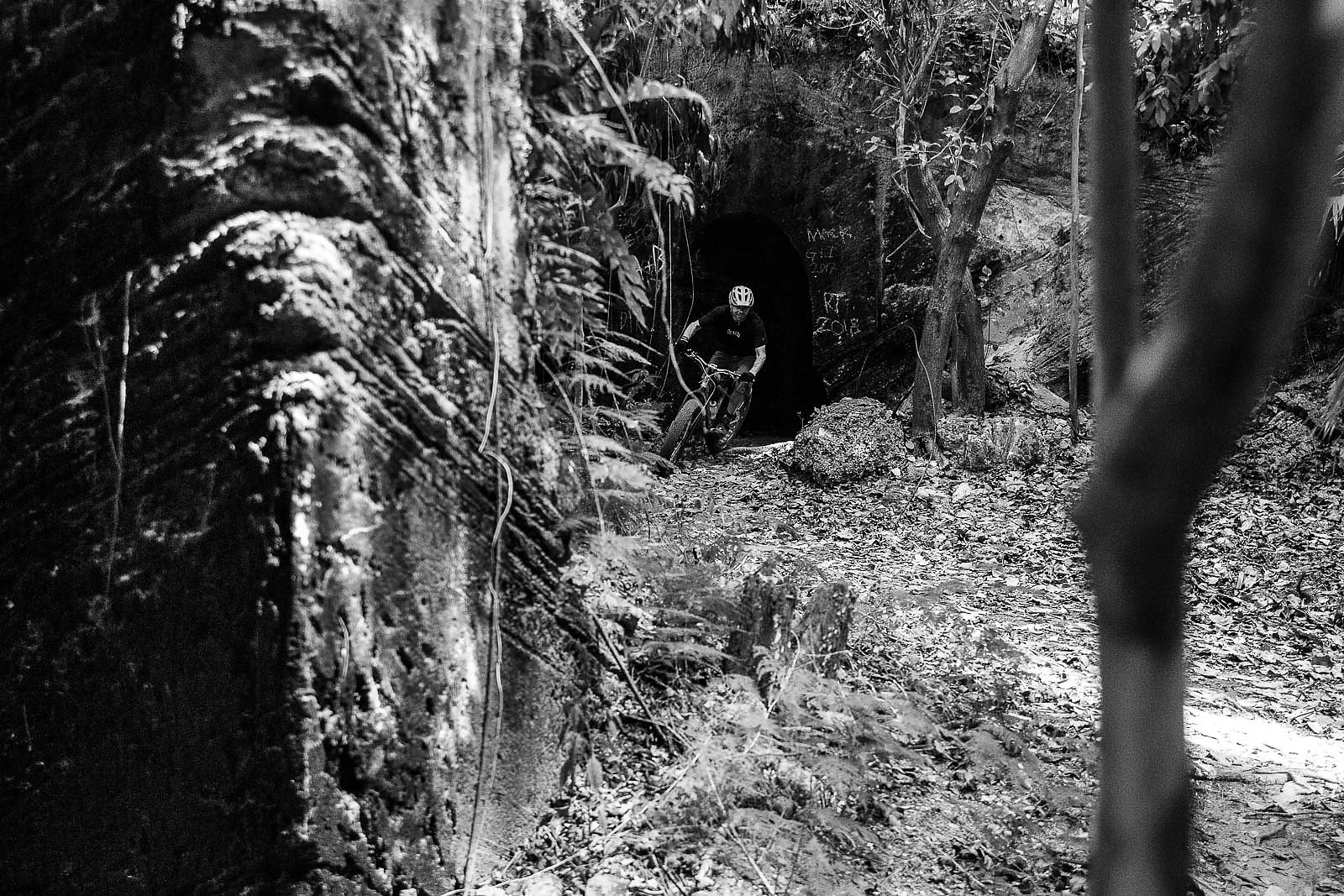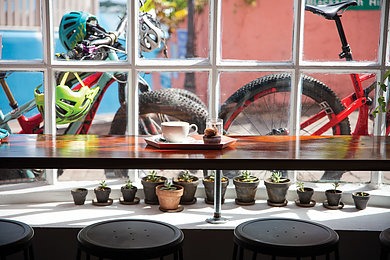 In 2006, this land was saved from becoming a luxury hotel by outraged residents seeking to preserve remaining green spaces and natural habitats on the island. Widely circulated petitions spurred a government land swap with the developers for less-cherished, former-military base acreage.
Today, it's a national park, and Bermudians worked to make it their own, including building singletrack loops. "This hadn't seen daylight for like, 40 years," James says, leading the way through a trail he and local riders built. "It took us eight hours to clear this section the fi rst time," he says, pointing to about 20 feet of trail.
Trail maintenance and clearing in Bermuda is serious business. Fertile soil, ample rainfall, and fast growing vegetation mean constant monitoring, and the bikers must help keep their own trails clear and work with Bermuda Parks. (The agency is underfunded, like many park systems, despite the wealth on the island.) Next to the trails sit massive palms and lush vines, patiently waiting for a two-week window to unfurl their huge leaves, plant new roots and take back the space.
We rolled on like we were riding in a pirate movie—limestone tunnels, up and down stone staircases, past the remnants of colonial garden fountains. Trail spurs branch off to other loops, and our singletrack eventually descended into a cavernous space of India rubber trees (which drop aerial roots from the branches) and fi nally out, through a oncegrand, now-decaying, gateway and pillars to the road. It's exhilarating, an experience not remotely diminished by the small acreage.
With little other open public space, access to Bermuda's national parks are key to the mountain bikers. Education to help new bikers understand trail etiquette and maintain current goodwill among users is stressed. The parks are also where the race series takes place, sometimes with extra creative license, such as the Casemates race, which uses the grounds and halls of a colonial prison in the course.
James and Hirschi's eff orts have not gone unnoticed. Each time we rode with the two founders, a steady stream of car horns tooted hello, roadies waved, pedestrians and runners greeted us as we passed. We stopped to grab a bite and ran into a road biker named Sarah Bonnett, who also rides the trails. "The road biking can get really serious, but the mountain biking scene here is so fun," she told me, leaning in enthusiastically. "As a girl, the guys have been so inclusive; gender isn't an issue. The races here are great. Now I signed up for a four-day mountain bike stage race in South Africa next year."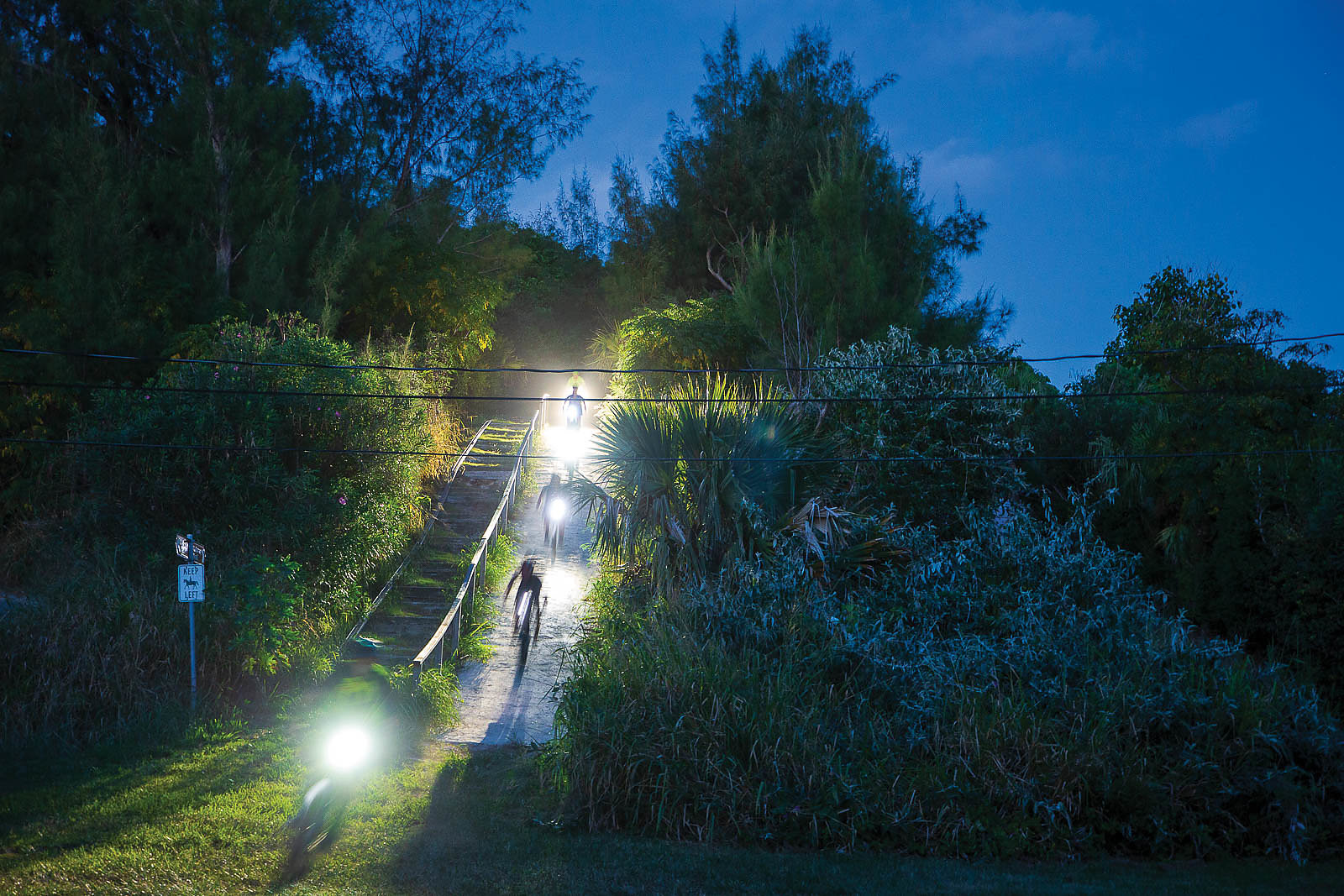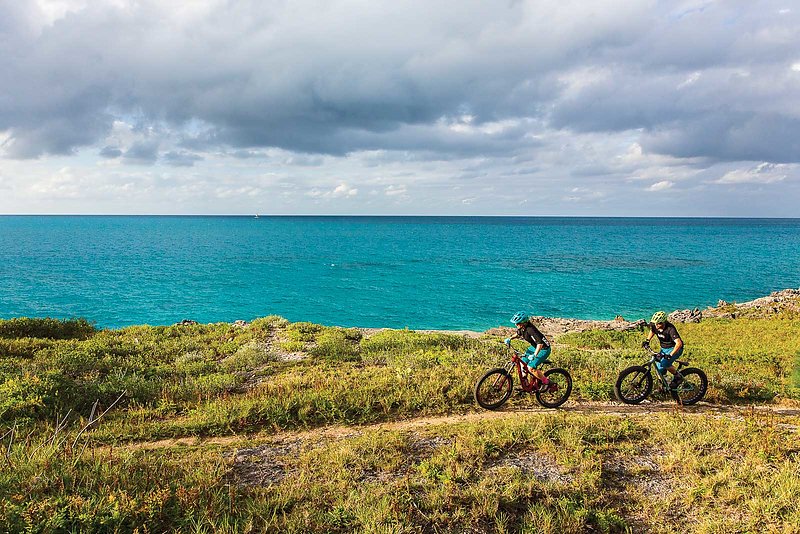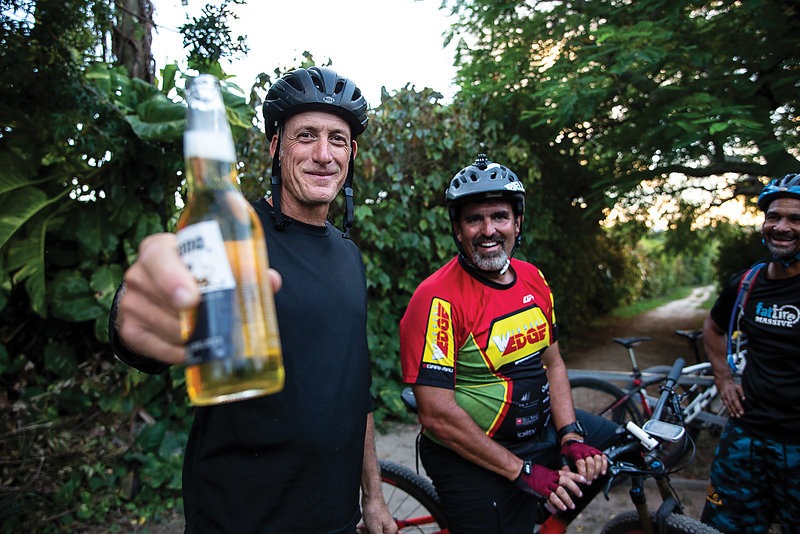 Ultimately, Fat Tire Massive hopes to influence the wider culture of the island. "I really hope in the next five years Bermuda can follow other countries around the world, with the idea that bikes are the future," James says. "We would love to see bike racks on the front of buses, maybe even bike lanes heading in and out of town. This would help promote Bermuda as a bike friendly place. Bermuda has a big cycling community, but by adding those little things, I think it would open the riding scene up to even more people, locals and tourists alike."
In the end, the beer ride turns out to be the perfect showcase of Bermudian mountain biking, and only minorly about beer. We meet at the designated rail trail section, after an already full day of riding, 10 or 15 riders hanging out, sharing a few Coronas, some decked out in mountain bike kits, some not. There are fancy bikes and plain bikes, but each bike has a serious light. The usual gear talk ensues, comparisons, trail talk, "Has anyone been to the pumptrack lately?" "I haven't been in four months." The resulting group assumption is it's already overgrown and will have to be cleared.
We set off en masse, at a fast clip down the rail trail. Bike bells clang constantly, like a ringing, roving circus, and Hirschi is riding along playing techno from a speaker while James yells "bar barrrp!" to everyone we see, to returned greetings. Thinking of the exotic Bermuda dialect, I ask about it. "It's just like, the airhorn noise," he says. I decide to file it as Bermudian anyway, along with this entire fantastic event.
We ride to the far tip of the island, 13 or so miles for that beer, maybe more with all the singletrack detours and pedestrian staircases we hit. We repeat it all on the way home, a swarm of lights in the darkness, rolling up and down the hills and through the vegetation. We get home at midnight. Or maybe it's 1 a.m., but those are unimportant details. There was riding, there was camaraderie, and community outreach and good times were had. Race season is coming up, excitement is in the air, and the mountainless mountain bikers of Bermuda are rolling determinedly into the future. These are the only details of importance.