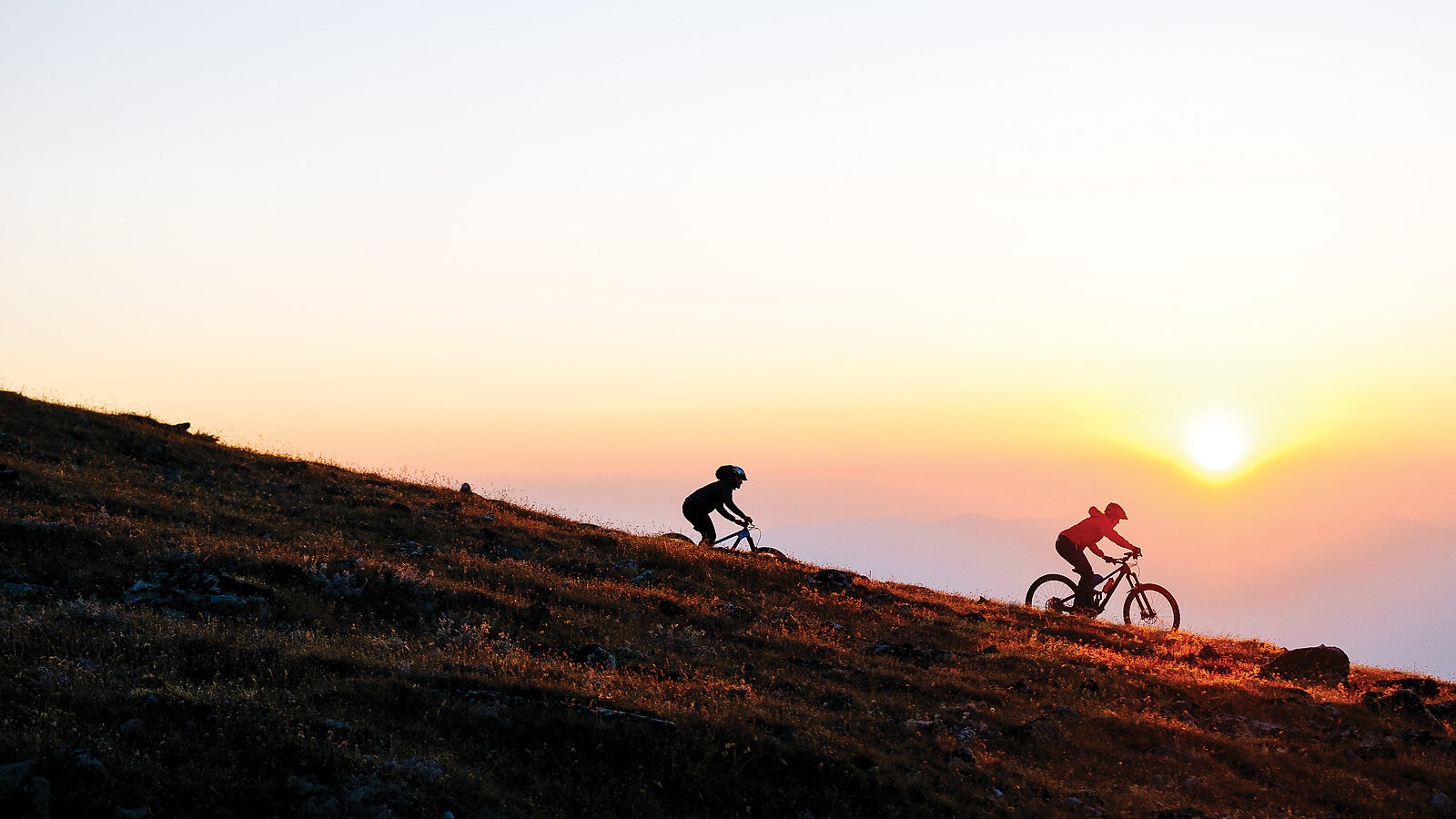 Big Mountain Optimism Embracing Introspection Atop Montana's Island Ranges
I'm not often accused of being an optimist. In my baby book my parents described me as "solemn" and the jaundiced eye I have pointing outward is, I feel, perfectly suited to the current state of the world.
Except in the mountains—and especially on exploratory trips with a great number of unknowns.
In those situations you'll find me rallying the crew with just one more hike-a-bike in my eternal search for the promised goods. I call it mountain optimism.
Case in point: I'm pushing my bike up a steep slope in southwest Montana with friends Erin Bergey and Nicki Trimble and looking for a trail I insist will appear any second. So far, all that has appeared anywhere near our feet are the cheatgrass burrs biting our calves.
"The next hill is the last bit of climbing," I promise them.
"Aaron, please, you don't have to," Erin responds with a weary smile. This is clearly not the first time I've made such a claim. It helps to find friends who embrace the fiction.
With the pandemic pressing down and British Columbia bike trip plans squashed, I began looking for alpine-hut-based adventures closer to home. The Northwest doesn't have the hut infrastructure for bikes its neighbor to the north does, but I'd found one in southwest Montana—the Big Belt Hut. Operated by Helena-based Montana Backcountry Yurts, the hut is a longhouse-style yurt on the cusp of 9,443-foot Mount Baldy's tree line in the Big Belt range east of the state capital.
At only 80 miles in length, the Big Belts are a miniature tableau of small subalpine lakes, High Sierras-like dry forest, sagebrush meadows and alpine tundra. As mountain ranges go, it's small in footprint, though it boasts a vertical relief of nearly 6,000 feet to the valleys below. And the trails, while raw, access promising terrain.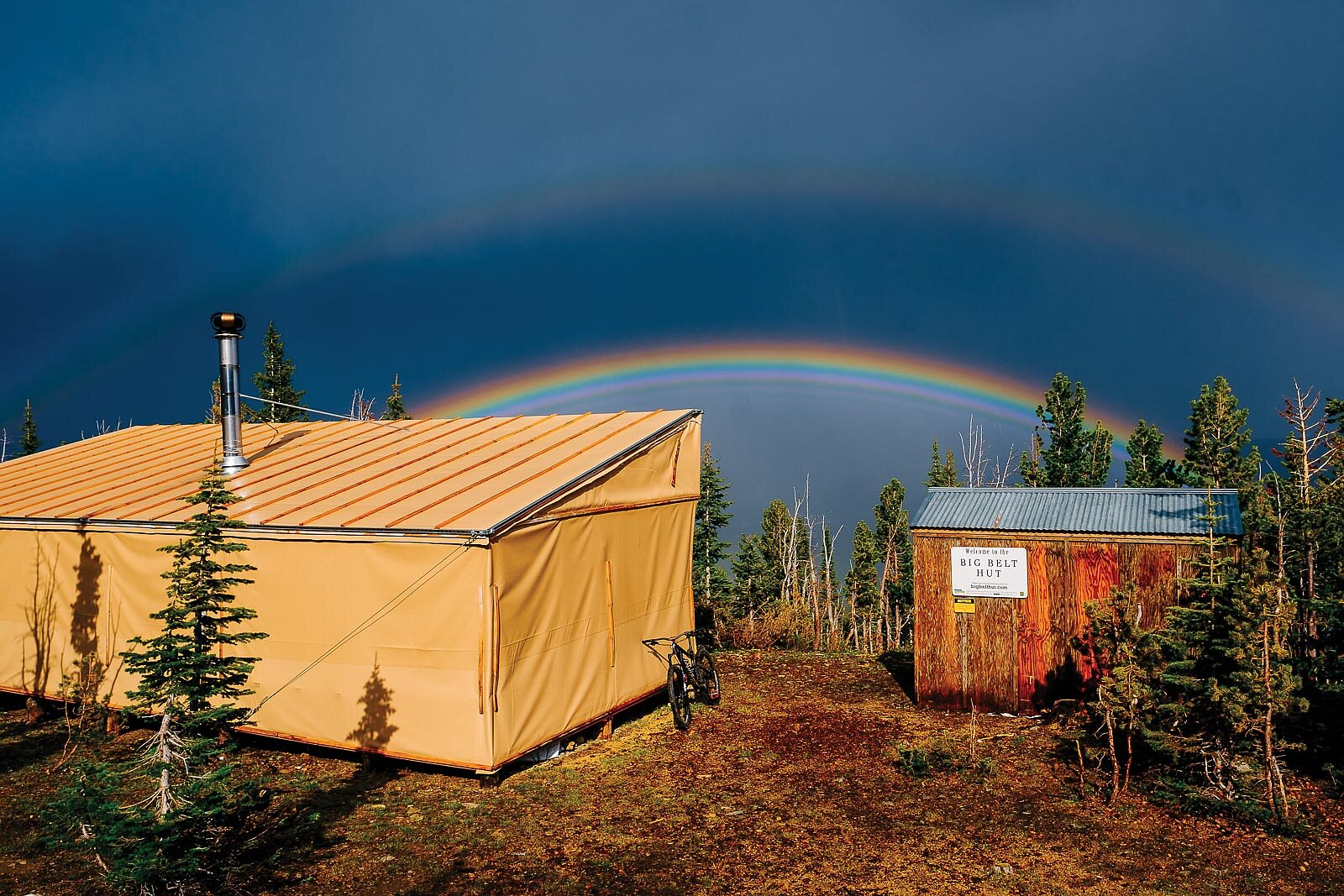 I scouted the area midsummer and concocted a plan to convince a couple of friends to spend a long weekend shredding subalpine duff, scrambling up talus slopes in search of alpine lines and taking mid-ride naps at mountain lakes.
During an unseasonably warm early autumn afternoon, we shouldered our packs at Duck Creek Pass, an hour's drive east of, and about 4,000 feet above, Helena. Knowing we had a fully equipped hut only an hour's climb from the rig, the three of us made little concession to pack weight or common sense. So, with bags jammed with fresh eggs, canned cocktails and bottles of syrup—glass ones, at that—and looking more like college gap-year expats backpacking across Europe than gram-counting cyclists, we slow-pedaled our way on the summer trail to the hut.
After ditching our heavy packs and making dinner, we hoisted our bikes and climbed the steep slide of exfoliated rock south of the hut hoping for an unobstructed view of the landscape in the hour of remaining daylight. It didn't take long.
From the treeless flank of Baldy, we could see south to the true summit, its prominence separated from us by a deep forested cleft. To the north of Duck Creek Pass, the rock pile of Boulder-Baldy glowed salmon in the evening sun. To the west stretched the Missouri River and a flat horizon. Nearly every mountain range in Montana has a Baldy—sometimes two right next to each other. Ore-hungry prospectors in the 19th century weren't thinking about what their counterparts across the state were naming landmarks, let alone geo- tagging for social media.
Montana boasts about a hundred named mountain ranges and subranges—a handful are classified as island ranges, of which the Big Belts is one. Geologically and geographically distinct from the bulk of the Northern Rockies, these isolated peaks welter in a sea of tallgrass prairie and small foothills. The Big Belts likely inspired mixed feelings in early European settlers—though a sign of progress on the horizon after the vast monotony of the Great Plains, the range was also a harbinger of higher mountains and steeper climbs to come. The billion-year-old bedrock of the Belt supergroup, which underlays a vast chunk of the Northern Rockies (travelers to the region would recognize it for its distinctive cross-section, which looks like a layer cake sliding off a plate) is named after the Big and Little Belt ranges, and our view ensured we'd have more than enough chunder under our wheels during the weekend.
As the sun descended into a layer of haze that first evening, we picked our way through alpine tundra, popping off scorched rock to the hut directly below us.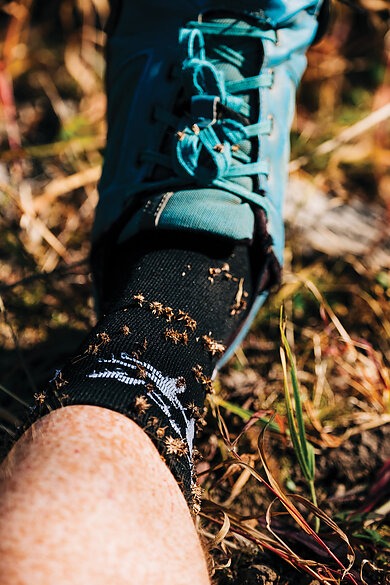 The next morning, the egg-yolk sunrise of smoky skies tempered our rush to get out the door and chase good light. A leisurely pancake breakfast stretched into brunch before we finally rolled out for our day's objective, Boulder Baldy.
After descending the summer trail back to the car, diving into left-hand downslope turns and cut-stump side hits under the orderly ranks of lodgepole pine, we drove north a short distance to the start of the Belt Mountain Divide trailhead.
First we had to find the start. I'd heard from the owners of the hut that the trail began as a faint path in the grass before becoming more defined in the trees. Trouble was, there was a lot of grass to search. After prodding fruitlessly at some errant trails heading in the wrong direction, we decided to march straight up the fall line, pushing our bikes up an old roadbed that had been obliterated by blowdowns. It was at this point that my claims of "just over the next hill" were met with resigned sighs.
Finally, our plans for a big day fading, we found the trail with clearly defined singletrack heading toward Boulder Baldy and back to the trailhead. The trail displayed intermittent signs of recent maintenance—a new footbridge, for example—though, for the most part, it did not look like it had seen real use in years.
Miraculously it was almost entirely rideable—far from a foregone conclusion in the backcountry. Under the sun-bleached boles of old pines, we launched off boulders that were perfectly doled out along the trail and slid through flat, dusty turns. A low, tidy under-story of huckleberry shrubs, their leaves turned golden and nearly translucent, added a ruddy early autumn glow to the forest.
Upon reaching a low pass on Boulder Baldy, we decided to press our agreed-upon turnaround time with a descent to Boulder Lake, a mile and 1,000 feet of elevation below. My optimism began to sag with the steep and loose descent reminding us we were taking out a line of credit on elevation that would have to be paid in full.
Boulder Lake put those thoughts to rest. Occupying a broad grassy basin punctuated by flat, table-sized rocks, the lake felt like a worthwhile trade-off for the climb to come, especially since, having seen the trail firsthand, no one was going to be convinced by my "just one more climb" claims.
At least this time we didn't have to negotiate old blowdowns and trails to nowhere. Reaching the spot where we had originally gained the real trail, we stuck to singletrack, trailside sagebrush slapping the burrs out of our socks as we held on for the final descent back to the truck.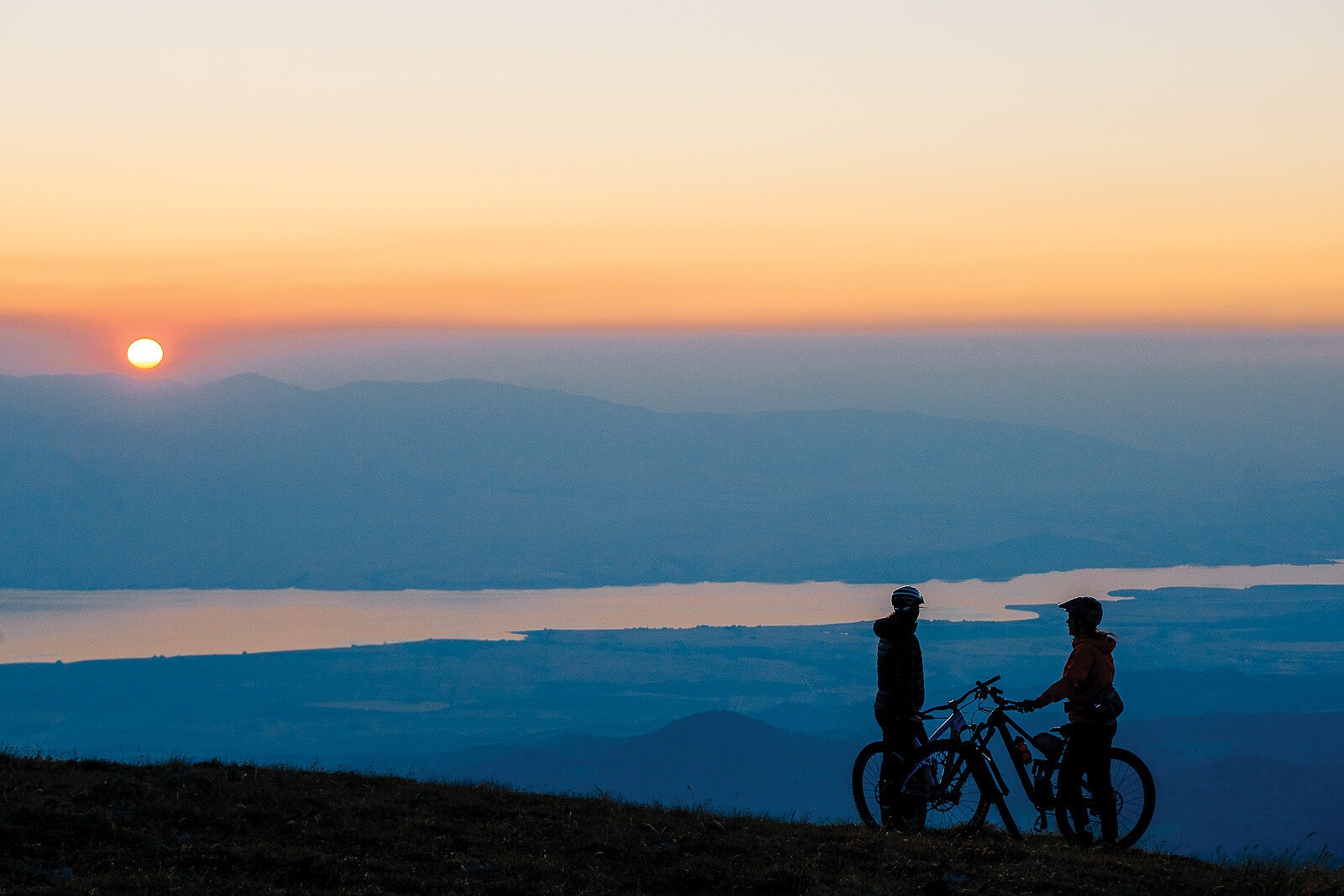 Another hour of climbing put us back at the hut with little daylight to spare. After some 3,000 feet of elevation gain on chunky singletrack, we had just enough energy to make and devour tacos and the family-sized bag of tortilla chips Nicki had helpfully packed in. The hut guys had warned us the new wood-fired sauna wasn't ready for use, but even if it had been, we didn't have the energy to stoke it.
On our final morning, we closed up the hut and made our way back to Duck Creek Pass via the Gipsy Lake trail. Beginning behind the hut's woodshed, the trail buttressed long, straight sections with tight, rocky switchbacks for a couple of miles before uncoiling in a high-speed sidehill. Letting the momentum of top-heavy packs carry us through the rocks, we passed from the subalpine to loamy forest to, finally, arid central Montana sagebrush.
Grinding up the gravel road back to the trailhead from Gipsy Lake, packs lightened of booze and legs full of lactic acid, I raced off ahead of my friends.
"You really took off there," said Erin when she and Nicki reached me at the car where I was snacking on bottom-of-the-pack rations.
"That's because I actually knew I only had one more climb to go," I replied. Occasionally, optimism matches reality.
I read a study recently that suggested the much-heralded happiness of Scandinavian countries has less to do with free healthcare or minimalist furniture than it does with having realistic expectations. Much in the same vein, island ranges like the Big Belts have a way of encouraging you to embrace and be fully aware of the terrain you're on. Standing atop one of the range's peaks while peering across the vast expanse of Montana, I realized it's all about the mountain you're on, not the one in the distance. And that's as good a lesson in mountain optimism as any.