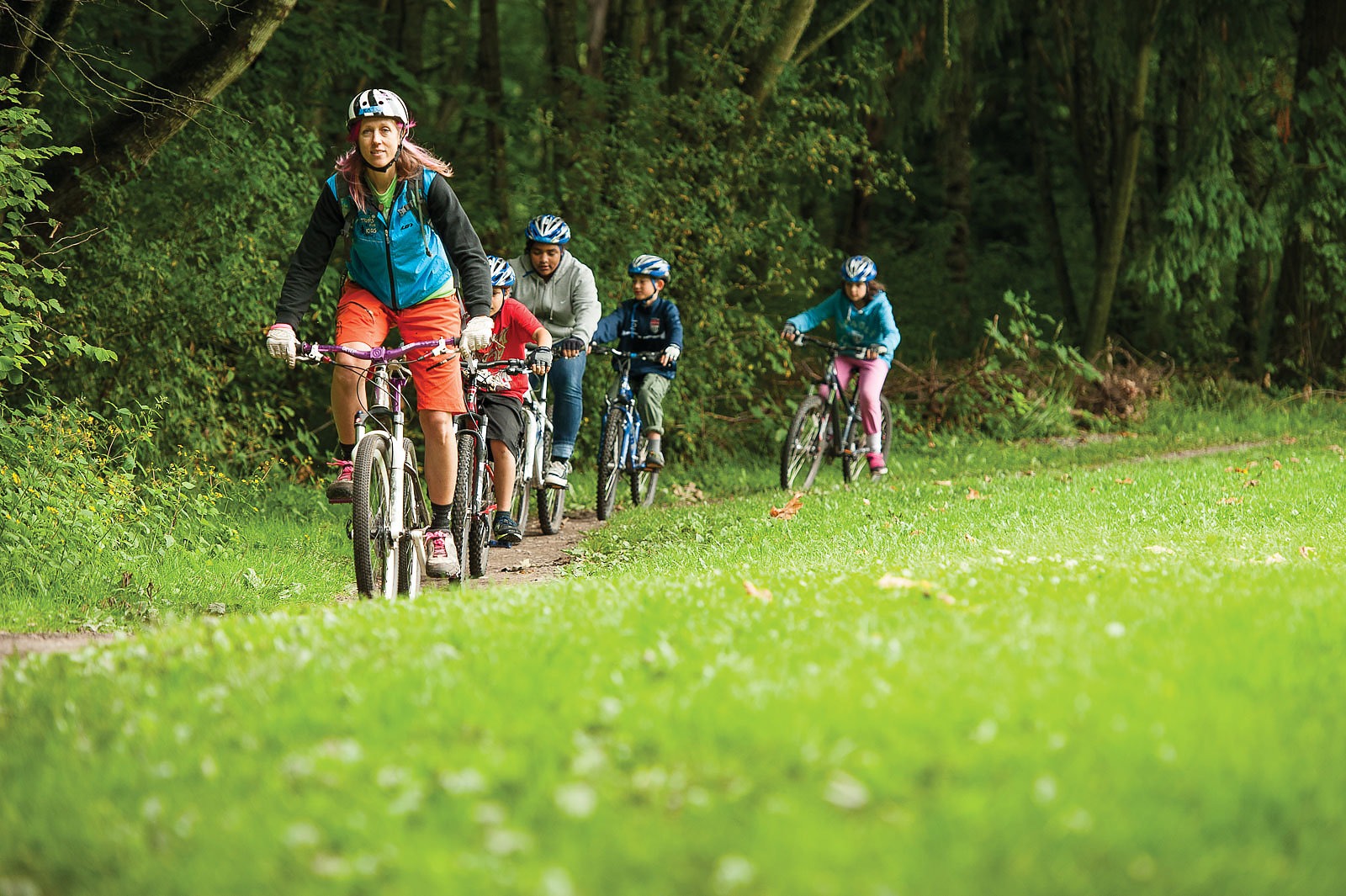 Sweetlines - Building a School of Shred
When you see Kat Sweet on the street or hanging out by her truck, you can tell she's a shredder.
Tall and lanky, with a shock of pink punk-rock hair and a laidback vibe, Sweet would be the essence of cool if she weren't such a big, warm-hearted softie.
Sweet can look tough, bedecked in body armor and full face, barreling past all the boys on a gravity-assisted flight down the mountain. And she certainly knows how to throw down when jumping her Trek Ticket hardtail. But for years, it's been women and children first for this former professional downhill racer. That's what Sweetlines, her coaching service, is all about.
"Sweetlines is primarily focused on women and women's skills—building a sisterhood of shred," says Sweet. "I'm also doing junior programs. I love working with youth."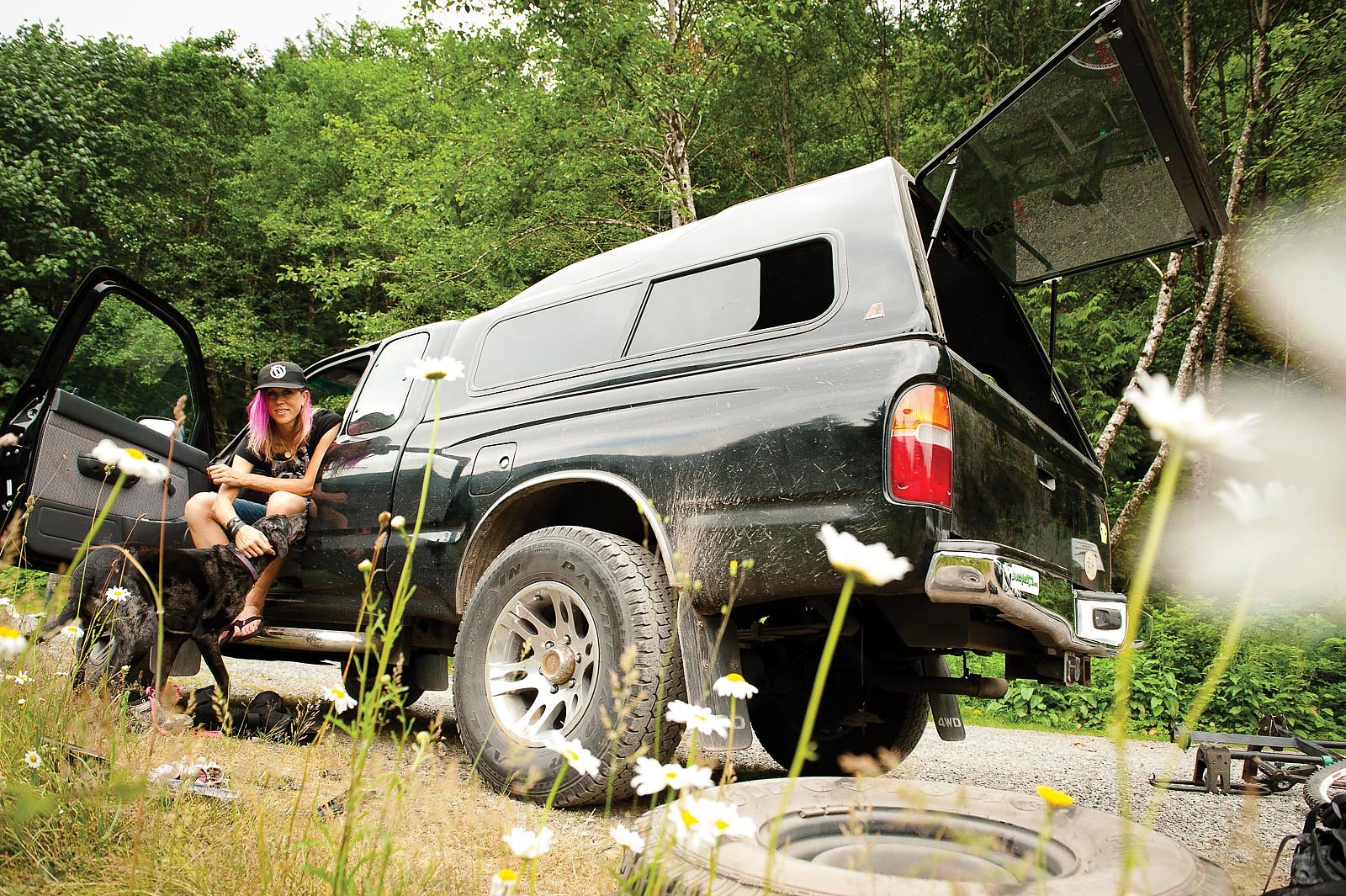 Sweet has been coaching women in since 2007, while her work with kids dates back nearly a decade to 2003, when she started a Trips For Kids chapter in Seattle. Today, as Youth Program Manager at Cascade Bicycle Club, she helps further Cascade's mission to "Create a better community through bicycling." Then, in the evenings and on weekends, her second job regularly takes her out to Duthie Hill Mountain Bike Park in Issaquah, Wash., to build a better "dirt community" through Sweetlines.
Founded in 2011 and born out of the entrepreneurship program at the University of Washington-Bothell, Sweetlines is an IMIC-certified coaching service that offers intimate and affordable mountain bike classes across different levels and disciplines. Sweet makes them affordable so people keep coming back, she says, because building community and encouraging camaraderie are central to her coaching philosophy.
"I use some traditional approaches like, 'tell it, show it, do it,' and I work with different learning styles for auditory, visual and kinesthetic learners," says Sweet. "But I also try to get women to watch each other and see what other women are doing correctly, so they're supporting each other. By looking for those skills in others, it helps you to learn and process that skill yourself."
It's a critical shift away from focusing solely or primarily on what a rider might be doing wrong. "Women don't like being told we did anything wrong," says Sweet, laughing. "Reinforcing the positives and looking for the things people are doing correctly helps us to learn more efficiently."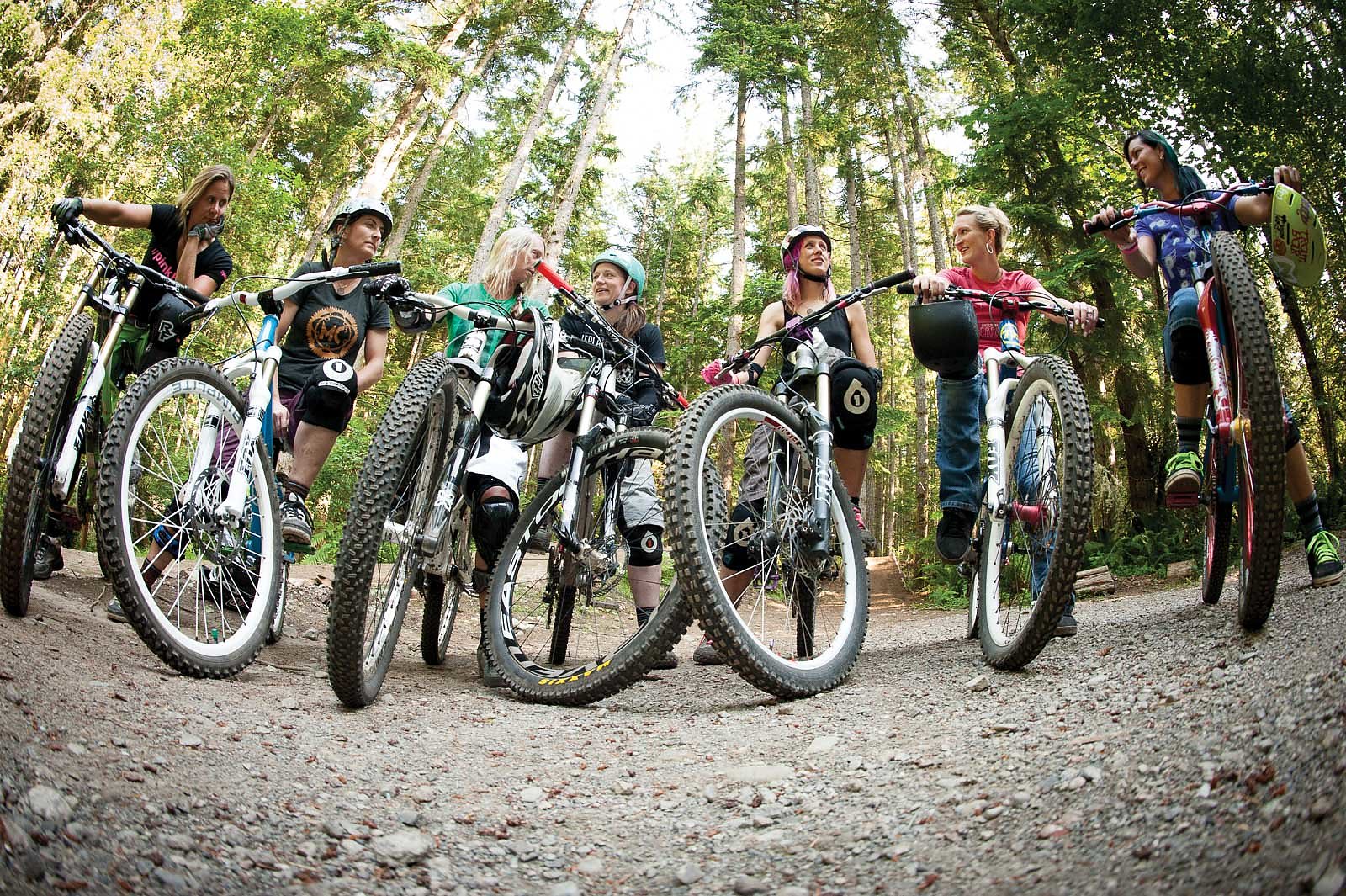 Sweetlines: classes and clinics
In addition to private and small group lessons (including co-ed classes), Sweet offers a three-week skill-building program called "Sweetshots." Each week, the two-hour class focuses on skills like cornering, jumping, drops or riding skinnies. For students craving more intensity, Sweet offers three-hour classes on the weekends that are capped at about six people to ensure everyone gets special attention. She also customizes large group lessons to meet the needs of specific groups. For example, she recently put together a summer curriculum specially designed for the Lumberyard, the new indoor bike park in Portland. And just a couple of weeks ago Sweetlines hosted the Sugar Showdown, the first-ever, two-day women's freeride clinic and competition in the northwestern United States.
Held at Duthie Hill Park, the clinic portion of the Sugar Showdown completely sold out, with 45 students attending classes taught by some of the best coaches across North America. On the following day, the spectator-friendly competition saw 51 participants (16 pros and 34 amateurs) shred the Semper Dirticus and Voodoo Child jump lines. Upwards of a hundred spectators whooped and hollered for each rider as she came down the course. Some riders showed off tricks they had just learned at the clinic the day before.
The dual clinic-and-competition format is one Sweet helped create. When she was invited to the Queen of the Mountain freeride contest last year in Tahoe, it was initially just going to be a competition. "And I said, why don't I come in and do some coaching the day before?" says Sweet. "So that was kind of our pilot program—we did the coaching, and then the next day, the competition. It worked really well, and it created this really cool camaraderie. And we thought we should do more of these."
Sweet is not alone in this movement. One of many proactive supporters of women-focused mountain biking is freeride/slopestyle pro rider and Sugar Showdown coach Tammy Donahugh, who is also a longtime friend of Sweet's. Donahugh never guessed 10 years ago that they'd be helping pioneer a women's freeride movement together: "Getting people stoked on riding and helping them learn to ride is definitely the priority for Kat. Kat is a rockstar, and we need more 'Kats' to help lessen the load that she's placed on her shoulders."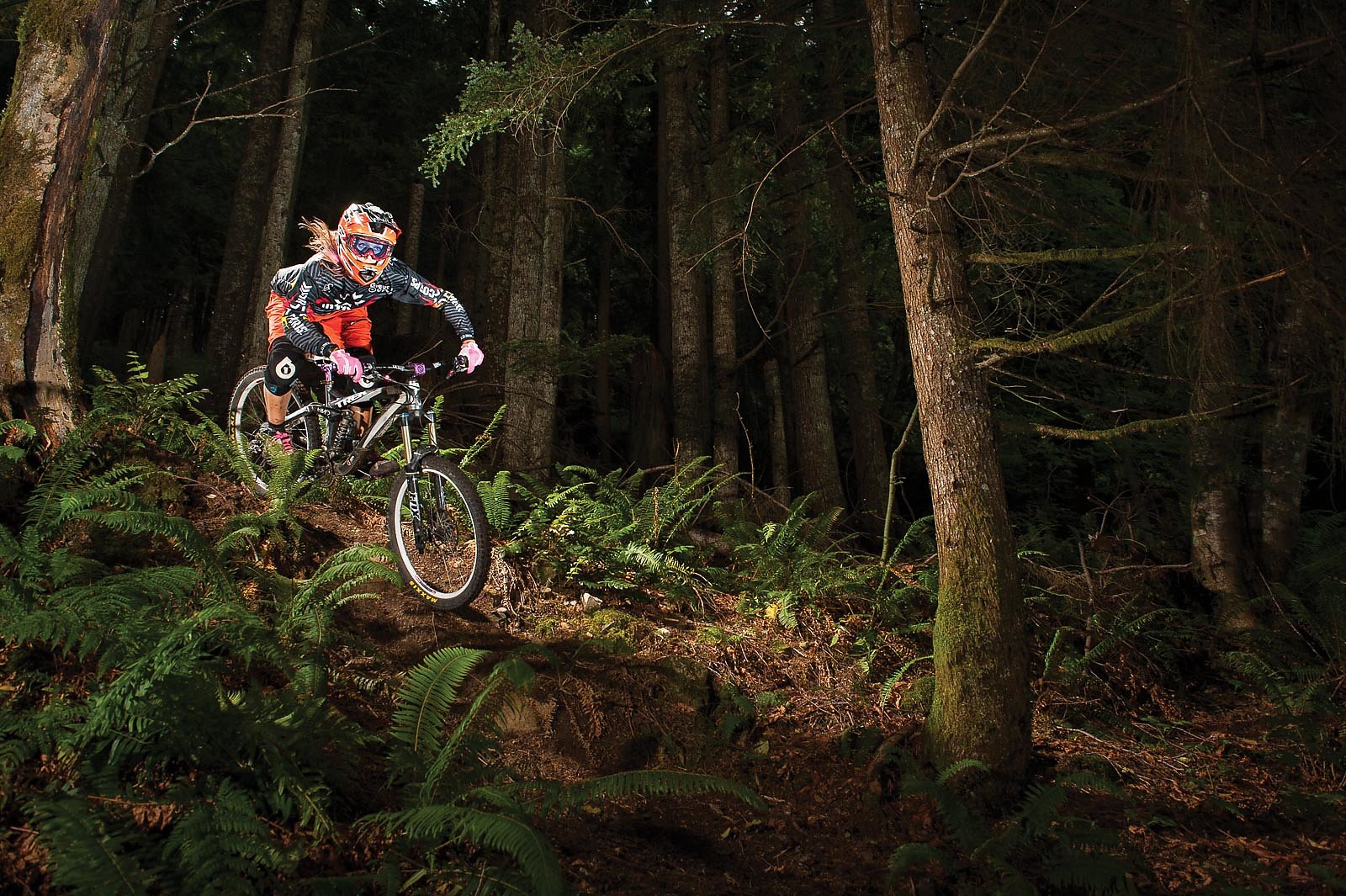 Success stories
The transition from pro racer to coach is a natural progression, with one athlete passing the baton to the next. Sweet saw herself pass that baton last year at a downhill race when she suddenly realized that one of her Team Dirt Corp teammates, Karen O'Connell—who also happened to be her student of four years—was about to beat her time. Says Sweet: "I could tell Karen was about to beat me. It was hard at first. I was like,'Oh my God, my student is about to beat me—I can't let her beat me.' And then I realized, if she wins, I win."
O'Connell credits Sweet for her win: "Every single thing I do well on a mountain bike I credit to Kat Sweet. After Kat beat me handily in the first race—and the second, and the third—I think we both realized that I needed her help to win." Immediately, Sweet began coaching O'Connell in race preparation. "With her guidance, I learned how to practice and race, and eventually I scored the top spot."
In other words, the student exceeded the teacher. It's a beautiful thing, and it's something Sweet wants to see happen again. Another of her students, 12-year-old Katie Hensien of Seattle, just won the Sugar Showdown amateur category by out-styling people twice her age and older. Hensien, whom Sweet has been coaching for about three years, is now looking forward to doing her first downhill race. In the meantime, she volunteers at the kids' dirt camps that she used to attend.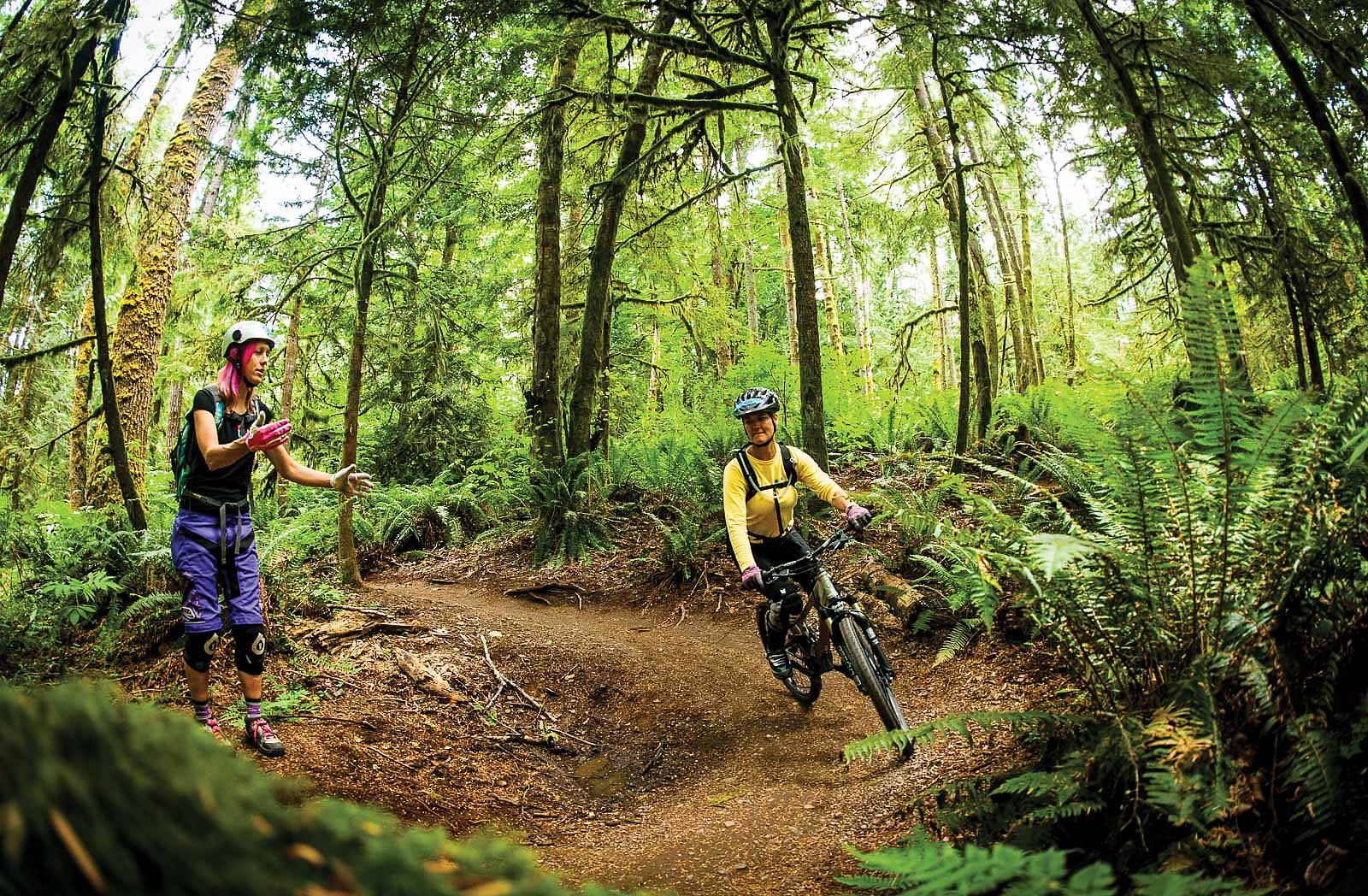 "I was so excited when Kat asked me to help with dirt camp," says Hensien. "I remember my first camp and how much fun it was. I really looked up to the coaches." Now she's starting to learn what it means to be a coach: "Last week I was so excited when Alex, a dirt camper, followed me off a jump he had never done before. It was so cool to know I was able to show him how to do something new."
Clearly, there is far more going on with Sweetlines than simply teaching individuals how to mountain bike. Sweet's goal is to create a domino effect, which has already been set in motion in her summer dirt camps. "All these little girls—like Kaytln Melvin, who's 11 years old and did the Sugar Showdown competition—I'm already seeing these future generations wanting to do what we're doing and realizing that they can do it, too," says Sweet. "Giving women a voice and a face in this sport—that's really important to me."
What's next for Sweetlines?:"I'd love to take Sugar Showdown international. Lorraine Blancher and I were talking about doing one in Canada, and I'm pushing one of my friends in Japan to do one there. I don't know if they're quite ready for us, but I think Sweetlines could be big in Japan. Think we could get Hello Kitty as a sponsor?"