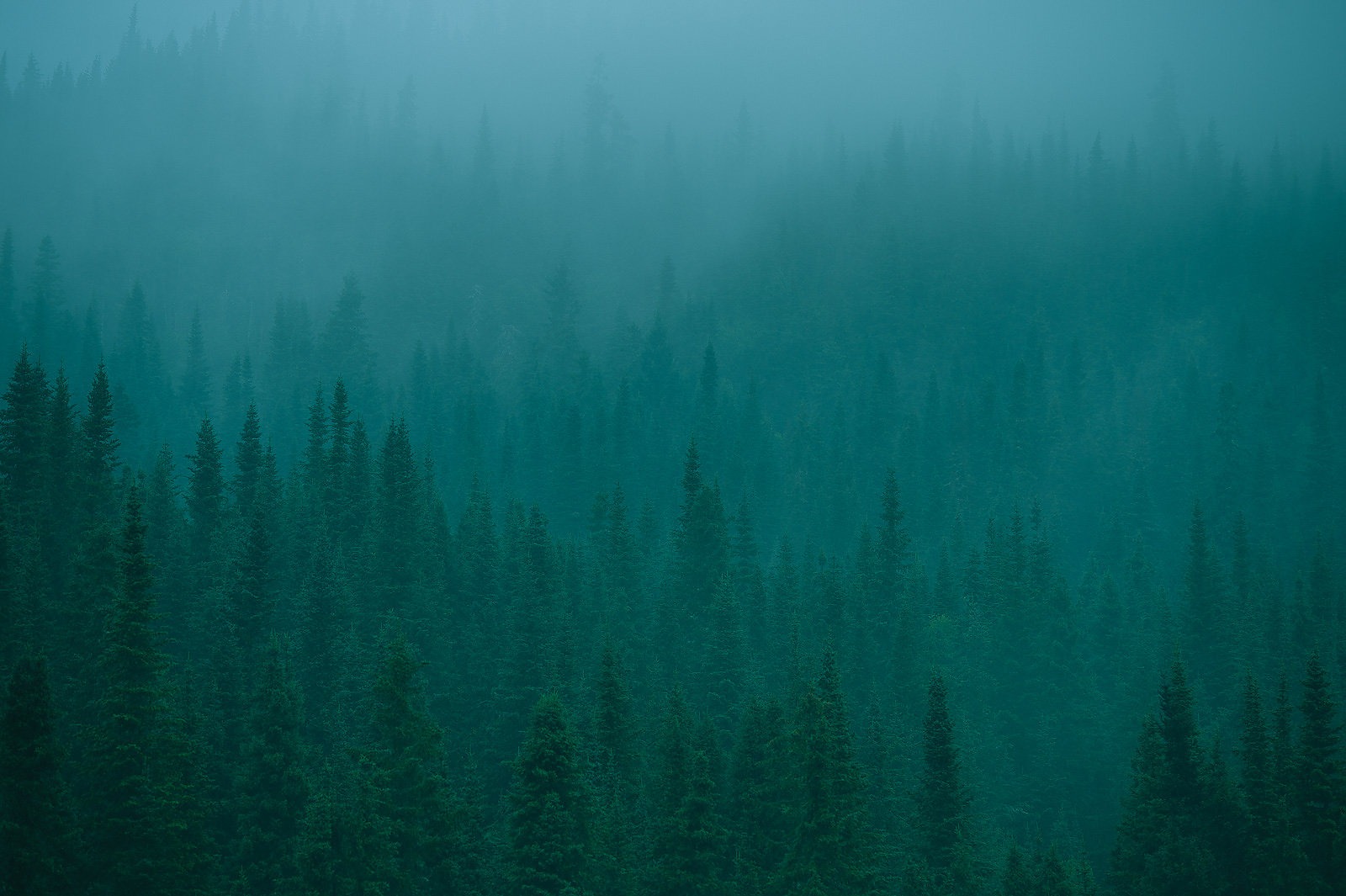 Cercle Complet - Inside the Hub of Quebec's Mountain Biking
Rain drools over the road and our tires cut its glazed, black surface. Water droplets splat and bleed along the windshield before they're quickly sliced away with the rhythm of the wiper blades.
Fog hangs in the canopy of dense evergreen forest in all directions. Grey, wet, green, like familiar terrain of the Pacific Northwest but on a highway over 3,000 miles east, lined with signs we cannot decipher. There are no bikes strapped to our rental car, but we are here to ride them. Or watch them be ridden, or made, or talked about. We are in Quebec and we don't speak a lick of French.
Publisher Brandon Watts, photographer Paris Gore and I began our soggy journey in Montreal, and as we head northeast towards the Saint Lawrence River we pass through the gray, rigid grids of cities and their suburbs before moving into open, rolling plains. Signs of civilization soon dissipate and the forest thickens, the hills mounting as quickly as the storm ahead. The road cuts through the Réserve faunique des Laurentides, a soggy, verdant stretch of wilderness encompassing over 3,000 square miles with no homes and only one gas station along the 120-mile stretch of road. A few hours later we spill onto the Saguenay River Valley and towards the town of Saguenay's three boroughs of Jonquière, La Baie and Chicoutimi.
The deluge continues as we unload into our hotel and adjust to the language and cultural barriers presented by Canada's France—or France's Canada, depending how you look at it. While we might not comprehend the voices around us, we understand the language of bikes. In this quietly influential area in northeast North America it's a dialect that is spoken beautifully.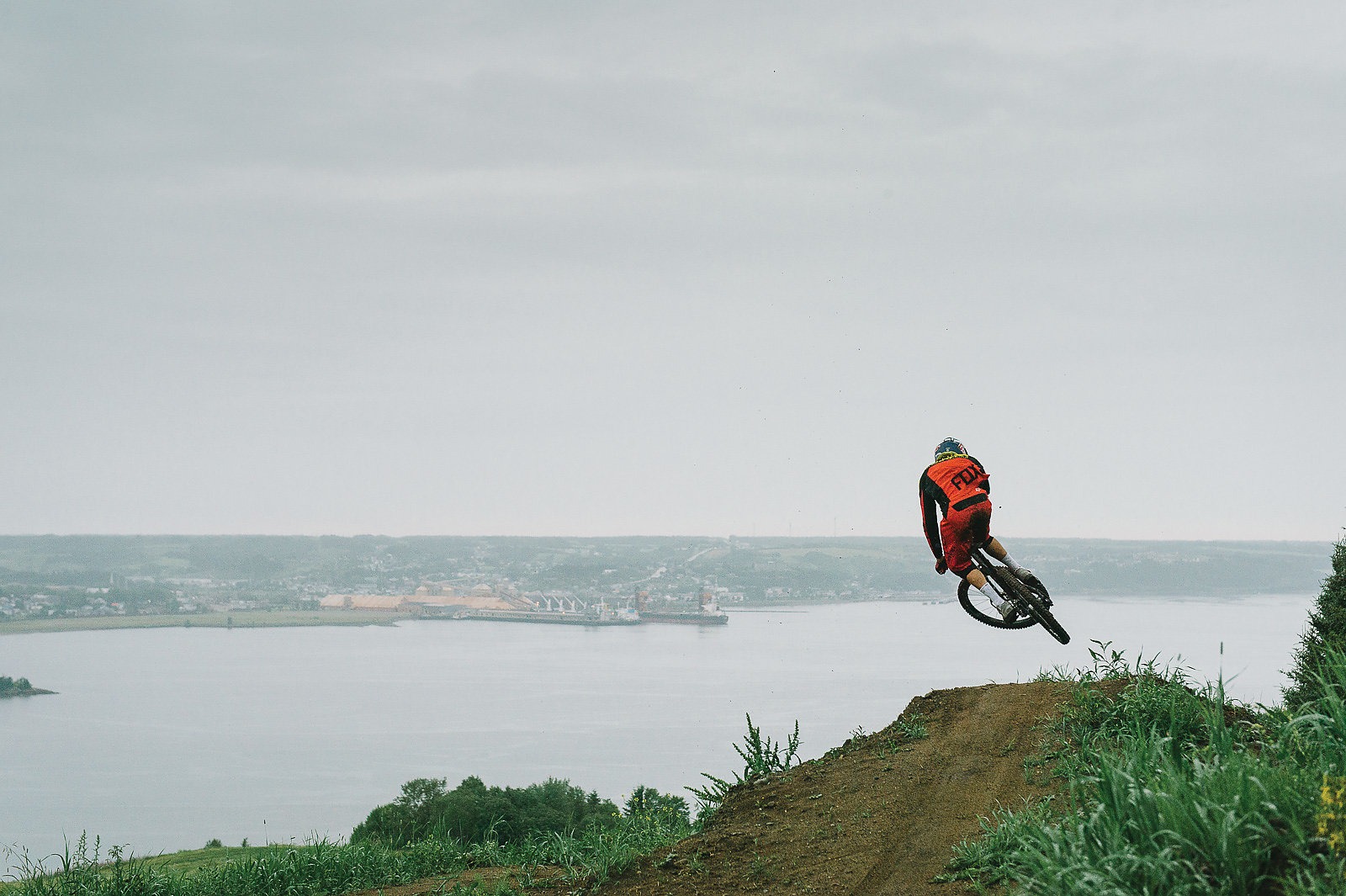 The Saguenay Valley is defined by water.
The geography itself owes its origins to the Champlain Sea, a vast inlet of the Atlantic Ocean that, 10,000 years ago, stretched over Montreal and Quebec City all the way to Ottawa. Then the waters receded with glaciers advancing right behind, and over the next few thousand years what had once been ocean bed was scoured into the lakes, rivers and massive fjords that cut across the landscape.
Those massive geologic forces are now long absent, but water continues to shape the Saguenay Valley in completely different yet no less significant ways. Farmers pull from the lakes and rivers for irrigation, the Saint Lawrence River and deep fjords off the coastline have become major thoroughfares for international shipping, and grand rivers generate immense amounts of hydropower.
Combine such readily available power and transportation, and the logistics for energy intensive products—like aluminum, a key ingredient in bicycle production—materialize. This is one of the loudest clicks in the pawls of Quebec's mountain biking hub: the ability to build a bike via waterpower at a local level. But before these forces were utilized to fabricate world-class bike frames, there needed to be a mountain bike culture to support it. Enter Patrice Drouin and Devinci Cycles—one man and one small company that have cultivated mountain biking in these sodden hills and shaped the very direction of the pursuit around the world.
Patrice Drouin was born in Quebec and spent his teenage years road cycling, but it wasn't until he made the common Quebecoise pilgrimage to Whistler, BC in the late 1970s that he discovered mountain biking. Drouin spent the winters coaching skiing and the summers windsurfing, until a chance meeting drove his passions in a different direction. "I was in the Whistler Village and saw a guy on a bike with flat handlebars and big tires cruising around," he says. "I just went straight to him, stopped him and asked, 'What is this? Can I try?' Then I asked him where he got it."
His answer was Vancouver's Robson Cycles, one of the only shops in the area with this new breed of bikes at the time. "I went down and met a bunch of guys there," he says. "Keith Whittaker, Jacob Heilbron and a couple of the guys from Rocky Mountain Bikes. At the time it was mainly just an importing business, bringing bicycles into Vancouver and copying Tom Ritchey's bike. Then I started riding with these guys around Vancouver on the weekends."
A few years later Drouin moved back to Quebec with his new wheeled creation in tow, literally bringing the first mountain bike to the province. "I checked to see if anyone was doing something like this back home," he says. "I checked in the shops in Quebec City and Montreal and no one even knew about it, so I started a shop in downtown Quebec City doing custom mountain bikes."
Patrice's store, Vélo Caméléon, was one of the first mountain bike-only shops east of the Mississippi. "I had a direct link with Tom Ritchey and Gary Fisher—the originals—and their shops in the San Francisco Bay Area," says Patrice, "and was ordering parts from them and setting up bikes for people here in Quebec."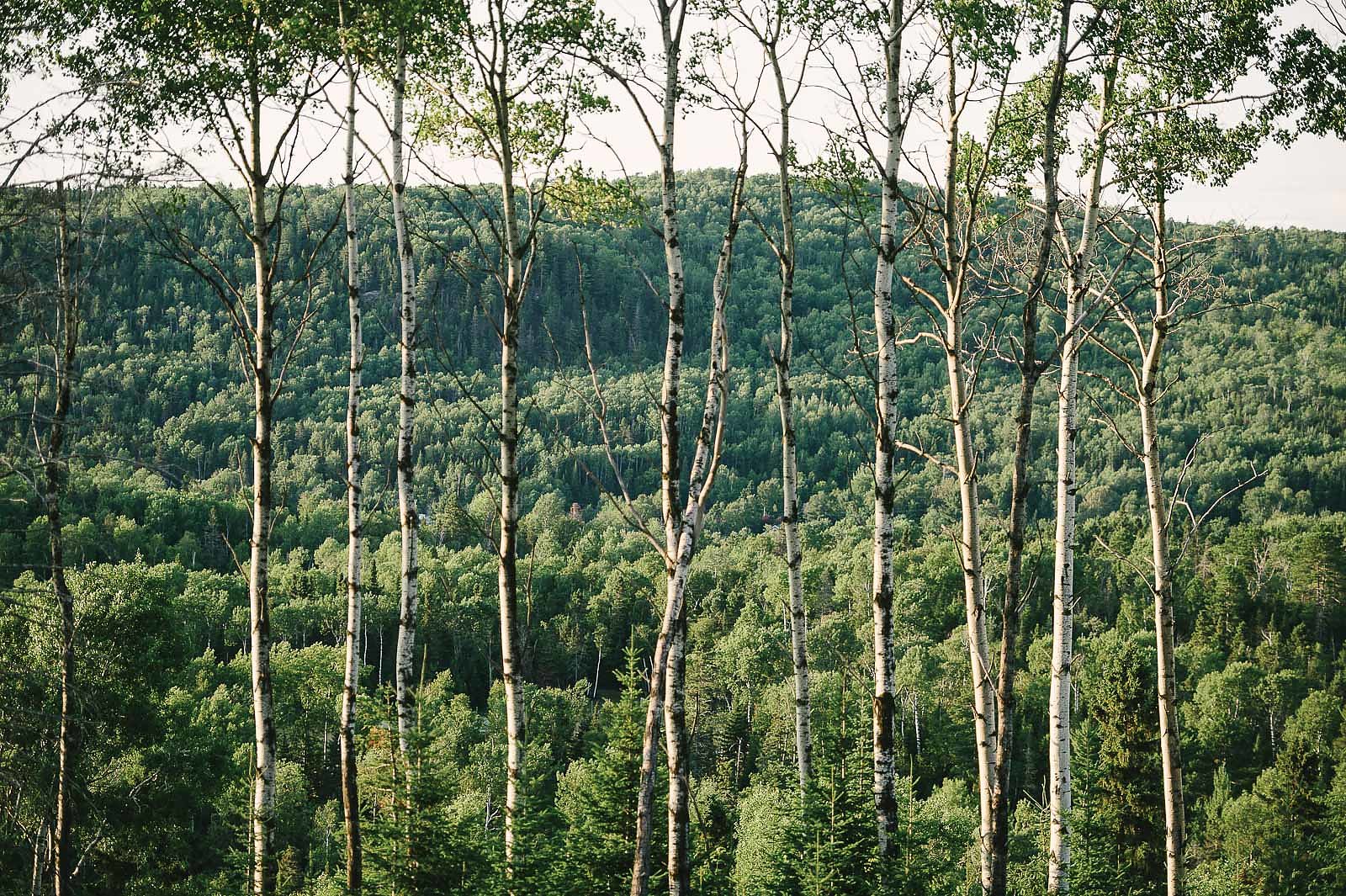 "It was fun selling bikes, but nobody knew where to go," he says. "There were no trails, no events, no races. I thought, 'Everybody will sell bikes one day, but we need to have trail networks and infrastructure established for the sport.' So I started organizing local races and events in '83 to make that happen."
With the help of Glenn Odell and NORBA, Drouin created the Quebec Mountain Biking Association (AQVM). This passion to promote riding in his home area soon bled into the larger mountain bike scene as he began working mountain biking into the Quebec Cycling Federation, the Canadian Cycling Federation, International Amateur Cycling Federation (FIAC) and the International Professional Cycling Federation (FICP)—branches of the pre-Union Cycliste Internationale (UCI) at the time. Within a matter of years the efforts of Drouin and cohorts helped form the governing body and rulebook on international mountain bike racing as we know it today.
"We used the Canadian and American mountain bike racing rules we'd developed to create the first set of rules for UCI," he says. "Then we started to develop the concept of World Cups, asking questions like: 'What would be the World Cup for mountain biking? Which country? Which disciplines? How do we calculate the points?' We developed that and implemented it in the first championships in Durango, CO in 1990. Officially, it was our work that made that happen."
While it was a huge success to usher mountain biking to a global competitive level, there was more to be done. "After that first World Championship we were sitting around the table and I was like, 'I'll do one in Canada, and told the guys from the States, France and Italy to have their own as well. There was one in Belgium, and basically from there we established the eight to nine stages."
Even though the first Worlds was in Durango, Drouin is most proud of the Mont Sainte-Anne World Cup—the longest running mountain bike UCI location, now going on 25 years. It's the venue that has reshaped the course (literally) of mountain bike racing, as well as the physical shape of mountain bikes. The early years of mountain bike riding and racing were bound to fire roads, grassy slopes and bland, flat trails—something Drouin and crew sought to alter at Mont Sainte-Anne.
"We decided to challenge downhill riding and made the course straight fall-line in 1995," he says. "France had started implementing some hardcore courses, but we created one that was impossible to ride without full suspension and hydraulic brakes. We were provoking the industry rather than following it.
"By implementing that course, bike manufacturers came out testing and working on bikes, and breaking them. I remember Nico Vouilloz doing laps at Mont Sainte-Anne with sensors and antennae all over his bike, to monitor all the forces and torsion on the frame. That was a period where a lot of research and development was happening, and bikes were changing completely, from a bike riding downhill to a truly downhill-specific bike."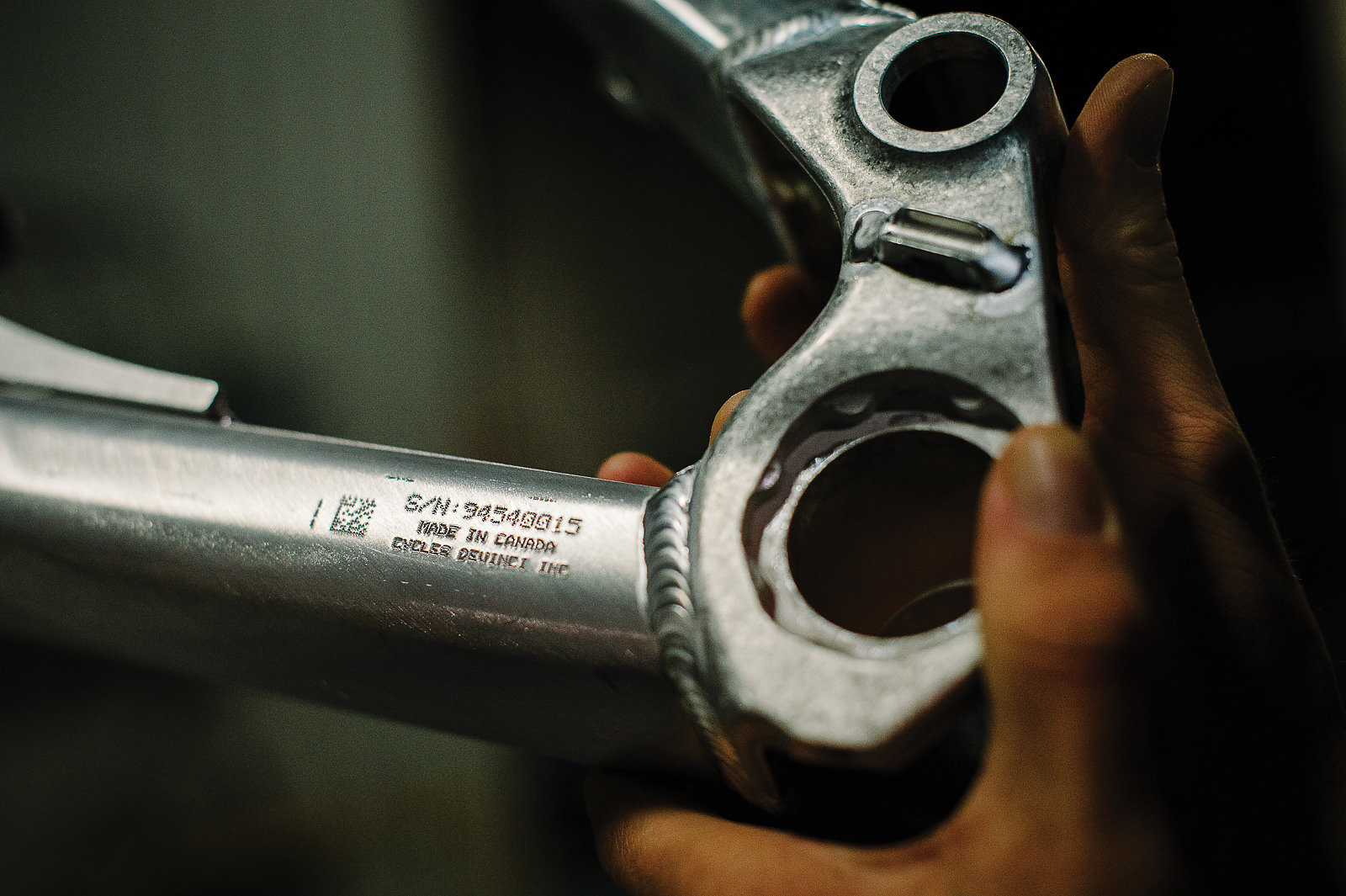 Drouin's passion for mountain biking and events is as ripe today as it was 20 years ago, and his involvement continues through his media and events company Gestev, which he founded in 1992. Gestev continues to produce the Mont Sainte-Anne World Cup and has become renowned for organizing everything from World Cup mountain bike races to events like the Red Bull Crashed Ice and professional skiing and snowboarding contests. And come the end of July you can still find Drouin at Mont Sainte-Anne, cheering racers along a course he started two-and-a-half decades before.
As Patrice brought a movement to mountain bike racing, bike development was happening locally as well. Inspired by the rich cycling scene in the area, two Université du Québec à Chicoutimi students, Guy Ouellet and Daniel Maltais, began building bike frames. Seeing the demand and potential in their scholarly projects, the duo started Da Vinci Bikes in 1987, named after the Italian inventor. In a completely unrelated event shortly after, Felix Gauthier, a young cyclist from the area, suffered a serious crash due to a failed frame. The action sent him to the hospital with a broken fibula and spurred the desire to create safer, stronger bikes. Shortly after, Gauthier met the Da Vinci founders, and by 1990 had purchased half of the company. In a show of Quebecoise solidarity, he gave it a French tweak by swapping the "a" for an "e".
In the following 25 years, Devinci, with Gauthier at the helm, has taken a creative path from its origins as a startup in a biking backwoods to a World Cup powerhouse known for its highly sought after boutique builds. In the early days, when the costs of heat-treating frames were mounting, Gauthier and crew built their own oven (the one featured in the film "Life Cycles"). Completing this process in-house, along with developing a number of construction innovations and securing multiple third party manufacturing contracts, have kept Devinci rolling ahead of the herd. They've played a key role in manufacturing bikes for brands like Cervelo, Argonaut and Sinister in those companies' early years. They've even created strange custom builds for Cirque du Soleil, and ushered in svelte bike-share models in the metropolises of New York City, Chicago, Washington DC, Melbourne, London, Montreal and Toronto.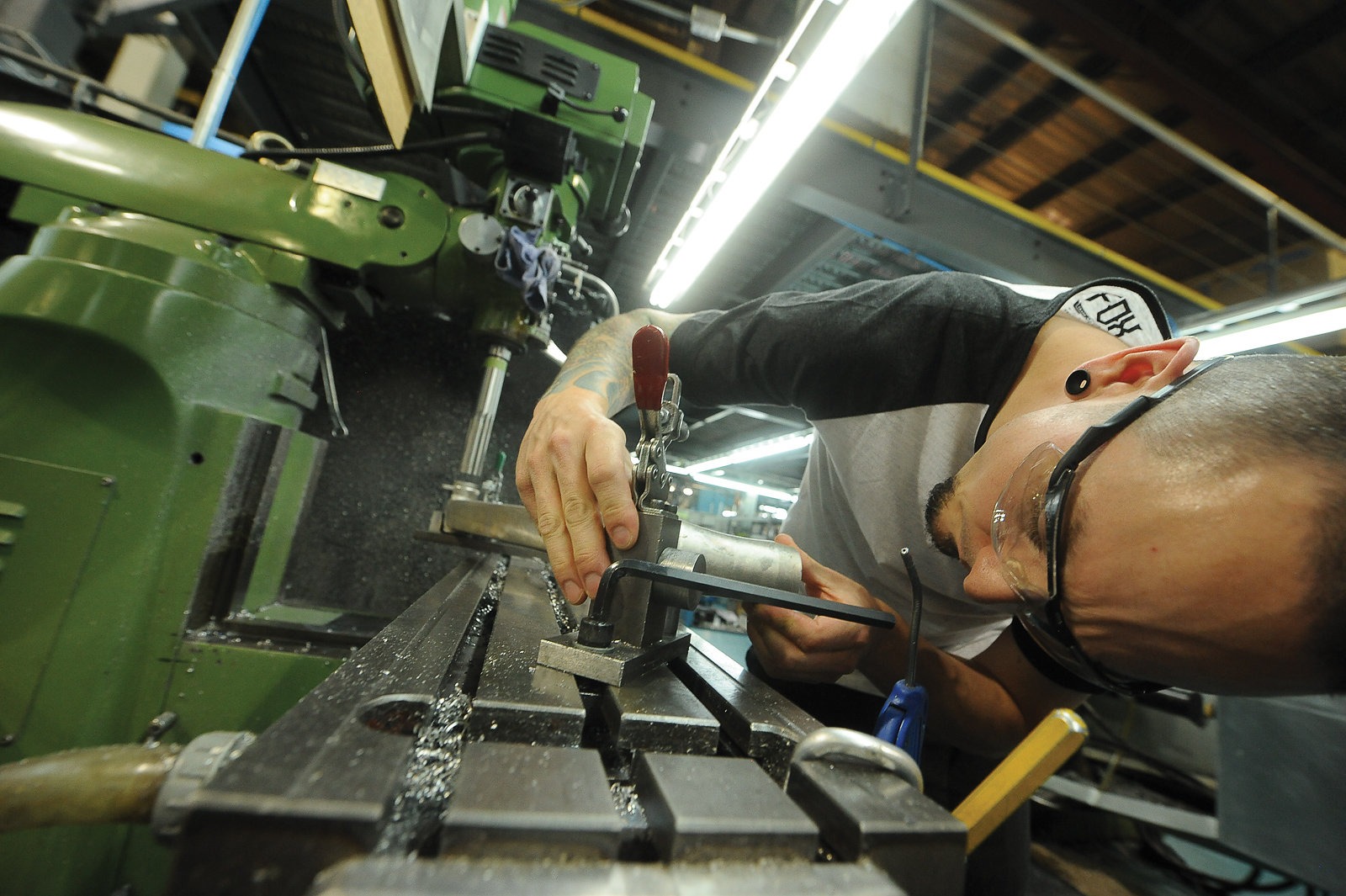 While a keen business sense, a knack for innovation and community commitment have aided the brand, Devinci's geographical position is arguably its core strength. Trails stem from the factory's back door. Hydroelectric power is abundant (electricity is often the largest expense in aluminum production). Metallurgy processes and products are easily accessible. It's become a brand based on a simple, cyclical equation: boats with bauxite ore from Brazil float in. Local hydropower generates affordable energy for aluminum production. Bikes are built and ridden right out the back door.
This is a down-home claim rare in the modern world of overseas bike building, and one that Gauthier has worked hard to put in place. "Felix's view is to create quality and sustainable work for people in the area," says David Régnier-Bourque, Devinci's marketing manager. "The bike business is a good business. We all think that biking is going to grow because it is a sport of the future. It doesn't take gas to run and it is pretty clean.
"We also believe it's important to invest in the community. We do a lot of trail work in the area, we helped create the DH trails at Mont Bélu and miles of bike paths, we support local race series and clubs, and we sponsor the top athletes in our area. We are invested in everything related to cycling here because we think it's important to support and grow."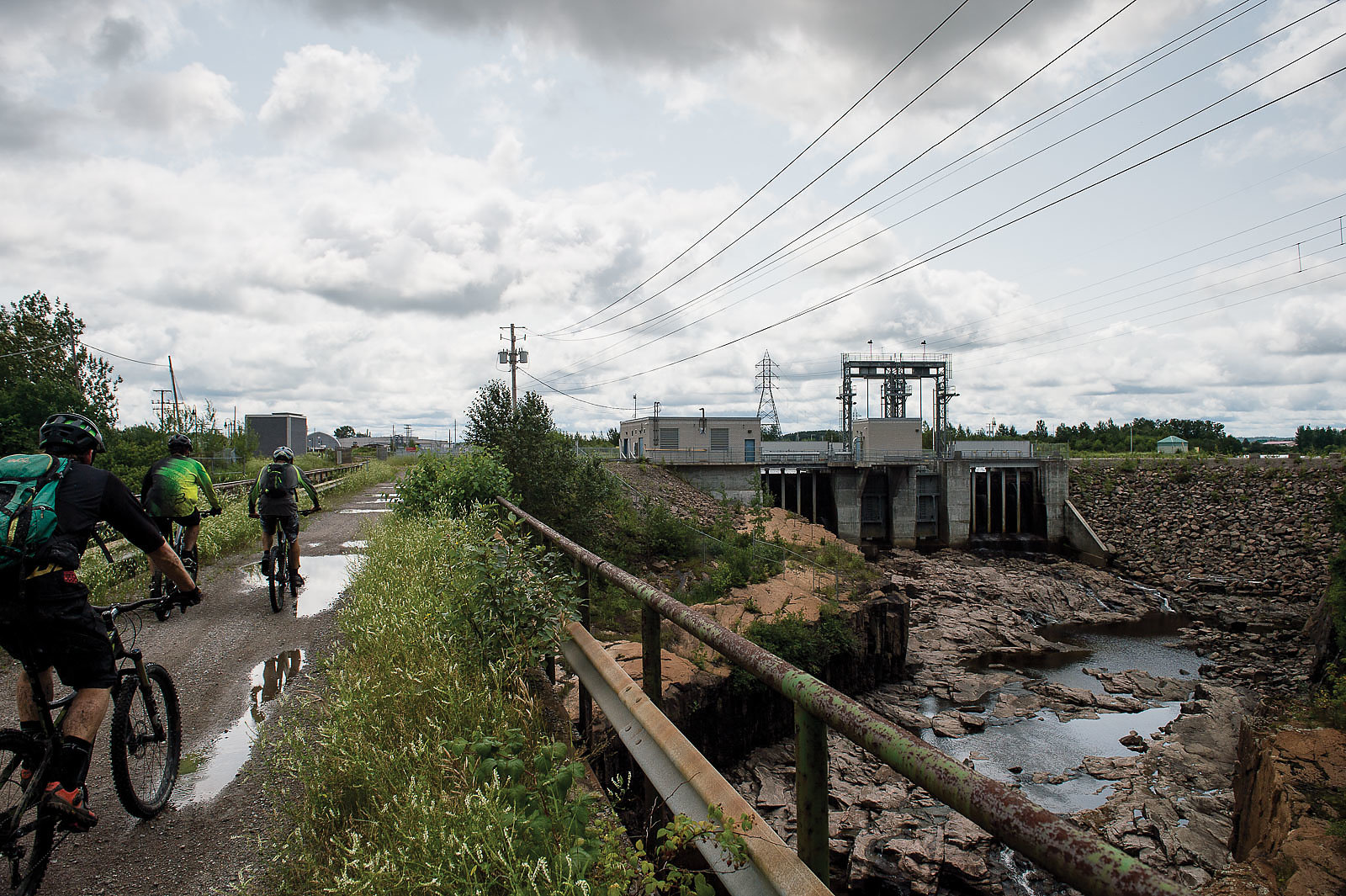 Back in Chicotuomi the rains postpone our first ride with the Devinci crew. There are alternatives, however—we're in the heart of poutine country and sampling the fresh cheese curds from the dairy farm is a must, so we tour the local Fromagerie Boivin. It is the freshest cheese any of us have tasted and gives off a rubbery squeal when chewed. Even better is the gut-clogging, trucker-style preparation: the curds are dumped into a bag of potato chips, shaken and shoveled down before the pile gets too soggy. It's far more gas-station-esque than boutique cheese factory, but when in Quebec, do as the Quebecois do. It's worth the intestinal rumbling.
When the rains cease, we finally take to the seats of our bikes and begin to explore our surroundings. The Devinci crew leads us to trails right from the loading docks of their headquarters, past the very dams and power lines that provide the energy to create the bikes under our butts. We pedal over bridges and past greenhouses full of veggies kept warm and watered via hydroelectric byproducts. The trail winds through wet forests, over twisted roots and rough granite, past bleuets (blueberries) to vistas overlooking vast stretches of water. On the rally back we splash through puddles in a tight caravan, leaving the depressions dry as pairs of wheels roll through.
Later we arrive at a quaint lift, which accesses the trails of Mont Bélu in La Baie. The small ski hill faces the Saguenay River and provides a number of short and potent downhill trails. A midweek afternoon in this small town countryside is the perfect place for a demo event—which Devinci is hosting under a faint spritz of rain. Eager locals lap the downhill trails while team riders Stevie Smith, Nick Beer, Léandre Bouchard and Rachel Pageau mix in. We learn the awkward technique of placing a surface lift tow bar behind the seat post, with one hand on the pole and one on the bars, to get dragged up the hill. As the drizzle thickens and night creeps in, locals and foreigners alike crowd under the demo tent and into the base area for beers, food and refuge.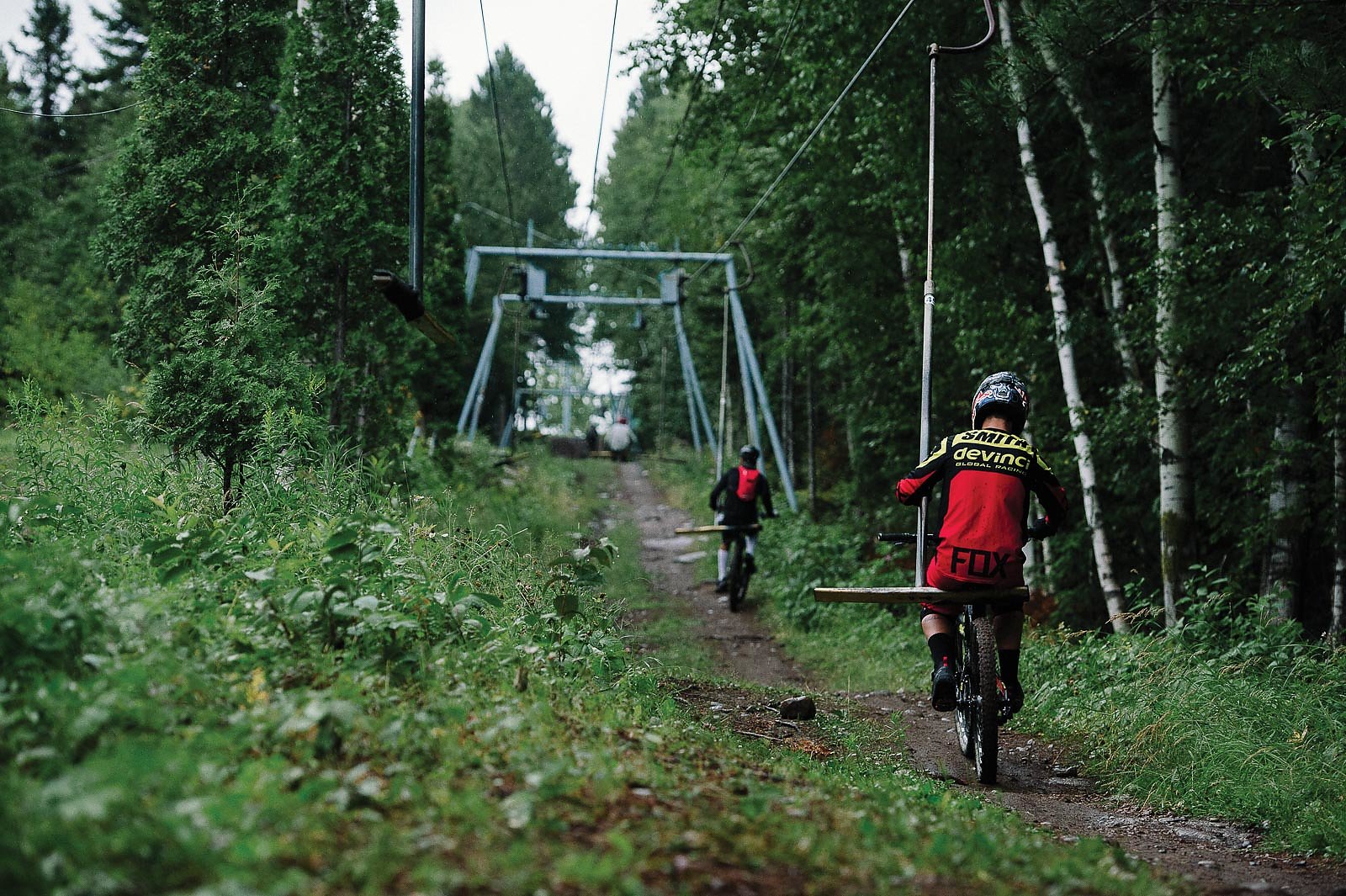 Our morning visits to The Passion Café exude a European feel, complete with awkward ordering via smiles, gestures and butchered attempts at French. We visit la Petite Maison Blanche, the only structure that survived the 1996 flood that tore through Saguenay. It sits alone, anchored to granite bedrock, and is a blunt reminder that restraining water for the sake of power can be as destructive as it is advantageous.
Over the next few days we visit the surrounding towns and discover swooping, mosquito-plagued trails in humid sunspotted forest, later washing off in the cold, riotous, amber waters of Lac Saint-Jean. We replenish our energy caches at a comical, carnival-esque "Quebexican" restaurant ringed with old cars and retired amusement rides. After putting down tacos stuffed with a strange sludge from a crock-pot (and with no hot sauce in sight), we vow to stick with the more provincial fare. On the outskirts of Saguenay, atop a mossy granite rock by the roadside, we gain views of the area's expanse and sip beers in the late afternoon light before moving on to our next destination.
Our journey continues beyond Chicoutimi and takes us through tangled green forest, past lake after pond after stream after river, through the Parc national des Grands-Jardins. The road twists and rolls, with grades climbing into the double digits, the kind that floats and sinks your stomach like an asphalt amusement park ride. The road crests at a pass, where large granite nubs break through the forest's skin like a miniature Yosemite, before running out onto the pastures of the Saint Lawrence River Valley and below the iconic Mont Saint-Anne.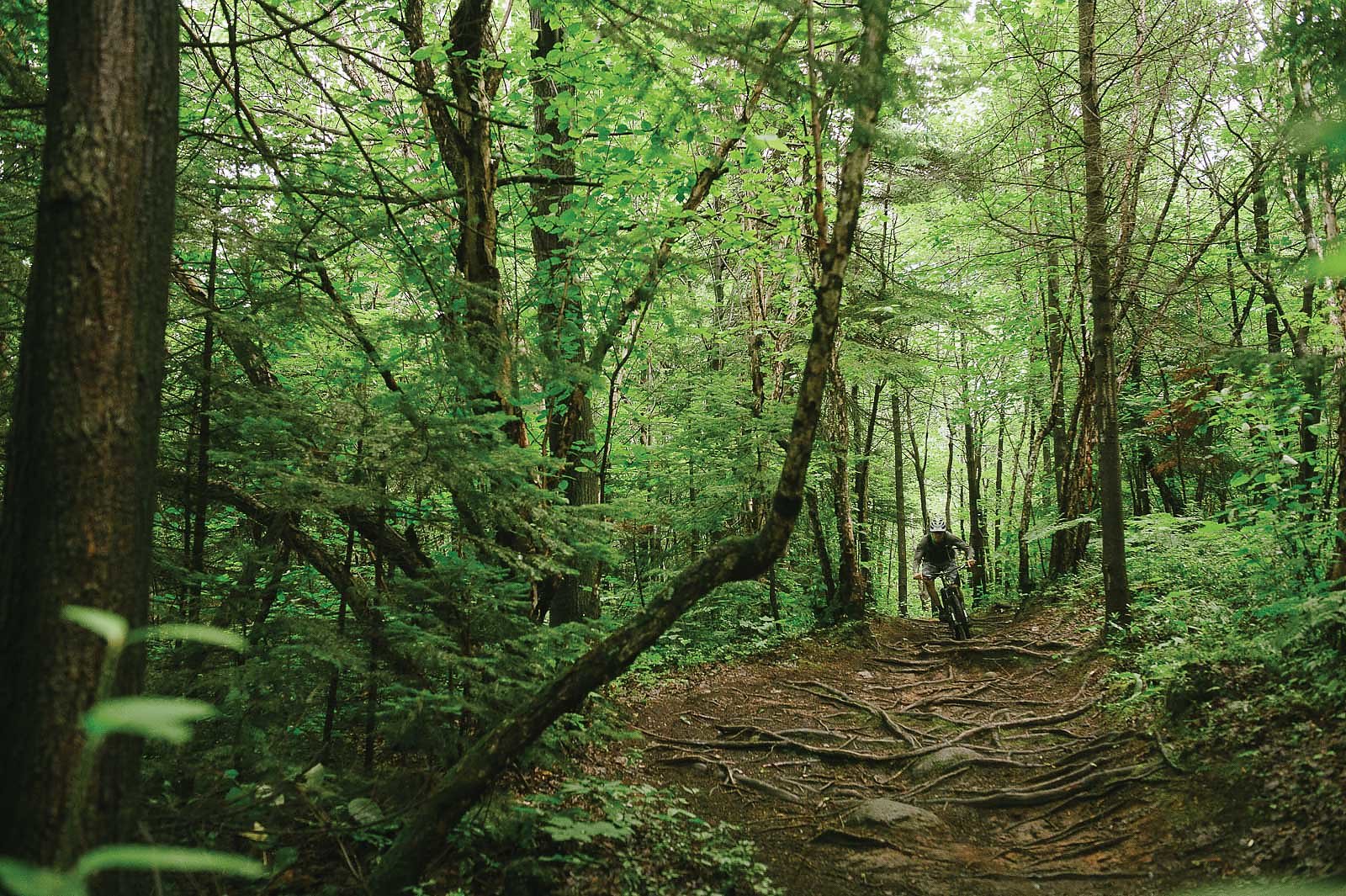 The racers' pit at Mont Saint-Anne is buzzing with the UCI World Cup, the one Patrice has been running since we were in kindergarten. The annual gathering has blossomed into Vélirium, a full-fledged mountain bike festival complete with all disciplines of mountain biking, including a stop of the Freeride Mountain Bike World Tour held in downtown Quebec City. As we zip above in a gondola cab, we watch through the blue, bulging windows as cross-country racers chisel over rock gardens and downhill riders zip along the notoriously steep track, lofting step-downs and hips at jaw-rattling speeds. We take a beating ourselves on the area's public trails, mashing our bodies and loaned trail bikes through berms and doubles before diving into humid green forests with snarled roots and ruts that peel off the mountain. Our sluggish descent is lethargic compared to the world-class athletes we watch rally this iconic mountain track, yet in the forest just around the bend from the race course it's quiet and reserved from the hum of the global gathering.
The next day, after navigating the tangled streets of Quebec City in torrential rain, we make it to Place D'Youville, a square in the heart of the historic downtown. We're here for the City8 session, an invite-only stop on the Freeride Mountain Bike World Tour. Harbored within the aged fort walls of Old Quebec City, the horseshoe-shaped slopestyle course is full of dirt-to-dirt doubles, wood-to-wood drops, berms and wall rides. The Jumbotron televisions light up the pulse of tourists and spectators streaming through the square.
The hammering rain cuts the contest short, and we find ourselves wandering the cobblestone streets of the city. It's a far different (yet similarly soggy) scene from the forested pilgrimage we've been on. A blur of languages fill our ears as we meander alleyways and stop to stare out onto the gray bay from the centuries-old perch of this port town, watching ships drift by the Saint Lawrence with containers of raw goods. Some of that will be bauxite destined for aluminum production, and some of that aluminum will make its way to a small factory, where Patrice Douin's knobby-tired dreams will be embodied in some of the world's best frames. It's the continuation of a truly Quebecois cycle, a cercle complet.