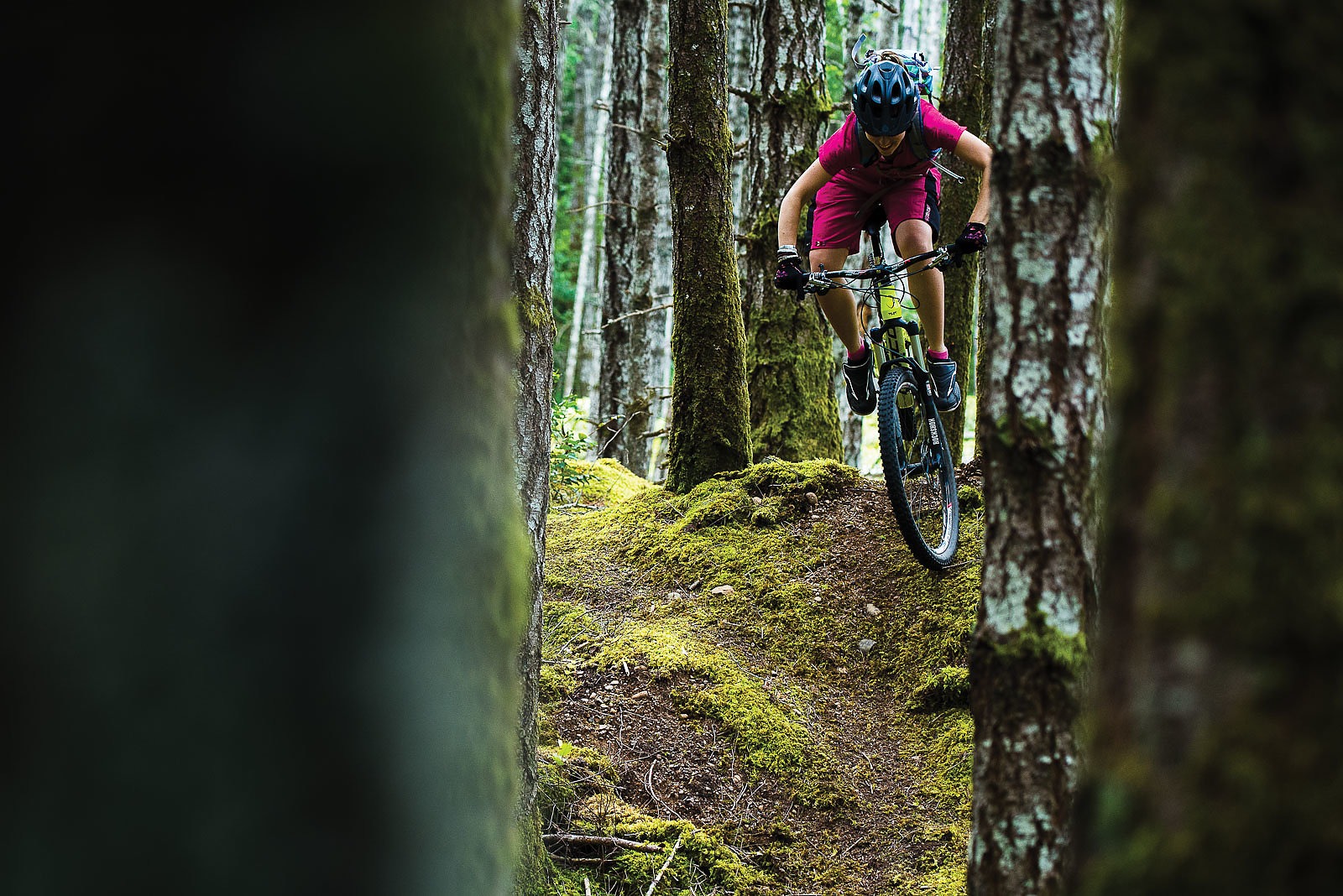 Bucolic Beauty - Slow Grown Flow on Hornby Island, BC
It is an overcast mid-June day on Hornby Island, BC, a perfect day to ride before the summer tourists arrive.
I am sitting on the patio of Sasha Lebaron's makeshift trailer, he and his wife Amy's summer accommodations on a small, multigenerational family farm. Sasha, tall and lanky, is wearing weathered work boots and overalls. He has spent the morning alternating between planing wood and tinkering with a '50s-era tractor, one of two that occupy ramshackle shop space, surrounded by decades of accumulated kick-knacks, machinery and mountain bikes. I am wearing mud-spattered shorts and a hoodie, warming up after riding the island's marquis trail, No Horses, that Lebaron and his neighbor Tig Cross built in the late '80s. The trail, a short-but-sweet section of flow, ends just a couple hundred yards up a gravel road from the farm. In front of us sits a recently-built geodesic dome. Without the din of machinery it is a serene setting, all tweeting birds and tall evergreens and gardens and green grass.
"Historically, mountain bikes have been included in the decision making process [on Hornby] because we were one of the first major user groups," Lebaron says. "Instead of the normal scene where mountain bikes come in later after the hikers, we built all the trails. So if you zoom way in on Google Maps, you'll see '4 Dead Aliens,' because that's what we named it."
Lebaron grew up in Hornby's Strachan Valley, right next door to a young Tig Cross. He and Tig started riding in the early 80s and began building trails of their own soon thereafter alongside a small group of like-minded cyclists. The pair of teenagers were well situated to do so living up in the valley.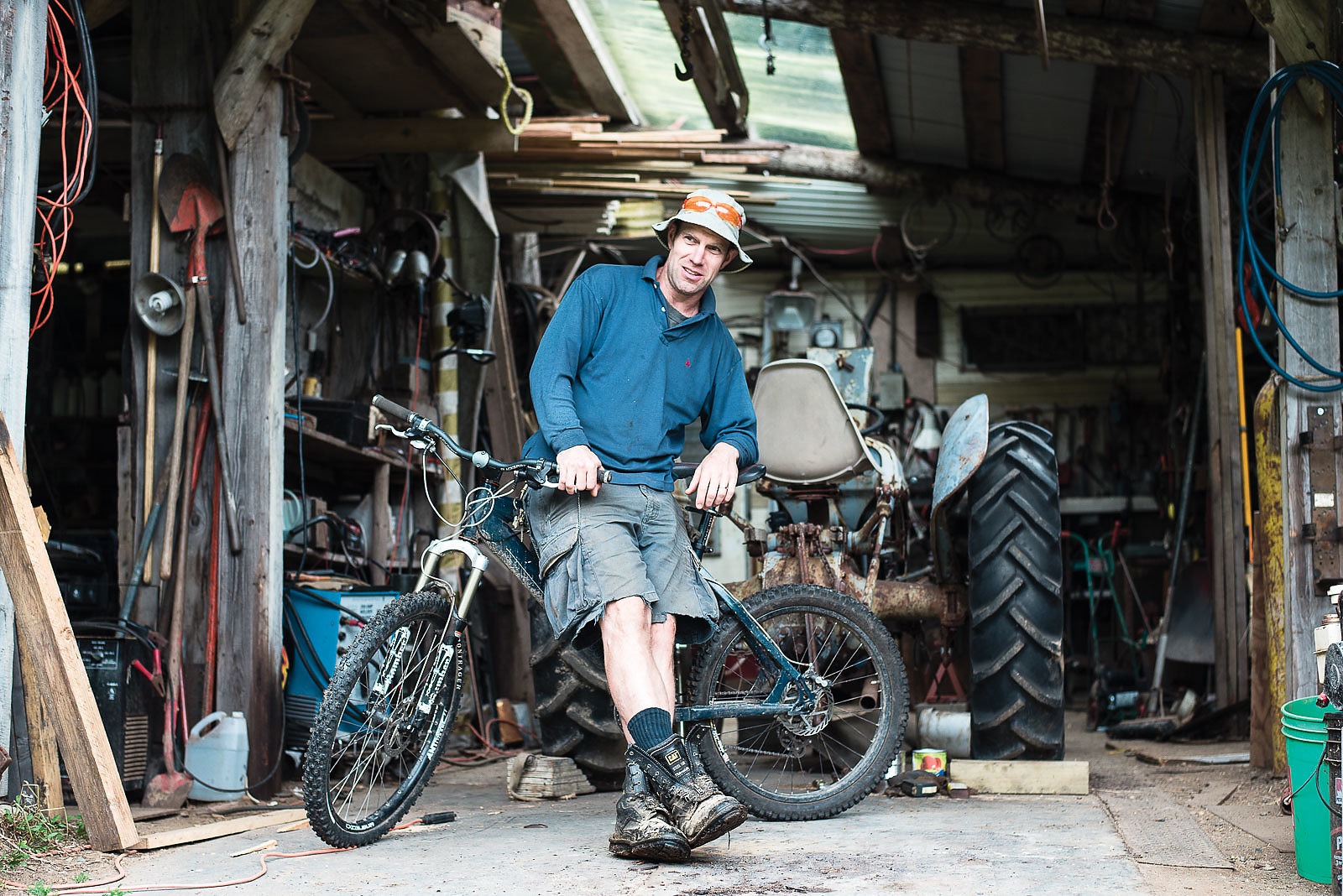 I also grew up on Hornby, first exploring the mountain by foot with a friend named Kai Salo who lived up the valley, then graduating to bikes in the early 90s. Sometimes we would fish for trout in the pond on the Cross's farm. Although I didn't realize it in my younger years, I had been born into a bucolic northwest island paradise with an atypical riding scene.
Viewed from above, Hornby could be mistaken for a more tropical locale than the Georgia Strait, which separates massive Vancouver Island and the mainland. A pair of wide bays known as Big Tribune and Little Tribune cut into the middle of the island, and the long beach of the former holds shallow, turquoise water that reaches decently warm temperatures in the summer when exposed sand warms up before the tide comes in. Mt Geoffrey dominates the center of the island, rising gently to 1,080 feet from east to west before peaking abruptly along tall cliffs on the western edge of the island. It is home to an extensive trail network that have been quietly built and refined for thirty-plus years. With two ridgelines and an easily-accessible summit, the moderate grades make for fast, flowy singletrack with easy fire road climbs—or more technical ascents if one prefers.
Darcy Turenne, who is from nearby Comox, spent her fair share of time riding these trails as a child, too. On this day in June, she is en-route to meet me and another Hornby-raised friend Dayna Wullum for a couple days of riding. Although mountain biking lost my interest for a time during high school, Darcy and Dayna continued to explore the ever-expanding trail network and raced together before Darcy turned pro and moved to Victoria then Squamish. Dayna now lives in nearby Courtenay and rides Vancouver Island on a regular basis. They were both there for Hornby's Bike Fest heyday, an event organized by Cross and Lebaron in the mid-90s.
"The first Bike Fest involved [local musician] Josh Kittleson and his band. Jeff Bishop was involved, playing some music in the [Cross's] field where people were camping," Lebaron says. "It was getting dark, so we got a couple cars and put headlights on the band. It was super grassroots—cow patties and 30 people partying. Then my next big memory is looking out across the field and it's just packed; there's the midway, vendors, a band in the back, and all the way up the valley there are people camping, everywhere. That was Bike Fest Five. We had around 800 people just racing cross country that year.
"It was just exponential growth. After the dust had settled on Bike Fest Five, we had $22,000 cash. We were sitting there going, 'It actually worked, nobody died!' And we could pay everyone and even have a bit left over to buy a video camera and reinvest in the event. Even [World Cup XC racer] Geoff Kabush was there doing parking."
It's fitting that Lebaron remembers the party scene more than anything. Although the racing was excellent—the crew painstakingly raked 7.5 miles of cross-country trails and built one of the first dual slalom courses to feature berms and jumps, serviced by a makeshift rope tow made out of an old Nissan engine—the party drew more people than anything. That's how I remember it, at least, as a teenager. There was the trials competition on the porous sandstone at Big Tribune, with spectators lounging atop the surrounding boulders and smoking weed. An island of 950 permanent residents seeming to grow tenfold overnight to party on the Cross's farm.
If anything, Bike Fest was emblematic of Hornby's vibe at the time. What had started with homesteaders then been populated by hippies, artists, draft dodgers and others in search of an alternative lifestyle had, by the '90s, become a popular summer vacation destination punctuated by gatherings of epic proportions up in the valley, whether fueled by mountain bike or the burgeoning underground rave scene. An influx of visitors kept the local economy afloat before dropping away around Labor Day, and it has ever since. But Bike Fest couldn't sustain itself—a core group of volunteers kept it rolling to 10, and in the later years, the party diminished by design. "Our slogan for Bike Fest Six was 'all bike, no fest,'" Lebaron says. "But people still came to race. They came for the vibe, the valley. They would come back again and ride in the fall."
It's not that Hornby's trails are overtly spectacular—riders used to north shore woodwork or the flow trails around Squamish and Whistler might find them a little docile. But the island's trails have a unique old-school charm. Built by bikers, for bikers since the '80s, 30 years of knobby tires have created flowy, sinewy ribbons of dirt that wind tightly through long-since-logged forests of douglas fir and red cedar, in places clearly built for sub-600mm handlebars.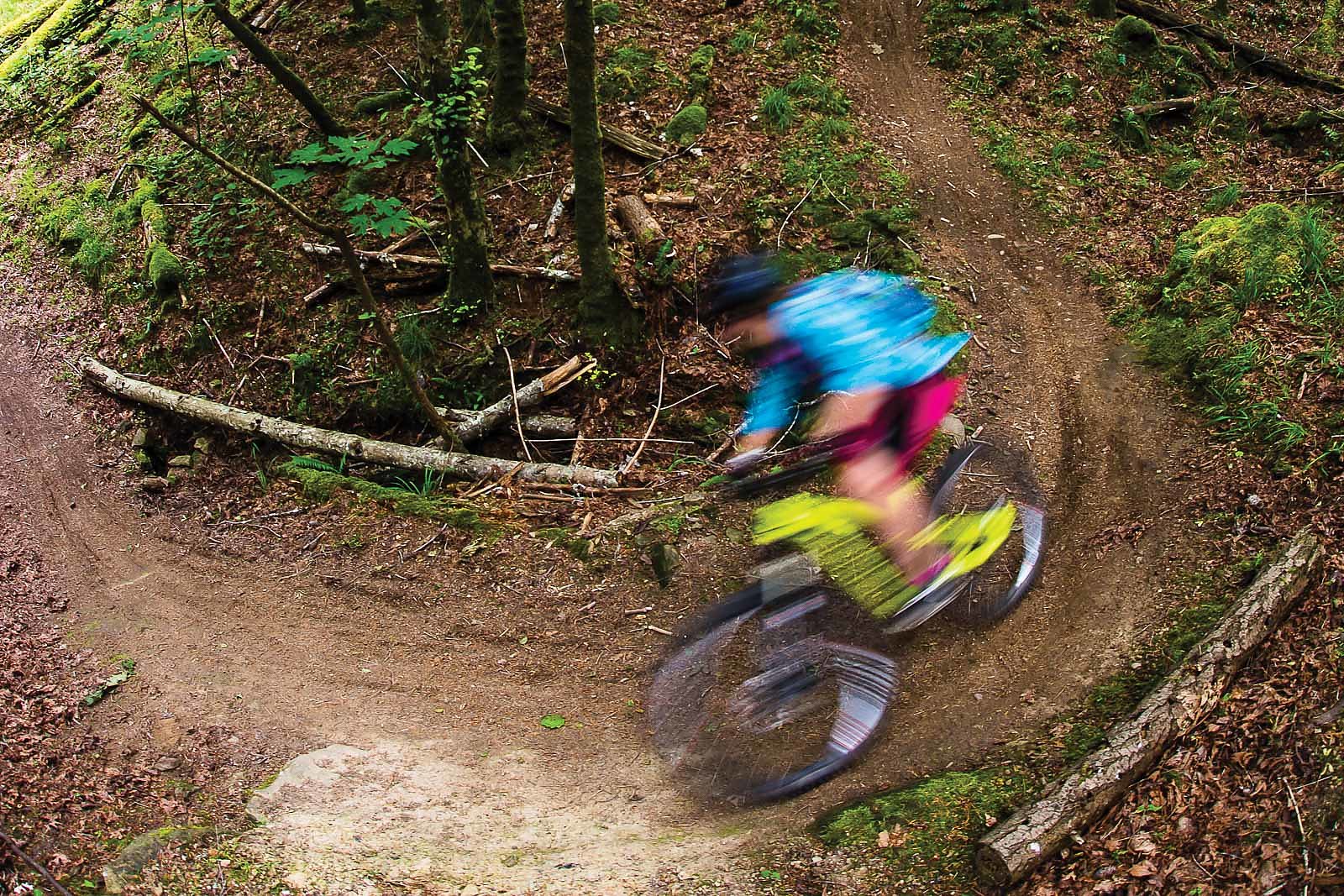 Climbing to the top takes little more than half an hour for an average cyclist. There, views stretch from the cliffs across neighboring Denman Island to the snow-capped alpine of Vancouver Island, which is two ferry rides and about an hour away. Bald eagles like to catch a lift upon afternoon thermals up there.
The trail network is now maintained by the Hornby Island Mountain Bike Association [HIMBA], which recently built a pump track at Joe King Ballpark, a kind of cultural hub of the community. They have plans to install a small set of dirt jumps, too. "Some people want to grow Hornby," Lebaron says, "grow the number of riders, technical features and make it Whistler-style and groomed and big. But there's a lot of us, especially the pioneers and older riders who say you know what, Hornby's known for flow and for smooth fast and nice, beautiful trails. Every trail goes to the top and all the downhills are smooth and fun and flowing. If anything's going to grow I'd like the smoothness and flow to grow. Let's stop cutting corners, make the trails more curvy and flowy, less straight down the hill.
"I've got my little excavator and I go out with Yanna Pethick, who is the parks maintenance guy [and also an avid rider], and do a little maintenance. It's buffed, it's not going away 'cause it's all built up with mineral soil and we've taken the classes from IMBA and we know how to build a sustainable trail.
"The fact that we're still able to be out there and not run into a whole lot of people is such an amazing thing. I encourage people to come check it out in the spring, the fall, the winter. The beaches are great in the summer, but the trails are dry and rutted out. In the springtime they're nice and tacky and there's less people around and you'll have a better time riding."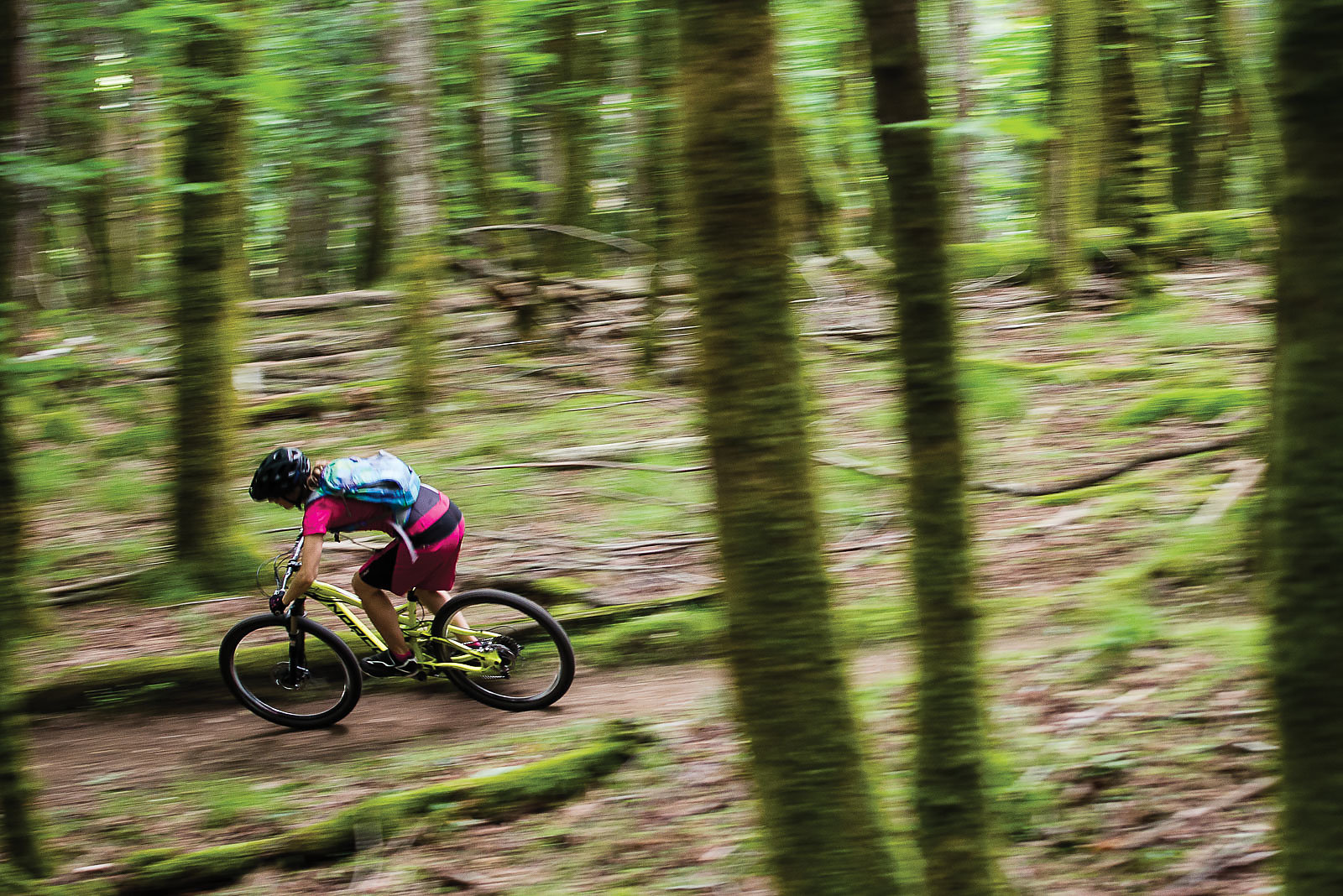 Which is undoubtedly the case when myself, Turenne and Wullum visit in June. Spring rain has turned the forest a hundred shades of green, rolling from mossy floor to massive stumps left by early logging efforts to towering deciduous trees arcing a canopy over every climb. The island is quiet—the eclectic mix of hippies and artists are still there, but they're now in their 60s and 70s. It has become a little bit gentrified, with wealthy Vancouverites buying up property for summer homes, but a strong community still exists: CHFR holds down 96.5 FM on the airwaves and Sweet Thursday at the ballpark is still a good place to cut loose. But it is not the party scene of my youth. More a quiet home for those in search of peace of mind and unadulterated personal expression.
It has been a few years since I've ridden Hornby, but very little has changed. Some forward-thinking reroutes have delivered a little more flow to the intersection near the top of the mountain, and that one freeride trail known as "Your Mom" doesn't seem to receive a lot of traffic anymore.
We climb to the Ridge Trail and take in the views, incumbent bald eagle shooting us a glance from a hundred yards up. We drop into Devil's Kitchen, perhaps the steepest trail on the map, floating down a bit of rooty fall line before cutting right onto 4 Dead Aliens and its off-camber gravel surface through dry, third-growth fir trees. We turn right upon reaching the connector trail of Northwind and traverse Chris & Brad's to the top of No Horses.
Following the natural contours of a stream bed, No Horses swoops down and to the right, up a bank to the left, and back across the gully. Pumping for momentum, it rolls for another half-dozen corners of increasing speed through a tunnel of green before one final, well-worn left hand berm shoots us out onto the road above the farm. After 30 years of tire tracks, the simple flow of No Horses has stood the test of time. We pedal back to Northwind and turn uphill for another lap.