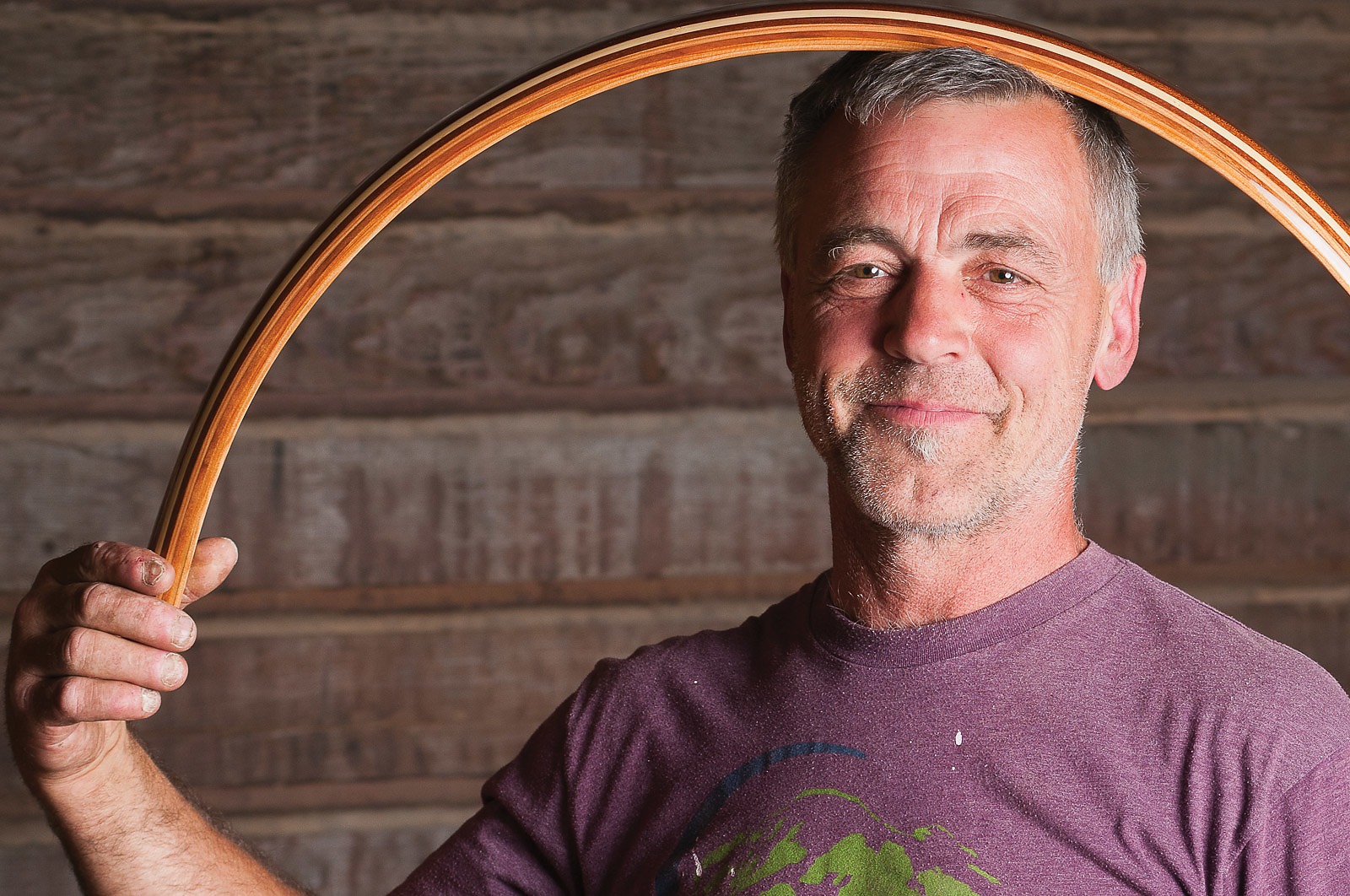 Atypical Forms - The Hand-hewn Creations of Anderson Custom Wood Fenders
Upon first glance, Tom Anderson fits the stereotypical mold of a woodworker.
A compact build; thick forearms; callused fingers; short-cropped, salt-and-pepper hair. Shy at first and cautiously proud of his work; when he walks into a room, he brings with him the smell of fresh sawdust. But enter his shop—a sprawling abode set in a burgeoning nook of the Bellingham, Wash., arts community—and you will notice some atypical forms. Tucked away in a corner, you may find an assortment of fine-grained, crescent-shaped creations hung from a sawhorse like the ribcage of an Oak tree—vaguely familiar, yet unique among the right-angled collection of raw timber and top-quality home furnishings. Then you may notice a bicycle—one of many plucked from a downstairs wall. And then it clicks. Tom Anderson is a woodworker, alright—and he's making one-of-a-kind, hand-hewn fenders.
The fenders are the perfect convergence of the two main passions in Anderson's life: woodworking and mountain biking. For 20-plus years, Anderson has built a viable income through his company Creative Openings, which specializes in custom wooden doors. And for 20-plus years, Anderson has spent his free time developing the Bellingham bike community.
Despite his deep Northwest roots, Anderson didn't always live on the West Coast. Raised in Neenah, Wis., he did a stint with the military during the Vietnam era and first made his way across the country in 1979 in search of, simply put, "the ocean and green trees." Then he met early mountain bike pioneer Jim Sullivan who took him to California to visit Tom Ritchie, who took him for his first ride. He was hooked.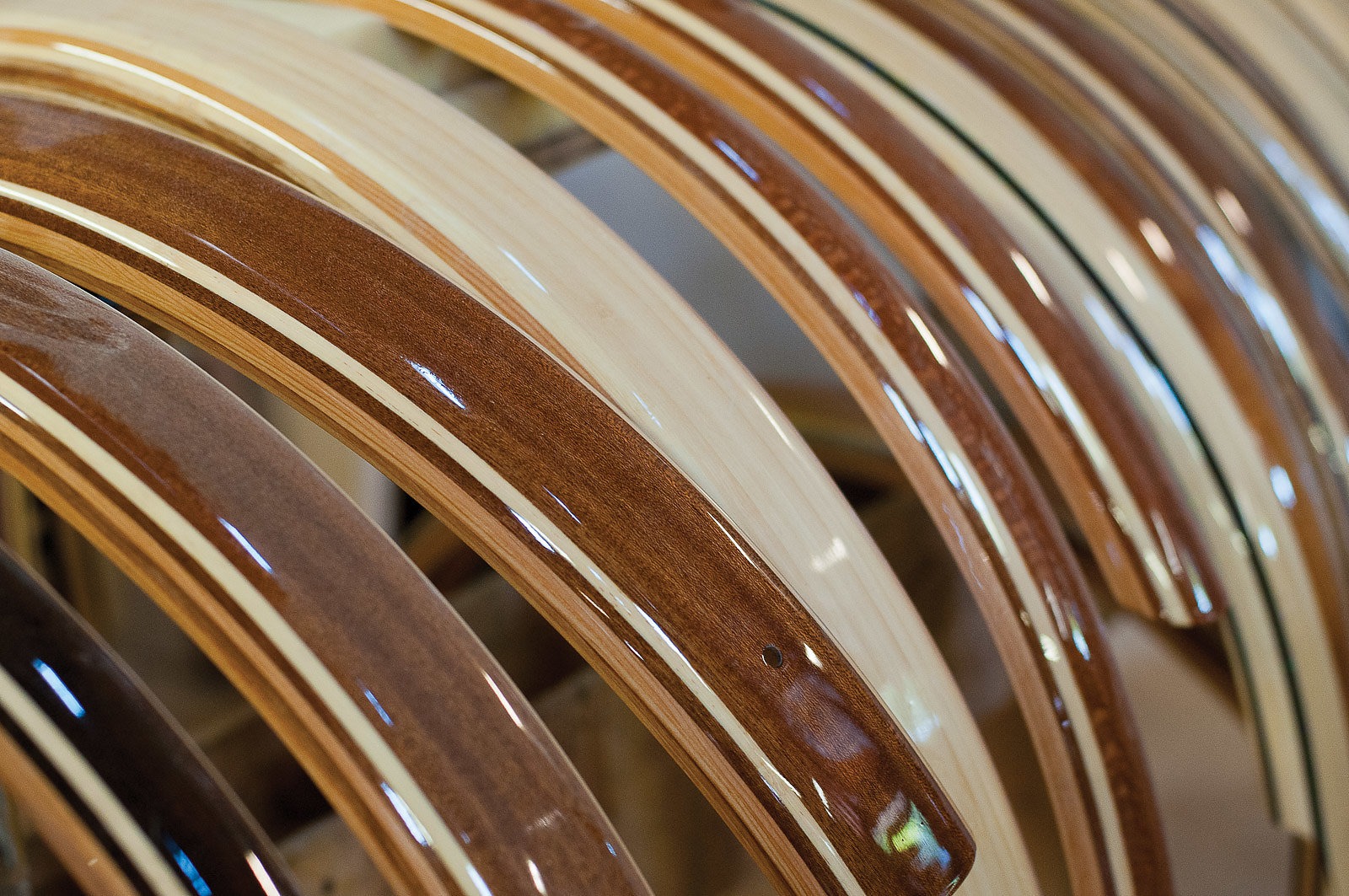 Back in Bellingham, Sullivan formed the nascent Whatcom Independent Mountain Pedalers (WHIMPs, for short) along with Anderson and several others and they built the first trails upon Blanchard Mountain, the Chuckanuts, and eventually Galbraith Mountain—a trail network that continues to grow, under the stewardship of the WHIMPs, into one of the best in the Pacific Northwest. "The parks department took over the trails," Anderson remembers, "and they felt it was a good thing for the community, which isn't always a common thing, especially in those days."
Anderson eventually found himself in the thick of the mountain bike scene, driving cross-country with the Softride and Ritchie bike teams to the World Championships in 1989 before securing his current workspace upon return. He settled into life as a single father and supported himself with his woodworking skills—skills he also applied to building the trail network that so many Pacific Northwesterners now enjoy. He filled his living space below the woodshop with a "museum of Softrides," which Anderson refers to "as the most comfortable bike I've ever been on," and, these days, "a great town bike that I might still ride on the trails."
Kidding aside, Anderson remains a dedicated rider—he is on the trails almost every day and speaks nonchalantly of the different characteristics of each local trail system at different times of the day. He also remains embedded in the bike scene and it was on a 2009 trip to the North American Handmade Bicycle Show in Portland, Ore., when he found the creative spark to try something new.
"At the handmade bike show, I heard some talk about compound curve bamboo fenders; and I thought I should try it myself," Anderson explains. "So I spent the whole week turning out my first compound curve wooden bike fender—just one fender. I didn't like the thickness of that first one—I wanted them thin, flexible, lightweight and durable. So I started laminating up different types of wood and trying to make them to a dimension that would function, but also look good."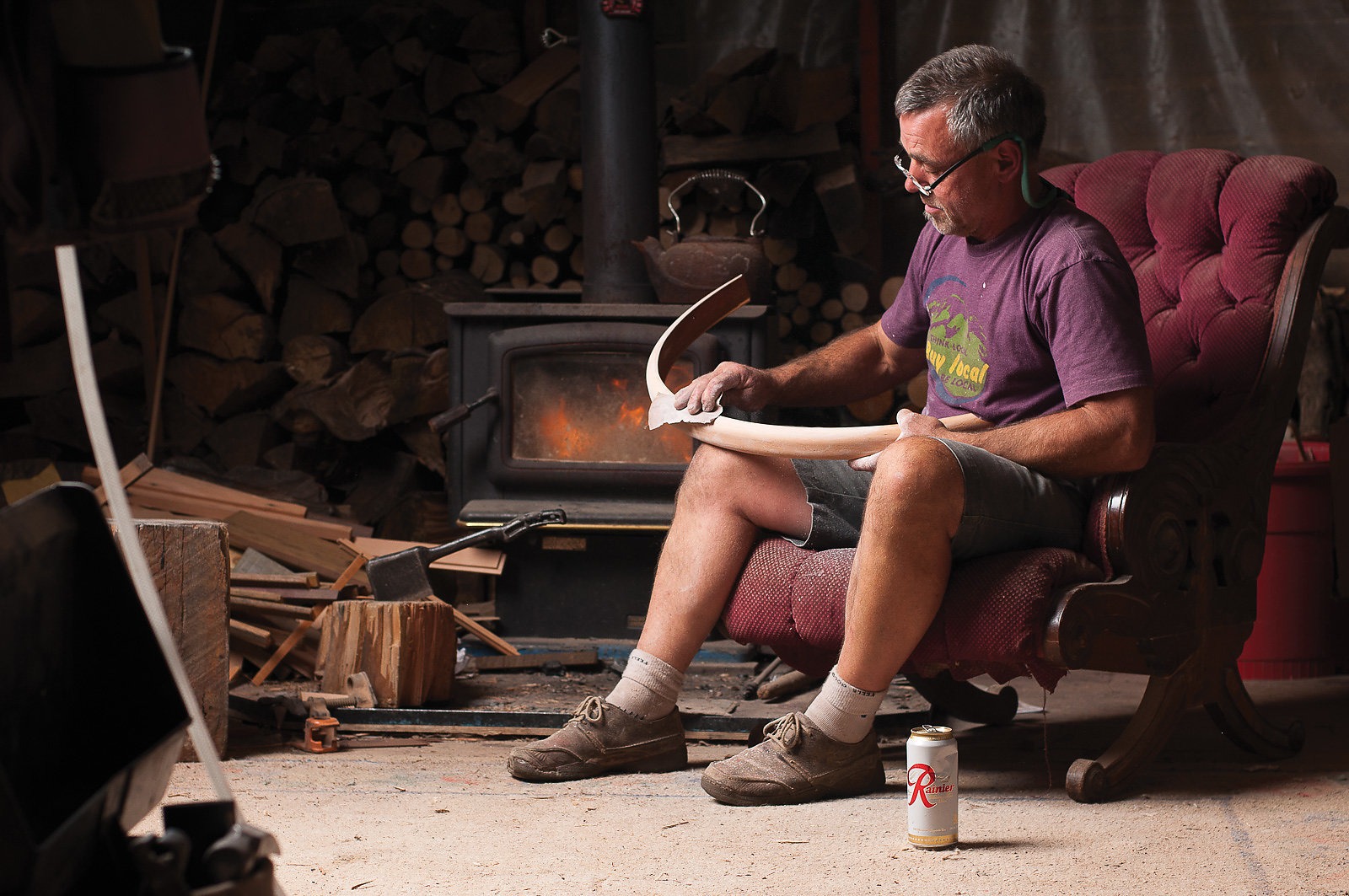 Through trial and error, Anderson began to understand what worked and what didn't. From rim size to tire size, various laminates to different types of wood, he tested dozens of combinations before finding a formula that could cover everything from 27-inch rims equipped with balloon tires to 26-inch mountain bike wheels. "I absolutely had doubts along the way," Anderson says, "but now I have none. Three years down the road, they are ready to come to market."
At the 2011 Handmade Bicycle Show Anderson mounted a pair of finished fenders to a friend's custom pink bike made to raise funds for cancer research. "The bike was beautiful," Anderson recalls, "and there were dozens of people crowded around the bike, but they were talking about the fenders. That's when I knew that I had a marketable product."
The next step was to create Anderson Wood Fenders, a sub-division of Creative Openings, which he hopes will become not only a full-time endeavor, but maybe a small business with a handful of employees if there is enough demand. The fenders are already available in a variety shapes, sizes and colors. From light, parallel strands of bamboo to dark hardwoods, contrasting striped options and reflective flecks in the laminates, his selection runs the gamut from subtle, deep-grained quarter-moons to flashier options that glitter in the sun. Every pair is hand-crafted with attention to detail and fits precisely and true, with just enough room to shed grime and water.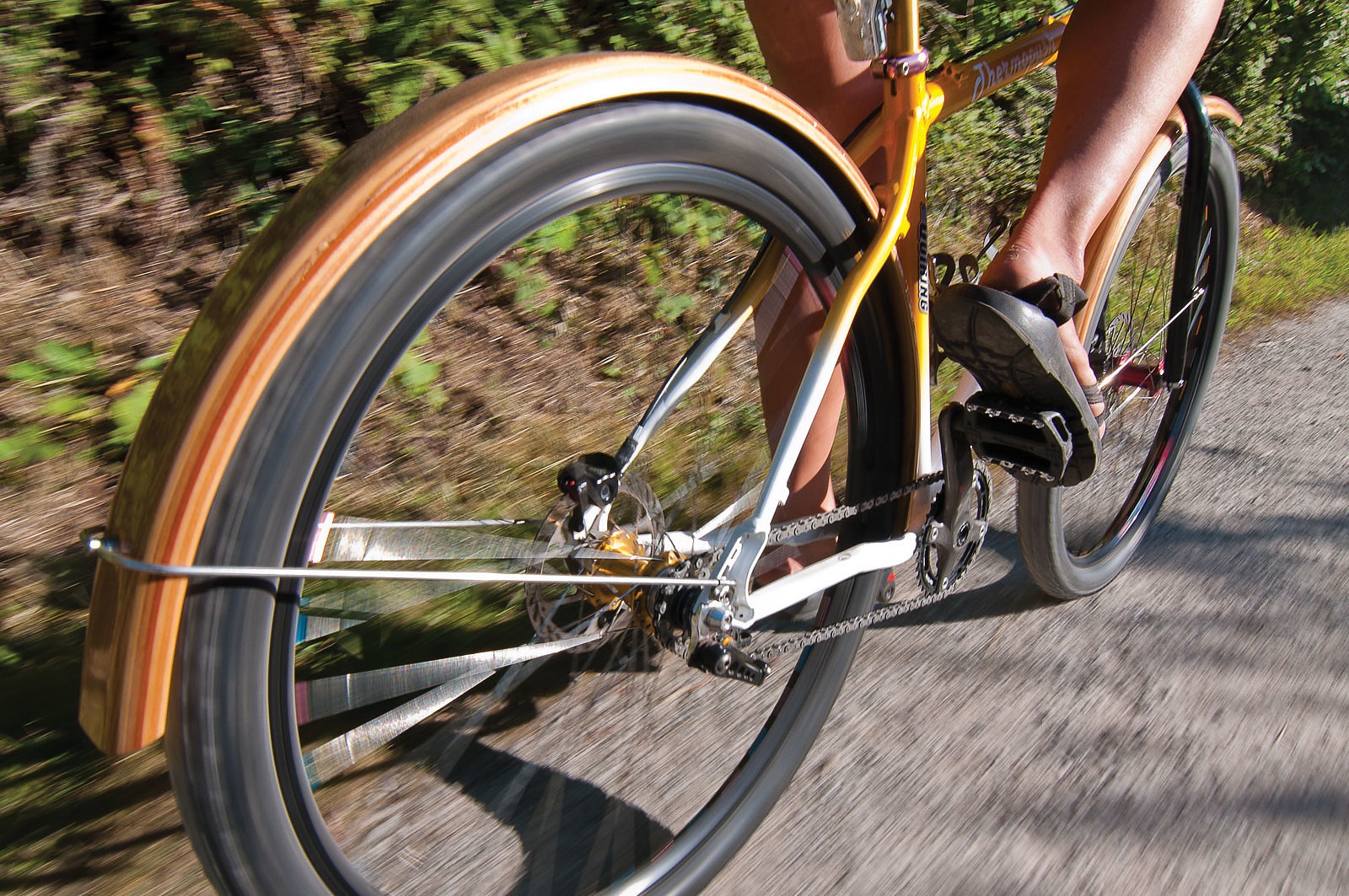 From that initial offering at the Handmade Bicycle Show, Anderson received a handful of orders—some from individuals in the domestic arena and some as far away as a shop in Amsterdam. He has tested them everywhere from leisurely road rides to going as far as to affix them to a friend's full-suspension Transition BottleRocket and watch him huck around trails of Anderson's making. "I zip-tied a pair of fenders onto his bike and he rode them without any consciousness or care, and it was spot on," he says. "They didn't break, didn't move, nothing. They have passed tests of freeze-ability, of side impact—they are far more durable than plastic compounds and I fully expect them to last for 10 or 15 years; with refinishing, even a lifetime."
Now, Anderson is ready to bring his fenders to market. The potential for such a product is untested. Perhaps that's what makes it so exciting. He is developing his own stays and mounts to bypass the need for drilling custom-placed holes to suit each frame, which will improve retail viability. For now, Anderson plans to visit Interbike with a backpack full of fenders to raise interest.
As to why Anderson is investing so much in his fenders when he already has a well-established business and time for a daily ride? "It's an enduring product that needs to be put out," Anderson says. "I love bikes. Why ride a bike with plastic fenders when you can ride with wood? It's renewable; you can recycle it 100 percent. It's made in the USA, and it works."
For more on Anderson Wood Fenders visit the Creative Openings facebook page. The fenders are available in a variety of woods and styles starting at $200-$250 per pair. They are finished to last 10-15 years with no maintenance and can offer a unique style to any type of bike.