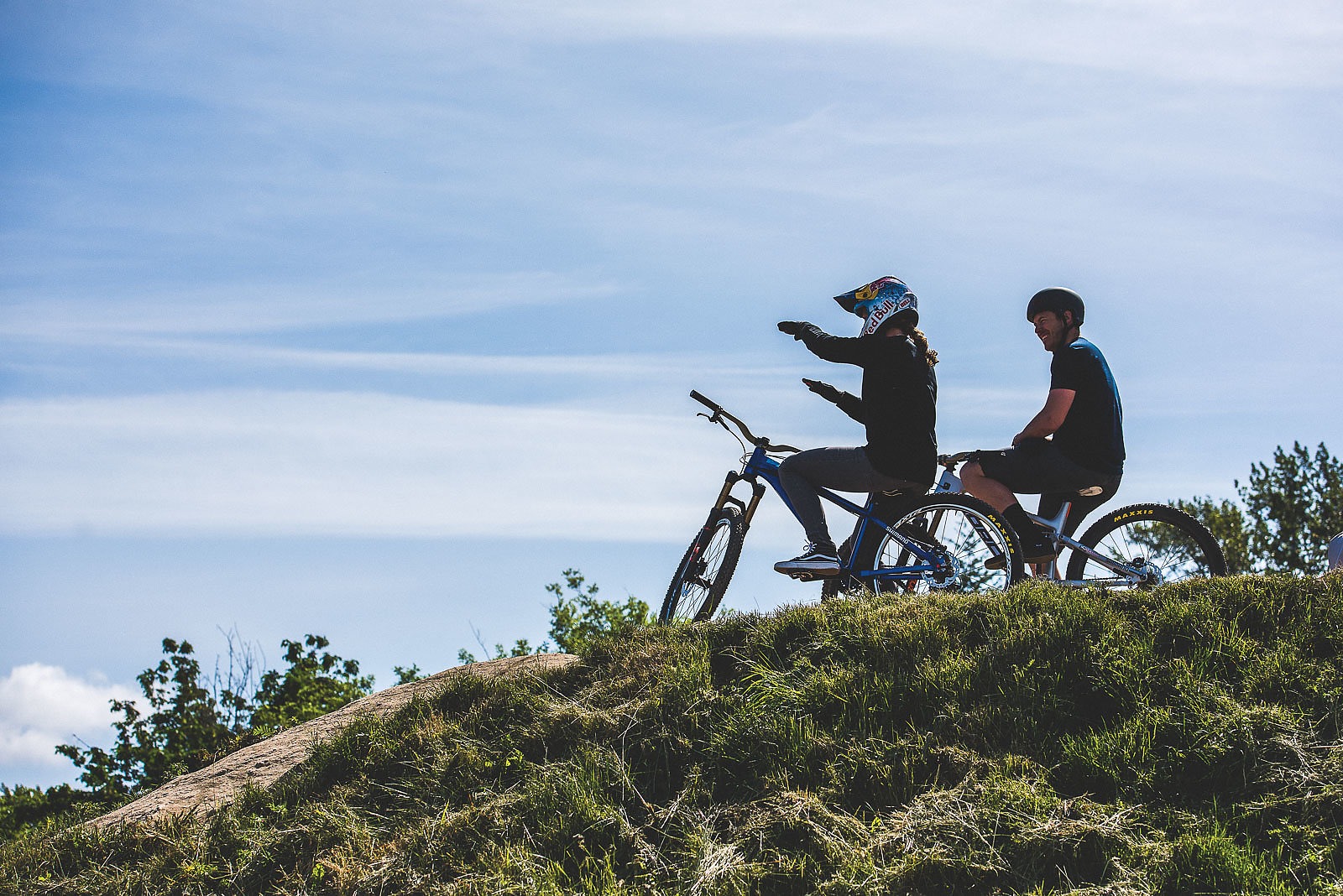 All the Layers - Eliminating Doubt with Jill Kintner
When it comes to art, Jill Kintner's subject matter tends to wander.
Over coffee at her favorite café in Squamish, BC, she shows me some of her recent sketches: quirky squirrels, animated fruit, course maps and illustrated gear lists for past trips she's taken. Along with being one of the best female mountain bikers in the world, she's an accomplished designer as well, working on everything from custom helmet bags to Christmas sweaters.
When it comes to biking, however, Jill Kintner needs somewhere to point her wheels.
"I don't really enjoy riding without direction or purpose," she says.
It's raining outside, delaying a shoot with Anthill Films. Her custom decaled sprinter van is parked in the gravel lot, a vessel that has taken her and husband Bryn Atkinson across North America. Her actual home is just a couple hours south in Bellingham, WA, where they relocated last year, a piece of solidarity in a life spent traveling the world.
At 34, Jill's biking accolades span a whole range of disciplines. She won her first national title at the age of 10, and in the years since, she has spent time on podiums in BMX, four-cross, downhill and the Olympics.
But perhaps the most intriguing paths she's followed are less those glamorous. As a child, she built her own neighborhood pump track out of pieces of plywood and flower planters. As a world-class athlete, she developed a gamut of unconventional training techniques. As a resident of her new home in Bellingham, she's pushed for bike advocacy. Nearly 25 years since that first victory, she's taken many directions, but one has remained constant: It's always from behind the handlebars.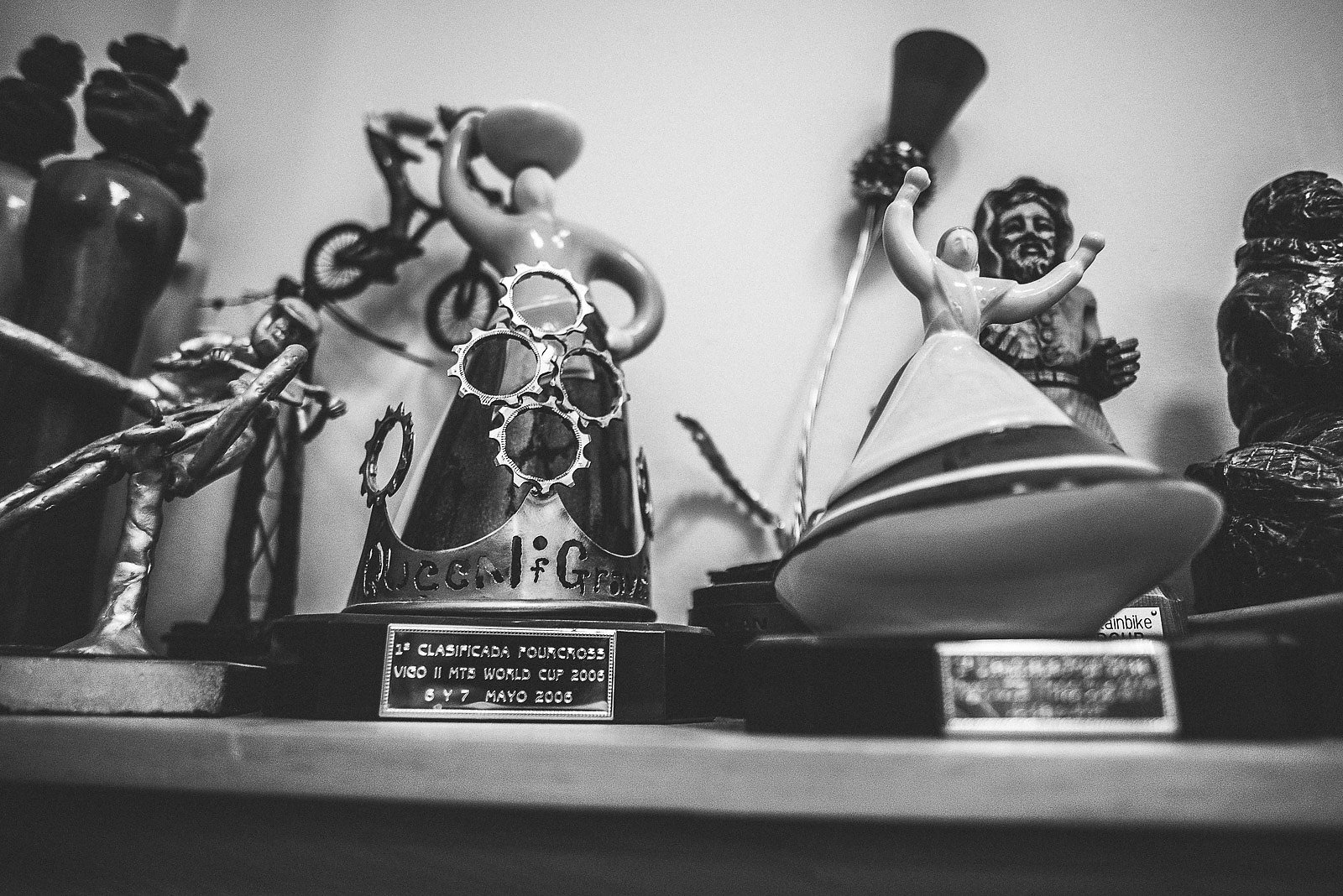 Jill's bike-centric life isn't a surprise; it's a family tradition. As a young kid, she watched BMX races at the local outdoor track in Burien, WA her father operated in the summer, often with her older brother as a contestant. During the winter, she raced herself, competing in the horse barns-turned-BMX-tracks of the Pacific Northwest, and many of her childhood memories include waiting at start gates, taking feedback from her dad and friends, or just practicing her jump and manual skills for hours on end.
So when given a choice in middle school between pursuing soccer or the race circuit, the decision was obvious: Jill chose bikes and never looked back.
By age 10, she had clinched her first national BMX title; by 14, she had turned professional. She claimed the UCI World Champion title in 1997 and the ABA World Champion and US National Champion titles in 2002. She approached each competition analytically: if she won, her effort was good enough, and if she didn't, she had something to learn.
"I learned early on that there are no shortcuts," she says. "Problems need to be addressed as they come up in order to move through them."
Luckily, she didn't lose much. By 2004, she had more than 70 wins in the discipline, and a decade after she went pro in BMX, she was ready for change. By this time Jill had graduated high school, and had spent two years living on the East Coast, before moving to San Francisco to attend art school. It was there that Jill "latched" on to some new friends she'd met at the local bike park who rode mountain bikes.
Considering her expertise on sculpted courses, it was a natural transition to four-cross mountain biking. After just a year of trying the new discipline, Jill had quit art school and was all in. "Riding bikes around the world was such a better place for me than school at that time," she says. "I was really scared to start over at the bottom of a new sport, but I wanted to see if I could do it."
"Riding bikes around the world was such a better place for me than school at that time. I was really scared to start over at the bottom of a new sport, but I wanted to see if I could do it."
It turned out she could. She won her first four-cross world title the following year in 2005 in Italy. In just a few years she would amass three UCI World Champion titles, two UCI World Cup Overalls, and 15 UCI World Cup wins.
In 2006, BMX was announced as a new Olympic sport for the 2008 Summer Games in Beijing. Jill's dad—her number-one supporter who would run practice gates for her in the front yard—wanted her to go. He saw the opportunity as the culmination of Jill's racing years, but Jill didn't see it the same way. She made it clear she had moved on from BMX; she had fallen in love with mountain biking.
With her mind made up, Jill kept on her winning streak with four-cross and arrived home that year from a whirlwind tour of winning the World Title, World Cup and King of the Mountain. Despite a shoulder injury that kept her from competing in the final World Cup four-cross event, she flew to Austria to pick up the overall trophy. "I couldn't even lift it above my head," she says.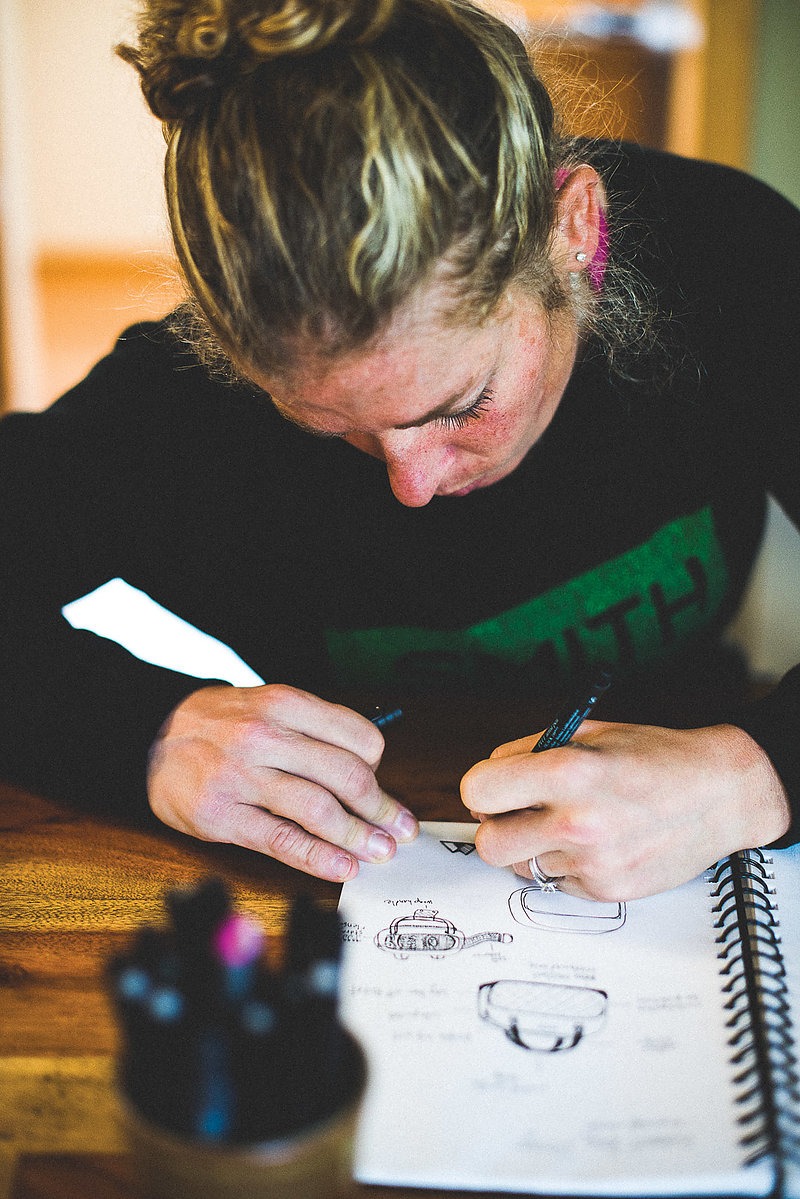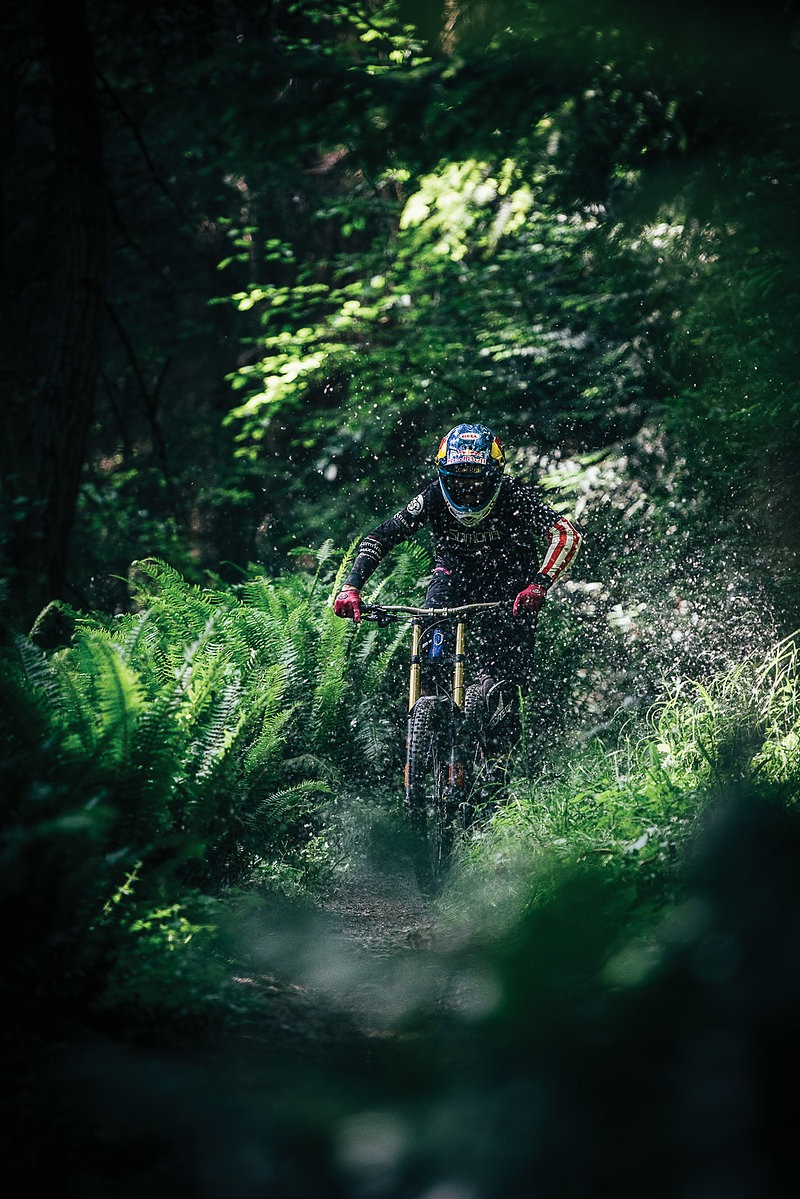 She called her dad after landing to catch up and ended their call with plans to have dinner together that night. However, he passed away before she arrived home. He'd had a sudden heart attack and died during emergency surgery. Jill's world was turned upside down. Losing her main confidant and cheerleader, the person who she turned to, was excruciating. "It's a pain that hurts physically," she says. "It's a hole because, when it comes down to it, who do you talk to if your main person isn't there?"
This tragic loss changed the trajectory of Jill's future. She locked her mountain bikes in the garage to avoid temptation and threw herself back into BMX, somewhere she never expected to find herself again.
And it didn't come easy. On one of her first rides back, she overshot a jump and blew out her knee, requiring multiple surgeries. Then, after accruing a massive points lead for the Olympic spot, she shattered her meniscus.
Despite the recommended six-week healing period, she headed to the World Champs in China to try and qualify for the Olympic team. She was barely able to walk and remembers icing her knee between every round. She took the sixth spot in the finals and made history, becoming the first and only American woman that year to go to the Olympics for BMX.
"I was nervous, but I also knew I'd made it and that I had done everything I could every single day to get there," she says. "That preparation helped me to enjoy each moment as it happened really clearly."
The preparation also helped her realize her dad's dream. Jill won a bronze medal (after which she made a guest appearance on Oprah Winfrey's TV show). "Dad was there the whole time," she says. "You like to think that things line up miraculously, but it was him."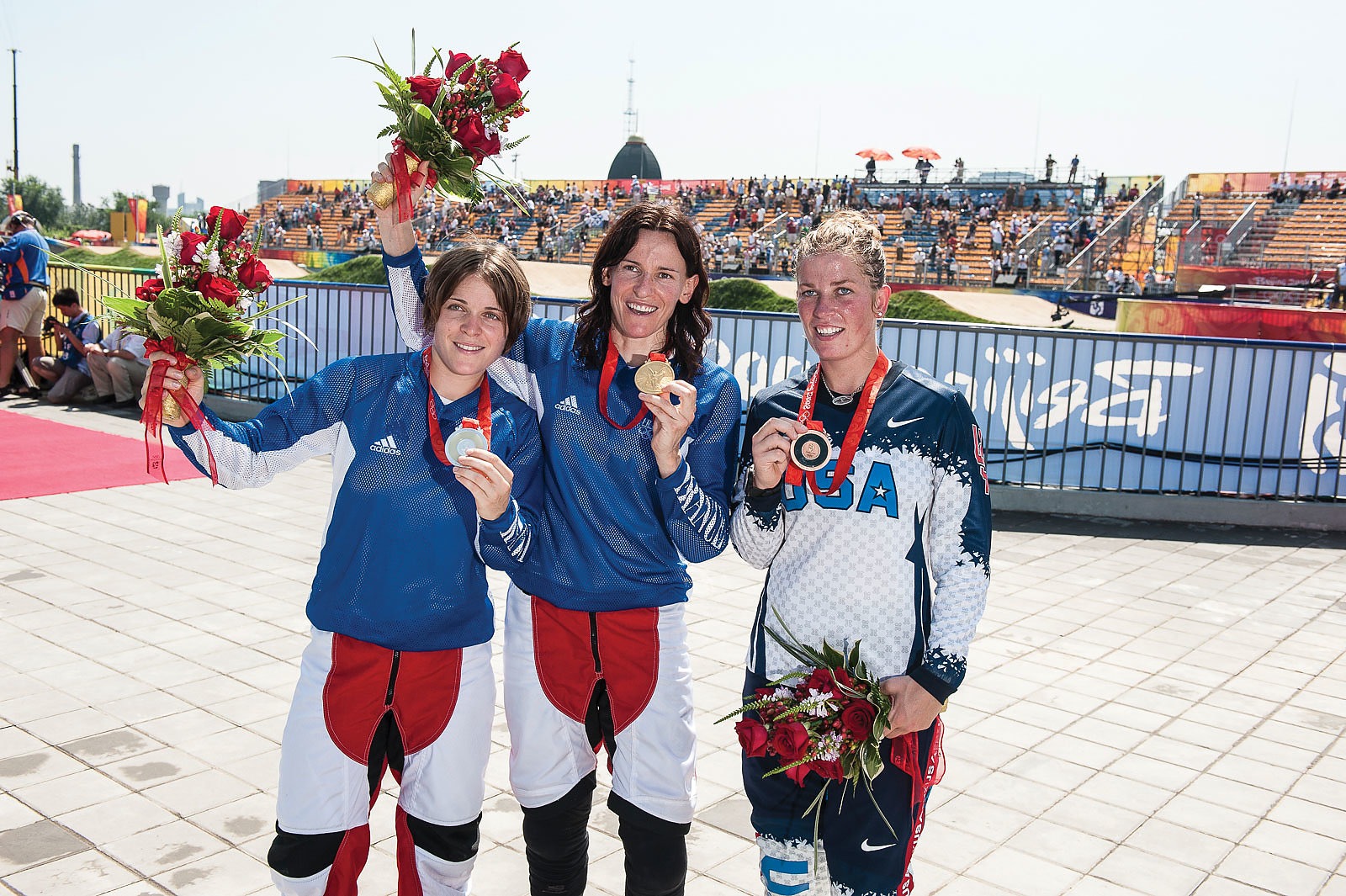 One Olympics performance was enough for Jill, and after Beijing she returned to four-cross more inspired than ever. She won every single time trial that year and realized once again she was ready for something new. In 2010, she found the next thing: downhill racing.
Jill spent her first year on the national circuit, where she could make mistakes and hone her skills before moving to the World Cup level. As with previous transitions in her career, she approached her goals methodically, identifying the new challenges she faced and setting personal targets. And, as with all else, she worked hard. Damn hard.
She made mistakes that first year, but few enough to earn her the title of USA Downhill Champion—and then again for the next four years. Moving to the World Cup level was just as fruitful, and she quickly podiumed at five races. Her accolades continued to stack up, even outside of DH racing. In 2015, she became the USA National Enduro Champ, extending her string of victories into one more discipline of the sport.
It was after a fifth-place finish at the World Cup in Leogang, Austria last year that Jill realized she might be done with DH; she had invested herself entirely into the pursuit, and felt satisfied it had paid off. With more than 25 years of racing behind her, Jill started to question her motives and found her goals to be shifting.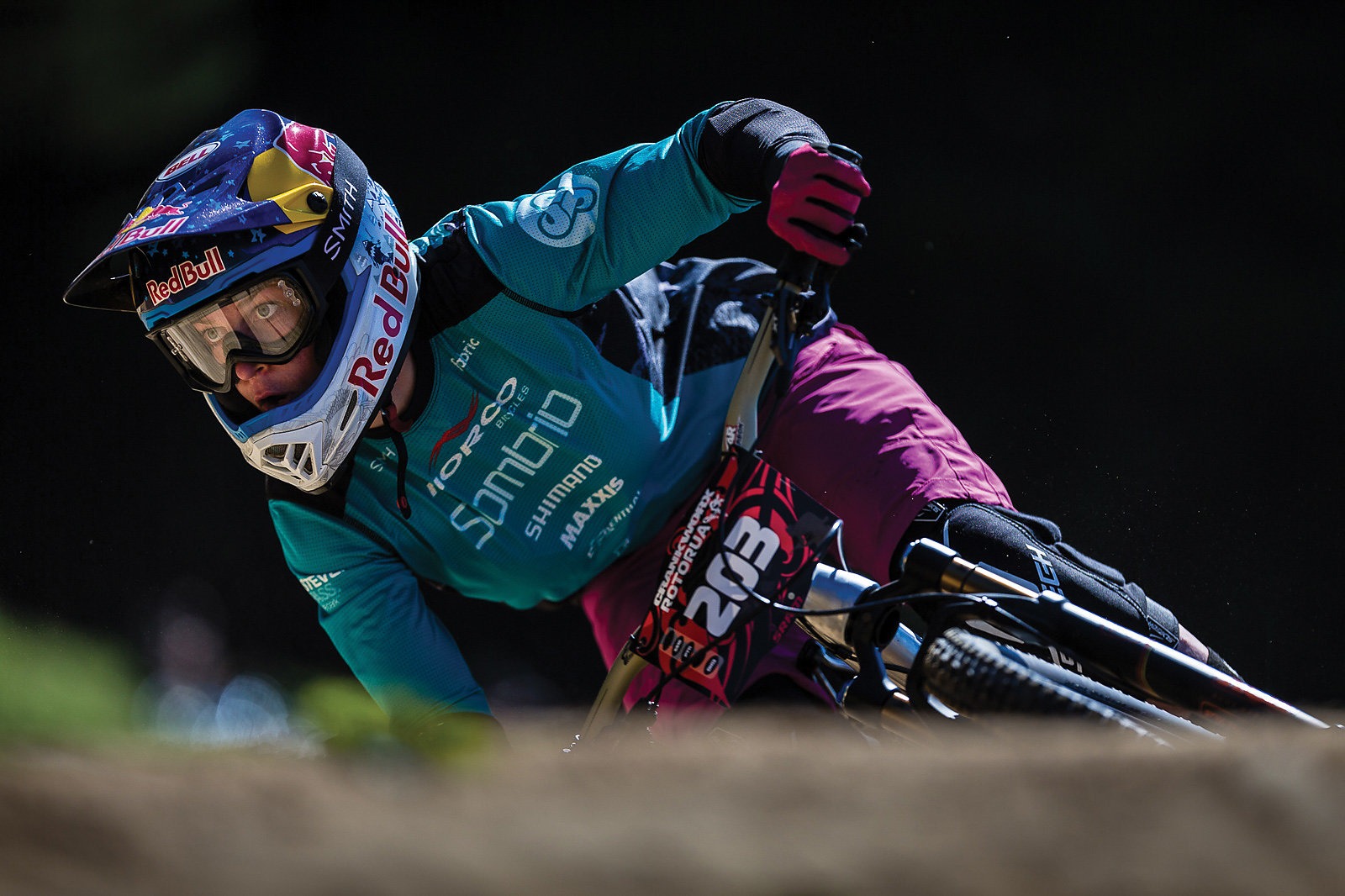 2016 marks Jill's first full year off the World Cup DH circuit. Instead, she is focusing on earning the Queen of Crankworx title, a multidisciplinary competition spanning three continents and 15 events.
Competing for Queen of Crankworx offers it all—the variety of riding, the thrill of traveling, and the challenge of competing against the best women in the world. Her two wins at the Rotorura Crankworx in New Zealand bode well for her chances, and confirmed her preparation is on track. "All I care about is learning new things," she says, "building on them and putting them to the test."
Jill is by nature a shy person, and in her journey from a young BMX track rat to an Olympic competitor and potential Queen of Crankworx, she has struggled to reconcile that shyness with her competitiveness. In the same vein, at times it has been difficult for her to find balance between her artistic side and her athletic side. Through a collection of coaches and a sport psychologist, she's been able to work through many of those issues.
"I remember making a conscious decision that I was happy with myself, and I accepted all the layers of my personality. From there on out, I saw a change and was happier; I didn't care what people thought of me as much."
"It took me a while to figure out I needed to be comfortable in my own skin," she says. "I remember making a conscious decision that I was happy with myself, and I accepted all the layers of my personality. From there on out, I saw a change and was happier; I didn't care what people thought of me as much. Confidence is a huge component with being able to win, and eliminating doubt is key."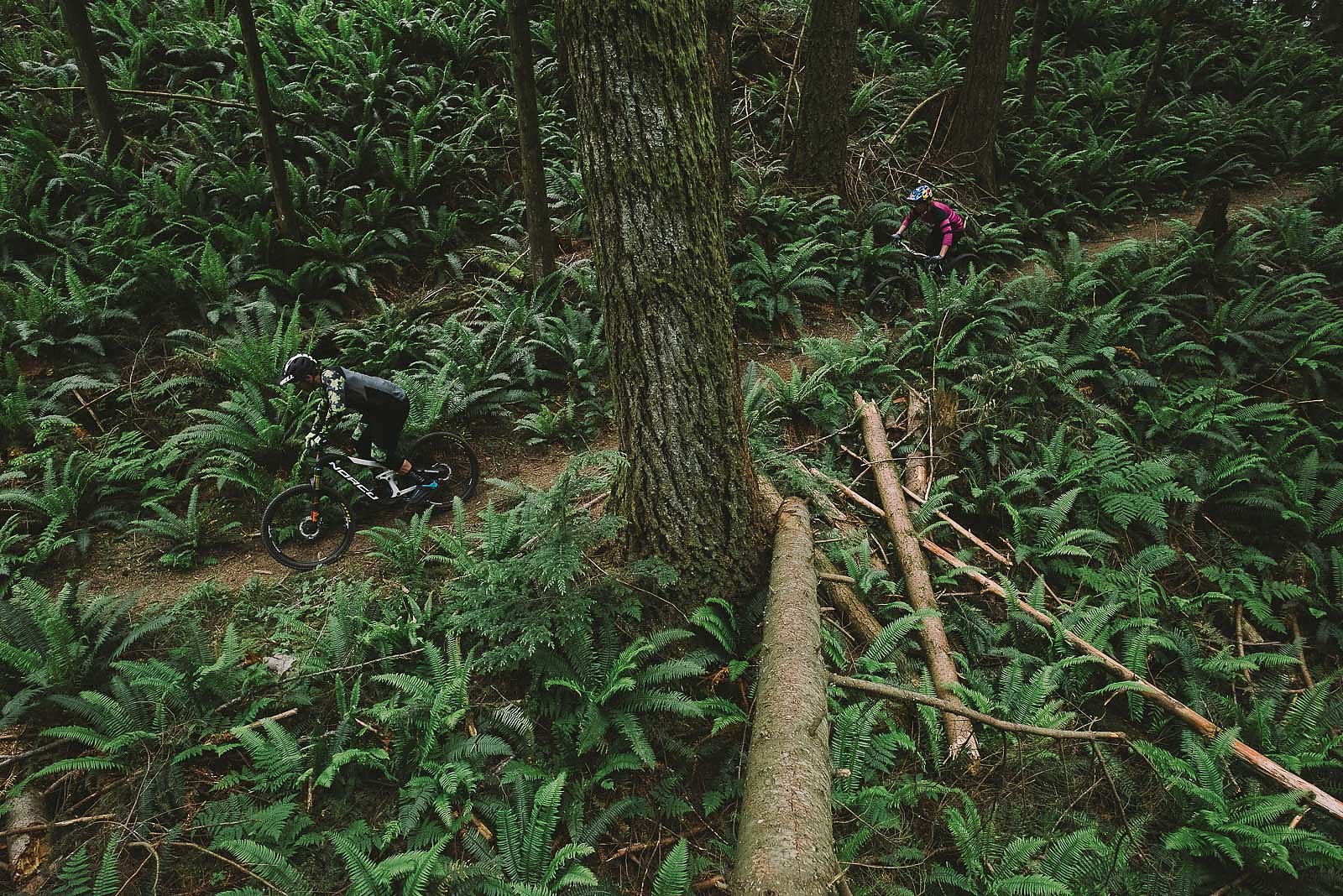 Perhaps one of the biggest impacts on Jill's career has been her relationship with Bryn. Having someone by her side to train and travel with, and who understands her commitment to the sport, has been invaluable for her. "We are definitely a team," she says. "When one is down, the other is there to pick them up. Our strengths and weaknesses complement each other."
With both Jill and Bryn shifting their focus away from World Cup racing, they have eliminated much of the travel that was necessary in their lives, allowing them to spend more time together. Now Bryn is focussing his efforts on media, and Jill is also looking further into her future—she already has a number of community engagements and media projects lined up this year. "With him doing media stuff, I can see that it's fun to branch out and have new challenges outside of racing," she says. "I don't want to race forever."
Jill's art background has started to make a return as well. She doesn't regret dropping out when she did—it was actually necessary for it to flourish. "You need life experience to be a good artist," she says. "We would put together these mood boards and everything was so cliché because I didn't know any better then."
Anyone who's visited her website has seen the mix of race results and graphic designs, and now the latter are slowly starting to eclipse the former in terms of the site's content. While she still sees a future in art, for now she's content to keep the wheels rolling. "I'm going to finish my degree one day," she says. "Just not yet. I only have two years left and I went and looked into it, but while I have the chance to ride bikes, I'm going to do that."
Back in Squamish, Jill continues to show me her sketches, and soon gives me a very short tour of the inside of her van. She may want to get out and film, but direction and purpose don't mean rushing. In fact, after years of racing, after sitting at the start of the first Olympic BMX races, after suffering through injuries and loss and personal barriers, she understands that finding direction can often mean enjoying a cup of coffee, listening to the rain, or doodling some transparent forest critters.
"It helps to take a moment in the gate and appreciate the fact that I get to be there," she says. "Wherever that is, appreciate that I have a chance, and I am grateful for the opportunity. 'Happy, healthy, fittest, fastest'—that's my goal. I've accomplished a lot in my career, and I know that nobody can take that away."