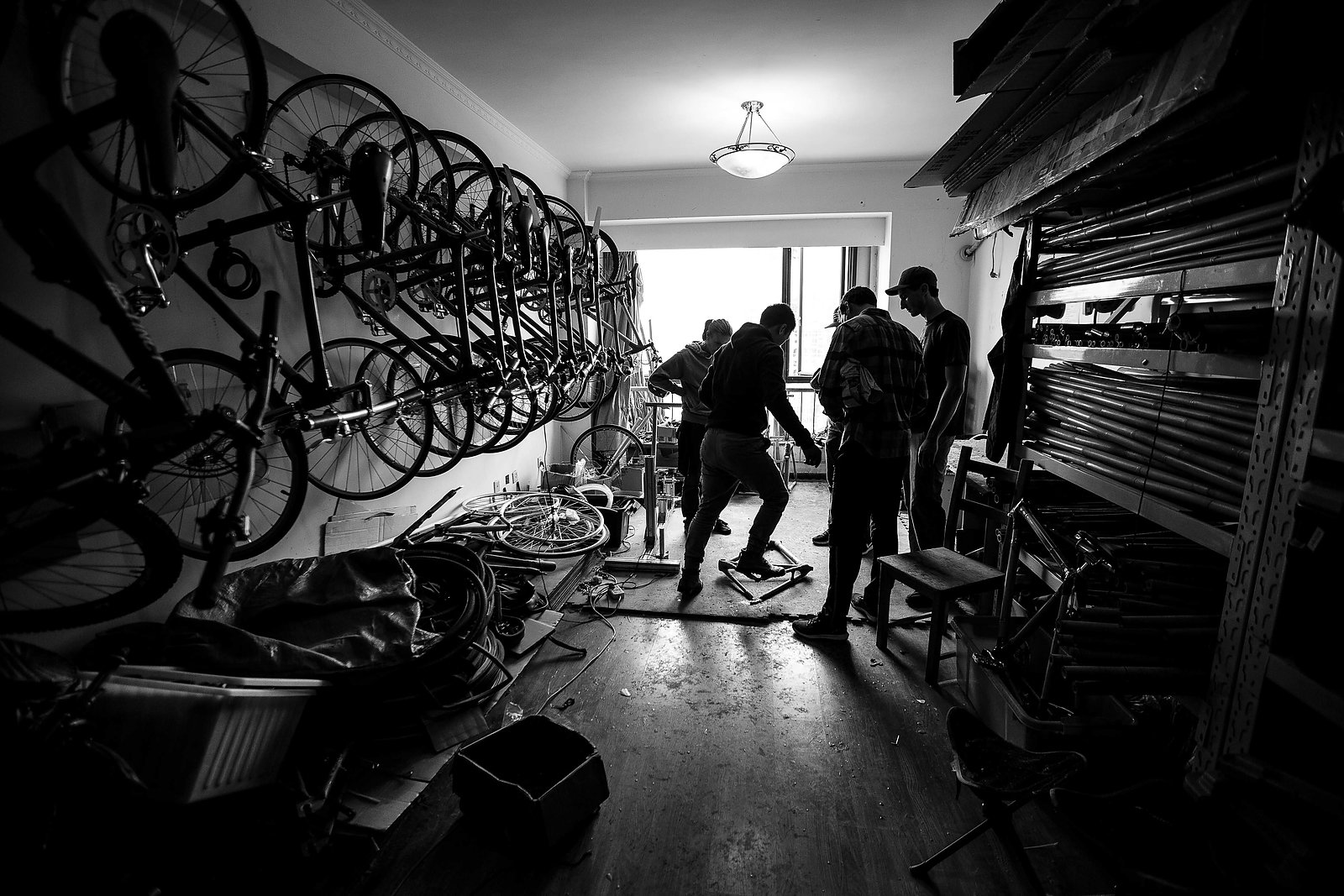 Not Just a Novelty Abu Ren's Bamboo Revolution
Abu Ren lays a naked bike frame on the ground of his shop, steps onto the rear triangle and starts bouncing up and down. 
It would be an impressive show of strength on most bikes, but the frame Abu is standing on isn't some new carbon weave or titanium alloy. It's bamboo and hemp, which Abu built himself, by hand.
"Bamboo is super strong," he says. "It can take big hits because it bends and spreads out the force. With aluminum and carbon fiber, impacts are focused. It's a really good material for making bikes."
The frame isn't a novelty. Abu built it for his company, Simple Bikes, located in Chengdu, China. Abu's vision for Simple goes beyond creating beautiful bikes; he sees it as a way to change the entire bike industry, one environmentally and socially conscious frame at a time. It's a big goal for a guy who lives in China, a country that is only just embracing recreational biking.
Bikes have always been part of Abu's life. When he was 6 years old he would straddle the bottom tube of his dad's massive, utilitarian commuter bike, nicknamed "Chinese monster," and coast down hills near his home in Lhasa, Tibet. The love continued through middle school, where he spent much of his free time at his uncle's bike shop, and eventually on to university in the city of Chengdu. During the semester, he'd study mechanical engineering; during his breaks, he'd take off on multiweek road bike tours, climbing 9,400 vertical feet from the subtropical Sichuan Basin to the 11,000-foot backroads of the Tibetan Plateau.
After earning his degree, Abu landed a job as a product design engineer. Eight hours a day, he'd stare at a computer screen and think about biking, being outside, and his previous adventures doing both. A few years earlier he'd met Jim Hamp, an ex-pat Canadian who had long dreamed of leading tours into the remote mountains of the eastern Tibetan Plateau. When Hamp started a touring company in 2012 called Extravagant Yak, Abu quit his engineering job to lead hiking and sightseeing trips for western tourists. In 2014, the company decided to add mountain biking, and Abu found himself scouting potential routes through the rolling grasslands around the mountain city of Kangding.
"It was my first time mountain biking," he says. "It was really hard, but the excitement and adrenaline rush of going down at maximum speed, trying to dodge all the obstacles and not fall, is something else."
Abu spent his winters working in Extravagant Yak's office, and often found himself with idle time. When he was a product designer, an acquaintance once asked him about building bamboo bikes. Abu spent three months researching the process, but that's as far as it went. Now, with nothing else to do, he dusted off the research
Bamboo is somewhat of a wonder resource. It grows incredibly fast and is biodegradable, yet is also light and durable, with a tensile strength equal to steel and more compressive strength than carbon. This, Abu decided, was the perfect frame material—for performance, yes, but also as an alternative to more damaging traditional options.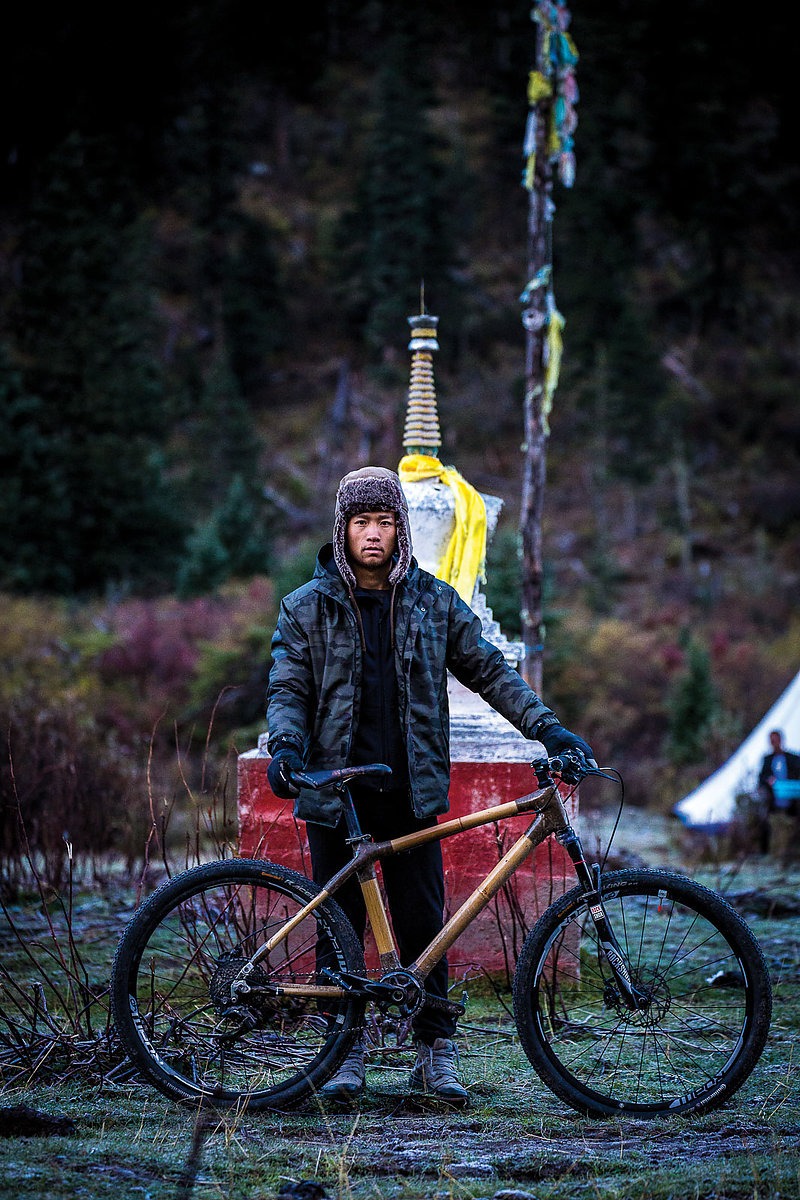 "Bikes are a product that we can make more environmentally friendly easily, just by integrating natural materials," he says. "There's no need to dig up the earth or burn coal to make bikes. Sustainable materials are always better."
He set to work. First, he built a few prototype frames, which he describes as "rideable, but not good to look at." As his skills improved, however, people began asking if they were for sale. Abu was hesitant at first. "I wanted to be confident about the strength before I sold them," he says.
So he started testing. He rode with the intention of breaking them. He failed. Then he sent a frame to the United Kingdom to go up against Europe's rigorous bike frame standards. It passed. Then he rode it the 1,500-plus miles from Chengdu to Lhasa. "I had no problems," he says. "That's when I knew the process was quality."
In 2015, he founded Simple Bikes. Based out of a rundown tower in Chengdu, the company's warehouse, factory and head office are all crammed into one room on the 11th floor. It's a crowded space, full of jigs, bike stands, plans, half-built frames and stacks of bamboo seasoning on racks. The bamboo is sourced from groves in southern China, where it takes as little as three years to grow the rear triangle's half-inch-diameter pieces, and about five for the two-inch-diameter top tubes. Abu then cures each piece for about a year, treating it with natural oil to prevent mold and splitting.
From there, he takes 15 different measurements from each customer, which he plugs into a CAD program that determines how to set up the jig. Then he selects each piece of bamboo, cuts it to length, and lays it into the jig along with metal parts like the bottom bracket and headset, before winding resin-soaked hemp and carbon-fiber strands around the joints. Three rounds of sanding later, and the bike is ready for a final coat of protective veneer.
Each frame takes about 40 hours of meticulous, hands-on labor, yet he sells commuter- style frames for $600 and complete hardtail mountain bikes for just over $3,000. That also includes a three-year warranty (although no one has made a claim yet), though he estimates a minimum 15-year lifespan.
"There are already bamboo bikes out there, but all are at a higher price point," he says. "But if you want to encourage people to make sustainable choices, you have to make it accessible."
In Simple Bikes' two years, Abu has built everything from touring to BMX frames, to ready-to-ride mountain bikes and unicycles—more than 100 in total. Whatever the use, all his customers rave about bamboo's flex and buttery, forgiving feel, as well as the obvious craftsmanship of the bikes. It's impressive praise for something of such modest means, and Abu sees each frame as a step toward changing the industry. But his favorite part is still the first time a customer climbs aboard and starts pedaling.
"From the moment you start to build the bike, you are picturing the owner's face when they open the box," he says. "I can picture their smile. I want it to match the bike they've been dreaming about."