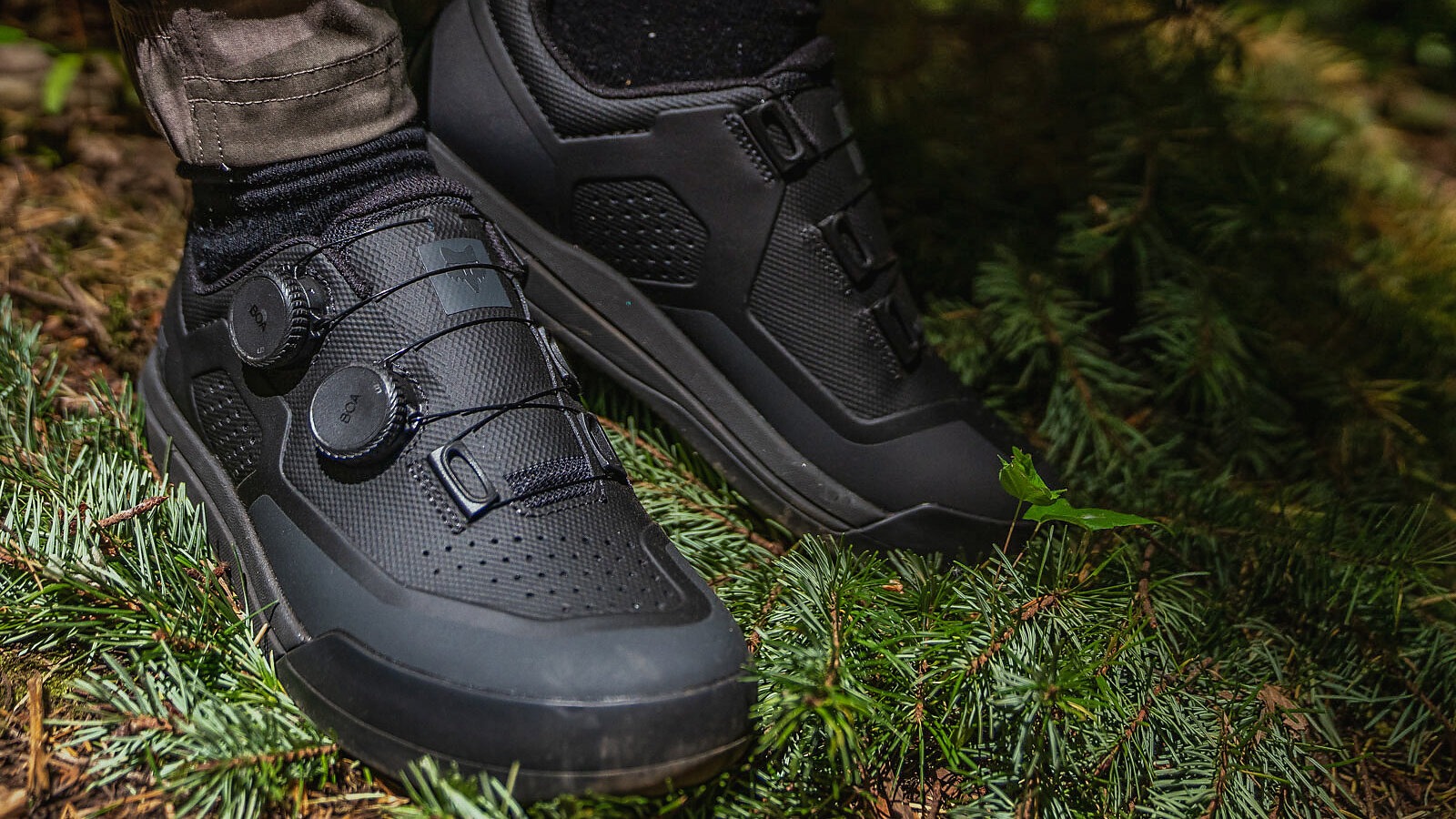 Fox Union BOA Shoe Review
Despite how many components go together to make a mountain bike, a rider still only has contact with two of them: pedals and handlebars.
Any bike coach would confirm that feet are the foundation for creating traction through corners, pumping transitions, and just about any other skill needed on the trail. This might explain why the debate between clipless and flat pedals is one of the most prevalent quibbles in mountain biking, and it illuminates why footwear options have expanded to include niche categories such as cross-country, trail, all-mountain, enduro, downhill, freestyle—even bikepacking.
In 2022, Fox Racing launched the Union shoe line in a highly competitive market as its entry into the mountain bike footwear world. 
"We wanted our initial offering to continue to elevate performance of all riders," said Jarred Law, Fox's category director for cycling. "We strive to build products that allow you to be that little bit better."
Fox's shoe line immediately caught my attention with its monotone colorways, seamless construction, and clean design. While there is only one shoe, the Union, it is available in both flat and clipless versions. Although I ride with both clipless and flat pedals depending on the situation, I feel most comfortable when clipped in, so I went for the Union BOA clipless shoes for testing.
After admiring the Union shoes from a distance for several months, my notions were confirmed when I received my test pair. The one-piece upper, molded seams, and dual BOA closure provide a sleek appearance. The shoe is robust thanks to features such as toe and heel protection, a TPU-coated mesh upper, and a high-density screen print at high-wear areas, yet surprisingly light. Weighing in at 443 grams for size 9, the Union is the lightest pair of clipless shoes I've worn in the past year.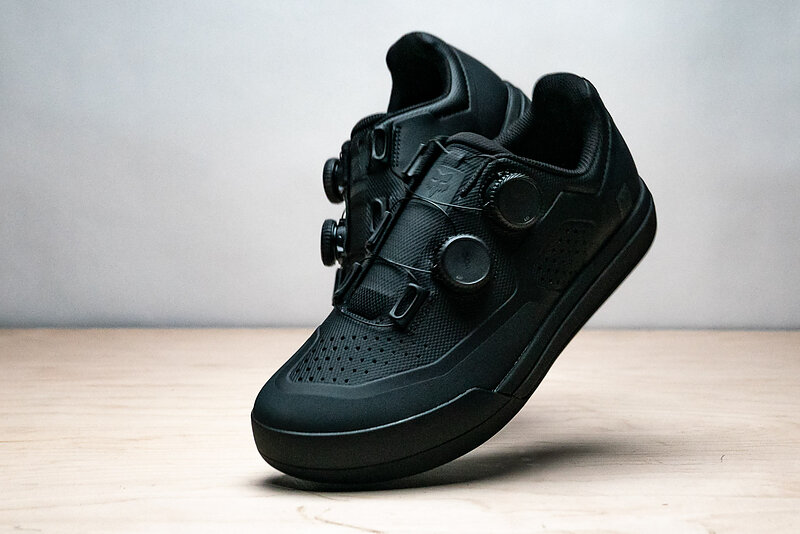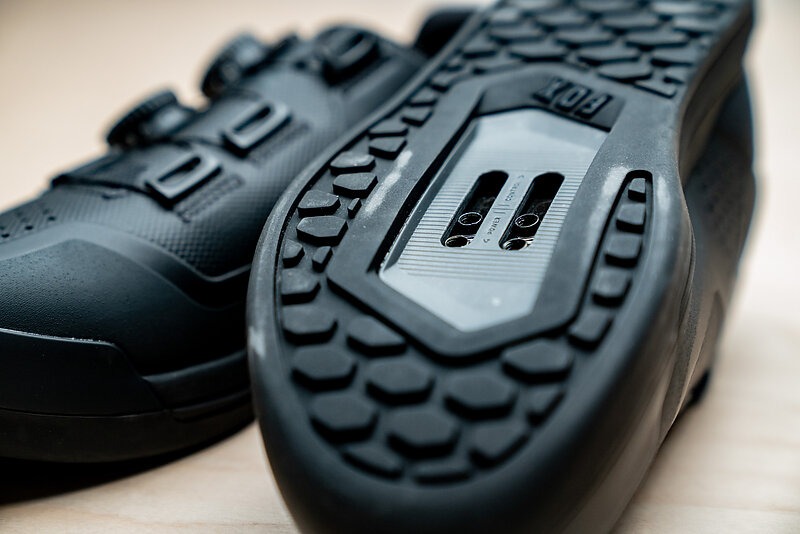 The Union BOA clipless shoes boast high-end construction designed for rough riding without adding unnecessary volume. The most notable feature is the one-piece and fully welded upper, which minimizes stitched seams. This not only gives the shoes a clean look but also prevents them from feeling stretched or worn out over time. The tongue is densely padded, without adding bulk, to help prevent pressure from the BOA cables. The molded toe cap is rigid and tough, providing excellent protection against rocks, stumps, and other trail obstacles.
Materials used in the Union BOA clipless shoes contribute to their durability, sleek appearance, and unique style. While a welded TPU toe cap is common in mountain bike shoes, the Union takes it further by using TPU and a TPU-coated mesh for the entire upper. This tough, rubberized surface deflects dirt and water, adds structure to the shoe, and made cleaning them a breeze. The Union's insole is customizable, with included arch support options. The thoughtful design of the insole, combined with Fox's "tuned" midsole, provides springy support that reduces fatigue by dampening trail vibrations. The shoe's closure system employs BOA's micro-adjustable and low-profile Li2 dial, allowing for precise adjustments in either direction. 
Additionally, Fox has developed its own Ultratac rubber outsole, which, although more relevant for flat pedals, impressed me with its dense composition and tacky grip. I anticipate the outsole will withstand many miles of riding and hike-a-biking. The elongated hexagon pattern provides traction in the toe for pushing up trails and around the cleat box to engage with pins on more aggressive clipless pedals.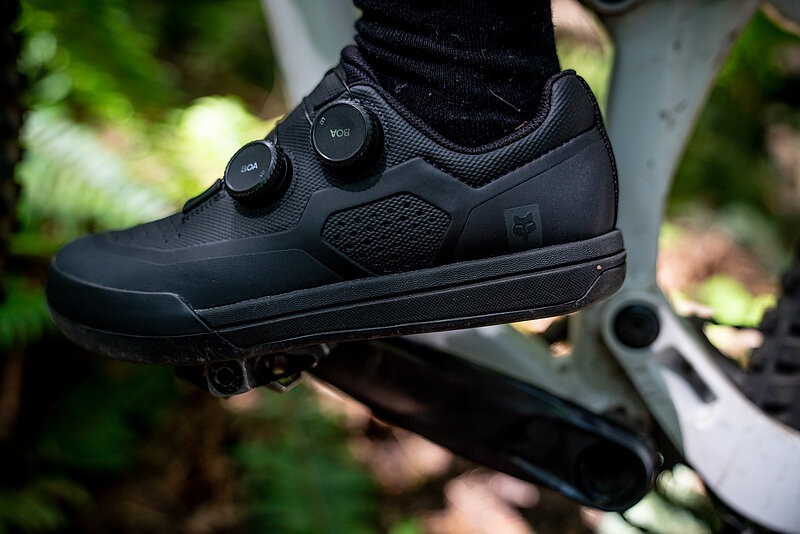 Fox's outsole features a ramped cleat box with substantial front and back adjustability for cleat placement. Setting up the cleats was quick and straightforward, thanks to the index markings that ensure balanced alignment and positioning. I initially made the mistake of using slightly worn-out cleats resulting in a less-than-ideal pedal connection. Lesson learned: always use new cleats with new shoes. With fresh cleats, clipping in and out of my pedals was effortless. I preferred my cleats set at the maximum rearward position, though I wonder if other riders might run out of adjustability in this direction.
The construction, materials, and fit of the Union shoes are top-notch. When asked about the inspiration behind the technology and materials, Law explained that Fox "explored a number of different options."
"The midsole and outsole took more than two years of development to ensure we were hitting the mark," Law said. "For the midsole, we were trying to find the sweet spot in EVA durometer [stiffness] to balance comfort and efficiency. For the outsole, we knew we needed to provide excellent grip and pedal feel but also wanted to make sure the durability was considered also."
The Union BOA clipless is among the stiffest all-mountain clipless shoes I've worn, yet my feet did not suffer. They offer responsiveness in the pedals, support on rough descents, and the tough upper does its job in keeping debris out. Overall, the shoe has an appealing rigidity that is complemented by minimal padding in all the right places. With no bulk or excessive material, the Union has a minimalist aesthetic with low-key technology that's clearly been scrutinized over.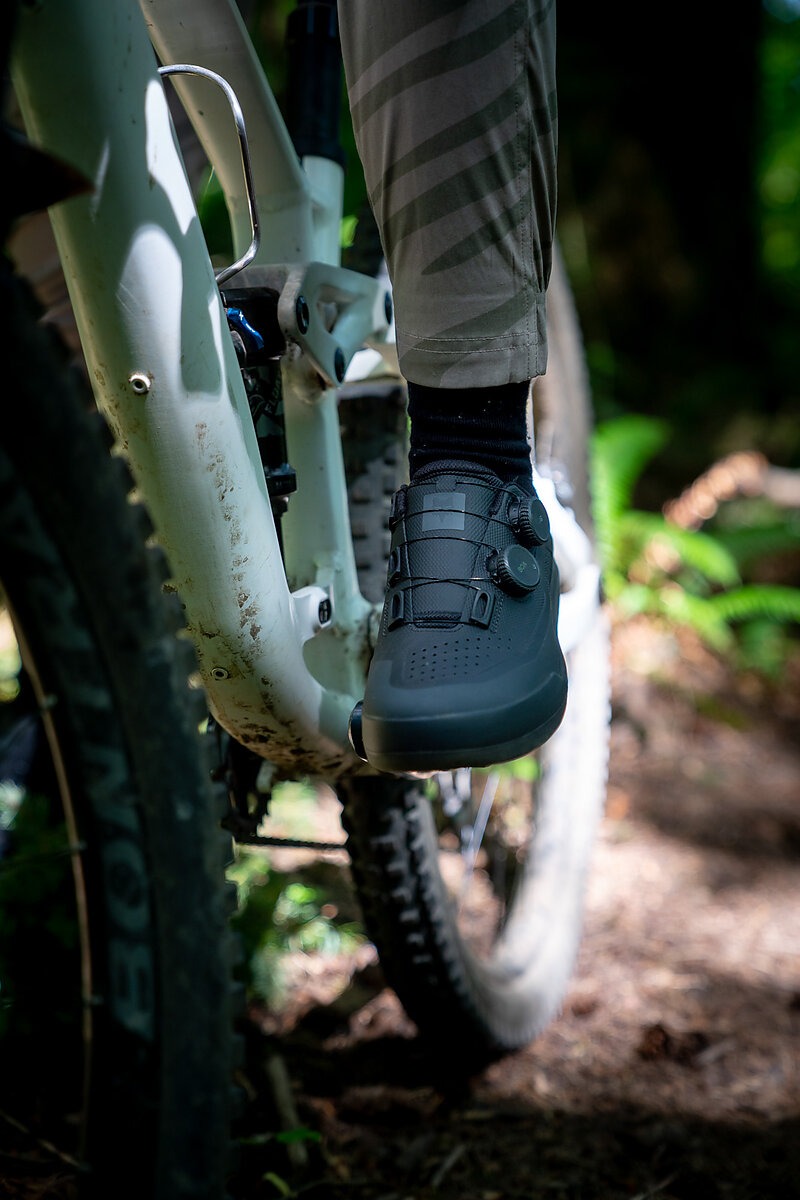 The fit is neither wide nor narrow, high volume nor low volume, making it suitable for a wide range of riders. Although I initially had concerns about the fit without a women's-specific option, the size 38 accommodated my smaller feet quite well. I would be interested in trying a half size smaller, but unfortunately, that option is not available for smaller or larger sizes. For reference, I wear a women's size 7.5 in most footwear. Despite some extra room in the length and volume (due to my extremely low-volume feet), the heel counter does an impressive job of securely holding my foot in place.
Fox has made a significant impact with its entry into the mountain bike shoe category. The Union BOA clipless shoes are elite footwear for trail, all-mountain, enduro, and downhill riding, particularly for riders who value efficiency, weight savings, and premium features. I would recommend these shoes to anyone that desires the highest quality shoes in a low-profile design.