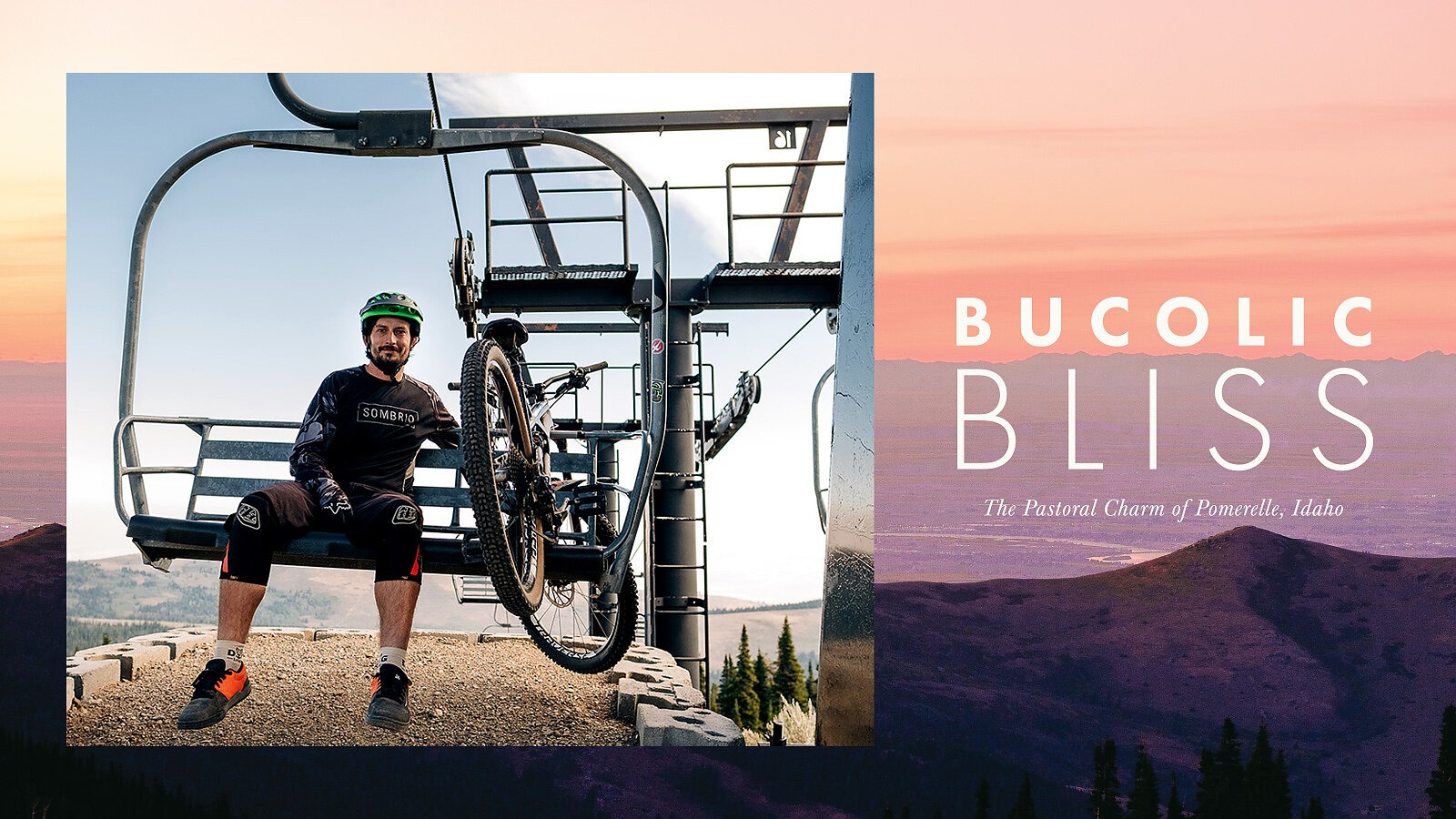 "Sorry, we're kinda slammed today," the guy handing me my lunch order tells me.
The chairlift at Pomerelle Mountain Resort, in extreme southern Idaho, runs on demand—and today's traffic of four riders is causing the tickets at the park's grill to back up as the burger-flipper leaves his post to stop the lift and load bikes. I've been watching him run back and forth, slinging bikes over the seat back like it's the tailgate of a pickup and then ushering riders to climb on alongside them.
Sometimes the chairlift doesn't run at all if no one from the neighboring communities shows up to this tiny, family-owned ski area that lies three hours from both Boise, Idaho and Salt Lake City, Utah.
I've arrived at Pomerelle on a whim, with no expectations. Trailforks shows only one run on the mountain, while the resort website shows none at all. The lift-cum-grill attendant points me toward Pounder.
At the top, I unload my bike and follow his directions into the trees. Kickers constructed from skinned logs launch into low-slung berms as the black-diamond run flows through a forest of Douglas fir.
Halfway down Pounder, a postcard-sized sign nailed to a tree points the way to Chip. I continue through Pounder's fast, flat turns until they suddenly drop away in a blind four- foot-high huck to flat. Dirt gives way to a dry fall-line creek bed filled with baby head cobble that I can only assume is the trail. It's one of the rowdiest runs I've ever ridden in a bike park, and I wonder who built these trails.
Words and Photos by Aaron Theisen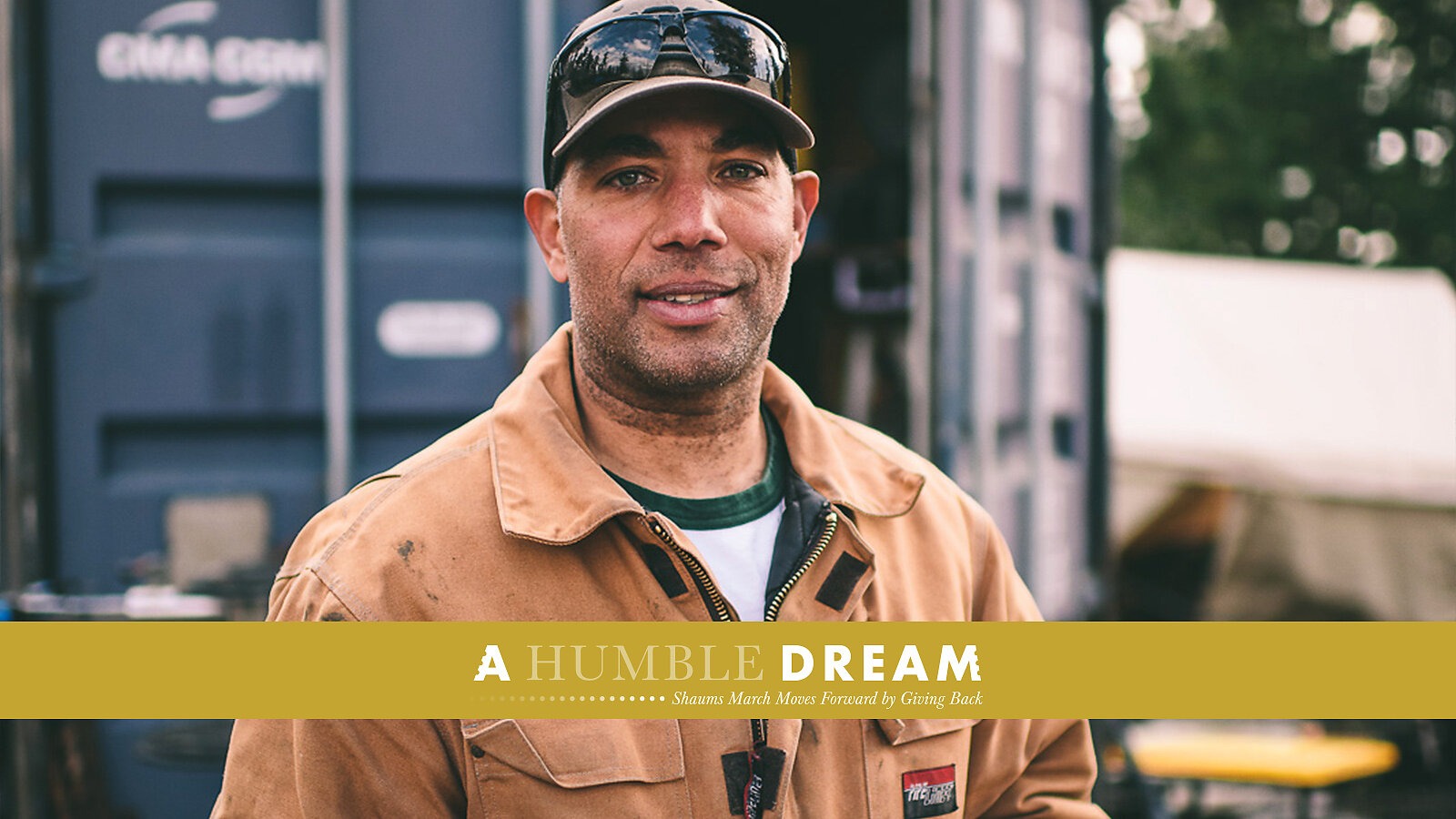 A single cord dangles from the ceiling of a nearly finished two-story house on the outskirts of Bellingham, Washington.
It's tastefully low key, with an open floor plan. Sitting on a barstool at the kitchen island is mountain bike legend Shaums March, who's talking about the handful of private trails he's been roughing in as he puts down more permanent roots in this bike-centric town.
"This whole ridge, 27 acres behind us, is our property," says Shaums, who lives here with his partner, Nicole Gerow, and two friendly pit bulls named Tucker and Kobe. "We started building a year before COVID and moved in right as the lock- down hit, which put a hold on everything, and we're so close to being done now."
Despite a high-profile presence during the early waves of freeriding, a celebrated downhill racing career, a coveted Red Bull contract and a pioneering role in developing a standardized mountain bike instructor training curriculum, Shaums manages to maintain an admirably mellow façade in the booming Pacific Northwest bike scene. In an industry filled with well-known personalities, he remains somewhat enigmatic—which is remarkable, considering his longtime media presence, multiple Rampage appearances and UCI World Cup success. Indeed, given his huge ongoing impact on mountain biking, his persona is borderline underground.
Now 46 years old, Shaums' life thus far has been shaped by an itinerant childhood, a not-by-design career path and a drive to help others reach their full potential. His parents eloped to Haines, Alaska, in the 1970s, where they established a simpler existence at the end of the road. Shaums' dad, Fred, found work as a deep-sea diver and dive instructor, and he supplemented their diet with freshly caught fish. His mother, Vivian, was a social worker.
Words by Colin Wiseman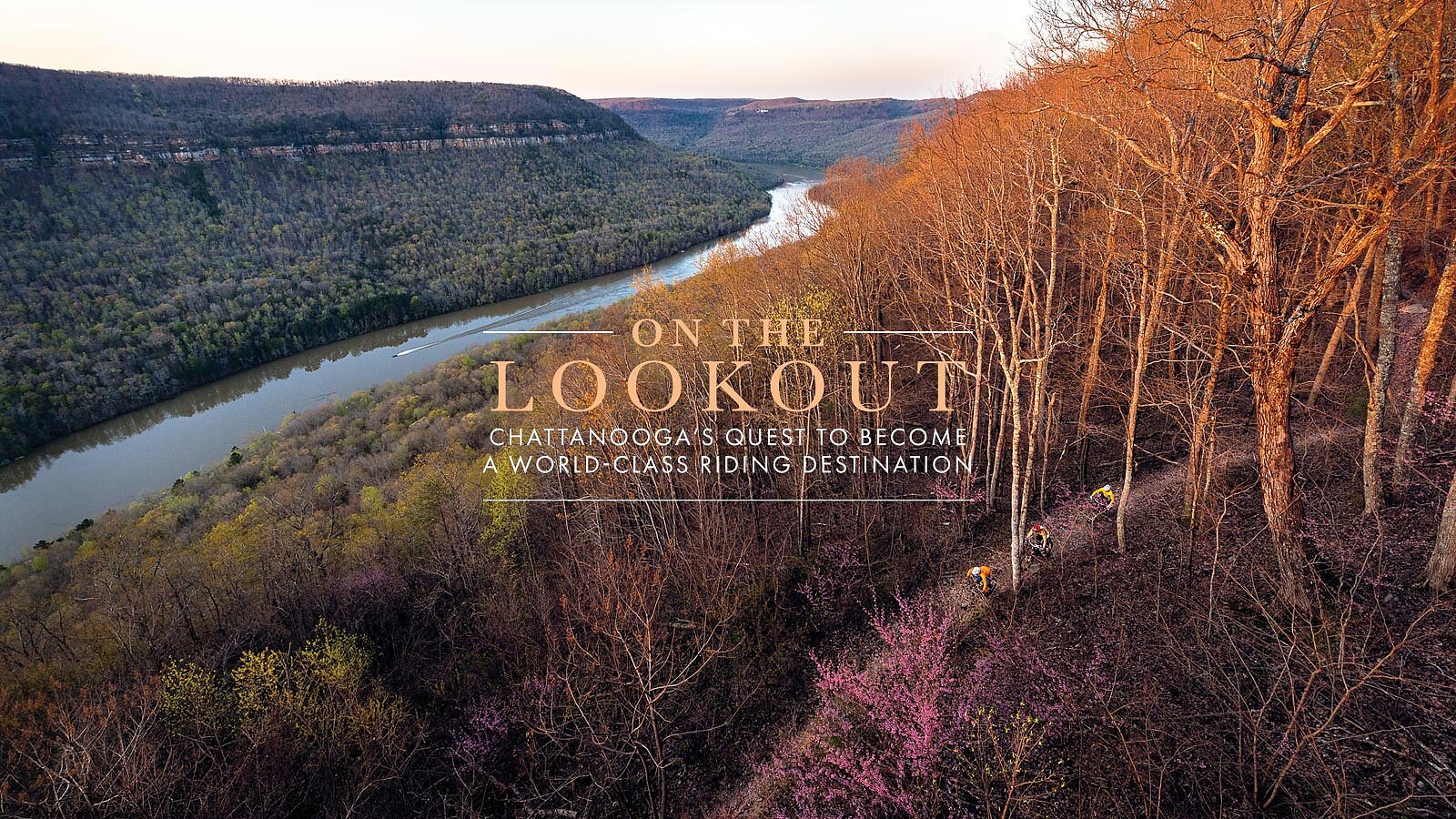 As you approach the city of Chattanooga, Tennessee from the east, one unmistakable landmark dominates the skyline: Lookout Mountain,
which rises from the surrounding plateau like a submarine breaching the ocean's surface. This mountain—and its distinctive shape—has become emblematic of Chattanooga itself, but its importance to the ever-expanding outdoor community is increasingly tangible.
Though it tops out at only 2,388 feet of elevation, the relief offered by Lookout Mountain's slopes is critical to its growing popularity among recreationalists, from hikers to the rock climbers who have long been drawn by the band of cliffs that punctuates the mountain's upper reaches. At its base, the broad Tennessee River flows around it, forming a nearly 180-degree swoop that hugs a peninsula where the earliest inhabitants lived more than 12,000 years ago.
The river cuts through Chattanooga, with the downtown area on its southern shores seeming to float—an illusion created in part by the Hunter Art Museum, built on a cliff edge directly above the river. Connecting both sides of the river, the Walnut Street Walking Bridge is the heart of the town, and on summer evenings crowds gather here to watch an explosion of pastels as the sun sets behind the hills.
This walking bridge affords a fascinating view of Chattanooga's past, present and future, but as recently as the early 2000s it left mountain bikers with little to be excited about. At that time, there were barely four miles of legal trails and nothing resembling an actual network. The closest trail syttem was in Chilhowee, at least a 45-minute drive from the city center, and local mountain bikers would routinely travel to regional hotspots such as North Carolina's Pisgah National Forest to get their fixes of quality singletrack.
Words by Tyler Clemmer | Photos by Nathalie DuPré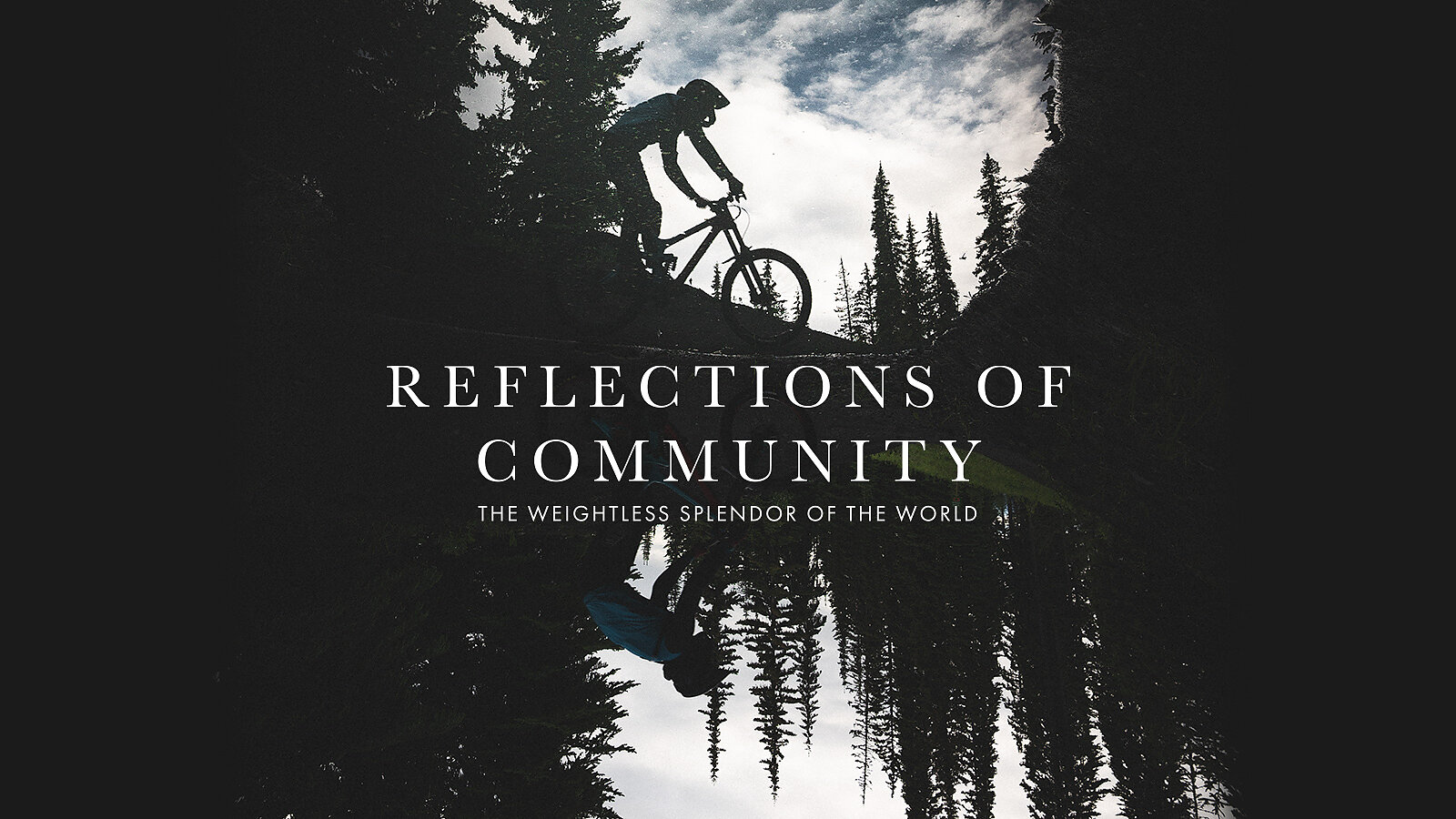 When I first moved to Kamloops, British Columbia from Whitehorse, Yu-kon as a 17-year-old kid, I had no particular marker for what success might feel like.
Beyond a wholehearted desire to support a bike-centric lifestyle, I simply wanted to be in the mix of all the magic and mayhem that had positioned Kamloops as the center of the world, in my imagination.
I sank deep into a land of dead pine trees, sweeping sagebrush singletrack and a community of incredible variety. I was absolutely in love with all of it, and I was motivated to communicate this weightless splendor with the world around me.
I made it work. I found myself a gig at the Bicycle Cafe, with some sponsors and an increasingly hectic schedule that kept my days spinning swiftly through progression and sharing stories of passion with a growing bike community as the hub. The deeper I committed, the more I discovered Kamloops to be a place to write a unique story, no matter who you are, or how you ride.
By 2016, I'd been deep in the thrall of shred for nearly a decade. With little worry about my income and primarily concerned with my impact, it was a beautiful naiveté. I'd gone bigger and further than I'd ever hoped, but it had all begun to feel very self-centered. No aspect of those pursuits ever compared to the quiet rides around home and the chance to collaborate with talented photographers.
Words and Photos by Dylan Sherrard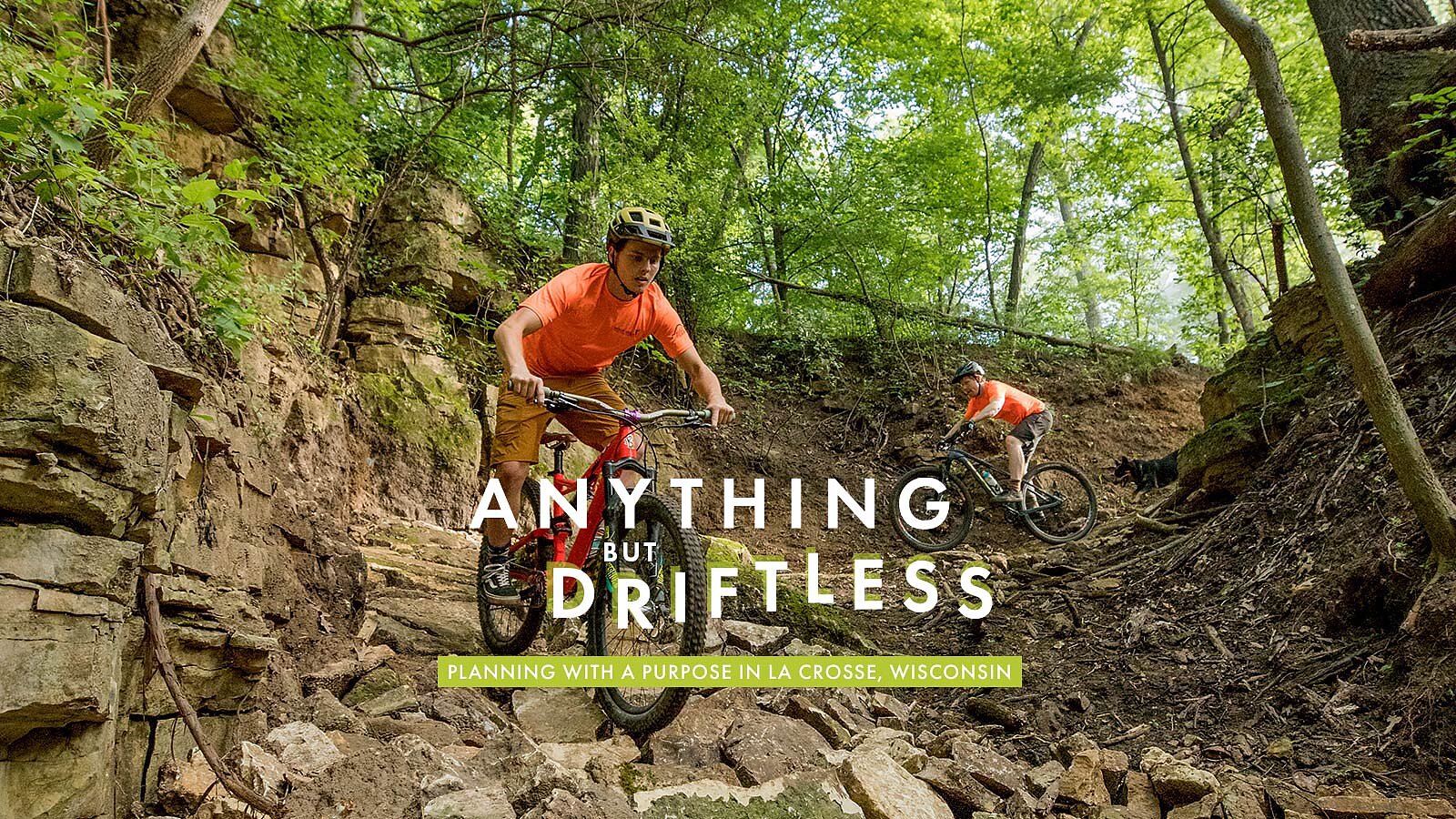 The first time I ever heard of "the Driftless," I was in the back of a work truck, heading home from a long day of trailbuilding and stinking of pine pitch, sweat and chainsaw mix.
My buddy Bill Kobs and I were chatting idly about trout fishing, and when I asked him where he grew up fishing, he told me of a place I had never heard of before.
"So in Southwest Wisconsin there's this range along the Mississippi with huge rolling hills, these super-rad cliffs and all these beautiful rivers, just full of trout," Bill said in his thick Wisconsin accent. "It was all missed by the glaciers, so the terrain is just sick!"
When I asked him if there were trails there, he laughed and told me the zone was in La Crosse, Wisconsin, where our trailbuilding company, Rock Solid Trail Contracting, had already put in some singletrack. Little did I know that the following summer I'd be sent to La Crosse to build my very first mountain bike trail as a foreman, high up on a rocky outcrop known as Grandad Bluff. The effort was part of the Gateway Project, which had recently been awarded a "trail accelerator grant" by the International Mountain Bicycling Association (IMBA). The goal was to connect the city's neighborhoods with a new system of biking and hiking trails that would link up with the existing Hixon Forest Trails and ultimately lead to the top of Grandad Bluff.
Words by Kyle Copeland | Photos by Chris Guibert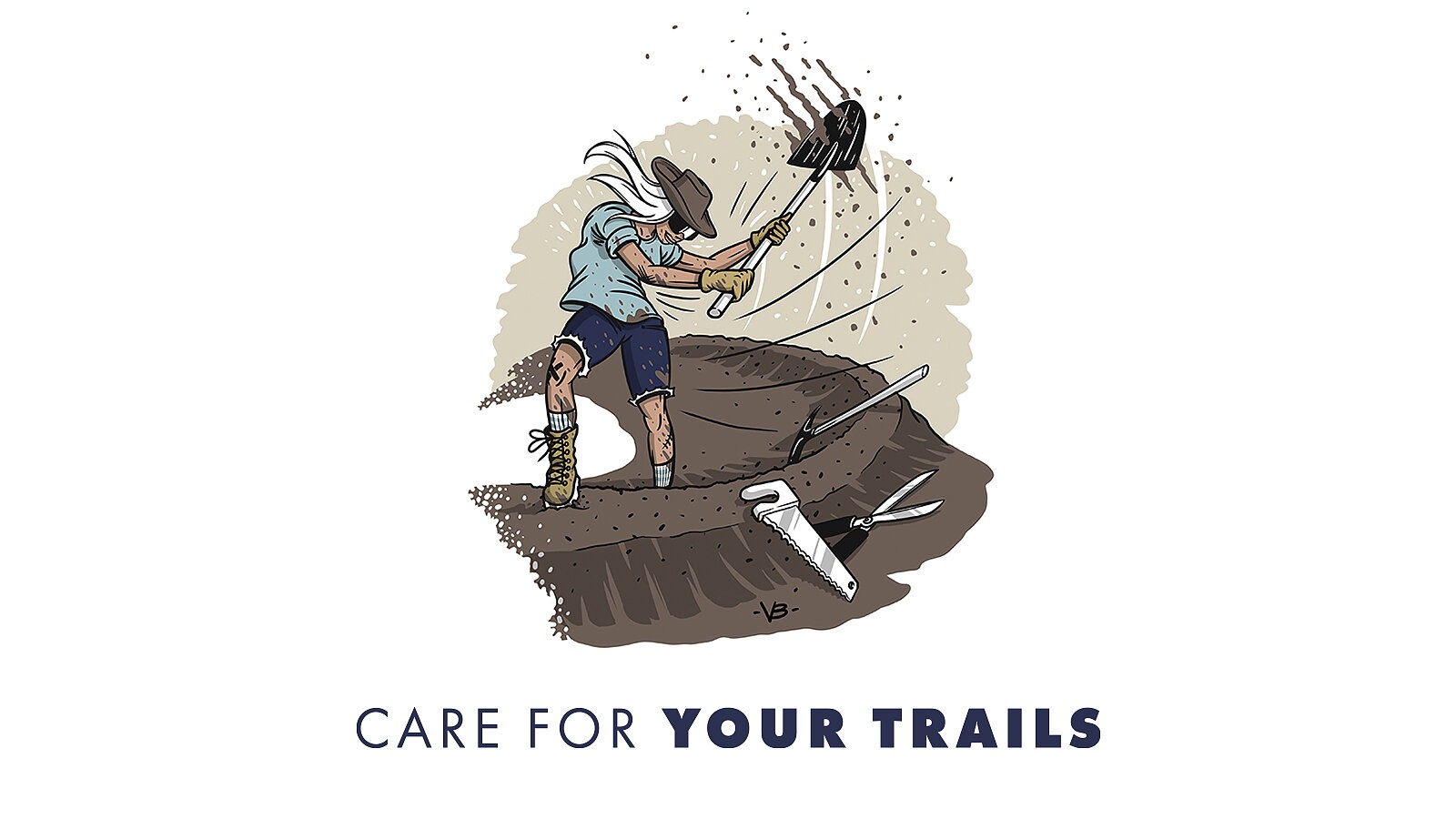 We've all been there: Out for a quick lunchtime rip, roosting the tops off our favorite series of berms, then suddenly blasting past a trail crew
that's been busy packing in those very berms. In a rush to get back to the office, we've slowed down for only a few seconds to utter a sheepish "thanks for the awesome work, guys" before blazing on down the trail.
Wracked with guilt and an overwhelming sense of shame for being "that guy," the only chance for redemption was to attend the next major trail day, bringing extra beverages for the volunteers and making a public apology for the embarrassing breach of mountain biking protocol. Newly forgiven and with reputation restored, how good did it feel to put in some sweat equity with that shovel?
That feeling of satisfaction, and the deeper connection it provides us with our trails, might be more important now than it ever has been. With last year's COVID-19 lockdowns leading to an unprecedented surge in outdoor recreation, trails around the world have seen record numbers of users, from hikers to runners and more mountain bikers than we've seen before in our lifetimes. With such a dramatic increase in users, many of our finest trails have become more blown out than ever before—a phenomenon that will require substantially more trailbuilding and maintenance to keep pace with skyrocketing traffic levels.
Words by Brice Minnigh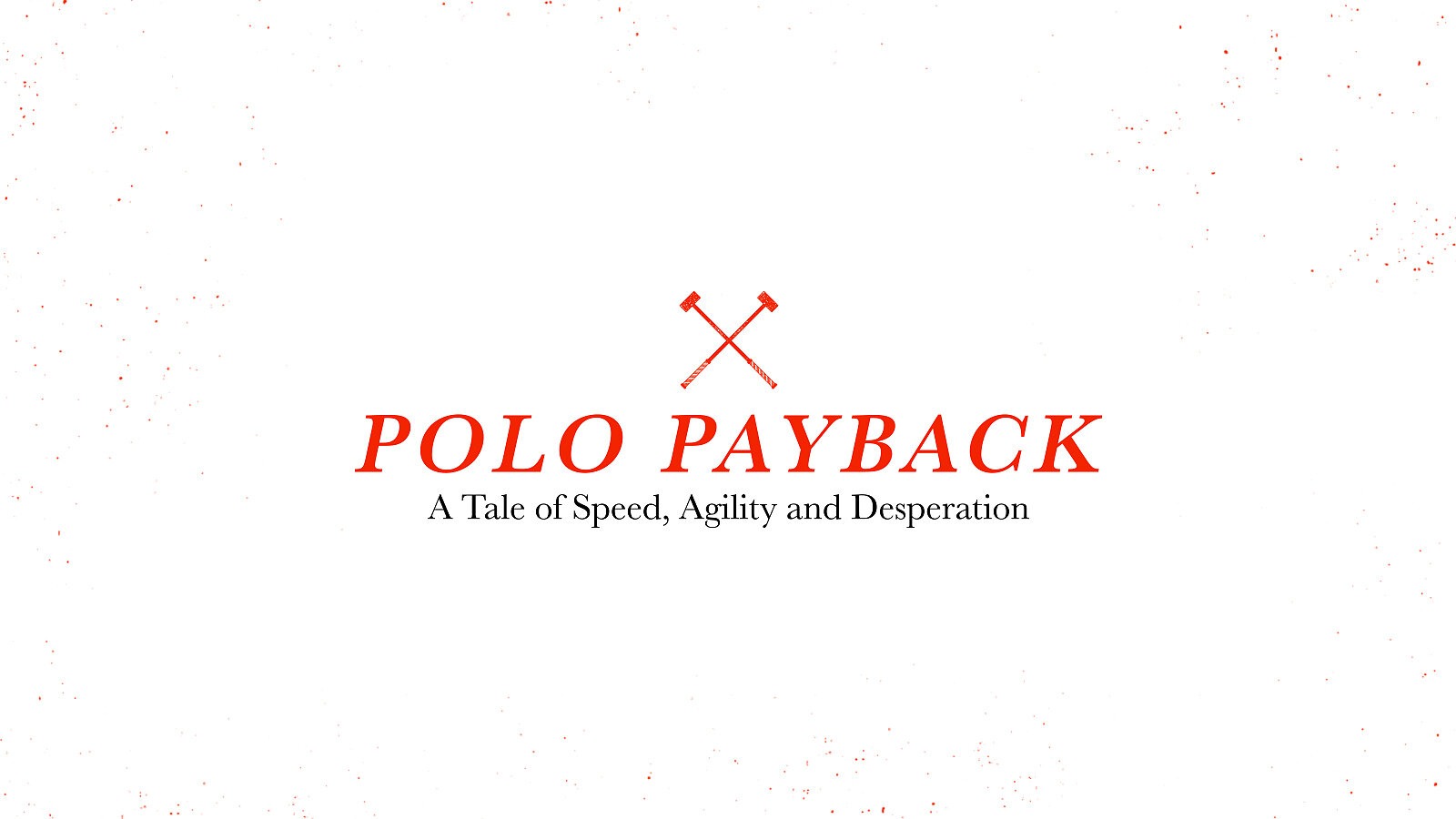 Polo. The singular word conjures up images of Jaguars, Grey Poupon, make-shift picnic tables on the tailgates of Range Rovers, children stomping horsehoof divots while dressed in their Sunday best,
ladies with big hats, gentlemen saying "please," "thank you" and "brilliant"—and, of course, the effervescent smell of horse dung.
But what about polo on mountain bikes? For the few who have participated in such a harrowing and fun-filled event, memories of bike collisions, whacked shins, low-speed tumbles and superfluous amounts of consumed microbrew fill the mind. For me, the only mountain bike polo memory which remains vivid is the time my teammate displayed a tremendous amount of speed, skill, coordination and, most importantly, unsportsmanlike conduct—which resulted in our trium- phant victory over The Schloogs.
It all took place at a small community "fat tire festival" back in 1995 at a park outside Pittsburgh, Pennsylvania. As an aspiring trials rider who could molest picnic benches with incessant hopping and lunging, my marginal skill and balance would be useful in bike polo. Each team had four members, and after witnessing my fledgling trials skills bouncing around the park, Pete, Sam and Gary recruited me to be on their team. Considering I was still in high school, the guys referred to me as "the kid."
Although my three adult teammates were intense competitors, Sam was a cut above everyone else. His motto was, "I train to win. And if I can't win, I don't train"—which probably explained why he'd quit racing years before. However, on this day, a day of relaxing and having fun, Sam desperately wanted to win the inaugural mountain bike polo tournament. Desperately.
Words by Kurt Gensheimer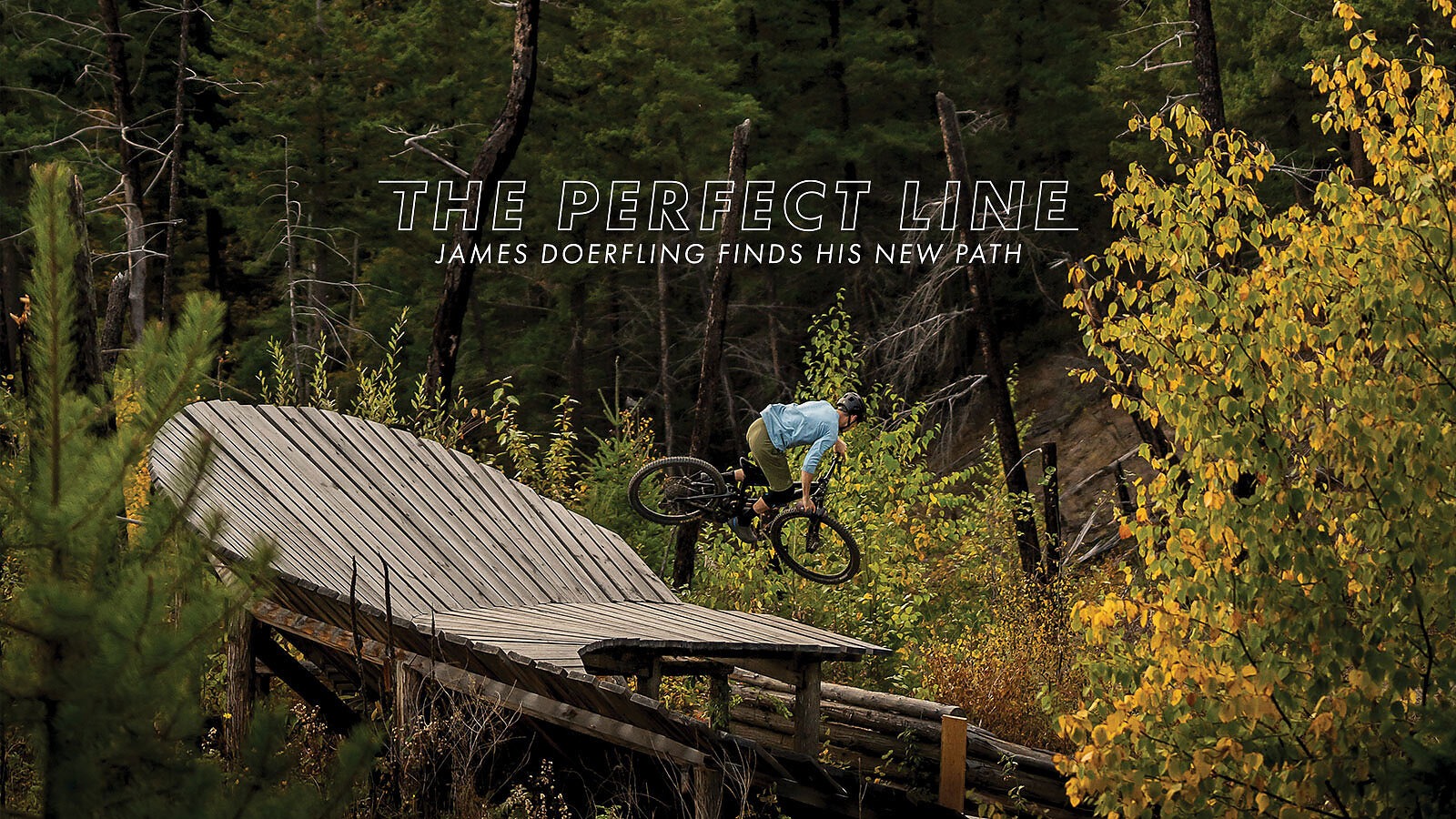 I hear labored breathing through the speaker of my phone and a halting voice says, "Sorry, I'm just pushing my way up a hill in the forest, trying to find a new line for a trail."
The voice belongs to James Doerfling, one of the world's most influential big mountain freeriders and a professional trail builder. I've caught him out scouting for a new trail he's going to build for the Williams Lake First Nation in British Columbia's remote Cariboo Chilcotin region.
James has always had an eye for finding unique lines. As a young man, he started to explore the mountain ranges that surrounded his hometown of Williams Lake, B.C., with a few trusted friends. He spent countless hours surveying the rocky peaks, carefully studying ridgelines and spires for potentially rideable scree chutes. Few people could even imagine riding a mountain bike down such deadly terrain, but for James, what he saw was infinite possibility. He was an artist, envisioning his next masterpiece—one that he would expertly draw on an unforgiving canvas of rock and rubble.
For years, he threw himself down narrow flumes that dropped hundreds of feet between jagged spines, flowing onto near-vertical debris fields left behind from ancient landslides. He carved graceful, sweeping turns, kicking up long clouds of dust and inspiring a hearty handful of fellow freeriders to venture farther into the backcountry in search of first descents.
I first learned of James through a mutual friend, Thomas Schoen, owner of First Journey Trails, a company that has been building trails throughout the province since 2008. Thomas and I launched the Indigenous Youth Mountain Bike Program in 2014, with the goal of engaging Indigenous communities and getting youth onto the land to ride mountain bikes and build trails. Upon completing trails with several Secwépemc and Tsilhqot'in Nations, we threw an opening celebration that Thomas invited James to attend. 
Words by Patrick Lucas | Photos by Josh McGarel