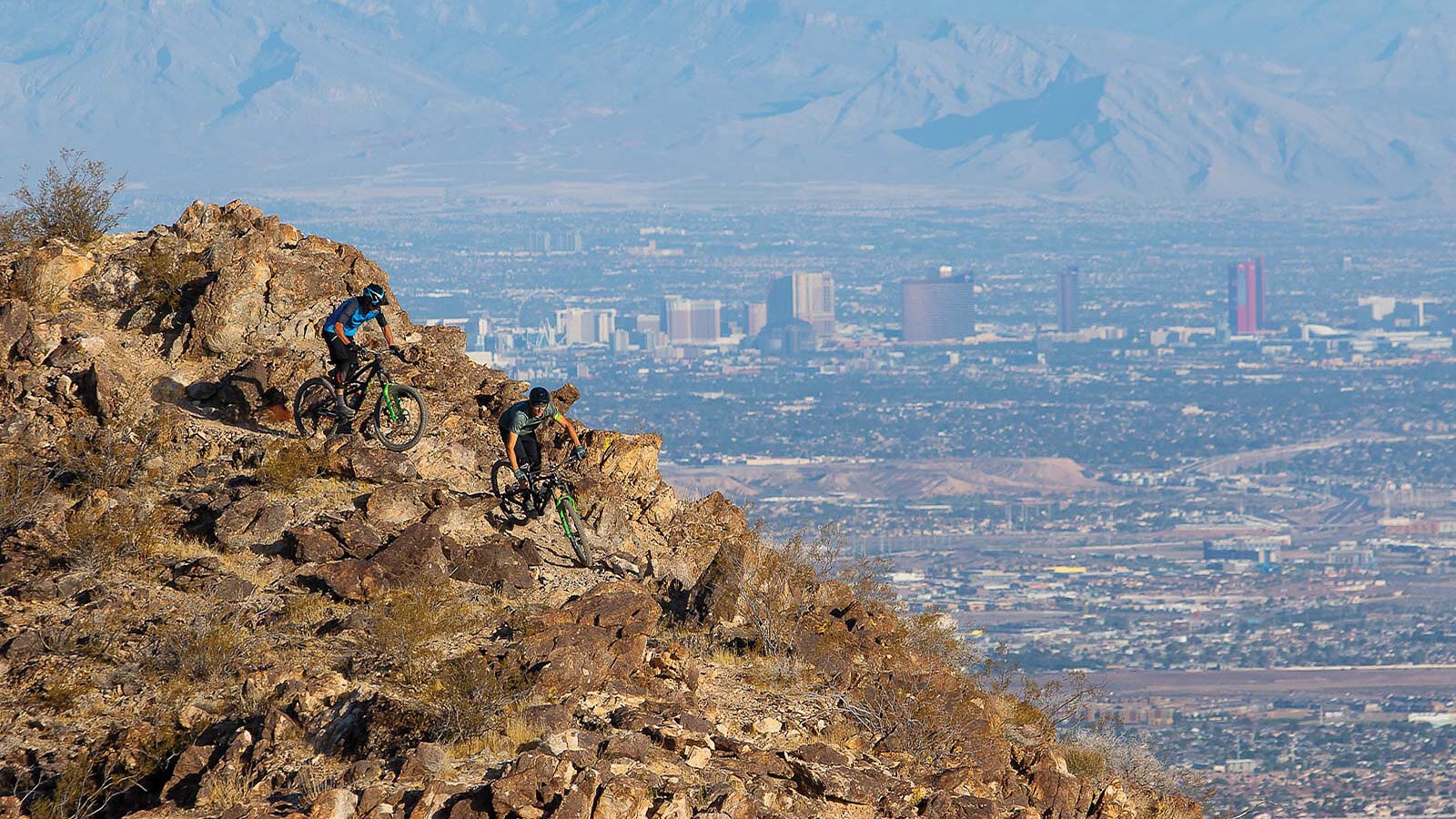 Within Range Nevada's Bright Prospects for Mountain Biking Gold
There's no doubt that the sprawling state of Nevada is harsh and rugged.
Not only is it the United States' driest state, but it's also the most mountainous of the lower 48, marked by seemingly endless stretches of barren mountain ranges. The alternating landscape of mostly parallel ranges and valleys—known as "basin and range topography"—has long made it one of the country's most inaccessible regions, and it has historically been much more known for mining than mountain biking. Yet nestled within these mountains' fringes are pockets of pure mountain biking gold, with patch-works of singletrack spreading throughout the edges of population centers.
Boasting 172 mountain peaks with at least 2,000 feet of prominence, Nevada has plenty of relief to go around. Mix this with the country's highest percentage of federally owned land and low population density, and you have a recipe for what a handful of passionate trailblazers believe will be mountain bike paradise. Alongside lonely highways and ramshackle rural towns lay a cache of growing mountain biking hubs where the impetus to build trails and nurture riding communities is as tenacious as the terrain itself.
Nevada's non-native settlement began in the mid-1800s as part of America's mass migration from east to west. Before reaching the promise of gold and rich farmlands in northern California, pioneers first had to cross the dreaded Forty Mile Desert—a waterless alkali wasteland that eventually became littered with the remains of people and their animals. Most pioneers who survived this crossing moved on to California, but some remained in what was then the "Nevada Territory," seeking mineral riches such as those found in the Comstock Lode, a prolific underground deposit of silver and gold ore near the modern-day city of Reno whose discovery was made public in 1859.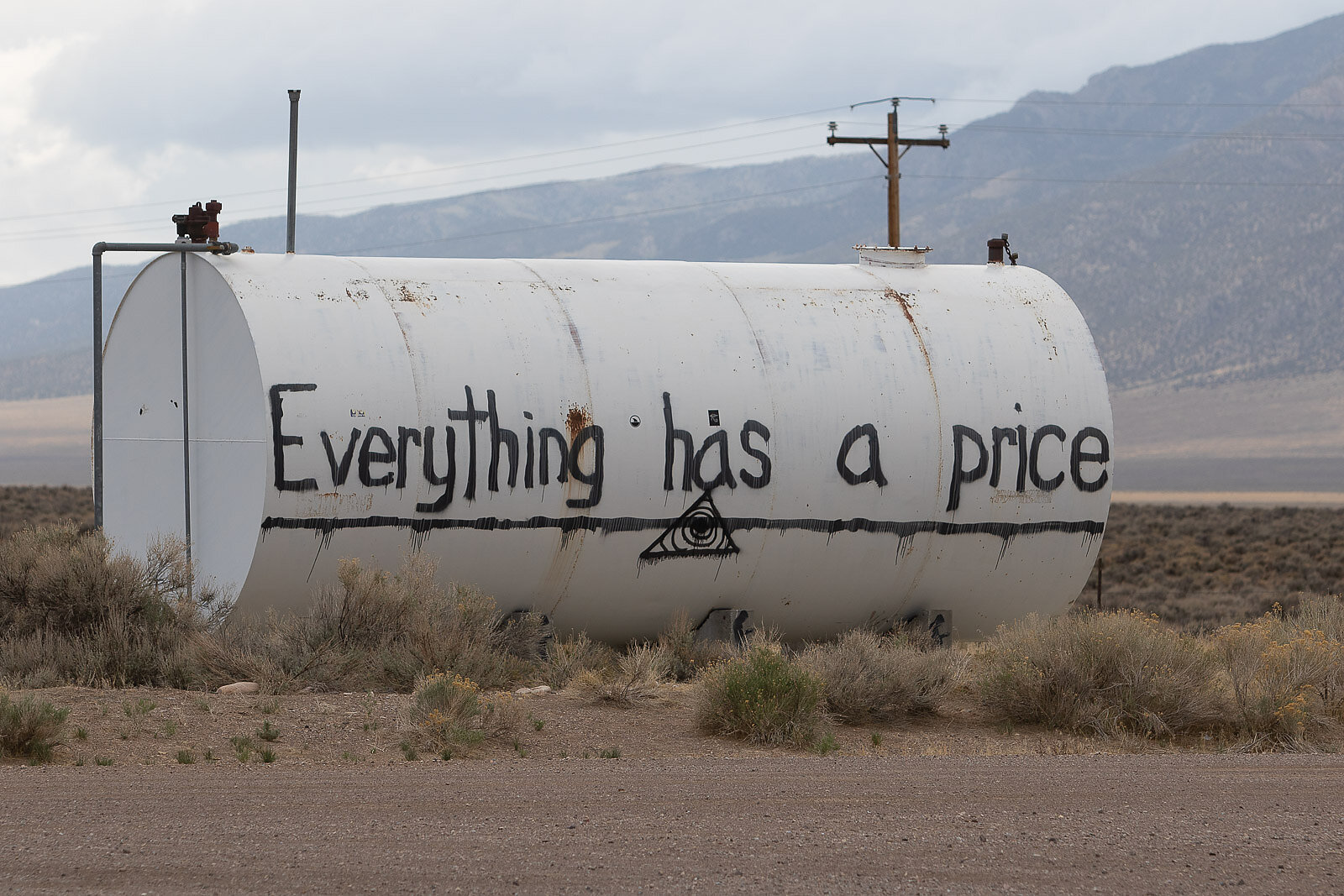 The Comstock Lode catapulted the territory to mining prominence, and at least $400 million in silver ore from this deposit helped to fund the Union military effort during the American Civil War. During the war, in 1864, Nevada's entry into state-hood was expedited, earning it the nickname "Battle Born," which still adorns the state's flag. Though production at the Comstock Lode eventually ceased near the turn of the 20th century, Nevada's legacy as a land-based economy continues to the present day, with vast tracts of federal land still set aside for mining and cattle-grazing. But the state's mining economy has not been safeguarded against a changing national economy, and many of its mining towns have largely been left in the dust. As Nevada's strike-it-rich attraction faded, the state adopted lax laws to stimulate a shrinking population. Prostitution remains legal in most of Nevada, and following the legalization of gambling in 1931, the state's residents have increasingly relied on tourism and the gaming industry for their livelihoods.
Though Nevada's libertarian principles have fostered a tourism-focused economy based on vagrant ways and wild ambitions, many residents are starting to view outdoor recreation as a healthier and more sustainable economic model. And mountain biking is at the center of this effort, with a hardy core of landowners, nonprofits, trail stewards and rider-owned companies envisioning a future based on community and connectivity through expanding networks of singletrack. Though these networks are dispersed in different corners of this vast state, many of them lie squarely between the more established meccas of the Southwest, northern California and the Pacific Northwest—fueling the desire of local mountain bike advocates to position the state as an essential stopover for riders making seasonal pilgrimages to the north and south.
While Nevada's most famous city, Las Vegas, has long been an international tourist destination due to its casinos and 24-hour party atmosphere, the surrounding mountains have become known for their trails during the past two decades. Just 23 miles from the Las Vegas strip lies Boulder City, home to the rough-and-tumble Bootleg Canyon trails. As a town, Boulder City couldn't be more different from Vegas. Here, gaming is prohibited, and the setting is quaint. It's known mostly for its proximity to the Hoover Dam and the town was built by the Department of Reclamation to house construction workers during the Depression-era building of the dam. Developed as a model community and planned under federal supervision, commercial development was restricted, and following the dam's completion the town found its place as a desert retirement community.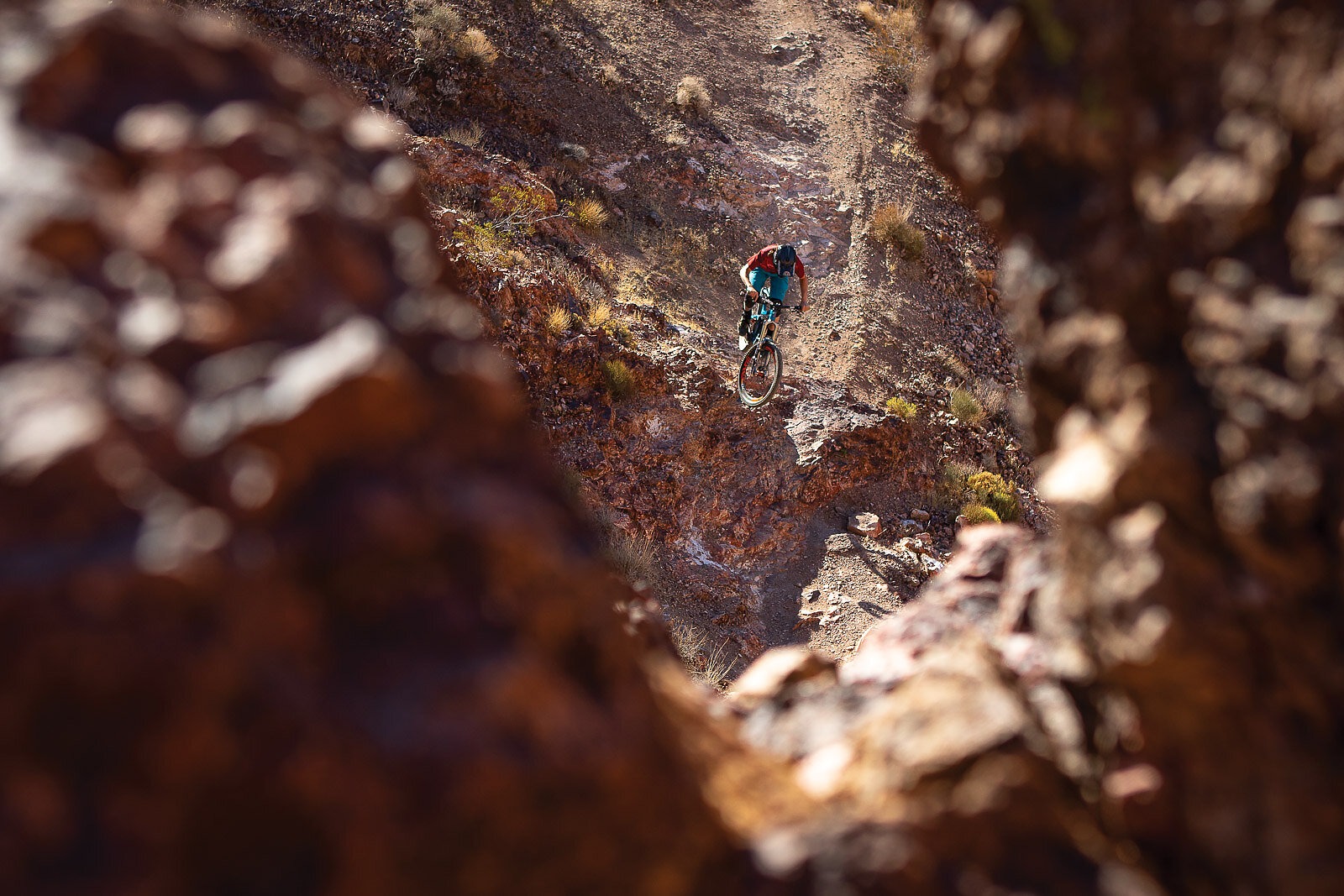 But in Bootleg Canyon, a treeless 1,100-foot rise towering just north of Boulder City, lies a trail system widely regarded as a double-black diamond in the rough. Long home to the Interbike cycling trade show's annual Outdoor Demo—a two-day event designed to allow riders to test new model-year mountain bikes—the rocky Bootleg trails have garnered a reputation for chunder, filled with jagged rocks that can take a heavy toll on bikes and riders alike Though these trails have been the scene of years of Outdoor Demo carnage, many people view them as a rider's rite of passage into mastering steep and technical terrain. With 36 miles of blue, black and double-black trails weaving through shark-fin rock formations, the most infamous runs are accessed by shuttling a fire road to a saddle, followed by a short hike-a-bike to the top of a craggy outcrop.
The network here began as the vision of Boulder City resident and fine artist Brent Thomson, who in 1998 turned to mountain bikes to improve his health following quadruple-heart-bypass surgery. He fell in love with trailbuilding and applied his artist's eye to the landscape, hand-carving ribbons of singletrack into the canyon's unforgiving surface with the help of brothers Jeff and Dan Hasken. Not a single machine or power tool was used to manipulate the terrain, and after eight years of hard graft, the backbone of the network as it stands today was in place. In 2006, the local city council stopped the construction, and a moratorium on new trails has been in place ever since. Recognized as the godfather of Bootleg Canyon, Brent's vision and tireless efforts positively influenced trailbuilding well beyond the Boulder City limits. He passed away in 2009, but not before hosting Bootleg's first mountain bike festivals and laying the groundwork for what is now a thriving race scene.
As one of Bootleg's original builders, Dan Hasken has devoted himself to keeping Brent's dreams alive. He started the Southern Nevada Mountain Bike Association (SNMBA), a trail-advocacy group that serves as the local chapter of the International Mountain Bicycling Association. Dan also works as a trail administrator for the Boulder City Parks and Recreation department, but despite his consistent efforts to improve Bootleg's trails, resistance from the city council has prevented any major enhancements to the existing network.
Still, Bootleg has undergone aesthetic improvements and amenity upgrades over the years, and the local riding community has grown in strength and numbers, with several key players promoting the trails and developing a thriving race scene. Chief among these is "Downhill Mike" Scheur, who since 2009 has been working with the full-service local bike shop, All Mountain Cyclery, to run races at Bootleg. What started as two events has grown into several separate race series, garnering the sustained support of DVO Suspension, a boutique suspension company run by veteran innovator Bryson Martin and his son, Bryson Martin Jr.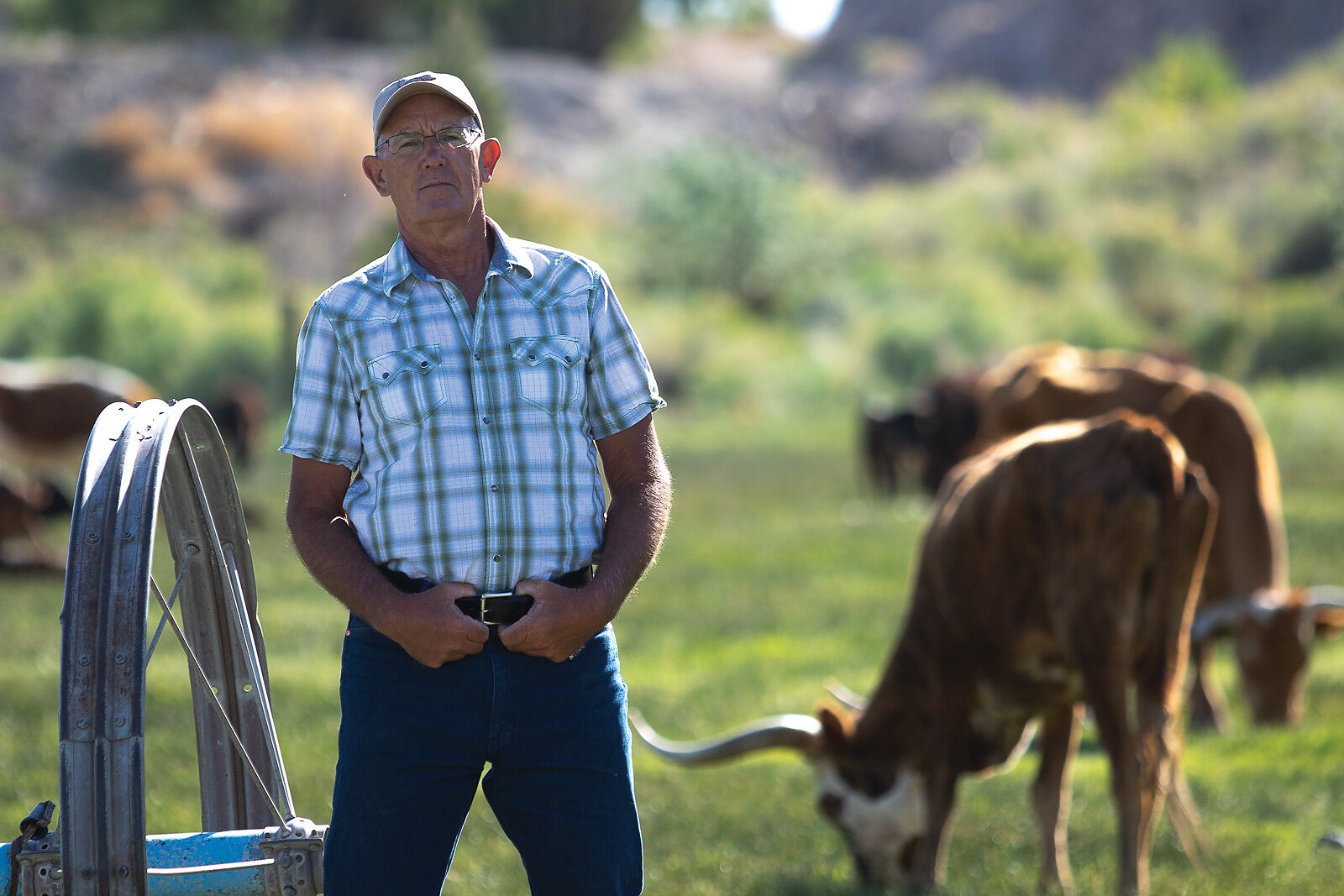 "I really didn't like riding Bootleg at first," says Bryson Sr., who spent 28 years at Marzocchi and started Marzocchi USA before parting ways with the Italian brand and founding his own company in 2012. "Eventually, I learned how to flow over the rock and then I fell in love with the terrain and the location. Bootleg is convenient, the riding is gnarly, and the winter weather is great. Most of all, Bootleg is a welcomed challenge for suspension testing. The square-edged rocks and marble-covered turns mean that if your suspension feels good at Bootleg, it'll feel good anywhere."
Few methods of proving suspension are more effective than gravity racing in burly terrain, so DVO partnered with Downhill Mike and his promotion company, Bootleg Canyon Gravity Racing, successfully elevating the profile of the series through substantial cash prizes that include equal payout for men and women. They faithfully brought their service rig to provide technical support to racers and riders, and participation numbers have continued to grow.
"Nothing is better than seeing hundreds of families come together during the peak season, riding, camping and creating a community vibe in the desert," Bryson Sr. says. "We'd like to see the DVO Winter Gravity Series and other Bootleg races grow, but we really need more groomed trails."
The quest for more beginner-friendly trails is still a priority for locals such as Dan and Downhill Mike, but while negotiations with city officials continue, they're focusing on Bootleg's gravity-fed goodness. In 2020, Downhill Mike took the reins of All Mountain Cyclery's long-standing shuttle service, and he's dedicated to creating a fun and progressive scene, often personally shuttling riders and providing in-depth advice on the trails to ensure safe sessions.
"I WAS BORN ON THIS LAND AND THE GOODNESS THAT I GOT FROM IT IS SOMETHING I WANT TO PASS TO THE NEXT GENERATION. THE RANCH IS AN EXAMPLE OF HOW LAND CAN BENEFIT PEOPLE'S LIVES, A REINVESTMENT IN THE FUTURE OF BEATTY AND THINKING BEYOND THE MINING BOOMS THAT HAVE SUCKED US DRY." —David Spicer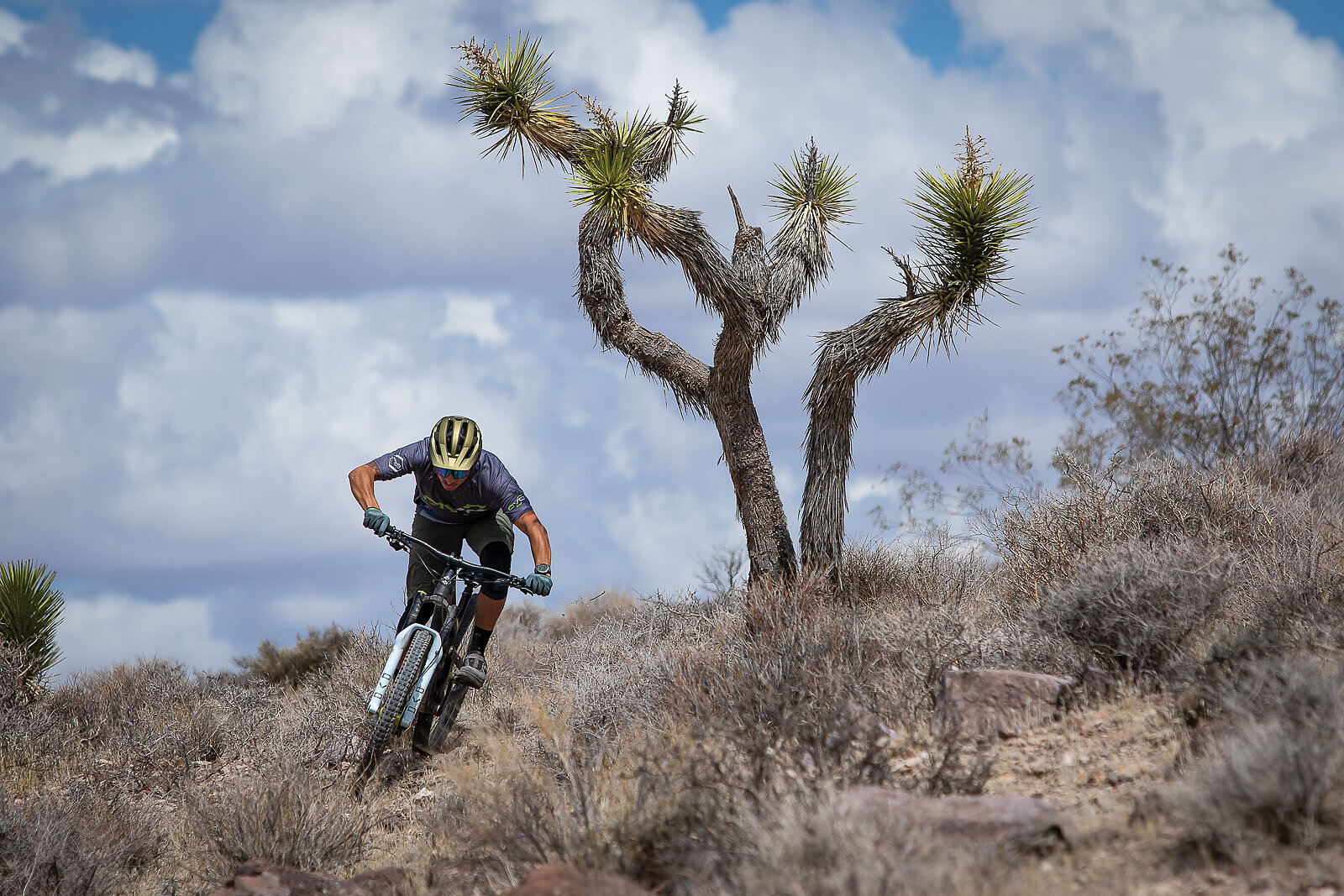 For a more mellow riding experience in the Las Vegas area, the 1,000-person town of Beatty, Nevada—90 miles north of Sin City along U.S. Route 95—is a relaxing singletrack stopover for mountain bikers traveling through the area. An essential railroad service center to one of Nevada's most important mining districts in the early 1900s, by 1940 the mines had mostly played out and Beatty's population dwindled. Apart from one mine that operated from 1988 to 1998, employing 540 workers, the town has relied primarily on tourism from nearby Death Valley National Park to keep its economy afloat.
One local landowner, however, is investing in the future of his community with the goal of getting more local kids on bikes. David Spicer—a rancher, family man and true Nevada cowboy—began building trails on his 120-acre ranch in 2014, and over the past seven years he's created a small network of well-signed cross-country singletrack that weaves through spring-fed pastures and the surrounding hills, connecting to an additional 30 miles of trails on adjoining Bureau of Land Management (BLM) property. The Spicer Ranch network, the result of David's solo work and personal bankroll, is accessed by a surprisingly lush camping area with bathrooms, showers and a welcome kiosk with a trail map. The trails host local XC races put on by the National Interscholastic Cycling Association, and the gates are always open for traveling mountain bikers.
"I was born on this land, and the goodness that I got from it is something I want to pass to the next generation," David says. "The ranch is an example of how land can benefit people's lives—a reinvestment in the future of Beatty and thinking beyond the mining booms that have sucked us dry."
A forward-looking fixture in the region's growing mountain bike scene, David volunteers his time as president of the SNMBA and works intently to promote a healthy recreation infrastructure in Beatty.
Though his efforts are sometimes hindered by the local BLM field office, David maintains that Spicer Ranch is a blueprint for how recreational opportunities can bolster small-town economies.
"IT'S A WAY TO APPLY WHAT I'VE LEARNED MY WHOLE LIFE TO CREATE PROGRESSIVE TRAILS FOR ALL TYPES OF RIDERS. I WANT TO LEAVE THE SPORT BETTER THAN I FOUND IT." —Cam Zink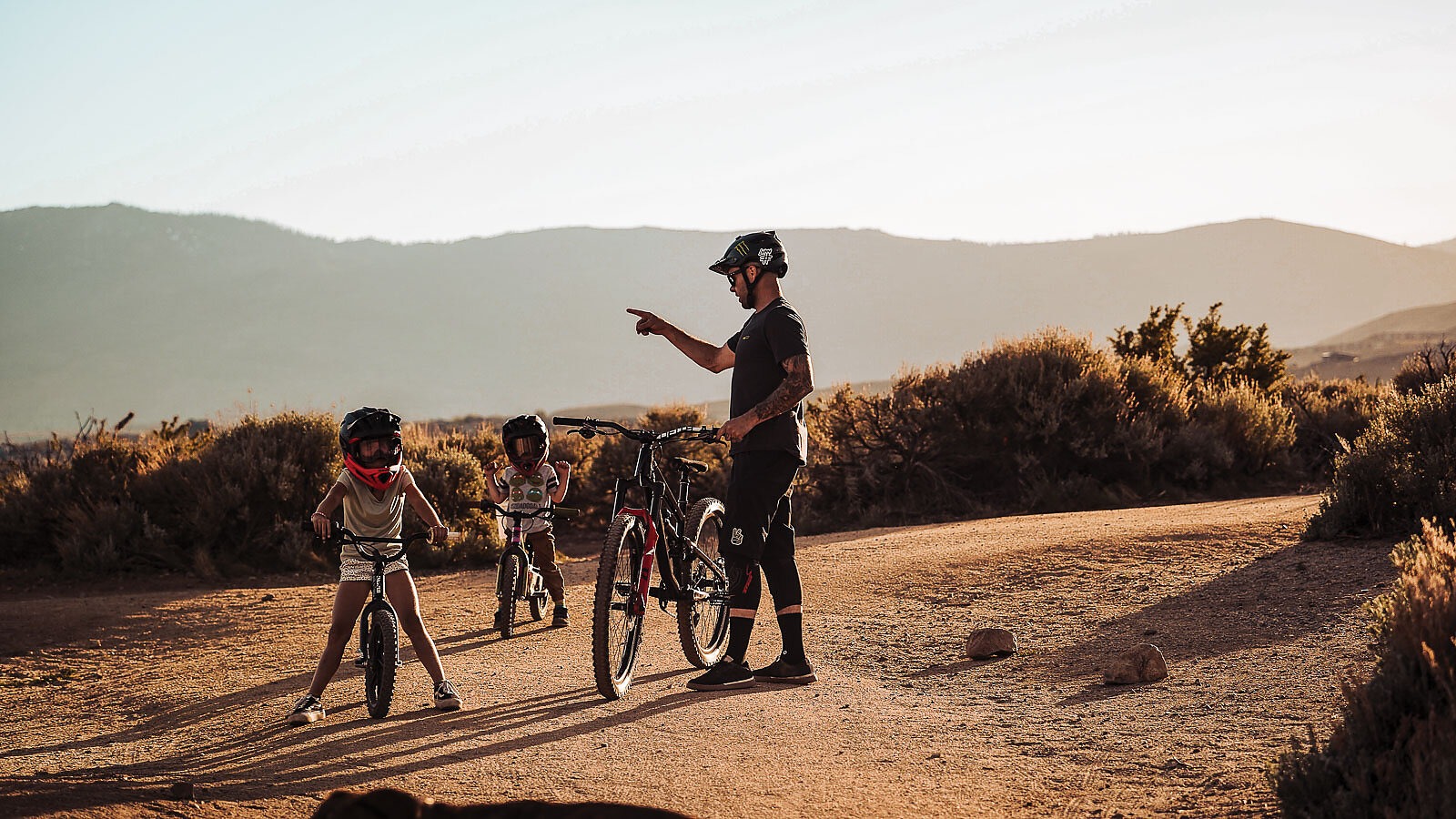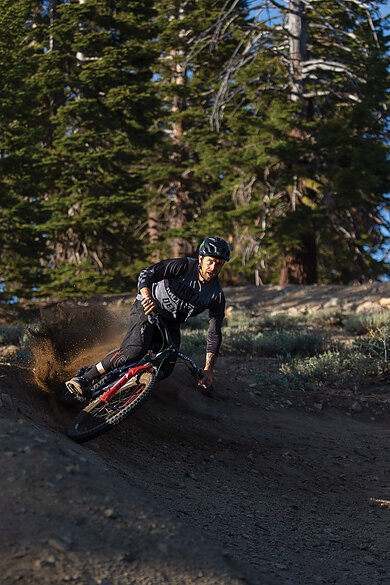 Venturing from the deserts of southern Nevada into the state's northern half, one encounters an incredible diversity of climate and ecology. From the forested Sierra Nevada mountains in the west to the pinyon-juniper woodlands of the east, the variety of terrain is a mountain biker's dream. The region's main population center is Reno, which despite having a reputation for being rough around the edges, has quietly been making a name for itself as an underground mountain bike hub. Thanks to the city's hardworking advocates, Reno has an abundance of trails, skills parks and repurposed remnants of a boom-to-bust past that make it a blast for riders of all levels.
One such figure is Cam Zink, the renowned freerider who is better known for world-record-breaking backflips and 360s than for building accessible trails in his home community. Born in nearby Carson City, Cam has long called Reno home, and his community pride is evidenced by his commitment to building trails and bike parks suited to all ages and abilities. While his riding still pushes the outer limits of freeride progression, Cam is often found happily cruising the local Strider pumptrack with his kids, Ayla and Asher, and his pet boxer, Jordie (named after the late freeride legend, Jordie Lunn).
With the goal of improving Reno-area riding and lowering the entry barriers for mountain biking, Cam created a trailbuilding nonprofit with the help of friend and fellow pro rider Cody Wilkins, and in 2019 Sensus R.A.D. Trails became a certified non-profit. Working in conjunction with the Sensus grip and accessories brand that Cam founded, R.A.D. Trails is fully operational, and on any given day Cam can be found digging diligently in the mountains around town.
"Bikes have gotten better and the overall image of mountain bikers is more appealing," Cam says. "Improving trails and access rounds out the bike-boom trifecta. This project is exclusively motivated by the intent to do just that. It's a way to apply what I've learned my whole life to create progressive trails for all types of riders. I want to leave the sport better than I found it."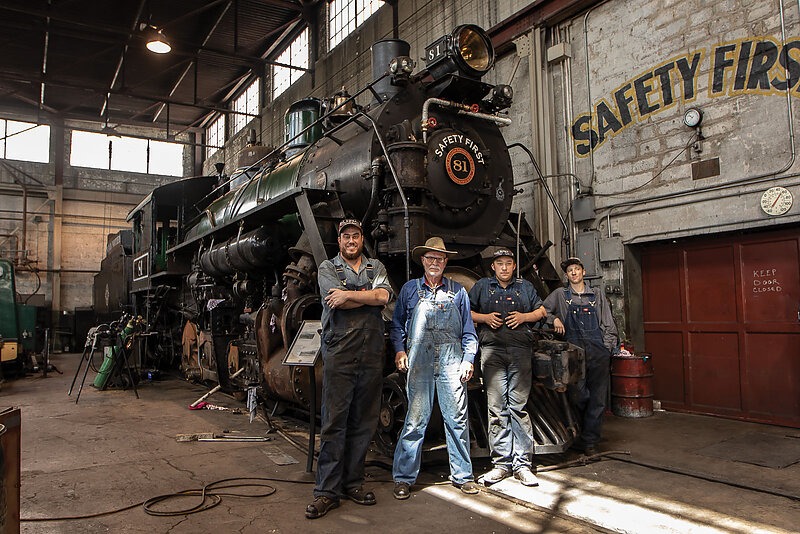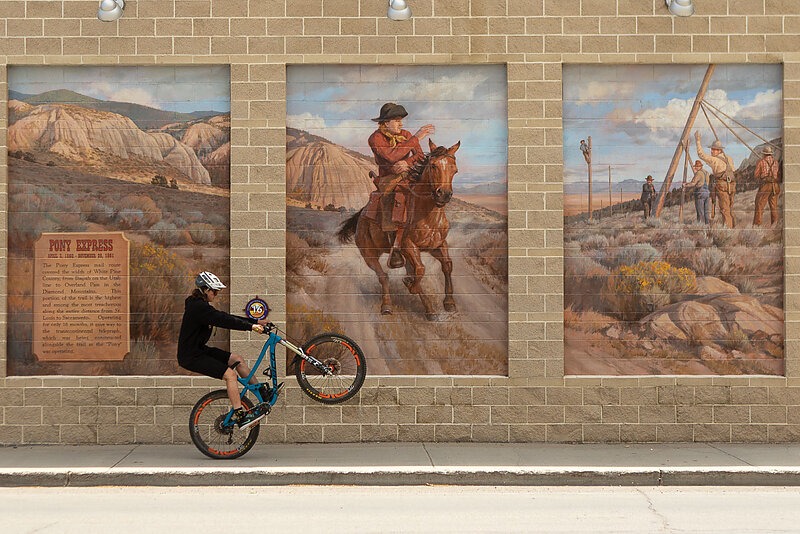 That is precisely what's happening. Through grant funding, regional trail stewardships are hiring Cam and his team to improve trails in and around Reno, breathing new life into popular zones such as Peavine Mountain's new N trail and Upper Tyrolean. Even when funding for specific projects has fallen through, R.A.D. Trails has finished the job by fund-raising themselves. The result is free and public access to lines imagined and shaped by a freeriding luminary.
Reno's trails have been sculpted by more than one master building company, however. Momentum Trail Concepts has made its mark on the city over the years, with its respected trailbuilders—Steve Wentz, Matt Thompson and Mihai Moga—having been hired by local stewardships for key projects. And, as has been the case with Sensus R.A.D. Trails, when grants or budgets have fallen short, Momentum has donated time and resources to see projects through to completion. Steve, an expert machine operator known for perfectionism, has brought undeniable flow to Reno in the form of the Sierra Vista Park and Sky Tavern—two distinct bike parks that serve as examples of how sidelined city property can be reimagined for recreational purposes.
Situated in Reno's residential northwest foothills, the Sierra Vista Park is a 200-acre abandoned golf course that has been transformed into an all-levels bike park under the guidance of the Reno-based Biggest Little Trail Stewardship. Known locally as SVP, the rapidly expanding park already boasts 4.5 miles of trail, including a Strider pumptrack, beginner and intermediate runs, a drop-filled zone and a resort-worthy advanced jump line—all built in just two years. On any given day, and nearly year-round, the SVP is filled with families, from teenaged shredders to seasoned adults, all honing their skills and sharing a great time on two wheels. Rider-owned companies such as mountain bike shoemakers Ride Concepts have made sizeable donations to local trail initiatives at Peavine Mountain and Sierra Vista Park with the goal of contributing to the sport's continued growth.
For its part, Sky Tavern—a venerated ski resort on the flanks of Mount Rose, Reno's most prominent peak—has been reincarnated through a combination of mountain bike activism and donations from local businesses. Though Sky Tavern has etched itself into the collective consciousness of Reno residents by teaching more than 100,000 kids to ski over 70 years via an inclusive and affordable program, decades of municipal mismanagement had brought it to the brink of closure. But a new board of directors and chairman, united by a shared goal of turning Sky Tavern into a four-season recreation area, succeeded in negotiating a 30-year lease with a 20-year extension option from the city—fueling a raft of donations from area businesses and a master plan for an updated trail network.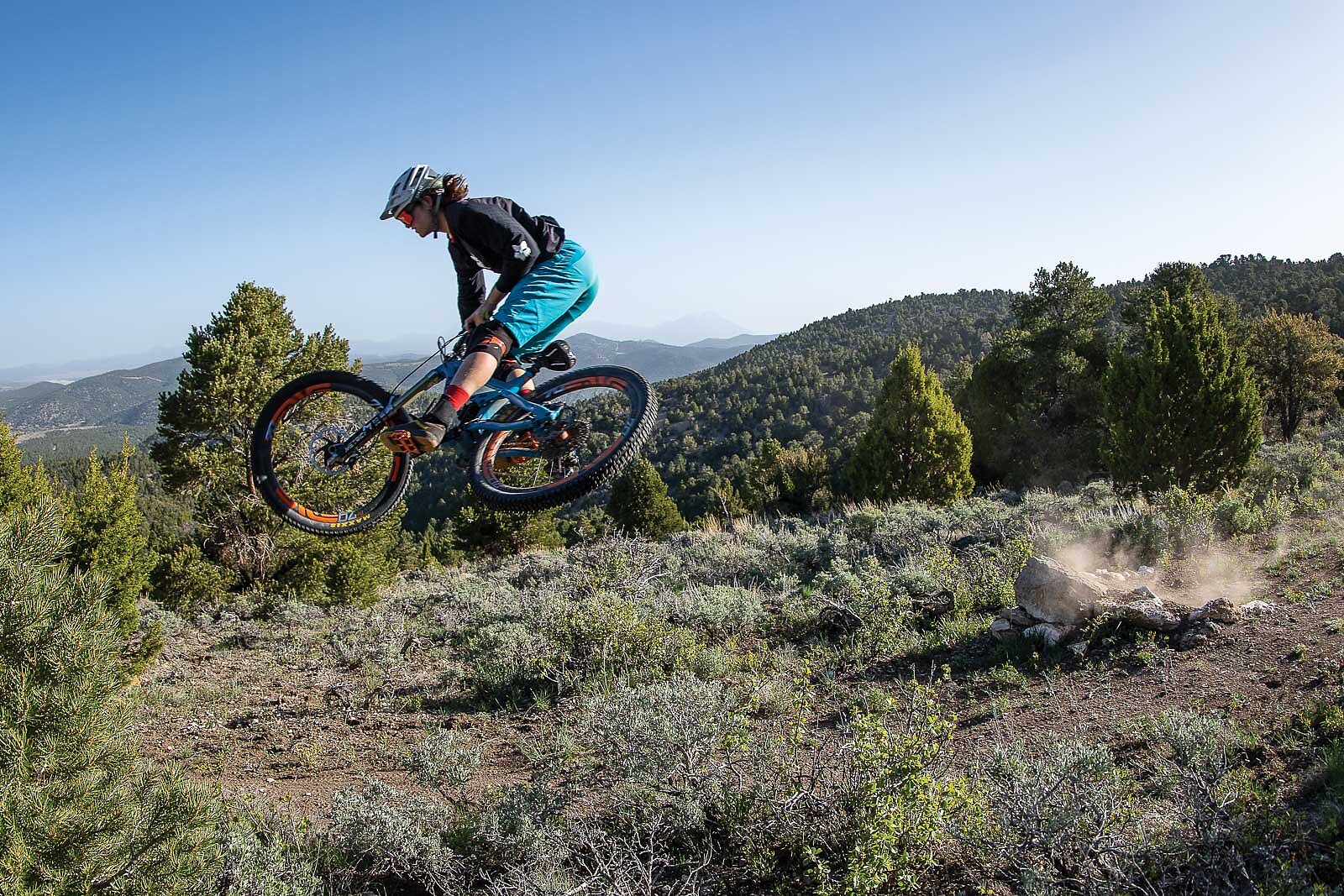 Without assistance from the city, Sky Tavern is overhauling existing trails and planning new ones, and Momentum Trail Concepts has already begun developing a stacked loop of new lines—including a top-to-bottom adaptive run envisioned in concert with the High Fives Foundation. As the elements are finally coming into alignment for Sky Tavern, advocacy groups such as the Biggest Little Trail Stewardship and Sierra Trail Works are competing for grants, organizing volunteer trail-work events, and massaging relationships with land managers in the hopes of creating more outdoor recreation opportunities.
Far across Nevada's Great Basin to the east lies the small mountain town of Ely, one of the state's finest examples of how cooperation, communication and alignment around trail planning can really get the wheels rolling. This should come as no surprise, as mountain biking has long been a part of Ely's out-door-loving heritage. The rural community has hosted the country's longest-standing enduro-style mountain bike race—Fears, Tears and Beers—a fun-filled event that typically starts with racers rolling through several of the town's casinos.
Now in its 17th year, the Fears, Tears and Beers race is not only a major forerunner to the enduro format, but it is also the annual fundraising event for the Great Basin Trails Alliance (GBTA), a non-profit devoted to building and maintaining the region's trails. Over the past three years, the GBTA has achieved extraordinary success in joining forces with the United States Forest Service's district manager, the BLM's local outdoor recreation planner, the director of the White Pine County Tourism and Recreation department, and local trailbuilders—all aligned with the common goal of developing sustainable singletrack and promoting Ely as a mountain bike destination.
"We feel very fortunate for the perfect storm in Ely, with eager land managers, leadership from the tourism board and a recognized need for trails," says Kent Robertson, a local business owner and GBTA board member. "We have to strike while the iron is hot."
"WE FEEL VERY FORTUNATE FOR THE PERFECT STORM IN ELY, WITH EAGER LAND MANAGERS, LEADERSHIP FROM THE TOURISM BOARD AND A RECOGNIZED NEED FOR TRAILS." —Kent Robertson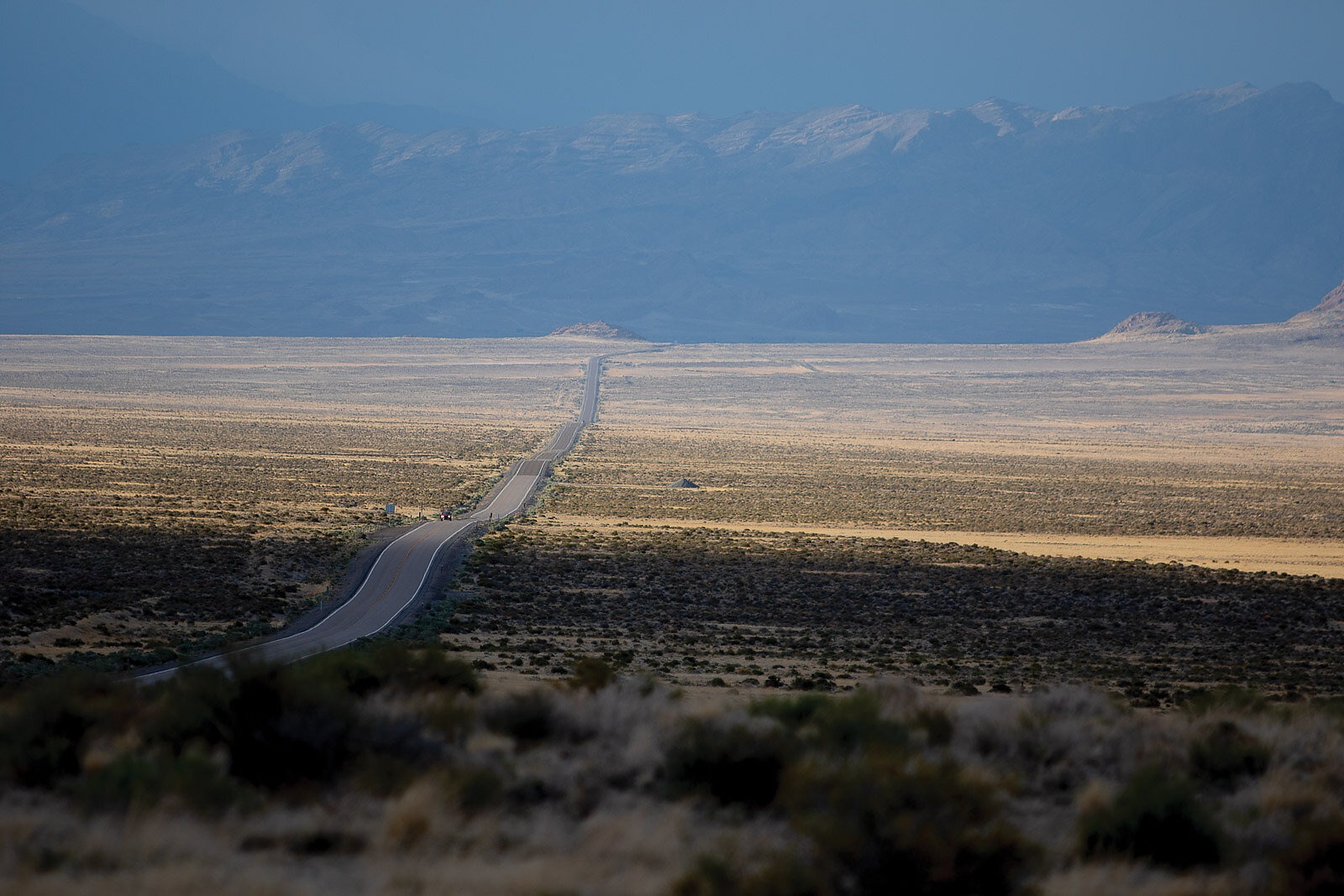 Already, Ely and surrounding White Pine County boast 50 miles of singletrack, 30 miles of which directly access the downtown area, where rides can start and end among truly historic amenities. Ely's rolling trails offer something for every type of rider, from the fast-and-flowy goodness of Ice Plant Canyon and Ward Mountain to the beginner-friendly loops at nearby Cave Lake State Park. For those looking for some serious climbing and descending, the Squaw Peak climb is an honest slog that leads to the rowdy black-diamond Whorehouse Downhill trail—a favorite of local rippers. About 40 miles east of Ely, close to the Utah border, the Sacramento Pass Recreation Area features 10 miles of legal singletrack suitable for riders of all levels. The area's many stacked loops and connector trails give options for routing big days through pinyon and sagebrush forests offering amazing views without another rider in sight.
What's more, the harmonious union between local governing bodies has laid out an ambitious expansion plan that includes 30 miles of new trail on Ward Mountain and 21 miles of fresh singletrack on BLM-run Garnet Hill. Ely officials are also trying to obtain a grant stemming from the Southern Nevada Public Land Management Act (SNPLA), which allows for the sale of public land in Las Vegas' Clark County, the revenue from which is then split between education, water and a special account available to the Nevada Secretary of the Interior for restoration, conservation, wildfire prevention, capital improvements and trails. Though not all BLM districts can apply for SNPLA grants, Ely is hopeful about its near-term prospects.
Adding to Ely's historic charm, the city is now incorporating one of its biggest tourist attractions—the Nevada Northern Railway National Historic Monument, which offers rides on a meticulously preserved, early-1900s steam-engine train—into its mountain bike options. From spring to fall, passengers with bikes can take the train to the end of the line and then ride back to town on the trails of their choice, making for what might well be the country's only train-shuttle service. And it should leave riders with plenty of steam left for the rip back into town.