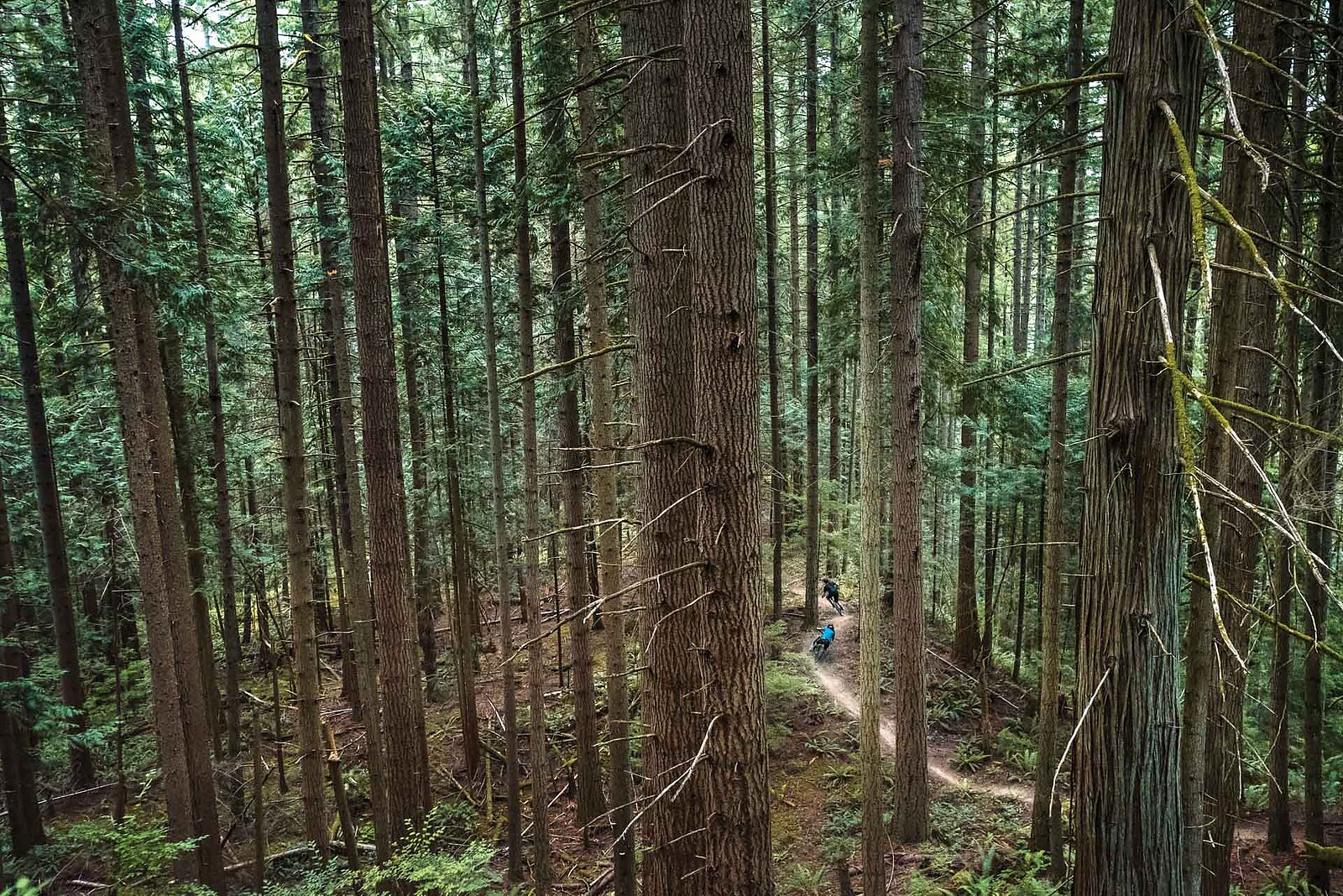 The Tipping Point Passion and Drive in Whatcom County
I can't sit on my couch.
The tick of spinning hubs is too distracting. It's an all-day, every day parade past my front lawn during the summer. Old bikes clank, new bikes hum. Young, old, somewhere in between, they roll by smiling, a bit dusty, dogs in tow. Solo, in groups of six. Inevitably, someone will recognize my van and stop by.
"Wanna ride?"
"I just wanna watch the game, man. Maybe do some gardening. But yeah, I got time for a quick lap I guess."
My street's only a block long. It's right off Birch, the main thoroughfare to the north side of Galbraith Mountain (officially part of Lookout Mountain). The hub of Whatcom County cycling, it's right in the city. No more than a 20-minute pedal from most of Bellingham. The nickname comes from Galbraith Lane, where the first handful of folks starting building trails in the mid-80s. It stuck. They formed the Whatcom Independent Mountain Pedalers, or WHIMPs, when trail access became an issue.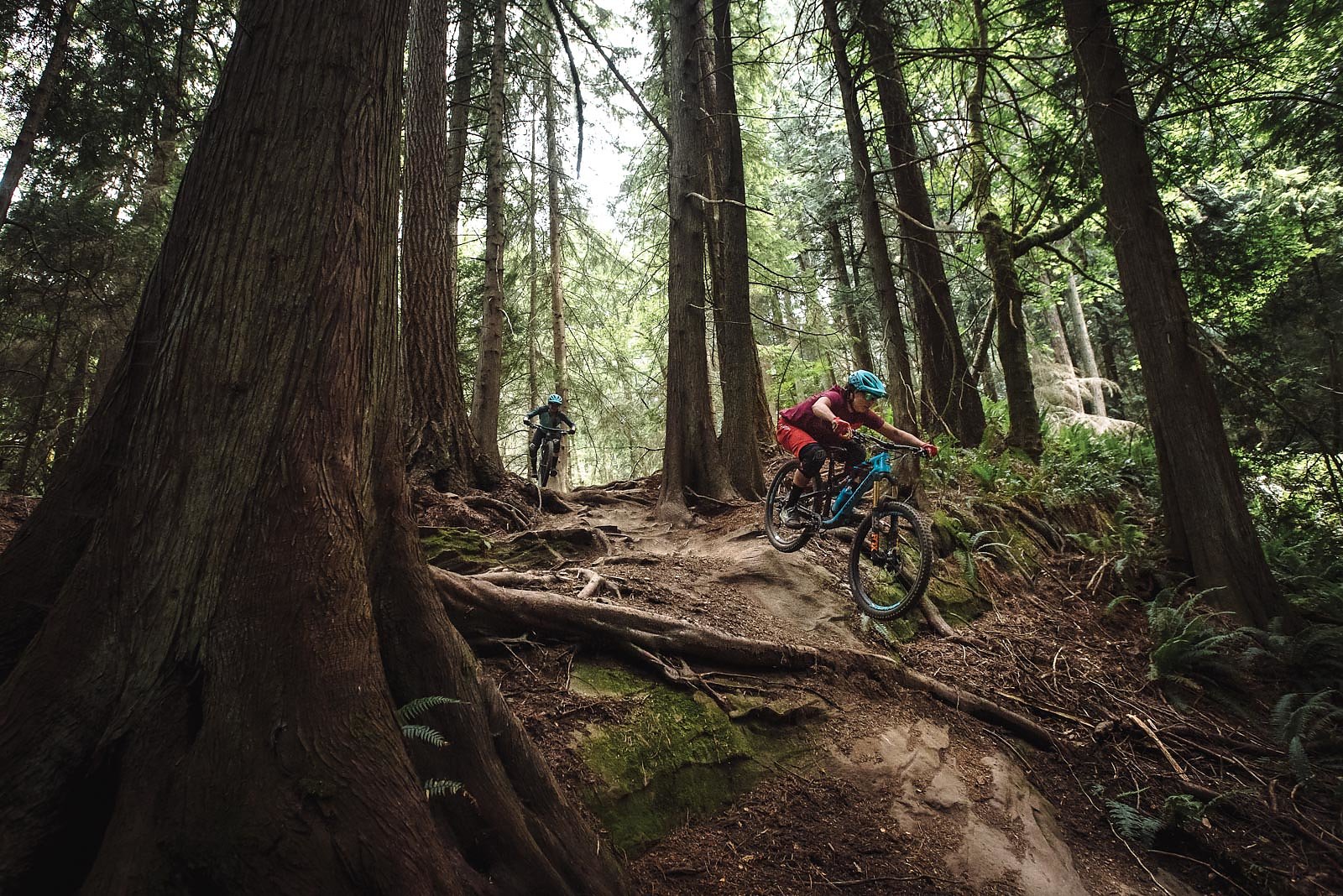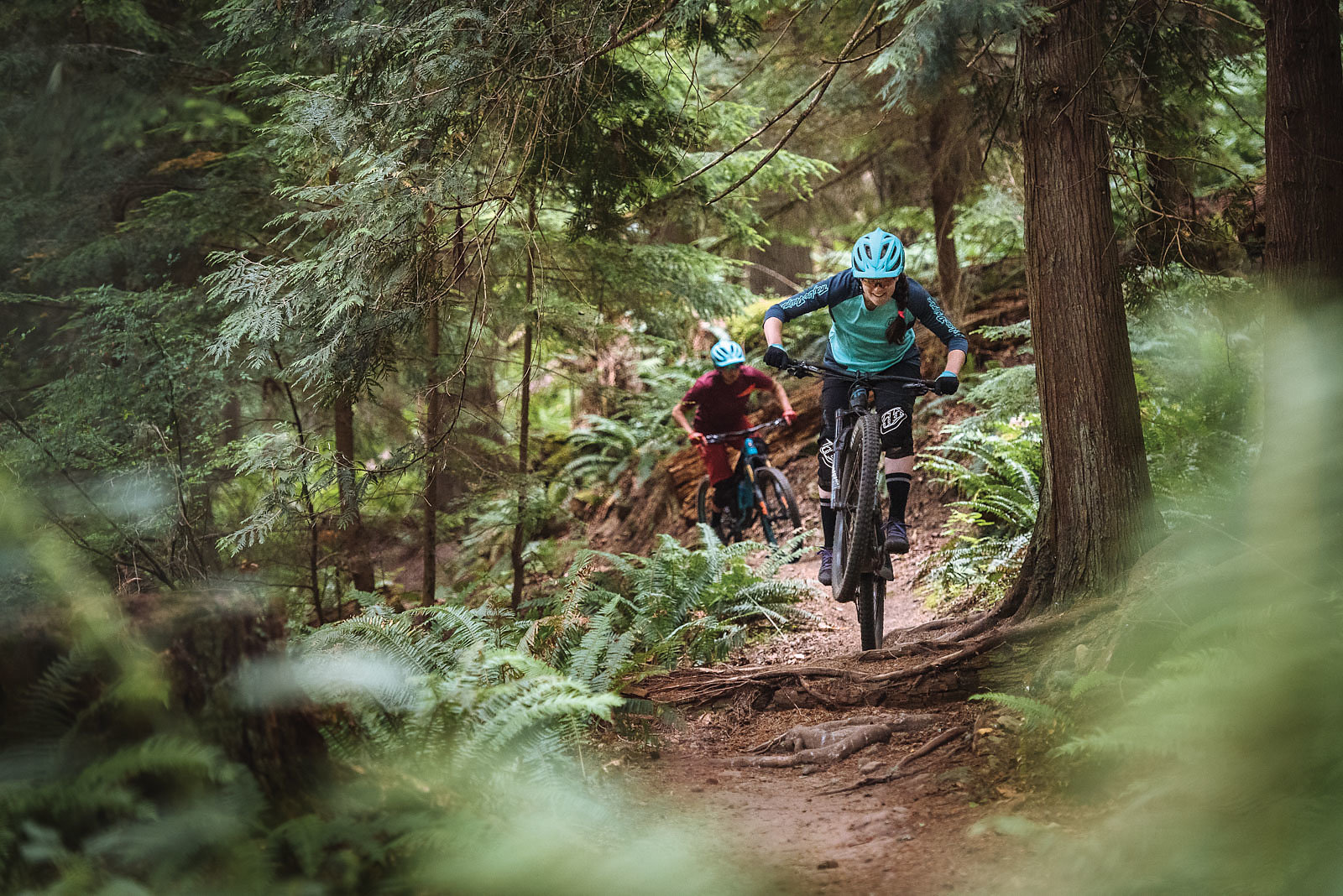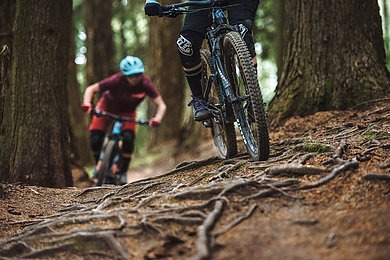 Galbraith was, after all, a privately held, 3,000-acre tree farm. It's a utilitarian space packed with every type of trail you can imagine, from old-school steep-and-tech to mellow XC lanes to machine-built jump lines. Slabs, ladders, tables and gaps; it's easy to stay entertained up there. And it will continue to grow for years to come: in late July 2018, the Whatcom Mountain Bike Coalition announced the City of Bellingham and the Whatcom Land Trust would be purchasing Galbraith Mountain to preserve recreational access in perpetuity.
Nowadays, the Whatcom Mountain Bike Coalition, led by Trail Director Eric Brown, maintains relations (and 65 miles of trails) up on Galbraith, down in Larrabee State Park, and beyond. They've got big plans in the works, including expansion to the east side of Galbraith and over toward Lake Whatcom. They even built a pumptrack a few years back, just two blocks from the main trailhead. It's my feeling-really-lazy option. My girlfriend loves it. So do the neighbor kids and a handful of local BMX rippers. They're always down there.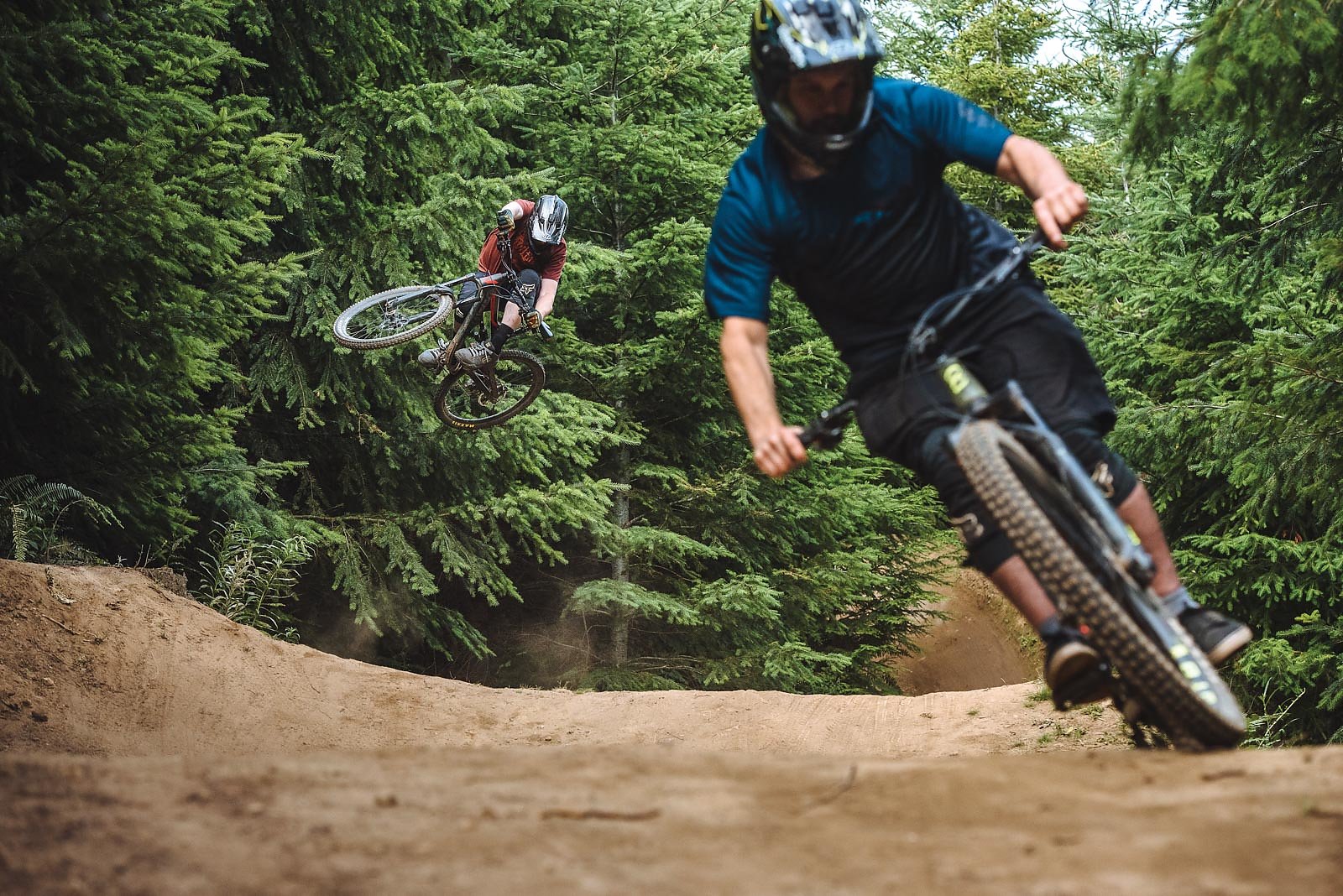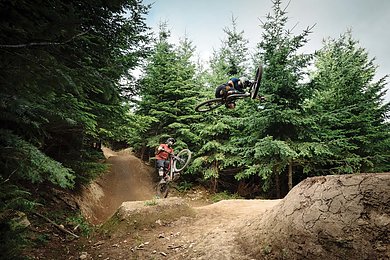 When I moved to Bellingham in the fall of 2007, I didn't ride much. Sure, I'd grown up in a Gulf Island locale north of the border with its own core bike community, and I arrived with an aging Rocky Mountain Element, but I'd hardly put tires to dirt since the late-'90s. I came here to snowboard at Mt Baker. Snowboarding, was, and still is to a certain extent, the nexus of my life. And snowboard I did.
Then, that first summer, Galbraith sucked me in. Slowly, at first. Before I knew it, I was scouring Craigslist for a bit of a newer bike with a bit more travel. Then looking south to the Chuckanut Mountains, east into the county for more trails. I watched the DNR shut down the unsanctioned North Fork trails out past Deming in 2012, then the recent, officially-sanctioned growth closer to town. Down in Larrabee State Park, the oldest park in Washington State, the WMBC was able to build Double Down in 2015, a bike-specific, downhill-only beauty benched along a steep hillside through old growth cedar. Linked with Double Black Diamond above, it now provides 1,700 vertical feet of sometimes-technical flow and one of the better laps in the county, a showpiece for the half-dozen rooty and raw descents in the park.
The past few years, the WMBC and its cohort has been working with local legislators and other interest groups to legitimize non-motorized recreation on Stewart Mountain and Lookout Mountain to the east, and Blanchard Mountain down south. They've got the passion, drive and momentum to make it happen—thanks in large part to the WMBC, official recognition for mountain biking in Whatcom County has reached a tipping point and our trail networks are set to double in size over the next decade.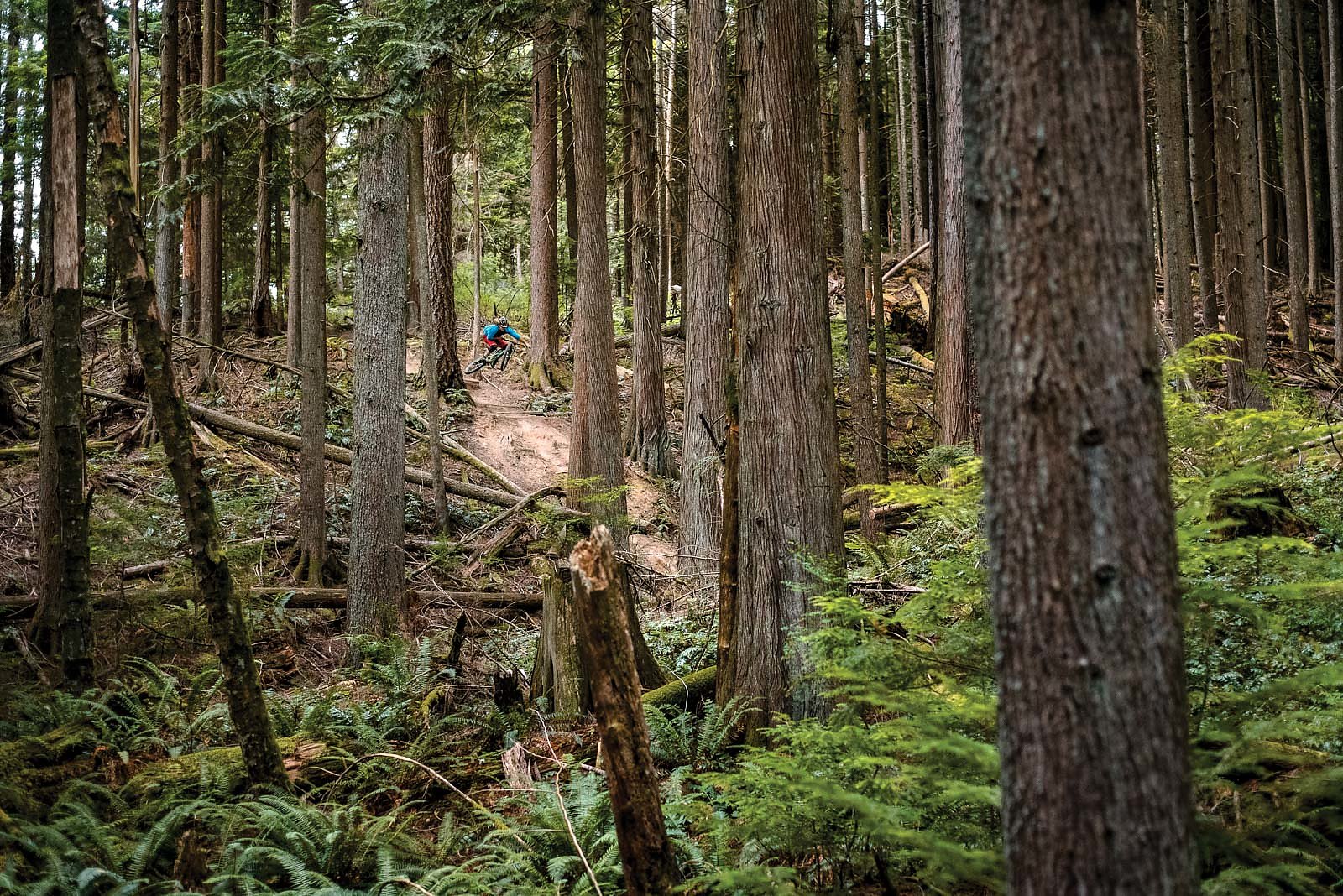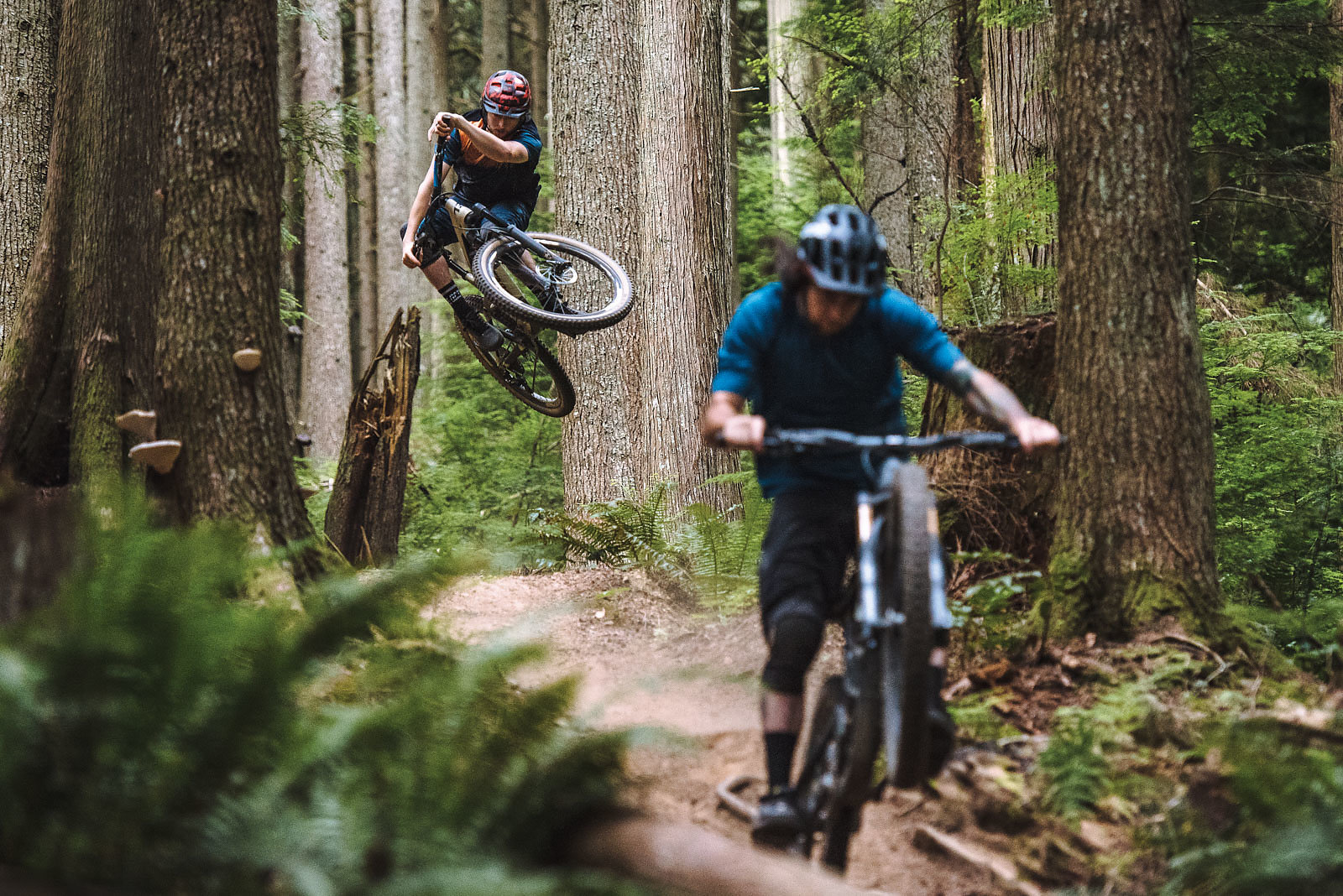 Nowadays, I probably ride my bike as much as my snowboard. While, I came to Bellingham for the winters, I stayed for the summers. Through the years, I've gotten out to build a bit and I've been lucky enough to see and ride a handful of masterpieces created by some of the most dedicated diggers around. Indeed, there are dozens of folks who spend their evenings and weekends moving dirt for our enjoyment. They're the backbone of the local bike community, and the recent growth is emblematic of their hard work. I wish I could name 'em all, but know I'd miss someone. Rest assured they're out there in the woods, in the summer heat and fall drizzle, getting bit by mosquitoes with a sixer of Rainier tall boys warming on a stump as they sweat and curse and laugh and ride.
Or maybe that's one of them now passing by my front door. Tick, tick, tick. Better go see who it is. Maybe they've got time for another lap?