The Skiers of Summer Sandpoint Resurfaces as a Singletrack Sanctum
On a frosty fall morning on a farm outside the lakeside community of Sandpoint in northern Idaho, Jason Welker musters the troops. The Pend Oreille Pedalers (POP), the local biking club, has rallied some 30 volunteers in addition to a passel of kids, a pack of dogs and a Kubota tractor. Their task: scratch in a track for the club's annual cyclocross race in four weeks.
With the intensity of teenagers cleaning up a house party before their parents get home, the volunteers get to work raking, scraping and chopping a route through the doghair hemlock and fallow fields. Three hours and three miles later they are, improbably, done with the course. Lounging amidst hay bales afterwards, Welker, the club's executive director, and crew contemplate costume ideas and heckling sections for the race. It's the sort of idle spitballing that usually accompanies bikes and beers, but given the frenetic energy of the course build, the prevailing sense is that the Pedalers will pull it off with gusto.
Sandwiched between the world-class skiing of Schweitzer Resort and Idaho's largest lake, Sandpoint is one of the fastest-growing small towns in the United States according to U.S. Census Bureau data. Although the landscape of North Idaho now attracts a steady stream of private planes to the tiny Sandpoint Airport, it's notoriously been a home for those looking to duck under the radar.
At 43 miles long and seldom less than three miles wide, Lake Pend Oreille is also the fifth-deepest lake in the United States at more than 1,100 feet. During World War II the Navy operated a training center at the south end of the lake; today, it still tests scaled-down submarine prototypes in its sea-simulating depths. Sasquatch is thought to haunt the surrounding hills and rumors persist of a Loch Ness-like monster, the "Pend Oreille Paddler," sightings of which can probably be attributed to the naval testing, or one too many boater beers, or both.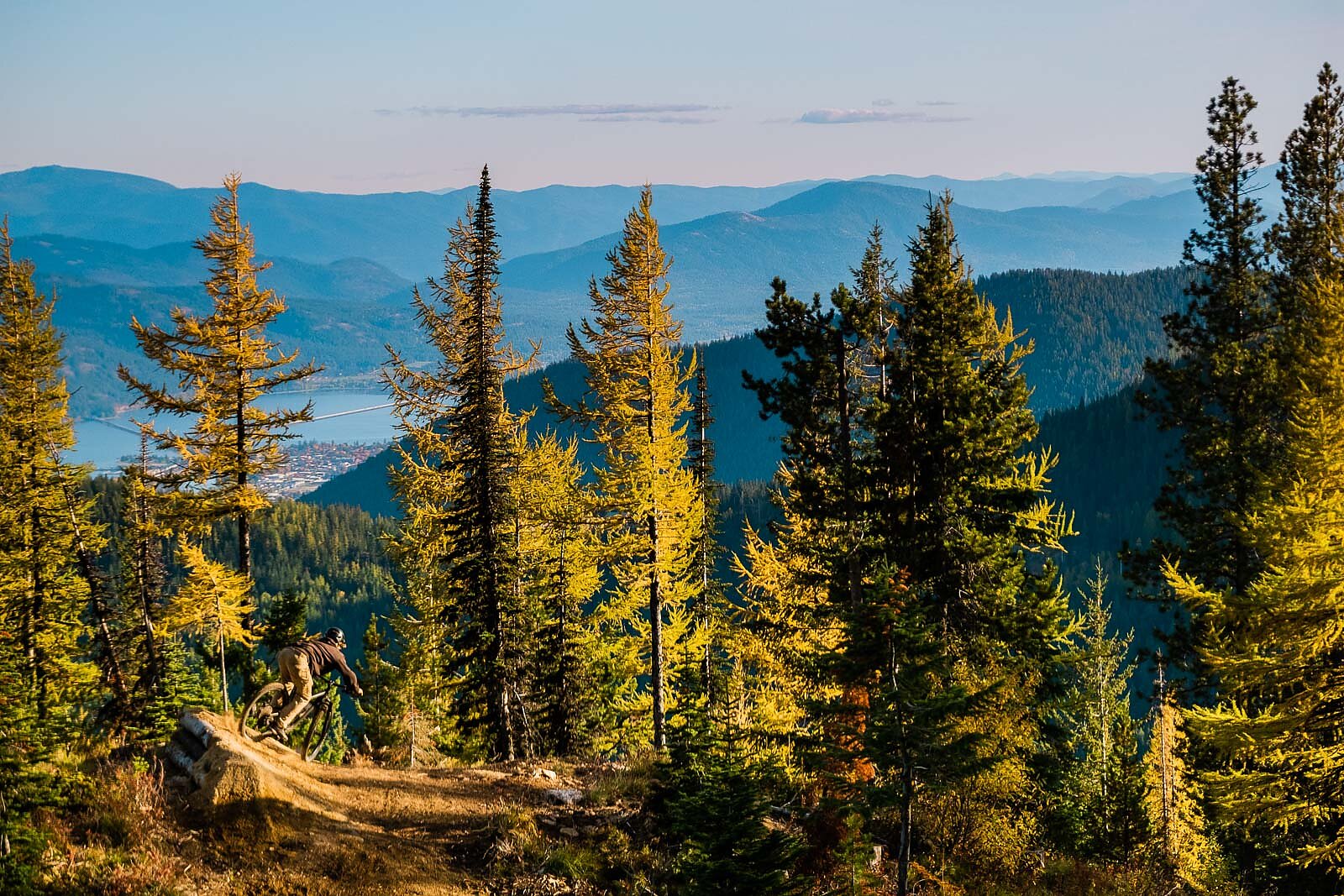 Like its submarines and cryptozoological infamy, Sandpoint's outdoor community has managed to stay mostly undercover. Although nearby Schweitzer sits comfortably within the 20 largest ski areas in the country, Sandpoint locals still maintain it's a lake town that happens to have great skiing. Until recently, they said even less about the mountain biking. However, through the efforts of POP and its public and private partners, the city's singletrack scene is surfacing again.
This isn't Sandpoint's first era of singletrack success. In the early 2000s, mountain biking soared on an upward trajectory; Schweitzer became a perennial stop for the NORBA National Series. Then, just as quickly, momentum fizzled. There were a few disparate, discrete dirt rides in the area (Gold Hill and Mineral Point on Lake Pend Oreille, backcountry routes in the Cabinets and Selkirks) but little connective tissue to sustain a bike community.
At the beginning of that decade, Mark and Susie Kubiak purchased 140 acres of forested foothills on the edge of town. Surrounded by hobby farms and ranch properties, Sherwood Forest lived up to its name: massive Douglas fir trees and moss-covered slabs of cracked stone formed by retreating glaciers littered its lowlands.
The area suited singletrack perfectly and, in 2004, POP formed to build and maintain five miles of trails on the property. Mark hung wind chimes and placed whimsical sculptures along many of the trails, and the Kubiaks placed the property under a conservation easement with the Kaniksu Land Trust, the local land conservancy.
Meanwhile, Welker was coming back to Sandpoint every summer while living overseas, staying in his cabin on Schweitzer and riding the rogue trails below the resort boundary. When he moved back to Sandpoint in 2017, he got involved with POP grooming fat bike trails and reviewing grant applications. In the spring of 2020, the board approached Welker with the prospect of a fulltime position, and he jumped at the chance to get paid for work he'd been doing for free.
He'd already set his sights on an ambitious project: establishing bike-friendly trails on the property adjacent to Sherwood Forest. The 180 acre parcel, known as Pine Street Woods (PSW), was purchased by the Kaniksu Land Trust in 2018. In Welker's mind, the site was ideal for biking, with the potential to connect modern trails to Sherwood Forest's old-school sensibilities.
But Welker recalls attending a public information session on PSW and noting that bike trails weren't even part of the discussion.
"I started asking the board, 'Why aren't we getting involved?'" said Welker. "I kind of personally viewed that as unacceptable."
Now, as a full-time employee of POP, Welker had the resources to stump for singletrack and the volunteers to back him. His efforts quickly paid off when the KaniksuLand Trust agreed to constructing bike-friendly multi-user trails on the property. Meanwhile, the potential footprint with which POP had to work was growing.
Immediately after the Kaniksu Land Trust completed the purchase of PSW, word got around the small community that there was a big bulldozer parked on the 100-acre parcel immediately to the south.
"I think it was the property owner's statement, like 'buy this or this is what's going to happen,'" said Julie Meyer, POP's board president. With real estate prices lapping the national average, Julie realized she and her husband Steve had to act quickly. But her pursuit of the property was the culmination of a dream decades in gestation.
Julie recalls that, as a ski racer in the 1970s, the parent group of the local ski-racing club to which she belonged had investigated buying the land, then colloquially known as Old Ski Hill. Later, the Meyers developed their lifelong love of mountain biking on the user-built trails that crossed the property.
"We were riding those trails back in '82," says Julie. At the time, "They were just horse trails or trails from kids playing hide and seek in the neighborhood. Steve and I were probably the first biking group riding those trails."
In 2020, the Meyers closed the sale of Old Ski Hill, saving it from bulldozers. It's now known as VTT—short for the French term for mountain bikes, "vélo tout-terrain"—the newest member of the trifecta of interconnected properties, private and public, that comprise the Syringa trail network.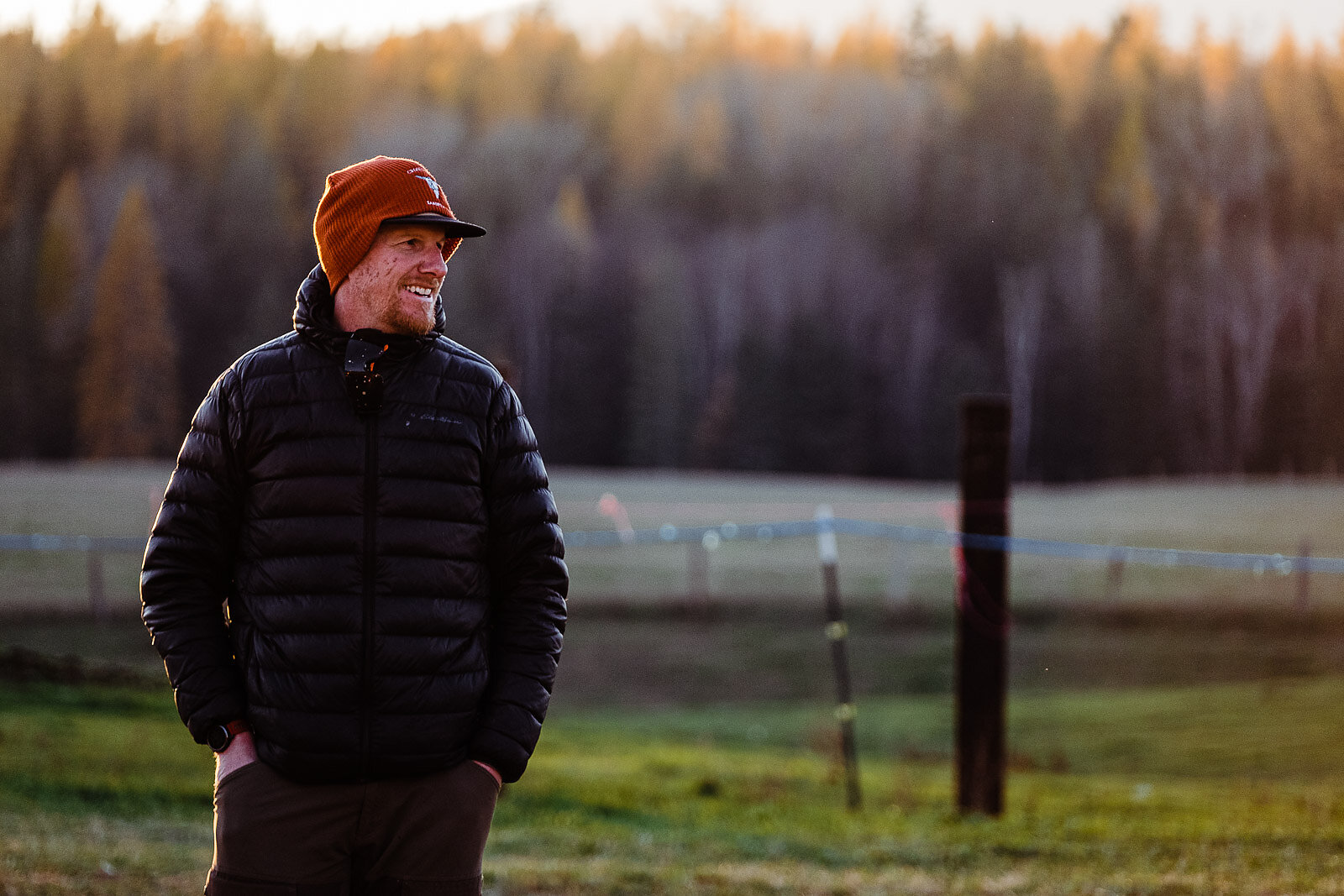 Pine Street Woods began to take shape spring of that year. Seeing a need for a local trailbuilding company to handle the community's ambitious plans, Sandpoint resident Mike McCoy formed Collaborative Trails and lent his excavator expertise to the construction of several miles of mellow, meandering singletrack through the meadowed property. When the Meyers closed on VTT, POP immediately took the momentum it had generated on the PSW project and rallied its volunteers to build beginner-friendly trails on the new parcel.
"They have definitely been designed by mountain bikers as opposed to kids playing hide-and-seek," says Julie. It's common to see joggers and dog walkers—a testament to the trail engineering and the multi-user ethos of the property—navigating the sweeping berms and rollers of Rotarian and Green Heart.
More trails, mostly intermediate and expert lines that take advantage of the stair-stepping slabs of rock on the property, are in the works. The spot where that ominous bulldozer made its silent ultimatum is now the newest trailhead parking lot for the Syringa trail network. It's immediately accessible off the state route out of town, or from a paved bike path that connects Sandpoint to the community of Dover to the west. The Meyers plan to put a conservation easement on the property in 2022, ensuring unfettered public access in perpetuity.
"It's a great way to create a relationship with the people using your land and for them to create a relationship with the land," says Julie. "The bigger overall movement to get people outside and appreciate the natural environment is kind of an exclamation point at the end of all of it."
If Sandpoint is a lake town that just happens to have a ski resort, Schweitzer is a ski resort that for many years just happened to have mountain biking.
"I moved here in 2006, which was basically the year after the last NORBA National," says Sean Mirus, Schweitzer's Marketing and Events Director and an active POP member. "For me, moving from Angelfire where we had hosted a World Cup, I was excited to see the same thing happen here."
Between the collapse of NORBA and a broader waning of the sport's coffers during that era, biking at Schweitzer tapered off; aside from the construction of Beargrass, a lengthy blue top-to-bottom flow trail built near the end of the aughts, trail construction languished in maintenance mode for several years.
"YOU COME UP FOR A WEDDING, BRING YOUR MOM UP, SHE GETS ON A TRIPLE-CROWN DH BIKE, GOES DOWN PINCH FLAT AND SCARES THE BEJEEZUS OUT OF HERSELF."  - MATTHEW CONGER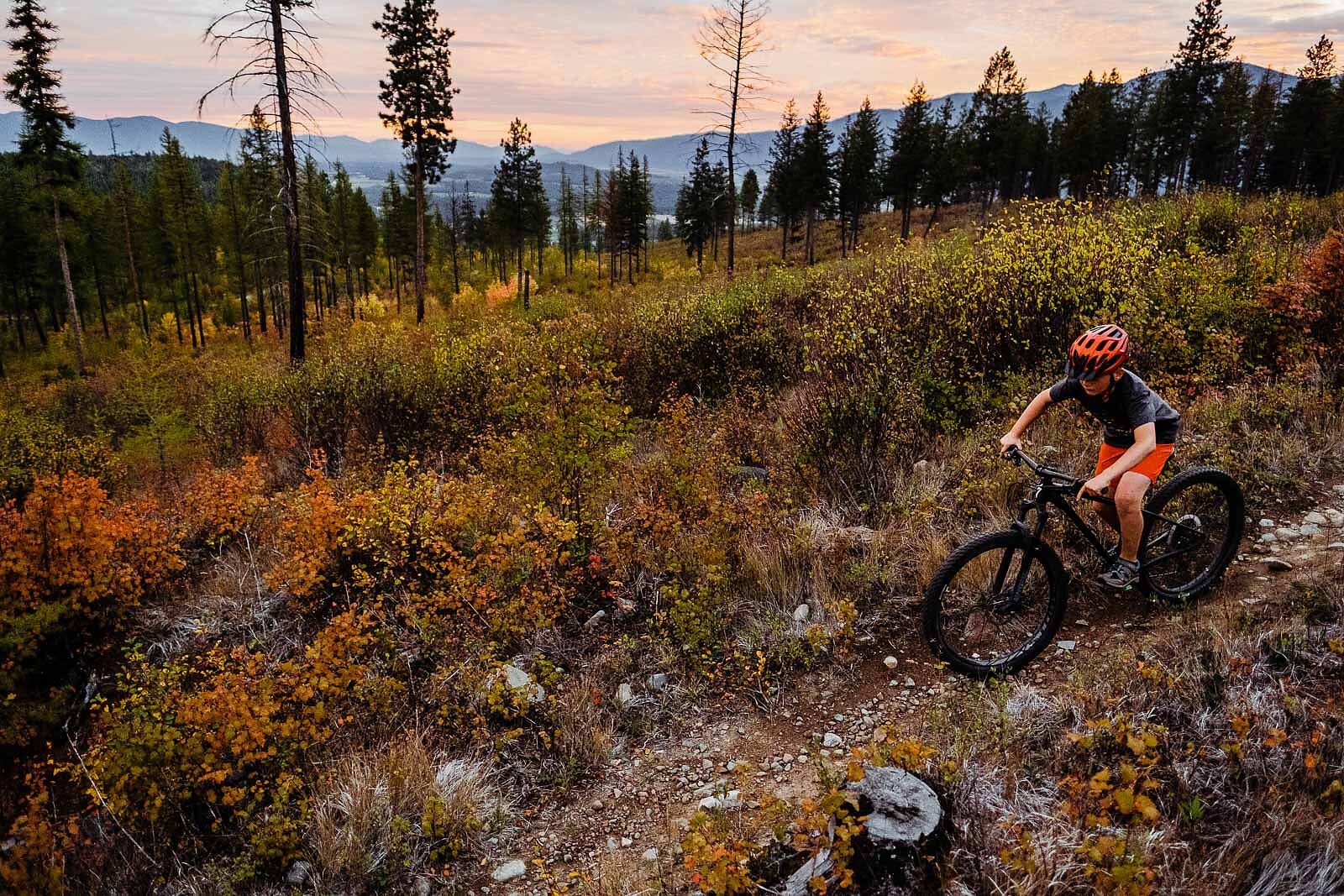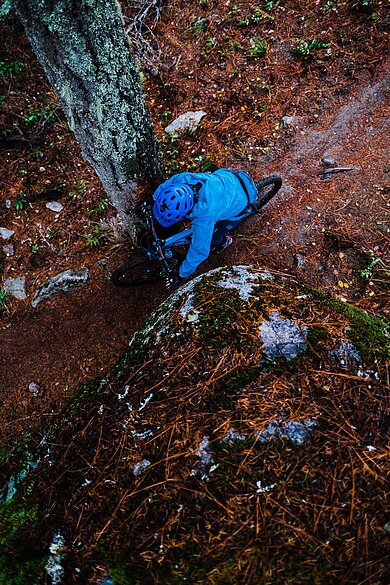 Schweitzer, like the rest of the Selkirk Range in which it sits, is a mass of shattered granite—soil is merely a suggestion at its higher elevations. The resort had a well-earned reputation for chunky, punishing tech trails and while expert riders could push the limits of their suspension on Pinch Flat and Moffit's Edge, there were no beginner trails and even Beargrass exhausted most riders over its four-mile length, especially in the moondust of mid-summer.
"You come up for a wedding, bring your mom up, she gets on a triple-crown DH bike, goes down Pinch Flat and scares the bejeezus out of herself," said Matthew Conger, a POP board member who was marketing coordinator at Schweitzer until the end of the 2021 season.
In 2018, Rob Batchelder, took over the role of Mountain Operations Director. Proclaiming himself to be emphatically "not a mountain biker," he nonetheless understood the importance of the sport to Schweitzer and the Sandpoint community and gave the green light to the resort's fat-tire faction to develop new trails. The timing couldn't have been better, coinciding with a general surge in summer traffic.
"All of a sudden, people started coming up and renting all the bikes in the fleet every day," says Conger. "Schweitzer is starting to realize that mountain bikers are basically the skiers of the summer: they want to explore, go to new places, check out restaurants in town. It's not kids building rogue trails anymore; it's people with money traveling and investing. That really kickstarted things."
After more than a decade with little in the way of new trail construction, Schweitzer wasted no time in catching up. Seeing the need for both beginner and intermediate trails, the resort hired two crews to work concurrently on different parts of the mountain. Whitefish-based Terraflow, which built several of Whitefish Mountain Resort's iconic trails and had recently completed Legacy Bike Park in Montana's Flathead Valley, added a machine-built beginner trail—the resort's first—to the network. Meanwhile, Collaborative Trails, which constructed a large portion of Pine Street Woods, brought its local expertise to a blue flow trail. The addition of two outside trail crews to tackle beginner and intermediate tracks allowed Schweitzer's own build team, under the dirt-moving diligence of Terrain Park Manager Dan Nylund, to focus on its bread-and-butter, tuning up and improving the park's expert tech trails while incorporating black-diamond jump lines into the system.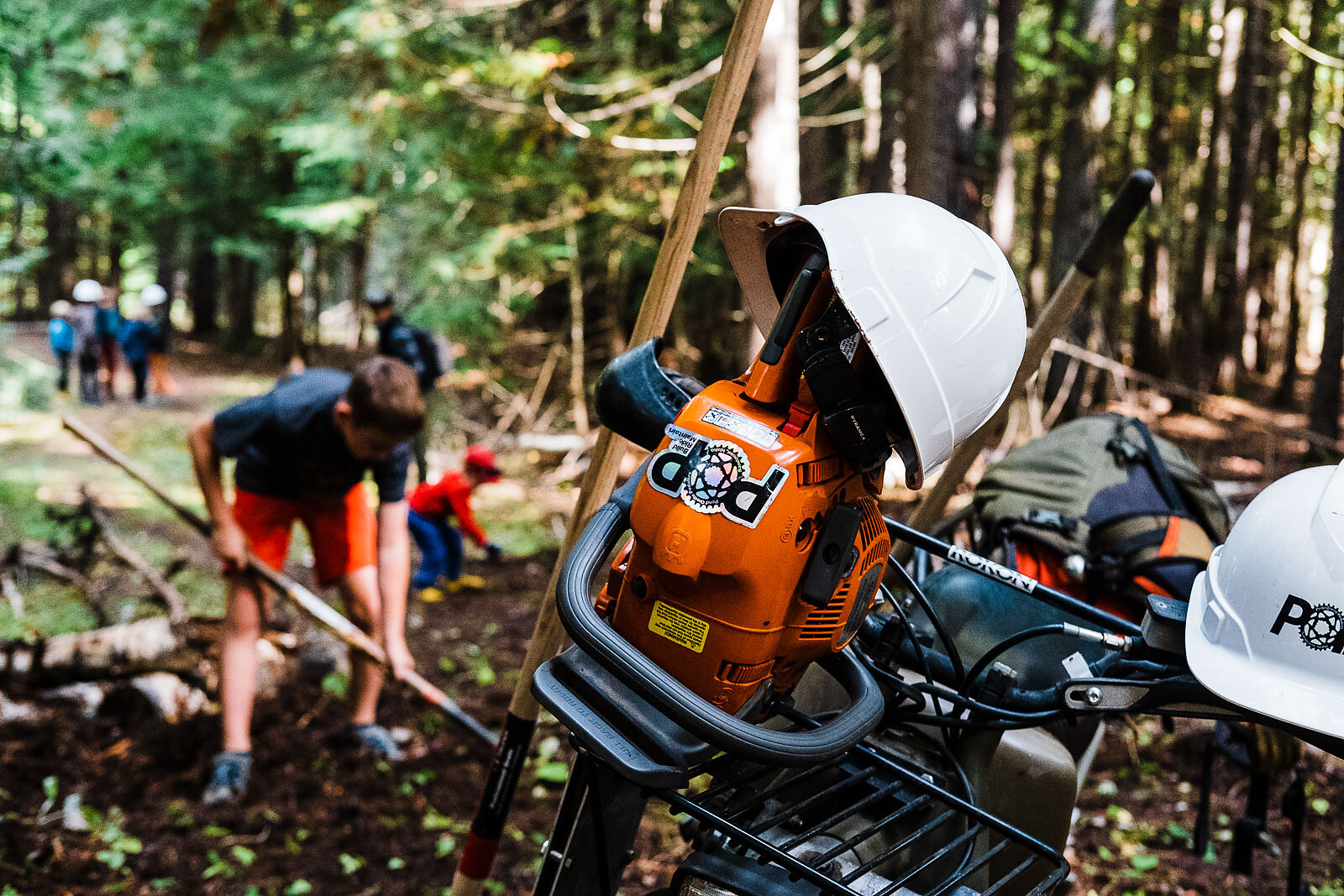 "With bikes and people getting into biking nowadays, there's a need for the more manicured stuff they want to ride," says Conger. "They need variety, but they don't just want to beat themselves up on chunky DH trails. It's one thing to have a green flow trail, but as soon as you graduate from a green flow trail, do you really want to just graduate to chunky black stuff?"
There's an advantage to playing construction catchup after more than a decade of focusing on maintenance. Bikes and what people can do on them have evolved, trailbuilding has transformed into a science. Industry precedent now calls for building fun and sustainable trails with minimal trial-and-error.
Shenanigans, the expert flow trail that Nylund and his crew are constructing, exemplifies Schweitzer's trailbuilding progression. Hidden alongside the step-ups and rollers like gopher holes on a golf course, borrow pits reveal where the builders have scraped up enough soil for the track, bucket by bucket. There's no shortage of stone and it's used in service of the flow. A boulder forms a hip to eight-foot step-down that launches riders into the biggest features of the trail.
Schweitzer lies entirely on private land which means its rocky terrain is often the only obstacle to building new trail. Just beyond its boundary, though, touchier hurdles have been averted.
The Lower Basin is part of the Little Sand Creek Watershed, which supplies Sandpoint's drinking water for about four months of every year. Recreation on rogue trails had been unofficially taking place in the watershed for decades. Then, in 2018—the same year POP secured a trailbuilding win in Syringa and Schweitzer began breaking ground on new routes at the resort—Schweitzer, the City of Sandpoint, the Selkirk Recreation District and POP partnered on an agreement for the bike club to take over legal trail construction and management.
"What's been cool to see is the city, instead of just saying 'let's shut it down,' they're giving money to POP to make it right," says Conger. Their new approach is, "How do we fix it and make it right rather than taking this cool asset away?"
Now, thanks to POP and Collaborative Trails, riders can descend from the top of Schweitzer on the Highpoint trail and then outside the resort boundaries to a network of corkscrewing, cedar-shaded runs that funnel some 4,000 vertical feet to the base of the mountain. Because the numerous access points on Schweitzer Mountain Road allow for easy shuttling, the Lower Basin has become a popular spot for enduro-style descents. In 2021, POP and Collaborative Trails began working on a Lower Basin climbing trail to minimize cross-directional conflicts.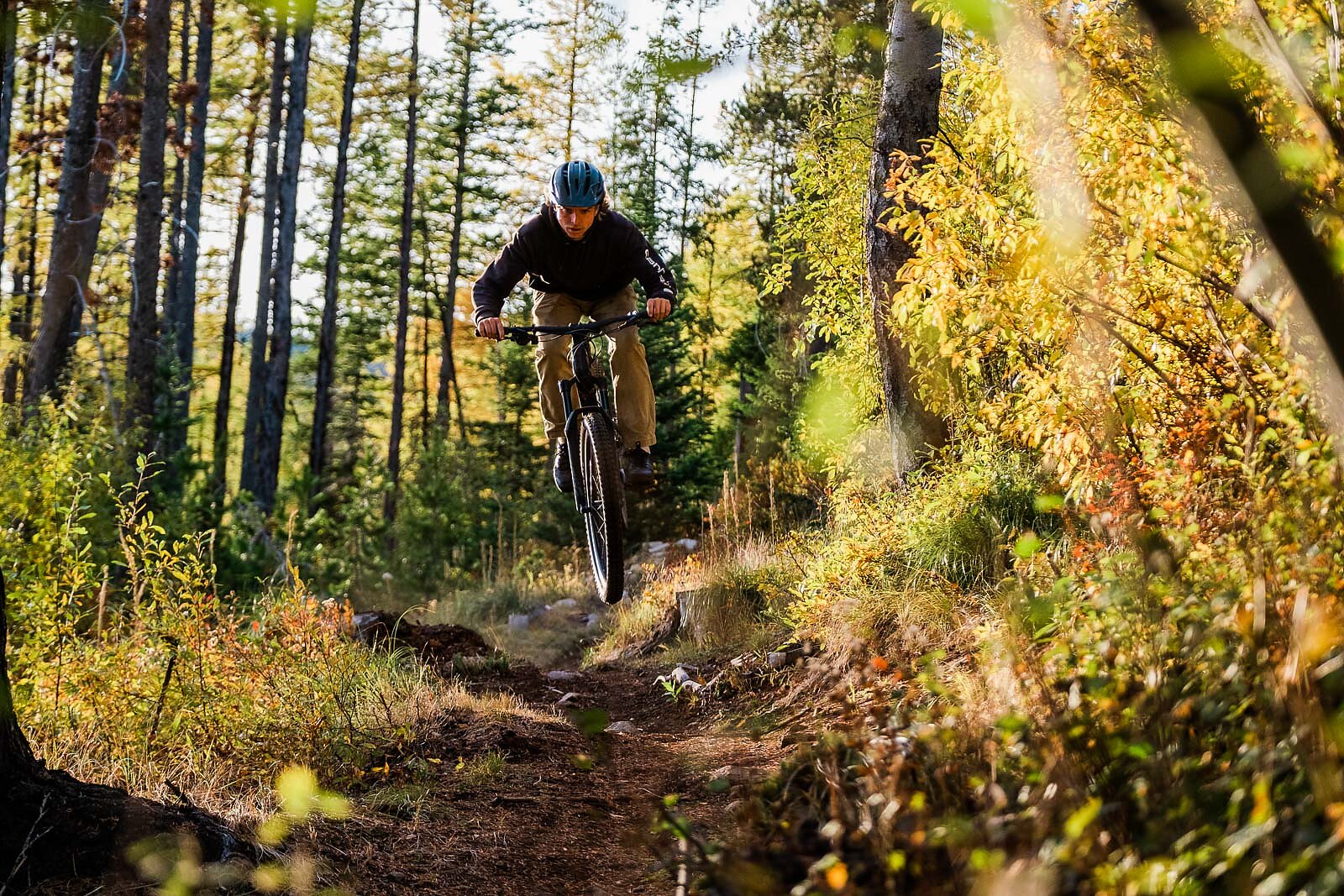 The route from Highpoint west to Uleda Point is the first stage of the Watershed Crest trail, which, when completed, will circumnavigate the Little Sand Creek watershed over the course of about 24 trail miles and more than 4,000 feet of descending. Locals contend the Watershed Crest trail has the potential to be akin to an IMBA Epic.
"A lot of the riding has to do with the natural environment and the dirt we have to work with—or lack thereof," says Mirus. "Lower on the mountain there's some nice forest, some loamy, giant cedar stands. Higher up the mountain it's basically a pile of decomposing granite. So, for variety, we've got it all!"
"We call it 'front-country adventure,'" says Welker.
"Where else can you get a 4,000-foot descent within three miles of downtown?"
The Watershed Crest and Lower Basin projects are an example of Sandpoint's strengths—a mix of private dollars and sweat with government support and a refreshing lack of rancor. If the Pend Oreille Paddler is rarely sighted, the Pend Oreille Pedaler is ubiquitous.
In 2021, POP held 38 volunteer outings, during which they built the two miles of new trail in VTT and the first half-mile of a new climbing trail in the Lower Basin (Collaborative Trails added another two miles of machine-built trail there). In 2022, POP plans to build two more miles in VTT, another two miles of the Watershed Crest project, and potentially the next phase of the Lower Basin trail. In addition, POP has been working with the Forest Service on an agreement to take over maintenance of some of its trails, bringing the area's historic mountain bike routes further into the fold.
"We used to get four or five people at a trail work party; now we get 25 to 30," says Mirus. That would be impressive for a mid-sized city; it's staggering for a community of 5,000.
"I sometimes wonder if in bigger communities there's the mentality that someone else will do it or 'I'll just give my donation,'" says Conger. "Whereas in Sandpoint, it's a smaller community with maybe not as many other distractions on a Thursday night."
In November 2021, Welker successfully ran for Sandpoint City Council, which means the mountain bike community now has an advocate walking the halls of local government and walking the walk of civic engagement.
The consensus among the bike community is that, unlike past groundswells of interest, the current surge of momentum is here to stay. City and state tourism organiorganizations are embracing biking because prime riding season coincides with the seasonal ebb of lake visitors, thus providing a nice tourism cushion for local businesses.
"Now you have the city council wanting to build trails, and you have the mayor coming to work parties," Conger said.
Coming to the fore is a community that's been hidden amongst the classic-car crawls and outdoor summer concerts all this time.
"I don't really care if Sandpoint is known first and foremost as a trail town," says Welker. "I want people to be able to get off work and ride something new, and for there to be stuff for kids to ride."
Welker points to POP's youth programs at PSW as a priority. The programs are wildly popular: this year, all 32 slots for the spring after school mountain clinics filled before lunchtime on the first day of registration. Parents subsequently stepped in to volunteer to take another 16 participants. Between the after-school programs and the equally popular summer mountain bike camps, POP's youth programs are helping ensure generational bike community continuity.
Every year since Welker has been back in Idaho, he's done a bike trip to Whitefish, a town that in many ways mirrors Sandpoint: a world renowned lakeside ski town with a robust community trail system. Despite his ambivalence about whether Sandpoint has a reputation as a trail town, he's wondered: What would it take for Sandpoint to be the sort of place people would drive four hours to ride?
The answer is beginning to take shape with every Thursday-night shovel swing. Separately, Welker, Conger and Mirus all have mused at what the prototypical Pend Oreille bike trip would look like and it goes something like this: Arrive in town and sample the Syringa network, which, when complete, will have around 16 miles of trails ranging from the old-school singletrack of Sherwood Forest to the flow trails of VTT. Lap Schweitzer's trio of new trails, and then finish the day with a flowing 4,000-foot descent through the Lower Basin and post-ride microbrews in town. Take a day to explore the growing community trail systems to the north of Sandpoint or tackle the alpine outside of town. It'd be a mix of quick escapes in nature close to town and fully immersive, five or six-hour backcountry rides. Pedalers could dive as deep as they wanted.
"As the number of Sprinter vans and truck campers continually increases coming through town, very few of them are pulling a wake ski—they've got bikes," says Welker. "And they're going to go home and tell people about it."