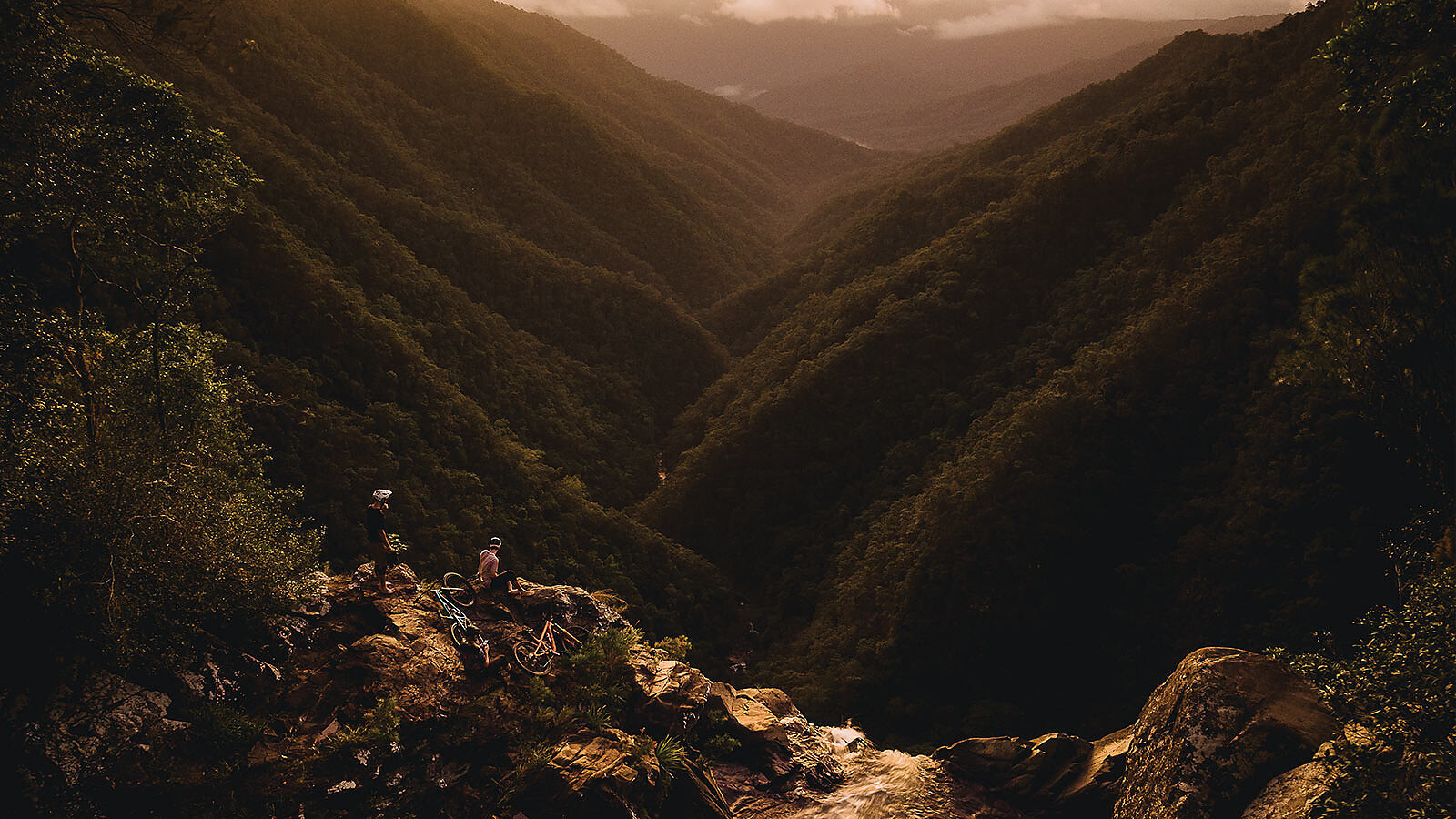 Rumble in the Jungle The Endless Summer of Cairns, Australia
Few mountain bike destinations in the world exist in which trails run through an ancient rainforest, let alone one of UNESCO World Heritage status within spitting distance of a salty ocean breeze. In Australia's tropical North Queensland, that is what's on offer.
From Cairns, ribbons of red dirt snake away from the city center through brown, green and yellow undergrowth. The crisp blue skies and shimmering foliage is a visual feast. Whichever way you look, it's beautiful, but there's no hiding the sweat on your brow. The grandeur of the canopy may distract you; rumbles within can't be ignored.
For every fast guy and gal in the jungle, there's an equally nimble creature residing just out of sight. The cassowaries may want to race, and wait-a-while vines are known to grab an occasional unsuspecting rider's handlebars or sleeve. Whatever you do, don't touch the stinging plants.
Otherworldly sounds emitted from the flora and fauna of Cairns attract the lion's share of attention from casual visitors, though another noise can be heard by those who listen close: Exuberant whoops and hollers from mountain bikers deep within this small, tightknit community. A mention of Cairns to any discerning rider usually invokes images of infamous editions of World Cups and World Championships of yesteryear—streams of water running down the track, pits flooded, spiderwebs hung at head height mid-course. Cairns mountain biking lore goes much further back than racing, though, and in many ways it's still just the beginning of this city's rise to the stratosphere of the sport's premier destinations.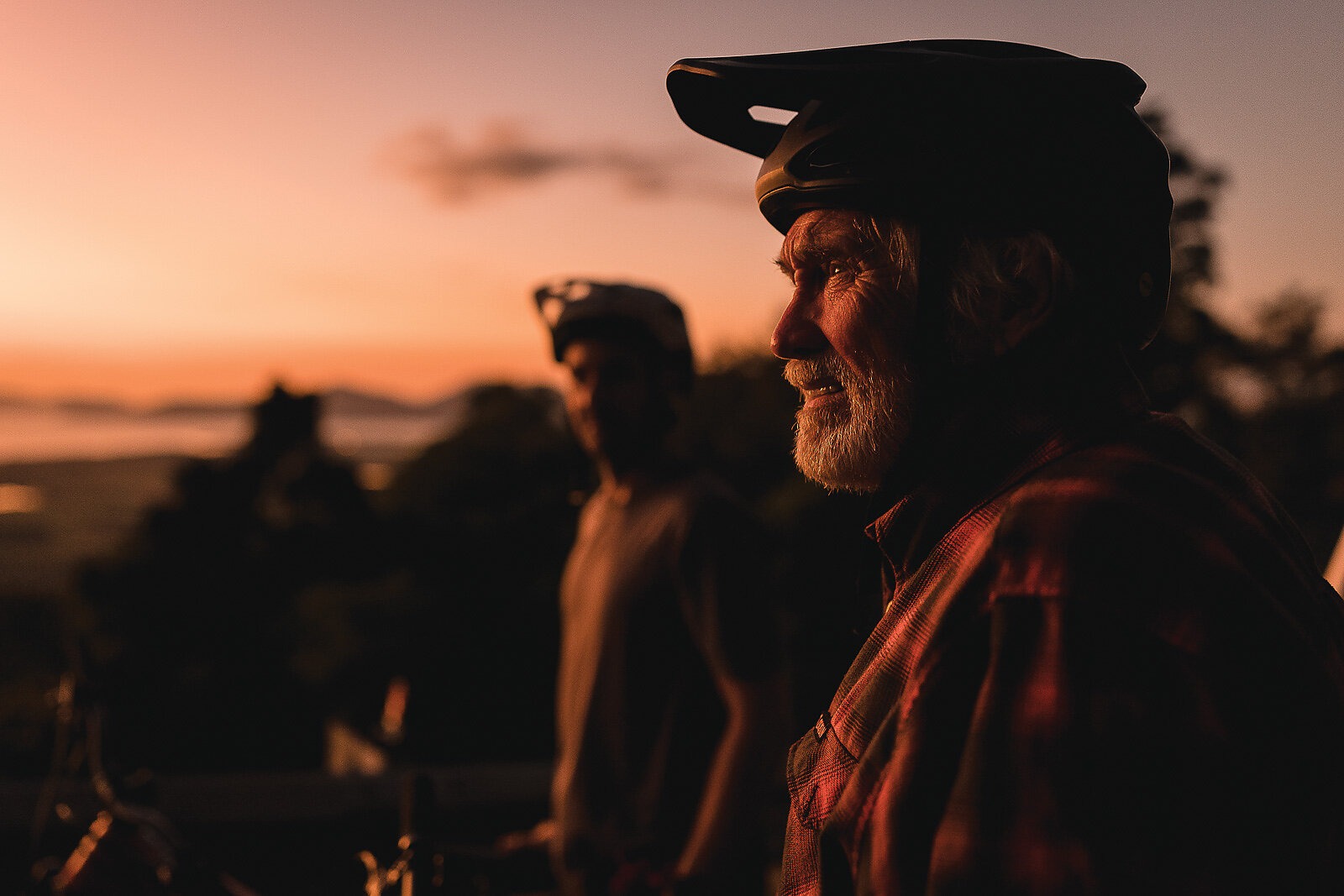 No renowned outdoor community takes off without a pioneering individual. In this corner of the globe, that person is Glen Jacobs. "We ain't got snow and ain't got surf," Jacobs says. "But we have mountains."
For young, adventurous motorbike enthusiasts, Cairns in the '80s was the ultimate playground. The city is flanked by steep mountains rising from the sea and is covered in dense rainforest. From atop nearby peaks, panoramic views out to the ocean offer a glimpse of the depths that house the Great Barrier Reef, the world's largest coral reef system. For Jacobs and his friends, what started as hacking and bashing through cane fields, quickly grew into bolder, more adventurous journeys into the hills. As their moto skills grew, they ventured farther afield, deeper into the bush and up old pack tracks and logging roads in search of new terrain to ride. It wasn't long before Jacobs got his hands on his first mountain bike and, well, it was all downhill from there, literally. The ensuing years were all about pushing the limit. Bombing down muddy, rooty tracks deep in the jungle, Jacobs and his crew developed their own style, at times leaning so far back they sat on their rear wheels to try and slow down.
To test their ability on steep and technical terrain, Jacobs traveled south with friends in 1990 to the Australian Downhill Championship in Canberra. The group expected to meet other riders from across the country with a similar fervor for wild downhill antics. Instead, they were shocked to find the rest of the competitors, as Jacobs puts it, with their seats "as far up their arses as possible, pedaling down gravel roads."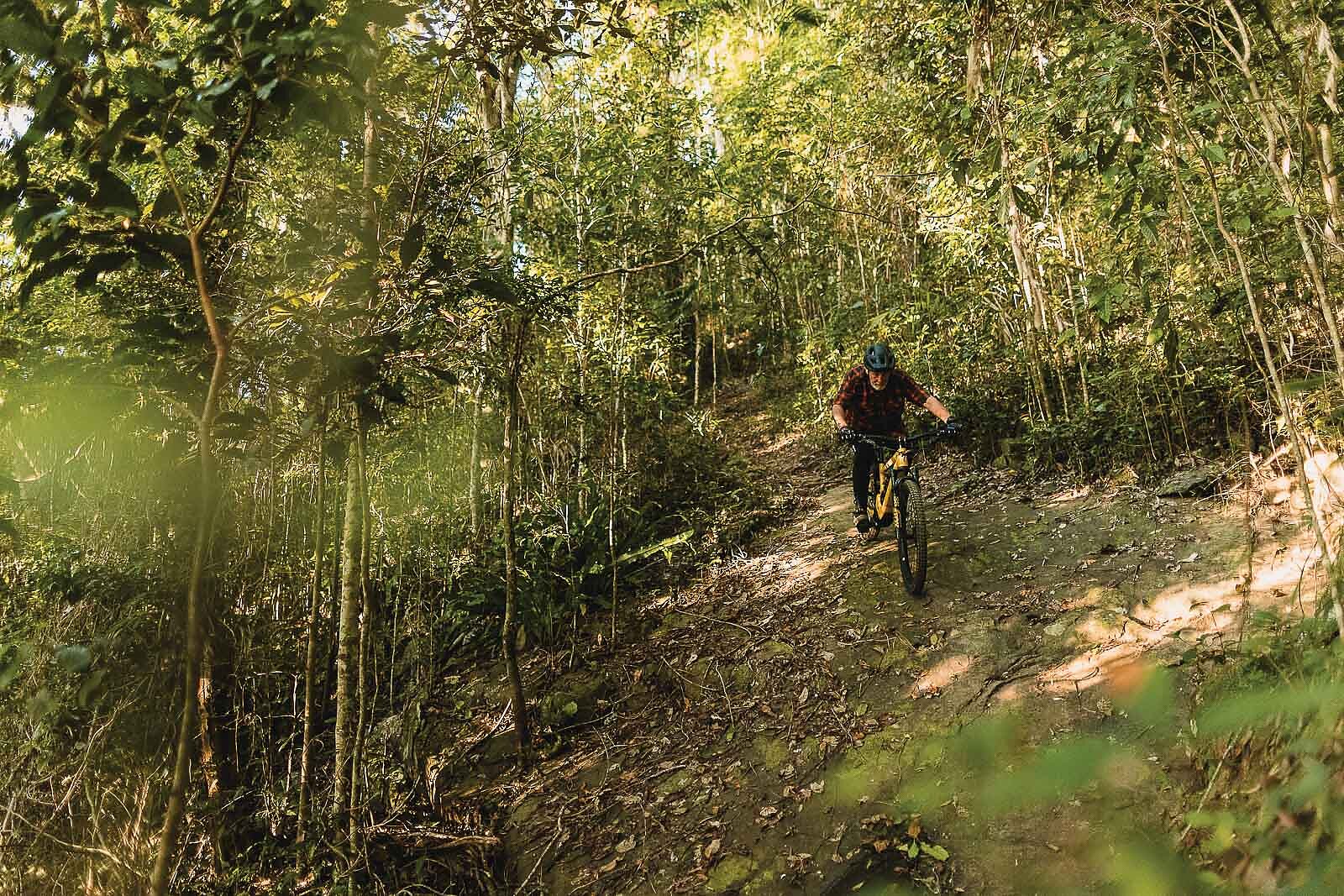 The experience left Jacobs and his friends feeling uninspired. What followed was a long multi-day drive back up the east coast of Australia, with every effort made to sell their bikes along the way. By the time they got home, bikes still in hand, they'd decided to buck the norm and keep riding the way they already knew and loved. Isolation breeds curiosity, Jacobs likes to say. With that came a resilience, and an alternative way of thinking about how the Cairns riders could maximize their time riding rowdy descents.
Chucking bikes over the back of a truck now seems second nature to many modern mountain bikers. At that time, for Jacobs, loading up a "ute" and shuttling into the mountains near Kuranda felt ingenious. The route was perfect—one of the crew's regular runs was accessible straight off the roadside. Shuttling opened a raft of possibilities and increased time spent with adrenalin fully spiked. The downhill mountain biking boom in Cairns began, in earnest, from there.
By 1992, word was out; Cairns was taking off as a destination for riders with downhill-leaning tendencies. Before long, the Cairns Mountain Bike Club, an organization formed in the late '80s, hosted its first nationals, which snowballed into World Cup events in 1994 and 1995. The first Union Cycliste Internationale (UCI)-sanctioned race in Cairns was held shortly thereafter in '96 when the World Championship rolled into town. The race kicked off a new era and future career for Jacobs, who went on to work for the UCI designing mountain bike courses around the world.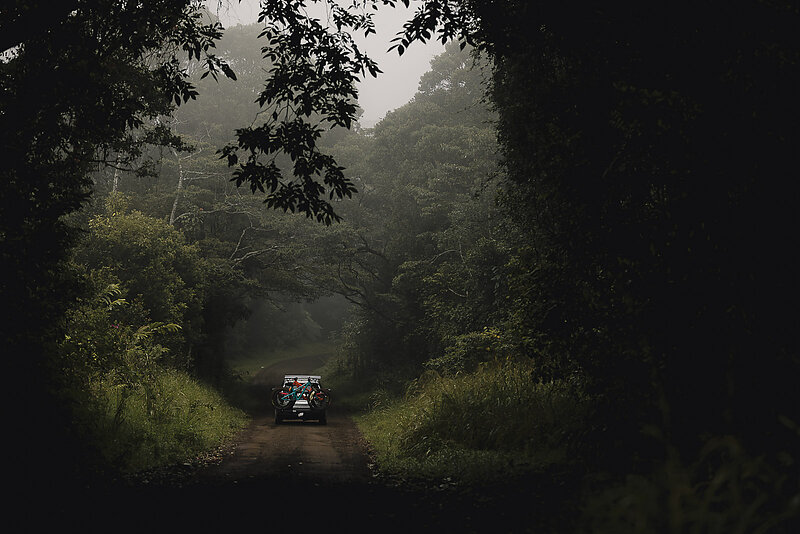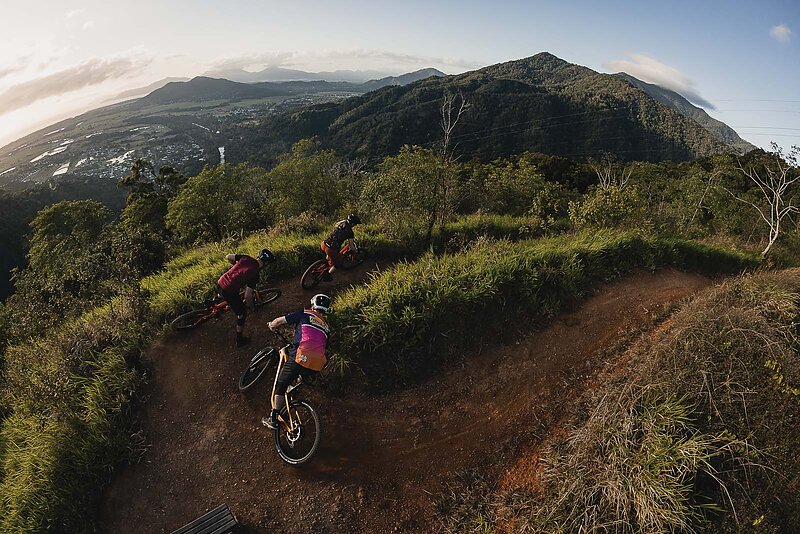 After seven years of globetrotting to inspect and advise on trails for competition, Jacobs brought that knowledge home and founded World Trail, a professional trailbuilding company based just down the road from what is now the Smithfield Mountain Bike Park near Cairns. Jacobs' experience was instrumental for developing the region's network of singletrack, both before and after it landed on the bucket list of seasoned mountain bikers. In addition to its local trail development, World Trail's résumé now includes projects in Victoria, Queensland and Tasmania among other Australian destinations, as well as an ambitious endeavor to build Norway's largest network of mountain bike infrastructure in the hills surrounding the Høgevarde ski resort, located approximately two hours northwest by car from Oslo.
Before the era of accomplished Australian mountain bike racers such as Sam Hill and Nathan Rennie, the Land Down Under had a long history of producing some of the world's fastest riders. Even back when NORBA races were bigger than World Cups, many of the country's fastest called Cairns home. Tracey and Mick Hannah made names for themselves here, and Bryn Atkinson, Michael Ronning and Sean McCarroll all cut their teeth on trails still popular today around Cairns.
Tucked in the depths of Jacobs' phone, a folder labeled "Old Riding Photos" includes a photo of a young 16-year-old Ronning, sporting a homemade VHS chest camera rig, and pads fit for the lost and found bin of the local football club. That photo was taken some 30 years ago while out on a training ride. Even back then, Jacobs was imparting his wisdom on the next generation of riders.
He likens the developments and growth of the Cairns scene to waves of influential locals, similar to what you'd find in skate or surf culture in which a group of individuals push the sport as far as possible before making way for the next generation to move the needle forward once again.
In Cairns, Jacobs can think of at least 35 people who have come through and left their mark on the scene. But while key individuals have had immeasurable impacts on the growth of mountain biking here, the influence of hosting large events is undeniable. The momentum may have been slow to build following the first round of world tier races before the turn of the century, but since then each World Cup and World Championship has brought great change to the city.
Cairns' mountain bike boom is evident, even within the context of a few years. In 2017, the city played host to cross-country and downhill disciplines of the World Championship which led to trail expansions and refinement in preparation for the event. The COVID-19 pandemic brought yet another influx of trail demand. Recently, two new flagship trails, Pipeline and Bowhunters, opened at Smithfield alone.
Other towns within the greater Tropical North region are experiencing the same growth and demand. Atherton, an outdoor-lover's paradise about an hour drive from Cairns, is drawing more mountain bikers than ever before. Cardwell, farther south, is in the later stages of planning, with funds already set aside for a huge new development of upwards of 80 kilometers of trails. 
It takes a village all pushing in the same direction to continue to attract world-class events to the region, and to inspire the community to get behind the developments and activities. Berend Boer, one of Cairns' finest recent enduro exports, notes that excitement for mountain biking is high in the area. At this point, the connection between people in Queensland and the sport are as intertwined as the roots of the rainforest floor. It all helps when it comes to trying to get an event as prestigious as Crankworx to come to town. Talks of bringing the world-famous event to Cairns began in 2018, though it wasn't until early this year that an official announcement was made for Crankworx Cairns, set for October 5-9, 2022.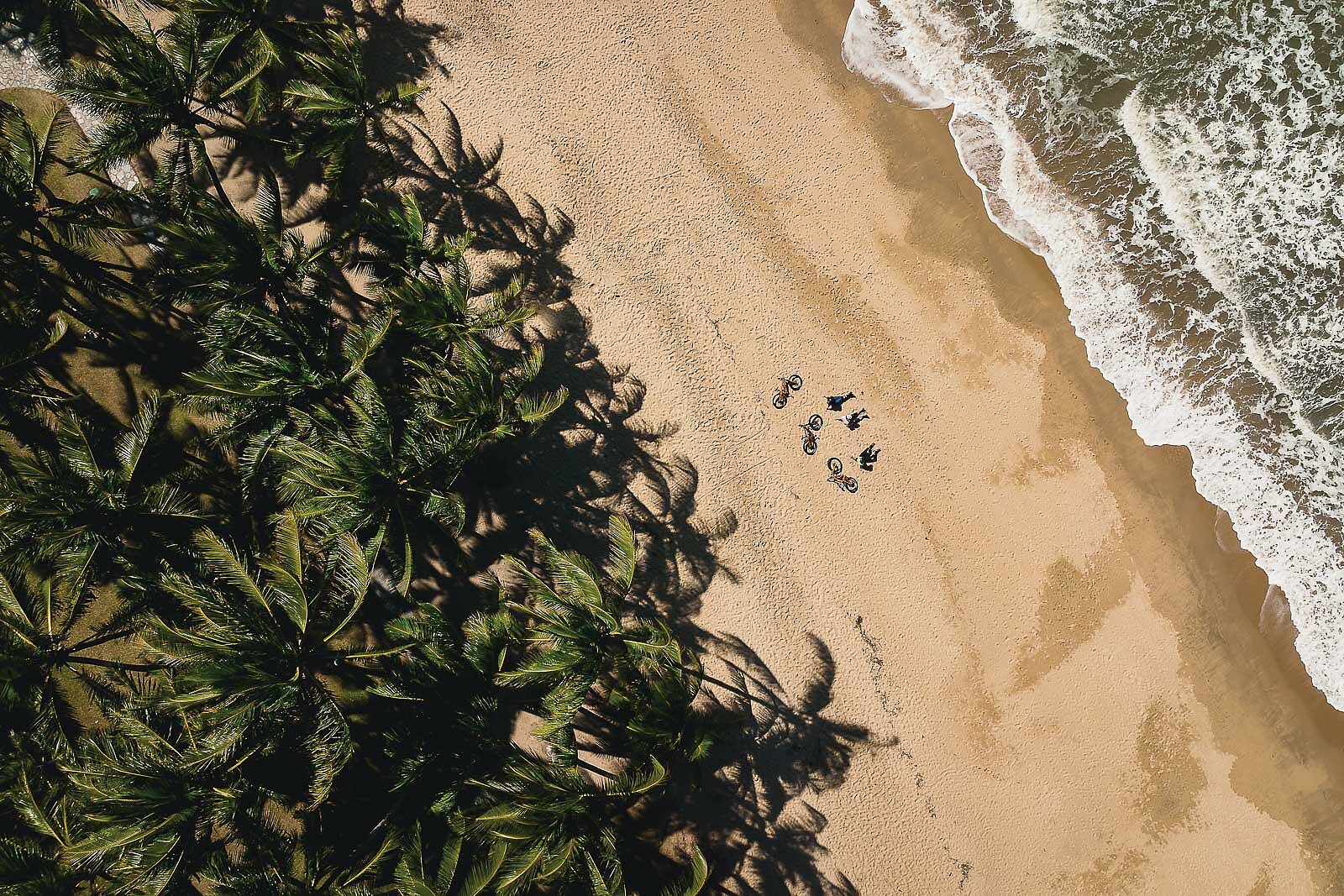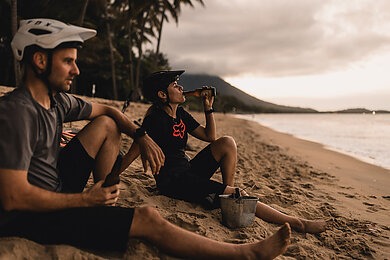 The word on the street is that Mick Hannah had been in discussion with Darren Kinnaird, Crankworx's managing director, for more than a year about the possibility of hosting a stop of the event and Rhys Jones, World Trail's point man for Crankworx Cairns backs that up. "Mick got them here," Jones says. "[He] worked really hard for a long time to prove to them why Cairns was a good fit." Once the Crankworx team saw the potential for a truly unique stop, everyone else set to work making it a reality. Jacobs recalls showing representatives around town and presenting several different zones to them. The one that made the most sense was the Smithfield Bike Park.
One of World Trail's secrets to creating successful trail towns is to build where there's already infrastructure, be it villages and townships, chairlifts, or an existing set of trails. Like so many great ski towns—Verbier, Whistler—there's really no reason to leave once there. Ideally, in the eyes of World Trail, a bike is all that's needed to get around efficiently at ride destinations they've had a hand in constructing.
For Jacobs, Crankworx Cairns is yet another chapter in the story of what seems to be an endlessly evolving Australian mountain bike hot spot—one he's witnessed take shape from humble beginnings. Boer is looking forward to visiting riders realizing just how relaxed this place can be. He laughs at how, with just the snap of their fingers, riders here seem able to conjure a whole crew to ride together within minutes, often followed by a leisurely dip at a local watering hole. The constant summer of the tropics rubs off on locals and tourists alike. Ending a ride at the pub is one thing, but finishing under palm trees, toes in the sand, frosty in hand, is perhaps the only unchanged experience across decades of mountain biking in Cairns.