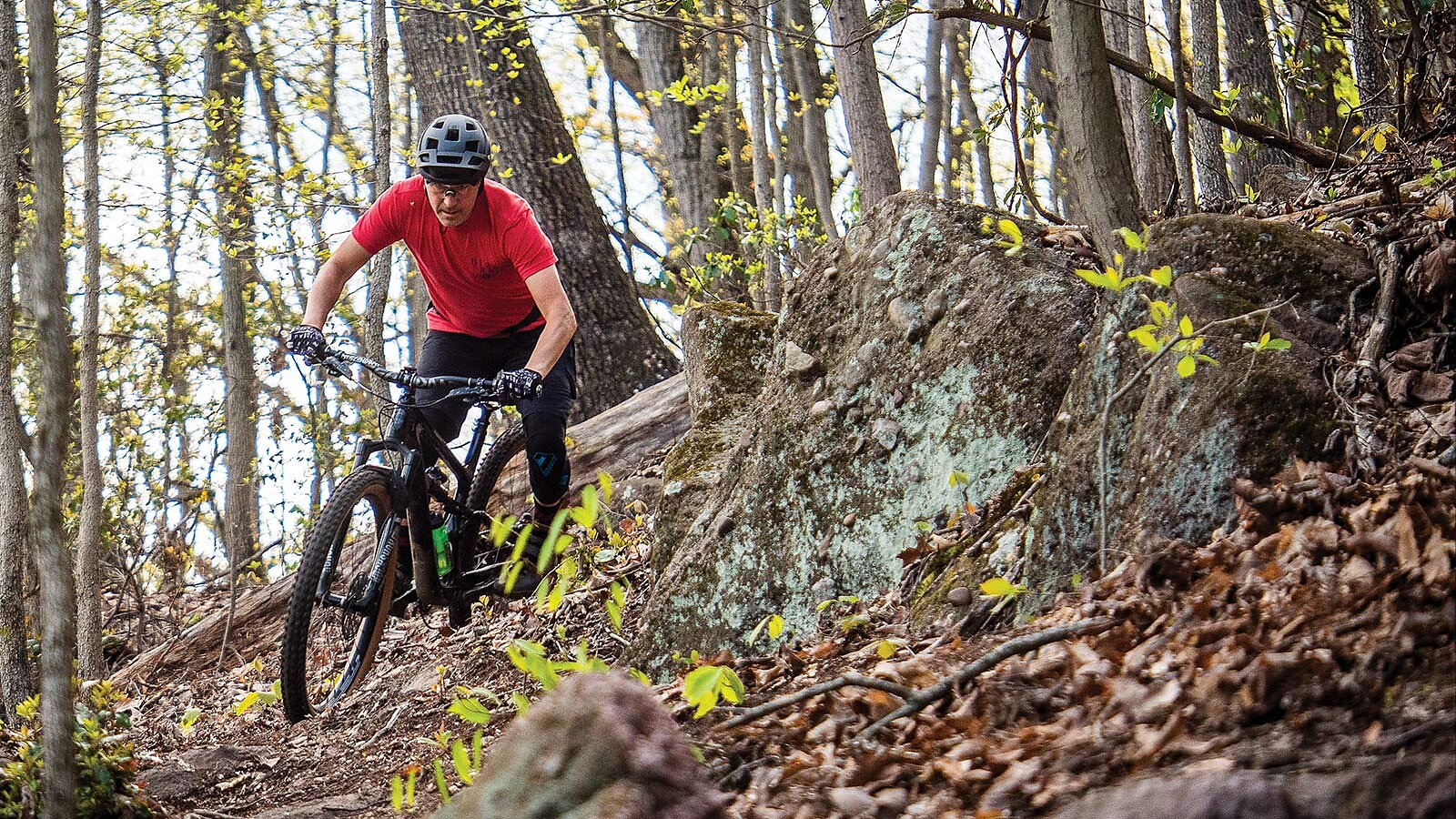 Rock Farmers Southeastern Pennsylvania's Tectonic Trailbuilding Shift
Pennsylvania has a reputation among mountain bikers as a place with too many rocks and not enough elevation. The Keystone State's bitterly cold winters and brutally humid summers compound its roughhewn reputation, but resident riders happily embrace these realities and passionate communities are scattered throughout the state. One of the most devoted of these is in Berks County, roughly an hour's drive northwest of Philadelphia.
Bookended by the Appalachian Mountains to the north and the foothills of the Reading Prong to the south, the 866-square-mile county is home to more than half a million people. The county seat and major population center is the small city of Reading, which has long been the area's epicenter of mountain biking. The hills surrounding the town are laced with trails, some of which have been around for decades. For years, events such as the Duryea Downhill—a short but demanding race from the top of Mount Penn all the way into town—have defined the community. Some of the country's preeminent downhill racers cut their teeth here, most notably World Cup standout and Reading native, Neko Mulallay.
Mount Penn, whose apex sits at 1,120 feet above sea level, boasts several of the state's most beloved descents. The technical, rock-strewn terrain is filled with big hits, making it a gravity-fueled playground as well as a proving ground for up-and-coming talent. Manufacturing accounts for more than 20 percent of the jobs in Berks County, and the area's blue-collar sensibilities bleed into the mountain biking scene with a fast, rough and no-frills heritage that spans decades. Much of the Reading area's success can be chalked up to the stewardship of the Berks Area Mountain Bike Association (BAMBA), whose efforts have evolved from trailbuilding and maintenance to ride clinics and youth-oriented mountain bike initiatives. Their leadership even led to Reading being awarded a bronze-level ride center designation by the International Mountain Bicycling Association in 2015.
Not far from Mount Penn, the Neversink Mountain Preserve offers a bit of everything including loamy dirt, technical rock sections and a host of challenging climbs. To the northwest of Reading, the forested hillsides surrounding Blue Marsh Lake feature 36 miles of multi-use trails. But one of the area's crown jewels of riding is the Birdsboro Preserve, a haven of mountain-bike-specific singletrack about eight miles southeast of Reading near the Borough of Birdsboro, home to just more than 5,000 people. The preserve is part of the Hopewell Big Woods, which stretches across 73,000 acres of hilly terrain and is the largest unbroken forest remaining in southeastern Pennsylvania.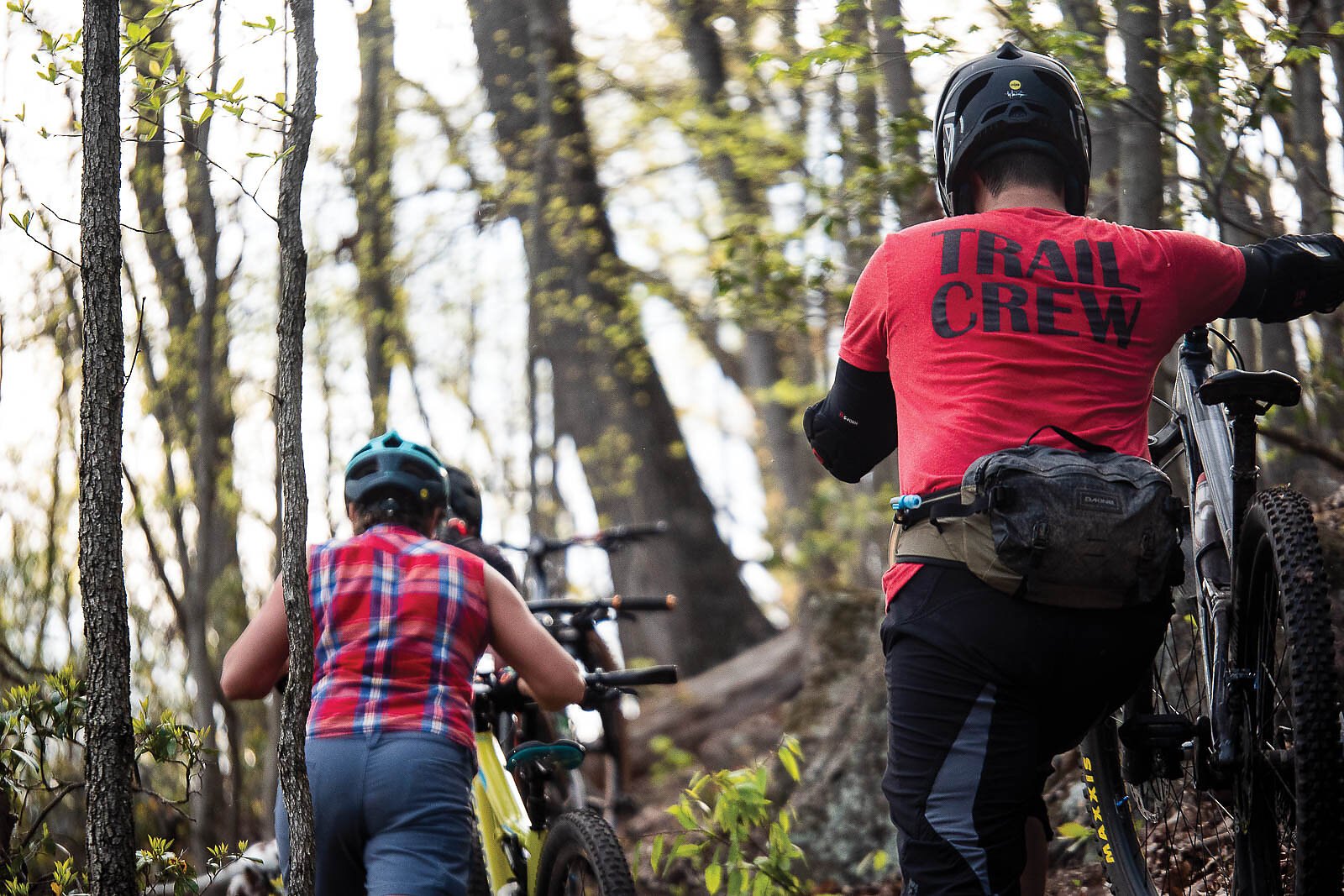 This expanse of nature contrasts starkly with the town of Birdsboro, a former industrial hub now filled with abandoned foundries and empty factories. Ironically, one of the last vestiges of Birdsboro's industrial legacy is the Birdsboro Quarry, a massive mining operation that abuts the Hopewell Big Woods. The extraction company that operates the quarry is one of the country's biggest producers of crushed stone, and the operation has resulted in the removal of several square miles of forest.
The most prominent point of the Birdsboro Preserve is Long Mountain, the top of which sits at an elevation of 791 feet above sea level. Fanning out in all directions from Long Mountain is an impressive network of multi-use trails offering something for everyone, from classic, East Coast slow tech to high-speed freeride lines. Though rocks are the defining characteristic of the trails at Birdsboro, the dirt in these deciduous forests deserves more credit than it sometimes gets—and the preserve's potential has galvanized a growing group of people around the push for new singletrack and greater stewardship.
Historically, the Birdsboro Preserve trails remained in the shadow of other Berks County networks, with only a handful of people maintaining them and barely enough riders to keep the corridors clear. That all changed with the official formation of the Berks Trail Works (BTW) group in April 2021. The new advocacy group was born from a desire to put more energy into the development of trails on the fringes of Berks County, as the more established networks at Reading and Mount Penn have traditionally been the main focus of BAMBA, the area's original trail advocacy group. When several key BAMBA members began focusing their efforts on the Birdsboro Preserve, forming a Facebook group to facilitate communication on projects and trail-work days, they realized the need to form another group—and an area land manager suggested they make it a non-profit organization to help offset the legal liability associated with trailbuilding.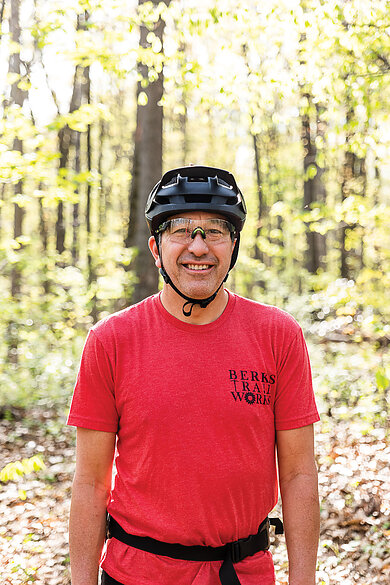 "We had 25 people show up in person to our first non-Facebook meeting," says Stephan Kincaid, a staple of the East Coast riding community who would eventually be named as the new group's treasurer. "It was going to be a big financial commitment to become a 501(c)(3) [but] the decision to become a nonprofit was unanimous. That's something we pride ourselves on is to have a membership-based organization where people have a say. They get to vote on what we're doing and who's in the loop. We wanted to get together and kind of unionize ourselves as trailbuilders."
After being advised by a lawyer that the cost of starting a 501(c)(3) would be about $2,500, the BTW founders launched a GoFundMe campaign with that amount as the goal.
"Within a month we had raised over $4,000," says Chris Herbein, who was elected as the BTW's president. "That additional funding allowed for us to purchase insurance as well, and everybody that donated to GoFundMe received a one-year membership. It didn't matter what they donated. We just wanted to reward everyone who believed in us."
After assigning leadership roles and forming a board of directors, BTW quickly got to work. Though trail networks across Berks County were all of interest, they decided to initially focus the bulk of their efforts on the Birdsboro Preserve network and develop the relationships they needed to move forward. They sat through borough and municipal authority meetings, eventually being referred to the parks and recreation department, which informed them that the area was under the jurisdiction of the water authority that manages the preserve's two sizable reservoirs, known to locals as "Pretty Lake" and "Ugly Lake." They reached out to the water authority to request attending some of its meetings.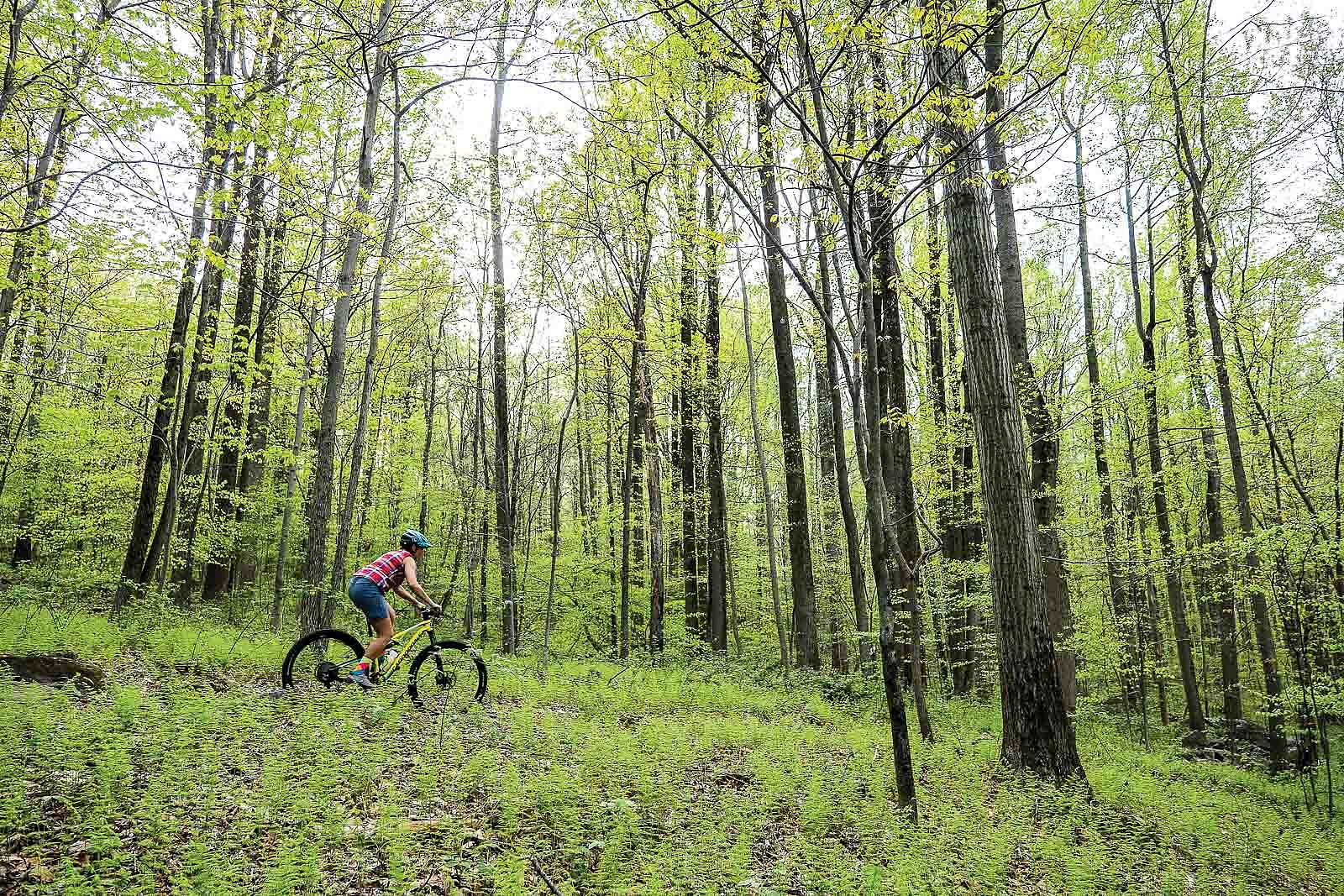 The entire effort has given renewed enthusiasm to local trailbuilders, many of whom have once again become active through BTW. Two of Birdsboro's original builders, John Petersen and Rick Fiset, have been rejuvenated by the BTW's broad support and the unprecedented cooperation with the land manager.
One of the most ringing endorsements of BTW has come from Dane Clay, one of BAMBA's founders and a highly respected member of the mountain bike community. He attributes much of the group's momentum to its trails-first mantra.
"Trail work is a labor of love no matter how you slice it," Clay says. "But if you combine the enthusiasm of people who are new to it with mentorship by those of us who have been doing it for decades, the result can be incredible.
"There has been this huge shift in dynamics driven by positive communication," Clay continues. "People are happy. They are talking about new trails, things they want to do, places where they want to help."
As with any young group, many of BTW's lessons continue to be learned on the fly, but the willingness of individuals to bear their share of the legwork has made the collective even stronger and more effective. The unprecedented cooperation and clear communication have made logistical tasks such as finding an insurer for the group all the easier.
"THAT'S SOMETHING WE PRIDE OURSELVES ON IS TO HAVE A MEMBERSHIP-BASED ORGANIZATION WHERE PEOPLE HAVE A SAY. THEY GET TO VOTE ON WHAT WE'RE DOING AND WHO'S IN THE LOOP." - STEPHEN KINCAID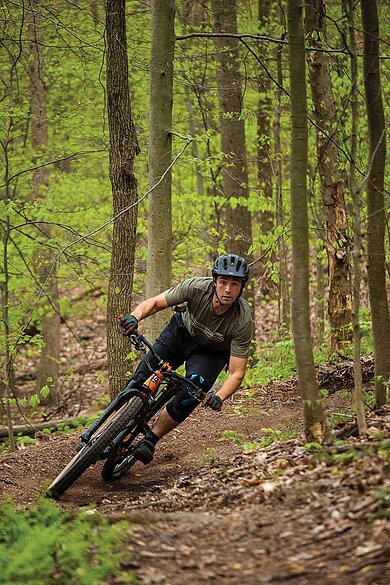 "We had a friend connect us to the same insurance group that handles the Posh and Catty Woods BMX jump spots," says Logan Fox, BTW's vice president. "It was pretty incredible to talk with an insurer that spoke the same language as far as mountain bikes go. I didn't have to dance around anything. I was able to communicate everything about our intentions and now we're insured to do just about everything short of running a bike park."
The speed with which these developments took place was not lost on anyone in the group, nor on those from the outside looking in. And their rapid progress is doing more than just raising eyebrows.
"We now have people outside of Berks County contacting us for help because they want to do trail work at their local parks and have asked us how to go about legitimizing their own efforts," says Sandie Kincaid, BTW's secretary and the wife of Stephan. "That has floored me. They're coming to us and want to partner with us and are asking for our help.
"We're expanding outside of Berks County to help other people work with their own land managers, build trails, develop areas and install signage. To me, that's exciting. That's a forward-thinking, progressive direction that I think we need to go."