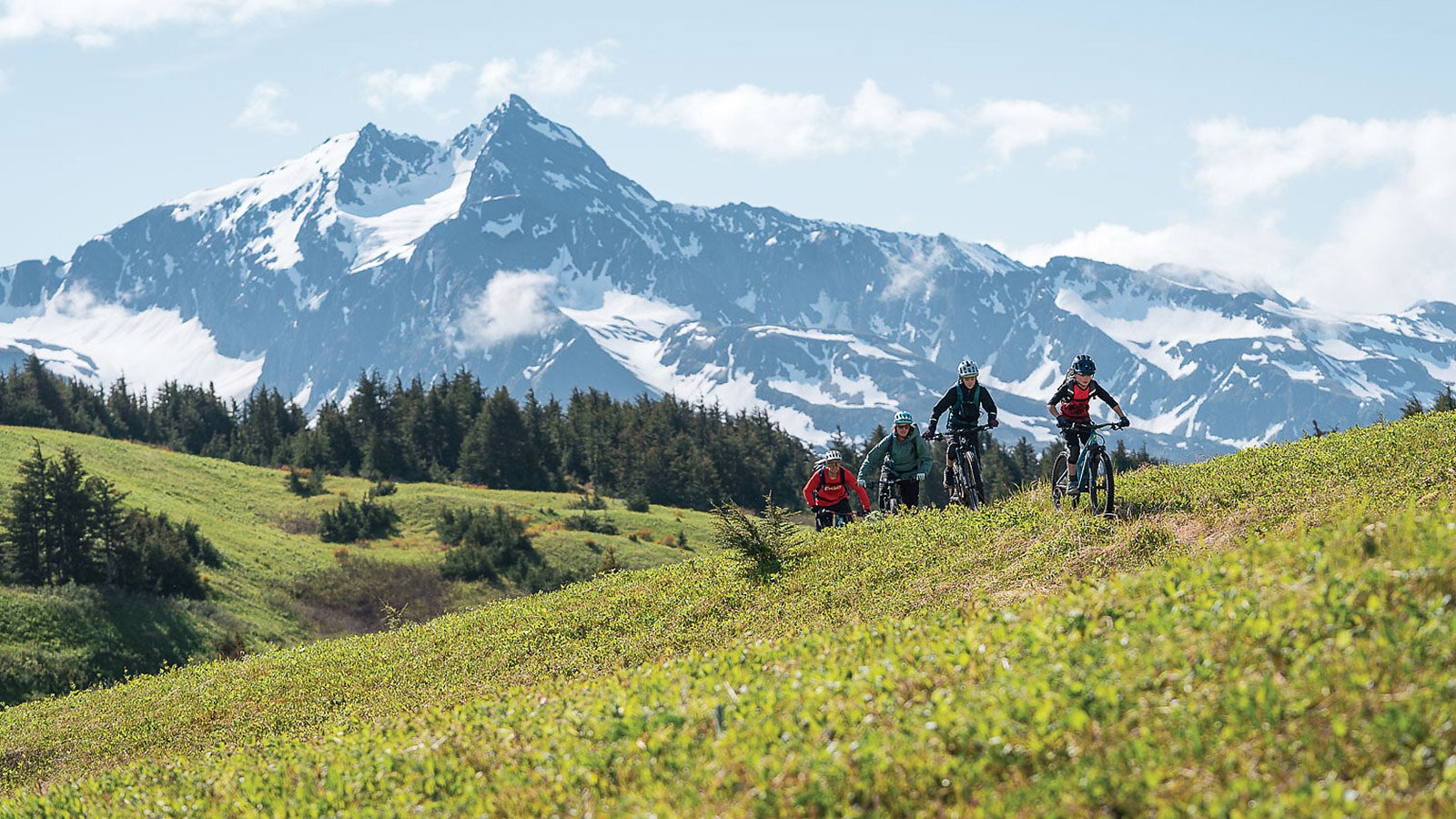 Rightful Heirs Inheriting Adventure in the Alaskan Wilderness
It's 9 o'clock at night, the temperature is 45 degrees Fahrenheit, and, still, there is plenty of light outside. It's not exactly raining, but we're huddled in the mist and the dampness is starting to settle in with a decisiveness. We're starting to get cold in our riding gear and there's still a laundry list of things to do before we can sink into warm sleeping bags.
Compounding our concerns, the last people we encountered on the trail mentioned that they saw a grizzly bear just down the hill from where we're planning to camp. This should be par for the course, as we're on a two-night bikepacking trip in the Alaskan wilderness. But this is far from any ordinary bikepacking trip, as it is the first self-supported bike adventure I've done with my entire family. We've just climbed more than 1,500 vertical feet with fully loaded mountain bikes, and it is way past our usual dinner time. The hunger and cold are taking their toll, and I know my family has a tendency toward "hanger" when deprived of food. Emotions are running high.
My wife, Megan, has been an absolute superstar, but at this point she's exhausted and all she can think about is hot food and a warm sleeping bag. Her patience with me is growing thin, so of course I do what any normal husband would: I jump into "dad mode," explaining all the steps that need to take place before we can crawl into our tent.
One look at the dagger-eyes she flashed and I realized it was not the time to be spewing out "dad lessons." It was time to get to work. Water had to be filtered and then heated and poured into our dehydrated food packets. While waiting for the hot water to turn our dry, crunchy pasta into a delicious meal, the tent could be set up and sleeping pads and bags could be laid out. In the meantime, we could get a warm fire going. Given that we're in grizzly country, our meals would need to be consumed outside the tent and all food would need to be secured far from our sleeping area—an imperative I needed to ensure that my two sons, 9-year-old Owen and 11-year-old Milo, completely understood.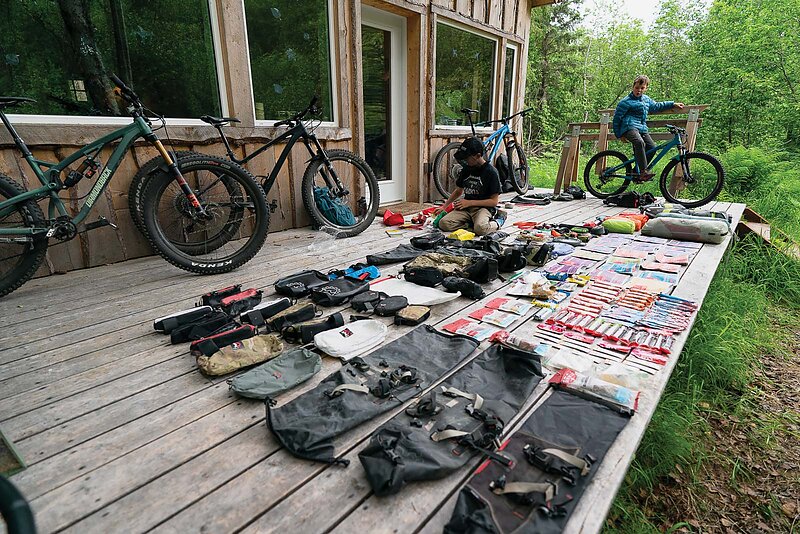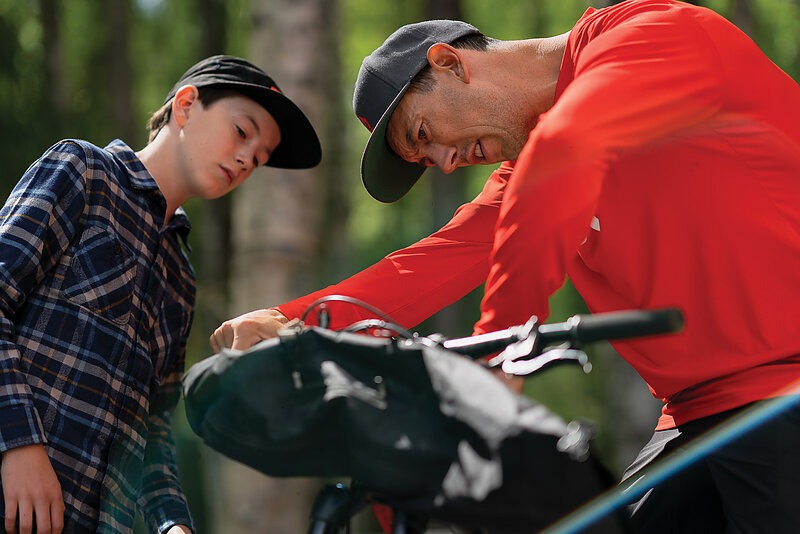 The week before our trip, two hikers had been attacked by a grizzly while sleeping in their tent at a nearby lake, so I needed my family to know that the risks are real. It didn't matter whether the hikers had followed the rules or not; the only thing that matters is whether a bear smells food in your tent. I could tell by the looks in my sons' eyes that my lecture had sunk in, and within an hour our bellies were full and we crawled inside our tent. We morphed into delirious pile of humans, laughing about whose fart stunk the worst and how our hastily setup tent was sloping sideways, sending everyone rolling over onto mom.
As everyone drifted off to sleep, I reflected on the successes of our first day. We'd started climbing from the moment we'd signed in at the backcountry trail register, knowing it was likely to be our hardest day. Not only was it our single biggest day of elevation gain, but it was also the first time the boys had ridden on fully loaded bikes. The family rode probably 95 percent of the trail, making good use of our 50-tooth cassettes. Megan set her own pace to leave plenty of energy in the tank, but we had to keep reminding the boys that it wasn't a race and they needed to keep the long game in mind. Things had gone surprisingly well, and I felt proud of our first big push to the edge of the tree line.
We woke the next morning to find the clouds breaking up, and we were treated to sweeping views of our new home. Having knocked out the majority of our climbing the previous day, we knew today would be much less daunting. Our goal was to ride up to an alpine lake and hopefully do some fishing, and we'd planned this as an out-and-back excursion so we could leave our base camp intact and pedal with much less weight.
Being north of the 60th parallel during summer meant 21 hours of solid daylight, so time was on our side. We could explore the alpine trails at our own pace. After a casual breakfast of granola and instant coffee, we stuffed the rest of our food into a bearproof bag and set out for the lake. Everyone was feeling strong with our newly lightened bikes and spirits were high as the first day's climbing efforts were rewarded with pristine alpine singletrack.
As visibility increased, we marveled over the huge alpine basin we were pedaling through. And when we looked back down the valley we'd climbed up, we were blown away by the stunning views of Resurrection Bay and the Gulf of Alaska beyond. Our legs had carried us this far, and we'd taken no shortcuts. This feeling was something I'd wanted to share with the boys—not just as a lesson for bikepacking, but as a rule of life in general that hard work pays off.
This trip was all about working together toward a common goal—bikepacking to a beautiful alpine lake in Megan's home state—while pressing through the necessary hardships that ultimately make the accomplishments all the more rewarding. Of course, we'd ride amazing trails and see things we could never see without venturing into the wilderness on our own. But there would be lows as well as highs, and my hope was that they'd embrace the whole experience and keep taking the small steps toward bigger goals. I wanted them to trust and enjoy the whole process.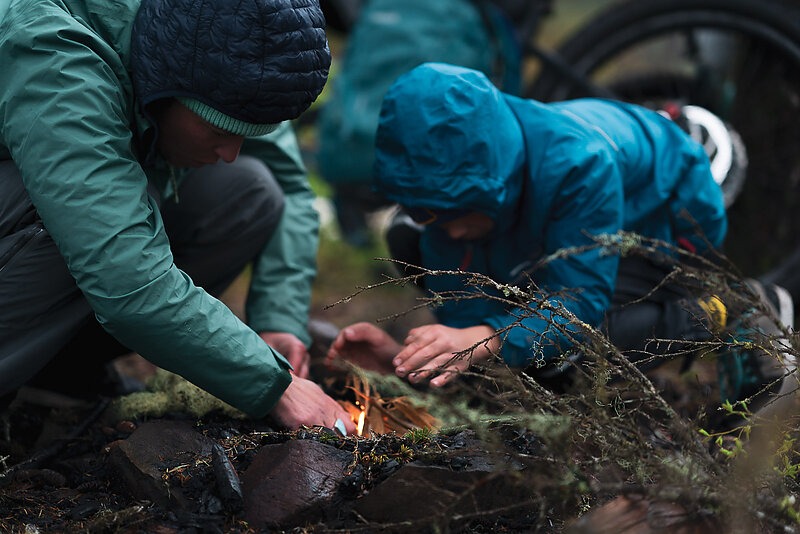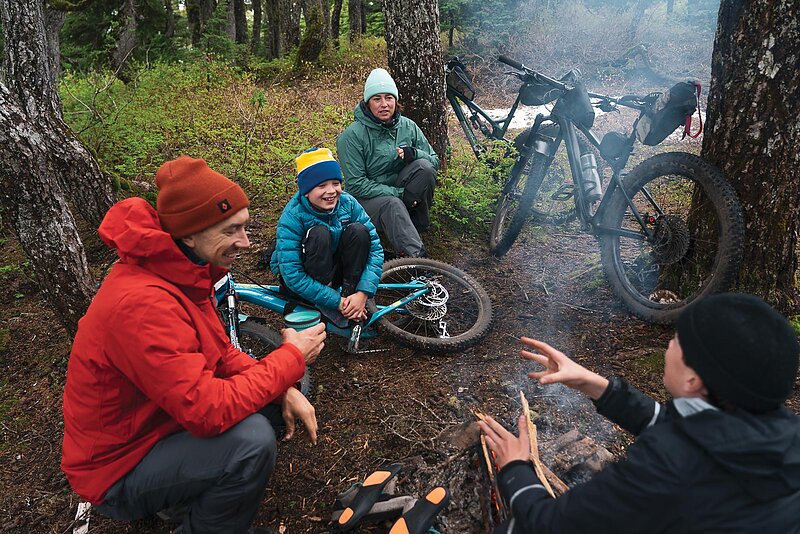 We were certainly enjoying the trail up to the lake, freed from the weight of heavy bike bags. Once we crossed into the alpine, however, we encountered lingering patches of snow left over from a heavy winter. This, in itself, was another lesson: Though we'd planned our trip to land just after the snow had melted but before the Alaskan vegetation went into Jurassic Park mode and ensnarled the trail, our timing wasn't perfect, and we would have to accept the conditions we were dealt.
As we crested the final climb and prepared to descend to the lake, we realized this would not be the day for our planned lake picnic—much less our highly anticipated fly fishing excursion for rainbow trout. The sun became obscured by the clouds, the temperature plummeted, and the lake itself was still mostly frozen. Despite this, I was delighted to see that the boys remained excited explorers, proud of the effort they'd made to get here and eager for the ripping descent to the lake. Skipping flat rocks across a glassy melted portion of the lake was a great consolation prize for our persistence—as was the fact that colder temperatures spared us from the usual late-summer Alaskan mosquito swarms.
Having made the most of what the lake had to offer, we hopped back on our bikes and headed back to our base camp. As I followed my family down the trail, I reflected on what our experience had meant thus far. It seemed the fact that the lake was mostly frozen would leave the boys hungry for our next adventure together. We would have to come back another year to get our fly lines wet and go for an ice bath.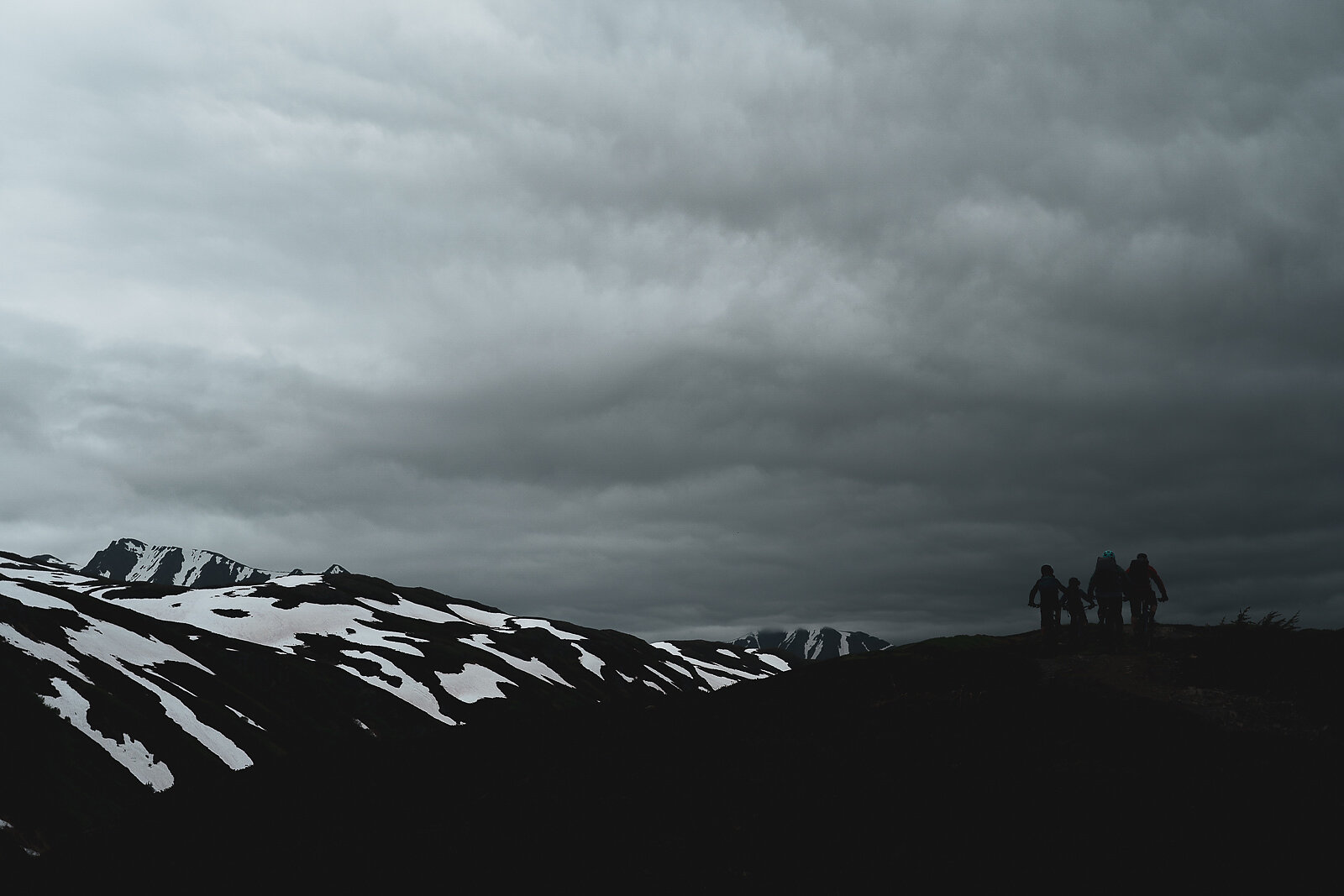 It was also a chance for them to fully realize that in the mountains, mother nature is in charge, and her elements will always dictate the overall course of events. The wilderness is not an amusement park where we could show up and walk right onto the roller coaster. They'd need to be prepared for the unexpected, and everything would have to be earned.
Lessons in nature aside, Milo and Owen still seemed mostly concerned with finding rocks to jump off while riding—and whether we brought enough candy for trail treats. They were so happy to be on a real adventure with their dad and mom that they hadn't complained once about having to climb more than 2,000 vertical feet to get to a frozen lake.
This was something I'd dreamed about since I was 21—still embarking on a professional riding career that took me from downhill racing to dirt jumping and eight solid years of traveling the world for slopestyle contests and video projects. Even then, I'd always imagined that I would someday have kids and could hopefully share with them the joys of riding bikes and being in nature. When Megan and I decided to start a family, I was fortunate to be able to transition the focus of my career to what had increasingly become most important to me—adventure riding. I wanted to ride my bike in far-flung places and share my experiences with other riders.
The two most important riders to share with became Milo and Owen, and I feel blessed that they've fallen in love with riding bikes, hitting jumps and getting higher into the mountains. With each day of riding, I've kept moving the carrot a bit further, telling them that each big ride prepares them for an even bigger adventure. And playing the long game seems to be paying off, as they've recently been begging me to take them on one of my "real trips"—to load up the bags and become self-sufficient in the mountains.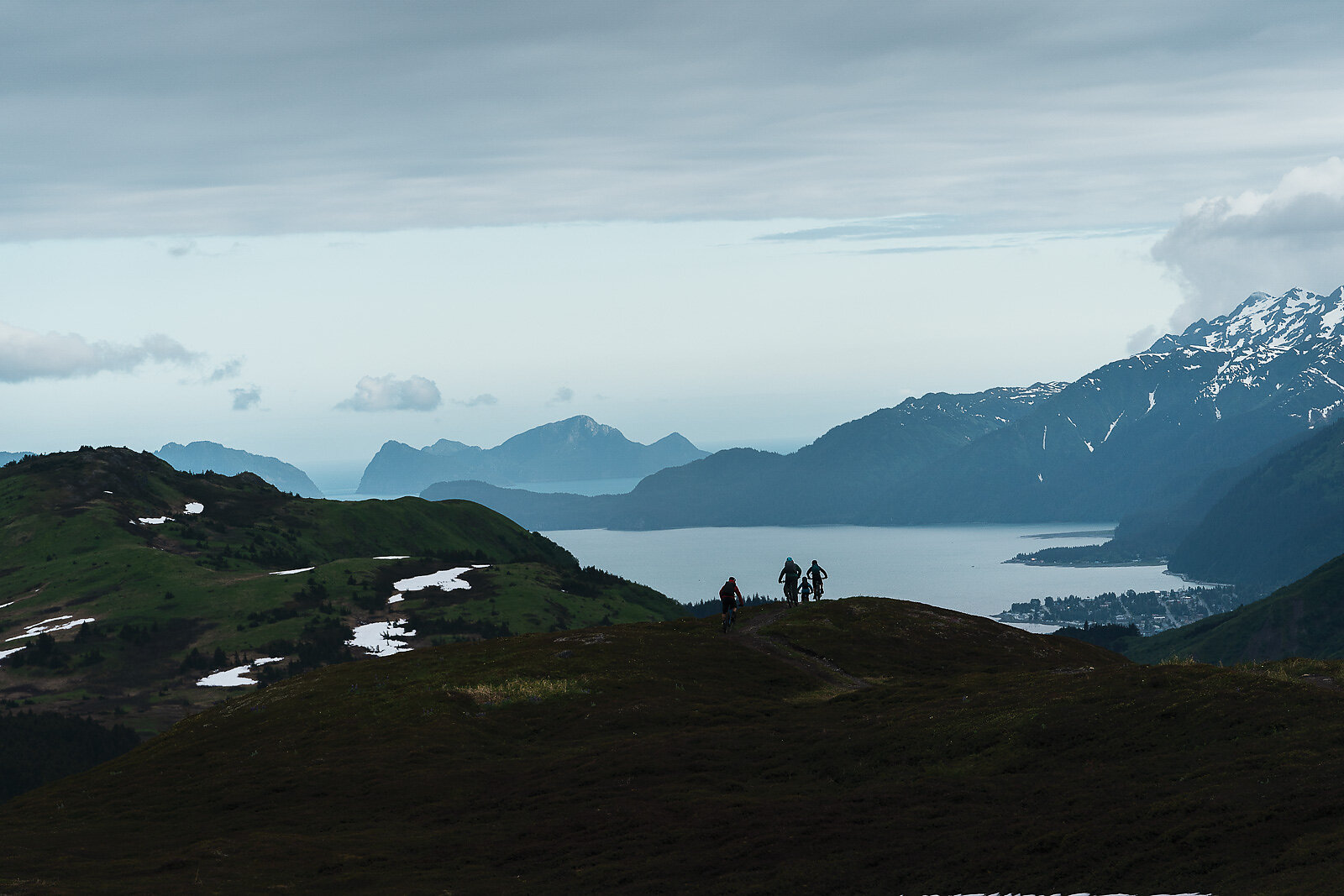 As we rolled into camp with plenty of daylight left, I felt a contentedness about our choice of locations and the trip format. I could have picked an easier route closer to our home in Utah, but by going to a less-familiar environment I'd hoped to spark a true sense of adventure and a desire to explore the unknown. Still, I wanted the trip to be fun and to have a payoff for all the discomfort. By planning a challenging yet manageable distance, my goal was to allow plenty of time to stop and enjoy our surroundings, to connect with the natural world.
Our third and final day was all about the ultimate bikepacking payoff: descending the 1,500 feet of vert we'd spent our first day climbing. It was a blast watching the boys boost off every trail feature they could find, and Megan and I reveled in their excitement. The main goal of this trip was to grow as a family and come out of the woods stronger and closer than when we went in—and we'd definitely achieved it.
As we finished the descent to the trailhead and rolled up to our truck, I was relieved we'd completed the route without any injuries or grizzly encounters. Though the huge physical effort and lack of sound sleep had put Megan deep into the reserves, her spirits were high as we all fantasized about the giant burgers we were going to devour as soon as we drove into civilization. No sooner had we pulled out of the trailhead, Megan surprised me by asking where we should take the family for our next bikepacking adventure. Mission accomplished.