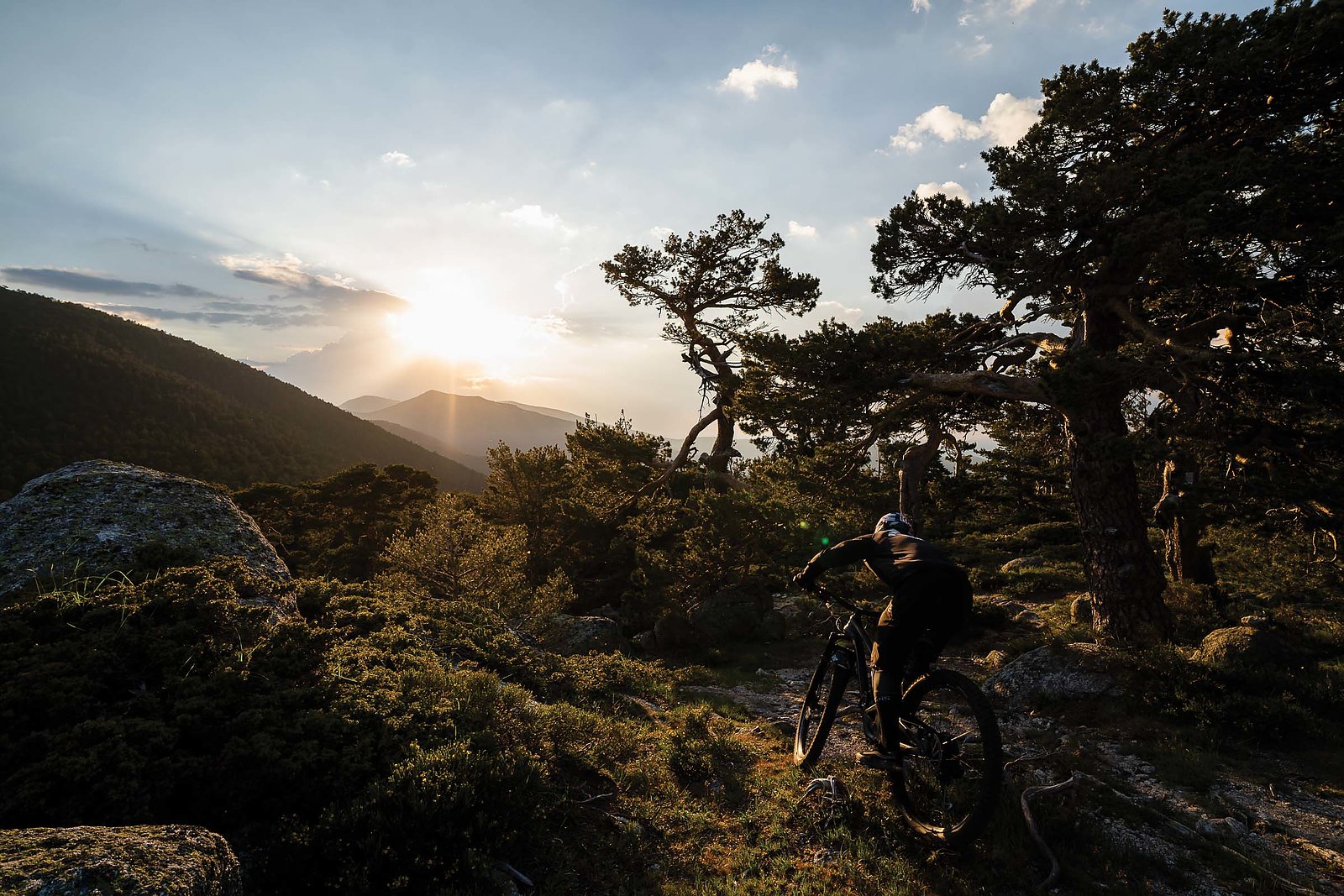 Regress to Progress Finding Family in the Two-Wheeled Cultures of Spain
Low-hanging bushes whip me in the eyes as I lay my bike over into the next turn.
The sun set at least 30 minutes ago behind the high plain on which Madrid sits, but it's still 95 degrees Fahrenheit. I'm desperately trying to follow Sergio Layos, a Madrid local and one of the BMX world's most stylish and longest-serving athletes, down a bobsled-style trail that rockets through a park just outside the city center.
Layos is relatively new to mountain biking, even though he's usually out of sight four corners into a descent. But he's already uniquely enmeshed in the culture, as two of his best friends are integral to the region's scene. One is Igor Eskudero, a lifelong mountain biker and BMXer who works as a guide for Basque MTB, based in the north of Spain. The other is Ricky Grimal, another BMX ripper who lives in Barcelona and has played a big role in the design, development and growth of the world-famous La Poma Dirt Jump Park.
Meeting these guys and their merry band of BMXers shortly after moving to Spain a few years ago renewed my stoke in mountain biking. Upon returning to my native Europe after living in Whistler, British Columbia, for five years, I'd been hard pressed to replicate the scene I'd been part of during my time in Whistler's warm, boozy bosom. The trails that flank Whistler Mountain, hot laps on A-Line with my crew of mates and the family feeling of the Whistler community had eluded me elsewhere.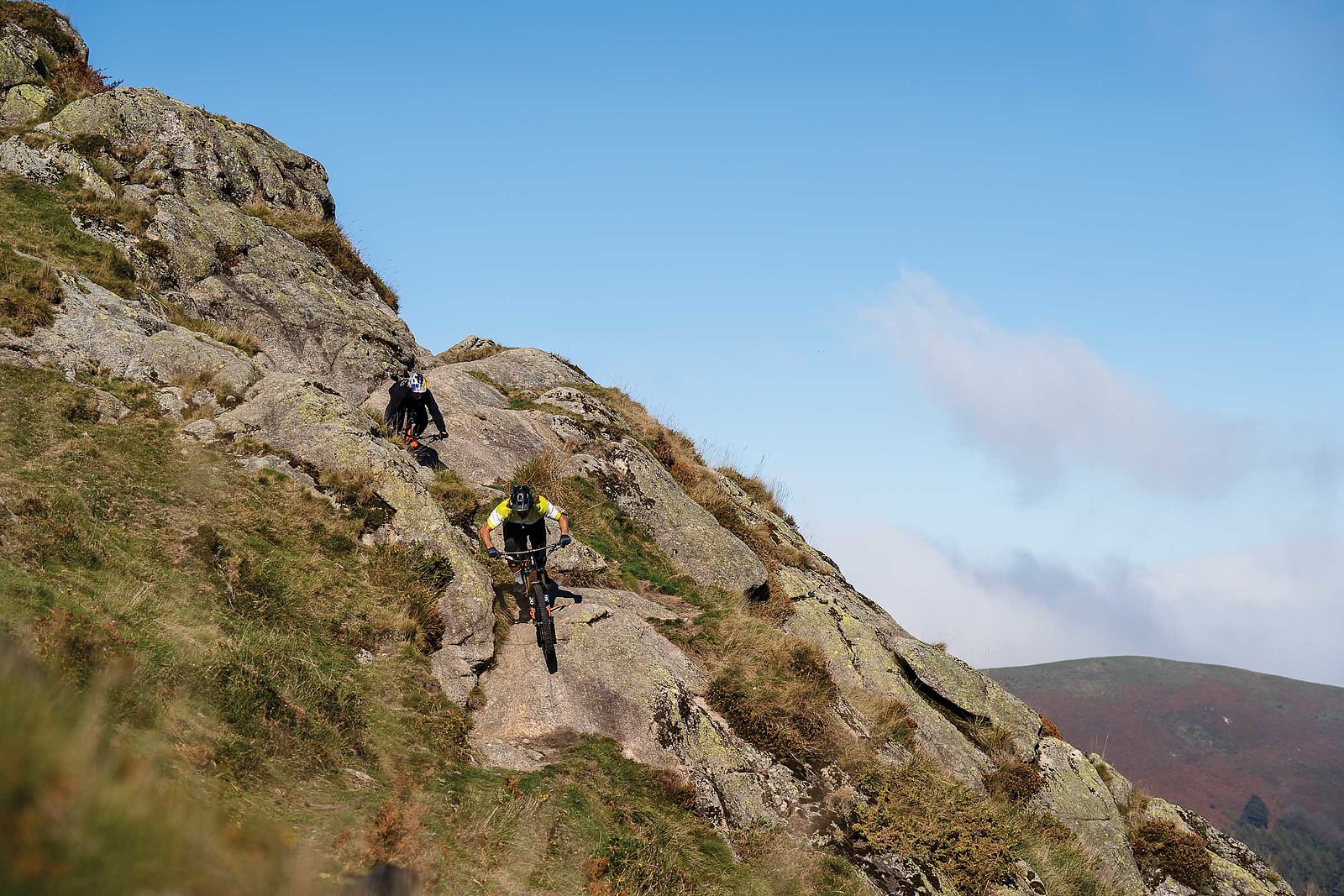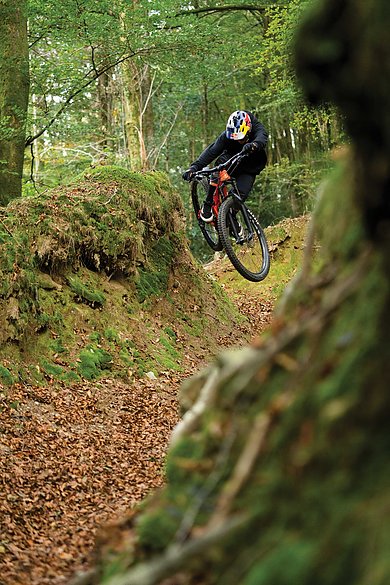 Having finally regained that sense of community and friendly competitiveness that drives personal progression with this hardy band of homegrown Spanish BMXers, I was fully back in the mix. From local rides to road trips around this mountainous southern European country, our group did it all. And we were on yet another two wheeled tour of Spain.
This trip began by driving north from Madrid to the Basque Country, over the mountains that set the scene for Ernest Hemingway's classic novel, For Whom the Bell Tolls, and down onto sun-bleached plains under azure Spanish skies.
Born and raised in Madrid, Layos discovered BMX at an early age, and by the time he was 13 he'd already appeared on the world stage, claiming second place at the BMX World Championships in Portugal. From that point until now, Layos has consistently been regarded as one of the sport's best— especially in his preferred medium of bowl riding, where few can touch his powerful style, impeccable line choices and sense of flow.
As an up-and-coming ripper, Layos had found mentorship in BMX legends such as Rubén Alcántara, from the southern Spanish city of Malaga. Alcántara had helped Layos develop his skills at a time when the Spanish BMX scene was just getting off the ground. Now, still at the height of his BMX career, Layos has developed a love for mountain bikes—and an appreciation for the ways in which the two riding styles feed off each other.
"About seven years ago, I broke my leg badly filming BMX and got a cheap hardtail to get back into shape after the injury," he says. "It was pretty basic, but just the bigger wheels and a little suspension made anything seem possible. I rode it a bit but didn't really get into mountain biking until I got an Evil Calling a couple of years ago, and ever since then I've been riding a mountain bike almost as much as my BMX.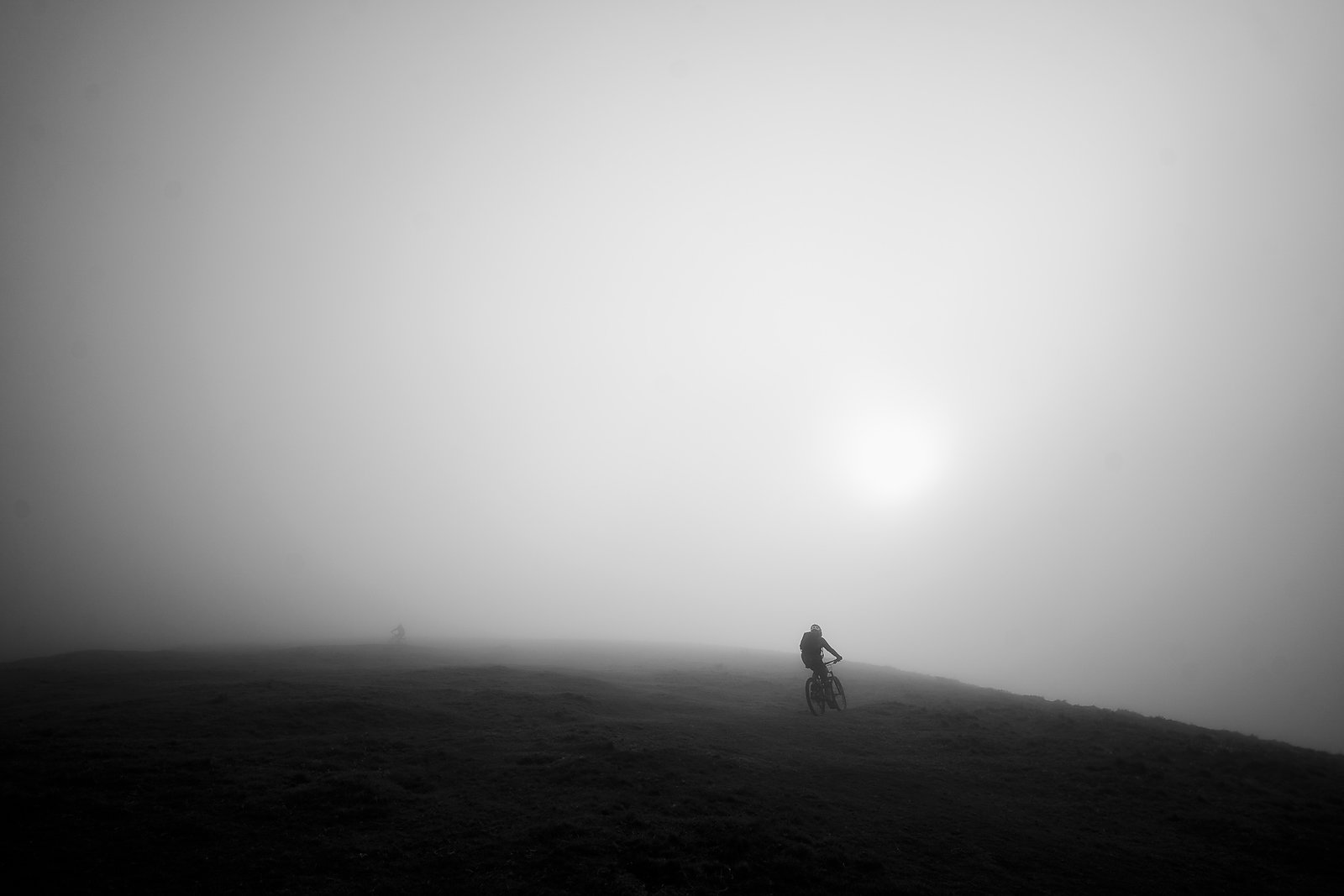 "If you love BMX, you love speed and you love having fun on a bike, so I don't know how you can't enjoy mountain biking," Layos continues. "When people from the BMX world started seeing how much I was riding my mountain bike, they would take the piss a bit in the beginning, but I was like, 'Dude, you have to try it.'" 
"If you love BMX, you love speed and you love having fun on a bike, so I don't know how you can't enjoy mountain biking."—Sergio Layos.
Back in Basque Country, the road wound through the scorched landscape until we suddenly exited a tunnel into green, pine-covered mountains that spilled into the shimmering Atlantic Ocean. The Basque region is an autonomous community in northern Spain that extends across the border into France, and its people are descendants of some of Western Europe's original inhabitants. Today, the Basque Country is known for its rich culture, incredible food and some of the world's most beautiful coastline.
We met up with Eskudero outside his house in the small town of Oiartzun, about 10 minutes' drive from the French border. After hurried high-fives, we were on the way into the mountains for a ride Eskudero guaranteed we wouldn't forget. There's an excitement between Layos and Eskudero that reminds me of when I first started mountain biking— that infectious stoke to just get out and ride with your friends.
We park in the clouds and begin our climb, with Layos and Eskudero chatting about how they first met more than 10 years ago while sharing a rental van with other riders to get to a BMX competition. As the sun burns away the clouds, we gaze at the coastline to the north and the Pyrenees mountains to the west. Eskudero has been getting even more excited about the trail we're about to ride: a highspeed, open track that dives into the woods and becomes a Mario Kart ride through leaf-lined, walled turns.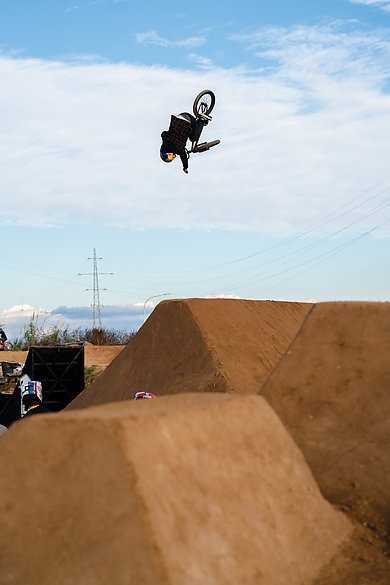 He and Layos ride the trail as if it's a snake bowl and they're on BMX bikes. It's a joy to watch as I try to keep up. Their line choices are fine, and they're going off the walls and slashing turns like they have no suspension on their bikes. By the time we blast out the end of the trail we're in fits of laughter. There's a childlike excitement in the air that I haven't felt for a long time, and all I can think about is doing more laps.
But it's time to head southwest on the road to Barcelona to meet up with Grimal and check out La Poma's annual Happy Ride dirt jump contest. La Poma Dirt Jump Park lies on a hill overlooking the warm waters of the Mediterranean Sea in Premià de Dalt, a 15-minute drive north of downtown Barcelona. La Poma was just a dirt lot with a couple of small jump lines until Grimal and some other local riders got involved. Now, with the support of the local municipality, it's a world-class training facility with jump lines for all skill levels, a skatepark, foam pit and resi-ramp, dual-slalom track, trials area and pumptrack. We've shown up for their annual Happy Ride Weekend of contests that brings BMXers and mountain bikers together to compete in front of a huge crowd.
The BMX dirt-jump contest that Grimal and Layos will compete in doesn't start until nightfall, so we set out to ride the trails on the hill behind La Poma. Both riders race up the long, steep climb to the trails, showing incredible fitness that could rival that of Enduro World Series racers.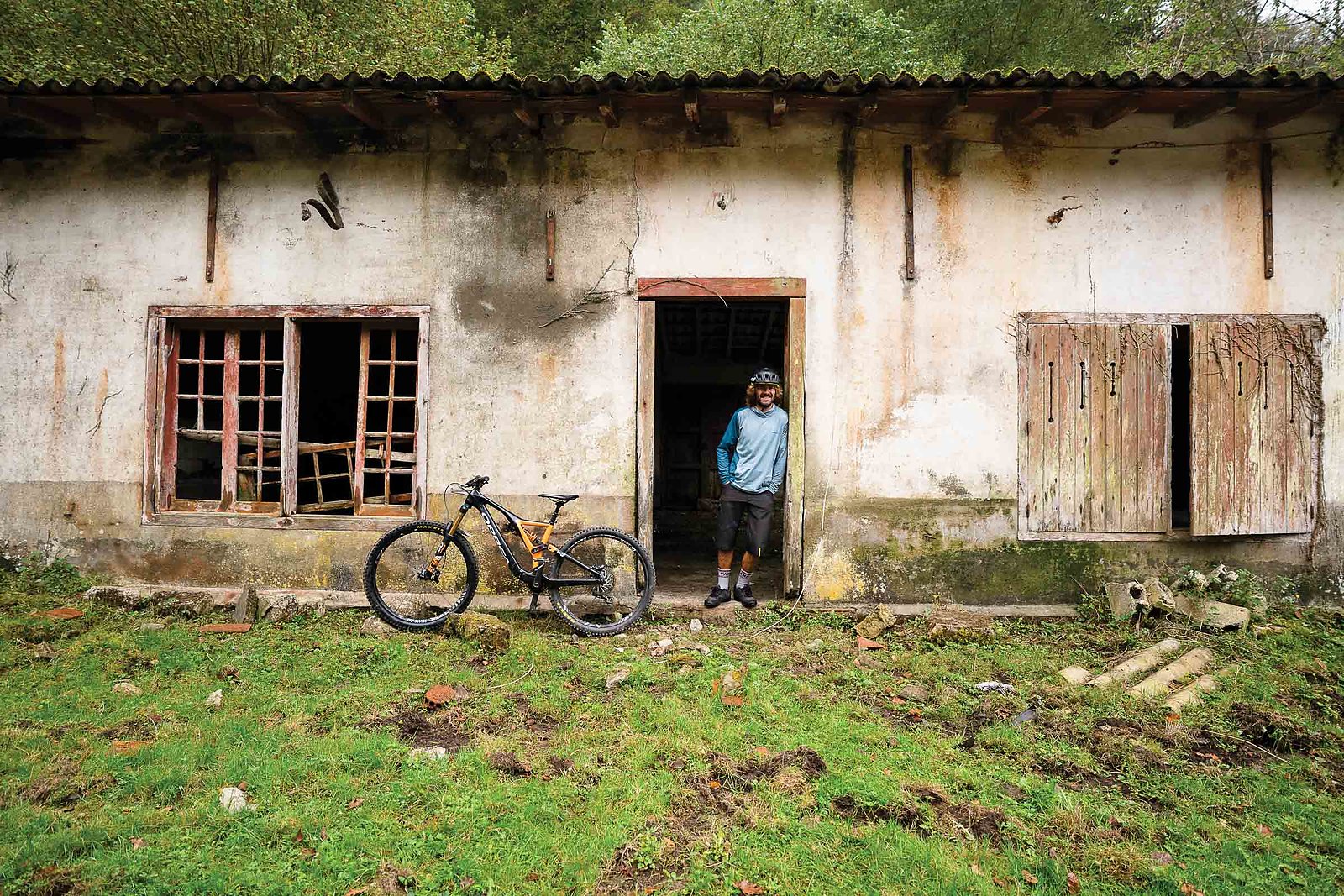 "I used to think mountain biking was for old people," Grimal says when we reach the top. "I'm a big fan of speed and big jumps, and one day I went to Vallnord in Andorra, and it was really fun all going down at the same time and trying to overtake and kill each other. It's a feeling you don't have with BMX."
Grimal rides with a wildness that suits his funny character. He's fast, loose and somehow in control all at the same time. Stopping to catch our breath amid fits of laughter, we look down onto a small trail that leads to some jumps Grimal's been building with his mates. He's got that passion for digging that all great builders have. And with his newfound passion for mountain biking, he's already riffing about all the things he wants to create.
After a session on the jumps, we rallied back down the mountain to La Poma so the boys could get a couple of laps on the jumps before the show. I couldn't believe how they both jumped off their mountain bikes and started pulling dumped 360s on smaller-wheeled bikes with no suspension. Though Happy Ride is technically a contest, it felt more like a big session with riders of all ages and types of bikes just having a damn good time. Layos won the BMX portion of the contest and we celebrated in Barcelona's cobbled streets until morning.
Through the foggy mists of a hangover that no amount of sleep was going to fix, I realized why we'd had so much fun on this trip. These Spanish BMX legends were looking at riding mountain bikes with fresh eyes and doing it just for the pure fun of it. There was no tech talk, no long discussions of bike geometry, no boring chats about kits. It was all just good times riding, pushing each other to do weird airs and trying to cut each other off at every turn. By regressing to the basics, we were pushing each other to progress.