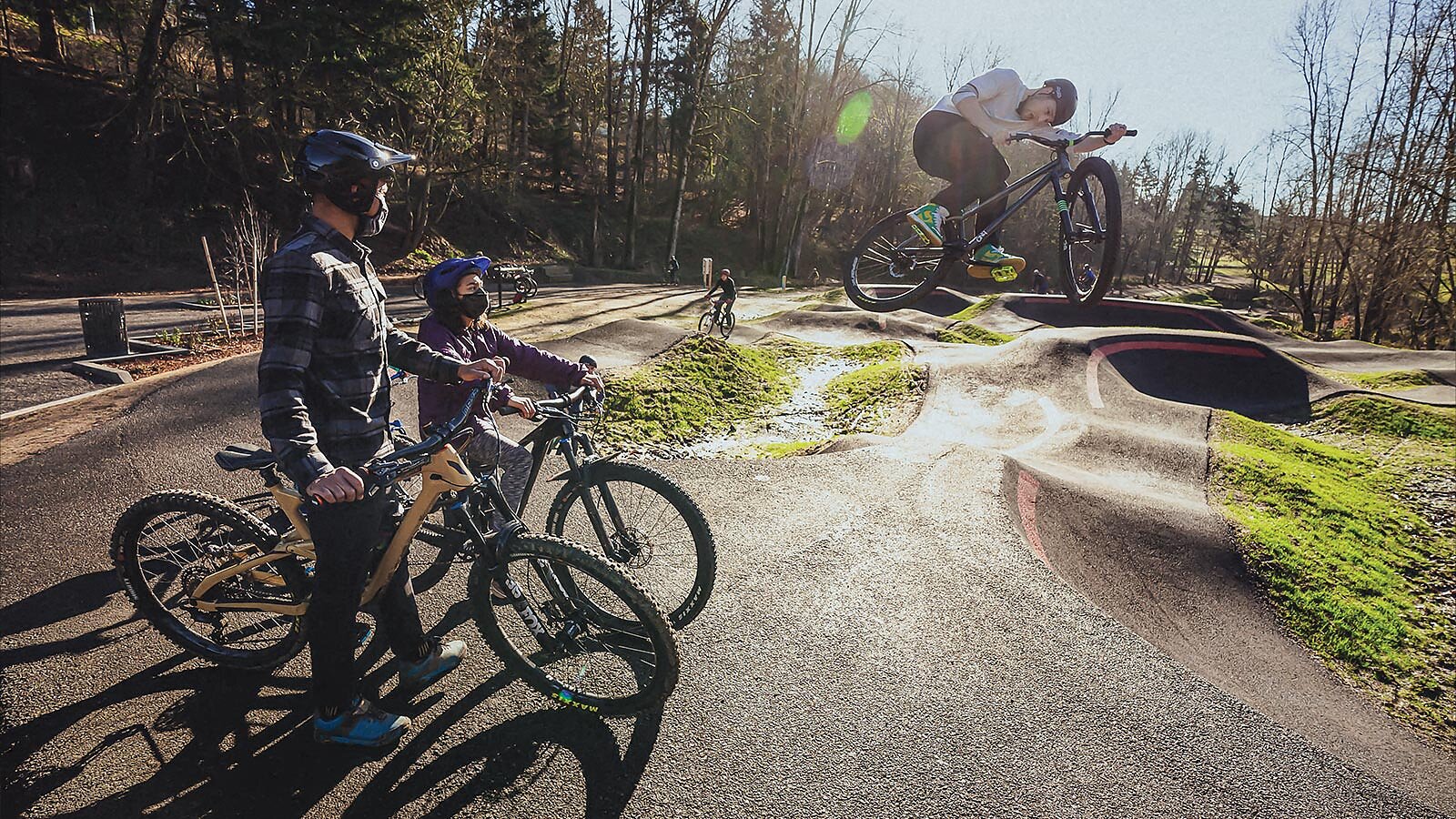 Portland's Progress A City Surrounded by Singletrack
At the confluence of the Columbia and Willamette rivers lies the fascinating city of Portland, Oregon, a place whose alluring natural attributes are rivaled only by the independent and progressive mentality of its inhabitants.
With its rivers lined with bike paths and crossed with bridges, Portland's layout lends itself to an outdoor lifestyle, and bicycles of all types are a preferred medium for both transportation and recreation.
While urban and commuter bikes are de rigueur within the city, mountain bikes have become increasingly popular in recent years, and today Portland boasts a burgeoning mountain bike community that is on the verge of exploding. Like most metropolitan areas in the United States, there are precious few trails within the city itself, but Portland's proximity to open landscapes and the foothills of the Cascade Range means that singletrack networks abound just a short drive from the downtown core.
On any given day, Portlanders can be seen loading bikes onto their vehicles and heading out of the city in all directions, inevitably bound for a trailhead leading to a diverse array of singletrack. Unlike many of the country's large cities—where the average inhabitant is more concerned with finding a high-paying job than spending time outdoors—Portland's population is increasingly defined by a shared desire for a life balanced between work productivity and an outdoor lifestyle. Attracted by this balance of work and play, and drawn by the promise of craft beer, craft food and even craft bikes, more like-minded people are moving to the city. The economy is booming, the skyscape is transforming, and the demographic is diversifying. And mountain biking is fast becoming one of the common threads that binds Portlanders together.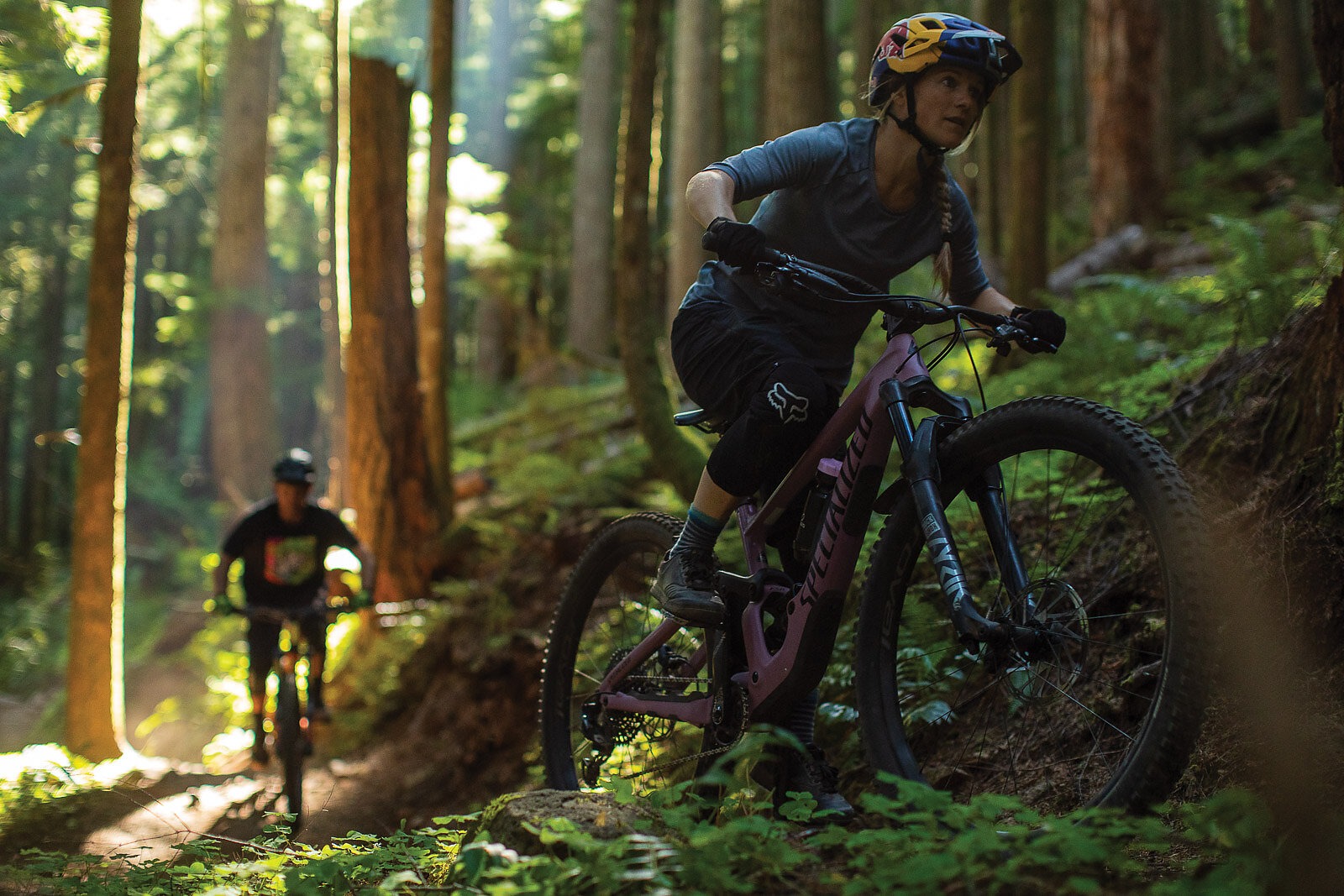 If one asked the average Portland mountain biker where they usually ride, the most common answer would likely be the Sandy Ridge Trail System, about 40 miles east of town off US Highway 26, nestled at the base of the Cascades. Situated on a ridge just west of Mount Hood and overlooking the Sandy River, the network features more than 15 miles of mountain-bike-specific singletrack, with a variety of trails suited to riders of all levels. The system was developed through cooperation between the International Mountain Bicycling Association and the Bureau of Land Management's (BLM) nearby Salem office, with a view toward creating sustainable trails that could be enjoyed by a broad spectrum of riders. Today, Sandy Ridge is known as one of the BLM's "backyard to backcountry treasures," boasting trails ranging from mellow blue lines all the way to more challenging double-black runs.
Tucked in a typical western Oregon forest of Douglas fir, western hemlock and western red cedar, Sandy Ridge represents a welcome retreat to nature for many riders, its flowy trails lined with ferns and vibrant moss. Amid the sounds of nearby streams and singing birds, Portland-area residents and tourists alike can enjoy a two-wheeled reset from the rigors of urban life. Among the system's most popular and forgiving trails are Flow Motion and Lower Hide and Seek, but for those seeking a bigger challenge, the more technical Upper Hide and Seek can be added for a loop of about 8 miles. Advanced and expert riders can test themselves by working on new trail gaps and attempting to clean the recently built, double-black jump line, Johnny Royale. Whatever your level, Sandy Ridge is a welcoming space, and on any given day, the parking lot will be filled with friendly people who are more than happy to help with trail information.
Those looking for shorter rides within the Portland city limits need look no further than Gateway Green, a 25 acre park located between two highways on the city's eastern edge. One of the most recent open-space acquisitions by Portland Parks & Recreation, the trail system here has been developed over more than a decade, and in the past couple of years the once-vacant land has undergone an incredible transition into the city's first and only mountain bike park. Gateway Green now features everything from gravel paths and hand-cut singletrack to jump lines and a fancy new asphalt pumptrack designed under the direction of Velosolutions.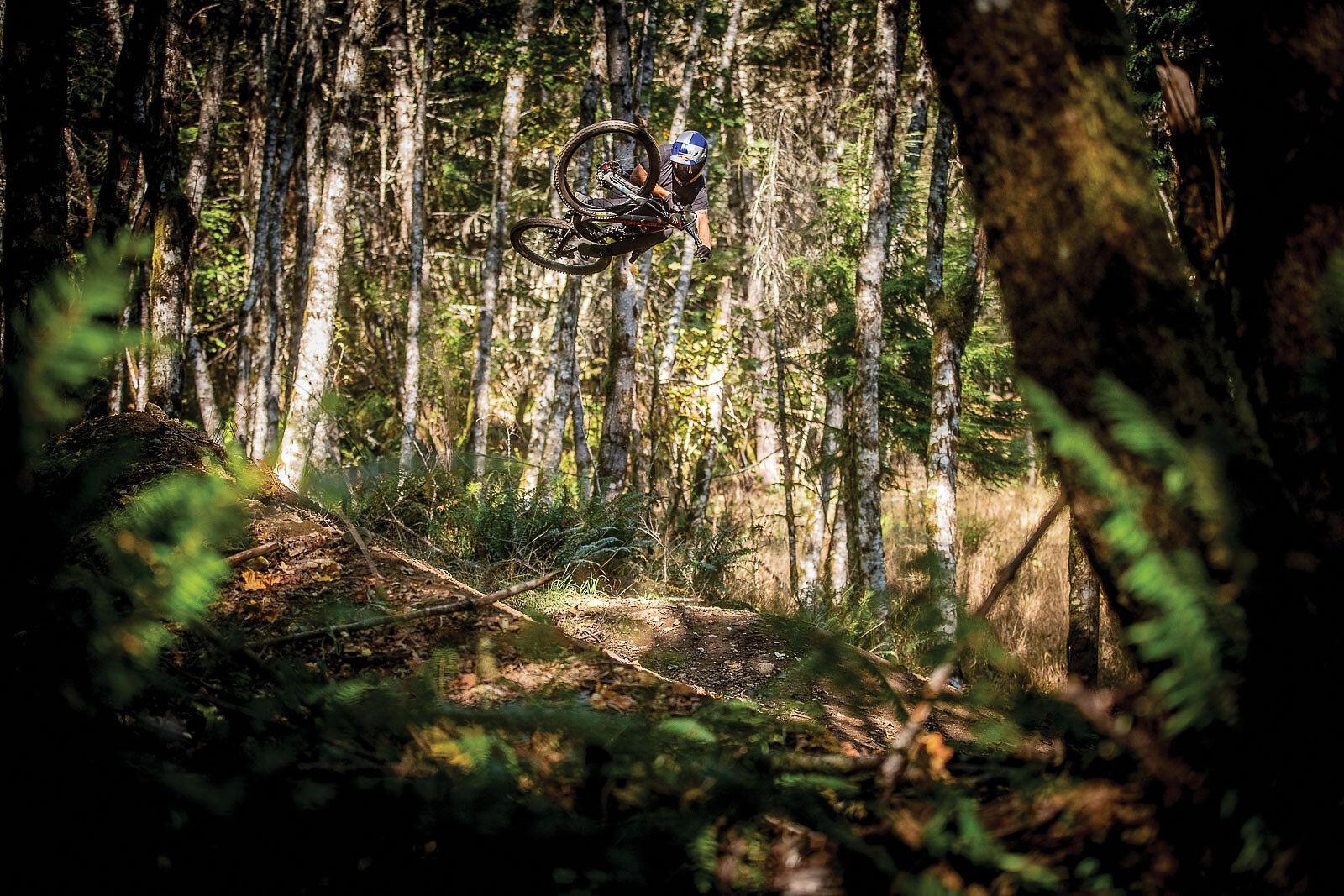 With the steady hum of highway traffic periodically drowned out by a passing metro train, Gateway Green is a decidedly urban riding experience, but it has been widely praised by Portlanders as a model for urban habitat restoration that promotes healthy activities such as cycling in an all-inclusive environment. The park's astounding popularity with riders of all ages— particularly youth—is undeniable proof that if Portland supports mountain biking, the people will come.
"Gateway has changed a lot," longtime Portland resident and pro rider Matthew Slaven says. "We used to do cyclocross practice out there 15 years ago with some sketchy folks around, and that was it. Now it's packed with kids and families all day on the weekends, jumping, pumping and just getting out on bikes."
For more dedicated riders and trailbuilders, Rocky Point—historically referred to as "Scappoose"—has been an under-the-radar mountain bike haven for decades. Located in a commercial timber forest about 20 miles northwest of the city center, the Rocky Point Recreation Area has long been the site of renegade trailbuilding, with most of the timber companies that have swapped ownership over the years turning a blind eye. When the local trail-advocacy group, the Northwest Trail Alliance (NWTA), obtained a recreational lease from the current timber company, it allowed them to manage these once-rogue trails sustainably, expand the existing network, and really kick things into high gear. With the NWTA working in concert with talented local builders, trails are being built sustainably, there are open lines of communication with the logging company, and Rocky Point is rapidly becoming a world-class mountain bike destination.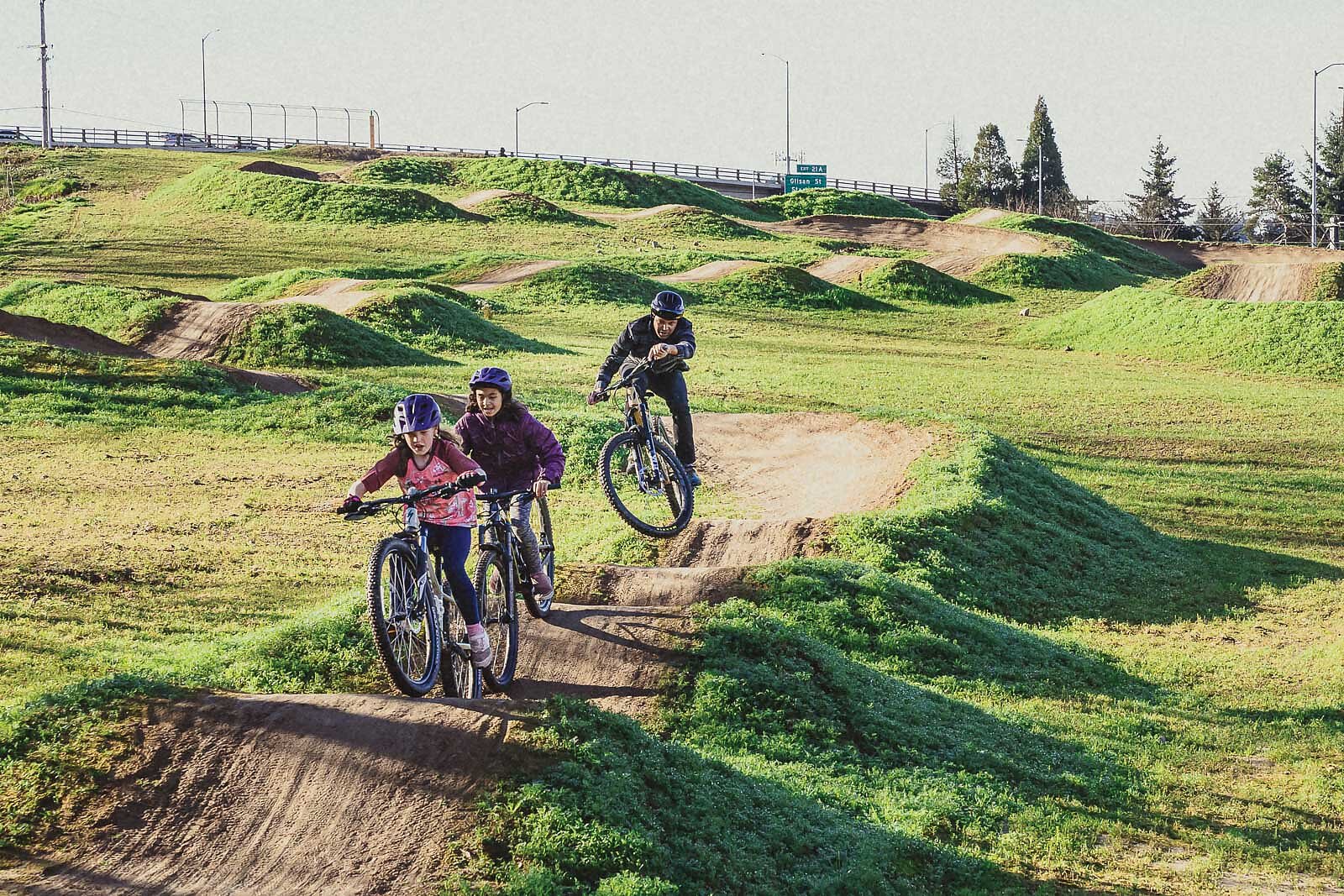 The 3,000-acre property is managed primarily for forestry operations, but the NWTA controls recreation access and provides private trail mapping to its members. To ensure that critical lines of communication remain open between mountain bikers, the NWTA and the timber company, NWTA members must sign release of liability waivers and provide their contact information to receive safety and closure notices. This arrangement not only helps ensure the area remains open to mountain biking, but the NWTA also uses membership funds for ongoing trail maintenance and future development. NWTA's website serves as the trail network's virtual bulletin board, providing frequent updates for riders with the latest information on closures. The NWTA's long-term goal is to create a comprehensive system of interconnected trails ranging from cross-country-oriented epics to its traditional patchwork of advanced runs. Rocky Point is a hotbed of trailbuilding activity, and you'll often find groups of volunteers helping to maintain old trails and cutting in fresh lines.
"The best part of 'Scabooty,' or 'Rocky Point' as they call it now, is how close it is to Portlandia," Slaven says. "In 30 minutes, you can be in the woods from the city. It's close and it's awkward and the mud seems to be perfect in the winter."
In general, the north side of the area is more cross-country-friendly, while the southern portion is more gravity oriented, with steep lines and optional jumps and gaps. Among the most popular Rocky Point trails are the blue-level the Strasser, Hornets, Roller Coaster and the single-black Switchblade, which is a popular culmination of a route starting from Skeet Chute to Pipeline. For those who love the steeps, just off Skeet Chute is another precipitous chute called Julie's Line that always presents a thrilling challenge.
THOSE LOOKING FOR SHORTER RIDES WITHIN THE PORTLAND CITY LIMITS NEED LOOK NO FURTHER THAN GATEWAY GREEN, A 25-ACRE PARK LOCATED BETWEEN TWO HIGHWAYS ON THE CITY'S EASTERN EDGE.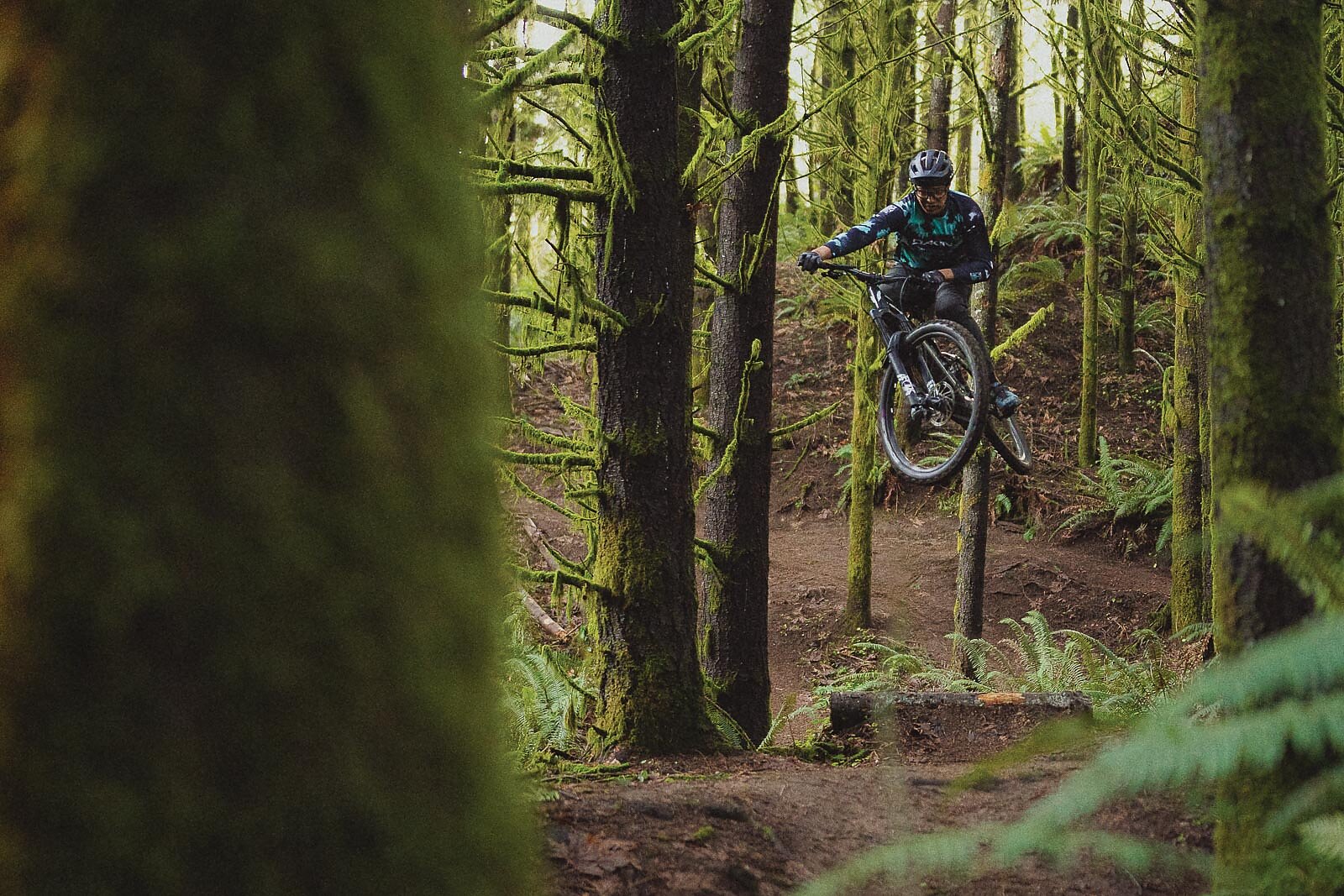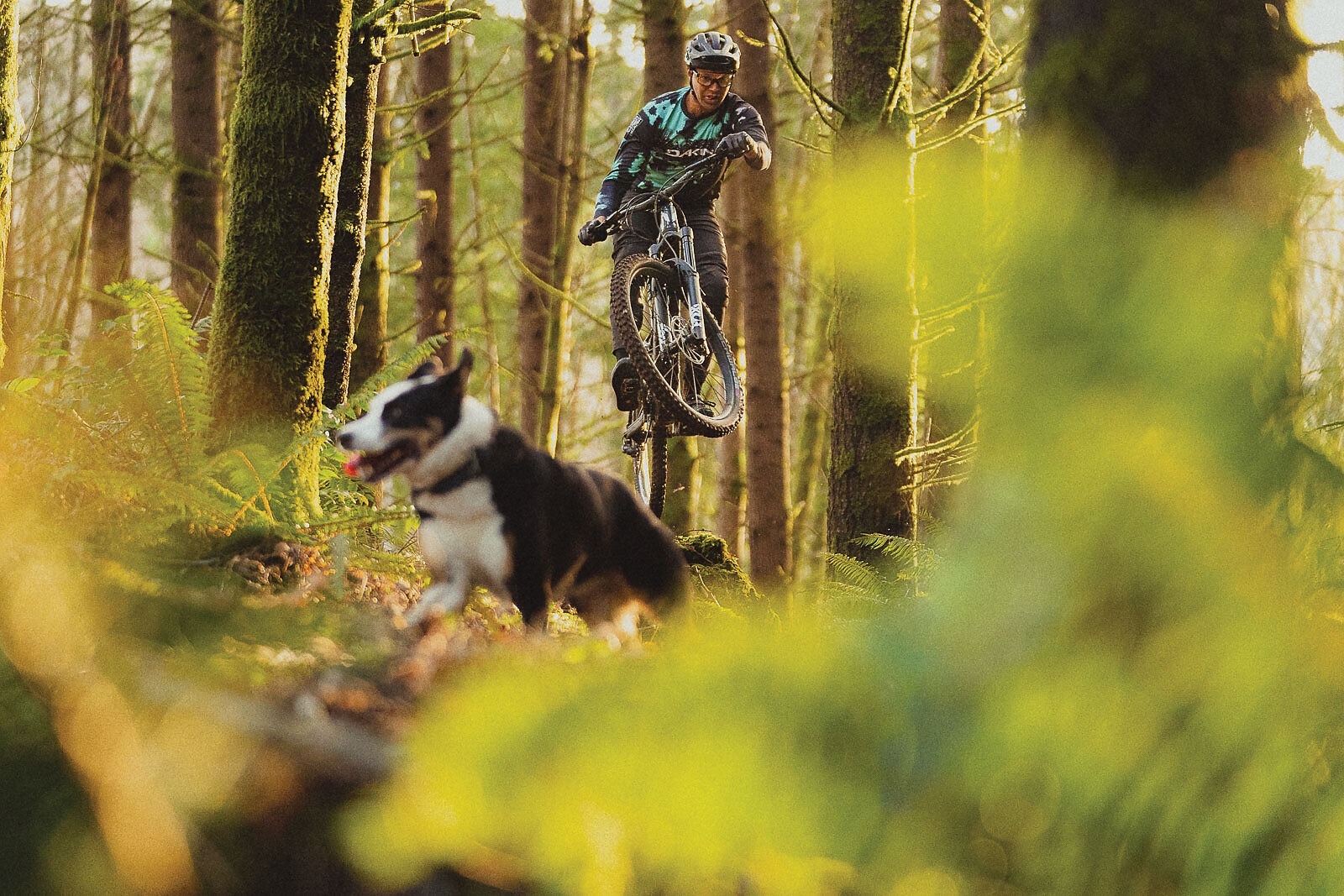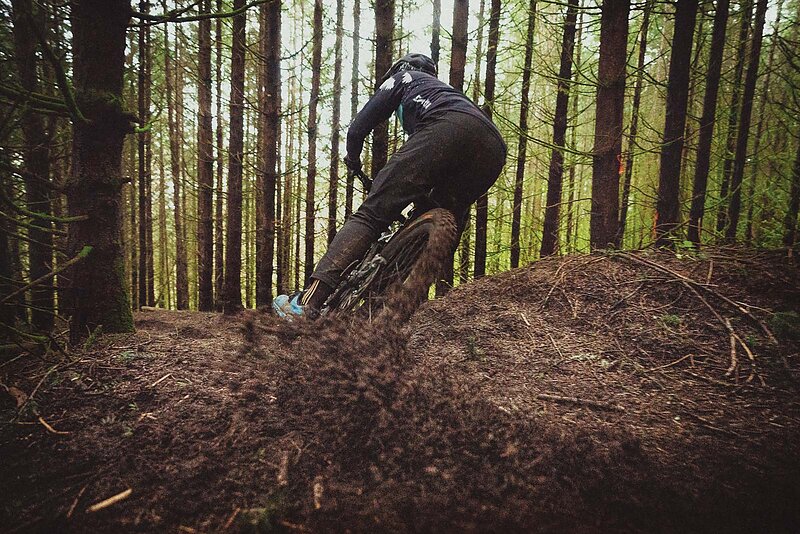 Editor's Note: Following the publication of this article, the Black Rock trail system has closed due to recent storm damage and a subsequent salvage harvest of timber. Black Rock Mountain Bike Association (BRMBA), the trail system's local advocacy group, is requesting that riders stay off the trails and out of the area during the closure. Check BRMBA's website for updates on when the trail network may open again.
Advanced riders looking for a raw, gravity-oriented experience often head to Black Rock, a veritable freeride playground about 75 miles southwest of Portland. The drive through rolling hills and farmland is scenic, and the roads become tight and twisty as you near the small town of Falls City, marked by a school, a bar and a convenience store. From here, a gravel road leads to Camp Tapawingo, a Christian summer youth retreat, and just beyond this is a small parking lot next to a mountain bike skills area. All that separates the rider from a paradise of downhill-only trails is a warm-up climb on a small road leading to the top of a mountainous forest filled with lovingly built descents, many of which harken to the early days of freeride.
There are multiple lines down the mountain, but first-timers are advised to start with the blue trails—which themselves require some serious mountain bike skills—before slowly working up toward the advanced black trails. The Black Rock Mountain Bike Association (BRMBA) has spent years building and maintaining these beauties, many of which are essentially creative works of art featuring man-made wooden stunts that harmonize with the natural terrain.
"I love Black Rock," says professional freerider Cam McCaul, who's had segments in multiple films and videos on the mountain's many trails. "The network is laid out so efficiently, and the trails have so many unique features it's basically impossible not to enjoy it. It just feels so good being in those woods, and as a spot to go enjoy with friends, it's tough to beat. The climb is chill enough to be carrying on conversations with your riding buddies, and on the way down you keep wondering how you're getting so much bang for your buck."
"THE BEST PART OF 'SCABOOTY,' OR 'ROCKY POINT' AS THEY CALL IT NOW, IS HOW CLOSE IT IS TO PORTLANDIA. IN 30 MINUTES, YOU CAN BE IN THE WOODS FROM THE CITY."—Matthew Slaven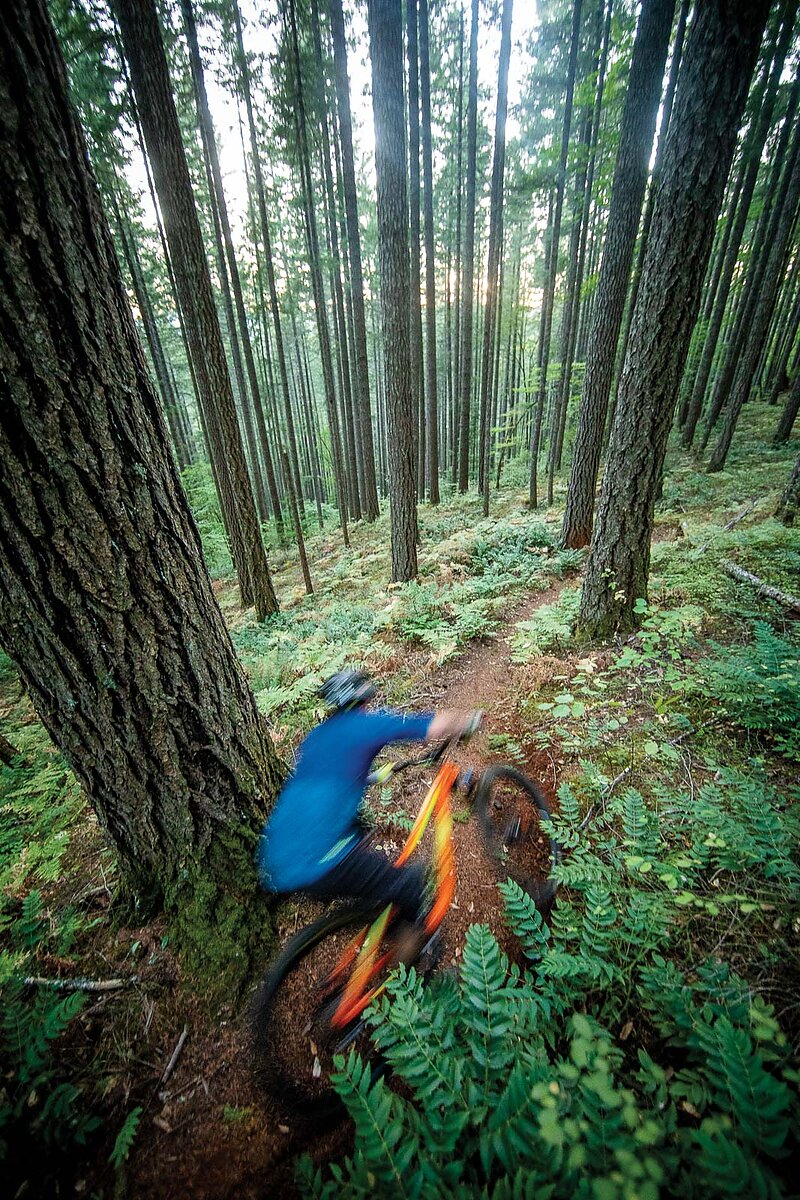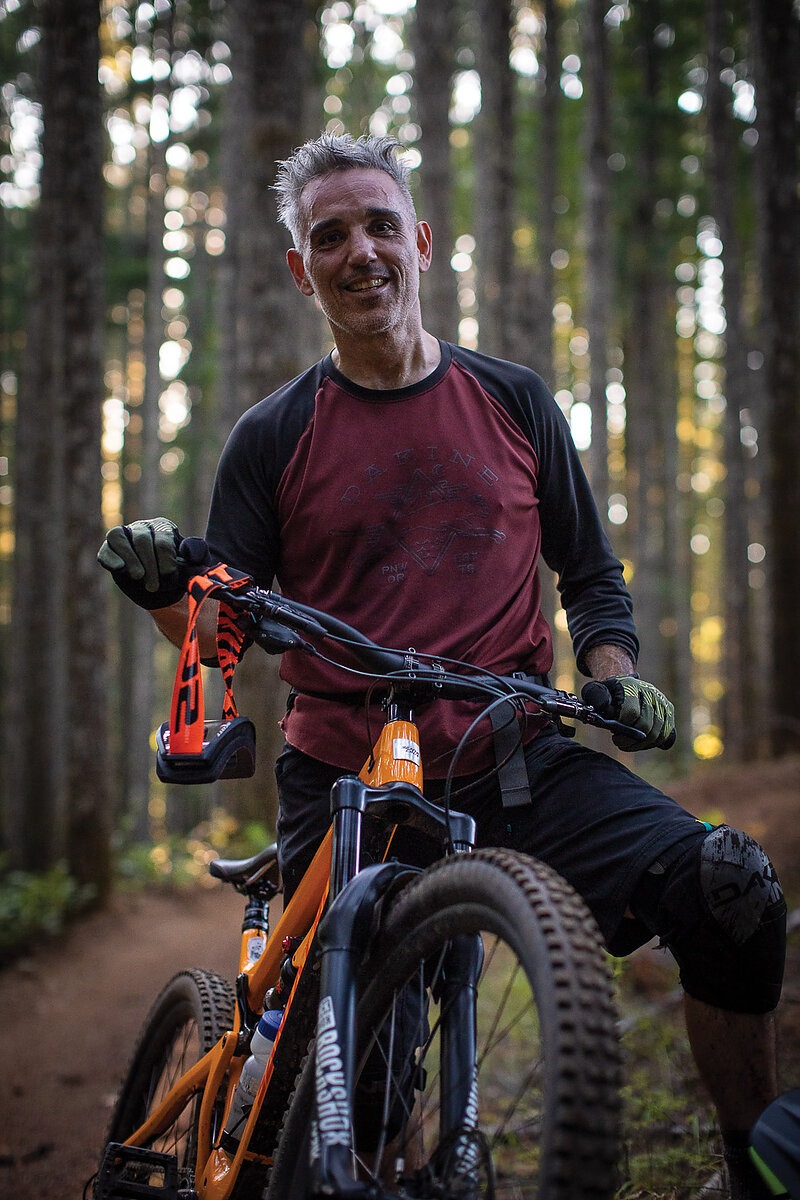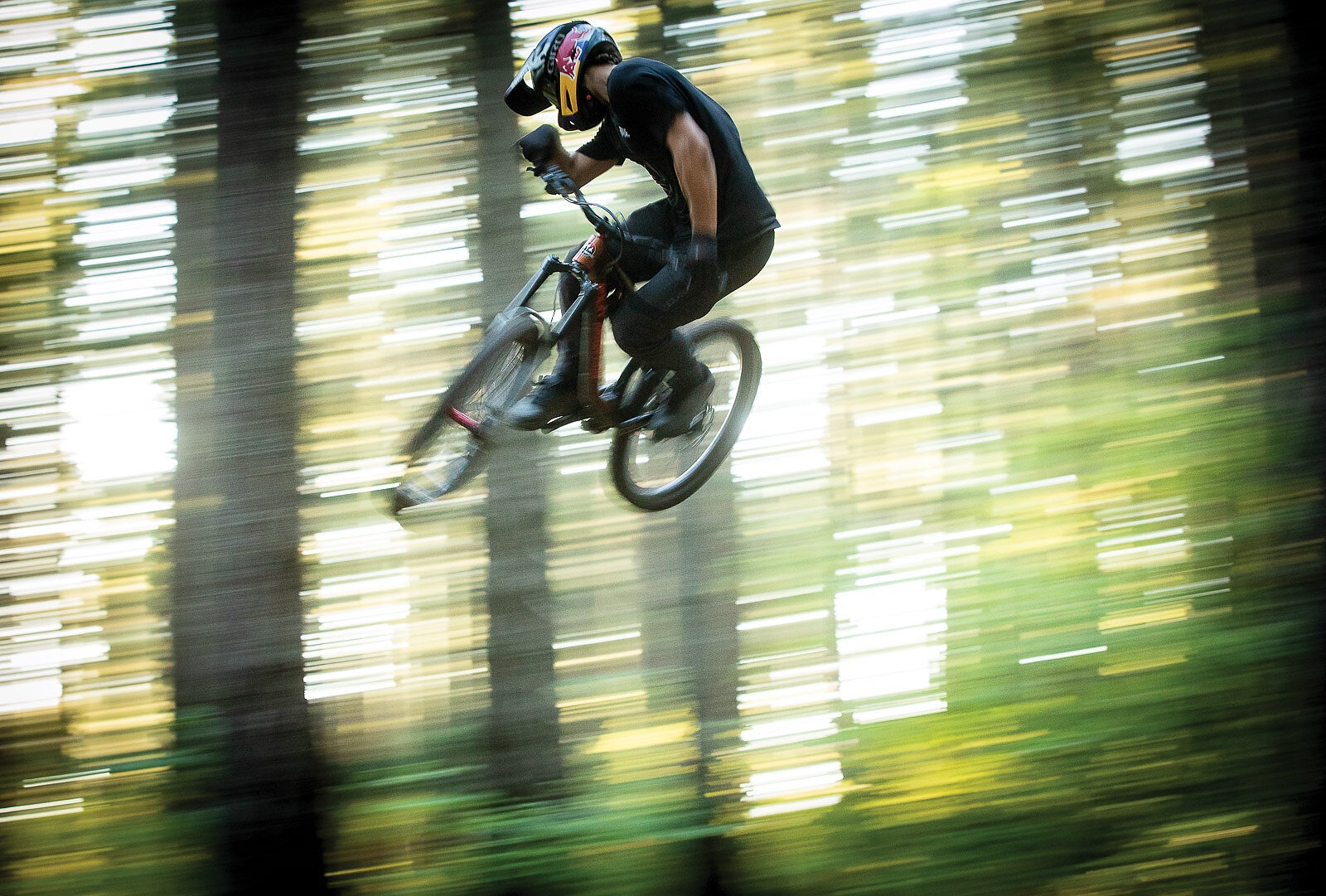 The network's easiest—and oldest—trail is the Bonzai Downhill, a five-section roller coaster that is peppered with an array of optional features. This classic has a bit of everything, from well-built berms to tables, ladders, wallrides and jumps. Most everything is rollable, but it pays to take one's time and ease into the trail's natural flow, as there are several tricky sections that will keep even advanced riders on their toes.
Black Rock holds the most appeal for riders who like to spend time in the air, but many of the jumps do not have ride-around options, so the BRMBA cautions visitors to start conservatively and scout conditions before sending it off the biggest hits. Black-diamond jump trails such as the popular Brake Check feature several mandatory doubles that should never be ridden blind. Another expert-only trail is the ironically named Sunday Stroll, which is actually a white-knuckle roller coaster of huge ladder drops and some sizeable mandatory gaps.
Hands down the system's most infamous trail is Grannie's Kitchen, a two-mile extravaganza of the most technical riding Black Rock has to offer, from burly natural features to wooden stunts that could be right at home on Vancouver's North Shore. The BRMBA classifies this trail as a double-black diamond, as it has surprises around almost every corner—including some seriously steep drops one might recognize from iconic freeride films.
"I've always gravitated toward Grannie's Kitchen because it feels like a trail-bike version of an old-school slopestyle course," McCaul says. "Aside from all the great riding at Black Rock, you're also pretty much guaranteed to bump into some good people all looking for the same thing for different reasons. It's like Oregon's old faithful trail spot."
"ASIDE FROM ALL THE GREAT RIDING AT BLACK ROCK, YOU'RE ALSO PRETTY MUCH GUARANTEED TO BUMP INTO SOME GOOD PEOPLE. IT'S LIKE OREGON'S OLD FAITHFUL TRAIL SPOT."—Cam McCaul
---
Enjoy what you just read? Consider joining or donating to the advocacy groups and trail builders that make these areas possible.