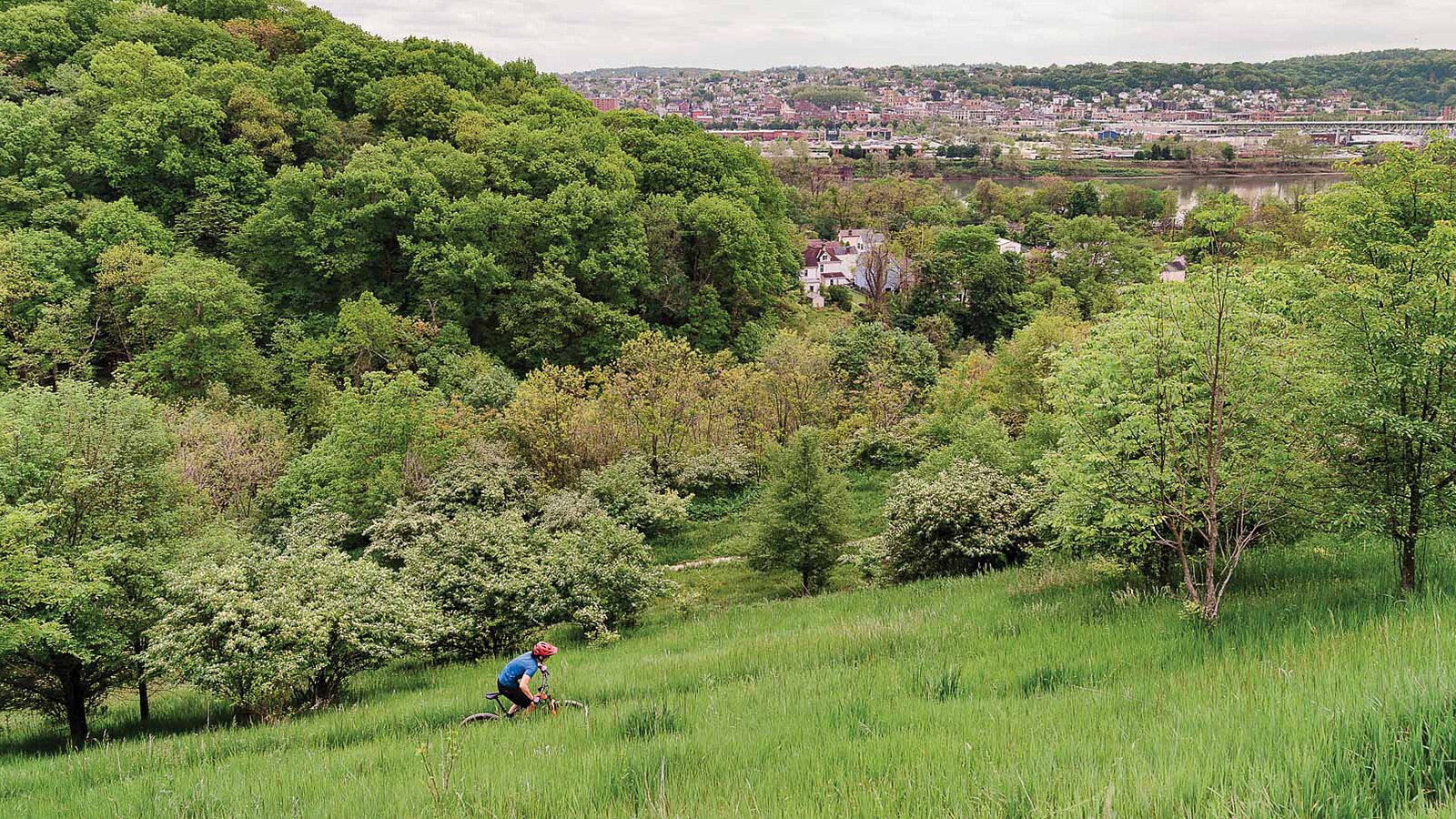 Out of the Furnace Pittsburgh's Frick Park Blossoms into a Singletrack Destination
Steep hills are more ubiquitous than steel mills in Pittsburgh. Outsiders often overlook this hallmark feature of a city long dominated by the stereotype of factories billowing with fire, soot and smoke.
First documented in gritty detail by eminent American photojournalist W. Eugene Smith, Pittsburgh's working class once made their way down the city's punchy hills and intricate networks of stairs on foot to toil away at tough jobs producing coal and steel. Demand for such work has tapered and, since then, companies such as Uber and Google have moved in as tech steadily replaces physical industry. And while locals still negotiate the same hills as their forebears, a growing number now do so aboard mountain bikes. For these riders, Frick Park, covering over 644 acres of dense forest and ravines east of downtown, is the jewel of Pittsburgh's mountain biking scene.
"It's hard for me to imagine living in a city without a Frick," longtime Pittsburgh rider and trailbuilder Randy Nickerson says. "The park isn't without its occasional city park quirks and characters, be it rolling up on a trailside porno shoot or being confronted by a hatchet-wielding madman," he says, recalling two weird situations he's encountered at Frick Park. But more often Nickerson describes riding at Frick as a "drastic welcomed departure from the grit and pace of city life without actually leaving the city limits."
For the earliest generation of Pittsburgh mountain bikers, Frick Park provided a blank slate upon which to create trails and test the limits of equipment. In the early 1990s, a handful of eager riders began scratching in the first rideable trails and, by the turn of the century, builders had established a network of singletrack totaling about a half-dozen miles. Early favorites were Nature Center (originally known as Stove Top) or, more recently, Bradema, depending on who you ask.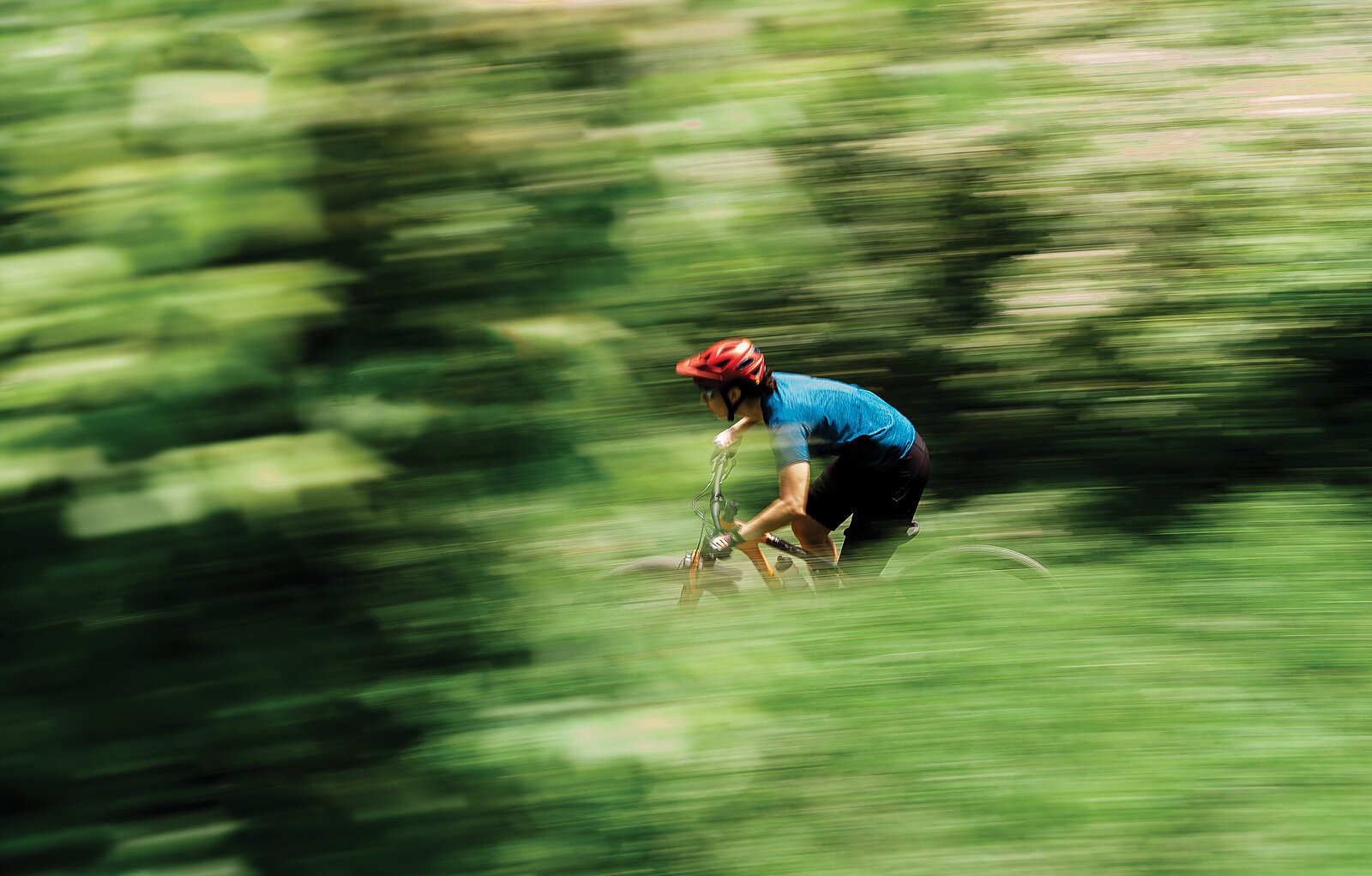 In 2001 Trail Pittsburgh was established as the local trail advocacy organization. Since its inception the nonprofit has allocated funds to grow multi-use trails in and around the area. Volunteers maintained existing trails and directors worked with city and county park officials to approve more space for trail creation. The original builders of Frick also remained committed to staying involved in the park's future which, at times, created a bit of push-pull between the two parties. By the end of the 2000s, a group of eager builders pushed into a new zone across the creek and began work on an untouched portion of the park away from the masses and adjacent to Highway 376.
Muted by nearby traffic and hidden from view in the trees, the builders worked in secrecy to add several miles of fresh and fun singletrack. Bridges, skinnies and choose-your-own-adventure type splits offered riders the skull or chicken trail options. It didn't take long for word to spread about the new trails and eventually Trail Pittsburgh investigated. Working with the Pittsburgh Park Conservancy, the new trails were assimilated into the park system after rerouting the entrance to avoid natural wetlands. Named 276 due to its proximity to the highway, the latest addition was an immediate hit with local riders.
Running high off their success with 276, the renegade crew of builders took their tools and vision across the street from Frick Park to an area known as the Slags. The Slags are literal slag heaps, waste materials that are the byproduct of steelmaking, leftover from the heyday of Pittsburgh's heavy industry. For years the Slags were considered no man's land, littered with construction debris, remnants of stolen cars and motorcycle trails. Beginning on the western side, the builders bench-cut a zig-zag of a trail named Crater. While Crater Trail was under construction, another crew consisting of original Frick Park builders was working parallel to it across the ravine. In a little less than a year, there was a considerable increase in rideable trail, and while mountain bikers were taking notice, so was Trail Pittsburgh.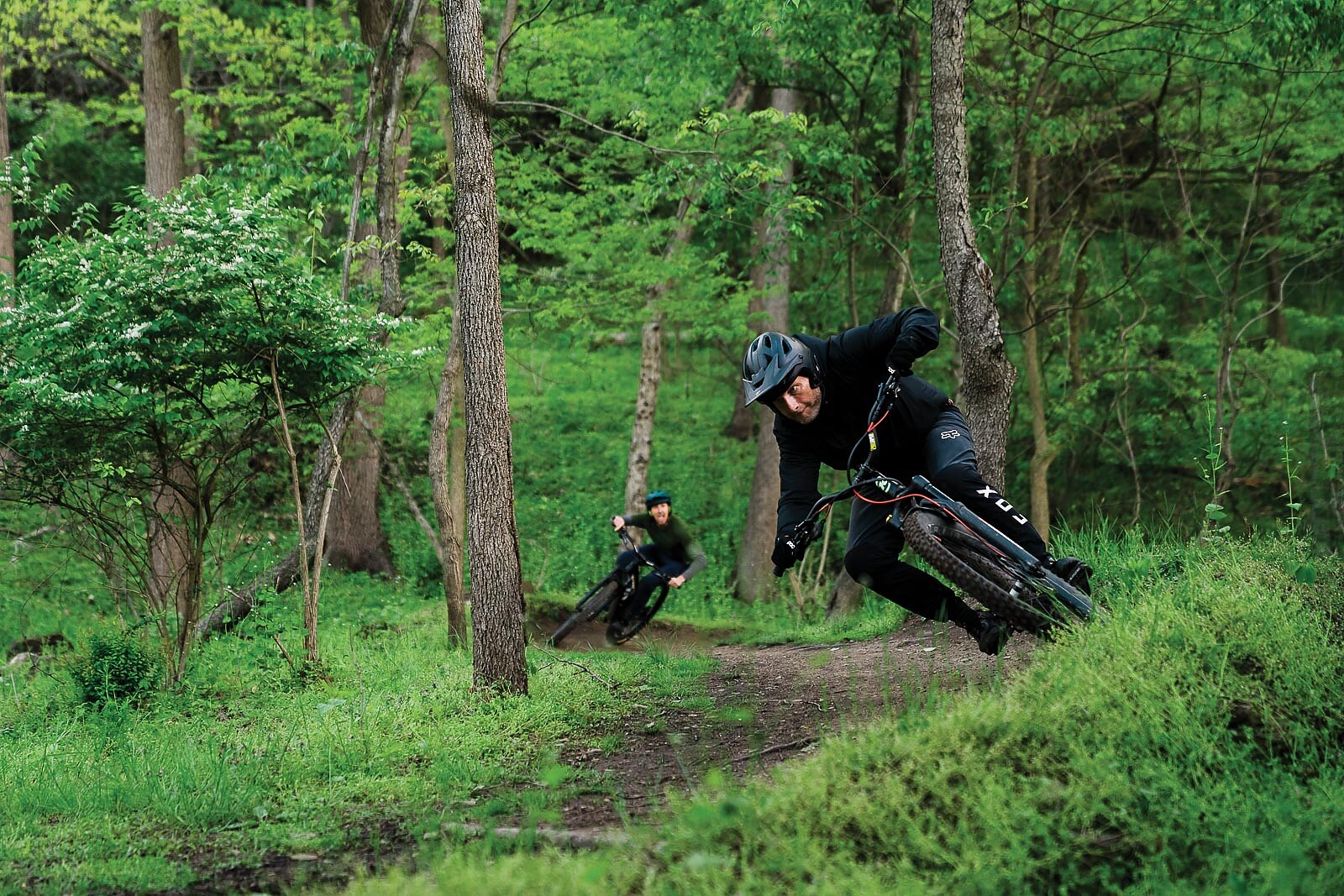 The ongoing building at the Slags eventually started to influence what was happening in Frick Park. In 2018 Brian Yeagle and Randy Nickerson joined the Trail Pittsburgh crew at Frick. Nickerson and Yeagle had formed a friendship rooted in BMX in New England that eventually landed them both in Pittsburgh in the early 2000s. Their experience in building BMX trails and their familiarity with how to best design them for optimal fun and proper drainage was a welcome asset at Frick. Under the guidance of Frick Park Lead Trail Steward Justin Schieffle, Yeagle and Nickerson used what they learned through years of BMX building to reshape Iron Gate, Frick's trail with the most sustained vertical drop. The crew added new berms, rollers that could be doubled by experienced riders and some much-needed drainage work in a problematic area. The reroutes made it possible to connect forgotten trails and even add in new routes.
With his love for pushing the limits on two wheels reenergized by mountain biking, Yeagle revels in the fact that Frick Park is a short pedal from his home.
"Frick can satisfy most of my riding moods," Yeagle says. "I can pedal my legs off for hours over roots, concrete or smooth hardpack, mixing up the sequence of single and doubletrack trail connections to make the ever-changing ride a constant sweat-inducing effort. Or, my more frequent approach, slowly ascending technical singletrack to top out—only slightly out of breath—to then bomb down the few gravity-fueled descents that keep one's nerves sharp and make the climb back up worth it."
With original trails such as Nature and Iron Gate getting dramatic makeovers, riders have found renewed fun in old favorites. Roller Coaster got new extensions thanks to a reroute of an old and aimless track that now incorporates more of a BMX influence with pump-track-style rollers and berms. During this phase, the builders of 276 once again left their mark on the park by finishing two separate trails known as Homeless Camp and Corpse Trough. This technical duo of trails keeps riders off the main walking path with options for connecting some of the park's original singletrack.
"IF YOU COULD TAKE FRICK PARK AND SOMEHOW PUT IT IN A REMOTE FOREST IN THE MIDDLE OF NOWHERE, I DON'T DOUBT MOUNTAIN BIKERS WOULD STILL MAKE THE TRIP TO RIDE IT." - RANDY NICKERSON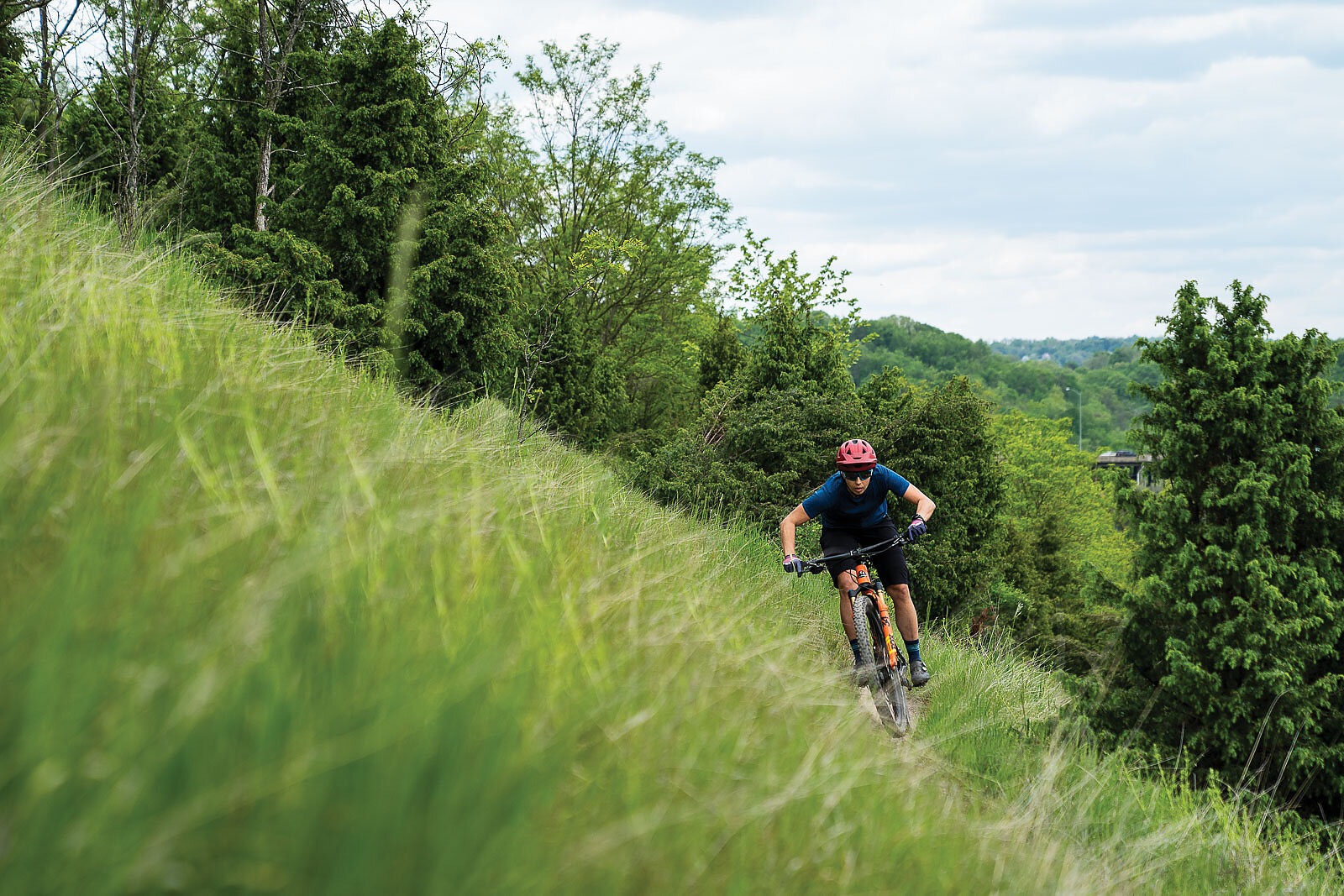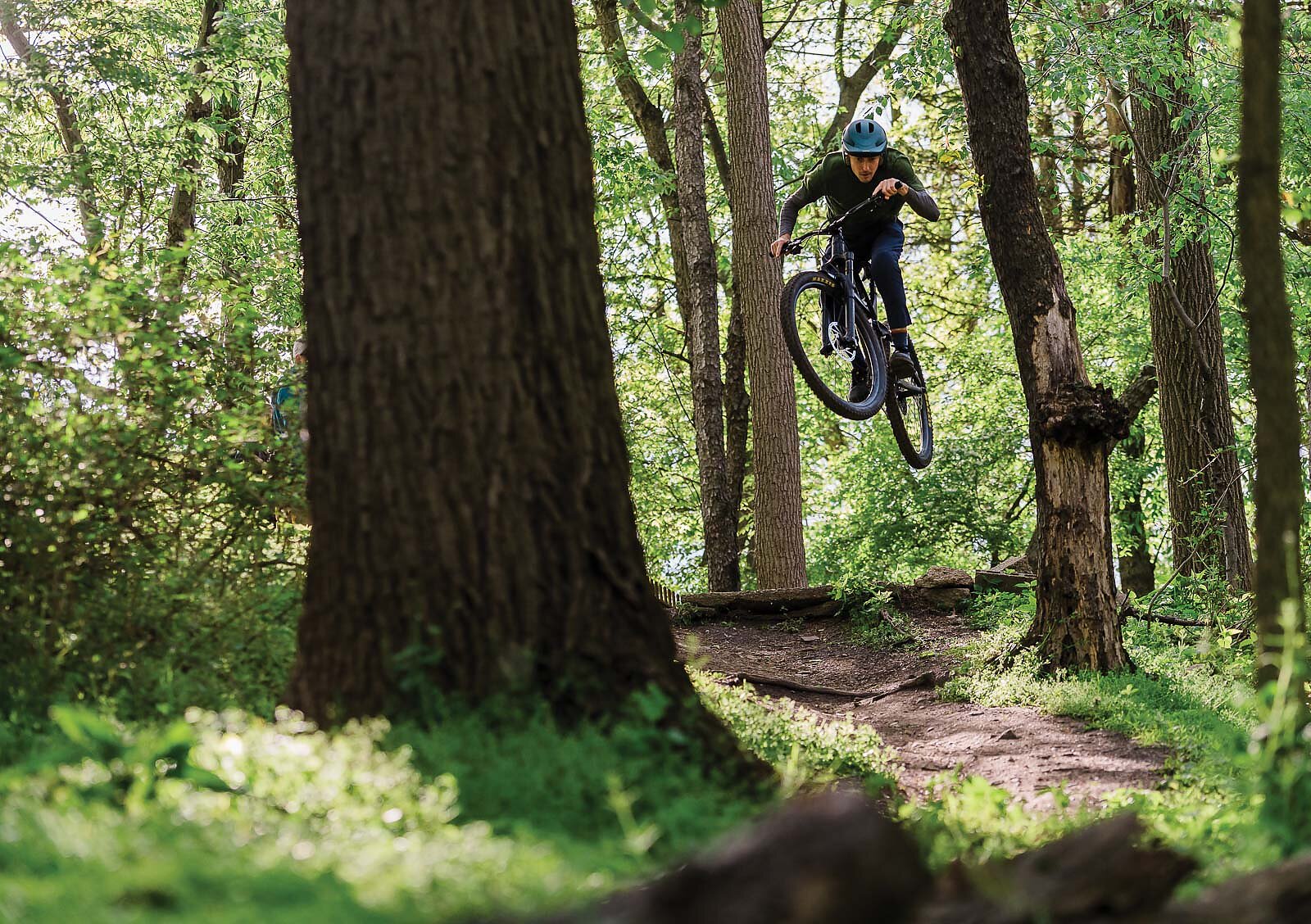 With almost 17 miles of singletrack in Frick Park proper and another eight miles in the area known as the Slags, both Frick Proper and "Improper" have made the park a destination for mountain bikers throughout the greater Pittsburgh region. During summer evenings and weekends the parking lots fill with cars, vans and pick-up trucks adorned with bike racks. There was a time when running into another rider meant you probably knew them personally. Now, new faces are everywhere. In the adjacent business district of Regent Square, long-standing restaurant D's Six Pax and Dogz is regularly crowded with riders fresh off the trails.
"If you could take Frick Park and somehow put it in a remote forest in the middle of nowhere, I don't doubt mountain bikers would still make the trip to ride it," Nickerson says, adding that Pittsburgh's terrain and topography—the city is one of the hilliest in the United States— "begs for trailbuilders and mountain bikers." Fortunately for area urbanites, the park is only a few short miles from downtown, a less than 10-minute pedal from most of Pittsburgh's doorsteps.
Younger riders typically associate Frick Park with Mac Miller's Blue Slide Park album more than Henry Clay Frick, the business tycoon for which it was originally named after. Though without him—or, more accurately, his daughter, Helen, who fought to keep the land in its natural state—the green space likely would've been developed into yet another neighborhood or business district. When Frick passed in 1919, the notoriously reviled man left $117 million for philanthropic purposes, including 151 acres of land that eventually became the park—now the largest of Pittsburgh's four historic parks. Perhaps much like Frick needed the competition and cooperation of Andrew Carnegie and other contemporaries to retain his status as a renowned industrialist, so too do the renegade builders need Trail Pittsburgh to bring their city top quality mountain bike trails. If the 1950s were Pittsburgh's golden era of industry and culture, now is undoubtedly its golden era of mountain biking.