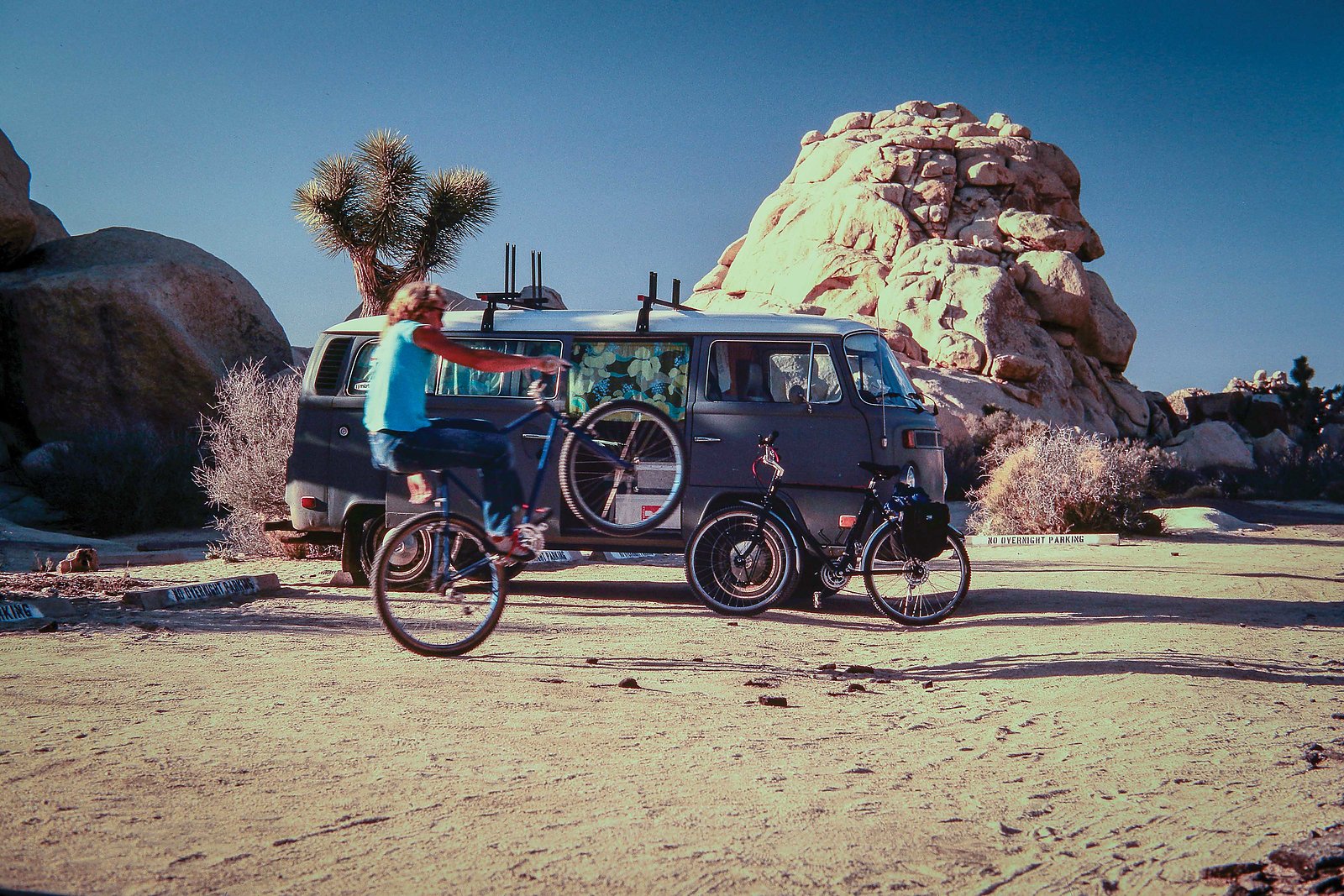 The Original Wolf Ruck's Freewheelin'
It was my friend Kevin Wilkins, founding editor of The Skateboard Mag and an avid mountain biker, who first came across the film on YouTube and sent it to me.
The upload date said 2010 and the quality of the video was grainy at best, a poorly digitalized version of old celluloid that made it hard to view details.
But you didn't need a sharp image to see the obvious— if dated — skills of the mountain bikers it portrayed. The mustaches, the fanny packs and cutoff jeans, the insane bike setups with everything from drop to bull-moose bars, the riders' radical style; it all added up to a masterpiece both timeless and purely 1980s.
The film was titled Freewheelin', and was made with a windup 16mm camera by someone named Wolf Ruck. I immediately emailed Kevin back, and our conversation went crazy from there. We scoured the internet for more information, but beyond the grainy YouTube video, Freewheelin' seemed to be completely forgotten. The original publishing date said 1985, ancient in mountain bike terms — so ancient that, as far as we could tell, the poetic, funny and, by any standard, action-packed romp was the first mountain bike film ever made.
I found myself fascinated with Freewheelin'. This was partly for its historical importance, but mainly because it was so much fun to watch, both as a biker and a fellow filmmaker. This Wolf Ruck had made something informative, but had done so while blending abstraction, fast-cut motion and unique "point-of-view" angles (quite a feat in the days before GoPro), then layered the edited film with a jamming and funky score. I decided I had to talk to the man behind this beautiful film.
After a few internet Hail Mary messages, I got a response from Wolf via his YouTube account and we set up a time to talk on the phone. Now in his 70s and living outside of Toronto, Wolf immediately came across as a happy, humble grandpa (which he is), entertained that someone had taken the time to track him down to ask him about an old film.
As our conversation continued, it became obvious there was more to Wolf than just Freewheelin'. Born in Germany, he moved to Canada in his teens and quickly demonstrated his dual passions for art and sport. He's been painting since he was 10 years old, an artistic outlet that has remained a constant throughout his life. He earned a bachelor's degree from the University of Toronto's School of Physical and Health Education in 1969, graduating with academic majors in English, German, zoology and physiology. And, he told me almost reluctantly, he'd been a paddler for the Canadian canoeing team at the 1968 Olympic Games in Mexico City.
It was his experiences at the Mexico Games that inspired his first film, the 1978 short Paddles Up. Canoes and the Olympics were also the subject of his second, 1981's Winning!, an award-winning documentary about Canadian canoeist and Olympic silver medalist John Wood and coach Mac Hickox. The next year he followed with a film about another of his childhood pursuits, Nordic skiing, in the 27-minute motivational-instructional video This is Cross-Country, first released in 1982.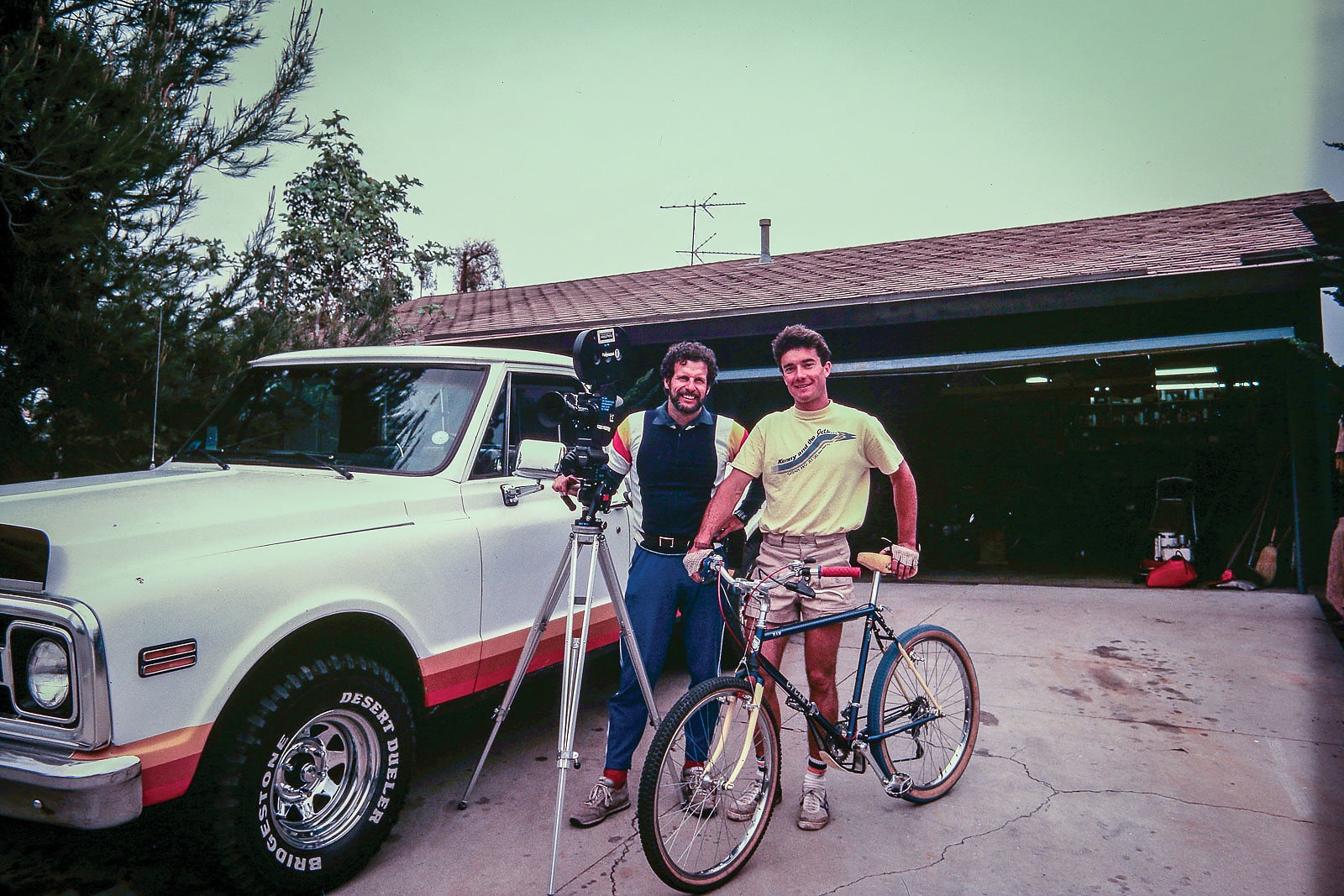 Having spent time on both the water and skis, Wolf brought an athlete's sensibility toward motion in his films; the featured athletes are portrayed as performers, powerful, graceful and beautiful in their talents. It was art shaped by experience, which posed a problem when Wolf decided to make a film about mountain biking in 1983. Like most people from rural Ontario in the 1980s, Wolf was new to the sport, so before he started filming, he bought a Trek 500 and began pedaling.
"That first experience riding—through fields, across creeks—it just blew my mind," Wolf says. "I was hooked. What incredible freedom, to get out off the road, away from traffic".
Wolf wanted to enlist the best mountain bikers in the world, so in 1984 he loaded his camera and made a trip to Massachusetts, ME, for what happened to be the first National Off Road Bicycle Association (NORBA)-sanctioned cross-country race east of the Mississippi. The Massachusetts footage became one of Freewheelin's significant early scenes, and was where Wolf met Lawrence Mallone, leader of the Specialized Bicycles' team. Mallone, in what Wolf recalled as a "typical California fashion of speaking," offered a bit of advice: "If you want to see mountain biking, man, you gotta come out to California. Cuz that's where it's at."
Based on that thin-but-sufficient bit of direction, Wolf packed up his VW Bus and made the long drive to Southern California. "I was living out of my van," Wolf says. "I hooked up with these guys in Los Angeles' Van Nuys [neighborhood] and got all the info about rides and races in the area. So, I ended up following the circuit at the time."
People opened up quickly to Wolf, and he ended up With new friends anxious to share their passion. At the time, the mountain bike scene was one diverse community, not yet separated into defined disciplines. Wolf began riding with early SoCal mountain bike legends like Dave Wonderly and Kyle Sharp (who was just a teenager living at his mom's house at the time), who introduced him to other locals with their own unique styles.
Wolf was drawn to the different ways of maneuvering terrain, how each rider had their own creative approach, and he captured as much as possible. Racing reigned, but Wolf saw something else: the heart of mountain biking. "I think the attraction is to go out and test your limits in Mother Nature," he says. "That's the general idea in Freewheelin'. While racing is a part of it, there are variations on the theme that are interesting and challenging and fun."
Those variations may run throughout the film, but they come into full effect during the California segment: Wonderly sessioning boulders in the yet-to-be-closed-to bikes Joshua Tree National Park, Mark von Aldenbruck dropping stylized trials moves on a basketball court in San Juan Capistrano, and Aaron Cox and Kyle Sharp on a shreddy trail ride near Chatsworth, around what is now Rocky Peak State Park. It was the precursor to "freeride," and these days you'll find riders like Curtis Keene, Jesse Melemad and Jill Kintner at Rocky Peak, practicing their chops in the off-season and carrying the torch lit by those early pioneers.
The athletes and antics in Freewheelin' were inarguably cutting edge, but Wolf's creation was progressive in a subtler but equally influential way as well. The film is divided into six distinct riding scenes, with an intro and outro shot in Toronto; each part uses unconventional wide-angle shots, and previously unseen rider POV shots of the type we now associate with action cameras. Wolf was inventing a language to capture biking, much of which was later popularized through freeride movies and the messenger racing films of videographers like Lucas Brunelle.
This isn't to say Wolf was a direct influence on those who would follow, but it's significant that he had no predecessor to help inform his technique. I wondered from what sources Wolf gathered his inspiration. Speaking with Wolf you hear his appreciation for the beauty of nature and of sport. He remembers watching Olympic documentaries while at university, particularly films by the German director and actress Leni Riefenstahl, as well as La Grande Olympiade, a color film by director Romolo Marcellini about the 1960 Olympics in Rome. And like someone who appreciates playing the game as much as winning, Wolf's focus is on the experience.
"A major influence was working with the CBC editor, David Murray, on my first film, Paddles Up," Wolf says. "He taught me everything I know about editing. He used all these abstract pieces of film that I would have tossed out, like blurred paddle strokes and water splashes, all to actually make the film interesting visually."
Another of Wolf's formative experiences was writing and translating instructional books about skiing in the 1970s, many of which included photo sequences that demonstrated proper ski form by breaking down the action. Under the influence of Murray, Wolf took his own action sequences and interspersed them with moments of abstraction in the form of thrashing branches, extreme close-up shots and rapid cuts.
I found this to be interesting, as I used to pore over similarly photographed action sequences in Thrasher Magazine. It's hard to deny the depth of influence skate photography and filmmaking has had on almost every filmmaker that inspires me, and I asked Wolf for more about the Freewheelin' intro, a long POV sequence though the streets of Toronto.
"One of the films I saw before making Freewheelin', which also originated in California, was a short called The Magic Rolling Board," Wolf says. "There were a lot of amazing shots that literally pulled you into the action. It almost gave you the feeling of being on a skateboard."
 
During the pre-Freewheelin' era, POV-style shots were nonexistent, so Wolf had to devise his own mounts to attach his heavy, hand-crank, Bolex 16mm camera to his bike. The resulting shots were groundbreaking, especially for mountain biking, allowing viewers the perspective of the rider's experience.
By 1985, after a year of shooting and editing, Wolf had a completed film to bring to the masses. In 2010, that was as simple as uploading a file to YouTube; in the mid-1980s, the distribution outlets for an independent film—especially one about a sport no one had heard of—were basically limited to libraries. Filmmakers would send 16mm prints to acquisitions staff at educational and public institutions, who would hopefully purchase it for their collections. That had been Wolf's experience with his other films.
But mountain biking was so new, and every other bike-related film the libraries had seen was focused on children and safety. Freewheelin', on the other hand, was full of adults intentionally doing crazy things on bikes. Wolf recalls one acquisitions librarian saying, "There's no way I want my grandson to watch a film like this. It's dangerous!"
Wolf also shopped Freewheelin' around Hollywood, showing it to acquisitions people from multiple studios. There was even some strong interest. At one meeting with a group of executives, Freewheelin' previewed alongside two other cycling films: Quicksilver, the 1986 movie about bike messengers starring Kevin Bacon; and the 1985 road-cycling drama American Flyers, starring Kevin Costner.
Unfortunately, Wolf was battling an industry shift as much as he was movie stars. About the same time Freewheelin' was completed, theaters began replacing the short films that traditionally ran before features with advertising. After limited library sales and a few showings by the Canadian Broadcasting Company, Freewheelin' was left to the archives.
Luckily, Wolf had plenty to keep him busy. He continued to make films for another 25 years, even working on other groundbreaking films like the 1990 documentary Burden On The Land, which covered the AIDS crisis in Ethiopia, and now spends his retirement painting, collecting vintage bicycles and enjoying life as a grandpa. As for Freewheelin', it still lives on YouTube, although Wolf uploaded a (relatively) sharper version in 2012. And until a different, long-forgotten reel surfaces, his grainy, inspired and visionary chronicle remains the original mountain bike film.