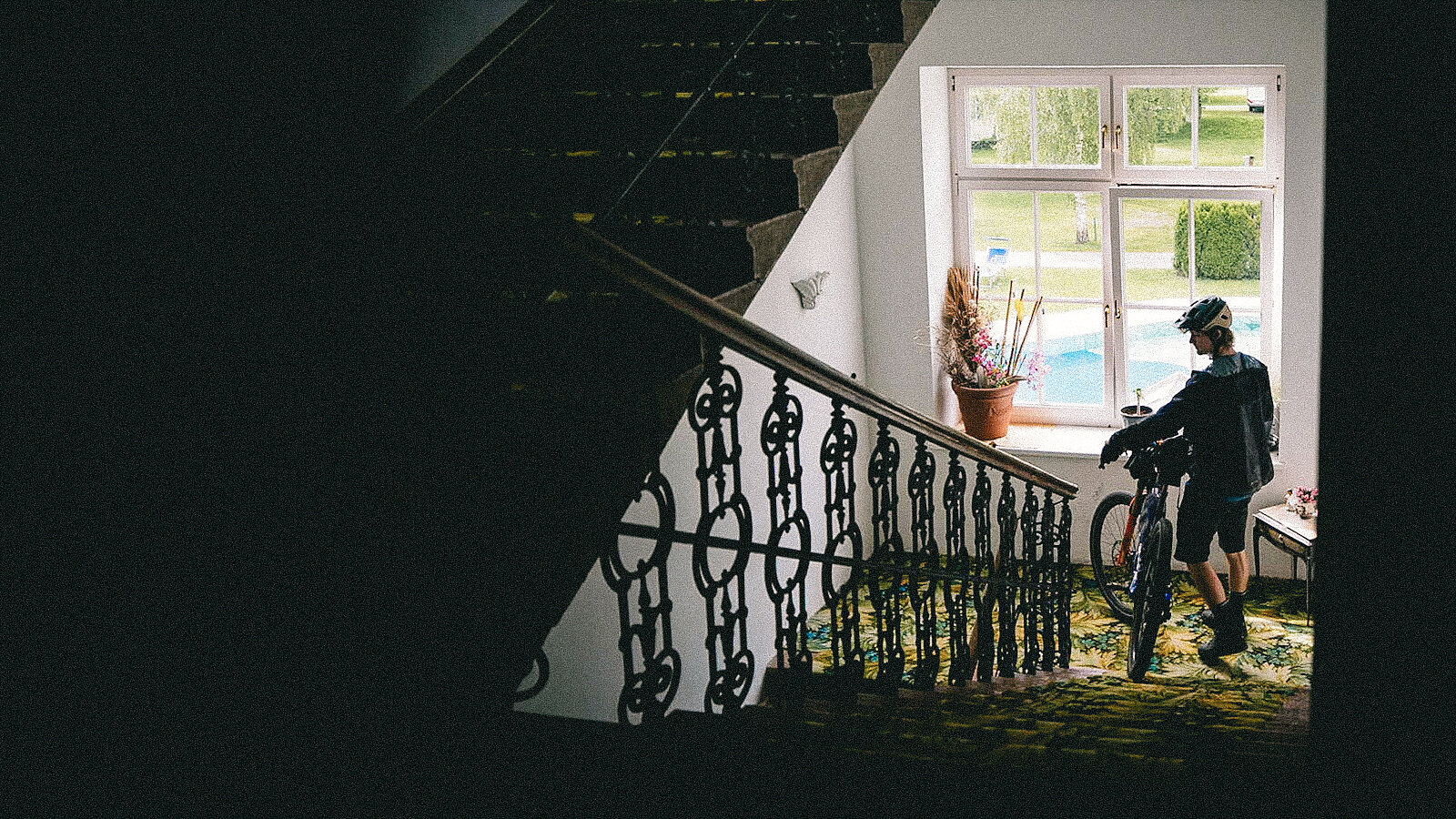 Odd Ones Out A European Enduro-Packing Odyssey
"Yes, that flight was canceled in March. You weren't alerted?" asked the Aer Lingus customer service agent with a blasé demeanor. Eric Olsen and I stood dumbfounded outside the Seattle-Tacoma International Airport.
It was 6 p.m. on May 30 and, without a flight, all we had was two tightly packed bikes and a loose plan to bikepack around Europe for the next month. "Do you want us to refund your money?" they asked.
Incredulous, I struggled to find the right words to respond. We'd booked our flights back in February. I'd even called two weeks before our scheduled departure and paid $200 to check our bikes in advance. The sound of blood pumping in my ears was hard to differentiate from the thrum of airport traffic behind me.
Although we didn't yet know it, this hurdle would set us on a trajectory of acting first and planning later for the duration of our trip. The plan was for Eric to race the first three stops of the 2022 Enduro World Series (EWS) and travel between the events by bike. These races were all scheduled in June: Tweed Valley, Scotland, followed by two weeks to get to Petzen, Austria, and finally Val di Fassa, Italy, one week later. While the goal was to pedal as much as possible, we figured we'd have to lean on the region's train infrastructure if we wanted to get our beauty sleep.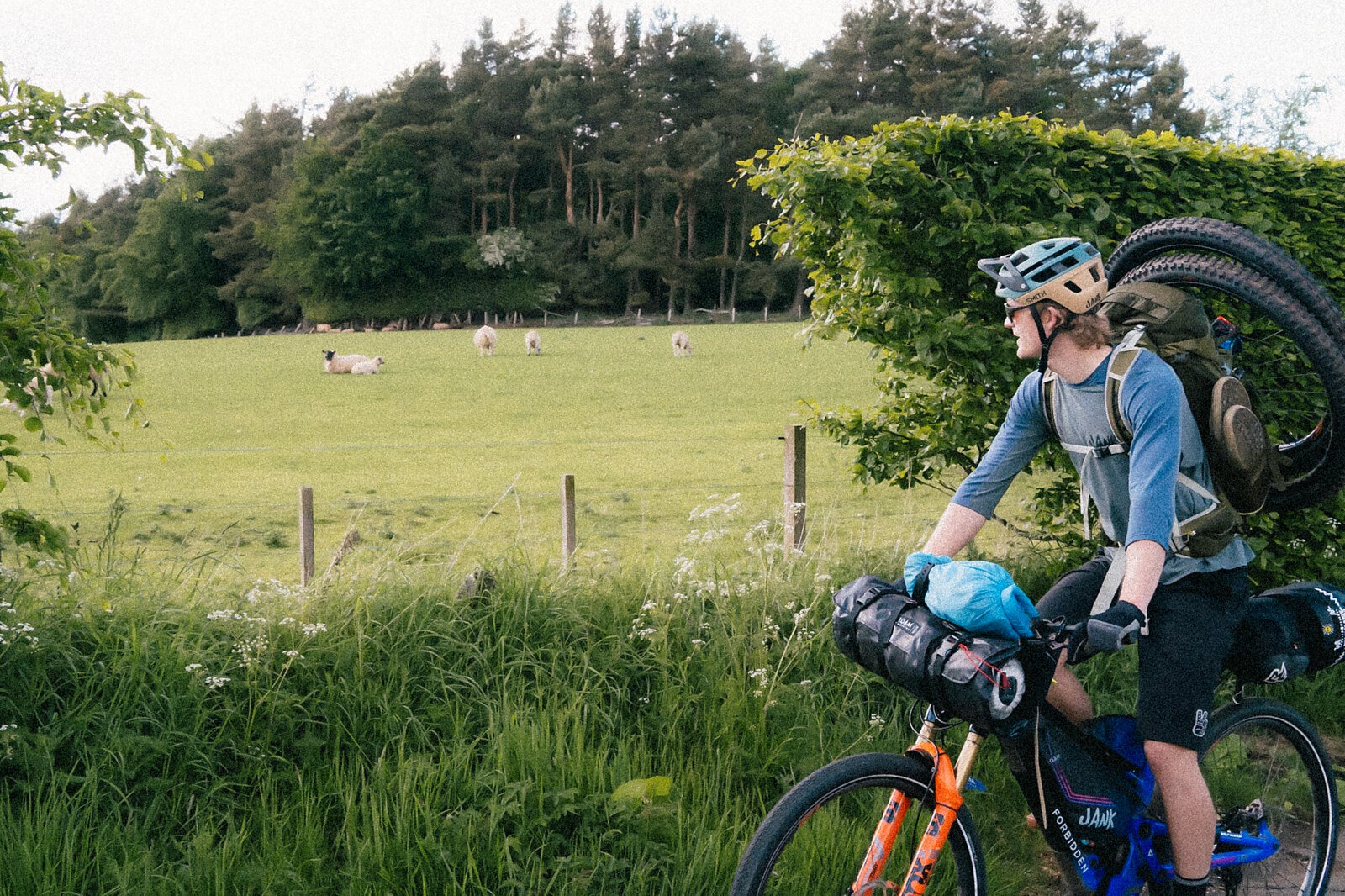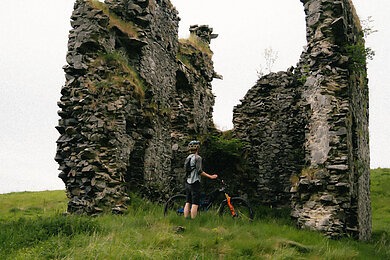 The adventure was Eric's brainchild, unknowingly born a year earlier when he rode from Bellingham, Washington to a NW Cup downhill race in Port Angeles, Washington—a quick 130-mile affair. Landing on the podium in Port Angeles reinforced his belief that mountain bikes are more than just an expensive plaything but, rather, an extremely effective and efficient method of transportation too.
After traveling the country, racing every enduro he could in 2021, Eric garnered enough points to secure his place on the 2022 EWS circuit. World-class racing often comes with world-class nerves, so he figured riding from race to race would be the perfect venue to distract himself. To celebrate and share the adventure, Eric wanted to capture it all on video and, to avoid being completely overwhelmed, I volunteered to document it all for him.
Despite the canceled flight, a quick game-time decision saw us arrive in Edinburgh, Scotland, not long after we'd initially intended, thanks to a direct flight to Heathrow, London. After a surprisingly full night of sleep, I woke up in my little cubby under the stairs in our Harry Potter-esque apartment feeling excited. We planned to ride directly to Innerleithen, in Tweed Valley, Scotland. But after smelling the salt in the air, we turned around to detour through the old city and along Portobello beach, surrounded by folks eating ice cream and French fries. Eventually, we pedaled back through the old monuments and castles of Edinburgh, out past the narrow brick townhouses that sprawled into the suburbs and along the ancient stone buildings of the countryside. The rock walls and decaying farmhouses that spotted the rolling green hills reeked of history, and of sheep dung.
We entered that weekend hoping that some racer would see our tired bodies and Bambi eyes and offer us space to crash on their floor. Instead, we quickly learned that packed schedules and small hotel rooms filled with mountain bikes made it hard to accommodate two stinky boys and all their crap. That's not to say we didn't get any helping hands, though. Fellow Bellingham racers Myles Morgan and Andrew Cavaye let us sneak showers in their tiny room, and the crew from Forbidden Bikes even let us call their pit-tent home all weekend. Although Anthony Poulson, Forbidden's mechanic, wasn't exactly ecstatic when I groggily pulled down my chamois from the cross beams of the tent on the second morning so he could get to work.
Eric's goal for his first EWS race was to beat his number plate: 157. Racers had their work cut out for them in Tweed Valley, where six stages would take place in two separate riding areas. The trails trenched through the deep peat of the region's manicured tree farms, exposing root networks that required fierce attention. Planted in a grid, the trees made for tight quarters, so the running joke among the racers soon became, "How short did you cut your bars?"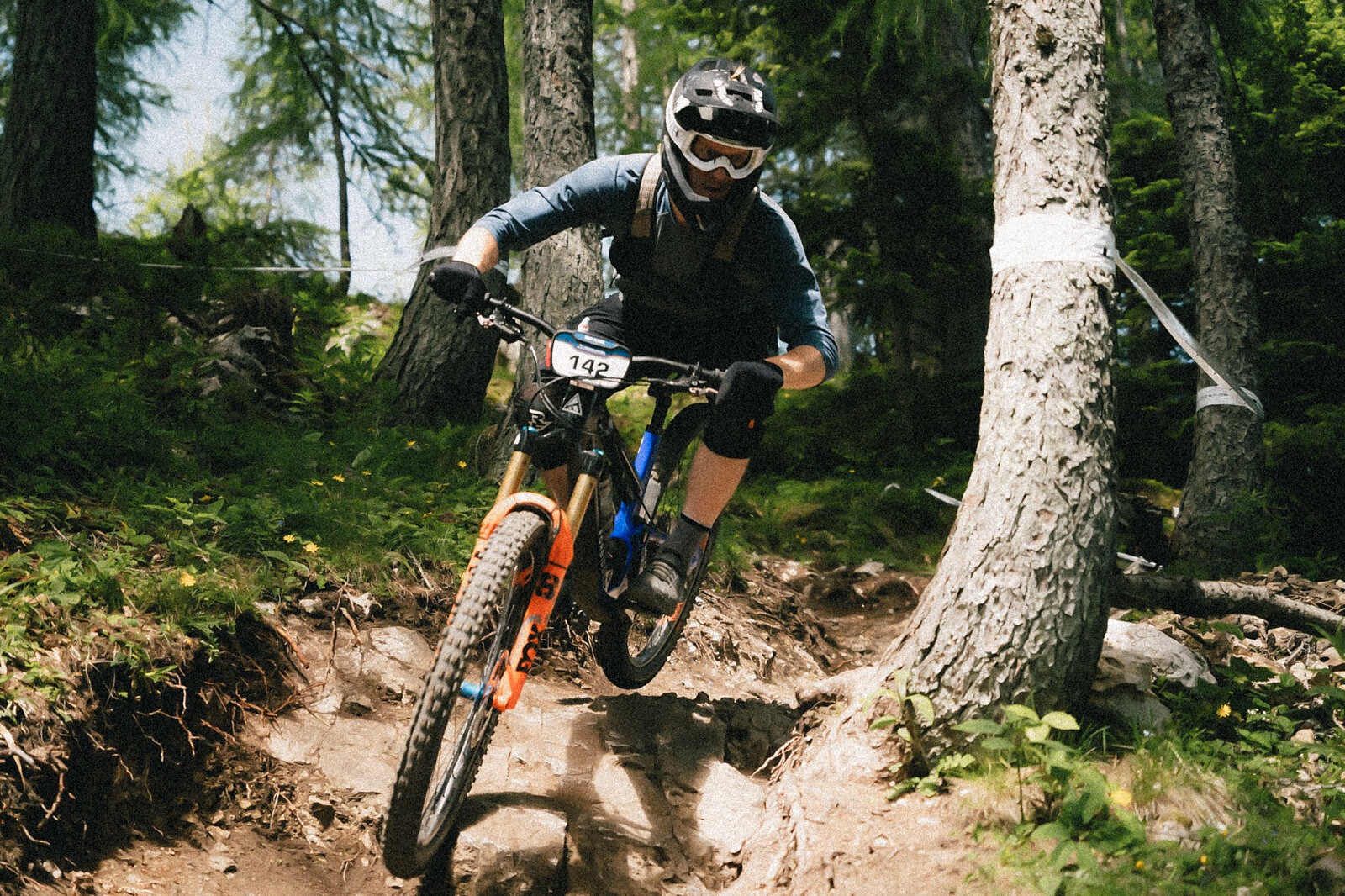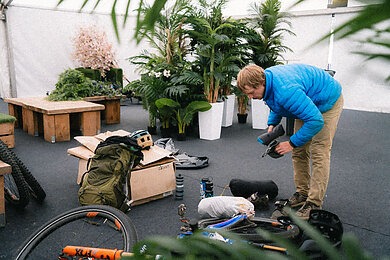 Eric gave it his all and placed 130th. I chased him around the whole course, catching entire seconds of footage of him as he dashed by. After the race, I was elated knowing that he'd accomplished his goal. However, Eric seemed apathetic toward his achievement. Mountain bike racers are naturally competitive, and it only gets more intense at this level of competition. He wanted to do better.
With the entire village cleared out, we set up camp in the venue's main tent, the same one that had been serving beers and hosting a U2 cover band the night before. Sleep came to us lying amidst a spread of fake foliage and giant Jenga, and we awoke to the sounds of the cleaning crew vacuuming the porta-johns as they prepared for their next event.
We rolled out of Innerleithen on a high, ready to begin the next chapter of our adventure and continue our exploration of Europe. During breakfast, we made a rough plan: after biking back to Edinburgh and hitching the train back to London, we'd pedal to the South Downs region of England, stay at a hostel and catch a ferry to France the next day. From there, onward to Paris by undetermined means of transportation for a rest day of exploring the city. After, we intended to head to Leogang, Austria, to watch the World Cup downhill race and then onward to Petzen, Austria, for Eric's second EWS race.
In Paris, we checked the Louvre and the Eiffel Tower off our list, but also made sure to scrounge up a replacement for Eric's decrepit pair of size 10.5 clipless shoes. That night, in one of our few ill-advised moments of planning ahead, Eric purchased a ticket to Frankfurt, Germany, home to an Instagram acquaintance who'd offered us a bed and a shower—and roughly in the direction of Leogang, where we were still hoping to make it for the World Cup race three days later. However, fate and the international train system had different plans for us.
After getting yelled at by the conductor for trying to load our massive, bag-adorned bikes onto the train, Eric was flustered, and I was annoyed. The woman at the ticket booth laughed at us when we told her we were trying to get to Frankfurt. Apparently, international trains are less accommodating to bikes than regional ones—a concept I found comical given how ill-suited all trains seemed for our setups. Once again, planning more than 12 hours in advance had led us astray.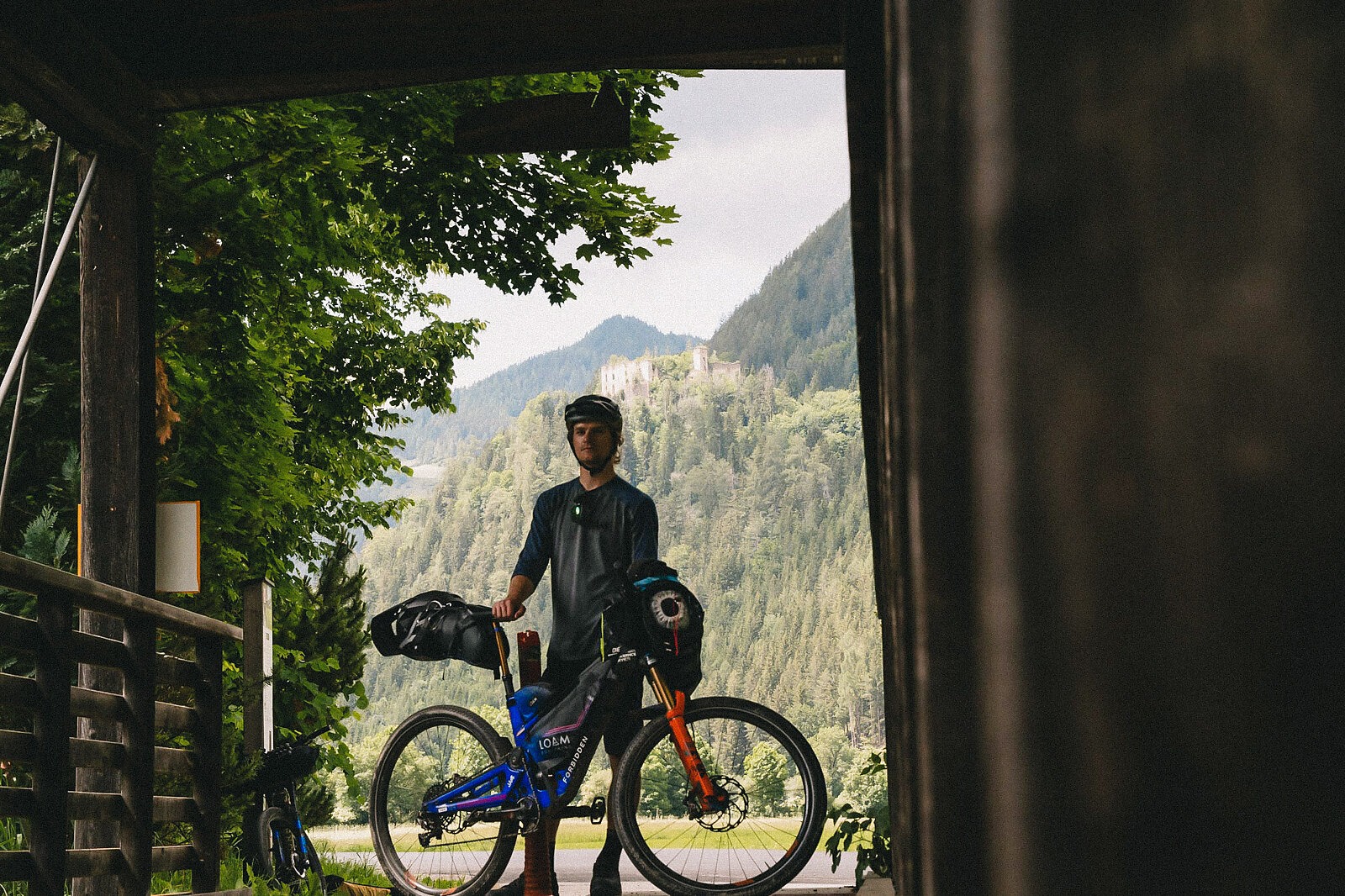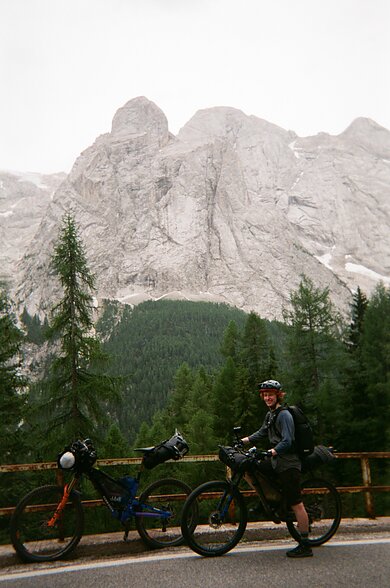 With Frankfurt out of the picture, we departed for Strasbourg, one of the easternmost cities in France, and directly en route to Austria. Although stopping in Leogang went out the window, our new plan put us within spitting distance of Germany. By finding Airbnbs on the trains and trying to find trains in the Airbnbs (we'd always end up stumped and just ask someone at the ticket counter), we woke up two days later under the rocky peaks of Salzburg, Austria.
It was a bright day, only weeks before a record-breaking heat wave would settle into the area, but we spent most of it zipping toward Schladming, Austria, under the trees next to the Salzach River. The 60 miles and 2,100 feet of climbing went by with relative ease, our legs now fully accustomed to the grind. With no accommodations planned for the night, we rode past town and looked for a place to crash between two quiet farming villages. I dozed off immediately while Eric slept fitfully, concerned by the hoof-prints in the sand beneath our bivy sacks and the horse stables a few hundred feet away.
The 4,130-foot ascent of Sölk Pass greeted us first thing in the morning. We wound upward through the deep forest into bare, grassy mountains filled with bell-clad cows and ominous gray clouds. Eric's sleep-deprived state contrasted my enthusiasm for being back on the bike. I pulled ahead, reaching the top twenty minutes before he did. Eric was followed up the pass by a rainstorm, which caught up just as he hit the final crest.
Instead of resting and touching base, we immediately bombed down to the valley floor, fleeing the incoming rain. It wasn't until we were out of the storm's way and sitting below a centuries-old castle ruin that we acknowledged the tension that had built up between us that morning. I wanted to get to Petzen, Austria that night (another 80 miles), while Eric's exhausted state left him wanting nothing more than a nap.
I had been struggling to figure out how to verbalize my desires, conscious that if I left, I'd be abandoning my role as the camera guy. Instead, it was Eric, in his exhausted state, who had the wherewithal to start the conversation. We decided to split up and meet in Petzen the next day. I was excited to push on and wasn't doing us any favors by sticking around and being a grump.
That day turned into one of the most arduous days of biking in my life. Cranking hard the whole way and without any real breaks, I arrived outside Petzen sometime near 8:30 p.m. in a euphoric yet energized state. A text from Eric let me know he'd caught a train to Klagenfurt, some 30 miles away, and found a hostel for the night.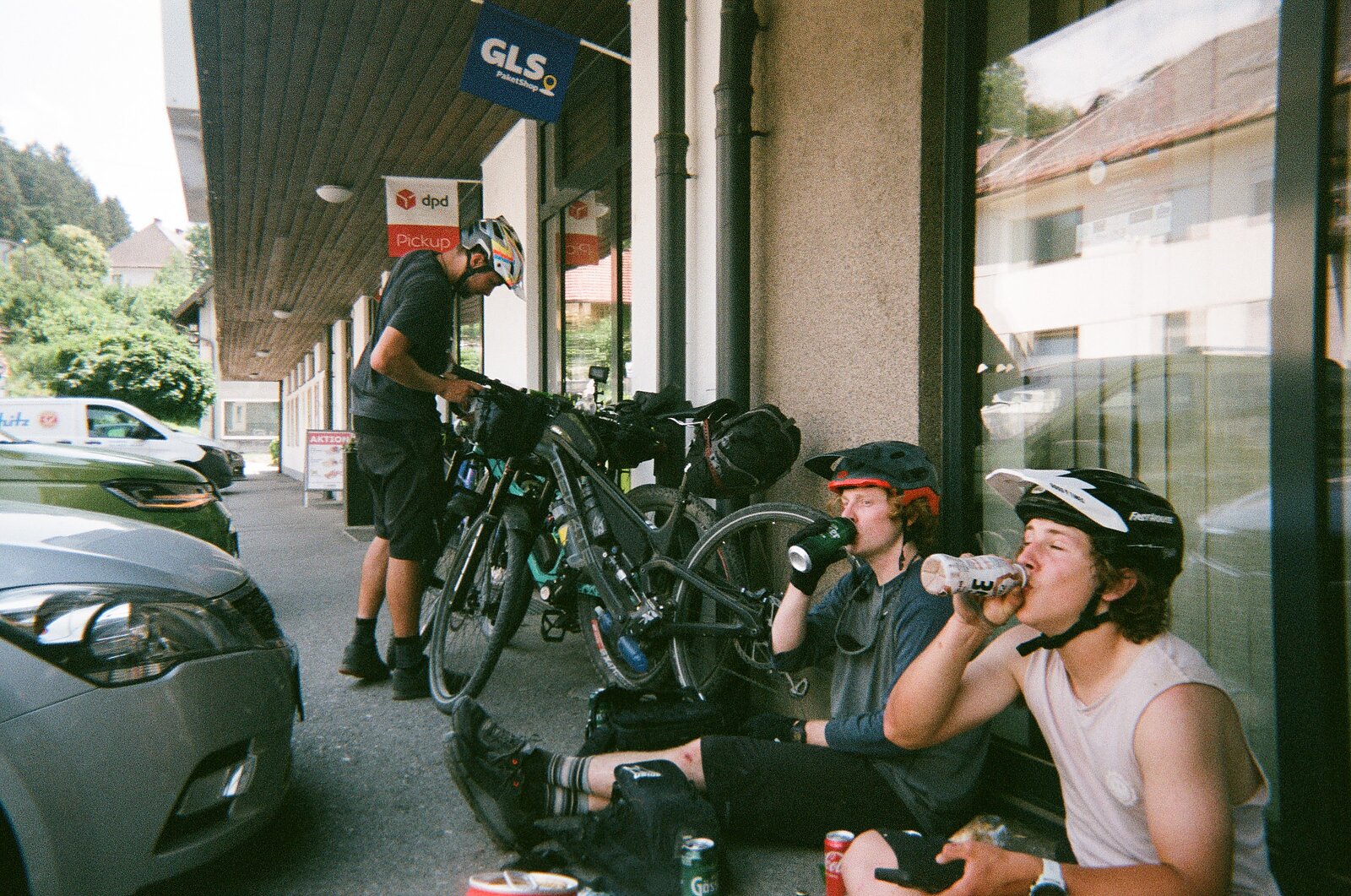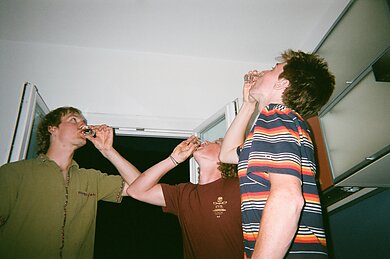 In Petzen, we met Matt Fairbrother, an 18-year-old kiwi and EWS racer, who had the same hair-brained idea to bikepack between European stops. Kiwis are a different breed, even compared to mine and Eric's odd, masochistic style. Matt had passed us in the night, coming from Leogang, Austria and making it to Sölk Pass at 2 a.m. He slept for two hours before waking up to climb the pass and finish the push to Petzen. Eric arrived the following day, and during that week of practicing and racing, we got to know Matt.
Our hastily made accommodations ended up being an hour and a half pedal away, slightly more than we realized when we made them on our first morning in Petzen. A sleepy town in a narrow valley, Eisenkappel had the feel of a place past its prime. Our Airbnb was formerly a small hotel and bar but had been converted into dilapidated dorm-style rentals. Daniel and Stefan, a father and son race team from Romania, holed up in the room next to ours. They kindly made room for us in their van every morning, sparing us from the long commute.
The second of the year's EWS races, Petzen/Jamnica, consisted of five stages, three of which were across the nearby Slovenian border. Graced once again by a window of decent weather, the scraggly, root-covered trails were nonetheless slippery and challenging to navigate. Eric was able to gain nine places at Petzen, placing 121st. Still wanting more out of himself, he set the goal of breaking the top 100 in his third and final race one week away in Val di Fassa, Italy.
As the first three people loony enough to ride from race to race (that we know of), Eric, Matt and I decided to join forces to Italy, along with Matt's friend Lucas Walch. We set out a mere three hours after they'd all finished the race in Petzen. Our destination was 217 miles and 12,000 feet of climbing away in the Italian Dolomites, and that first night we pushed through tired legs to cover the 30 miles to Klagenfurt, Austria. While devouring McDonald's veggie burgers and French fries, Matt proposed that we try and blast all the way to Val di Fassa late the next day (or rather, very early the morning after), an idea the rest of us quickly shut down. 
From Klagenfurt, we rode to Amlach, Austria, stopping only to take cover under the trees as the valley floor was pummeled by baby-fist-sized hail. That day led us to a once-grand but now sad hotel-turned-hostel straight out of a Wes Anderson film, nestled against the massive cliff faces of the Alps. We continued our ascent into the Italian Dolomites, encountering tree-covered paths that left us hike-a-biking for miles (better than narrow mountain highways) and navigating through farmlands covered with cow dung (much worse than narrow mountain highways). Three days and 200-plus miles later, we arrived in Canazei, Italy, for our third and final EWS race.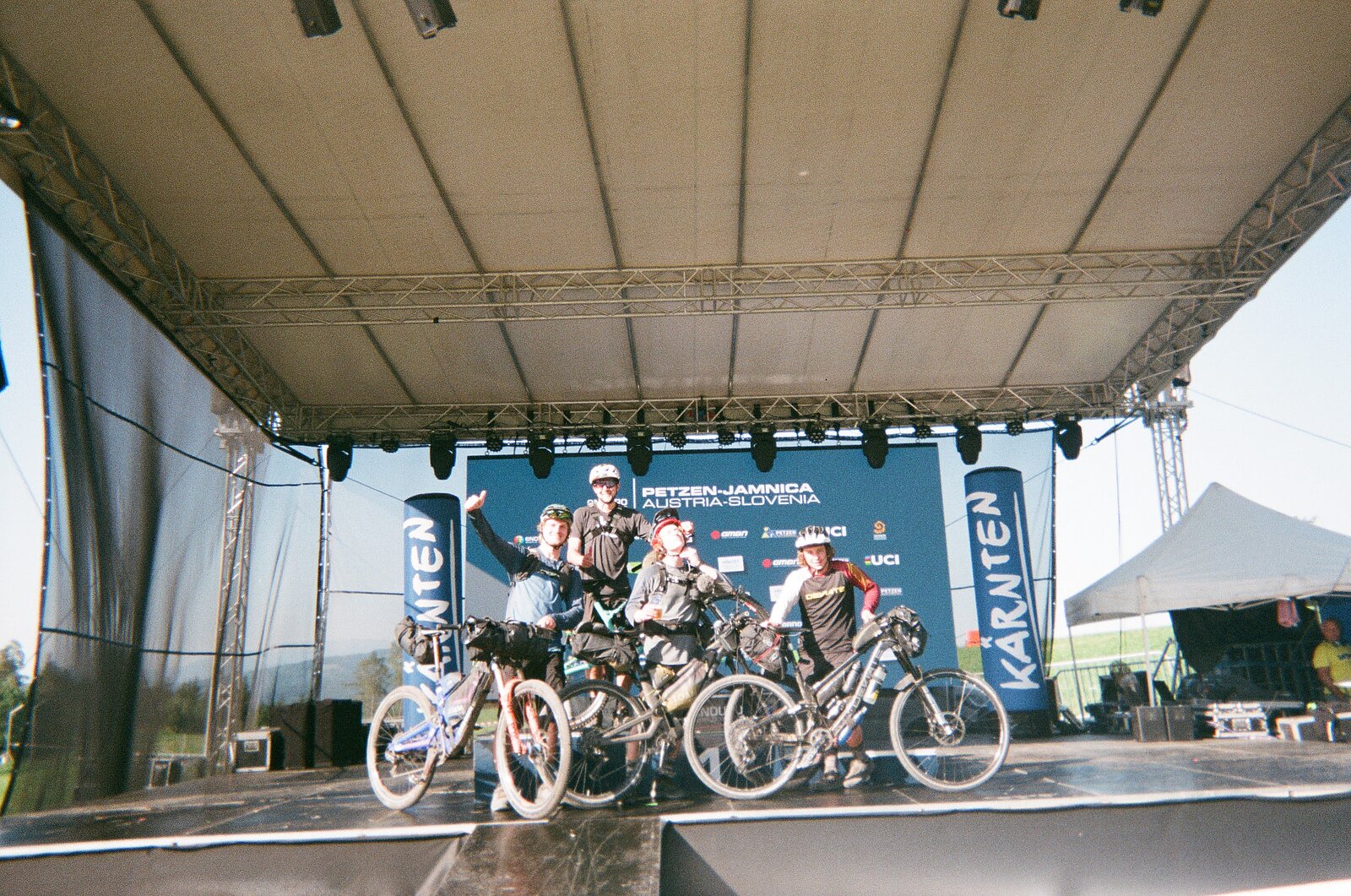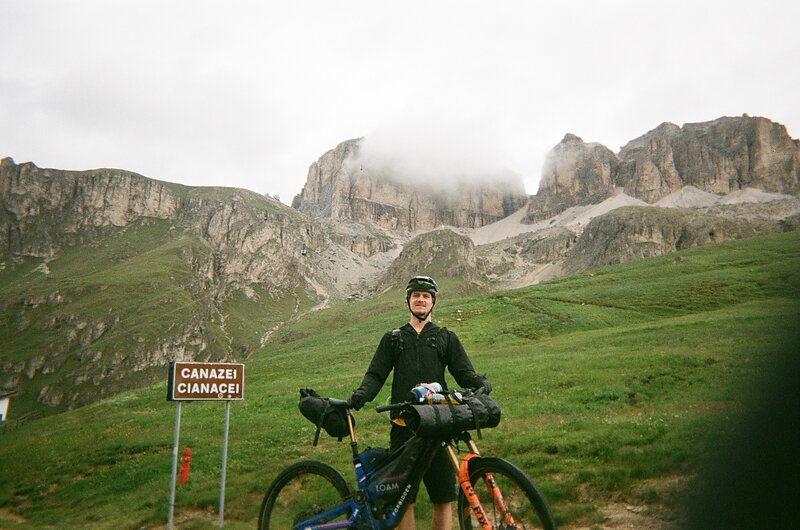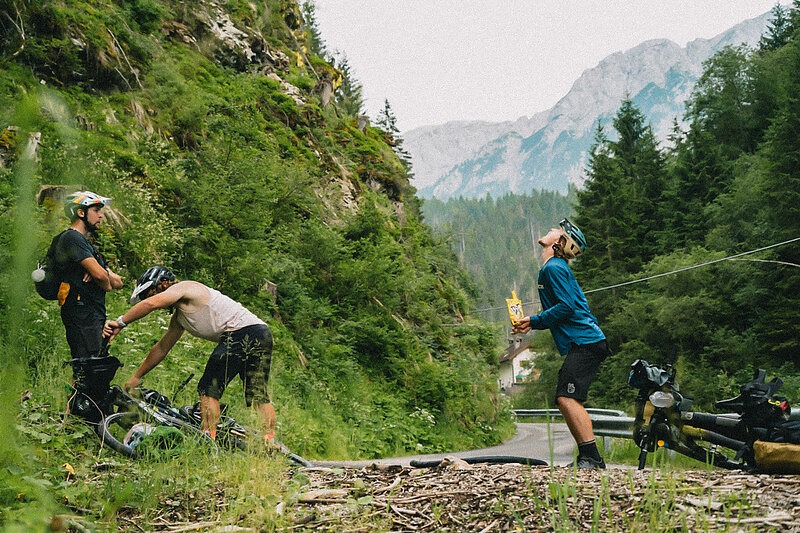 Tucked away in a valley filled with chairlifts and towering dolomitic spires, Canazei is a bustling ski town that hosts one of the world's most scenic mountain bike races. It was the crown jewel of the trip with five stages that utilized the massive chairlift infrastructure to descend three mountains in four different directions. Lift access did not make for easy racing, though. On his last legs, Eric found these tracks to be the most demanding of the lot. An absurdly physical two days saw him land in 139th place, a result he soon forgot about as we joined the entire EWS traveling circus in a basement nightclub to celebrate and dance the night away.
We left Canazei two days later, having slept off our hangovers and bid our farewells to friends new and old. Mostly downhill to Venice, we finished the 110-mile ride in two relatively easy days, leaving ourselves a day and a half to dip into the floating city and pack our bikes. Everything came together in a way I never expected, having started that month with only the slightest plan in place for our trip. Is embarking on a month-long bikepacking trip with so little foresight a wise call? I'm still not sure. But once I came to peace with taking everything day by day, once I let go of my usual need to know what was going on, the trip took on an entirely different tone.
Instead of stressing about what train we needed to book to get to one place, I learned there would probably be some train to get us somewhere close, or maybe somewhere else even cooler. Instead of becoming frustrated that we'd taken a wrong turn and pedaled up a big hill to nowhere, I learned that descending that same hill might (and did) lead us to a dreamy, turquoise swimming hole on the hottest day of our trip. Instead of getting annoyed that the Airbnb Eric booked was an hour-and-a-half bike ride from the race venue, I learned that it was an amazing opportunity to befriend a Slovenian father-and-son privateer race team on our daily commute. Instead of holding to a rigid plan that frequently went out the window for unforeseen reasons, I learned that by-and-large life will take you where you're going, regardless of your feelings on the matter. You might as well roll with it—especially if you're on a bicycle.