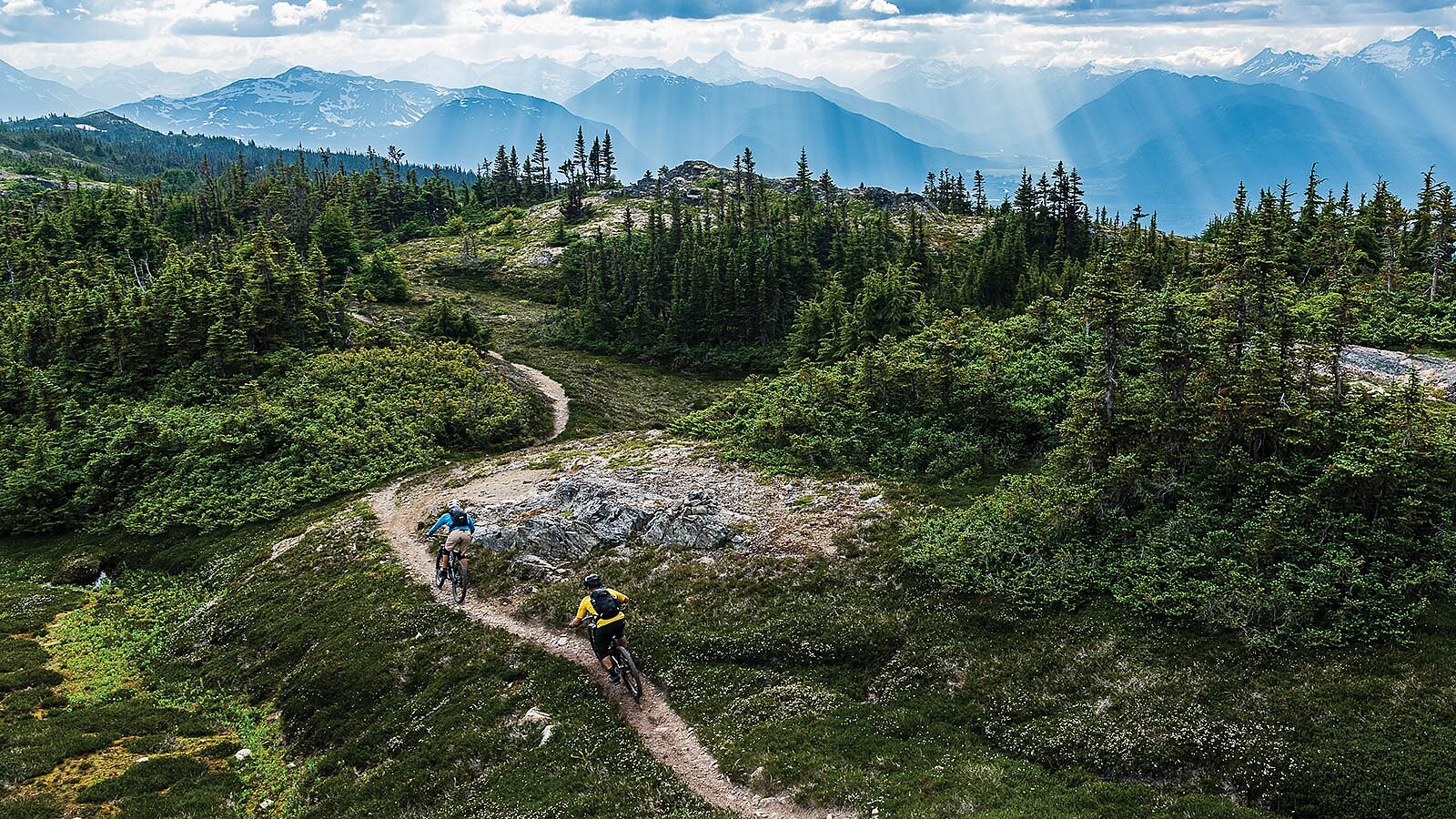 Northern Nucleus A Master Plan Materializes in Terrace
With remoteness comes responsibility and the residents of Terrace, British Columbia have no shortage of both. Though the small city is only about halfway up this sprawling province, it's considered to be "northern B.C." by virtue of the fact that it's nearly a 17-hour drive from Vancouver—roughly the same distance between Vancouver and San Francisco. But no matter how "north" is defined, Terrace is a long way from anywhere, and this remoteness breeds a self-reliance and sense of shared responsibility that permeates every aspect of this tight-knit community.
At first glance, the town of 12,000 people bears a strong resemblance to Squamish, B.C. in the early 2000s, set in a pristine river valley with budding climbing, paddling and mountain biking scenes. The gritty downtown core is bursting with color from giant murals painted by local First Nations artists, and strangers still smile and say hello on the street. With scarce social amenities, the great outdoors is the living room of the locals, and that's just how they like it.
When it comes to mountain biking, Terrace was a late adopter of the sport, especially compared to more established northern locales such as Prince George, Burns Lake and Smithers. While most of these communities are nestled on the Chilcotin Plateau, where the terrain is more closely linked with the drier regions of the province's interior, Terrace is an anomaly perched squarely in the crosshairs of the Coast Mountains. Here, four-inch rainstorms are common, nourishing a labyrinth of root beds woven over grippy granite slabs and perfect golden dirt. The steep, heavily wooded valleys are dominated by western hemlock and red cedar, dictating a decidedly technical style of riding.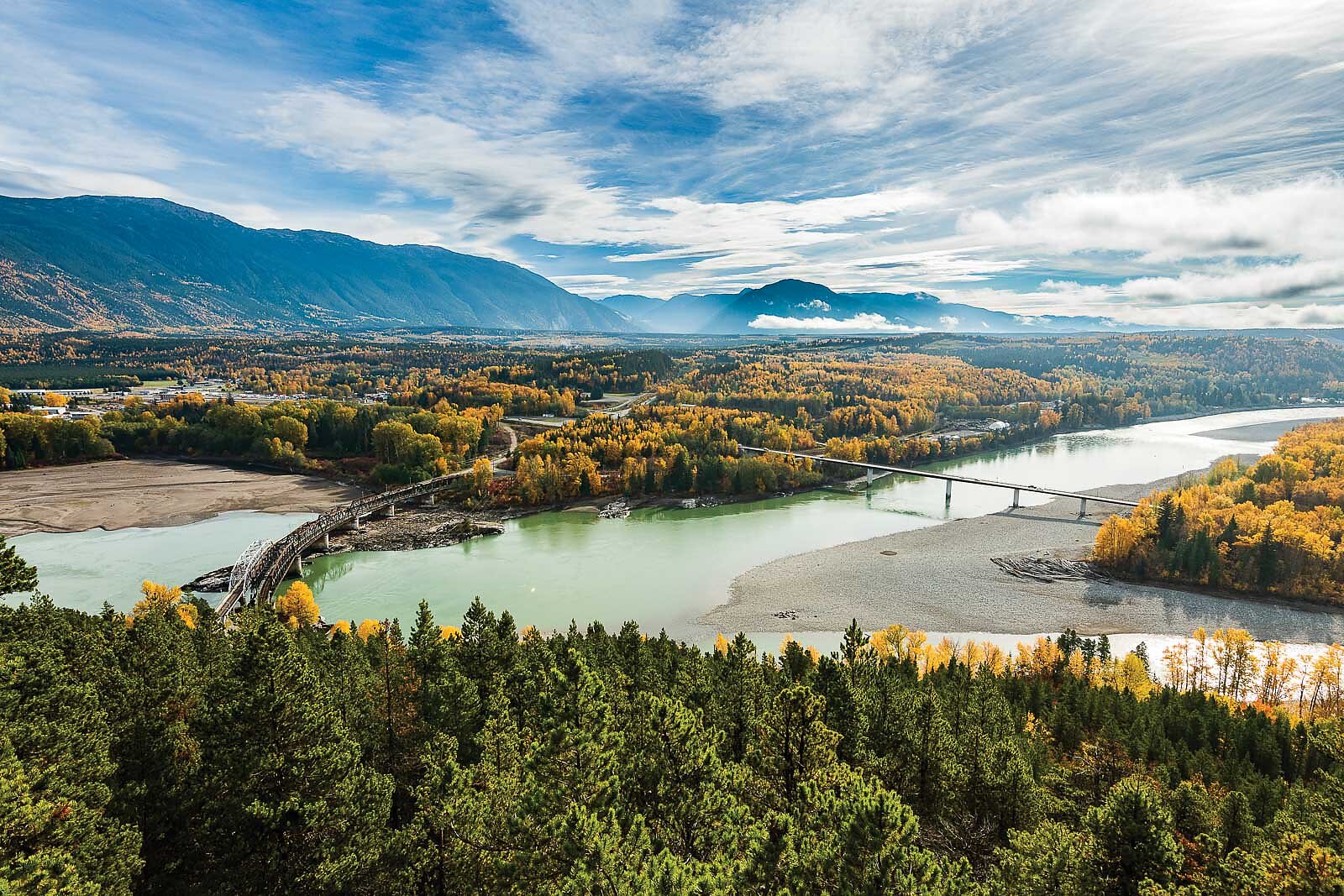 In the early 2000s, a grassroots group of keen locals began scratching steep, fall-line shuttle trails—complete with the requisite skinnies on nearby Copper Mountain just southeast of town. Influenced by the gravity-fed trails in neighboring Smithers, the lines down Copper Mountain were designed with a downhill emphasis that still remains today. Right near town on Terrace Mountain, trails such as Flathead, characterized by challenging, root-filled climbs and loose, technical descents, emerged as enduro-style test pieces. Those looking for backcountry bliss ventured further afield to the north, shouldering their bikes up a steep out-andback on Maroon Mountain for the pleasure filled payoff of a gnarly descent back down.
There were no easy trails in Terrace, and with an average annual precipitation level of 55 inches, riders needed as much self-motivation as skill to persevere in the sport. It was baptism by fire, and those who joined the small contingent of armored hellions either excelled or abandoned mountain biking altogether.
Thirty-year-old Wade Foster grew up in Terrace and remembers being shown the trails by his sister's boyfriend in his early teenage years. Shuttling Copper Mountain on his short-travel Norco Sasquatch hardtail left a lot to be desired, but the white-knuckled adrenaline was addictive. Foster and his friends began riding on planks of wood balanced on sawhorses in his backyard and were constantly building jumps in the woods. They jumped at any chance to shuttle the challenging Copper Mountain trails.
Most of Foster's peers moved away after high school, but Foster chose to stay, feeling that Terrace offers him the perfect work-life balance to indulge his passions for skiing, mountain biking and trailbuilding. The seasonal crossover with snow in the mountains and tacky dirt in the valleys allow for long seasons and multi-sport days. Though Terrace has changed a lot during Foster's lifetime, the town's grassroots vibe has endured and there's still plenty of dirt and powder to go around.
When it comes to trails, Terrace has come into its own in recent years, thanks to careful organization and a methodical approach to planning. Taking their cue from other northern cycling-centric communities, local riders decided to mobilize and, in 2005, the Terrace Off Road Cycling Association (TORCA) was formed. But, unlike many other B.C mountain bike clubs whose main impetus was to save their illegal trails from destruction, TORCA's early mandate was to create relationships with land managers before major conflicts emerged.
"TRAILBUILDING IS PHYSICALLY HARD BUT HEARING THE WORD 'NO' FROM LAND MANAGERS MULTIPLE TIMES CAN TAKE AN EMOTIONAL TOLL."  - ALEKSA HAVELAAR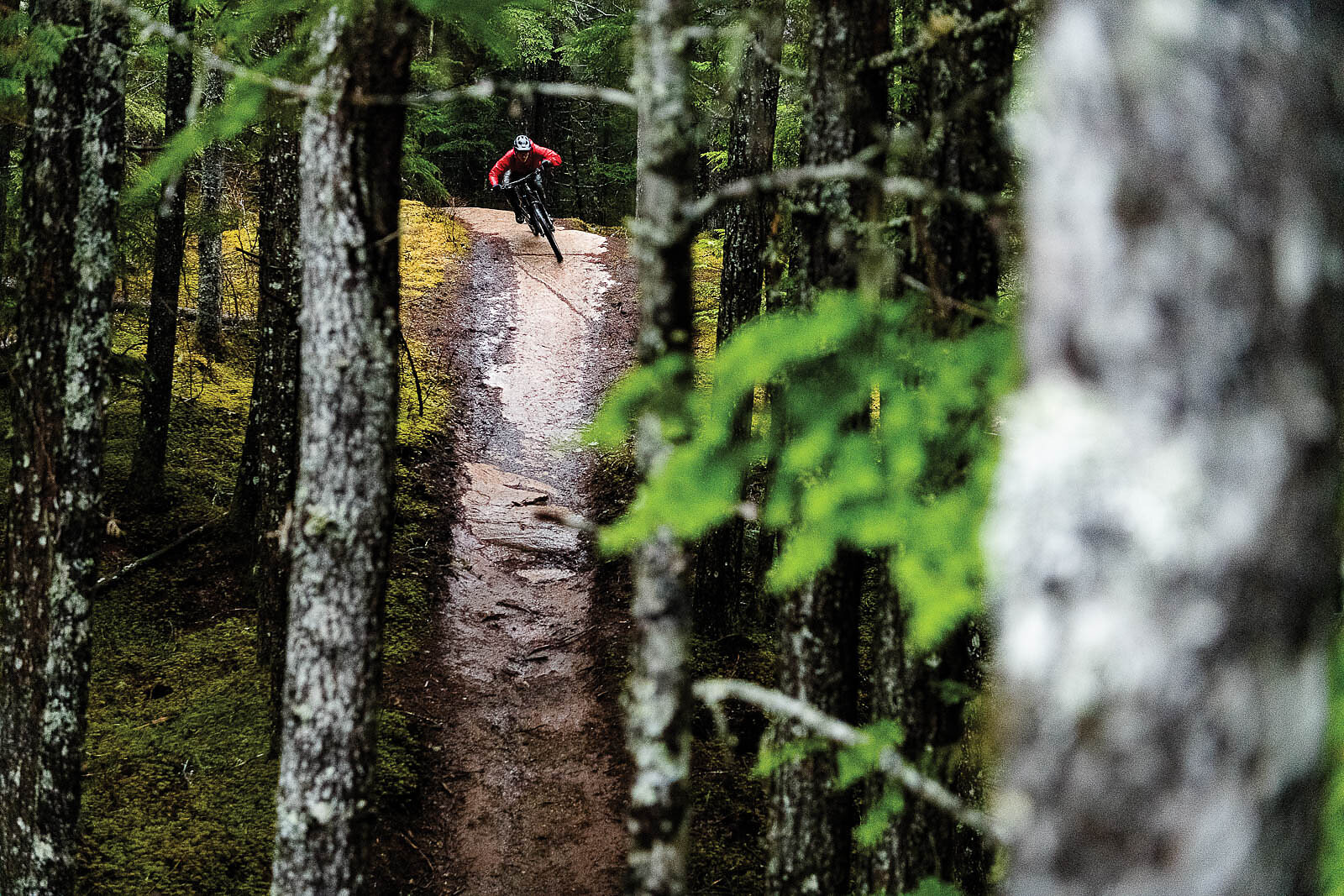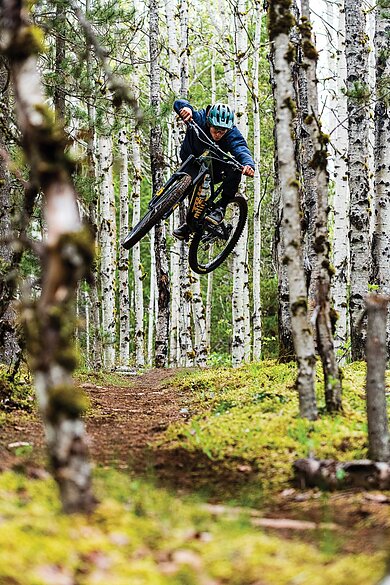 The main land manager, Recreation Sites and Trails BC—a government branch that manages recreation infrastructure on provincial Crown land—employed forward-thinking local officers who had seen the positive impact that mountain biking had on other northern communities. As part of a multiyear master plan, TORCA was offered a "polygon" on Terrace Mountain that allowed it to build and maintain multiple trails within the polygon's boundary. This helped TORCA avoid the time-consuming task of having to apply for individual permits for each new trail on Terrace Mountain—a process that can sometimes take months or even years to complete. It also allowed the group to build multiple trails at once and, today, Terrace Mountain has one of the area's biggest networks of sanctioned trails.
The group's second mandate was to mobilize the eager workforce into a unified unit, so Dirt Club was formed for volunteers to meet weekly to help build new trails and maintain existing ones. All of Dirt Club's projects are planned in advance and led by experienced local builders, and the weekly dig days have become important social events for the community. Several local companies have donated tools and provided refreshments. And a trailer was purchased to store building equipment. Locals say there is only one rule at Dirt Club: You must tell everyone about Dirt Club.
A primary focus of Dirt Club's activities is the Spring Creek area northwest of the town's center. Here, TORCA is required to apply for individual permits for each new trail, but once each permit is obtained local volunteers assist paid trailbuilders to bring each approved project to fruition. Most of the Spring Creek trails are purpose-built for mountain biking, with several moderate green and blue lines suitable for entry-level riders. Some trails, such as Hey Bear!—Terrace's first sanctioned green line—provide a two-in-one experience, with optional side hits for more advanced riders. This has helped attract many newcomers and the club estimates there are now at least 800 local mountain bikers.
The abundant recreation options around Terrace are helping the town attract more young families and, throughout the past couple of years, a sizable number of remote workers have moved to Terrace, complete with online jobs and income. The fabulous riding is one of the main reasons that Aleksa and Fletcher Havelaar moved to Terrace from Vancouver in 2016, and the hardworking power couple has been quick to leave their mark on the local mountain bike scene.
Aleksa, who owns and runs Ascent Coffee—Terrace's go-to roaster—joined TORCA's board and works as its vice president and trails director. For his part, Fletcher left behind a high-stress job as a paramedic in favor of a shovel, mini excavator and multiple pairs of rain slickers and now spends his days building trails.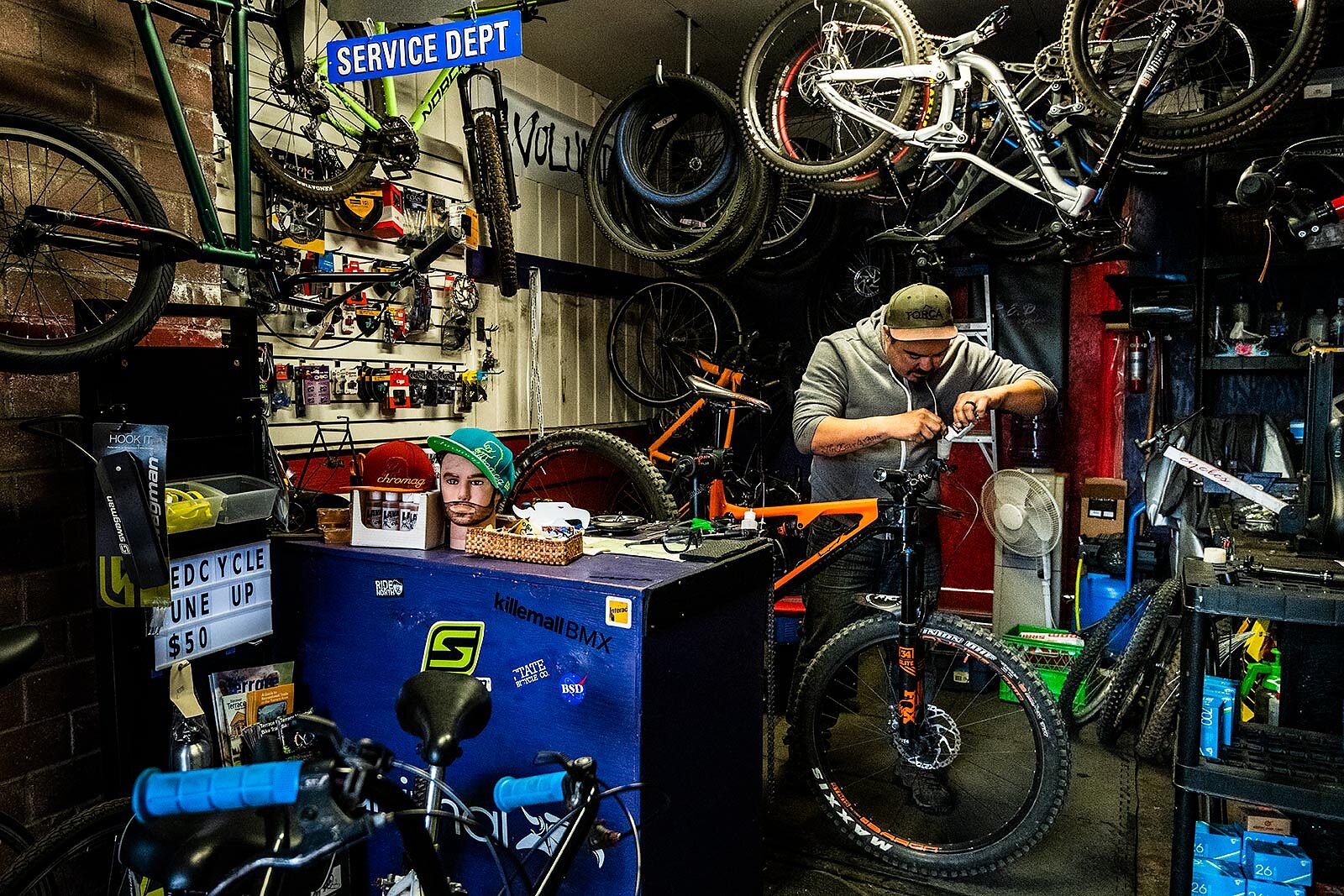 Shortly after joining TORCA, Aleksa teamed up with TORCA president, Tyler Wilkes, to write grant applications and talk to local stakeholders and land managers to promote trail development. During the past five years they've raised more than $750,000 in funding. Northern B.C. communities have been well-positioned for trail grants through agencies such as the province's Rural Dividend Program, which is geared toward offsetting recent job losses in the forestry sector, but these grants are very competitive and require extensive planning to obtain.
Though it's easy to immortalize trailbuilders as the heroes of new networks, persistent advocacy and targeted strategy are just as important as digging in the dirt.
"There are a lot of unsung heroes pushing paper, applying for grants and sitting in meetings," says Aleksa, who also is no stranger to trailwork days. "Trailbuilding is physically hard but hearing the word 'no' from land managers multiple times can take an emotional toll."
Another vital aspect of TORCA's work is expanding diversity and inclusion in the mountain bike community, and Aleksa and fellow TORCA director, Catherine Eagles, have been working to increase engagement with First Nations such as the Kitselas and Kitsumkalum, on whose land the trails reside.
"Having riders know whose land they're on and what the significance might be is a good start, but we need to go deeper and bring First Nations representatives in on the conversations we're having," she says. "We want everyone to come to the trails and feel like they belong."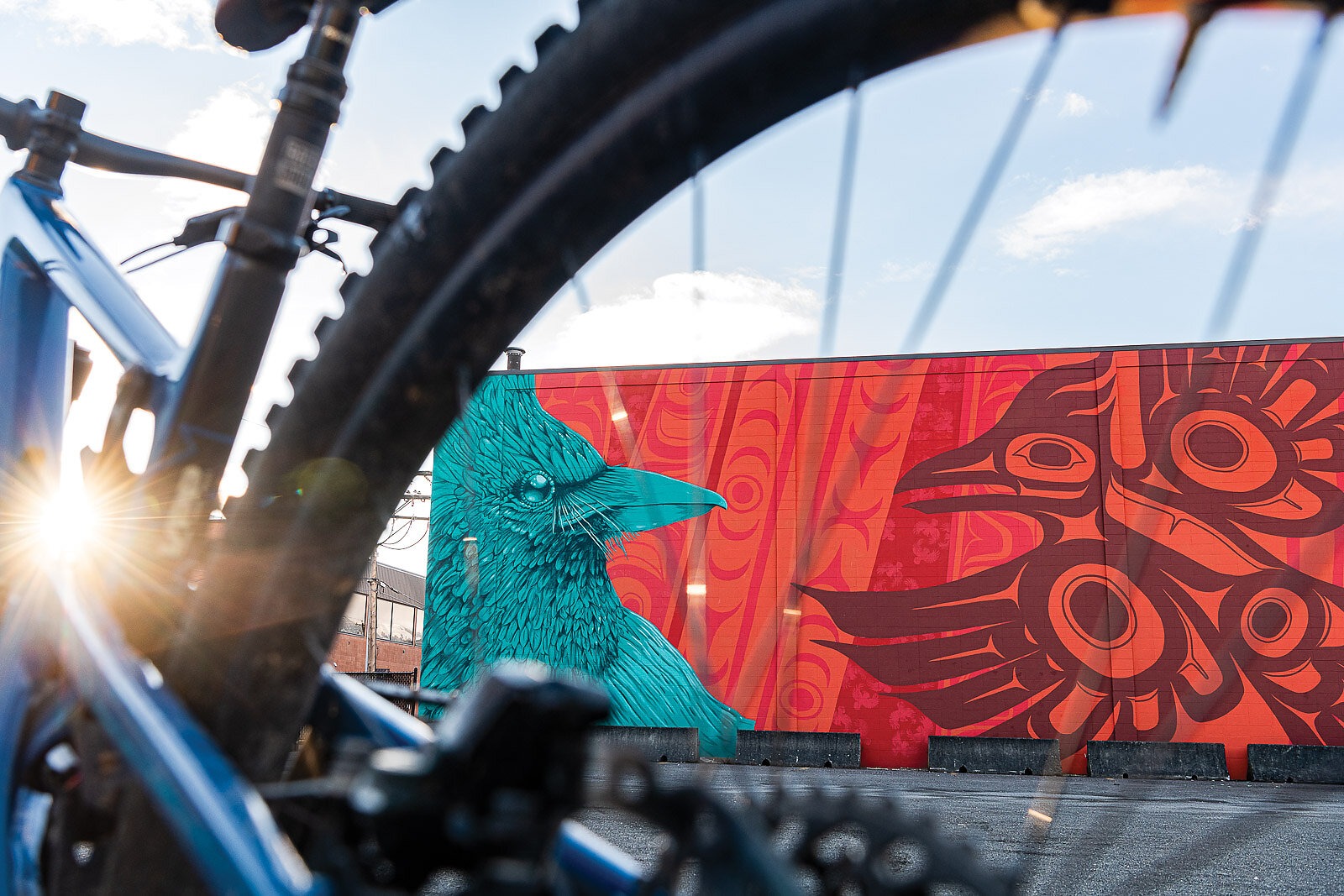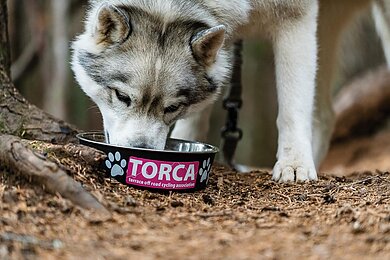 One key to making mountain biking more accessible is to have trails closer to population centers, and TORCA's ongoing HUB project is focused on bringing trails and skills parks closer to town. In 2020, Terrace christened the first paved pumptrack in northern B.C., welcoming anything with wheels to join in the fun. Above the pumptrack are a pair of short green and blue flow trails with jumps that can be accessed by a climbing trail that also links up with the Terrace Mountain network.
Skills development and coaching sessions also help to lower the entry barrier to mountain biking, so Aleksa, Wilkes and other passionate local riders such as Theo Theodossiou trained to become mountain bike coaches. On long summer evenings it's not uncommon to see cone drills and cornering clinics—some free of charge and others with proceeds going back to the trails.
Every bona fide bike town needs a dedicated bike shop, and for Terrace, it's R.E.D. Cycles, the name bearing the initials of its husband-and-wife owners, Rob and Erica Davis. Housed in a quiet residential neighborhood, R.E.D. Cycles occupies an unpretentious garage with a workspace, a wall covered in miscellaneous bike parts and a donation jar for TORCA's HUB project. Stepping inside the shop feels like visiting a friend who has generously offered to fix your bike.
Ironically, owner Rob Davis discovered mountain biking due to a childhood bike injury. In his early years growing up in Vancouver, Davis was into BMX and a bad crash prompted his mother to sell his BMX and buy an old Norco hardtail for him to ride around town. Little did she know that the Norco hardtail would find its way to Vancouver's famed North Shore trails, where the hook was officially set.
When Davis was 15, his family moved to the tiny hamlet of Gitlaxt'aamiks, about 60 miles north of Terrace. In the picturesque Nass River Valley, the Davis family of the Nisga'a First Nation rekindled family ties in the community. There was no formal riding around Gitlaxt'aamiks, but Davis, unafraid of a little chunder, took to riding the nearby goat and hunting trails. When he moved to Terrace in 2007, the riding scene was still emerging and he started wrenching at the local bike shop, eventually moving up to a management position. Davis joined the TORCA board at a time when road cyclists outnumbered mountain bikers in Terrace, and he helped organize the town's spandex race series. He remembers riding Spring Creek with his wife Erica in those early days.
"We wouldn't see a single person out there all day," he says. "We could just session sections and have the place to ourselves."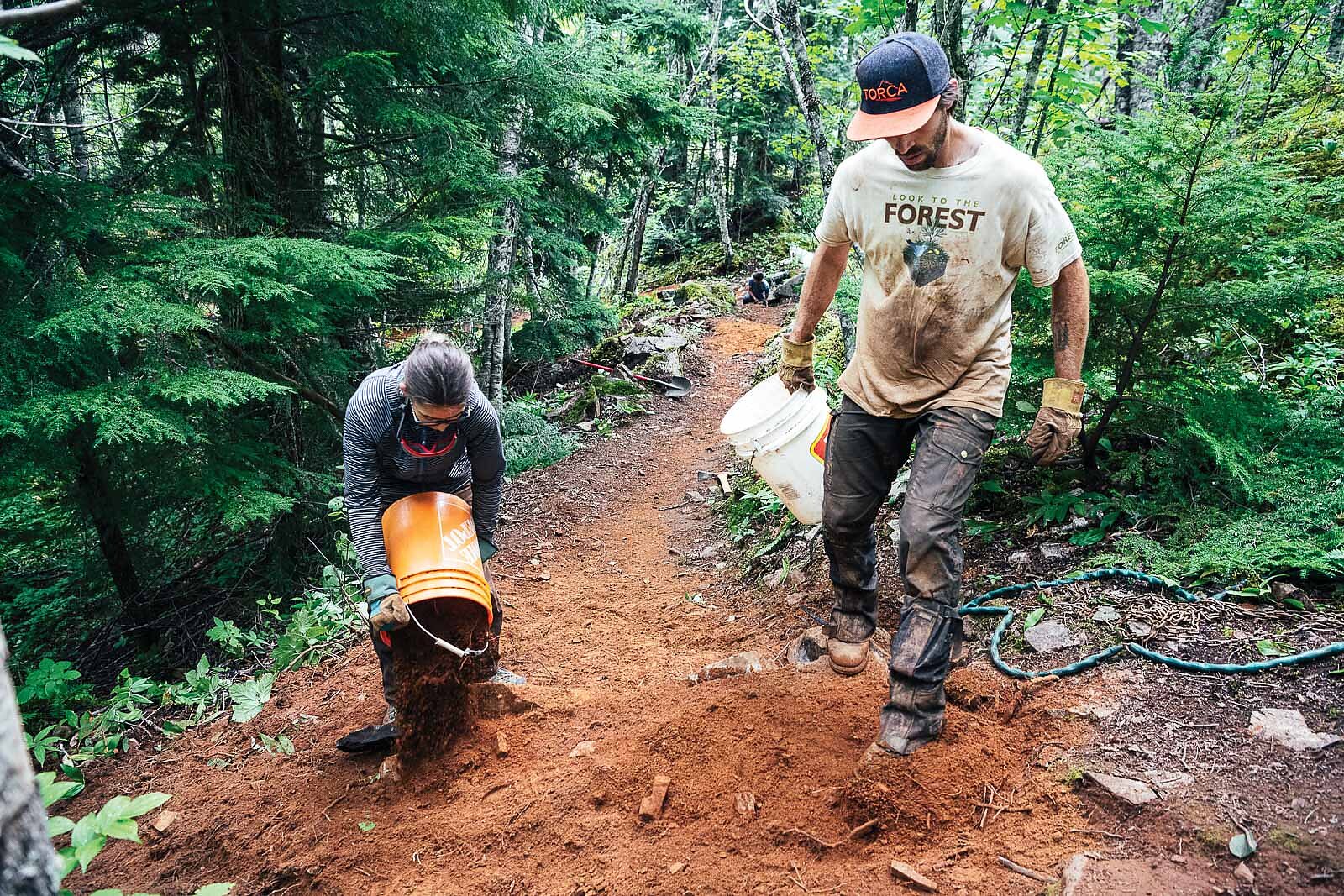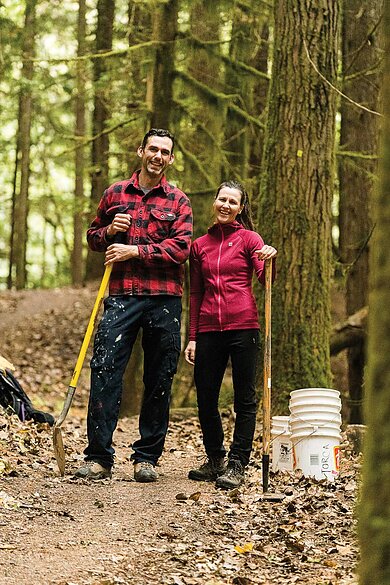 That serene scene of yore is slightly different from the busier Spring Creek trailhead of today, but that same relaxed vibe is what Davis aspired to create with R.E.D. Cycles. He wanted to foster a welcoming environment in which the client is involved in the process of fixing the bike; a place where kids can come, and if they can't pay for repairs, they can sweep the floor. His shop has also provided a philanthropic avenue to support the communities of his youth.
One of these communities, nestled in the Nass Valley to the northwest of Terrace in the heart of the Nisga'a Nation, has been the talk of every rider from Prince George to Kitimat over the last year. In 2021, a small network of freshly minted trails near the hamlet of Gitwinksihlkw (population 201) opened to the public, offering excellent riding set against a stunning landscape.
The plan was the brainchild of two brothers from the Village Council, Andrew and Eric Nyce, who began a local fitness initiative with mountain biking as an integral component. The initial goal was to create a small network of trails and build upon the success. In true small-town spirit, the community funded the project through bake sales, raffles and generous donations from several residents. Today, a multiuse green climbing trail snakes its way directly from town up Saasak' Hill to a viewpoint overlooking the Nass River and an impressive array of lava beds—a geologic specter of a series of 18th Century volcanic eruptions that buried several ancestral Nisga'a villages. From here, two machine-built green and blue descents race back to the valley. A short pedal to the north of the village gives access to the rest of the network via another beautifully designed climbing trail leading to flowy blue and black jump trails that get more difficult higher up the mountain. Since opening, these jump trails have attracted a considerable number of visiting mountain bikers.
For many locals to enjoy these trails, they would need both bikes and a bit of skills training and, once again, the broader community rallied to make this happen. Davis was able to secure 20 bikes that are free for community members to use, and TORCA coaches joined forces with the Spirit North Program to help with skills clinics. Community members are already touting the health benefits of getting locals out on the trails, and the Nisga'a Nation is also reaping economic results, with coffee shops and local art booths sprouting up to accommodate the influx of muddy visitors.
Such homegrown networks are popping up in other areas that are easily accessible from Terrace. A 90-mile drive along the Yellowhead Highway to the northeast of Terrace, the sleepy hamlet of Hazelton boasts a new network built from pure local passion. One of the people stoking the fire is Wyatt Vargas, a Vermont native who moved to northern B.C. in 2017 and began teaching in Hazelton just as the town's clandestine master plan was being set into motion.
Having previously participated in Vermont's Youth Conservation Corps as a student and eventually as the program lead, Vargas—known locally as the "mountain bike guy"—brought his experience implementing youth trailbuilding programs to the fore. His teaching had a cycling twist: On designated days, he would bring gear ratios into his math curriculum, taking the students outside to help work on the trails. The entire community—which includes four distinct First Nations peoples—got behind the effort, with Village Council members writing grant applications and the local trades program constructing a timber shelter and carving totem poles that were erected at the network's main viewpoint. A grant provided for 20 community bikes, and as the school's closing bell rang each day, there was a stampede of students jockeying to get their hands on the handlebars.
Vargas and his young family moved to Terrace in 2020 and it wasn't long before the educator began enlisting students to join local trailbuilding efforts. The TORCA board loved the idea of a youth trail crew, so Vargas made the rounds to local businesses to drum up funding. At school, he recruited fellow teachers to help promote the program and soon his inbox was filled with applications.
Through TORCA, they were able to obtain job subsidies from the federal Canada Summer Jobs program, and with some additional funding from a few local businesses they were able to create four summer jobs for youth trail crew members and a modest wage for Vargas (who was donating his time during the summer break). Each crew member came from a unique background, and half of them were women.
It was the first job for each of the 15-to 16-year-olds and working during one of the hottest summers on record was no easy task. After quickly learning to bring enough food and water to push through the long, hot days, the crew learned about the importance of drainage, how to build a strong base for rock armoring and how to properly radius corners. The kids took great pride in their work and those who ride were frothing to grab their bikes after work to break in fresh sections of trail. Recognizing the program's success, the community is keen to keep the program going again this summer, with TORCA planning to build three new trails and enhance the more primitive backcountry trail on Maroon Mountain by constructing an alpine cabin.
For those seeking a solid backcountry adventure, Maroon Mountain never fails to deliver the goods. After an honest, earn-your-turns hike-a-bike through an eerily quiet forest, one's excitement of bursting into the alpine on a narrow ribbon of singletrack is buoyed by expansive views of the emerald, glacial-fed Kitsumkalum Lake. The late-summer window for riding Maroon Mountain is short and the endeavor is physically demanding, but simply seeing the alpine wildflowers blooming right out of the snow easily makes it worth the effort. If that's not enough, the staggering vistas of the Coast Mountains should seal the deal.
Terrace and its surrounding areas are certainly a four-season adventure paradise, but the endless recreation is far from the only draw: The people here are what make this place truly special. In an era of increasingly packed trailheads, it's rare to find a place so warm and welcoming. Mountain biking has created another strong fabric that binds these remote communities together and locals are proud of the returns yielded by their sweat equity. And they'd rather share their trails than keep them a secret.