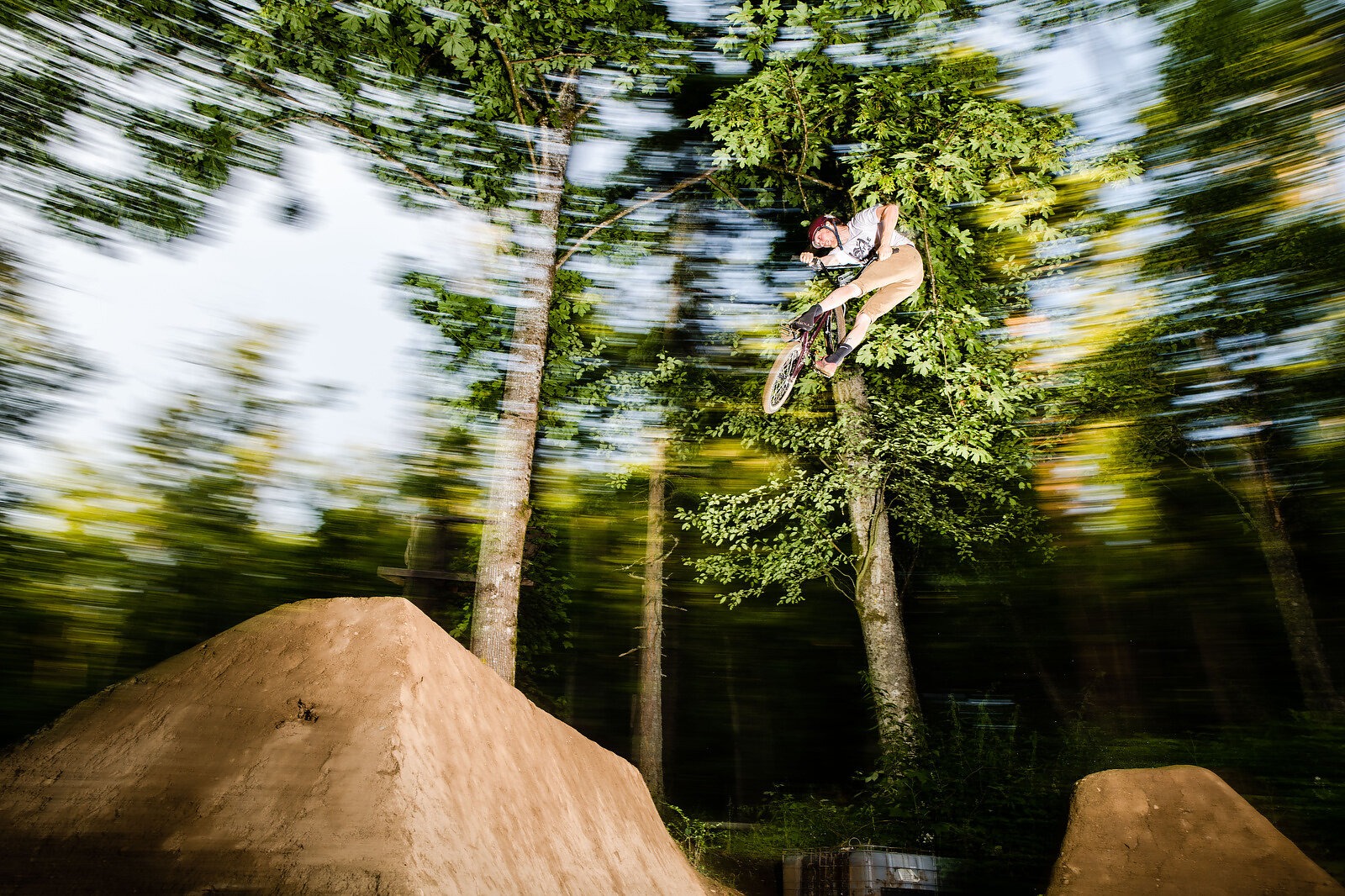 Nexus of Dirt Infinite Feedback at The Shire
A fire smolders under a canopy of tall, fern-adorned maple, which gives way to the denser needles of Douglas fir and fresh green alder. Several beer cans lay crushed next to the flames and a herding dog spins laps around the smoke.
There's a metal-roofed ramada covering a bench, a barbecue and a pizza oven. "No Dig No Ride" is cut into a rusty shovel blade hung above to the entrance.
"Kyber, stop!" Greg yells, leaning on a broom. Kyber stops, for a moment, and then Greg turns away and Kyber continues pacing.
Greg's busy clearing debris off a large jump line snaking down a mellow hillside. The jump he's working on is called Daisy, the first big double in one of three main lines that make up this bigger-than-most backyard spot known as the Shire. Above him, Scotty packs the lip. Steve rakes the runout. Ian's working on the landing, while Jimmy, James, Andy, Brett and Kai attend to their own maintenance projects. Kai's got music playing from a Bluetooth speaker— Motorhead at the moment. There's little conversation. They're all absorbed in their work.
It's a Thursday afternoon in late May of last year and the Shire's just awakening from a wet winter. There's a lot of work to do up this dirt road behind a nondescript house on the edge of Bellingham, Washington. But the work's part of the fun. For this diverse crew of 20-to-50-something folks, Thursday nights at the Shire are a form of meditation—it's their gym, their happy hour, their backyard barbecue pit, and their creative outlet rolled into one. Eventually Ian puts down his shovel and grabs his bike, an airbrushed red-and-yellow 26-inch dirt jumper with a suspension fork. Andy follows with his BMX. They chase each other through the first few hits, gauging speed, getting the first session of the year going. Soon, the whole crew will join, running five deep through the trails, gapping one another, flowing to the bigger wedges, hip and quarterpipe near the bottom. But it takes time to get it all dialed, even after nearly a decade of digging and riding this hand-hewn spot.
The Shire's story is one of mountain bikes to 20-inch wheels and back again. Indeed, the refined lines of the ever-evolving Shire trails reverberate through the Bellingham mountain bike community. They're expressed in groomed lips and large gaps from off-the-grid classics in the county to marquee machine-built and hand-buff ed trails like Mohawk atop the 3,000-acre Galbraith Mountain. They're present in the recently built waterfront pump track, where many young riders get their first feel of berms, rollers, lips and flow. You can trace it all to this nexus of Northwest dirt—an example of what happens when a diverse group of individuals put their passion into practice.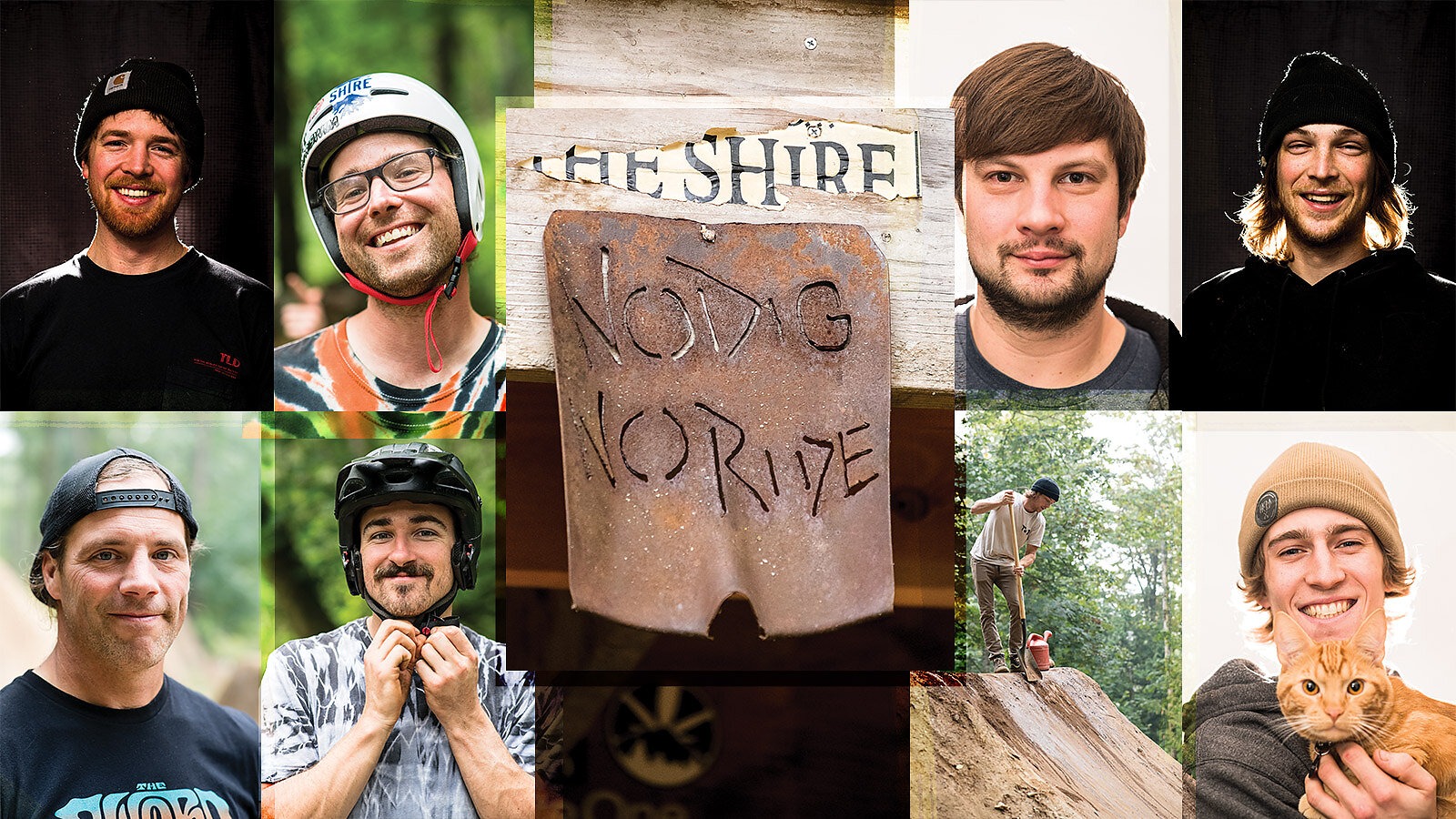 The Shire crew has always liked to dig. First, there were the Academy Trails, which began with North Shore-inspired mountain bike lines and evolved into a set of dirt jumps. Andy Grant and Spencer Baldwin—now in their early 30s and both born and raised in Bellingham—kicked off the build in the mid-2000s.
"Andy and I had been building dirt jumps in my backyard since we met at 8 years old," Spencer says. They kept Academy going for seven years before Spencer "got caught with an excavator on someone else's property" and the trails were plowed. But while the Academy Trails were up and running, a crew formed: Scott Scamehorn, now 27 years old, who'd grown up racing and riding BMX in Gig Harbor, arrived in 2012; a friend named Derek Devries was heavily involved; and eventually, a kid named Ian Carpenter, who they met at the public dirt jumps at Civic Field, joined them at Academy.
With their jumps gone, the crew began searching for a new spot to dig and ride. They knew there were already some small jumps built by mountain bikers where the lower line now sits at the Shire. Andy and Spencer had been part of that when a family named the Swifts lived there. Coincidentally, in 2012, Ian's family rented the house.
"I moved in at the start of my eighth-grade year, and it was a no-brainer to invest time into building jumps because we knew that my family was going to stay at that property for a while," Ian, now 22 years old and working as an aluminum boatbuilder, says. "The landowner basically said, 'You've got 11 acres, do whatever you want.' And man did we take that to heart …We'd dug there before, but they'd never been big jumps. That's what we wanted to build."
The landowner basically said, 'You've got 11 acres, do whatever you want.' And man did we take that to heart …We'd dug there before, but they'd never been big jumps. That's what we wanted to build.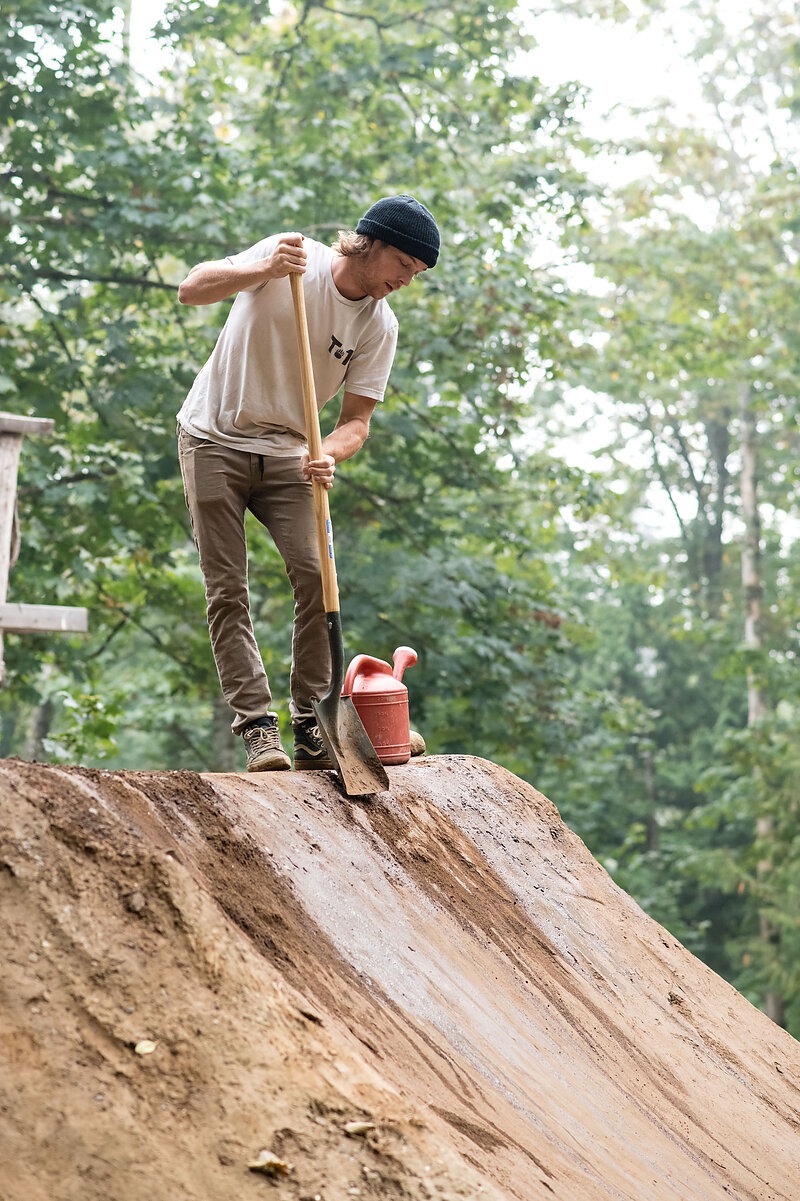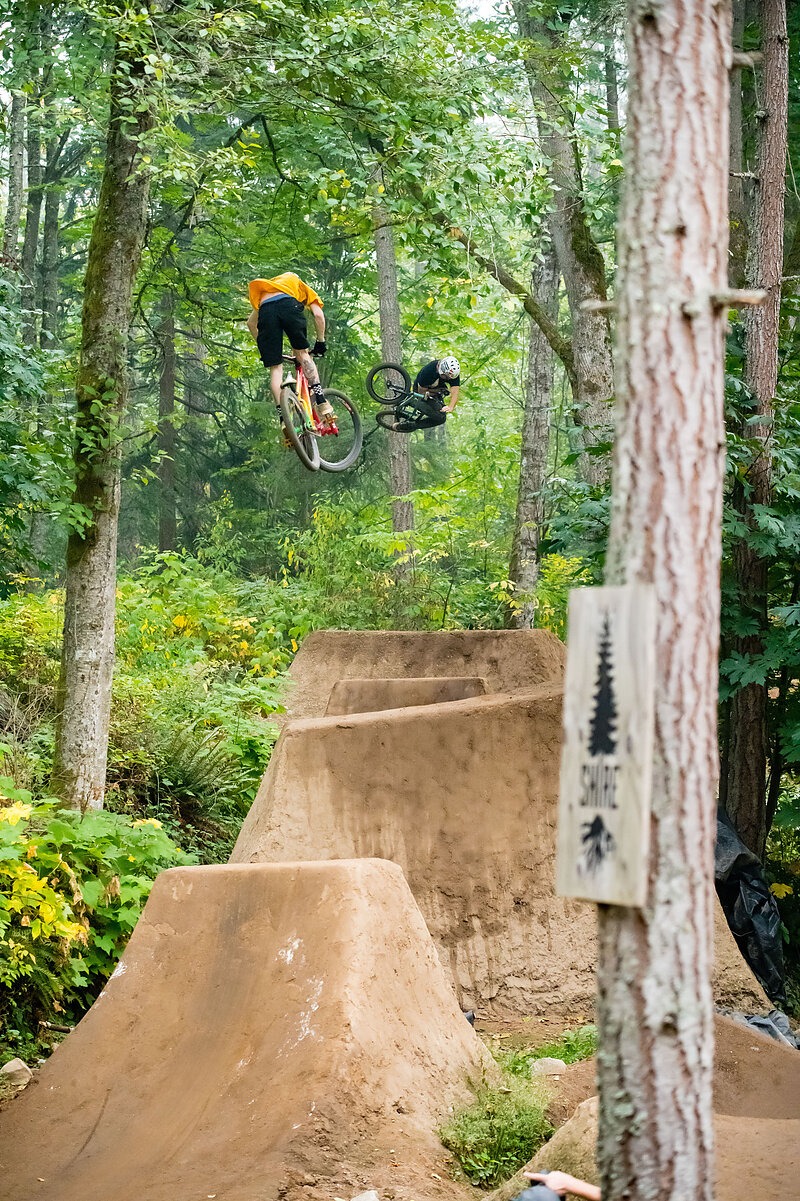 So build they did. Spencer—whose dad owns a construction company that now employs him— Scotty, and relative newcomer to the crew, James Van De Kamp, borrowed an excavator. That August, they roughed in a single line. When the weather began to turn, they dug a little dirt hole to hide from the weather, which was reminiscent of the Hobbit huts at the Shire from The Lord of the Rings. Although there is now a wooden structure, fire circle and barbecue pit in place of the earthen abode, the Shire was christened. All that was left was to put shovels to dirt. It took a few years to refi ne that first line, which became known as Main Line. The jumps, of course, have names: Daisy, Megaladon, etc. Nowadays, it's got a bit of everything and flows well: stepups, step-downs, a high-speed 180-degree berm, a bit of concrete to shore up a berm to step-down, a three pack of large doubles, left hips, right hips, a quarter pipe. The beginnings of Main Line were eventually harnessed to form Reggae Shark, an alternate line that includes a large left-hand option. A little platform sits in a tree above it all. Homemade irrigation systems—ditches, piping, catchment containers—serve to drain the heavy rains of winter and provide moisture during summer's heat. It's the product of a decade of fine tuning.
With 25 or so jumps and everything in between to maintain, it takes a strong crew to get the Shire running, especially all three lines at once. But a few new faces have worked in over the years; guys like Jimmy Wood, an engineer in his late 30s, 20-something schoolteacher Kai Kane-Ronning, and Greg Heath, who works in metal fabrication and moonlights for his own boutique hardtail brand, Donkelope Bikes. Others come through on a regular basis too—a couple of folks from Anacortes an hour to the west, recent California transplant Brett Donahue, Steve Vogel, who has his own backyard pump track known as the Bike Ranch. Bellingham's younger generation find their way to the trails too, learning the art of trailbuilding, maintenance and riding. In 2017, James joined the crew from just across the northern border in Canada. He'd begun dating a girl in Bellingham. Eventually, they married, and now he's a permanent resident. As James explains, the inclusivity of the Shire crew drew him in.
"When I moved here, I couldn't work for the first six months," James says. "So me and Andy, we were out at the Shire a shitload, just digging. He was unemployed at the time too. I loved how these guys have a good attitude. They're not asshole trailbuilders."
The guys like to joke that James married into the Shire. To find it, you need to know someone. And when you do, you might be asked to pick up a shovel first. The place isn't on any maps, after all. Bellingham's younger generation of riders have been quick to pick up on the Shire's ethos.
"We've never had to tell anyone, 'You're coming out too much without digging,'" Scott says. "I think we have more people who dig and don't ride because they're mountain bikers and they're not used to these kinds of jumps. They just want to come hang out and dig because they like digging."
Maybe they'll hit the trick jump, but knobby tires don't really work on the big lines. Maybe they'll pick up a dirt jumper and test a few lines. Maybe one day they'll get more comfortable with steep lips and landings. They'll learn to tune a takeoff, try a BMX or a hardtail, find a love for dirt jumping. Or maybe they'll just do it to be part of something like the Shire Jam.
Sharing the Shire is a goal. But there have to be limits. People have to learn to respect the trails before they ride them. The one exception to that clubby atmosphere might be the Shire Jam.
"When you talk about the progression of Shire, you have to talk about the Shire Jam," Scott says. "The first year [2014], maybe 10 people showed up to check out the trails, and we did two jams. Then the second one, we had like 20 people. The next year, we did two jams again and there was 30, and then 50. The year after it was probably a hundred, then it went to like 200, and last year we had 500. There were taco trucks, a band, people camping out all over the property. All of a sudden, we were making a bike festival happen in our backyard."
The Jam is pretty loose. Imagine a hundred or more riders lined up one after another, feeding off the collective energy and ready to send. It's a lot to manage, but the crew is proud of their work. They're lucky the neighbors are understanding county folks.
"When you have three or four hundred people in the woods, it's pretty hard to keep everyone at the same tone of voice," Ian says with a laugh. "The cops have been called, and they don't think that they're coming to shut down a bike jam in the woods that's also a massive party. They think they're coming to some house party. When they see the Shire, they end up just hanging out and keeping an eye on things."
The Shire boys have found their groove. This past summer, with COVID considerations, there was no official jam, but four or five visiting crews rolled through, including some of the heaviest hitters in the North American BMX scene working on an S&M Bikes and Fitbikeco collab video—Mike "Hucker" Clark, Tom Dugan, Justin Spriet, Mike Hoder and Kareem Williams, to name a few. These mini-jams were more manageable than the huge parties of the past and the core crew got to enjoy the trails a bit more during the visits. Indeed, for the summer of 2020, the Shire was a place to keep the good times alive.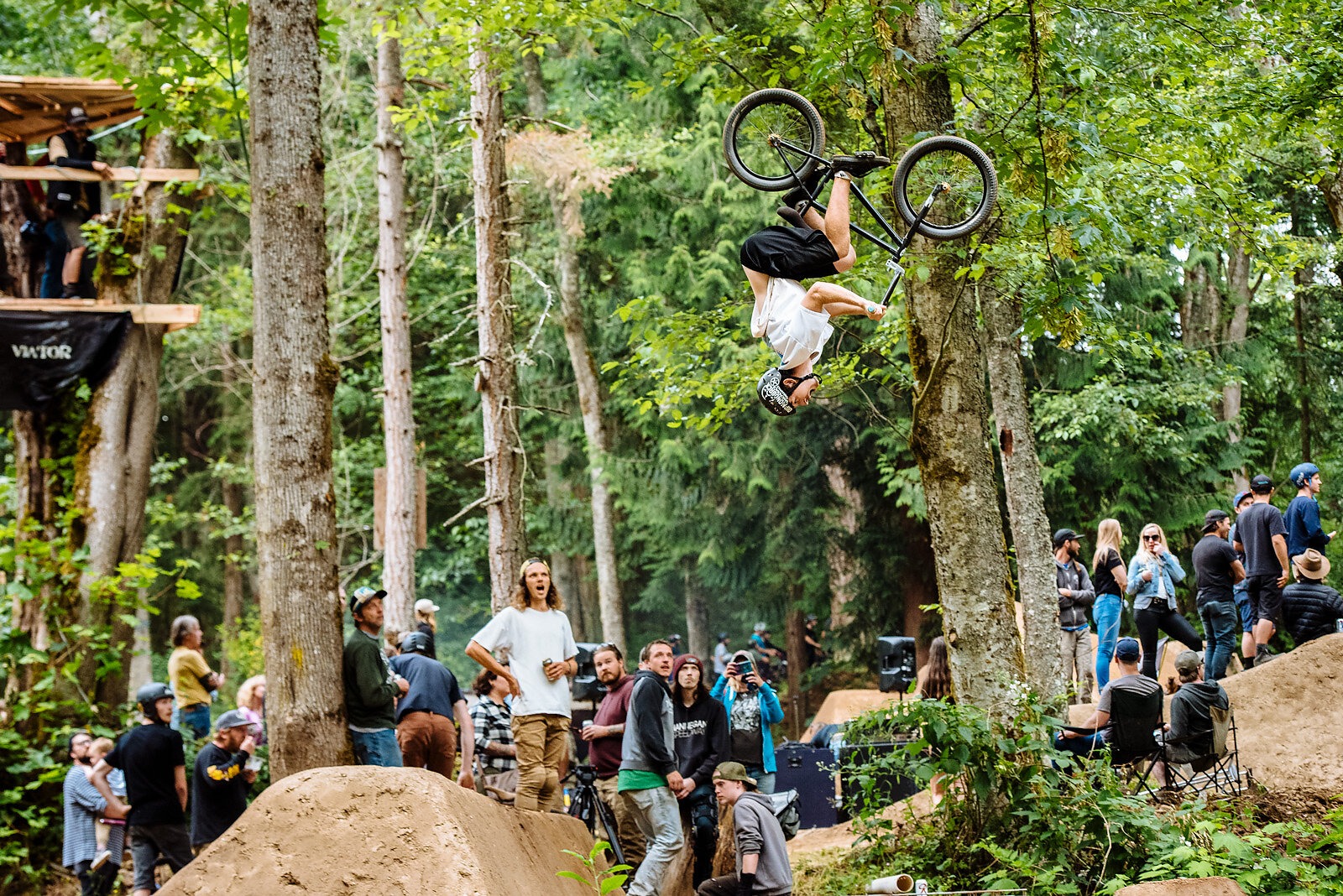 "It kind of felt like the first year, when it was just core crews showing up to session, and we got to ride a lot more," Spencer says. "Usually at the Jam I won't even ride until the last couple hours—it's stressful. But this year, it was back to the roots, and it was fun."
And it flows both ways. At the end of the summer, Scotty and James took a road trip south as far as Texas, linking with new and old friends and gathering ideas they'll surely bring back to the Shire—an organic evolution, flowing from these Bellingham woods to the deserts of the Southwest and back again.
"BMX in general hasn't really been in the mainstream spotlight as much in recent years, and dirt jumping is such a niche part of BMXing," Scotty says. "It's really a tight scene nowadays, and you're still excited to meet new crews and share your spot with them."
As the Shire crew has grown, so too has their riding. Scott and James were pure BMXers until they started hanging with Andy, Spencer and Ian. Since then, the former two have dropped into all-mountain rigs and can be found on six inches of travel many days. Ian continues to run a 26- inch dirt jumper with a suspension fork, while Greg and Jimmy are equal parts mountain bikers and BMXers. Brett showed up a mountain biker and has since begun riding a BMX.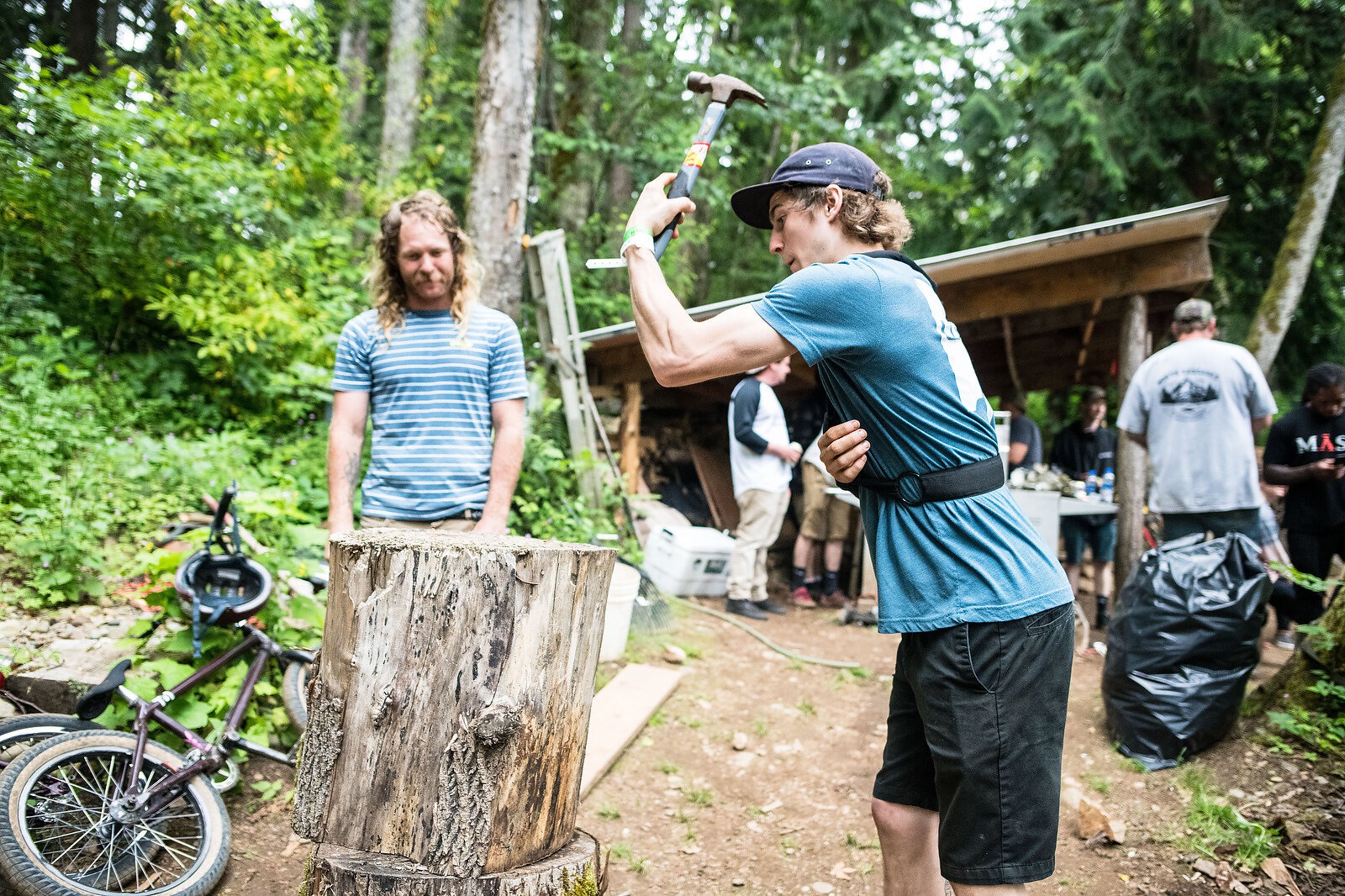 The Shire crew loves to dig as much as they love to ride. More than anything, they love a square lip, a buffed landing, a moment of weightlessness, again and again. In the temperate rainforest of northwest Washington, that means mountain bikes in winter and spring, dirt jumpers and BMX in the relatively dry summer and fall, for the most part.
While they'll dig at the jumps during winter, it's mostly for maintenance. Sometimes they'll head into the woods and find new lines. Then there are the on-the-grid wedges of Mohawk, built on Galbraith for all to enjoy. A new generation of riders is coming up in Bellingham and they like to jump their bikes. Recently, the Shire crew led a dig day to revive one of their classics, for which everyone from the old heads to a trio of tweenaged rippers showed up to shovel and send.
The crew's been making their way to far-flung locales with shovels in hand as well. During his high school years, Ian forged a friendship with up-and-coming freeride pro Ethan Nell. Soon, Ian was visiting Ethan in Utah, where he met Reed Boggs. Fast forward several years, and Ian's helping dig for Reed at Red Bull Rampage in 2017. In 2020, half of the Shire crew took a few weeks off work to help Reed work on his latest film project, From Then To Now. It wasn't a paid gig, but they enjoyed every minute of it, and it helped put their name out as folks who can sculpt dirt with the best of them.
Then, of course, there's Shire Built. Right now, it's comprised of Spencer, Scott and James, all employees of Oceanside Construction. Their day job involves "moving a lot of dirt," as Spencer says, to install water lines, storm sewers, fish canals and sidewalks. The company mostly handles municipal contracts. And when a contract came up for a large pump track at Bellingham's revamped waterfront, Spencer put in a bid through Oceanside. They won. They had access to the dirt and possessed well-known building skills. That job, in 2019, pulled James into the Oceanside mix, and he quit his job at a bike shop and got busy on the pump track. Not long after completing the project, they were hired again to build a pump track in the neighboring town of Lynden. It made sense to slap a new brand on this endeavor.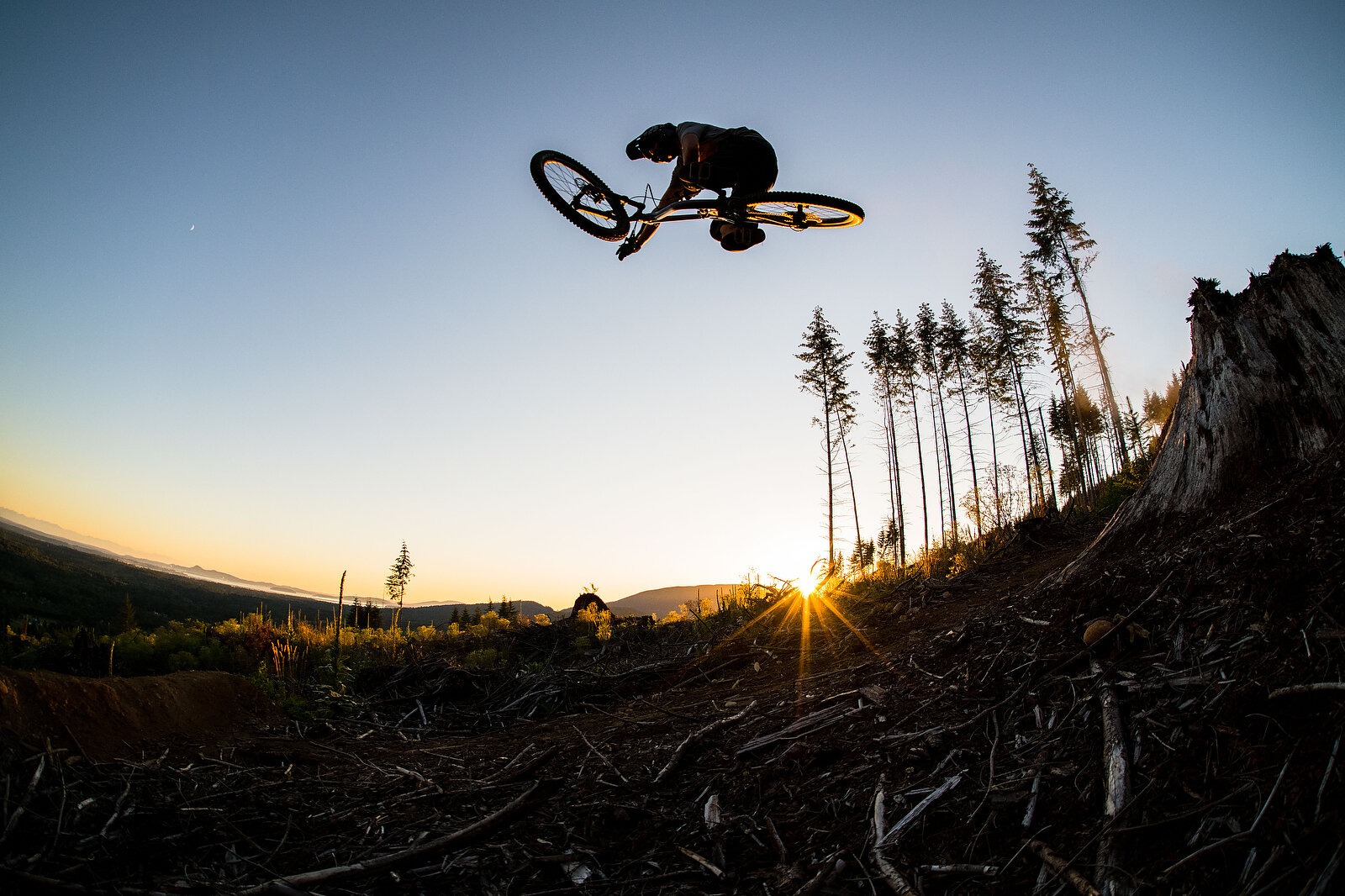 "The Shire crew built it, so we called it Shire Built," Spencer explains. "It's part of the [Oceanside] company, but it's also the crew. So, if Shire Built gets a job, the people working on that job are going to be us—those positions will go to our crew. If we need more, we'll branch out."
While Shire Built doesn't aspire to solely build pump tracks, they've been successful in providing these new spaces for all to enjoy. It's nice to be able to make some money after years of refining their dirt-sculpting skills. The vision is to travel around and build big lines for mountain bike parks and events—they see companies doing it in Canada and elsewhere—but that's still just a dream. For now, they've got the Shire to occupy most of their free time.
For a handful of folks, digging is an integral part of the riding experience. Andy calls the Shire his "home gym," and says, "It's addicting. It's just one of those things that you can do it well, but you can always do it better." That evolution is what gives the Shire its hook.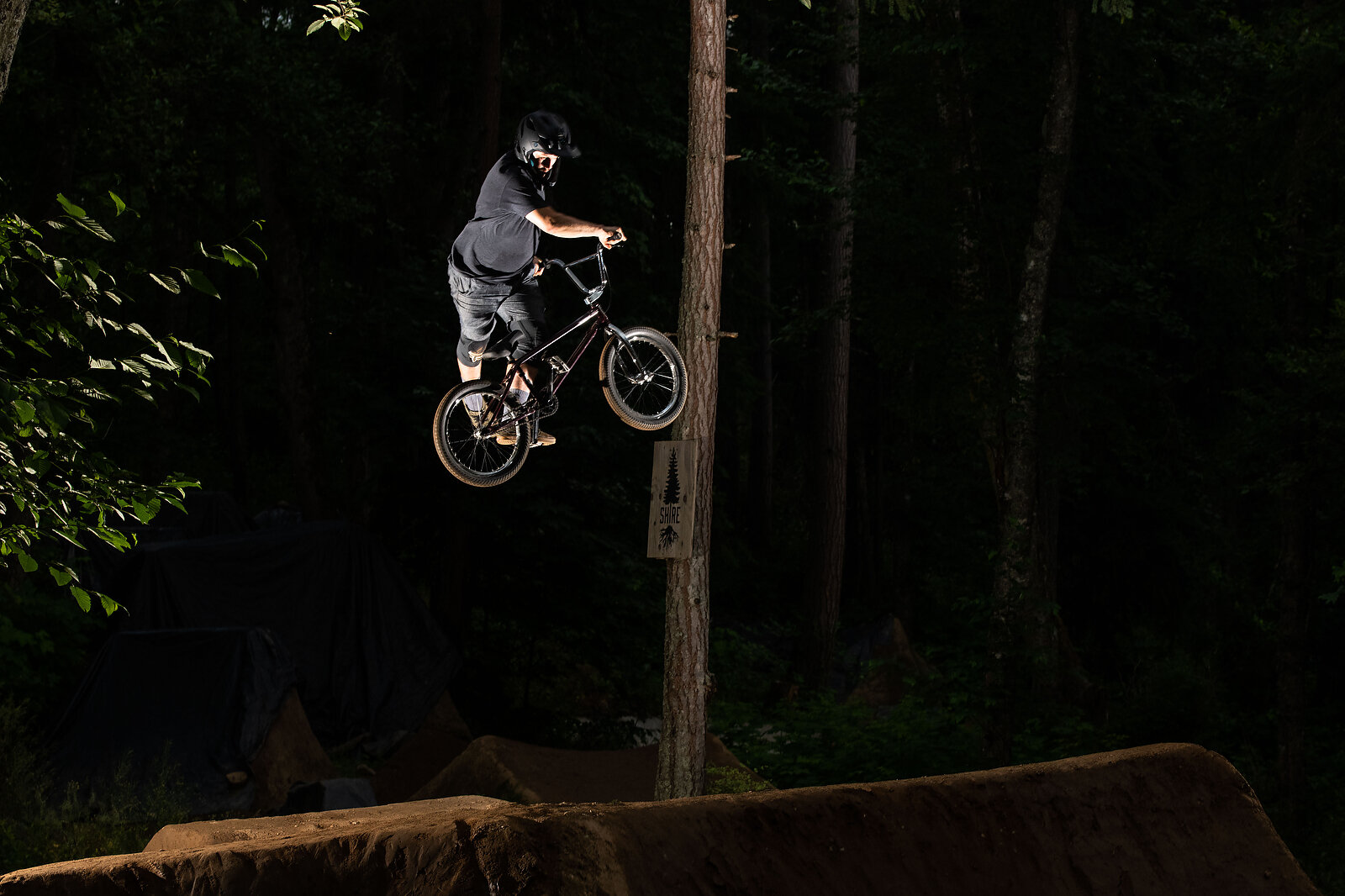 "You build something from your imagination and you just want to keep doing it because you get to ride that once you're done, feel it, and continue that feedback loop," Spencer says. "It just gets better and better. Everyone's been digging pretty constant for at least five or six years, new people are coming in, the jumps stay square with less effort, and we have more time to make them better and think about new lines."
And of course, there's the camaraderie. BMX is somewhat of an underground culture these days. With no print magazines, scattered social media serves as the primary place to share content and ideas. It's returned to a DIY vibe since the boom years of the '80s and '90s, and there's a shared sense of community that can be lost in more mainstream forms of dirt riding.
"Riding trails is a tiny part of the BMX scene overall," Scott explains. "We still can't go to some skate parks without people hating on us, we're still kind of on the margins in that way. So having these places in the woods that are our own, that helps us have gathering points."
Find the Shire and you'll see that. You'll see BMX bikes and dirt jumpers. You'll see schoolteachers, engineers, construction workers, high schoolers, sales reps and metal-workers gathered around a fire, shoveling, fine-tuning, building transition, building community. They've all got lives of their own, families, myriad obligations. But they're still gathering here on any given Thursday, sharing a moment in the woods.
---
Nexus of Dirt was originally published in Craft MTN Issue 4.1