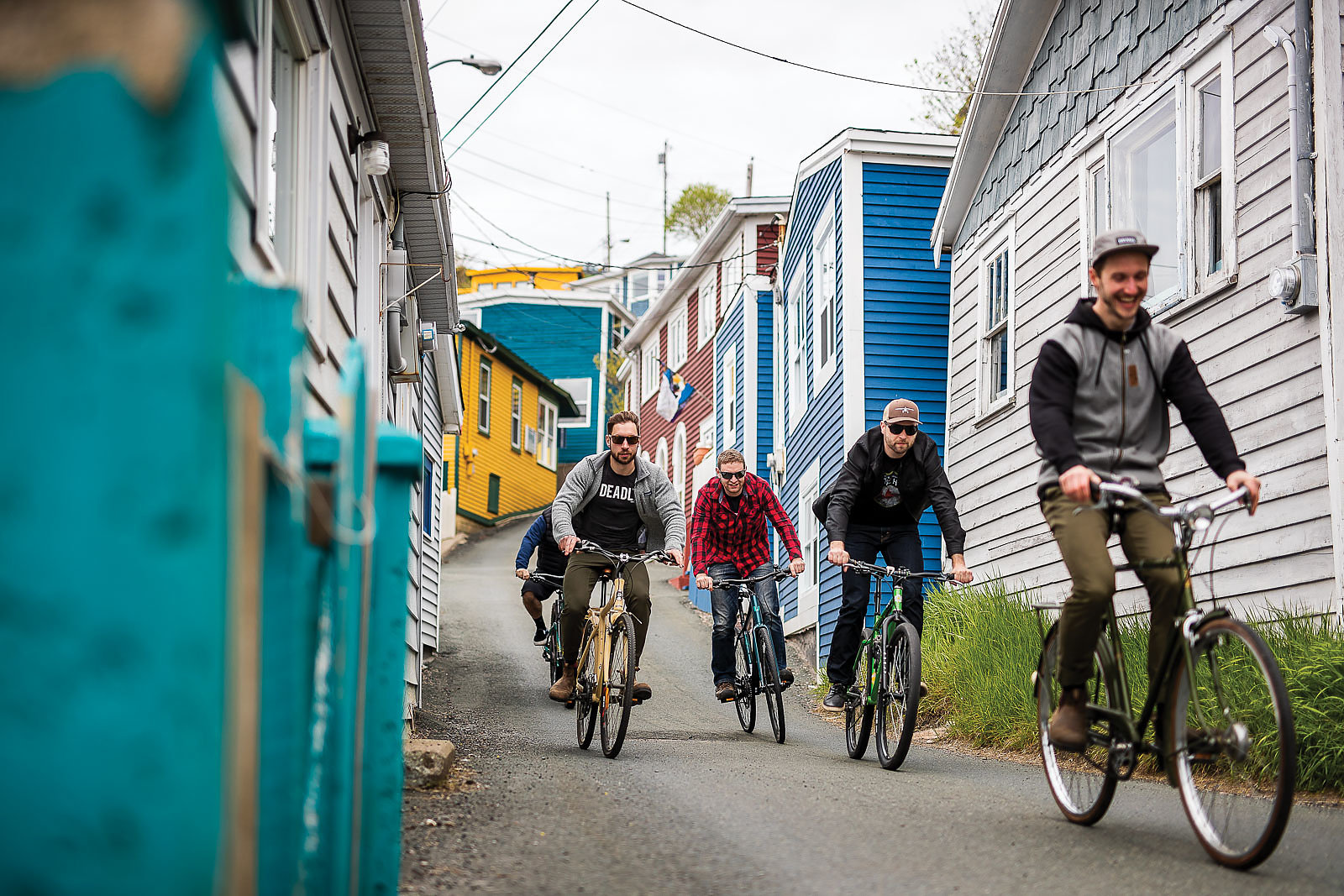 Most East A Nostalgic Return to Newfoundland's Rugged Landscape
The Canadian island of Newfoundland is known for its bountiful fish harvest, warmhearted people and unpredictable weather patterns.
Mountain biking, not so much. Growing up here, it's not easy to become a lover of the outdoors. The terrain is unforgiving and sometimes all four seasons can be experienced in a single day. The conditions are rarely inviting, and it's easy to become a homebody.
It takes a certain type of person to embrace the elements in Newfoundland. In particular, it requires serious ambition to wake up at 4 a.m. to go iceberg hunting when the wind cuts the temperature to below freezing. Through mountain biking, though, my closest friends have helped me to endure—and even love—such unappealing outings.
I learned early on that a blast of fresh air and an occasional sliver of sunshine would lift me when I was down. The coastal trails that skirt the cliffs around my hometown of St. John's—the capital of the province of Newfoundland and Labrador—deliver both of these, along with plenty of torrential weather. Before there were roads, boats were the primary mode of transportation on the island, connecting small fishing villages to each other. If you didn't have a boat, the only other way to get around was by walking through the tight, twiggy forest, following the sound of the ocean.
Nowadays, we ride these twisting trails for their infinite views, hoping to see floating icebergs, crashing waves and the occasional breach of a whale. A mountain bike has long led me to places other modes of transportation wouldn't, but this liberty comes with considerable effort. Being a mountain biker in Newfoundland takes dedication and hard work, even off the trails. Training involves riding a BMX bike in a parking garage when it's snowing outside or ripping down man-made rock gardens in urban parks.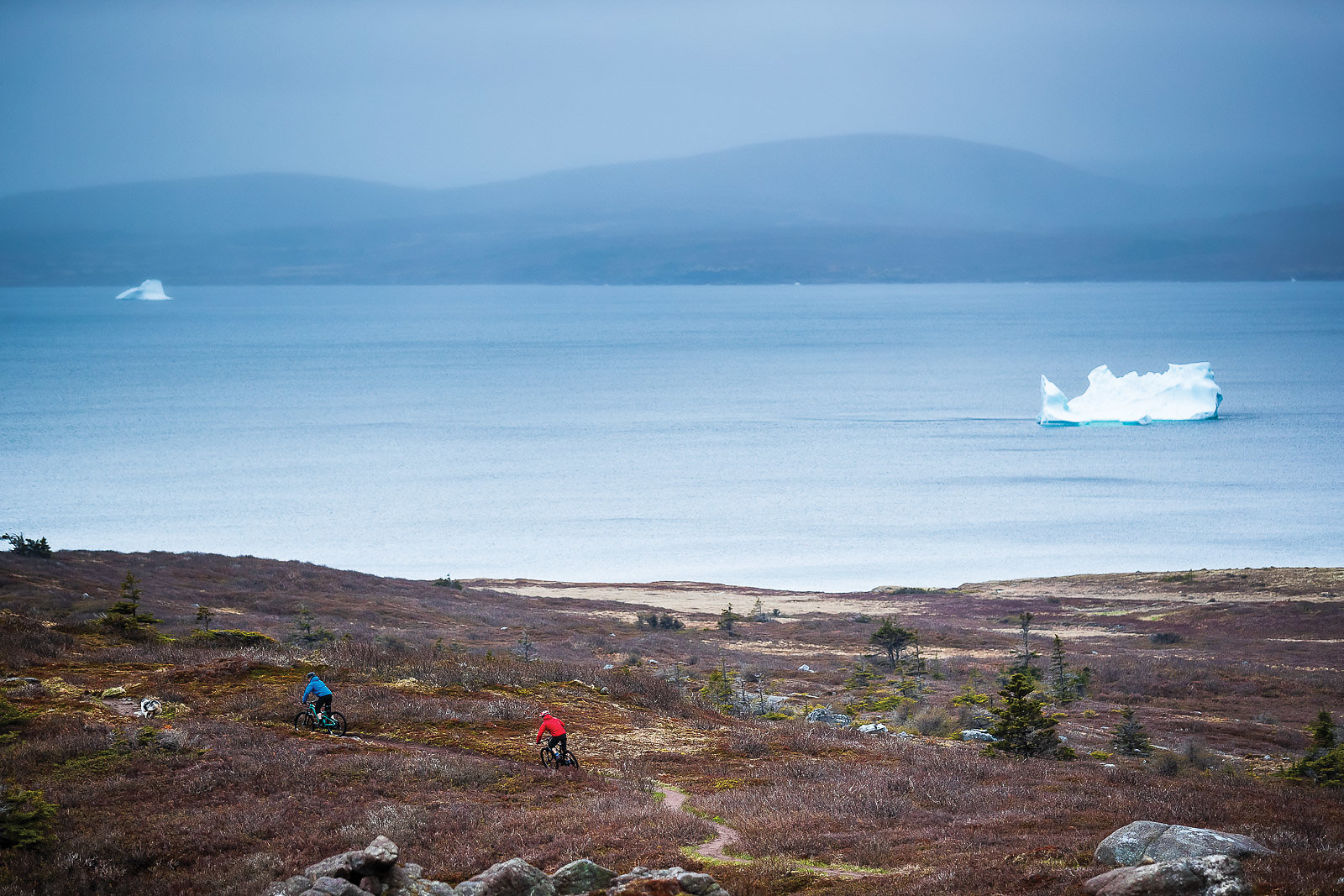 This is what I grew up doing. I was a typical curb-jumping, coaster brake-skidding enthusiast. It wasn't until countless rewinds of the twowheeled getaway scene from E.T. that I decided I would take my bike on the next family hike and ride the rocks I used to climb on. I was rolling on a crappy department-store BMX, basically rendered useless in a town of rolling hills. We had no BMX track, and no quality dirt we could use to build jumps. My first proper mountain bike was a 1999 Kona Muni-Mula, a hardtail with a three inch suspension fork and V-brakes. Mistakes were costly on that bike, so developing the skills to handle it was essential.
The terrain around St. John's is a lot like the local weather: mixed and harsh. A smooth piece of singletrack or an exposed slab of bedrock is a welcome sight on the local trails, and few people who try mountain biking here last more than a season or two. The city lacks beginner trails and skills centers, and the winters are long. If you survive the natural cull, you will know how to ride a bike. You will know the limits of traction through off-camber roots and unthinkable technical climbs, and brake control will become second nature.
A typical ride in Newfoundland mirrors a challenge from Top Gear. The machines will probably break, and you'll have to brainstorm an on the-spot fix. The character of the people here is built on hardship, and that helps us to enjoy the simple things in life.
Some of my best friendships were forged through riding bikes on the demanding terrain of my hometown. And though I now live in Vancouver, British Columbia, my mind often wanders to those early days of riding the rough trails on the other side of Canada. So, last June, I returned to St. John's to reunite with old friends and recapture the spirit of adventure that first got us hooked on mountain biking.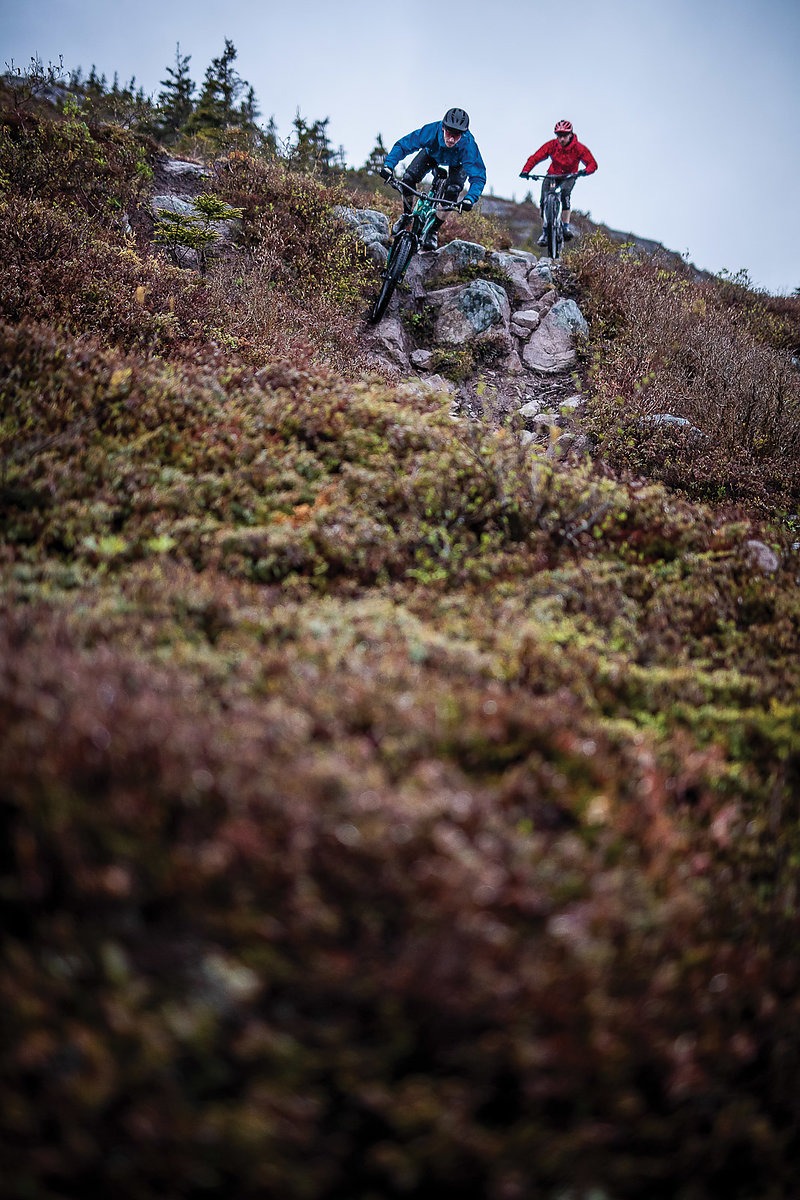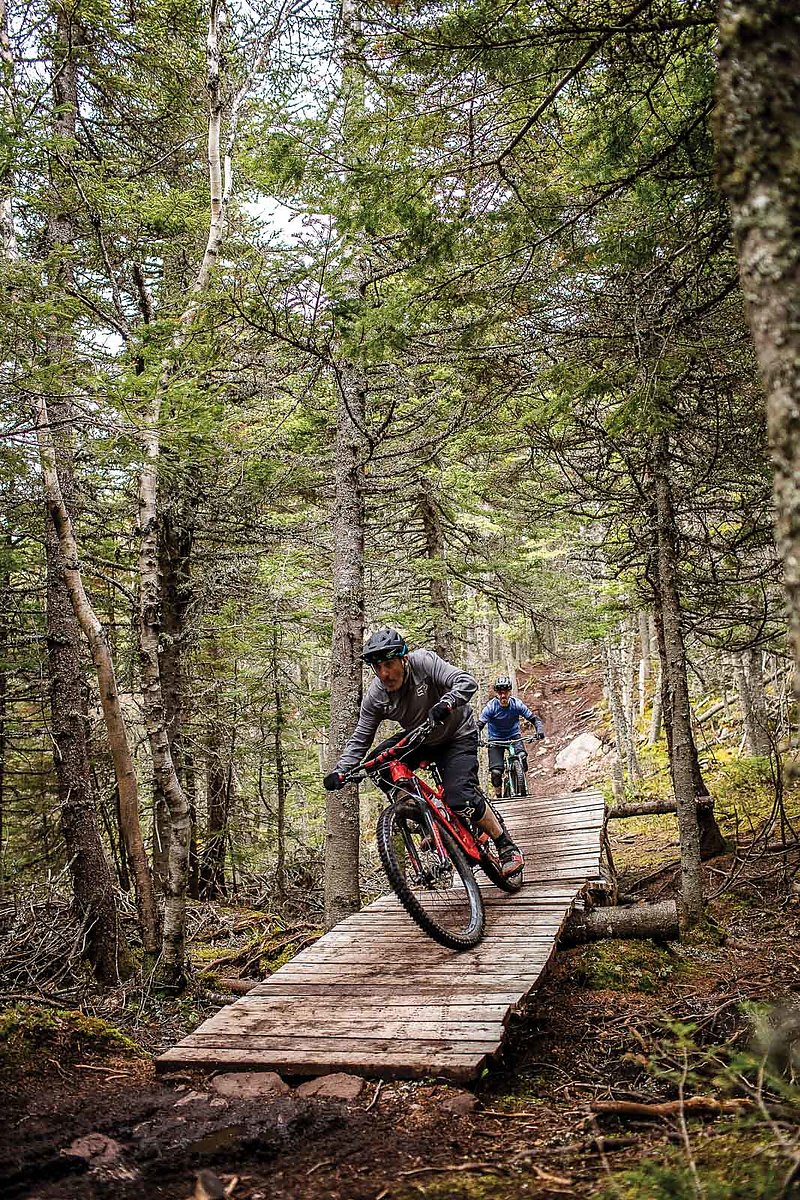 From the moment I arrive, the core crew is ready to rally: Chris Jerrett, owner of St. John's main mountain bike shop and one of the founding fathers of the city's riding scene; Kaelam Power, a phenomenal rider who was one of my earliest inspirations; Lachlan Roe-Bose, the brains of our group who has always taken a methodical approach to riding; and Mike Trickett, an incessant tinkerer who rarely turns down a ride.
Through the years, I've spent countless hours here, breaking off rock with mattocks and pickaxes to carve out new routes, but Chris pioneered much of the network. 
Eager to hit the dirt, we start out in White Hills, just minutes from the downtown waterfront. These trails empty into a quaint harbor known as Quidi Vidi. The recent addition of a brewery and a few fancy eateries have updated the backdrop of the historic village, serving tired hikers and mountain bikers once they descend from the trails above. The proximity of White Hills to downtown makes it pedaling distance from Chris' shop. One can ride a series of loops under a canopy of stubby trees or pop over to the seaside peak for longer high-speed descents.
Chris named the stacked loop trail system here Subnet after he stumbled across a pile of interwoven steel cable loops on the proposed route. Further investigation proved this pile was once suspended underwater, guarding the city's harbor from World War II U-boat attacks.
If you're in search of machine-made berms, you've come to the wrong place. This zone is comparable to a bouldering gym for climbers, with endless rock gardens and root nests that require finesse to negotiate. Here, refined body positioning is essential. Wheels must keep turning to retain traction, and pedal strokes must be impeccably timed. Your bike must be fine-tuned as well. Too much pressure in the tires, you slide out. Too little pressure, you have a flat.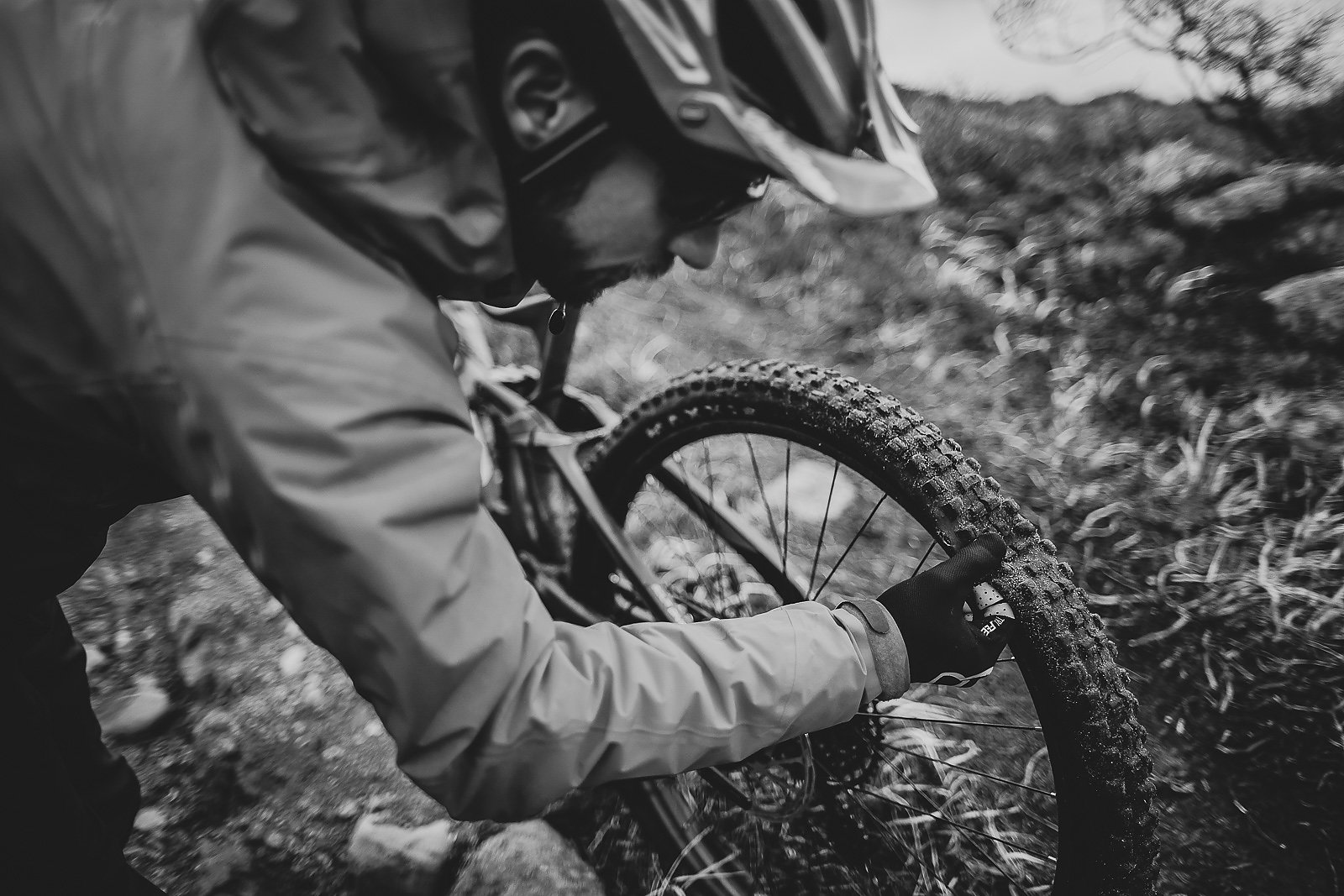 Through the years, I've spent countless hours here, breaking off rock with mattocks and pickaxes to carve out new routes, but Chris pioneered much of the network. Over the decades, Chris has become a local legend through his activities on and off the bike. From raging on the mic in a punk band during his teen years to transitioning between BMX, skateboarding, snowboarding, XC and urban freeride, he was revered for his versatility in action sports.
In 1999, Chris made the first in a trilogy of homegrown films that revealed what mountain biking was to young Newfoundlanders. The films, created through the use of homemade helmet camera clips and pyrotechnic outtakes, were highly influential. The Special Forces shop team really pushed what was possible, carting camp gear far into the island's Long Range Mountains, riding technical rock slab lines and challenging drops. Chris' passion for riding, combined with his camera skills and artistic style, drew me to mountain biking.
Now, once again pedaling to the top of White Hills with Chris, we see the purplish-gray rock that represents the end of the climb, complete with a switchback made of industrial concrete to make the final move possible. Everything under our tires has been built by a few dedicated locals.
Enter Lachlan, a conservative, easy-laughing rider. He lived on his own early after high school and had the common sense to keep the rest of us in check. Still, he would be the one to lap a skatepark with me in the winter when others would pass. On this blustery summer day, he's joined me for a ride at Cape Spear, North America's easternmost point. Jutting into the Atlantic Ocean, the cape is a crossroads for countless storms, as it straddles the point where the Labrador Current flows from the north and meets the mild Gulf Stream from Mexico. The wind here is so constant that the tree branches are all bowed deeply to one side, and on most rides, one must lean into the wind to keep the bike upright. The trail itself is mostly flat, so you have to pedal hard to keep your speed. The area has some neat rock features that are a blast to ride, but the best reason to come here is for the scenery. The trail starts next to a historic lighthouse, encircled by a white picket fence, and the ocean views are incredible, with the blue water punctuated by icebergs.
Lachlan and I can barely hear each other chuckling over the brutal wind as we press toward the tundra-like singletrack ahead. The salt on our faces is not from sweat, but from the spray of the waves blowing onshore. With hands gripped tight and shoulders leaning into the wind, we race out toward the icebergs below. Lachlan has long been one of my main riding buddies during inclement weather, so the heavy winds make for a fitting reunion.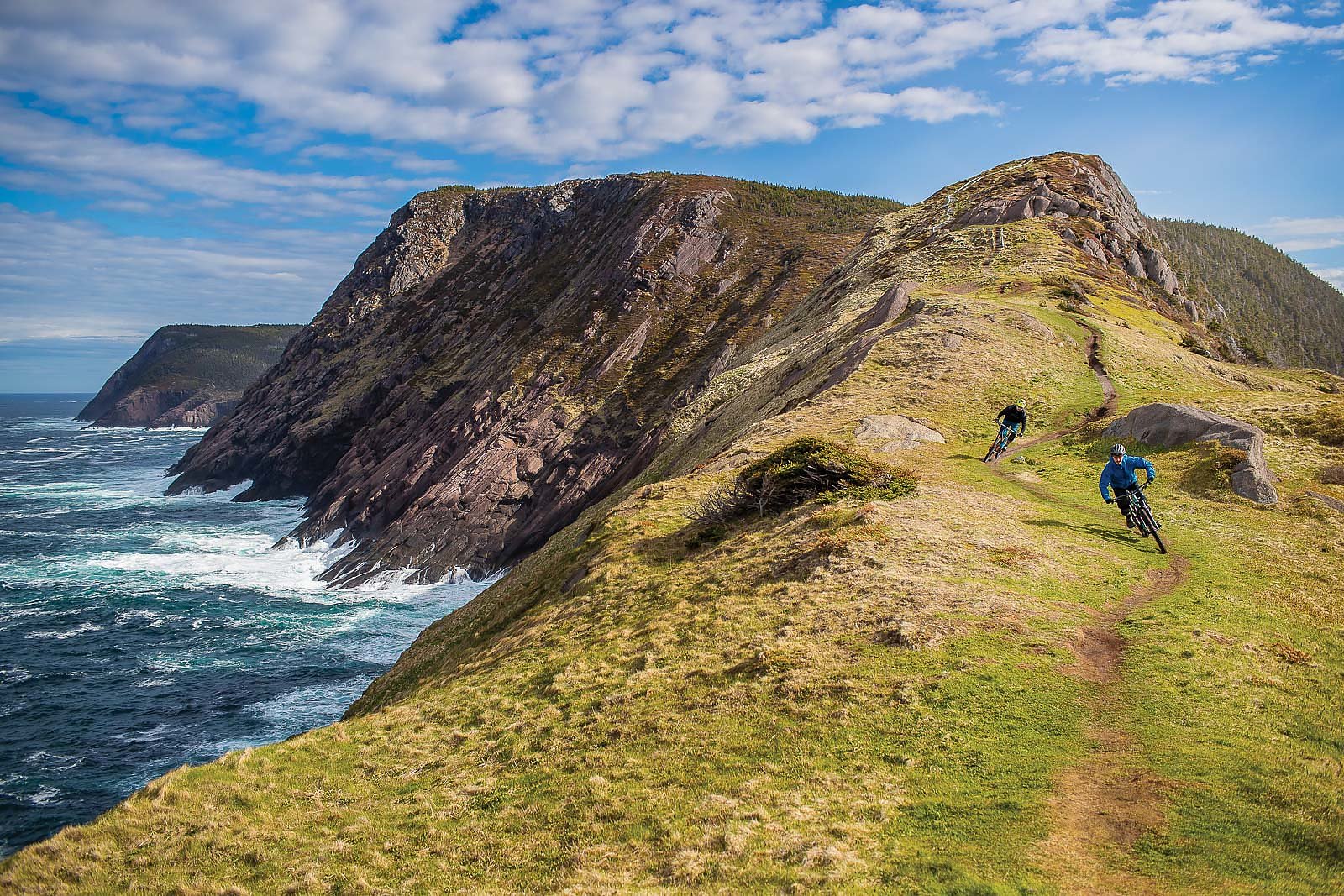 The next day, in typical Newfoundland fashion, the weather swings 180 degrees and the sun is shining. I call upon my friend Kaelam, who's spent a lot of time capturing stunning images of icebergs and is eager to go "berg hunting" with me along the shoreline of Torbay.
Back in the day, Kaelam rode lines that I didn't know were possible. He could wheelie farther than anyone I'd ever seen, and he was the local master of riding technical rock lines, whether climbing or descending. When we rode together, he'd push me to climb higher or jump farther, and my confidence grew after years of riding behind him.
Back in the day, Kaelam rode lines that I didn't know were possible. He could wheelie farther than anyone I'd ever seen, and he was the local master of riding technical rock lines, whether climbing or descending.
On this sunny day, we race along the Torbay trails, mimicking our childhood rides. There are so many lines to test here, so Kaelam and I play around, sending wall rides on rock spines that rocket us into snaking turns where we send peat flying into the air. When we finally straighten out, I can hear Kaelam roaring behind me as we bomb down the grassy singletrack at ridiculous speeds. In this moment, it's clear our friendship is the same as it was when we were younger.
On my final trail-riding day in St. John's, I reach out to Mike, a friend who rarely turns down a riding opportunity. Mike always lights up when he sees a berm to destroy, and he's always a good man to have trailside during a mechanical failure—though it's usually his bike that has an issue. True to Newfoundland form, however, the weather doesn't make today's ride easy, as Mike has been on a work trip to the north in Labrador and is waiting for a clear weather window for his flight to St. John's. Lachlan stepped in to save the day, driving 20 miles to Mike's house to round up his riding gear and picking him up at the airport just in time to make our ride happen.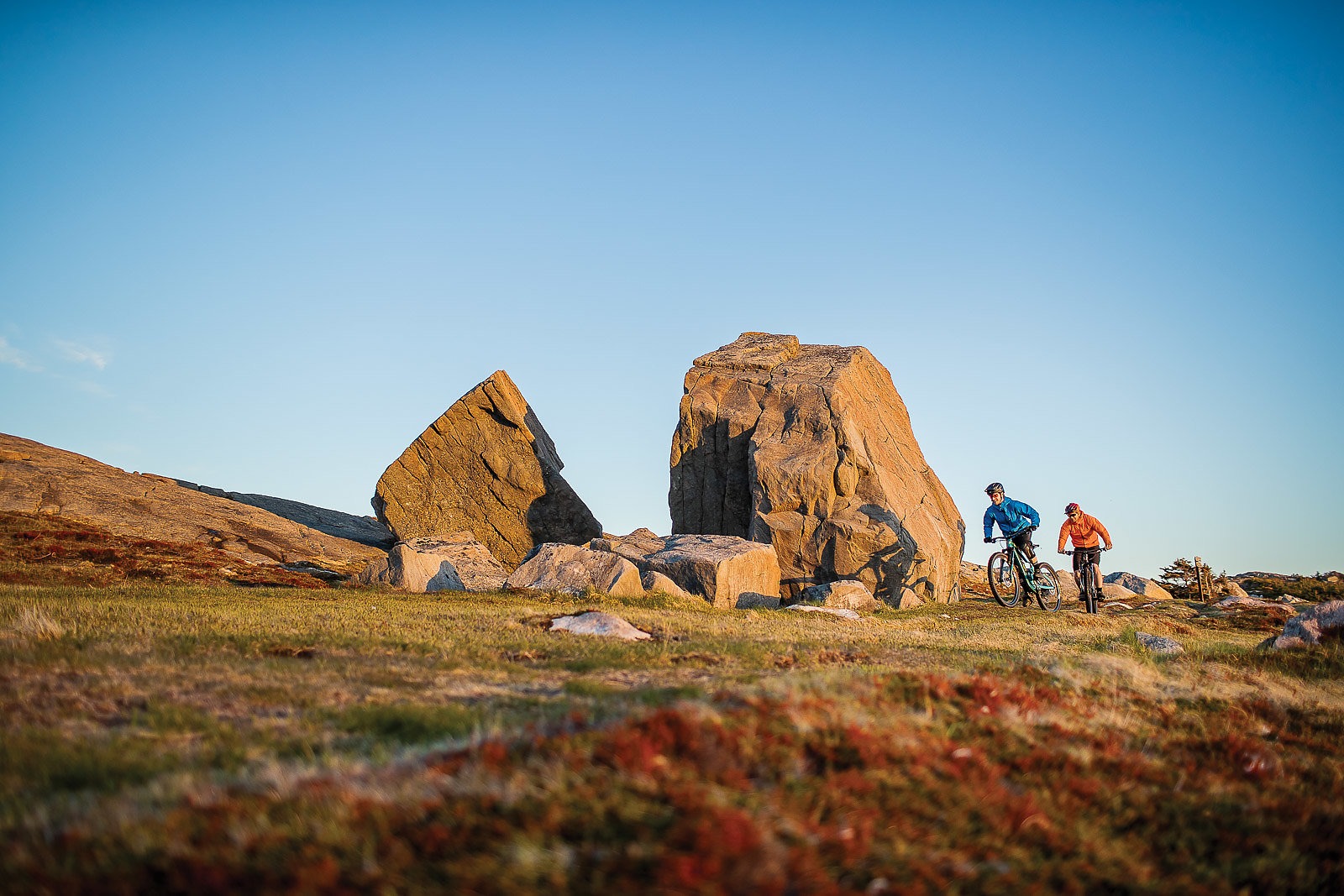 We head to Flat Rock, the place where my love for riding bedrock features began. The trail is one of the area's longest, most quality pieces of singletrack, and though it has a few crux moves, it's the best place to really stretch your XC legs. As Mike and I descend along a 300-foot-high cliff, the vegetation shrinks in height, allowing us to freeride on this massive shelf of rock. Mike has always enjoyed going on my adventures, trying new sections of coastal trail with the promise that we'll be pushing our bikes for a lot of the time. This day is no different—and seeing Mike's patience tried is a trip down memory lane.
On our final day together, we all pedal our cruisers into town, skirting the colorful cliff-edge houses of St. John's Harbor, known locally as the Battery. It's here we meet Charlie Piercy, a skipper who invites us into his hangout spot—a shed that happens to have been in his family since 1861. A woodstove warms the air, and the walls are covered with historic memorabilia, including aerial photos of the anti-torpedo net after which Chris' Subnet trail system is named.
Charlie offers us beers and tells tales of stormy seas, old fishing friends and broken gear. He speaks with a fondness that makes it seem like his past is right in front of him, glimmering in a spot only he can see.
I marvel over the similarities between Charlie's shed and Chris' bike shop, Freeride Mountain Sports. Both are meeting places filled with memorabilia, where people can gather and relive stories from days past. Charlie's shed represents Newfoundland's maritime heritage, while Chris' shop—with its mechanic's bay smelling of twostroke fuel and wet dog—encapsulates the gritty
soul of the island's riding and trailbuilding culture. These places have come to represent the people, the friendships and the lives we've shared. They define what it means to be home.