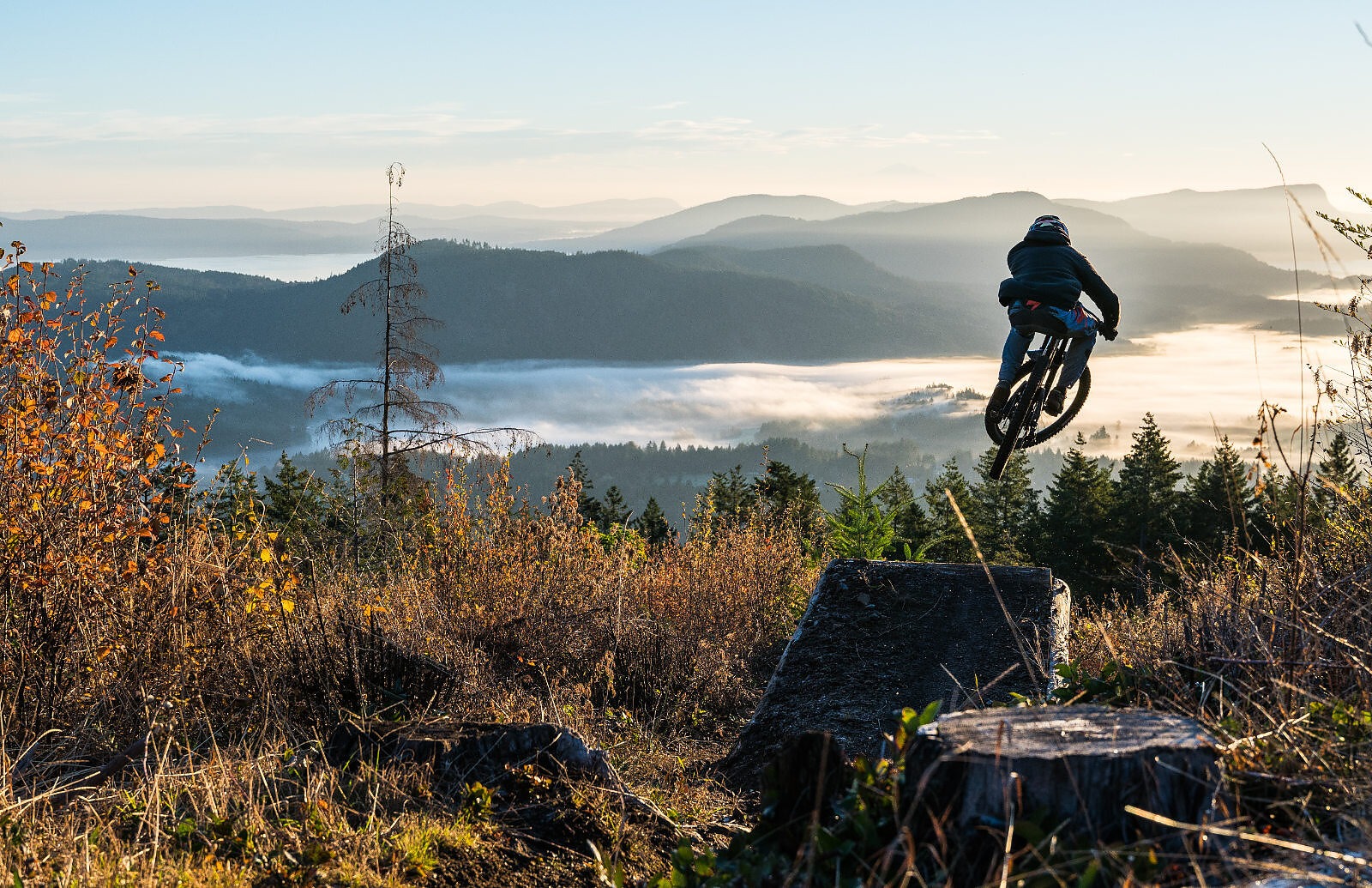 Island Timed Mt Prevost's Pedigree for Speed Transformed by Trails
When downhill race fans think of Canada, their minds might jump to the country's most revered locations—places such as Mont-Sainte-Anne, Quebec, whose race track featuring the infamous "Les Dalles" rock garden would have celebrated its 30th anniversary as a World Cup race venue during the 2020 season. Or Whistler, British Columbia, the birthplace of Crankworx which boasts the world's most prolific bike park.
While these spots deservedly share the most acclaim, the lifeblood of Canada's burgeoning downhill scene remains less known, tucked just off the highway in the sleepy Cowichan Valley region of Vancouver Island. Here, Mount Prevost serves as the training grounds for the country's most eminent World Cup DH talents.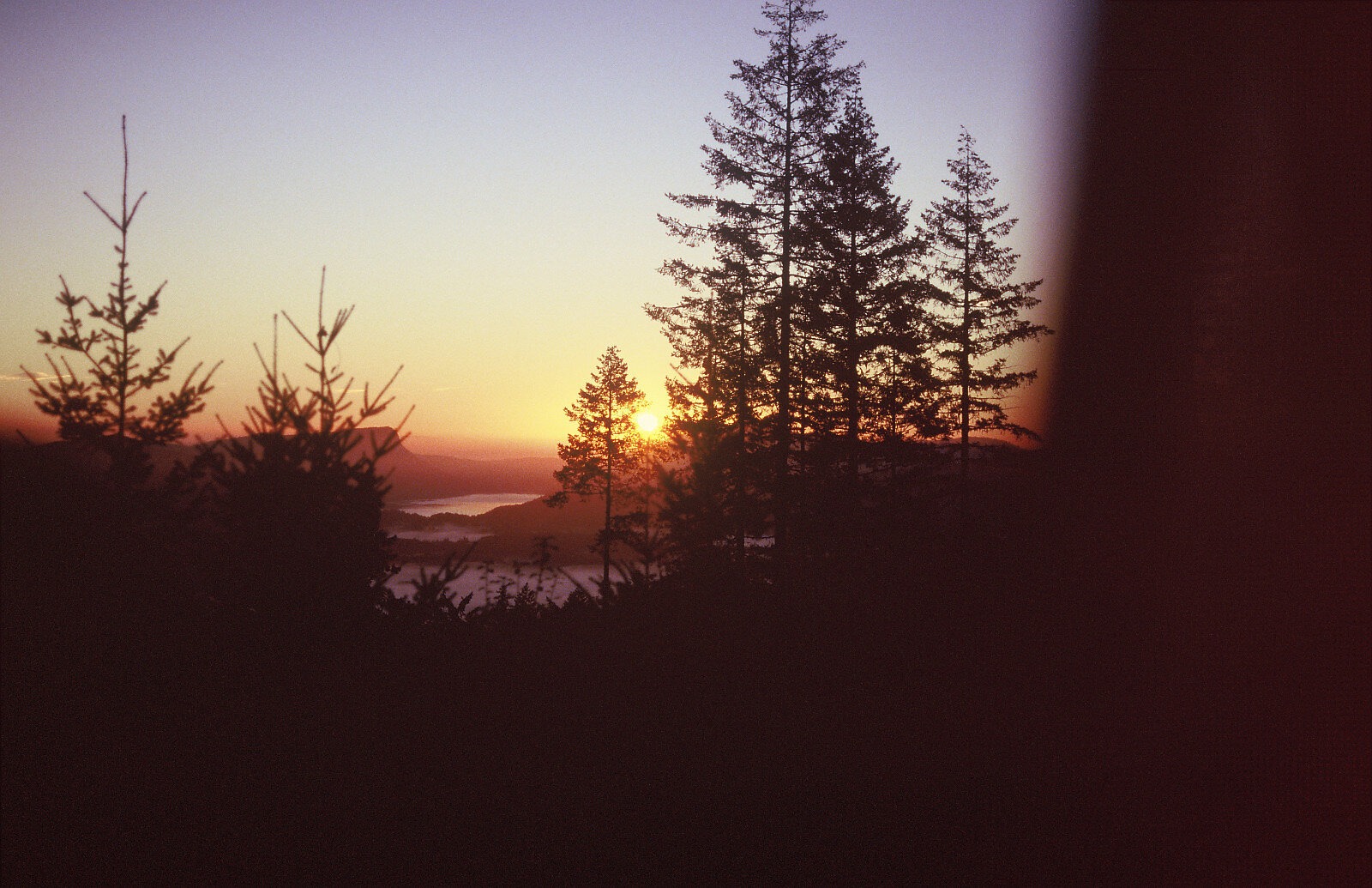 Prevost debuted on the international mountain bike stage in 2005, when the motley crew from Drop In rode the trail Daisy Dukes in the third episode of the third season. The now-defunct opening log ride of Daisy Dukes is still one of the steepest, most committed log rides in Canada's pantheon of legendary wooden features. More prominent attention was drawn to the mountain during the late Stevie Smith's unforgettable segment in The Collective's third film, Seasons, which was released in 2008. The way Stevie attacked Mount Prevost's unrelenting steeps foreshadowed his meteoric rise to World Cup dominance. Barely two years after the release of Seasons, Stevie scored his first World Cup podium on August 1, 2010 in Val di Sole, Italy, on a track that is widely regarded as one of the steepest and gnarliest on the circuit. Since Seasons was released, the trails of Prevost have been featured in top productions, such as Finn Iles' segment in Motive (2017) and Mark Wallace's part in Gamble (2018). Other noteworthy edits with segments filmed on Prevost's trails include Dean Tennant's Higher Calling and Shreducation, Smith's Mainline helmet release video and Remi Gauvin's part in Rocky Mountain's Slayer launch video.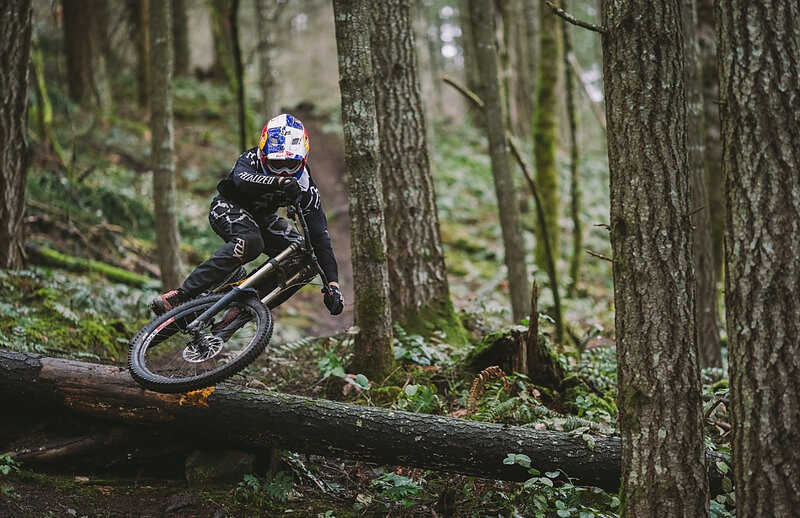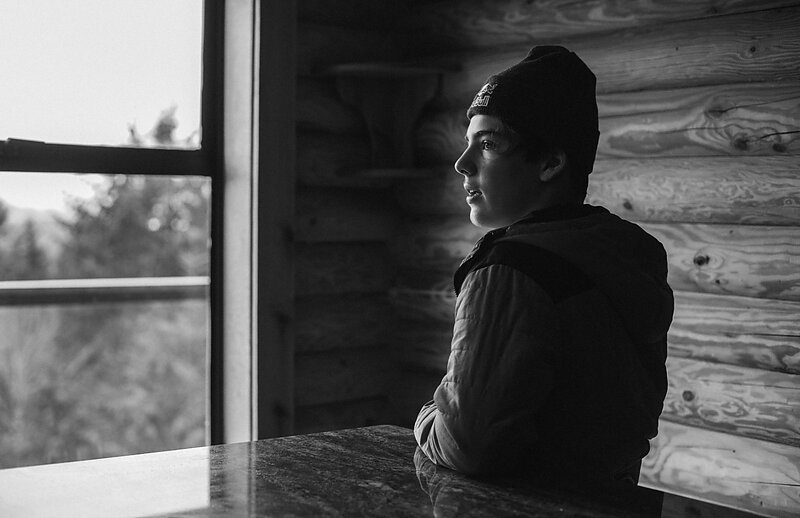 These days, it's common to see Canada's top downhill talents—Mark Wallace, Finn Iles, Magnus Manson and the young Drew Mozell—shuttling training laps on trails like Memphis, Mr. T or Patchworx.
"It is the most important hill in Canadian downhill," says Iles. "You can trace the majority of Canadian male DH podiums back to Prevost.
"Being able to ride there throughout the winter is so huge," Iles adds. "It's likely the only place you can do that in Canada. The major competitor countries, UK, France, NZ and Australia, they can ride all (northern hemisphere) winter. So, having Prevost for an off-season training ground in Canada is massive! To stay in your home country, avoiding off-season travel and giving you a stable routine is a big key to success at the World Cup level."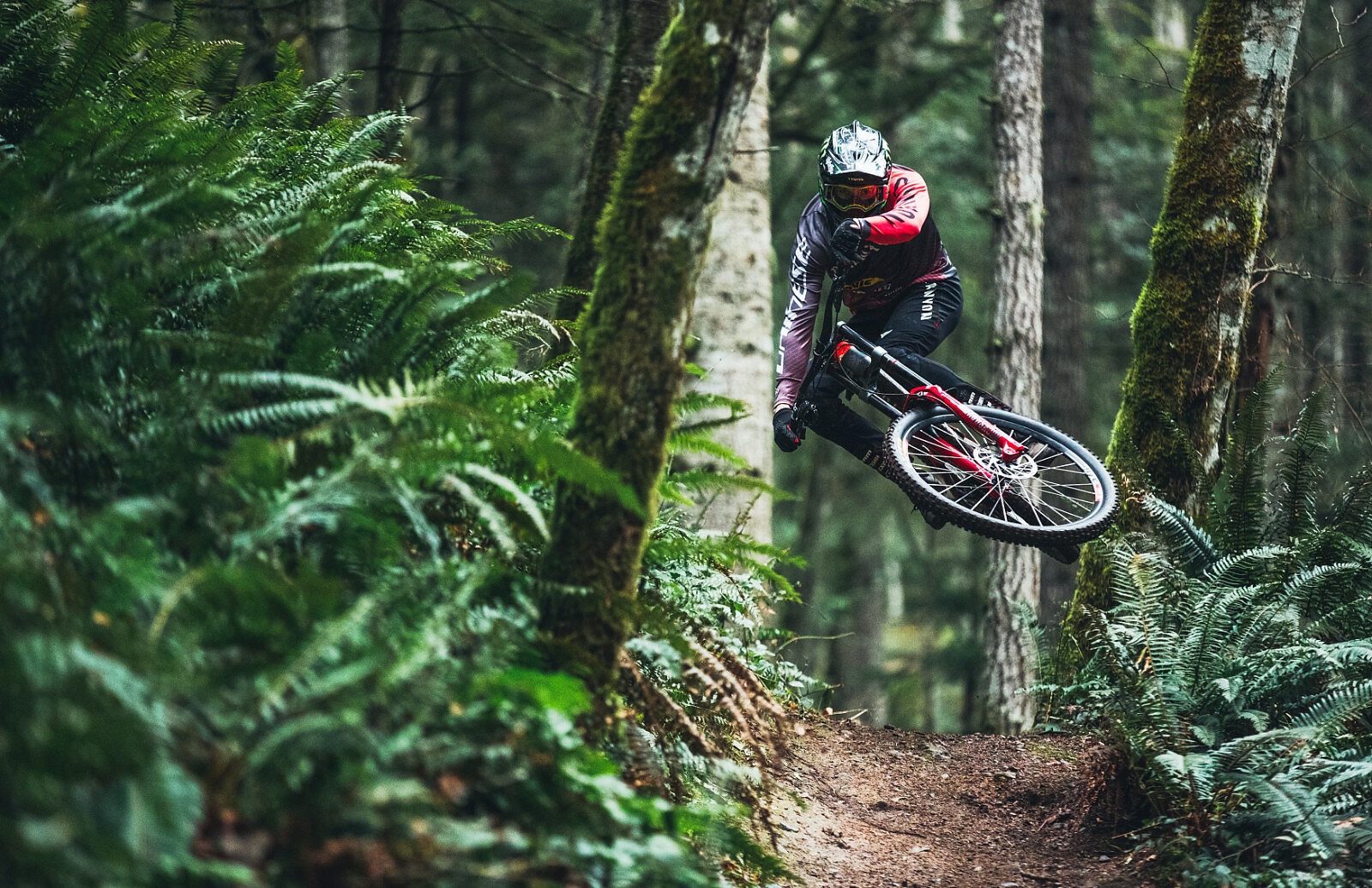 Wallace has been riding Prevost religiously for off-season training since 2010. He fondly recalls discovering Prevost between the 2010 and 2011 race seasons and training there all winter with Drew Mitchell and Stevie Smith. He believes his 2011 race results speak to the quality of Prevost as a training ground. Wallace skyrocketed from being a consistent 10th-place finisher at BC Cups and regional races in 2010 to winning seven of the 13 races he entered in 2011, only falling outside the top three in two events that year. The regular off-season riding at Prevost was the only change he had made to his training program.
"The speed and how precise you have to be with your lines, plus the skill and confidence you need to push on Prevost translates to any World Cup track," says Wallace. "But a lot of the benefit riders get out of the mountain is actually from the people it draws in to ride. They are all super competitive and you are constantly trying to work hard and stay ahead of your friends. There is a gnarly gap culture on Prevost that started with Steve (Smith) and has carried on since as a way to keep competition high. If you hit something your friends can't, they get dropped and have to push even harder to catch up."
"The speed and how precise you have to be with your lines, plus the skill and confidence you need to push on Prevost translates to any World Cup track. But a lot of the benefit riders get out of the mountain is actually from the people it draws in to ride. They are all super competitive and you are constantly trying to work hard and stay ahead of your friends. There is a gnarly gap culture on Prevost that started with Steve (Smith) and has carried on since as a way to keep competition high. If you hit something your friends can't, they get dropped and have to push even harder to catch up."—Mark Wallace
This gap culture played out live on the internet in March 2020, when Iles and Jesse Melamed were training on Prevost. Iles was the first to spot and pull for a very committed 50-foot trail double, but Melamed bested him the following day to be the first rider to make it clean to the back side.
In addition to the knife's edge of Canadian racing and top-level video production, Prevost has a dedicated crew of riders and builders. It's these people who really give the mountain's trails their personality. Whether it's the core keeners who make the after-work commute from Victoria to spend the weekend camping and shuttling until they can't feel their hands, or the local kids and their parents, who show up, coffees in hand, to take turns driving a gaggle of groms to the top of the mountain. Prevost has a diverse community and is welcoming to all who rise to the challenges of its trails.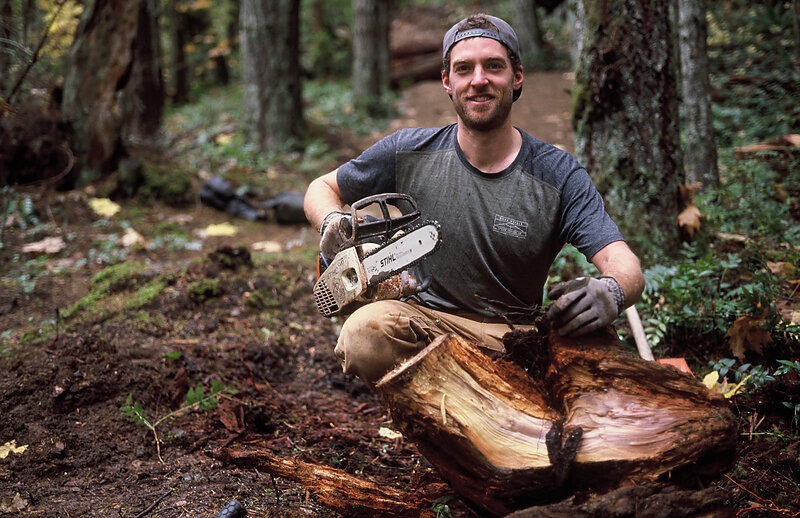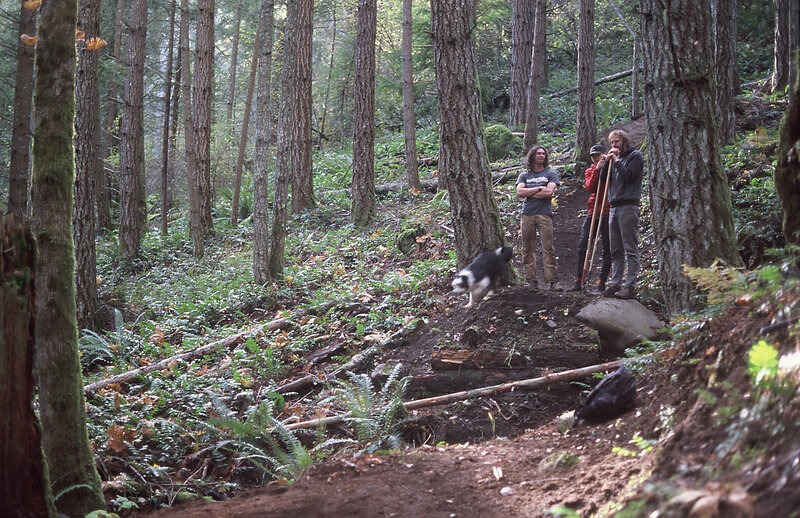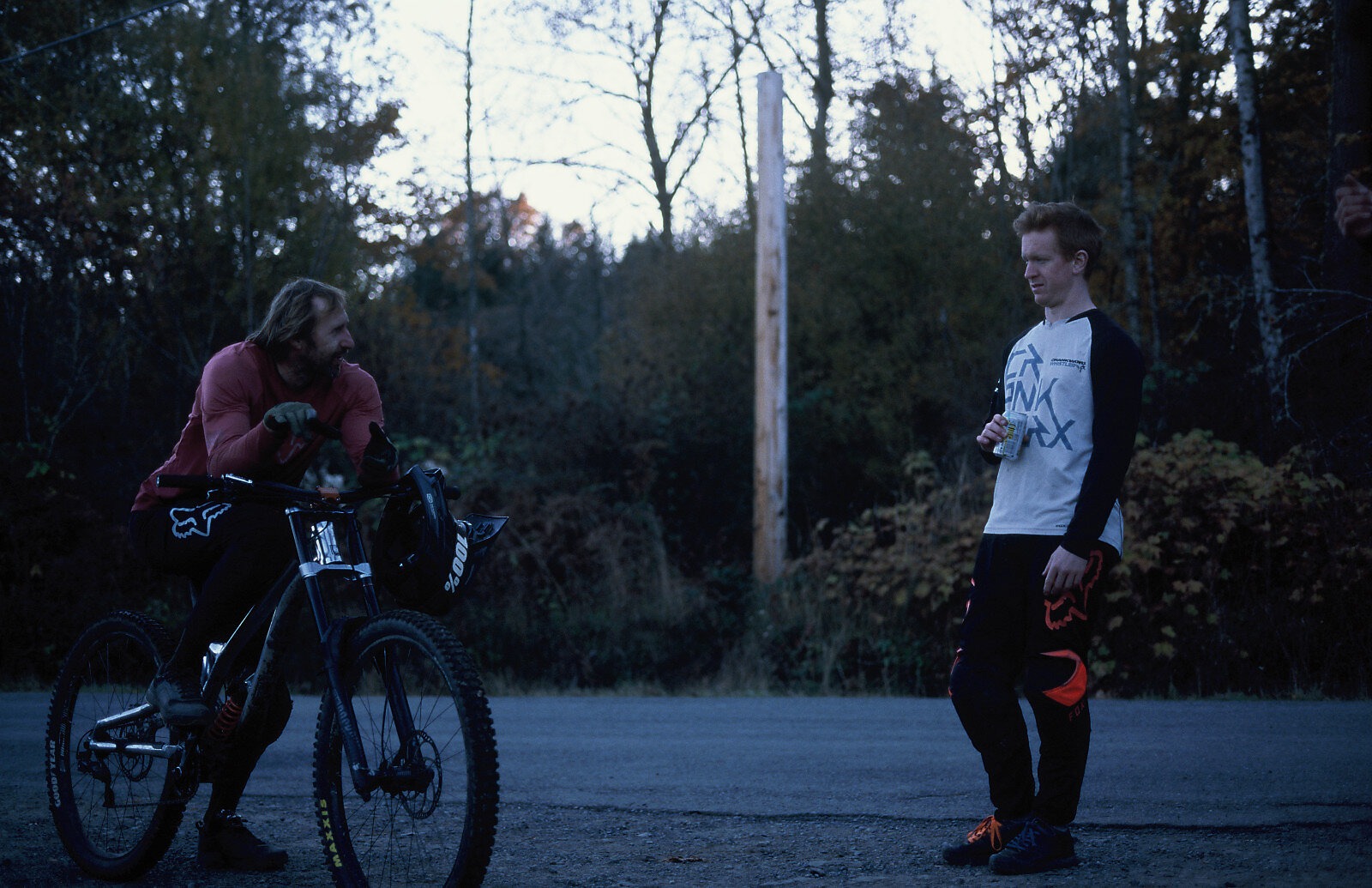 Eric Stade is arguably the most permanent fixture on the Prevost DH scene. Living in Victoria, Stade has commuted to Duncan most weekends for the last 15 years to build and ride. According to Iles, "Nobody has ridden Prevost more than Eric Stade." Despite being one of the oldest in the crowd at 40, Stade is wicked fast and can pump laps all day with the young bucks. When not riding, he and his dog, Viking, can be found trailside, tuning corners, filling ruts or shaping lips.
Prevost has always been a "for riders, by riders" mountain. There has never been a professional trail crew or trail society looking after the network. Instead, maintenance is the responsibility of those who enjoy it. Thanks to the example set by guys like Stade, Wallace, Iles and other core locals, trailbuilding and maintenance culture is ingrained in the riding community. But, as Wallace reveals, even with a dedicated and hard-working group, it's difficult to keep up. Wallace suggests that usually only three or four of the network's seven trails are running well at any given time. This is where an advocacy organization like the Cowichan Valley Trail Stewardship Society (CTSS) could come into play. Even a part-time trail crew could make a significant dent in the maintenance workload, allowing most of the network to consistently remain in running order.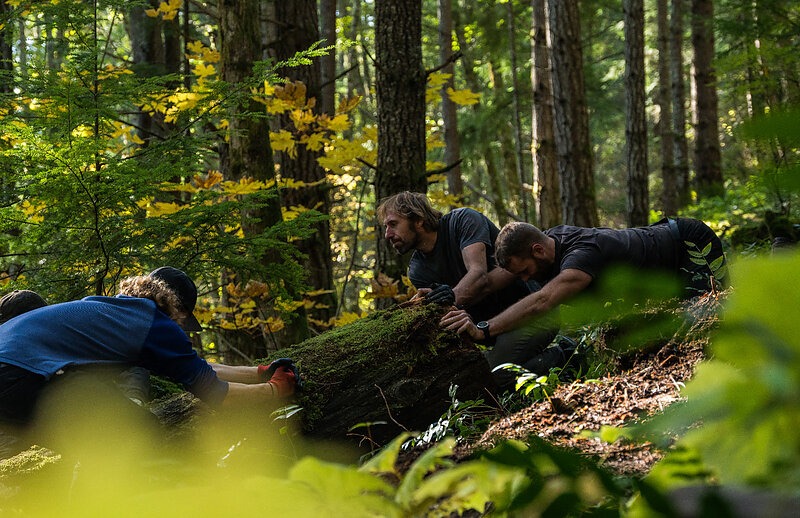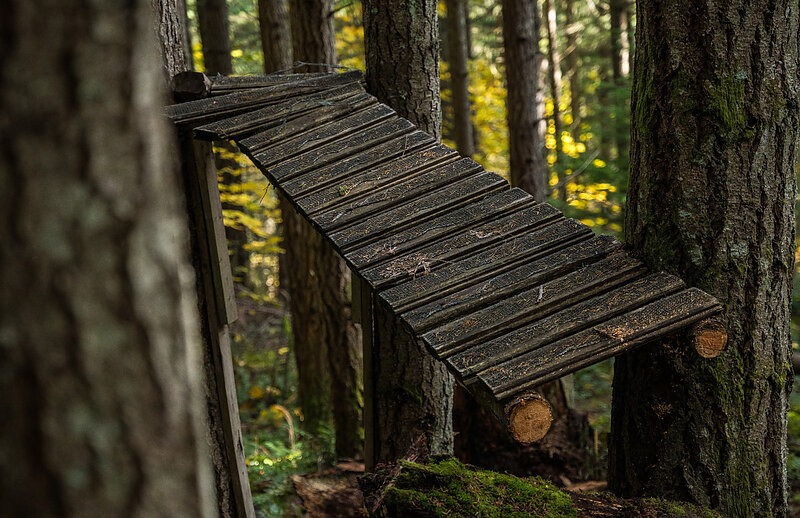 The CTSS was created by Riley McIntosh and five other Maple Bay mountain bike enthusiasts to overcome liability concerns, then to legalize and protect their local trail network on Maple Mountain, just a stone's throw from Prevost. A full profile on McIntosh can be read here. Since its inception, the CTSS has expanded its mandate to encompass both hiking and biking, while also adding nearby Mount Tzouhalem to its portfolio.
Anyone who has ridden Tzouhalem in the last few years has benefited from the CTSS' work. Most recently, the beautiful rebuild of Double D, thanks in part to an enormous effort from their Youth Trail Crew Program, has brought a new building standard to the mountain. With the rebuild, the high-speed blue received some much-needed berm work and a few extra jumps peppered in for good measure. Wallace, McKay Vezina and others in the community welcome the updates.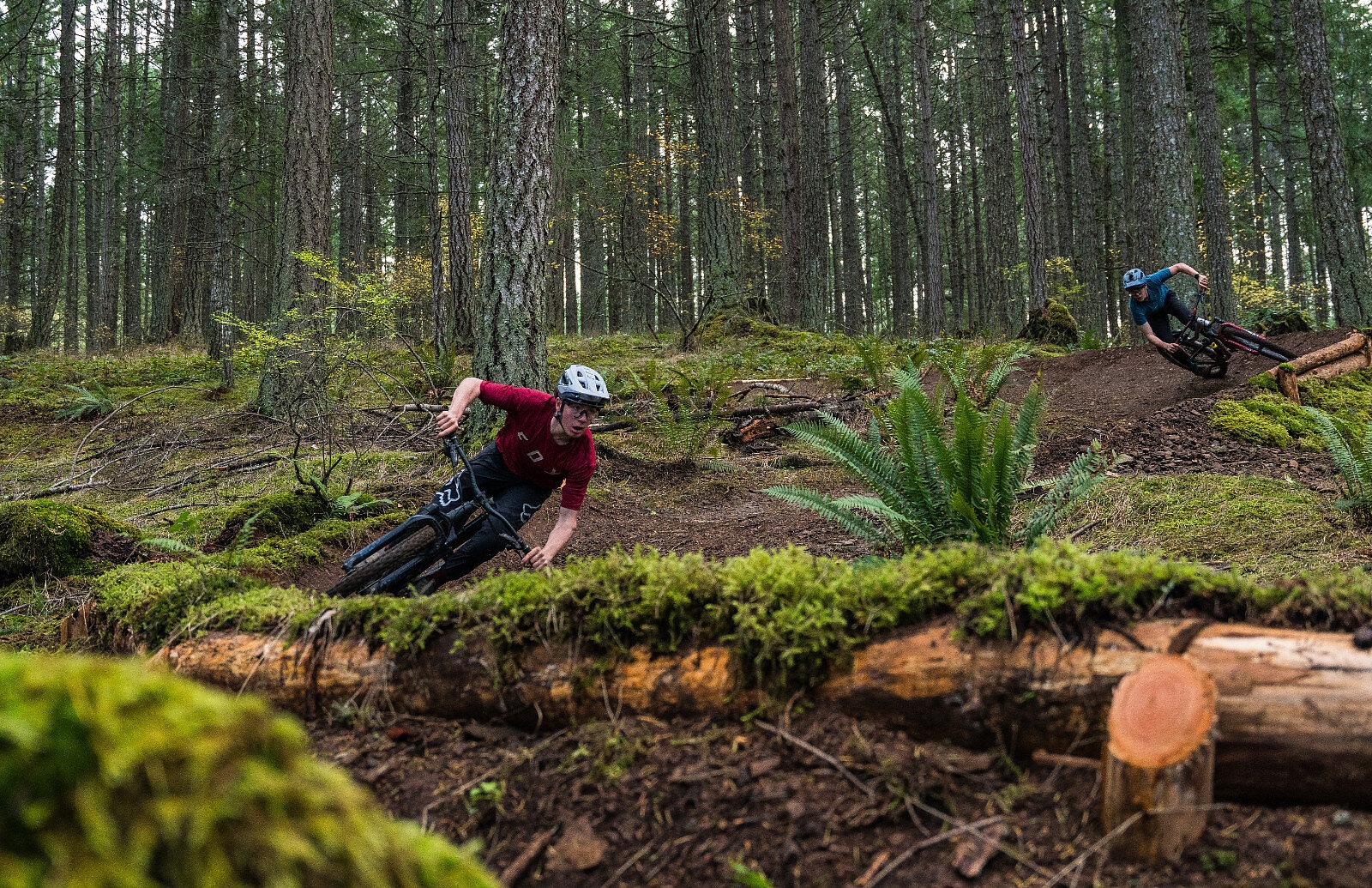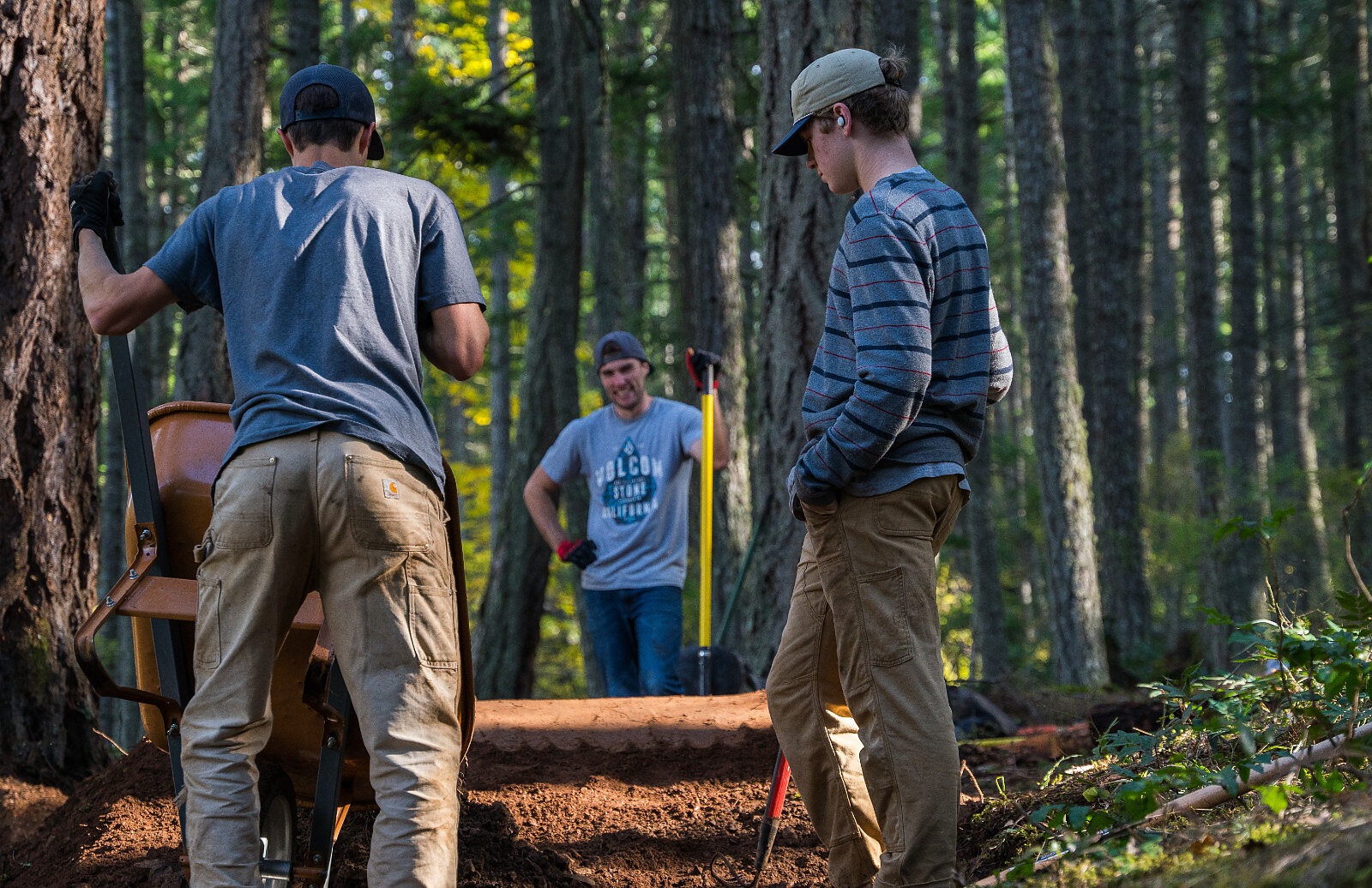 "There is a natural progression in the way trails change, and to a point that's acceptable and normal," says Wallace. "The CTSS have done a great job making things more sustainable."
Trevor Thew, a Vancouver Island resident and a regular on the Enduro World Series circuit, is the CTSS' trail lead, in charge of all trail maintenance in Duncan. He's been working for the society since 2014, so he knows every root and rock in the network better than anyone in the valley. Thew is also tidy on a bicycle, and when his skills are combined with his knowledge of the terrain it makes it nearly impossible to hold his wheel down any of the area's trails. Thew's value to the island's riding community is irreplaceable: Not only does he have the technical skills to properly build sustainable mountain bike trails, but he has ridden some of the world's best trails and understands what it takes to make a trail truly world-class. His international riding experience gives him a unique outlook on how to build and maintain his home network.
The CTSS is now believed to be in the process of adopting Prevost into its maintenance umbrella. If the murmurings around the island turn out to have merit, this could be a massive step forward for the mountain in terms of recognition, protection and preservation. Or it could be the end of a dynasty, the effects of which could reach Canadian downhill racing's highest stage. The CTSS is widely respected for its track record on maintenance and the successful adoption of rogue builds on Tzouhalem and Maple Mountain. The group has repeatedly shown that it can come into a network and perform much-needed maintenance while retaining the original elements, style and features of the trails. It's this precedent that has many in the riding community feeling positive about the society's potential sanctioning of Prevost.
Veteran mountain bike photographer Haruki Noguchi, widely known as "Harookz," has been fortunate enough to watch and photograph some of Canada's fastest downhill talents on Prevost. When asked about the potential sanctioning, he was cautiously optimistic about what this might hold for the mountain's future.
"Prevost is a proven training ground for Canadian downhillers," says Harookz. "There are several examples of what's possible and what it has done for people. The lines of communication (between the CTSS and riders) need to be very clear and very open. They (the CTSS) really need to respect the riders and speak with them before making any changes. Their livelihood is dependent on Prevost; to have it altered would be devastating. But there is no reason that sanctioning can't work. Maybe they will get funding to build another track!"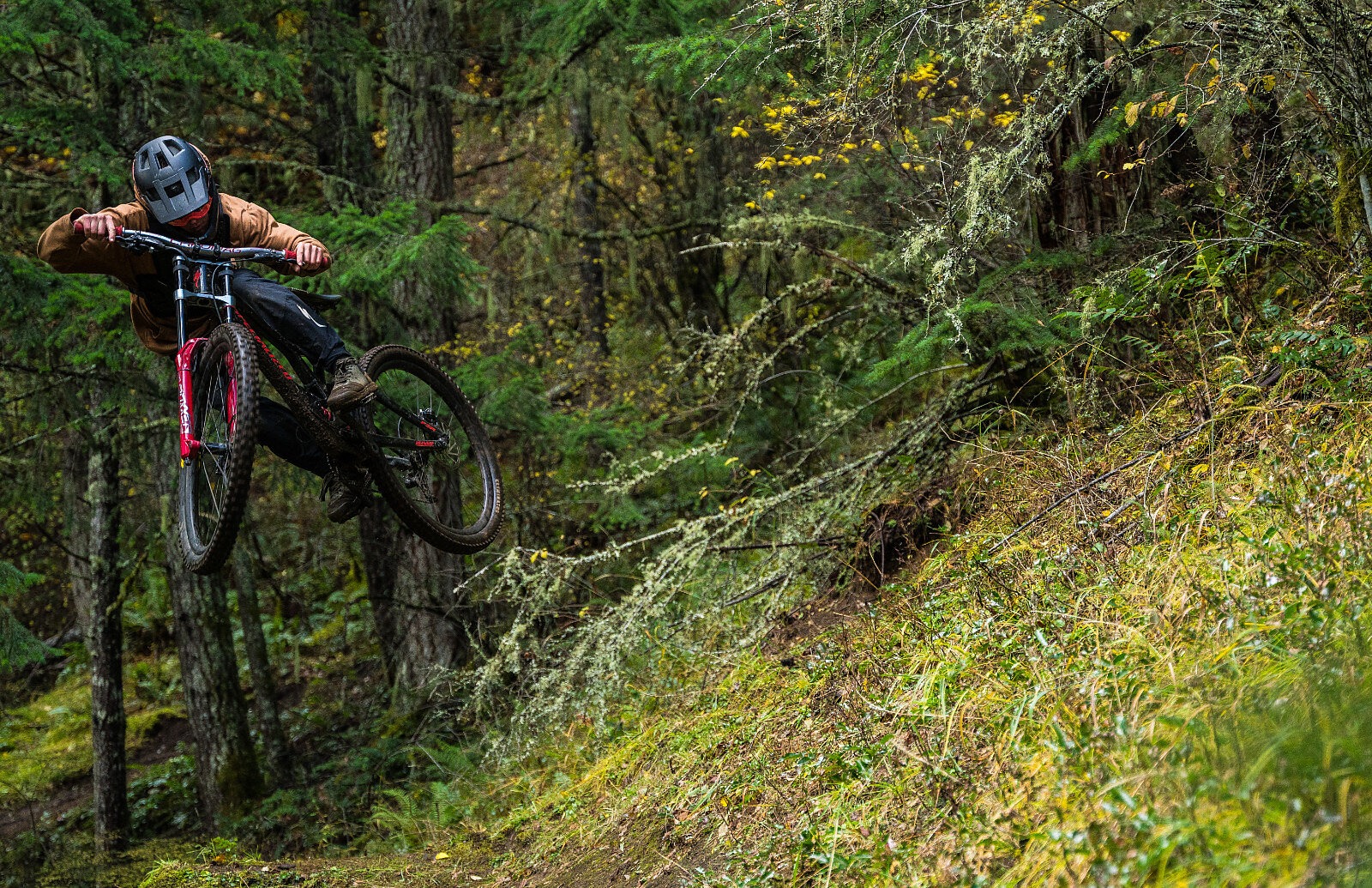 Iles is also optimistic about the notion of Prevost's adoption: "I think it would be awesome! It would be cool to have some sort of officialness to the trails," he says. "At any moment (given the current status) someone could come through and tear it all down. Nobody wants these trails to go away, and having some money to go towards maintenance would be great. Also, making the trails official would hopefully result in fewer user conflicts and make it safer for all riders."
For his part, Wallace also stressed the need for improved safety on the trails. He figures he has at least five close calls a year with hikers, and although most are super nice about it, signage to warn them and other users about the shared nature of the trail system would be welcome.
If properly managed, the future looks bright for Prevost. Most of the community is supportive of the network's adoption, and confident that the CTSS and Thew would make a winning combination to maintain the integrity of the trails on this fabled hillside. Sanctioning could create exciting community building opportunities that would further strengthen the Canadian downhill scene and help nurture the next generation of World Cup racers. Infrastructure projects, such as the building of a proper parking lot, together with events such as a winter downhill race series or kids' coaching camps and a society-operated shuttle service could all become more feasible with an organization at the helm. We are excited to see how the network matures and can't wait until the next time we ride there.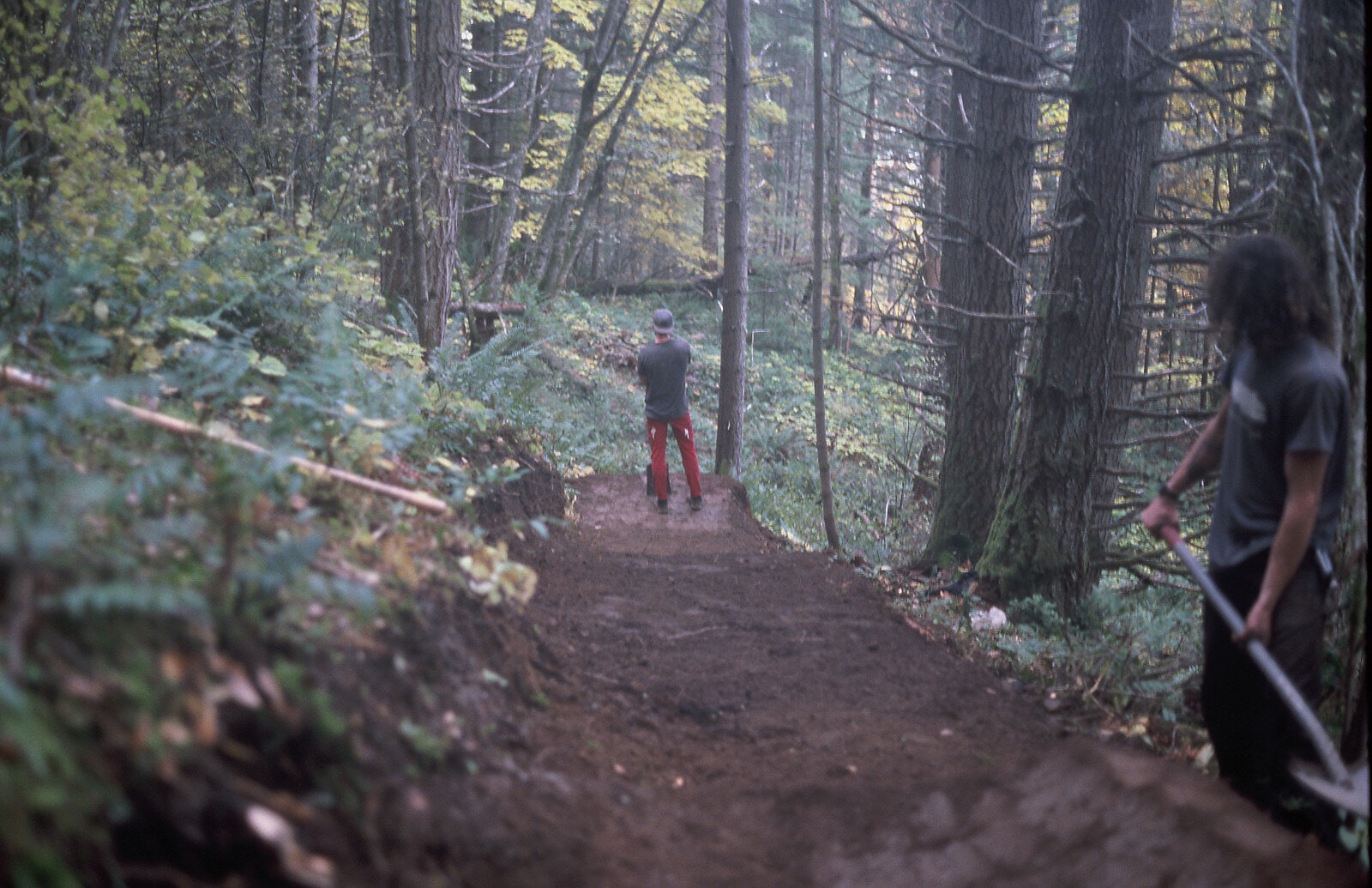 A special thanks to Matt Grossnickel, Trevor Thew, Eric Stade, Leland Harris, Scott Longyear, Haruki Noguchi, Finn Iles and Mark Wallace for the time and effort they invested in this article. It wouldn't be what it is without their insight, stories and photos.
Mark Taylor and I want to send a special thank you to all our sponsors for their continued support through these wild and uncertain times. The trail work we completed in 2020 and the stories in this series wouldn't have been possible without their trust and commitment to the Free Radicals and the common goals we are working towards. Thank you Fanie Kok, Steve Saletnik and Allan Cooke of Specialized, Jon Raymer at SMITH, Tyler Weady at Fat Tire, Mal Burd and Sarah Rawley of RockShox, Julian Hine at Chromag, Elliott Milner and Jimmy Hopper at Patagonia, Dan Seguin and Callum Rostron at RideWrap, Brandon Watts, Brice Minnigh, Chris Grundberg and the whole crew at Freehub, and last but not least, Martin Littlejohn at Mountain Biking BC. Thank you all for helping to keep the dream alive!