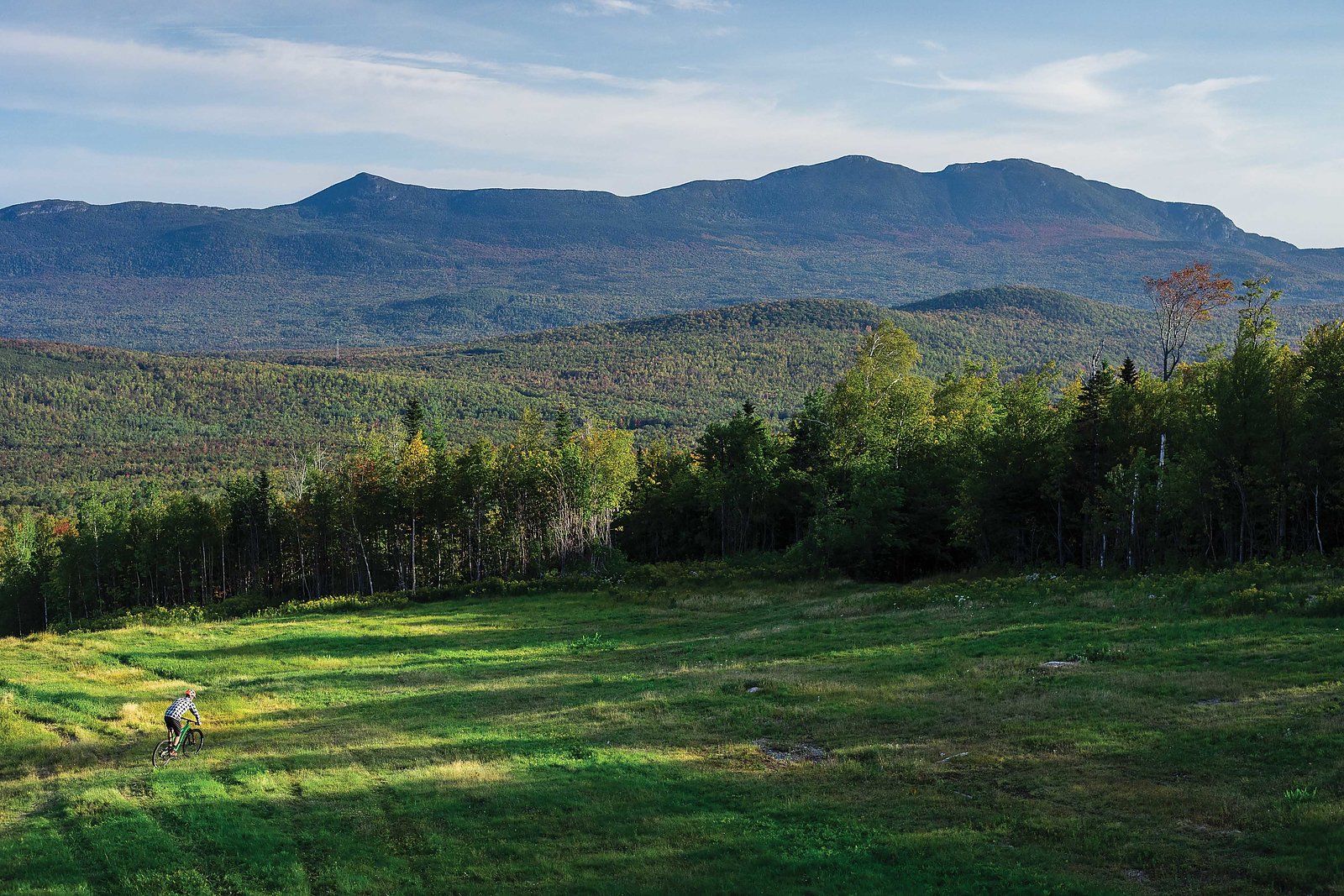 From The Ground Up Trail Goddesses and Sweat Equity in Carrabassett Valley
After four hours freewheeling along the rambunctious trails on and around Maine's Sugarloaf Mountain, I realize I've made a serious tactical error.
I put the climb to the Stratton Brook Hut off until the end of the ride, about the same time our legs and my surgically repaired spine are planning a serious revolt. And my wife is not happy.
We should have done this an hour earlier, but Lauri and I were having too much fun exploring the fabulous webbed network bordering the Carrabassett River. Now, our CamelBaks have run dry, and by the time we reach this final climb my energy reserves are spent. The steep pitch is named, with brutal accuracy, "Newton's Revenge," and soon I'm bonking, my mind wandering into dangerous territory. Certain my ears are playing tricks on me, I tell Lauri I can hear a tractor engine and a dog barking.
"No," Lauri says, "I hear them too."
I round a corner, and blink hard. Back home, my buddies and I joke about the "trail fairies" whom we credit for the routes on Boston's North Shore, but now I'm face-to-face with a true trail goddess. A young woman sits in the cockpit of a John Deere 17D mini-excavator, a welcoming smile on her face and a bright-eyed border collie/lab mix by her side.
Her name is Savannah Steele and she is the trails manager for Maine Huts & Trails, a nonprofit organization responsible for much of what we've ridden today and the hut ahead. She assures us the summit and the Stratton Brook Hut aren't far off. Lauri and I nod a quick "thank you," and soldier on as Steele fires up her rig. Within 20 minutes, the hardwoods and evergreens open into a clearing. We can see the hut, a horseshoe-shaped structure in which a couple of ice-cold hard ciders and a hot shower are waiting.
Rarely have I been so happy to get out of the saddle. Rarely have I felt so good about a day's ride. This corner of western Maine is remote; the nearest town, Carrabassett Valley, has a population of 760. But this spectacular trail network—raw and unrepentant—will challenge and reward even the most discerning of riders. And though it's existence may seem unlikely, it is no accident.
The long, lonely backroads of western Maine have a haunting quality. The demoralizing landscapes of abandoned vehicles and deteriorating, ramshackle buildings are fertile ground for the likes of native son and author of the macabre, Stephen King. But amid these desolate scenes are swathes of heart-tugging beauty, highlighted by the rugged peaks of the Bigelow Range.
For decades, my destination in this remote outpost has been Sugarloaf ski resort, and the many white-knuckled drives have generated a few macabre tales of their own, dodging logging trucks along the treacherous two-lane highway. But the stressful road trips were always worthwhile. Sugarloaf is a 4,249-foot behemoth that consistently offers the Northeast's best skiing, and the vibe embodied by the fun-loving folks of Carrabassett Valley is absolutely infectious.
It seems the stellar winter atmosphere would translate well to summer. This is a rough-cut area that prides itself on self-sufficiency, a trait shared with the early eras of mountain biking. But offroad riding in upstate Maine has always been a crapshoot. Even at Sugarloaf, which had chairlift-assisted biking by the early 1990s, mountain biking has a checkered history.
Lift-accessed riding wasn't an oddity at the time; Sunday River, ME and Killington, VT both offered similar options. But Sugarloaf had the Widowmaker Challenge, an annual race named after one of the hill's iconic ski trails. I loved racing at the "'Loaf" in my early 30s, and I even participated in a workshop with local professional racer Peter Webber Jr., who rode with Gary Fisher at the time.
The Widowmaker racecourse was epic, with grueling climbs, teeth-chattering descents and unpredictable singletrack sections along the ski resort's cross-country trails. But shortly after Lauri and I became parents in the 1990s, lengthy road trips grew complicated and Sugarloaf lost some of its two-wheeled luster. The resort changed hands, and the new ownership redirected its energy into Sugarloaf's golf course.
Over the next few years, the fat-tire vibe began to wilt. The Widowmaker, once one of the most popular events on the New England NORBA calendar, disappeared. Outside of Carrabassett Valley and a group of local diehards, mountain biking almost became an afterthought.
Few people know Sugarloaf and the surrounding region as well as Larry Warren. Warren first came to the ski resort as comptroller in 1970 and left 16 years later as president. He was instrumental in Carrabassett Valley incorporating in the 1970s, and served on the town's board of selectmen. During that span, Warren envisioned a cross-country ski network that reached beyond the resort's boundaries, with huts similar to the Appalachian Mountain Club.
The first building block in Warren's vision was Sugarloaf's Outdoor Center and Nordic system, built in 1973 on state-owned land leased to the town. It was further expanded by the nonprofit Western Mountains Corporation, which connected residential and commercial areas. There were only four major landowners in Carrabassett Valley: the Penobscot Indian Nation, Sugarloaf, the town and the town's sanitary district, all of which supported providing trail access.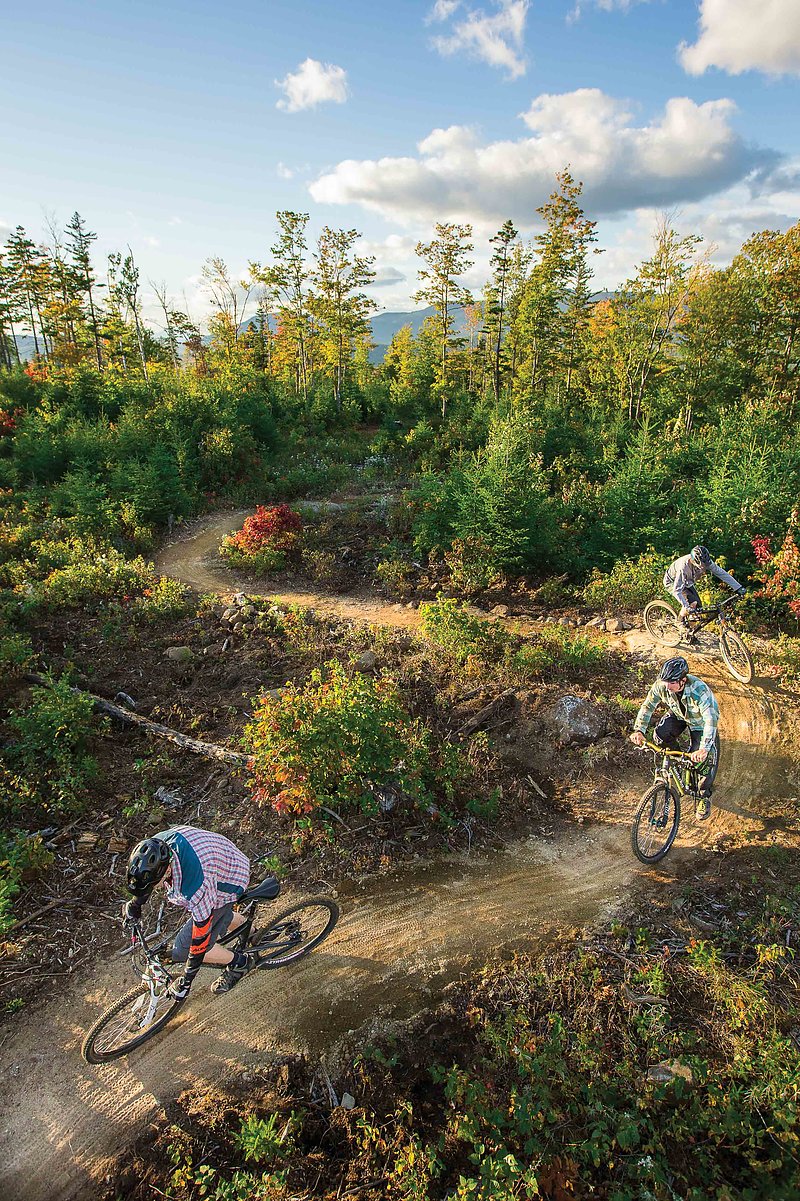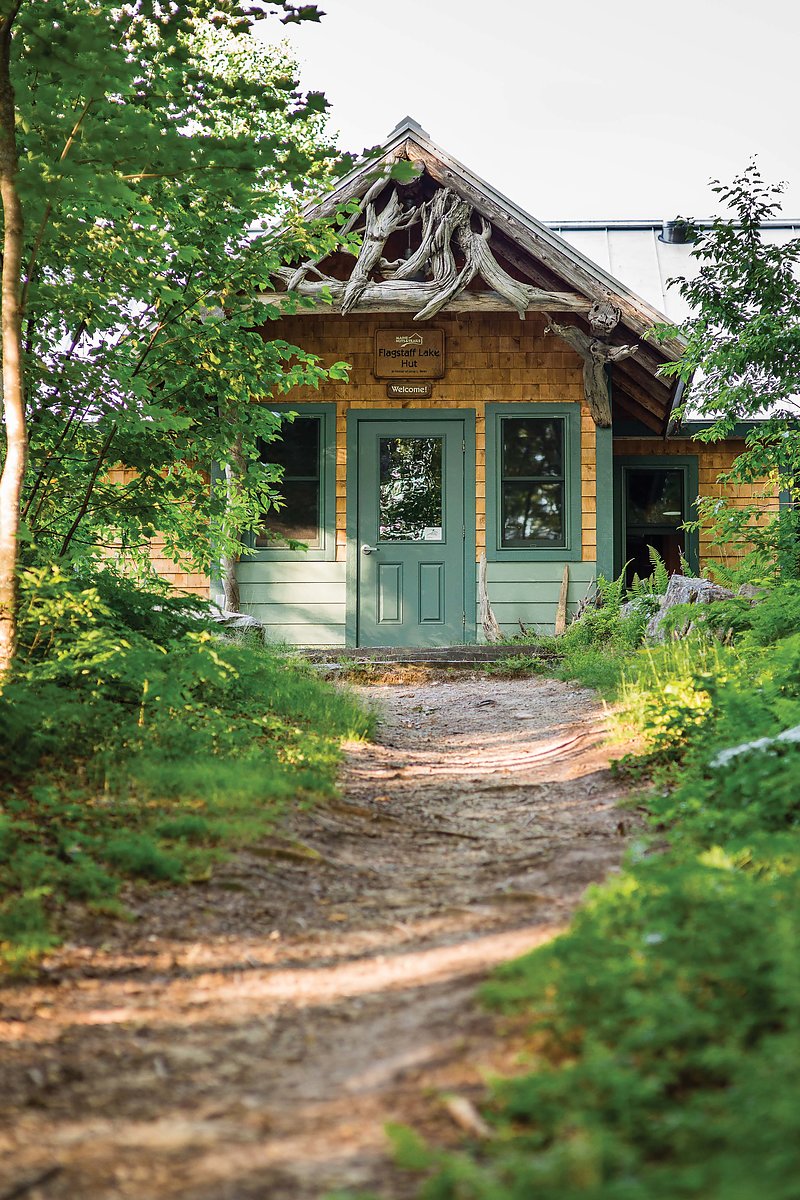 "The touring center grew and became an important focus for the community, region and state," says Warren, now 71 years old. "The trails were increasingly used and improved and substituted for sidewalks in this very rural, recreation-oriented community."
The trails may have been built for winter pursuits, but during the warm months they naturally attracted both local and visiting mountain bikers. When the initial lease neared termination, the town asked to buy the 1,000-acre parcel outright. The state agreed, and in 1999 the property changed hands, renewing focus on the planned huts and improvement of the trail system. The success of that network was the model for Maine Huts & Trails, which Warren founded in 1998. The organization now offers four high-end lodges and more than 80 miles of publicly accessible trails in addition to the Outdoor Center routes, open to all nonmotorized users. And while mountain bikes weren't part of Warren's original concept, they may well play a vital role in its long-term viability.
Mountain biking can be a singular pursuit or a social activity— to exist on a permanent level, however, it requires both. So it was with Josh Tauses, an avid mountain biker and builder who moved to Carrabassett Valley in 1998. By the early 2000s he was already pouring considerable sweat equity into constructing "rogue" trails around the area, and he found plenty of like-minded souls willing to help: treadheads like Bob Ash, the longtime manager of Carrabassett Valley Bike; future advocate David Hughes; town manager Dave Cota; and recreation director Deb Bowker, all of whom became quick allies.
These folks, and the entities they represented, came together in what Tauses calls a "perfect storm." Like many storms, it developed quickly.
"I used to guide mountain bike trips in Carrabassett Valley with a company called High Mountain Adventures," says Hughes, a real estate broker from Bucksport in Downeast, ME. "The time spent riding 'legacy trails'—snowmobile trails, logging roads and ATV trails—throughout the valley made me think that this beautiful resource was so underappreciated and underutilized. It was a bit of a ghost town in the summer, but there was so much potential."
A chance to capitalize on that potential came when Hughes and Tauses were enjoying post-ride beers. "One day, Josh said, 'The town is going to be harvesting wood on the town lot, and the proceeds are earmarked for trail construction and improvement at the Outdoor Center. We should go to the next trails committee meeting, and see if we can get some money,'" Hughes says.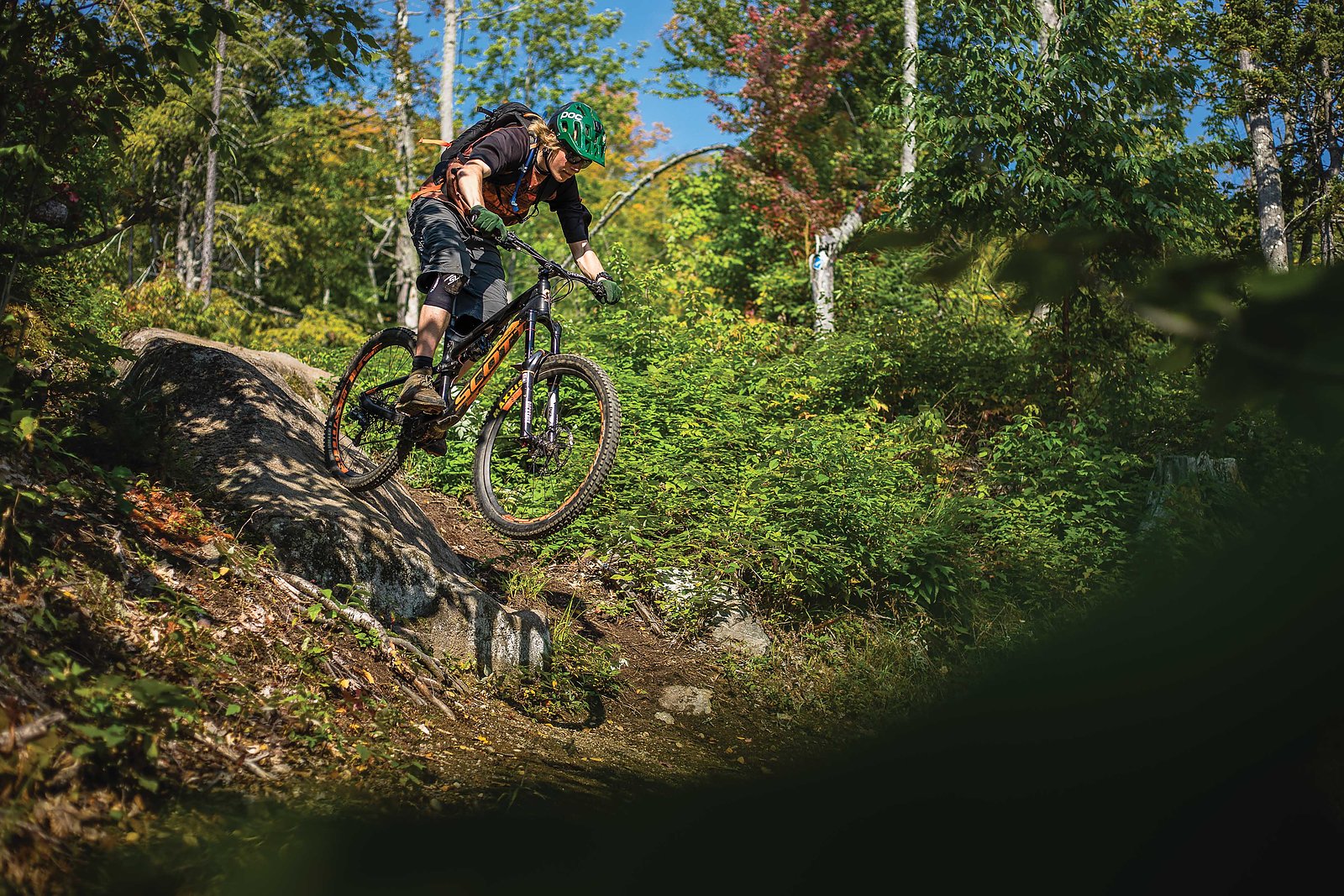 They did, and the town agreed to fund a feasibility study. By this time, Peter Webber Jr., the former pro racer, was working for the International Mountain Bike Association (IMBA) in Colorado, and he drew up a future mountain-bike blueprint for his old hometown. Webber recommended building "trails within trails," as he called it, focusing on upgrading existing cross-country ski routes to accommodate knobby tires.
Webber also believed a local mountain bike club was essential to provide a consistent presence. In 2009, the Carrabassett Region chapter of the New England Mountain Bike Association (CRNEMBA) was formed, with Hughes as founding president.
Tauses, now the town's trail manager, employed an "all boats rise with the tide" approach, reasoning if Carrabassett Valley bore the financial burden of trail development, eventually everyone would benefit. That meant mountain bikers would ride custom-built trails for free, unlike the fee-based models of Kingdom Trails in Vermont, Highland Mountain Bike Park in New Hampshire, and any number of lift-serviced ski areas.
"This impact is exactly what I had a vision for," Tauses says. "I'd seen it in towns all over the U.S. Build some trails, and mountain bikes will bring economic impact— Moab, Fruita, East Burke, Vernal, UT, Park City. True riders are rabid for the next big spot. I knew we had the available land and great terrain for riding."
Meanwhile, Warren gathered support for his Maine Huts concept. As originally conceived, the nonprofit project ultimately calls for 12 self-contained, energy-efficient huts connected by more than 200 miles of trail from Bethel, near Sunday River, north to Moosehead Lake. It's an ambitious undertaking, incorporating some of the state's most striking forested areas, and it's already on its way to becoming a reality: Maine Huts' first lodge, Poplar Hut, opened in 2009. The most recent, Stratton Brook, opened its doors in 2013.
Even more impressive was the number of major sponsors that stepped up to support the trail-building and hut efforts, including Maine based companies L.L. Bean, Poland Springs, and SunEdison, as well as the town and the federal Recreational Trails Program, and nonprofits such as NEMBA, IMBA, and Bikes Belong.
"The $50,000 L.L. Bean grant we received in 2015 was a huge shot in the arm, and was matched by the town," Hughes says. "This allowed us to sustain a trail-building effort that resulted in some of the most dramatic trail in the valley. This, and the work done at the Outdoor Center, got us the attention of the mountain bike community."
Backed by Dave Cota, local taxpayers and the town's board of selectmen, Carrabassett Valley established a trail crew headed by Tauses and brought in Vermont's Hardy Avery of Sustainable Trailworks to design and expand the trails. The town and Maine Huts' trail crew, supplemented by an army of volunteers (CRNEMBA now numbers more than 200 members), have constructed serpentine routes that reveal a combination of an artist's flare and the precision of expert stonemasons and landscapers. They have the type of flow that rewards momentum, even while pedaling uphill, and the switchback trails—particularly the new Oak Knoll Trail—are a mountain biker's dream.
"It is amazing to think back to when I first came to Carrabassett Valley with the Maine Conservation Corps," says Amelia Fogg, who works on Maine Huts' trail crew. "Oak Knoll was an incredibly dense and really frustrating new-growth forest, and Crommett's Trail was a flooded-out, eroded logging road. Now both are staples of the Carrabassett Valley trail network, and so much fun to ride."
Since great trails typically aren't possible without the mundane tasks of landowner negotiation and memorandums of understanding, the town, Sugarloaf, Maine Huts, and CRNEMBA formed the Carrabassett Valley Trails Committee (CVTC). This collaboration has allowed the committee to achieve much of its vision statement: "to develop a mountain bike trail system of exceptional quality, sustainability, and diversity for the enjoyment of residents, property owners and riders that travel to our area."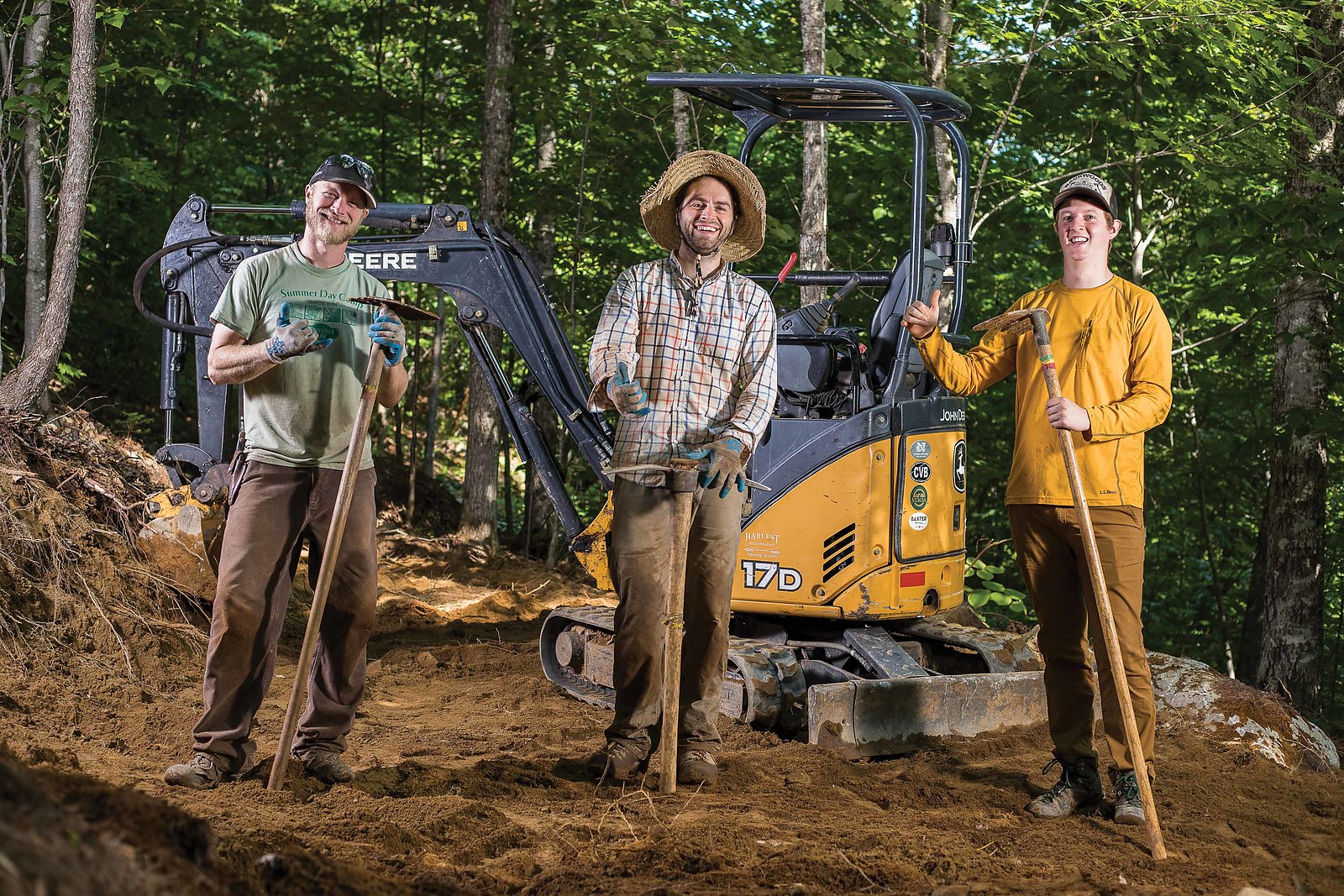 "The ability to work together usually comes down to the people involved," says Ed Gervais, CRNEMBA's current president, about the CVTC. "The Trail Committee members have been remarkably open, honest and respectful in working with one another. Sort of the way the world is supposed to work, eh?"
At 66 years old, Cota has been Carrabassett Valley's town manager since 2000, and those 18 years have given him perspective. As a veteran rider himself, he sees mountain biking not only as an invitation for adventure, but also as an economic linchpin. As he often explains it, "recreation is our industrial park."
"Skiing at Sugarloaf is and always will be who we are in terms of our local economy," Cota says. "However,mountain biking is making a substantial impact as well, especially in the summer and fall months."
And it shows. Restaurants that usually close for the summer "off season" are now operating year-round, and the real estate market including second home development— has seen steady growth. Those additional tourist dollars ripple down to retail purchases, lodging and other service-based industries on a scale far larger than the mountain bike surge of the 1990s. Things have undoubtedly changed.
"The quality of trails and the advancements in bike design are really the two drivers of the boom," says Sam Punderson, a local real estate agent and mountain biker, of the sport's increasing popularity. "Combine this with the fact that so many of the trails being built can be ridden by kids, and you suddenly have a sport that families can really enjoy together. In the biking boom of the '90s, it was all about young, fit, aggressive riders. Those folks are still out there, but you also see folks of all ages and skill levels."
In many ways, those hardcore locals are proof Carrabassett Valley has always been a four-season destination, a mindset embodied by events like the new 100-kilometer Carrabassett Backcountry Cycle Challenge. But the beauty of this trail system is that it offers something for everyone. Just like a good ski resort.
"Carrabassett Valley has become a model of what can be done," Hughes says. "There are several very active NEMBA clubs with great leadership and hard-working members in Maine, and trail construction statewide is growing leaps and bounds.
"It's very satisfying that they can point at Carrabassett Valley and say, 'Look at what's possible.'"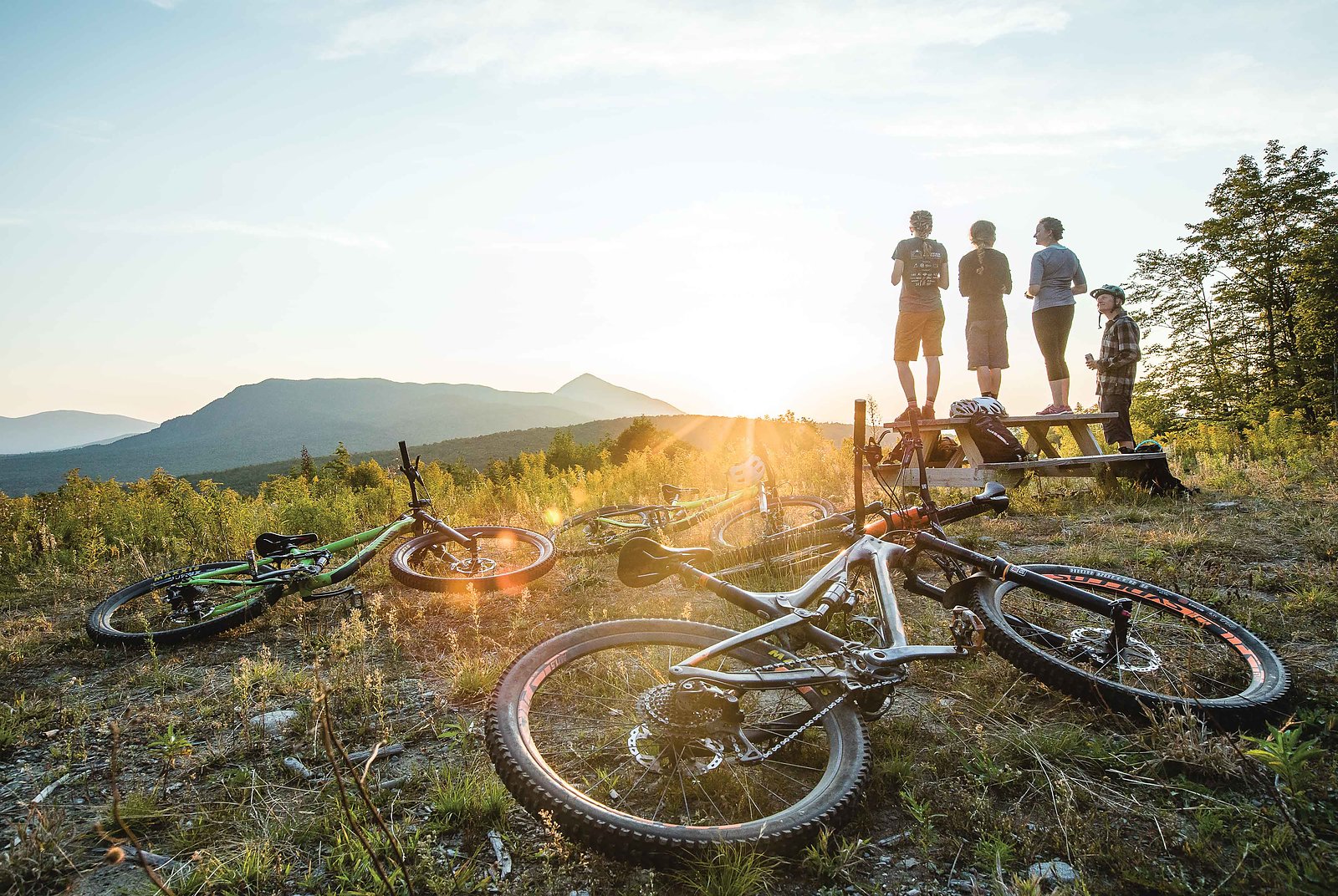 Kicking back at the Stratton Brook Hut after a hearty meal of barbecued pulled pork, I have a renewed appreciation for these huts although "backcountry lodges" might be more accurate, as they're on par with the burly 10th Mountain Division Huts in Colorado's Holy Cross Wilderness. The wood buildings feature solar electricity and hot water, radiant-heated granite floors, composting toilets, luxurious leather chairs and sofas, and large windows that admit bountiful natural light.
Breakfast, dinner and brown-bag lunches are included in the overnight fee, all of which are served family-style and prepared by the caretakers, who double as chefs. There's even a "gear shuttle" that allows riders to pedal hut to hut. And while the detached sleeping quarters are relatively minimalist, that only encourages visitors to migrate to the common areas.
That's what Lauri and I are doing later that night, enjoying an evening cup of coffee when we strike up a conversation with four young riders who arrived just after sunset. They all look ridiculously fit, and stop just long enough for a quick breather before they don nightlights and head back downhill.
One is Matt Rolfson, a graduate of nearby UMaine-Farmington and a registered Maine Guide. "Carrabassett Valley has a way of bringing in folks from all different walks of life to an area where everyone has a few core values in common that allows great ideas to flourish," he tells us, before the group dashes off into the darkness.
Rolfson and his compatriots aren't alone in their love for the valley, and it's only getting better. There is a constant "to-do" list of improvements for the trailbuilders, including more detailed signage (the trail committee produces an excellent map, available for free but with a suggested $2 donation), but the pride folks like Steele, Tauses, and the volunteers take in their handiwork is evident to an ever-increasing number of riders. Though she's only been in Carrabassett Valley since 2013, during those five years Steele has seen the number of bikes in town explode. It's the "if you build it, they will come" phenomenon— and it's working.
"Our trailheads are filling up, mountain bike events are seeing more participants, and the bike racks at the huts are holding more wheels than ever," she says. "It's not a coincidence; it's more of a given. When you build amazing trails, they speak for themselves."
-
For more details, check out Maine Huts & Trails or the Carrabassett Region chapter of NEMBA.