Fat of the Land Quebec's Rising Empire of Snow
On a beautiful March afternoon, Christian Déry and Catherine Roy are standing by the patio fire pit beside the welcome center of Empire 47, a four-season trail center just outside of Quebec City.
They chat with local fatbikers while washing down grilledcheese sandwiches with a tasty local brew. The patio is packed with winter cyclists coming and going from snow rides on their bright-orange fatbike rentals.
The couple, in their 40s, owns the biggest chunk of private land around Quebec City: 1,350 acres, now crisscrossed by the trails of Empire 47, known locally as E47. Both help to run the nonprofit organization that oversees E47's development, with Déry serving as the director and Roy working as the accountant and a board member. Today, though, they're taking a break from their busy routine to ride bikes with two of their five children—sharing the spoils of an unorthodox trajectory that has made E47 one of the world's most popular fatbike destinations.
"It's the story of nutty people doing nutty things," Déry says.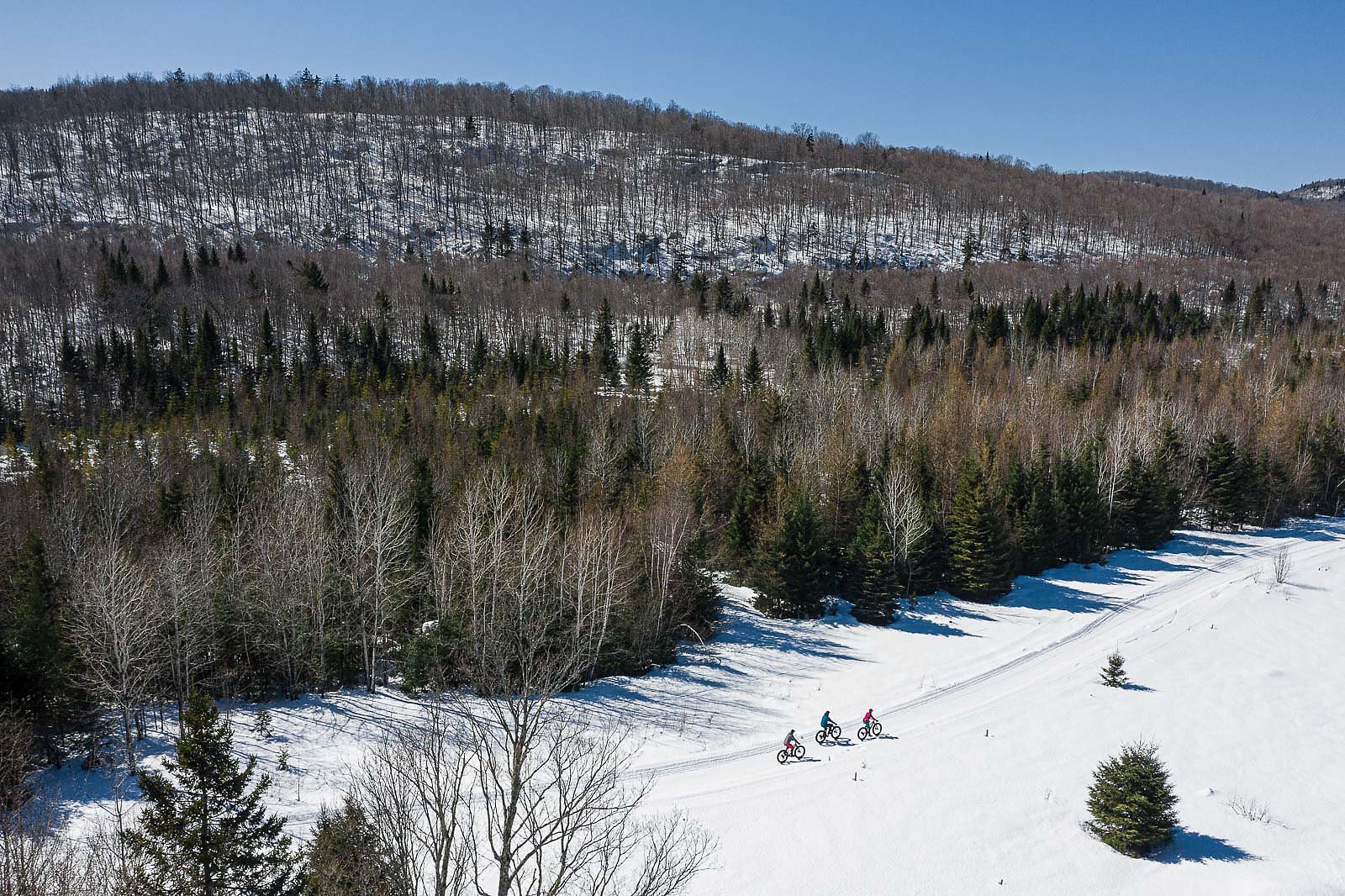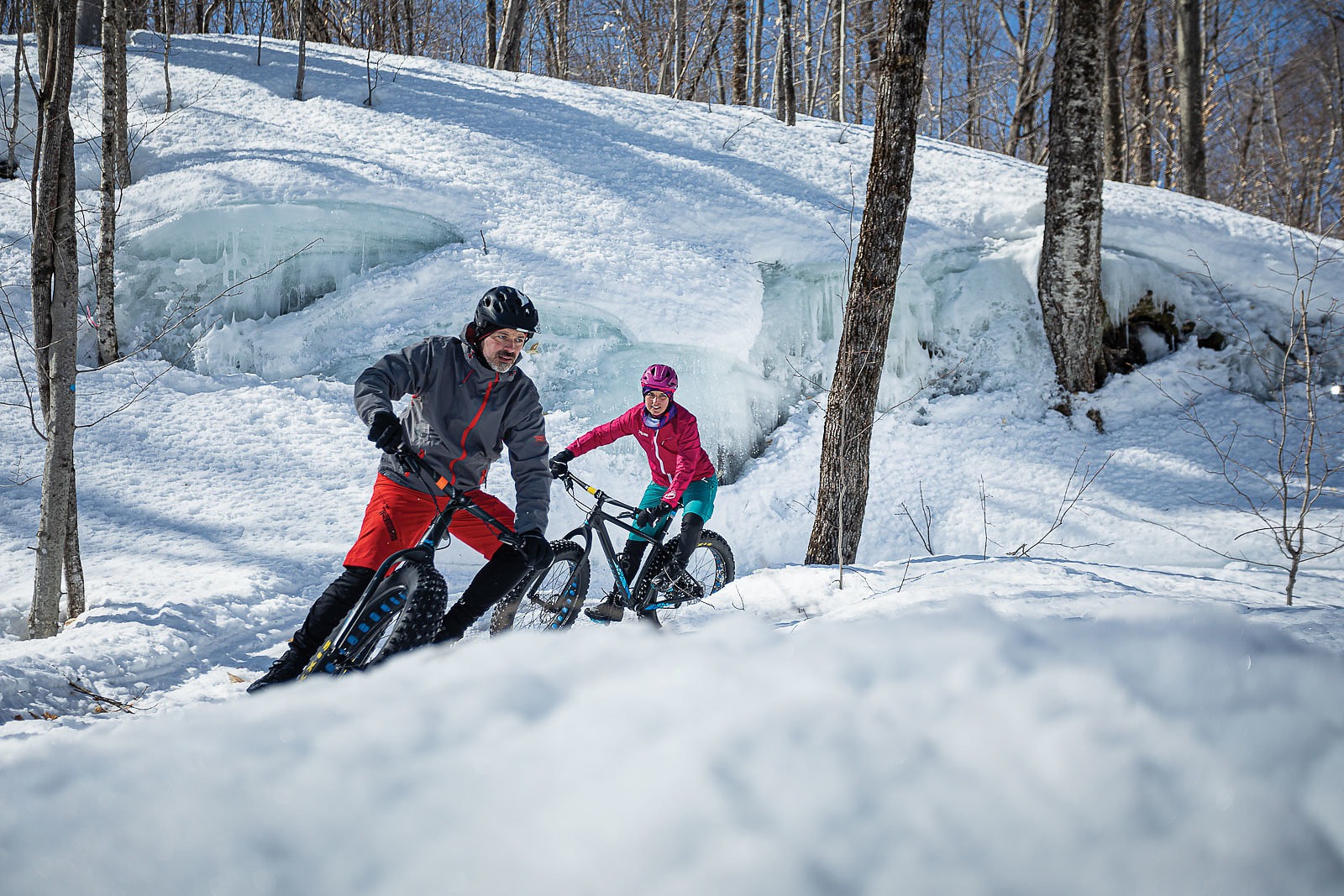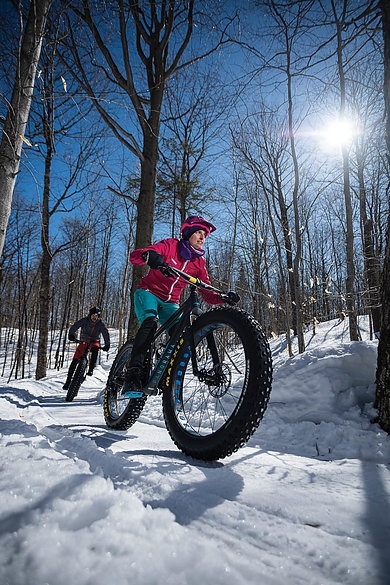 By "nutty," Déry means making decisions that defy the conventional wisdom that a businessman who had bought land around a big city build as many vacation bungalows as possible in order to maximize profit. But Déry and Roy had a different idea. They wanted to keep the forest intact and build a resort with minimal groundwork, intended for active people who would enjoy riding and hiking from their door.
The original idea was to build the resort before the trails, but it all changed when some of their friends took them riding on Vermont's Kingdom Trails and the nearby Vallée Brasdu-Nord. Already long-distance hikers, they discovered the joy of mountain biking, and soon the whole family was geared up and enrolled in a local bike club.
About this time, one of their close friends, Alain Deraspe, was organizing an XTERRA race at nearby Lac Delage that would involve a swim in the lake, a run on existing trails and a biking leg that would require three more miles access to their land and created a nonprofit organization that would facilitate the construction of a racecourse by volunteers during the fall of 2013.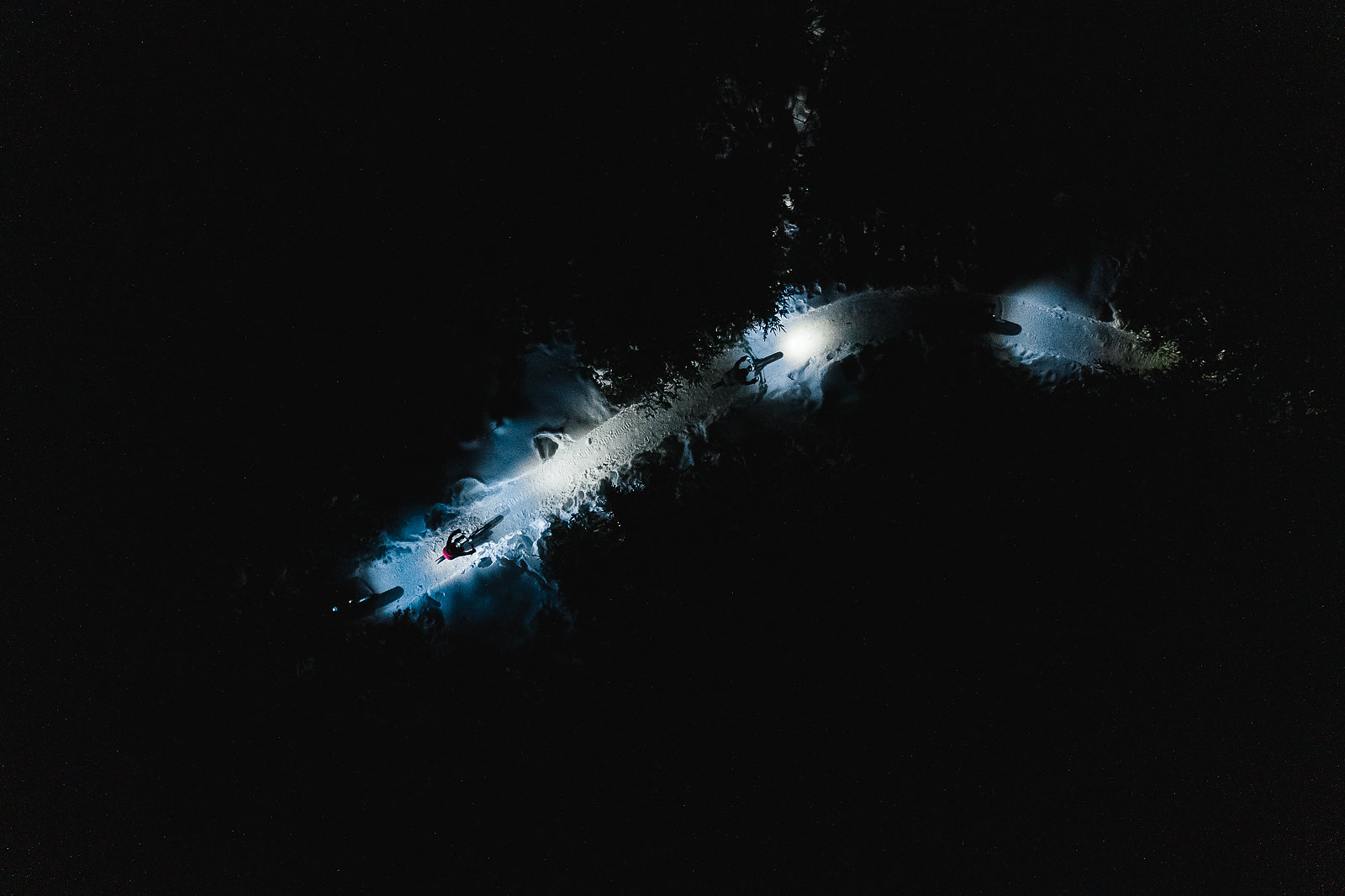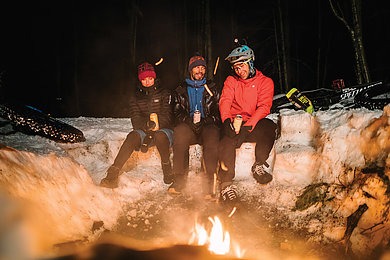 That first edition of XTERRA Quebec was a resounding success, and these days the event is an important stop on the Pan Am Tour and a qualifier for the XTERRA World Championship on Maui, Hawaii.
More importantly for the Déry family, they had trails in their own backyard, and this opened the door for more trailbuilding. Each year since 2013, more trails have been added to the network by the E47 Trail Crew, a volunteer group that gathers every Monday evening to build. Many of the volunteers also work alone in their free time, building trails that suit their personal tastes, so there is a wide variety of singletrack on offer, from mellow, flowy sections to steeper, more technical tracks.
Though building sustainable trails during the summer requires a lot of work in the dirt, grooming the same trails in the winter is a much simpler process. When the fatbiking trend hit the region in 2015, the E47 Trail Crew started grooming trails with their personal snowmobiles, often working into the wee hours of the morning to prepare the trails for the following day of shredding. Always looking for ways to improve their methods, many spent countless hours in their garages building grooming rigs to better meet their needs. Though they didn't realize it at the time, their methods—inspired by ski-grooming techniques but adapted to the specific needs of fat, rubber tires on packed snow—were setting new standards for trail maintenance. These days, they're able to share their accumulated knowledge with trail crews from other centers in Quebec.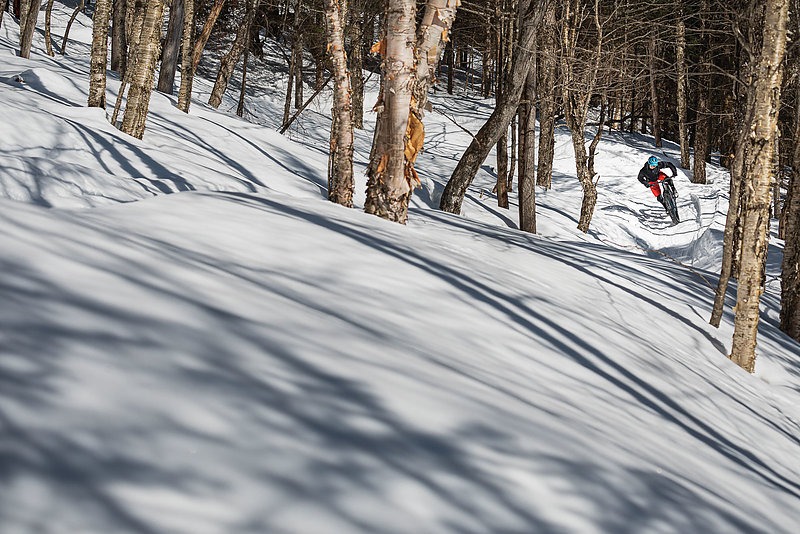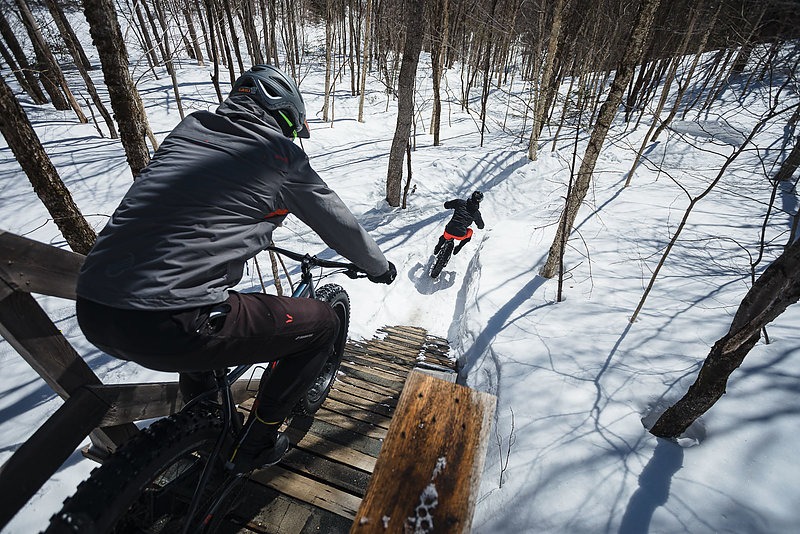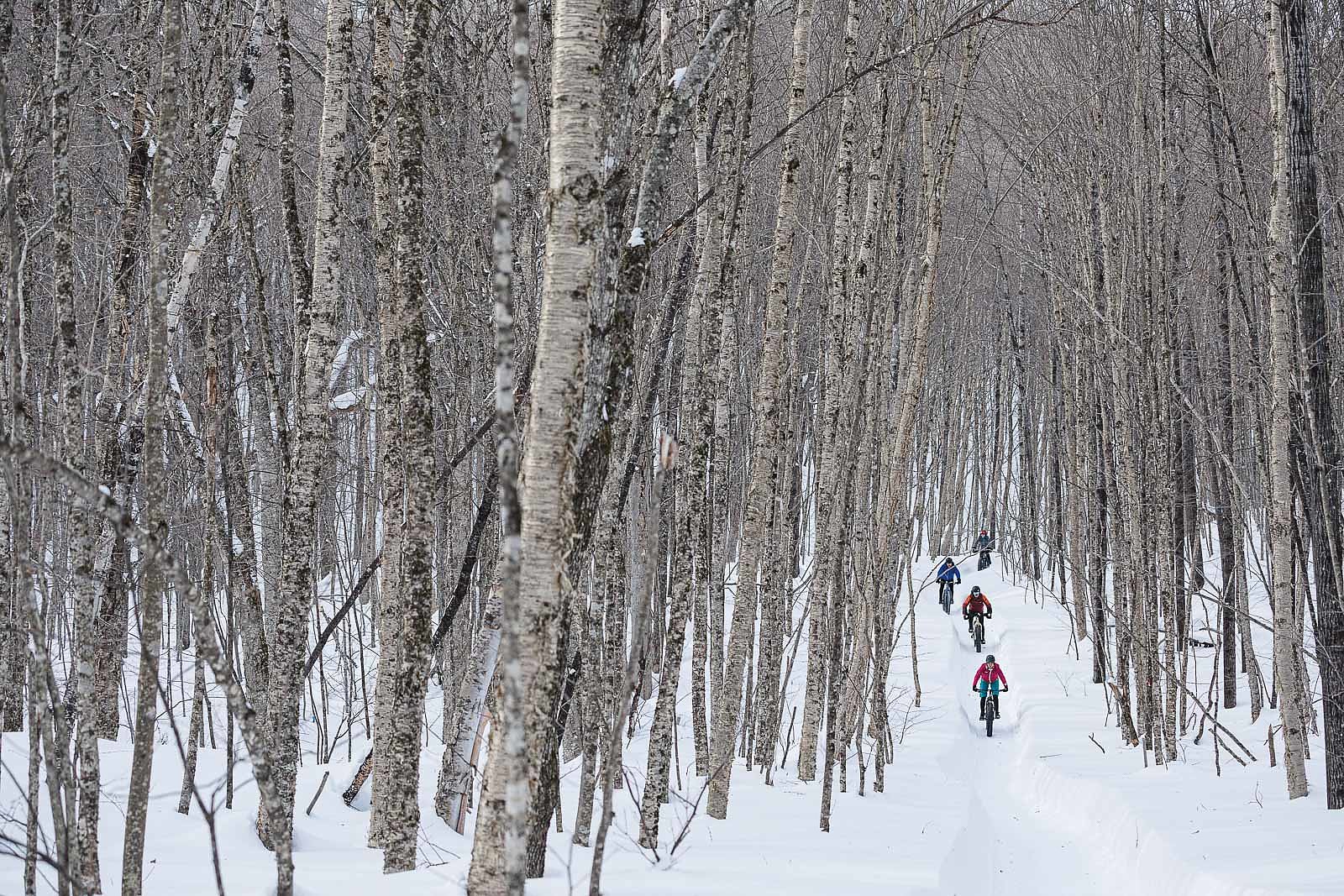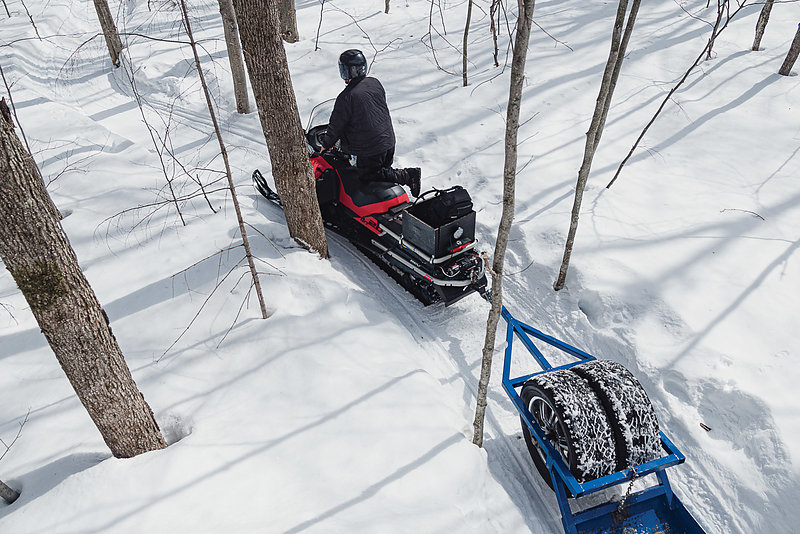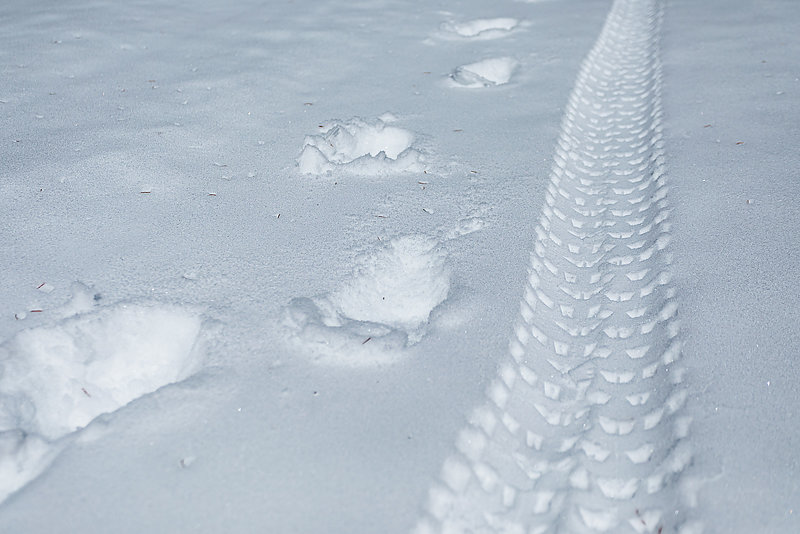 As the province's fatbiking scene grows bigger each year, so has the scale of E47's operation. Starting with only five miles of trail and no rental bikes in 2015, this year the center boasts 25 miles of trail and a fleet of 60 rental bikes that includes kids' bikes and electric-assist fatbikes. The center's growing attendance rates are driving solid revenue, and profits are invested into expanding the network each summer by purchasing equipment and hiring more operators.
While the hard work of early volunteers certainly sparked the E47 network's evolution into one of the world's premier fatbiking destinations, Mother Nature can claim much of the credit. The region's naturally rolling hills are ideal for gentle climbs and flowing descents, and the center's location on the 47th parallel provides the perfect combination of cold temperatures and humidity needed to pack the snow and keep it firm.
"The main ingredient for winter cycling is snow," Déry says. "You need snow and real winter weather. You also need the ideal terrain, with gentle slopes for easy climbs and fast, flowy descents. But people choose E47 because they are confident that they will get the best snow conditions, thanks to the dedicated staff and volunteers that put so much work into grooming."