Crossing Over A Chamonix Adaptive Adventure
It was the end of June 2020 in the Chamonix valley, and the only snow in sight exists within the nooks and crannies of the Alps' granite peaks far off in the distance.
Most elite-level snowboard teams would write this off as a potential summer training ground without even a second look. Yet the Dutch adaptive snowboard team, comprised of athletes Lisa Bunschoten, Renske van Beek and Chris Vos, along with their coach, Frank Germann, came here to hone their skills. And they didn't bother bringing snowboards.
As part of a unique approach to summertime strength training and conditioning, the team uses crossover sports to help develop skills that are endemic to snowboarding. This includes skateboarding, surfing and mountain biking. While bikes might be an outlier when it comes to standing sideways, plenty of commonalities exist. "We integrated mountain biking along the way because it correlates with the high speed, riding lines, banked turns, jumps and the split-second decisions the athletes make while snowboarding," coach Frank says.
In 2019, the team did their first mountain bike trip in Samoëns, France with Arno de Jong of Alp Adventures as their guide. Compared to their native trails in Holland, the Alps are considerably more challenging, with technical trails and grueling climbs. But after a week of riding, progressing and honing their individual bike setups, plus the following spring of training, the team was ready for something bigger. Each athlete has a different disability, and while they've spent years developing equipment for snowboarding, modifying their e-mountain bikes and getting comfortable with the setups was a challenge in itself—before the pedaling even started.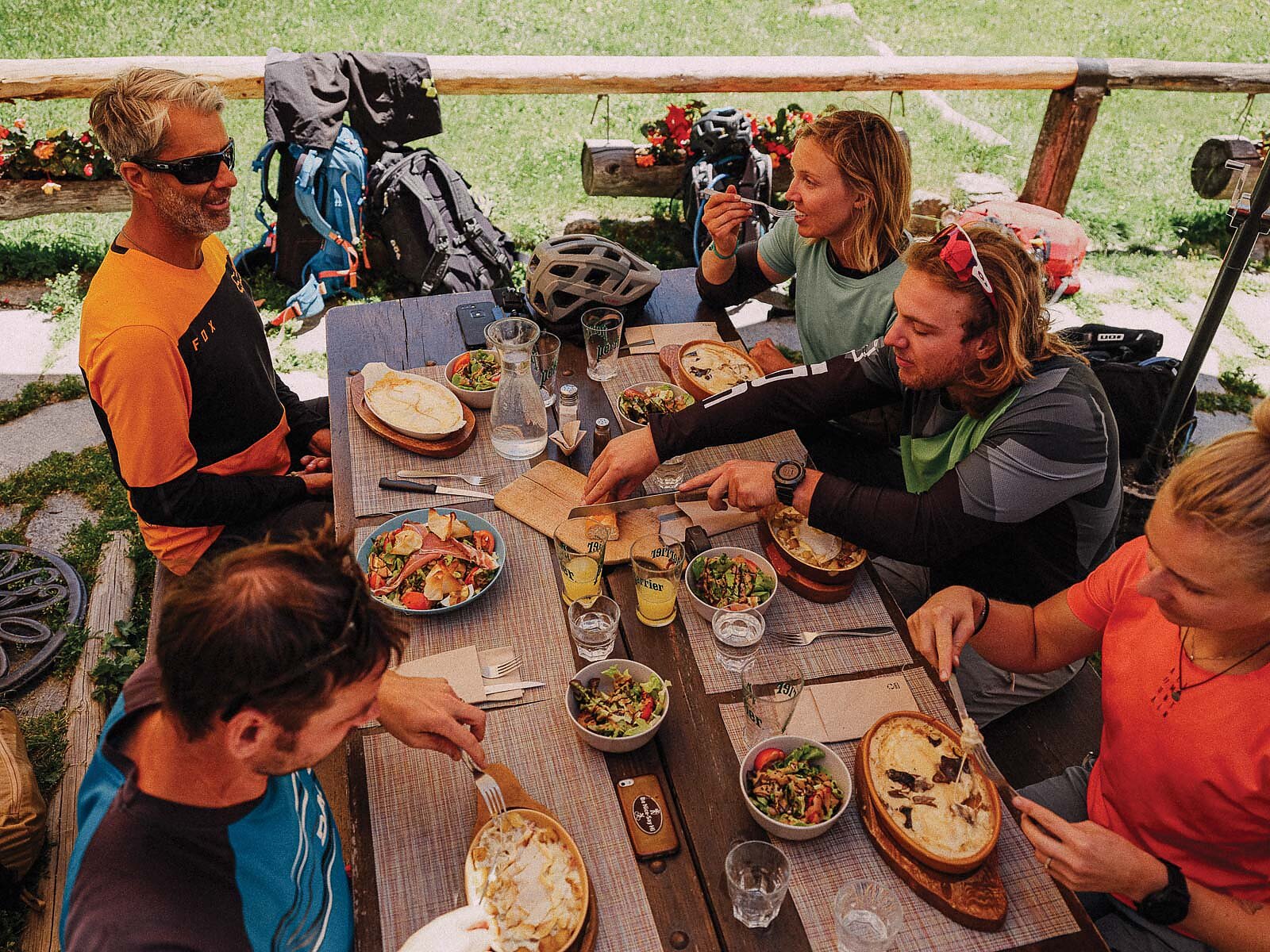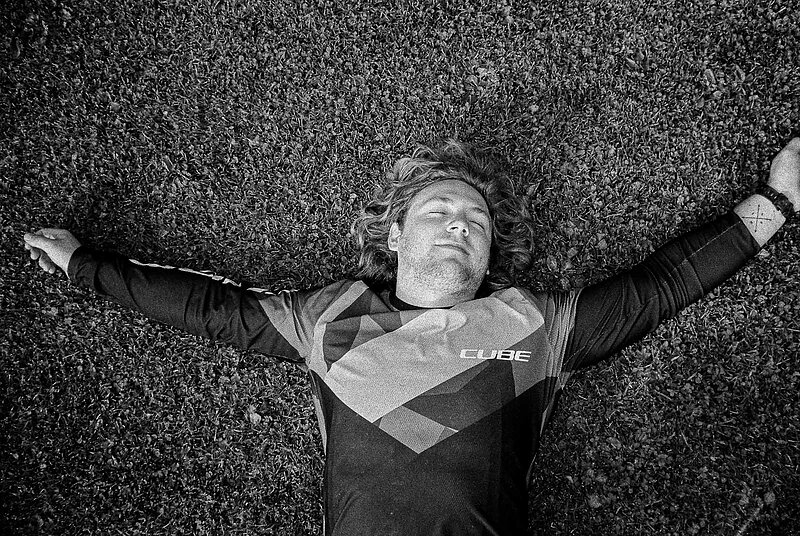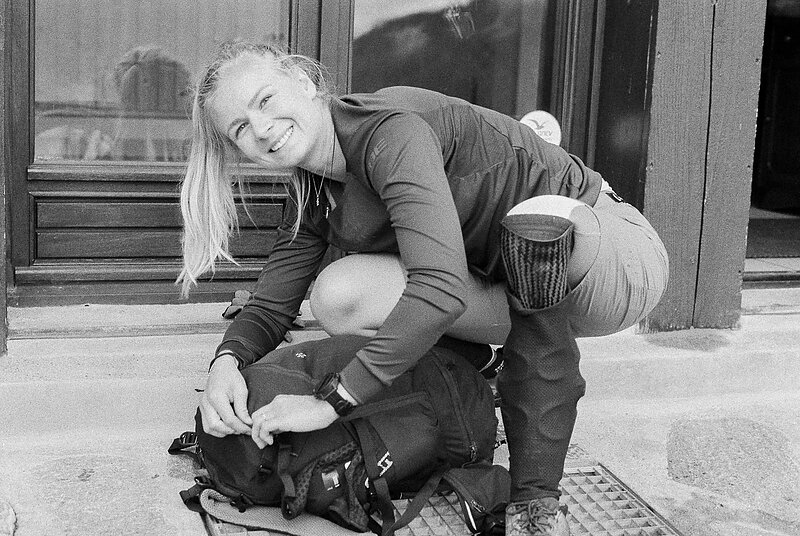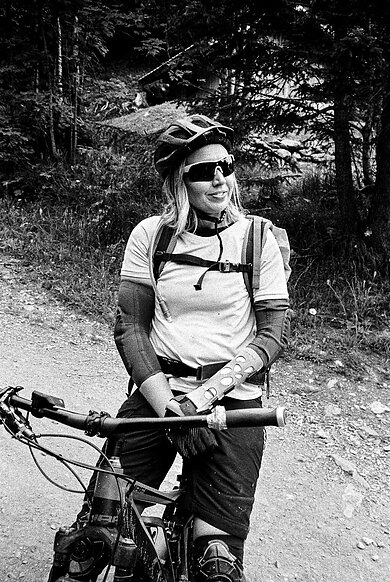 Renske is paralyzed on the left side of her body, so she worked with her local bike shop to customize her handlebar controls both brakes and the shifter are controlled by her right hand. This also presents a unique challenge for pedaling. Renske found her foot slipping off a flat pedal, yet with an SPD setup she could not unclip. She found the perfect solution with magnetic pedals from a company in Austria.
Lisa has a prosthetic leg below her left knee. To accommodate for this, she uses clipless pedals, yet can only unclip on her right side. If she tried to twist her left foot, her leg would just rotate in her prosthetic. When it comes to riding steeps, cornering and stopping, she must do so while factoring in that she won't be able to put a foot down if she's thrown off to her left side.
Chris wears a brace on his right leg and because he doesn't have full use of his right glute muscles, standing on the pedals takes a considerable toll on his left side. So he sits for most of the descents. Through all the high-speed chunder, technical line choices and wet roots, Chris must navigate without the extra "suspension" of his knees and the ability to easily shift the bike's weight from side to side.
When the Northern Hemisphere's snowboard season was cut short by the COVID-19 pandemic in mid-March, Lisa, Renske and Chris took to their bikes to train. At that point, the likeliness of this year's planned trip to Chamonix, France, was unknown. When the team eventually got the green light to travel internationally, as well as the thumbs up from Arno, who would again be their guide, they were aware this could be the most ambitious and taxing trip they'd ever undertaken.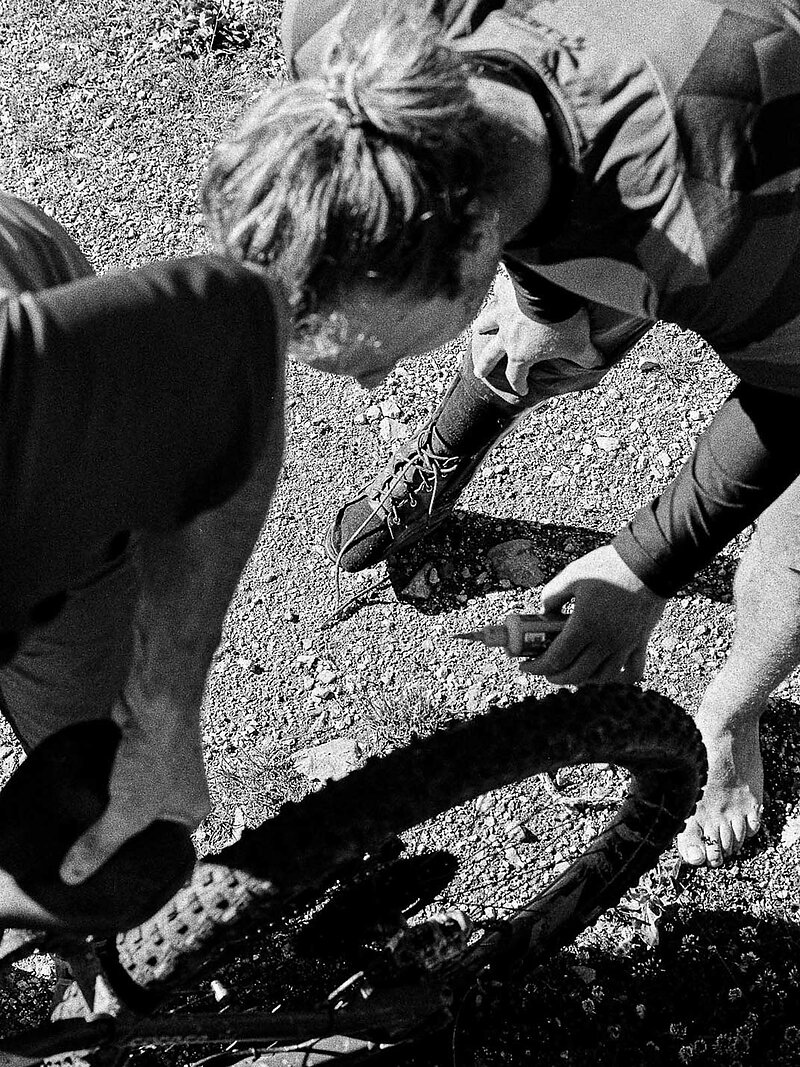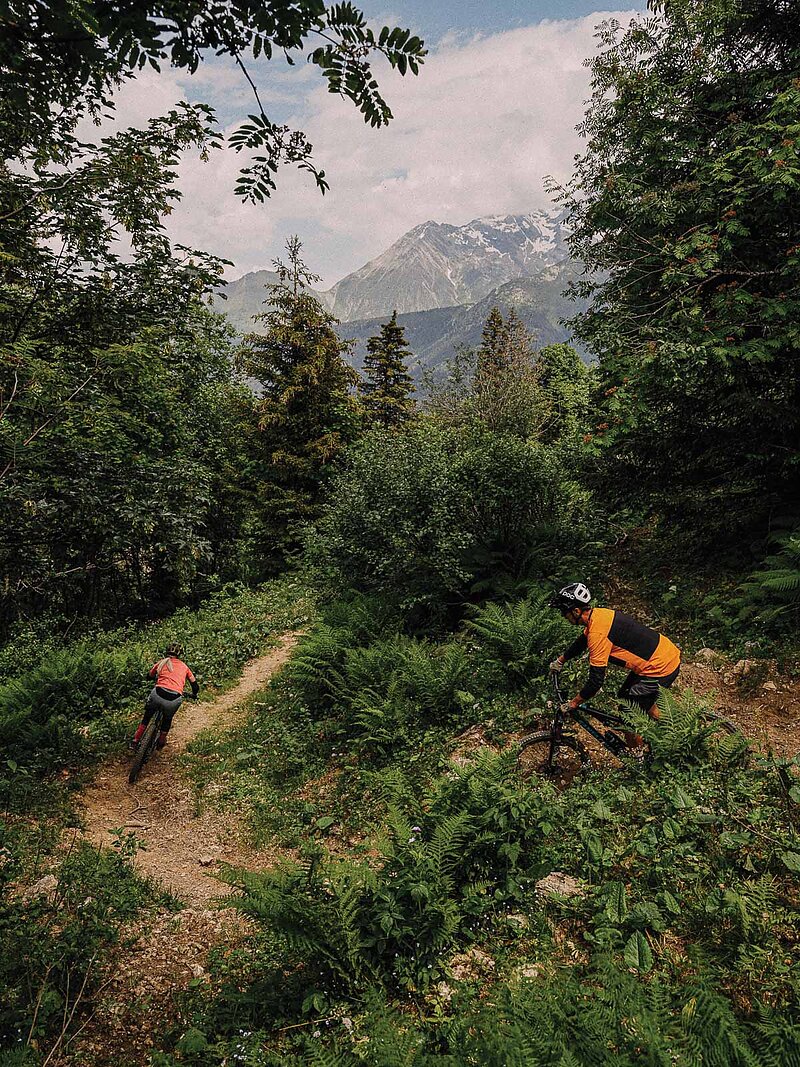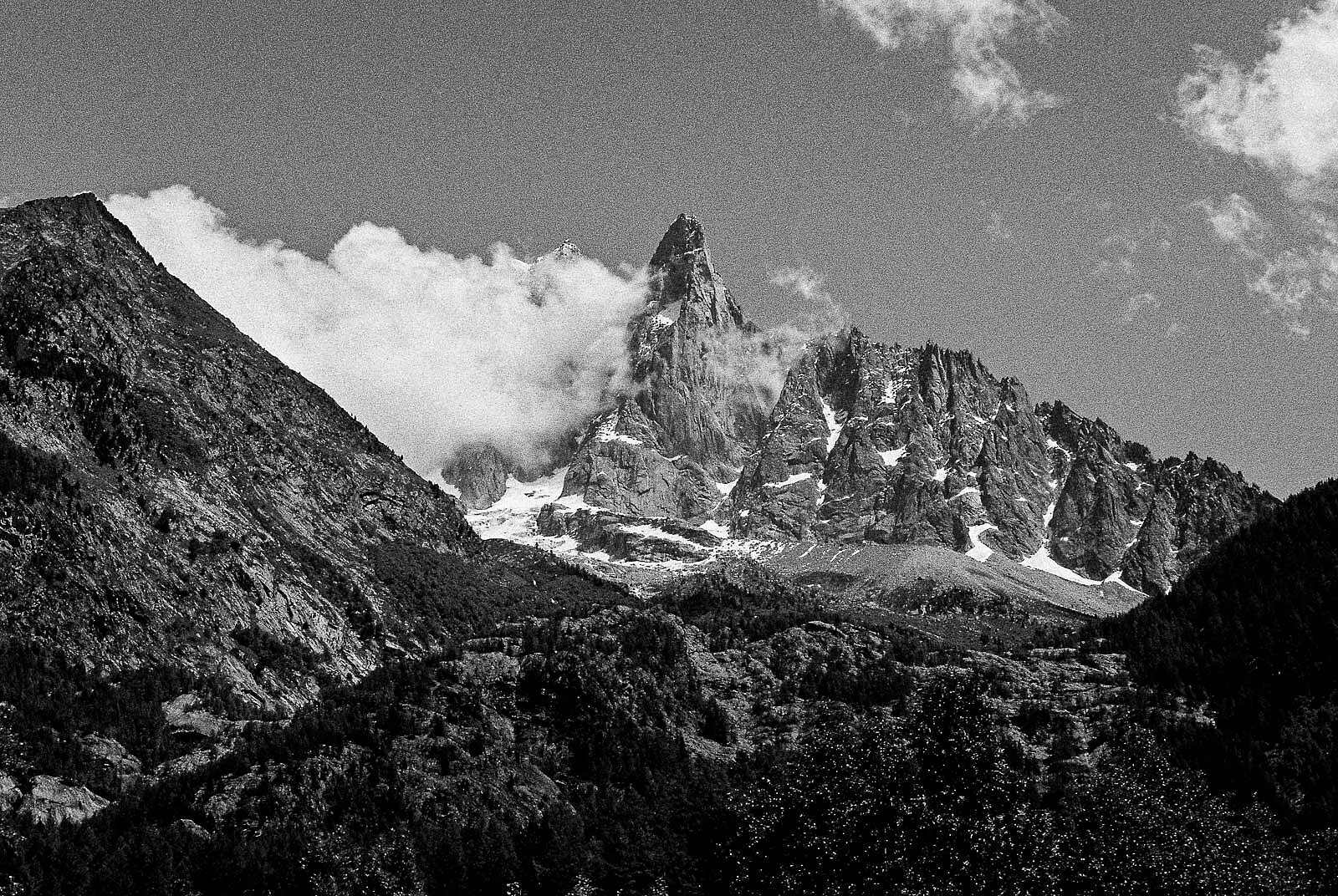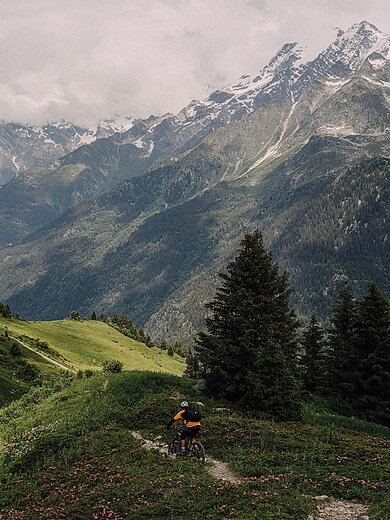 Though European border crossings were now open, the team still felt nervous about traveling internationally while COVID-19 was a reality. But by the time they reached the starting point for the bike trip—La Fayet, France—the jitters had mostly worn off and they were ready to test themselves and their equipment.
"We were all so excited that it was finally time to start the trip and go into the unknown," Lisa says. "I knew this trip was not going to be easy, but I felt I was ready for it."
To get the blood flowing, Lisa, Renske, Chris and coach Frank decided to warm up in the bike park at Saint Gervais, using the lift to access some machine-built descents that would allow them to adjust to their modified bike setups and shake off the cobwebs. Things went smoothly, and the team was pleased to find they were riding more confi - dently than they had during the previous year's trip to France.
"I had so much fun," Renske says. "I felt all the training I did had paid off , and my brake system was working well, so I felt confident on the bike. But I noticed that my wrist splint on my left hand was moving to the inside of the handlebars. That felt scary, and I really had to focus so that this wouldn't keep happening."
Warmed up from the bike park trails, they set out toward their first hut of the trip on a muddy track filled with bumps that proved to be a challenge. The team persevered and after a short climb they reached the hut where they would spend the night.
"It was such a great feeling to get to the hut after a full day of biking," Lisa says. "Mont Blanc was right in front of the hut and the view was so beautiful."
It rained during the night, so even though the team woke to sunny skies the following morning, the trails were wet, which made their first descent of the day quite daunting.
"Riding over wet rocks and roots was a different circumstance from what we were used to, and it was pretty challenging at first for the girls," Frank says. "Chris is an experienced biker with no fear, and he managed to get down the hill with speed."
In addition to the chunky terrain and slippery conditions, all of the athletes were still getting used to their equipment and how it would function when the trails got rougher. To keep Renske's left hand from sliding toward the center of her handlebars, they secured it to her grips with straps and duct tape.
"I had to take my time and feel the right balance on my bike because some of the trails were small and narrow," Renske says. "Still, I could place more focus on the trails without having to worry about my hand slipping."
At the bottom of the descent, they met up with Carlos Blanchard, a Spanish adventure photographer who would be joining them for the rest of their journey. The team rode together to Les Contamines Montjoie, a ski resort with a bike park that would present some altogether new challenges, such as a small step-down that would require the athletes to land from the air. All of them made the drop without issues, instilling a sense of pride and accomplishment.
"I found I could ride some nice turns and I also did a small North Shore-style jump," Renske says. "It felt great accomplishing that. I felt like a cool mountain biker."
The next stretch of trail, to the trip's second hut at Les Houches, was filled with bigger rocks and roots that presented some very real challenges to the riders.
"The trail got way harder, and big rocks and roots were all over it," Lisa says. "It was a bit too hard for me, and I stepped off my bike and walked a bit. I got pretty frustrated because in my head I just wanted to ride the trail, and I got a bit angry at myself for stepping off my bike and walking bits of the trail. But the moment I made it to the end, I realized that I had set really high expectations for myself, and that it was OK if there were some parts that were just not rideable for me."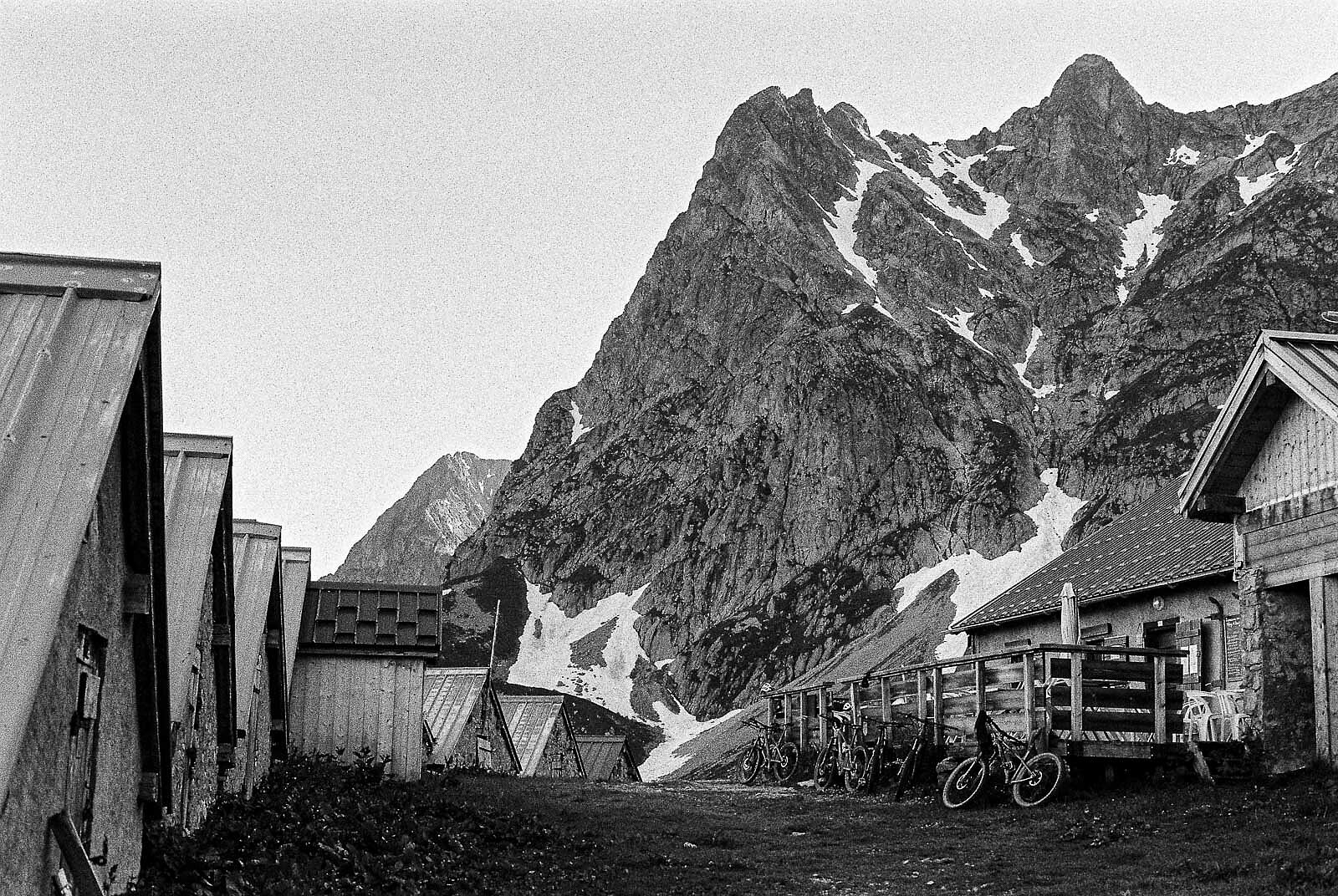 The final stretch to the hut involved a climb on an asphalt road that deteriorated into a steep four-wheel-drive track. Given that the athletes were riding e-bikes, they had to do some battery management, first running the bikes in "eco" mode before switching to "e-mtb" mode when the track turned to dirt. When the group finally arrived at Les Houches, they exchanged high-fives and soaked up the views of the Dômes de Miage, a line of peaks at the south end of the Mont Blanc massif. Exhausted, they ate a hearty meal and collapsed in their bunk beds.
The next morning the team woke to a steady rain, so they waited until it faded to a drizzle before setting out. They started with a steep climb, and by the time they'd reached the top everyone was drenched with rain and sweat. As they were preparing for the next descent, Chris discovered that his dropper post wasn't working—a huge issue given that he needed to stay seated during descents. Compounding their issues, the terrain was steep and slippery, and the fact that Renske's braking system was regulated through a single right-hand control made it next to impossible for her to evenly distribute braking power between her front and rear wheels.
"The ground was very muddy and braking with one hand was not doable," Renske says. "I slid all the way down and crashed a few times. I had to walk a lot, and I was so mad at myself that I couldn't ride down it all, but the circumstances were a bit much for me. I got so mentally tested there."
When they reached the bottom, the team shifted course onto the road to Chamonix so Chris could get his dropper post repaired at a local bike shop. During normal times, Chamonix would be packed with tourists, but due to COVID-19 it was practically a ghost town, and over lunch everyone marveled at the sheer beauty and tranquility of this place, with its unobstructed view of Mont Blanc. From here, they took a train to Le Tour, where they planned to ride the lift to the trails that would take them to their third hut. Much to their dismay, the lift was closed due to coronavirus restrictions and the team had to make the decision to skip these trails and the third hut and shift their route to a hut in Vallorcine that was originally planned for their fourth day. But to get there, they had a long climb with more than 4,000 feet of elevation gain up a four-wheel-drive track that was littered with loose rocks.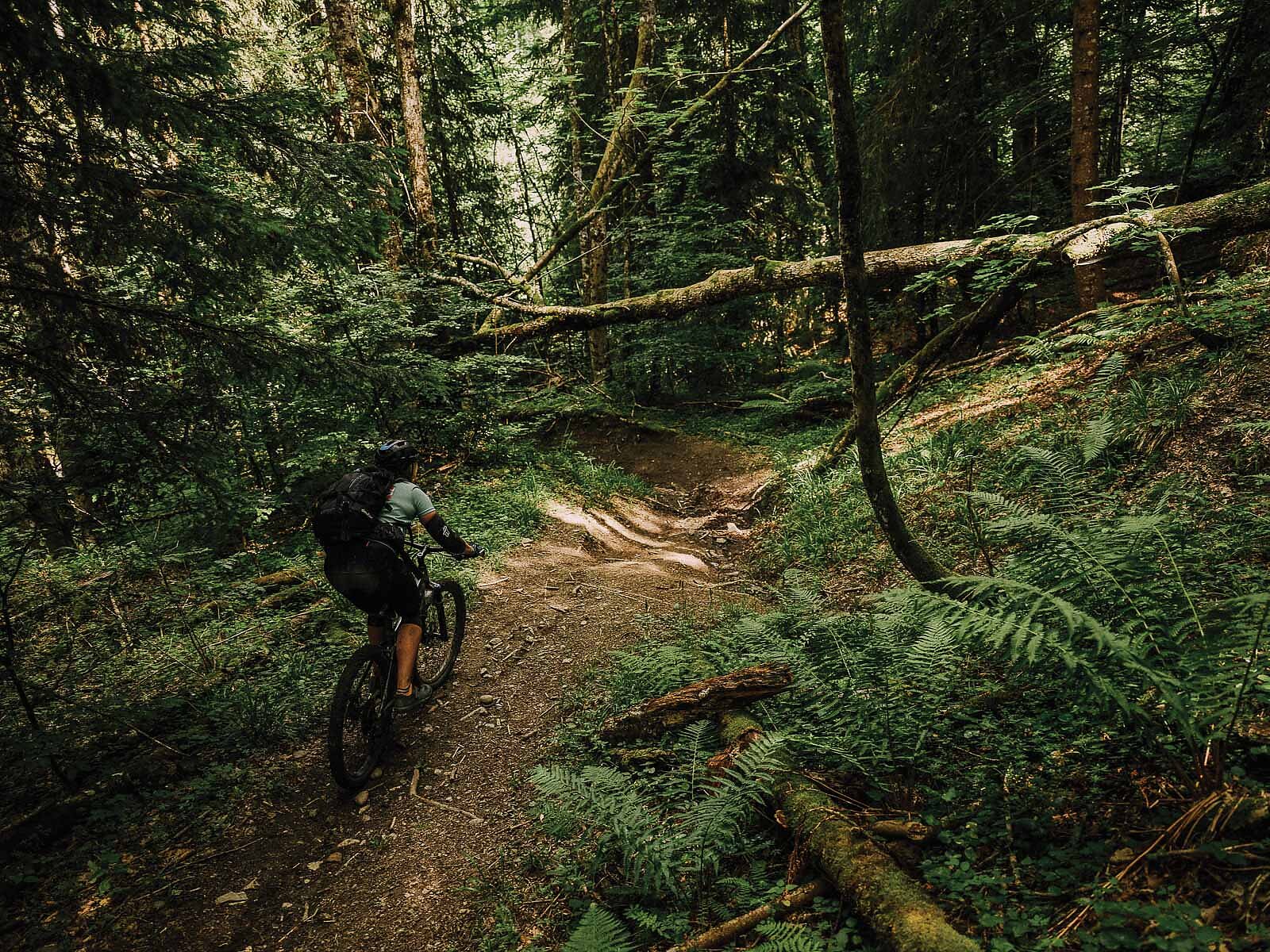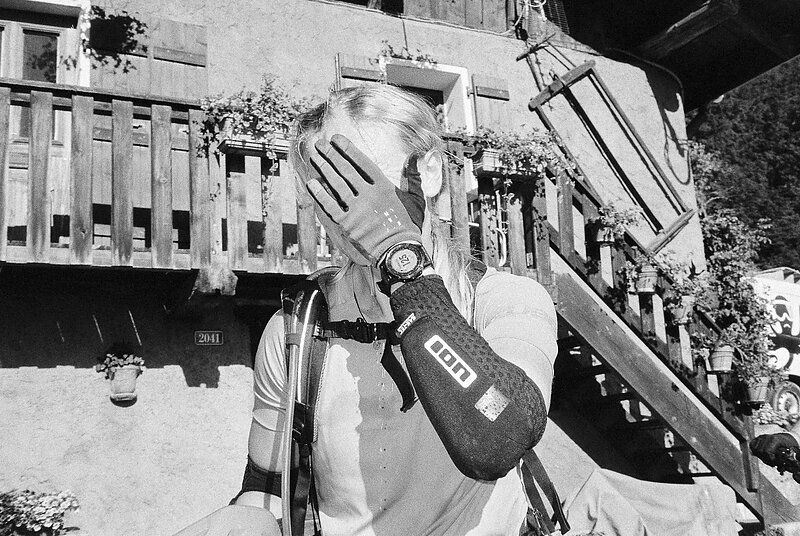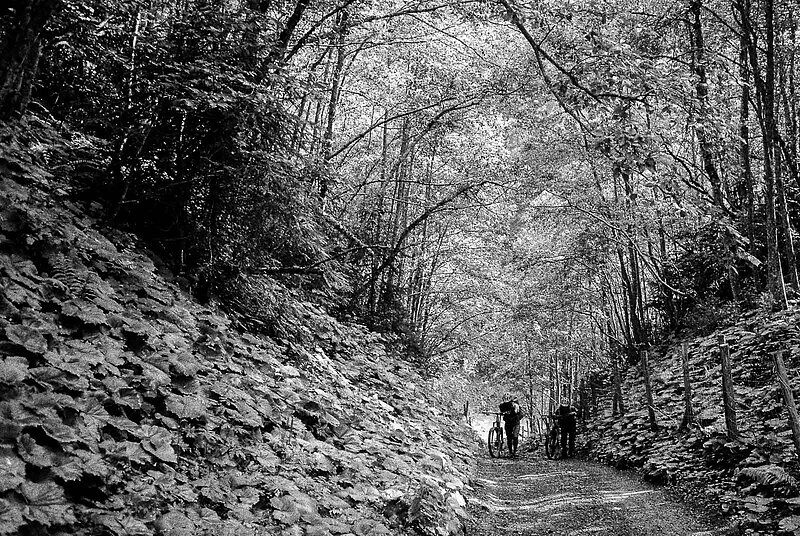 Not only were the athletes worried over whether they'd have enough battery power in their e-bikes to make it to the top, but the exertion of the climb was causing Renske's left hand to go into spasms, so she had to remove the splint from her wrist, making it harder to control the handlebars and maintain a clean line through the rocks. Furthermore, the climb was mentally exhausting, with one switchback after another threatening their morale.
"You had to choose the right line to keep up the pace, and there were so many turns on the way to the top," Renske recalls. "It  looked like the end would never come. When we finally saw the end, everyone was so overwhelmed and happy to see the beautiful houses on top of the hill in the evening light. It felt so good to do this together with the team." 
The plan for day four was, on the face of it, a simple one: to ride back to the hotel in La Fayet, where they had stayed when they first arrived in France. But before they started their first descent, they realized that Chris' battery was not working, which would mean stopping at the bike shop in Chamonix to replace the battery. And, true to form, the descent was once again steep, with loads of roots and rocks. While Chris stayed seated and plowed through the debris, Lisa and Renske stayed close together for support and encouragement. 
"It was a hard track, with some really steep drops to one side," Lisa says. "This was a big struggle for me because I can only click out of my SPD with my right leg, so if something goes wrong, I can't stay safe on my left side. I got frustrated because I was a bit scared, but I could feel that my skills were getting better and I really wanted to enjoy  it at the same time."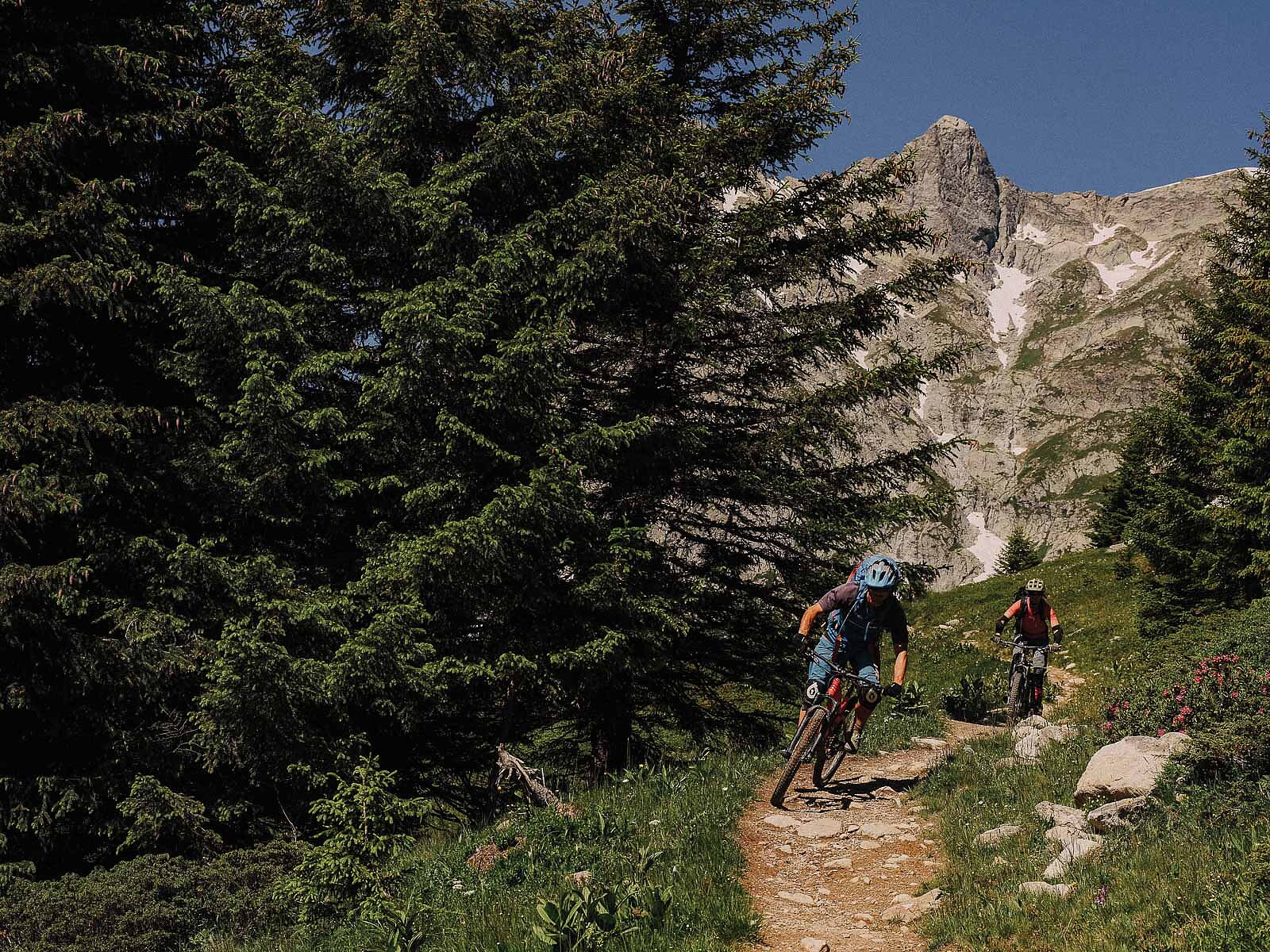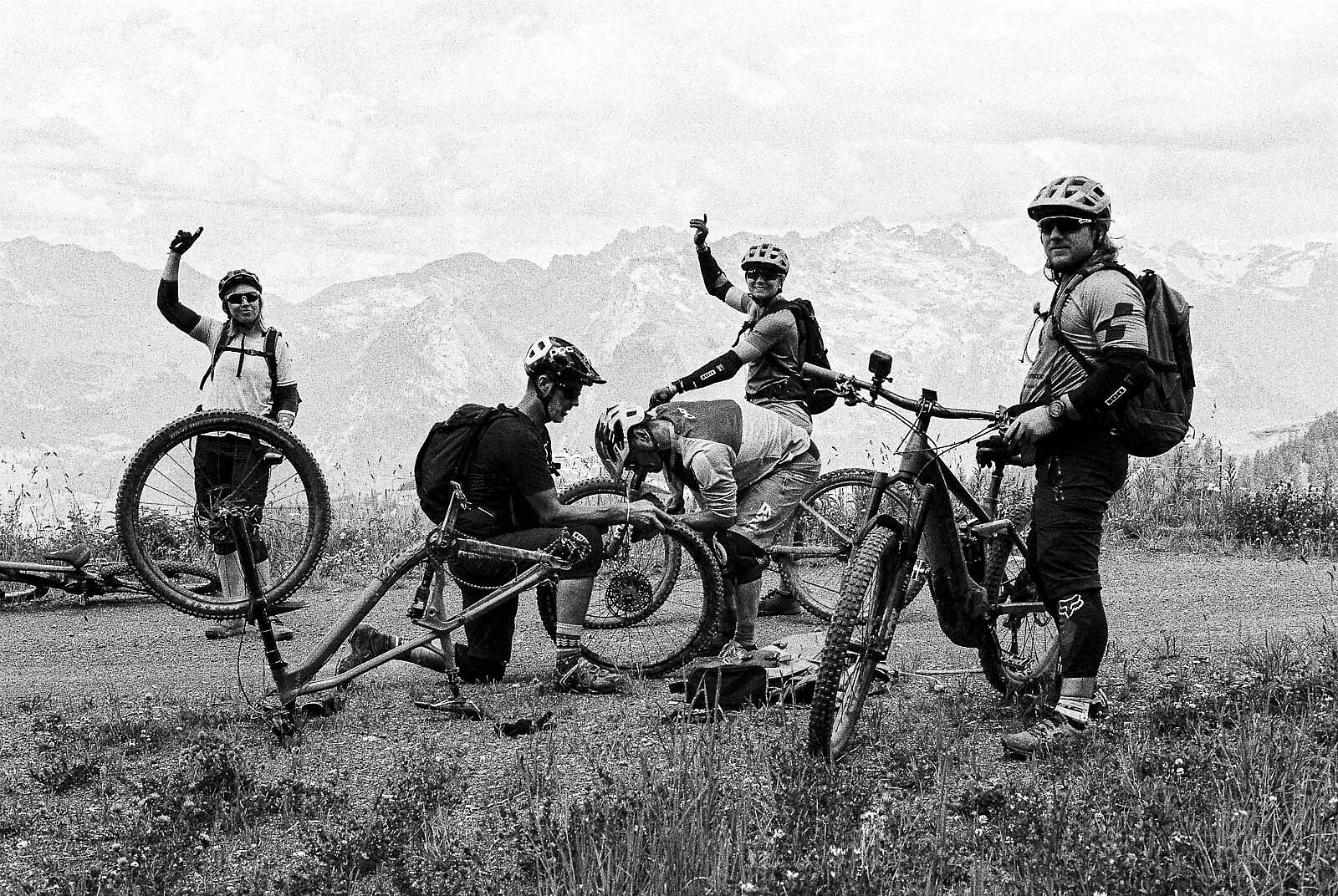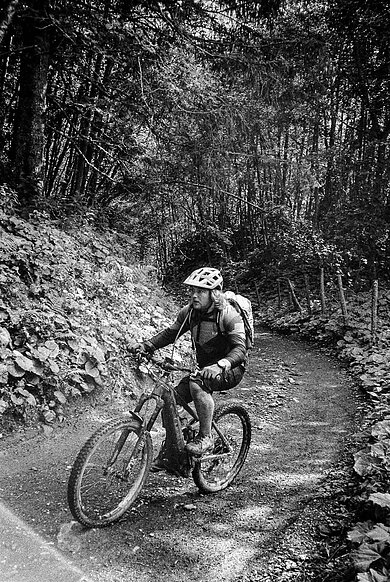 Lisa and Renske cheered each other on for the duration of this descent, and after getting a replacement battery for Chris and having lunch in Chamonix, the team set out on some fl owy trails that wound through the Chamonix valley. With more gradual ups and downs, the athletes were able to maintain their speeds and implement all the skills they'd spent the past few days honing. After looping back into Chamonix and taking a water break, the team had to descend along a rocky riverbank to their hotel in La Fayet. After four days of tough descending, Chris was on fire, letting his bike go and cleaning some of the rowdiest sections. After eight hours of riding, by the time they reached their hotel everyone was ready for a good sleep.
On the final morning, the crew drove to the Les Carroz Bike Park so they could practice the skills they'd learned that week in a more controlled environment. Everyone enjoyed the sculpted, machine-built trails, riding in pairs to encourage eachother and maximize their shared benefits. Carlos worked with Renske on choosing lines, while Arno monitored Lisa as she continued to progress. Chris and coach Frank rode together, and by all accounts they ripped the park trails to bits.
"Everyone had overcome so many challenging situations these past several days, and they fought hard, physically and mentally, against everything that came their way," photographer Carlos recalls. "There were so many positive and incredible surprises for us all, like Lisa and Renske pushing through steep, technical terrain without saying a word. Or like Chris riding sections that I wouldn't dare try. This incredible experience really caught me by surprise."
By the time the team made their fi nal descent into Morillon, everyone had hit their stride and rose to the challenges of this technical descent. Renske had air in her brake line, but she'd become adept at pumping the lever before each steep section to ensure that she would have some stopping power. They rolled into Morillon just as a big storm was brewing, relieved to have completed their journey and proud of what they'd accomplished as a team.
"Riding the ridges and facing steeper terrain really created some psychological challenges, but pushing ourselves mentally and going out of our comfort zones was the space where we learned the most," Frank says. "This is a skill we use in snowboard racing, and we know how valuable it is to keep training in these crossover sports."