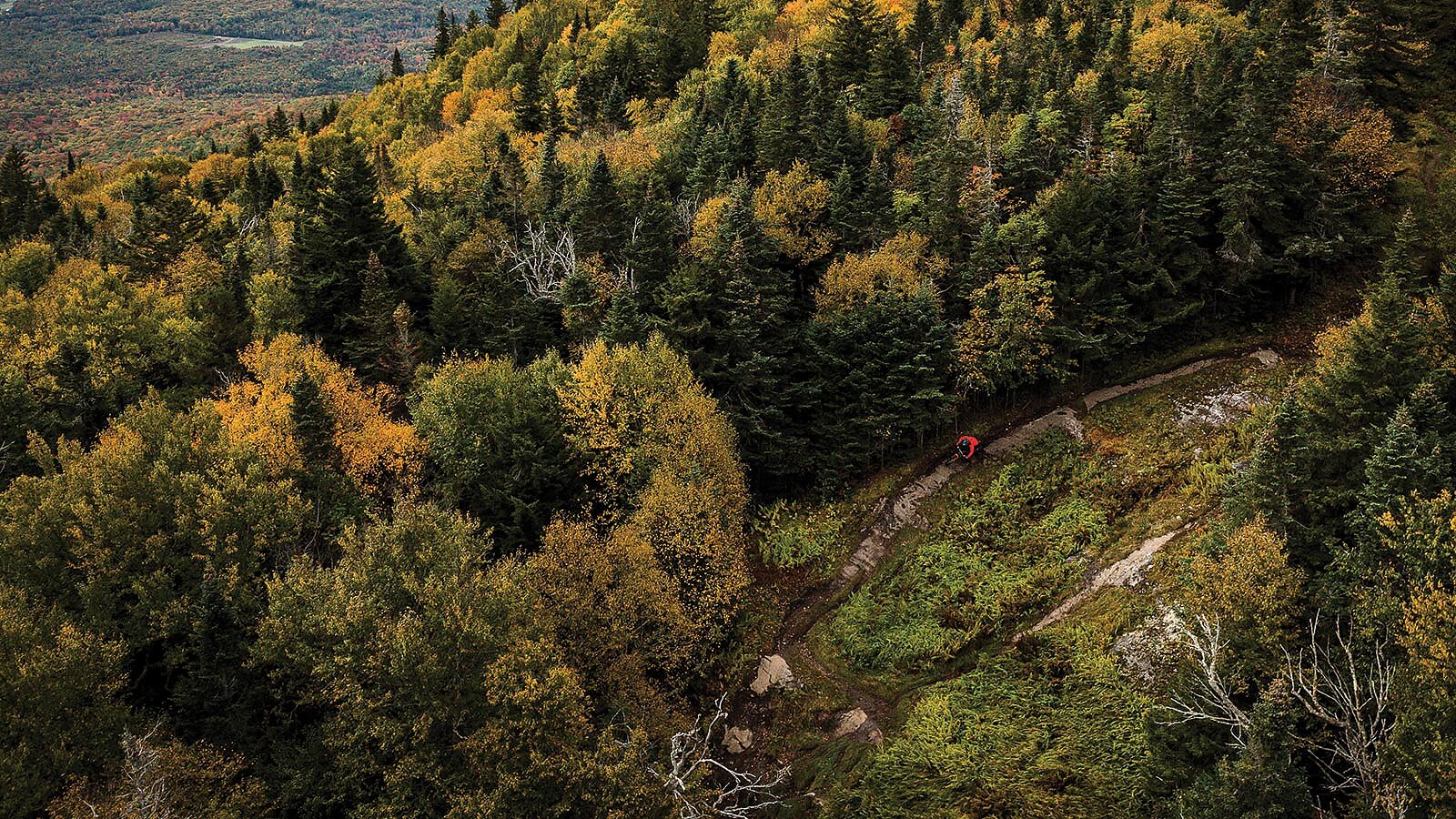 The Cornerstone The Northeast Kingdom's Foundational Formula For Success
A century-old firetower stands atop northeastern Vermont's Burke Mountain,offering a 360-degree view of the highest ranges in the northeastern United States.
To the west, the Adirondack Mountains loom in the distance beyond Mount Mansfield. The White Mountains stack up to the east, broadly punctuated by Mount Washington, the northeast's tallest peak.
Though Vermont is known as the Green Mountain State, the soil composition on Burke Mountain shares more characteristics with the neighboring Granite State of New Hampshire. Looking out from the skeletal frame perched high upon a big slab of bedrock, one can feel the wind drifting through the cracks between old wooden planks. The surrounding landscape is mostly forest covered hills, with the occasional field quilting the valleys in between. It's hard to even spot a town on the horizon.
It might not be visible at first glance, but the surrounding hills cradle a deeply rooted culture of mountain biking that has embedded itself into the region's social fabric, emanating from Burke Mountain and imprinting itself on people of all ages. Known as the Northeast Kingdom, this region is renowned for its world-famous Kingdom Trails network. But the entire area boasts a rapidly expanding array of purpose-built singletrack, including lift-accessed bike park runs on Burke Mountain and two challenging new shuttle tracks from the summit. Add to this the ever-creative trail system in the nearby Victory Hill Sector and it's practically impossible for a mountain biker to ever be bored.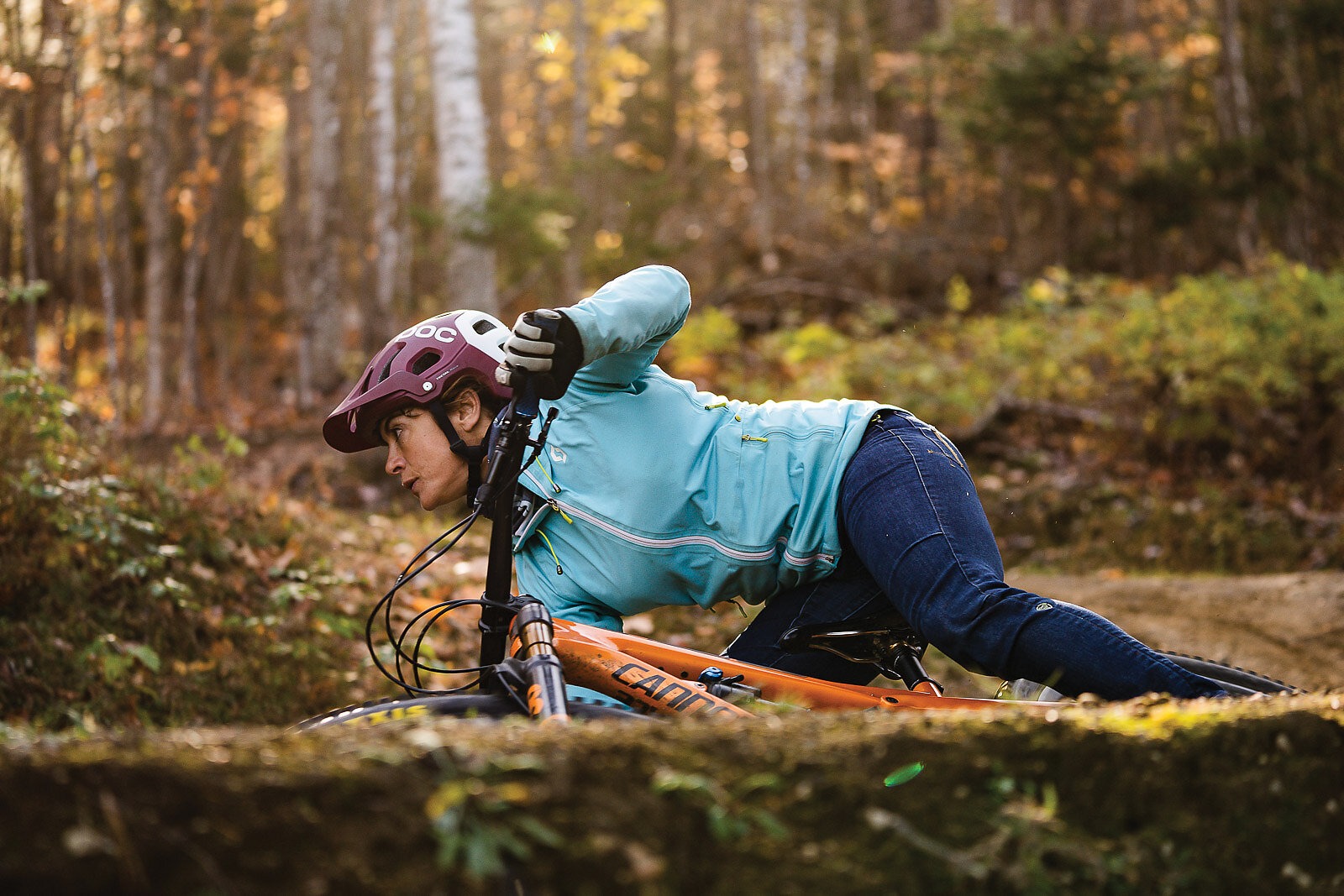 This upper-right corner of Vermont straddles three counties: Orleans, Caledonia and Essex. Together they comprise a unique pocket of rural living, with a small permanent population that values the land's beauty as much as the self-sufficiency and tireless work ethic of the community.
The village of East Burke is bisected by a walkable string of markets and eateries, with a gas station, a bike shop, a post office and an ice-cream stand sitting on either side of a solitary road lined with a chunky sidewalk. Burke Mountain hovers in the background, not tall enough to cast a shadow into town.
East Burke was built on an industry of lumber and sawmills, but today the area is a quaint vacation spot offering outdoor recreation in an uncrowded and unspoiled natural environment. Though Burke Mountain itself is home to a ski resort and bike park, it has managed to retain its singular character and lacks the transient feel of so many other North American alpine destinations.
Despite its regal name, the Northeast Kingdom isn't a place ruled by any one person. Though Burke Mountain itself has changed ownership several times over the past two decades, the broader kingdom of rolling hills and forests is ruled by a tight-knit coalition of community leaders and land stewards that has sought to better it with each generation. Perhaps this land is cast under a spell—instilling a belief in the power of recreation backed by an entrepreneurial spirit to sustain it.
"I don't think there's anyone in the community who believes it belongs to anyone other than themselves," says Lilias Ide, a Northeast Kingdom native and the Kingdom Trails Association's director of communications and
education. "The Northeast Kingdom raises people who are self-sufficient."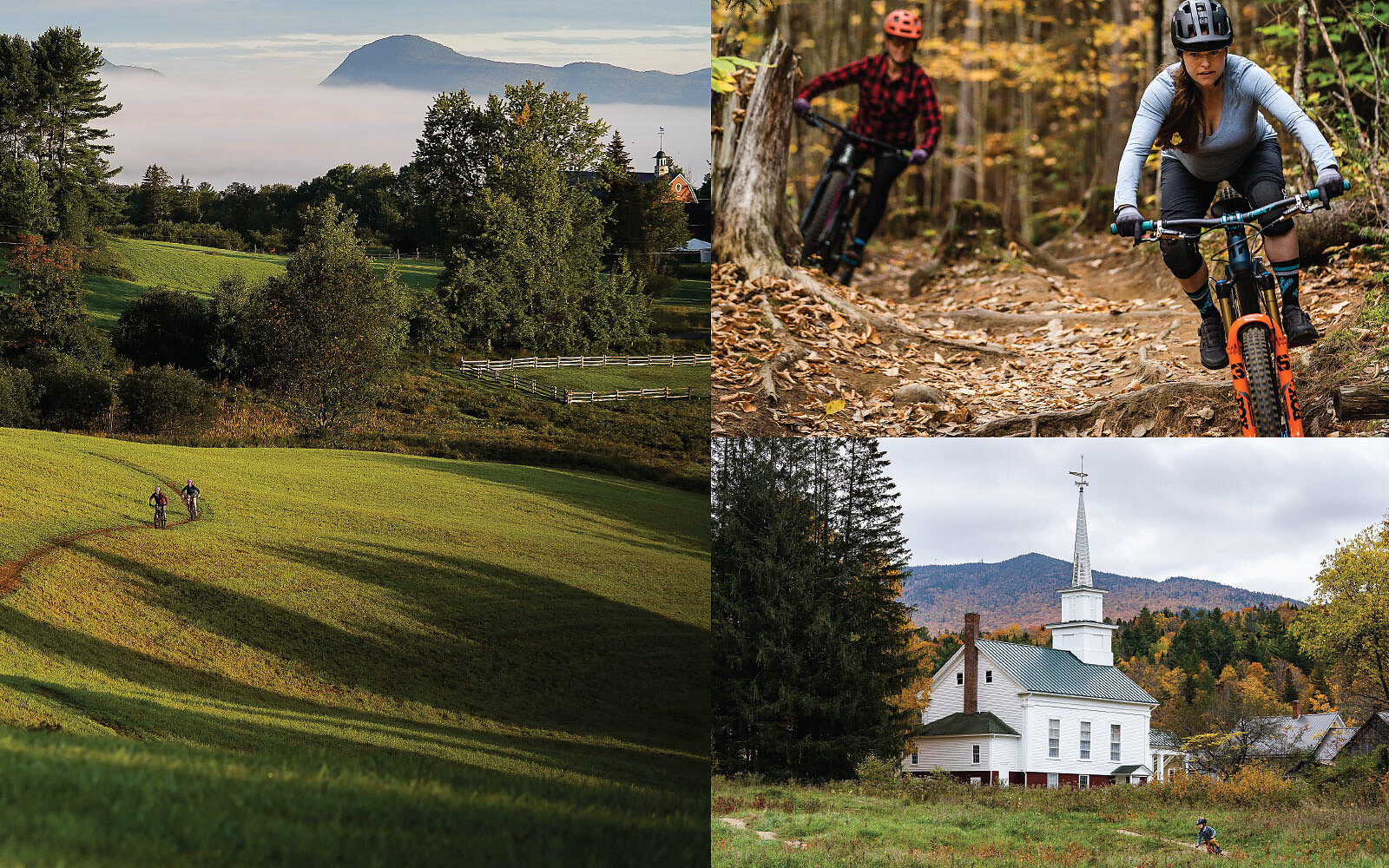 This sense of personal pride and ownership is a hallmark of Vermont culture, and it's at the heart of what started the Northeast Kingdom's mountain-bike boom. Outdoor stores such as the Village Sport Shop and East Burke Sports have been outfitting winter recreationists since the 1970s and 1980s, respectively. But shaky winter business, compounded by a somewhat remote location, made hanging on to the seasonal sporting goods industry a challenge. Founders John Worth and Vince Jacob of East Burke Sports had found joy during the off-season by exploring local forests on their bikes. And as more visitors began arriving during the warmer months, some bringing mountain bikes that at times needed maintenance, Worth and Jacob saw nothing but opportunity.
The pair, along with several other visionaries of the East Burke community such as Jeff Hale, founded the Kingdom Trails in 1994, eventually convincing scores of local landowners to grant permission for trails to be built on their property. As trail segments began to be linked together, a continuous network was formed. The Kingdom Trails creators rose to the occasion, setting up a de facto greeting center in the East Burke Sports parking lot, where now trail director CJ Scott would collect the $5 visitor fee and hand-draw the best routes onto a basic map.
More than 25 years on, Worth's devotion to mountain biking has never wavered. His shop's staff can still be seen heading out for 5 p.m. shuttles every Wednesday to enjoy the trails he played a role in creating. Riding with Worth is like exploring an enchanted forest with an omniscient wizard for a guide. The novel intention of trails such as Moose Alley is obvious, as it weaves through giant trees and spills over centuries-old rock walls.
"This tree is the reason I put the trail here," Worth says, pointing at an unusually large tree before dropping into the meandering descent below.
VISITORS DON'T NEED TO FIGHT TRAFFIC TO GO FOR A RIDE OR PICK UP A SANDWICH. IT'S PART OF THE ALLURE, BUT ITS SMALLNESS CAN MAKE IT FEEL BUSY DURING PEAK TIMES.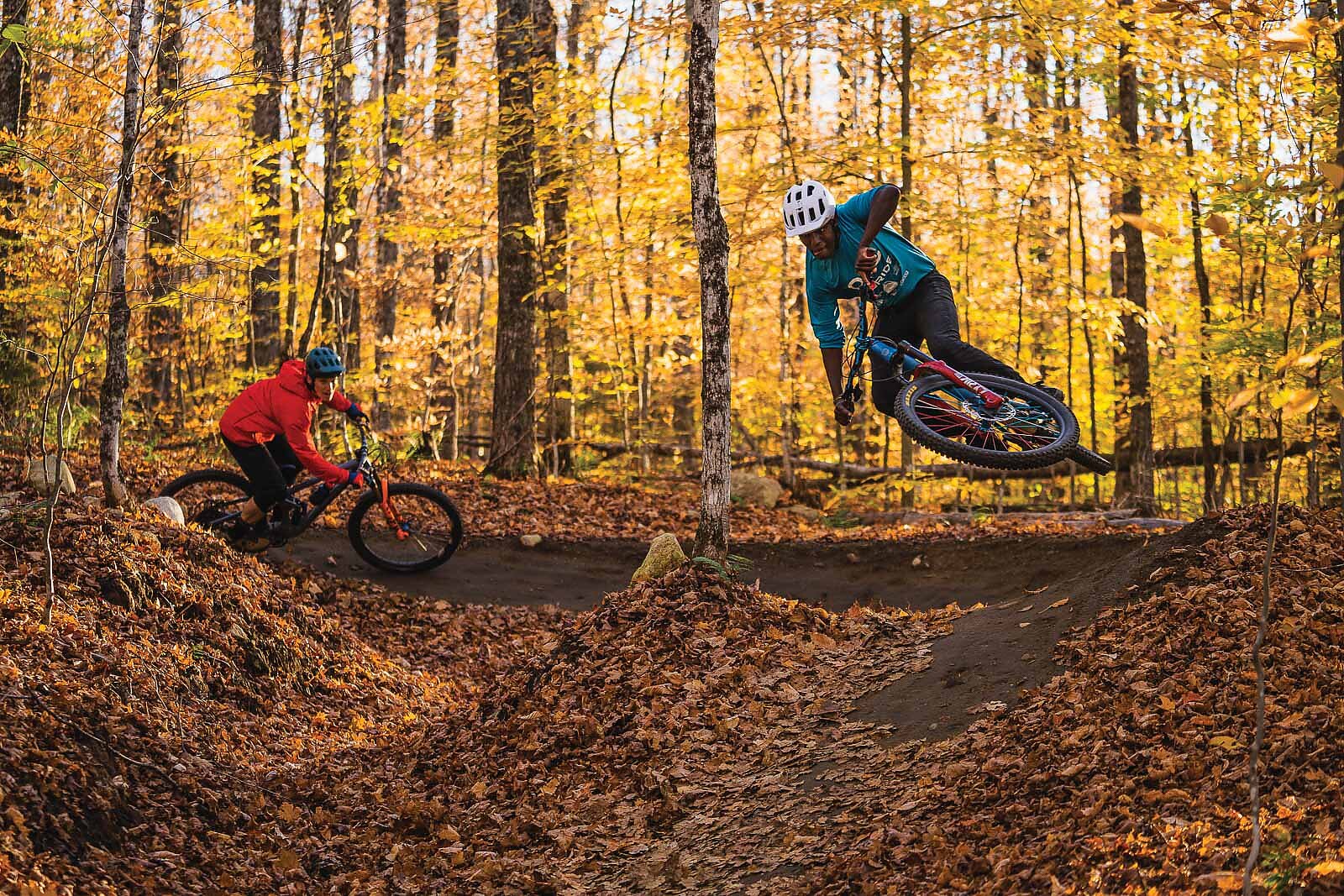 The fanciful design and community feel of the Kingdom Trails enthralled local riders such as Alex McAndrew, who started riding early favorites like Pound Cake and Tap & Die as a young teen almost 20 years ago.
"It was a place you could go and ride together as a group and know it was going to be safe and fun," says McAndrew, who ultimately became a sponsored rider and races in Enduro World Series contests around the globe.
Today, McAndrew and his wife Ella own and operate the East Burke-based suspension service and education company Green Mountain Pro Tune. McAndrew is a certified technician with a rapidly expanding regional customer base, including racers and local retailers he supports with his highly specialized services. In this sense, he's the latest in a lineage of self-styled local entrepreneurs who are contributing to East Burke's outdoor-oriented economy.
Though Burke Mountain still gets its fair share of wintertime visitors, the summer is when East Burke truly comes to life. Most incoming traffic comes from the south, with visitors typically following a natural trajectory through town and up Mountain Road. It's a welcoming, down-to-earth place that begs visitors to slow down and choose their own adventures. Take a left and head up to Darling Ridge, stop for a dip in the river, ride the bike park or get comfy at Mike's Tiki Bar—the town's most popular watering hole, which sits conveniently at the entrance to the Kingdom Trails. Here, there's simplicity on and off the trail. Visitors don't need to fight traffic to go for a ride or pick up a sandwich. It's part of the allure, but its smallness can make it feel busy during peak times. And in recent years, it's only been getting busier.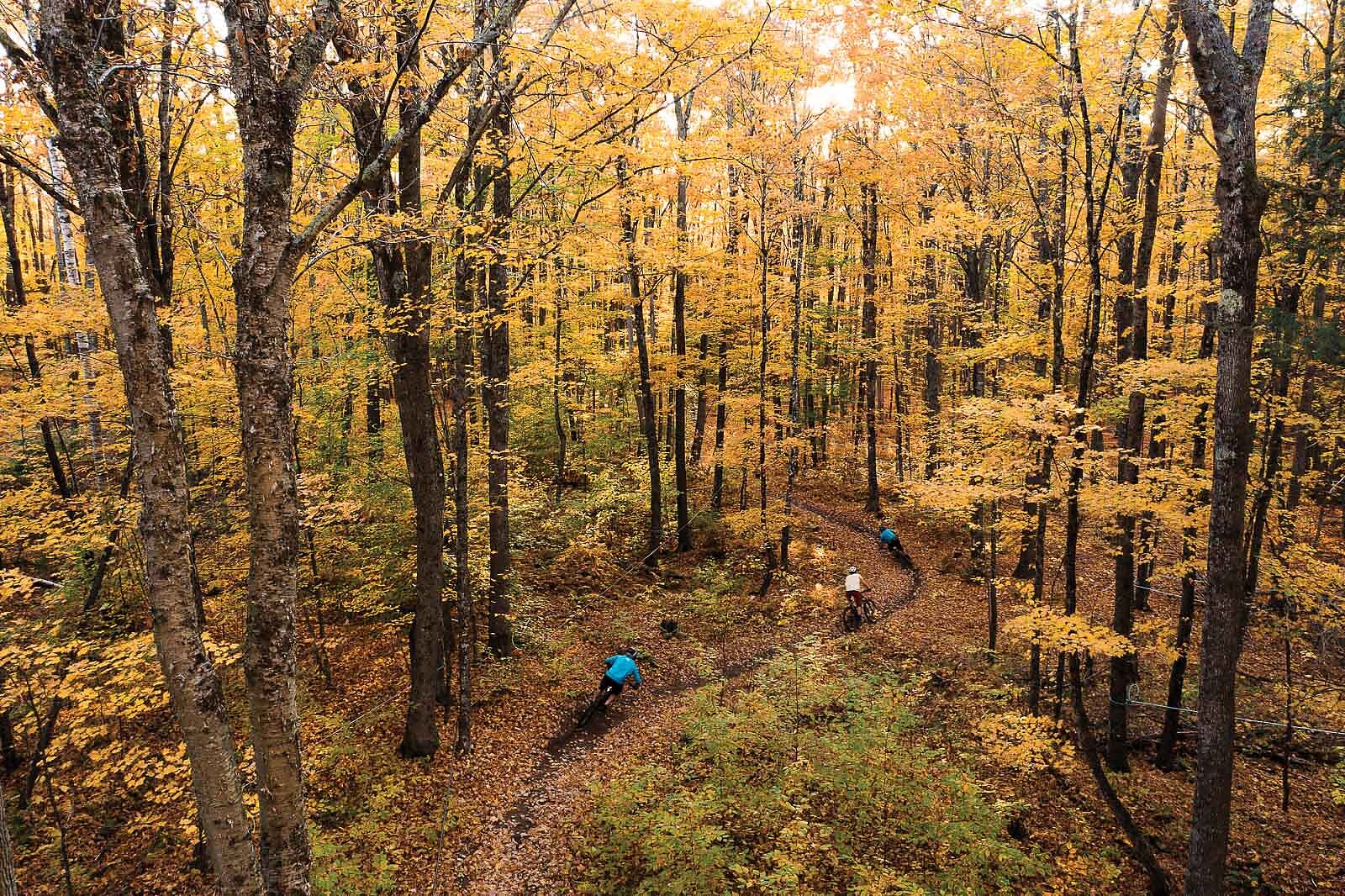 When the Kingdom Trails Association first began marketing actively, its focus was on growing the number of visitors, encouraging them to ride bikes in East Burke, eat at its restaurants and gear up at the local outdoor shops. But as the destination soared in popularity, with riders arriv ing from New England population centers as well as nearby Quebec, the organization and the community had to adapt to this increasing volume.
Local trail stewards were recruited to help manage the huge influx of visitors and educate out-of-towners on the area's unique land-use agreements with its patchwork of private landowners. An ambassador program was founded in 2006 and has been expanded over the years to provide services such as EMT-staffed bike patrols. Since the outbreak of the COVID-19 pandemic, they have helped to mitigate risk at highly trafficked sections of the trail system.
Despite this, the exponential increase in annual visitors has strained the area, with unprecedented road congestion, illegal parking and unsanctioned camping. This has led some local landowners to rethink their agreements and upset Vermonters have raised flags over the state's longstanding progressive laws allowing for public recreation on private land.
None of this is reducing the draw of East Burke's recreation—especially that tied to the renowned Kingdom Trails—which continues to rack up healthy membership numbers, donations and bustling traffic to local businesses. The annual economic impact is estimated to be $10 million, and the Kingdom Trails Association now distributes $25,000 in grant funding to essential services such as the hospital and food shelter, as well as for youth mountain-bike programs.
"Our mission is to provide the trails so that somebody else can provide the service and make money," Lilias Ide says.
"ALL THE PROS WOULD BE PRACTICING FOR THE COMPETITIONS,
SO WE'D RUB SHOULDERS WITH THEM, AND THE KIDS COULD
SEE THE RIDERS THEY'D TYPICALLY SEE RIDING IN THE MOVIES."

—KNIGHT IDE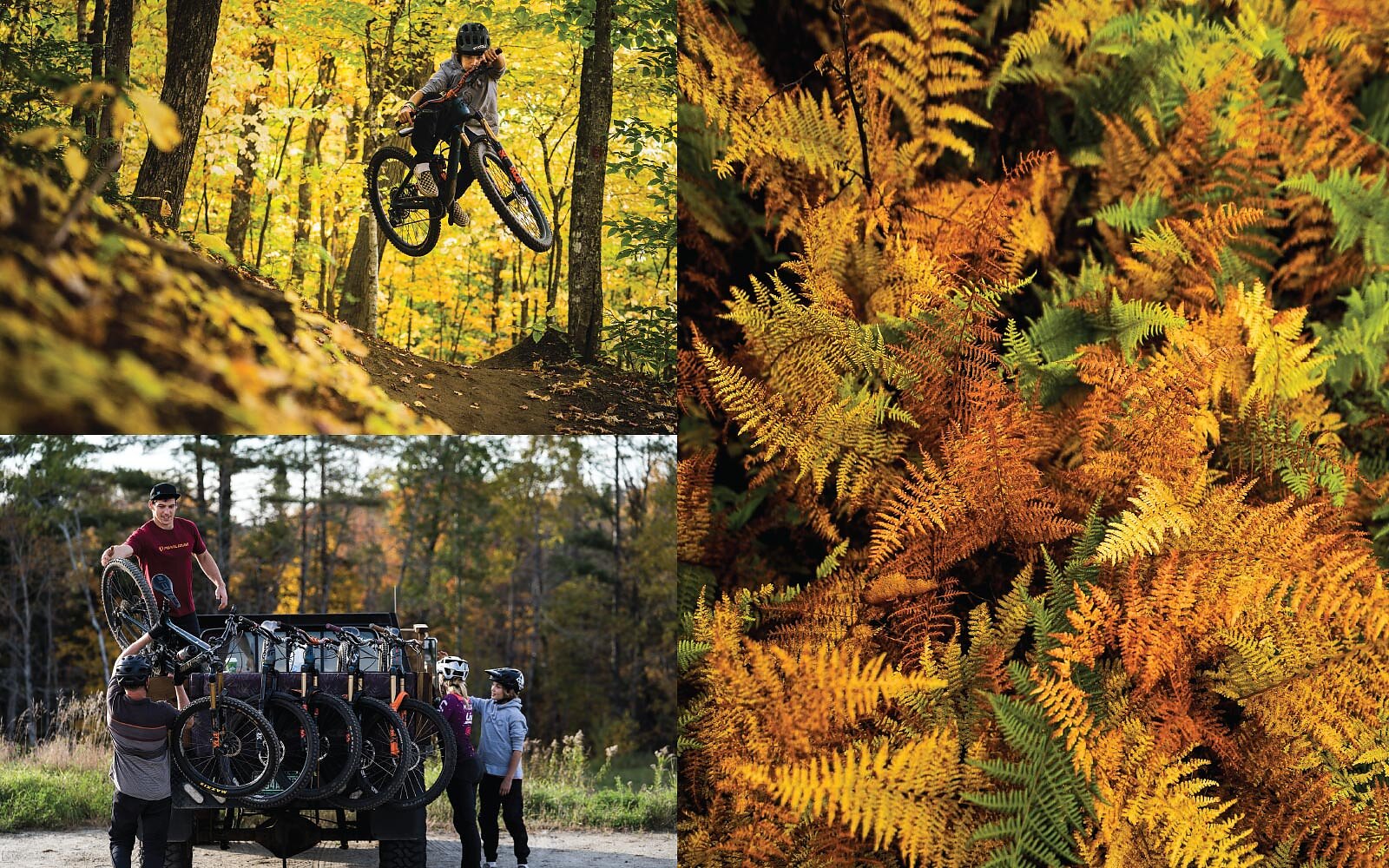 Though the Kingdom Trails are northeast Vermont's best-known, the surrounding area boasts a rapidly expanding array of purpose-built singletrack. Original trails on Burke Mountain such as Enchanted Forest, Dead Moose Alley and J-Bar offered fun options to riders seeking sustained descents before lift service was available. But turning the slow-to-develop ski hill into a multi-seasonal destination required partnership between Burke Mountain Resort and the Kingdom Trails Association, with the resort running operations and the association building and maintaining trails. With each party playing the role it knew best, a lift-served bike park was built on Burke's lower mountain in 2009.
As the lifts spun, key local trailbuilders came together to craft new machine-built lines such as Knightslayer, an homage to the signature dirt-jumping style of Knight Ide, Lilias' brother and one of Vermont's most influential trailbuilders. Time-tested cross-country singletrack was outdone by wider, next-generation flow trails with expert level jumps and berms in all the right spots, all serviced by the speedy Sherburne quad and maintained by the Kingdom Trails Association.
The gravity-fed bike park trails further diversified the scope of the Northeast Kingdom's trail offerings. Jester, Burke Mountain's iconic mid-level flow trail, winds down the main slope before entering its crescendo, a set of picture-perfect features situated directly under the chairlift. On any given summer afternoon, local kids cruise the park with finesse, lacing every jump, their tiny limbs gripping disproportionately big bikes as they hang in the air, eking out every last drop of style to be had. A pink helmet and blond ponytail stands out, popping out of a berm to a transition that most can't even reach. Burke Mountain is both a social hub and a breeding ground for young talent.
There's little mystery about why the Northeast Kingdom is brimming with talented young riders. In addition to having abundant trail access outside their front doors, local kids have for years been blessed with world-class coaching and mentorship programs. The list of highly skilled local coaches reads like a veritable "Who's Who of Mountain Biking." From the legendary late freerider Kyle Ebbett to Knight and Lilias Ide to Alex and Ella McAndrew to Ryan McEvoy, such luminaries have devoted countless hours to passing the stoke of riding on to younger generations.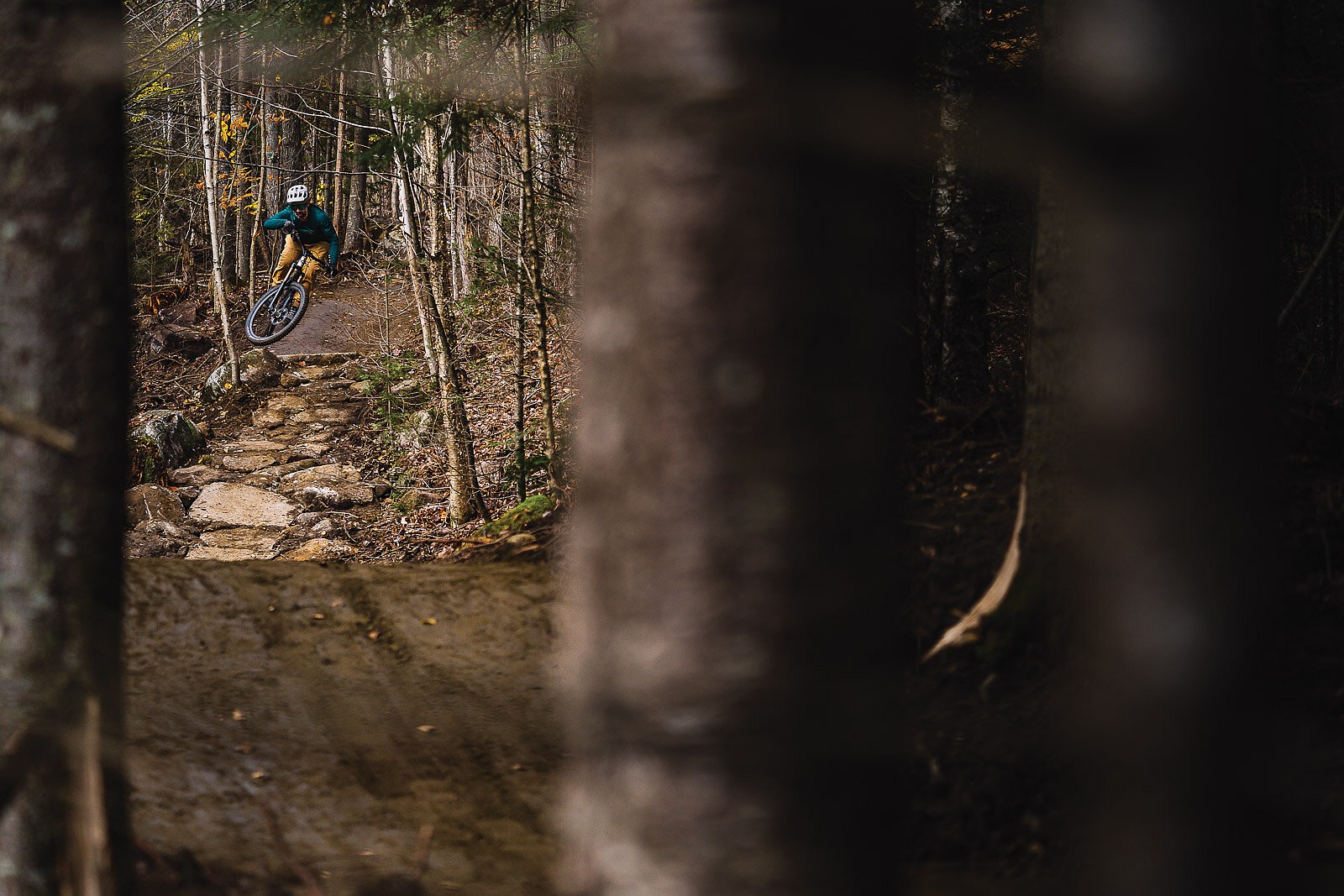 For years, the Ide Ride training sessions—spearheaded by Knight Ide—have brought local kids together to develop skills and instill confidence on two wheels. Most of those who attend the programs eventually become regulars at the local dirt jumps or on the junior race team.
One such story revolves concerns Yofta Larocque, who was timid and shy when he first attended one of Ide Ride's summer training camps several years ago. His skill level was basic, and he was particularly hesitant when going downhill. But Ide Ride's only coaching rule is "no degrading negative feedback," and the coaches coaxed him down descents, continually encouraging him and praising his successes. Fast-forward to today and Larocque is one of the area's most steezy and confident riders.
"Nowadays, we're lining up for a photo shoot and I'm taking style cues from him," McAndrew says.
During its early days, Ide Ride focused on freeride-oriented camps that founder Knight would host at his property in nearby Newark, Vermont. Once young riders had built their confidence and developed some solid skills, Knight would take groups to the Highland Mountain Bike Park in Northfield, New Hampshire, to tackle park trails and watch professional riders.
"All the pros would be practicing for the competitions, so we'd rub shoulders with them, and the kids could see the riders they'd typically see riding in the movies," Knight says.
Chief among these pros were Clint McMahon and Kyle Ebbett, whose groundbreaking segments in the "Chain Reaction" video series had made him a national freeride phenom. Though Ebbett's early contributions to the street and dirtjump fringes of the freeride movement made him famous, he was eminently approachable and dedicated much of his time to coaching and mentoring young riders. He also was an influential course designer and trailbuilder and remained active in the Vermont trailbuilding scene until his 2018 death in a boating accident.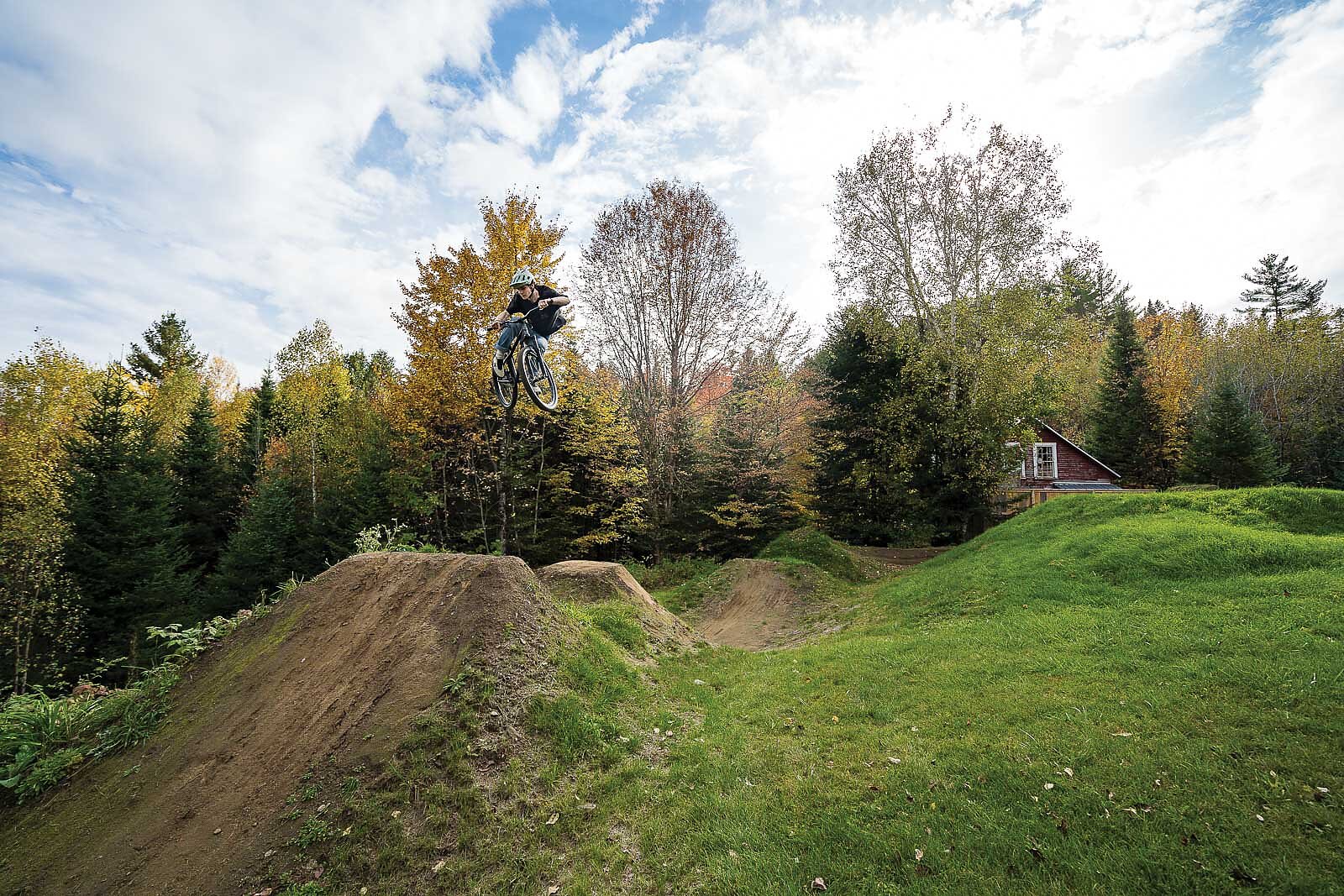 "I apprenticed under Kyle for eight years," says Ryan McEvoy, a local ripper and dedicated trailbuilder who attended Ide Ride camps as a kid and now gives back by coaching them. "Pretty much any opportunity he gave me, I'd say yes. I got thrown into a machine in Colorado for the first time, and that's how I learned to build trail."
This royal lineage of riders, coaches and trailbuilders remains strong in the Northeast Kingdom, and their dedication to trailbuilding and advocacy is paying off in the form of new trails that could help ease the increasing congestion of the established Kingdom Trails network. Just a few miles southeast of Burke Mountain lies the Victory Hill Sector, where Knight and his hardworking crew are refining and expanding several challenging descents originally built by John McGill.
McGill, who began working on the property after it was aqcuired as a conservation easement, designed descents that could be accessed by pedaling up a road originally built by the Civilian Conservation Corps that wraps around the backside of Burke Mountain and connects to the Victory Hill zone. He created some of the original lines by dragging a log behind his four-wheeler and then riding them in with close friends and fellow trailbuilders. Some of these trails became known to the public when he opened them up as part of the Circumburke Trail Challenge, which is now a 27-mile backcountry race that circumnavigates Burke Mountain on a route through state land, the Kingdom Trails and the Victory Hill Sector.
Over the past couple of years, Knight and his crew have periodically expanded upon the Victory Hill network, even adding six new forested descents that begin toward the top of nearby Umpire Mountain. Each of these winds creatively through a giant boulder depository, resulting in a veritable playground of ingenious features that only avisionary could imagine and bring to life.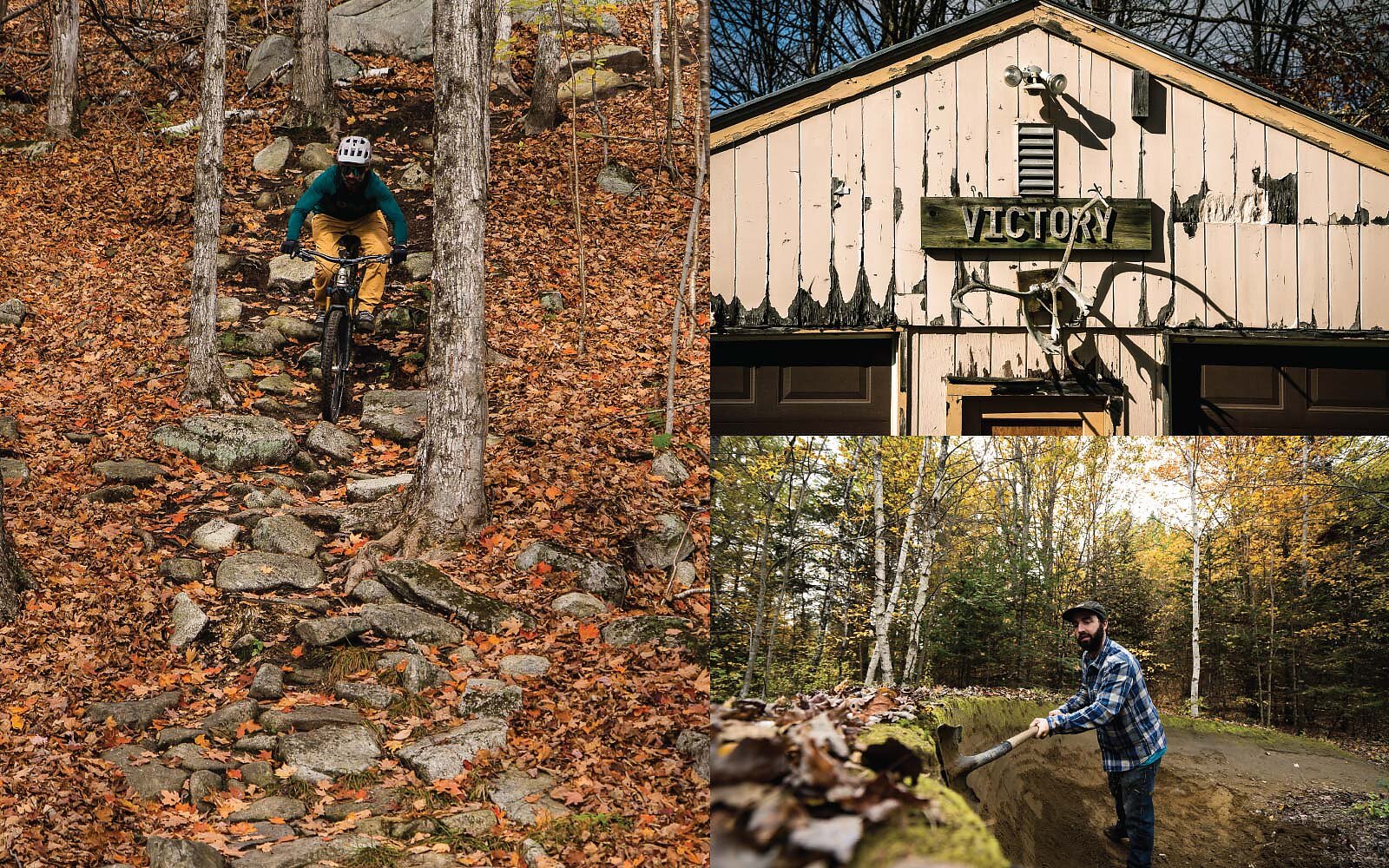 "I do enjoy working with stone," Knight says. "My favorite part of trailbuilding is tying a flag to a tree and imagining
a trail is there."
In recent years, the Victory Hill trails became popular with enduro riders, and the Victory Hill Sector nonprofit that manages and maintains them hosted the Eastern States Cup Enduro Series there in 2016, 2017 and 2018. These trails, along with the challenging new singletrack on upper Burke Mountain, are providing more advanced riding options to complement the robust variety of novice and intermediate trails around East Burke.
In a concrete affirmation of East Burke's race-worthy trails, the Enduro World Series (EWS) is scheduled to hold one of its U.S. races on Burke Mountain in mid-August, bringing the world's fastest enduro racers to the laid-back town in a test of gravity-fueled mettle. Not only will this be the first EWS event in Vermont, but it will also be one of the only world-class professional gravity contests to take place in the state since the NORBA races at Mount Snow in the early 2000s.
Given how much regional enthusiasm there is for gravity-fed mountain biking—to the tune of some 20 bike parks operating within a five-hour radius from Southern Vermont—the EWS race is pretty much guaranteed to be a New England hit. In addition to putting East Burke on the global racing map, it could also demonstrate to state regulators how quality trailbuilding is creating a real economy from outdoor recreation.
"To expand the group of people and have this on the world map—you can't put a price tag on that," Knight says. "People want to go to those places where the pinnacle of the The trails of Victory Hill Sector expand on northeast Vermont's sport happens."