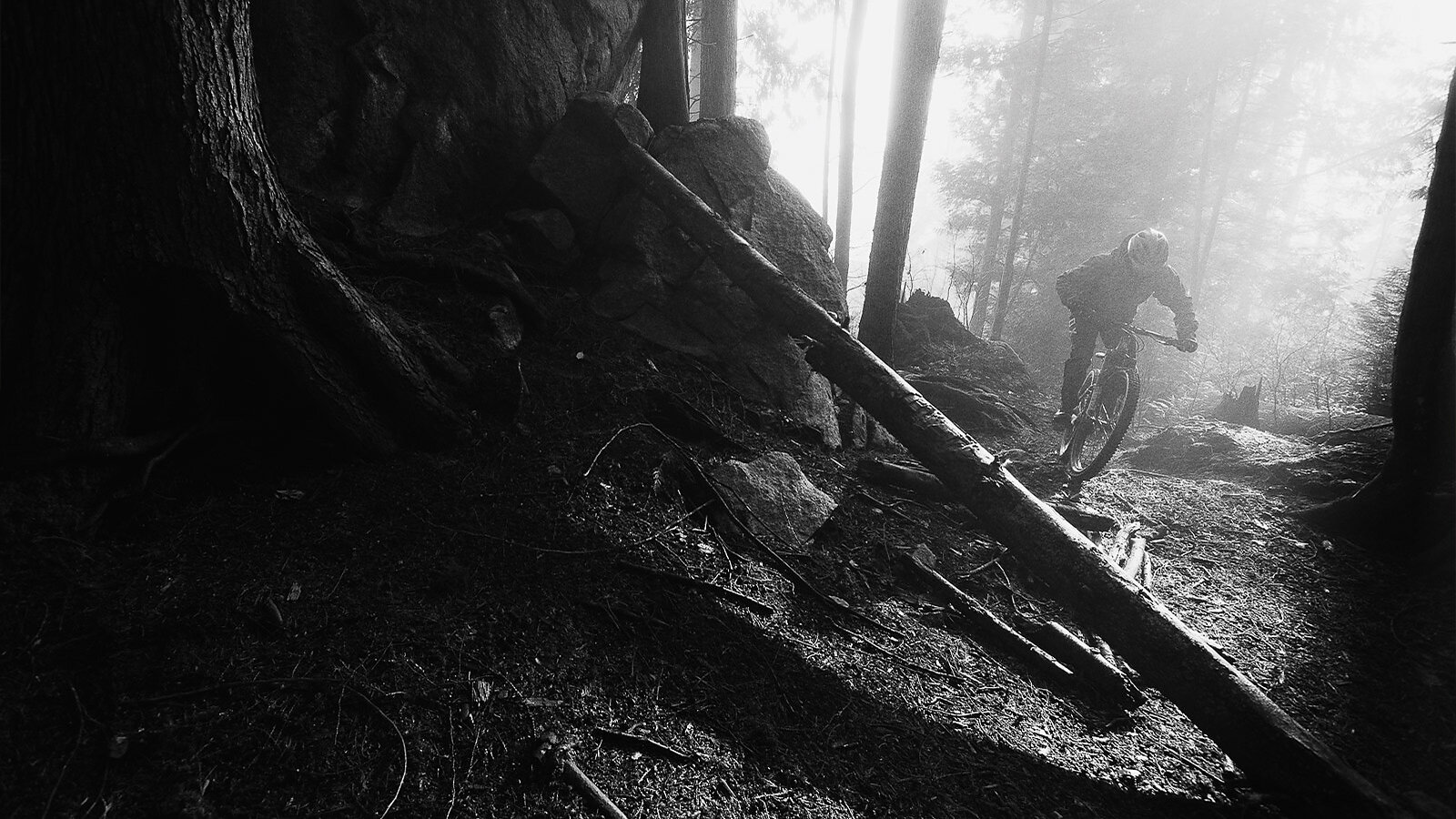 Celebrate the New Dark Age A New Age of Riding on the North Shore
All things that grow and flourish are in a state of continuous change, subject to decline and destruction. On Vancouver's North Shore, this idea of impermanence can be witnessed as new trails get scratched in beside the skeletal remains of decaying ladder bridges.
Day by day, newer, faster and more aggressive lines have replaced artifacts from rad times of yore at the turn of this century. At this juncture, the only constant that remains is the dark, brooding and uncompromising nature of the Shore with its steep, forested slopes shrouded in mist. Matching the ever-changing moods of this infamously rugged landscape, the geometry, suspension design and materials of mountain bikes have undergone periods of radical evolution. Emboldened by technology and inspired by history, riders who grew up on a steady diet of freeride from an early age continue to redefine what is possible, ushering in bold perspectives on mountain biking in North Vancouver. This project isn't about remembrance. It's a celebration of change—a new age of riding on the Shore is here.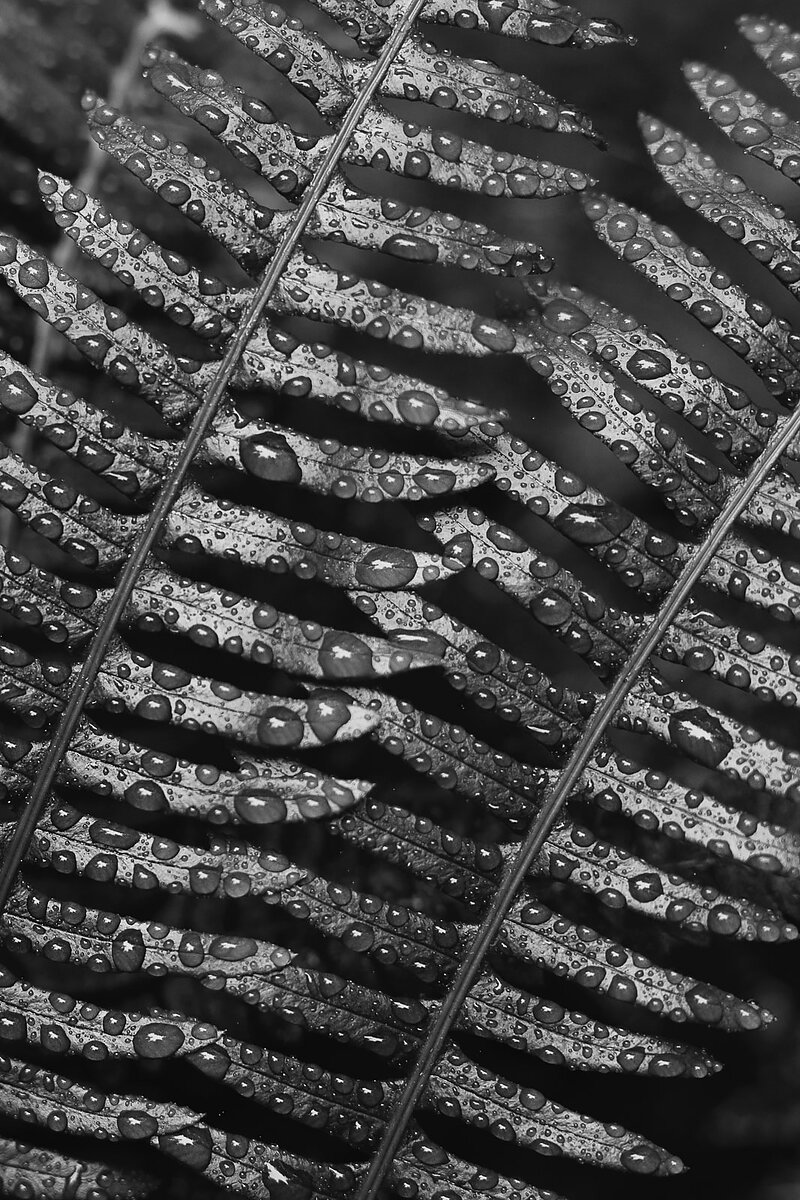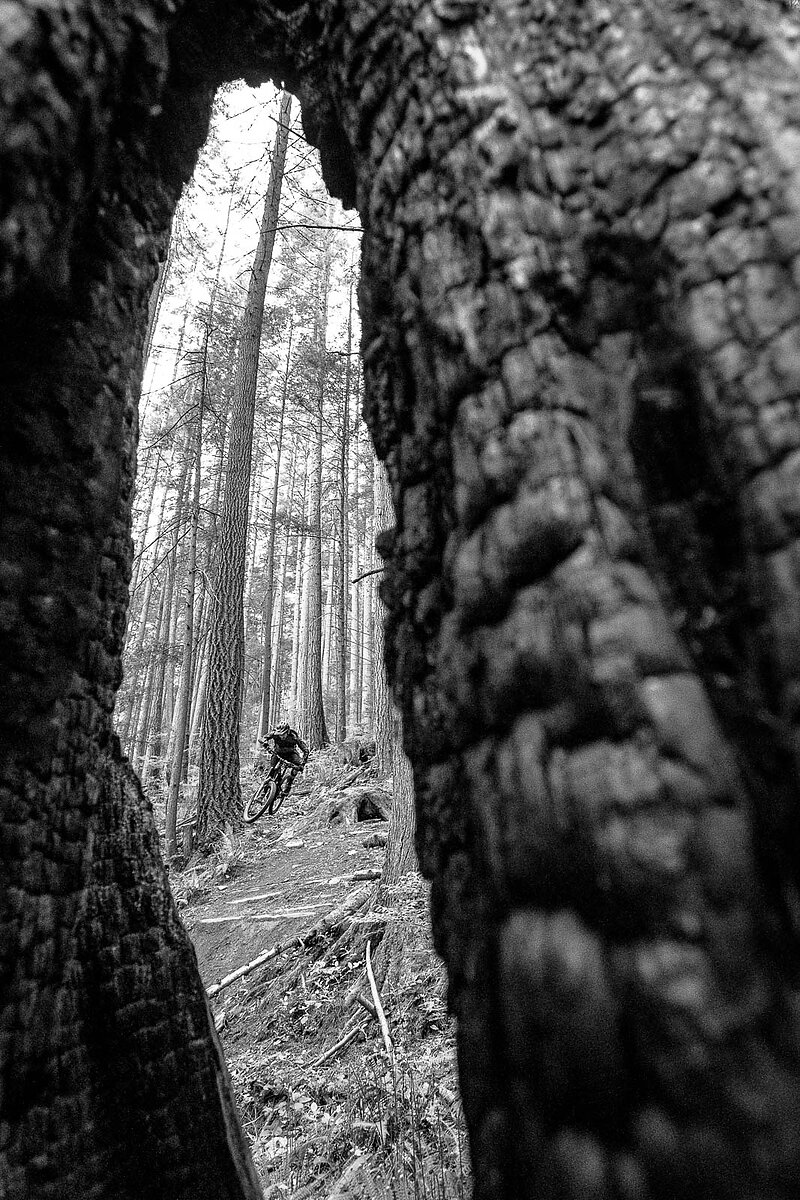 Wade Simmons, Mount Seymour
Just an hour before Wade and I arrived at this spot, the whole zone had been fogged in. But it quickly dissipated, leaving us with spotty light and that familiar feeling of being skunked. Fortunately, a cloud passed overhead, and this lightning-blasted stump combined with Wade's classic style salvaged the shoot.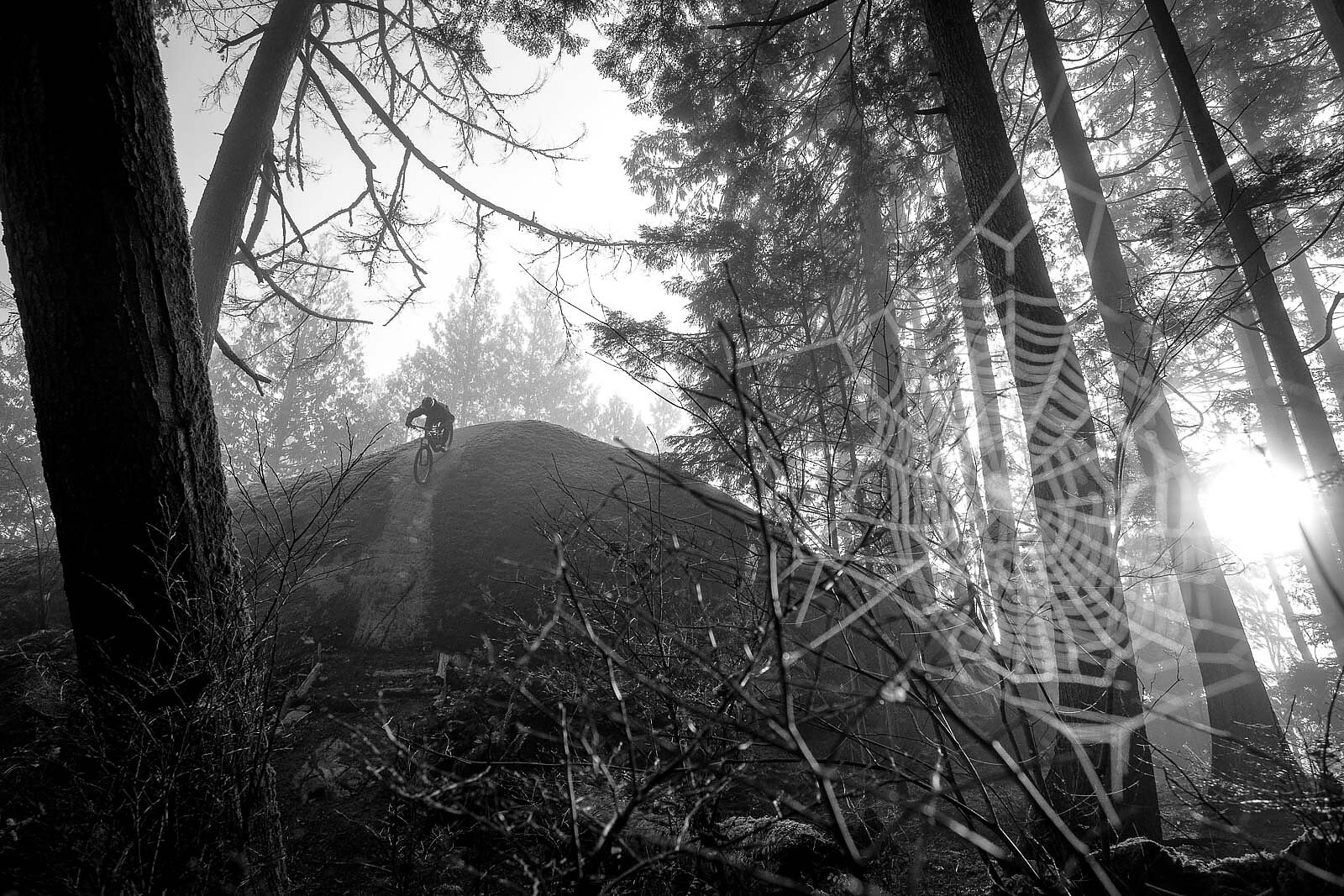 Scott "Shiggy" Mackay, Mount Seymour
"Will you walk into my parlor?" said a spider to a fly. "'Tis the prettiest little rock roll that you ever did spy." Being in the right place at the right time, coupled with Shiggy's sharp eyes (which spotted the spider's web), led to something I couldn't plan for or ever hope to replicate.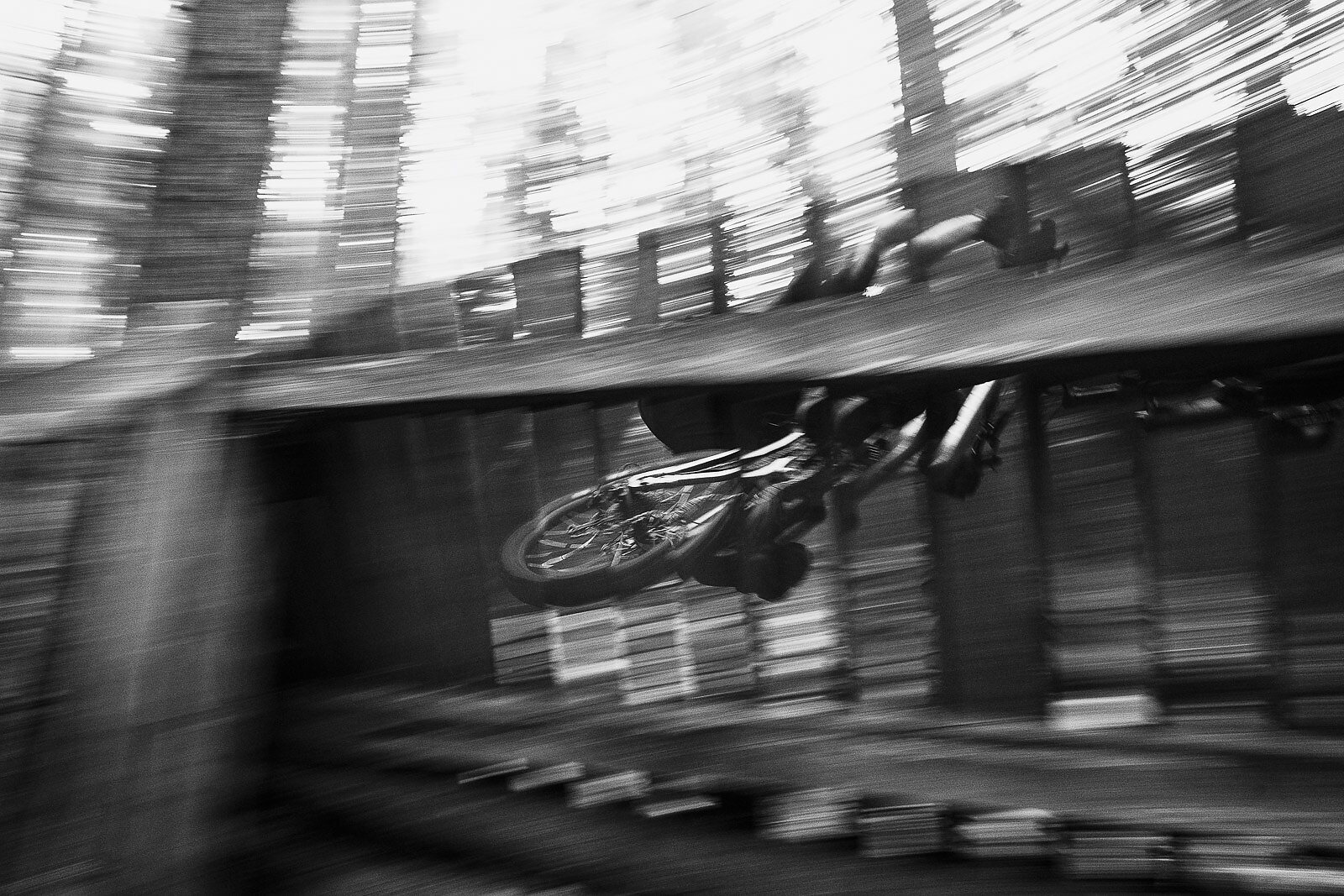 Matt MacDuff, Mount Seymour
On this shoot I was working with a cinematographer, which forced me to stay off to the side and look for new angles. I soon realized that this wallride offered an opportunity to create an image I had not yet considered—proving that necessity, creativity and collaboration are the extended family of invention.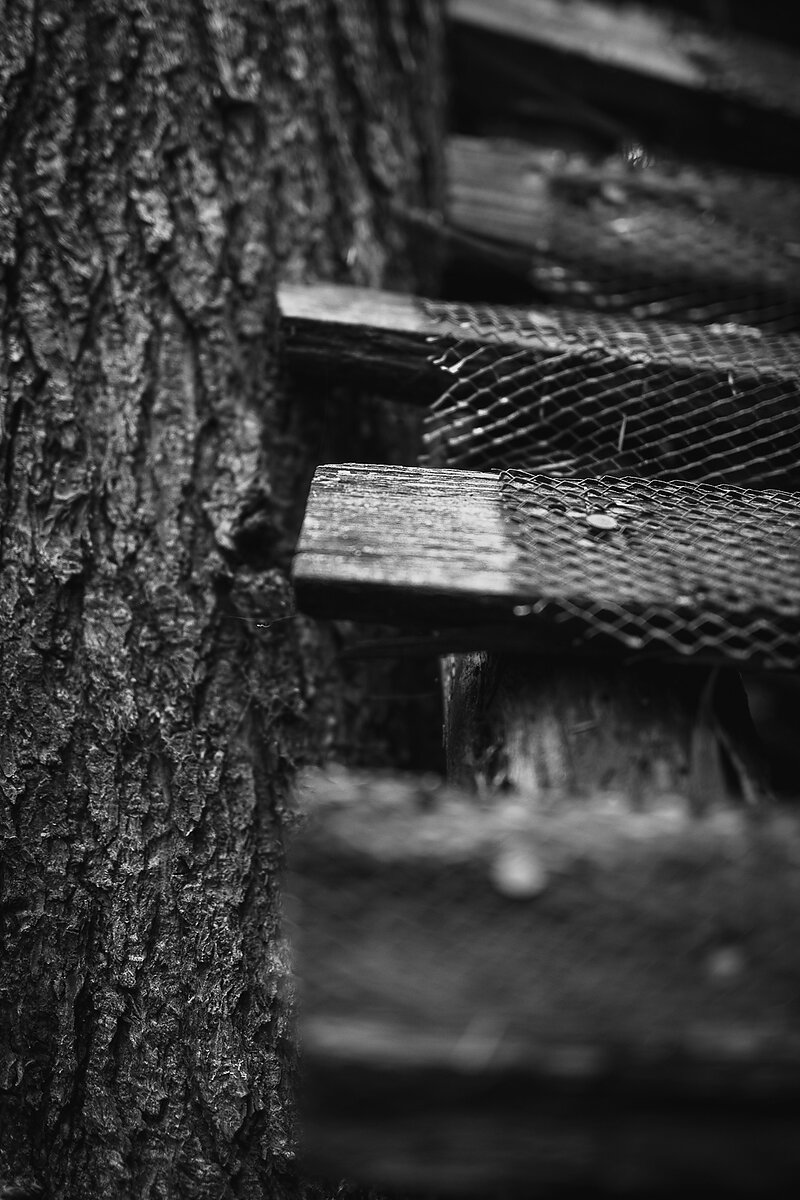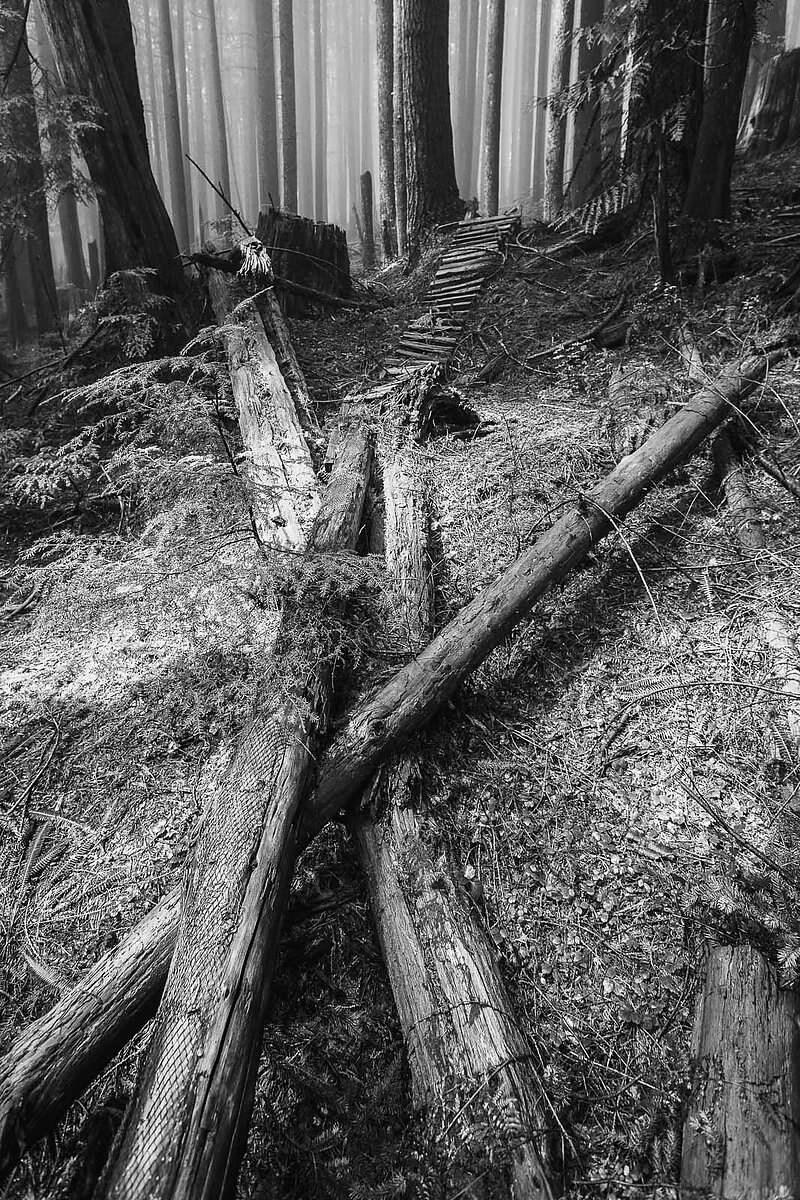 Mount Fromme
One of the most well-preserved remnants of the decaying museum that was The Flying Circus—the most significant creation of legendary North Shore trailbuilder "Dangerous Dan" Cowan.
This intersection of the Shore's slower-speed, janky past is gradually being reclaimed by the forest as newer, faster trails are built around its dilapidated frame. It's a literal representation of our sport's past and future, connected by slats of cedar wrapped in chicken wire.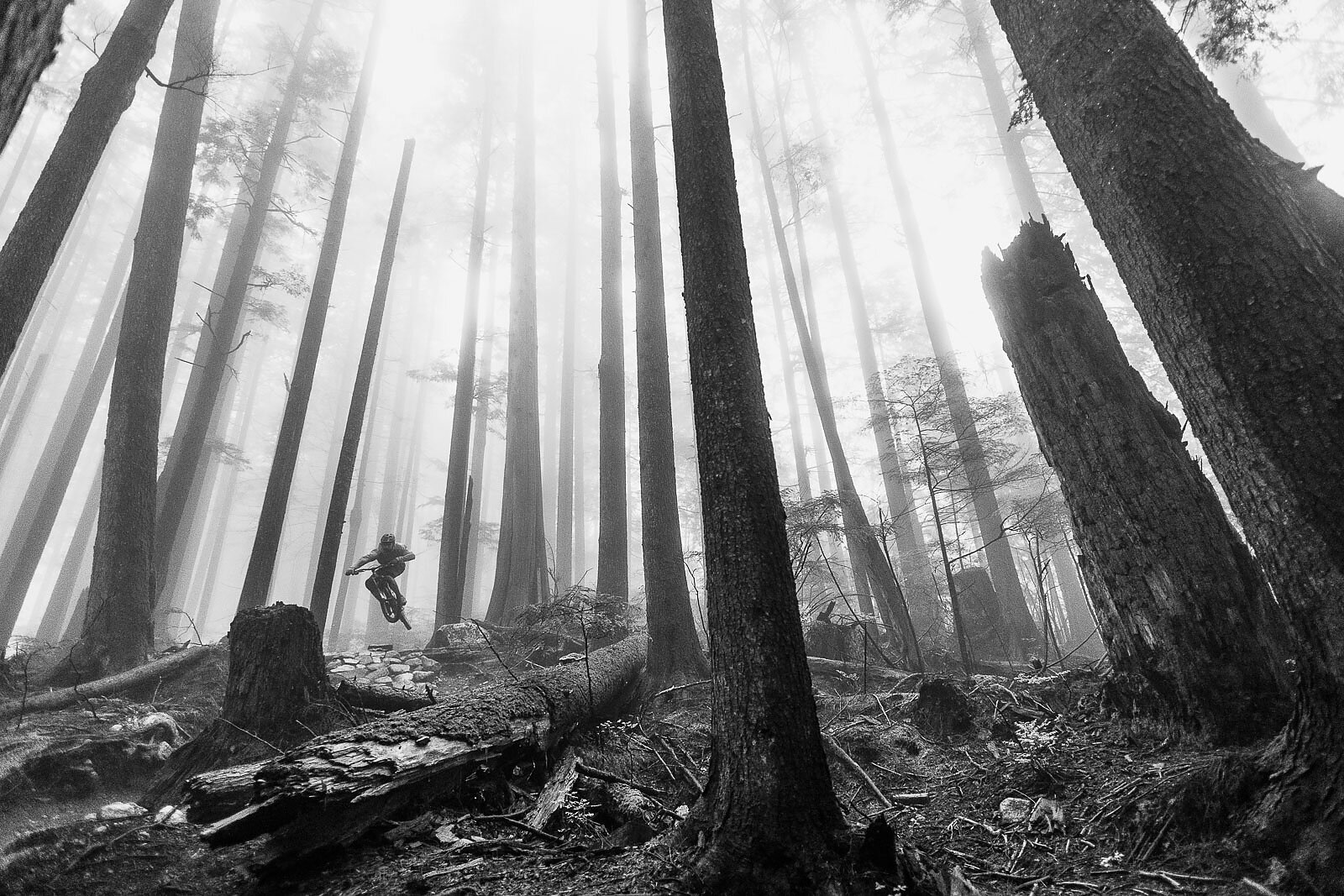 Nigel Quarless, Mount Seymour
Nigel Quarless is among the strongest riders I know, having evolved from the freeride scene of the early 2000s to become a leg-severing beast of a trail rider. As a concept artist, he brings an artist's sensibilities to our shoots—the goal is to create a timeless photograph where speed and style are perfectly balanced against the rugged beauty of the landscape.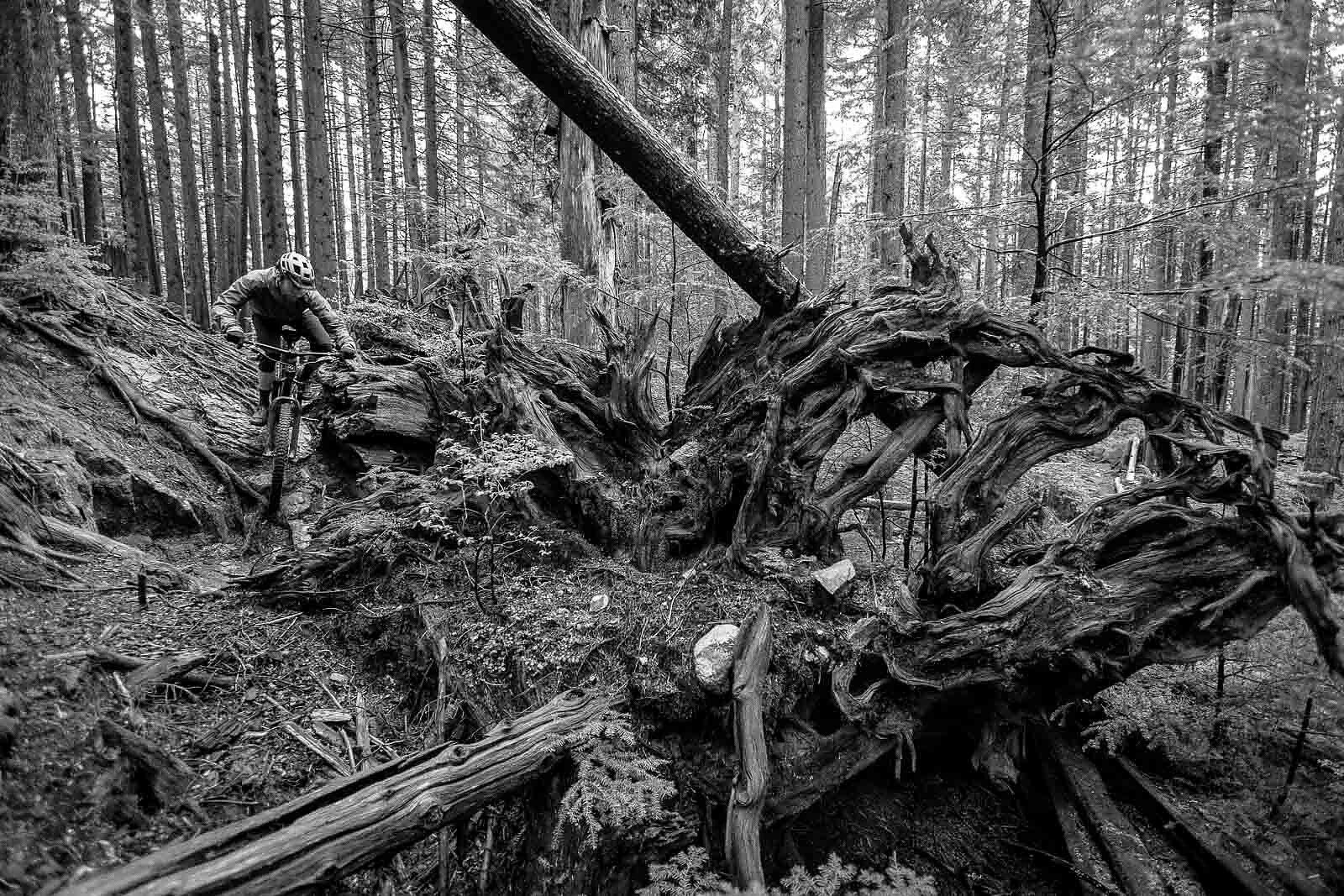 Cooper Quinn, Cypress Mountain
My approach to photographing the Shore is as if I'm shooting a black-and-white portrait. I use pieces of the landscape to focus attention on the action, while allowing the attitude of the landscape to shine through in every snarled root and grisly feature.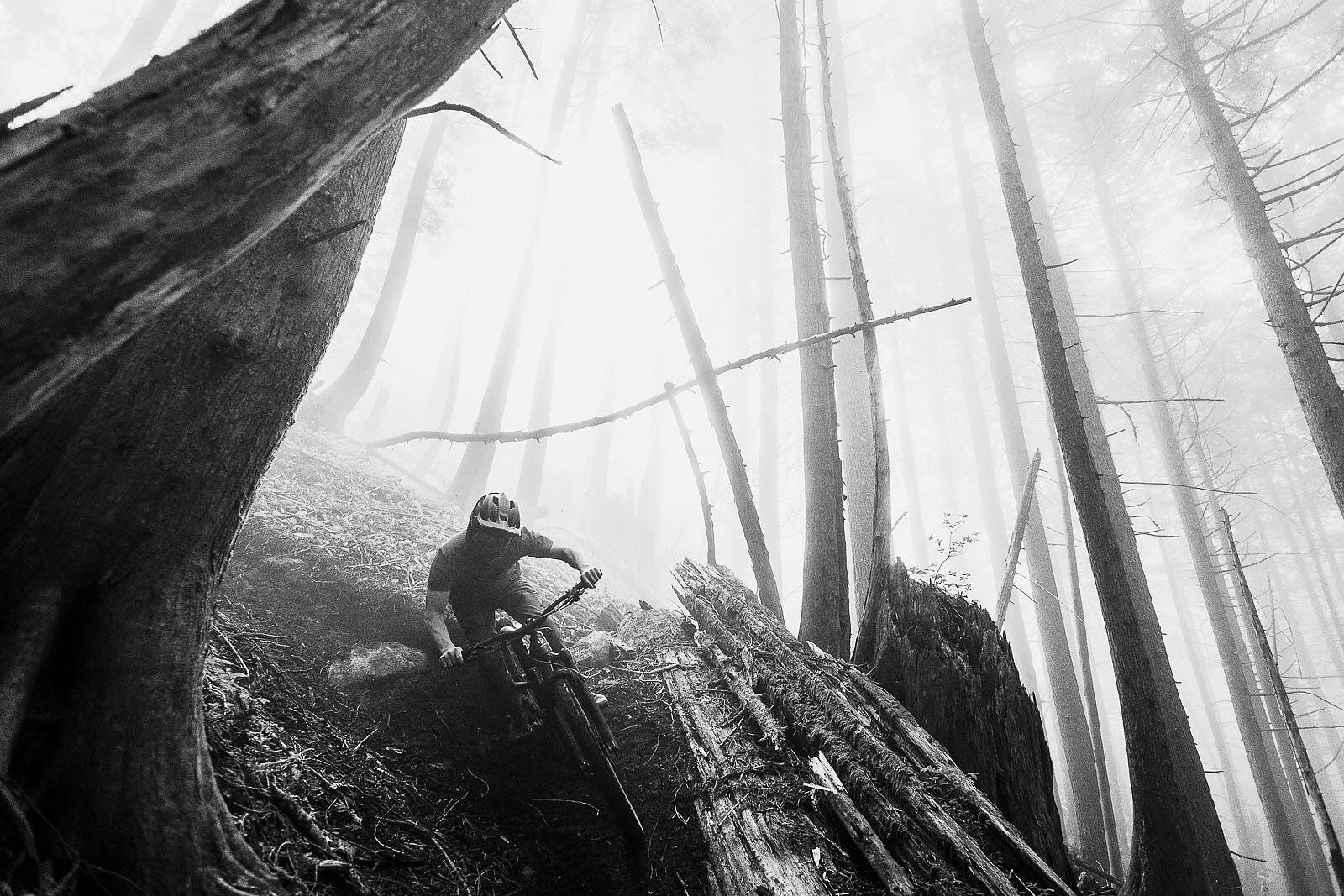 Jono "The Mole" Lo, Mount Seymour
The canopy of the coastal rainforest is dense which makes working with available light a challenge. This gallery would not be complete without acknowledging the trailbuilders whose work has been illuminated. Thank you to those who play within the boundaries, as well as those who straddle the softer edges of the dark room.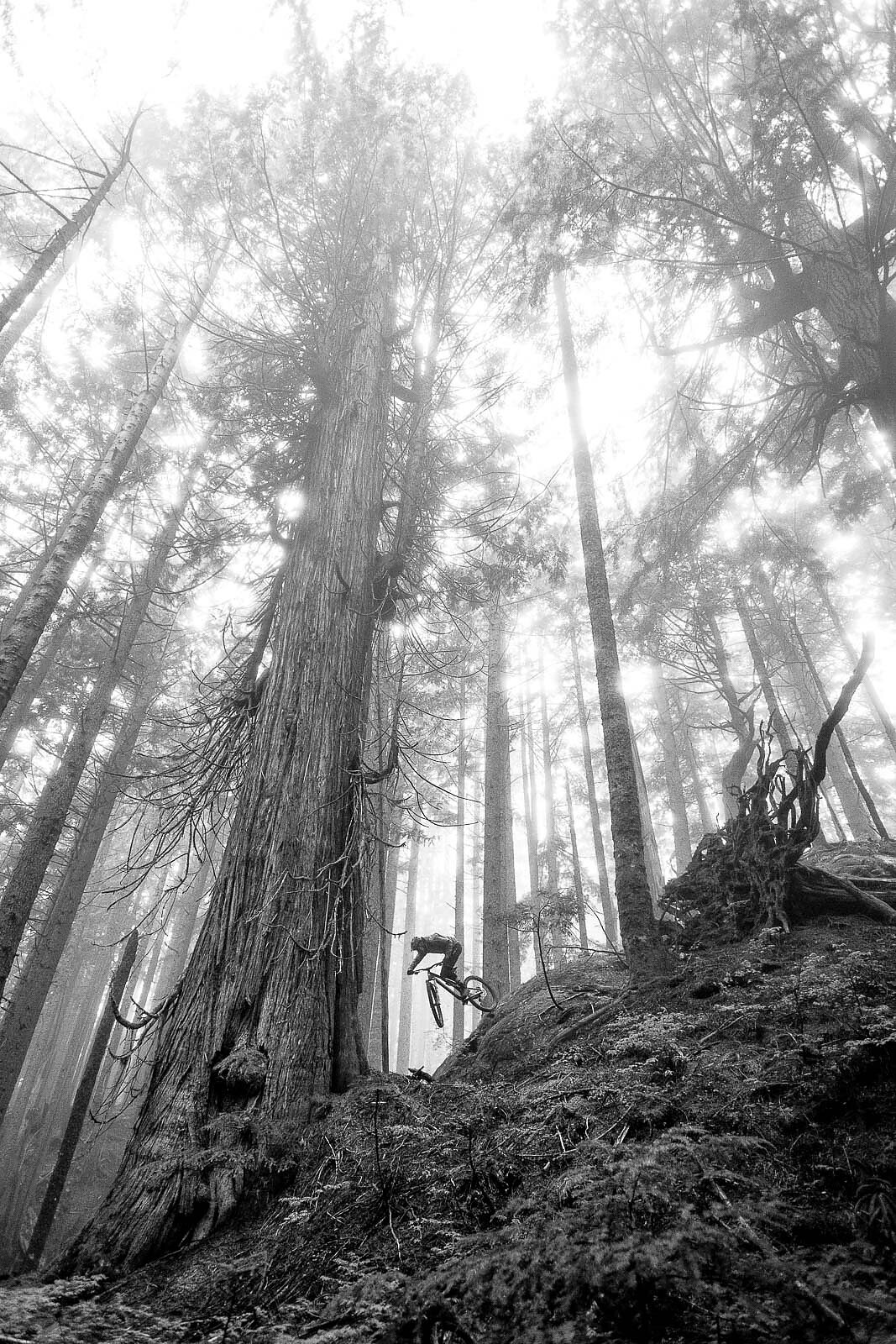 Stephen Matthews, Mount Seymour
The days are rare when the weather, rider and location line up to create a photo that reflects why I love the Shore. This was one of those times when the landscape dominated the frame. In the presence of this ancient western red cedar, with its uppermost branches disappearing into the fog, how could anyone not feel insignificant next to it?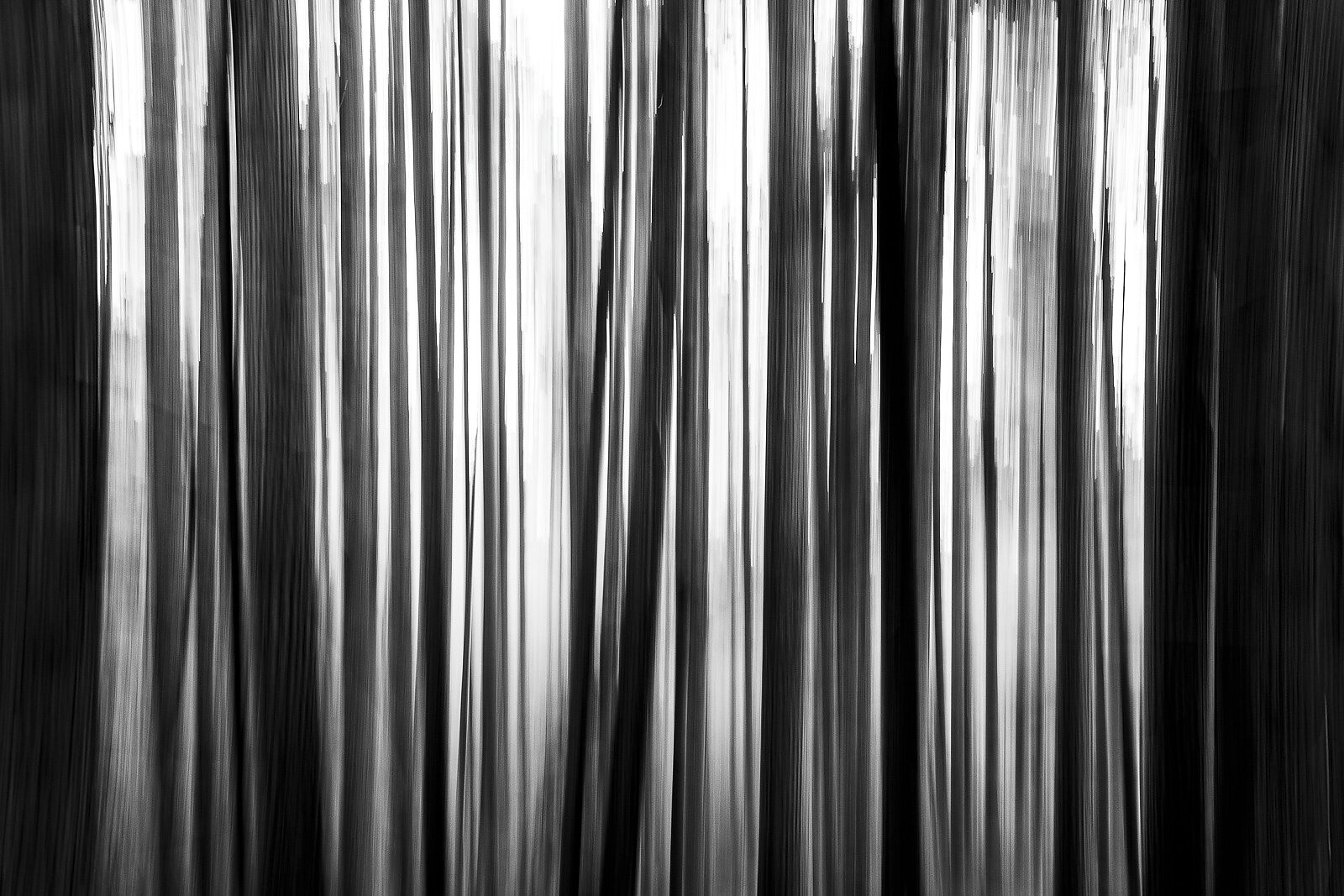 Deep Cove
Early in my career as a graphic designer, one of my mentors told me to look at every layout as an opportunity to experiment. I take the same approach to photography as I do design. The process is revision-heavy, ugly and plagued with self-doubt. But this is balanced by the moments of learning, inspiration and creative fulfillment.