Borderlands Travel Guide
Stretching from the rugged Mahoosuc range of Maine to the rolling Green Mountains of Vermont is the Borderlands.
This up-and-coming mountain biking destination encompasses everything from New Hampshire's iconic White Mountains to the untamed wilderness of Québec. Three states, two nations and nine towns make up the Borderlands, and its boundaries are spread across Québec, Maine, New Hampshire and Vermont. Together these nine communities have teamed up to showcase what this corner of Northern New England and Southern Québec has to offer. The best part? It's easy to hop from one Borderland stop to another, making for the perfect New England getaway. No two destinations are the same and feature some of the Northeast's most diverse riding. The trails range from fast, machine-built flow to butt-kicking rock gardens and root webs. With plenty of approachable terrain for beginners and no shortage of high-adrenaline trails for advanced riders, there's a little bit of something for everyone in the Borderlands. The hardest part is deciding where to go first.
But the Borderlands community is about more than just riding, they're passionate about the whole experience on and off the bike. All throughout this region, you'll find picturesque villages, cozy inns and off-the-grid huts for recharging after a long day of exploring. With no shortage of farms and fresh produce, food is a way of life in these parts. Plus, you get to enjoy your cuisine with plenty of local craft beer options and we can't think of a better pair. There's also plenty of lakes, swimming holes, rivers and hikes nearby to turn any visit into a multi-sport adventure. Discover what this hidden gem of New England has to offer in our travel guide below. We dive into what makes each location special so you can stay focused on the important things—like planning your visit.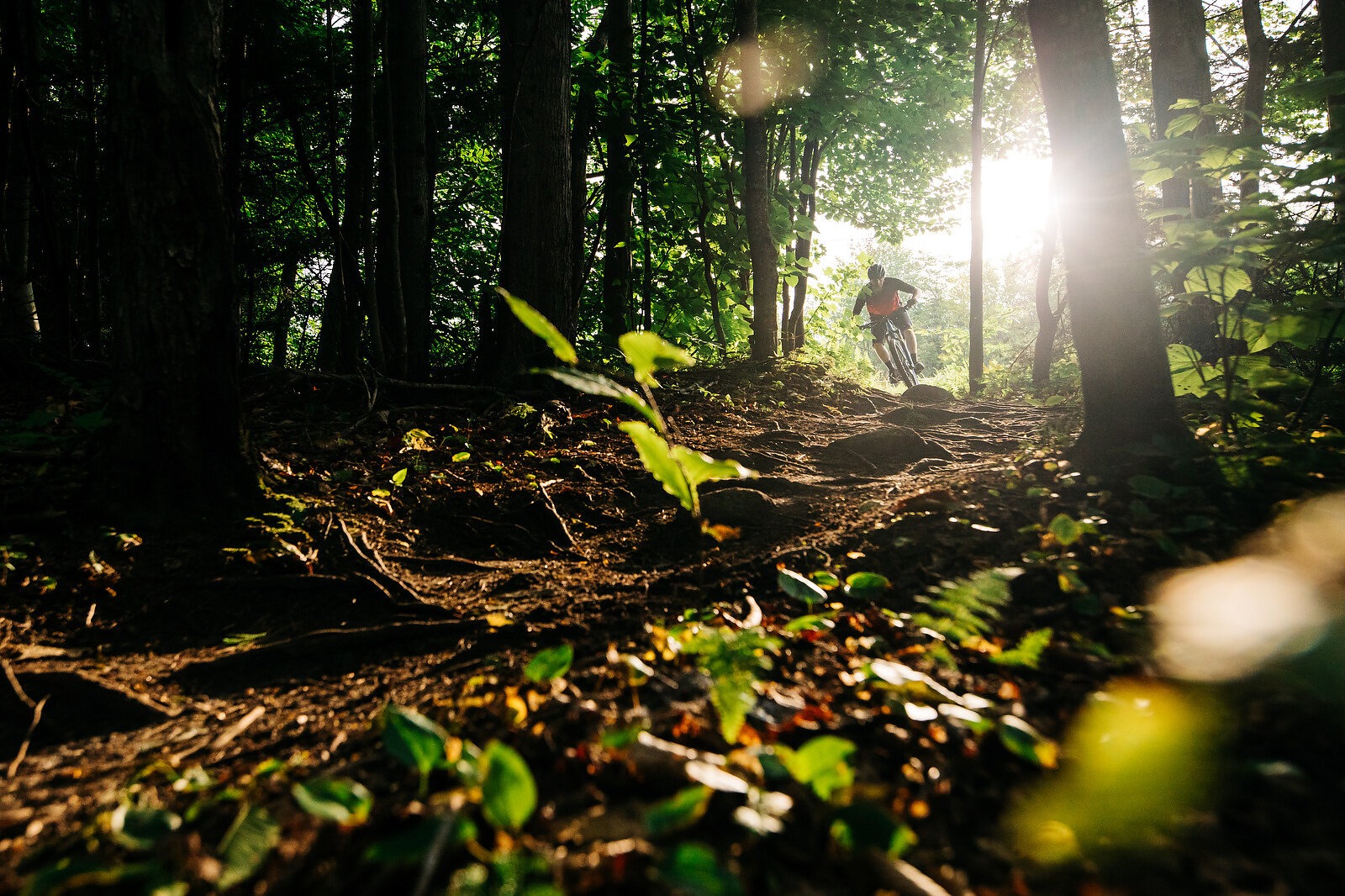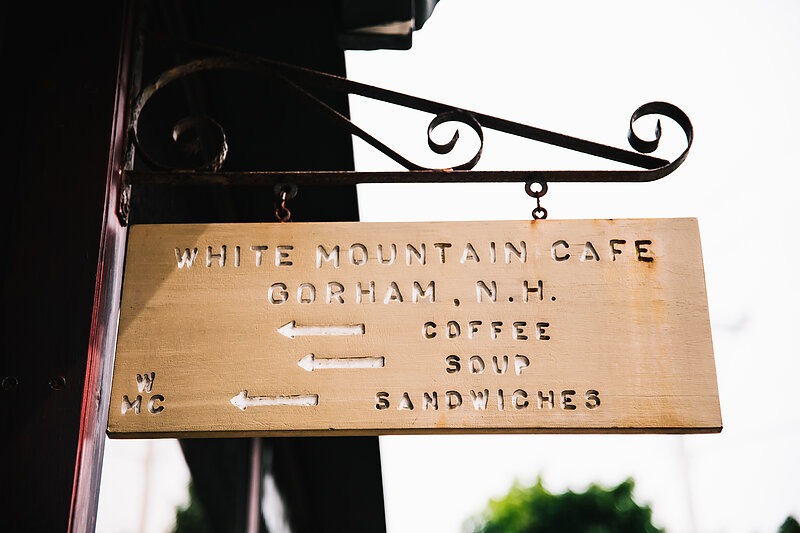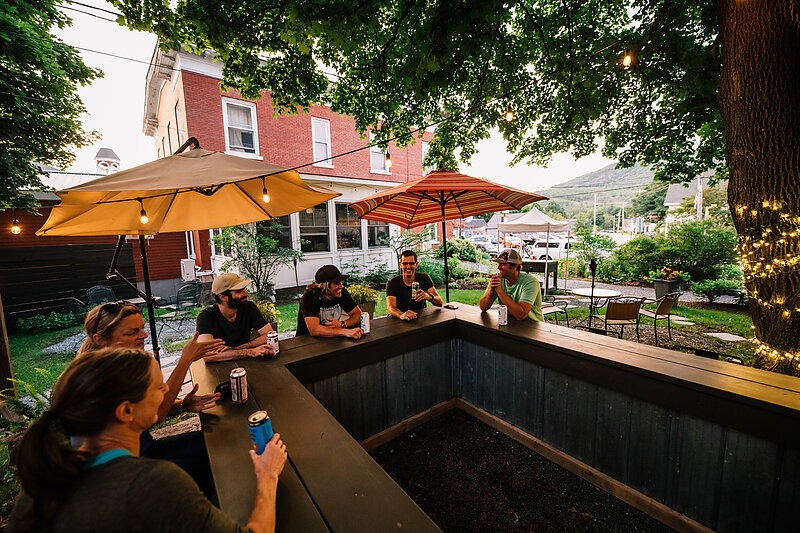 ---
Gorham, New Hampshire
Tucked in the lush Androscoggin Valley is the adventure-driven community of Gorham, New Hampshire. With the majestic Presidential Range just north of the town, it's always been a hotspot for mountaineers, backcountry skiers, and hikers. These days, however, Gorham is becoming a thriving bike destination, largely due to the hard work and efforts of the local Coos Cycling Club.
The region currently encompasses 22 miles of singletrack, which mostly runs parallel to town making it easy to access. It has everything from old school New England singletrack to machine-built flow and freeride features. For stunning views of Mt. Madison, take a ride up The Strand, and descend on For Pete's Sake for a fun, fast descent. Howie Roll is another local favorite for its many big berms and gap jumps. But if you want a proper tour of the place, the Coos Cycling Club has a group ride every Wednesday and meets at the Moose Brook campground. Newcomers are welcome, and they break the group apart by ability.
For lodging, look no farther than the Hub North. It's a renovated girl scout camp that offers Pinterest-worthy glamping setups, rooms in their beautiful lodge, and direct access to the Coos Trails. It's the perfect spot to make smores, rest your weary legs, and connect with other like-minded travelers. For food, get your caffeine fix at the White Mountain Cafe. They've got breakfast sandwiches, paninis for lunch, and all kinds of beverage options. For dinner, treat yourself to an incredible meal from Libby's Bistro and SAaLT Pub. Their chef blends local farm-fresh ingredients with delectable worldly cuisine, which pairs well with one of their off-the-wall cocktails. Pro-tip: get a reservation early. Folks drive from all over New England to eat here so it's worth planning ahead.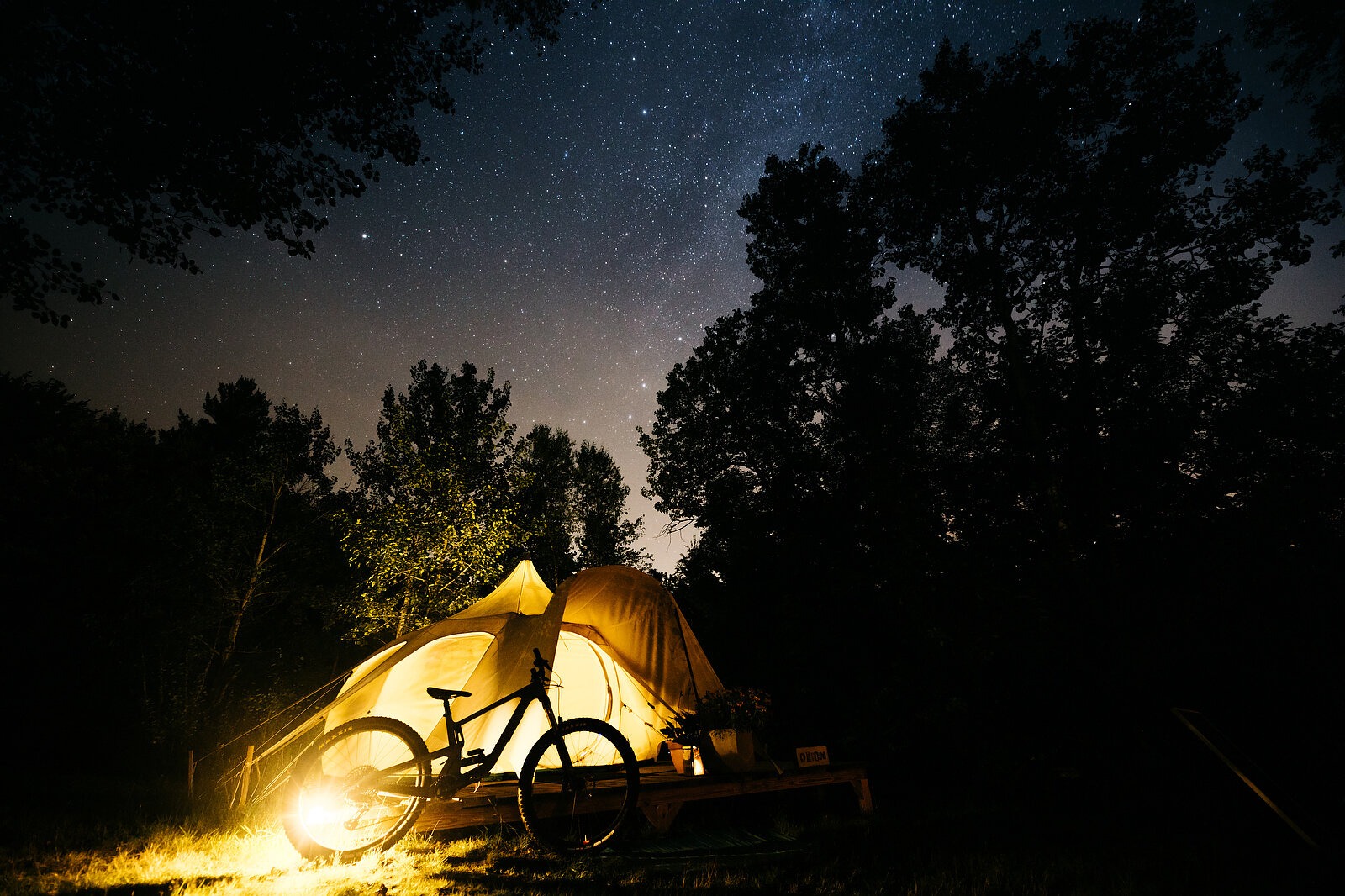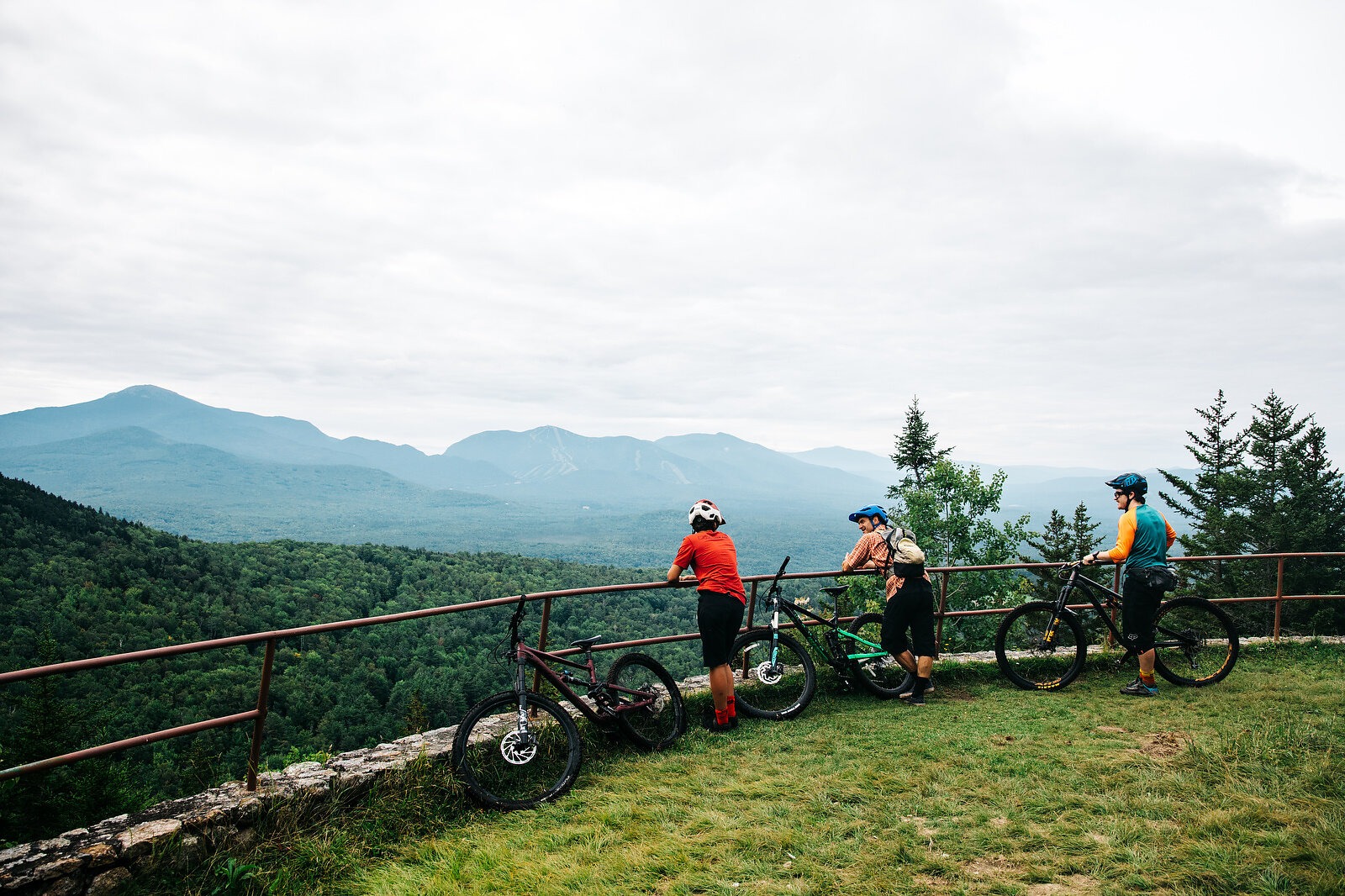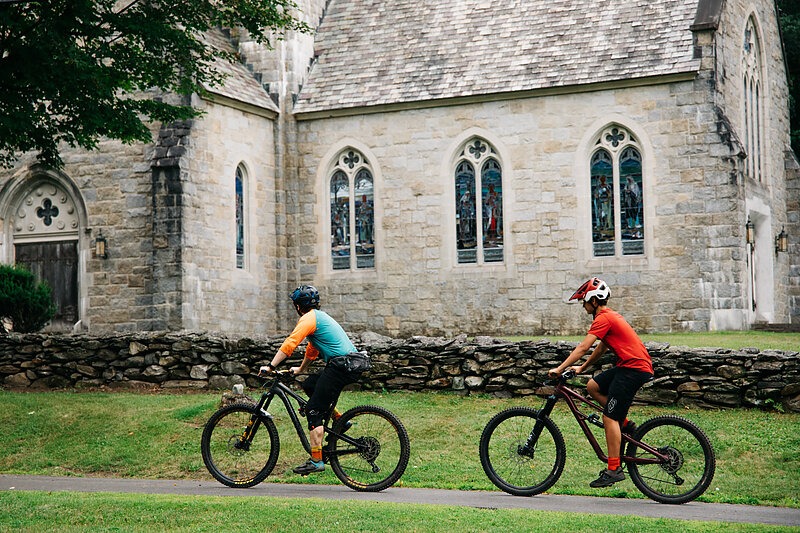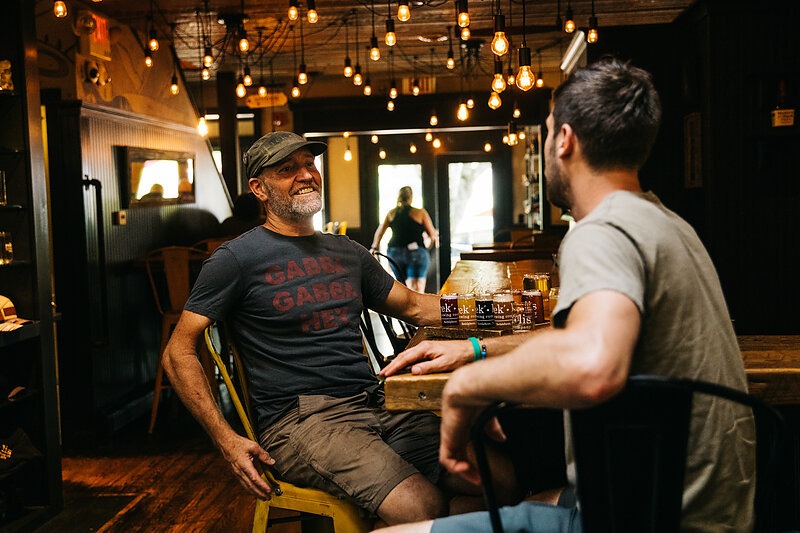 ---
Bethlehem, New Hampshire
Perched in the White Mountains is the charming village of Bethlehem, New Hampshire. The Bethlehem Trails Association (BTA) has 15 miles of singletrack and big expansion plans. New Hampshire's nickname is "the Granite State'', and it's easy to see why on the BTA's most famous trail Shoulder Roll. It's an advanced, fast trail with an exciting mixture of technical features and berms. Its crown jewel, though, is a massive granite rock roll that feels plucked right from B.C. There's no public parking at the top of the trail, so you'll need to pedal up Agassiz Street to Mount View Lane to access the trail. While you're at it, you might as well keep climbing and take the Into the Wild climbing trail to soak in the panoramic views from Mt. Agassiz before dropping into Fast Times to link up with Shoulder Roll.
For those looking for less of an enduro adventure, Bethlehem has a variety of green and blue trails near the river that are friendly and optimal for beginners. BTA also just added a skills park in that area, which was designed by a handful of local groms. Drop by here to finesse your jumping skills and race your pals on the dual slalom track. But no visit to Bethlehem is complete without a stroll down Main Street. Its many galleries feature artists from all over the world and the Colonial Theatre—the oldest continuously operated movie theater in the country—hosts everything from Grammy award-winning singers to independent films. Check their event schedule before visiting so you can time your trip with a show. Also carve out time to explore the many shops, like Lonesome Woods which is an intriguing collection of New Hampshire relics and locally made apothecary.
Main Street is also where you'll find the Rek-lis Brewing Company. The owners are avid mountain bikers themselves and love seeing folks roll straight off the trails and into their beer garden. Pop by to sample one of their delicious beers and pair it with some tacos from their kitchen. When it comes to lodging, it all depends on what you're looking for. Quaint New England inn? The Adair is as charming as a gingerbread house. Want something more adventurous? The Rider's Rest Yurt offers views of Mt. Washington, direct access to the BTA trail network and the best view of the night sky.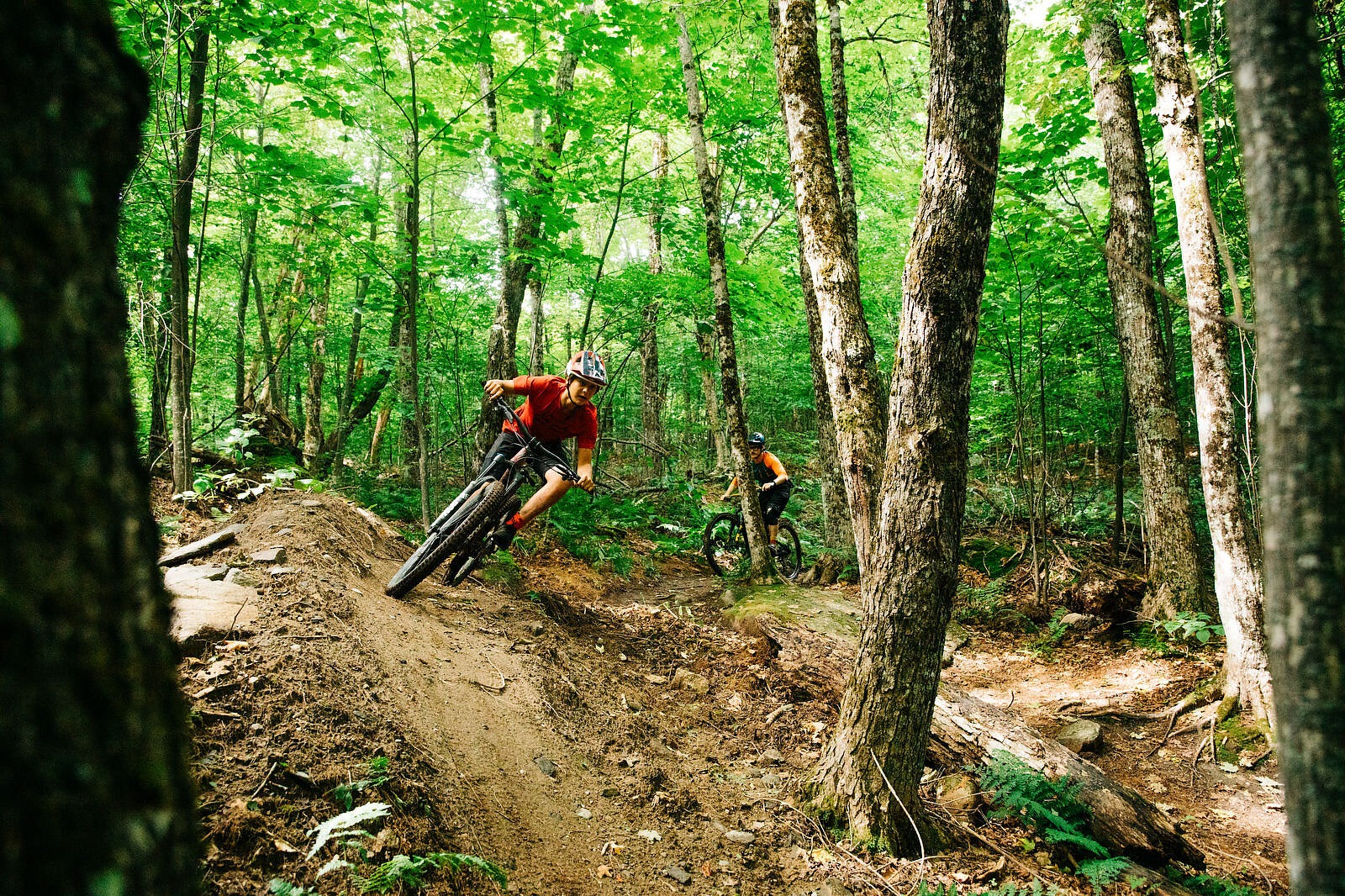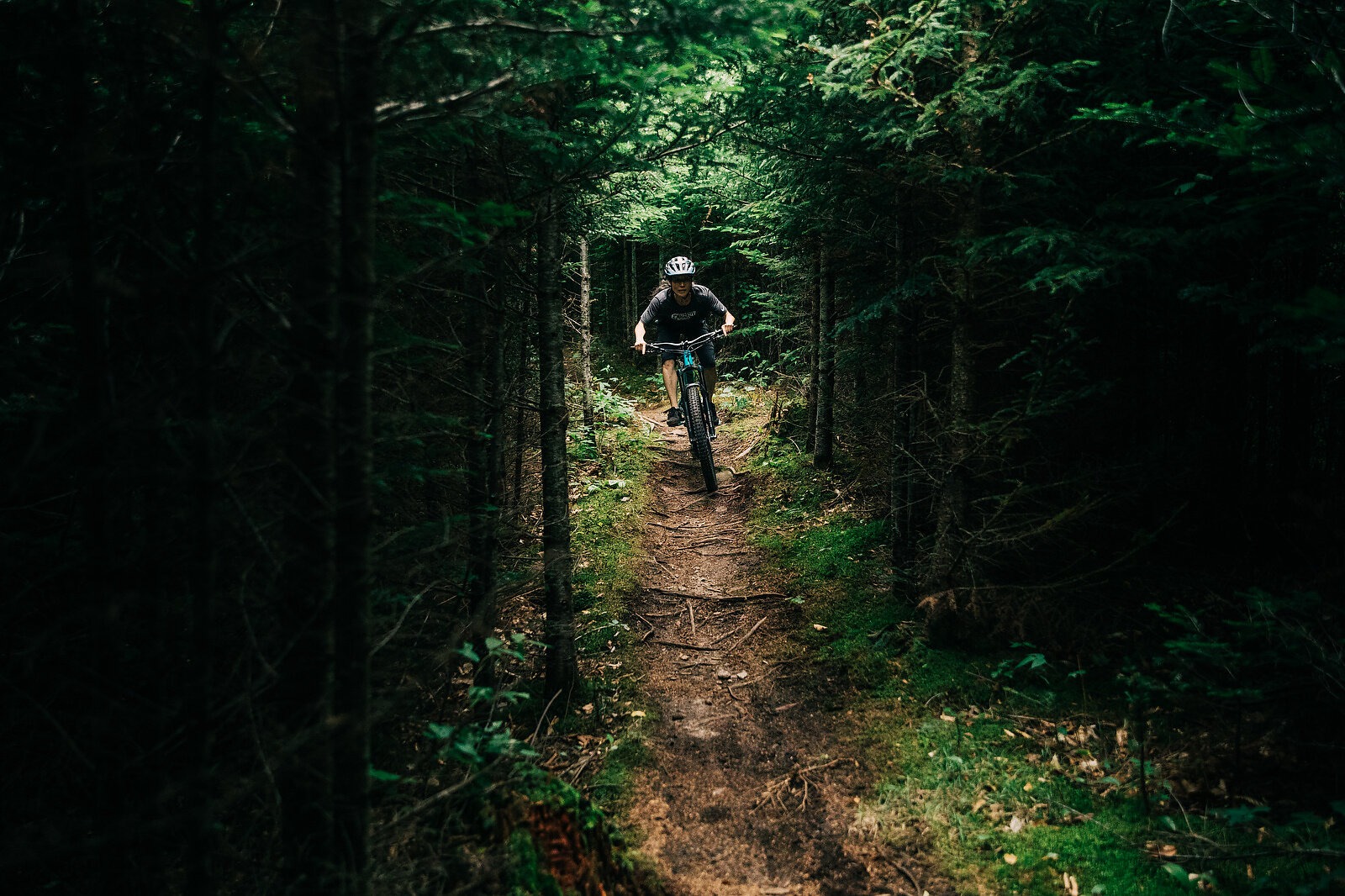 ---
Franconia, New Hampshire
Nestled in the heart of the White Mountains is the small village of Franconia. It might be a little community, but Franconia's history for outdoor recreation and adventure goes back almost a century. Right in its backyard are vast mountains, babbling brooks, rushing waterfalls and serene lakes. All this terrain and iconic destinations like Franconia Notch and Cannon Mountain make Franconia a paradise for skiers, hikers and mountain bikers looking for a rugged backcountry adventure.
There's a saying around here that goes "if you can ride in Franconia, you can ride anywhere." It's pretty spot on. The majority of the Profile Trails network is hand-built and embodies the old-school New England style of riding. This rake and ride approach makes for technical climbs and rocky, rooty descents. The challenge is worth the sweat and effort, though, because the riding brings you right into the heart of these wild mountains. The trail Dark Side embodies this gritty style and is a popular one for its many challenging features and scenic waterfalls along the trail. Rough Cut is another local favorite and thrilling descent if you're looking for something faster and flowier.
Lodging in Franconia ranges from historic inns to cozy motels. The Gale River Motel and Cottage is a fine choice for mountain bikers. It's located right on Main Street, is biker-friendly and has magnificent views of Mt. Lafayette, Cannon Mountain and Franconia Notch right from the rooms. Its ambiance is welcoming and relaxing, and there's a good chance that the office will have fresh baked cookies upon your arrival. The Franconia Coffee House is hard to miss on Main Street with its cheery yellow building. Pop by here in the morning to fuel up with a maple latte and savory breakfast sandwich. After your ride, refuel with beers and dinner at the Iron Furnace Brewery—also on Main Street. The brewery was established in 2017 by a group of local riders who wanted a spot to drink beers after their rides. Not only did they achieve their goal, but the Iron Furnace is now one of the best spots to connect with other mountain bikers and hang out after a full day of riding.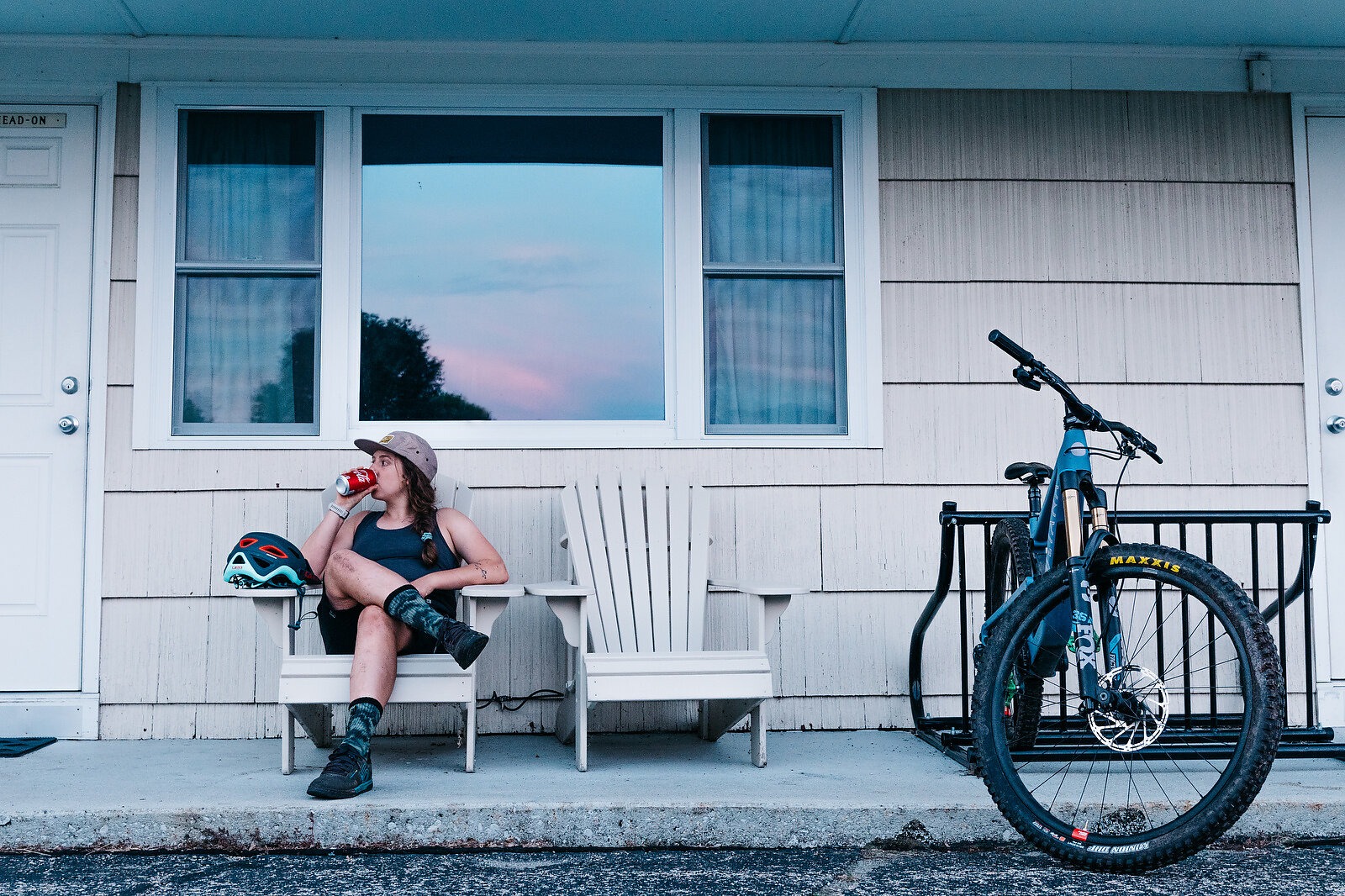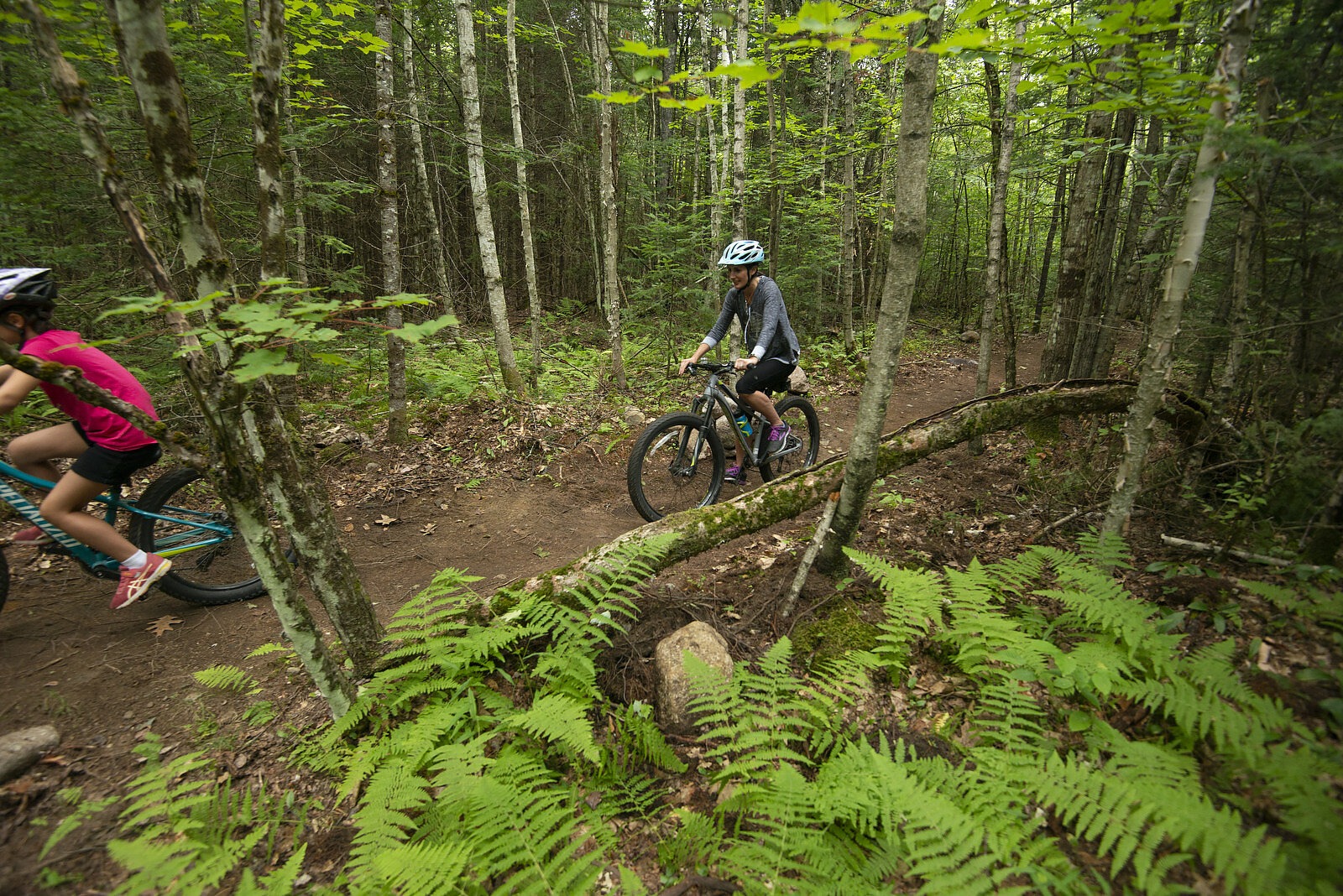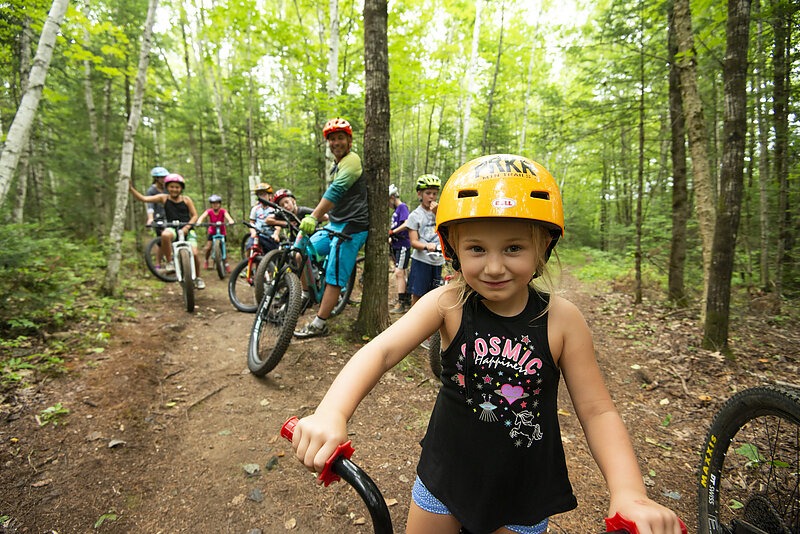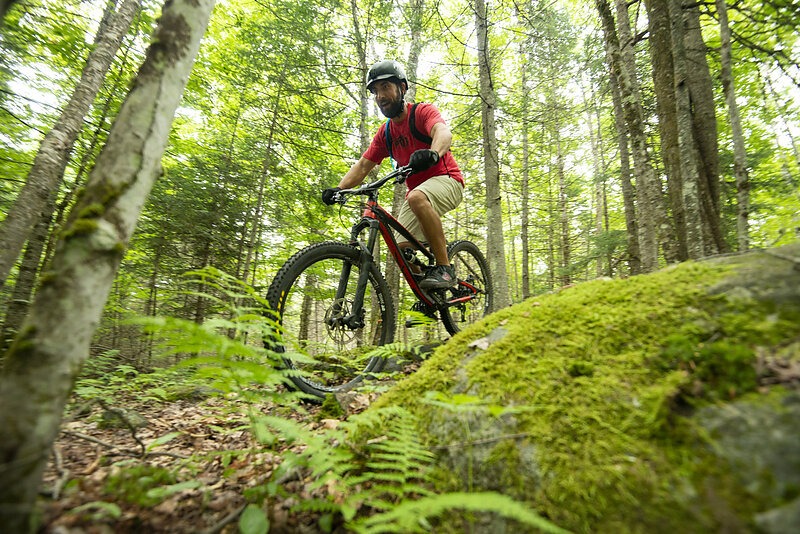 ---
Littleton, New Hampshire
Littleton, New Hampshire is routinely ranked one of the best small towns in the U.S., and it's easy to see why. Sandwiched between the White Mountains and Connecticut River, the town boasts a lively arts scene, endless options for good meals and beer and, most importantly, a 24-mile trail system that's just a quick pedal from downtown. The PRKR MTN trail network calls the 2000-foot Parker Mountain home, treating riders with one unparalleled view of the nearby Presidential Range.
PRKR MTN is a haven of hand-built trails famous for its challenging riding. The locals tease that if you can ride here, you can ride anywhere, and they're not exaggerating. Spend a few days pushing yourself on local favorites like Gardner's Trail and Rock and Roll, and you'll be plowing through rock gardens and root webs like it's no big deal. Linda's Lookout is a popular outlook for its breathtaking views of the mountains. It takes quite the climb to get there, but descents off the summit such as On Belay and 1600' are worth the exertion. If tech isn't your style, don't fret, the PRKR MTN trail crew has been adding wide machine-built singletrack near the bottom to make the network more accessible. Endless Recess is a favorite loop among parents for its many berms and rollers.
However, it wouldn't be a proper Littleton visit without après on Main Street. With a bustling downtown with ample choices for beer and food, the foodie and beer snob in your group is sure to be satisfied. Schilling Beer Company should be your first stop after riding. Enjoy one of their European-style lagers and ales while taking in the view of the Connecticut River from their outdoor patio. It's not hard to find a good bite to eat in these parts. Instead, it comes down to what you're craving. The Beal House Inn and Restaurant has delicious locally sourced cuisine and even offers lodging in its cozy rooms. The Littleton Freehouse is also a great option with its 16 rotating beers on tap and delicious pub food. Main Street also doubles as a perfect basecamp. The Thayer Inn is popular among travelers due to its historic facade, comfy rooms and location right in the heart of downtown.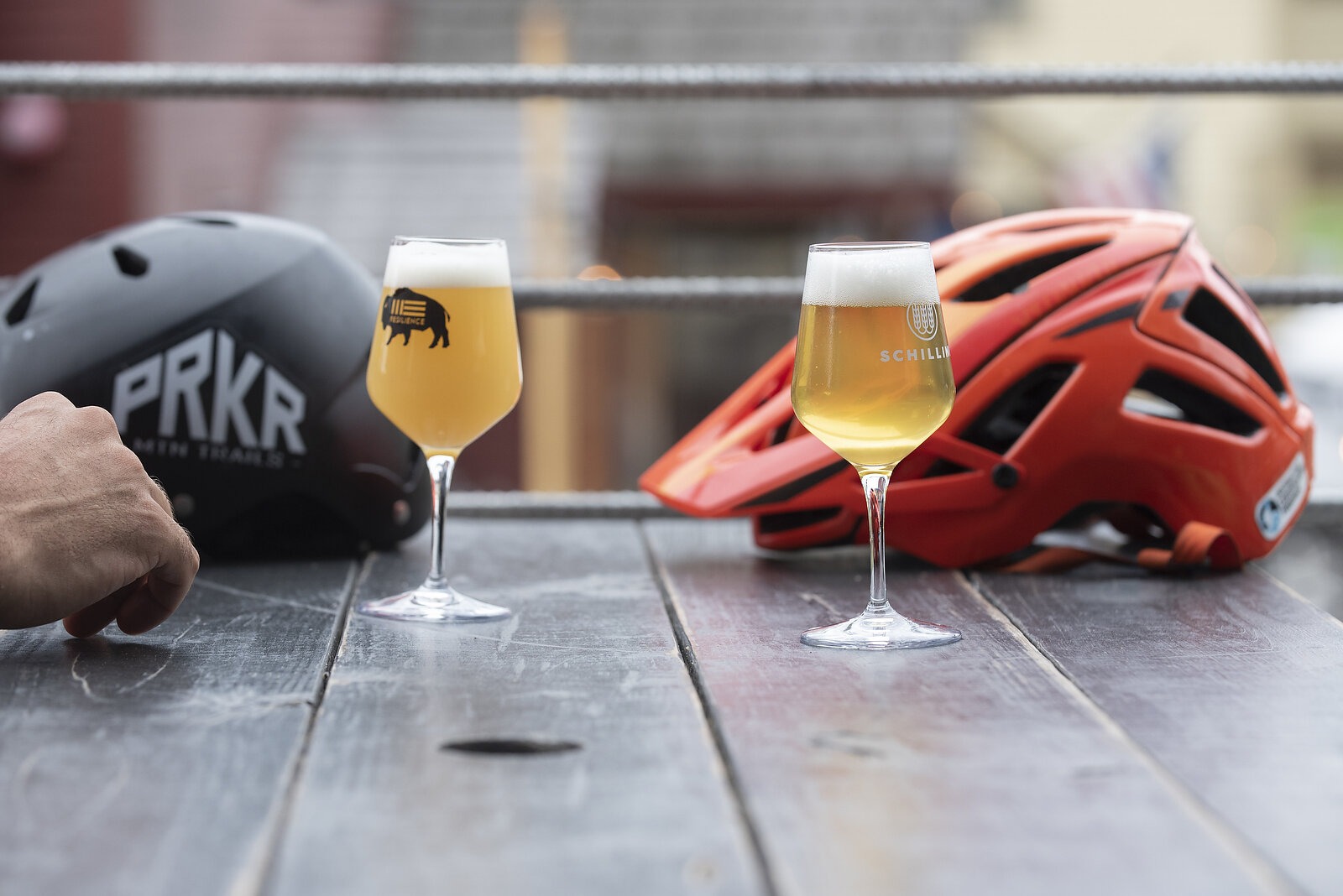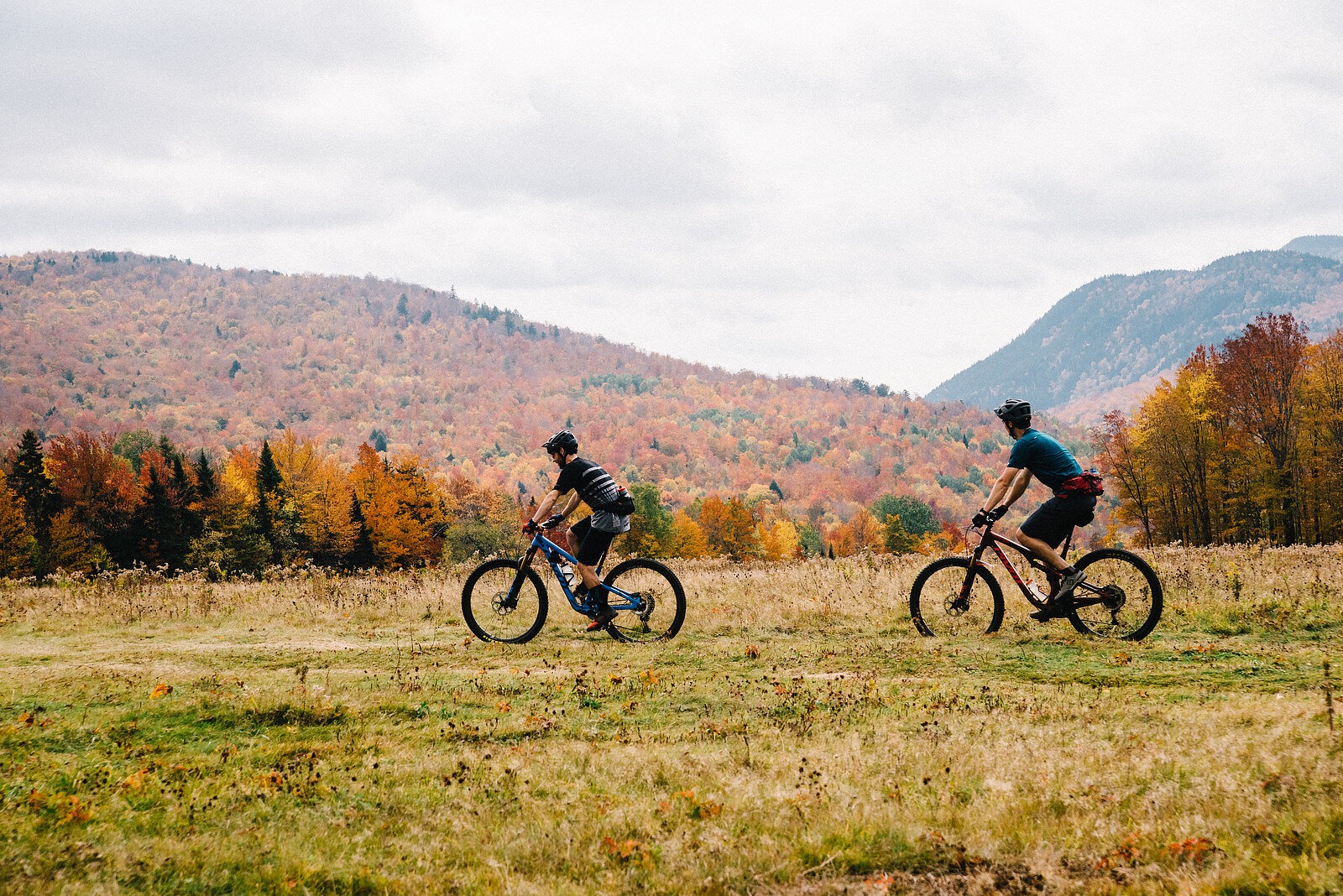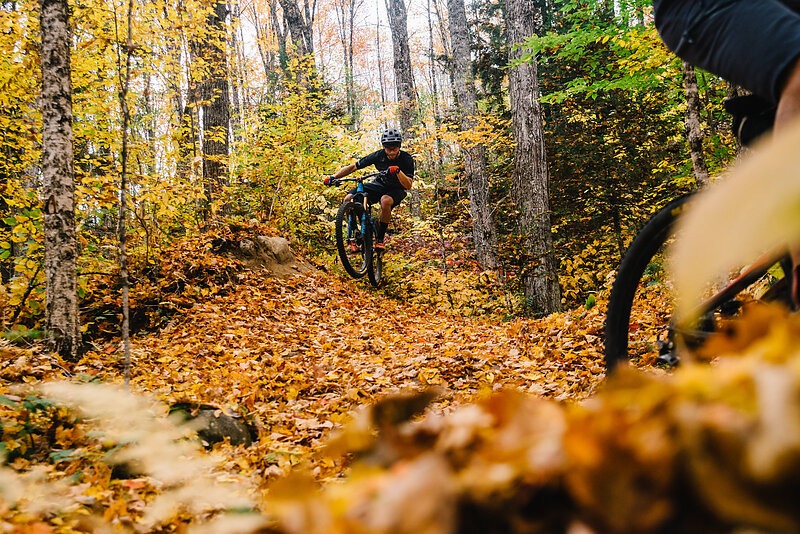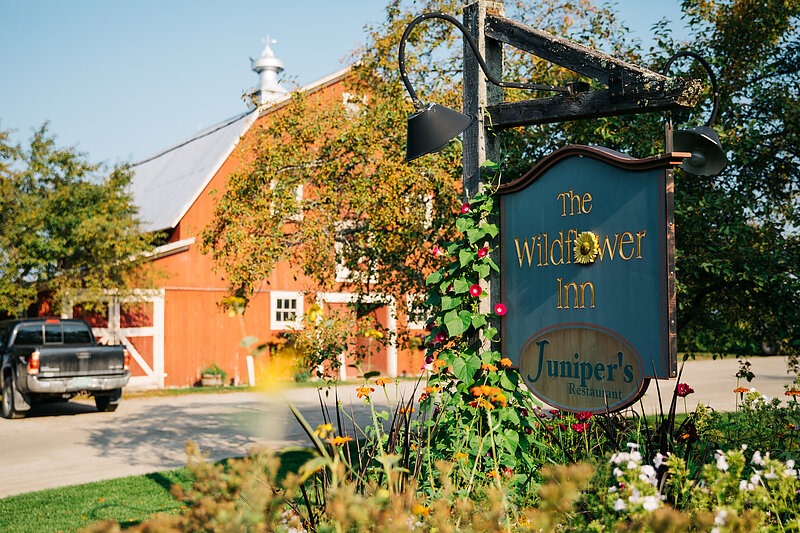 ---
Kingdom Trails, Vermont
Kingdom Trails hold a special place in mountain biking lore for its extensive 100-mile network. Located in the town of East Burke and hallmarked as a world-class riding destination, Kingdom Trails was first spearheaded in the late '80s by a few college kids looking to build bike trails off the preexisting cross-country skiing network. In 1994, the biking reached new heights when a group of businesses and landowners came together to establish a nonprofit with hopes of building a sprawling trail network that would bolster the local economy in the warmer months. Their hard work paid off. Today, the region has an extremely accessible trail network that caters to all skill levels. Before riding here you'll need to purchase a day pass or membership, which grants you access to the trails and supports the local economy.
The majority of the trails here are flowy and fast but, if you're hankering for a challenge, Burke Mountain has a variety of challenging jump lines that are lift serviced. For those really looking to get puckered, the top of Burke Mountain has some harrowing pro-line descents like Rude Awakening and Free Ride that leave even the most seasoned biker white-knuckled. With so many trails to pick and choose from, it's hard to highlight one local favorite. However, Moose Haven, Darling Hill, the Mountain Side trails and White School are a few zones worth hitting. Our best advice is to stay for a few days and explore different parts of the network. One unique aspect about KT is that the trails are continuous and it's easy to hop from one zone to the next. This is because some landowners have made their private land accessible for biking trails. While visiting, be sure to Ride with Gratitude and recognize what a gift and privilege it is to ride such a vibrant, interconnected network!
There's no shortage of lodging when it comes to the Northeast Kingdom. Options range from country inns, cottages and campgrounds. The Wildflower Inn is about as authentically Vermont as it gets with its sprawling farm, red barn, breathtaking views of the mountains and friendly cows. They serve a hearty country breakfast every morning—included with your stay—and it's hard to think of a better way to start the day than freshly made blueberry pancakes. Cafe Lotti is a tasty option if you're craving fresh espresso and decadent baked goods. Post-ride, the spot to be is Mike's Tiki Bar. It's an outdoor bar located right off the trail network and has 30 different draft beers on its menu. Unsurprisingly it's become a bit of a watering hole for East Burke. With food trucks ranging from pizza to tacos right nearby, it's the ideal spot to relax and meet other traveling riders.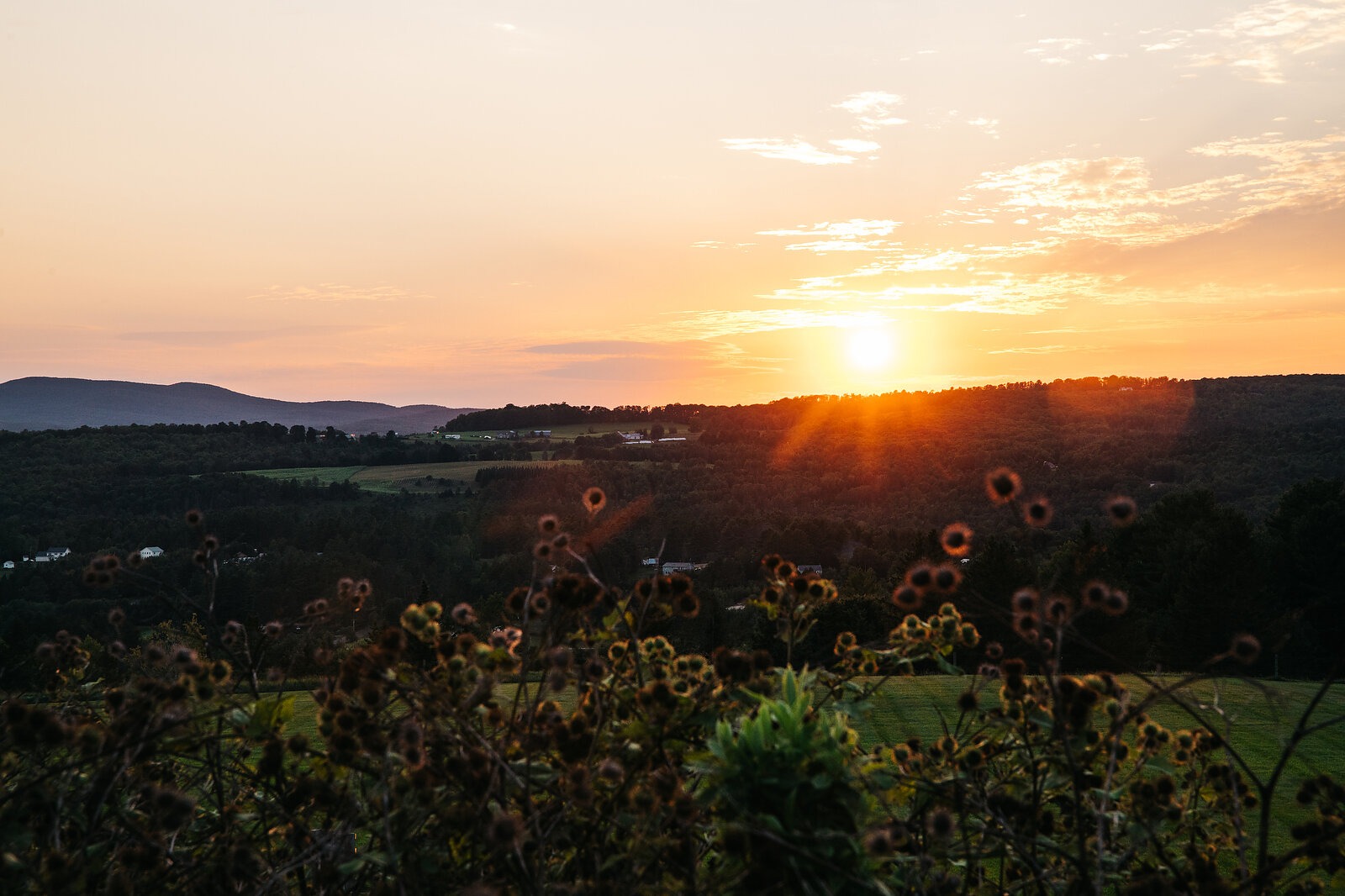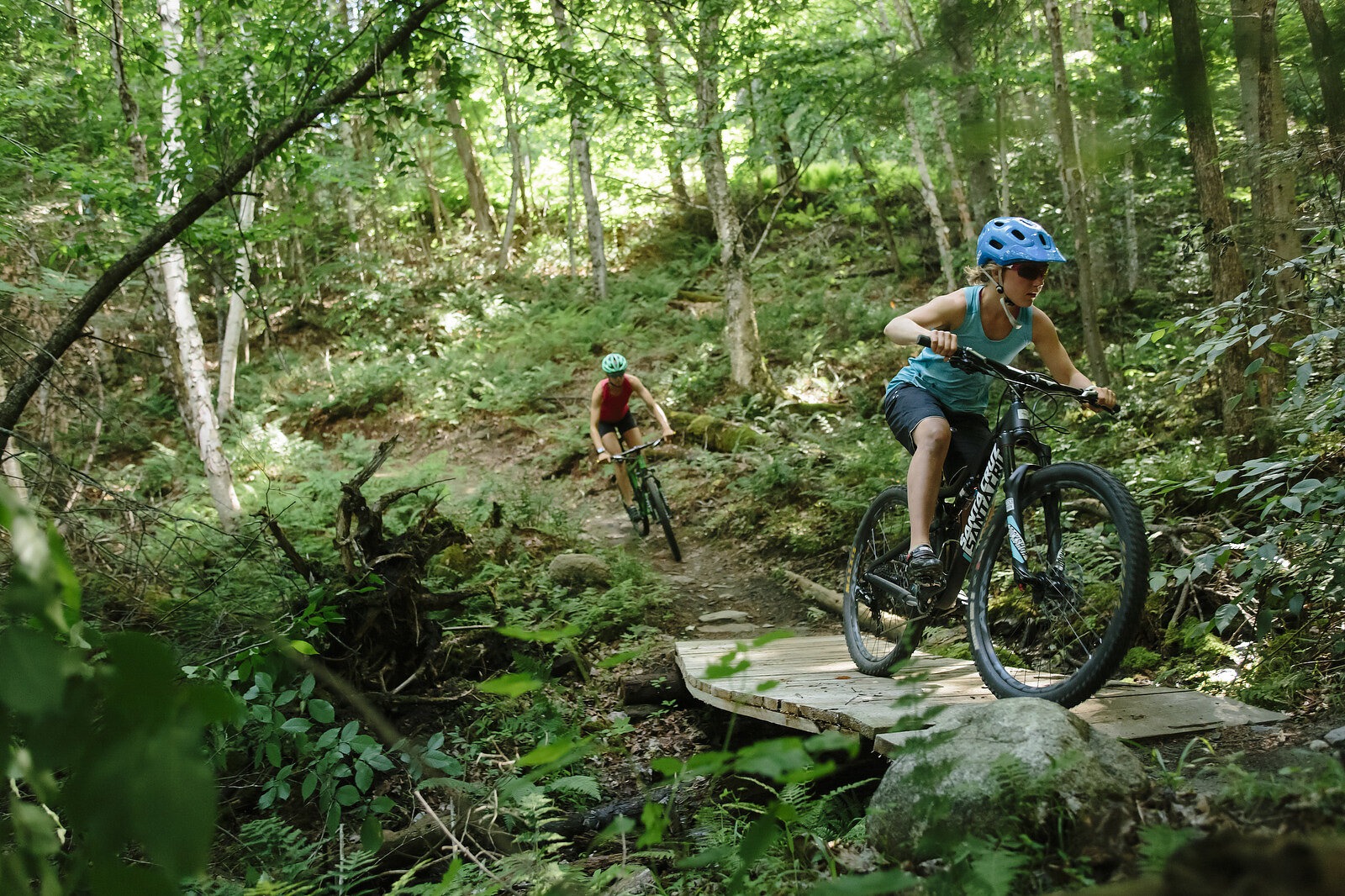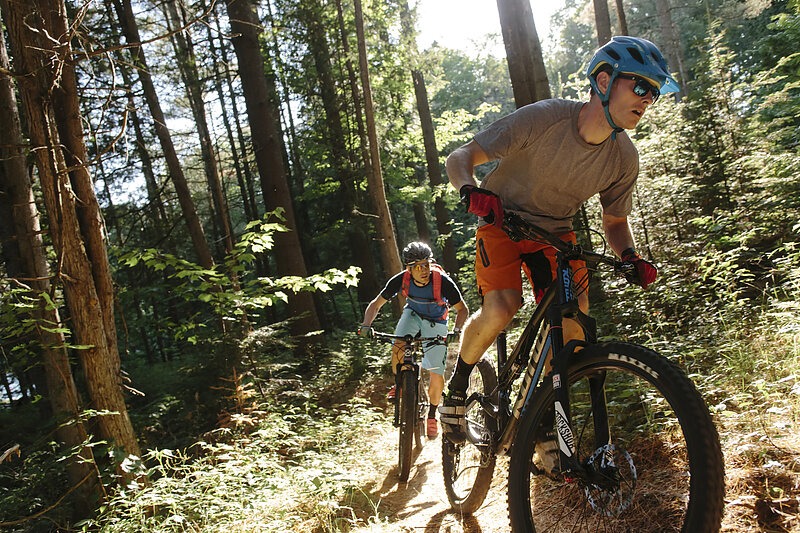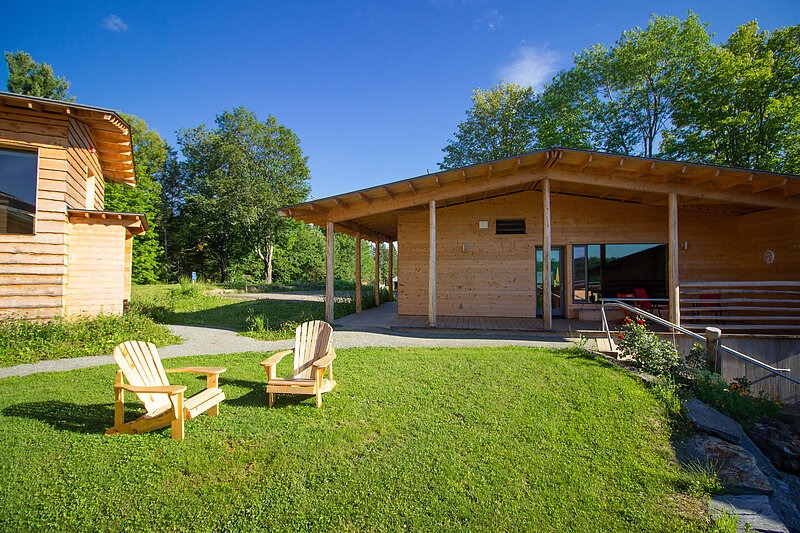 ---
Craftsbury, Vermont
With its gently rolling hills, white picket fences, and abundance of family farms, Craftsbury embodies what it means to be a small town in Vermont. The tiny community of about 1,000 people is in the Northeast Kingdom, a region famous for its farm-to-table food, fall foliage and outdoor recreation. The town's roots in mountain biking go back to the '80s, but the sport was never really the focus for the community until recently. Craftsbury was instead known for the Craftsbury Outdoor Center, which has famously cultivated a handful of Olympians for nordic skiing and rowing. In 2009, the new owners and nordic ski coaches saw the value in having bike trails for cross-training and began adding more singletrack to their lush fields and forests.
Now the outdoor center has about 20 miles of bike trails, which feature something for every ability level. The riding here is a nice variety of machine-built trails, challenging New England tech and playful pump tracks. The network is especially welcoming to children and was built with progression at the forefront of its design. Ollie's Folly is a favorite due to its swooping bermed corners. It's got plenty of easter eggs for the riders wanting to go full throttle but stays approachable and fun for first-timers and young kids. Another popular trail is Spaceman, an exhilarating descent with plenty of spots to open it up. Fun fact: they named it after legendary Red Sox pitcher Bill Lee who resides in town. All the trails at the outdoor center require a day pass or membership, so be sure to purchase yours online before visiting.
The best place to stay for easy access to the trails is undoubtedly the onsite lodging at the Craftsbury Outdoor Center. Their accommodations include modern cabins, rustic lakeside cottages and budget-friendly dorm rooms. Your lodging fee also covers three all-you-can-eat meals at the dining hall. Their mouth-watering meals use fruits and vegetables grown locally—some of which come straight from the center's garden. The all-inclusive stay means less time spent on logistics and more time riding your bike.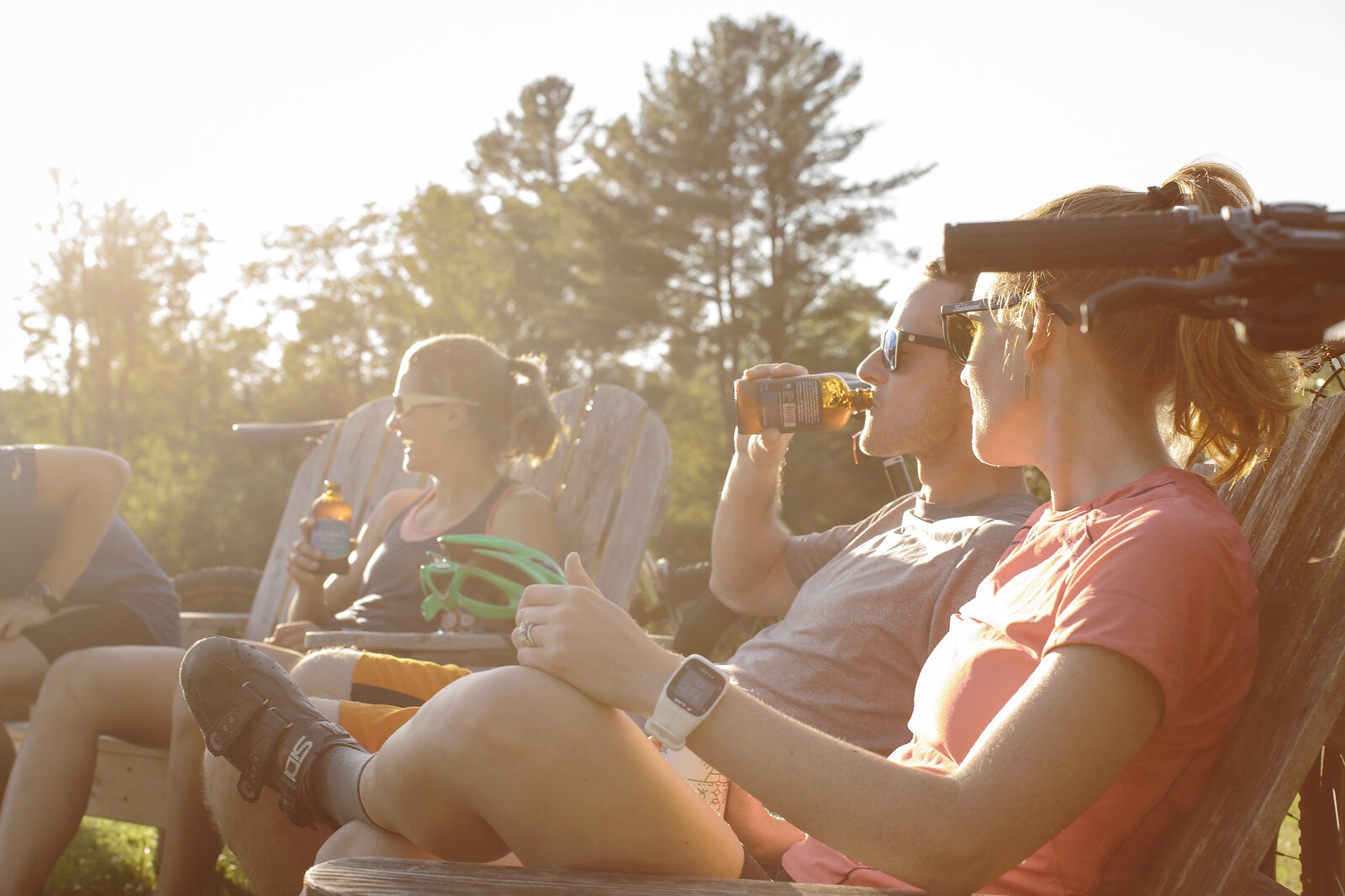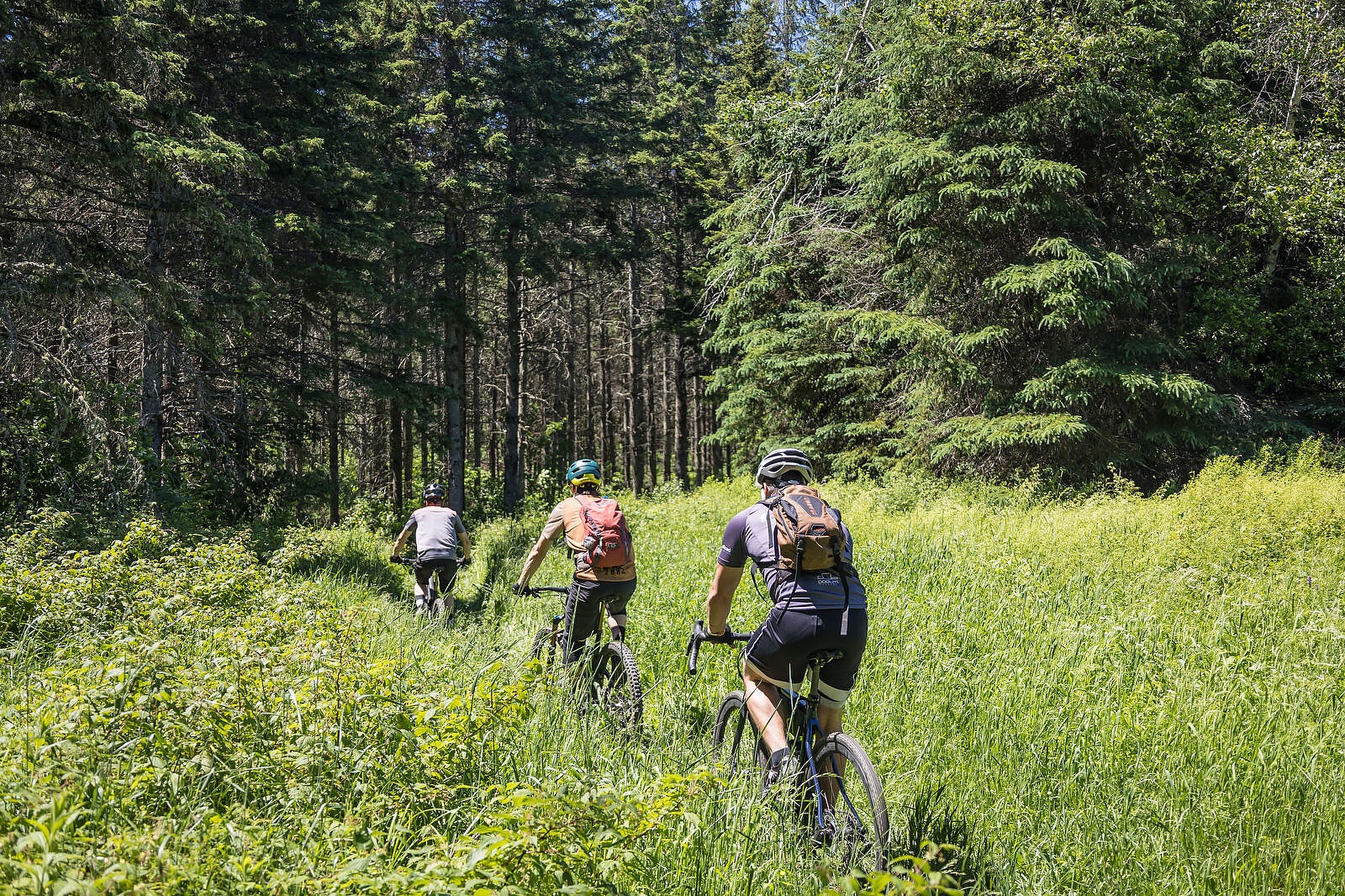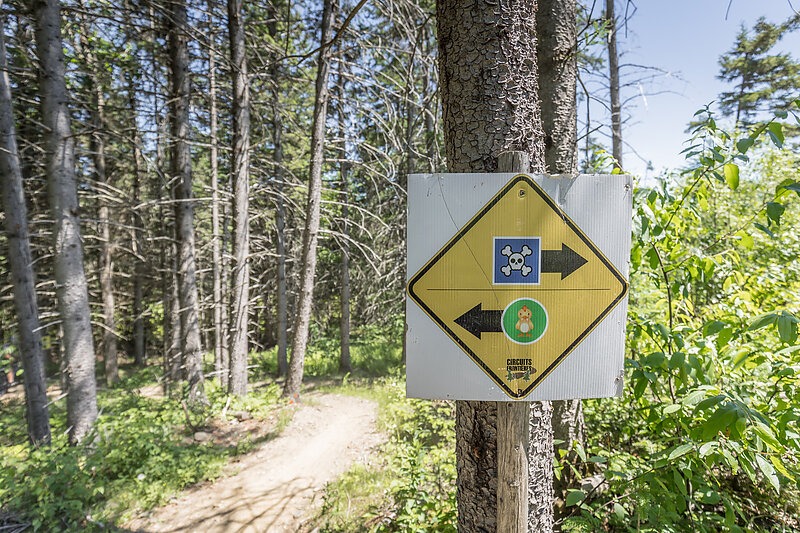 ---
East Hereford, Quebec
Looking to get off the grid but don't want to circumnavigate the globe? East Hereford is an untamed backcountry mountain biking destination that's just over the U.S./Canadian border in Québec. The Circuits Frontières trail network weaves through 14,000 acres of conservation land, making for uncrowded riding in pristine wilderness. Most of the descents are long, winding, have few intersections and are best suited for riders looking for a self-supported adventure. In total the network has about 37 miles of singletrack to explore. No two trails are the same and each are accessible for all kinds of ability levels. The network is machine-built and varies from easygoing flow to adrenaline-pumping descents with rock features and gap jumps. All the trails require a day pass or season pass, which can be purchased online.
One of the most iconic descents is Doctorat to Valse Du Diable. Doctorat is a double black diamond trail off the summit and is recommended for advanced riders due to its many mandatory gaps and chunky rock features. It connects with Valse Du Diable, which is the region's most flowy trail and has perfect sightlines for going fast. The two combined make for one long, exciting ride. Some other favorites are the green trails Bobine and La Grange. They're both beginner trails with lots of machine-built berms and flow and are excellent options for kids and new riders.
The town of East Hereford is just as remote as its trails. It's a sleepy little community with not much going on other than mountain biking, fishing and farming. The best option for accommodation is Mont Experience Hereford. It offers camping, glamping, and rooms in its refuge right on the trail network. For an unforgettable experience, book a night in one of their backcountry pods, which are little off-the-grid cabins fully equipped with a shower, heating and all the kitchen essentials—fondue and raclette sets are even available on request. Merveilleux! There aren't many choices when it comes to food, but every visit to East Hereford requires a stop at the trout hatchery Ferme Piscicole des Bobines Inc. While you're there be sure to sample the smoked trout and pick up some fresh fillets to cook on the campfire. On the weekends there's also the Cantine le Baumier, which serves pizza, poutine and sandwiches.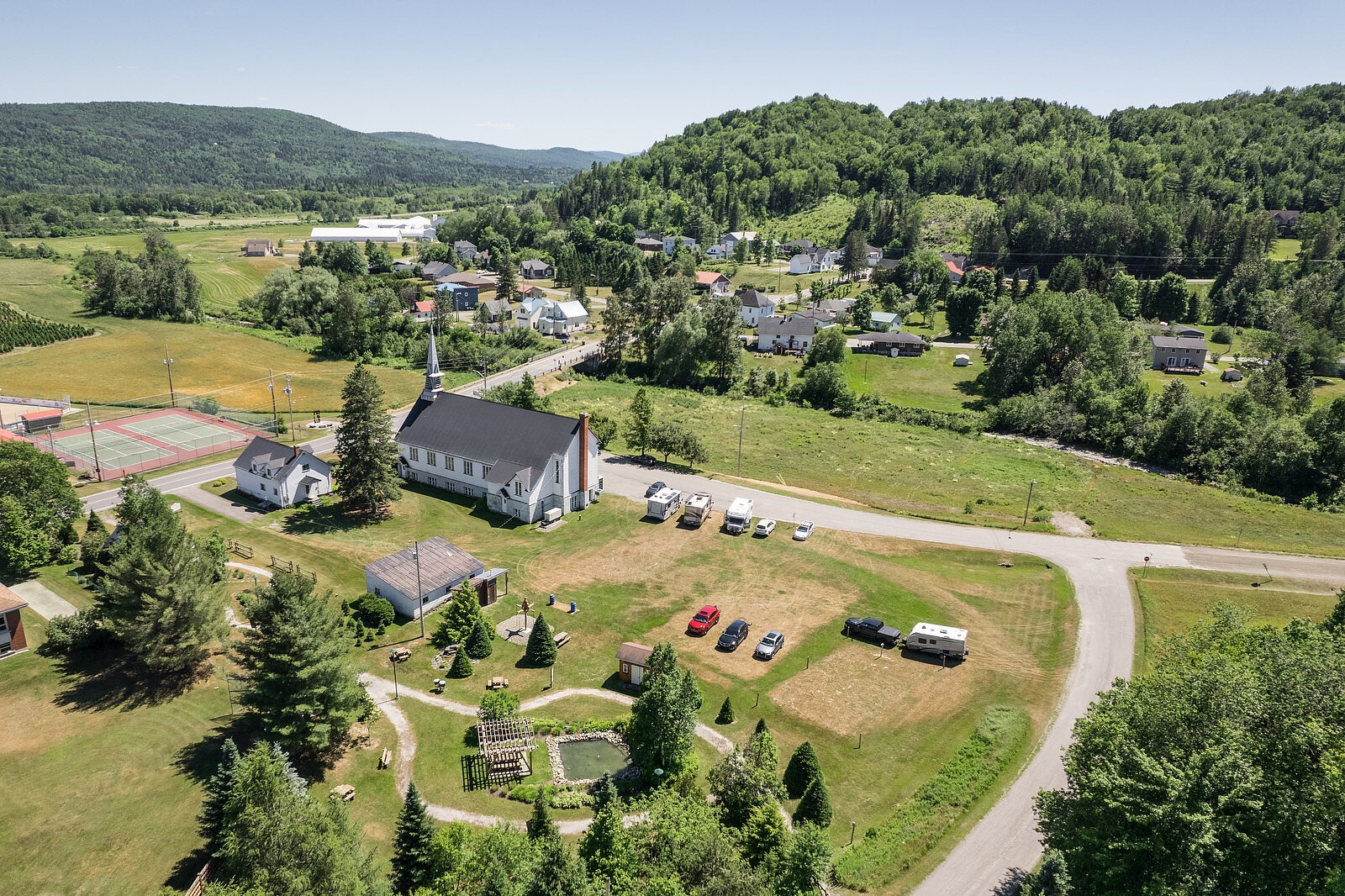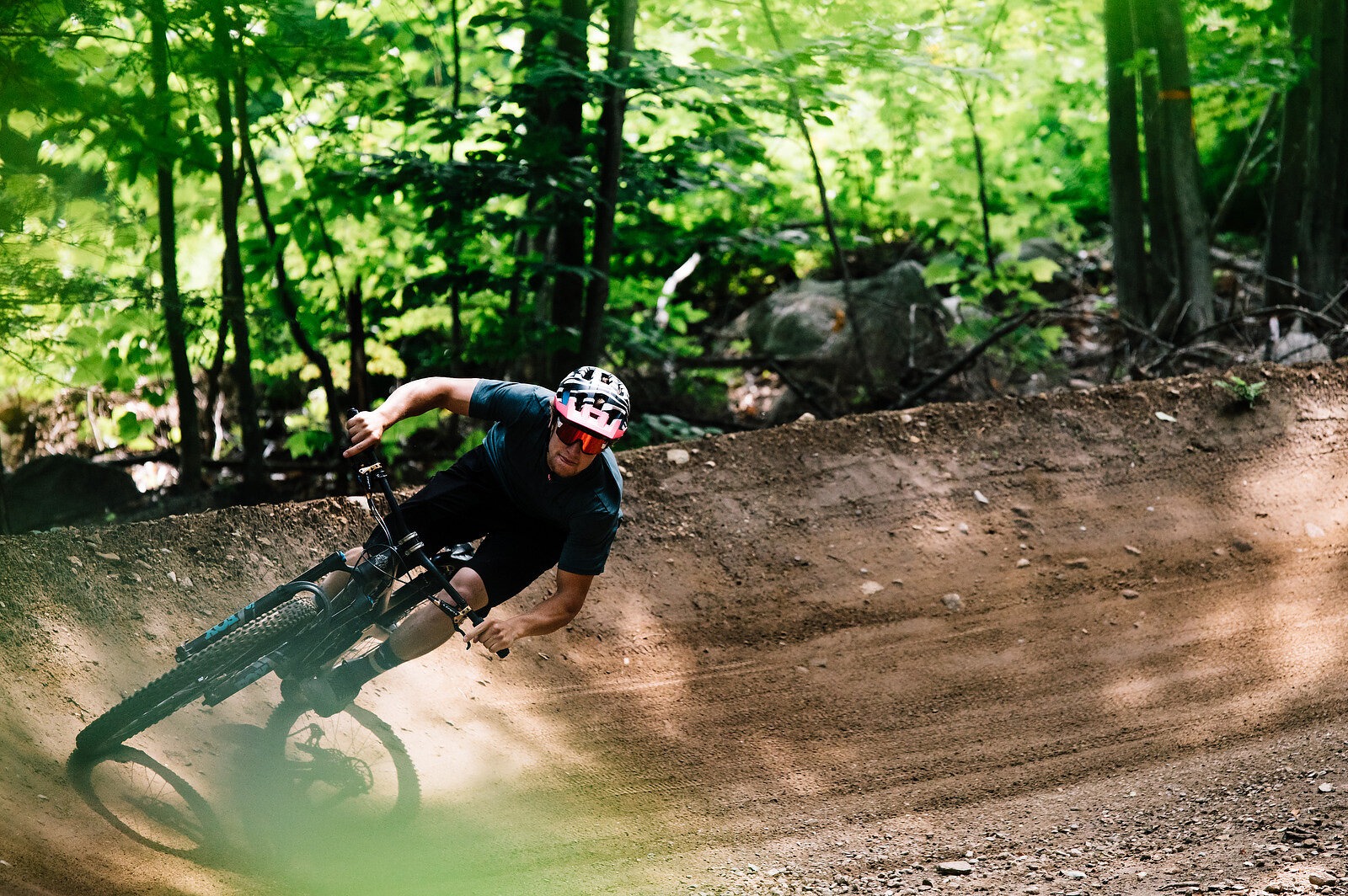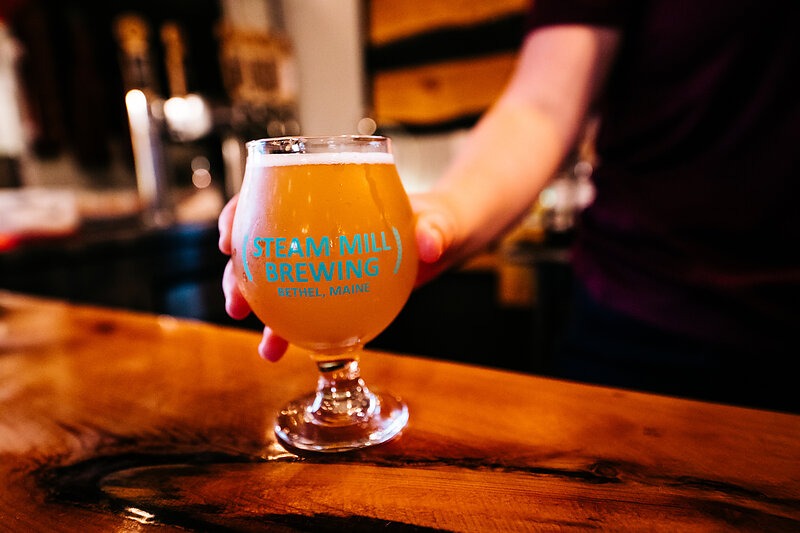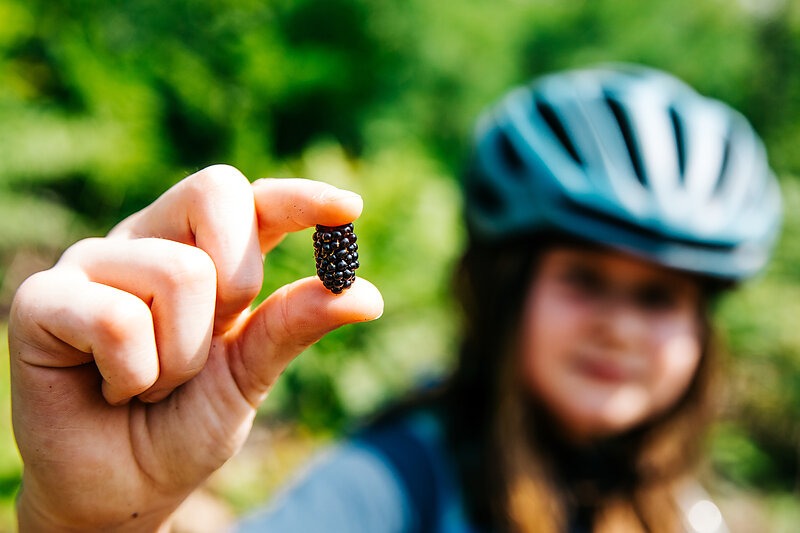 ---
Bethel, Maine
Proudly known as "Maine's Most Beautiful Mountain Village," Bethel is situated right in Maine's iconic Lakes and Mountains region and offers everything from alpine and nordic skiing, camping, hiking and a growing mountain biking community. This quaint village with its colonial facades boasts an impressive selection of trails—totaling 20 miles of singletrack—and is rapidly growing into a renowned bike destination.
When it comes to getting your pedaling fix, there's a whole buffet of options. The Bethel Community Forest Trails has all kinds of terrain and amazing views of the Mahoosuc range. Closer to town is the Bethel Village Trails system. This network is accessible right from downtown and is known for being very family friendly. For those looking to go fast and get into the air, spend a day at the Mt. Abram Bike Park. It's Maine's only lift-serviced bike park and it exudes a laid-back, welcoming vibe with its rustic lodge and two-seater fixed-grip lift. Their impeccably built flow trails are addicting, particularly Whiplash, which is chock full of tabletop jumps and massive swooping berms. Expect to lap it at least two or three times and be grinning like a kid by the time you reach the lift.
The best place to stay in Bethel is the iconic Bethel Inn. The Historic four-season resort—established in 1913—feels straight from the pages of The Great Gatsby and will leave you pleasantly rested. Plus, the inn has direct access to the BVT trails, meaning you can roll right from your room to your bike. Post-ride, be sure to drop by Steam Mill Brewing to sample one of their many unique brews. The Whitecap Blueberry Wheat ale is a local favorite and is served with blueberries right in the glass. While you're there, drop by Le Mu Eats for some mouth-watering Lao American dishes. Their pork Banh-mi pairs well with a Steam Mill beer.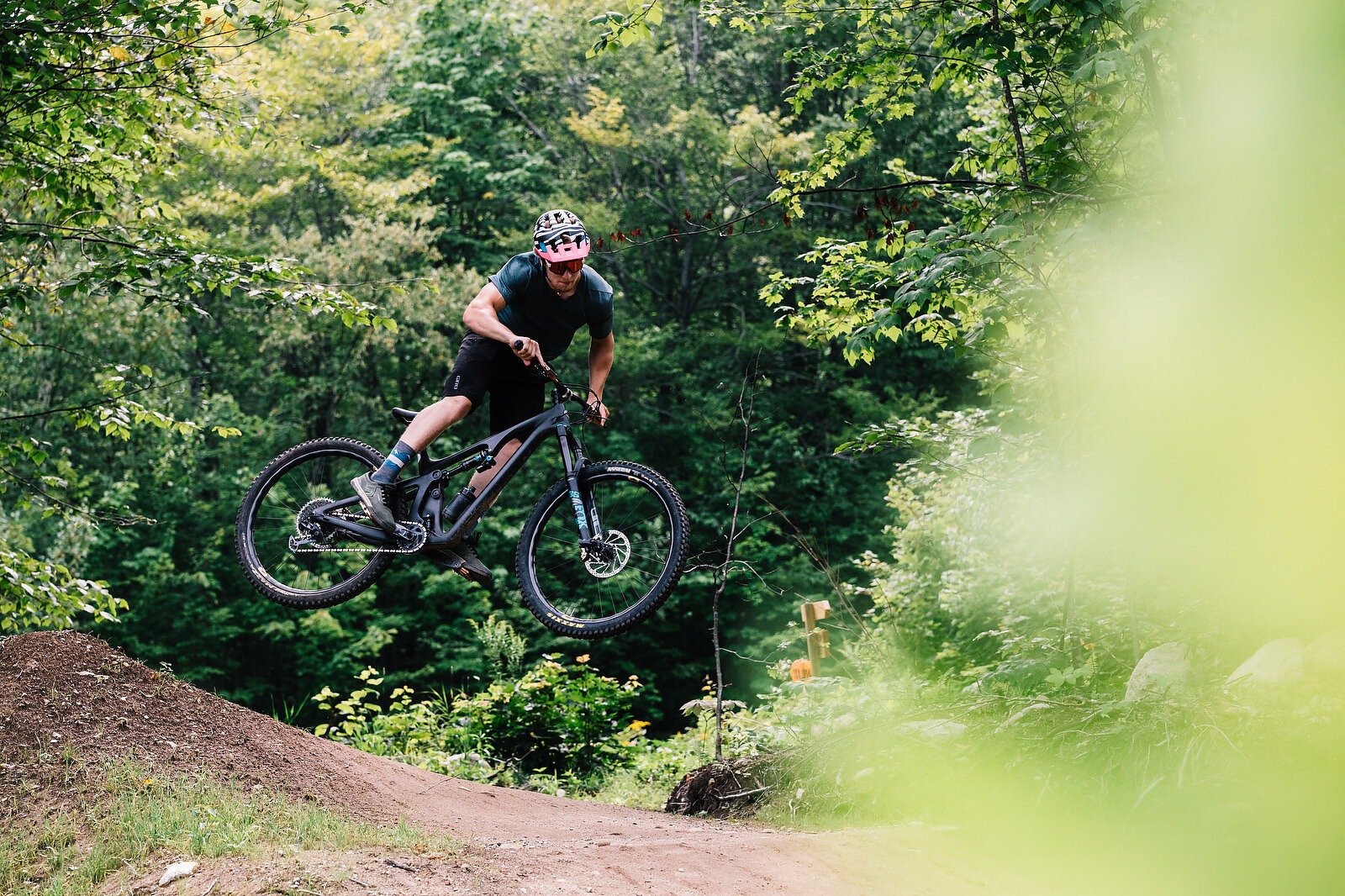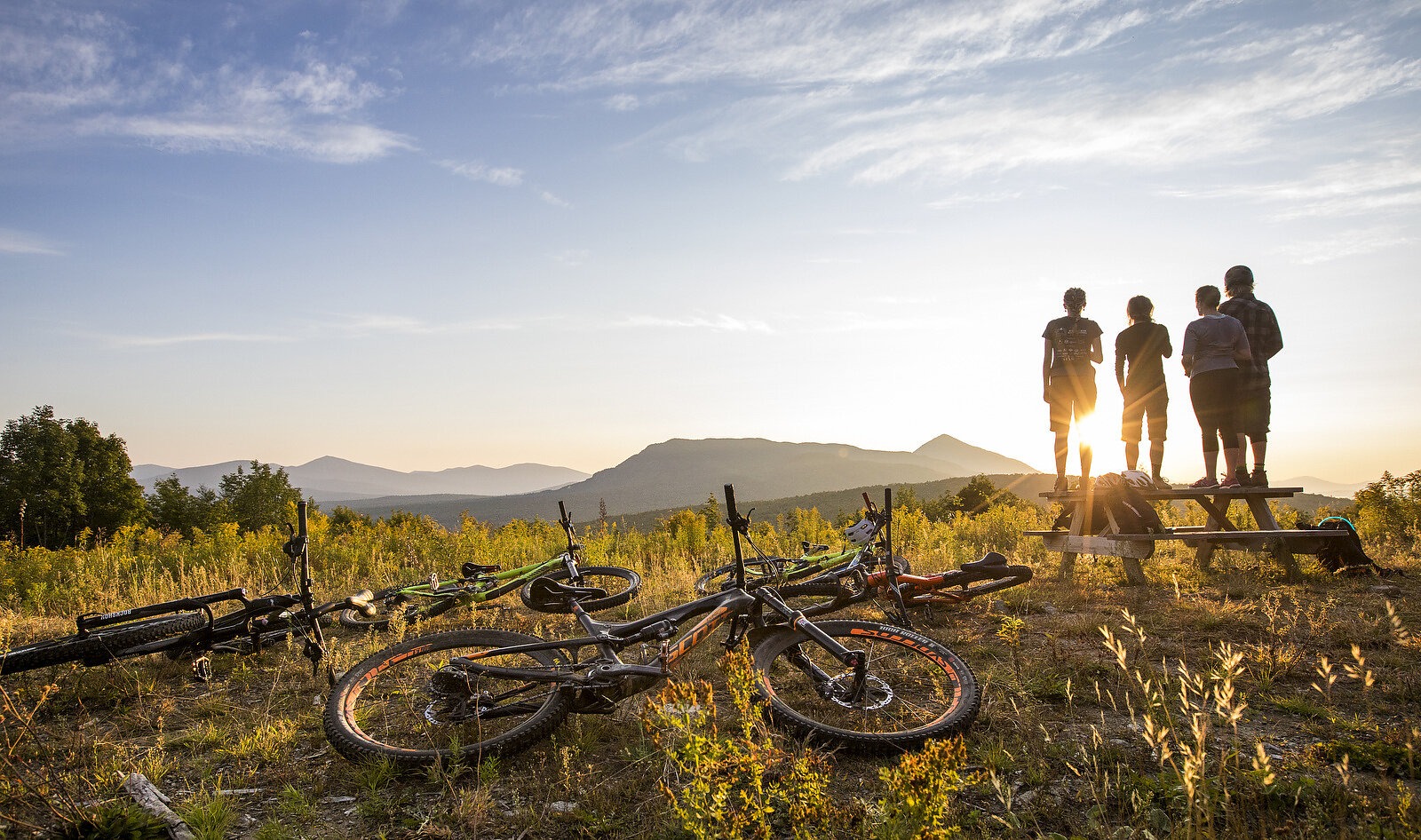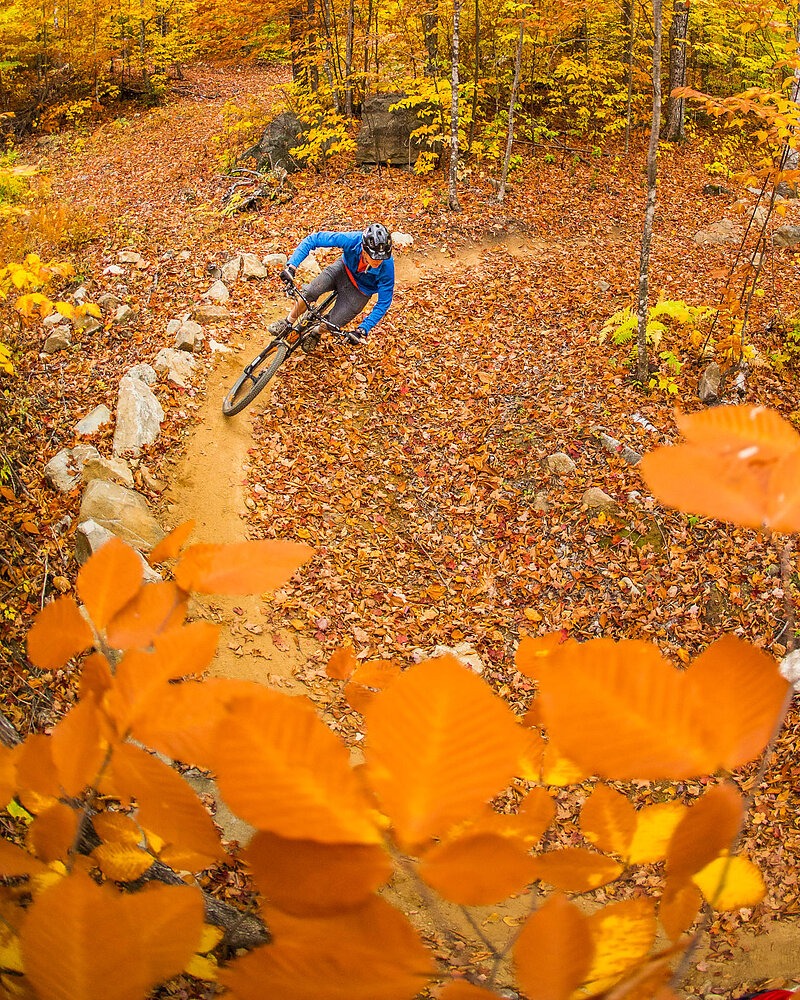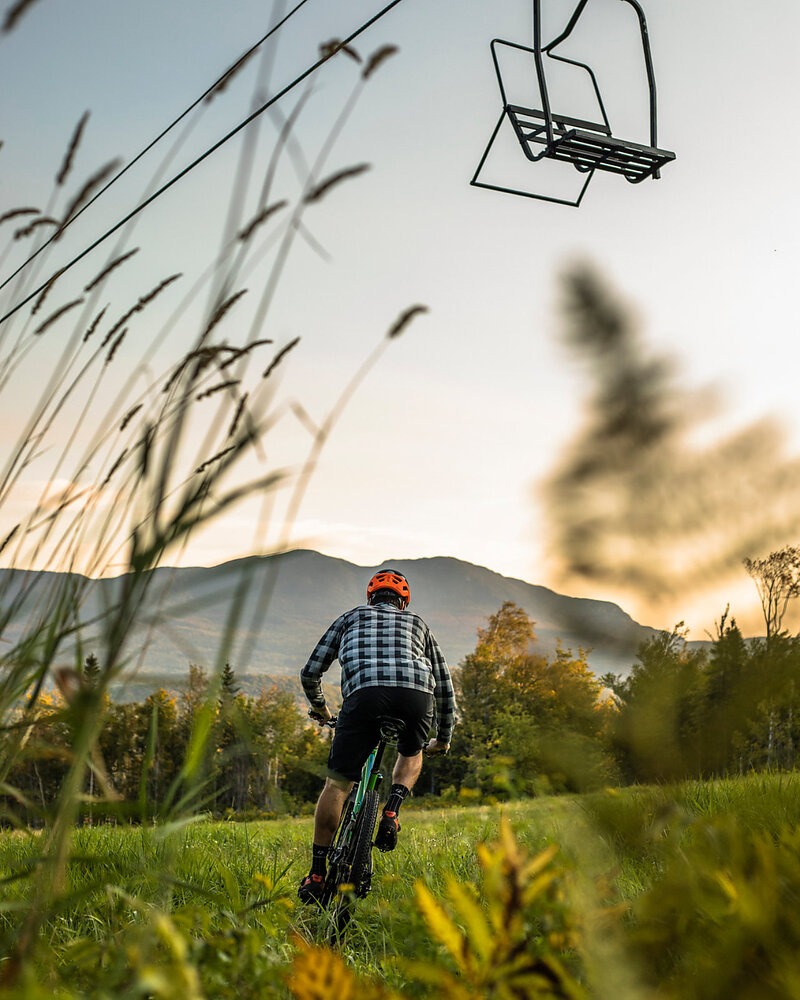 ---
Carrabassett Valley, Maine
Immersed among some of the tallest mountains you can find in Maine is the legendary biking hub known as Carrabassett Valley. While this region of Maine might be remote, the Carrabassett Valley Trail network (CVT) is vast and encompasses over 80 miles of singletrack. Much of the network is diverse and winds itself deep into the woods and up to stunning vistas. If you ride midweek, you're more likely to bump into a moose than another rider on the trail.
The best place to start your visit is the Sugarloaf Outdoor Center. It's a great place to park, find trail maps and rent bikes from the Carrabassett Valley Bike shop. From there you can jump right on the CVT network and get riding. The center prides itself on having plenty of features for progression and skills development, making it the most ideal spot to learn and introduce new riders to the sport. But CVT is famous for more than just machine-built beginner trails. The region has everything from chunky, challenging New England tech to exhilarating descents. You can get a taste of this on the Bear trail, which is machine-built singletrack that sends you flying through the forest. For those looking to put their technical prowess to the test, Moose Dip is a tough trail that's right next to the Outdoor Center. With so many options to ride, your best bet is to plan out a long loop and spend a full day on the saddle exploring everything the CVT has to offer.
For a backcountry biking experience, book a stay in one of the Maine Huts. The term "hut" doesn't quite encapsulate the accommodation experience, though. The huts are two eco-lodges that are directly on the CVT network. Despite being off the grid, there's no actual roughing it at the huts. They have everything from heated showers, crackling wood stoves and homemade meals made from locally sourced ingredients. If you want to be closer to town, the Hostel of Maine is another popular option. With direct access to the CVT trail network, the hostel makes for the perfect basecamp. There's also a group ride that directly leaves from the Hostel on Tuesdays—a wonderful way to connect with local riders and get a tour of the region. For dinner, the Coplin Dinner House is a favorite spot for its delicious farm-to-table food and relaxing dining room atmosphere. A little bit closer to town is Hug's Italian Cuisine, which is a quaint little place that serves fresh pasta.
Northern Forest Center facilitated this project and was supported by funds from a USDA Rural Business Development Grant.